Do you need the best paper box mockups to create professional presentations?
We reviewed mockup generators (our favorite) and PSD files, so you can quickly find the right template.
No experience and software are necessary for the former.
Yes, you don't need Photoshop to create a mockup.
How modern does that sound?
This post covers:
But even if you pick paper box PSD mockups, only basic knowledge is required. You can swiftly improve it with smart objects and a fully layered structure.
(Make it your way.)
Note: We used 1st, 3rd, 4th, 8th, 13th, 15th and 16th for several client projects.
(We tested all the rest personally.)
You can now create the exact box design presentation you want.
Fast. And. Easily.
Best Paper Box Packaging Mockup Generators
You can test each generator free of charge. Once satisfied with your creation, the high-quality template only costs $7.95.
(You can also pick a monthly ($14.95/mo) or yearly ($89.69/yr) subscription.)
1. Vertical paper box template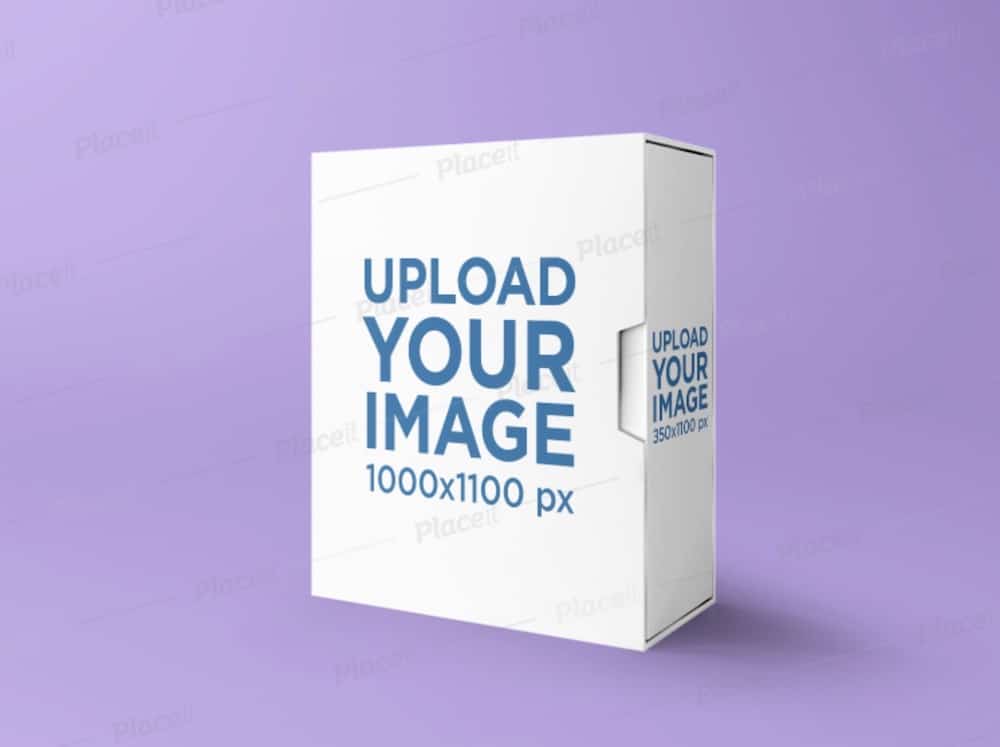 When designing a paper box, all you are left to do is use a mockup and create a life-like presentation.
Thanks to all the templates here, you can make it happen swiftly, with little to no work necessary. This one will do you well if you are particularly looking for a vertical box template.
The mockup allows you to edit the background color and box and add two separate designs. You can have the first version ready to enjoy in a few clicks.
In addition to that, you can also add some text, a call-to-action, whatever.
MORE INFO / DOWNLOAD
2. Minimalistic mockup of a cardboard box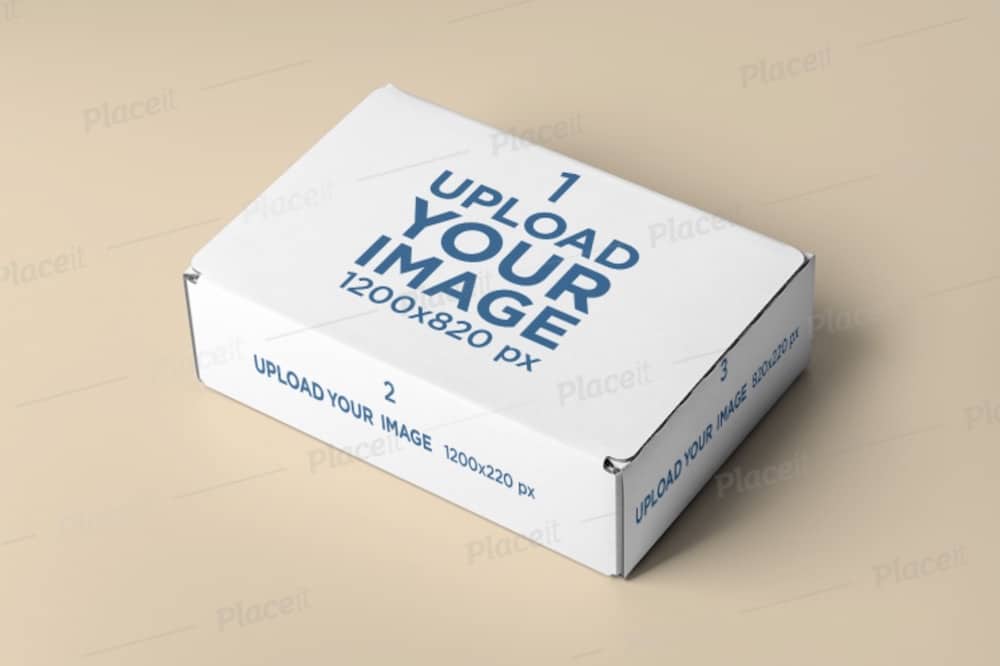 A clean and minimal cardboard box mockup will help impress your clients, audience, followers on social networks – everyone.
Another impressive Placeit alternative that helps you jump-start your project without Photoshop.
As you know already, you will do all the needed work online. This box lets you decorate it however you want with three workable areas.
Of course, you can change the box's shade, even the background.
Make it follow the necessary branding regulations to a tee without breaking a single drop of sweat.
MORE INFO / DOWNLOAD
3. Box mockup featuring a greeting card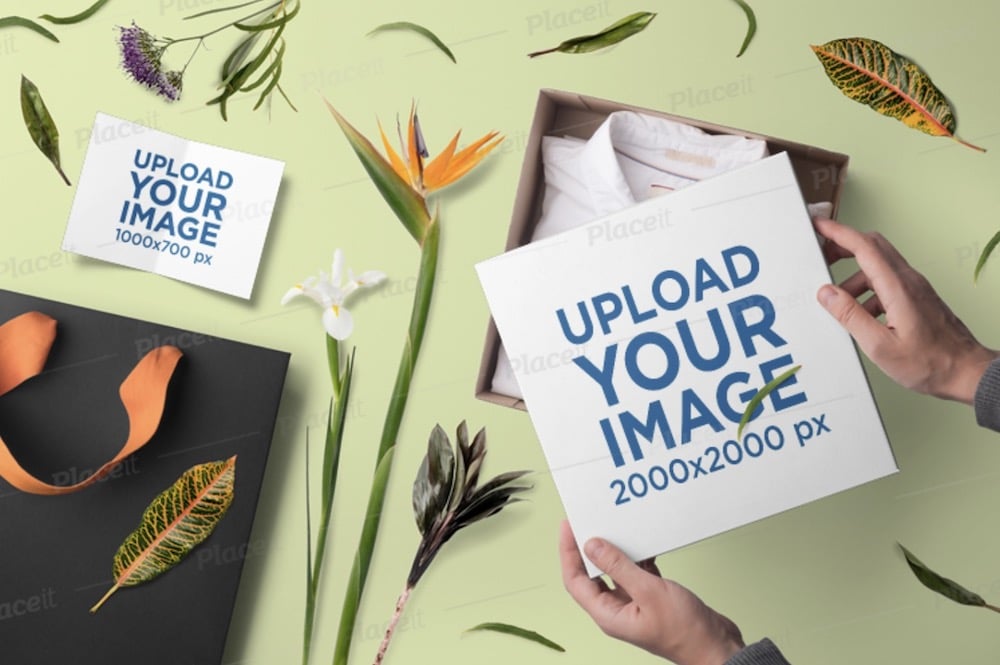 This one will do you well if you want to create a super engaging and attention-grabbing paper box presentation.
Since the mockup also features a shirt, this one works great for fashion brands and those who offer gift wrapping.
It's a pretty crowded surrounding, but everything is done carefully and tastefully.
You also get a card, which you can decorate to your liking or even keep blank. So. COOL.
With many options and possibilities, you can have a full-blown presentation ready to impress your audience quickly.
Make it pop and let it spark everyone's curiosity.
MORE INFO / DOWNLOAD
4. Mockup of a paper cube box

This is a neat square box mockup with a label and a fully customizable background. The fun part of Placeit is that you don't need to go full-tilt immediately.
Meaning, you can first test the waters, play with the features and customizations, and only then create a free account.
(Yes, they are very generous.)
As for the modifications, you know the gist of it already. You can insert two different designs, one to the box and the label. What's more, work with different color combos by accessing the convenient color picker.
MORE INFO / DOWNLOAD
5. Mockup of two horizontal paper boxes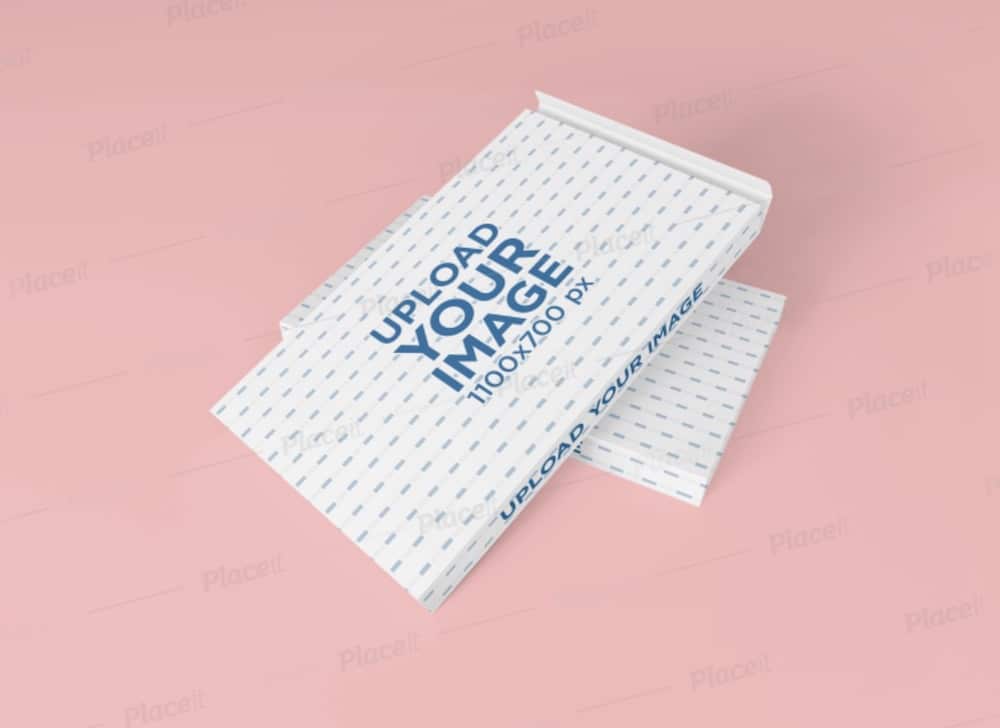 Instead of one, this particular mockup features two vertical boxes overlapping each other.
You can use this one for all sorts of different products, like pills, chocolate (need more chocolate mockups?), whatever you can fit in it really.
Both boxes have workable top and side areas, which you can stuff with any design, artwork or logo you want.
You can also change the color of both boxes separately and even alter the backdrop.
With all these options, you can bring to fruition the outcome that matches your idea precisely.
You can even create multiple variations first before you choose the winner.
MORE INFO / DOWNLOAD
6. Gift box mockup with bow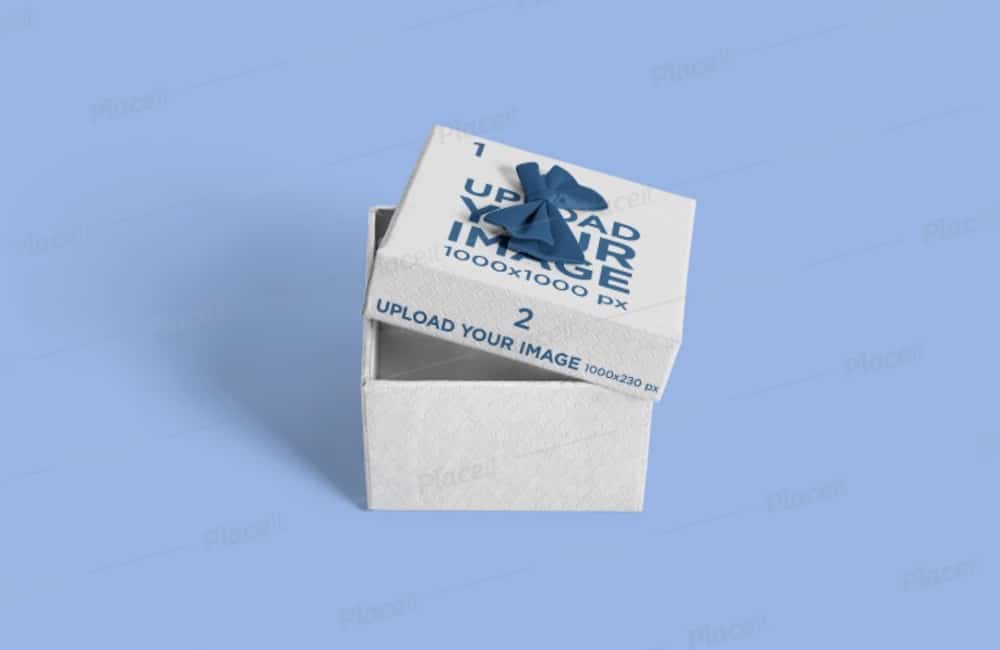 I told you that we have all sorts of different paper box mockups here for you. If you require a gift box with a bow, here you go.
A great example of a fine template with a clean and simple setting will put all the extra shine on your design.
It can work for anything, from beauty and fashion to food, cakes and toys. (Speaking of which, you may also be interested in our best food mockups and cake box mockups.)
Since the main compartment and the box's lid are on separate layers, you can also edit them individually.
But it only takes some clicking, and you can already have it all set and ready to amaze. That's how easy it is working with a Placeit mockup.
MORE INFO / DOWNLOAD
7. Mailing box mockup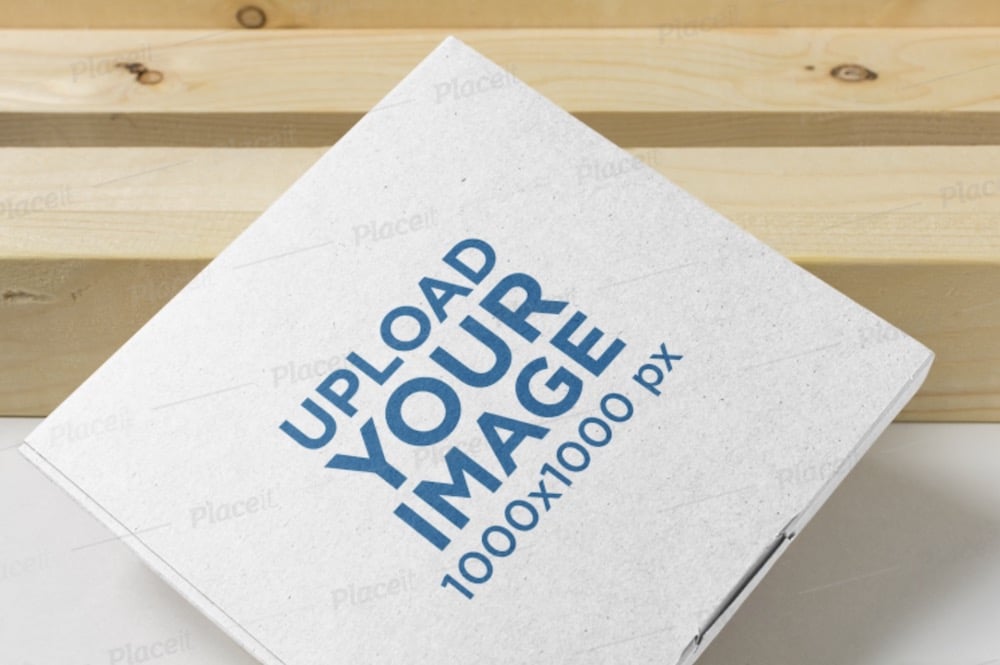 Mailing boxes need not be boring, but they can decorate your home. You can grab everyone's attention with a clever design. Hello, beautiful black Versace box!
These days, it's all about the details.
You can now create a striking exhibition swiftly, thanks to this mailing box mockup.
The template features a white and wooden background, a fully customizable box and an option to add some text. Once you insert your image, a pop-up opens that offers additional options to crop and reposition it accordingly.
Easy work for a fantastic result.
MORE INFO / DOWNLOAD
8. Top view mockup of cardboard box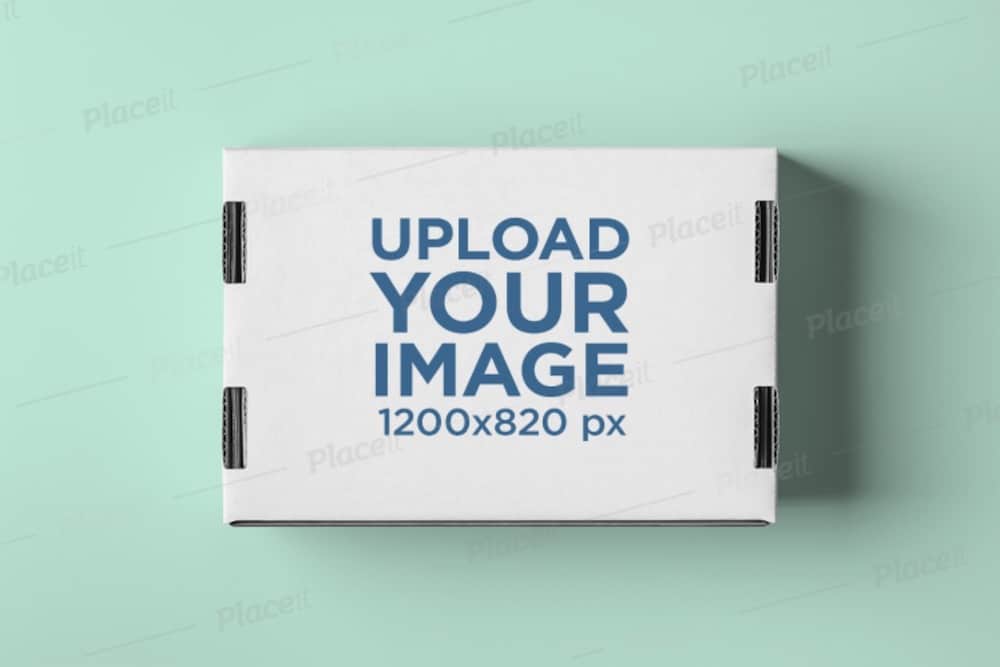 A top view of a paper box mockup, which, let's face it, you can use for bottom design presentation, too.
No need to stick to the default settings, as you can go entirely against the grain and make your variations with little effort.
However, I highly advise you to have the design set and ready to go. This way, you can experience even quicker outcomes.
Along with that, alter the shade of the box and the background and make it as colorful as you want.
There is no need to hold back; make the version that suits you best.
MORE INFO / DOWNLOAD
9. Mockup of a small paper gift box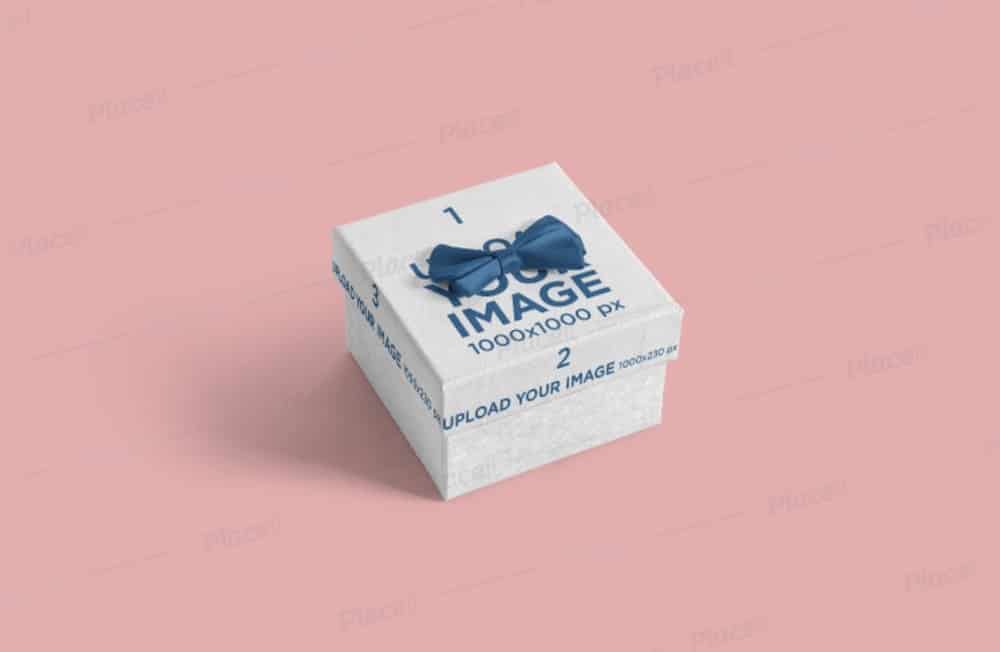 Here is one more cool and small gift box mockup that features multiple options and possibilities to style it to your needs and regulations.
The top, bottom, bow and background are adjustable with the handy color picker. This takes a few clicks and you are done.
Furthermore, the box's lid has three working areas that you can decorate with just about any design you want. And then this takes just a few clicks to complete.
Voila, you are all set with a beautiful and photorealistic paper box design presentation.
MORE INFO / DOWNLOAD
10. Mockup of a pills box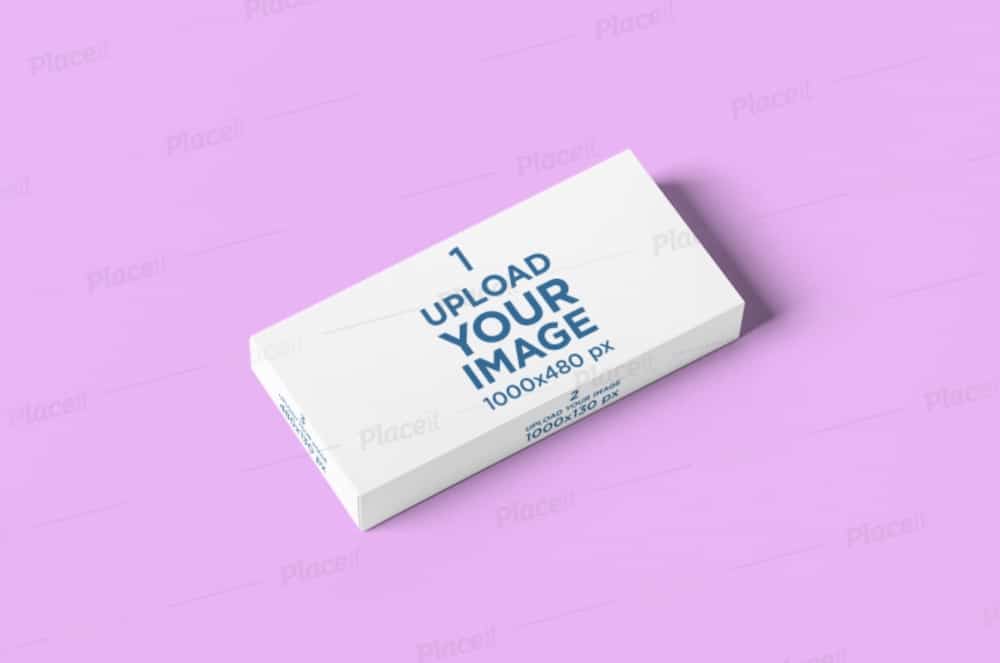 When working with a client on their new product, use a mockup to create a life-like version and go from there.
Here is a clean pills box mockup that comes as an excellent example of a fully editable and easy-to-work template.
No need to have any experience and advanced techniques to make it work in your favor.
Head over to Placeit, activate all the functions (with a click) and create a real-life example of a possible pills box design that you created.
Share it with your client, and you can discuss the final version before production.
MORE INFO / DOWNLOAD
11. Mockup of two paper boxes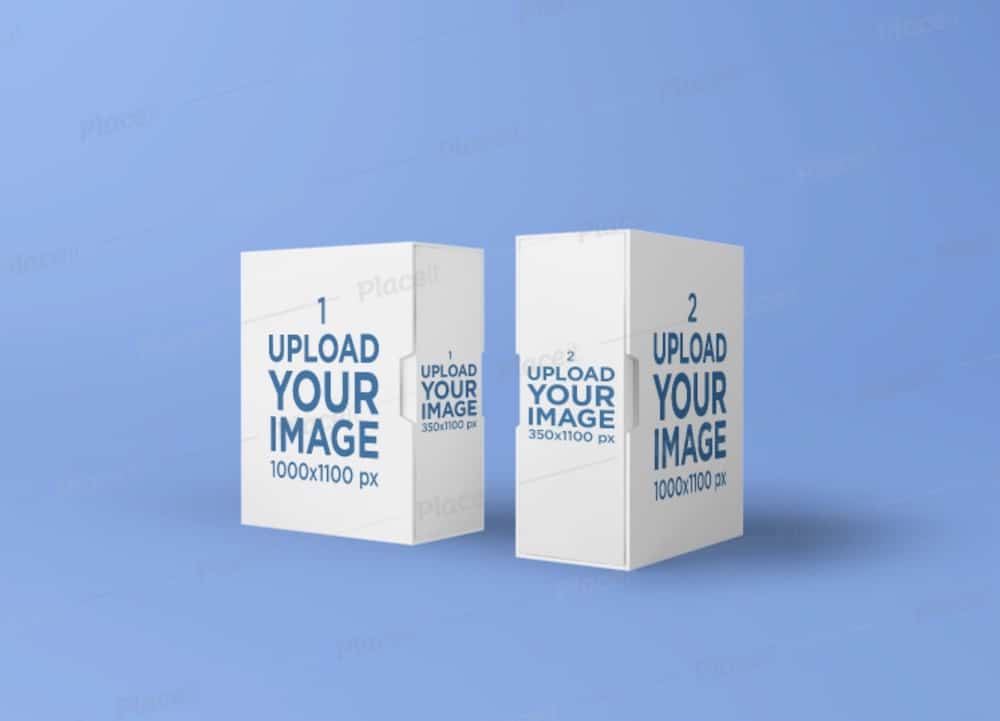 Two vertical paper box mockups on a plain background await your design creations and customizations.
You can insert up to four different images, two to the sides and two to the fronts or backs of the boxes.
In short, create a full-blown presentation that will win over everyone.
Both boxes are also adjustable with colors, just like the background is. And if you would like to make it even more engaging, share some text by hitting the "add text" button on the right side.
Little do you know, you can see your presentation come together in just a few seconds.
MORE INFO / DOWNLOAD
Best Paper Box PSD Mockups
12. Mailing box mockup set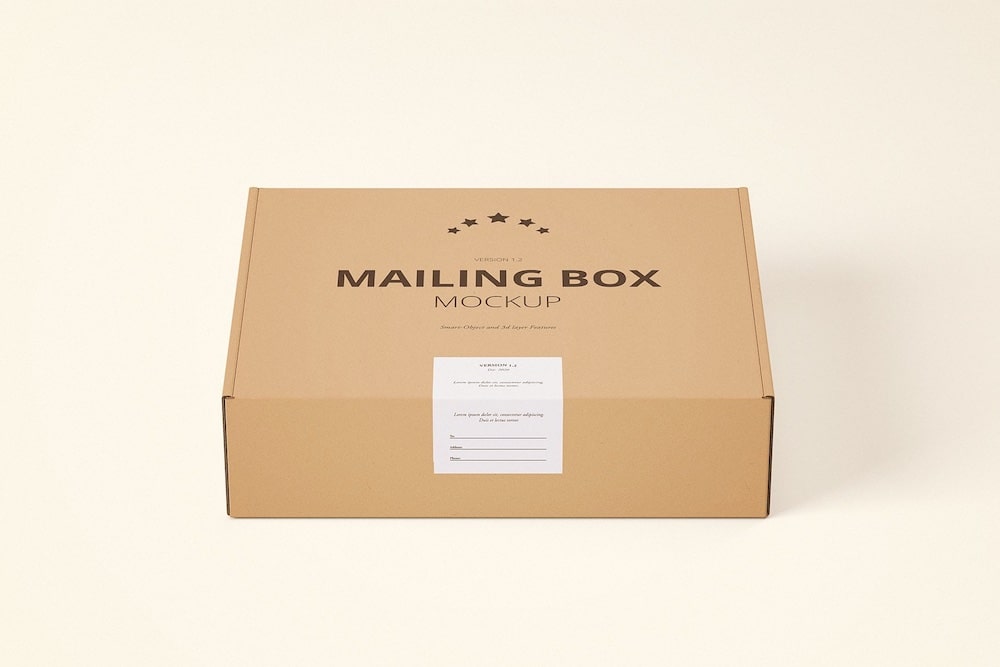 If you would like to take your photorealistic presentation of a mailing paper box mockup to the next level, then this set will do the trick.
In the bundle, you get a whopping collection of 14 views, all coming at a high resolution of 6000 x 4500px.
Each mockup is fully editable, colors, background, it is even Amazon-ready. As for sliding in your design or logo, you do it via handy smart objects.
So. Pretty.
Price: $12
MORE INFO / DOWNLOAD
13. Magnetic paper gift box mockup set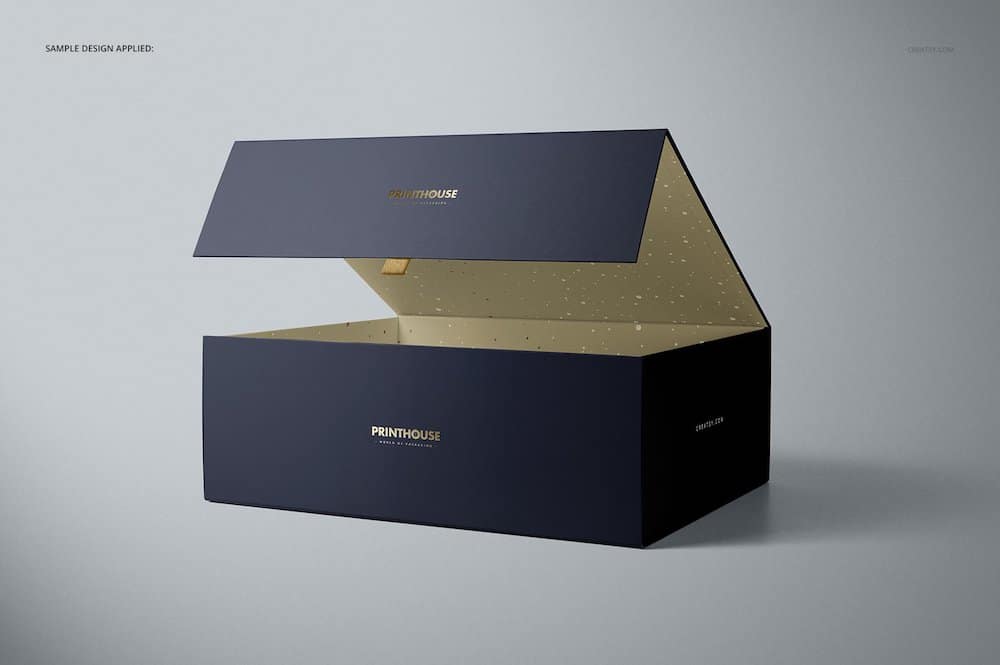 For something more luxurious, this magnetic paper box mockup is the right option for you.
With the available five different variations, you can go very into detail by creating a striking exhibition of a box design.
Each file also comes at 6000 x 4000 px, with 300 dpi. In addition to that, the actual size of the box is 46cm x 36,5cm x 16,5cm.
All the files are also 100% layered, so you know working on your next project will be a piece of cake. With that in mind, Photoshop and only basic knowledge are necessary.
Price: $15
MORE INFO / DOWNLOAD
14. Tuck top crash lock box mockup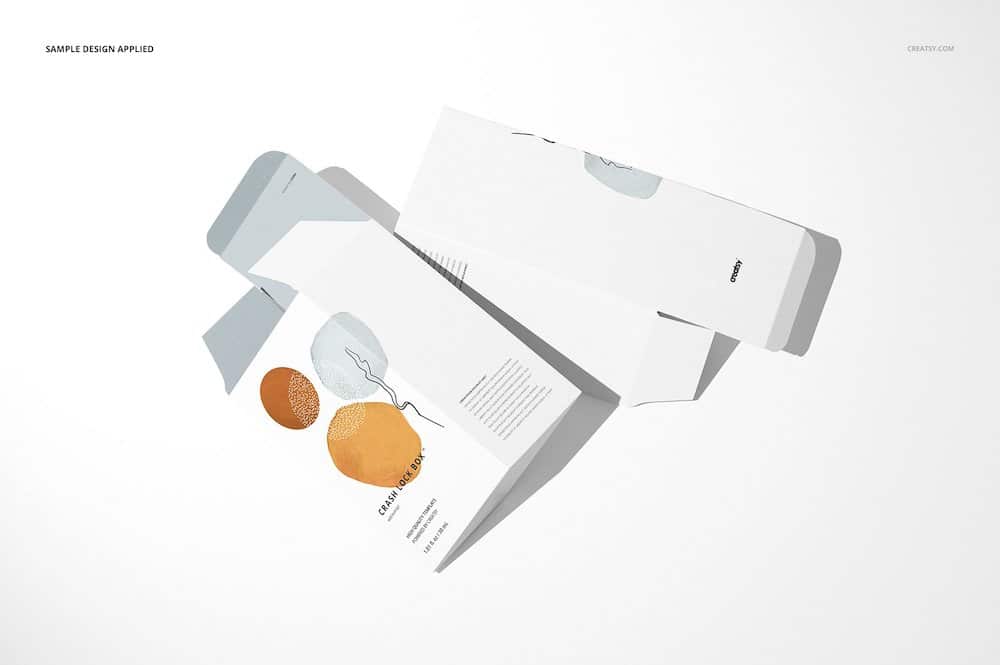 Here is an exclusive paper box PSD mockup of a tuck top crash lock box. This is one of those boxes where you need no adhesive to put it together, which comes very eco-friendly.
The set of goodies includes six stunning PSD files for you to edit and adjust according to your liking.
You can also modify the background color, even use patterns or keep it transparent – the choice is yours.
Note: these particular files use Photoshop's 3D function, so make sure you first download the test file to see if it works for you, so you avoid the inconvenience.
Price: $18
MORE INFO / DOWNLOAD
15. Mockup of a paper mailing box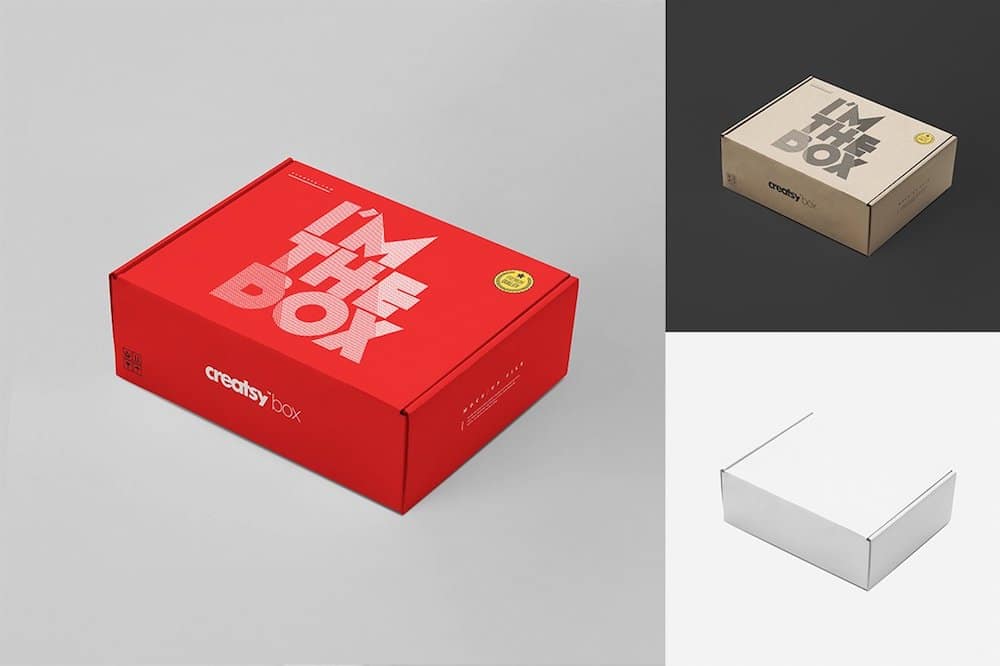 A remarkably impressive and easy-to-use mailing box mockup in four different views.
Moreover, since the very high quality of each file, you can create a very detailed presentation, as everyone can zoom in and the crystal clarity will still be there.
The specifications of each PSD file are 4000 x 4000px (300dpi).
You can make adjustments and improvements at free will with complete creative freedom, tailoring the default configurations to your liking. In short, everything is editable and customizable for your convenience.
Now take charge and create a stunning paper box design presentation that will wow everyone.
Price: $12
MORE INFO / DOWNLOAD
16. 12 Realistic paper box mockups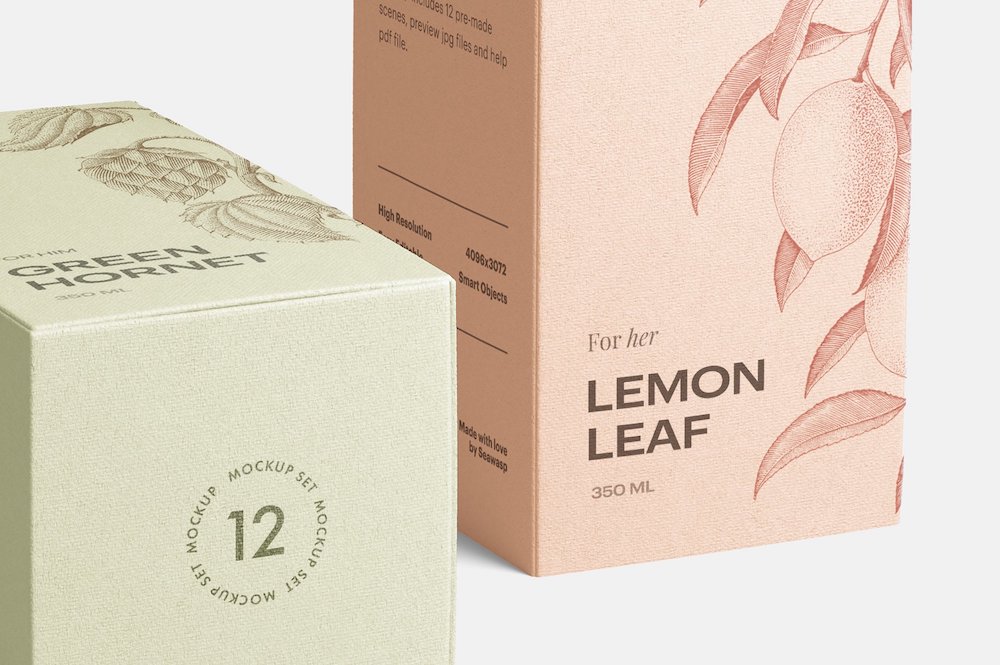 With this collection of twelve product packaging mockups, you can make outstanding and extremely realistic design demonstrations.
You get three different box sizes that cover small and medium-sized products in the kit.
Even though they may work fantastically well for the beauty industry, like perfumes and soaps, you can use them for something else, too.
Dimensions of different boxes are as follows: small – 6,5 x 6,5 x 10cm (2,6 x 2,6 x 4in); square – 8,5 x 8,5 x 10cm (3,4 x 3,4 x 4in); large – 8,5 x 8,5 x 15cm (3,4 x 3,4 x 6in). There you have it, a set of goodies that will do you well. There is also a help file included, just in case.
Price: $14
MORE INFO / DOWNLOAD
17. Kraft box mockup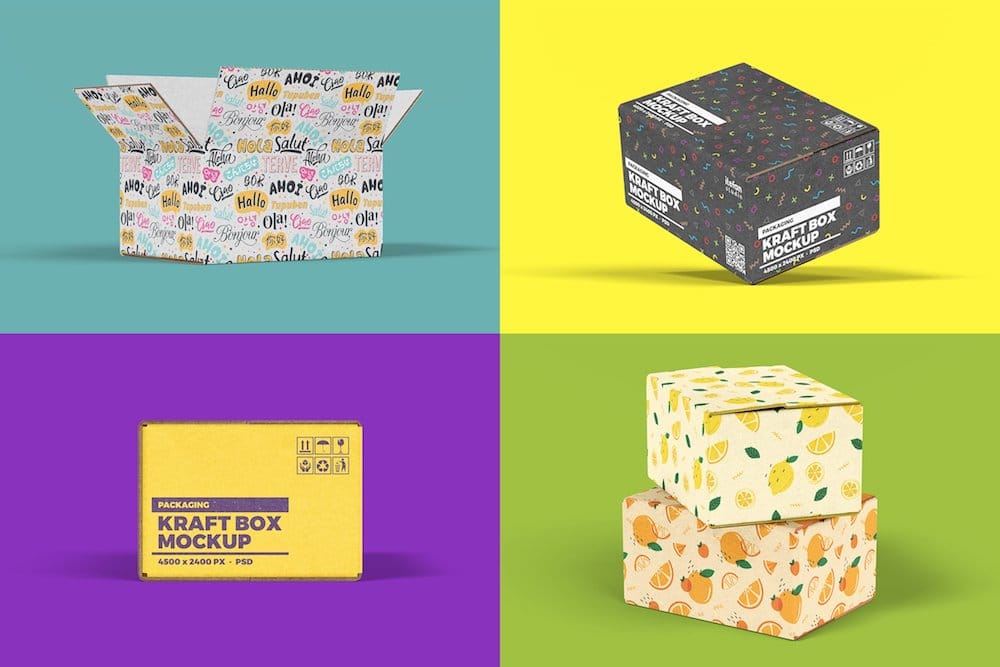 This one is for everyone scouring the web to find the best kraft box mockup.
And it does not come in just one view; there are eight high-quality (4500 × 2400px) photorealistic PSD mockups that you can beautify however you fancy.
Every file also comes with an adjustable background, so you can make it colorful or bland.
The organization of each file is on point, ensuring easy work for both beginners and professionals. The objects are also movable and the shadows editable. The dimension of the box is 39 x 29 x 20cm.
Price: $20
MORE INFO / DOWNLOAD
How To Create A Paper Box Mockup (In 4 Steps)
We'll use the process of creating a paper box mockup using a generator because it's our favorite and the most beginner-friendly.
Note: I highly recommend creating a free Placeit account first because it smoothens the workflow.
1. Visit Placeit
The first step is to visit the fantastic Placeit platform, where you can find 1,000s of mockups for every occasion.
You can either type the mockup you need in their live search bar or go straight to box mockup generators category.
Choose the one you like and click on it.
2. Import your design
This is already the step where you upload your design. Remember, you can even use your mobile device to create the mockup.
3. Customize
After the cropping and repositioning of the design/logo, you're ready to change the colors, add text, adjust the background, and more.
It only takes a few clicks (read seconds) to turn the default mockup into something extraordinary.
And you can play with the functions for as long as you want before settling on the winner.
4. Download
Then just click the Download when you're satisfied with your creation.
And that's how easy and quick it is to create a paper box mockup without Photoshop.
I. LOVE. IT!