Keeping things minimal and straightforward with white box mockups works wonders even though not all clients agree on this with us.
We ended up reviewing many possible solutions when working on 10 different projects.
This helped us create a collection of 20 OUTSTANDING mockups.
You can use them to create packaging for:
This post covers:
Create a branded white box in a few seconds. (Newbie-friendy.)
Have a GOOD TIME making great things happen!
Best White Box Mockup Generators
Note: You can always test any of these generators for free. (YUP!)
But when you take the plunge, they go for $7.95, or you can apply for a monthly ($14.95/mo) or yearly ($89.69/yr) subscription.
1. Mockup of a vertical box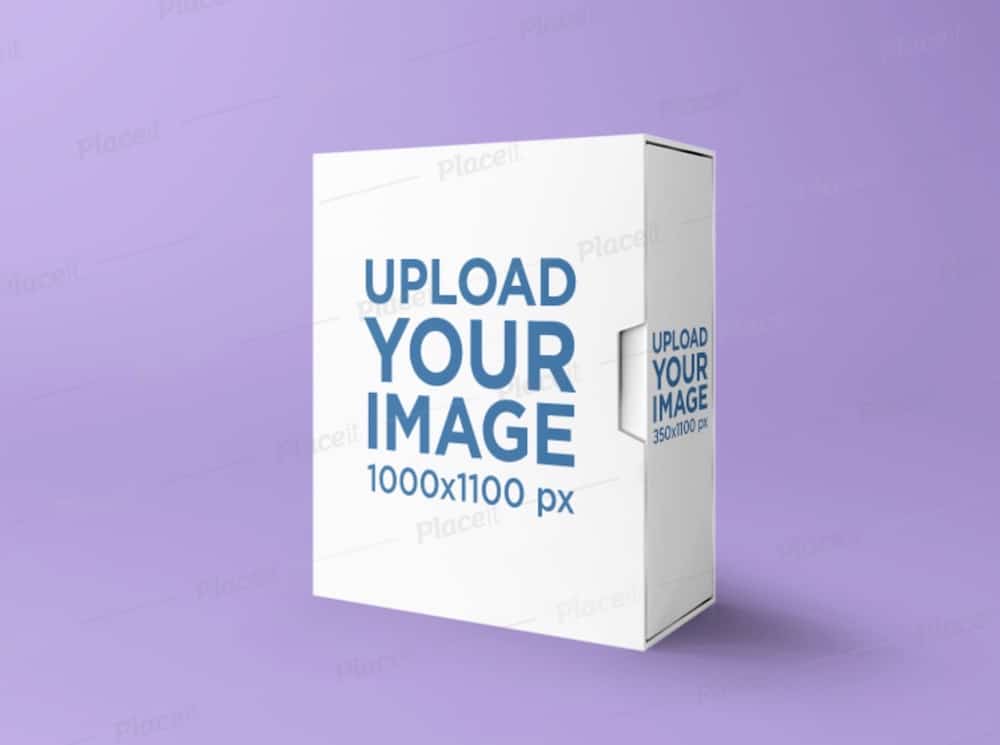 A simple mockup that will help you put any design you want on a white box.
You can use this one for various intentions, like a book set or even for software.
Of course, feel free to go entirely against the grain and make something else out of it.
Since it is a Placeit mockup, you get to edit the template entirely online.
There is no need for Photoshop or any other tool for editing the mockup.
You can add two designs, one to the FRONT and one to the BACK. Moreover, you can also change the background color with a single click.
MORE INFO / DOWNLOAD
2. Minimalistic mockup of a white cardboard box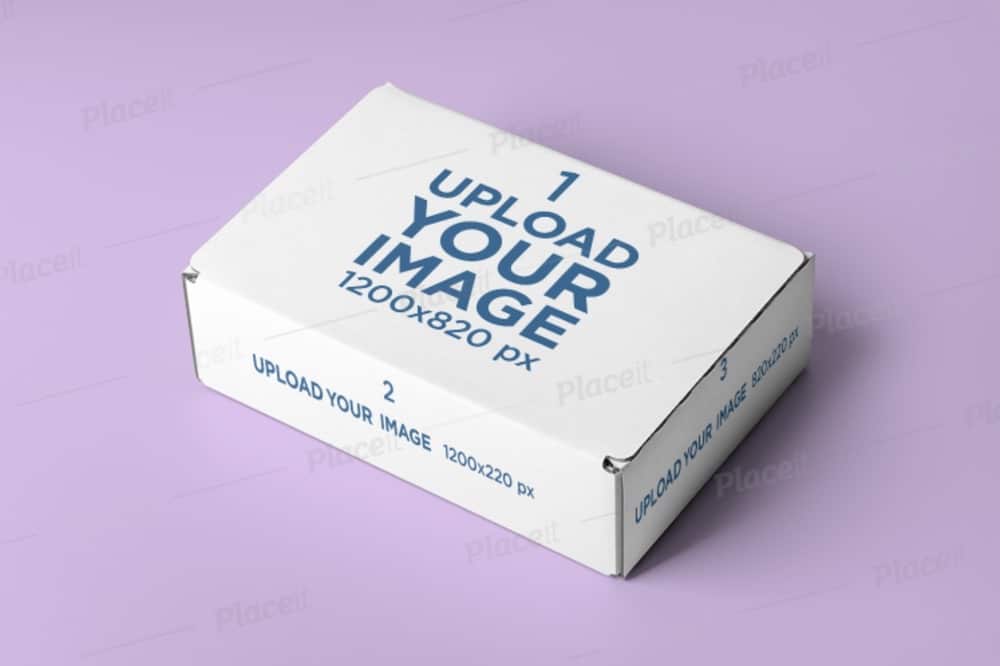 For the most part, all these white box mockups are very clean and minimal. They are perfect for displaying your designs, making them pop.
A simple cardboard box with three fully editable sides is what this one offers.
You can insert three different images and create a life-like version within seconds.
You also do not need to have any experience and design knowledge.
The only NECESSARY thing are the designs, all the rest you do online, using your favorite web browser.
See it for yourself; you can start even without creating a free account.
MORE INFO / DOWNLOAD
3. Mockup of a customizable gift box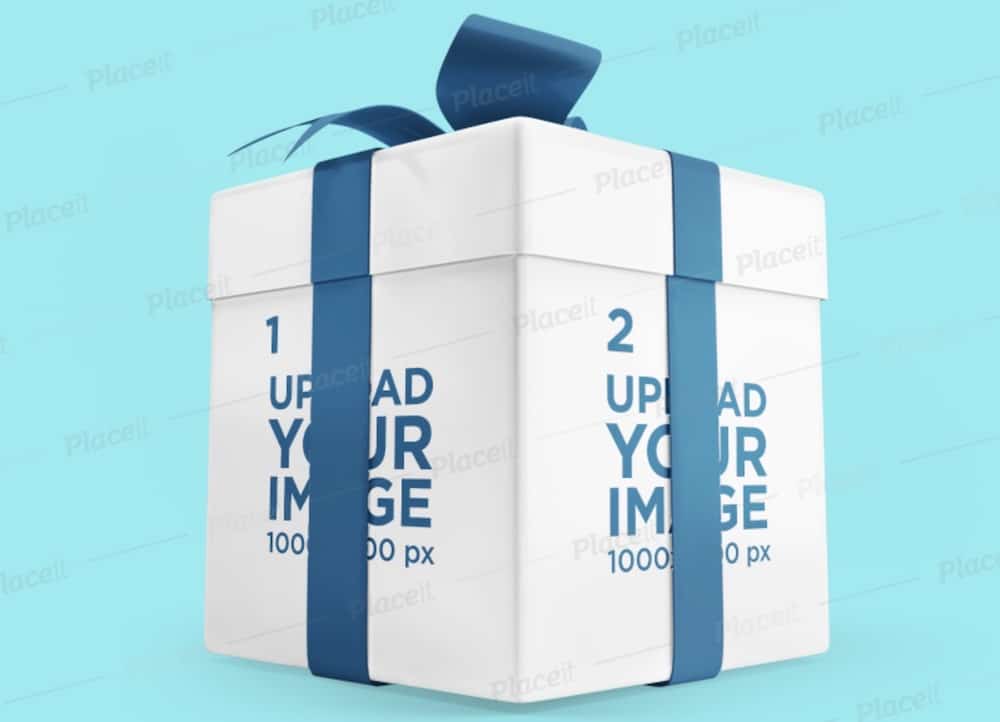 If you are designing a white gift box with a bow, make sure you first test it with a mockup.
This one will come in exceptionally handy, as it is EASY to work with and ensures a STUNNING outcome.
Along with sliding in your artwork, you can also alter the box's colors and background.
What's more, you can even add any text you want that can present a special message, like "happy birthday."
Play around with all the features for as long as it takes to find the perfect combination. See what works best and go from there.
MORE INFO / DOWNLOAD
4. Mockup of a box in a minimalistic setting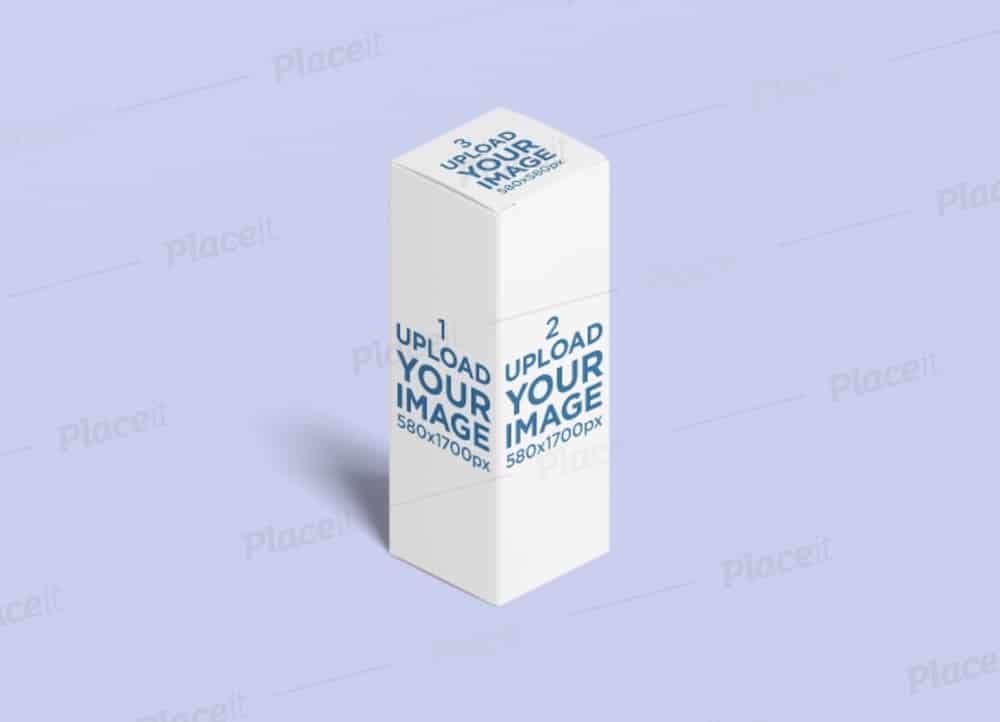 A mockup of a small vertical box that may fit the beauty industry ideally. Of course, you can easily SCALE it and, for instance, use this box for a wine bottle.
You see, the options are very many; you must just not let your imagination limit you.
As for the customizations, there are many options to quickly beautify the default appearance and make it follow your branding regulations.
There are three editable sides on the box, offering to style them accordingly.
You can upload images from your computer or even pick from your Placeit downloads.
MORE INFO / DOWNLOAD
5. Mockup of two horizontal boxes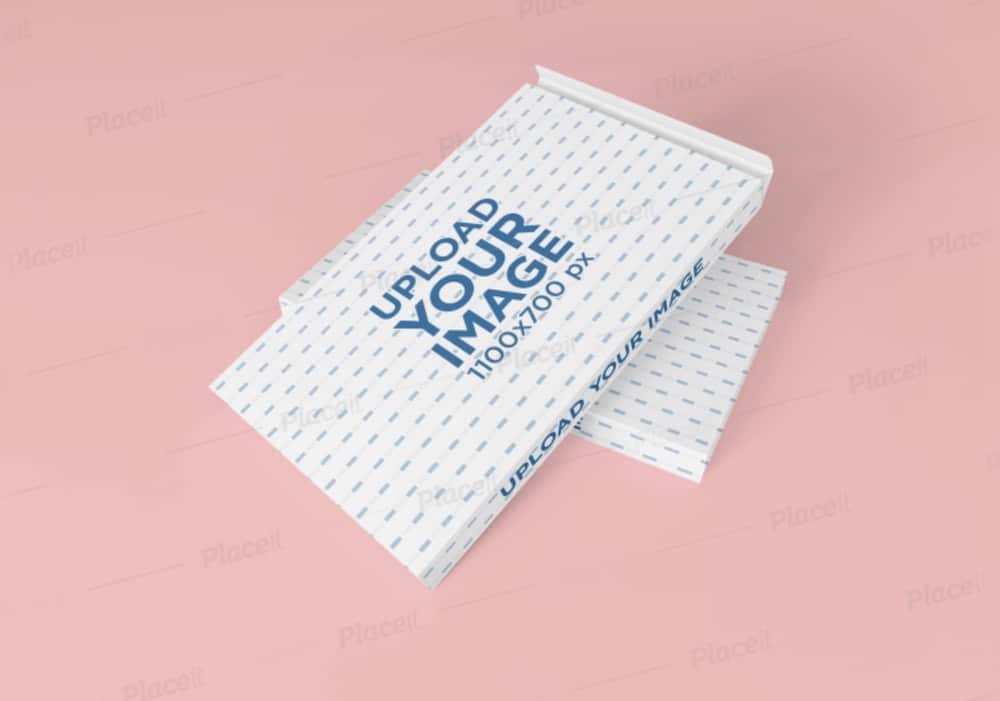 Instead of one, this mockup features two horizontal boxes, one overlapping the other.
Still, both white boxes are adjustable to your heart's content.
Each of the boxes has two customizable sides, front and side. That said, you can import four different artworks, whether a simple logo or a full-blown image.
A pop-up opens once you upload content that allows you to ADJUST it further.
You can try as many possible combinations before picking the winner; Placeit allows it.
Note: You can edit the background and add text, too. We once did a white and once a transparent one.
MORE INFO / DOWNLOAD
6. Mockup of a standing packaging box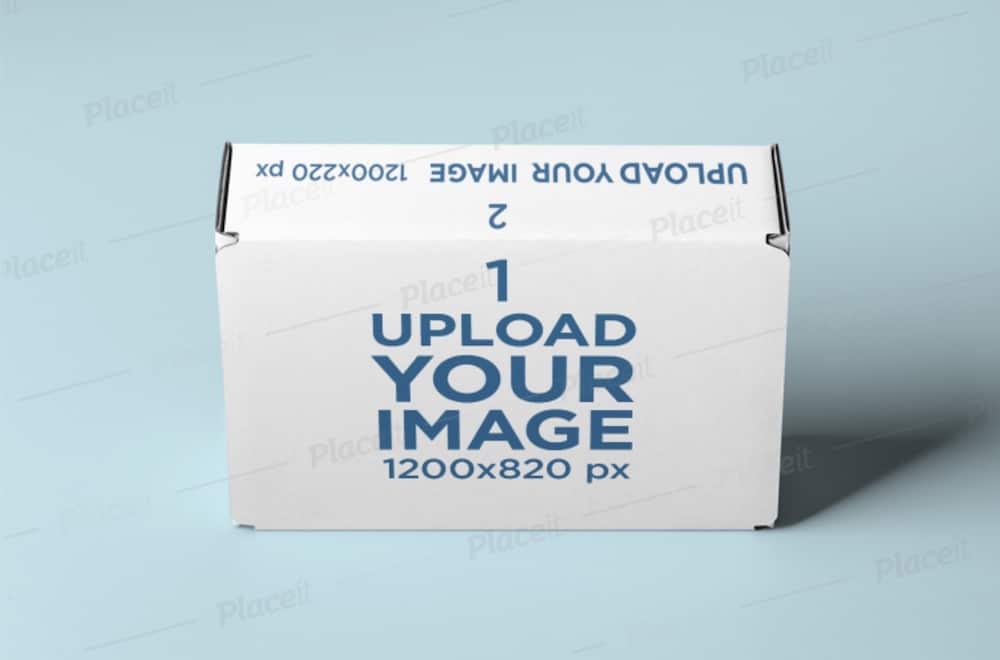 I do not know what for you will use this next one, but I know that the end product will be high-class.
The mockup features a white standing box that helps create a neat showcase of any design.
Later, you can send your idea to your client to discuss any possible improvements and enhancements.
You can even add your MASTERPIECE to your online portfolio; the options and possibilities are very many.
As for the editing, I think if I tell you that it's a Placeit mockup is more than enough.
This is another way of saying that the process is effortless.
MORE INFO / DOWNLOAD
7. Pills box mockup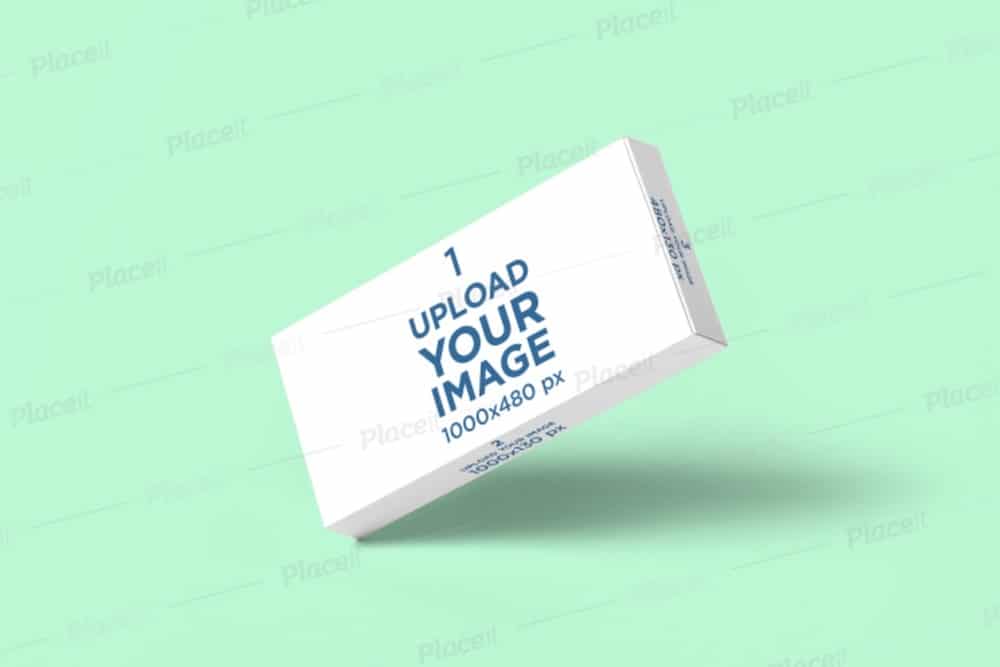 A mockup of a floating pill box that you can DECORATE however you fancy.
There is no need to hold back – you can fully modify and improve all three boxes to your liking.
Moreover, you can also change the shade of the background and attach some text.
There are all these features that you can benefit from, helping you create an outcome in little to no time.
See how your designs fit and study them further if they need any additional modifications.
MORE INFO / DOWNLOAD
8. Mockup of two white pill boxes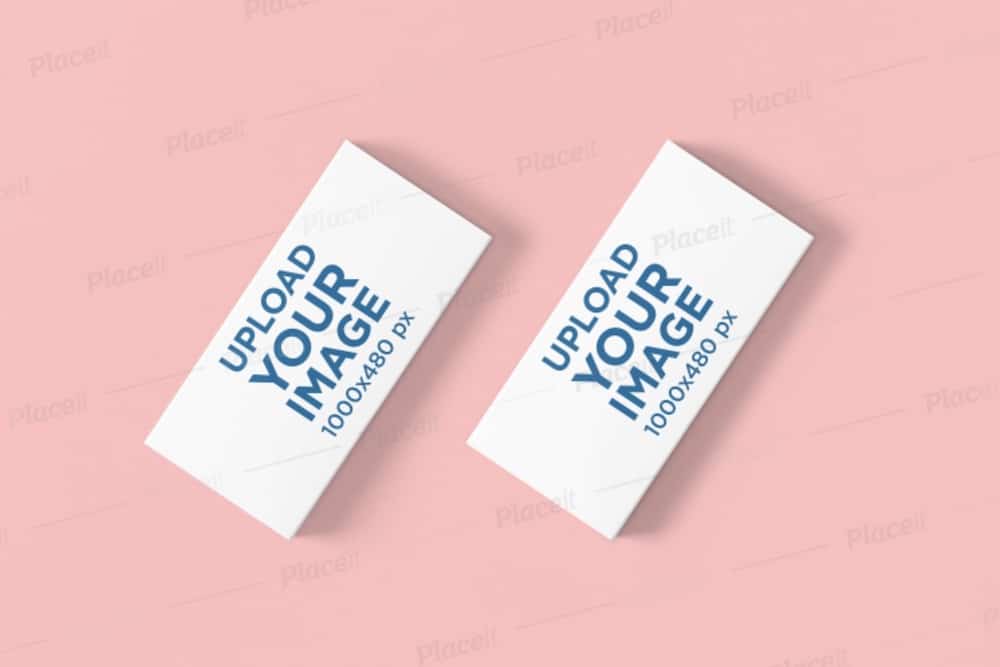 While the previous white box mockup offeres three sides to style with your artworks, it is missing the back/front.
That's what you can fully sort out with this template.
The mockup features two pill boxes at an angle, lying on solid color background.
Indeed, you can individually style both boxes with front and back designs or even two variations of the same design.
As for the latter, it allows you to compare two ideas against each other. (Your client will love it!)
Keep in mind that even though we are here for white boxes, you can ACTUALLY change both items' color.
MORE INFO / DOWNLOAD
9. Cosmetic packaging box mockup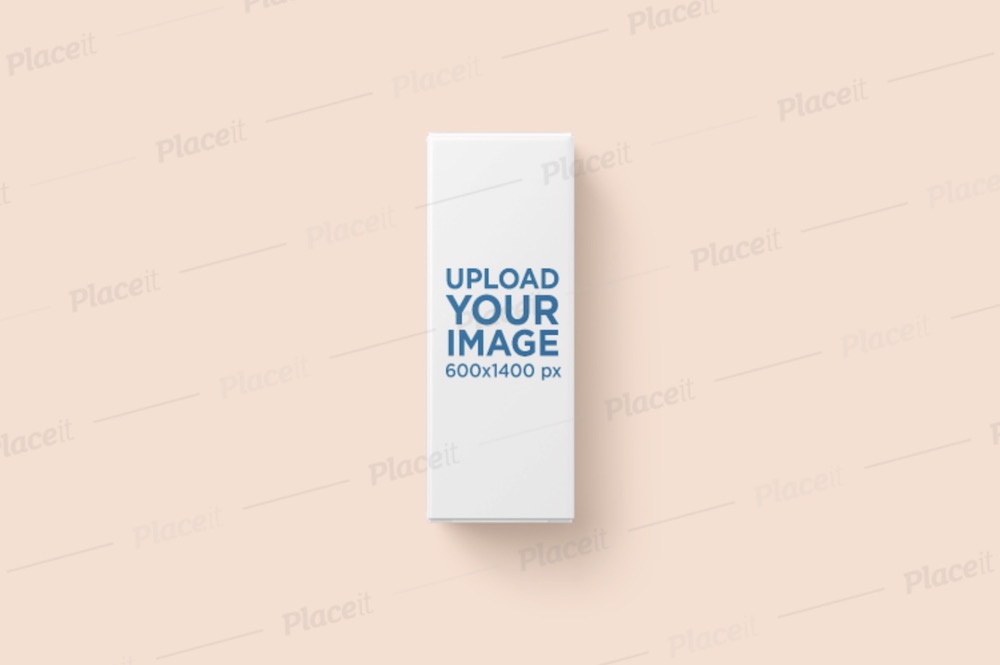 A similar white box mockup as above but features a different view. This is a neat solution for creating a life-like presentation of cosmetic packaging with your branding on it.
You can use a mockup like this for an array of different intentions.
From testing out the design on an actual product to showcasing a photorealistic version to your client before production.
In addition to that, add it to your online store or use it in a marketing campaign on social media – the options are MANY.
MORE INFO / DOWNLOAD
10. Mockup of an open gift box with a bow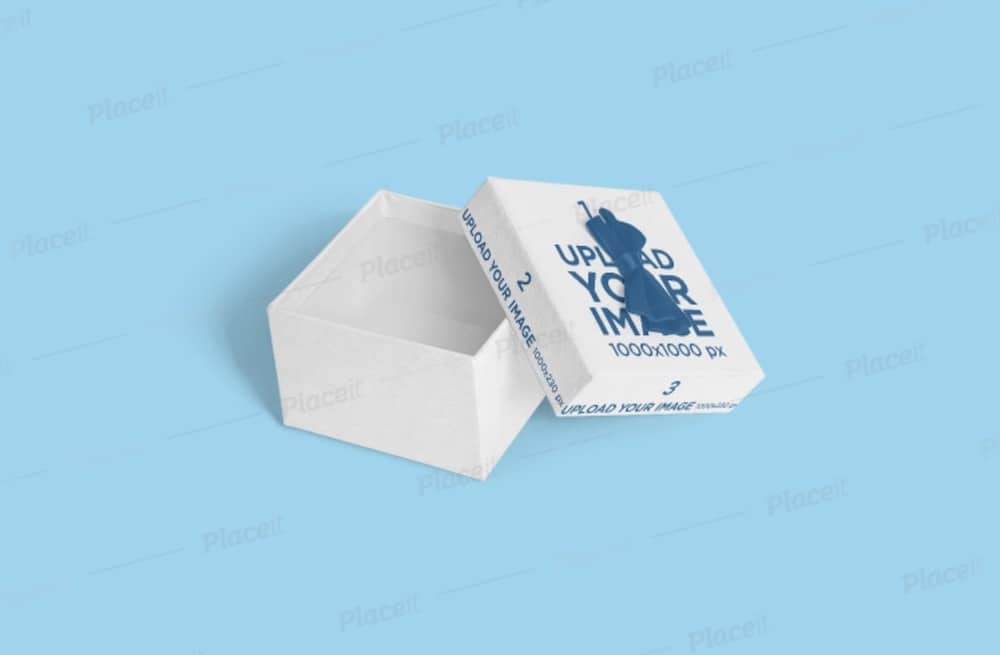 Create the exact gift box that you are after with this LIFE-LIKE mockup. It features an open gift box with a fully editable lid.
You can garnish the lid with three designs and even change the color of the bow.
It is simple work, as it only takes some clicking and you're DONE.
No need to use Adobe Photoshop since you do all the work online.
What's COOL, you can head over to Placeit right away and test the waters before creating an account.
However, it is too fun not to continue with the task and end up with a unique finished product.
MORE INFO / DOWNLOAD
11. Small gift box mockup

Another excellent white box mockup that calls for a remarkable result that will move mountains.
A beautiful white gift box with a simple decoration ALWAYS does the trick.
Not just that, add a bow on it and you will win over everybody.
As for adding branding to this box, all you need is ready designs; all the rest happens online.
It is a speedy process that helps create an impactful outcome to grab everyone's attention.
Why do the heavy lifting from scratch when you can use a predefined template and complete the work in seconds?
MORE INFO / DOWNLOAD
12. White mailing box mockup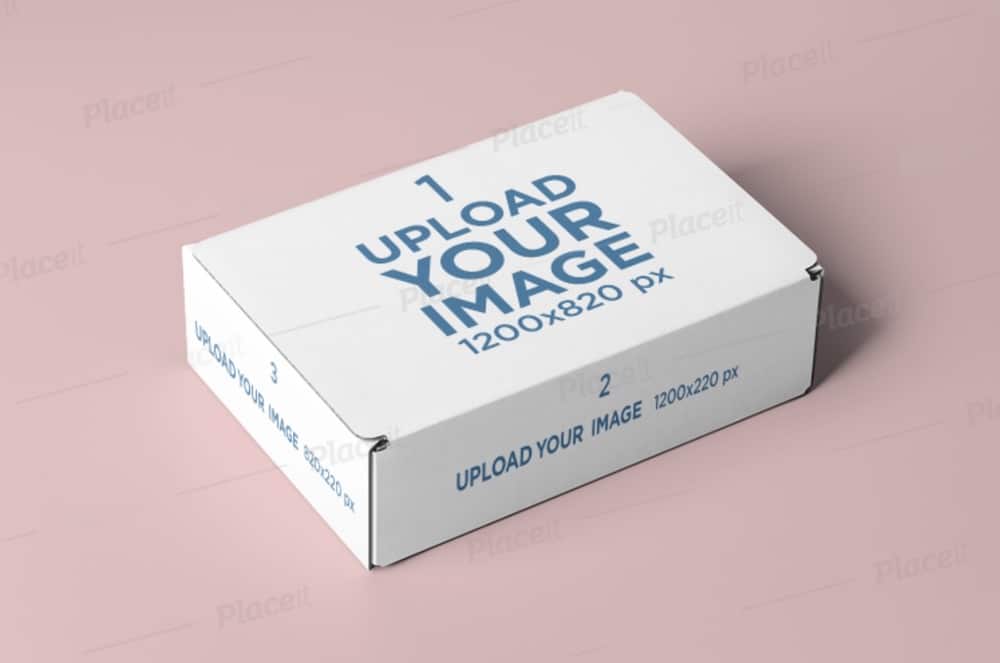 A clean and easy-to-use white box mockup for mailing, but really, you can use it for all sorts of objectives. No need to LIMIT yourself in any way, shape or form.
The mockup is entirely editable, ensuring you get the most out of it swiftly with little to no work.
First and foremost, you do not need any advanced software, and you also do not need any experience. This mockup is for everyone who needs to brand a white box of this dimension.
With the option to upload three different designs, you can go very detailed with your photorealistic presentation.
MORE INFO / DOWNLOAD
13. White box and T-shirt mockup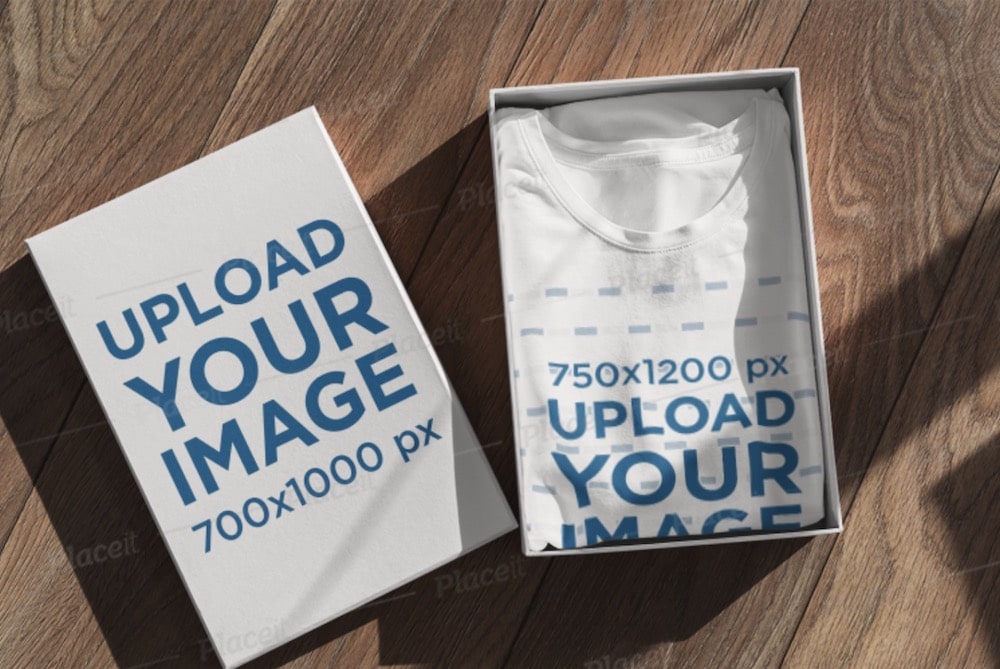 For a beautiful presentation of a T-shirt, this white box mockup will do you well.
Even though very LITTLE work is necessary to create a life-like presentation, you can still play with different features that the mockup offers.
With that in mind, you can go entirely against the grain and make the exhibition as colorful as you want.
Due to the exclusive online mockup generator, you need no photo editing software and experience.
Everyone can create a real masterpiece in just a few clicks – you only need the logo or design ready to go.
That's it!
MORE INFO / DOWNLOAD
14. Mailing box mockup with a wooden background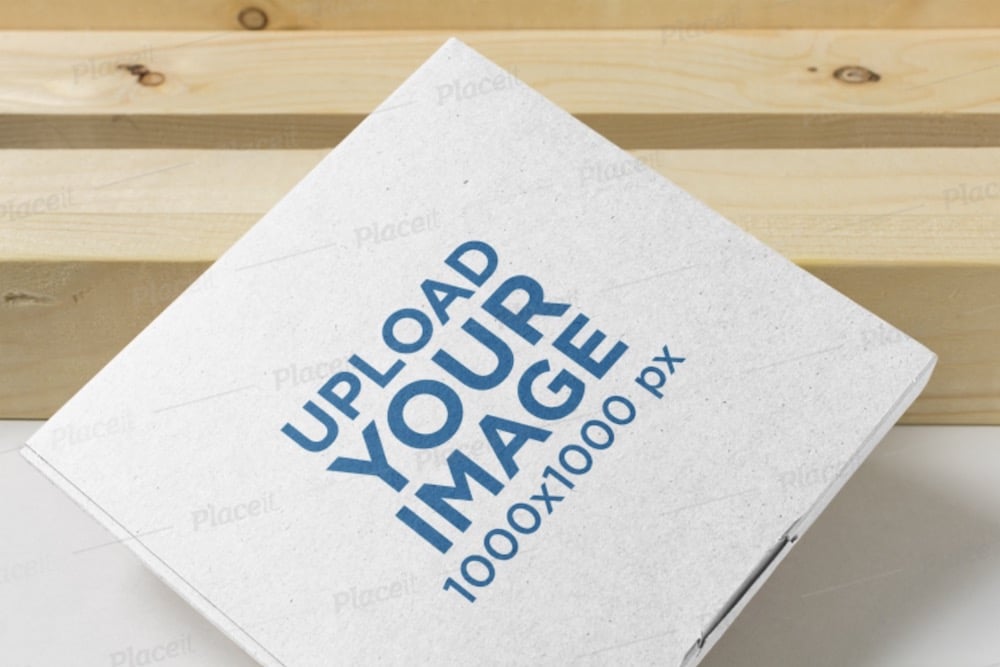 A square box mockup featuring top view. The working area of this box is 1000 x 1000px, but you can work with other dimensions as well.
What you will notice is that you have great cropping and repositioning options, so different designs, even a simple logo can fit the box flawlessly.
In addition to that, you can also add text to it and that's it. After all, you will want to keep the color of the box default (because white).
Note: the box can be of any color you want; just use the handy color picker.
MORE INFO / DOWNLOAD
Best White Box PSD Mockups
15. White gift box and bag mockup set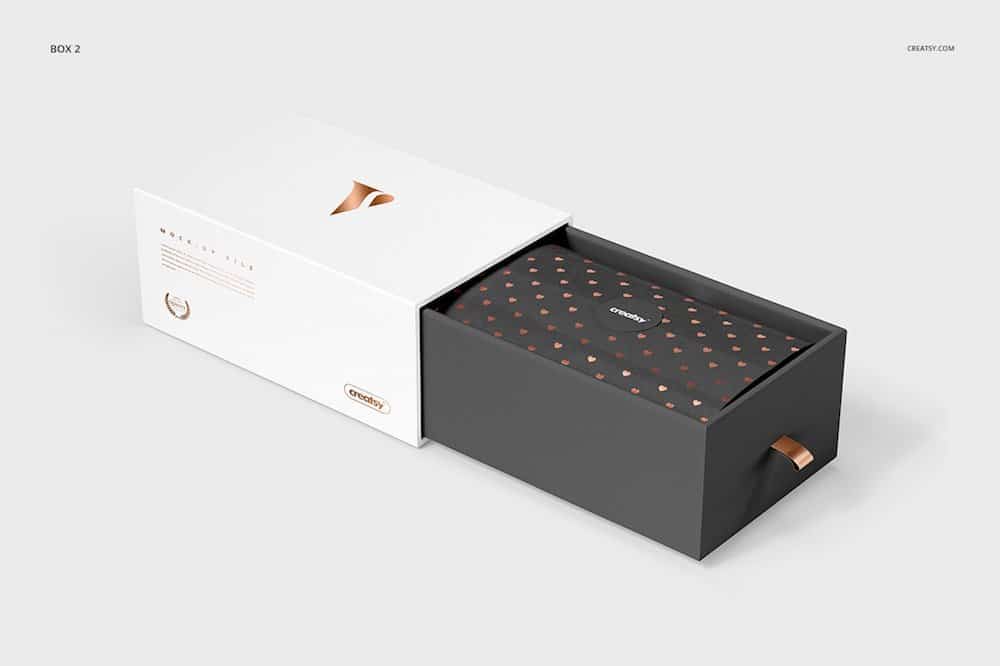 If you would like to take gift wrapping to the NEXT LEVEL, use this set of mockups and go from there.
As a matter of fact, boutique stores and designer brands can greatly profit from the set, too.
In total, you get a whopping collection of 26 layered PSD files, all fully editable and adjustable.
Five boxes in four views with additional three bags in two views.
You get a lot of stuff in the kit, ensuring you create a terrific box showcase to inspire everyone.
You can even use this one on your eCommerce website, heck, even Amazon.
Price: $16
MORE INFO / DOWNLOAD
16. Mailing box mockup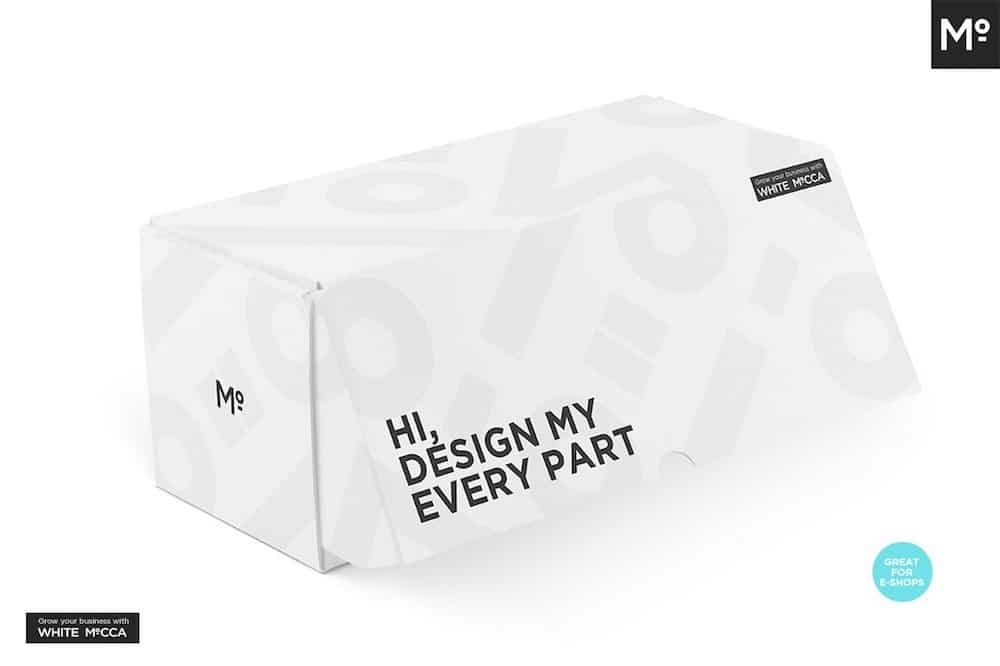 Save time and energy when creating the ideal design for a white box with this cool template.
In fact, there are twelve variations at your disposal, featuring every possible angle of a box, including open variations.
Everything is customizable, so you get to create the final piece that follows the necessary regulations to a tee.
With the convenient smart object layers, you just DRAG and DROP the designs and you're done.
Moreover, you can also keep the background white or introduce any shade you want. Even make it transparent.
Price: $12
MORE INFO / DOWNLOAD
17. Thin mailing box mockup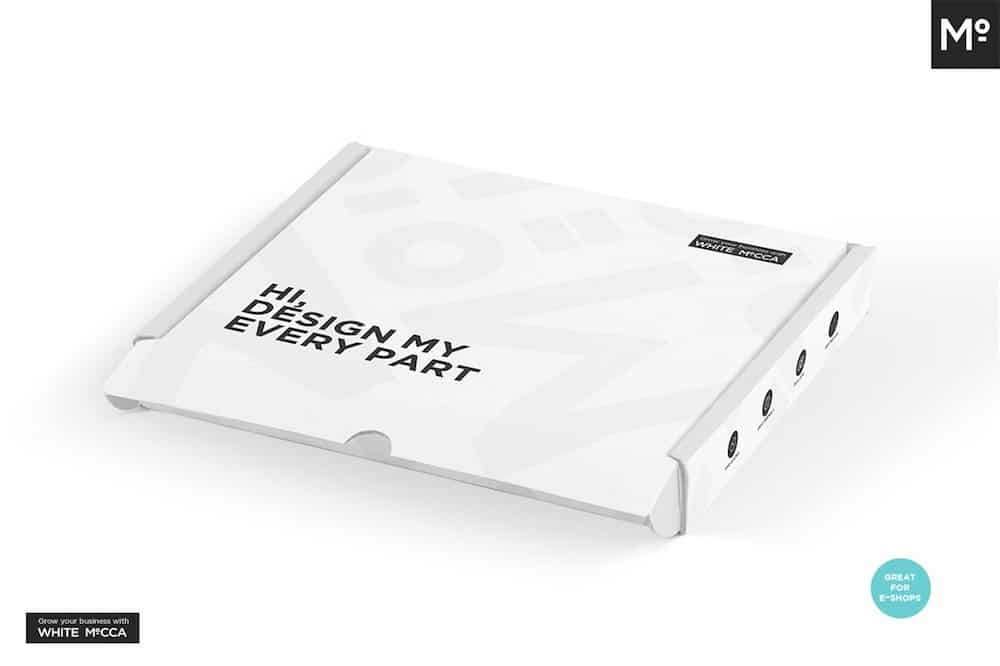 Here is a spectacular alternative to consider if you need a thinner white box that you would use for mailing or all these other purposes.
Even though this set of mockups requires Adobe Photoshop, you will still have a little breeze managing it.
The author even included a user manual, so you can get the gist of it before you fully commit.
But you do NOT NEED to be an expert to make it happen; all the layers are organized so that you can learn on the fly.
Amazingly realistic effects make the outcome appear like you took an actual product photo.
Price: $9
MORE INFO / DOWNLOAD
Best Free White Box Mockups
18. Cardboard box PSD mockup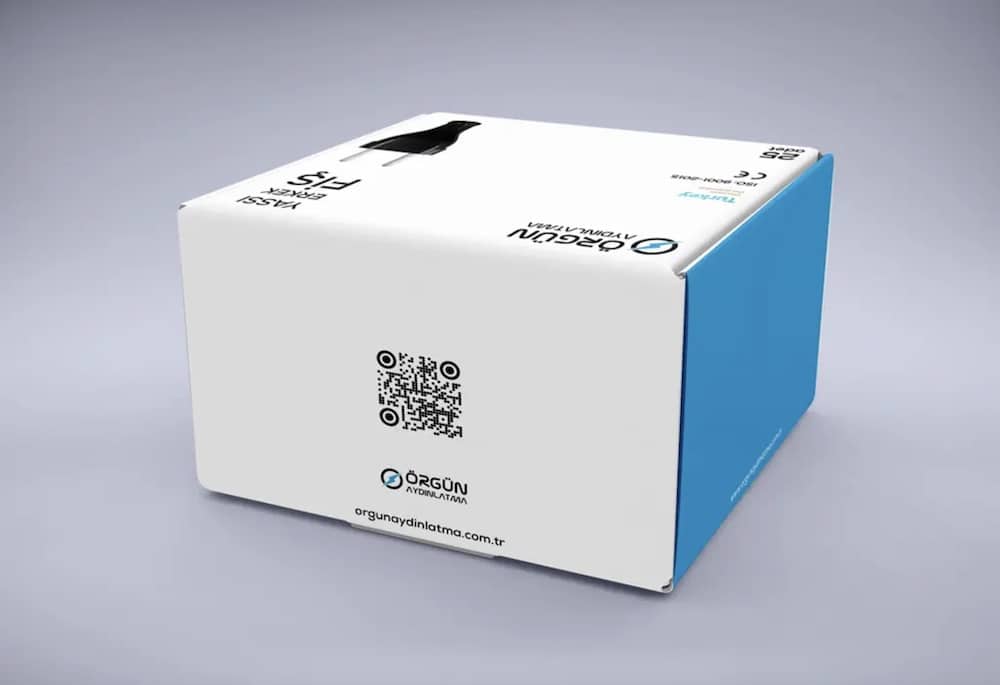 A versatile and quick to edit and improve free mockup of a cardboard box. This one can work for products, gifts, whatever your heart desires.
(We recently used it for creating router packaging.)
What's cool about the template is the amazing quality (3050 x 2100px) that guarantees a top-notch outcome.
The mockup also uses smart objects, so you just drag and drop your designs.
Note: You can freely use it both for personal and commercial projects. (BIG PLUS!)
MORE INFO / DOWNLOAD
19. Free elegant white gift box mockup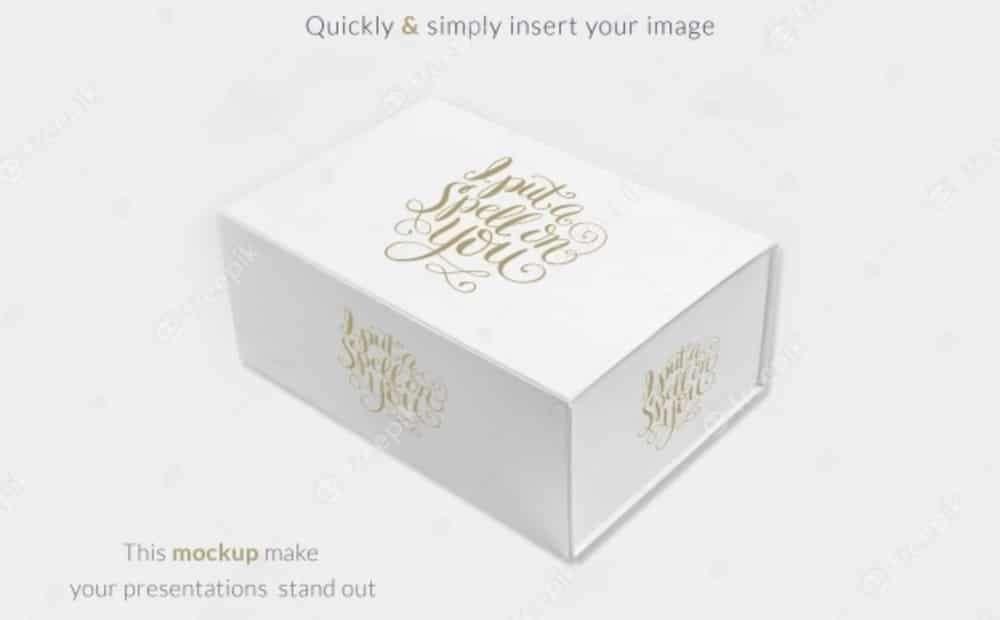 You don't need to pay a fee to have a chance and benefit from a powerful mockup. Use this one to create a gift box that'll be both ELEGANT and LUXURIOUS.
This one comes in great when creating branded packaging for a designer store or a brand. But it doesn't need to be related to fashion.
You are welcome to go entirely against the grain and use it for something else. This mockup is here to make a difference.
MORE INFO / DOWNLOAD
20. White pill bottle and box mockup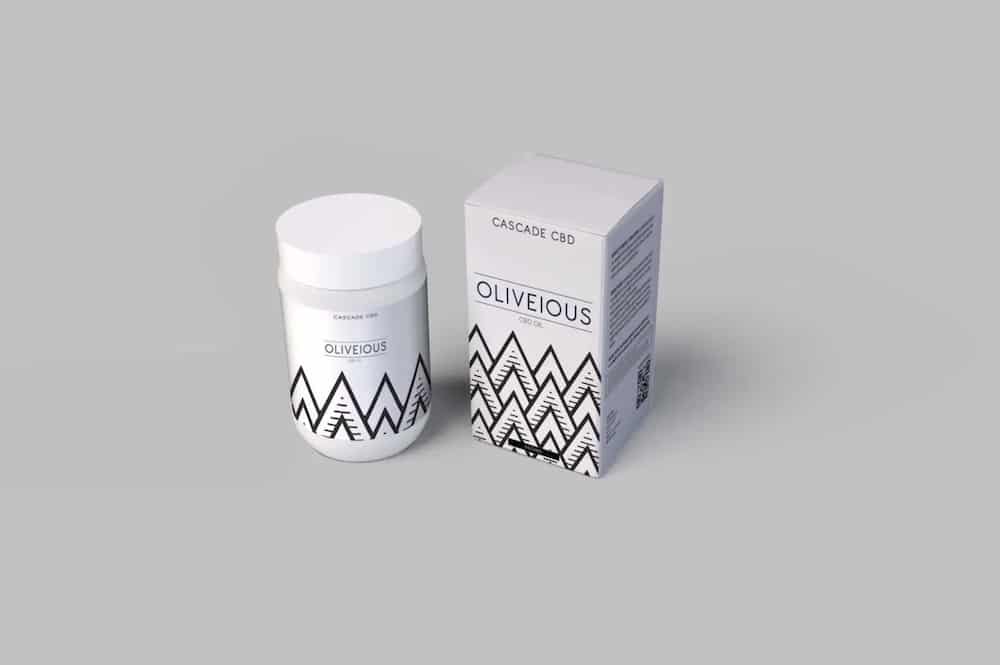 If you are creating a custom pillbox, there's a good chance you'll want to opt for a white box.
Here's a full-blown kit that features both the bottle and the packaging.
You can make the final, 100% realistic version in a mere few clicks. Especially if you have the designs and logos ready to go.
On the other hand, you can use it to test things out first before settling on the final branding.
WOW your client with something exceptional.
MORE INFO / DOWNLOAD
How To Make A White Box Mockup?
Creating a realistic presentation of a white box doesn't take much work. Especially if you use an online mockup generator.
And that's precisely what we'll use for this quick tutorial.
Why? Because it produces the fastest results.
I'll show you how to make it happen with Placeit, a platform I use regularly.
5 Steps To Design A White Box Mockup:
Step 1: Visit Placeit (my fav!), where you can find 100 templates you can use for your project. But you can also type your query in the search bar if looking for something more specific
Step 2: I then recommend importing your design first thing via the "insert image" button. You can also make changes to it, like resizing and repositioning it. Then tap "crop."
Step 3: If the template offers to add custom designs to other parts of the box, repeat step 2.
Step 4: You're nearly done. Perform other customization tweaks, like changing the background, adding graphics, etc., to make the outcome that fits your needs.
Step 5: Click "download," and your creation is ready for sharing.
That wasn't too bad, right?
But it's also enjoyable creating a life-like showcase with a PSD file.
Open Photoshop and import any of the PSDs from the collection above.
Remember, I ensured to include only those with excellent organization and a great layered structure.
This allows you to slide in your design via the smart object layer effortlessly. Drag it and drop it.
You can then tweak the mockup however you want by adjusting other layers.
And you're work is done.
Have a blast!
::
Note: This article was originally published on November 26, 2020. But our team regularly reviews it and updates it with necessary improvements for accuracy.