Are you looking for the best and most realistic pills box mockups?
We spent twelve months testing 40+ templates on personal and commercial projects, so you don't have to.
Here are 16 that you can use for any medical intention, pharmacy, even supplements.
It doesn't necessarily mean you must run a pharmaceutical company to work on a pill box design.
Many small pills and supplements brands are out there that need a custom pills box.
(Hint: These are the ones we aim for.)
This post covers:
You'll easily find the right mockup for your project with our versatile collection of mockup generators and PSD files.
Make a good one!
Best Pills Box Packaging & Bottle Mockup Generators
We start with mockup generators to make your life even easier. (You can use them to make a mockup without Photoshop.)
So. Cool.
Note: Price is $7.95/template. But you also have an option to go for a monthly ($14.95/mo) or yearly ($89.69/yr) subscription (which we recommend).
1. Mockup of a pills box on a flat surface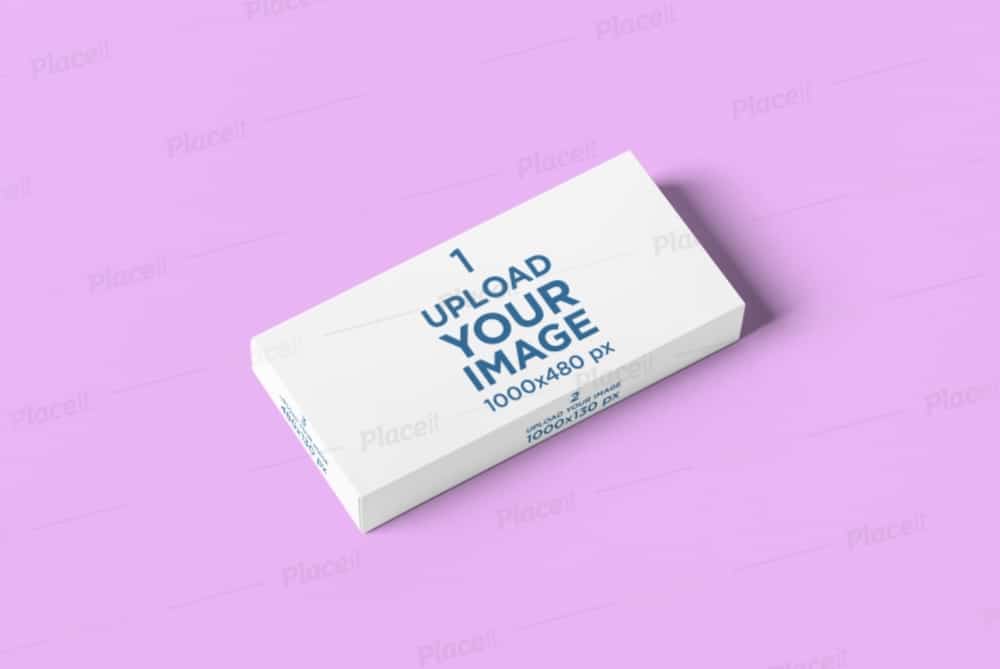 Let's face it; simplicity always wins. If you are creating a life-like presentation of a box for pills, this is the mockup that will do you well.
It features the white box at an angle, lying on a solid surface. First and foremost, the colors of the paper box and the background are 100% editable.
Moreover, as you see from the picture above, you can add different designs to all three sides of the packaging.
For this, you only need to upload them to Placeit and that's it. Perform any last refining touches and you are GOOD to go.
MORE INFO / DOWNLOAD
2. Minimalist pills box mockup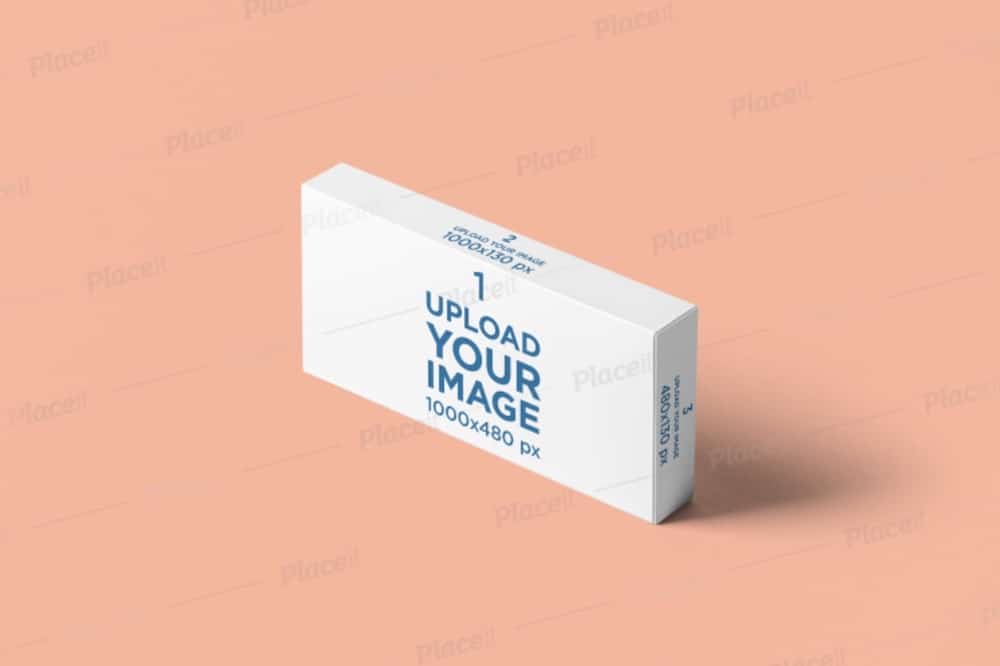 A somewhat similar pill box mockup to the previous one, just the positioning is different. With that in mind, you already know that the editing process is a little breeze.
Once you are on the Placeit platform, it will take you seconds to improve the default settings.
Note: You do not need to create a free account right away.
Test the waters first and witness how superb the mockup generator is. In short, it's almost too good to be true.
Regardless of the experience, everyone can quickly create IMPRESSIVE and extremely photorealistic presentations.
MORE INFO / DOWNLOAD
3. Mockup of an open pills box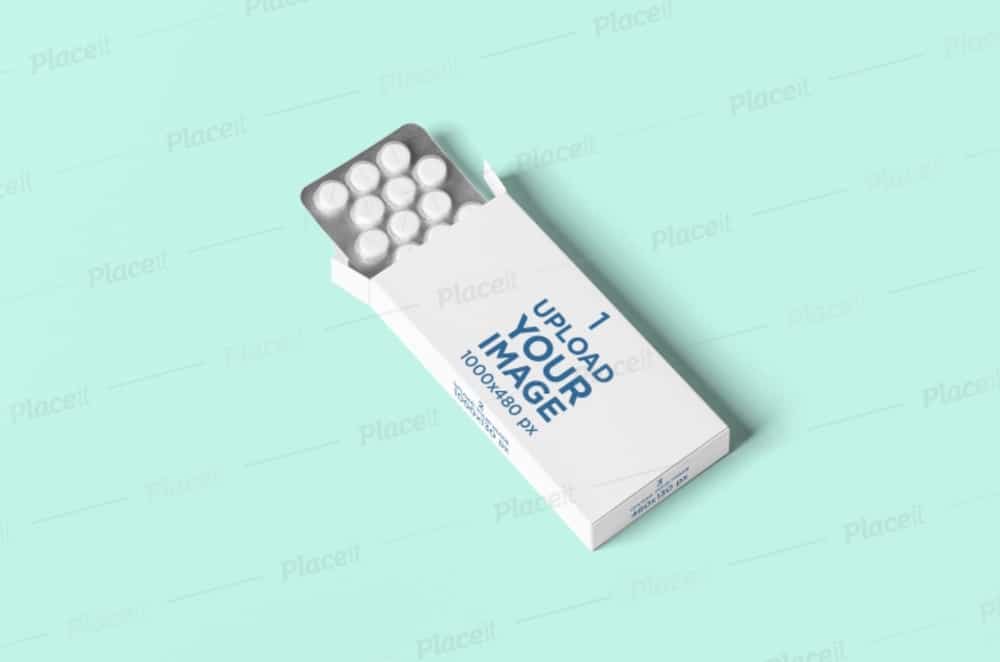 If you would like to spice things up, you can SKIP mockups with the box only and go with this one instead.
The template features an open box, all set and ready to present your designs.
Of course, your pills should be the same as on the mockup; otherwise, it will not make much sense. You can change the color of the pills and alter the background and the box.
Moreover, you can upload three different images to all three visible sides of the box.
And if that's not enough, you can also include additional text.
MORE INFO / DOWNLOAD
4. Mockup of a pills box in a minimalist setting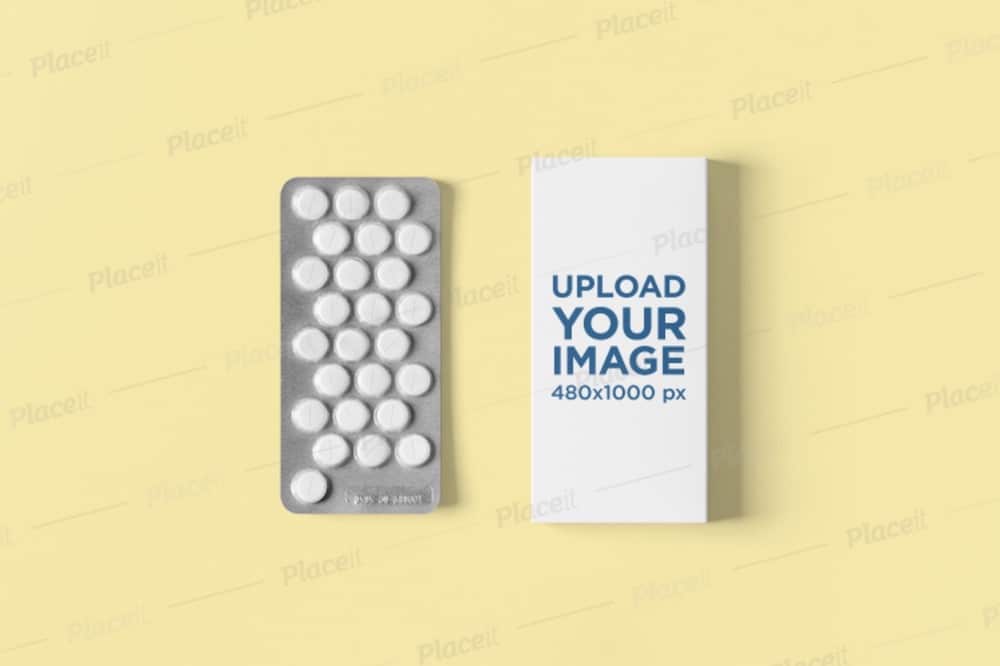 This easy to use mockup features a pack of pills and a vertical box side by side on a fully customizable background.
As for the background, you can change it to any color you want, even make it transparent. Moreover, you can also change the tint of pills and packaging.
Furthermore, by inserting your design, a pop-up opens where you can crop and reposition it if necessary.
Only one more click and you can already see the LIFE-LIKE version of your design appear in front of you. You can still make as many variations and edits as you want.
MORE INFO / DOWNLOAD
5. Mockup of half-open pills box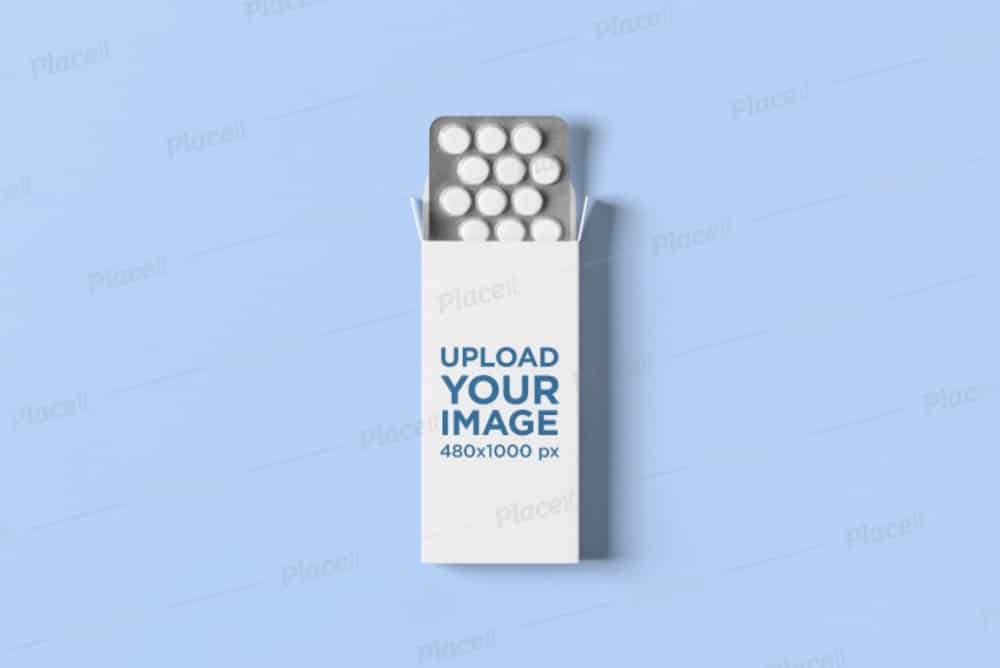 For the most part, you will notice that the majority of pills box mockups on this list are very clean and minimal.
That said, they are great for all sorts of intentions, even for use in your online pharmacy website.
What's more, you can create marketing campaigns and share them in blog posts. This alternative is NO exception. It features an open box with editable background, packaging and pills.
Thanks to the online editor, you can quickly make the final version without Photoshop.
You can create multiple combinations, only to find the one that does the trick best.
MORE INFO / DOWNLOAD
6. Mockup of a floating closed pills box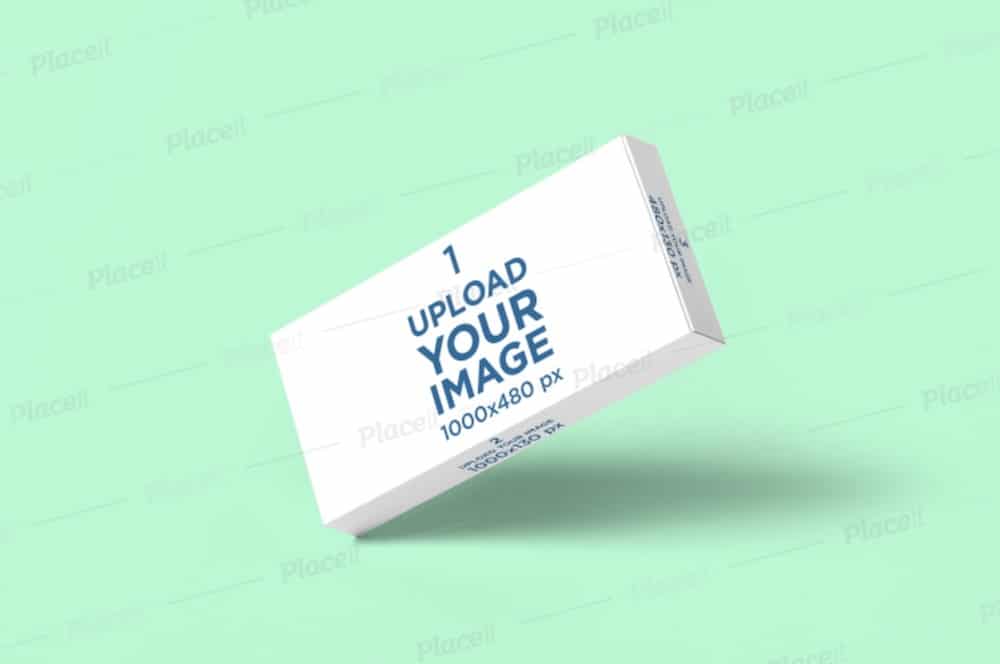 Instead of keeping things too basic and mundane, spice things up with this floating pills box mockup. With the shadow effect, the overall presentation will appear even more realistic.
Import three different designs to all three sides, change colors and that's it. You can send the preview to your client, showing them how the final, physical version would look.
At this point, you can make AS MANY more improvements and adjustments to be 100% sure all is prepared for the print shop.
With the use of Placeit, no Photoshop knowledge is necessary. Make a difference now.
MORE INFO / DOWNLOAD
7. Pills box mockup with a customizable background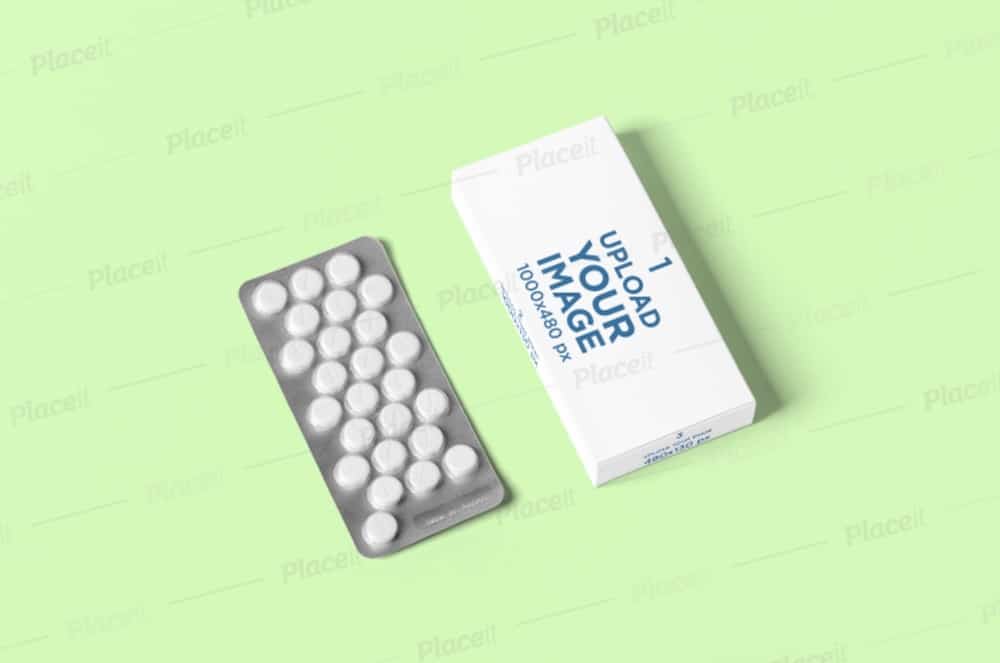 Why complicate things with all the fancy stuff if you can stick to simplicity and positively impact everyone.
A pills packaging mockup that will do you well for as long as the shape of the pills is the same as yours.
Other than that, you can customize it to your liking in just a few clicks. You can do everything from changing the colors to appending your beautiful design online, using nothing but your favorite web browser.
That's how Placeit rolls, making it SUPER convenient for you to get the most of the template, even as a beginner.
MORE INFO / DOWNLOAD
8. Mockup of two pill boxes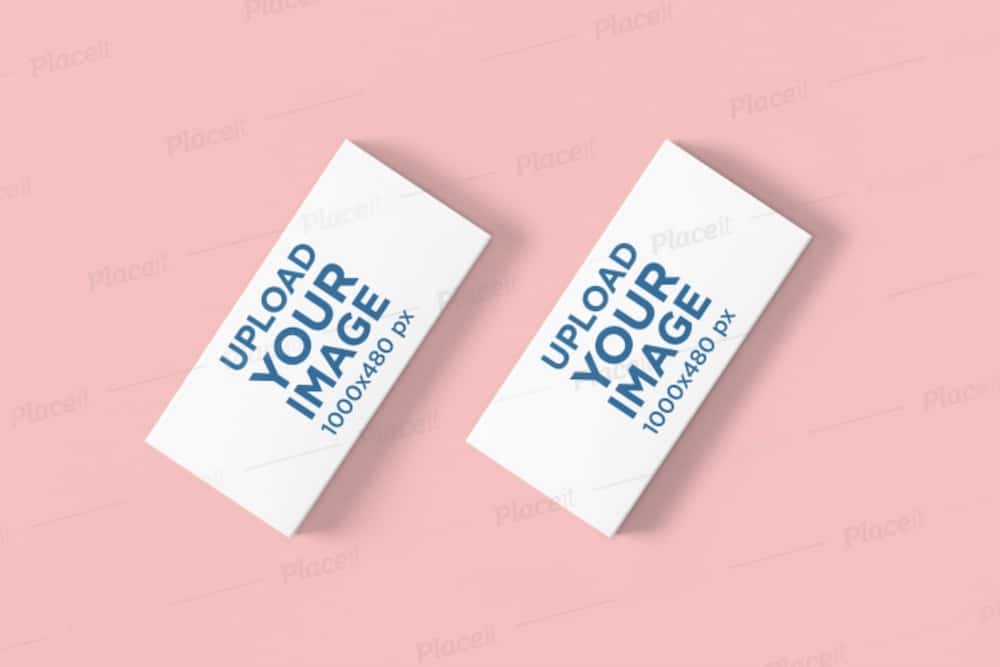 This exclusive mockup features two pill boxes. You can play around with different ways of using it to your heart's content. One scenario could be to showcase the front and back design.
Another way would be to present two entirely different designs, heck, even two different pill brands. You see, the options are VERY MANY.
You can slide in any design you want or if you already have a Placeit account, use the ones you have stored there.
Moreover, change the colors of the boxes and the background and add some text/call-to-action.
MORE INFO / DOWNLOAD
9. Pills bottle mockup with box packaging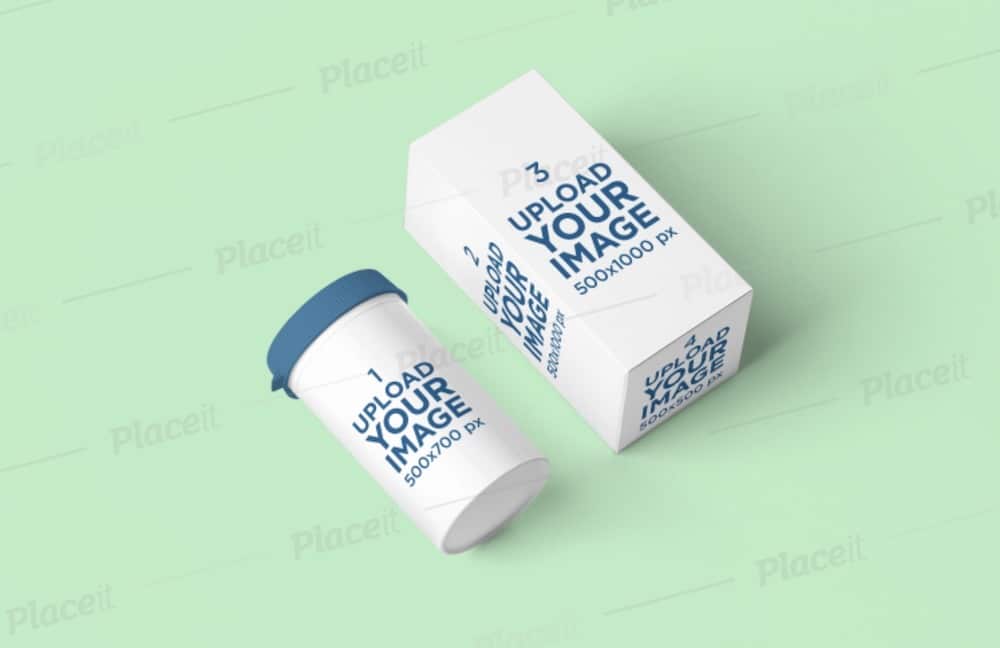 Another way of storing pills is in a bottle, which you then add to a brandable box. That's what you can PLAY around with by using this straightforward mockup.
You do not need to be a professional designer to have a chance and create a life-like presentation of your creative idea.
All you need is a mockup, the convenient Placeit and that's it.
As for the colors, you can change the color of the bottle, box, cap and background.
Moreover, the box has three editable sides and bottle one, allowing you to include four designs altogether.
MORE INFO / DOWNLOAD
10. Mockup featuring a pills bottle and box

Here is another pills bottle with a box mockup alternative.
You can now create a stunning exhibition to WOW your client or potential customers/patients with the various customization functions.
You can modify pretty much everything you see.
Change every item's color and add four different images, one to the bottle and three to the packaging.
And if that's not enough already, you can also add text if you want to share a special message.
Create the finishing version that follows the necessary regulations to a tee. The process is EASY and QUICK, so don't waste time.
MORE INFO / DOWNLOAD
11. Close-up of a pills bottle and box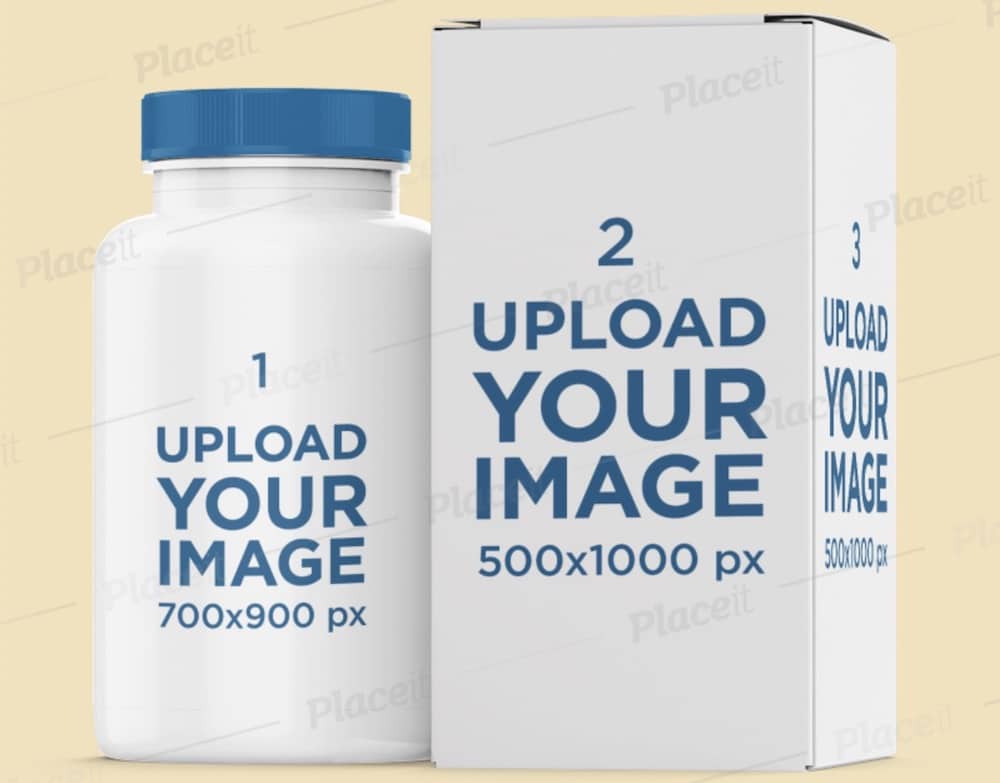 A large and bold mockup of a pill bottle and box. That's it, there is almost no need to add anything else.
Okay, it will be more than enough to mention that it is a Placeit template.
You know that you can have an outcome all set and ready to roll sooner rather than later. And that's exactly what to expect from this quick to improve mockup.
You can change the colors, including the cap, and import three designs. The bottle's working area is 700 x 900px and the box's 500 x 1000px.
MORE INFO / DOWNLOAD
12. Mockup of a pills bottle next to its box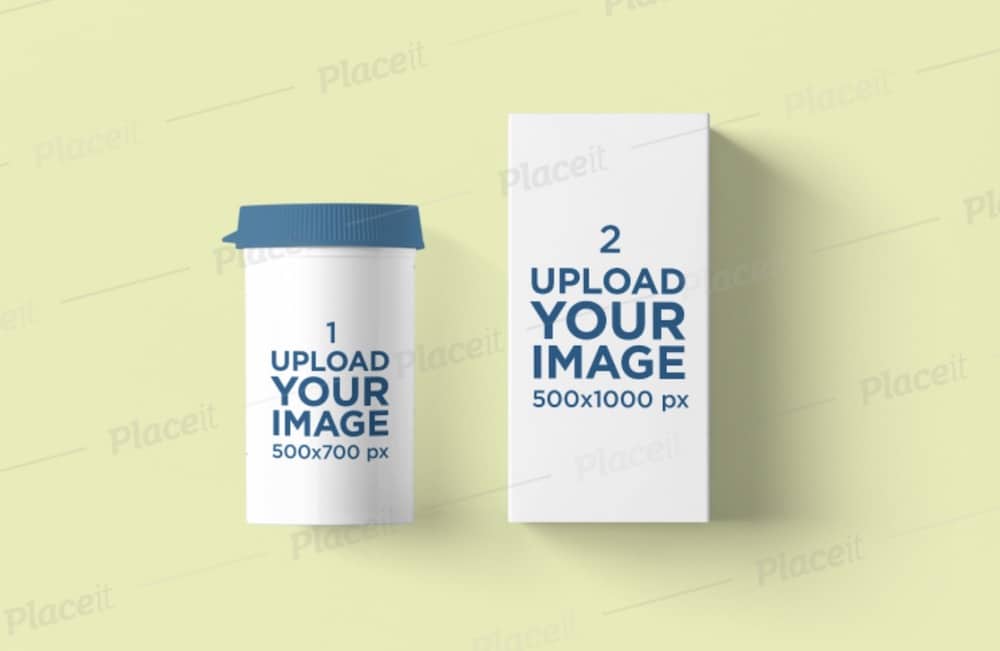 One more solution for you if you are searching for a mockup to create a brandable pills bottle and packaging.
Thanks to the shadow effect, the final version will appear exceptionally photorealistic.
However, you can also go with a transparent background and stick the bottle and the box elsewhere. For making all the improvements and edits, access Placeit now and have some fun.
One thing is for sure, you cannot mess things up. That said, go as creative as you want, make as many configurations as possible, only to come up with your dream mockup.
MORE INFO / DOWNLOAD
13. Pill bottle mockup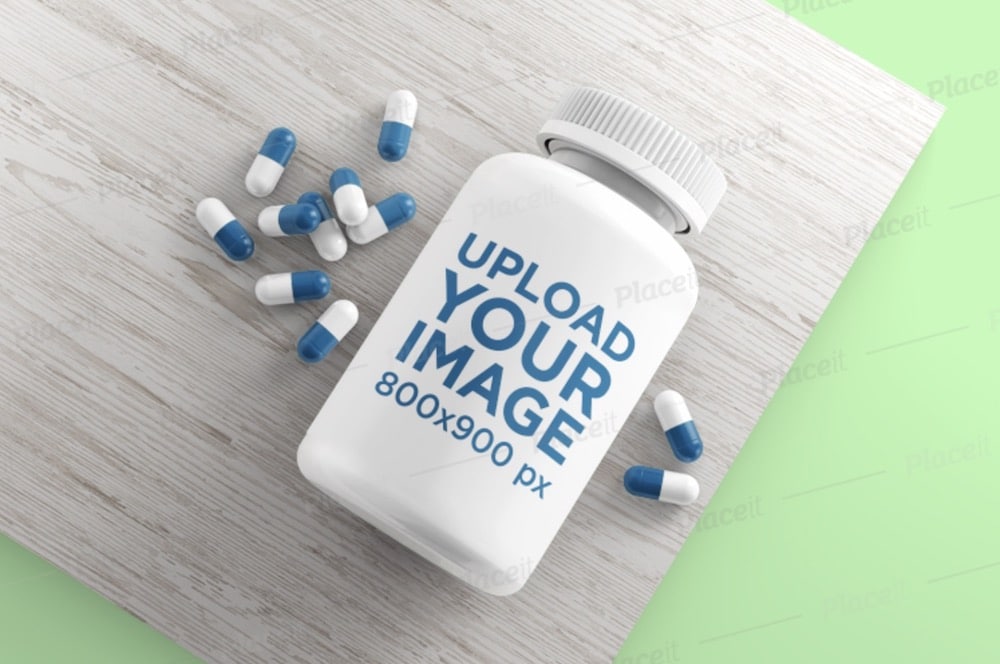 Here is an easy-to-use capsule bottle mockup that you can take to your total advantage for a tad MORE versatility to this collection.
Avoid the idea of building a life-like product demonstration from the ground up if you can save time with a predefined template.
The mockup offers you many customization options to create an outcome that is precise to your liking.
You can change the color of pills, bottle, cap, label and background. Moreover, you can import any design you want and even add text if necessary with a click on the button.
MORE INFO / DOWNLOAD
Best Pills Box PSD Mockups
Only basic Adobe Photoshop knowledge is necessary if you opt for a PSD mockup. (Luckily, all offer a fully layered structure and smart objects.)
14. Pills boxes mockups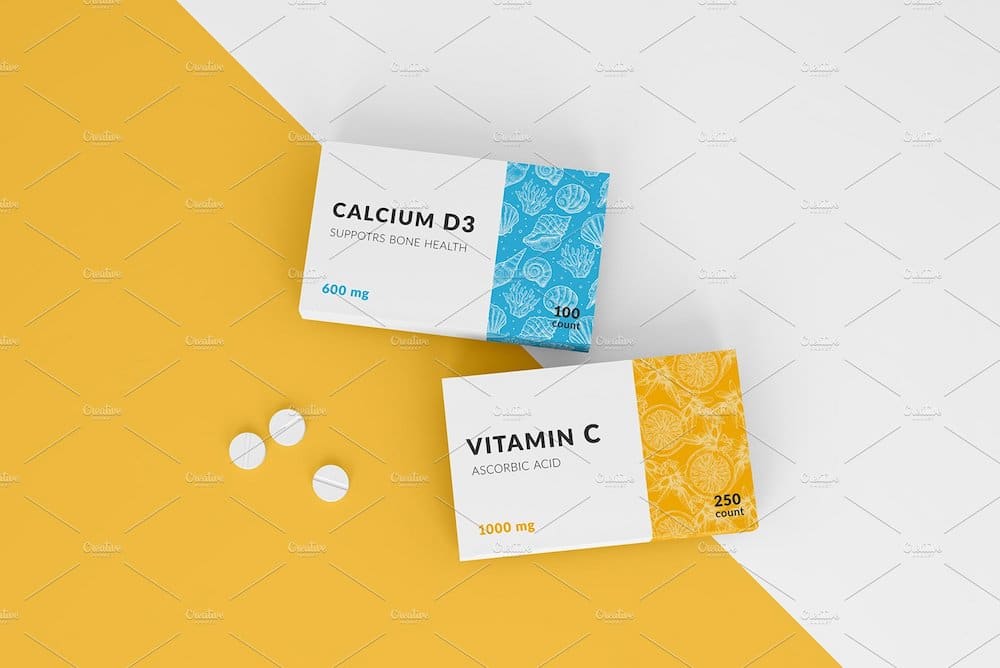 Along with all the Placeit mockups, here are a few PSD alternatives. Even though Adobe Photoshop is necessary in this case, only basic knowledge is required.
With that in mind, you can quickly create a superb pills box presentation with little to no effort. This mockup is of high quality, ensuring it displays everything beautifully and in great detail.
It is also fully layered and includes smart object layers for instant design inclusion.
You can play around with different boxed and pill shapes, too, only to create an outcome that MEETS the expectations.
Price: $14
MORE INFO / DOWNLOAD
15. Realistic pill bottle mockup in PSD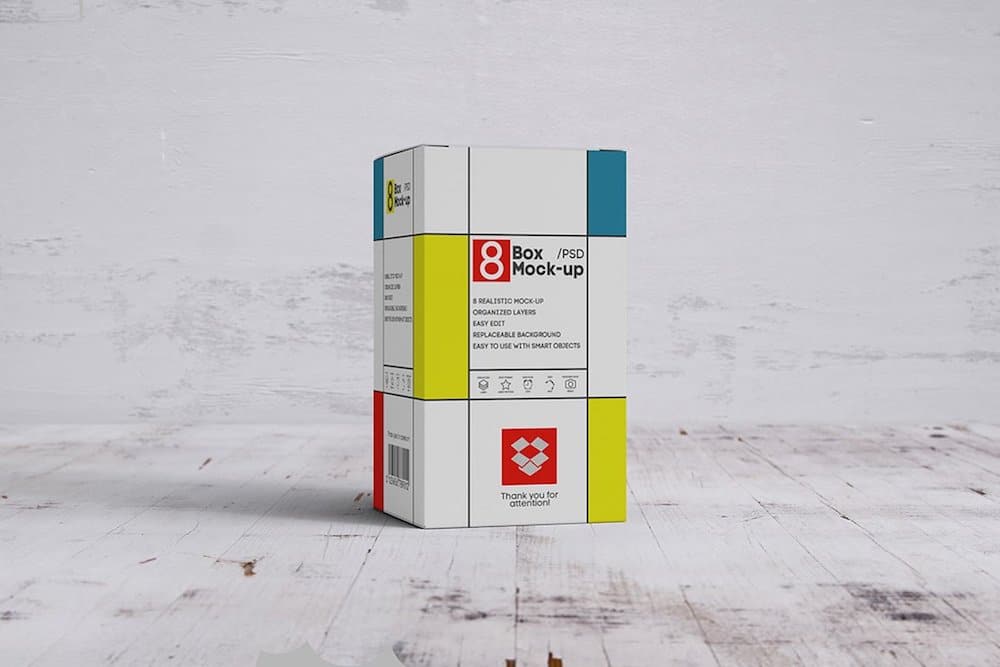 Instead of one, this particular pills box PSD mockup comes with eight. In addition to that, it also offers eight different backgrounds and features gold and silver foil stamping.
With all the material at your fingertips, you can now speedily bring a mockup that will turn heads to reality. Moreover, each file is of 4000 x 2667px resolution, guaranteeing a first-class outcome.
With the layered structure, you can edit each file with ease.
Everything is fully organized for you to get the most out of it. See all the different scenes first and go from there.
Price: $9
MORE INFO / DOWNLOAD
16. Pills packaging mockup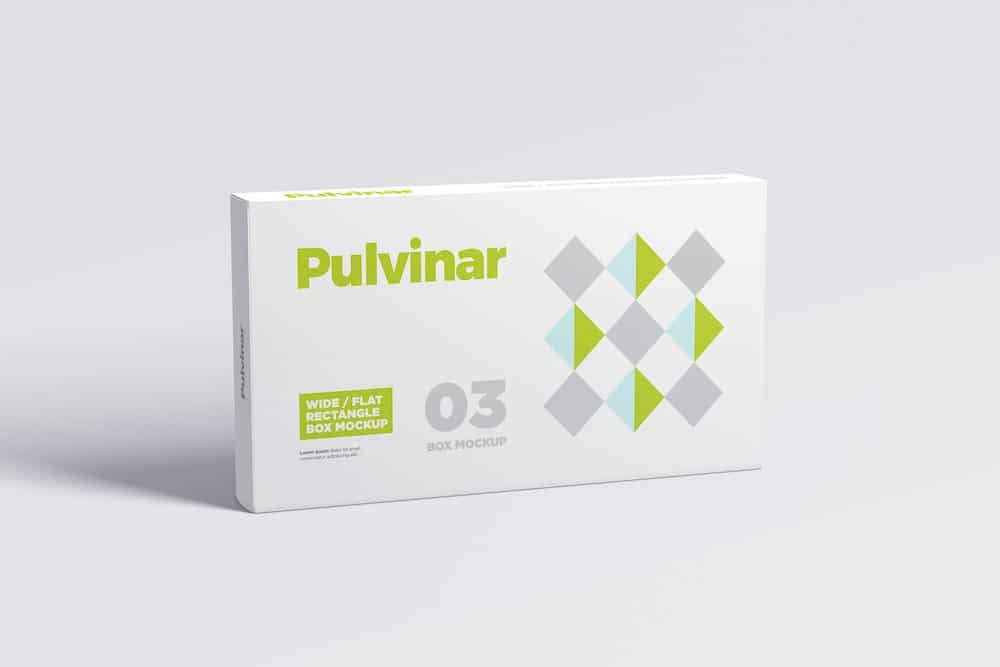 Another large collection of mockups for pill boxes. There are eight files to pick from, all 100% modifiable for your convenience. You can even cut it out if you want.
Moreover, achieving a super realistic presentation of brandable packaging will be a child's play. For as long as you have the designs ready, you import them pretty much with one click only.
Even though the process is very effortless, video tutorials are also available for beginners.
That said, NO EXCUSES, as everyone can greatly profit from these PSD files.
Price: $10
MORE INFO / DOWNLOAD
How To Make A Pills Box Mockup
You need to have 0 experience when creating a realistic demonstration of a custom pill box design.
All you need is an online mockup generator, Placit, and you can have it happen in a few clicks.
But although you can learn on the fly, I'll share with you this quick four-step process that'll answer all your questions.
4 Steps To Design A Pills Box Mockup:
Step 1: Click this link to go to Placeit, where you can find a collection of easy-to-use templates. But you can also use their search bar if you want something more specific.
Step 2: Once on the template page, I recommend "inserting image" first by pressing the blue button. This ensures you to test the mockup immediately. You can also resize and reposition every design you upload for the perfect fit.
Step 3: Some other customization tweaks you can perform are changing the background (even uploading your own), adding text, spicing it up with a graphic, and more.
Step 4: Click the "download" button when you're ready to go and start sharing your creation.
Luckily, even if you decide to work with a PSD file, the process of making a life-like mockup is a piece of cake.
Open Photoshop and import your desired template.
Then click the smart object layer to slide in your design. I included only well-structured and organized mockups, making them very user-friendly.
Everyone can get the most out of them!
You can then access other layers, which give you full permission to modify and adjust the look however you want.
You're FREE!
::
Note: This article was originally published on December 23, 2020. But our team regularly reviews it and updates it with necessary improvements for accuracy.