Are you searching for the absolute best free and premium soap mockups?
You can successfully create realistic packaging, soap bar, bottle, and liquid dispenser presentations.
Quickly and effortlessly.
Even if you are working with a client making handcrafted soaps – we have mockups for you.
Post structure:
How We Tested The Best Soap Mockups
We spent the past year working on this ultimate collection to make THE ULTIMATE.
First was the reviewing and eliminating phase. And then testing mockups on live projects.
We used colorful, creative, and minimalist designs that we attached to soaps and packaging to ensure the mockups' versatility.
Moreover, we tested the customization capabilities and user-friendliness, ensuring everyone gets the most out of the templates below, regardless of their skill level.
All I can say is that we're STOKED with the final selection. Each mockup works so well!
Let's get soapy!
You may also like:
Best Soap Mockup Generators
You need no Photoshop to make a mockup with these.
Extremely beginner-friendly but perfect for experts, too.
Note: Each mockup generator template costs only $7.95. (But you can save even more money with monthly ($14.95/mo) or yearly ($89.69/yr) subscriptions.)
1. Soap dispenser label mockup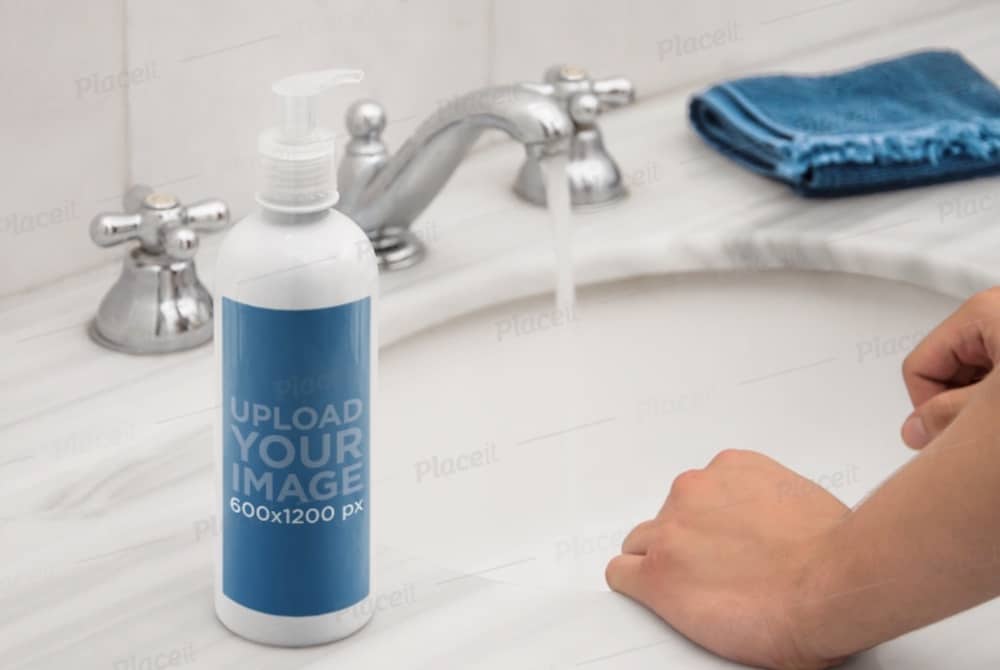 This mockup creates a very natural environment for your soap dispenser branding. You can create a custom label in just a few clicks. Quick and easy!
You can change the label's color and import any design you want. There's also an option to add text and logo to spice things up even further.
Moreover, you can create as MANY variations as you want first since it's an online mockup generator.
No need for any photo editing software and other fancy stuff.
Keep. It. Simple.
MORE INFO / DOWNLOAD
2. Liquid soap dispenser mockup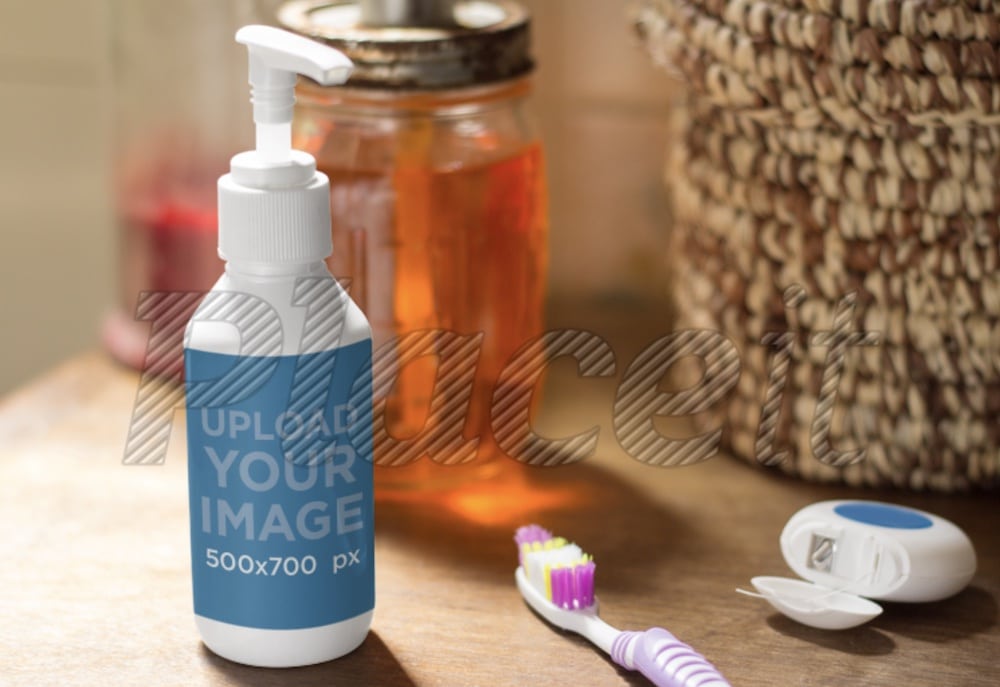 Do you need an eye-catchy liquid soap mockup? Of course, you do! We also needed it and we found a really good one that you can now use for all your clients.
While you can improve the label however you want, you can't change the color of the bottle. That'd be so awesome!
However, a white bottle for a liquid soap works EXTREMELY well in many cases, so we're all good.
Enjoy creating and have some fun. (The fun part is extra important!)
MORE INFO / DOWNLOAD
3. Soap bag packaging mockup

Here's the last one from the series of mockups that you don't need Photoshop to use them. This particular one works really well for brands that offer soap refills.
An easy-to-use alternative with great customization options. You can change the color of the bag and the background.
The only thing that's not editable is the cap (stays white by default).
There are ENDLESS ways of how you can use it. It works for online stores, social media, and marketing campaigns – you name it!
MORE INFO / DOWNLOAD
Best Soap PSD Mockups
4. Soap bar packaging tool & mockup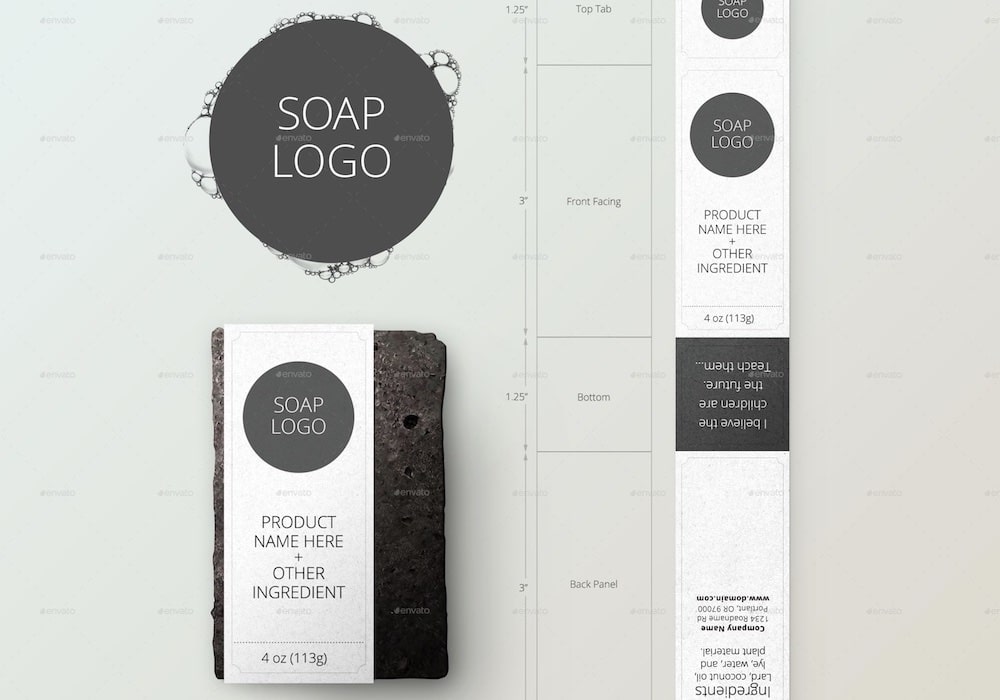 There's no other soap mockup in PSD out there than this one. Are you as excited just as much as I am?
Along with the highly realistic mockup template, you also get a tool that helps you create/cut the label quickly and conveniently.
The two work together very well, so you will achieve perfect harmony.
What's cool, you also get a detailed help file and instructions for even smoother work with this practical kit.
Our local soap maker was EXCITED about what we managed to design for her.
We also helped ourselves with this cool collection of creative soap packaging designs.
Price: $5
MORE INFO / DOWNLOAD
5. Soap cube mockup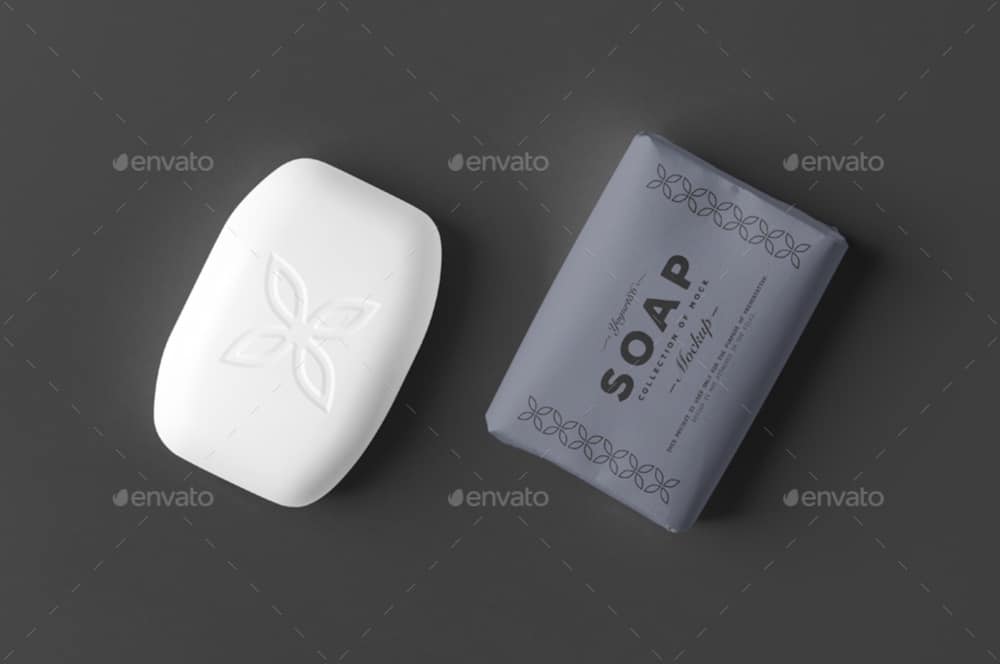 You can create a striking and impactful presentation of a soap cube with these seven clean and minimal views. In addition to that, you also get four filters to achieve a truly exclusive effect.
Each file is a layered PSD mockup with 4000 x 2670px (300 dpi) resolution. You will have the outcome ready QUICKLY with effortless design insertion via smart objects.
Note: You can use the default white background, but changing it is possible.
Price: $5
MORE INFO / DOWNLOAD
6. Soap packaging mockup (4 PSDs)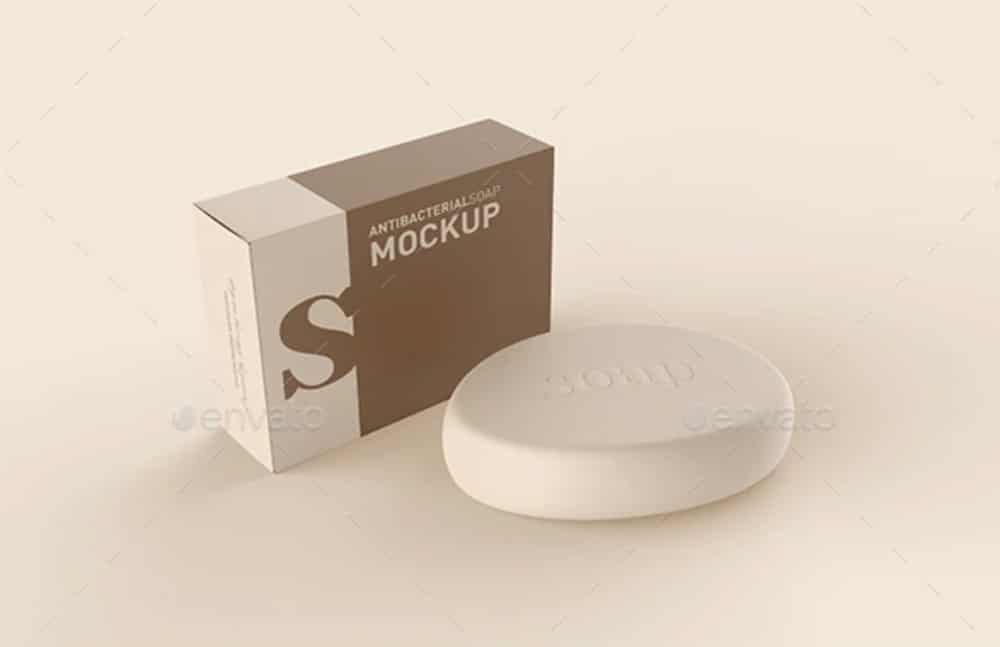 This and the 11th mockup are the only two with an insane resolution of 5000 x 7700px. That's not something that's too common but it's definitely VERY HANDY.
You can create a soap presentation regardless of how detailed your design is. You can also showcase a zoomed image of the detail you'd like to highlight.
Create a custom soap bar and soap box that follow the required branding regulations.
Note: The author also created an excellent video tutorial to smoothen the workflow.
Price: $8
MORE INFO / DOWNLOAD
7. Soap set mockup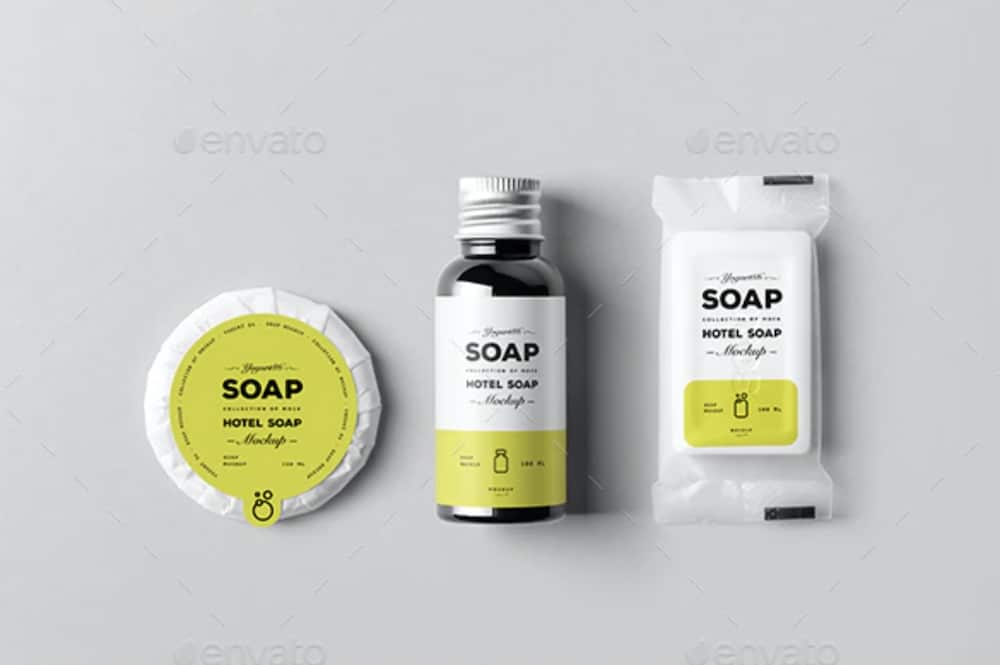 We particularly used this one when working on a new soap set branding for a boutique hotel. The kit includes over fifteen views. (Yes, that's 15+!)
You can present each item individually or as a bundle.
You have the option to create a custom bottle label (910 x 1000px), wrapping sticker (800 x 920px) and soap cube foil (860 x 1600px).
Most importantly: You have complete control over everything. Colors, quantity, varnish, background, reflection – it's ALL EDITABLE.
So. Beautiful.
Price: $8
MORE INFO / DOWNLOAD
8. Soap dispenser mockup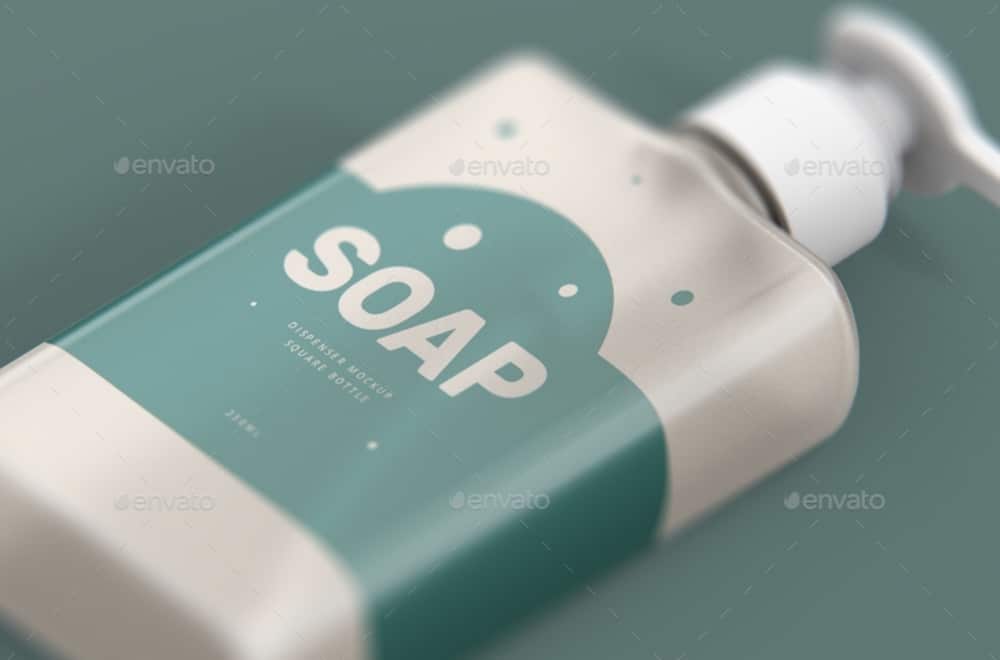 We had a lot of fun setting up a photorealistic dispenser for a liquid soap company that this mockup helped us realized. Keep in mind, we did not use all eight angles, but you can!
However, we did create a nice close-up view with the depth of field PS action. (Makes the design POP more!)
Also, each object/element/effect is on a separate layer. This makes altering the final creation to your liking a piece of cake.
Finally, we used one of the three layer styles: foil stamp.
Price: $5
MORE INFO / DOWNLOAD
9. Soap bar paper sleeve mockup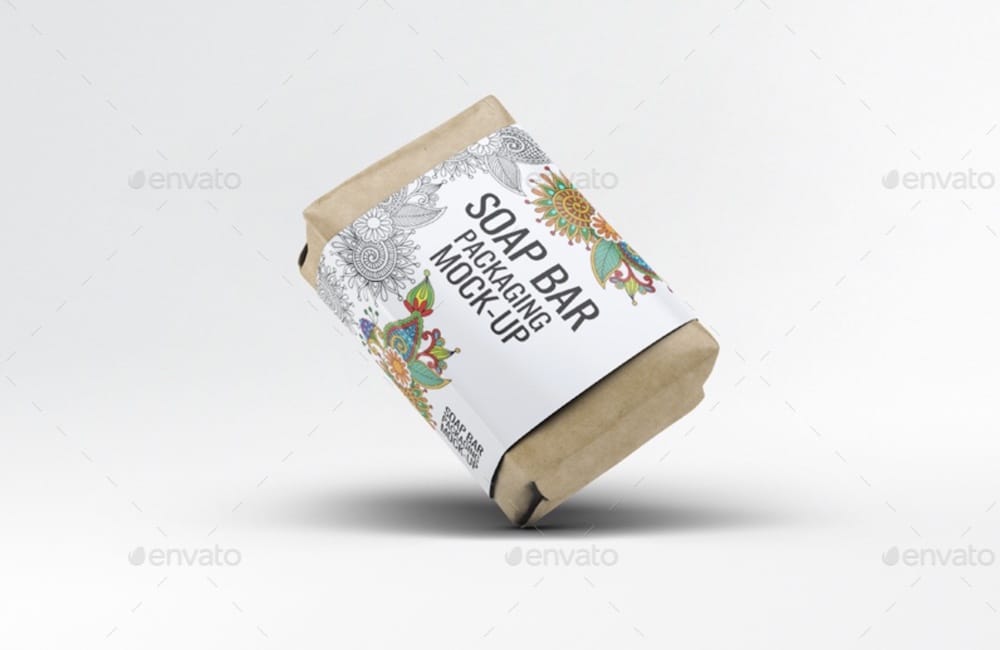 Some go super minimal and some super creative regarding packaging for a soap. We always opt for simplicity, but that's entirely up to you.
This set of twelve soap mockups provides a neat presentation if you dig paper wrapping and a sleeve approach.
You will achieve an incredibly realistic outcome (100% ZOOM support!). Save time and energy while simultaneously maintaining professionalism at the highest degree.
Price: $7
MORE INFO / DOWNLOAD
10. Soap set mockup (different shapes)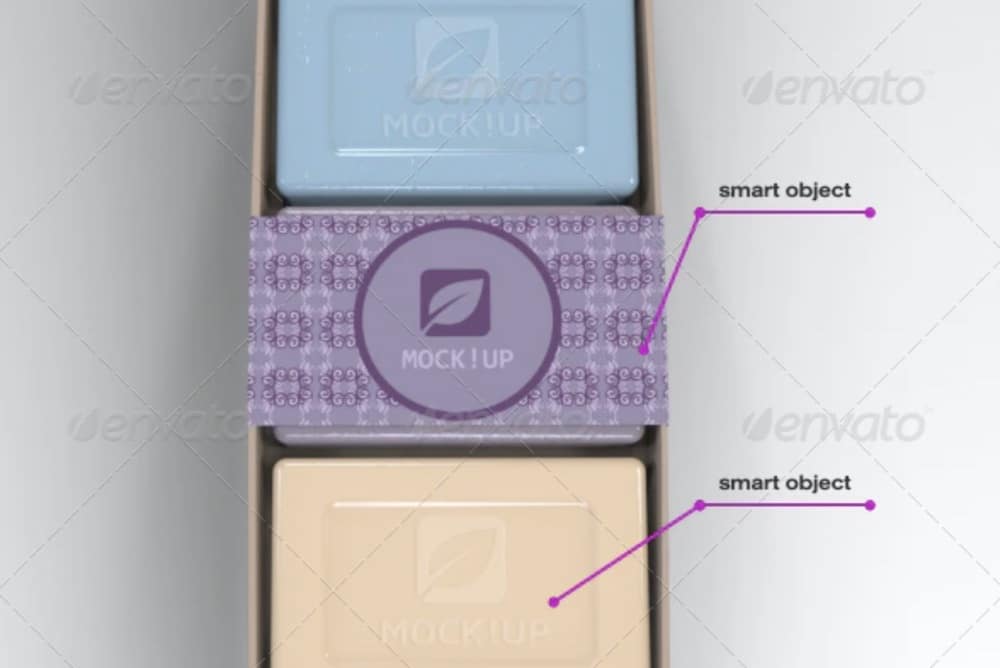 And this is the other soap set mockup with OUTSTANDING resolution (7700 x 5000px).
Three layered PSD files equip you with three styles of soaps.
Also, these work only if you create a full set of three, four or six soaps. (No individual soap mockup in the kit.)
You can create a custom soap bar and custom packaging. The best part? Smart objects. Drag-n-drop your designs, and that's it.
How convenient!
Price: $8
MORE INFO / DOWNLOAD
11. Organic handmade soap label mockup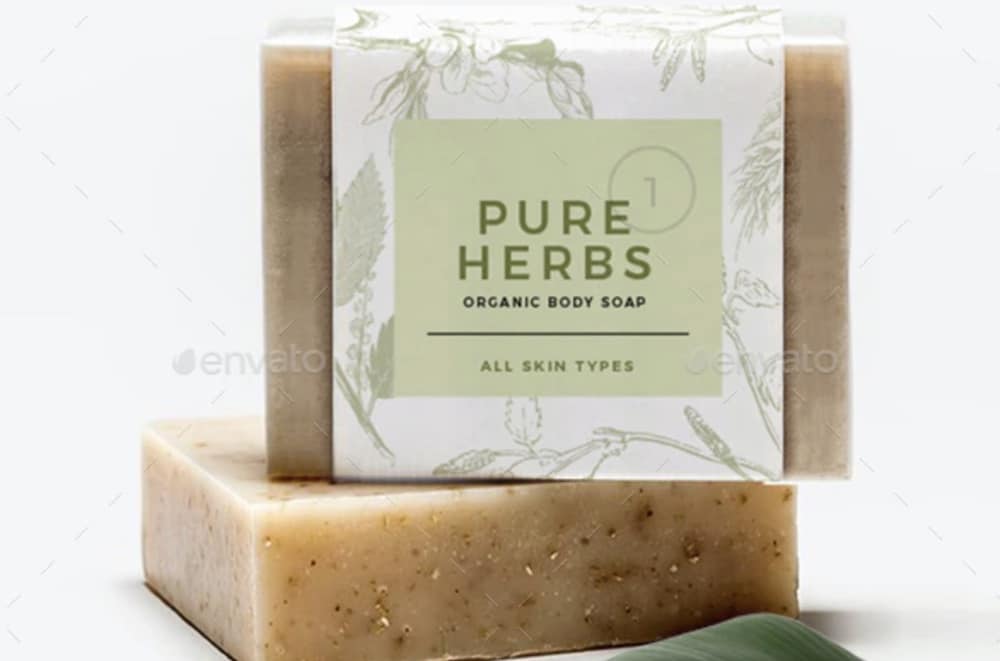 Here's the best organic, handmade soap mockup that gives the final showcase a NICE and CRAFTY feel. Easy editing ensures that everyone comes up with the ideal soap exhibition quickly.
No need to complicate things. Ever!
Note: We liked using the print-ready soap wrap label mockup a lot.
There is no need to do it separately from scratch since this mockup bundle has everything necessary to start immediately. (It even comes with three ready-made color versions.)
Import into Photoshop and let the fun of designing begin.
Price: $20
MORE INFO / DOWNLOAD
Best Free Soap PSD Mockups
12. Soap bar packaging mockup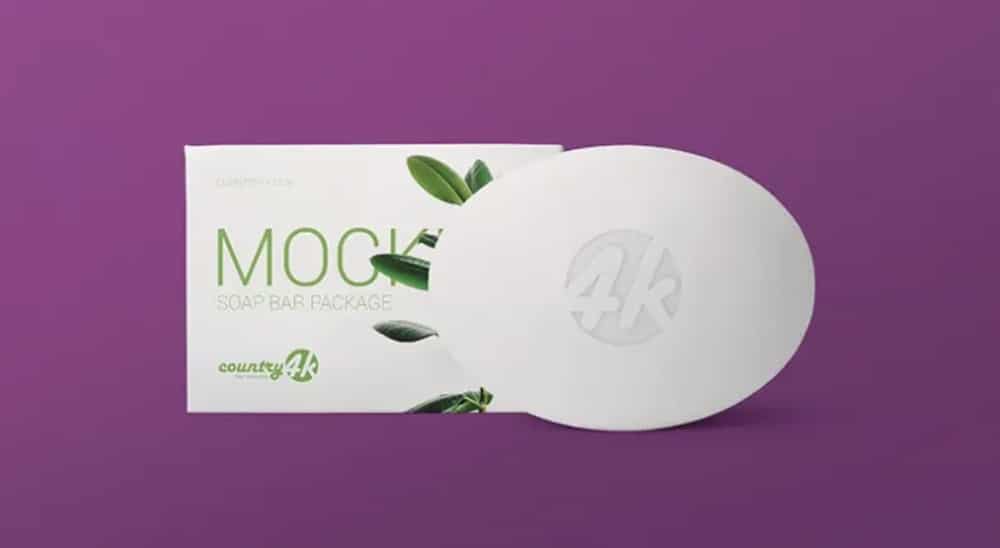 A simple soap bar and box mockup of high quality (3840 x 2160px) that you can use entirely free of charge.
You can import any design and logo you want, even alter that background, so the final piece appears PRECISELY how you want.
Advice: Instead of going straight to production (or even using a premium mockup), test things out first with a free PSD template. (Nobody tells you this!)
Create a quick draft before you fully commit.
MORE INFO / DOWNLOAD
13. Liquid soap bottle free PSD mockup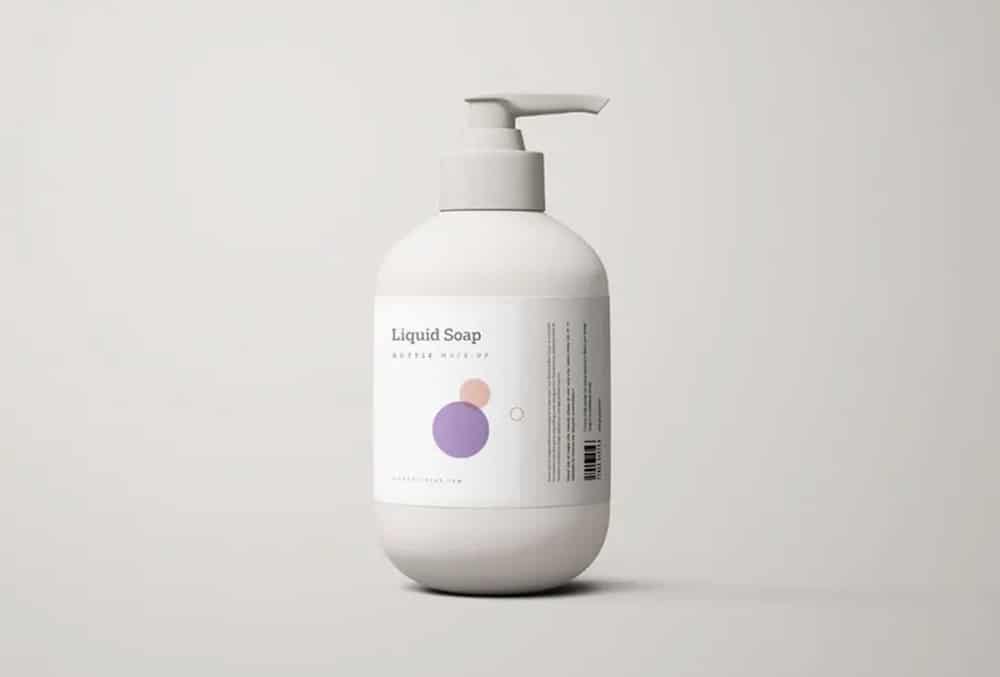 This one grabbed our attention the moment we saw it. On top of that, even though our client wasn't really after this exact type of soap dispenser, we STILL sent it to him. (It worked!)
I'm pretty sure it will work for you as well. It's a free PSD with a layered structure and smart objects.
This means quick work, great product presentation and impressed clients. You'll love this one if you are a minimal, Scandinavian design fan.
MORE INFO / DOWNLOAD
14. Free craft box soap mockup PSD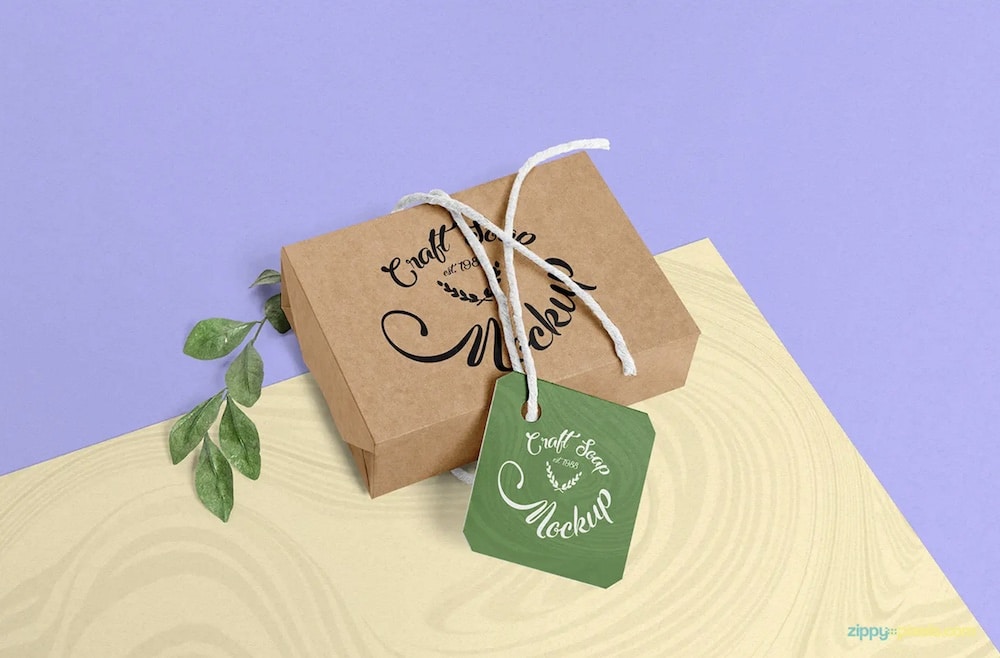 Whether you work on your soap brand or create designs for clients, this free craft box soap mockup is an excellent alternative.
You can edit the background, the packaging and the label. Create a version with a background that makes the soap pop even more.
The high resolution also guarantees a jaw-dropping zoomed-in showcase.
Do NOT limit yourself. Go full-tilt, craft as many versions as you want and go from there. You'll handle it easily!
MORE INFO / DOWNLOAD
15. Free soap bar & packaging mockup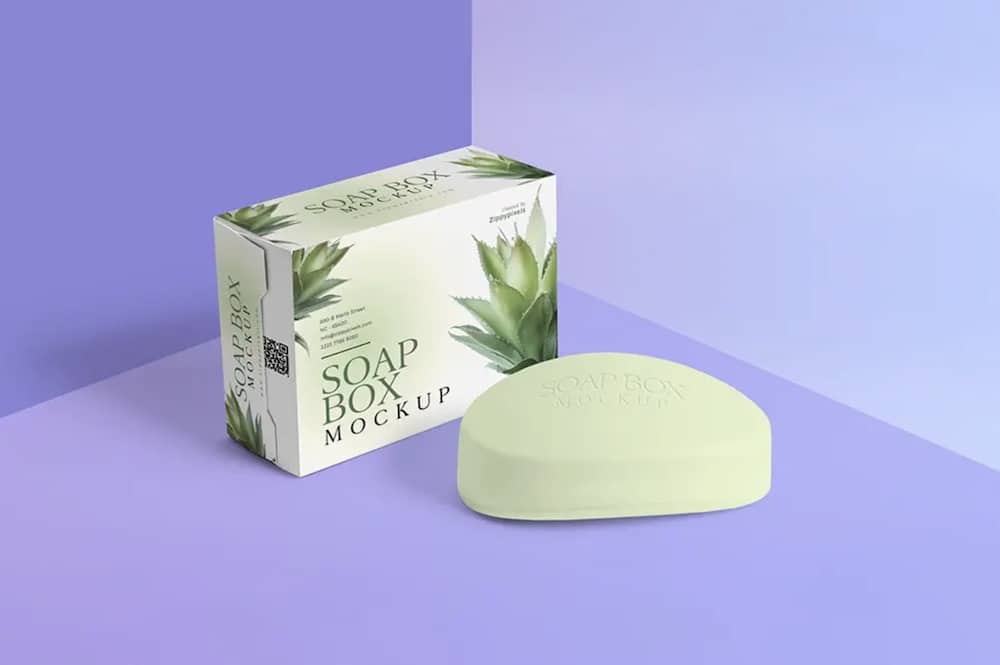 You can use this free soap mockup with your creative approach. (Just by changing the background!)
The options are pretty endless due to the completely editable structure. The paper box and soap bar can exclusively sport your design and pattern.
I would advise you not to use a TOO dark color for the soap bar because the engraving may not be clearly visible.
However, you can play with what's possible and make the version YOU like most.
MORE INFO / DOWNLOAD
16. Soap packaging bundle PSD mockup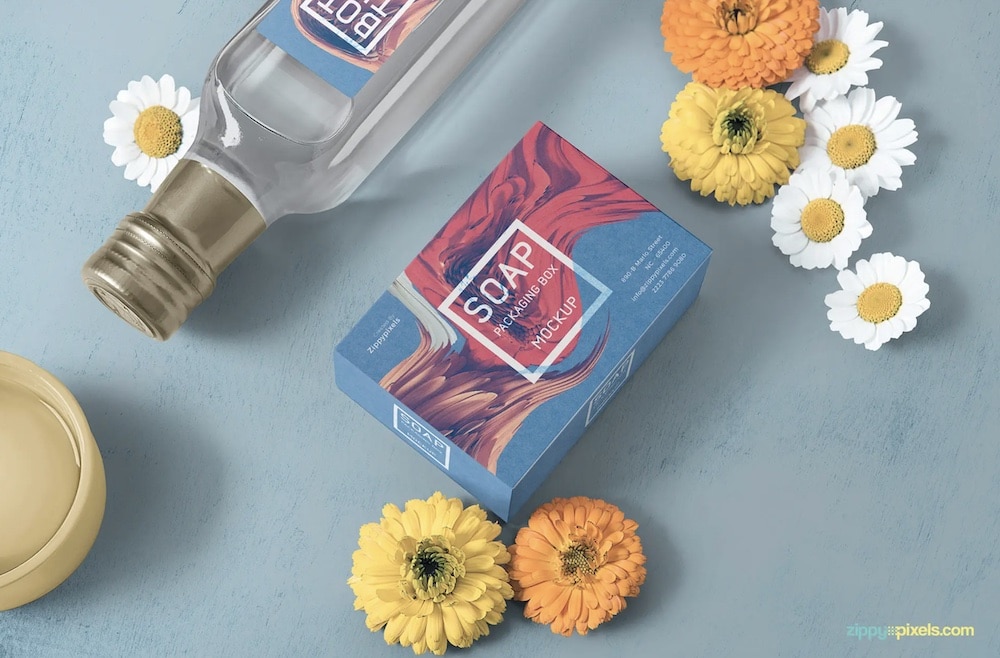 We aren't listing this one so deep in the collection because it's the least performing. In fact, the complete opposite is true.
A beautiful, attention-grabbing soap mockup that features an editable box and bottle.
The 3500 x 2300px dimension guarantees a first-class end product that will WOW everyone.
Strong. First. Impression.
Moreover, the mockup is free to use for personal and commercial projects. Also, you can change the color of every item except the flowers.
We enjoy getting back to this one regularly.
MORE INFO / DOWNLOAD
::
Note: This article was originally published on August 17, 2021. But our team regularly reviews it and updates it with necessary improvements for accuracy.