Are you searching for the best candle mockups to create a photorealistic presentation?
Scented or not, colorful or white, it doesn't matter; my review of the best templates takes care of everything.
One list that sorts out all your project needs.
Create minimalist candle presentations or highly realistic ones; you WILL succeed with both.
That's why I spent reviewing 50+ mockups over the past several months, bringing you ULTIMATE.
(That's what ULTIDA stands for!)
This post covers:
Light the world with a custom candle design showcase.
(Takes seconds to create with the blanks!)
GO.
Best Candle PSD Mockups
1. Candle & gift box mockup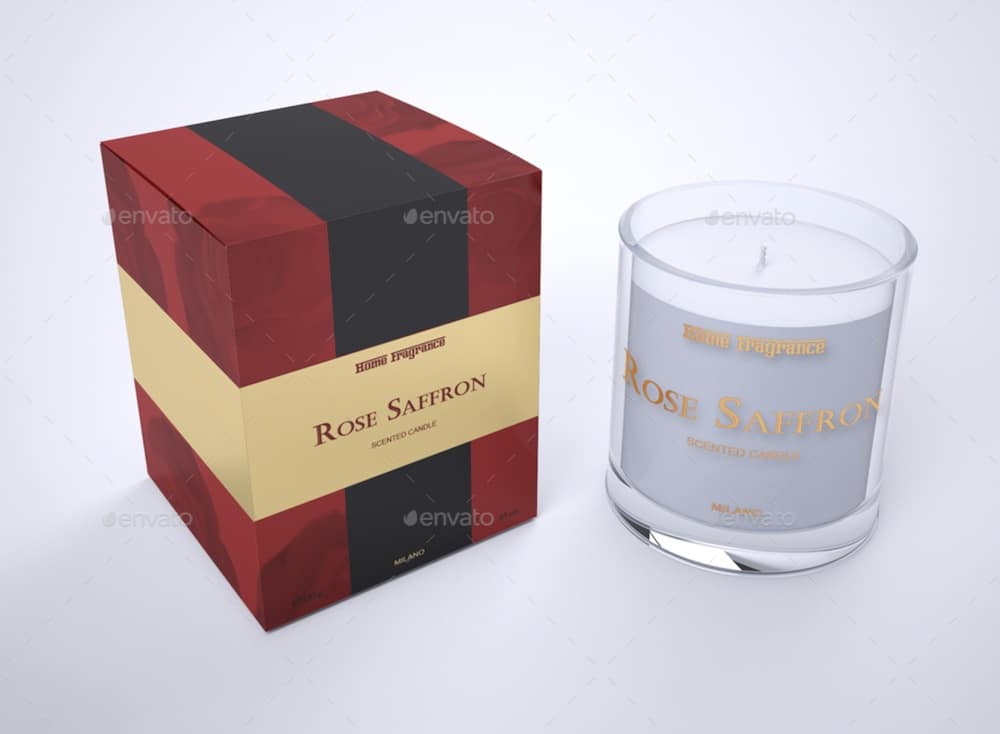 If you're looking to present a full-blown candle branding, this template is an excellent solution to make it happen.
REALLY. FAST.
I used all three mockups, activated Photoshop's smart objects and improved the default setting accordingly. It's really quick, that's my guarantee.
BUT. If you're new, the available PDF help file will be of great support. (Although you'll just skim through it because it's too easy.)
Hint: Check out our best gift box mockups collection.
Price: $11
MORE INFO / DOWNLOAD
2. Candle & packaging mockup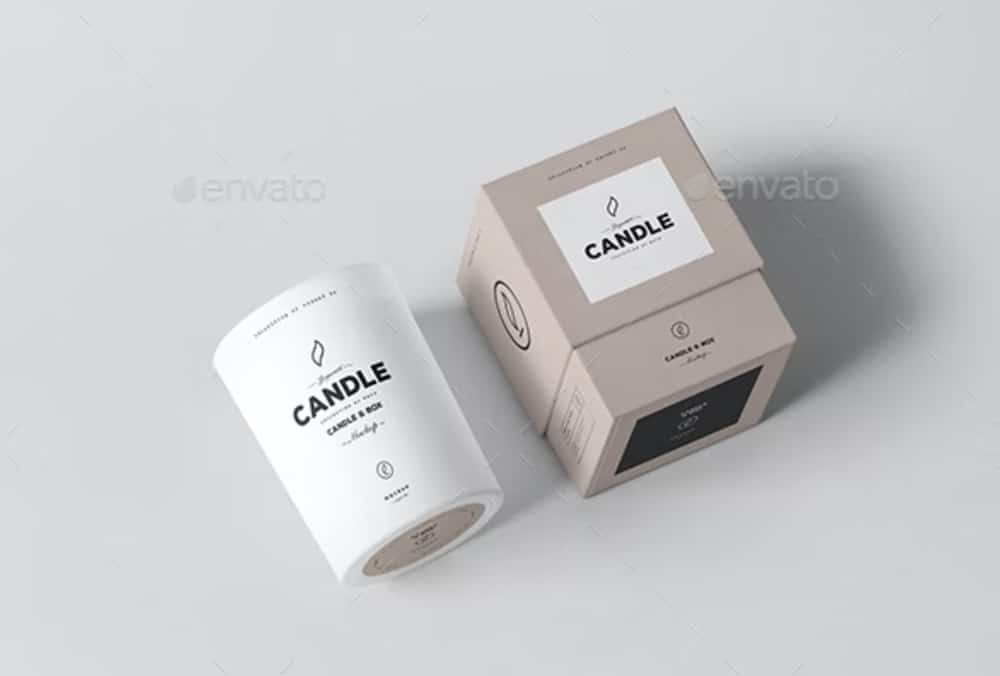 But this is probably my FAV from the entire collection of the best candle mockups. Why? It just makes everything looks so good.
Whether I used a simple logo or a detailed design, the outcome was always top-class.
Six layered PSD templates (4000 x 2670px) are at your disposal, with four filters, automatic background perspective, and more.
Plus, the photorealistic effect is BOMB.
Price: $5
MORE INFO / DOWNLOAD
3. Candle in glass mockup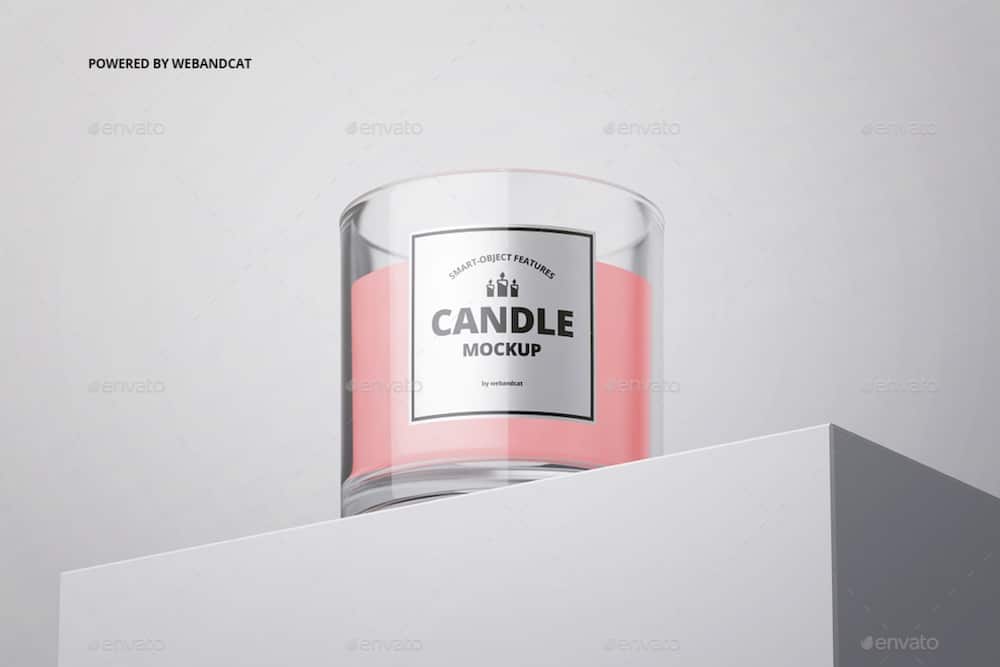 However, we just started, so I still have so many more good candle templates for you that'll do you WELL.
Do you need a candle in a glass mockup? Well, here you go.
Five high-quality (6000 x 4500px) views take care of everything for your convenience. There's also a bottom view, which isn't too common, and I DIG IT.
The wax color is also editable with a single click, so you can create any scent you want.
Price: $7
MORE INFO / DOWNLOAD
4. Candle PSD mockup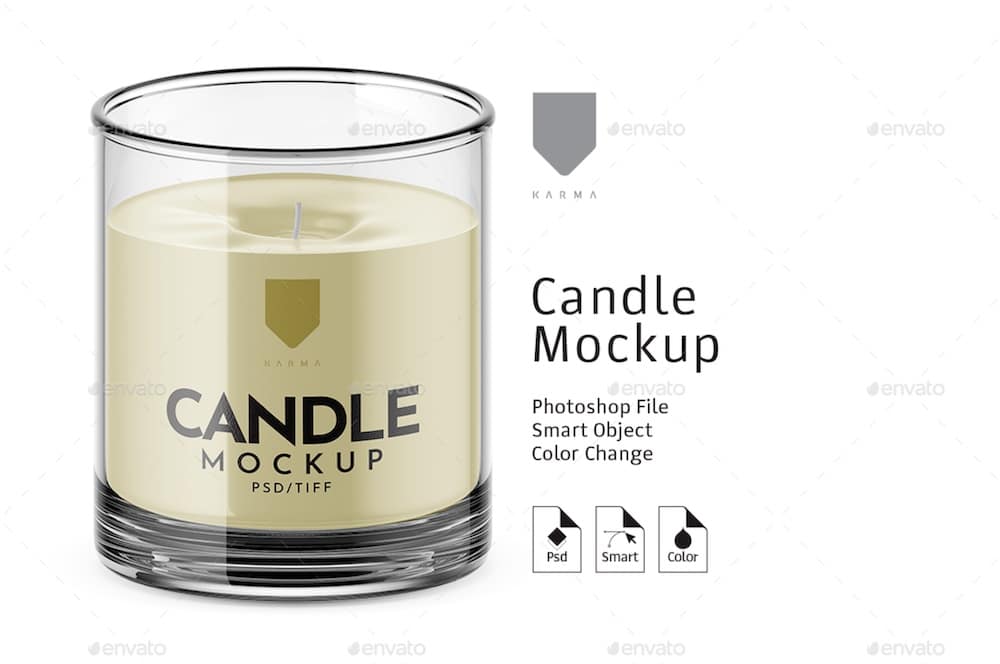 If you need something simple and straight to the point, waste no time and go with this particular solution.
Even though it features just one template, it's high-res, so you can create an exceptional final product that'll wow everyone. (Close-ups are really good!)
Change the wax, edit the label, turn on/off shadows and add a custom background – WHATEVER! – you can do it with ease, quickly.
Price: $9
MORE INFO / DOWNLOAD
5. Candle with packaging mockup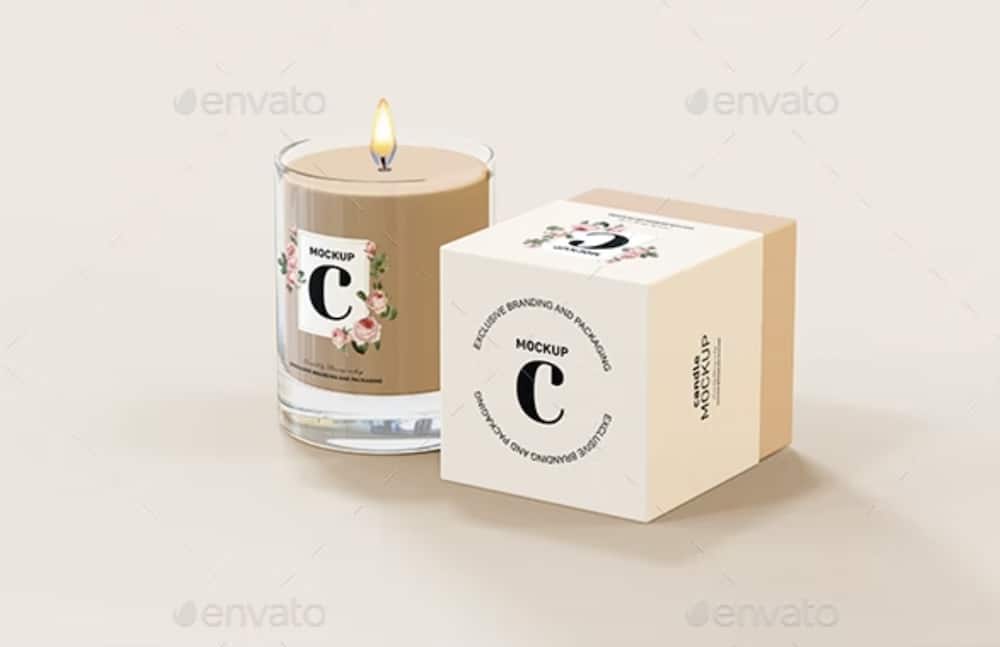 Create a candle and a packaging design mockup demonstration unlike any out there with the help of this mockup. The 7700 x 5000px dimension is INSANE!
What's cool is the lit candle, adding a more life-like touch to it. Moreover, every element is on an individual layer, so customization is a little breeze.
I highly recommend this or any other template to use before printing/production. Safety first.
Price: $10
MORE INFO / DOWNLOAD
6. Candle label mockup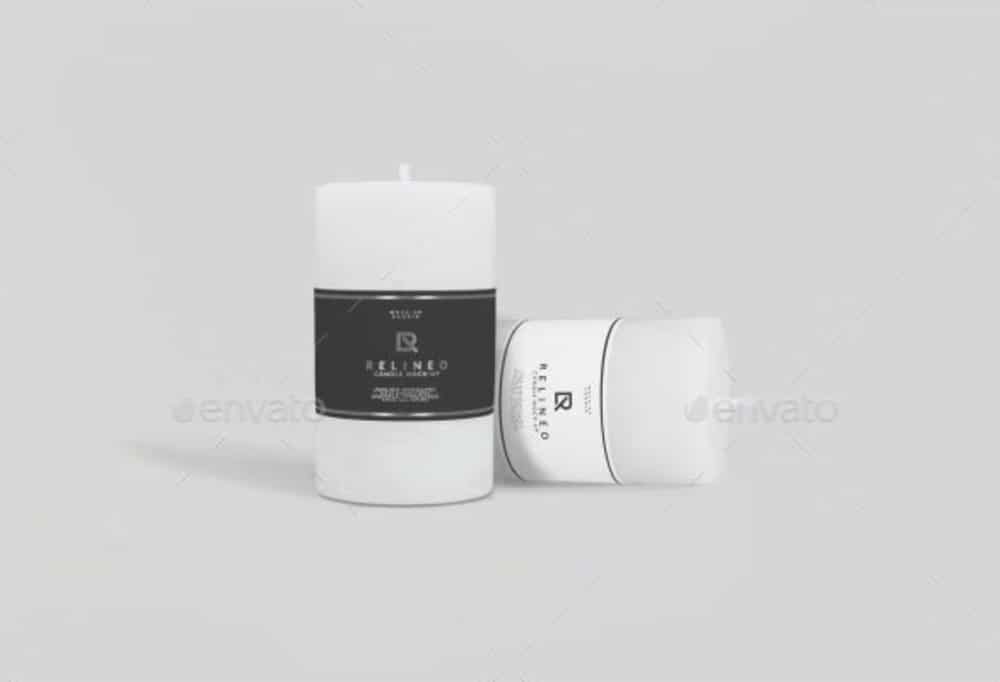 I was recently searching for a pillar candle with a label without additional packaging or container and found this one that worked so well.
It contains four PSD files and three label textures with changeable everything.
The amazing resolution also ensures a PRO-LEVEL final product, that appears extremely photorealistic.
I showed it to my friend Amy who is not into web design and had no idea I used a mockup. Yup, good stuff!
Price: $12
MORE INFO / DOWNLOAD
7. Glass candle PSD mockup

I created multiple new projects with a set of eight candle mockups that this batch includes. And YOU CAN, too!
Glass candles, wooden tops and boxes, everything is at your fingertips, waiting for your designs and logos.
I really enjoyed the "safety" sticker because I was looking for such a PSD template and this one provided it. (+ so many other goodies that you shouldn't miss.)
Quick work for a realistic showcase!
Price: $7
MORE INFO / DOWNLOAD
8. Candle & perfume set mockup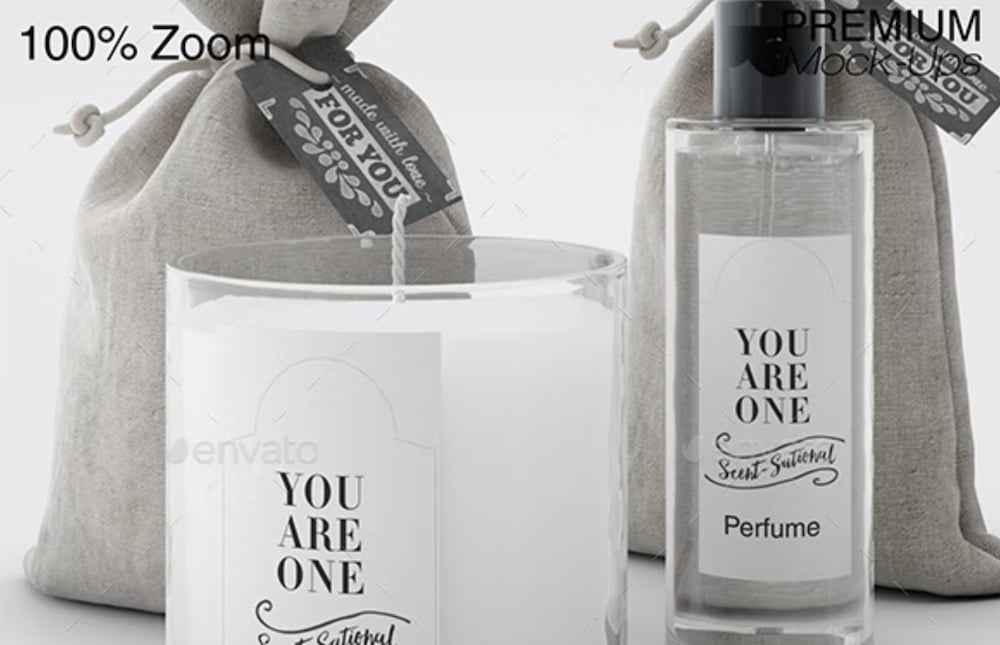 A client was once preparing a matchable candle and perfume (I also have a full set of the best perfume bottle mockups) scent and needed custom packaging. I delivered the ultimate outcome (with custom bags!) using these nine mockups.
The smart object layer makes the workflow QUICK and FAST. I took advantage of that and created four variations, so it was a lot easier for us to pick the winner.
Enjoy.
Note: I also had a question for the author and they were super friendly to help me out.
Price: $11
MORE INFO / DOWNLOAD
9. Amber glass candle & box mockup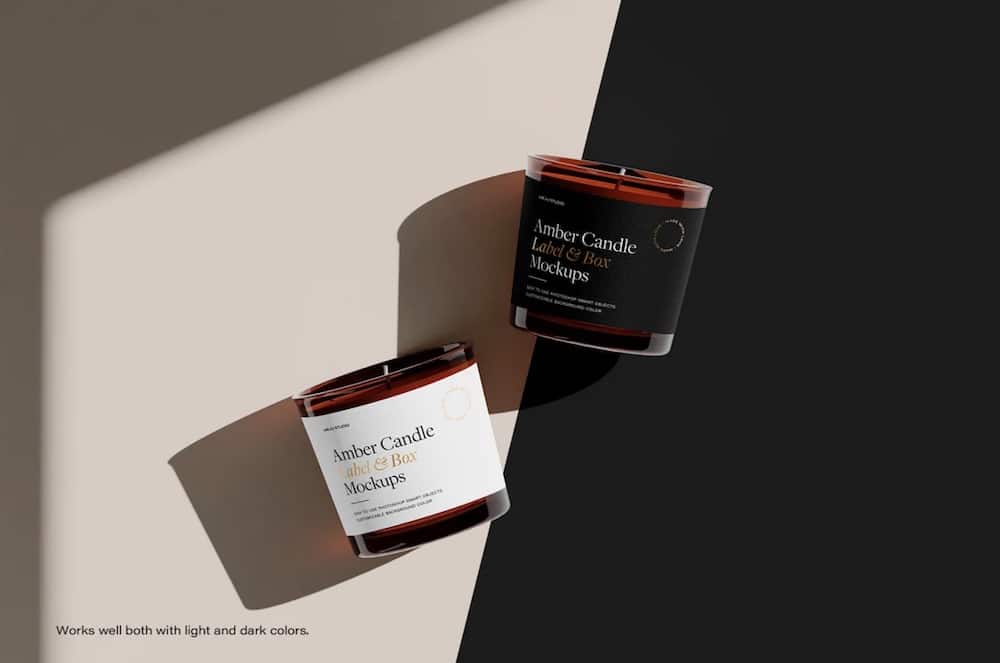 This candle mockup is absolutely beautiful. I don't really have anything else to say.
But who am I kidding, of course, I have! All the five modern templates work great with minimalist branding.
But you can also apply other styles because you do modifications with a few clicks.
HEY, I'm just sharing what worked best for me.
Remember, you can edit the background and the stand, too, so you can really make your version!
Price: $20
MORE INFO / DOWNLOAD
10. Glass candle & label mockups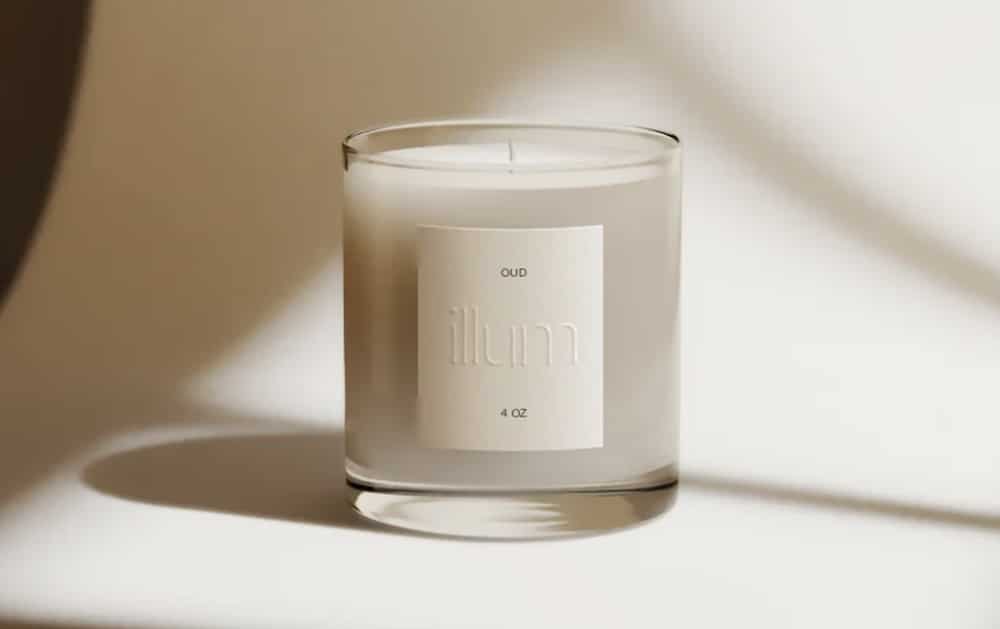 I wasn't able to find as photorealistic batch of mockups as this one is anywhere on the web, even though going through 50+ mockups.
This one is something else!
And that's why you deserve it.
The shadows, the sunlight reflection, the flame and smoke effects, changeable glass, I mean, WOW!
On top of that, you get three label shapes, but you can also insert your custom version. Just go for it.
Price: $30
MORE INFO / DOWNLOAD
11. White candle mockup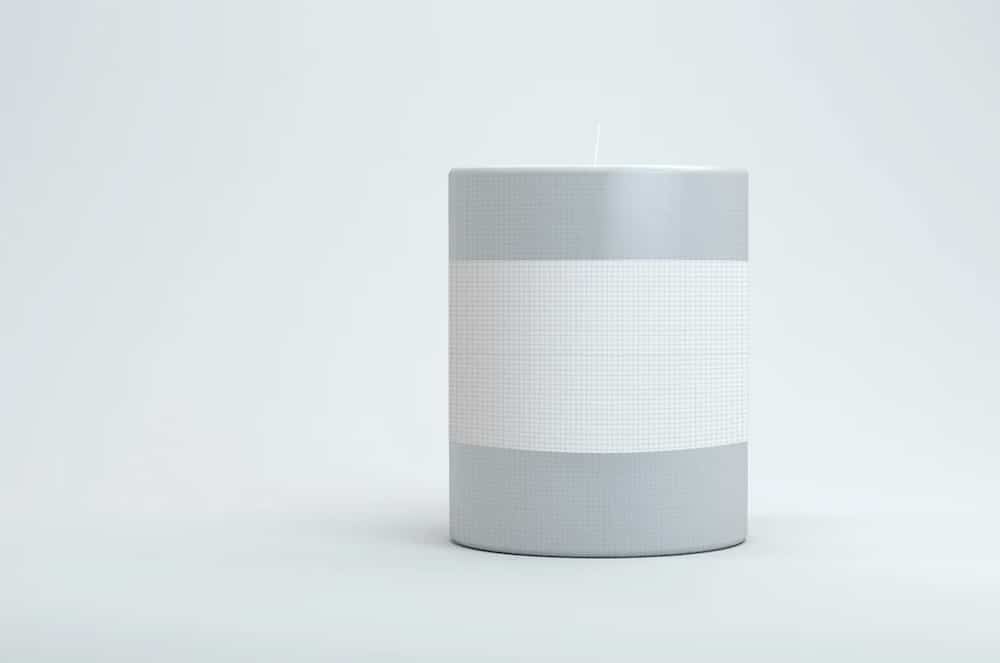 Here's a catch; this mockup can rock any candle color, white, red, green, you name it! No white-specific, just so you know.
What's also COOL about this template is that you can create a candle presentation with or without the label.
And you add your design via the simple process of dragging and dropping, thanks to smart object layer.
Price: $9
MORE INFO / DOWNLOAD
12. Candle glass package mockup set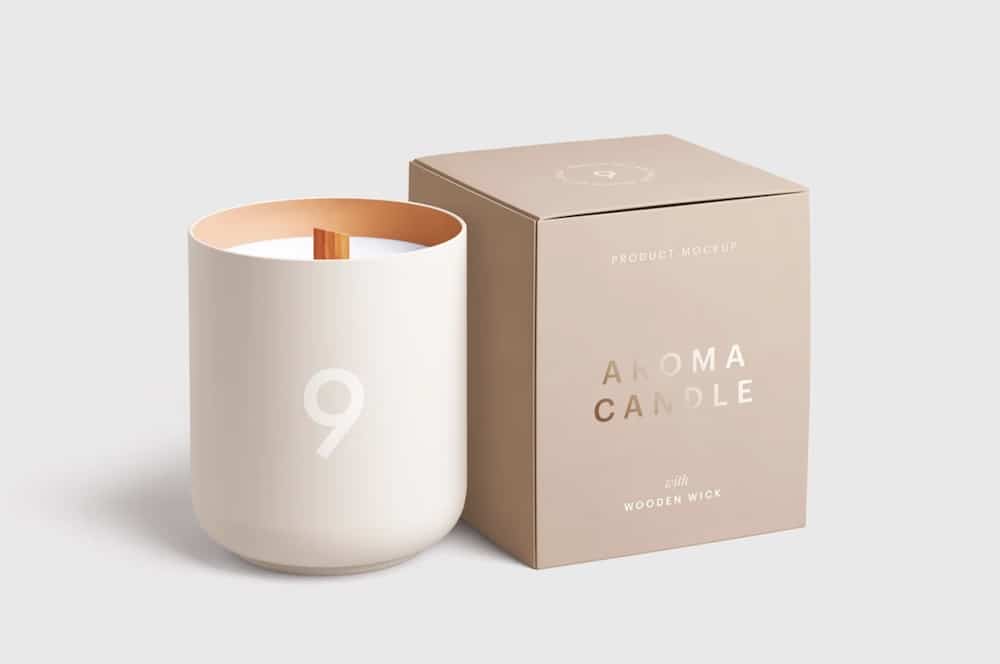 Another one of my favorites! (I think I'm saying this too often.)
Take any or all the nine ready-to-use scenes to your total advantage for a beautiful candle and box presentation.
Actual dimensions: candle 8 x 8 x 9.5cm & box 8.5 x 8.5 x 10cm.
I also enjoyed the excellent organization of each file during the review.
This allowed me to change color, edit shadows, modify the background and beautify the candle and packaging in LESS than sixty seconds.
Price: $14
MORE INFO / DOWNLOAD
13. Glass candle jar mockup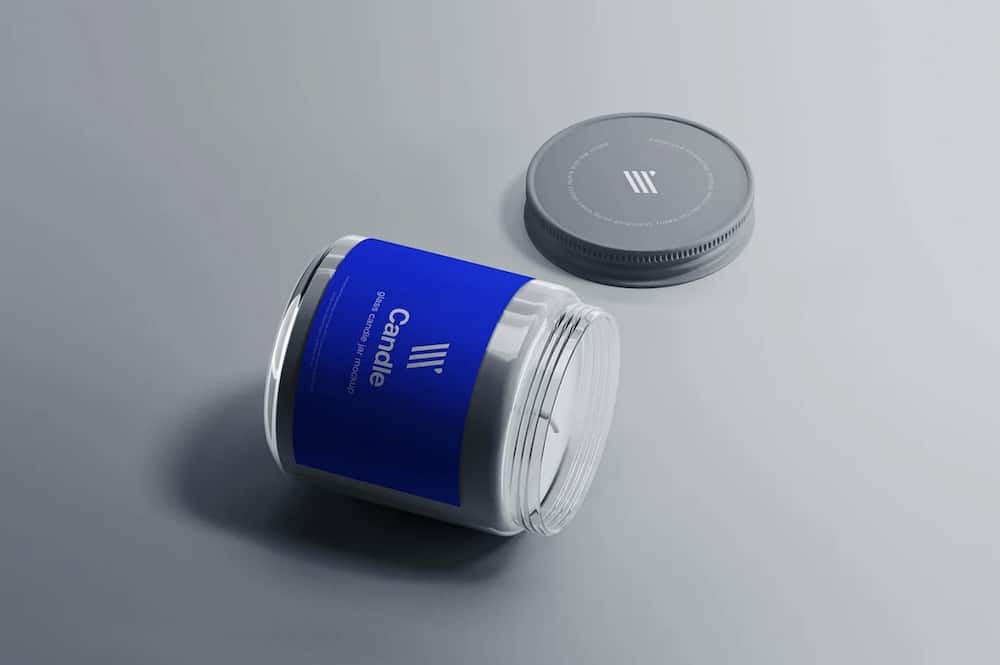 Due to the extreme popularity of glass jar candles, I'm adding one more mockup for your convenience.
I'd be really stoked if there were more views/angles, but the one that you get creates a nice attention-grabbing effect.
Moreover, the 5252 x 3939px dimension ensures excellent quality for a fantastic presentation of any design and logo style.
(I used a very detailed logo, zoomed it in and it appeared crystal clear.)
Price: $14
MORE INFO / DOWNLOAD
14. Candle tin mockup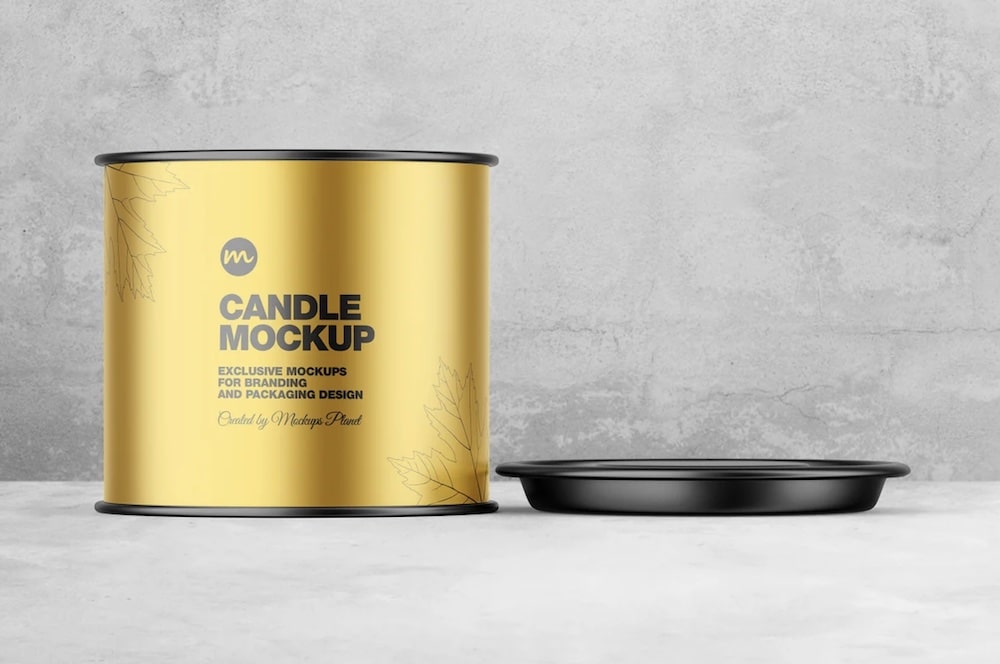 I'll be 100% transparent with you right now. I did a Google search and found how many (a lot!) are looking for candle tin mockups, thus adding it to the list.
But I'm only including it because it's a great example that I thoroughly tested to ensure it's easy and quick to work, with EXCELLENT resolution.
The customization capabilities are also fantastic, which allowed me to make five versions extremely fast.
Price: $15
MORE INFO / DOWNLOAD
How You Can Quickly Create A Candle Mockup
When you're working on a candle design, you'll also want to test your creation for your own reference and to send it to your client.
Heck, use it for social media promotion, online shops, newsletters, etc.
Luckily, creating a life-like presentation of any candle design is easy and quick.
Even though you need Photoshop to make it happen, any beginner can do it!
Here's the I-can-do-it five-step process that'll show you how effortless it is:
First, open Photoshop and import your PSD template of choice.
Second, search for the smart object layer, double-click on it, and slide in your design. I tested all the mockups on this list to ensure their great layered structure.
Third, you can customize the mockup however you want by accessing other mockup layers. This could mean adjusting the colors, changing the background, altering shadows, and more.
Fourth, save and download your beautiful mockup.
Fifth, you're done!
Now that wasn't too hard, right?
You can repeat this process as many times as you want, play with the mockup functions, and design a photorealistic candle mockup that'll impress your client.
::
Note: This article was originally published on May 10, 2022. But our team regularly reviews it and updates it with necessary improvements for accuracy.