We went straight to choosing a bunch of throw blanket mockups after working on three new designs for a recurring client.
With many EXCELLENT solutions, we went from 57 down to 20 actionable mockups.
We didn't use them all, but we always save some extra for later. (Still tested them, though.)
Quick access = Workflow BOOST.
This post covers:
Note: We did something against the grain from the traditional designer's approach.
Mockup generators! (With one layered PSD exception.)
Psst: Find free throw blanket mockups at the bottom.
These help overloaded professionals or complete beginners maintain professionalism.
Get relief from not using Photoshop.
All. The. Freaking. Time.
Create remarkable blanket presentations quickly and efficiently (in just a few clicks).
LIKE A BOSS.
Best Throw Blanket Mockup Generators & PSDs
Each generator costs $7.95 with optional monthly ($14.95/month) and yearly ($89.69/year) subscriptions to save money.
1. Woman under a throw blanket mockup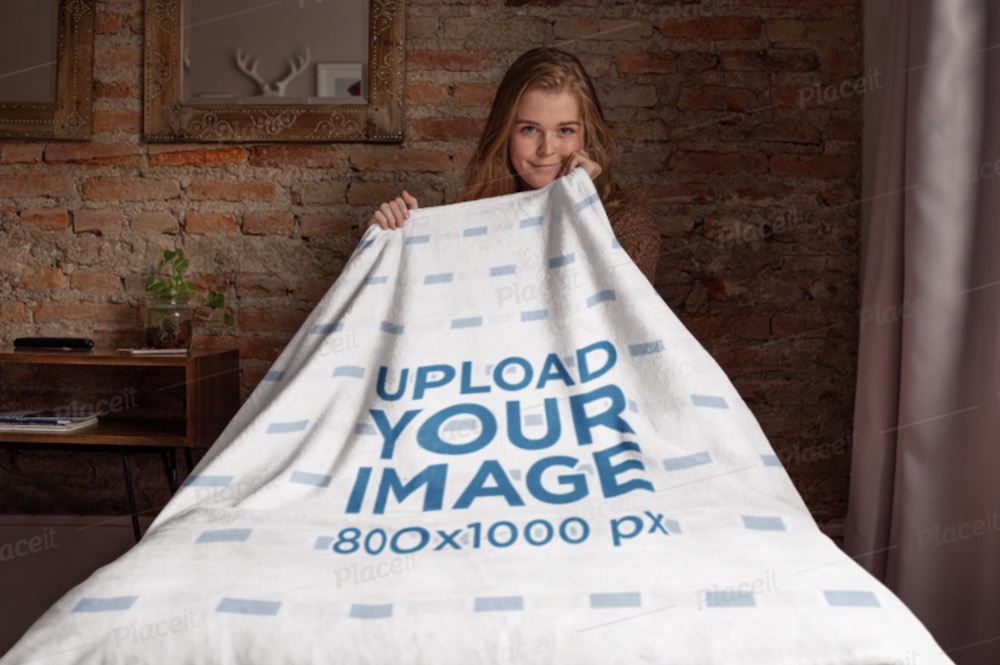 An awesome mockup of a throw blanket featuring a woman getting cozy in her bedroom.
For a life-like presentation of your beautiful design, this tool will have you going in no time at all.
If you have your artwork ready, head over to Placeit and you can test it out right away.
Does it fit the fleece blanket as it should? Or does it need any additional tweaks and improvements?
Thanks to the mockup, you can test things out before creating the final product that will IMPRESS everyone.
To make everything even better, you do not need Photoshop, as you do all the work online.
MORE INFO / DOWNLOAD
2. Mockup of a soft throw blanket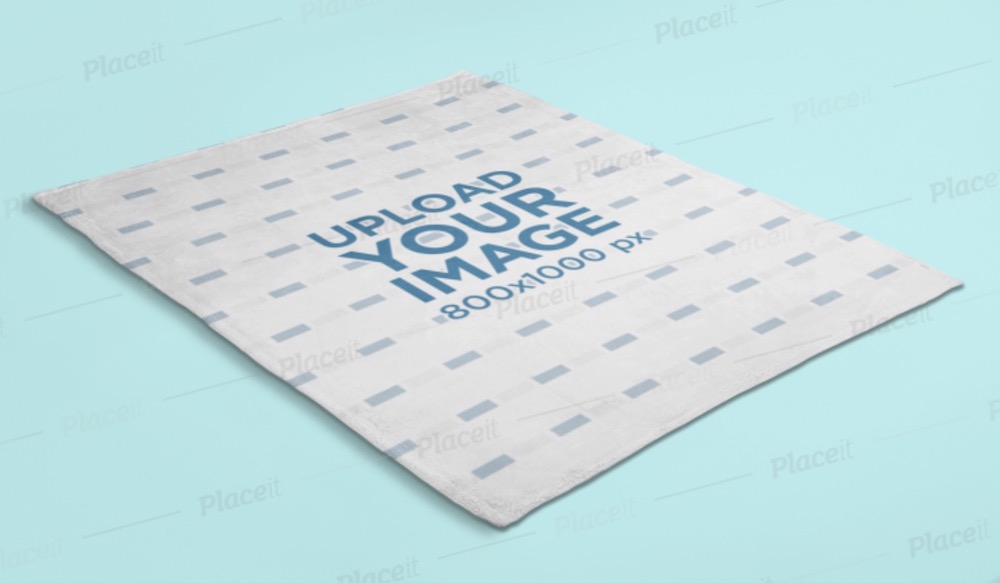 For a clean and minimal product presentation, this throw blanket mockup comes perfect.
You can now completely avoid hiring a photographer and having a physical product ready; the template will do the trick.
With the handy customizations, you can also fine-tune the default settings and make the outcome follow your directions.
Change the colors of the background and the blanket, import your design, upload your logo and more.
You can have the final product unravel right in front of your eyes in JUST A FEW clicks.
What you will notice, you do not even need to create a free account to test things out.
MORE INFO / DOWNLOAD
3. Mockup of a happy girl under a throw blanket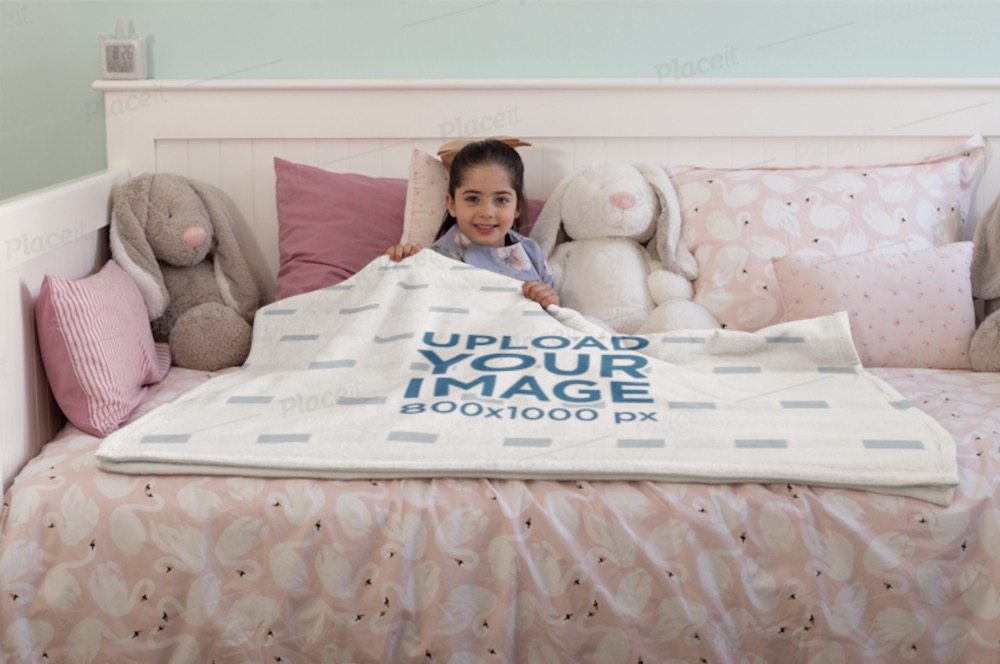 Throw blankets don't just look good, but they are also comfy and warm.
If you are designing one for kids or the whole family, this life-like mockup of a young girl will come in handy.
Even though you do not need to have any skill to work with the mockup, have the design ready-to-go for a SMOOTH workflow.
After that, you only need to make a few modifications and that's all the necessary work. Best.
But feel free to witness it yourself, as you only need to open your wallet once you have the winning mockup presentation ready.
MORE INFO / DOWNLOAD
4. Mockup of a folded throw blanket

Another simple throw blanket mockup for online stores, blog posts, social media promotions, you name it.
The options are VERY MANY, not just in the usage, but in creating the exact appearance that you want, too.
Style and decorate the template to your heart's content and amaze the potential buyer or your client.
With a mockup, you can also see how the physical product looks before you send it out for production.
Make sure all fits perfectly, so you do not run into any inconvenience later on. It is a win-win situation that we have here.
MORE INFO / DOWNLOAD
5. Mockup of a young girl wrapped in a throw blanket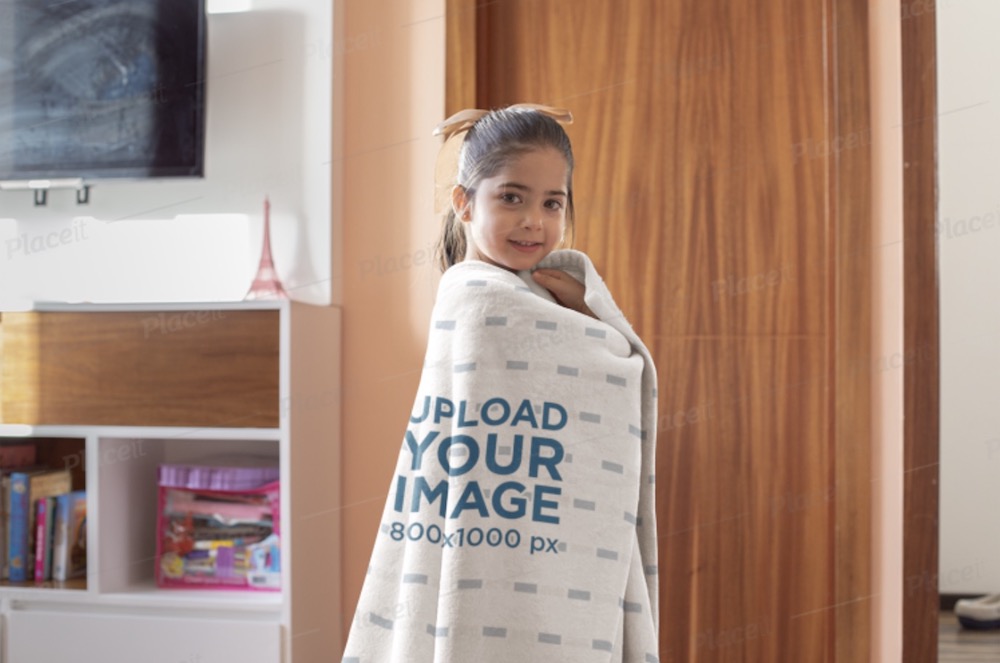 From product-only mockups to such that include a human element, you will find all and then some in this collection.
With this in mind, it is a guarantee that you take care of the photo-realistic presentation, regardless of how PICKY your taste may be.
Whether you are creating kid or baby blankets or for grownups, it does not matter, the right mockup is at your fingertips.
All you have to do is to visit Placeit, use your favorite web browser and that's it.
Upload any image you want, crop and reposition it and attach to the blanket.
The young model will promote it professionally for you and attract parents' attention.
MORE INFO / DOWNLOAD
6. Throw blanket mockup of a little girl with her plushie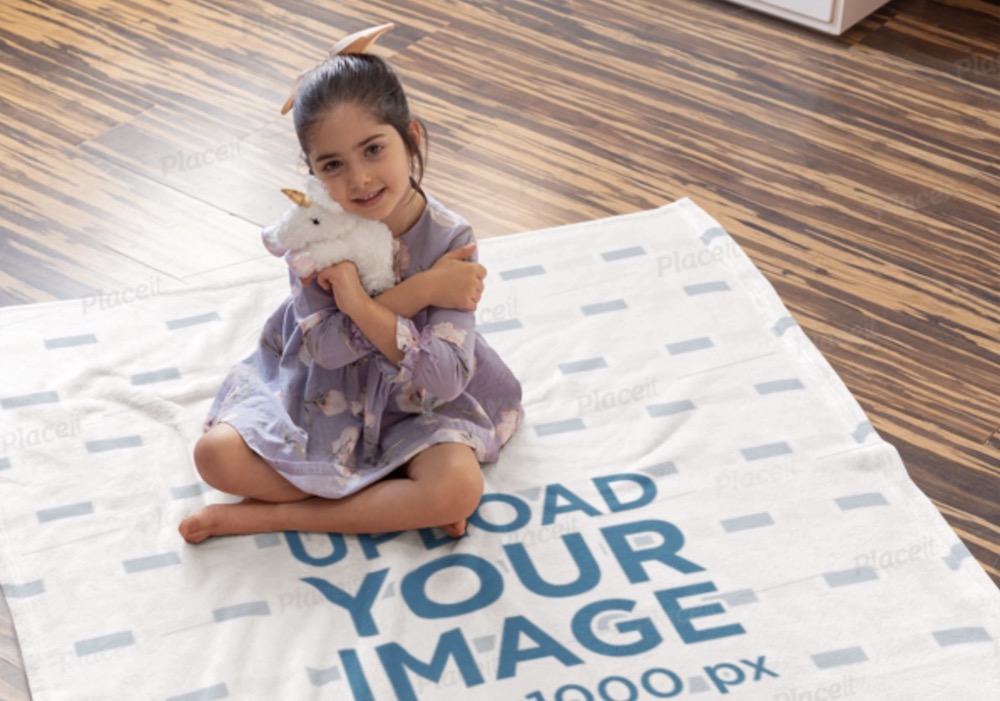 If you would like to create a throw blanket presentation that is just the CUTEST, this mockup has you covered.
A blanket on the floor with a young girl sitting on it, hugging her plushie.
Scrolling a social media timeline, this one will definitely grab everyone's attention easily.
And once you improve it with your color choice, you take things to the next level.
There's more. You can also decorate with any graphic and text you want, as well as upload a company logo.
All this work is a little breeze on Placeit. See it for yourself; you will not regret it.
MORE INFO / DOWNLOAD
7. Mockup of a woman covered with a blanket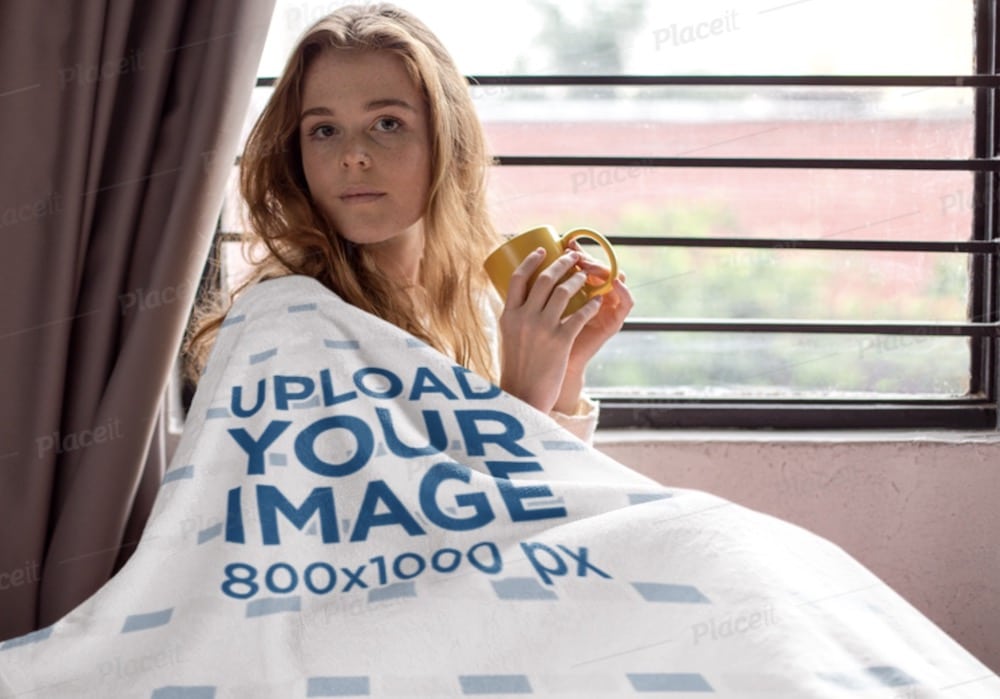 Grab yourself a highly photorealistic mockup of a throw blanket and create a presentation that will impress everyone.
Here is a nifty alternative featuring a female model covered with a blanket, enjoying her favorite cup of hot beverage.
In just a few clicks, you can customize the default settings, making an outcome that matches your style.
Along with importing your image of choice, you can also change the color of the blanket and add text.
It takes NO experience with working with mockups to make a professional product exhibition.
However, you do need to have a logo or a design ready-to-use.
MORE INFO / DOWNLOAD
8. Woman with a throw blanket on her back mockup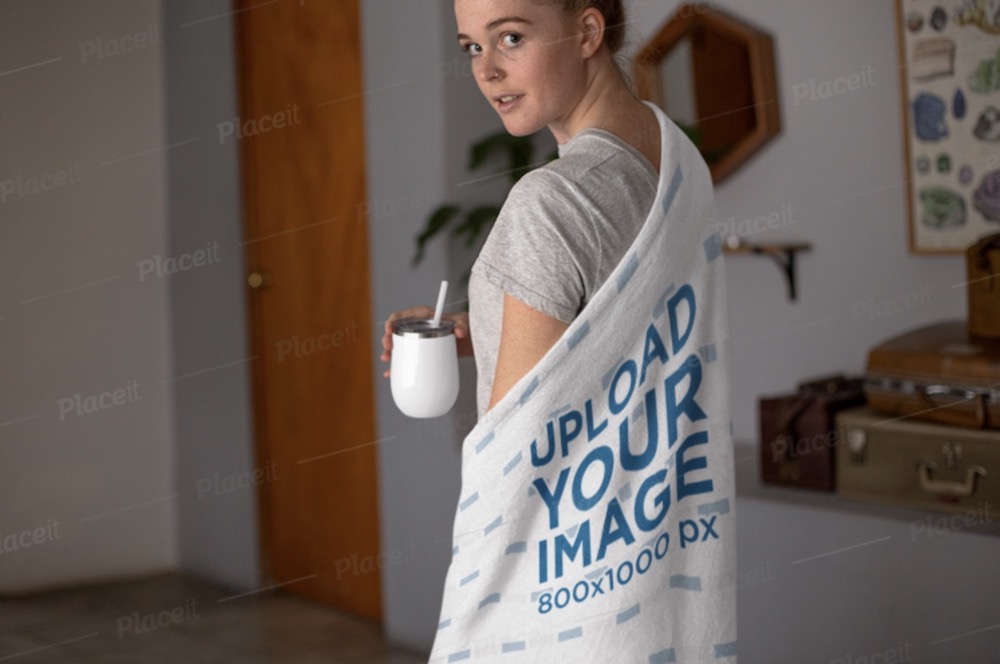 In the morning, preparing for a movie night, whatever, a throw blanket comes very useful in the colder days.
This cool life-like template is all set to present your design in the best possible light.
Impress and AMAZE everyone with your new artwork in a spectacular way. With effortless editing, you can work on this mockup presentation like a champ.
Even if you have no experience whatsoever, you will still experience an outcome that will get the ball rolling.
Whether you work with a client, want to add a new design to your portfolio or simply create an engaging social post.
Make it happen NOW.
MORE INFO / DOWNLOAD
9. Folded throw blanket with cut out paper figures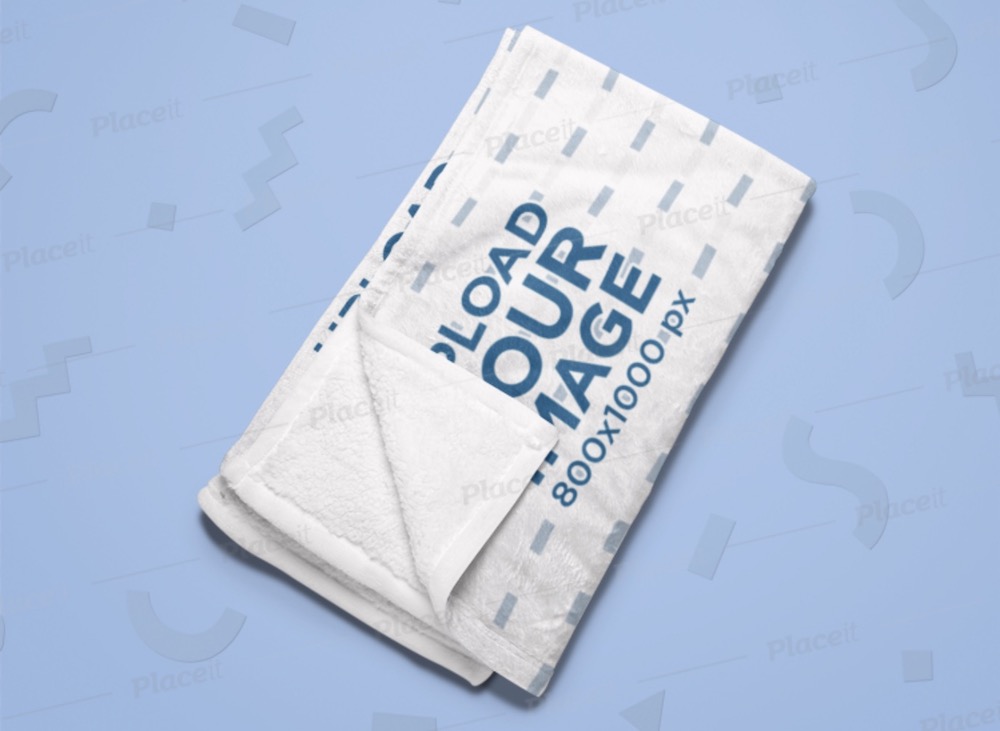 If you like to keep things minimal, yet still want to spice things up with special "effects," this is the mockup that you need.
It features a folded throw mockup on a solid color background with the addition of paper figures.
All three come with individual layers, meaning, you can CHOOSE any color you want for each.
As for the blanket, it comes with an 800 x 1000px working area that can sport any design you fancy.
But that's not all.
The other three features that Placeit sports are text, logo and graphic.
Now play with the different functions and see which combination works best for your creation.
MORE INFO / DOWNLOAD
10. Mockup of a throw blanket in a living room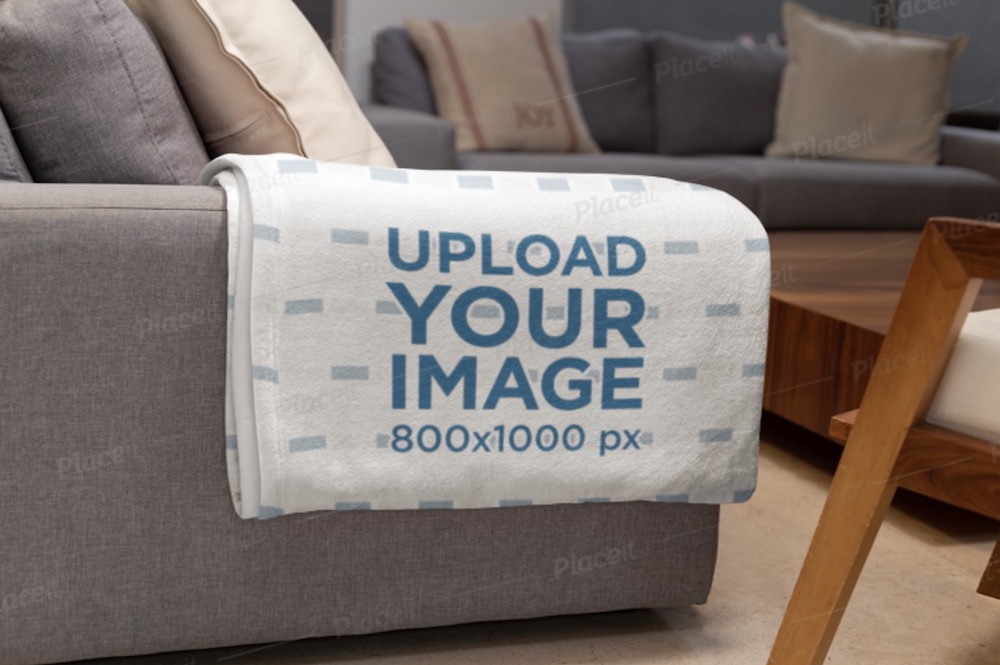 Having a throw blanket always accessible in the living room is almost a must.
You never know when you get cold, and you definitely do not want to leave the screen and miss a section of your favorite TV series to pick it up.
Anyhow, if you would like to use a folded blanket at the edge of a sofa to present your design, you are welcome to take this mockup to your absolute ADVANTAGE.
It takes little to no time to create a presentation that may take hours to complete if starting from complete scratch.
MORE INFO / DOWNLOAD
11. Folded throw blanket mockup on a solid background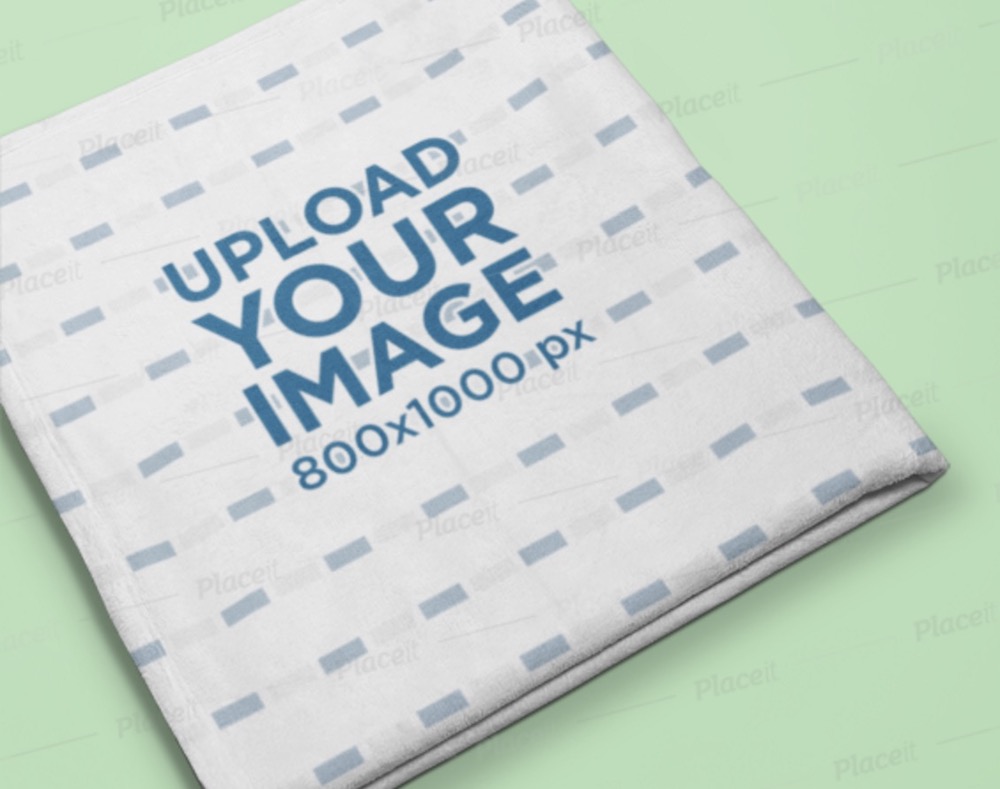 The nice mixture of different mockups that you get on this list will help everyone find what they are after.
For a folded blanket on a solid color background in a vertical position, well, you just found yourself the one.
Change the color of the background and the blanket with the handy color picker.
With another click, you can upload an image directly from your computer or even pick one from your Placeit uploads.
This might be it already, but other options are also available to enhance the appearance, so it meets the directions you need to follow.
MORE INFO / DOWNLOAD
12. Mockup of a throw blanket over a nightstand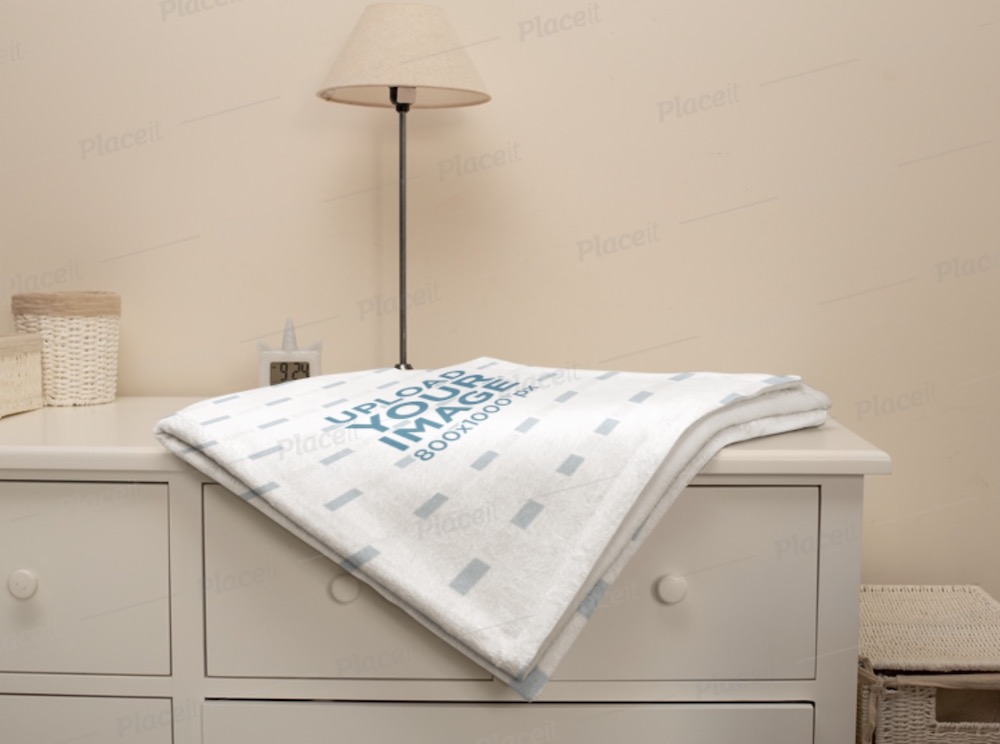 If interior design, minimal style and creating throw blankets is what you dig, here is an EXCLUSIVE mockup for you.
The template features a customizable folded blanket on a nightstand.
With that in mind, feel free to pick the color of the garment, upload your image, as well as append a company logo.
If you feel like throwing at it a graphic and some text is also necessary, by all means, make it happen.
A photo-realistic presentation is just around a corner, readily available to inspire in a few clicks.
MORE INFO / DOWNLOAD
13. Close-up mockup of a folded throw blanket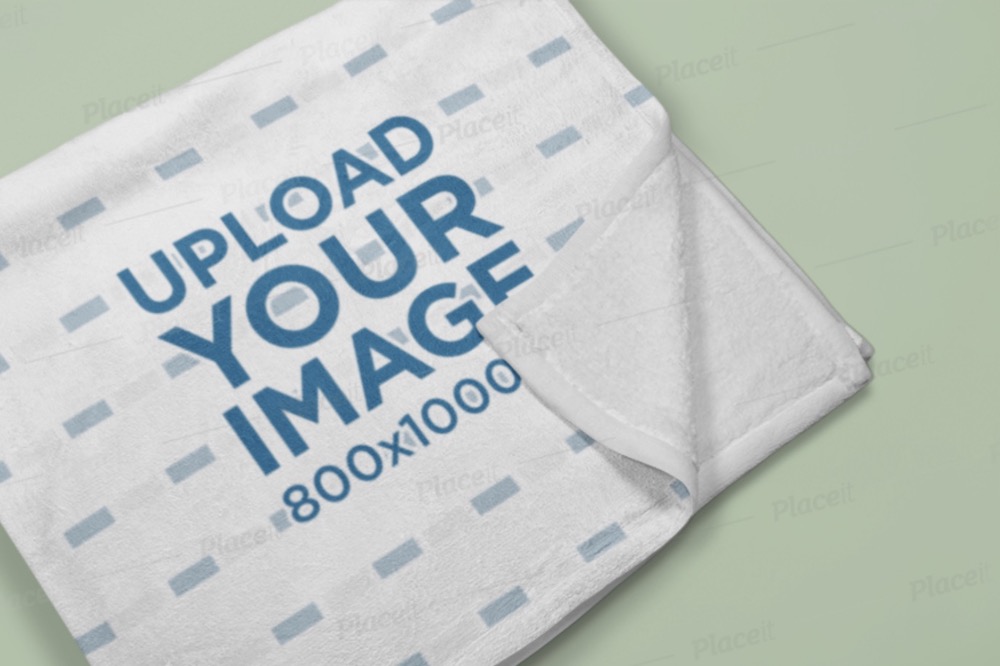 A throw blanket mockup that you can beautify with just about any artwork and color choice you want.
It will take you seconds to create the end product, thanks to the beginner-friendly Placeit.
You can individually change the shade of the blanket and the background. For your information, you can change only one side of the blanket, the other stays white. (Which can be a con for some.)
Upload design and logo, include text and graphics and that's it. TAKE CHARGE and make a difference.
MORE INFO / DOWNLOAD
14. Duvet cover mockup of a bed with a throw blanket on top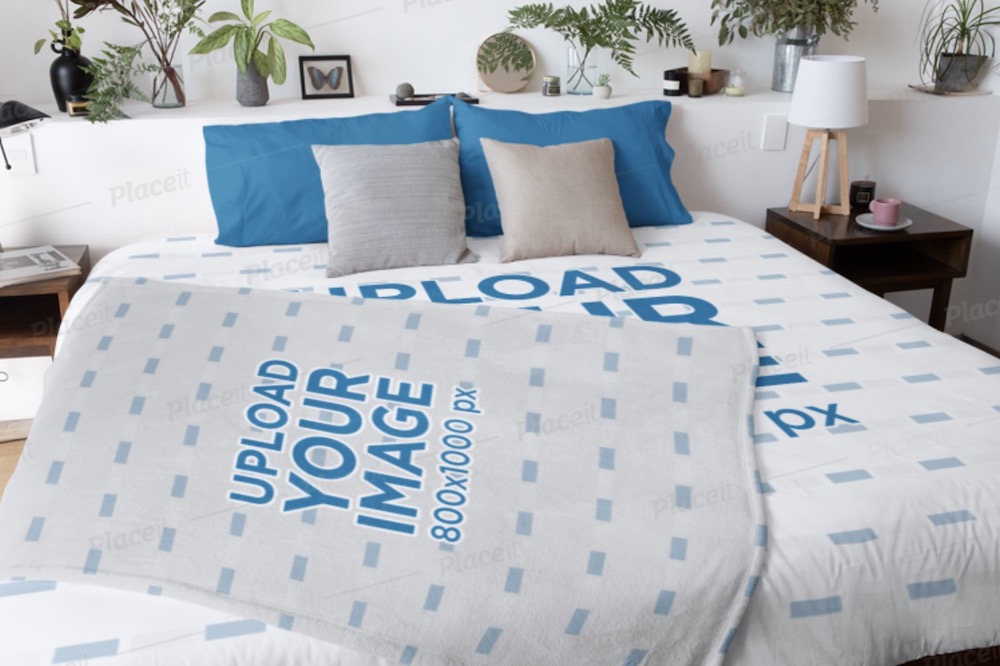 There is a little more to this mockup than just the blanket. It also features a fully editable duvet and you can also change the color of some of the pillows.
Add a similar design to the duvet and the blanket or go with two entirely different ones. That is entirely up to you.
You can also make the presentation as colorful as you want or keep it all of one shade.
You can create tons of different variations and combinations before you go with the clear winner.
Additionally, you can also add some text to the mockup if necessary.
MORE INFO / DOWNLOAD
15. Mockup of a throw blanket on a children's bed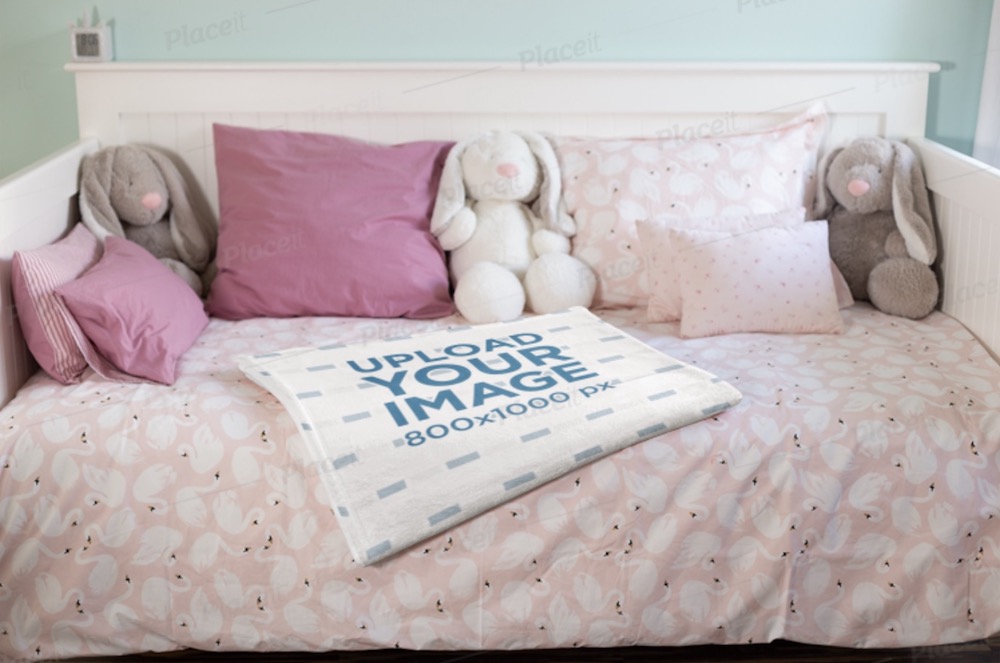 When creating decoration for children's rooms, a throw blanket is almost a must.
If that is something you are up to, you better get your hands on this mockup right now.
While everything is fixed, with a pink tone to it, you have complete control over the blanket.
This is where you can get as creative as you want.
Thanks to Placeit, you are welcome to create as many different possibilities first and only later purchase the mockup.
You do not even need to create an account at first, but I do ADVISE you to do it.
MORE INFO / DOWNLOAD
16. Mockup of a woman getting cozy under her favorite blanket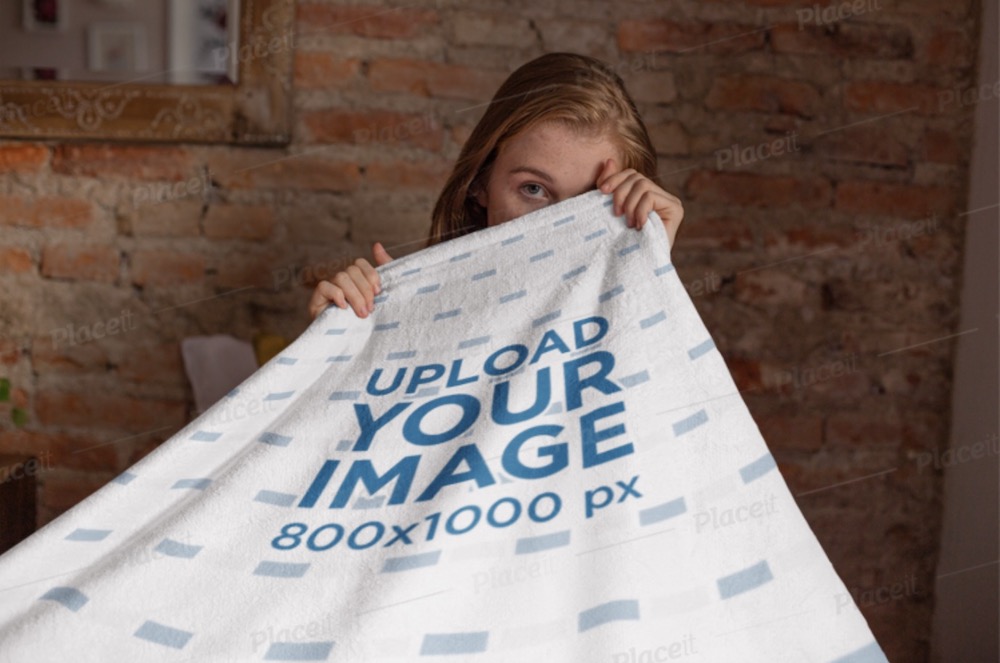 You can find a somewhat similar mockup above, but I find it too cool not to add this one as well.
A female model in front of a brick wall, covering her face with a throw blanket.
It can work for an array of different objectives, including social media promotion.
With a working area of 800 x 1000px, you can decorate it with just any artwork you want. Slide in your creation and see it appear on the mockup in just a click.
Voila, you have a life-like presentation available and ready to TURN HEADS.
MORE INFO / DOWNLOAD
17. Tassel fringe blanket PSD mockup set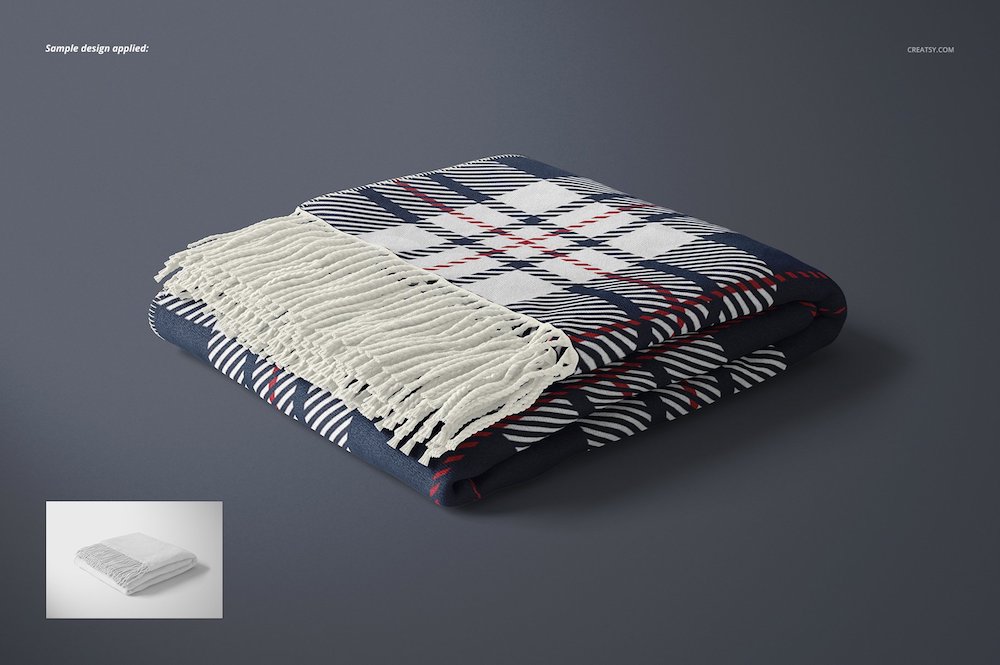 If you are particularly searching for a tassel fringe blanket mockup, this sorts things out for you. In the bundle, you will find NINE different PSD files, all of 6000 x 4000px (300 dpi).
The high quality ensures that the final product will appear with crystal clarity. Moreover, thanks to 3D smart objects, you can quickly add your design without doing any advanced tasks.
With that in mind, only the basic Photoshop knowledge is necessary to work with any of the nine PSD mockups.
Keep in mind, you need to have the 3D function enabled in Photoshop to make this mockup work flawlessly.
Price: $15
MORE INFO / DOWNLOAD
Best Free Throw Blanket Mockups
18. Folded blanket featuring an editable background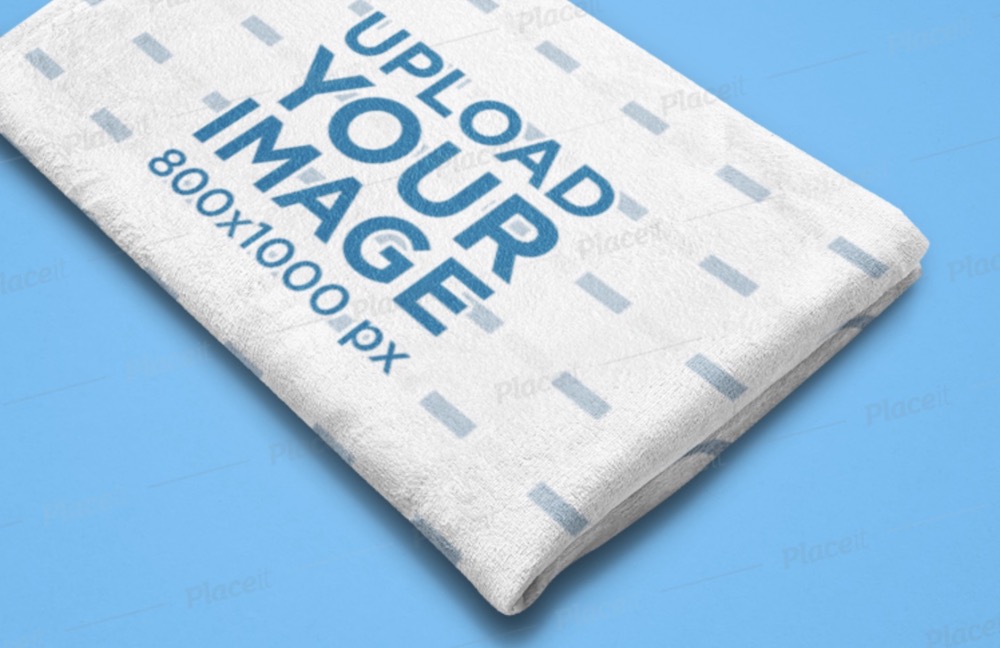 Instead of only focusing on premium alternatives, here are a few free ones. Thanks, Placeit, for making these free.
That said, you know the decorating process with be as easy as pie.
A close-up shot of a folded throw blanket with editable color, as well as customizable background.
In just a few clicks, you can COMPLETELY change the default settings, making the mockup follow your style to a tee. You can even upload a logo and a custom graphic.
As for the latter, there are also very many available in the Placeit's archive.
MORE INFO / DOWNLOAD
19. Mockup of a folded throw blanket in a plain setting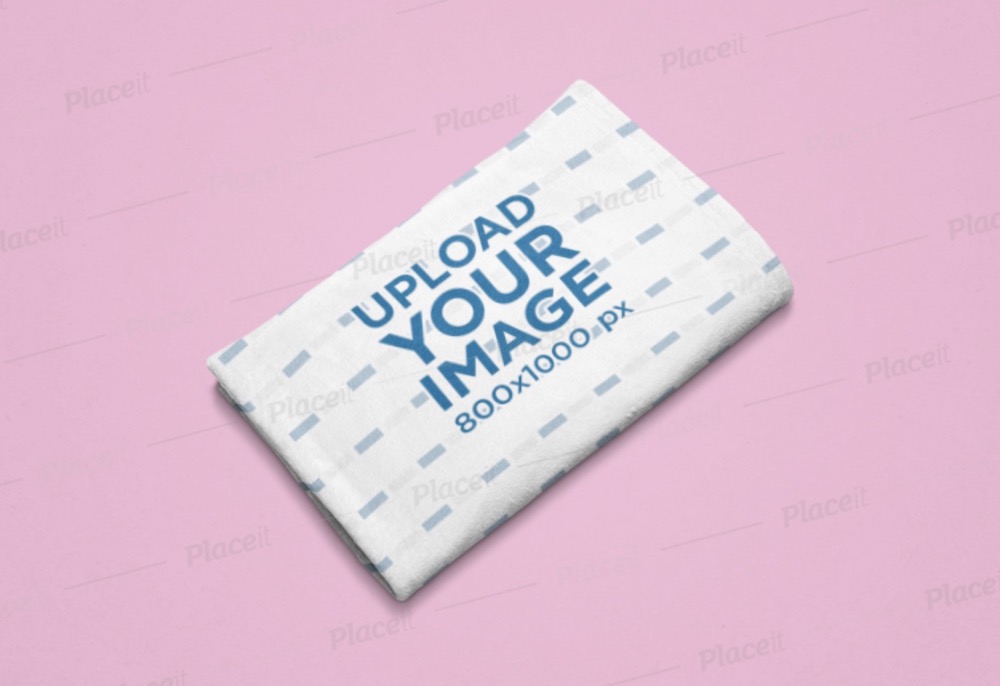 A centered folded throw blanket at an angle for you to improve and enhance without spending a single penny.
Have a sophisticated outcome all set and ready to get your sales going swiftly.
The working area is 800 x 1000px, but you can also work with the design of a different size.
Once you upload the image, you can crop and reposition it from within the web browser you are using.
Then hit the download button once you are done and ready to seal the deal.
It is EASY and you know it.
But you will need to create a free account to make it happen.
MORE INFO / DOWNLOAD
20. Mockup of a folded sublimated blanket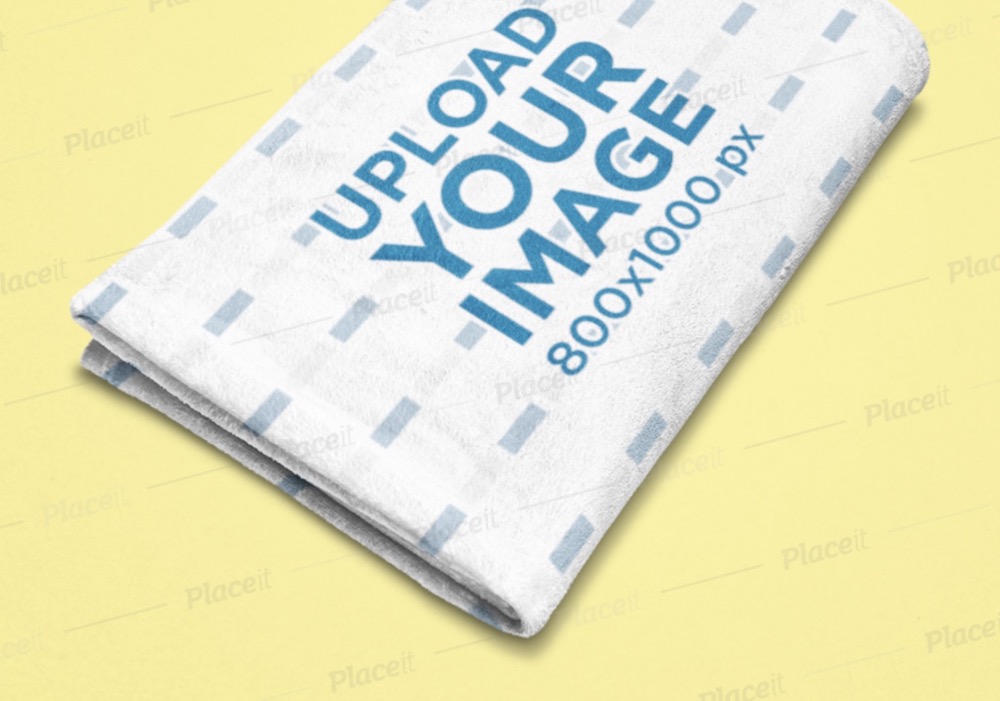 Pretty similar free throw blanket mockup to the one above, just that this one comes at a different angle.
If you need a quick fix, this one will boost your workflow through the roof. Not just that, the outcome will also appear very pleasing to the eye.
Instead of going straight with the premium mockup, you can first get the gist of Placeit with a free one.
I tell you one thing; you will LOVE IT.
It will almost feel like playing a game, just that you will come to an end exceptionally fast.
Test it out yourself and see how it goes.
MORE INFO / DOWNLOAD
How To Create A Throw Blanket Mockup?
You don't need experience, and you also don't need software to create the best presentation of your custom throw blanket design.
It's really easy and quick.
All you need is an online mockup generator.
And here's how to do it.
By the way, I've been using Placeit for a long time, created 100s of projects, and I cannot recommend it more.
4 Steps To Make A Throw Blanket Mockup:
Step 1: By following this link, you will land directly on Placeit's blanket category. However, you can also use the search bar if searching for something more specific. (The live search results help a lot.)
Step 2: Click the template that you like and then upload your design, an image, or a pattern, via the "insert image" button. You'll also notice that you can resize and reposition your upload or keep it as-is. Hit "crop" when done.
Step 3: This is already the step where you can modify the mockup further with custom colors, background (where it's possible), text and graphics. You're free to do your thing.
Step 4: Click "download," and save your creation to your device.
Note: You can also use your mobile device to create a mockup, which is JUUUST epic.
Enjoy.
::
Note: This article was originally published on September 30, 2020. But our team regularly reviews it and updates it with necessary improvements for accuracy.