My taste buds approve of all these free and premium cookie packaging mockups.
Joke aside, I had a blast testing and reviewing and using dozens of mockups to create this final collection of 17.
Bags, boxes, cookies and biscuits – they cover it ALL.
With the design ready, you need minimal Photoshop skills to create a packaging demonstration that will amaze your clients and customers.
Smart objects and organized and layered files promise quick work for fantastic results.
I'm down!
This post covers:
C is for cookie, and M is for mockup. You do the math.
Enjoy.
Best Cookie Packaging PSD Mockups
1. Cookies flow pack mockup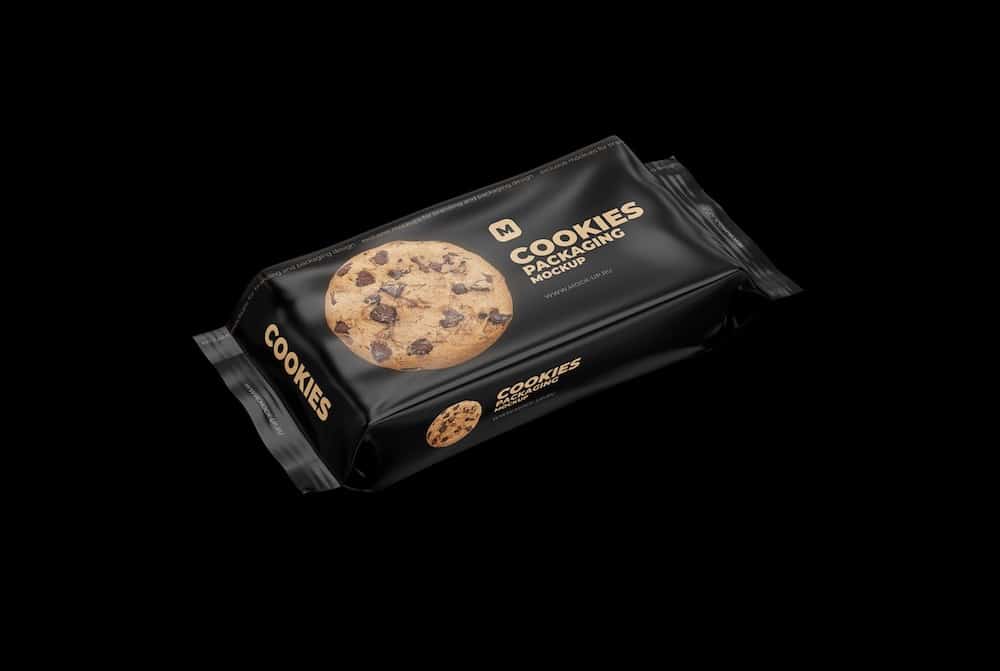 You can enrich this mockup with your branding and design in a few clicks. If this is the pack that you're after (my favorite!), you don't need much work to create a life-like packaging presentation.
You get one high-quality PSD template (4500 x 3600px) that unlocks complete creative freedom. You can also present fantastic zoom showcases due to extreme attention to detail.
I worked with it MULTIPLE times and will come back to it for new designs soon.
Price: $10
MORE INFO / DOWNLOAD
2. Cookies foil packaging mockup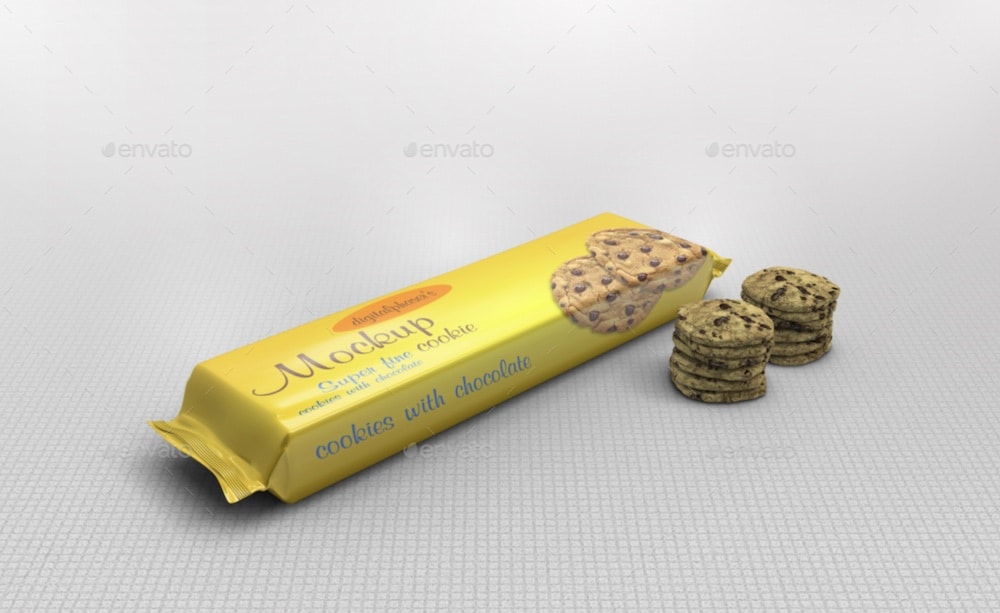 Here's a similar solution compared to the above mockup just that this is a "bigger" pack. More cookies? Sign me in!
The packaging appears VERY realistic with its natural foil effect, especially with editable cookies, coffee and tea. Note: You get three different types of cookies – pure deliciousness.
You can work with six layered PSD files in total, each at 7000 x 4000px dimension (oh WOW!).
Note: The actual size of packaging is 335 x 80 x 40mm.
Price: $6
MORE INFO / DOWNLOAD
3. Cookie bar wrapper mockup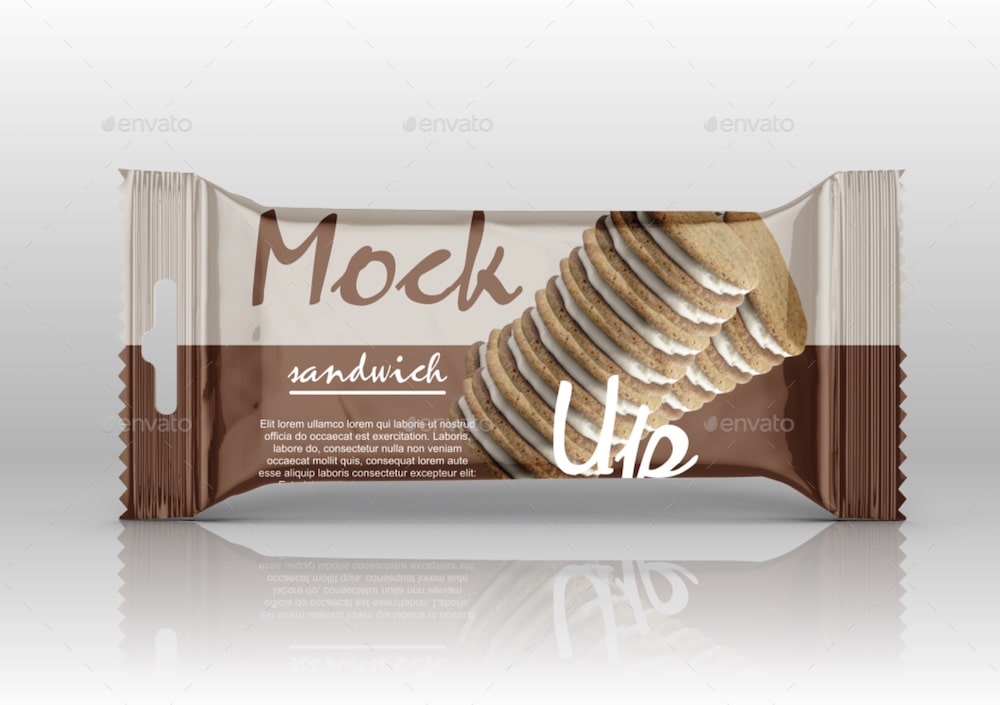 A cookie bar packaging PSD mockup that gets you moving in the right direction immediately. Choose from six files and enjoy smooth design and logo integration via the smart object in Photoshop.
Shadows and lighting are on separate layers to easily and quickly customize the presentation however fits you best. Lastly, you can also flip through the PDF help file if necessary.
But I find working with the mockup (just like any other on this list) EFFORTLESS.
Price: $7
MORE INFO / DOWNLOAD
4. Metal rectangular cookie tin mockup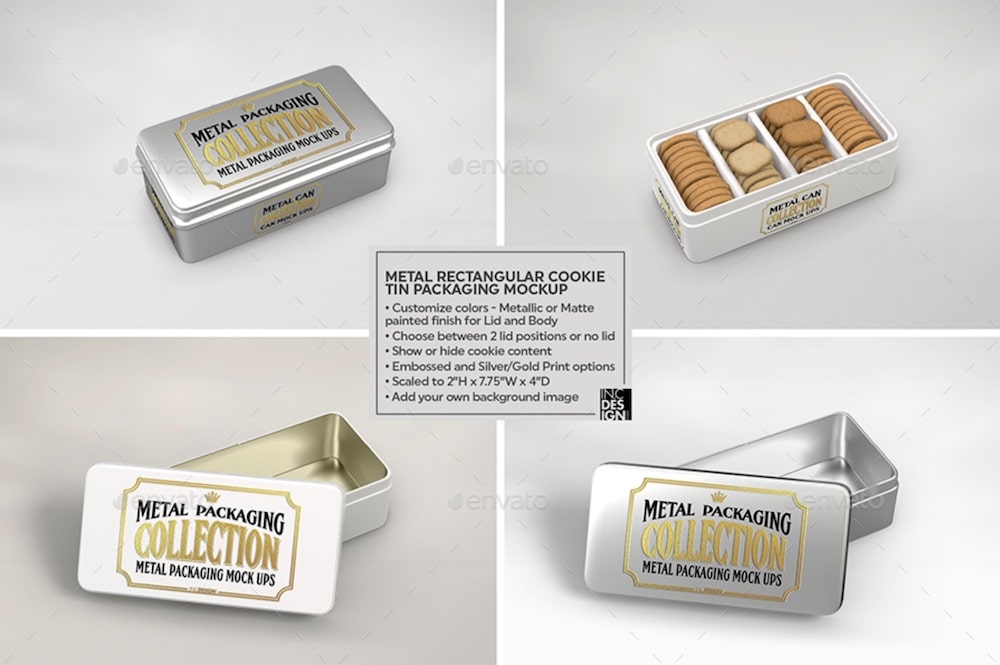 Are you creating a design for a more "luxurious" cookie brand that will pack its cookies in a metal tin box? You came to the right place.
Instead of working on everything from scratch, you can save plenty of time for a small investment.
And do you know what's best? You can then use and reuse the mockup over and OVER again.
You can edit the main container and the cover individually, plus leave it empty or fill it with freshly baked cookies. Enjoy.
Note: I also have a complete collection of the best tin box mockups.
Price: $14
MORE INFO / DOWNLOAD
5. Paper cookie bag mockup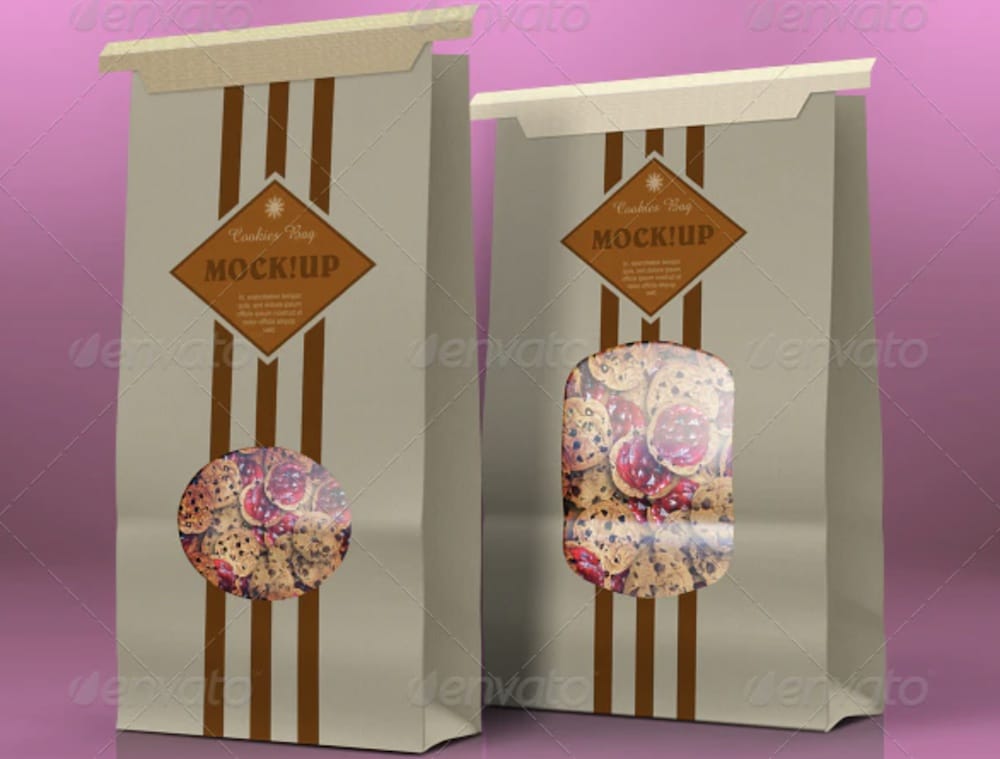 This is one of the best I could find for a cookie bag mockup. It's somewhat basic, but you can work on multiple projects easily, thanks to the six ready-made views.
Changing colors and background, attaching custom designs, and using a window or a sticker, you can make it happen comfortably in just a FEW clicks.
This mockup kit is ready for the challenge, so make sure your imagination doesn't limit you.
Price: $5
MORE INFO / DOWNLOAD
6. Metal cookie box mockup

I first saw this type of cookie packaging when visited Germany when just a kid. I immediately fell in love.
And now, you can enjoy yourself designing a custom metal box for cookies, biscuits – anything!
You get every necessary view you need with an additional option to use either an empty or full box. This one almost looks too TASTY.
Price: $14
MORE INFO / DOWNLOAD
7. Biscuit packet mockup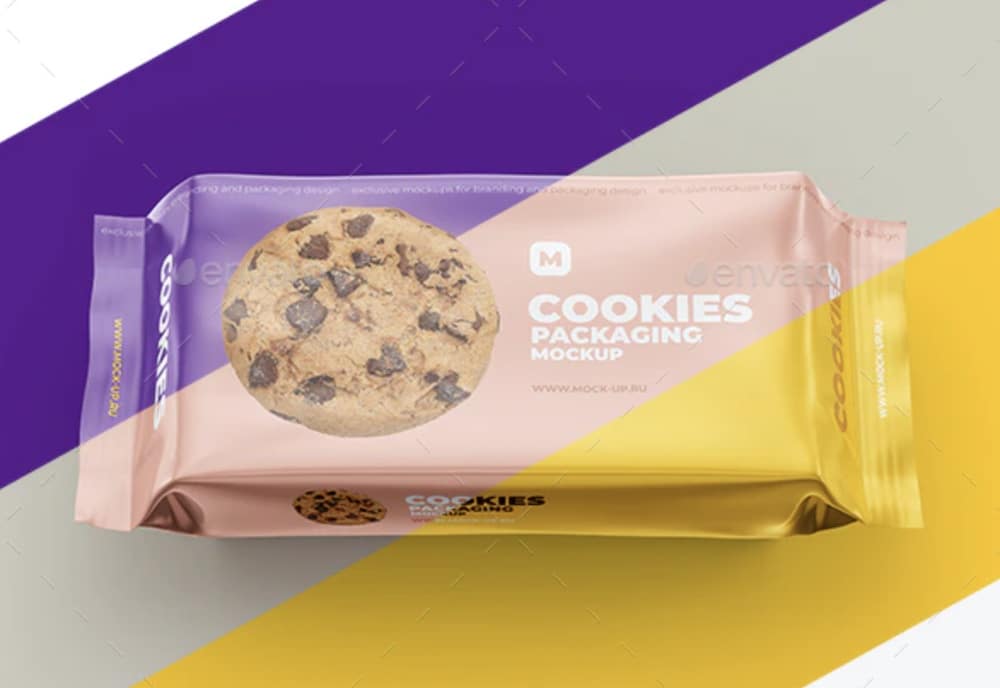 If the first mockup on this list is not enough for you but you dig it, expand options and possibilities with this set.
It's from the same author, the same style, but two different flow pack styles and five overall views/files.
EXCELLENT resolution ensures you can create a presentation of a highly detailed design like a champ without sacrificing quality.
Make a cookie packaging mockup that will impress your client and their customers.
Price: $18
MORE INFO / DOWNLOAD
8. Metal round cookie tin box mockup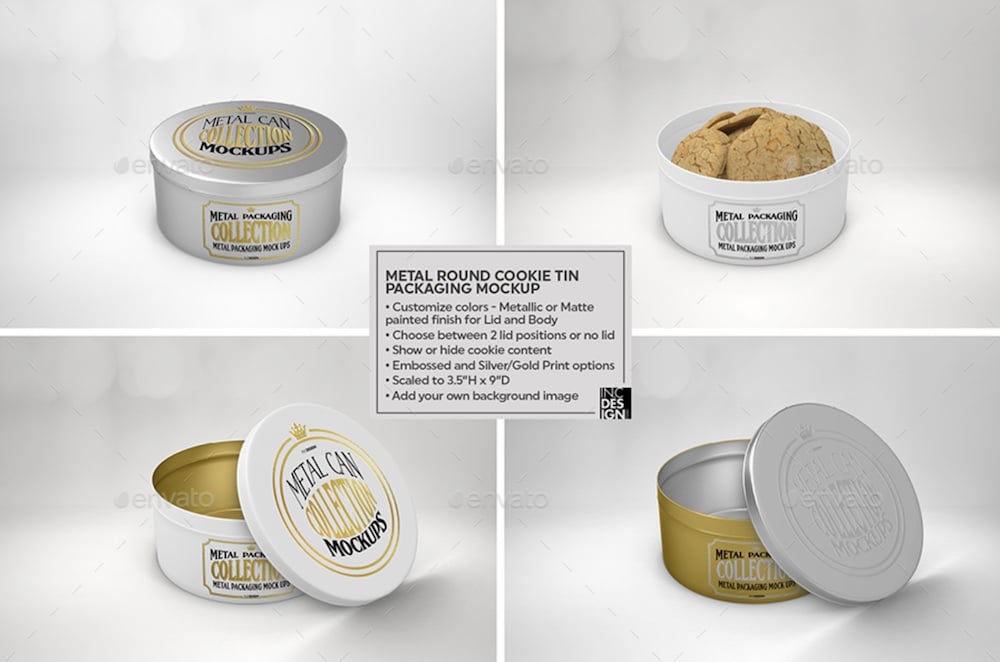 Yeah, I needed to add another cookie packaging mockup featuring a round tin box. (Hint: You also get one more in the free section below.)
You can optionally go with two lid positions or even use it without the lid. Moreover, you can show or hide cookie content, change the background color or add a custom image as a background.
A SUPERB solution for social media and online stores, but you can use it in blog posts and newsletters, too.
Price: $14
Hey: Our extensive collection of the best round box mockups gives you even more options.
MORE INFO / DOWNLOAD
9. Cookie and pastry boxes mockup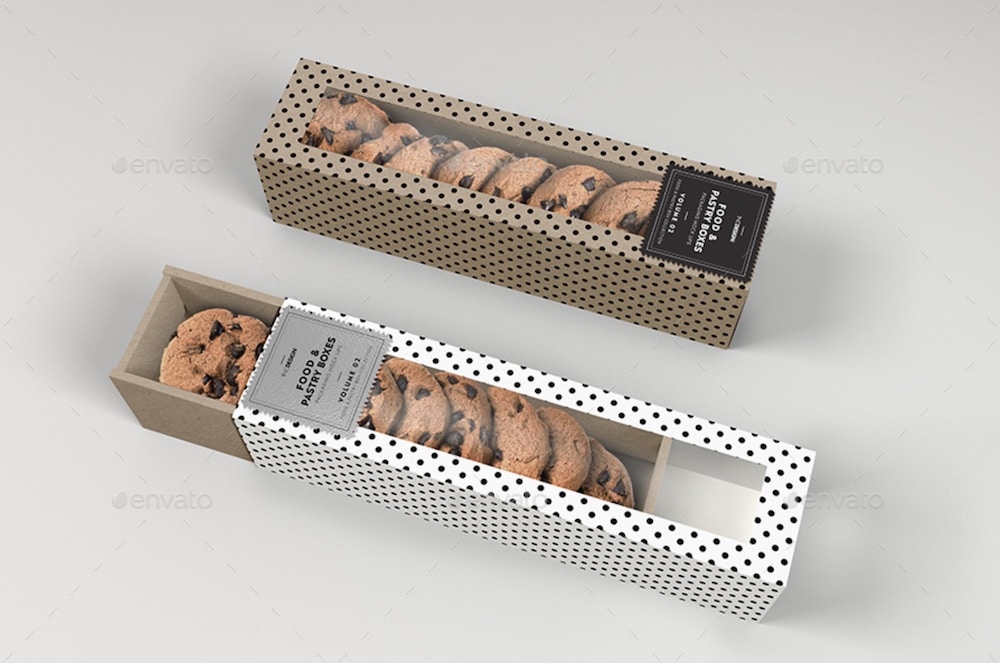 This is actually a food and pastry box mockup set that I found working for cookies so damn well. Three PSD mockups with three box styles are more than enough to cover many clients in the food industry.
What I also like is the fact that all items are scaled to actual size. Create a REAL cooking packaging design presentation that will make everyone go WOW.
(And you create the best food packaging mockup presentation within a few clicks!)
Price: $15
MORE INFO / DOWNLOAD
10. Biscuit packaging mockup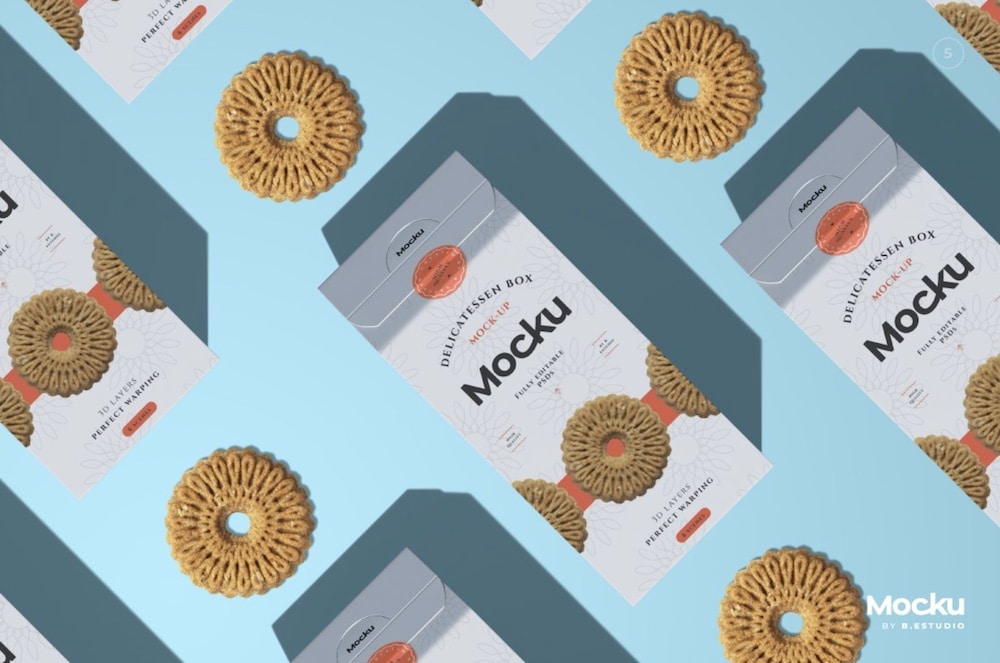 Another one of my absolute favorites! This one looks so realistic, no one will be able to tell you used a cookie packaging mockup.
It guarantees fast work with any available six PSD files (5000 x 3335px).
Along with the different views and excellent quality, each file also includes 3D layers for perfect design wrapping.
Also, every EFFECT is on an individual layer, making customization a child's play.
Price: $19
MORE INFO / DOWNLOAD
11. Sweet box mockup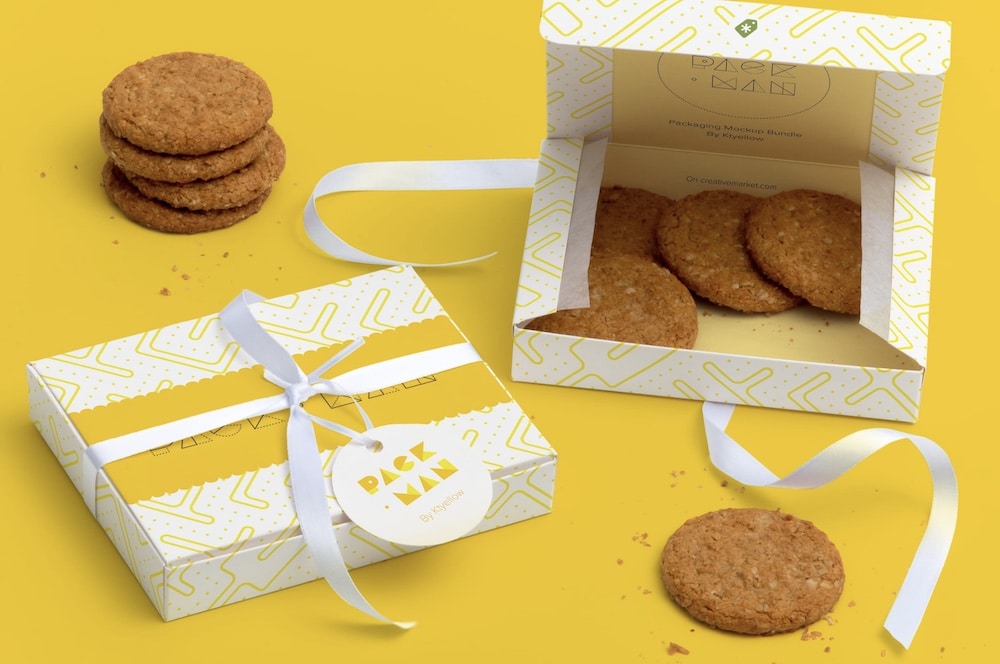 Even though this is a single cookie box mockup, it feels like you get a few. After all, you are free to play with different configurations and style it however you want.
BUT.
It'd be ideal if you are working on a packaging design for the same cookie type that the mockup represents. (A match made in heaven!)
Price: $9
MORE INFO / DOWNLOAD
12. Hexagon window box mockup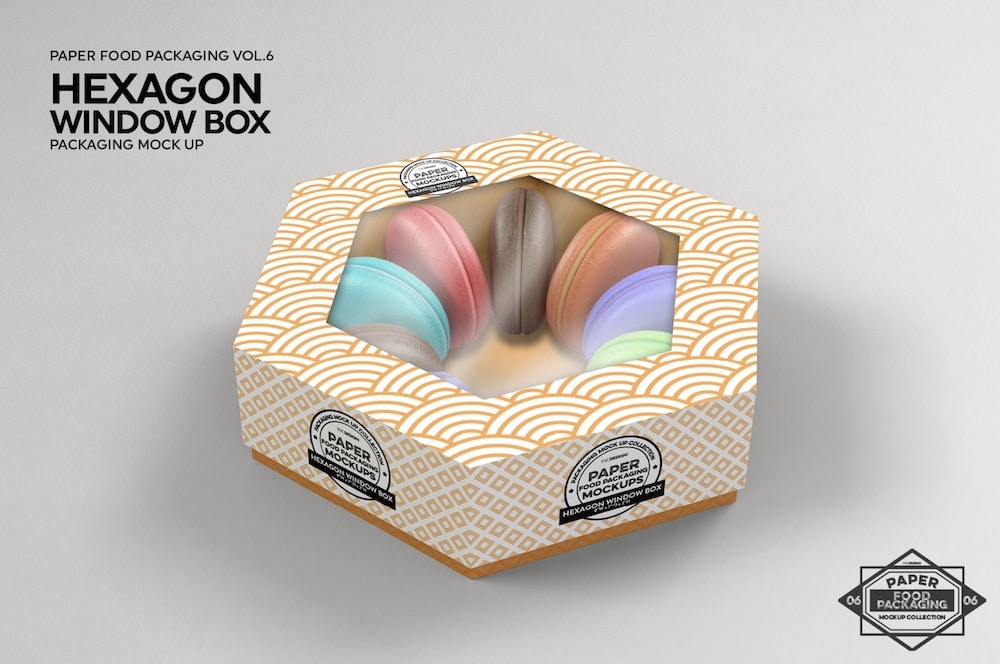 Since I didn't want to include only classic cookie packaging mockups, I also added this hexagon box with a window.
Do you need something that's NOT TOO traditional? Here you go.
Note: You can modify everything, the box's inside and outside, show/hide cookies, add a custom background, and more.
You're in full control to create a hexagonal cookie box like none out there.
Price: $10
MORE INFO / DOWNLOAD
13. Kraft paper bag mockup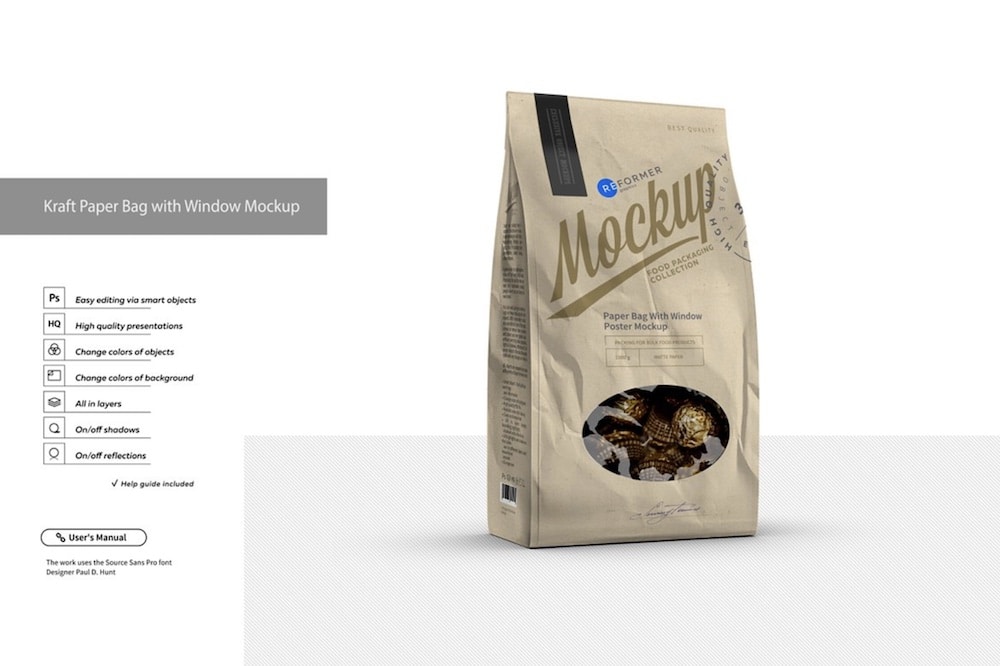 If you want to create a custom kraft paper cookie bag with a window, this is one of the best solutions. The mockup is very easy to use with a beginner-friendly layered structure.
You can access all elements individually and customize them however you want.
The amazing 12000 x 8000px (WOW!) also ensures you create engaging close-up shots of even the most detailed designs.
Boom!
Price: $12
MORE INFO / DOWNLOAD
Best Free Cookie Packaging PSD Mockups
Yes, I actually used these, so I know they work.
14. Free cookie packaging PSD mockup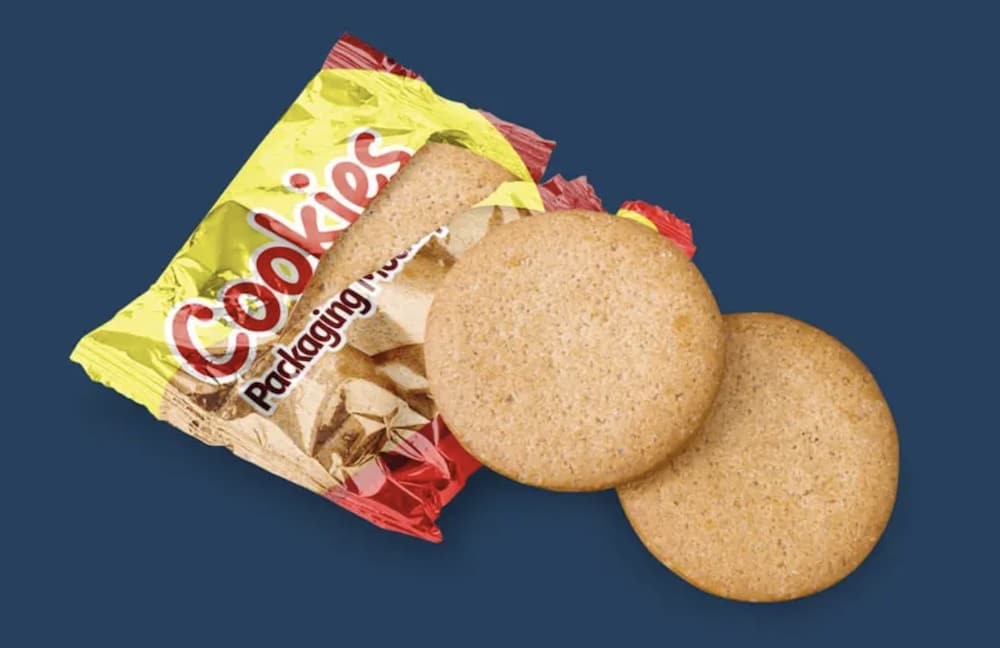 This particular free cookie packaging is pretty next level for the fact that it costs nothing. You get to work with three styles, all at a 2000 x 1500px dimension.
With 1,500+ downloads and tons of positive reviews, it just confirms why I put it first.
Do you need to pack two cookies beautifully? HERE you go! (You're welcome.)
MORE INFO / DOWNLOAD
15. Free chocolate cookies packaging mockup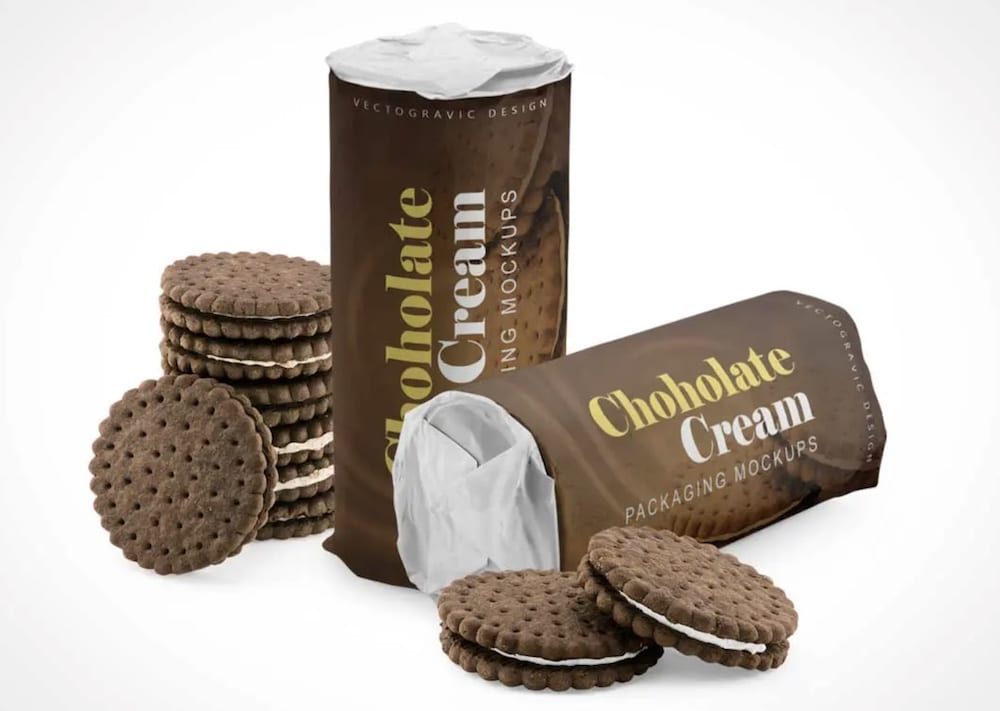 Chocolate cookies may not be my favorite (hint: vanilla), but this free packaging mockup (with two views) is phenomenal.
The dimension may not be the largest (1500 x 1166px), which is perfectly OK for a free PSD template.
Note: When you download it, just add $0 for the price, and you're done.
MORE INFO / DOWNLOAD
16. Circle biscuit and cookies tin box mockup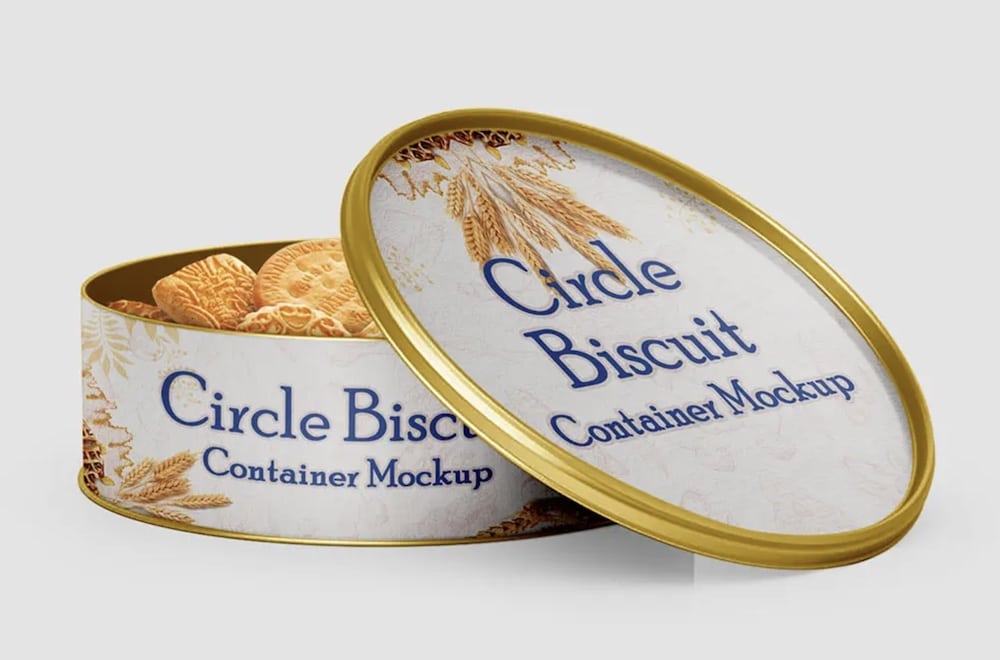 Here's the free version of the tin container I mentioned earlier. Cookies and biscuits, even other pastry and sweet items can fit the container EASILY.
You can work with the open and closed containers and customize them however you want. It takes little time and basic Photoshop skills to create a life-like showcase that will inspire.
By the way, these two PSD files are 3000 x 2250px in dimension, which is a serious deal for a free mockup.
MORE INFO / DOWNLOAD
17. Single cookie/snack packaging mockup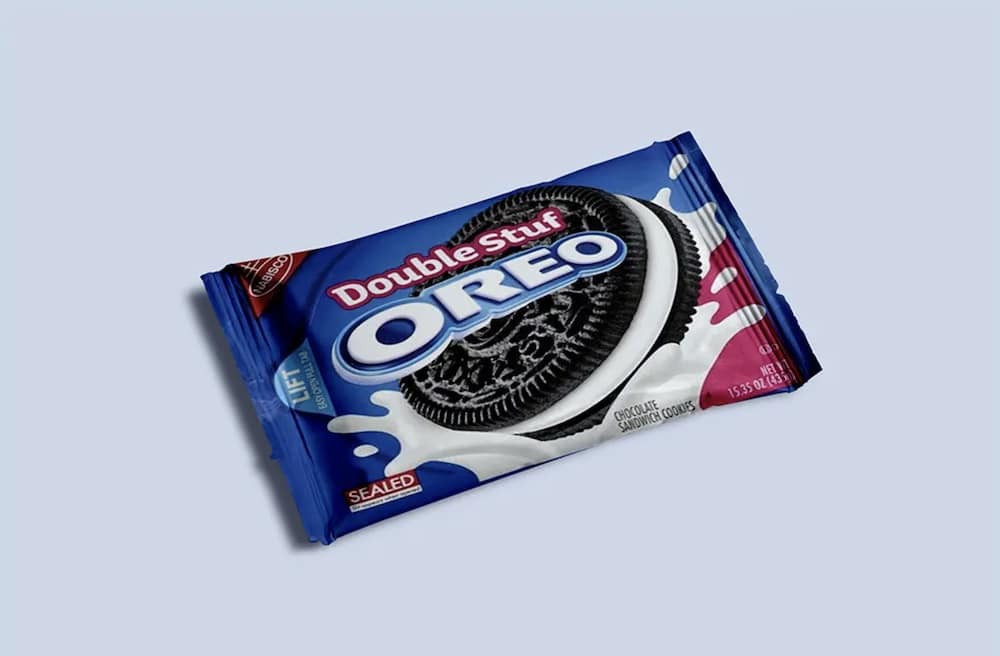 A cookie is a snack, right? Don't the official name of this free cookie packaging mockup fool you. But for this reason, you can use it to prepare packaging designs for any other food snack you want.
It's versatile and HIGH-QUALITY, quickly adapting to your needs and regulations.
You can create your version fast, thanks to the smart object layer and editable background.
MORE INFO / DOWNLOAD
4 Tips To Create A Great Cookie Packaging Mockup
You'll create an epic packaging presentation if you follow these simple tips when working with a mockup.
Luckily, the free and premium predefined PSD templates that I have here for you do most of the work, but still:
Resolution: It's important that you aim for the highest resolution – ALWAYS! Even if you don't need it, you'll thank yourself later if the client asks you to create a large-format presentation.
Details matter: The devil is in the detail, goes the saying – but in the positive sense this time. Make sure you take care of the detailing because it can completely change your cookie packaging presentation.
Make it realistic: This may not be the case if you're making a mockup for an online store, but it does in almost every other situation. You can easily make it more realistic by adding actual cookies. (But if there's a human element to it, that's even better.)
Colors: Make sure you choose your colors wisely. You may not be able to change the design or logo, but you can change everything else. You can make the design pop more with great coloring, so pay close attention to it.
::
Note: This article was originally published on November 26, 2021. But our team regularly reviews it and updates it with necessary improvements for accuracy.