Hey, smartwatch fans, are you searching for the best free and premium Apple Watch mockups?
Here's our carefully studied collection for everyone.
This took us several months to complete. Why?
Because we ACTUALLY tested the templates and used them for our projects and clients. (It sure was fun.)
We ended up picking three different styles:
These cover every user, so no IFs, BUTs, or MAYBEs.
You don't need Photoshop to make a mockup.
But even if you opt for PSD files, they're too easy to work with.
Are you ready to blow everyone's mind away?
Just. Do. It.
Best Apple Watch Mockup Generators
These go for only $7.95/template with optional monthly ($14.95/mo) or yearly ($89.69/yr) subscriptions to save extra money.
1. Close-up of an Apple Watch at night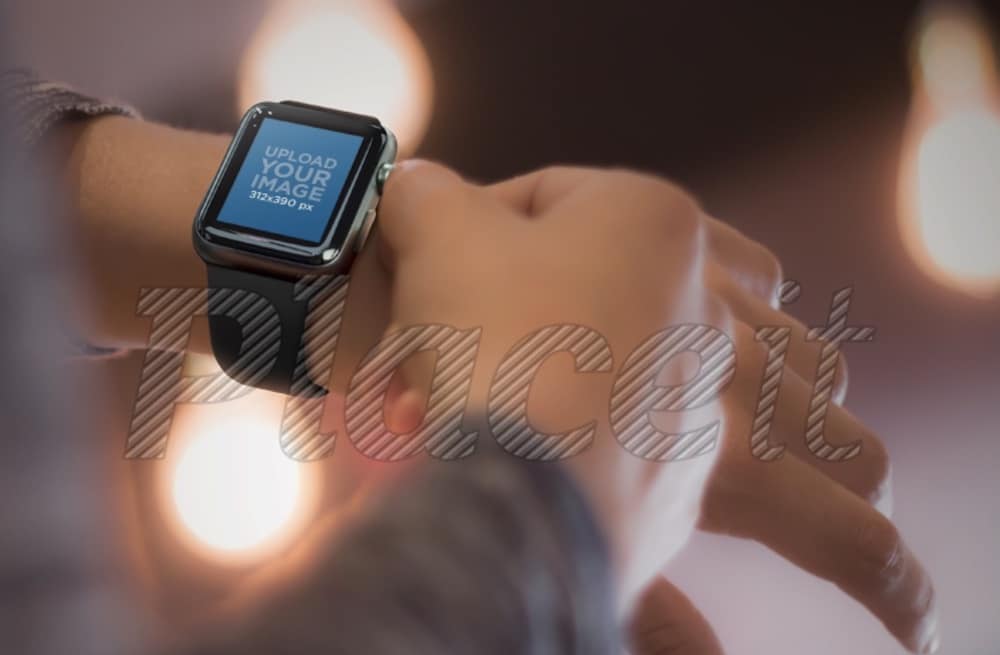 We like this one the most even though all the mockups in this collection are GREAT. It's easy-to-use and extremely photorealistic.
The entire process of improving takes just a few clicks to complete. However, you only achieve the speediest mockup realization if you already have the design ready.
You can also spice things up with text and the company logo.
So simple. So powerful.
MORE INFO / DOWNLOAD
2. Apple Watch on a two-colored surface mockup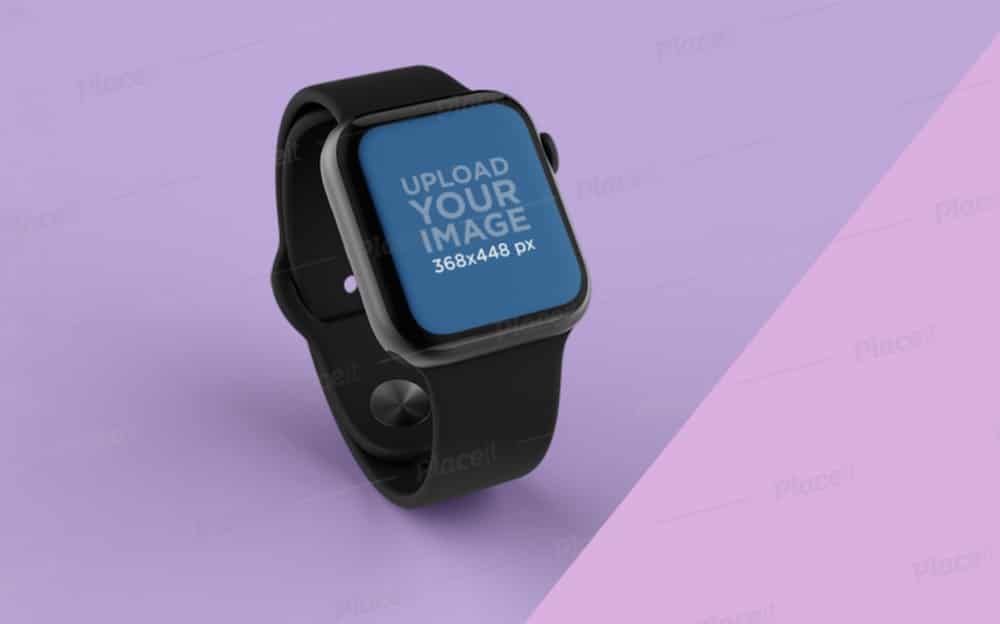 This is another Apple Watch mockup that we enjoyed using a lot. It has just enough creativity to it (two-toned background) to make the overall presentation MORE engaging.
You can use any tint you want for the background by navigating to the handy color pickers. From then on, it's all about inserting your image/design.
This is it!
Note: Like with other Placeit mockups, you can add text and a logo.
MORE INFO / DOWNLOAD
3. Young woman wearing a black Apple Watch mockup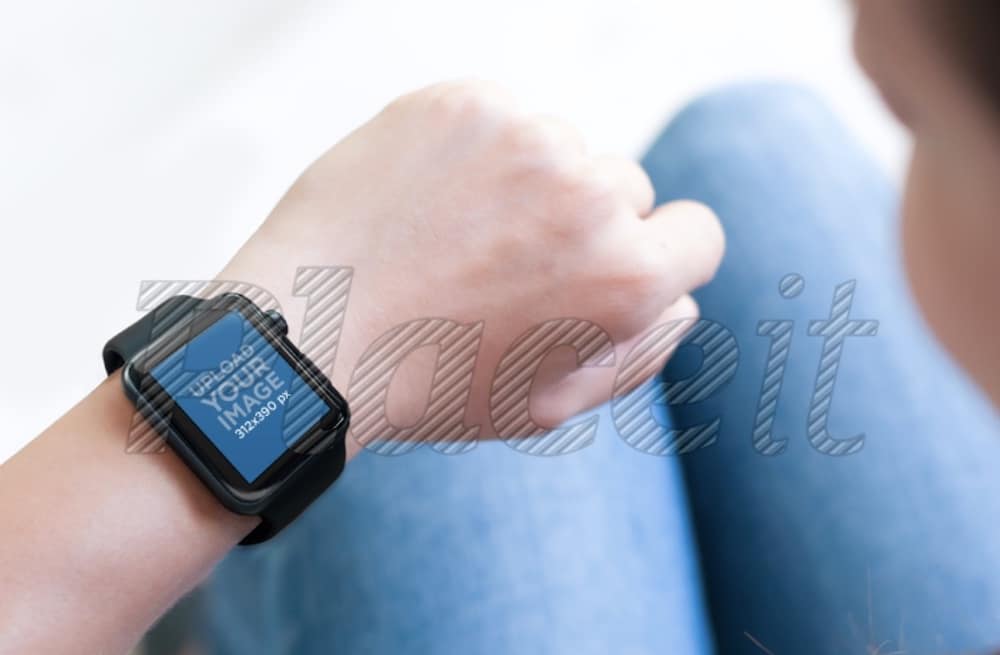 We like using life-like mockups for Apple Watch app presentation the most.
This is another EXCEPTIONAL example of how you can make your application look in use even if it's not released yet.
How cool does that sound?
Start hype early, couple the mockup with a download link and take promotion to the next level. Yes, you will!
We did it and we see no reason why you couldn't achieve a stunning outcome, too.
MORE INFO / DOWNLOAD
4. Mockup of a floating Apple Watch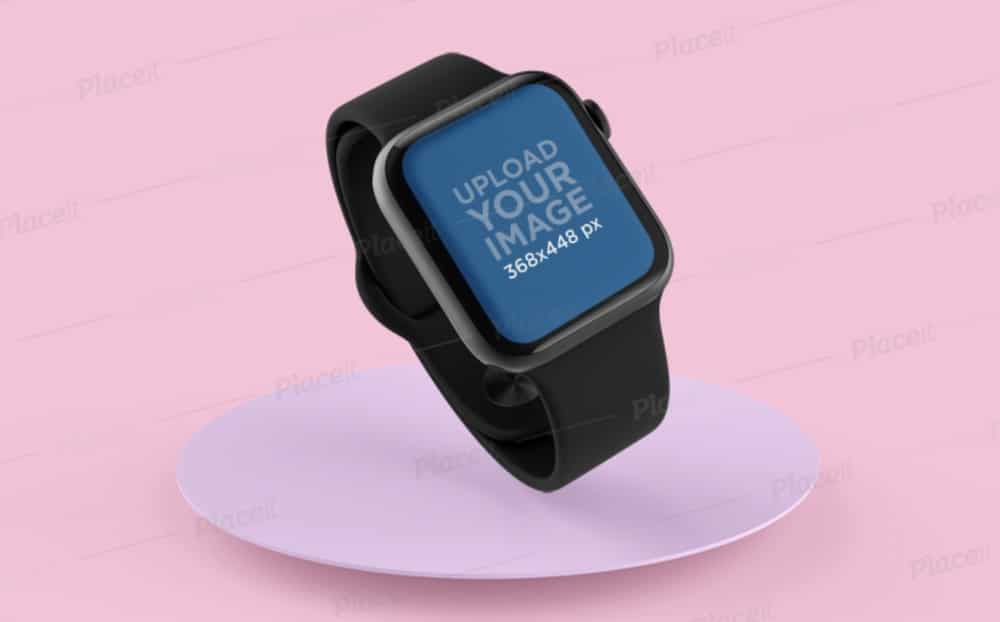 I'm not really sure what's so SPECIAL about floating objects, but they work. The same goes for Apple Watch mockups.
You can now test it for yourself and your (or your client's) audience.
The entire process of improving the default settings is a piece of cake since this is an online mockup generator.
If you're ready for something different, you're ready for this creative creation. Enjoy.
MORE INFO / DOWNLOAD
5. Tattooed woman using Apple Watch mockup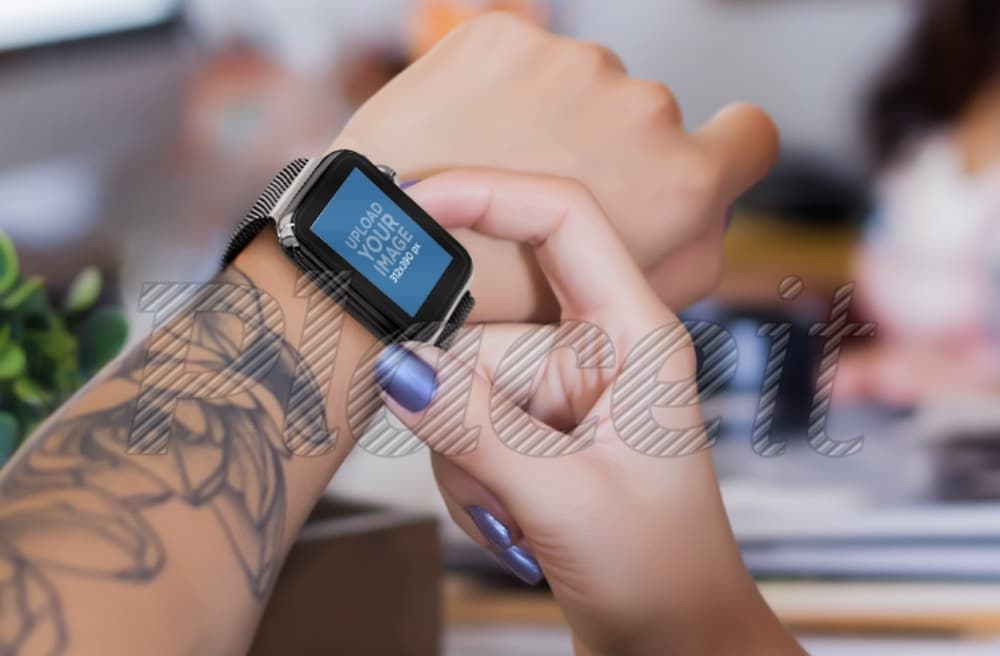 I really like seeing models on mockups with tattoos, it's becoming very everyday-ish. (I know this may be a bit off-topic, but needed to put it out.)
And here's a fantastic example of a woman with an inked arm checking what's hot on her Apple Watch.
What's hot? Your application design, of course!
Even though the environment has a more office- or home vibe, you can still apply it for anything you'd like a smartwatch to rock.
MORE INFO / DOWNLOAD
6. Lady checking her Apple Watch during a coffee break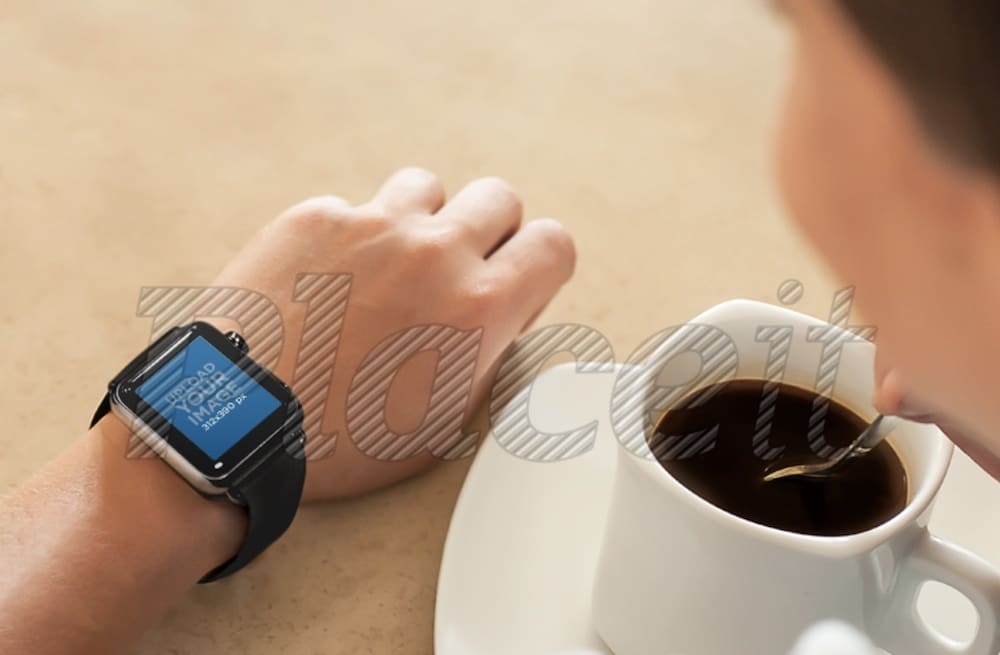 We wanted to offer you as many different realistic Apple Watch mockups in this collection. In short, we aimed to bring something for everyone. (Hurray!)
Coffee breaks, Apple Watch and notifications, what else do you need in life? An Apple screen of your app or anything else you'd like to slide into this generator.
You can test as many variations as possible before settling on the clear winner.
You can even do all this work before creating a free Placeit account. (The best!)
MORE INFO / DOWNLOAD
7. Black Apple Watch on a wooden surface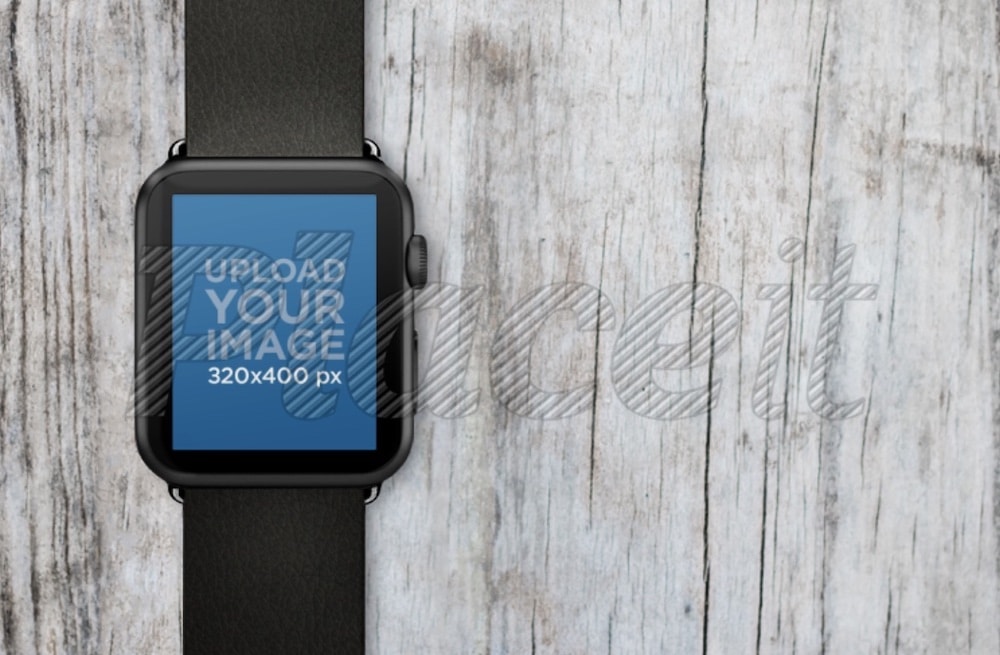 A black Apple Watch on a wooden surface is what's up with this mockup.
The combo works very well. However, what would make it even better is the option to change the color of the wooden texture.
Still, the light grayish backdrop works for a lot of occasions. Especially once you add the image you'd like to present.
SO. GOOD.
MORE INFO / DOWNLOAD
8. Black Apple Watch mockup of a sporty woman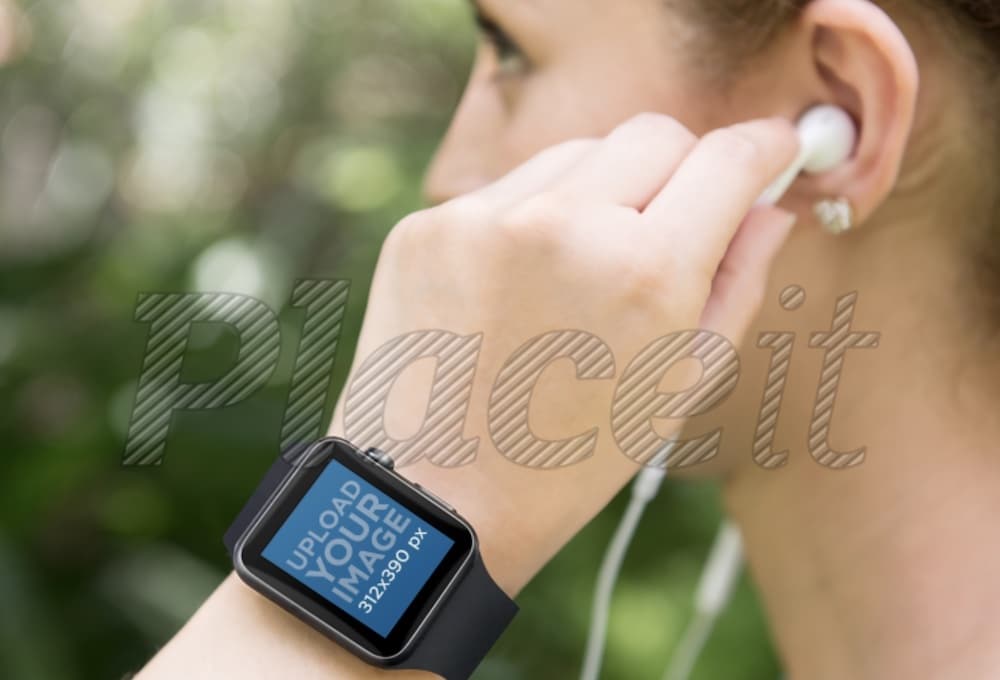 This one is for all the healthy living sports enthusiasts out there.
If that's something you are working on, a sports application, advertise it the right way – with an Apple Watch mockup. (Duh!)
The template is also a nice close-up shot of the watch with a working area of 312 x 390px.
Plus, the upper left quarter is great for adding some text, a call-to-action, if you will.
MORE INFO / DOWNLOAD
9. Girl drinking water with Apple Watch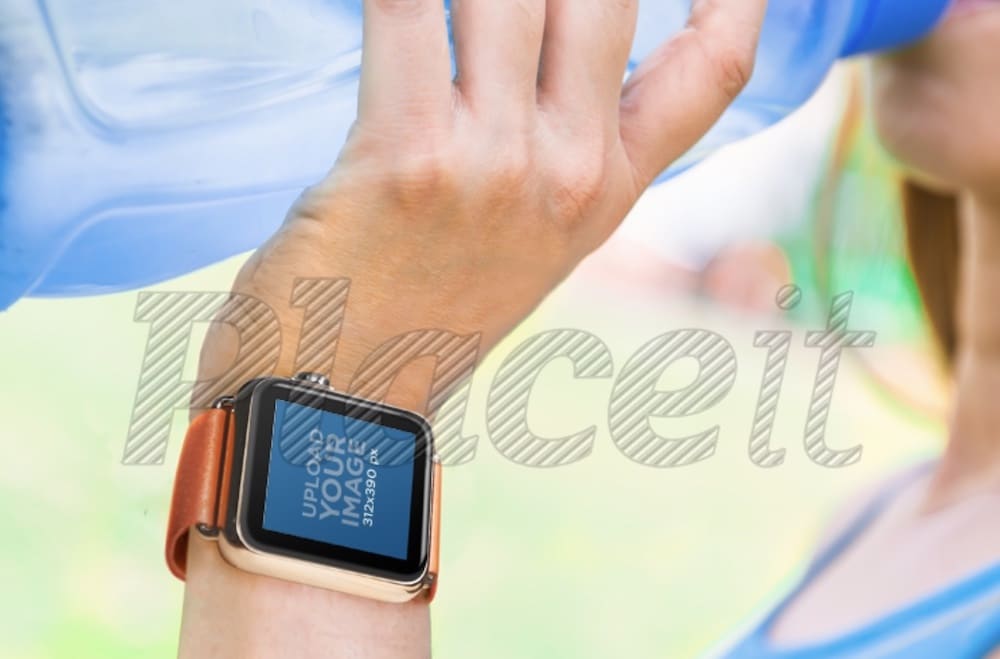 Okay, here's another with a similar theme to the previous one since we know how many use Apple Watch for activities.
A woman drinking water after a workout, modeling her smartwatch with a leather band.
SORRY, you cannot change the color of the band or the watch, but you can attach your design, text and logo.
The final creation is great for social media promotions, marketing campaigns and the like.
MORE INFO / DOWNLOAD
10. Apple Watch on a moleskine mockup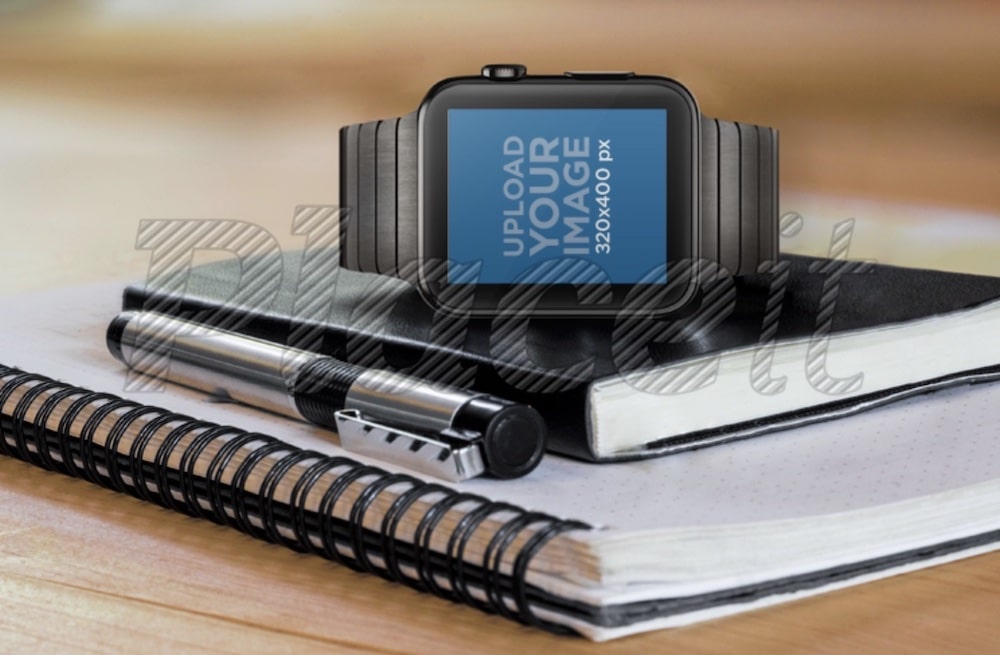 If the previous two Apple Watch mockups were more "informal," this one is much more "formal."
Office and professional VIBES are very high and that's exactly what you'd like to use this template for.
STILL.
Don't be afraid to go against the grain and do your thing. Your imagination is the only limitation that you have.
Get things going in a snap because you can. Placeit offers you to start without an account, making everything even more exciting.
MORE INFO / DOWNLOAD
Best Apple Watch PSD Mockups
11. Apple Watch & band mockup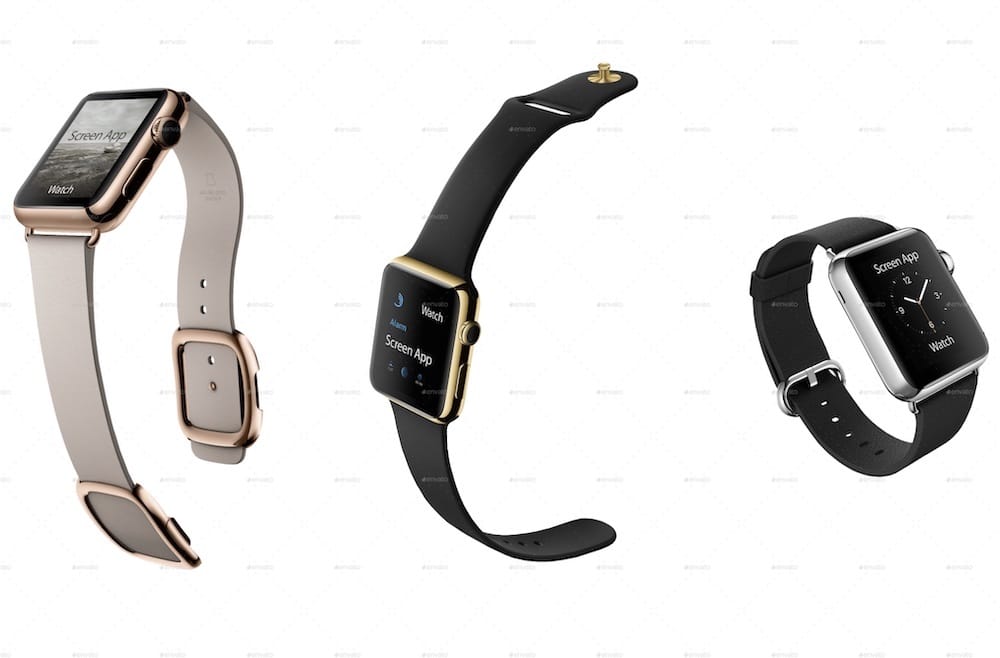 This one is a BIG DEAL. It contains a collection of sixteen (16!) PSD files featuring all sorts of different angles and views.
You are free to play with the watch and band color, adjust the background and enjoy the amazing attention to detail.
Even though the dimension isn't necessarily the largest (2341 x 2340px), your application presentation will definitely stand out from the masses.
Price: $8
MORE INFO / DOWNLOAD
12. Finger pointing at an Apple Watch mockup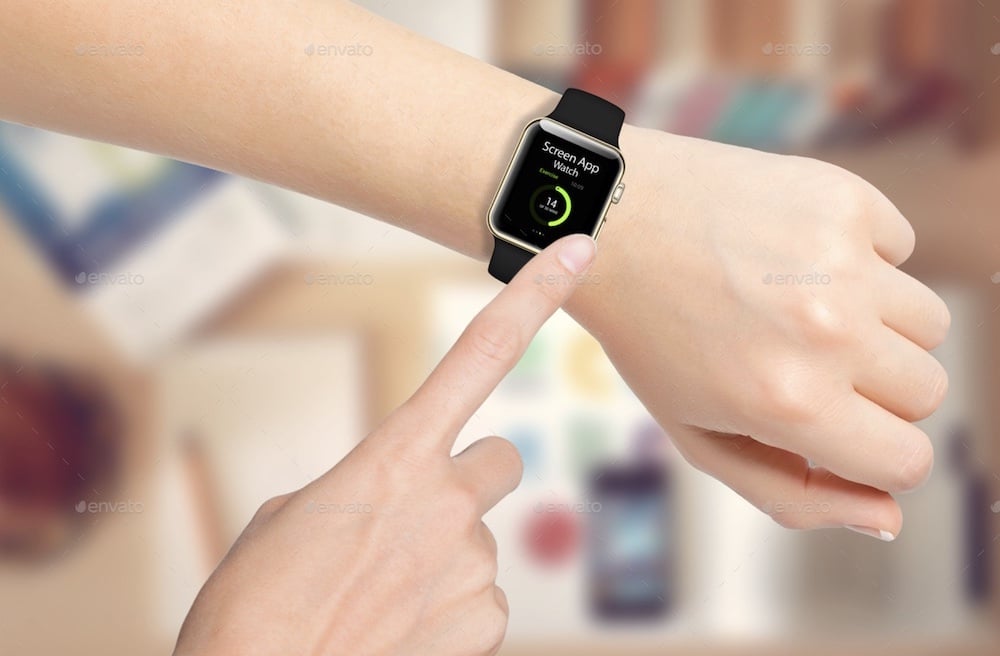 We used this Apple Watch mockup on several occasions. You can use it for several clients, thanks to the eight different PSD files.
You can turn reflections ON and OFF, benefit from smart objects and simply stun everyone with the details and amazing quality.
Fun fact: It's an actual smartwatch size by default.
Take a peek at the preview first, but I'm sure it'll hook you immediately.
Price: $8
MORE INFO / DOWNLOAD
13. Realistic Apple watch PSD template set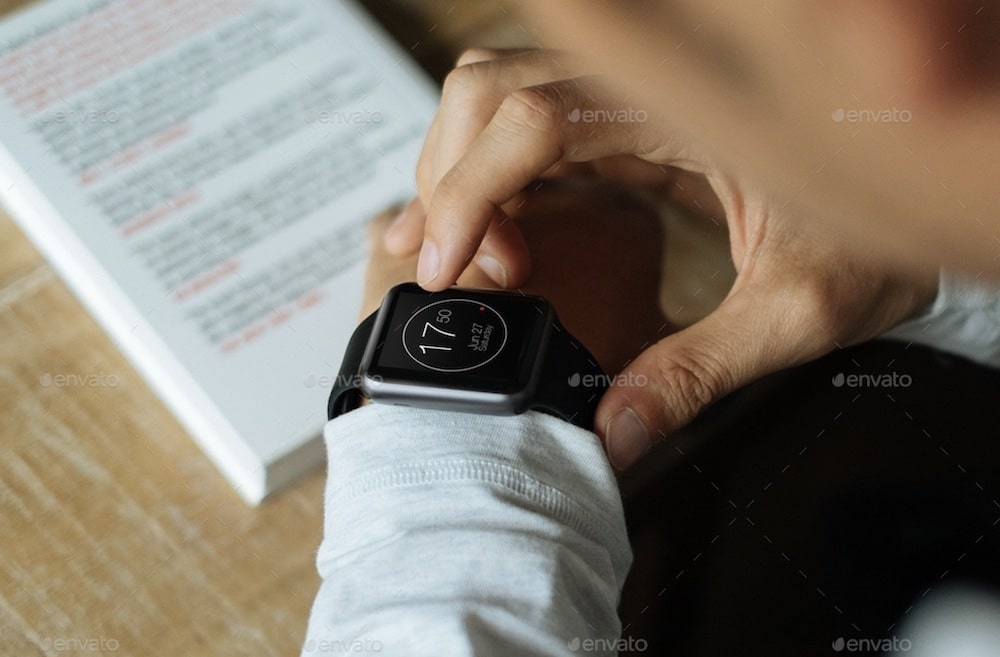 This is secretly my absolute favorite Apple Watch mockup set. I only wished there were more than three templates.
Still, all three are very NEXT LEVEL. Two feature a male and one a female model.
The options and possibilities are pretty much endless. It can be about any application or product you're passionate about.
Showcase it to the world like no one else does – without taking any product photos and hiring models.
Price: $6
MORE INFO / DOWNLOAD
Best Free Apple Watch PSD Mockups
14. Apple Watch free PSD mockup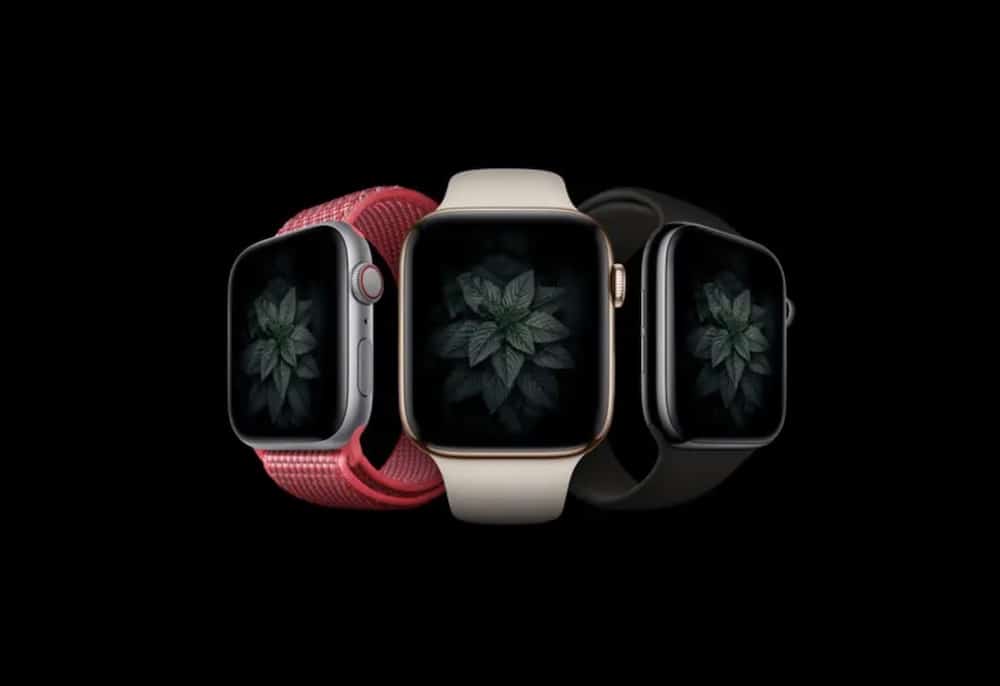 The dark background of this free smartwatch mockup makes the overall experience very luxury-looking. You get three different Apple Watches with three different bands.
Create prints or online promotions; it's all possible once you grab the file and put it into practice.
Make the NECESSARY customizations in just a few clicks and you're ready to roll.
Aaand, you're done.
MORE INFO / DOWNLOAD
15. Free Apple Watch fitness scene mockup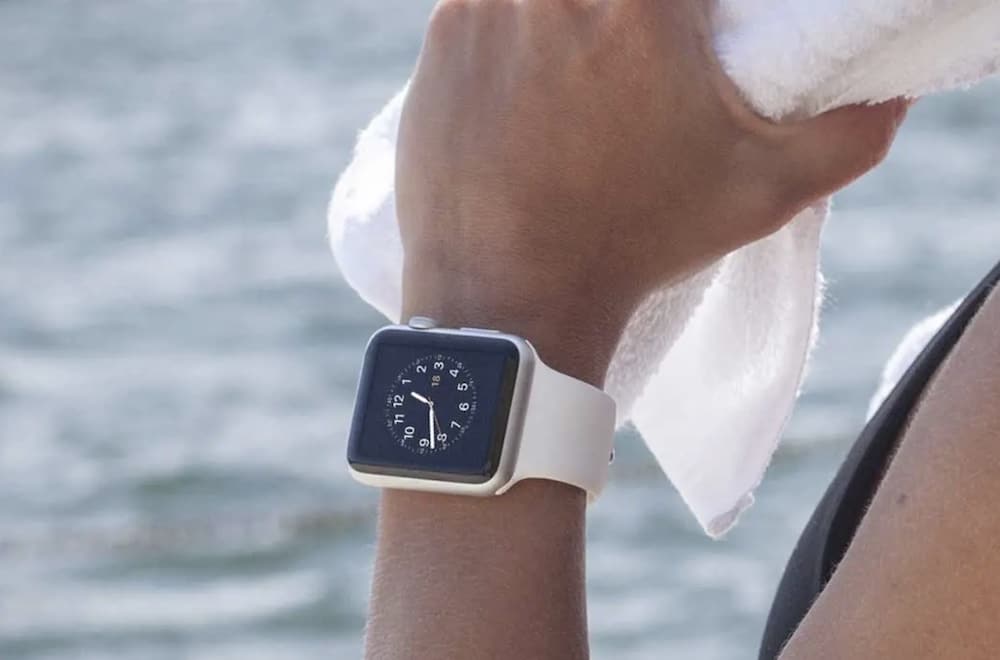 More Apple Watch mockups for the active people. Even though this is a free PSD, it's actually way more than that.
First, it comes at a high resolution/dimension of 5000 x 3333px. Even some of the premium ones are not that big!
Moreover, you can choose between five different band colors. You'll quickly find the perfect combo.
If you're in the fitness/health space, you'll ENJOY using this one a lot.
MORE INFO / DOWNLOAD
16. iPhone and Apple Watch mockup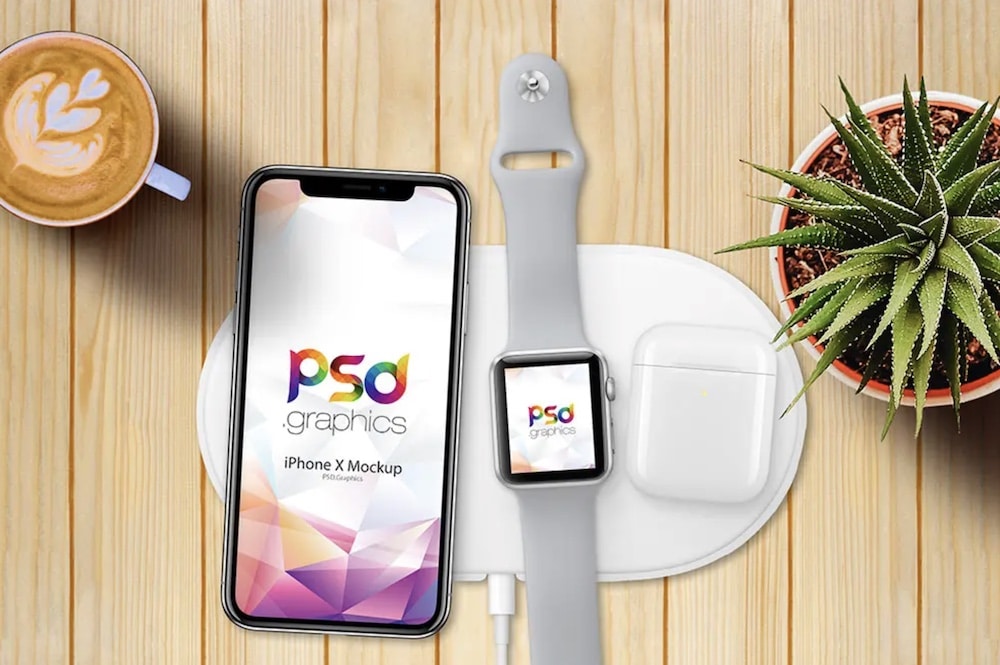 iPhone, Watch, Airpods and wireless charging dock on a fully editable surface with removable items (coffee and cactus). We couldn't believe this one was actually free once we first saw it.
Of course, the iPhone and the Apple Watch screens are entirely editable.
Attach your design, make it matching or something else.
You can come up with MANY variations, even use them for different clients. They'll all enjoy your gorgeous creation of their application in action.
MORE INFO / DOWNLOAD
17. Floating Apple Watch free PSD mockup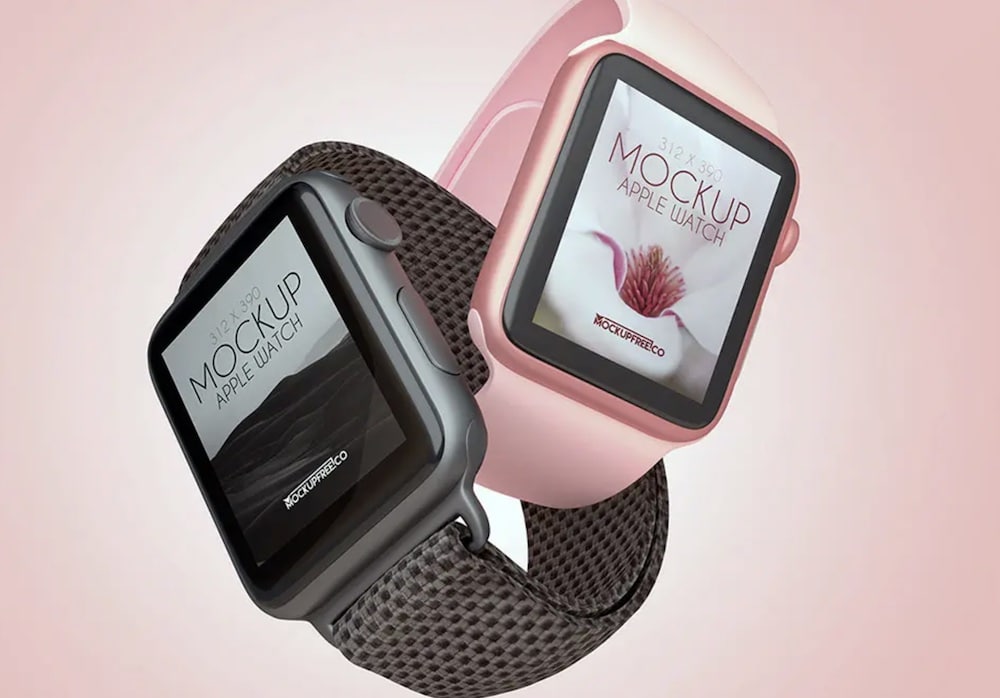 We're back to floating Apple Watches, just that you can get the template without any hidden fees this time. The smartwatches are beautifully intertwined, one dark and one pink. The male and female edition.
A life-like presentation of your app(s) is just around the corner without really needing to be a Photoshop expert. Pure BASICS are more than enough!
In short, it's a freebie that definitely captures attention, and that's what you want to achieve.
MORE INFO / DOWNLOAD
18. Apple watch app design showcase mockup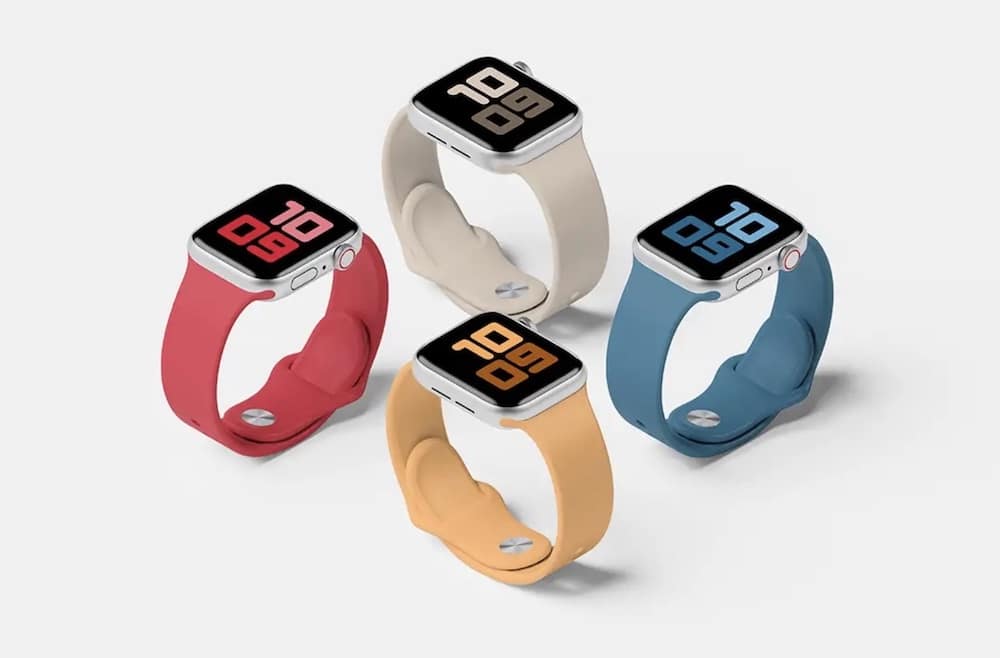 First, I'd like to mention that EVERY design that's from Anthony Boyd is spectacular.
What's cool, there are quite a few free Apple Watch mockups available for you to play with.
They aren't just any mockups – they're extremely high quality (5000 x 3750px).
Silver watch with different colored bands makes for a very vibrant showcase.
Note: Almost every AB mockup requires a link back to the original unless you use it for personal projects.
MORE INFO / DOWNLOAD
19. Ceramic Apple Watch mockup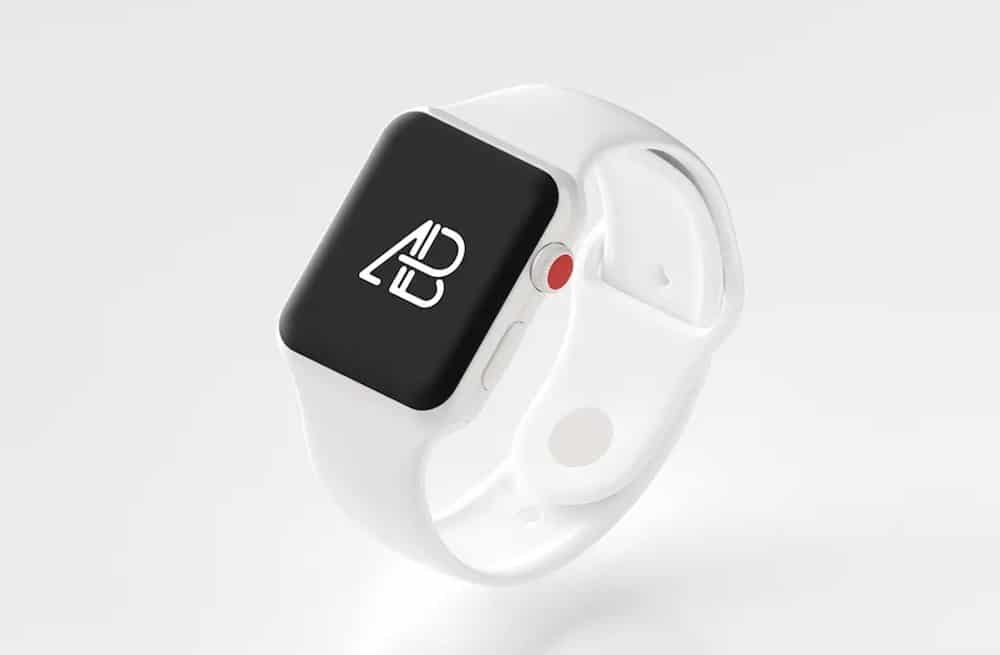 If you're a fan of a ceramic Apple Watch, this is the mockup that you shouldn't miss in your life.
It's a luxurious piece that's, at the same time, very minimal.
The scene was made in Cinema 4D, and you can now use it free of charge. Bring any logo or design you want on display – IT'S TOO EASY.
(You can even check the YouTube video to understand better how the scene was made.)
MORE INFO / DOWNLOAD
20. Realistic Apple Watch free PSD mockup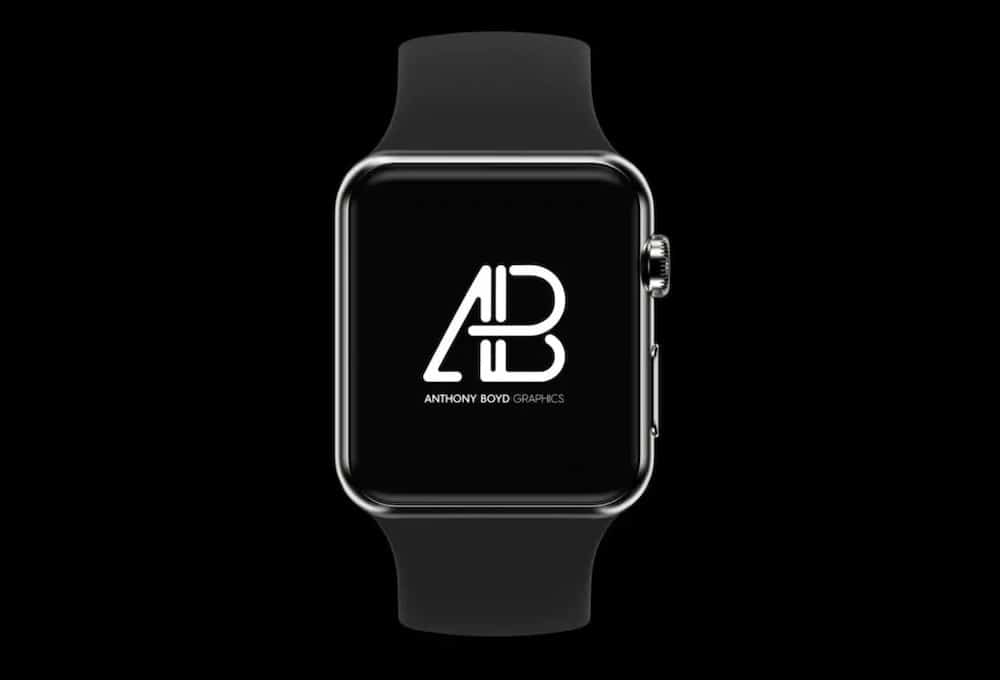 Black and white, that's all you need in your life. A realistic presentation of an Apple Watch that features a 100% removable background.
That said, you can include a custom version or even go with a transparent one – the choice is yours.
Branding work, logos, applications, whatever you work on will come into view strikingly.
Specs: 4000 x 3000px, 5MB.
MORE INFO / DOWNLOAD
21. iPhone and smartwatch mockup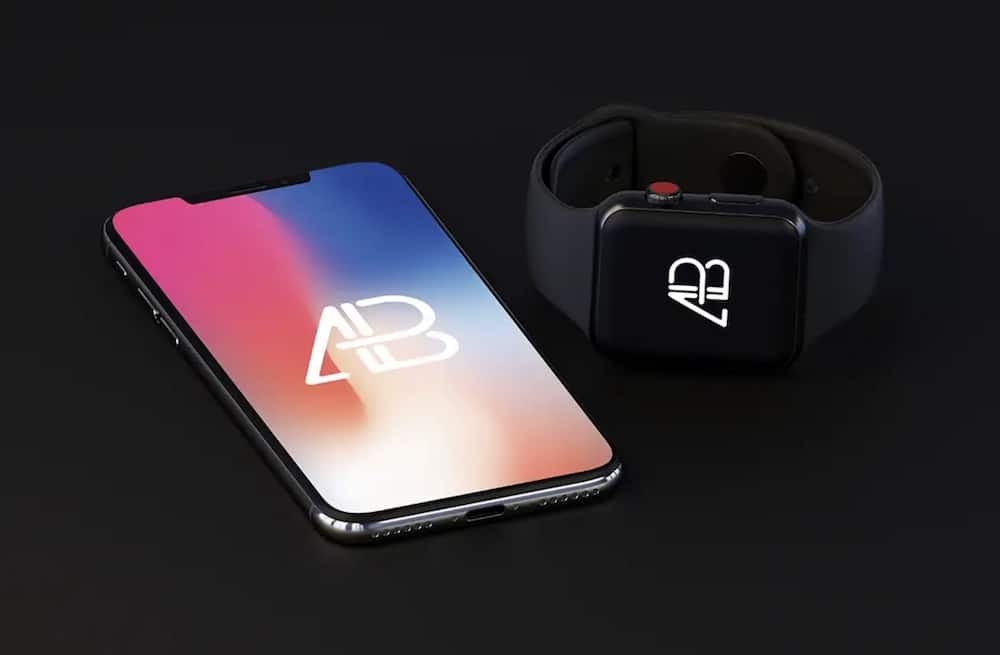 Even though it's not the newest iPhone and Apple Watch kit, it's still so gorgeous that we just couldn't skip it. No, we didn't use this one for any of our clients.
However, the scene with the black backdrop is real eye-candy. Also, the PSD mockup comes at a resolution of 5000 x 3750px, which is pretty damn awesome.
A layered PSD file with smart objects makes the process a little breeze for everyone. Beginners and pros, you're WELCOME.
MORE INFO / DOWNLOAD
22. Flat 2D Apple Watch mockup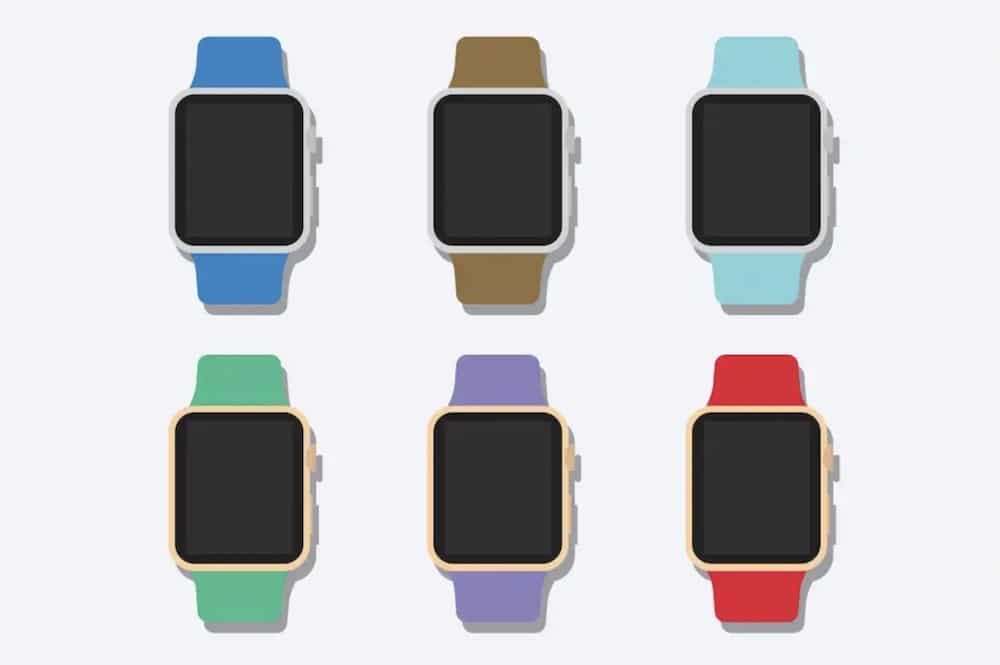 Finally, if you'd like something different, even maybe something that's not so highly realistic, here you go.
This free 2D Apple Watch mockup features nice graphics that cannot wait to sport the designs you'd like to put an extra shine on.
What's cool is you can switch between different colors of the band and the frame, finding the perfect mixture/colorway that your heart desires.
PLUS: The mockup is free for personal and commercial projects. Anthony, you rule!
MORE INFO / DOWNLOAD
23. Free Apple Watch Ultra Mockup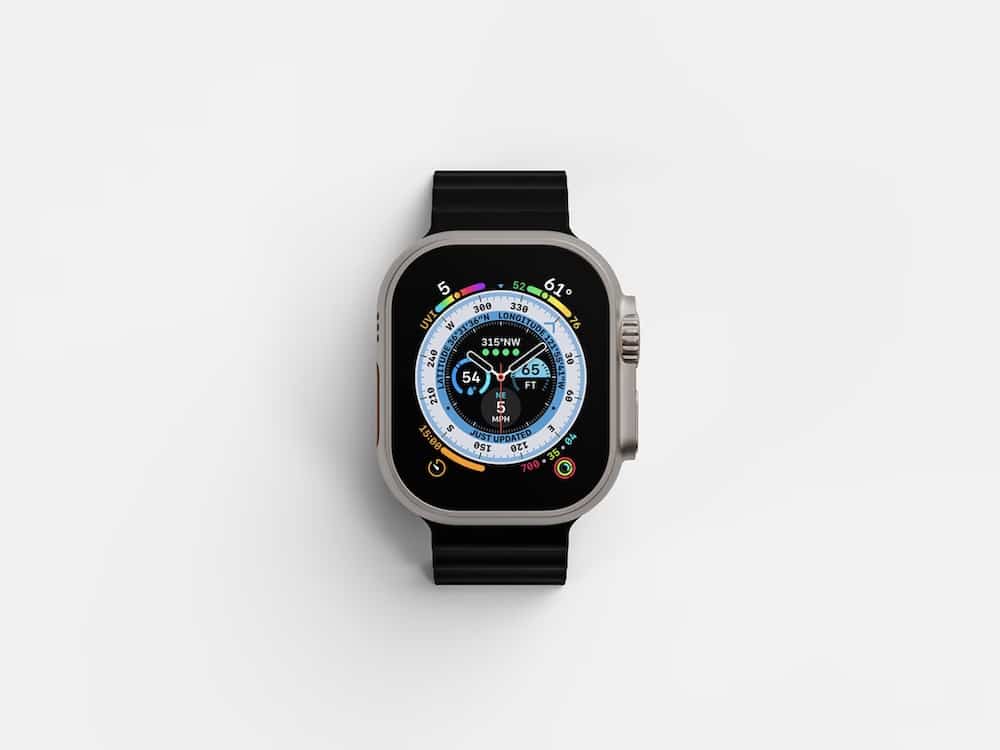 With the recent craze behind the Apple Watch Ultra version, I want to share two epic mockups to create the ultimate presentation with you.
This is a simple, bird's eye view of the Apple Watch Ultra, which you can use to show a watch face design, application or anything else that comes to mind.
Note that the 5000 x 3750px resolution ensures you can easily create a close-up without sacrificing the amazing quality.
MORE INFO / DOWNLOAD
24. Intertwined Apple Watches Ultra PSD Mockup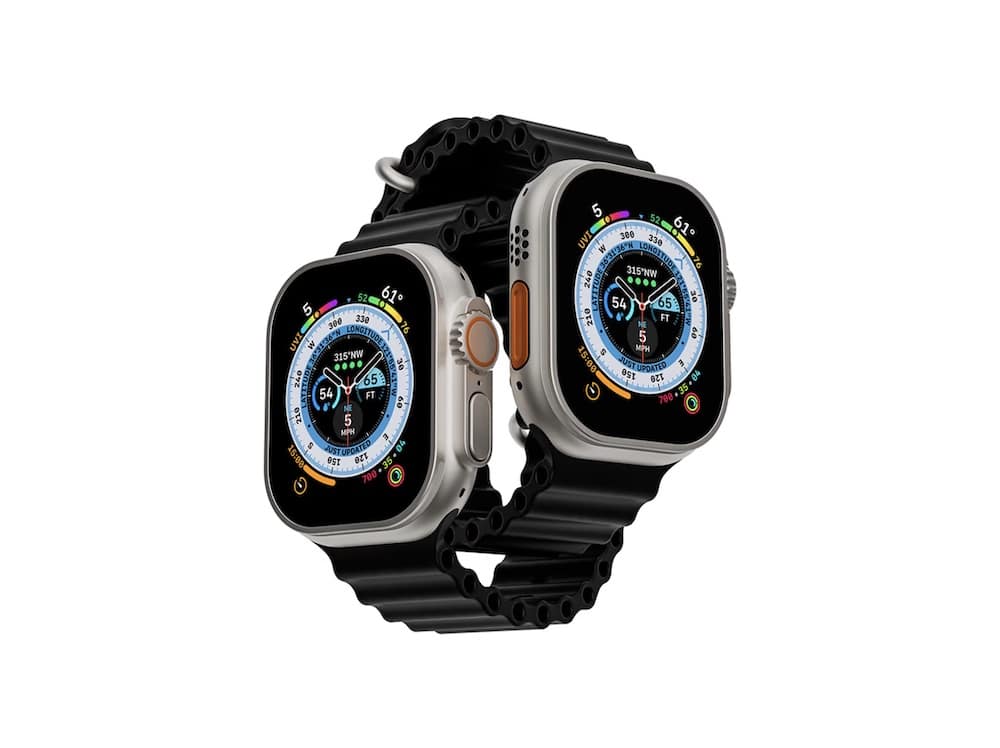 If you're looking for something more engaging, these two intertwined Apple Watches Ultra editions are the way to go. You can use the screens to showcase the same design or two completely different ones – it's entirely up to you.
Like the version above, this one also has a dimension of 5000 x 3750px to ensure you create a crisp, clean outcome that will WOW everyone.
Available for personal and commercial use (but show Anthony some love on social by using his hashtag).
MORE INFO / DOWNLOAD
How To Easily Create An Apple Watch Mockup
Before I share this simple step-by-step tutorial on creating a realistic Apple Watch mockup presentation, you need to know that experience is unnecessary.
I'll show you how to do it with an online mockup generator (Placeit), which requires only some clicking to make it happen.
Here we go!
5 Steps to create an apple watch/smartwatch mockup:
Step 1: Visit Placeit, where you can find all the different Apple Watch templates.
Step 2: Click the image you like to open and then hit the "insert image" button.
Step 3: A popup window will open after you upload your image to resize and reposition it so it meets your needs. Hint: the live preview comes in extra handy.
Step 4: With your design on the mockup, you can now perform other customization tweaks to adjust the default look with the necessary branding. Changing the background, adding graphics, and even creating a text overlay is possible.
Step 5: When satisfied with your creation, click download and start sharing it with the world.
And that's how simple designing an Apple Watch mockup is.
But even if you use a free PSD file, you'll also have a blast making things happen.
Open Photoshop and import the template you dig. Then click the smart object layer to drag-n-drop your image, and the "hard" work is done.
You can now navigate other layers to modify the mockup however you want before you click save and download.
That's it!
::
Note: This article was originally published on August 23, 2021. But our team regularly reviews it and updates it with necessary improvements for accuracy.