I enjoyed testing 100+ bandana mockups to pick the best 19 based on the photorealistic look, usability and quality.
Note: I went one step further.
I DON'T always feel like working with Photoshop.
Let alone pay for the mockup.
Thus, I added online mockups generators and FREE alternatives, too. Hurray.
(It's not only me that likes free stuff, RIGHT?)
Creating a life-like presentation of a bandana, a gaiter – even a baby bib – has never been that easy.
TABLE OF CONTENTS:
You'll have MUCH FUN using these, just like I did.
And you don't even need design skills (in some instances – PSD – just the basics).
Unleash your creative animal!
Best Bandana Mockup Generators + Free
Since I'm the biggest fan, I put Placeit's mockups first. Each costs $7.95, but you can also go with a monthly ($14.95/month) or ($89.69/year) yearly subscription.
1. Bandana mockup of a man at a studio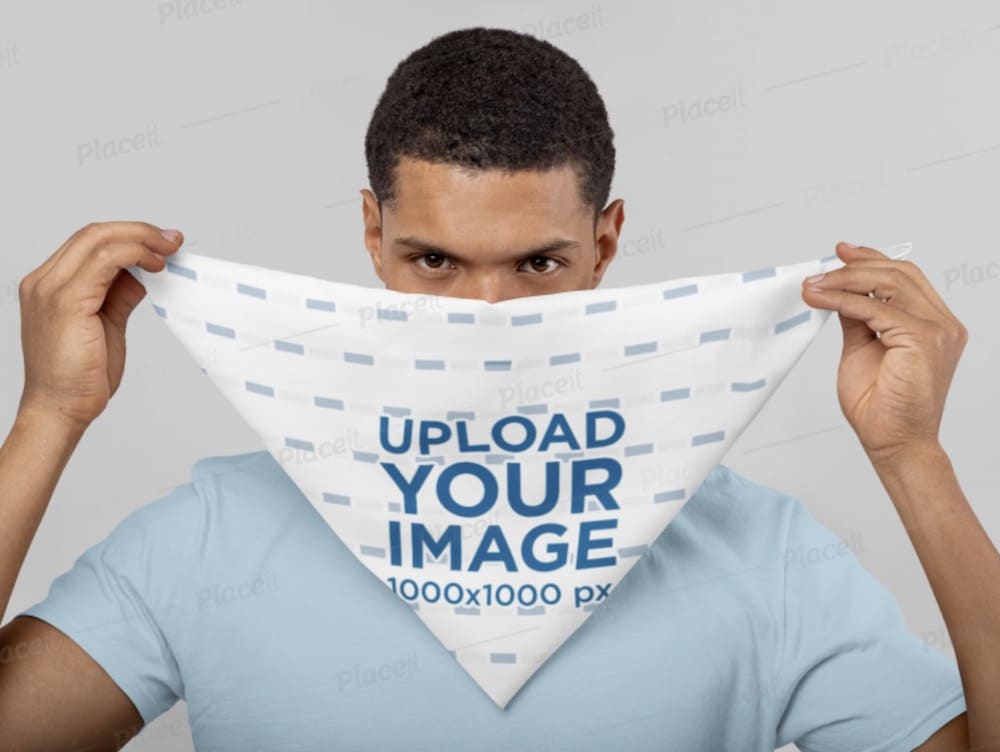 A beautiful studio shot of a male model putting a bandana around his face. This is a great solution to present any design you want on the bandana.
Whether it is something fun or a promotional design for a brand, test it out with this awesome mockup first.
As for the customization, you can change the color of all three, the T-shirt, the background and the bandana.
You can make the presentation as colorful as you want.
In addition to that, of course, upload any design you want, a logo, attach some text and a graphic.
In short, you have tons of options.
MORE INFO / DOWNLOAD
2. Bandana mockup featuring a man with sunglasses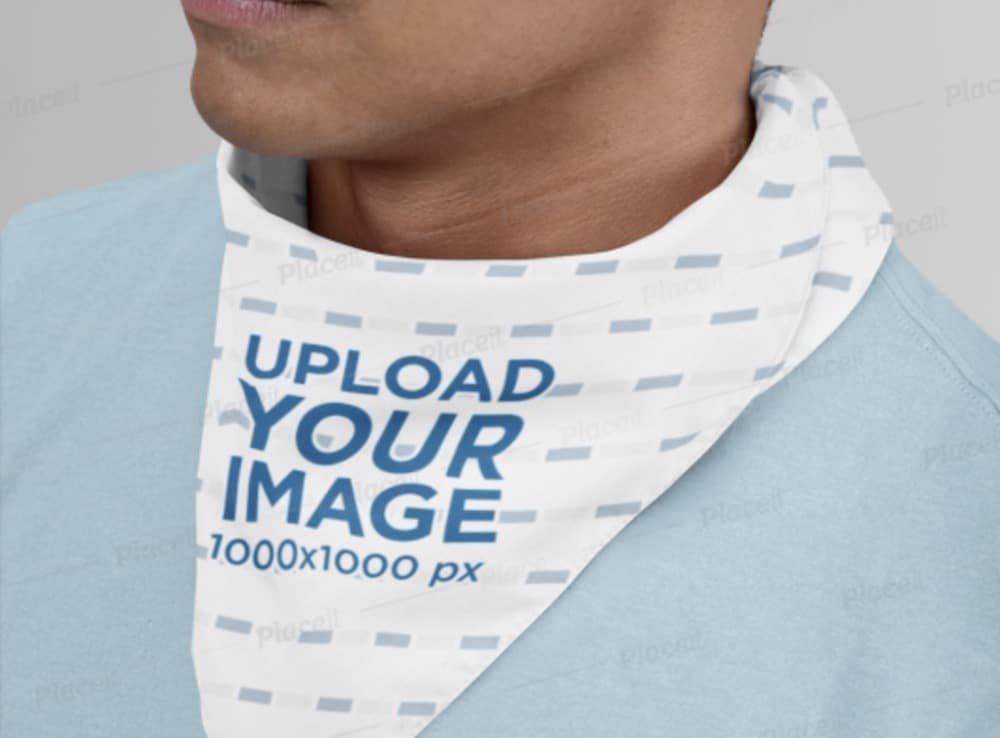 Grab everyone's attention with this neat and extremely photorealistic mockup of a bandana featuring a man with sunglasses.
You can use it to create a company's promotional material, or even if you sell bandanas, the template suits multiple objectives.
First, you can change the colors of the background, the bandana and the shirt. Do your thing!
Moreover, you can slide in any design you want with the quick insert image feature.
At this point, a pop-up will open, offering you to crop and reposition your image if necessary.
MORE INFO / DOWNLOAD
3. Mockup of a man pointing at his bandana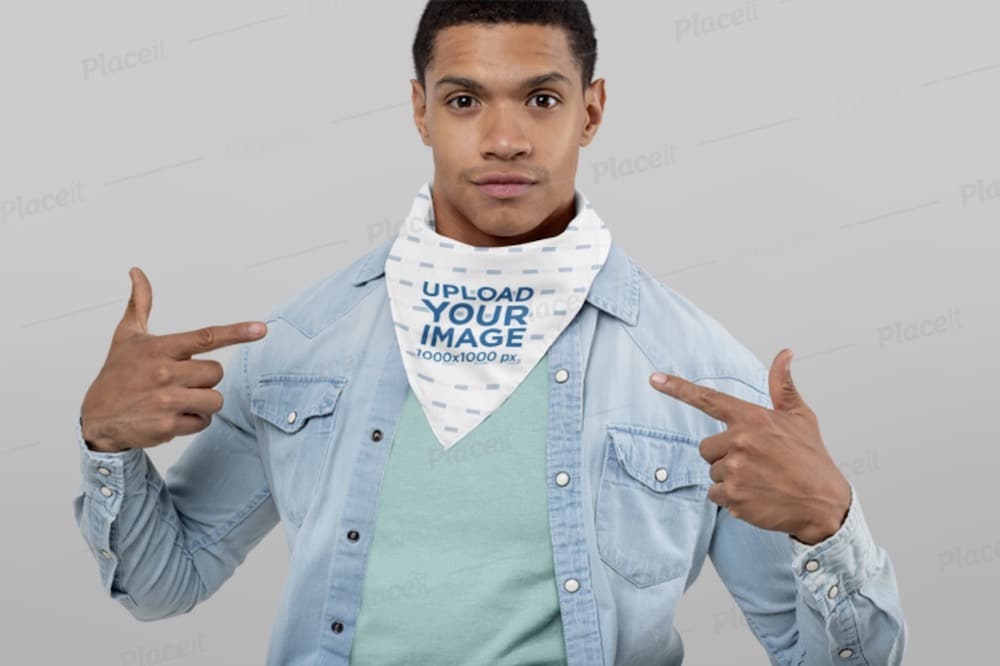 This mockup will surely do the trick to showcase the bandana design in a more engaging way.
It features a man pointing at the bandana that he wears around his neck.
With the option to alter the colors, as well as add your graphics and images, you can make an outcome that will turn heads. (Like, with ease!)
And you don't need Photoshop or any other advanced software.
Even an utter beginner will win the game of building a life-like demonstration.
QUICK and EASY for a spectacular product.
MORE INFO / DOWNLOAD
4. Mockup of a customizable bandana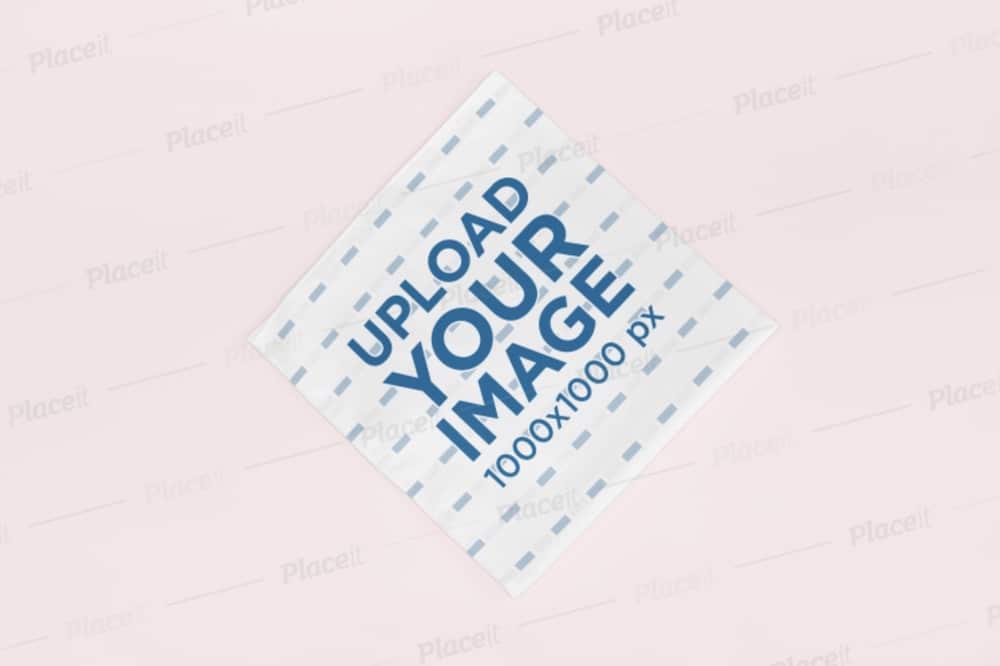 For something a tad more simplistic and minimal, this bandana mockup will get you going in no time.
It features a square bandana (1000 x 1000px) on a plain surface, which you can edit according to your liking.
The colors of both the bandana and the background are alterable for your convenience.
Pick the shades you fancy from the handy color picker and improve the default settings.
It only takes one more click to upload your image/design/logo, and voila, the end product appears immediately.
How easy was that?
MORE INFO / DOWNLOAD
5. Sublimated bandana mockup on a dog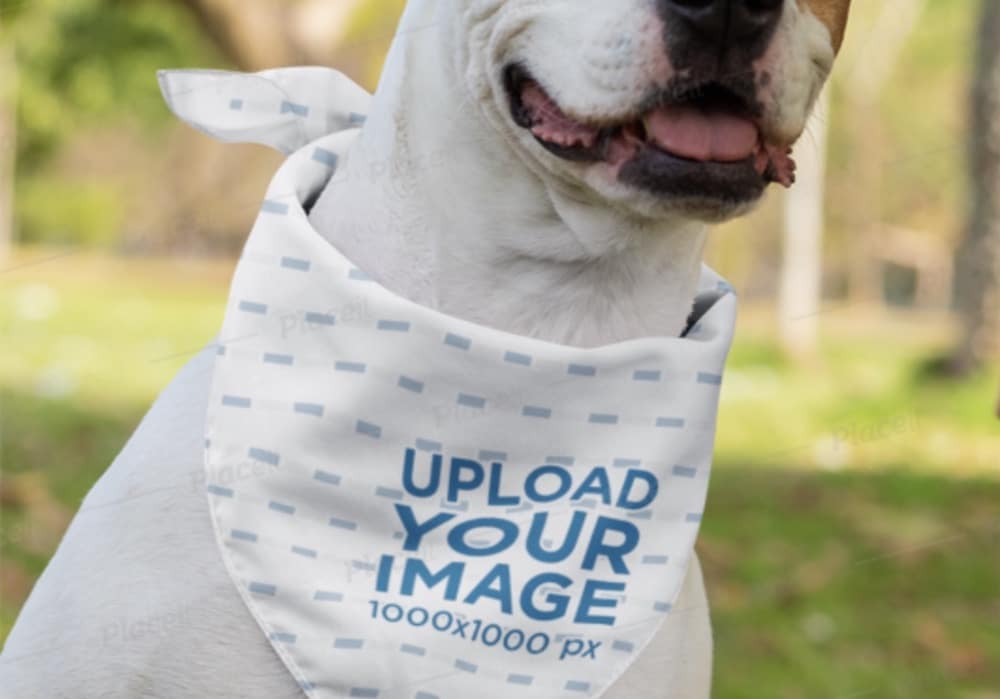 The practicality of a bandana knows no bounds. It works for adults, kids, heck, even pets.
Even dogs!
Here is a lovely shot of a cute dog with an editable bandana, which you can put into practice immediately.
No need to be a professional designer to perform improvements.
I will probably say it a couple more times, but thanks to Placeit, working with mockups is a piece of cake.
Hey, you do not even need to create an account to start playing with the functions.
MORE INFO / DOWNLOAD
6. Bandana mockup on a solid color background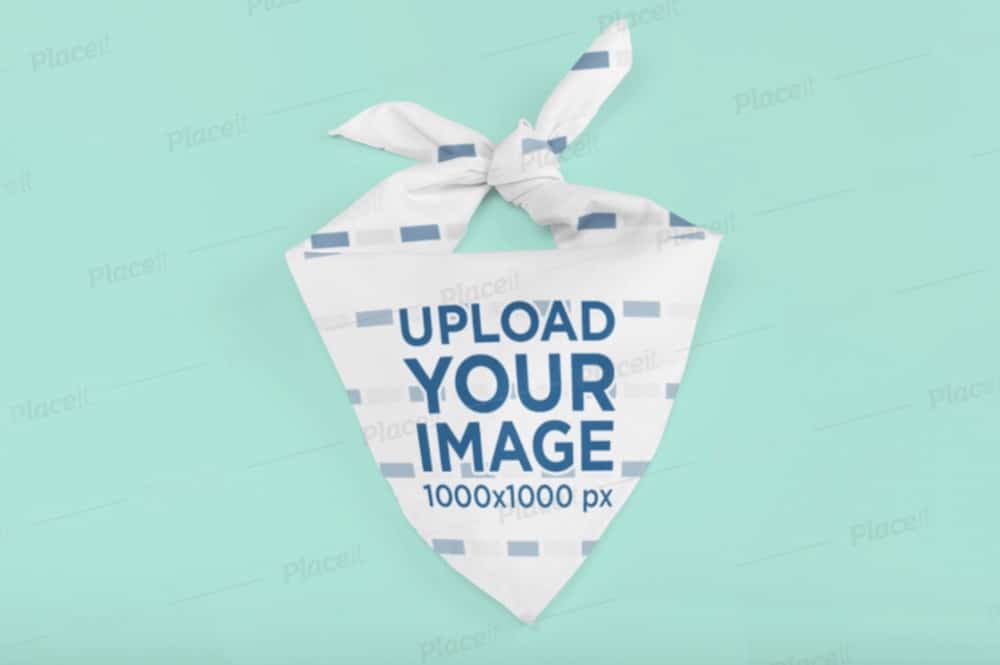 A mockup template of a tied bandana on a solid color background is right at your fingertips.
If you have the design for the bandana ready, it will take you seconds to create a life-like presentation.
Experience it yourself by visiting Placeit – you will make an immediate difference.
Use the end product to showcase your client, to see if the design fits as planned, even on social media.
You get the gist of it, a mockup can work all around the web, even if you need to TEST THINGS out before sending it out to production.
MORE INFO / DOWNLOAD
7. Mockup of a small dog wearing a bandana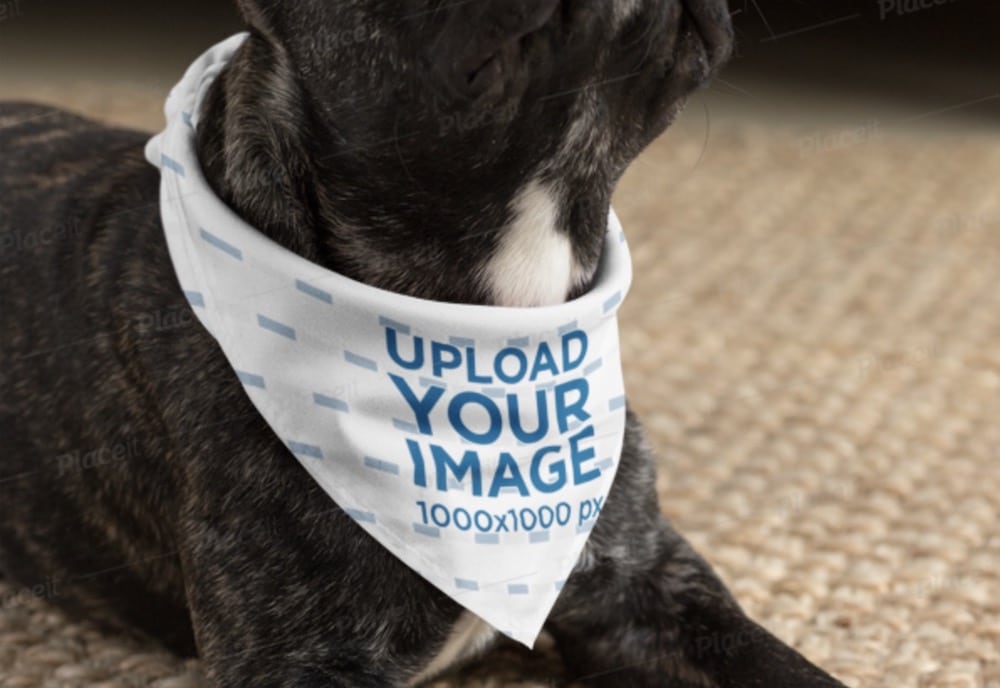 Big dogs and small pups, all like a bandana around their neck. Well, they mind need to undergo the getting-used-to-it phase.
But when they get comfortable, they will prefer it over anything else.
It's not just that, but they also look super cute with a bandana.
Enough of me blabbering; if you have a design idea for a dog bandana, you can now test it out in a few clicks.
Anyone can make it happen, as you can use and work with the mockup from your favorite web browser.
From changing the color to adding design and logo, it's all possible.
MORE INFO / DOWNLOAD
8. Mockup of two dogs wearing bandanas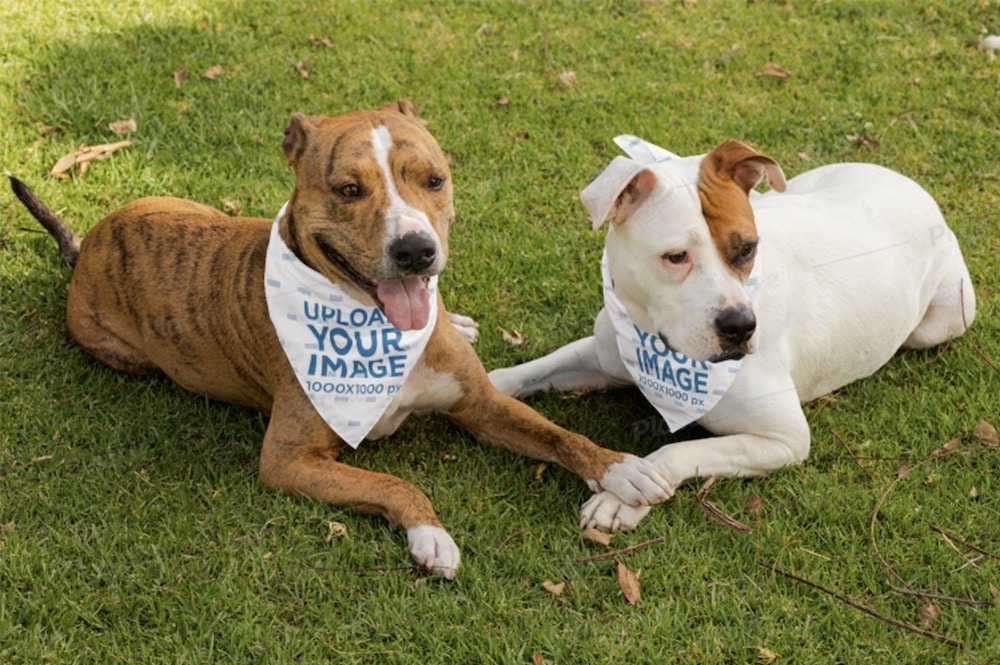 When creating social media promotion or a newsletter campaign, use a mockup to present a product photorealistically.
These days, you do not need to take professional photographs of items -mockups do the trick.
In this case, if you are into pet products, create a dog bandana design and promote it successfully with this amazing mockup.
You can make both dogs sport the same bandana or two completely different ones – the choice is yours.
Before you fully commit, you can test as many variations as you want and only then pick the winner.
MORE INFO / DOWNLOAD
9. Bandana mockup of two dogs with their owner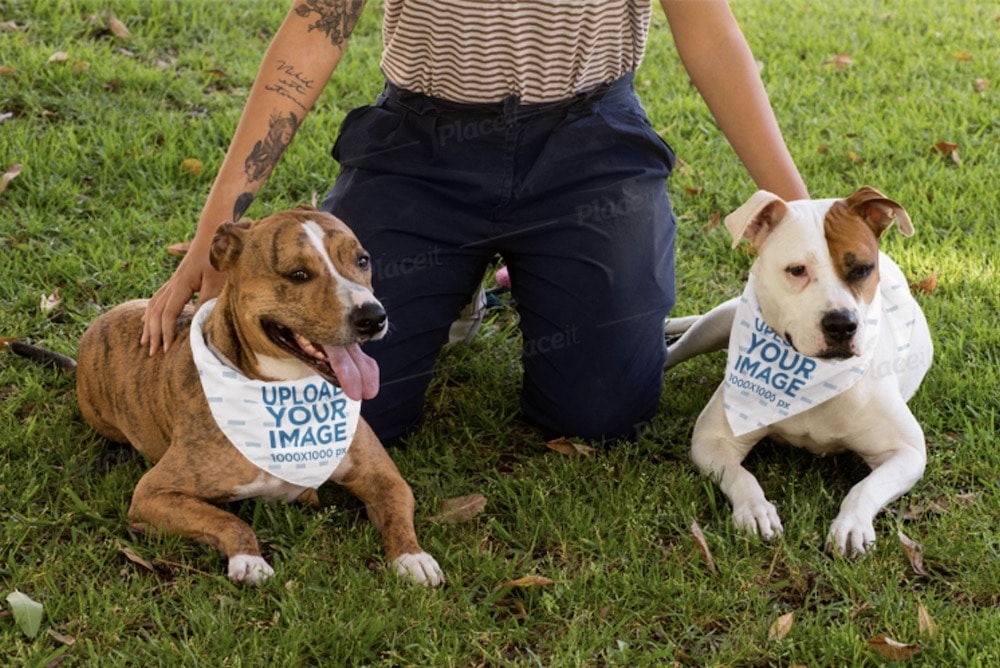 To make things even more appealing to the eye, here are the same two dogs from the above mockup just with their owner.
They definitely do not mind sporting your bandana design, so attach it now.
Upload any image you desire, crop and reposition it if necessary and see it appear on the template in just a click.
You can alter the colors individually and add graphics, text and logo.
MULTIPLE options for your convenience.
So create the exhibition of your beautiful designs fast (0 skills necessary).
MORE INFO / DOWNLOAD
10. Mockup of a man with a headband bandana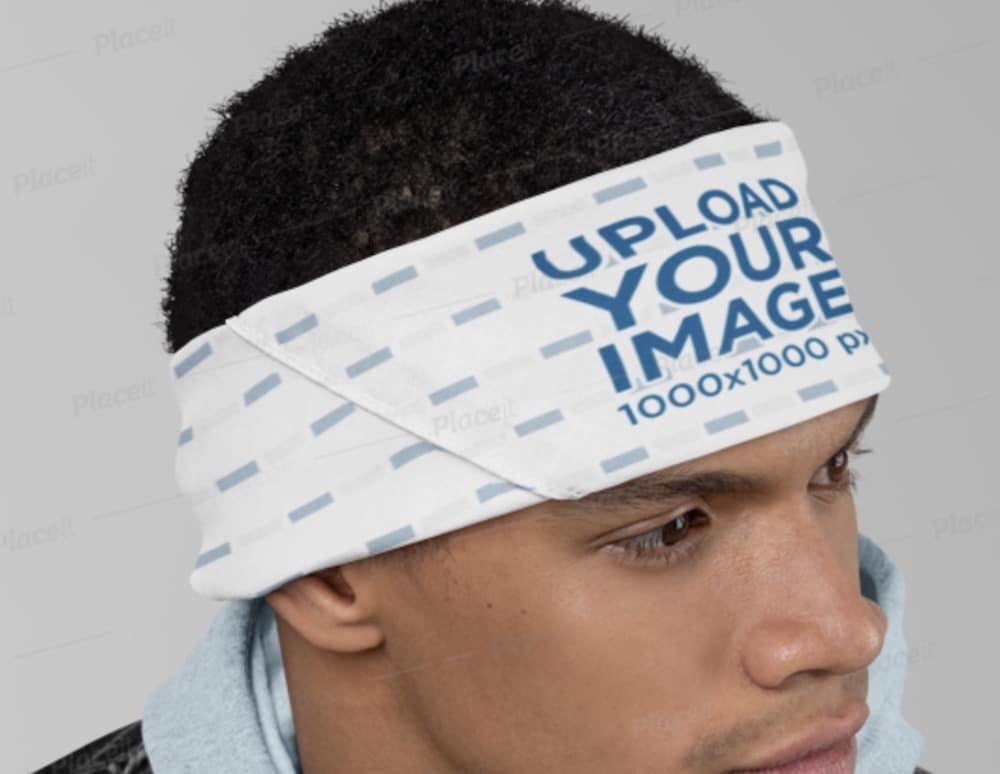 You can wear a bandana in many ways, including around your head, like a headband. And this mockup helps you create a photorealistic showcase.
Whether for a streetwear brand or promotional material, use a mockup first before creating the final product.
Not just that, but this same mockup also works great for all sorts of promotions.
With that in mind, even if you do not have the budget to hire a photographer and a model, create a strong IMPACT with a mockup instead.
Over on Placeit, you can activate all the different customizations to create the final appearance that is precise to your liking.
MORE INFO / DOWNLOAD
11. Mockup of a pinup woman with a bandana on her head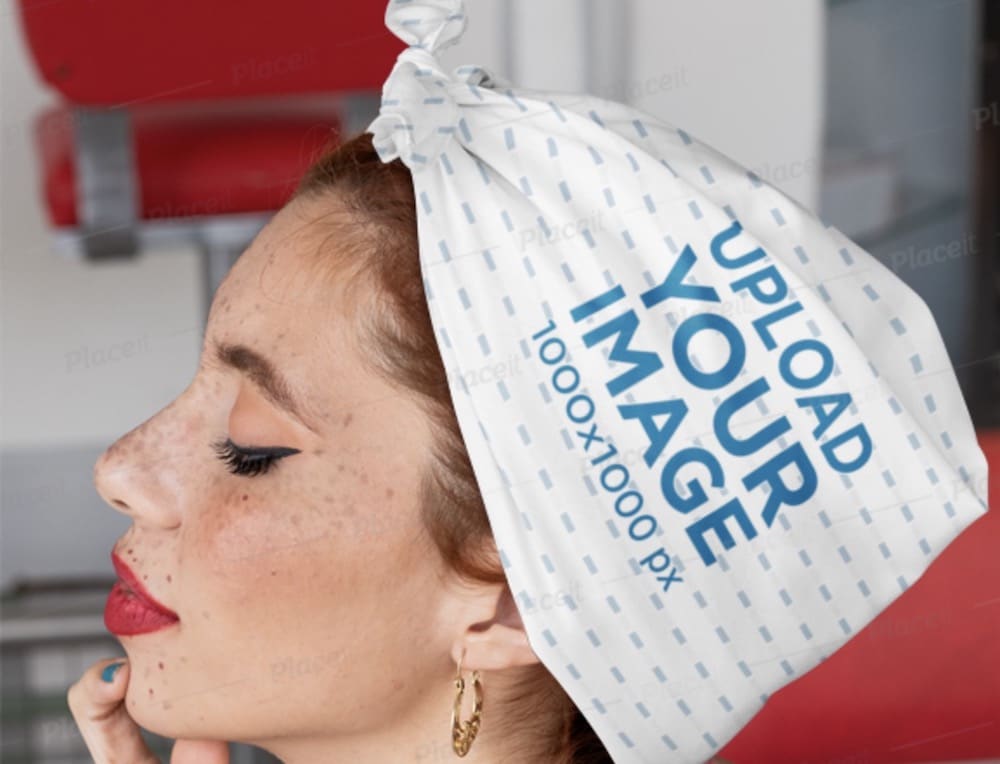 If you are particularly searching for a pinup model with a bandana on her head, here it is.
This amazing alternative will sort out the promotion of your new design.
The process is the same as with any other Placeit mockups that you find on this list. It all happens on the platform, using your favorite web browser.
While changing the color of the garment and uploading your design are core tweaks you will perform, other tweaks are also possible.
For instance, you can choose from a vast collection of graphics or even introduce your own.
Adding a company logo is also an option.
MORE INFO / DOWNLOAD
12. Bandana mockup of a woman eating a burger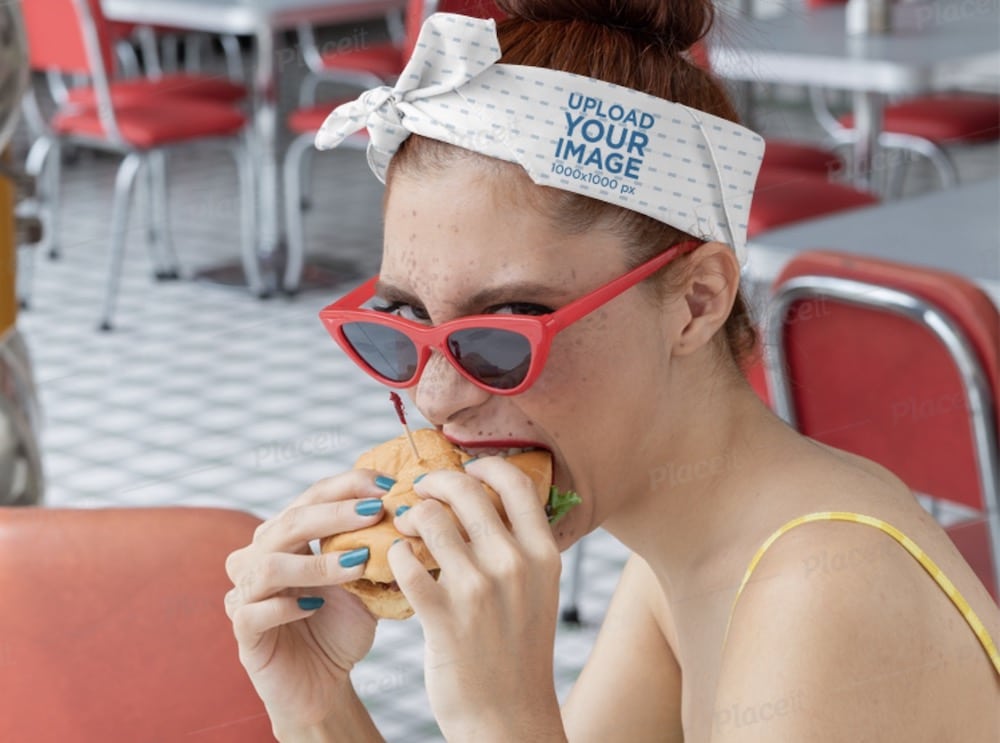 If you would like to spice things up, you better not miss this mockup. One thing is for sure, it will trigger everyone's attention.
For instance, when scrolling the timeline of your favorite social platform and then this photo appears – you would want to see what's going on.
Create a real attention-grabber and present the bandana design on a woman enjoying her favorite burger.
Little work and energy are necessary to come out with a stunning showcase. (You can also test multiple options and color choices first.)
MORE INFO / DOWNLOAD
13. Neck gaiter mockup featuring a rendered mannequin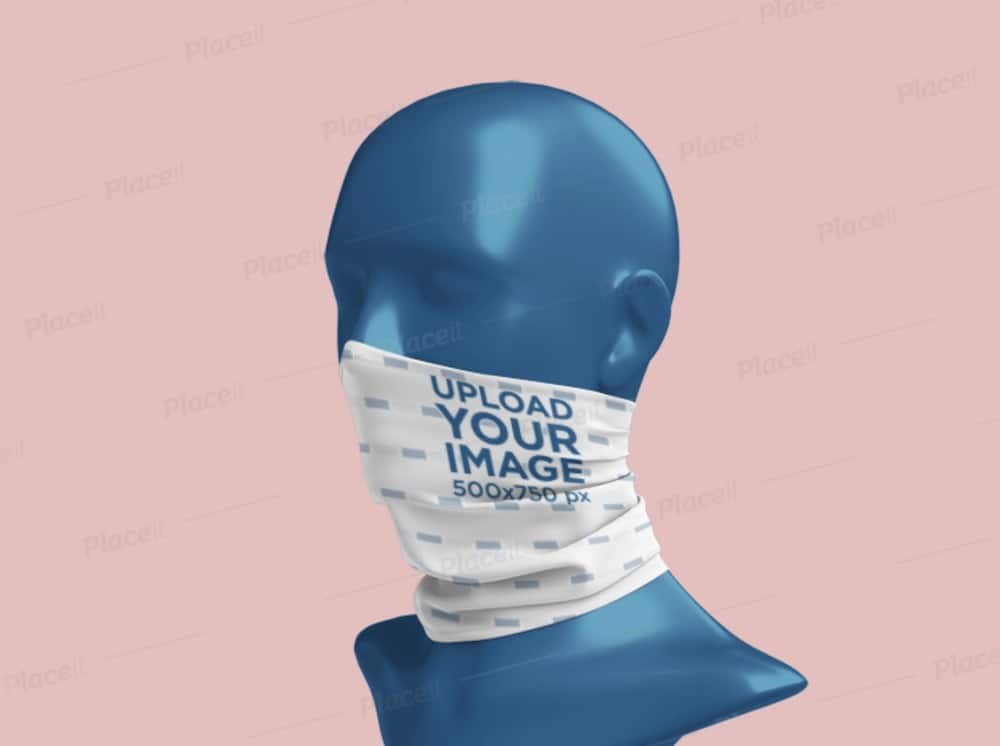 Sometimes, you only need the product; the other times, a human element comes ideal; then again, a mannequin is perfect for online stores.
Still, with an open-minded approach, you can get creative and have this gaiter mockup push the boundaries.
If you are working with clients, it can be a great way of showcasing your idea; you can even use it in your online portfolio.
These are just a few examples to show the mockup's practicality. Moreover, you can alter the color of the background, the mannequin and the gaiter.
And do not forget to upload your design/image, as well as the logo.
MORE INFO / DOWNLOAD
14. Mockup of a sublimated neck gaiter on a plain background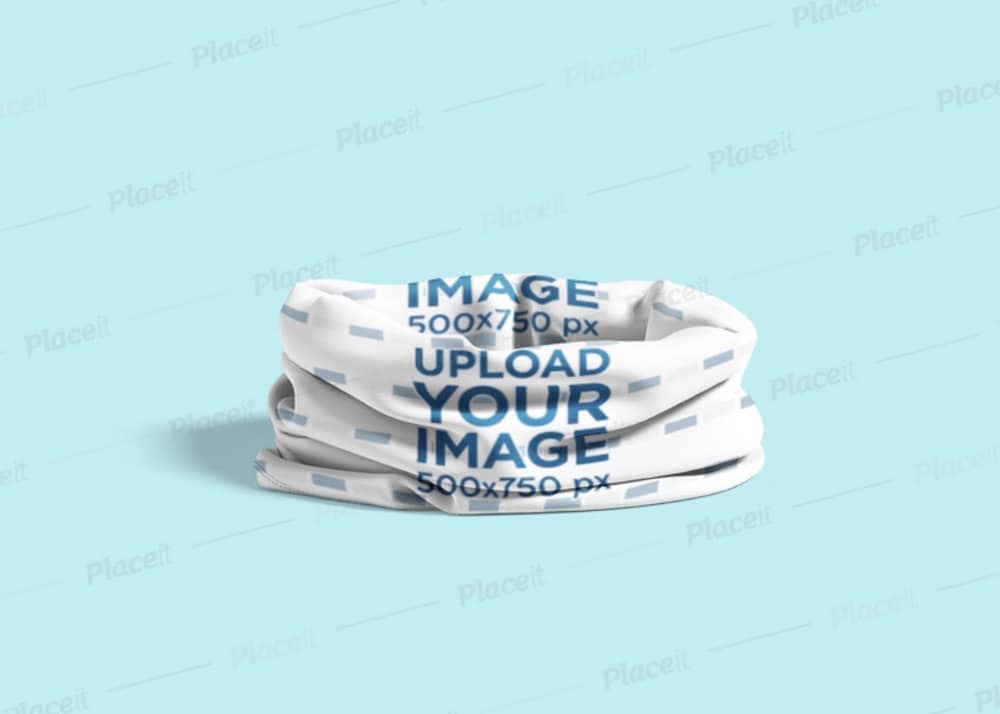 A gaiter or a tubular bandana, however you want to call it, awaits you and your design.
This mockup is great for bringing the new product in front of potential users/buyers.
Create a life-like showcase without the need to actually take product photos. This saves you a ton of time, as well as money.
Even if you are not design-savvy, a cool end product will appear in front of you quickly.
With the bandana design ready to go, just upload it, alter the colors and that's it.
Quick work for a product that can help raise sales and awareness.
MORE INFO / DOWNLOAD
Free bandana mockups
15. Neck gaiter mockup (Free)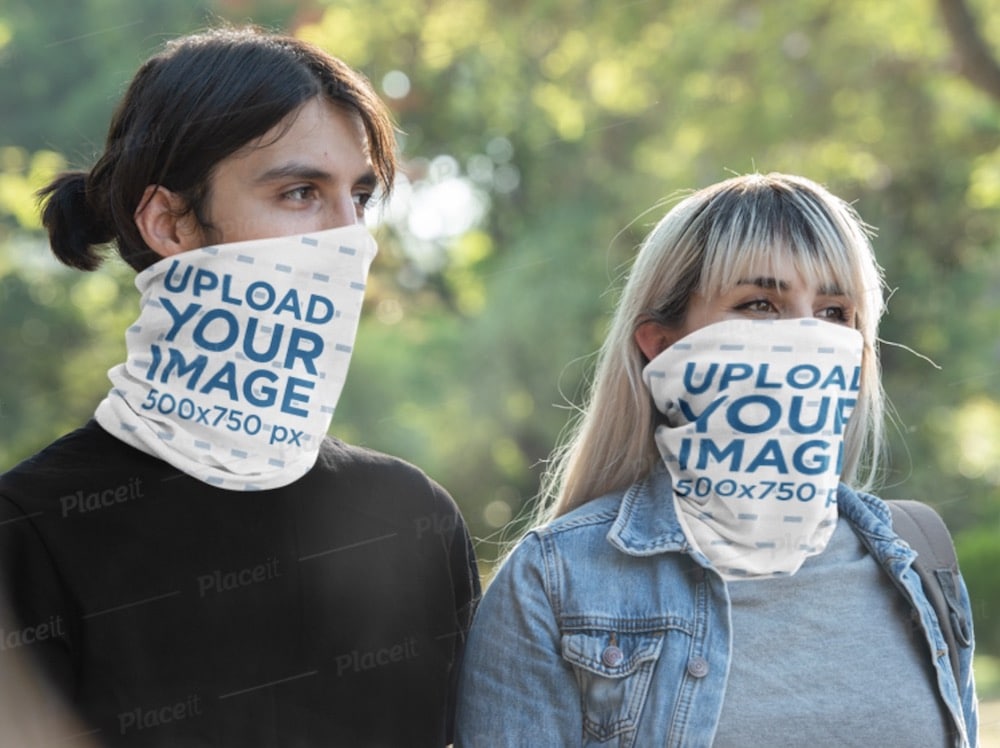 Along with classical bandanas, gaiters are also very popular.
That said, I have a few gaiter mockups here for you, too. Not just that, but some of them even come at no charge.
How cool does that sound? To make it even better, they are Placeit's creation, so you know the working process will be a slight breeze.
This one features a male and a female model, wearing gaiters over their noses. (Both items are customizable individually.)
Change the colors and upload any design you fancy. To spice things further, upload a logo and create a call-to-action.
MORE INFO / DOWNLOAD
16. Mockup of a woman wearing a neck gaiter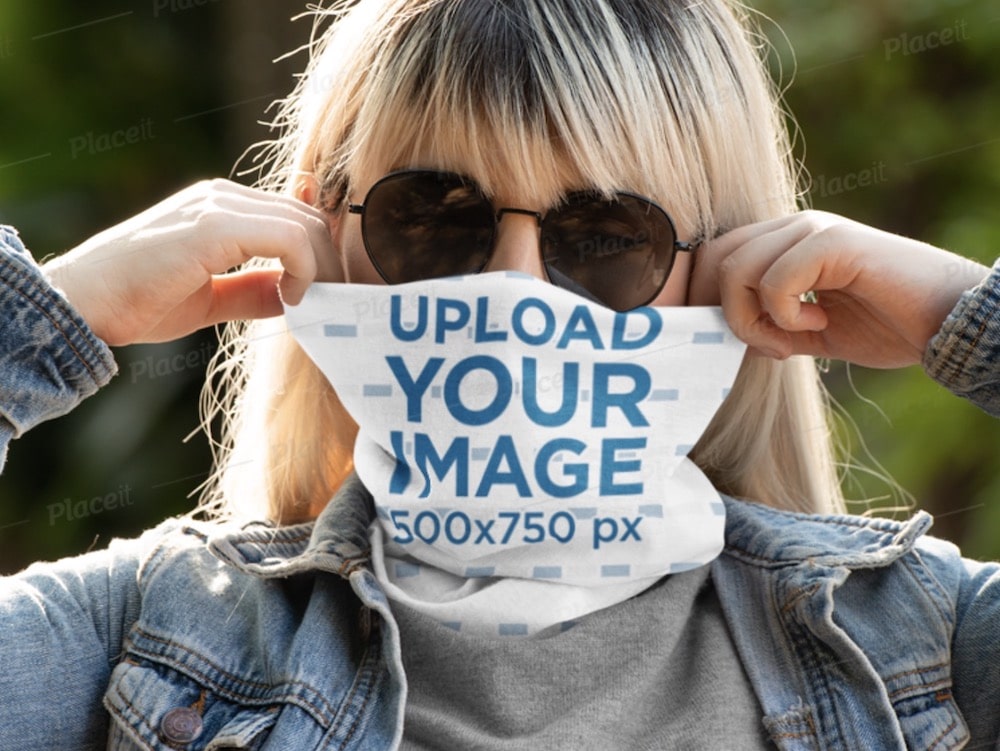 To create an impactful presentation of a gaiter/bandana, this neat tool will do you well. It features a woman with her glasses, fixing her gaiter over her nose.
A gaiter is a practical piece of cloth for the colder days and protection. Make it yours now without spending a single penny over on Placeit.
Quick advice: Create yourself a free account first and go from there.
This allows you to unlock all the special features of Placeit and quickly create the desired end product.
No need to have any experience, as you will learn on the fly – yes, it's that easy.
MORE INFO / DOWNLOAD
17. Mockup of a bearded man with a tubular bandana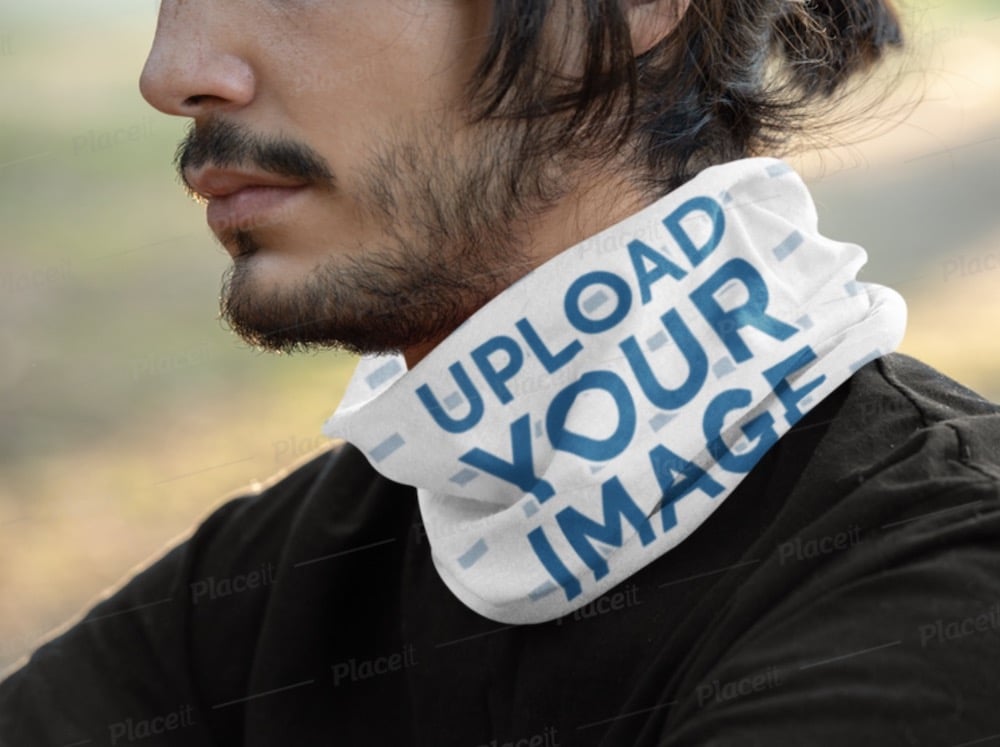 Here is another free tubular bandana mockup featuring a man sporting the item around his neck.
Yes, you can wear this type of bandana or gaiter as a scarf that keeps you warm during the colder days.
But now it's time to style it according to your or your client's branding regulations. First, pick the color of the garment that you fancy from the color picker.
The next step is to import the design and position it correctly. Of course, you can play around with different color combinations later on, too.
The FREEDOM to create a photorealistic presentation is in your hands.
MORE INFO / DOWNLOAD
Best Bandana PSD Mockups
18. PSD bandana mockup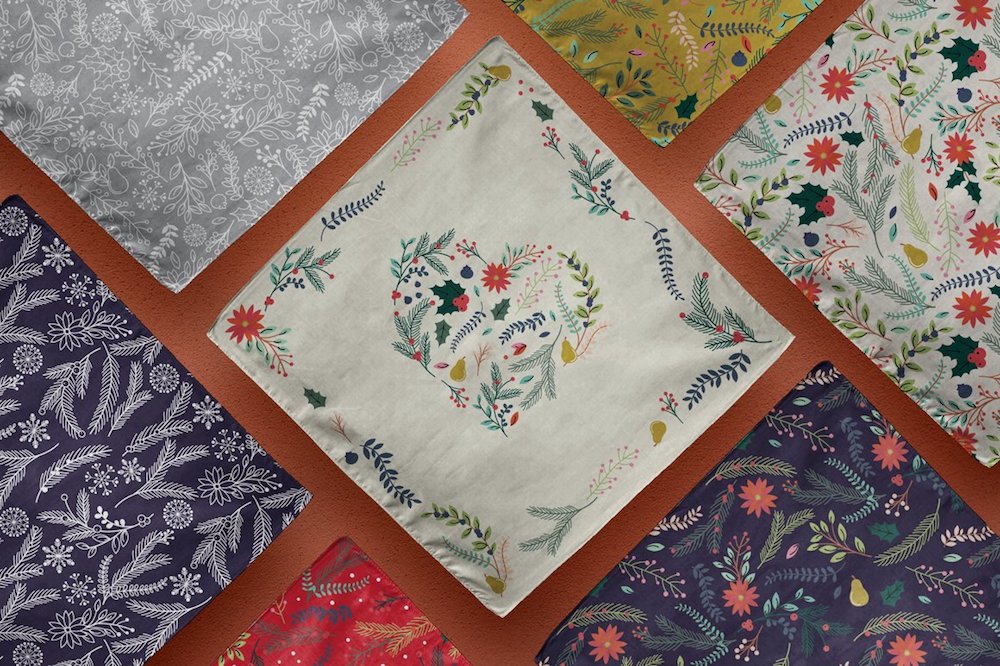 If you are searching for a simple bandana PSD mockup, you came to the right place.
This high-quality file helps you display the front (or the back) design of a bandana that you are working on.
Not just that, but you can also use this one as a handkerchief mockup.
Due to its easy usage, you can come up with multiple variations swiftly. After all, once you import your art via the smart object, the mockup will then take care of all the rest.
It handles shading, lightning and makes it fit the overall scene beautifully.
No matter how detailed your design, this layered PSD template will showcase it without a hitch.
Price: $12
MORE INFO / DOWNLOAD
19. Baby muslin bandana mockup set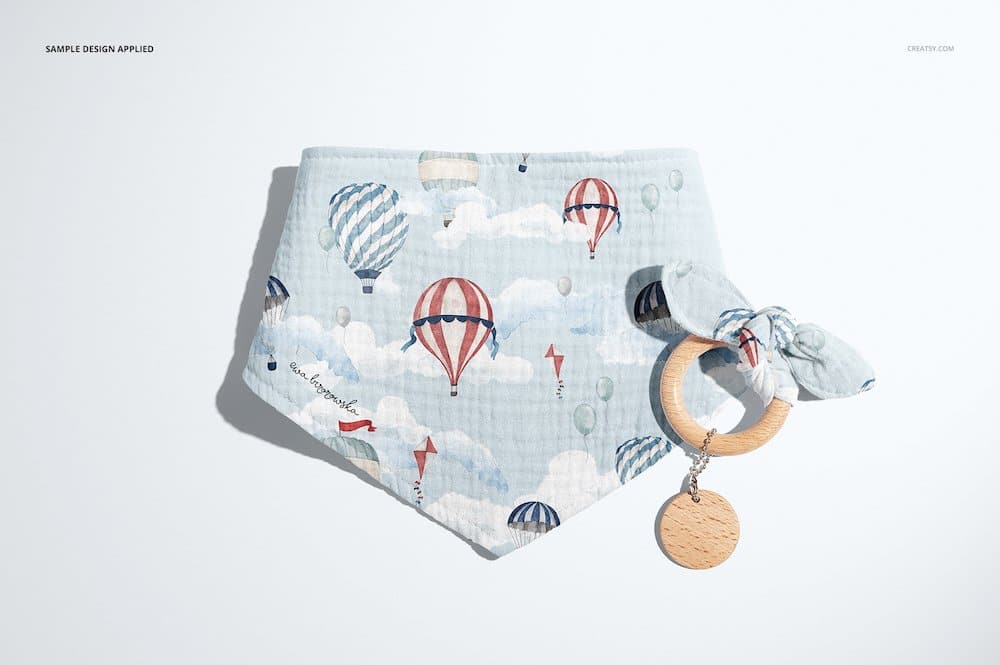 A baby bandana bib mockup made out of muslin cloth is awaiting your creative touch. In the kit, you get a collection of six different PSD files, all of 6000 x 4000px (300dpi).
With that in mind, you know the quality will be on point.
Along with sliding in your design for the bib, you can also alter other elements to make the final exhibition appear precisely to your liking.
What's cool about all six mockups is the photorealistic 3D wrapping that makes the outcome very appealing to the eye.
Make it as COLORFUL or as MINIMALISTIC as you want; the mockup handles it all for you.
Price: $16
MORE INFO / DOWNLOAD
You can always go straight to the Placeit platform where you can get 70+ more alternatives for nifty bandana presentations.
Or check back, as I will be updating this list with new styles after testing them.
How To Create A Bandana Mockup?
It literally takes seconds to create a life-like version of your custom bandana mockup.
Don't believe me?
That's okay, I'm here to convince you with this speedy tutorial.
And to achieve such fast results, we're going to use an online mockup generator platform, Placeit.
It's my favorite! (Used it for 100s of projects already, and will continue using it for a long time.)
5 Steps To Make A Bandana Mockup:
Step 1: Visit Placeit and search between 100+ bandana templates (there are also some really cool AI generated ones). I still recommend picking any of the above ones because I thoroughly tested them with different designs and colors beforehand.
Step 2: When you find the template you like, click it and then hit the "insert image" button.
Step 3: A popup window will open with two options – resize and reposition. You can check the live preview when doing adjustments, which is a real time-saver. Click "crop" when you are satisfied and your design will appear on the mockup.
Step 4: The next and final "work" is to alter the colors and the background, add text and even upload a custom graphic (or pick one from the archives).
Step 5: That's it! Click the download button and you can start using your mockup.
It really only takes some clicking (read seconds) to make your realistic bandana presentation happen.
Go for it!
::
Note: This article was originally published on September 25, 2020. But our team regularly reviews it and updates it with necessary improvements for accuracy.