Create a beautiful, attention-grabbing presentation with these extremely photorealistic handkerchief mockups.
All these mockups are effortless to use, whether you opt for an online generator or a PSD file.
My guarantee: You WILL create a fantastic product display.
Keep in mind, since there are not that many mockups of handkerchiefs out there, I decided to add such that can work for a bandana or a napkin, too.
Plus, I also added a few tissue paper boxes at the bottom to give a complete list of different items to work with.
This post covers:
You have everything you need to start working on your design. (Without starting from scratch!)
Unlimited possibilities, so get creative and design MUST-HAVE handkerchiefs.
Best Handkerchief Mockups
1. Mockup of a customizable handkerchief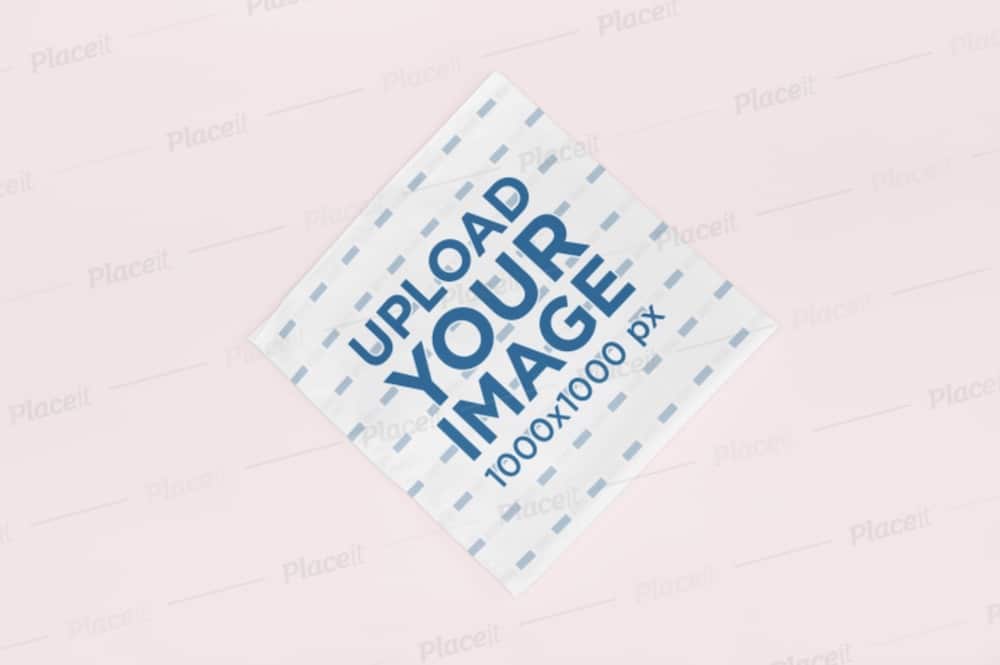 A neat, simplistic and easy-to-use mockup that you can employ for presenting your handkerchief design.
You can actually use this one twice; once to present the front and once to present the back design. Moreover, you do all the work online, no need to use Adobe Photoshop.
From inserting your design to changing the colors and adding text, it's an online mockup generator that makes an immediate difference. (Perfect to make mockups without Photoshop.)
With that in mind, style it according to your liking or client preferences and have a LIFE-LIKE version ready in no time.
Price: $7.95
MORE INFO / DOWNLOAD
2. Mockup of a folded handkerchief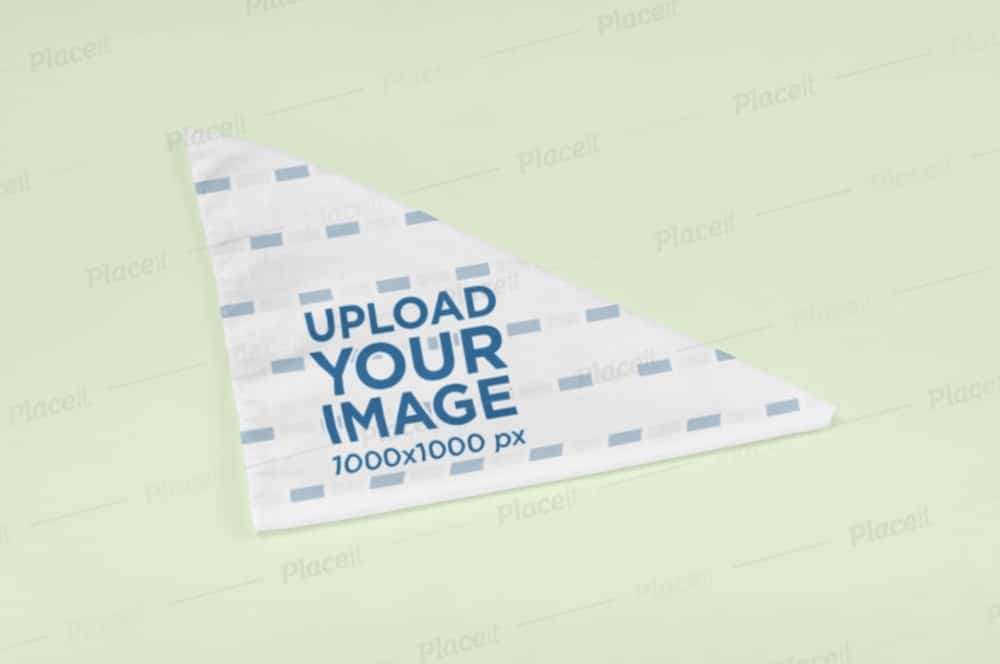 Yup, you can make a mockup without Photoshop these days. How cool does that sound?
Thanks to platforms like Placeit, you need to have no experience with design whatsoever.
The platform even allows you to play with the different configuration features without creating a free account first.
Even though this mockup's main objective is a bandana, you can comfortably use it for a handkerchief design, too.
You can alter the tint of the item and the background, slide in any design or logo you want, and that's pretty much it.
Quick and EFFORTLESS work for a fantastic outcome.
Price: $7.95
MORE INFO / DOWNLOAD
3. Silk square handkerchief mockup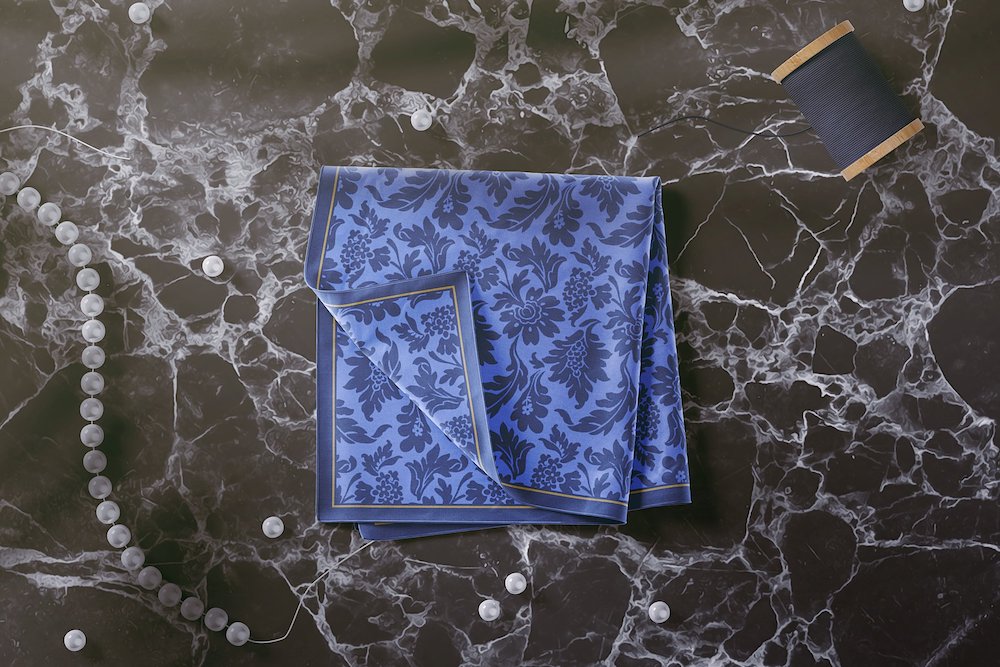 A beautiful handkerchief mockup of silk fabric that comes at an extremely high resolution of 6000 x 4500px.
Keep in mind, this is a 3D PSD mockup, which makes it even more realistic and attention-grabbing.
In the kit, you get two different backgrounds and one fully organized and layered file.
Moreover, you can keep or remove the various elements and customize them to the very last detail.
Due to the AMAZING assembling, only basic Photoshop knowledge is necessary to see a spectacular result in little to no time.
Take charge and present a handkerchief design in the best possible light.
Here is the video tutorial:

Price: $9
MORE INFO / DOWNLOAD
4. Silk handkerchief mockup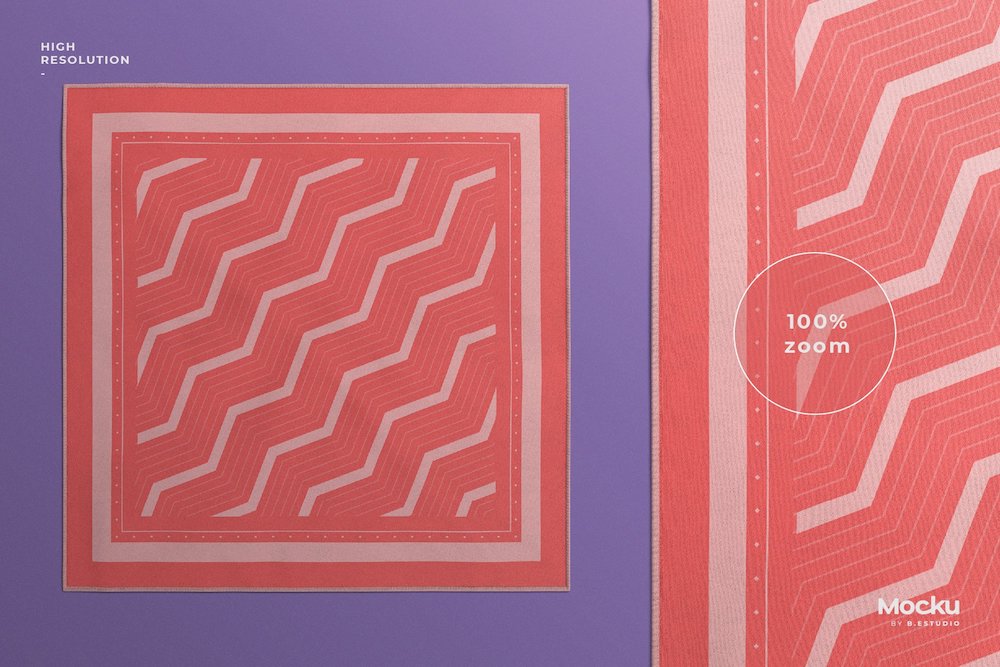 A collection of five different handkerchief or even napkin mockups for you to take to your TOTAL advantage.
As a matter of fact, these work for silk scarfs out of the box, but you can easily go against the grain.
Once you introduce your creative twist, each of the five PSD files can quickly become a beautiful handkerchief.
3D wrapping, editable colors, background and lights, adjustable shadows, you name it, this mockup rocks it.
Of the five templates, three are full mockups (5000 x 5000px) and two are zoom-ins (3000 x 3000px).
Price: $18
MORE INFO / DOWNLOAD
5. Fabric in the box mockup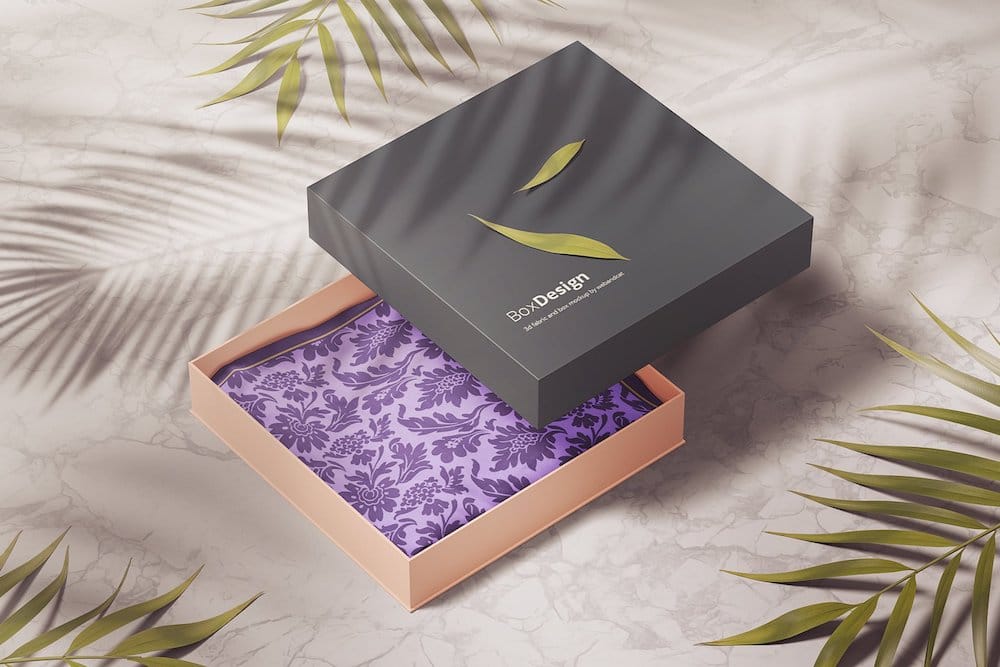 A handkerchief can be a great gift for pretty much anyone.
To create a lovely, eye-catchy and extremely photorealistic presentation of your design idea, this handkerchief mockup will surely DO THE TRICK.
It features the silk smooth fabric in a box, both 100% editable and customizable.
You receive one high-quality PSD file with two additional background textures. Moreover, you can also adjust all the greenery, even remove it.
Feel free to take a peek at previews first, see what's possible first-hand and go from there. Note that the author recommends Photoshop CC 2015 or later (best with 2019).
Price: $9
MORE INFO / DOWNLOAD
6. Handkerchief fabric mockup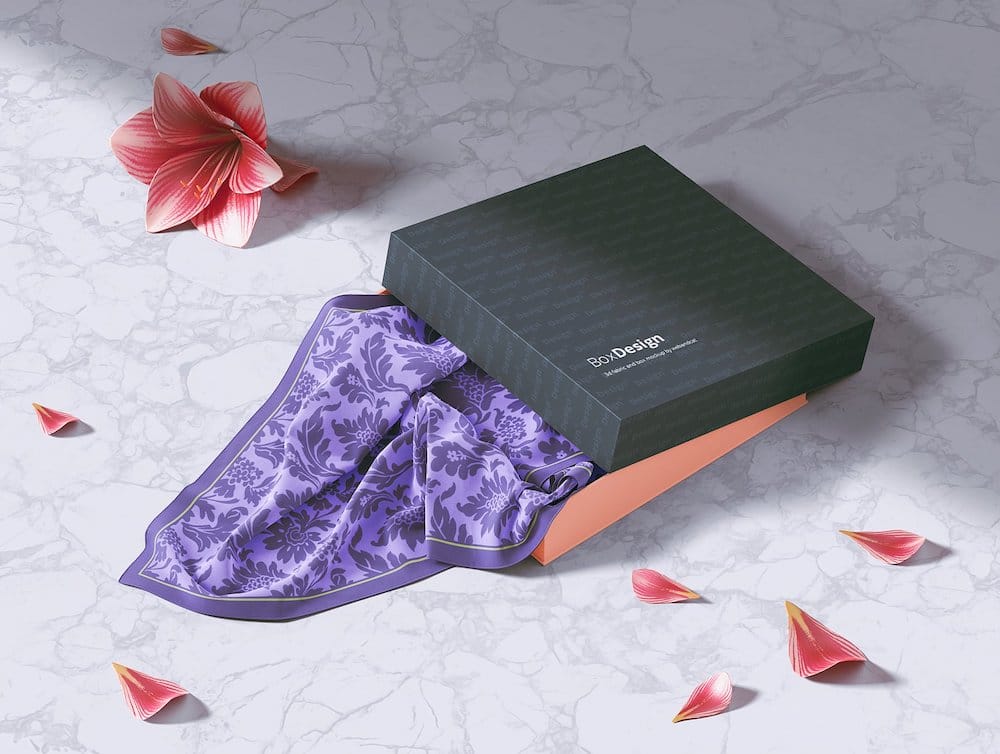 This is a similar handkerchief mockup compared to the last one, with an even MORE realistic effect.
You can beautifully display the silk fabric of the handkerchief, even napkin, and spice things up with a gorgeous box design.
You will find it a little breeze using the mockup, so make sure you take it to your total advantage.
Also, all the additional elements, shadows and background are adjustable to get an outcome that is precise to your liking.
For the most part, it will only take a few clicks, and you will have it all set and ready to roll.
Price: $9
MORE INFO / DOWNLOAD
7. Handkerchief PSD mockup (Free)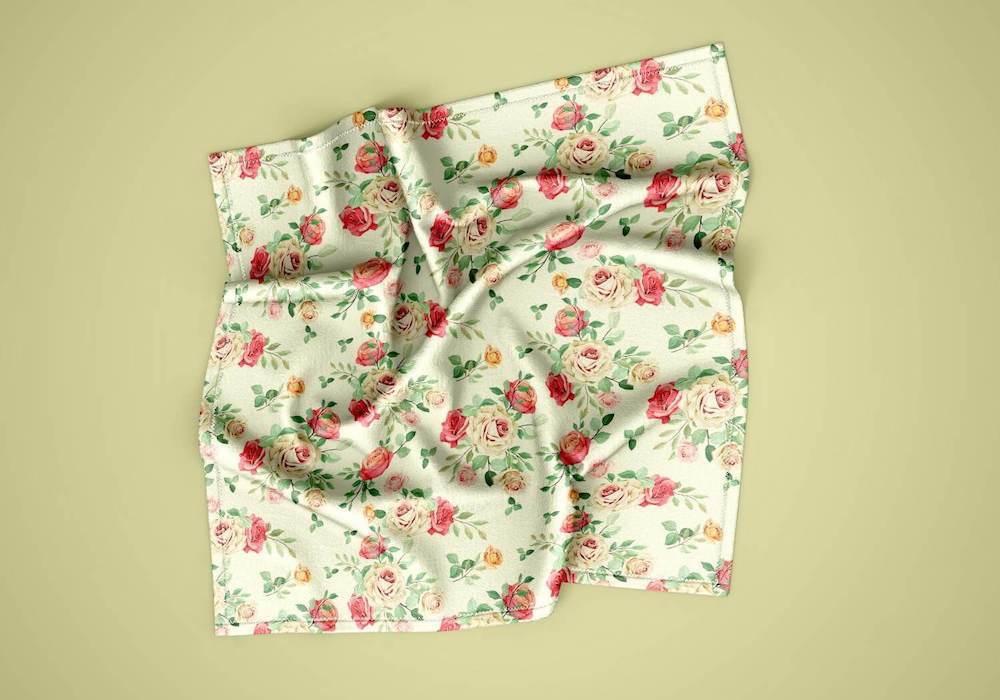 If you are particularly searching for a free handkerchief mockup, here you go.
Keep in mind, this is a high-quality file of the fabric that will create an enviable product design presentation.
With that in mind, do not think the outcome will be half-backed – not even close.
Furthermore, the PSD mockup has this fantastic 3D effect, making the OVERALL presentation even more life-like.
It's free, so don't sit on it; instead, get your hands on the template and make it yours with only a few quick tweaks.
MORE INFO / DOWNLOAD
Tissue Box Mockups
8. Rectangle tissue box mockup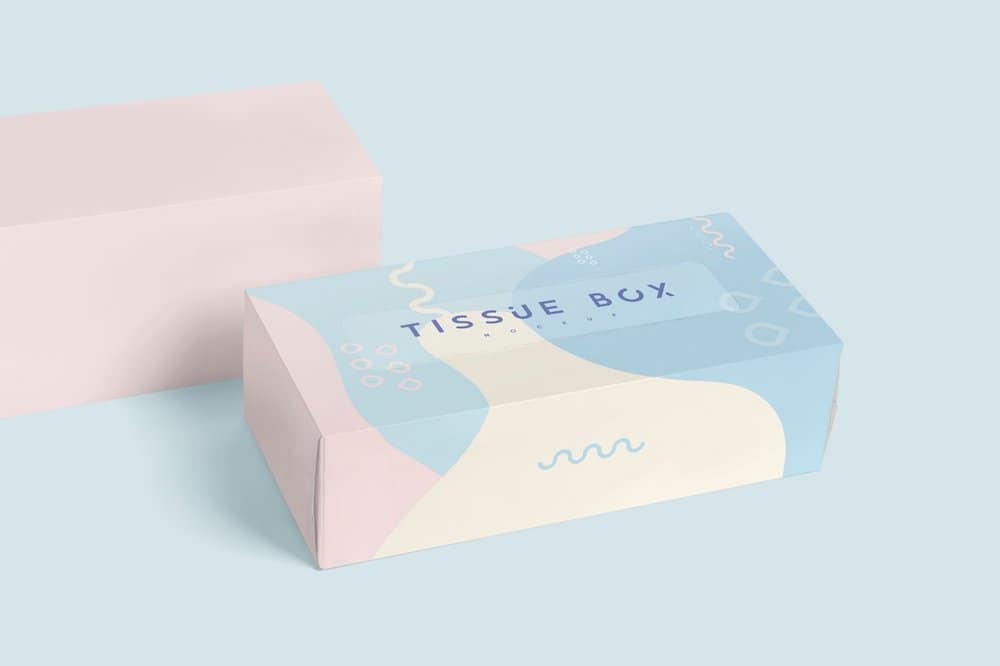 I thought it would be very appropriate to EXPAND this collection of handkerchief mockups with a few tissue box PSD templates. They somewhat fall in the same category, so here you go.
First on the list is this practical collection of five beautiful, minimalist and engaging mockups.
You can brand the tissue boxes with ease, as each file is 100% organized, ideal for beginners and experts.
Thanks to the smart object layers, you just slide in your design and see it appear on the box already.
Change the colors of the object and the background, edit shadows and lights, you name it, these files handle it.
Price: $9
MORE INFO / DOWNLOAD
9. Tissue box mockups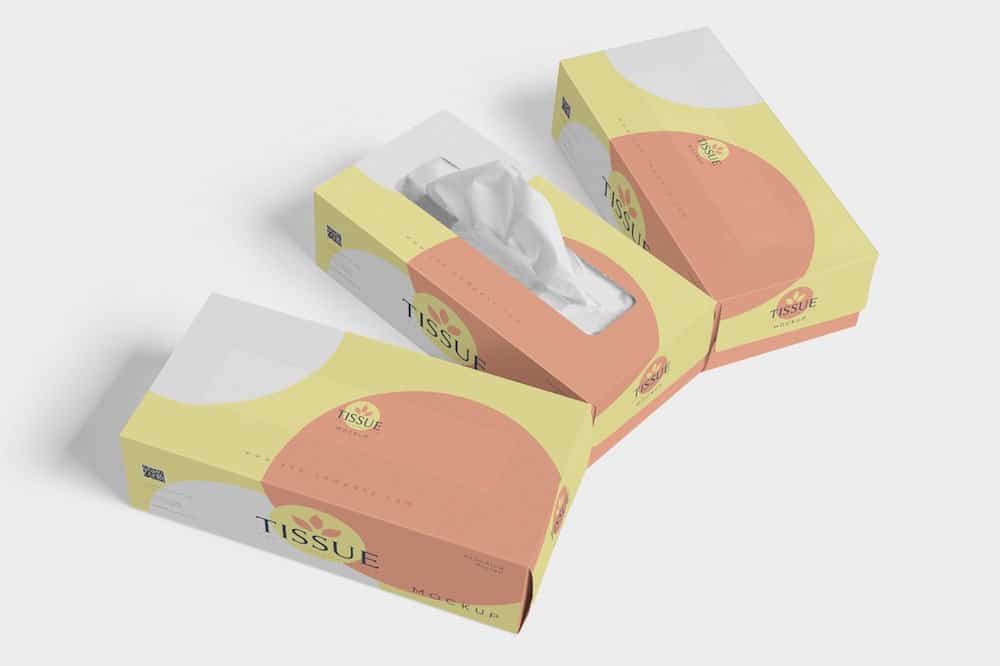 Another remarkable collection of five top-notch mockups of tissue boxes at different angles (even an open version).
All the PSD files are of 3500 x 2300px dimension, promising a high-quality end product.
Due to the minimalist effect, you can use any of these mockups on social media, on your eCommerce website, in a marketing campaign, you name it.
With the design/branding ready, you will only need to undergo a few clicks and have the finishing presentation all set.
It's easy; double click on the smart object layer and drag your design – that's REALLY it.
Price: $9
MORE INFO / DOWNLOAD
10. Tissue box PSD mockup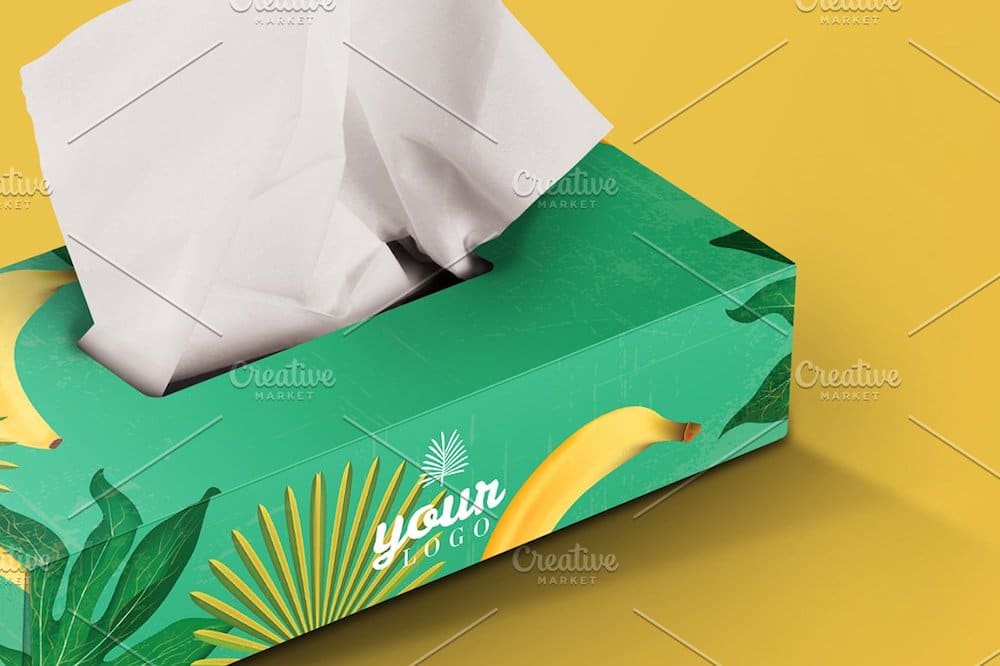 A modern and easy-to-use tissue paper box mockup that everyone can greatly BENEFIT from.
If you are working on a custom box design, present it in a realistic way with this PSD file.
Amaze your client or your audience on social media with a neat idea that you have.
To achieve an excellent result, you don't really need to do much work; just assemble your design and the mockup, and you are all done doing the work.
SO. QUICK.
Additionally, you can also change the color of the box and alter the background if necessary.
Price: $9
MORE INFO / DOWNLOAD
How To Easily Create A Handkerchief Mockup?
Are you finally ready to make a life-like presentation of a custom handkerchief design you've been working on?
Let me tell you a secret: It's WAY easier than you think it is!
In fact, it only requires a few clicks to make it happen with an online mockup generator.
Here's the process:
Step 1: Visit Placeit, and search for your favorite handkerchief templates.
Step 2: Click it and start by hitting the "insert image" button that allows you to import your design from your device (you can even use a smartphone!).
Step 3: After your design uploads, you can crop and reposition it however you want until it blends with the handkerchief how YOU want. Click "crop" to make it stick to the mockup.
Step 4: Lastly, adjust the colors and other functionality, plus, add text and a graphic (but don't overdo it with the latter two because too much stuff can ruin the epic presentation).
Step 5: Click "download," and you're done!
That was fast, I know!
But I'll also share a quick insight into how to get things done with a PSD mockup.
Trust me; it's no scary task.
Open Photoshop and import your mockup. Then search for the smart object layer and double-click it. (The layered structure allows finding different layers much more accessible.)
The next step is already performing the last customization tweaks, like changing the colors, adjusting the background, playing with lighting and shades, etc.
Once done, save and download your creation, and that's it!