You're in total control of creating the most photorealistic branding presentation with these napkin mockups.
I did it for so many projects and clients, and you WILL, too!
They are all fully organized to guarantee beginners and pros get the most out of them.
But you can EFFORTLESSLY start with a generator that will save you even more time (effort-free).
I created a mixture of simple mockups and such in a life-like surrounding, so you'll have everything you need by the end of the list.
This post covers:
I'm ready to make the magic happen. Are you?
Note: You may also like my collection of the best handkerchief mockups.
Best Napkin Mockup Generators
Starting with a mockup generator is clever. (You can test it for free!)
Price: $7.95/mockup (subscription: $14.95/month or $89.69/year)
Yup, you make mockups without Photoshop with these.
Like. A. Boss.
1. Napkin mockup on a wooden board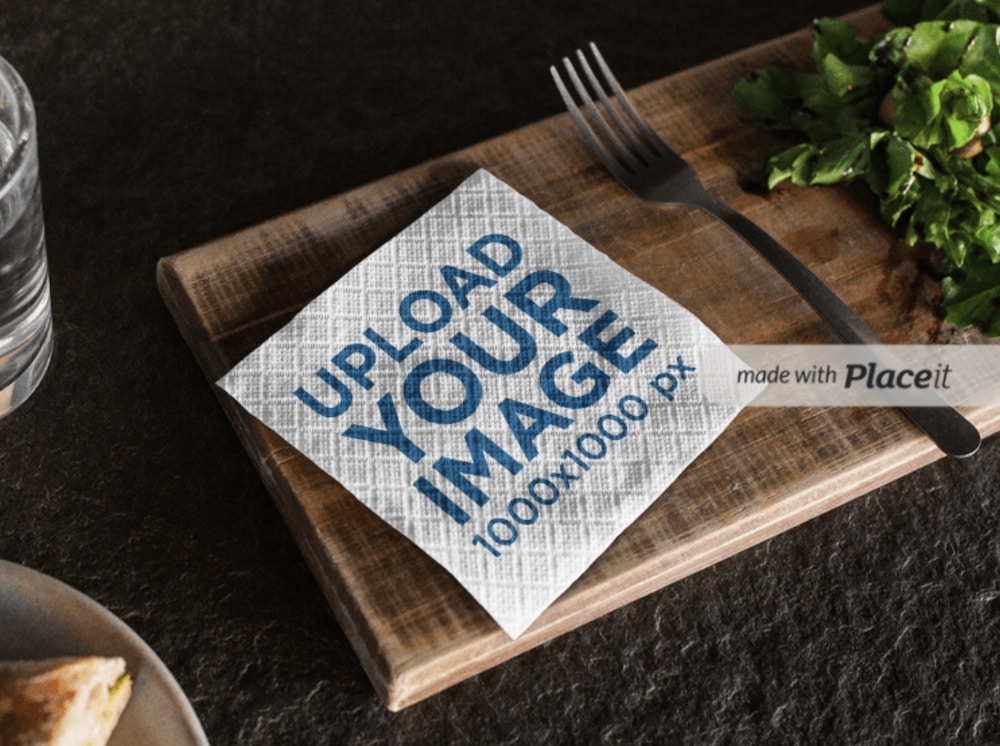 There's no better way than starting a new napkin project than with a mockup generator. I love it! Why?
Because it's the easiest and the quickest way to create a draft. Not just that, but a full-blown photorealistic presentation.
And this is the template that works for me EVERY single time. A few quick clicks and you're ready to rock-n-roll. Try it (you can start for free!).
MORE INFO / DOWNLOAD
2. Napkin template on a plate with cutlery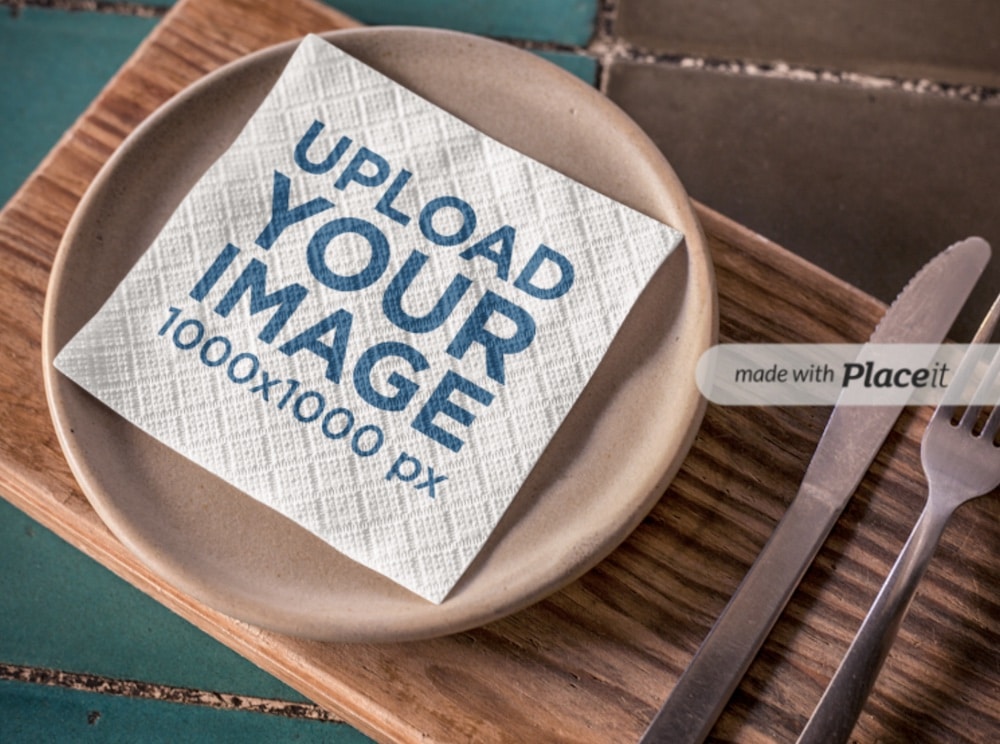 You can easily achieve creating an extremely photorealistic presentation of a custom napkin with this generator.
One click is for changing the color of the napkin (if even necessary). And the second click is for inserting your design.
Additionally, you can also add some text to make the appearance even more attention-grabbing.
SO. EPIC.
MORE INFO / DOWNLOAD
3. Set of napkins template on a wooden table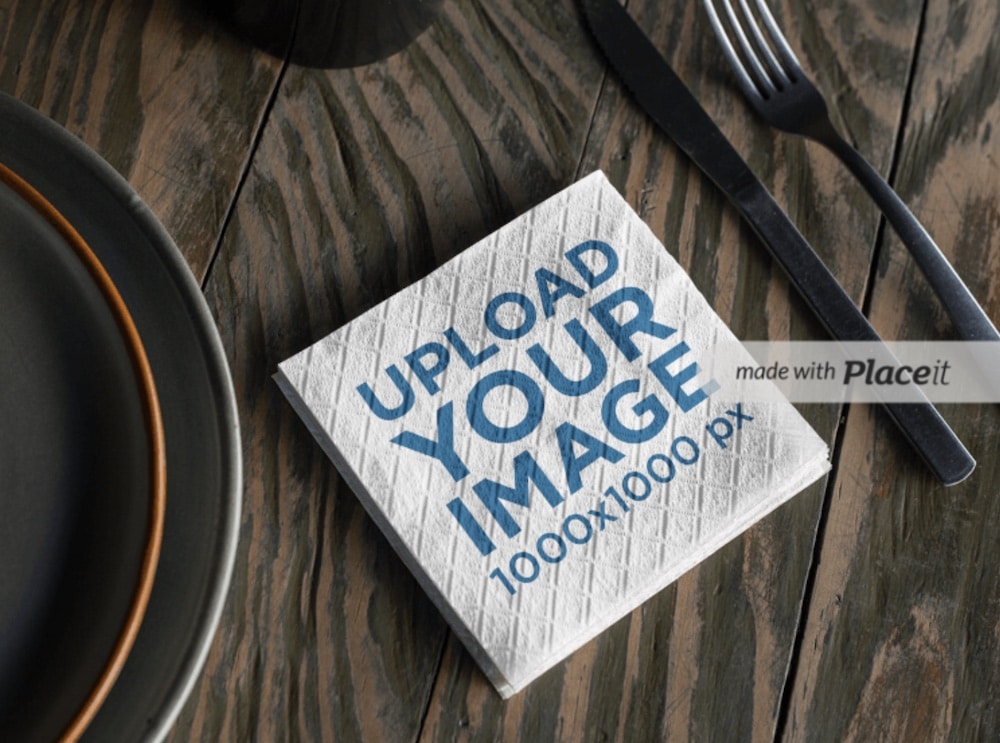 I used this one three times already, and I'm pretty sure I'll return to it multiple more times in the future.
My clients were always super satisfied with the final creation, so I can confidently say that it works. Yup, I HIGHLY recommend it!
The process is the same as for all the other generators I included in this list of the best napkin mockups.
It's. Quick. (But at the same time very professional.)
MORE INFO / DOWNLOAD
4. Branding mockup featuring a napkin in a restaurant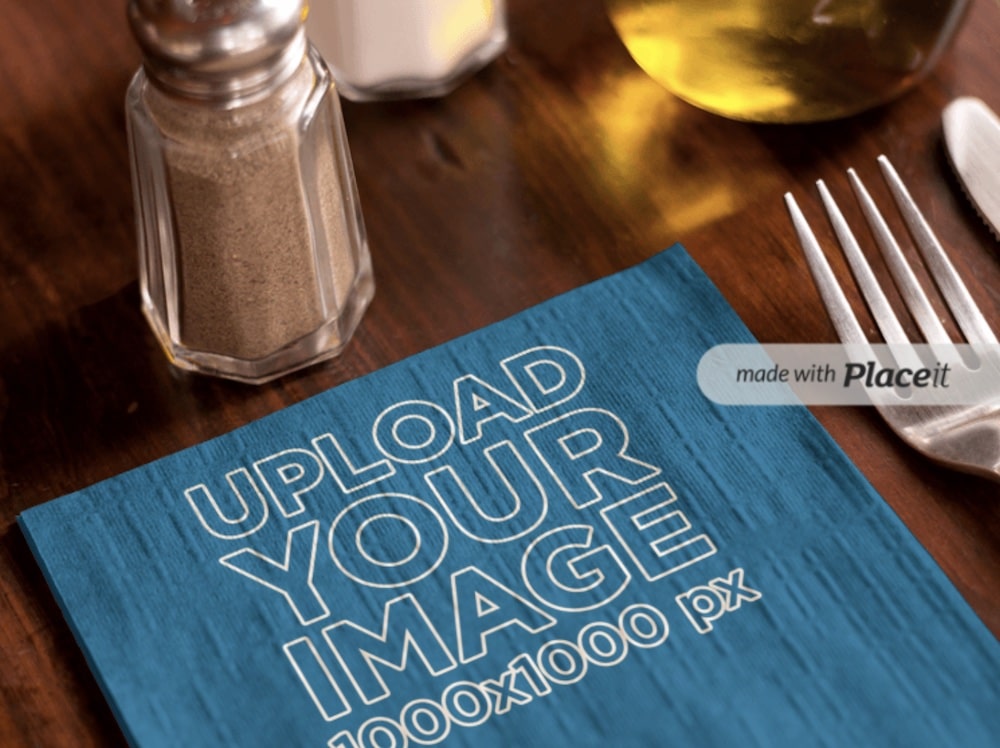 Two local restaurants wanted custom napkins to make their customer experience even better and I presented my creative ideas with this one.
I once used a design that covered the entire napkin and added a logo with a custom color choice the second time.
What's also COOL is that you can choose from multiple graphics (and change their colors) or upload yours.
MORE INFO / DOWNLOAD
Best Napkin PSD Mockups
These are the ones if you need MORE creative freedom.
5. Paper napkin mockup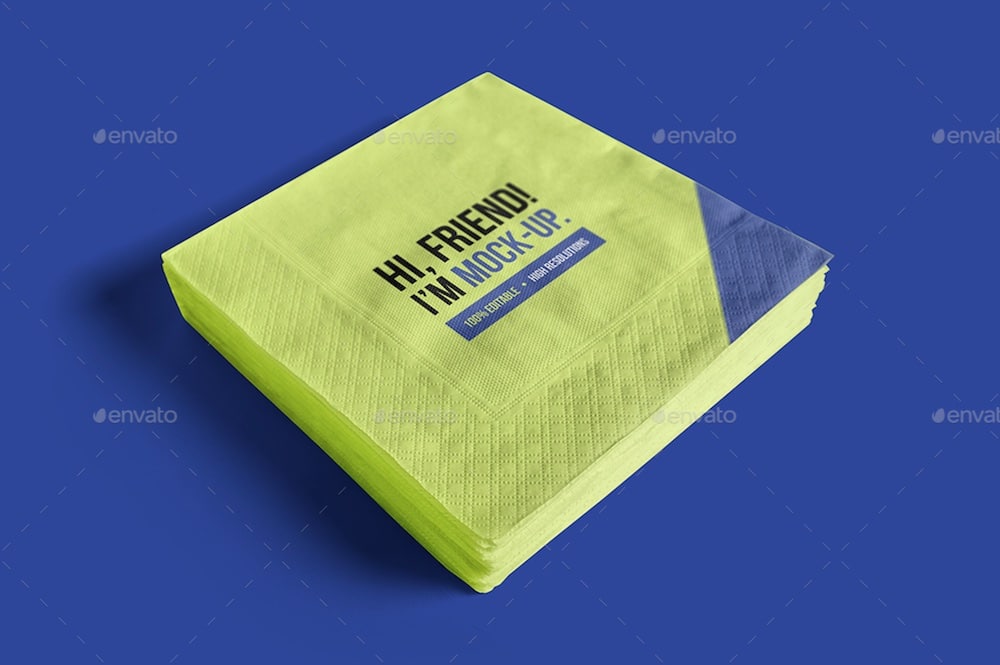 Even though I really DIG photorealistic mockups that are in life-like surroundings, I also like minimalist ones, too.
This one falls in the latter bucket.
The set contains six high-quality PSD templates (5400 x 3600px) that are great for any kind of design and logo you'd like to showcase on a napkin.
All are layered PSD files with an organized structure for extremely fast work. A few effortless step and I was ready to go.
Price: $6
MORE INFO / DOWNLOAD
6. Table napkin mockup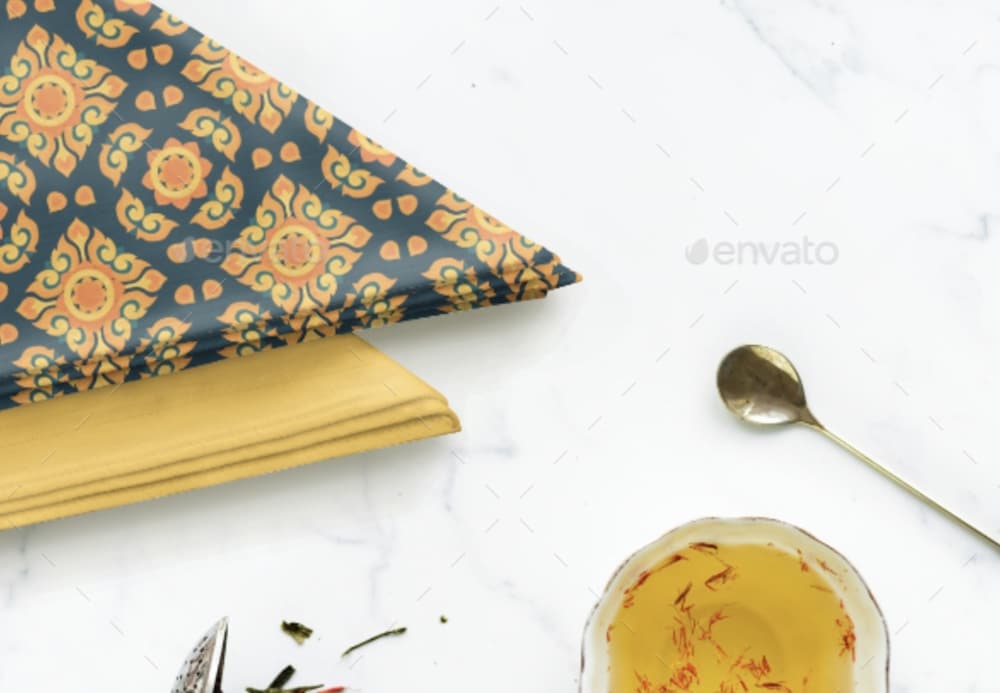 This is another one of my favorites that consists of six mockups with four kraft paper textures per template. A lot of options and possibilities!
Also, the addition of cutlery works so well when you'd like to achieve a life-like effect. I added my custom background to spice things up even further and WOW my clients.
Note: I particularly worked with this one because of the folded napkin with cutlery.
Price: $15
MORE INFO / DOWNLOAD
7. Napkin box mockup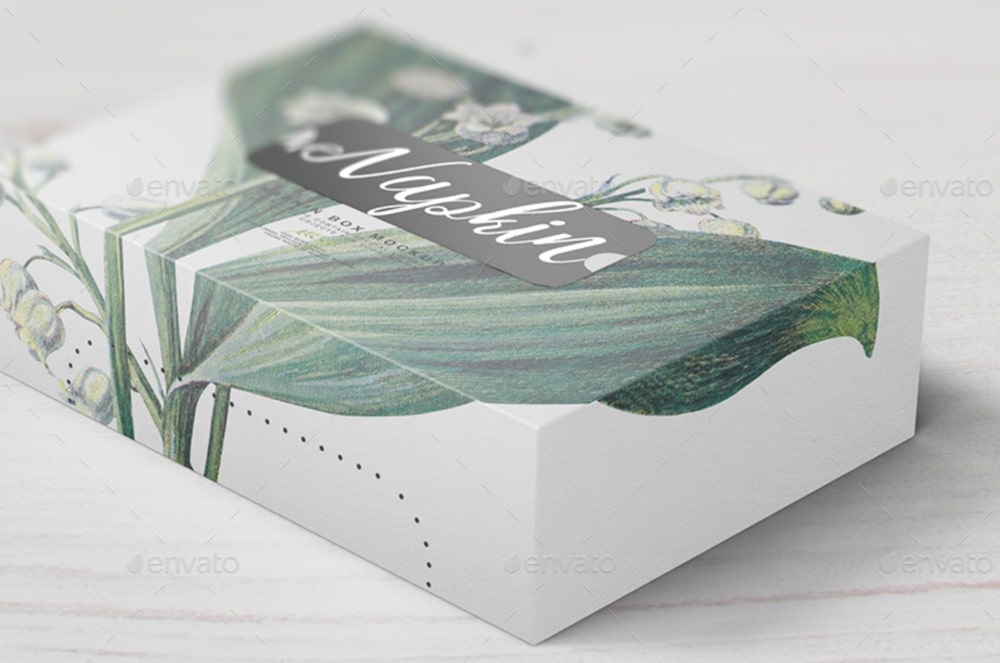 Since so many requested to add napkin boxes, I'm including two that are winners, and that's a guarantee.
The excellent resolution of all five ready-to-use templates ensures that the outcome is always PRO-LEVEL.
And you don't need any skills other than predefined designs and logos for smooth and fast work.
You slide in your creative work via PS's smart objects with automatic perspective. I call it, "no work." Because really, it only takes you some clicking!
Price: $7
MORE INFO / DOWNLOAD
8. Tissue napkin box mockup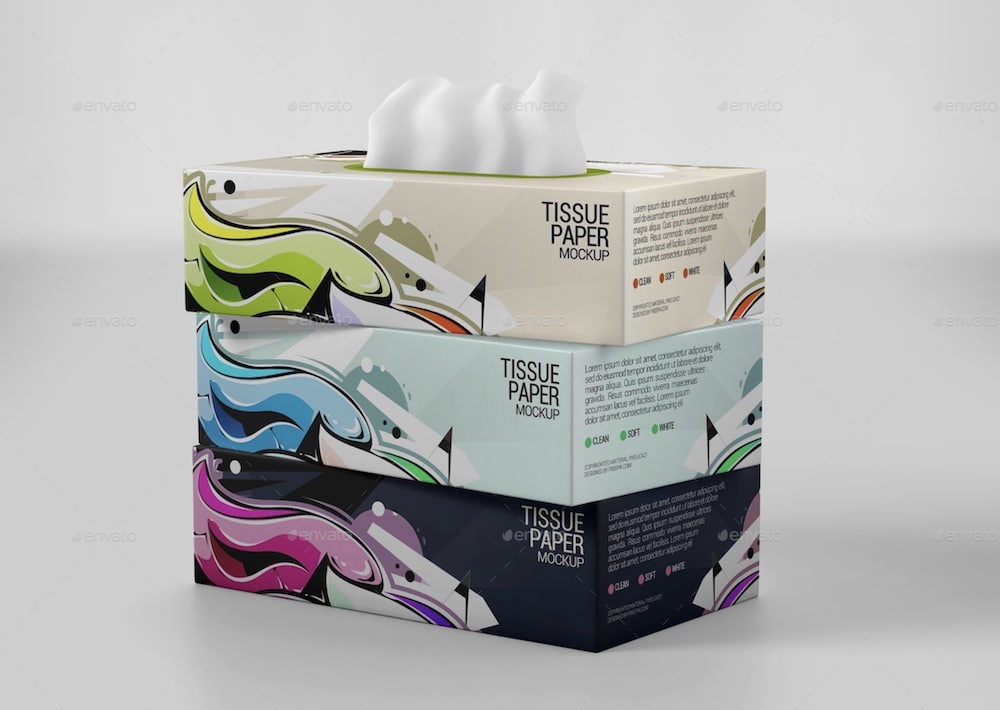 And here's a tissue box mockup that's rendered but will do you OH SO well.
I really enjoyed performing creative work with the two floating views, but you get an additional four that cover all sides of the box.
All it takes are four steps to change the default with something extraordinary. Open the file, locate the smart object layer, add your design and save.
That's it!
Price: $7
MORE INFO / DOWNLOAD
9. Cotton linen napkin PSD mockup set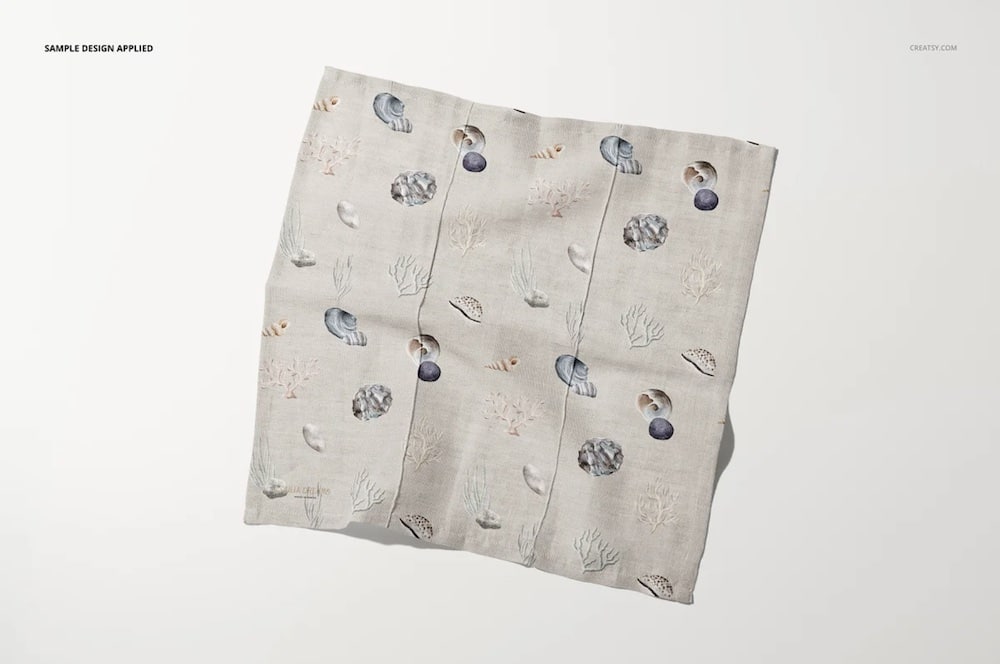 A cotton linen napkin that looks pretty fancy, don't you think? I used it to create a quick presentation for a boutique restaurant's custom napkin design that the owner really liked.
All seven PSDs are neat, coming at 6000 x 4000px to achieve the ultimate quality. Also, the 3D effect (epic wrapping) makes everything look spectacular.
And – of course! – you'll spend only a few seconds to make it work for you. LUV.
Note: Should I rather call this one a serviette mockup?
Price: $16
MORE INFO / DOWNLOAD
10. Napkin logo mockup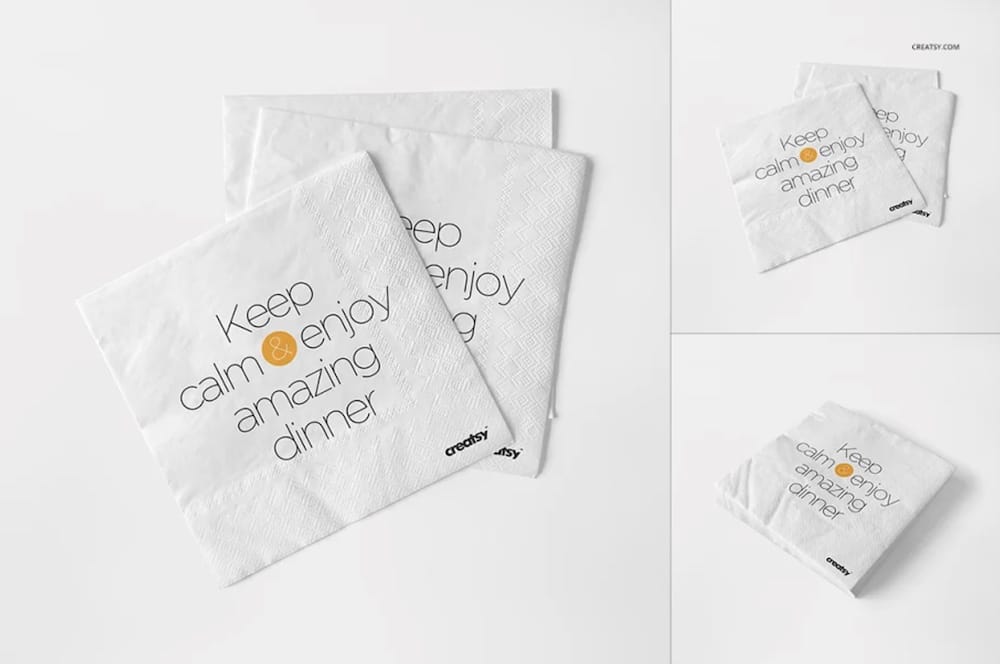 You can do whatever your heart desires with this one, but adding a logo WORKED best for me.
So that's my suggestion because you can pick any other mockup above or below for any creative wizardry you want to do.
Achieve the best of the best with the whopping collection of twelve PSD templates that feature folded and unfolded napkins.
You have complete creative freedom. (I really like all Creatsy's work, by the way!)
Price: $15
MORE INFO / DOWNLOAD
11. Custom printed napkin PSD template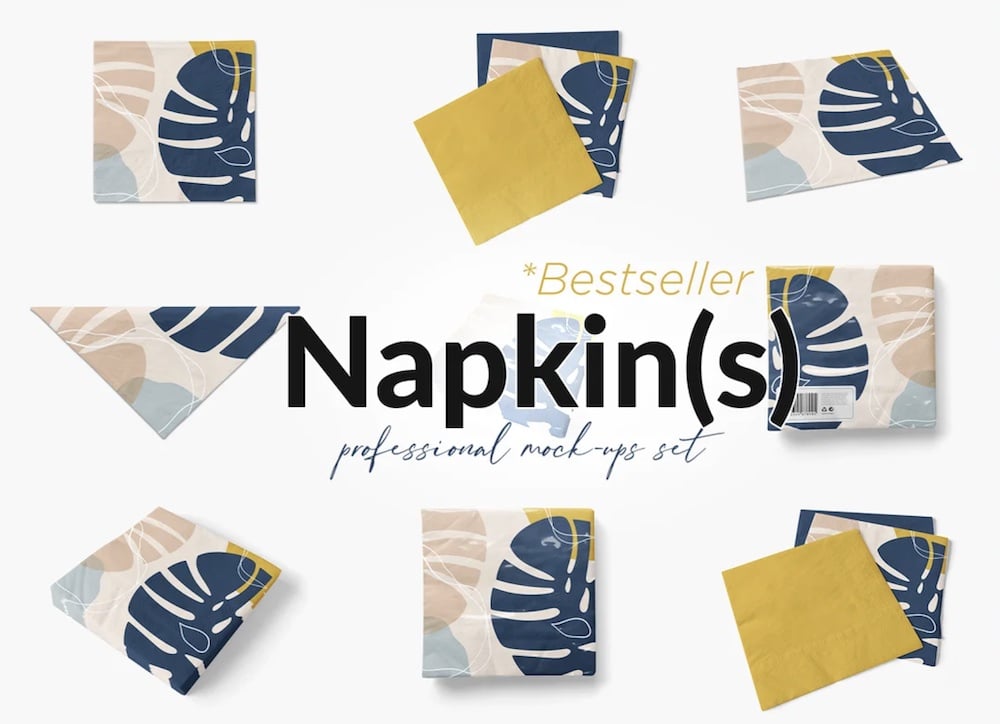 A realistic, custom-printed napkin is just around the corner.
Mockups are such life-savers because you avoid running into the inconvenience of figuring out that the design didn't fit properly when it comes from the print shop.
Been there.
But not anymore.
I create so many variations to study them further with my client and you can, too. Better SAFE than sorry!
Make custom work a breeze with these twelve mockups.
Price: $15
MORE INFO / DOWNLOAD
12. Dinner napkin with cutlery mockup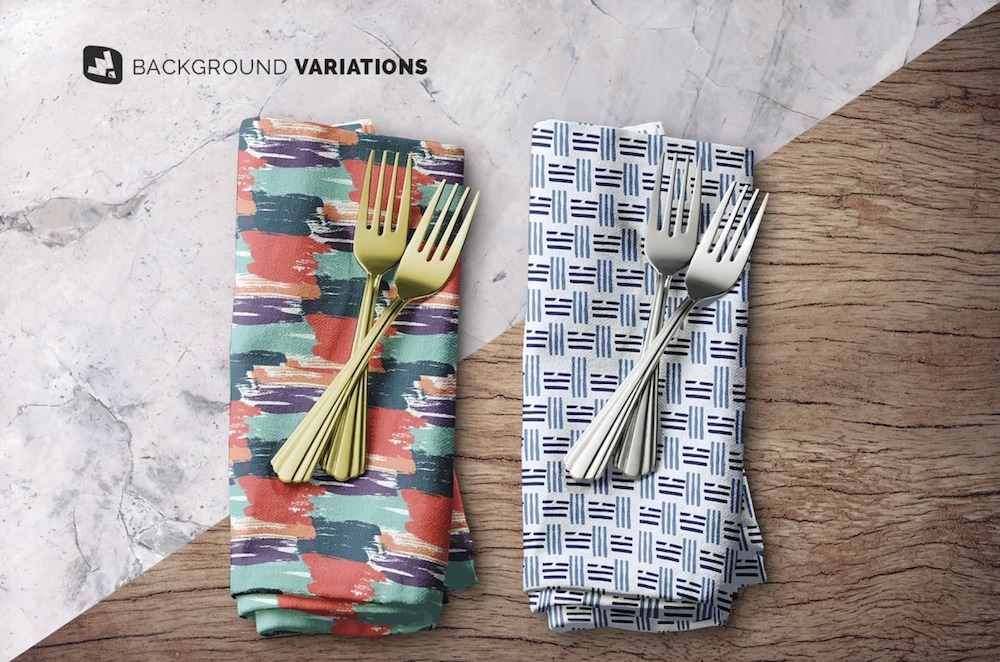 Fancy dinners or special occasions, it doesn't matter, this is the napkin PSD mockup set that always does the trick.
I like the simplicity of getting only one template that's 6000 x 4000px. You can easily create endless variations and go very detailed with your presentation.
100% zoom works really well, too! Enjoy the fun but quick process that always ends up being TOP-NOTCH.
Price: $9
MORE INFO / DOWNLOAD
13. Cloth napkin mockup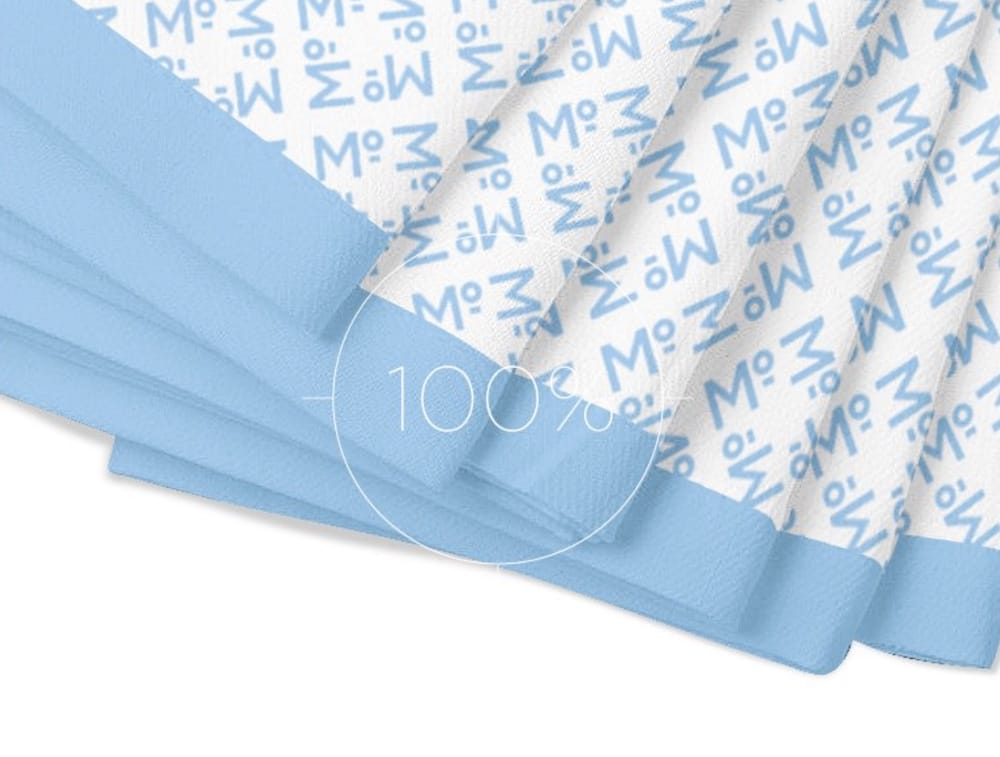 From paper to cloth napkin mockups, I added them all for your convenience. No more searching for other templates around the web because these cover everything!
This one is particularly cool because the edges are so easily editable, just like the base of the napkin.
Change colors, background, adjust shadows and more – you have the CONTROL to make it your way to a tee.
Price: $11
MORE INFO / DOWNLOAD
14. Paper napkin PSD mockup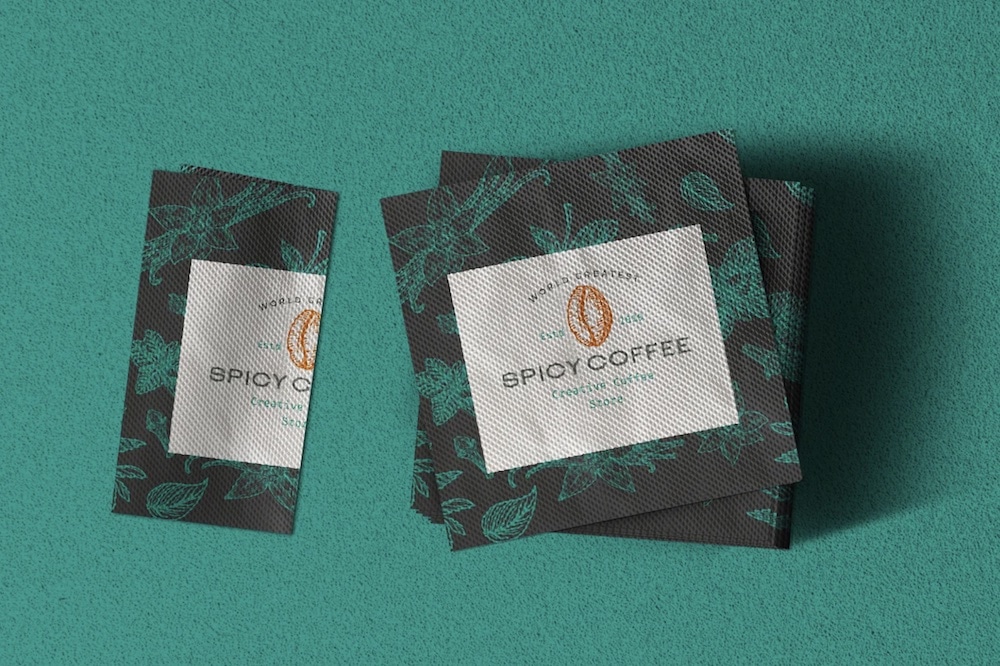 Do you need to create a custom front and back design for the napkin? I made it happen with this exclusive solution that you can take to your total advantage right now.
The folded edge works great for showing the back color of the napkin.
OR! Make it unique and add a "hidden" design, message or a logo on the folded edge to make it more special.
You're limited only by your imagination because the mockup can handle it all. Go.
Price: $10
MORE INFO / DOWNLOAD
How To Easily Create A Napkin Mockup
I want to share with you my fast and effortless way of creating a realistic napkin presentation that ANYONE can do.
How?
With the use of an online mockup generator.
You don't need software to create a mockup these days, thanks to my favorite platform, Placeit.
Here's how it goes:
Step 1: You should first visit Placeit where you can find 1,000s of mockups in various categories. Click the previous link or type in the search bar "napkin," which will show you all their results.
Step 2: Pick the template that you like the most and click on it.
Step 3: My advice is to first import your design by pressing the "insert image" button. This allows you to test how well your design goes with the mockup. Remember, you can zoom in/out your design and reposition it, thanks to the convenient popup window. Press "crop," and voila, your design is on the mockup!
Step 4: You can also change the colors and personalize the look by adding text and/or a graphic.
Step 5: Your work is now done, and you're ready to press the "download" button to save your napkin mockup to your device.
How quick was this? I know, right?
However, you only need basic Photoshop skills when you work with a PSD template. The process is equally quick and simple but with more creative freedom.
After you import the mockup to PS, search for the smart object to drop your design, logo or pattern.
The layered structure ensures that everyone easily finds the elements he or she wants to modify. So play with the functions and turn things upside down until you're satisfied with your first-class outcome.
::
Note: This article was originally published on May 4, 2022. But our team regularly reviews it and updates it with necessary improvements for accuracy.