We reviewed 41 PSD templates when conducting this collection of best tissue box mockups.
We also included high-quality and reliable free alternatives that will do you well.
You DON'T NEED to do much work on your part.
First, you skip the searching completely.
Second, no matter which mockup you opt for, you'll make magic happen.
Third, you'll make that magic happen in just a few clicks.
Fourth, you're done!
We did enough testing when working with clients, so you're GOOD to go with the tissue paper packaging mockup you dig the most. (Or all of them.)
Why work on something from scratch if you don't have to?
Make a tissue box design presentation that IMPRESSES everyone. Instantly.
(the link guides you to a nice collection of designs for inspiration)
Best Tissue Box PSD Mockups
1. High-quality mockup of a tissue box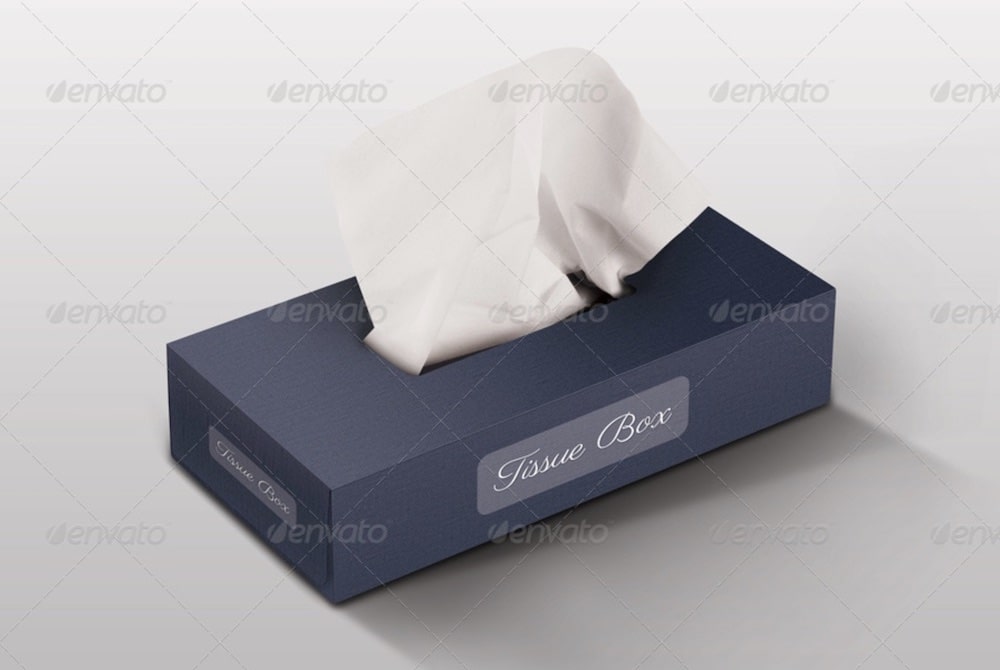 You can now create a full-blown version of a tissue packaging with just three views.
BUT.
These three views cover EVERYTHING, including open and closed versions. The only thing that you cannot do is present the bottom of the paper box (which may not be that necessary anyway).
Each layered PSD file is fully customizable, so you can create the outcome that meets your expectations.
To. A. T.
You can create a background or make it transparent, turn shadows on or off and slide in a design with drag-n-drop.
Price: $9
MORE INFO / DOWNLOAD
2. Tissue packaging mockup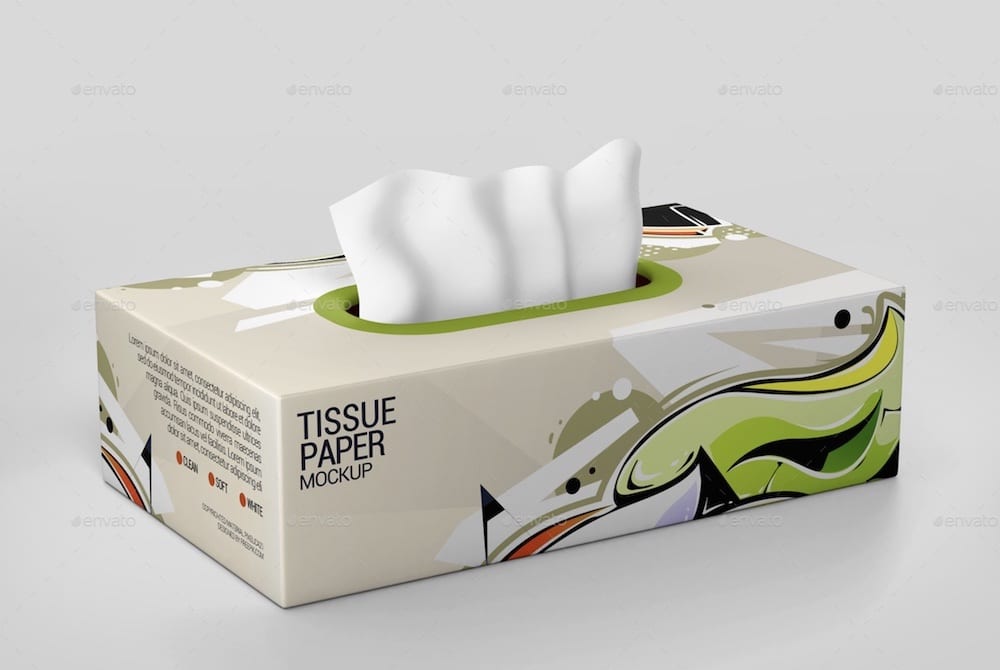 This highly convenient and easy-to-use tissue box PSD mockup goes one step further than the previous one.
With the six available templates, you truly can create and showcase ALL THE SIDES of the box.
Including the bottom side!
You can add any design you want, no matter how detailed. The outcome always comes into view stunningly due to the amazing resolution (3500 x 2500px).
We definitely used this one the most often. You won't have an issue even if you work with multiple clients.
(For as long as this is the style of the box they're after.)
Price: $7
MORE INFO / DOWNLOAD
3. Square tissue box mockup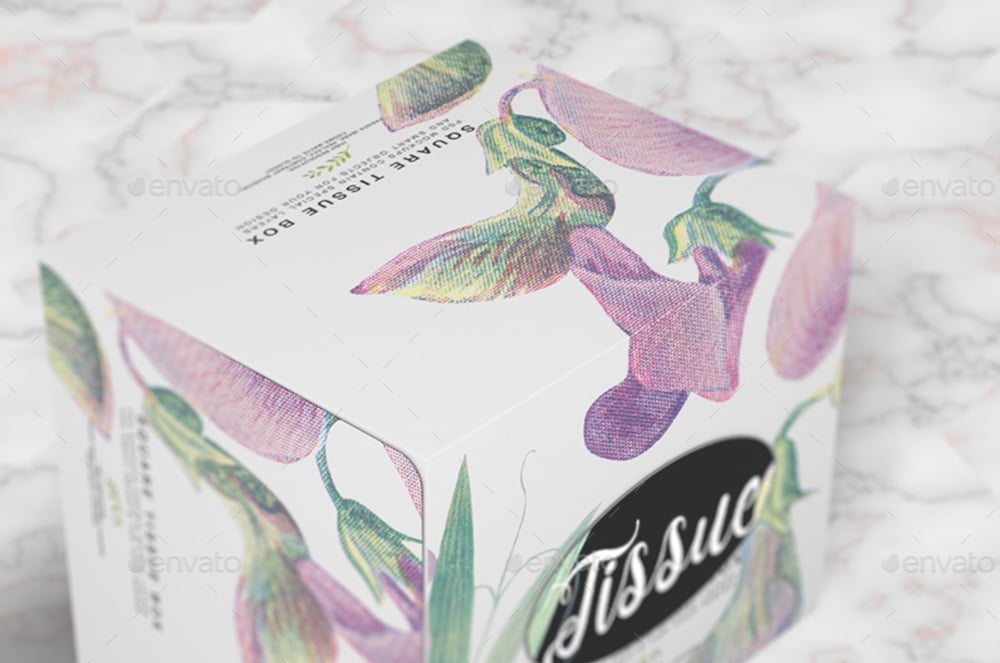 Even though other versions are available (but rare), rectangular and square tissue boxes are the most widespread.
We are placing this one so high on the list for one main reason: IT WORKS.
And what's best, the square box works for any design and branding, whether minimal or highly detailed and fancy.
The process is very beginner-friendly, just as it is with all of the mockups in this collection.
You also BENEFIT from adjustable shadows, paper texture and an easily editable background.
Price: $7
MORE INFO / DOWNLOAD
4. Tissue Box 3D perspective mockup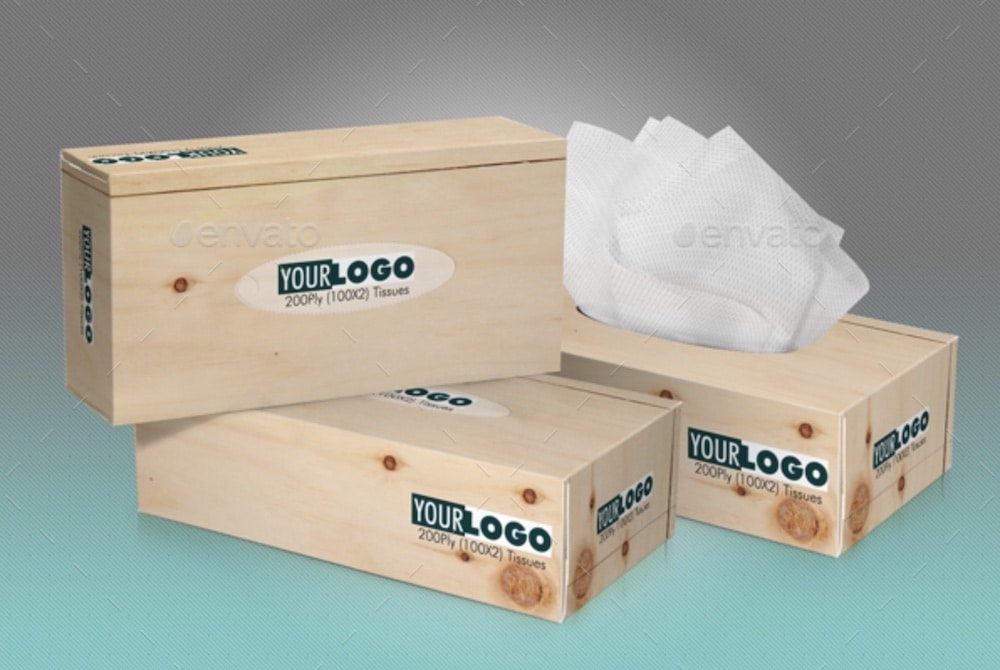 It only really takes three steps to see your design in action.
After you import the mockup into Photoshop, click the smart object (step 1), add your design (step 2) and save it (step 3).
How effortless was that?
But it only gets more fun from here on.
You can PLAY with all the other functions and customization options to make the outcome precisely to your liking. The next-level 3D effect is also available.
Box dimension: 230 x 115 x 65mm
Use: for 100 softy tissue papers
Price: $6
MORE INFO / DOWNLOAD
5. Napkin box mockup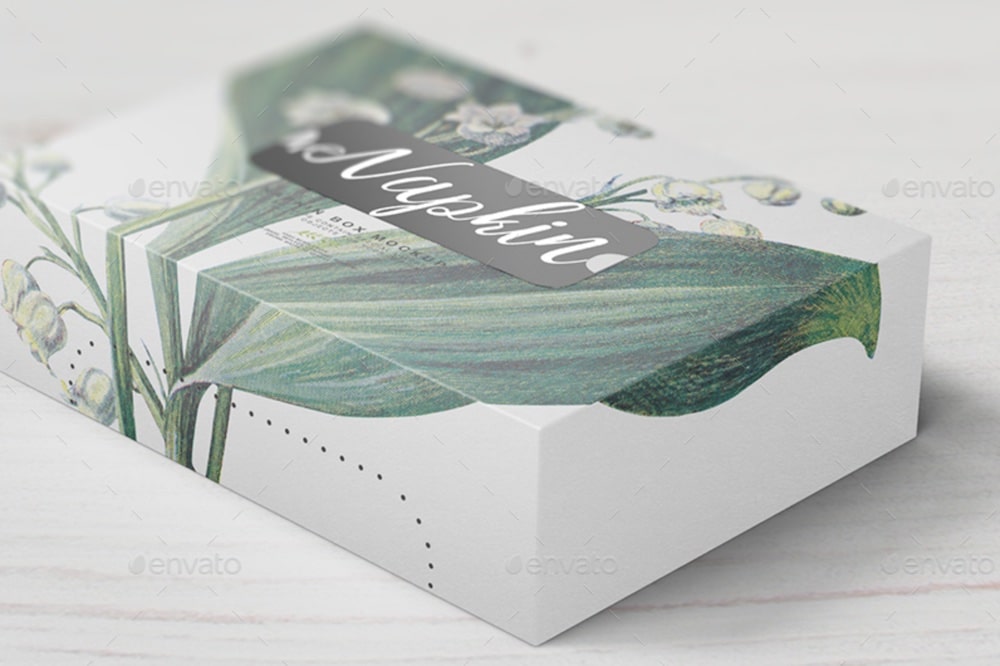 A tissue or a napkin box with a slightly different style awaits you in this bundle of goodies.
You get to work with five different views, aka five PSD mockups (3000 x 2000px).
You can create close-up views like a champ. Present designs that are simple or detailed with crystal clarity easily.
Each file is down for ANY CHALLENGE.
Adjusting effects and functions is also a piece of cake. Make it how you like it, from shading and shadows to paper texture and background.
Price: $7
MORE INFO / DOWNLOAD
Best Free PSD Tissue Box Mockups
6. Free tissue box mockup in PSD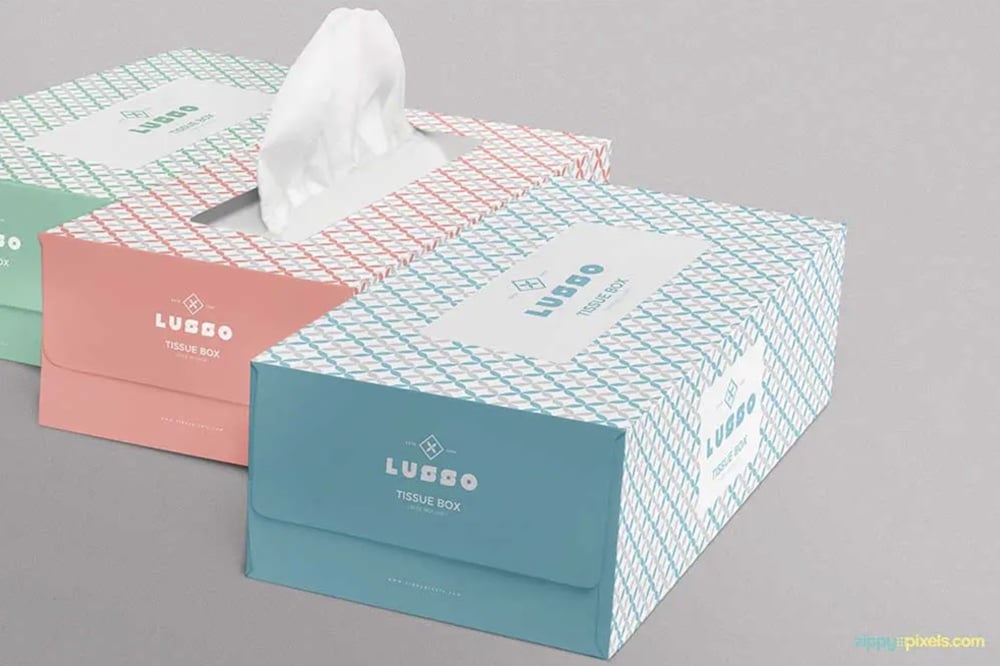 Quality packaging design presentation does not necessarily mean you need to pay for it.
Instead, use these free facial tissue box mockups.
This particular one is actual of 3500 x 2300px dimension, which is VERY decent for a free alternative.
You can also comfortably edit and all sides of the boxes, making it your way exclusively.
The excellent layered structuring unlocks the QUICK configuration you deserve.
Plus, the smart object function lets you quickly integrate your professional design.
This one is BOMB!
(We already used it – oh so – many times and still didn't get bored of it.)
MORE INFO / DOWNLOAD
7. Free tissue packaging mockup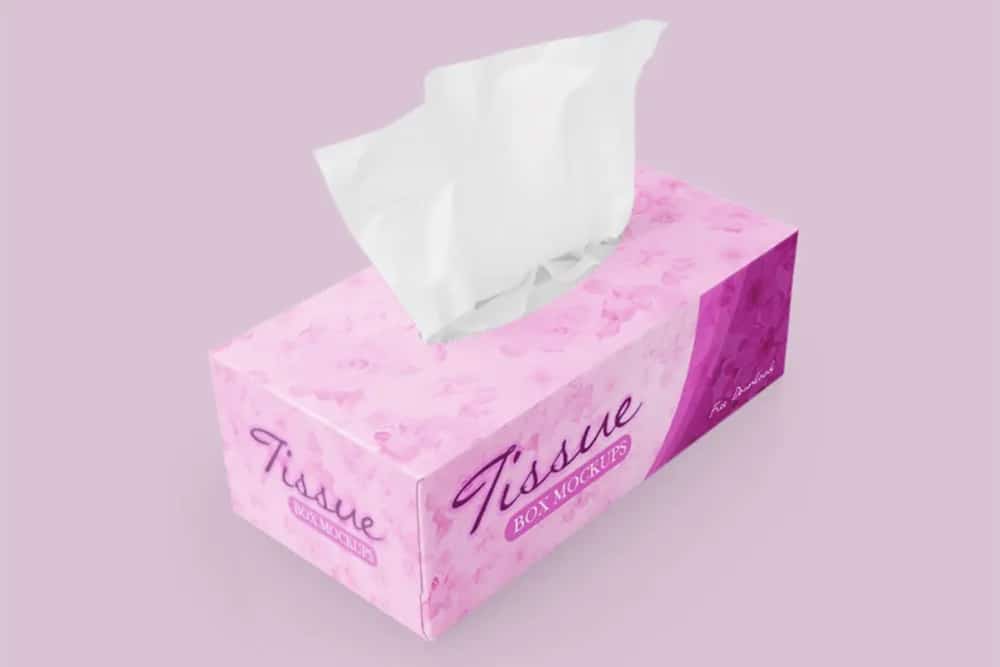 Two PSD files (3000 x 2250 px), layered structure and an entirely free license – what's not to like?
Enjoy the different views that allow for a beautiful presentation of your brandable tissue packaging design ideas.
You can make it happen COMFORTABLY with this kit of two, whether it's purely promotion material or an actual sellable product.
Don't hold back. Your imagination may be the only limitation.
Ditch the limitations and enjoy the smooth flow of creating a special tissue box.
NOW.
MORE INFO / DOWNLOAD
8. Free tissue paper packaging mockup design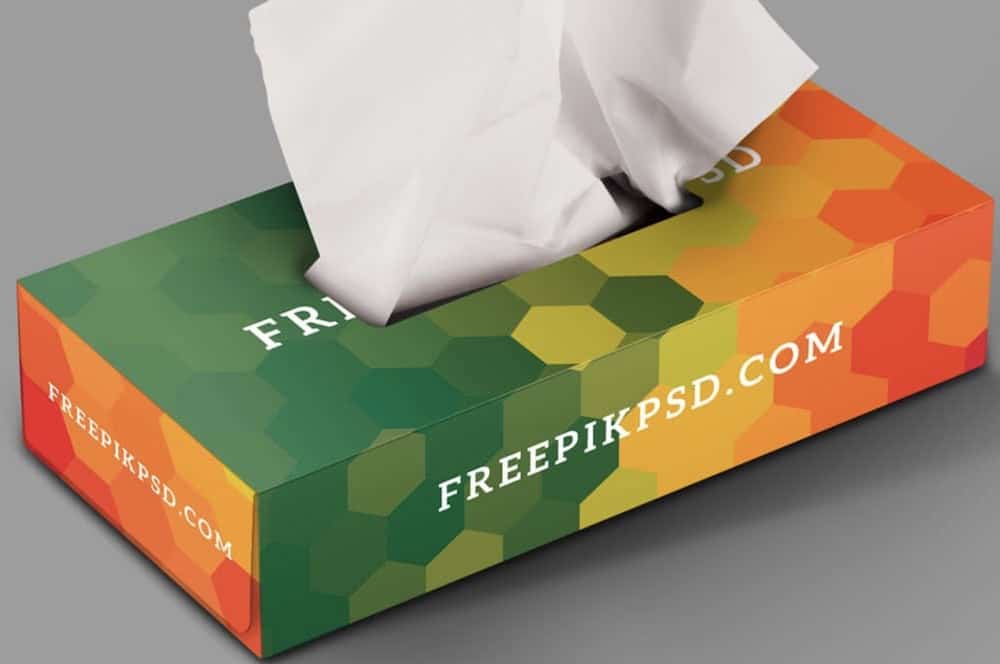 One free tissue packaging mockup is more than enough to make a quick prototype.
This one allows you to do just that without really spending too much time working on it.
Reality: It only takes a few clicks to activate the PSD file and enrich it.
You already know how easy it is. We didn't use this one yet but plan on working with the mockup on one of our upcoming projects.
The dimension/resolution is not as high as with some other templates, but you'll still BENEFIT from it greatly.
MORE INFO / DOWNLOAD
9. Floating tissue box PSD template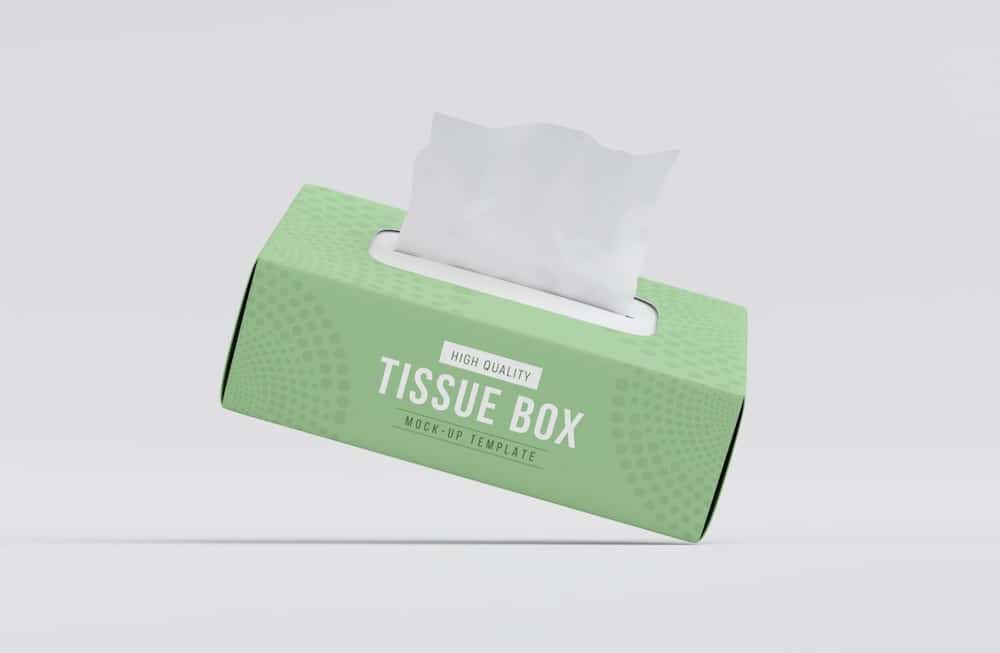 Grab everyone's attention with this floating tissue box because it simply works.
The editing process takes only a few clicks to make your version like a champ.
You also have the right to use the mockup for commercial and personal projects (but don't forget about attribution).
MORE INFO / DOWNLOAD
10. Free tissue packaging mockups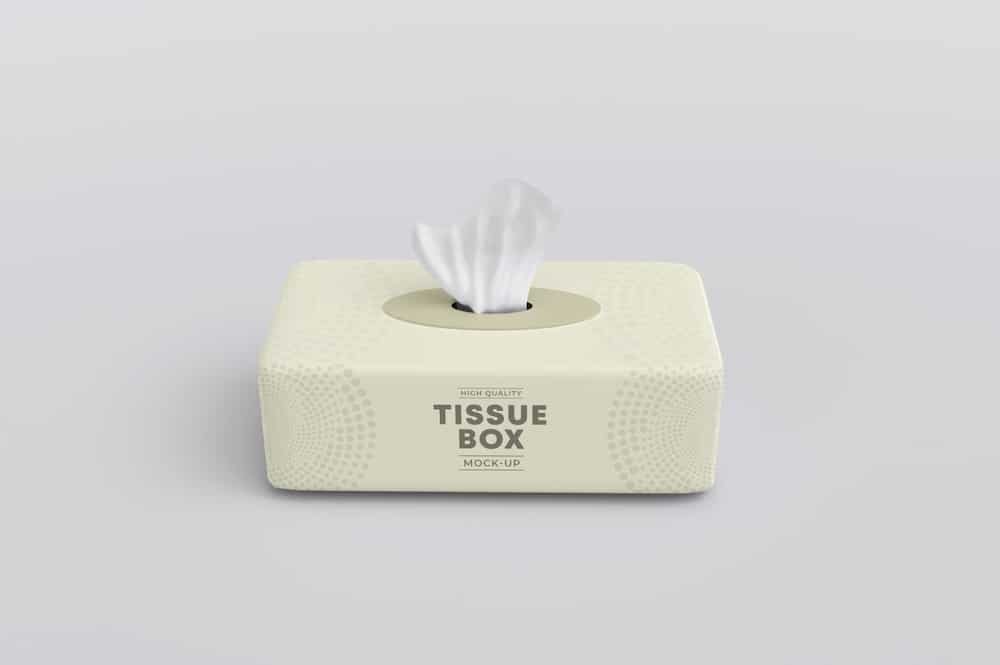 If you're searching for a free tissue box mockup that's not like all the others, then go with this one.
The rounded edges make such a BIG difference!
Add your design, pattern, logo, or whatever you want via the smart object layer and have the outcome ready quickly.
You're in control so make the most out of it.
MORE INFO / DOWNLOAD