Are you excited to learn how to make a greeting card mockup?
You're in the right place.
In this article, I'll guide you through the fun and rewarding process of creating a realistic greeting card presentation.
We EXPLORE the wonders of Placeit, an online mockup generator that is super user-friendly.
It's perfect for those who want a quick and beautiful result without the hassle.
Placeit is a fantastic tool to bring your ideas to life with ease, regardless of your skill level.
But that's not all.
For those of you who love getting into the nitty-gritty of design, I also have a step-by-step guide on creating a greeting card mockup using Adobe Photoshop.
This section is perfect for those who want more control over their design.
Whether you're making a mockup for a special occasion, a business project, or just for fun, I've got you covered.
Let's get started.
How To Make A Greeting Card Mockup With A Mockup Generator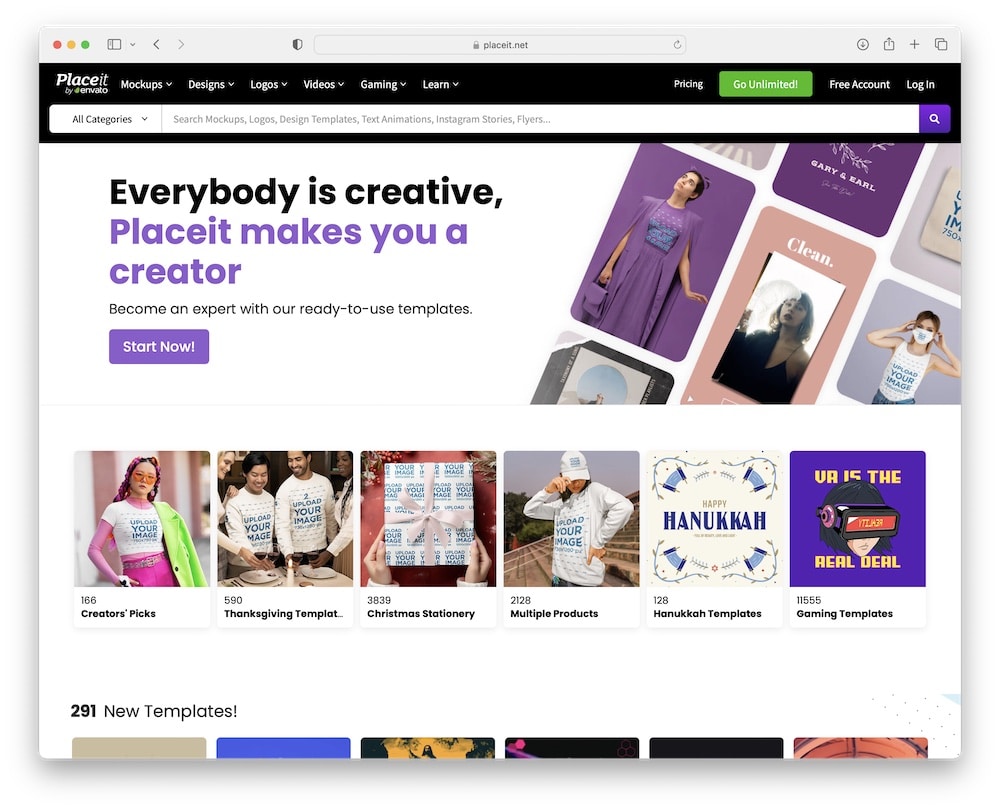 Creating a greeting card mockup with an online mockup generator like Placeit is a straightforward and enjoyable process.
Here's how you can create a beautiful mockup in a few clicks:
Step 1: Choose Your Mockup Template
Visit Placeit: Go to the Placeit website.
Select a template: Browse the greeting card mockup section. You can find them by clicking "Mockups" in the above navigation bar and then "Greeting Card" in the left sidebar – or just click this link. But you can also use the very convenient search bar if you're searching for something specific, like "Christmas greeting card. "
Look through the various templates available and select one that best suits your design needs.
Step 2: Upload Your Greeting Card Design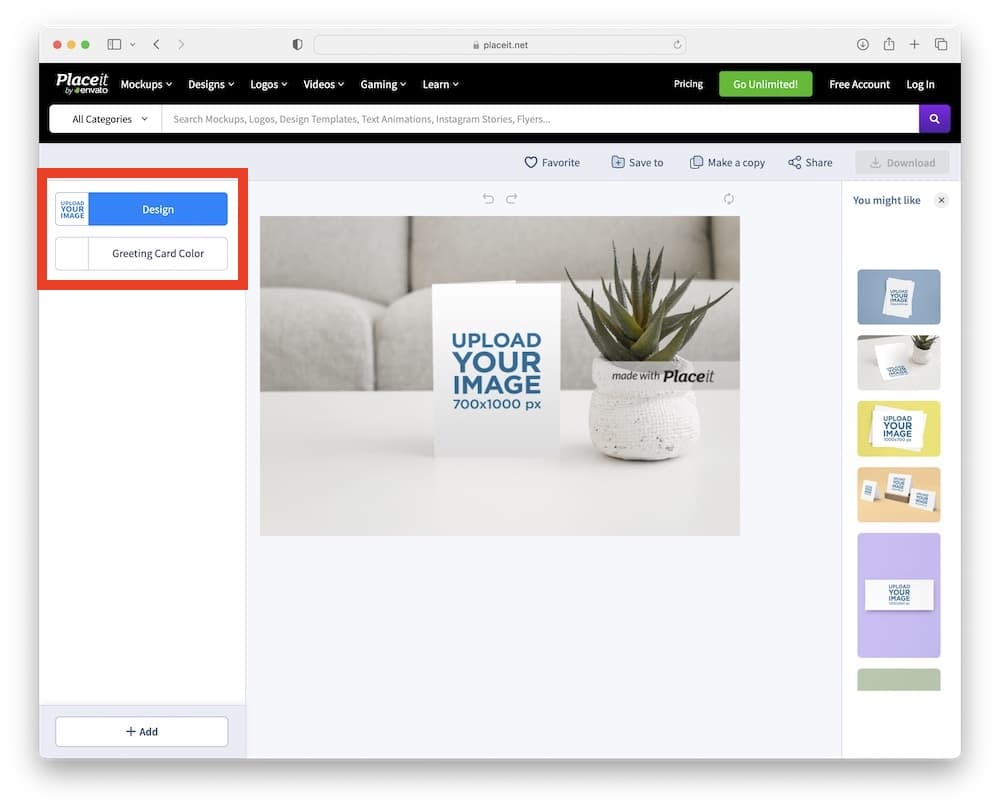 Upload your design: Once you've chosen a template, click on it to start editing. There will be an option to upload your greeting card design. Click the "Design" button and select your design file from your device.
Adjust the design: After uploading, you can adjust the positioning and size of your design to fit the mockup perfectly.
Remember, if you're in a hurry, you can also use your mobile device to make a greeting card mockup. Yes, really!
Step 3: Customize The Mockup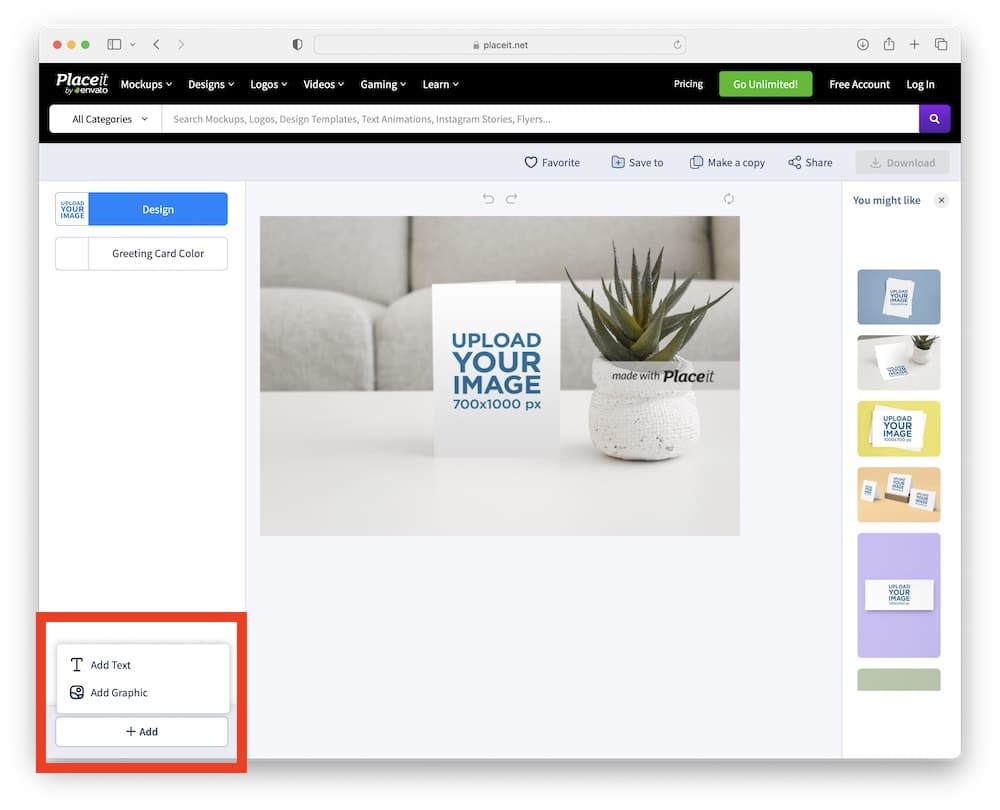 Edit background: Many templates allow you to change the background color or image. Choose a color or background that complements your design.
Add text & graphics: If the template allows, add text and graphics to your mockup. This could be useful for adding a title or a brief description.
If you want to spice things up, you can also upload a custom background image to templates that allow it.
Pro tip: When adding text/graphics, don't overdo it.
Step 4: Review & Adjust
Review: After making all your changes, review the mockup to ensure everything looks as expected.
Make adjustments: If something doesn't look right, go back and make the necessary adjustments.
Pro tip: You can also create as many variations as you want. If you don't feel like paying for all of them, create screenshots, compare them and then pick the winner.
Step 5: Download Your Mockup
Download: If you're satisfied with your mockup, click on the download button. Placeit will process your final image, which you can then download to your computer.
Pricing note: Placeit works on a subscription ($9.99/month) or a one-time fee ($7.95) basis to download the high-resolution version of your mockup.
Additional Tips
High-quality images: Ensure your original design is high quality for the best results.
Experiment: Don't hesitate to experiment with different templates and backgrounds to see which one showcases your design best. Placeit gives you access to EVERYTHING!
Consistency: If creating a series of mockups, try to maintain consistency in style and background for a cohesive look.
By following these steps, you can easily create professional-looking greeting card mockups with Placeit.
How To Make A Greeting Card Mockup With Photoshop
Here's a condensed guide to creating a greeting card mockup in Photoshop using a predefined template:
Step 1: Prepare Your Template & Design
Open Photoshop: Launch Adobe Photoshop on your computer.
Load template: Open a predefined greeting card mockup template. These often come in layered PSD format with smart objects.
Open your design: In another tab, open the greeting card design you want to place in the mockup.
Pro tip: You can find heaps of cool and awesome greeting card mockups on Envato Elements or Creative Market and Behance.
Step 2: Edit Smart Objects
Locate smart object: In the Layers panel of the template, find the layer named something like "Place Your Design Here" or "Edit Smart Object."
Edit smart object: Double-click on the smart object thumbnail. This will open a new tab in Photoshop.
Step 3: Place Your Design
Copy design: Go to your design tab, select your design (Ctrl/Command+A), and copy it (Ctrl/Command+C).
Paste design: Switch to the smart object tab and paste your design (Ctrl/Command+V). But you can also drag and drop it for ease of use.
Adjust design: Resize and position your design to fit well within the boundaries.
Step 4: Save Smart Object
Save: After adjusting, save the Smart Object (Ctrl/Command+S). This will update the mockup template with your design.
Close smart object: Close the smart object tab.
Step 5: Fine-Tune The Mockup
Adjust layers: In the mockup template, you can adjust other layers for shadows, highlights, or background to suit your design.
Use adjustment layers: If necessary, use adjustment layers for color correction, brightness, or contrast.
Step 6: Export Your Mockup
Save your work: Once satisfied, save your work (Ctrl/Command+S).
Export: Export the final image (File > Export > Export As) in the desired format (e.g., JPEG, PNG).
Additional Tips
Layer management: Monitor the layers panel to understand which layers affect different parts of the mockup.
Experiment with effects: Don't hesitate to experiment with different effects to enhance the realism of your mockup.
High-resolution: Ensure your original design and the template are high resolution to maintain quality.
This guide should help you create a professional-looking greeting card mockup in Photoshop using a predefined template.
Conclusion: Master Making Greeting Card Mockups!
Whether you choose the simplicity and speed of Placeit or the customizable world of Photoshop, you unlock the superpower of creating stunning greeting card mockups.
Remember, the design journey is all about expressing your unique style and vision.
These mockups are not just images; they're a canvas for your creativity, a way to showcase your work in the most beautiful light.
Whether you're creating for a special occasion, a professional portfolio, or just for the sheer joy of design, your mockups are now ready to make an IMPRESSION.
Don't be afraid to experiment and play around with different styles and techniques. And most importantly, have FUN with it!
FAQs About Making A Greeting Card Mockup
What is a greeting card mockup?
A greeting card mockup is a digital representation that shows how a greeting card design would look in a real-life context or setting, without having to physically print the card.
Do I need special software to create a greeting card mockup?
Yes, typically you need graphic design software. For high customization, Adobe Photoshop is often used. For simpler, more user-friendly options, online mockup generators like Placeit can be used without any advanced software skills.
How do I use a mockup generator like Placeit for greeting cards?
Simply choose a greeting card template on Placeit, upload your card design, adjust as necessary, and download the mockup. It's a straightforward process that doesn't require graphic design skills.
Can I customize the background in my greeting card mockup?
Yes, most mockup tools and templates, especially in Photoshop, allow you to change the background to match your design or theme.
Is it necessary to have a high-quality image of my greeting card design?
Absolutely. Using a high-resolution image of your design ensures that your mockup looks professional and realistic.
Are there free options available to create greeting card mockups?
Yes, there are free mockup templates available online, and some websites offer free versions with limited features (or non-commercial use). However, for full functionality and a wider range of options, paid services or software might be necessary.
Further reading: