Do you need the best free and premium coffee capsule mockups to create a realistic branding presentation?
CAPTIVATE the senses of your target audience through this curated list of layered PSD files, all effortless to use.
These mockups offer an exceptional opportunity to showcase your blends with realism and sophistication.
Whether you're a coffee manufacturer, an entrepreneur stepping into the caffeinated market, or a designer, I have a mockup for you.
I've been testing them extensively for the past month using various simple and detailed designs and multiple color combinations to ensure they are ready for any project.
Unleash your creativity as I unveil the most versatile coffee capsule mockups and elevate your brand to new heights in the ever-evolving world of coffee packaging design.
This post covers:
Best Coffee Capsule PSD Mockups
1. Versatile Coffee Capsule Mockup Set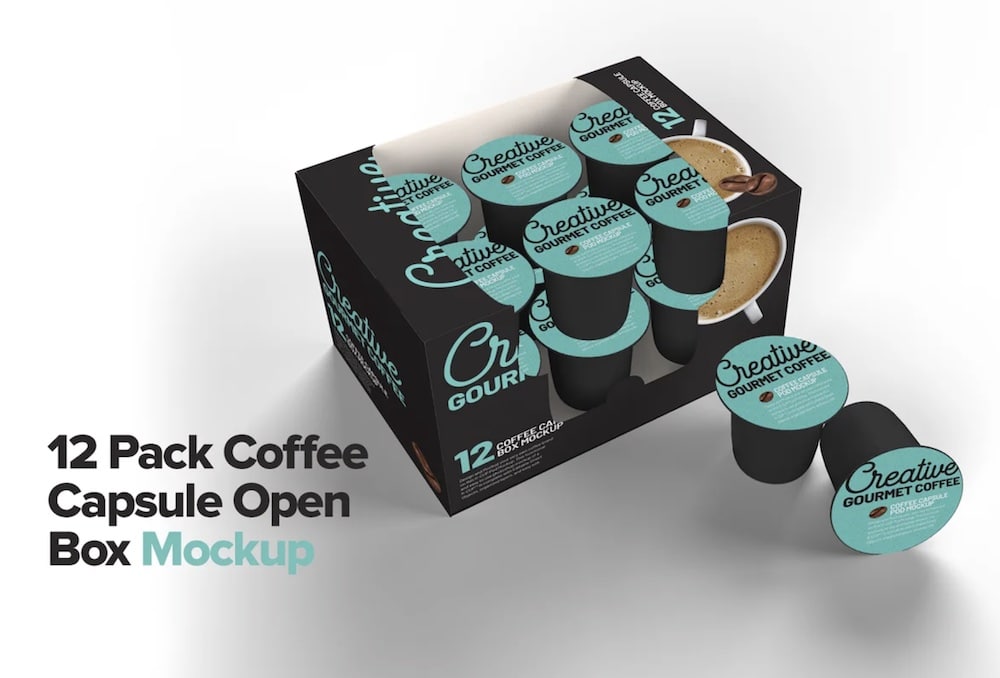 This is a full-blown packaging for coffee capsules that I used the most.
You get three high-resolution (6000 x 4000px) PSD files in the bundle, covering the capsules and the twelve-pod box.
Adding custom design and customizing colors is a piece of cake whether you're a beginner or an expert in design.
Moreover, you can also add a custom background or use a solid-color one – it's ENTIRELY up to you.
Lastly, spice the presentation up with the included coffee bean render.
EPIC.
Price: $14
MORE INFO / DOWNLOAD
2. Coffee Capsules Pack 4 Views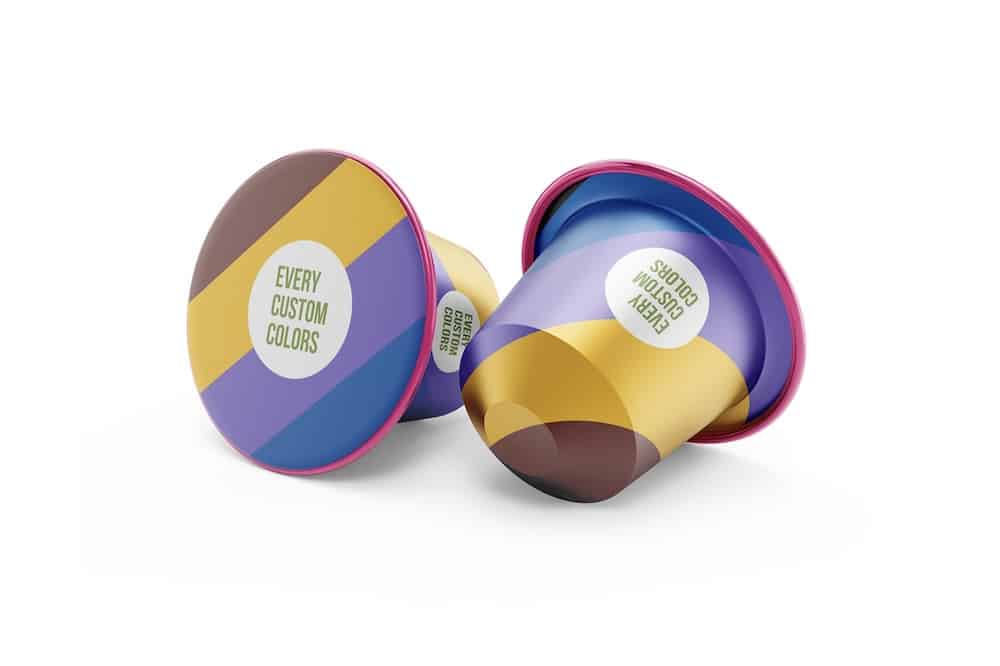 This set of PSD templates allows you to create a complete presentation with a collection of four coffee capsule views. Top, bottom and side views, you can display them all with EASE.
Moreover, the 4000 x 3200px dimension ensures you can easily create a zoomed-in view to present the most minor details in crisp-clean quality.
All the elements are on separate layers, making mockup creation a little breeze.
Whether you're creating coffee pod branding for a client or you'd like to add it to your portfolio, this one will do the trick.
Price: $17
MORE INFO / DOWNLOAD
3. Coffee Capsule Packaging Mockup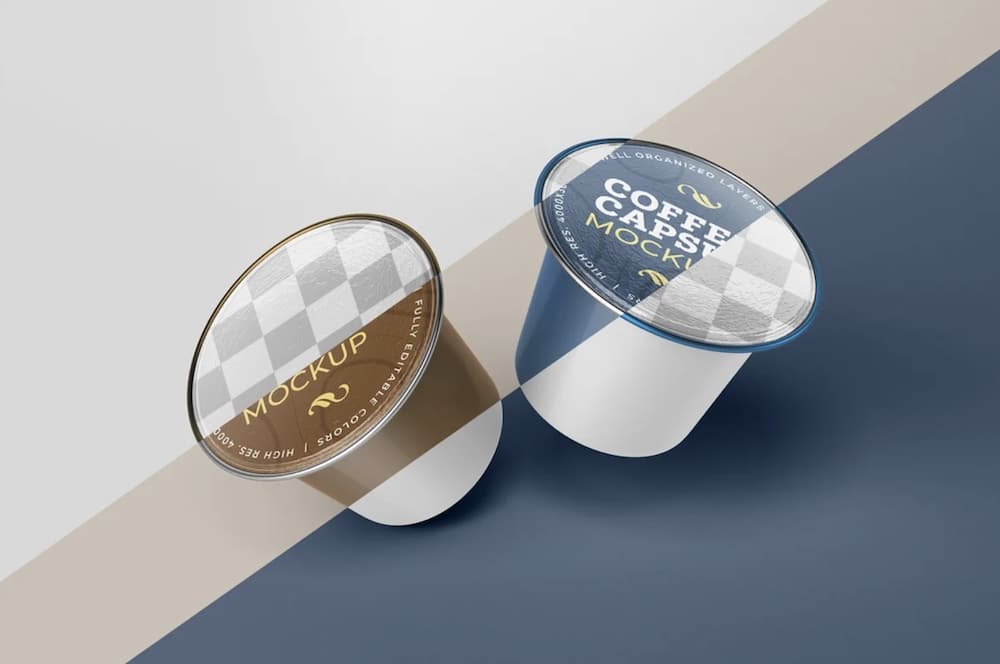 With a whopping ten views, this coffee capsule packaging set covers everything.
Whether you'd like to focus on only one, two or even three capsules, here's a template (4000 x 3000px) for you. (I particularly like the FLOATING ones!)
You can create the final showcase in just a few clicks, thanks to the smart object and user-friendly layer organization.
But you can also skim through the help file to get the gist of it first. However, I'm sure you'll figure it all out on the fly.
Price: $9
MORE INFO / DOWNLOAD
4. K-Cup Coffee Capsule Mockup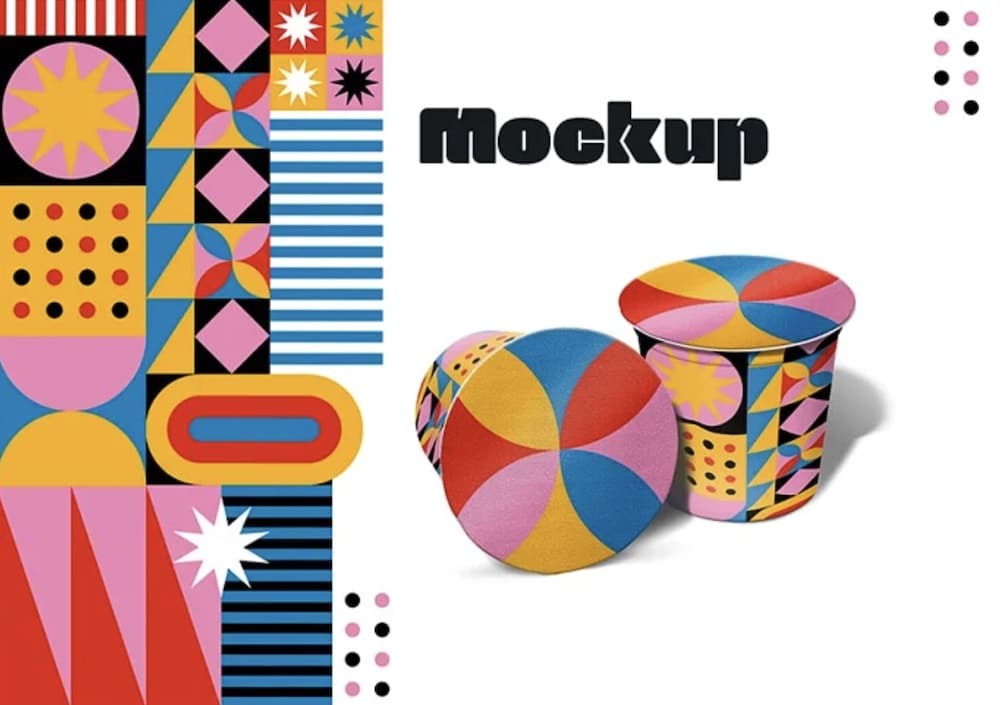 If you want to design a K-Cup coffee capsule, here's the best mockup I could find for your convenience.
Not only is it EXTREMELY high quality (with a 6720 x 4480px resolution), but you also get two capsule angles, three PSDs with ready-to-use scenes and five foil textures.
Yes, that's all neatly packed into one bundle for you to take full advantage of.
Make quick changes easily and create a tall coffee capsule mockup (Keurig compatible) like a champ now.
Price: $14
MORE INFO / DOWNLOAD
5. Coffee Capsule Pods Mockup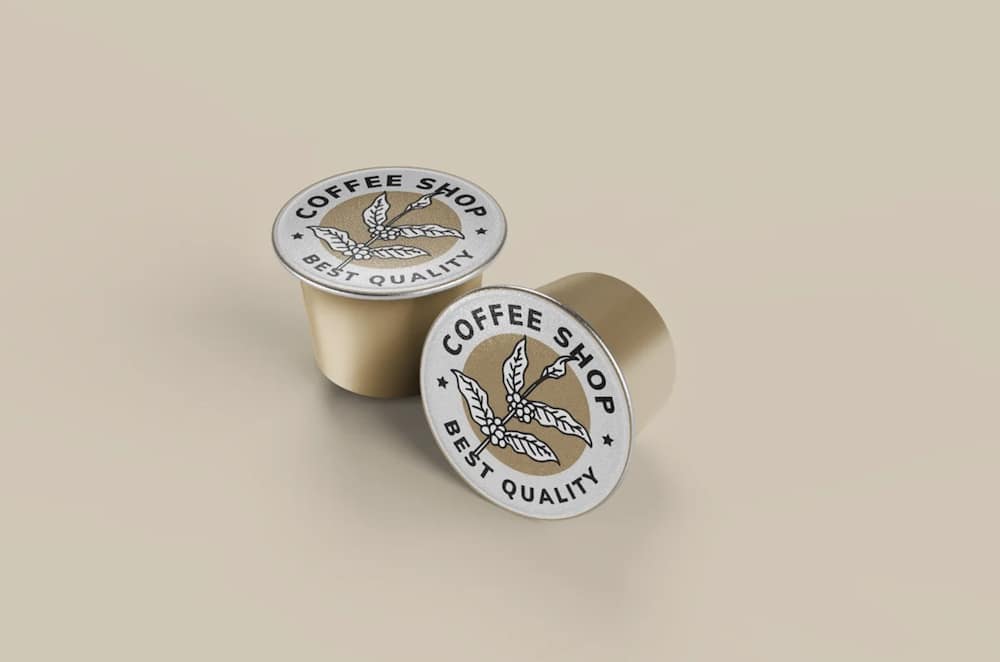 For everyone who's all about simplicity (me, TOO!), these six PSD files with a 4K resolution create an excellent foundation for any branding.
While you can adjust and modify everything, I wouldn't necessarily add a custom background to it. Stick with a minimal one so that the design will pop more, like in the example image.
And thanks to the different angles, everyone can examine your custom capsule design from all sides.
Price: $14
MORE INFO / DOWNLOAD
6. Coffee Capsule Mockup (Frontview)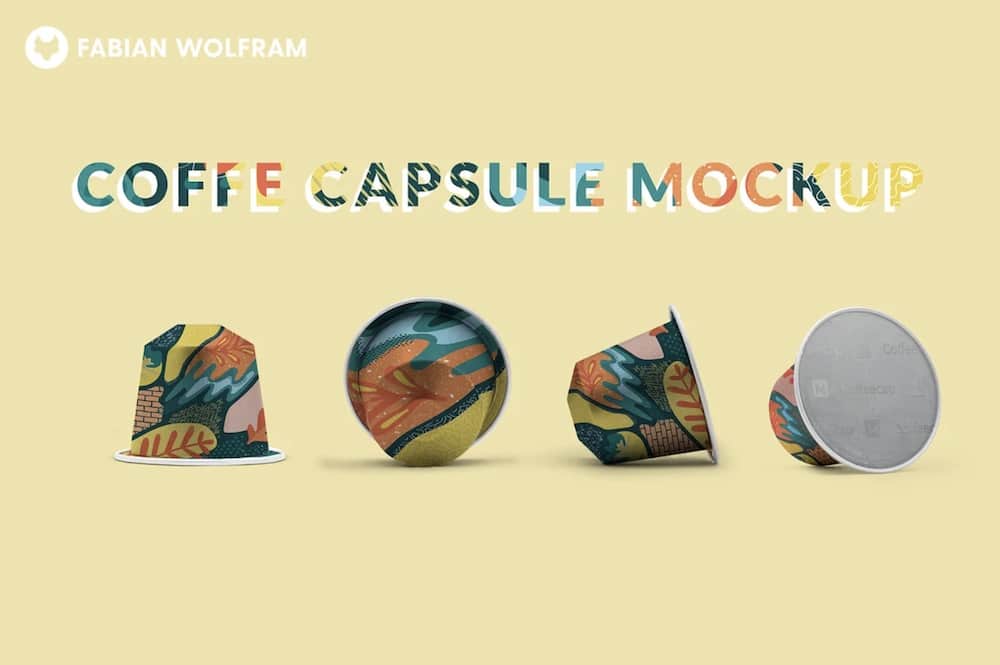 Even though you only get one PSD file here, it treats you to four different views.
And while the author added "frontview" in the name, you can also beautifully display the capsule's bottom and sides.
The capsule is based on realistic photos, turned into a mockup at 5278 x 2650px dimension to achieve AMAZING quality.
You'll have a lot of fun decorating all four views with custom designs, thanks to the organized layers and folders.
Price: $10
MORE INFO / DOWNLOAD
7. Realistic Coffee Capsule Mockup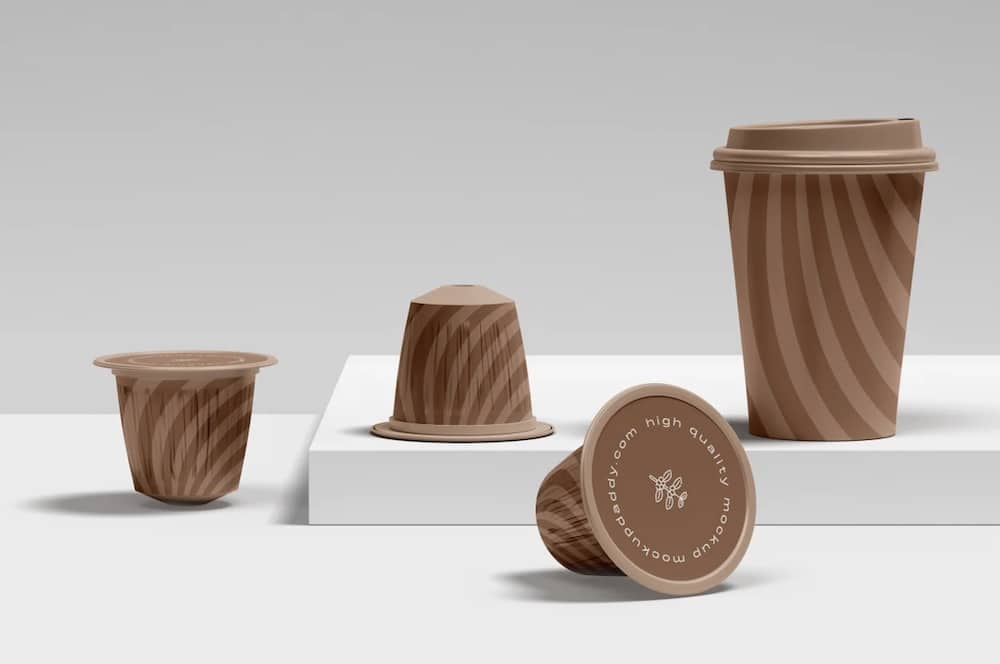 With a massive set of fifteen views, this bundle really takes things to the NEXT level.
Not only that, all templates have a resolution of 5000 x 3333px, and the price is super affordable.
I particularly like the template with four capsules and a coffee cup. Yes, you can design and decorate all and everything.
Plus, you can add, remove, or change the background with any design, texture, image, you name it!
By the way, I also created a full list of the best coffee cup mockups if you need more options.
Price: $9
MORE INFO / DOWNLOAD
8. Coffee Capsule (In Hand) PSD Mockups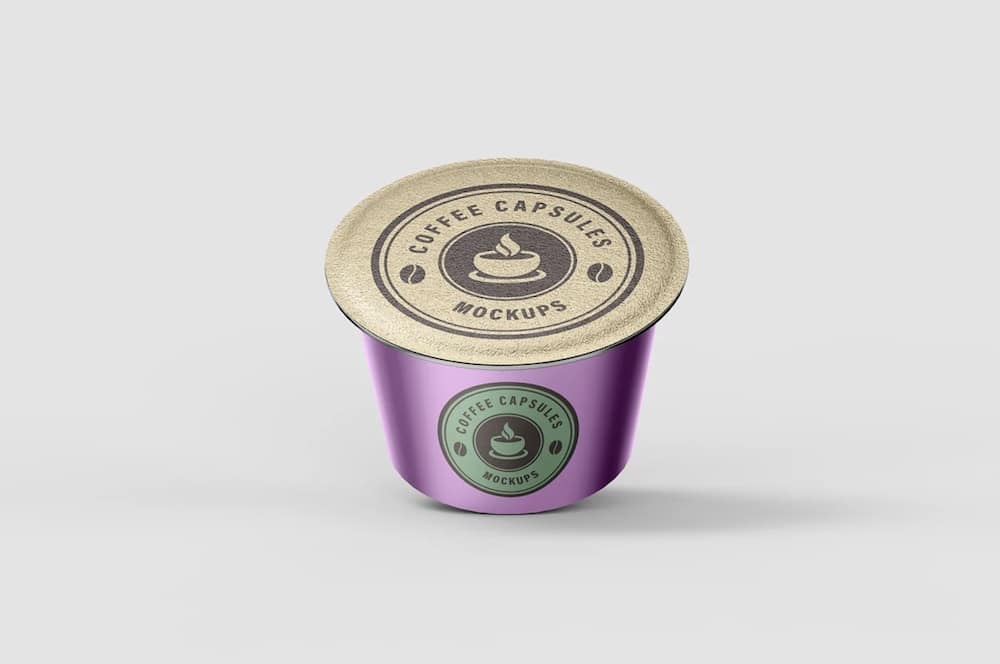 Save yourself precious time and effort with eight clean and impactful mockups.
While seven are pretty standard, this batch also has a coffee capsule in hand mockup, which is MY favorite.
Insert your design or logo via the smart object layer, but you can also modify colors and the background. Additionally, you have total control of highlights, midtones and shadows.
The detailing appears clear, thanks to the amazing resolution of 6000 x 4000px. (The quality is good enough even for printing.)
Price: $9
MORE INFO / DOWNLOAD
9. Coffee Pods Mockup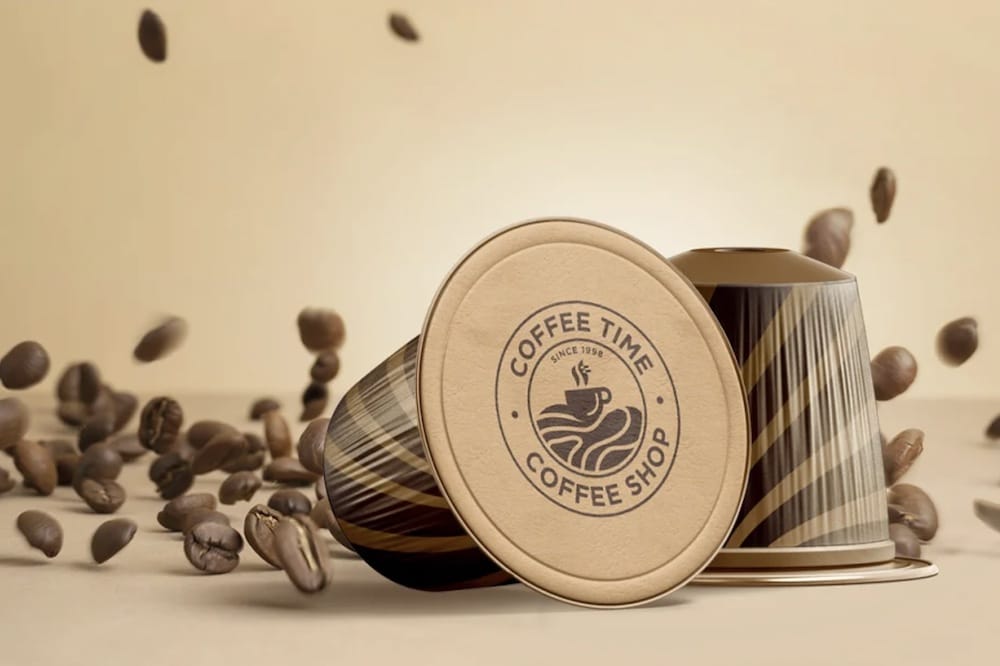 This might be a simple PSD mockup of two coffee pods, but it's far more than that.
Why?
Because it allows you to modify every element of it. How awesome does that sound?
You can modify the upper rim, sides, lid and bottom hole part. Of course, you can change the color of the base, too – HECK, even decorate it with a lovely pattern to make it stand out more.
You're in complete control, so take charge and create a masterpiece, which may take only a few clicks to realize.
Price: $6
MORE INFO / DOWNLOAD
10. Coffee Capsule Mockup Set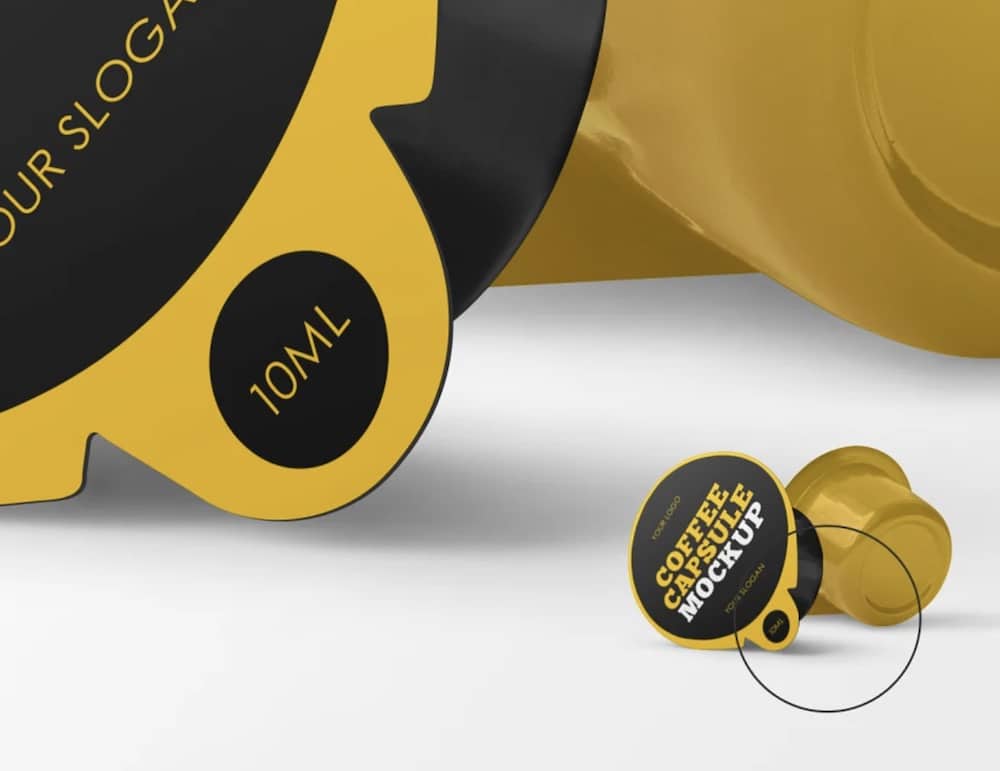 If this is the style of coffee pod you're after, then I cannot recommend any better one.
The three PSD files have everything you need for a complete presentation of your creative branding idea realistically.
What's best is that you can make the final version in a few clicks, with editable smart object and changeable colors. It almost cannot get any EAISER.
The dimension of each file is 5000 x 3500px to guarantee the absolute best quality, even if you create a close-up.
Price: $14
MORE INFO / DOWNLOAD
Best Free Coffee Capsule Mockups
Are you ready for free stuff? Well, who isn't, right?
11. Free Coffee Capsule Packaging Mockup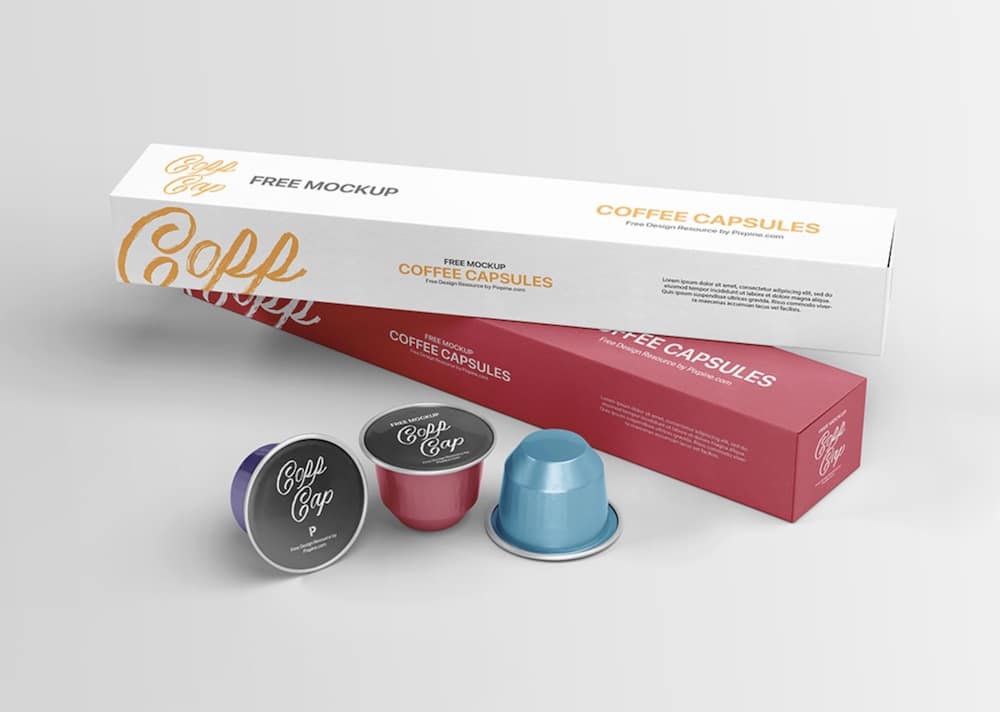 This one is AWESOME for two reasons: 1) it has three pods to edit and 2) it includes packaging.
But this is just the beginning.
Next, the file comes at an amazing 4500 x 3200px dimension, which is very premium-like.
And what makes things even more exciting is that the license supports both personal and commercial use
It can hardly get any better than that for a free mockup!
MORE INFO / DOWNLOAD
12. Free Espresso Coffee Capsule Mockup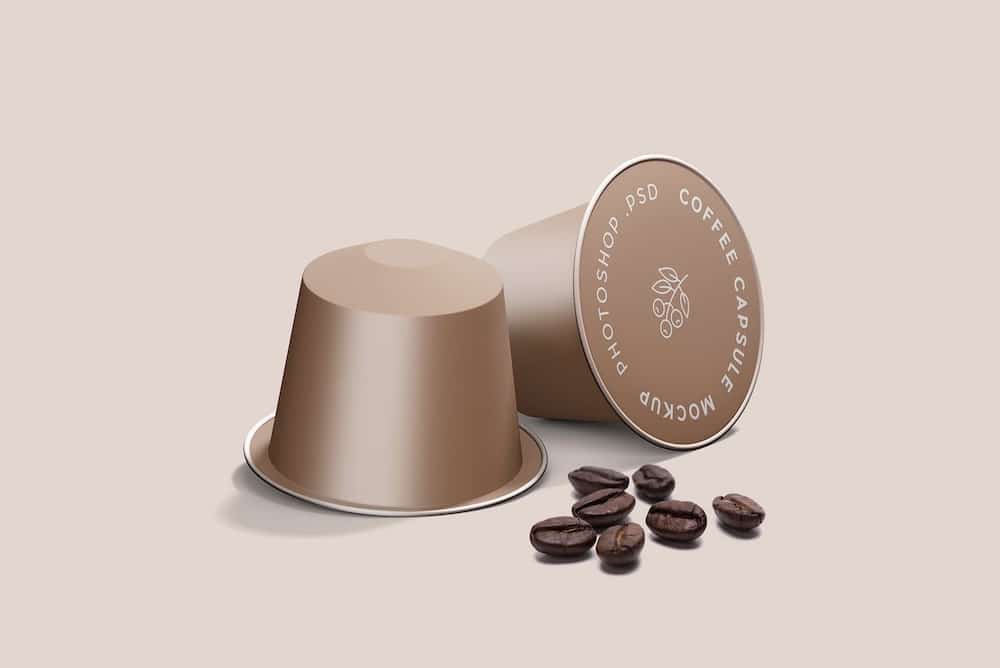 For everyone trying to quickly test their custom coffee capsule design, drop everything and go with this free template.
It's easy to edit via the smart object, so adding your designs and logos ONLY requires dragging and dropping.
Moreover, change the colors of the pods and the background and add coffee beans for a more realistic feel.
Note: This mockup is free to use for personal projects.
MORE INFO / DOWNLOAD
How To Easily Create A Coffee Capsule Mockup
It only requires a few simple and quick steps to make a stunning presentation after choosing the ideal mockup from the above collection.
Here's my step-by-step guide to help you easily achieve a superb outcome:
Step 1: Launch Adobe Photoshop and open your mockup, or simply drag and drop it into a new project.
Step 2: The next thing I always do is search for the smart object layer and drag and drop my design, logo or pattern. You can also position and resize it as needed to fit the capsule.
Step 3: Next, modify or change the background, create a new color scheme, adjust shadows and lights, and do anything else the mockup permits you to do.
Step 4: Once you are satisfied with your coffee capsule mockup, export it to a high-resolution image format such as PNG or JPEG. Use your creation to showcase your coffee branding on different marketing materials, websites, or social media platforms.
Finally, you may also be interested in my other coffee-related mockup collections:
::
Note: This article was originally published on July 28, 2023. But our team regularly reviews it and updates it with necessary improvements for accuracy.