Do you need the best free and premium tablecloth mockups to craft the ultimate presentation of your custom design?
I'm happy to share my collection of mockup generators and PSD templates that anyone can use.
Creating a photorealistic showcase that will WOW your client(s) takes you little time.
This post covers:
You now have all the necessary material to start immediately.
Hint: You can test all online mockup generators for free, which is the best.
Still, I recommend creating a free account because your workflow will be much more effective.
Best Tablecloth Mockup Generators
You can get a high-quality generator for only $7.95 (and start for FREE).
But go for a monthly ($14.95/month) or yearly ($89.69/year) subscription to save money if you'll work on multiple projects.
Note: Generators are ideal for making mockups without Photoshop.
1. Exhibition tablecloth mockup

If you're searching for a simple but impactful way of presenting your tablecloth design, then this is the best template I recommend.
I have already used it multiple times, and I know I'll return to using it again.
It features the "front" view of the table with editable EVERYTHING.
Change the table cover color and background (or upload a custom image) and insert any logo, pattern or design you want.
It's so easy to do!
MORE INFO / DOWNLOAD
2. Sublimated table cloth mockup generator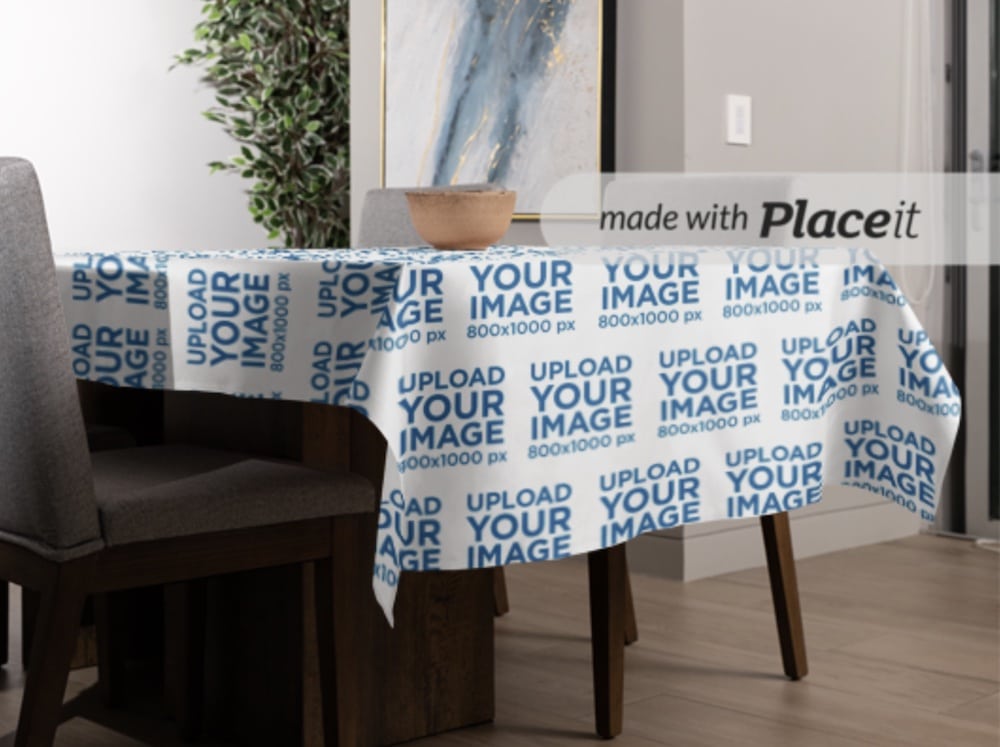 But if you'd like to achieve a more REALISTIC feel, then here's the ideal solution to make it happen.
This one is even easier to edit than the one above. Why?
You only need to modify the table linen, and that's it.
However, you can also insert text and graphics if you want, but that's completely optional.
(My advice is to opt for either one – don't stuff the already beautiful template with too much stuff.)
MORE INFO / DOWNLOAD
3. Front view of a table cover mockup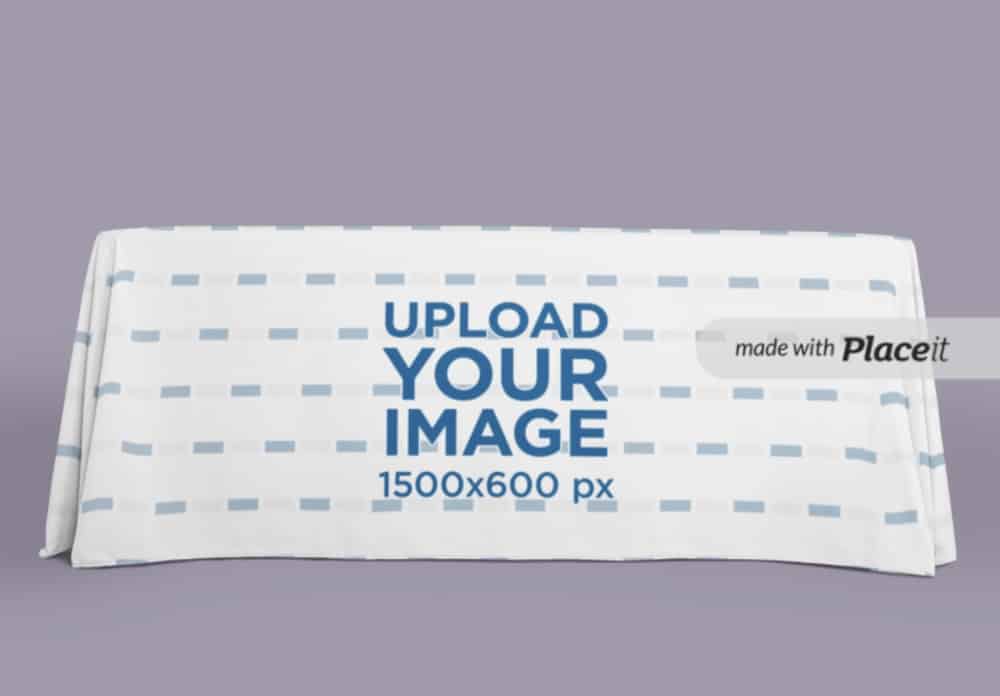 This tablecloth mockup is similar to the first one but doesn't give you the top view.
If you have a design to display, MAKE a life-like presentation in a few clicks using a mockup generator.
Upload your image from your device (you can even work with a smartphone!), crop and reposition it, and you're ready to rock-n-roll.
Additionally, you can also adjust the background however you want (solid color, gradient, custom image, etc.) and enrich it with texts (maybe a call-to-action?) and graphics.
MORE INFO / DOWNLOAD
4. Mockup of a tablecloth with a customizable background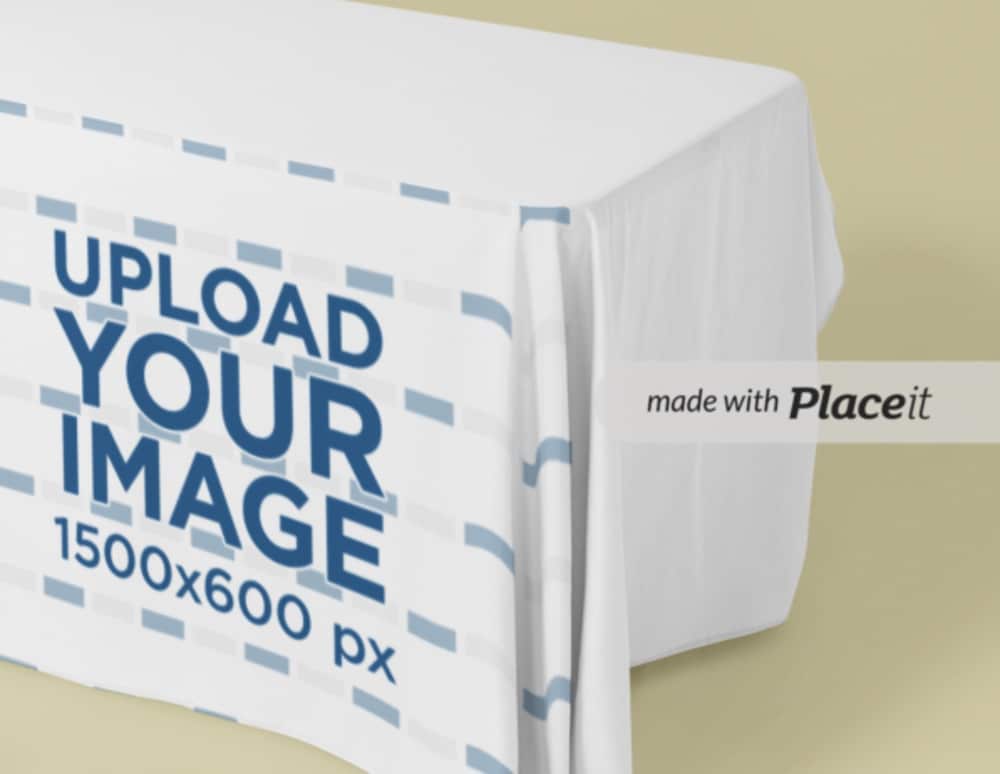 Simplicity always works; the same goes for creating a beautiful, minimalist tablecloth design presentation.
This is a GREAT solution I found works well for a more close-up showcase. The amazing resolution lets you zoom in and clearly show the design details.
Moreover, this version only allows you to change the backdrop with a solid color (but it could be any color you want!).
MORE INFO / DOWNLOAD
5. Wide table cloth template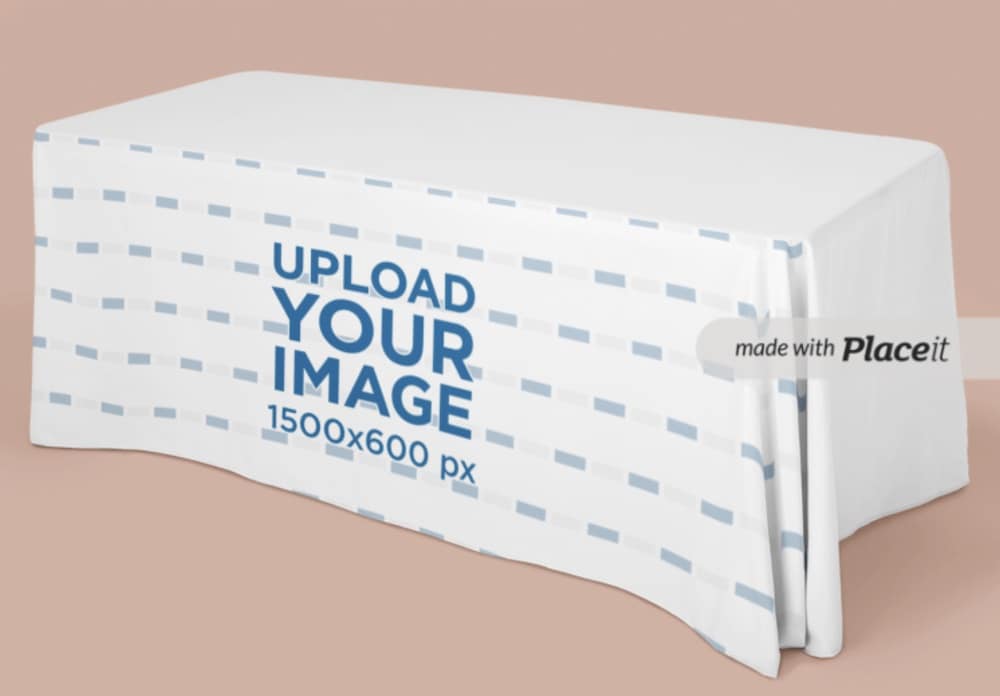 A slightly angled version of the table worked well for me when working on restaurant and hotel designs.
You're WELCOME to test it out as well and have some fun with all the customization functions.
And because of the template's simplicity, you can quickly create multiple variations that'll allow you to pick the winning result much easier.
MORE INFO / DOWNLOAD
6. Mockup of an exhibition tablecloth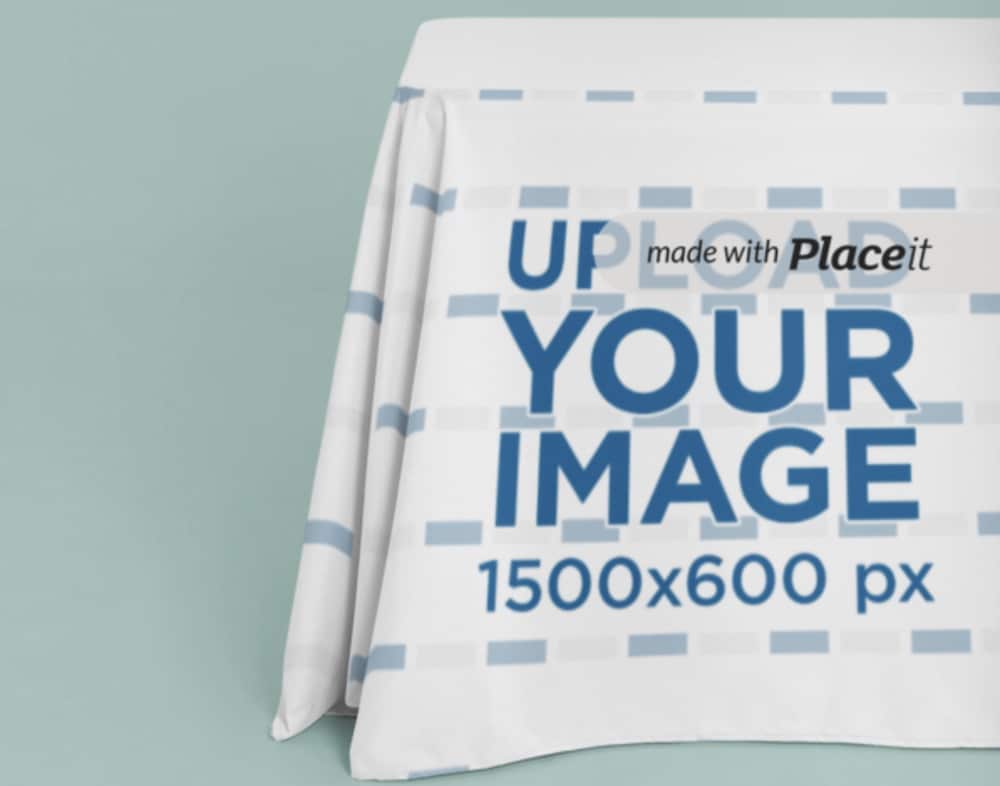 Because the above corner tablecloth mockup worked great for my projects, I wanted to use another one not to repeat myself, and this one was the pick.
I'm now sharing it with you because I know it'll do you good, too.
It doesn't require MUCH time to work on the presentation. Instead, import your image, change the colors, and your work is done, my friend.
MORE INFO / DOWNLOAD
Best Cosmetic PSD Mockups
7. Multiple table cloth styles mockup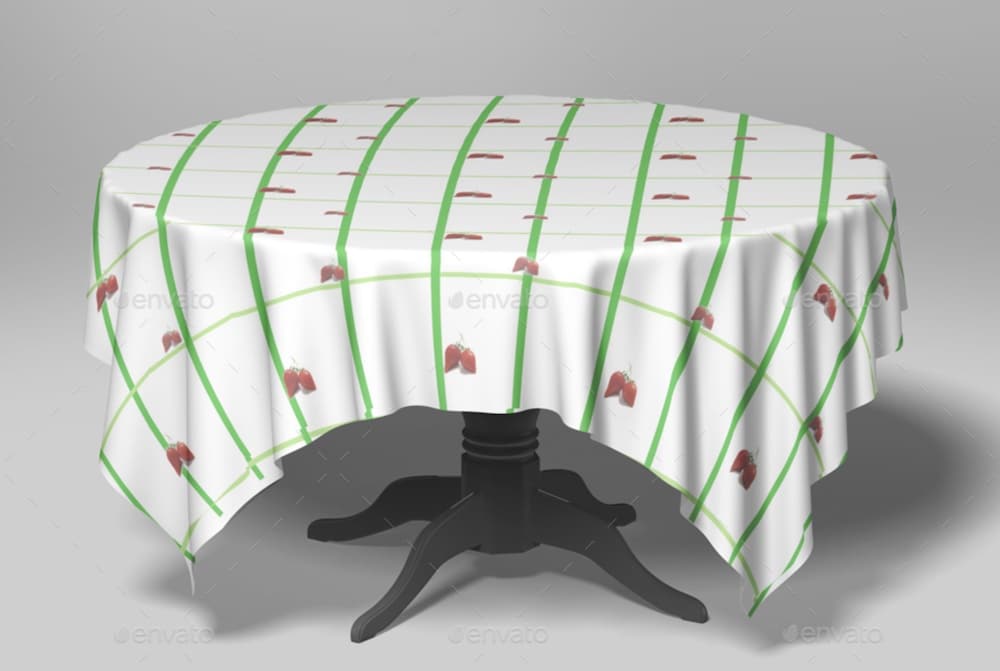 This is the IDEAL solution if you regularly work on tablecloth designs and need multiple styles to create photorealistic showcases.
The set includes a collection of three styles, each template with a 3200 x 3200px resolution to achieve great quality.
The layered PSD file allows you to adjust every element, including shadows and background, enabling translucent cloth more easily.
Price: $6
MORE INFO / DOWNLOAD
8. Tablecloth mockup set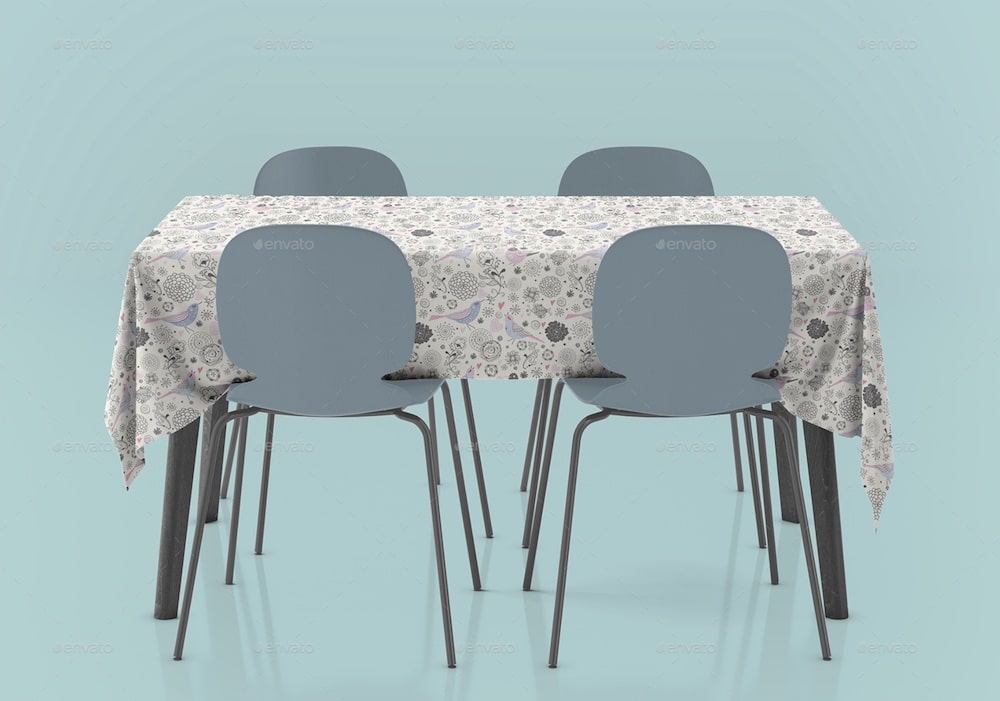 Are you ready to create the ultimate outcome with a bundle of eight high-quality views?
I know I was, when I first used this kit of goodies.
Top and side views, changing chair colors, importing custom background – yup, it's all possible for your convenience.
Remember, you add the tablecloth design via Photoshop's smart object layer, which is SO easy to use.
Lastly, 100% zoom also works really well.
Price: $15
MORE INFO / DOWNLOAD
9. Round tablecloth in kitchen mockup set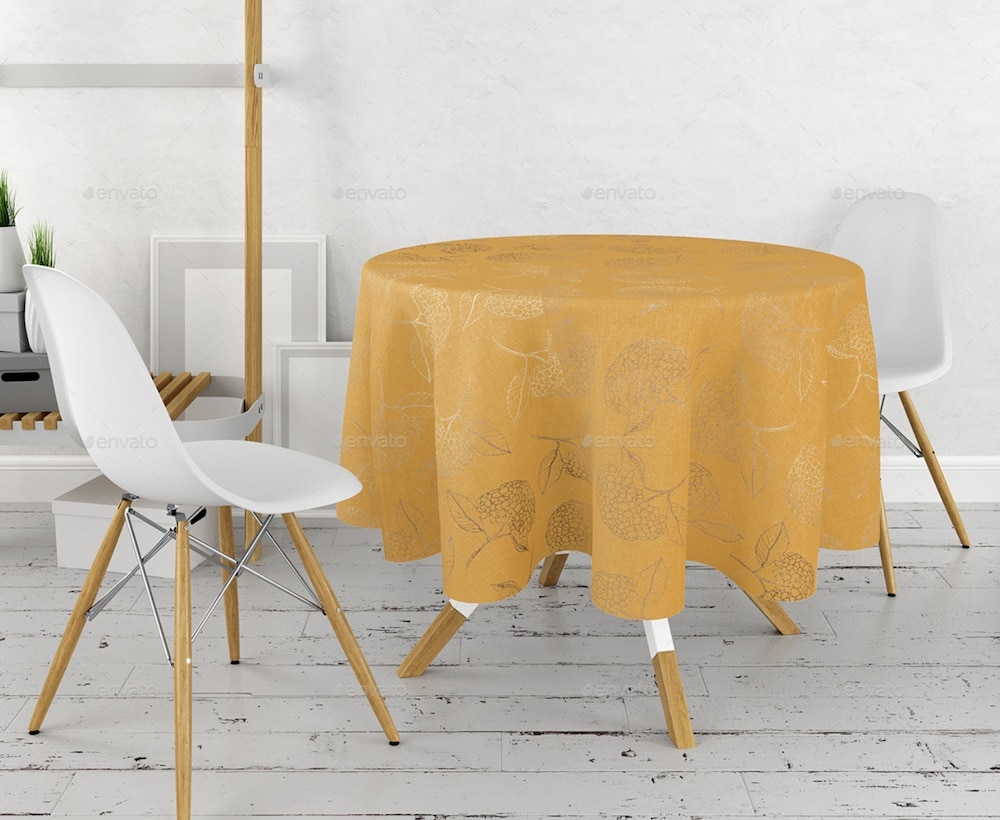 The beauty of all these three round tablecloth mockups makes them a must-try.
The process of creating your version(s) is as SIMPLE as performing a few clicks once you have your designs ready.
Note: You need to have the 3D function enabled in Photoshop to ensure the full functionality of these templates.
(FYI: The files don't work with Photoshop Elements.)
Price: $15
MORE INFO / DOWNLOAD
10. Table runner interior & studio mockup set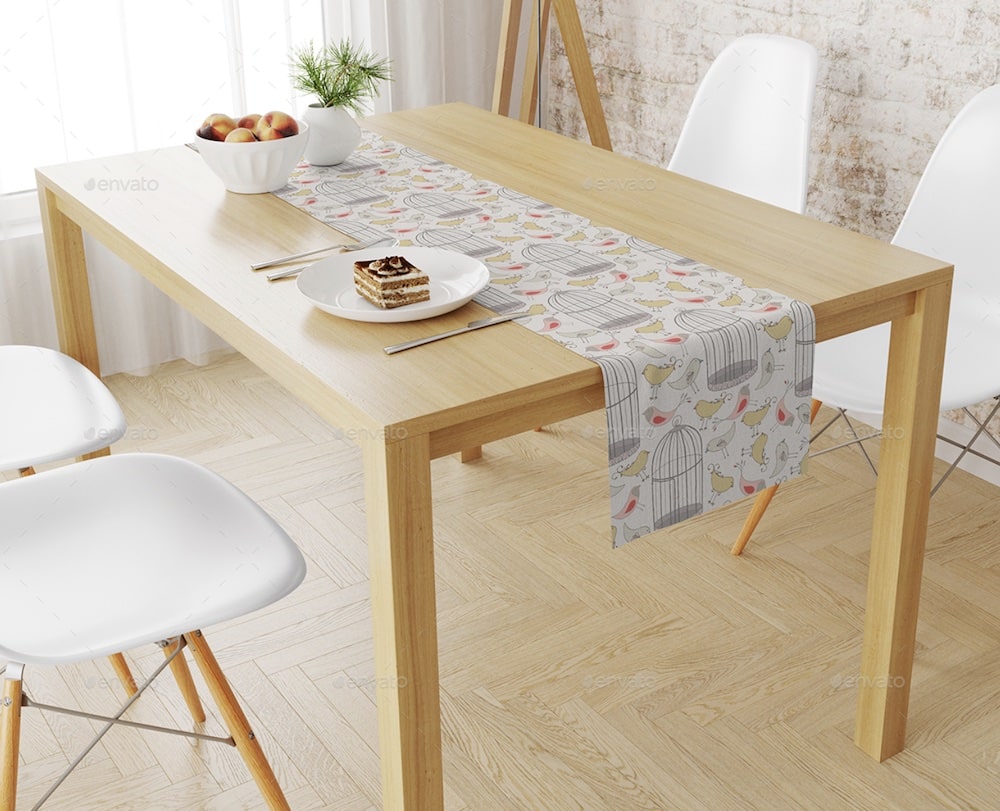 Instead of sharing only the best tablecloth mockups, here's a table runner PSD mockup to make this collection more dynamic.
But we can also call this one an interior mockup because of all the additional details it has in store for you to customize.
Don't hold back; make as a creative outcome(s) as you want because you can DO YOU and outshine everyone.
What's also COOL is that you get both studio and interior views, which unlock so many more options and possibilities.
Price: $19
MORE INFO / DOWNLOAD
11. Table textiles mockup set

I'm not sure why I added this one so far down the list, but it's my favorite mockup to present your beautiful table textiles.
The package consists of three PSD files with 4000 x 4000px resolution and amazingly organized layers, making each template very user-friendly.
You can change and edit EVERYTHING: chairs, dinnerware, vase, runner, placemats, napkins, etc. (I also have the best collection of napkin mockups.)
And some more specs: tablecloth (1450 x 2400mm), table runner (300 x 2350px), table (900 x 1800mm).
Price: $18
MORE INFO / DOWNLOAD
Best Free Cosmetic PSD Mockups
12. Free restaurant/hotel table cloth mockup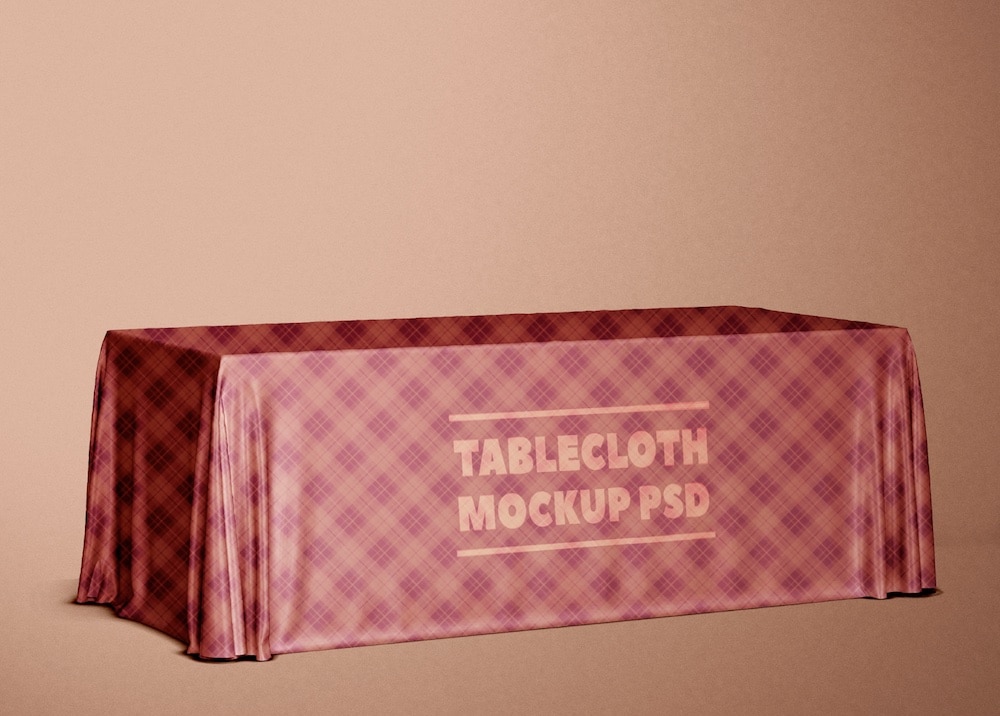 Sadly, I couldn't really find too many quality and reliable free mockups for your tablecloths, but I found THIS one.
Restaurants, hotels and exhibitions, you can use it to create a life-like version of a custom tablecloth with ease.
And even though it's a freebie, it still features great quality at 3000 x 2000px.
Import your design, perform any additional creative tweaks and have the finished version ready sooner than later.
Enjoy.
MORE INFO / DOWNLOAD
How To Easily Create A Tablecloth Mockup
Besides the PSDs, I also included mockup generators at the top, which are my favorite.
For this reason, I want to share my quick tutorial on creating a tablecloth mockup without using the software.
I know, right? This almost sounds too good to be true.
But it's true.
We'll be using Placeit as the online platform of choice because it's a tested and proven solution for beginners and experts.
5 Steps to create a tablecloth mockup:
Step 1: Visit Placeit and type "tablecloth mockup" in the search bar. The live results will show you recommendations for quick pick.
Step 2: The next step is to pick the template you like. I recommend you choose any of the templates that I added to this collection because they work.
Step 3: Once you open the template, it'll offer a bunch of functions that you can use to customize it however you want. But I start with uploading my design. A popup will open, allowing you to crop and move your design – with a live preview.
Step 4: You're now ready to perform any additional editing, like changing the tablecloth and background color, adding texts, graphics, etc.
Step 5: And you're done doing the work. Download your amazing presentation and use it anywhere you want.
Yup, creating a life-like showcase of custom tablecloth design is a piece of cake.
But even if you decide to work with PSD mockups, the process is effortless.
Import the template to Photoshop, search for the smart object layer, and drag and drop your design.
You can then tweak it further by changing the colors, adjusting shades, replacing the background, and more.
However, I still prefer Placeit and working on my mockups online.
::
Note: This article was originally published on December 4, 2022. But our team regularly reviews it and updates it with necessary improvements for accuracy.