Are you looking for the best-performing free and premium clothing label mockups?
I was when working on a few clients' projects. Thus I tested 50+ templates, both mockup generators and PSDs to come up with the ultimate list.
These are the seventeen greatest ones I'm EXCITED to share with you.
This post covers:
You can now create a life-like version of any custom clothing/fashion label design without much work.
Even though I RECOMMEND working with a mockup generator – because it provides the fastest results – using a PSD template will also do the trick.
Go, and make clothing items POP more with awesome detailing, aka label design.
Best Clothing Label Mockup Generators
You can get a high-quality generator for only $7.95 (and start for FREE).
Or use a monthly ($14.95/month) or yearly ($89.69/year) subscription to save money if you'll work on multiple projects.
Note: Generators allow you to make a mockup without Photoshop.
1. Inside label mockup of a customizable T-shirt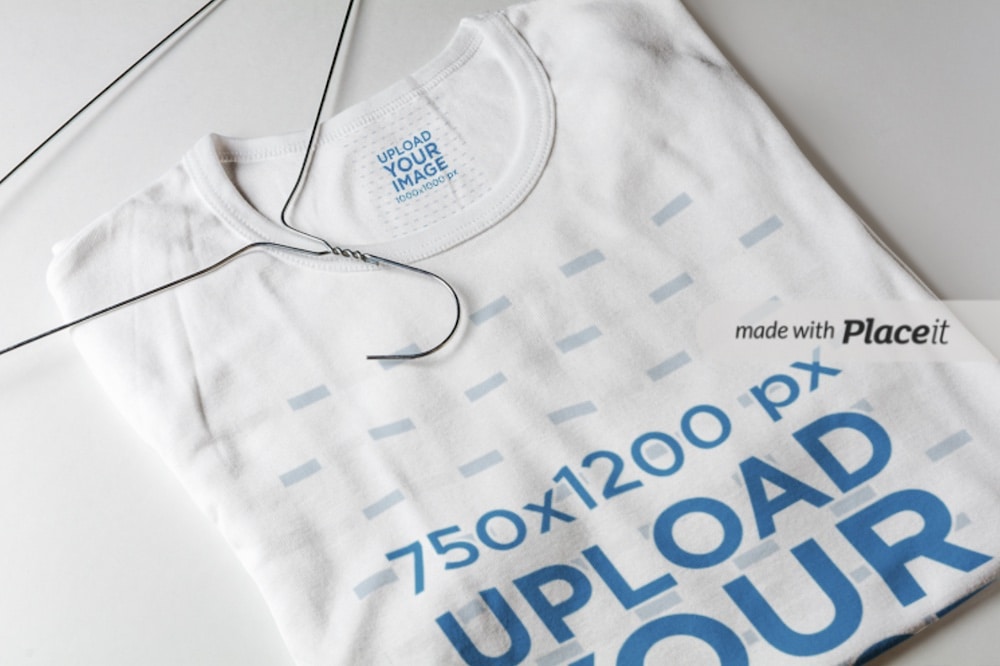 This template gives a VERY realistic feel, and I used it for four projects in a row – because it worked so well.
It lets you upload the custom label and tee designs directly from your device. On top of that, you can also change the tee color.
And if you'd like to spice things up even further, include text and graphics at your free will. (I didn't because it felt it'd be too much.)
Note: Don't miss our tutorial on making a T-shirt mockup without Photoshop.
MORE INFO / DOWNLOAD
2. Mockup of a clothing label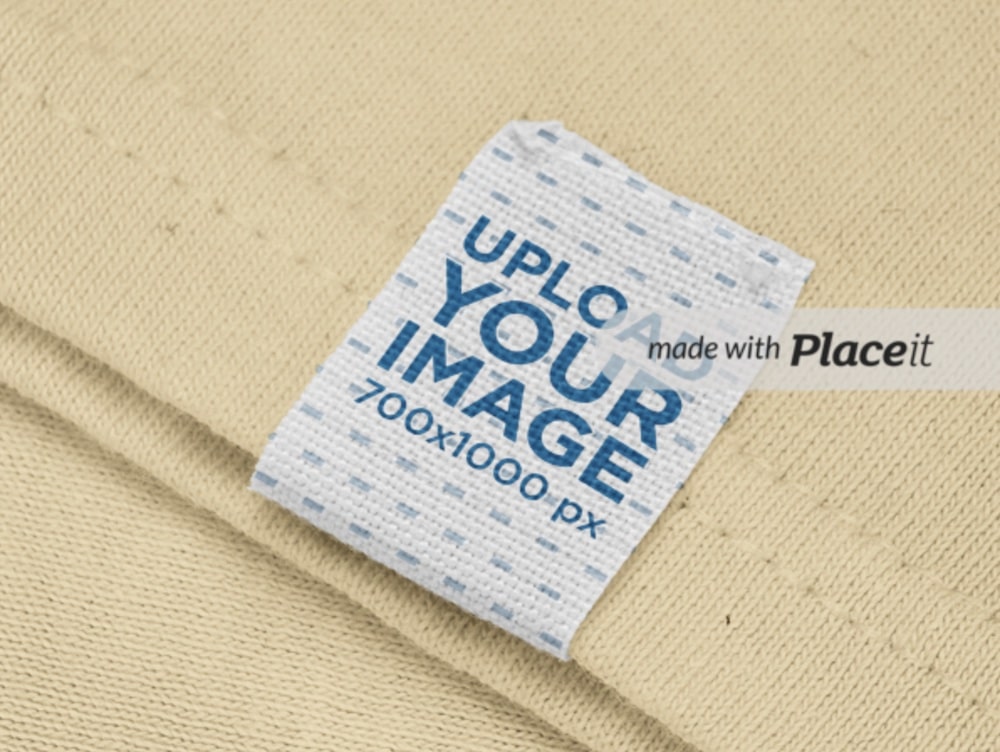 This awesome CLOSE-UP of a clothing label at the tee hem gives you the complete creative freedom to make your version.
I always first upload the logo, make necessary adjustments with Placeit's crop function, and stick it to the mockup.
From here, I adjust the T-shirt color (you can also change the label's color), and that's pretty much it. A photorealistic version is ready to surprise the client!
MORE INFO / DOWNLOAD
3. Mockup of an inside clothing label on a T-shirt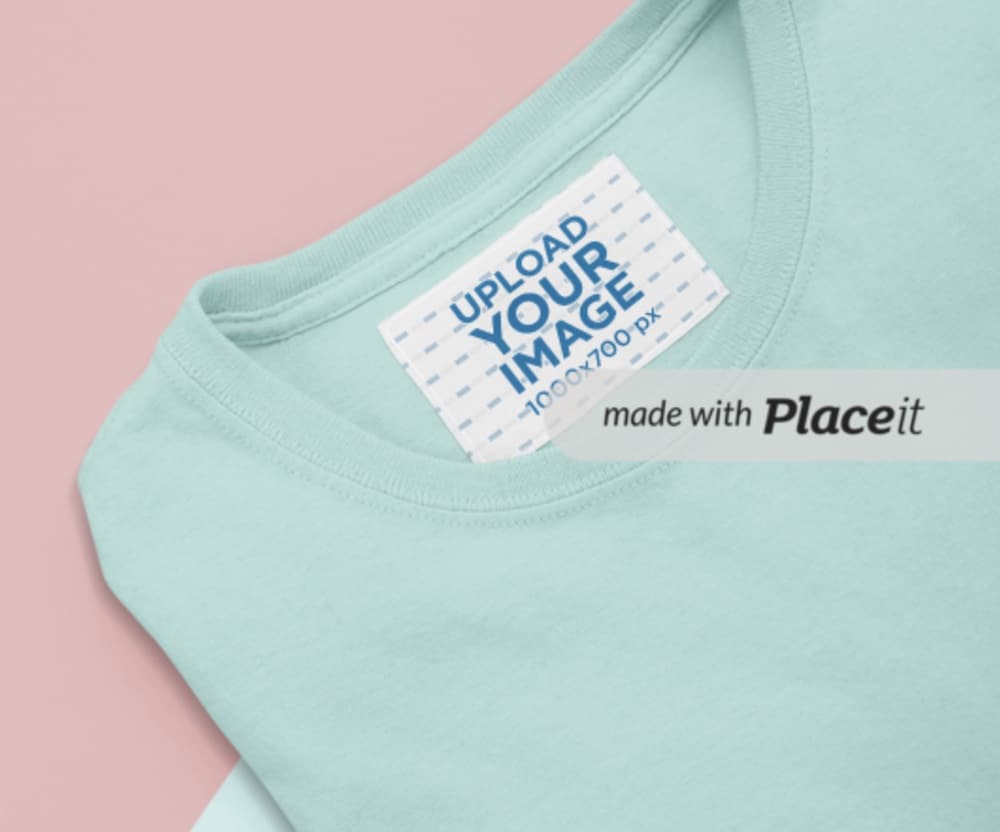 If you want to add a larger label on the inside of a tee, then I HIGHLY recommend this mockup generator.
Besides presenting the label design and adjusting the tee color, the template has a two-toned background, allowing you to create a very attention-grabbing outcome.
Play with the options as much as you want, and even add graphics and texts before downloading your amazing creation.
MORE INFO / DOWNLOAD
4. Inside V-neck tee label mockup

Are you searching for the best V-neck tee label template to make a life-like showcase fast?
It's your lucky day!
This fantastic zoom-in image is ready to demonstrate your design in all its glory.
Insert the image from your laptop or even your smartphone, tweak it if necessary and see it appear on the tee.
From here, you can ALSO change the background color, T-shirt and label.
Remember, if your label design is 1000 x 750px, it will cover the entire space, so changing the color won't be necessary.
MORE INFO / DOWNLOAD
5. Clothing label mockup of a tank top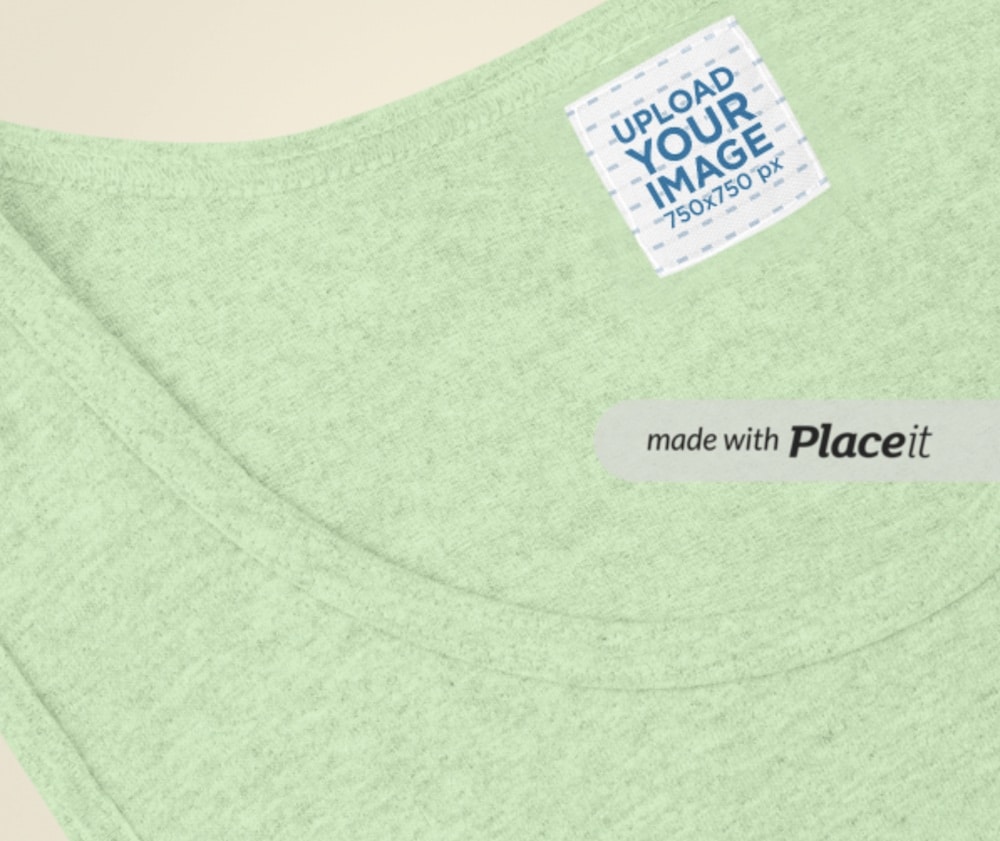 From classic crew necks to V-necks to tank tops, yup, I worked with all of them, so I'm adding them all to this collection.
This close-up version of a tank top mockup gives you all the options and possibilities to make your version with a custom inner label design.
SO. EPIC.
Advice: I usually create various variations before picking the clear winner.
MORE INFO / DOWNLOAD
6. Clothing label template of a crew neck tee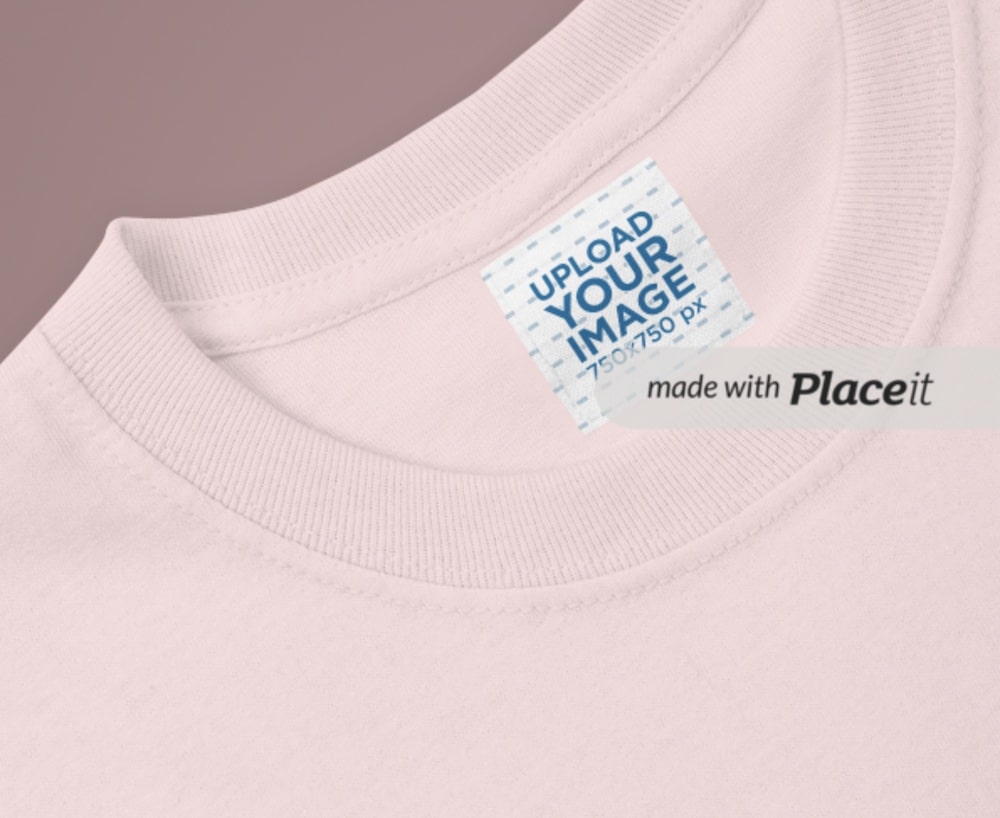 Custom label, tee and background colors are all possible with this simple-to-use mockup generator.
And by inserting a 750 x 750p label design, you cover the entire working area.
However, you can also work with a transparent logo design, change the color and make a UNIQUE and  branded version.
You can also test and review multiple color combinations before choosing the best one.
MORE INFO / DOWNLOAD
7. Mockup of a clothing label on a T-shirt sleeve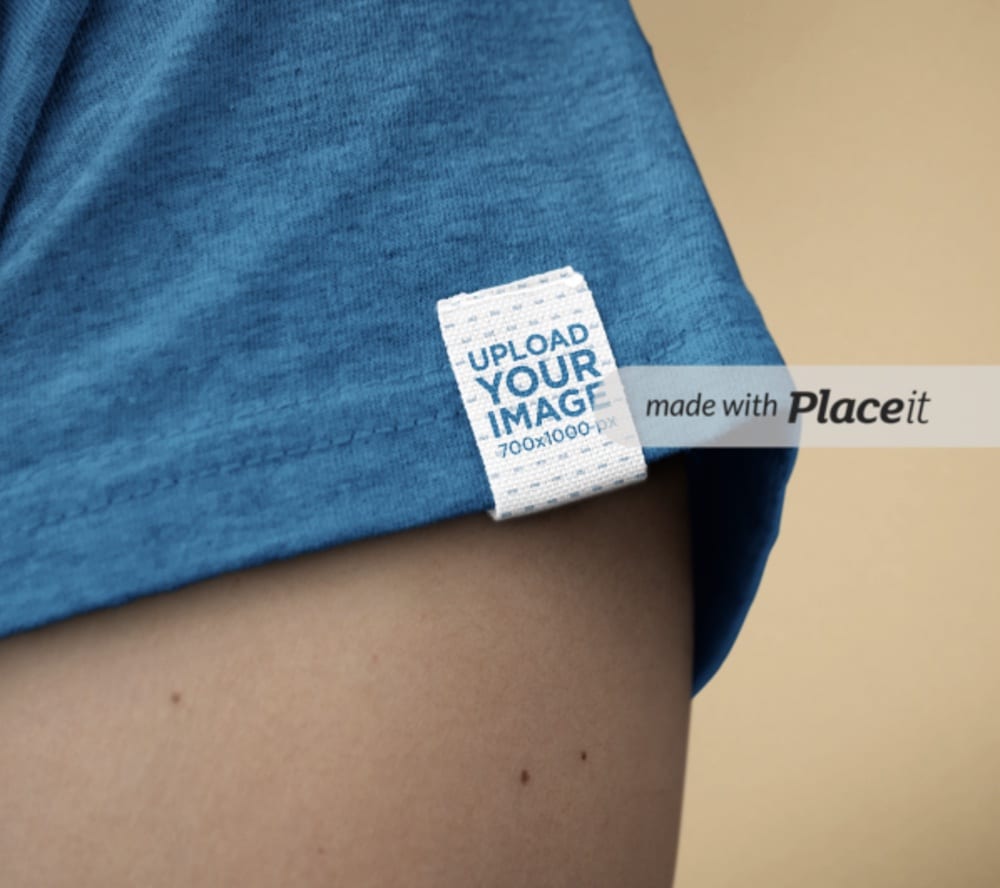 But if you'd like to create a TOP-CLASS photorealistic presentation of a custom hem label, then I cannot recommend this one more.
Yes, you can also change the tee and the background color. In fact, you can even upload a custom background or pick any from Placeit's massive archive.
Creating something one-of-a-kind is simple and quick, so ensure to take the mockup generator to your advantage.
MORE INFO / DOWNLOAD
8. Fashion label mockup featuring a plain backdrop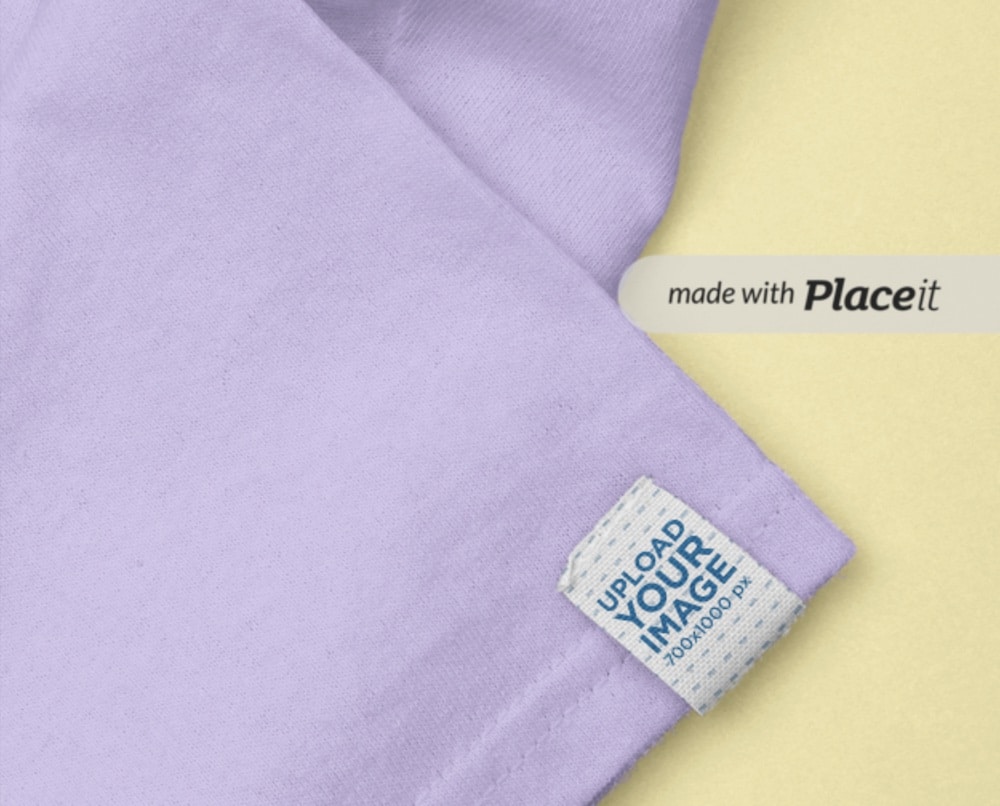 This is a simpler and more MINIMALIST version of the above hem label mockup that works great for social media and even eCommerce websites.
The folded sleeve gives the presentation a more realistic look that will trigger everyone's interest with your custom coloring and label design/logo.
MORE INFO / DOWNLOAD
9. Mockup of a clothing label with two customizable backgrounds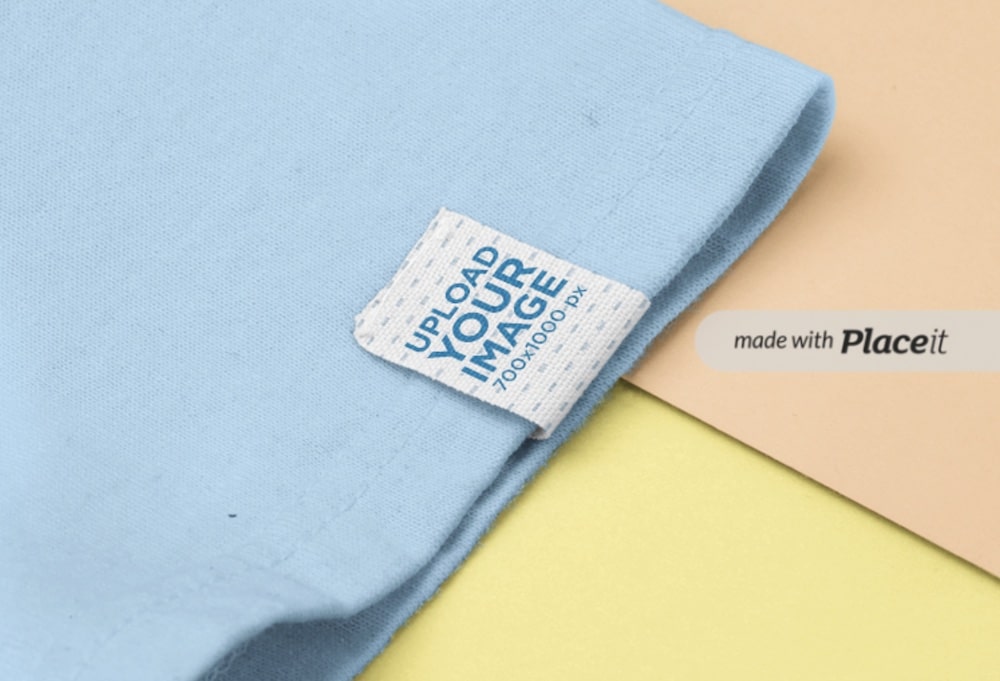 What I find great about this one is that you can use it for a sleeve or bottom tee label design showcase.
And what's even better, you can create a two-toned backdrop to make the final version more special.
Remember, you can change the color of all four elements, which is so effortless to do by accessing the convenient color pickers.
You're in FULL control!
MORE INFO / DOWNLOAD
10. Inside label mockup of a T-shirt with a hanger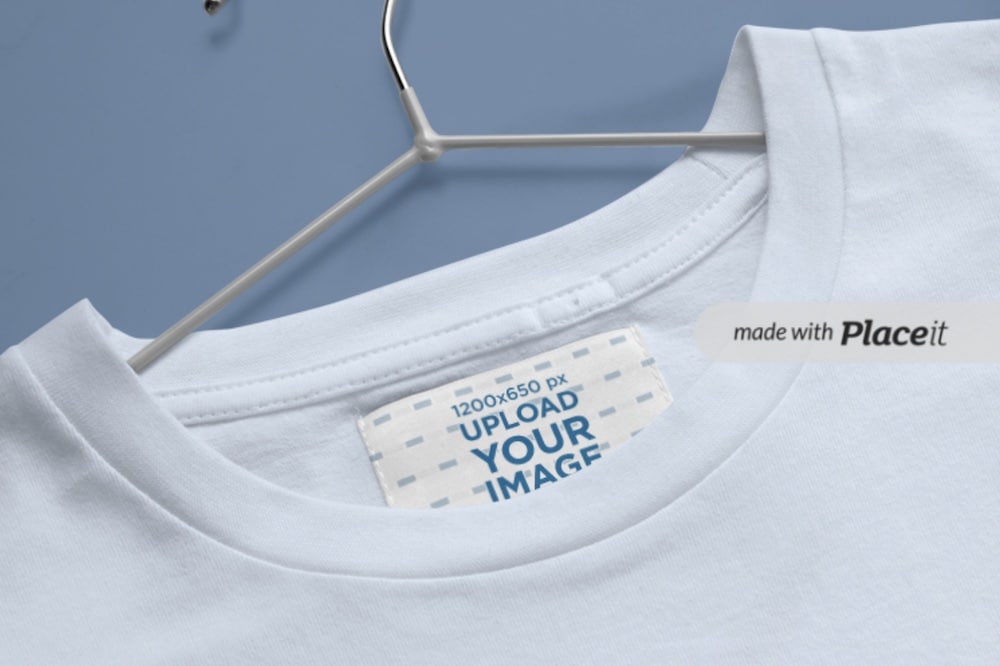 This one is somewhat similar to the first one but with a close-up view of the custom sewing label that won't feel like you use a mockup after you improve on it.
Try it; you'll see what I'm talking about.
Also, you can make the tee of any color you want. But when it comes to the background, you can even upload your own!
Graphics and texts are also possible, but I wouldn't use them for this template because it's SO GREAT on its own.
MORE INFO / DOWNLOAD
Best Clothing Label PSD Mockups
The only two PSD mockup sets you need for creating custom label presentation.
11. 25 Apparel tag & label logo mockups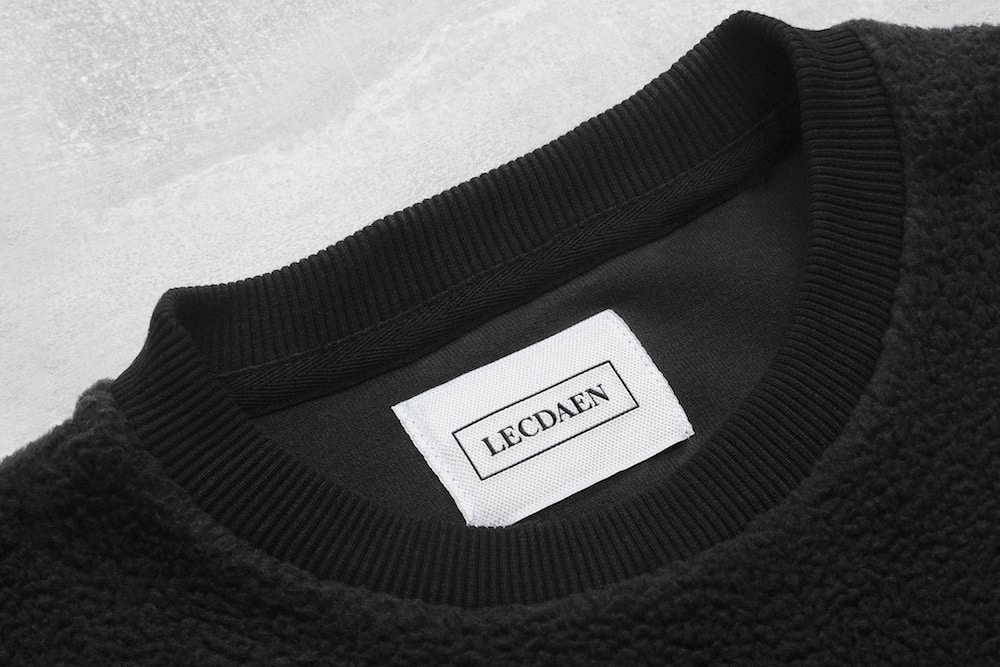 This one consists of a whopping 25 apparel label logo mockups you can reuse as much as you want.
T-shirts, sweatshirts, jackets, hoodies, and more – you get it all!
Moreover, each layered PSD file has a 3600 x 2400px resolution (300dpi) to ensure the best quality.
You can also choose between two special EFFECTS, flat and embroidered, giving it that extra unique touch.
Price: $14
MORE INFO / DOWNLOAD
12. 30 Apparel tag & label logo mockups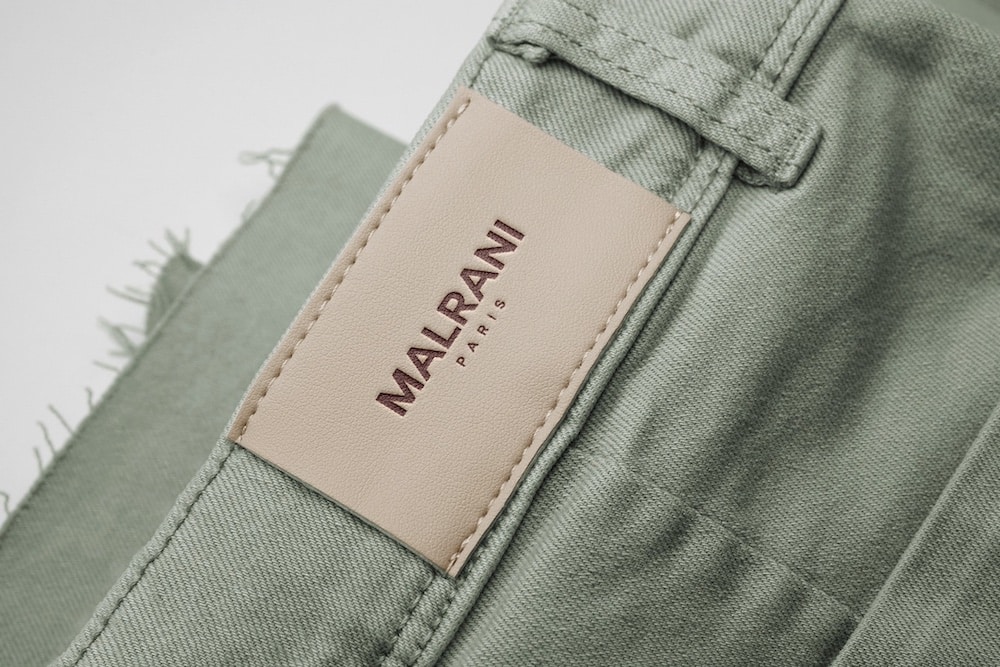 And if the above doesn't cover all your needs, then I know this batch of thirty (!) mockups will.
From clothing tags to labels, it's all neatly packed into one massive bundle of PSD templates for you to use.
Each mockup has Photoshop's smart object layer for effortless design and logo inclusion (via the drag-n-drop method).
You can also choose between multiple effects, like flat, embossed, debossed and embroidered.
This one really has something for EVERYONE!
Price: $14
MORE INFO / DOWNLOAD
Best Free Clothing Label PSD Mockups
All these free mockups are high-quality, just like the premium ones, but their usability license is more limited.
13. Free T-shirt label mockup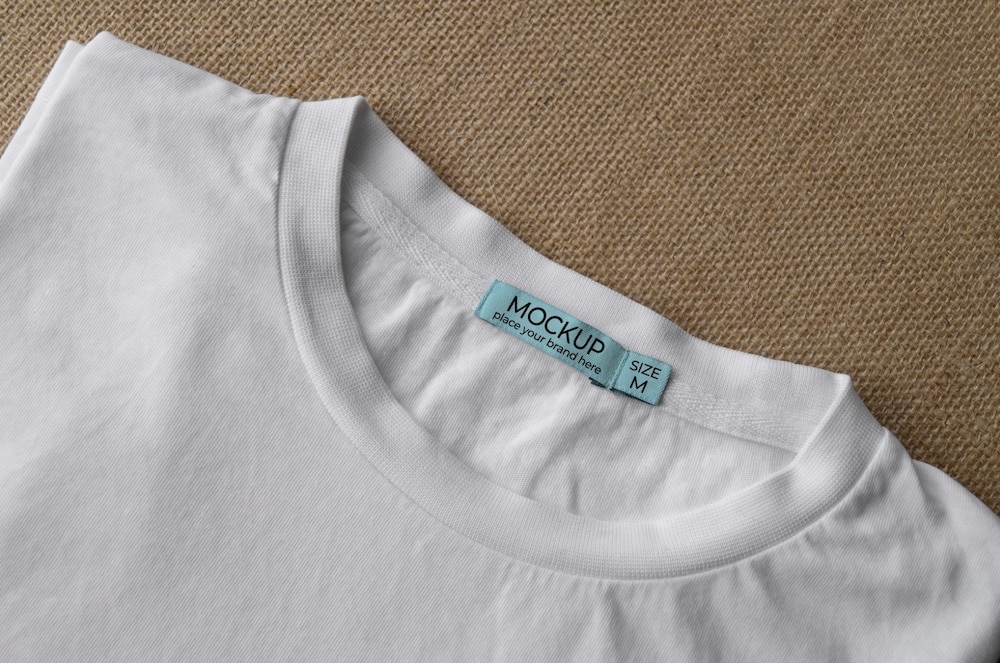 A clean design of a white T-shirt on a jute background is ready to present your custom inside label design.
Adding your brand name/logo is effortless with the smart object layer.
Perform any additional TWEAKS you want, and you'll have the final AWESOME version ready in no time.
MORE INFO / DOWNLOAD
14. Free clothing label mockup in minimal black & white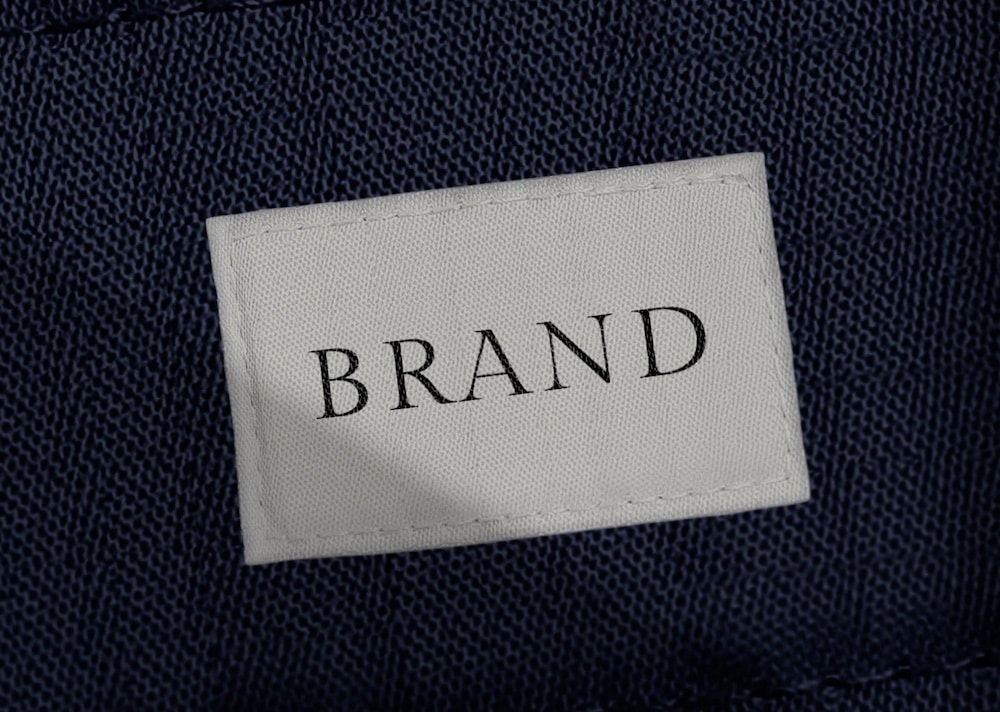 A super close-up view of a sewing label template is ready to present any brand name you want.
The realistic atmosphere is VERY strong, working great for testing designs, performing tweaks and picking the final label version much easier and quicker.
MORE INFO / DOWNLOAD
15. Free blazer label PSD mockup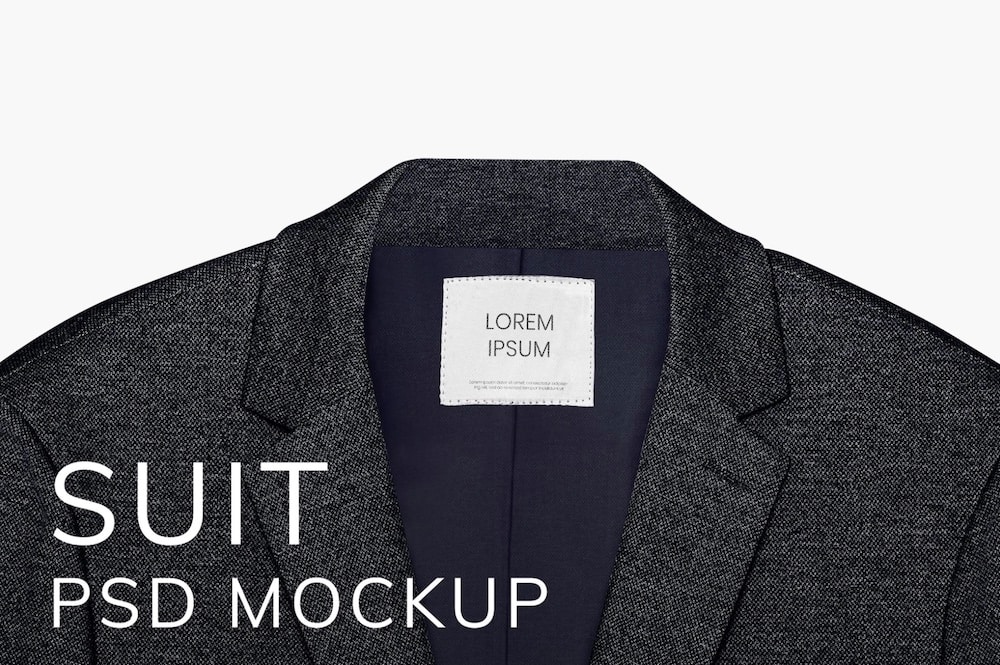 This is the free label mockup I recommend opting for everyone who is particularly searching for a blazer.
It's a great solution for fashion (designer) brands with excellent quality and a larger label to make the design POP more.
You're welcome to use it for personal and commercial projects (with attribution).
MORE INFO / DOWNLOAD
16. Black polo shirt label mockup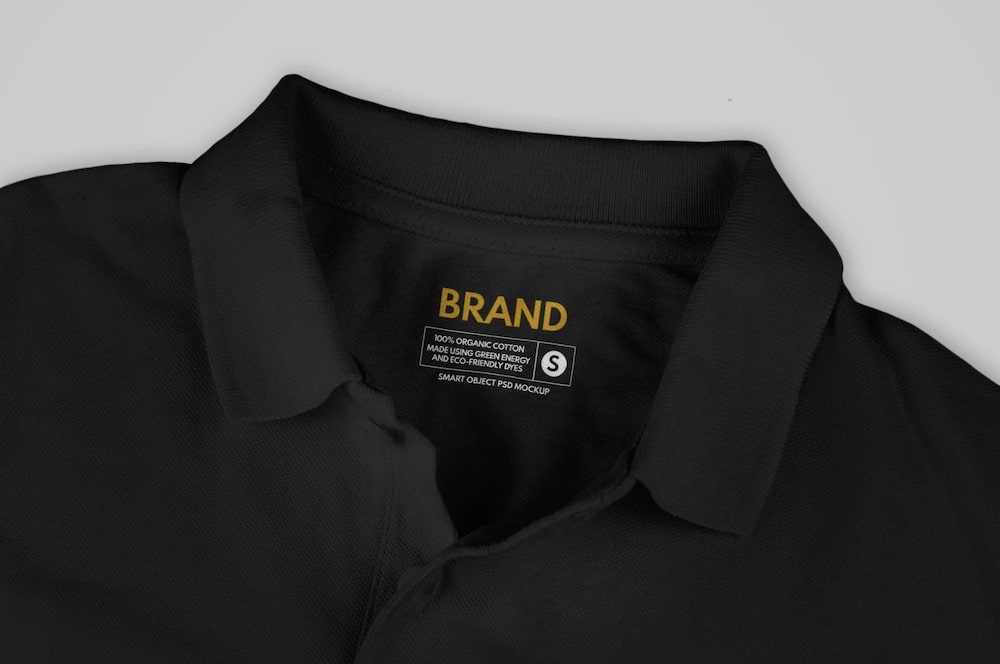 Because polos are already slightly pricey, they definitely deserve a beautiful inside label that gives them an even more PREMIUM feel.
This black polo shirt is available to rock any logo, custom design or even text.
Yes, you do all the "heavy" work via the handy smart object layer, which doesn't really require much experience.
MORE INFO / DOWNLOAD
17. Free T-shirt inner printed label mockup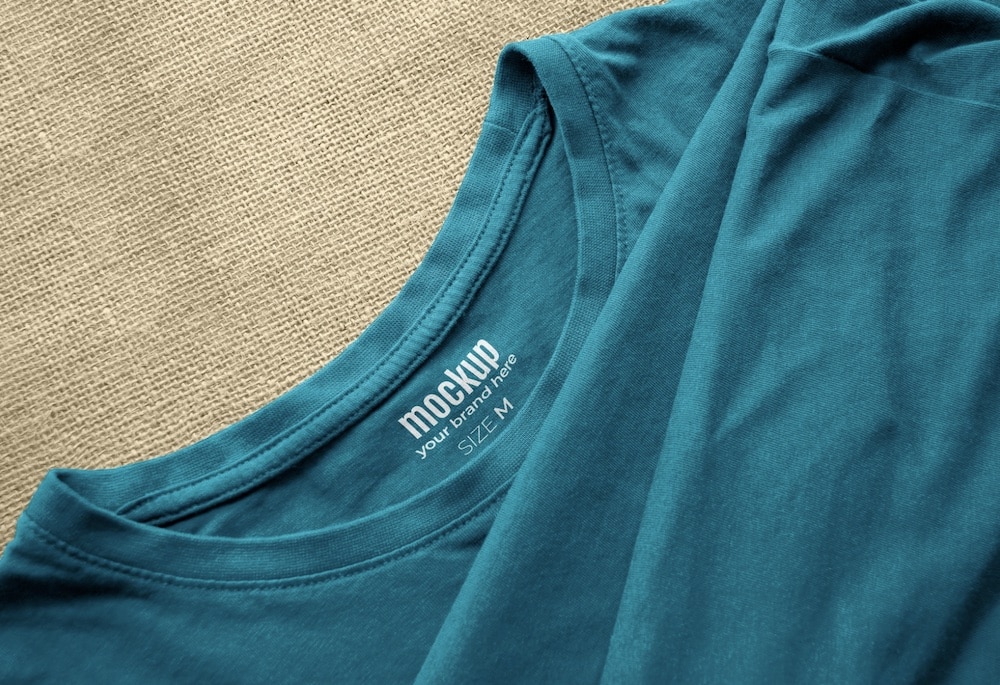 This one is similar to the first one just with a printed internal label instead of a sewed one.
If this is what you need, download the template now and create the final, VERY life-like version in a few simple clicks.
Add brand logo, text, sizing – whatever – after all, you're in control of the design.
MORE INFO / DOWNLOAD
How To Easily Create A Clothing Label Mockup
Creating a realistic presentation of a custom label design is WAY easier than you think.
In fact, you don't even need software to make it happen.
I'll share with you a simple step-by-step guide using a mockup generator.
I used Placeit for 100s of projects, thus, it's the only platform I recommend.
Here we go!
4 Steps to create a clothing label mockup:
Step 1: Visit Placeit and type in the search bar "clothing label mockup." Their live search result will provide you with the best recommendation, so you don't need to type the entire keyword. However, I recommend working with the mockups that I shared here because they are the best!
Step 2: Click and open the mockup you like and start by uploading your design. You do this by clicking on the "Insert image" button. After the upload, Placeit's crop function offers you to perform adjustments, so the design fits the label perfectly.
Step 3: You're now ready to work on other customizations, like changing the color, adjusting the background, adding a text overlay, and more.
Step 4: And this, my friends, is pretty much it! Your label mockup is ready for use.
I told you it's easy!
But even if you work with a PSD mockup, it'll be FUN.
After importing it to Photoshop, search for the smart object and slide in your design.
All the other elements are neatly organized, so you'll have a blast performing additional customizations, even if it's your first time.
Save your creation, and that's it.
::
Note: This article was originally published on December 7, 2022. But our team regularly reviews it and updates it with necessary improvements for accuracy.