Are you searching for a list of the best free and premium reusable cup mockups?
I tested these on personal and commercial projects to guarantee their 100% reliability.
You can use a mockup generator or a layered PSD file – both work wonders! (But you don't need experience with the former.)
This post covers:
Every mockup below creates a TOP-NOTCH outcome that's inspiring and attention-grabbing.
You can make it happen fast and effortlessly.
Best Reusable Cup Mockup Generators
These Placeit cup generators cost $7.95 and can be tested fully for FREE. (You read that right!)
But I highly recommend their monthly ($14.95/month) or yearly ($89.69/year) subscriptions to save money.
And yes, these allow you to make mockups without Photoshop.
1. Mockup of a woman holding a reusable cup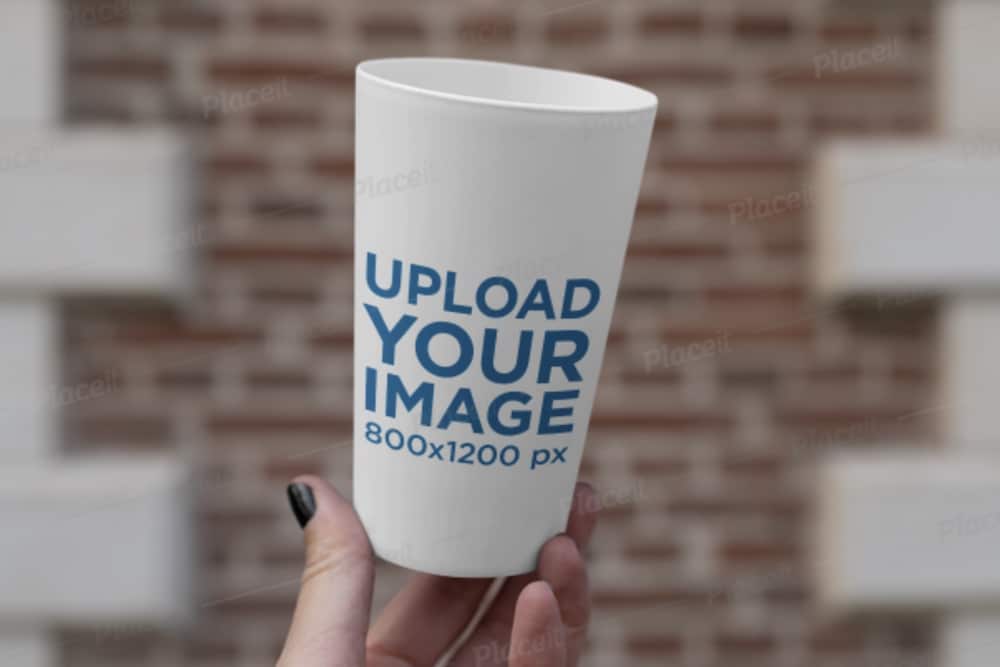 This mockup makes getting more eyeballs on your custom reusable cup design much easier.
You get a POV experience of a woman holding a cup at the bottom, which gives it all the necessary exposure.
You can change the cup color and add your desired design or logo.
Note: An 800 x 1200px design covers the entire cup, so you don't need to change the color. (But if you still want a different color inside, then changing the color is necessary.)
MORE INFO / DOWNLOAD
2. Eco cup at a club mockup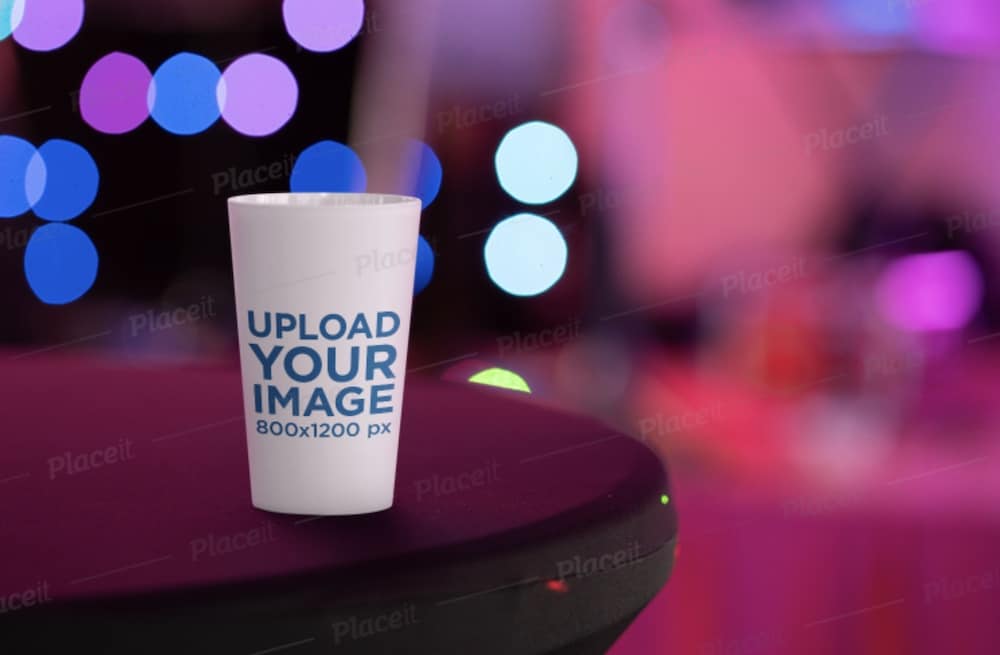 Party, anyone? No, I'm just here, preparing this epic collection of the best reusable cup mockups.
But this is one of the BEST and simplest templates of a cup at a club that you can customize however you want.
Easy work, plus, you can also add custom text and graphics.
Make. It. Your. Way.
MORE INFO / DOWNLOAD
3. Man holding an eco paper cup mockup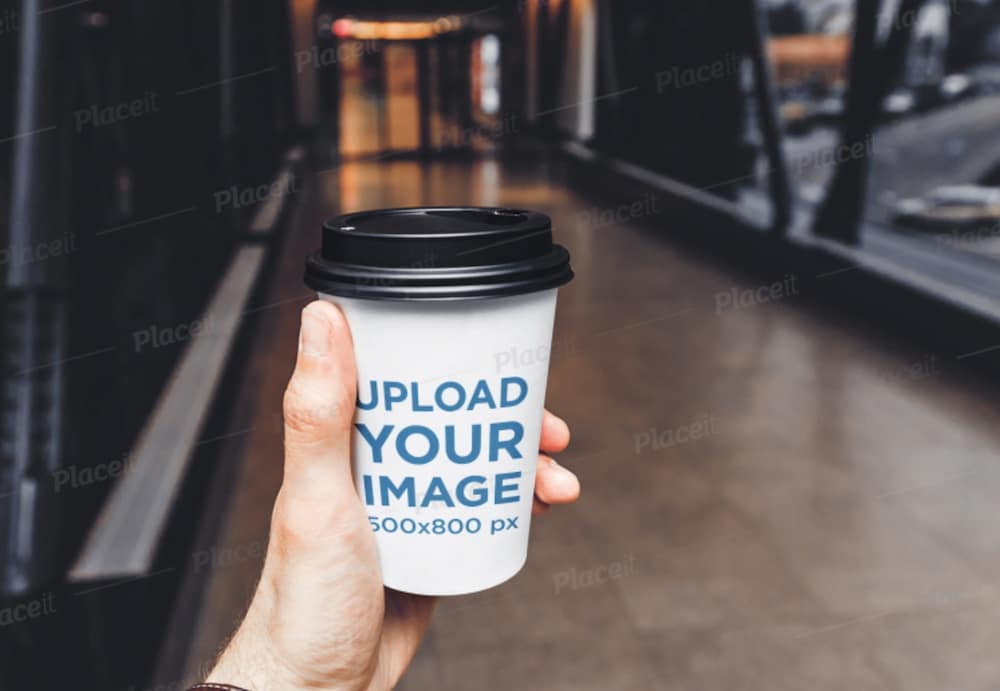 I find this one very corporate, but it can also be a student holding the eco-friendly paper cup.
Anyway, it's you WHO decides the cup design.
Unfortunately, you cannot change the color of the cover, which stays black by default. But you can create a text overlay and even spice things up with a graphic.
Just don't bloat this already beautiful mockup. Keep it simple!
MORE INFO / DOWNLOAD
4. Reusable cup at a night club mockup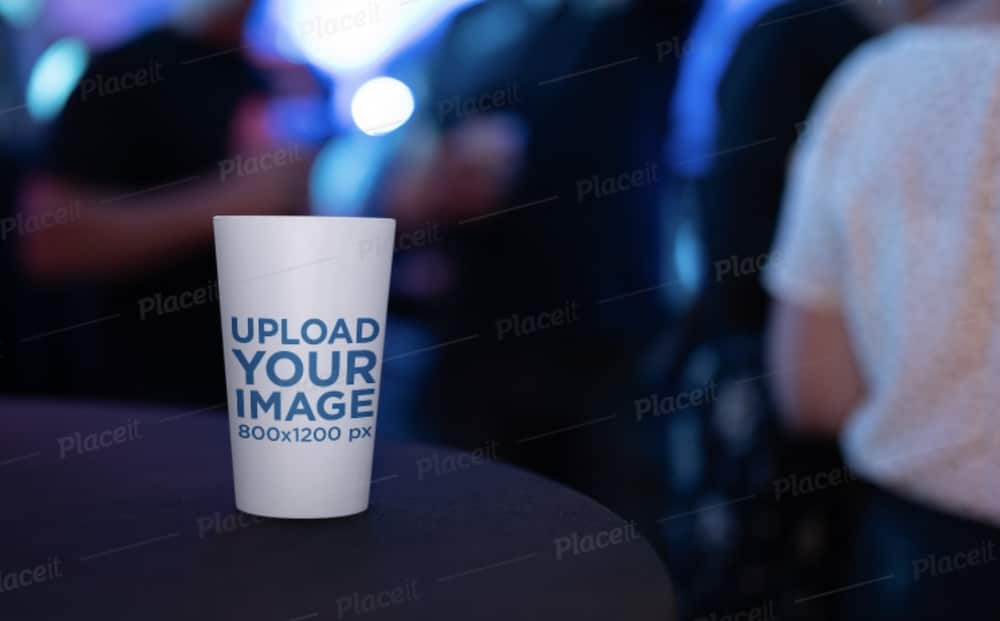 Here's a reusable cup mockup style similar to the one above ("at the club").
While the other one is MORE minimalist, this one also includes people who are at the party.
It creates an even more realistic atmosphere, which will benefit you greatly.
You can create as many variations as you want before finding the one that truly stands out.
MORE INFO / DOWNLOAD
5. Two reusable cups on a wooden fence mockup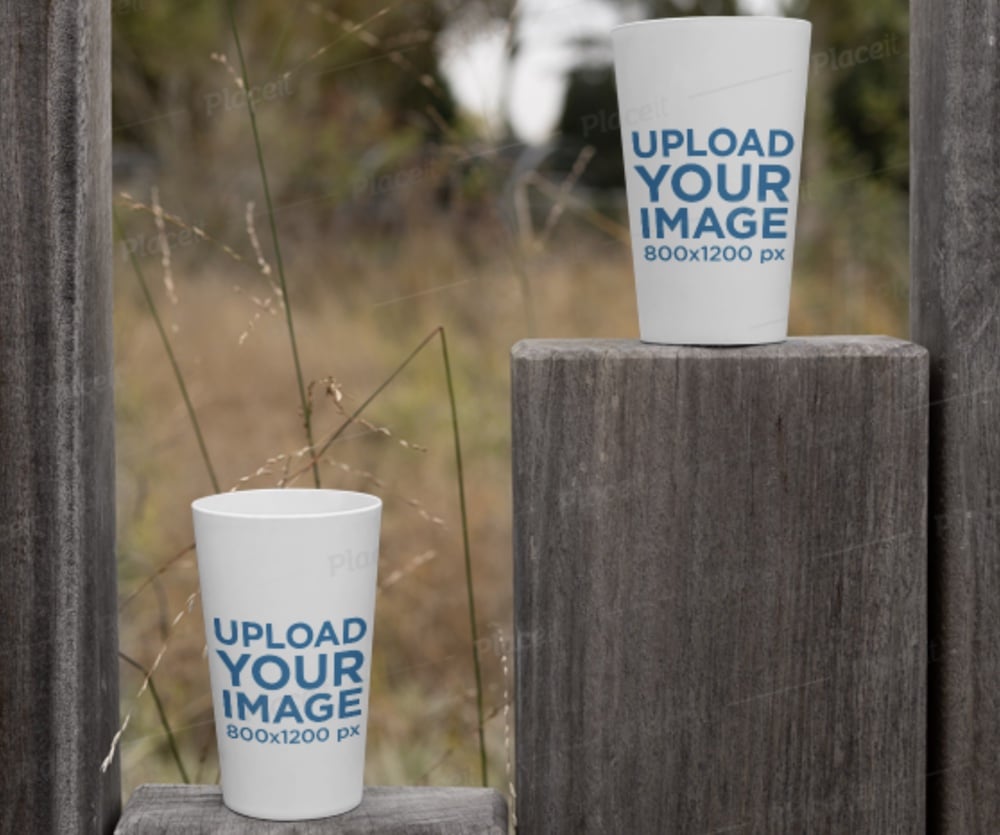 If you want to promote nature or work with an eco-friendly company, this is the mockup generator that is the handiest.
The template features two cups, which you can modify however you want, one at a time.
One way to use this one is to create a front and back cup presentation. Or showcase two completely different designs.
It's up to YOU!
MORE INFO / DOWNLOAD
6. Eco cup on a wooden bridge mockup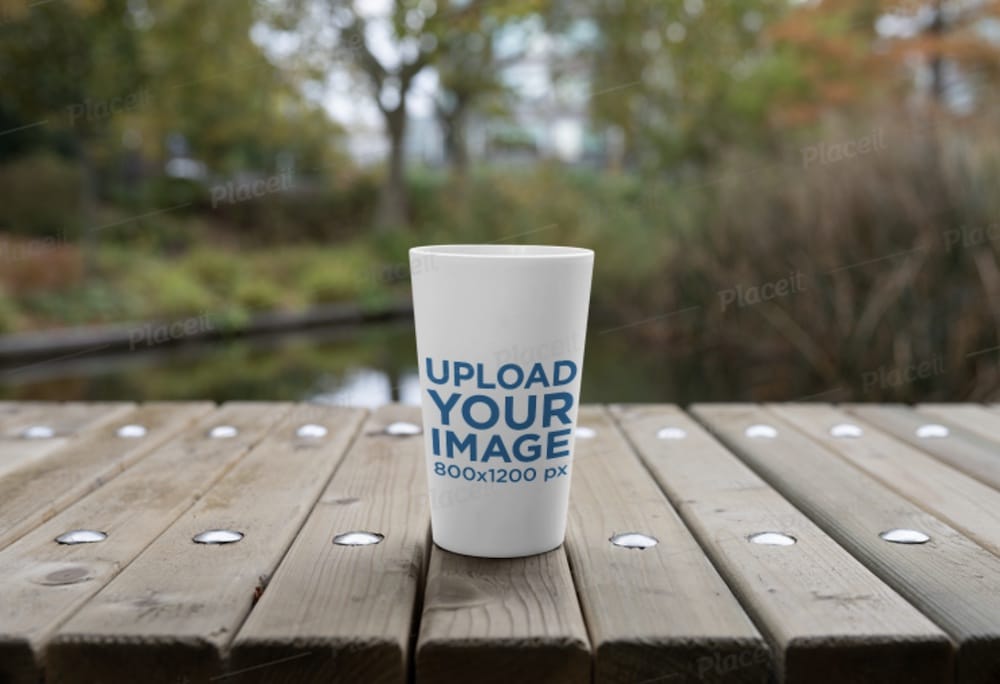 A reusable cup mockup with nature vibes is still one of my favorites.
Here's another fantastic example that you can use to make a unique version for your business or your client.
Very LITTLE work is necessary after uploading your design, which you can crop and reposition online (0 software use!).
I also used a graphic in the top left corner, but you can also add a text call-to-action or something else.
MORE INFO / DOWNLOAD
7. Reusable cup at a wedding party mockup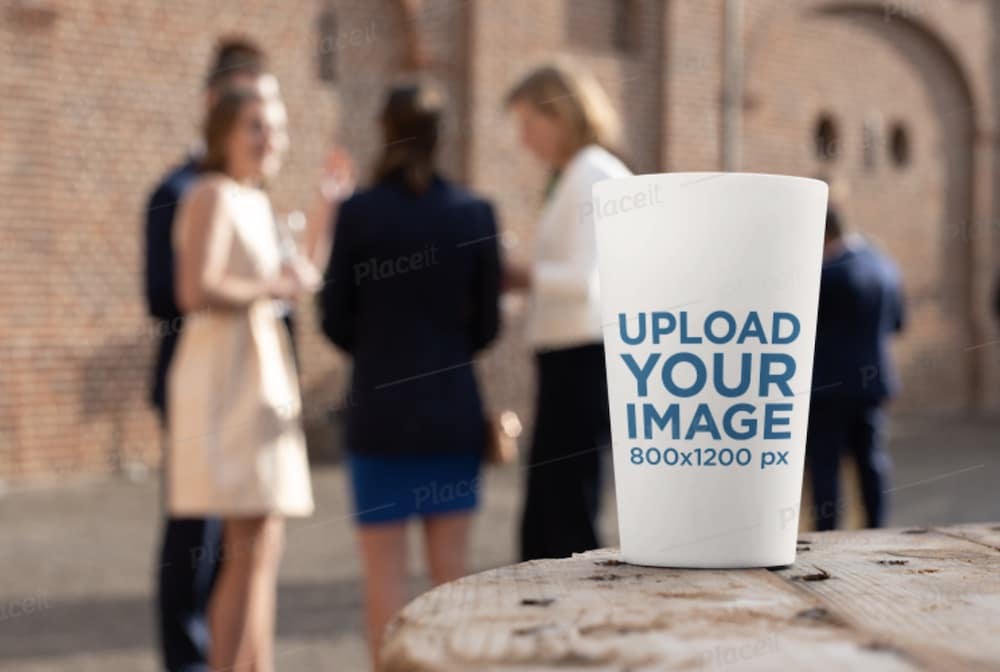 Custom reusable cups at a wedding party? Why not!
If you work with a client, helping organize a wedding or any other event, creating a LIFE-LIKE version of a reusable cup will be useful.
I highly recommend you use this mockup because of the event-ish surroundings, which make the cup appear even more realistic.
MORE INFO / DOWNLOAD
8. Mockup of a coffee cup under a shadow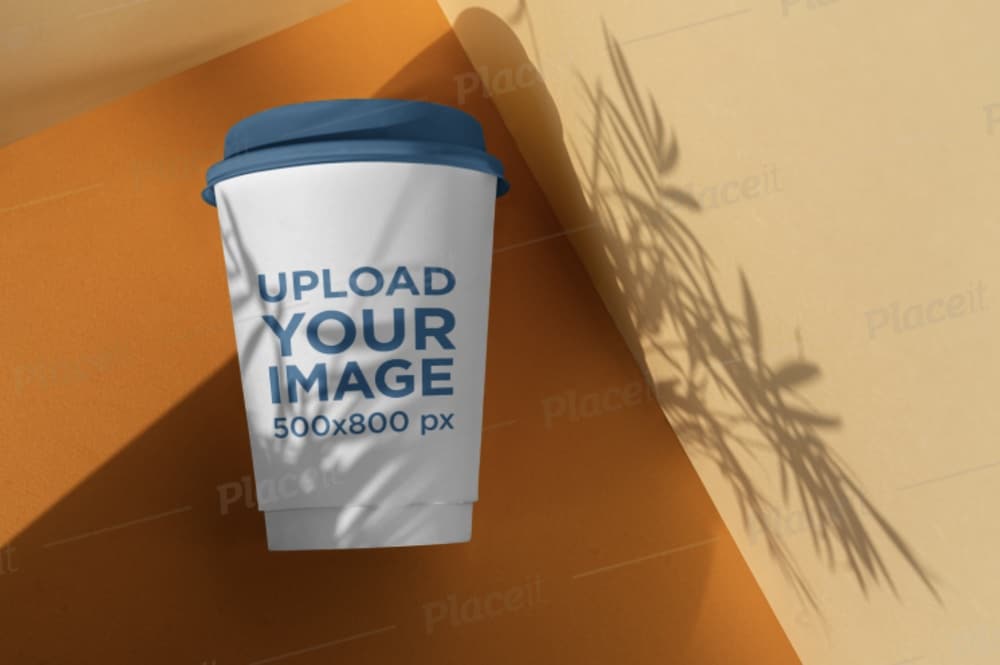 Minimalism with a touch of creativity, anyone? This is exactly what this COOL reusable cup mockup treats you to.
What's cool about this one is that you can change the cup and the lid's colors. However, you cannot change the background (which is a bummer, I know).
Get creative, because this mockup allows you to make a special outcome that will impress everyone.
MORE INFO / DOWNLOAD
9. Coffee cup with customizable lid in hand mockup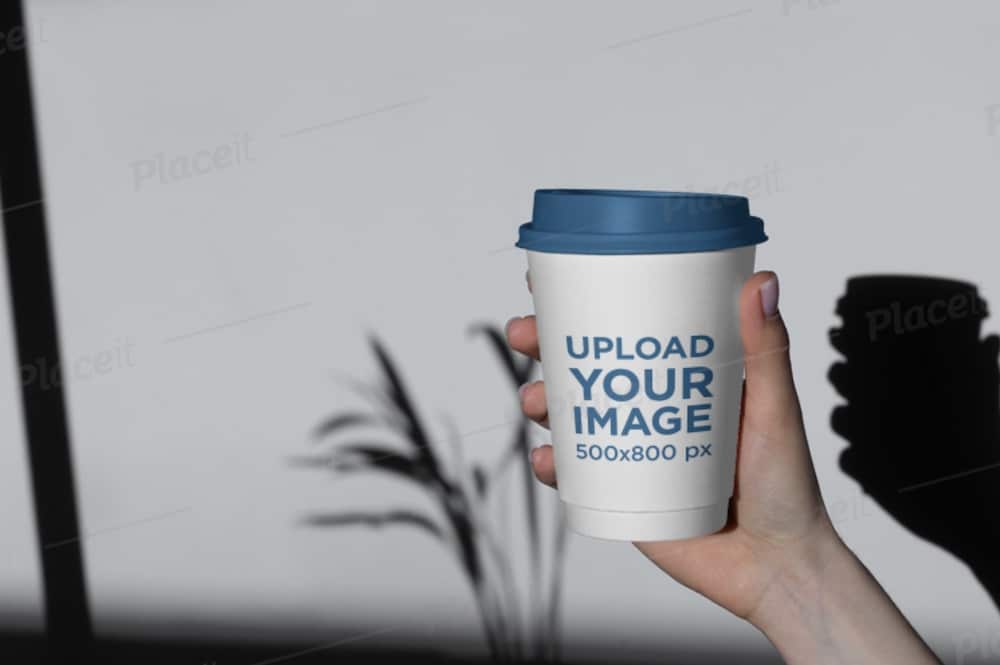 I also wanted to add some more reusable cups in hands templates because they worked SO well for my clients and me.
They create fantastic presentations for social media but also work for other mediums.
Create a photorealistic version by performing only a few clicks, and you're done.
It's just as simple as it sounds.
MORE INFO / DOWNLOAD
10. Minimalist mockup of a woman holding a coffee cup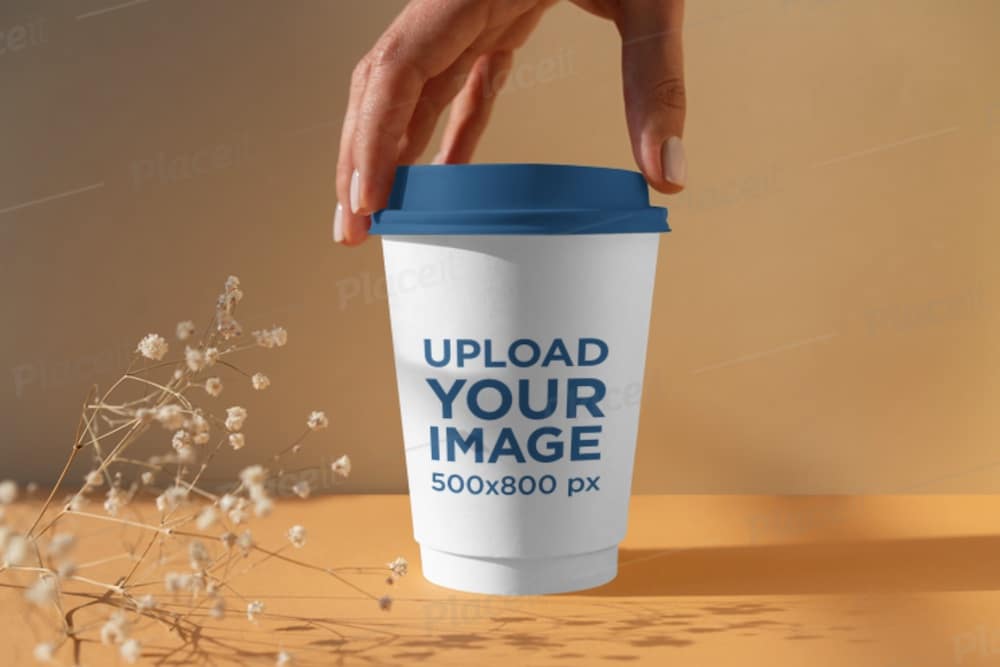 I think this lady just placed the cup on the table. What do you think?
The cup can now feature your custom colors (cup & lid) and a design or logo, even a pattern that'll make it stand out from the masses.
It's also easy to add a graphic or create a text overlay. I rarely use both options when working with a Placeit template because I find it TOO distracting.
MORE INFO / DOWNLOAD
Best Reusable Cup PSD Mockups
Do you want more creative freedom? Then a layered PSD is the way to go!
11. Realistic eco coffee cups PSD templates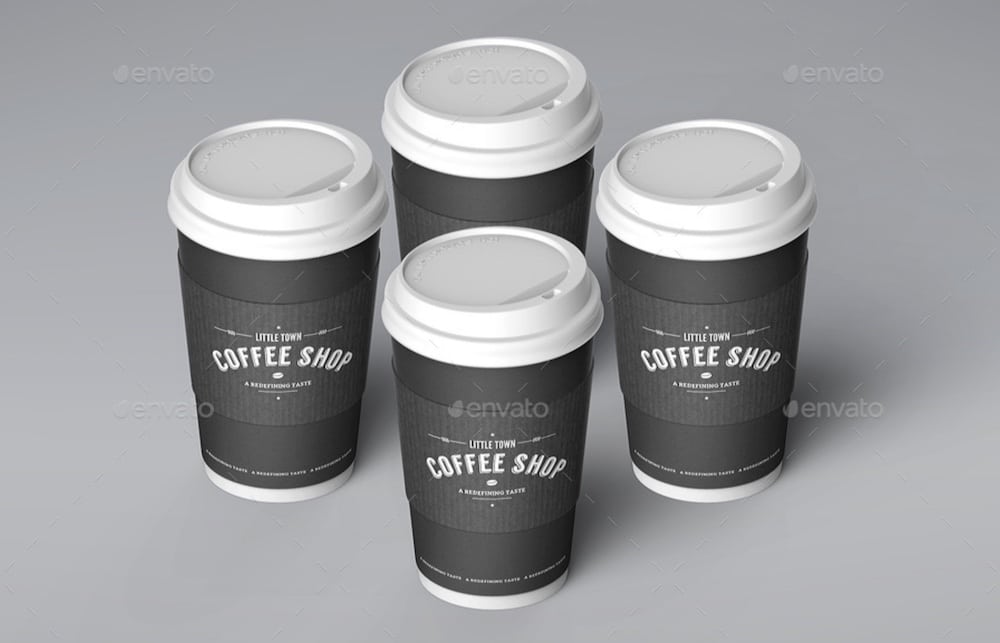 Five 3500 x 2500px PSD files, one of which comes with a coffee splash effect and one with coffee beans, which you can turn on or off.
And for this reason, you DON'T necessarily have to use these templates for coffee shops and brands.
What I particularly like about this set is the customization. You can configure everything!
From the lid and cup to using or removing the paper sleeve, adjustable shadows and changeable background – it's all possible to modify.
Price: $7
MORE INFO / DOWNLOAD
12. Eco-friendly PSD paper cup mockups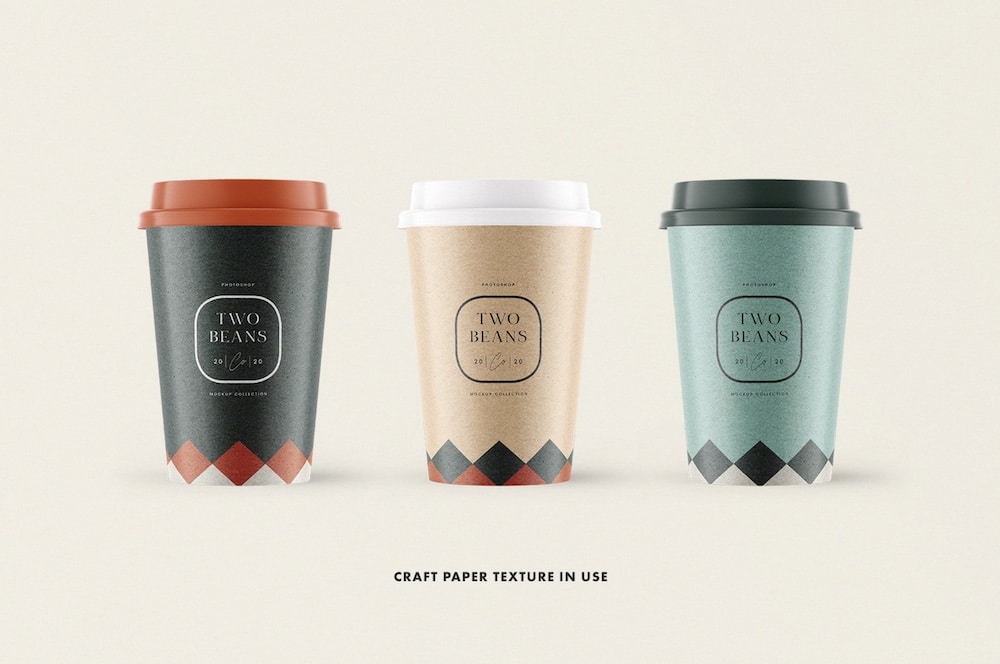 Present one reusable cup, two or three, all this with a seat of eco-friendly paper cup mockups.
You can also use cups with or without the cap/lid; one even comes with a removable straw.
This gives you endless possibilities to create the final version that's to your liking.
No need to LIMIT yourself after you import the templates to Photoshop.
That's when the fun begins.
Price: $10
MORE INFO / DOWNLOAD
13. Reusable eco cups mockup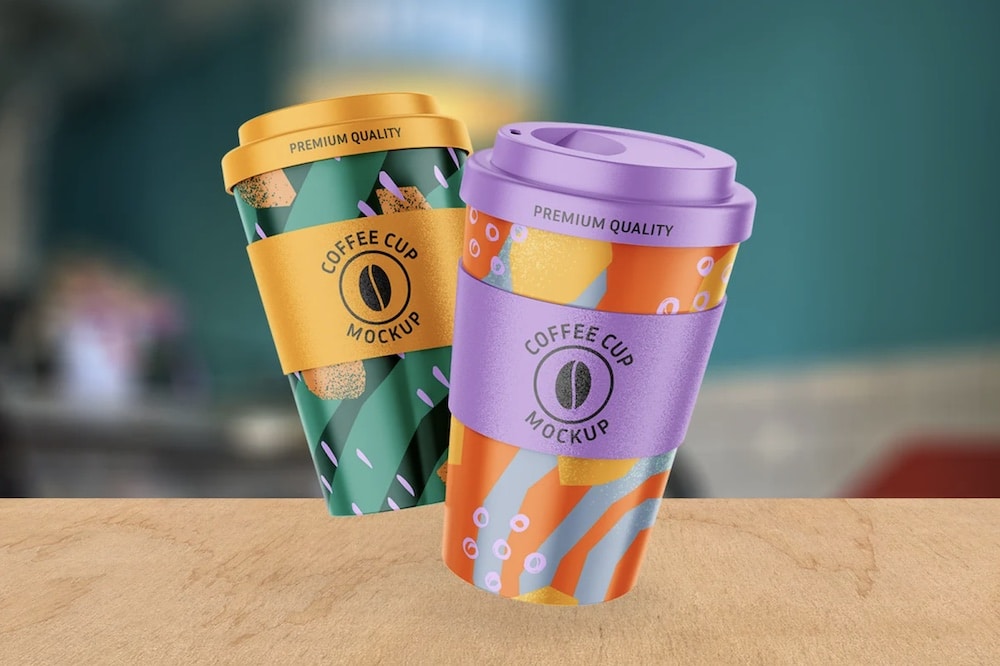 Even though you only get one PSD file, you can still USE and REUSE it multiple times for the same or different projects.
The smart object layer allows you to insert your custom design into the mockup at free will.
And remember, you can adjust everything you see! From lid and cup to holder (on both cups!) and background.
Note: The 6000 x 6000px resolution is great for close-ups and extremely detailed designs, patterns and logos.
Price: $9
MORE INFO / DOWNLOAD
Best Free Reusable Cup PSD Mockups
It's time for the best freebies I could find on the web (some are actually pretty premium!).
14. Multiple free reusable cup mockups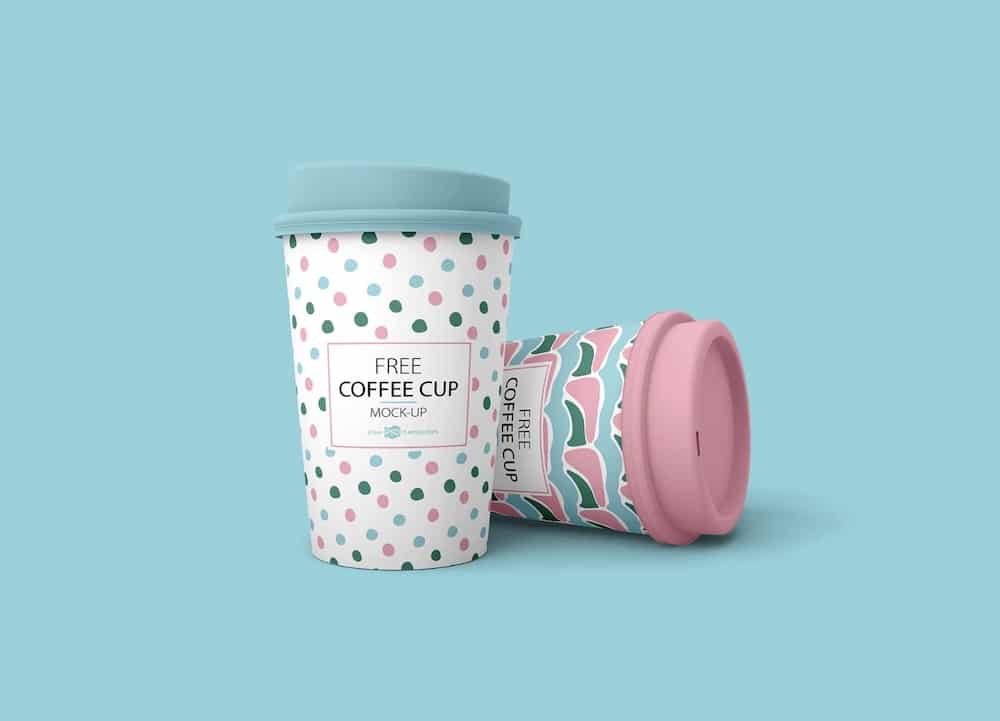 This one is special. Why? Instead of just one free mockup, you get three!
And all three are 100% customizable, the outside and the inside of the cup, the lid, the background – you see, everything.
Keep in mind, you don't need to use it to create a coffee cup – it could be ANYTHING.
MORE INFO / DOWNLOAD
15. Free reusable floating coffee cups mockup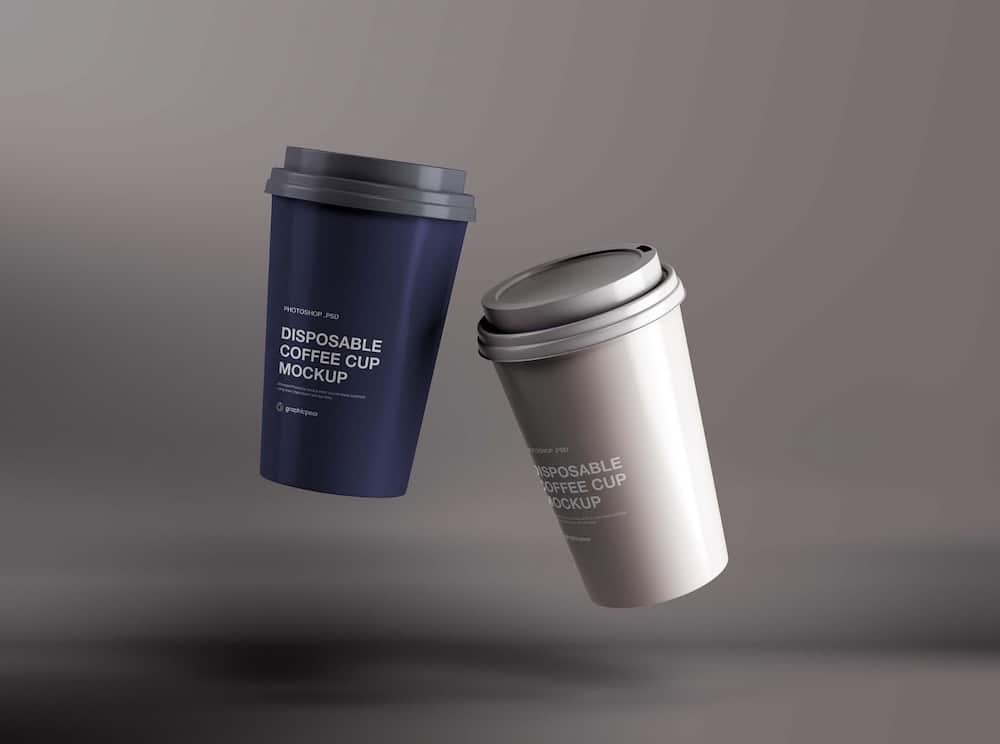 I always try to find a reliable mockup of a floating object. I was LUCKY I came across this one.
It's a simple PSD template of two editable reusable cups for coffee, tea, etc.
The 5000 x 3750px is pretty serious for a free mockup, ensuring a top-notch outcome.
Use this one to create two cups or present the front and back design.
It works!
MORE INFO / DOWNLOAD
16. Free reusable paper cups mockup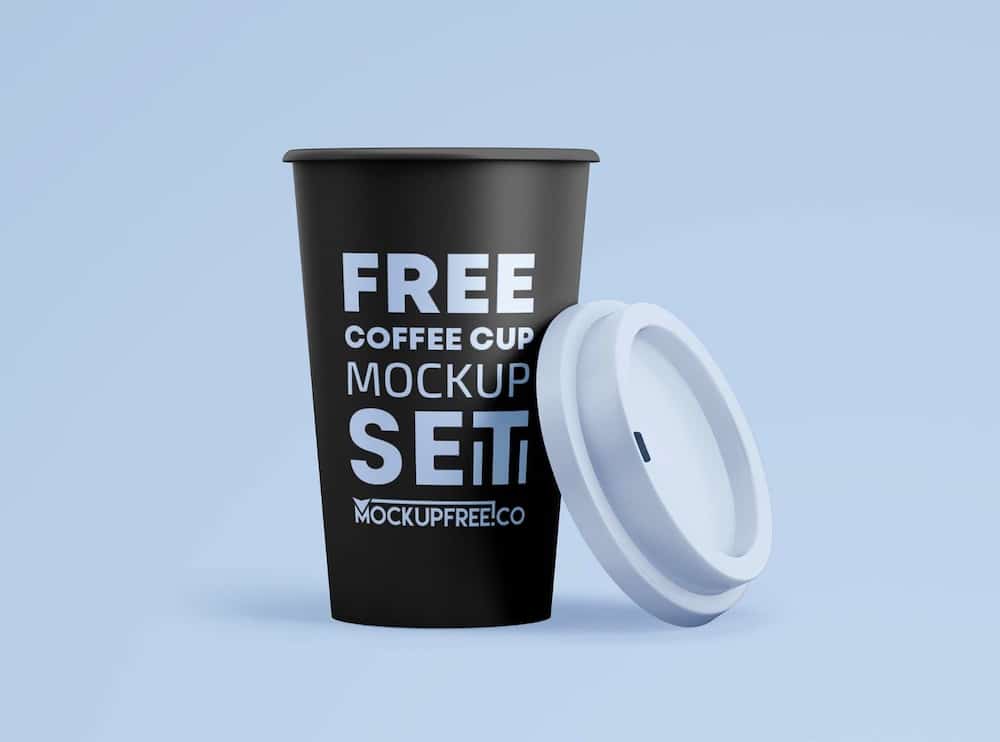 Two free scenes of a cup with a closed lid and an open one, ready for you to take FULL control over them.
You can insert any design, logo or pattern, use any color you want and even change the backdrop.
Create the final version that suits your project to a T, which will happen in only a few clicks.
Thanks Photoshop, layered structure and smart objects!
MORE INFO / DOWNLOAD
17. Free hand holding reusable coffee cup mockup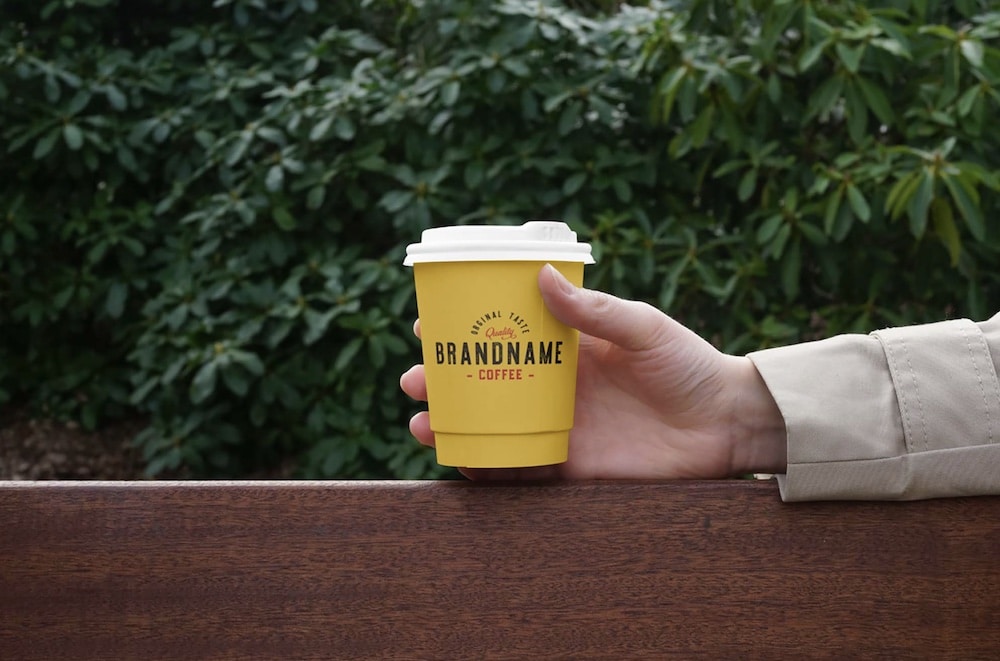 Even though I didn't place it first, this is still my FAV free reusable cup mockup. Yes, because of hand!
The cup will appear natural after you add your artwork and change colors. (No one will tell it's a mockup.)
The author did a great job of allowing the user to make a personalized version without a sweat.
MORE INFO / DOWNLOAD
18. Free lying reusable coffee cup mockup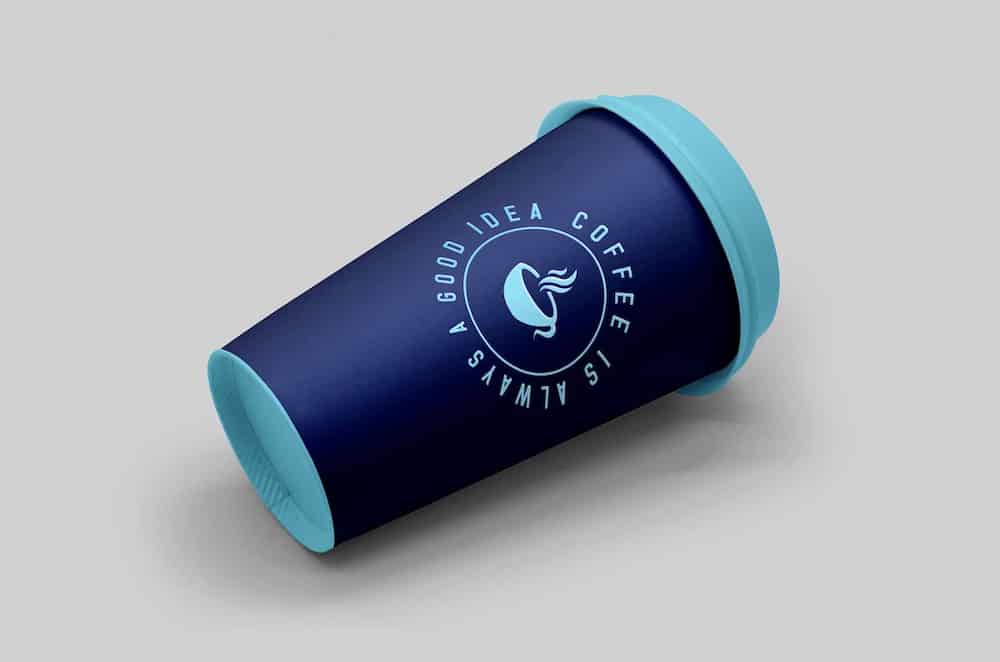 If the lid is tightly sealed, it cannot spill, right?
Well, I'm not going to try that, but I did try to change this mockup's default look into already ten different versions.
This is just another FUN way of displaying a brandable cup that you can use for personal and commercial projects.
MORE INFO / DOWNLOAD
How To Easily Create A Realistic Reusable Cup Mockup
This is the quickest and easiest way to create a reusable cup presentation, even if you haven't yet created a mockup.
And you don't even need Photoshop to make it happen.
I've used Placeit a lot in the past, so here's a step-by-step guide to making your custom reusable cup that's realistic and high-quality.
Note: This quick and easy method is only possible if you have the design or logo you'd like to add to the cup ready.
Step 1: Visit Placeit, where you can search for your favorite cup mockup. (I still recommend picking one from the above collection because they are tested and proven.)
Step 2: Once you have the template you like, you can start by inserting your design or logo by pressing the "Insert Image" button. This also opens a practical popup window that allows you to crop and reposition your image.
Step 3: If you want to perform any additional customization tweaks, this is the right time to do it. This could be changing the cup/lid color, adjusting the background, etc.
Step 4: Finally, you can also add a graphic or some text, but use these two functions with great care because you can easily overdo it (and that's not ok).
Step 5: Voila! Your reusable cup mockup is now ready to download.
You can do it!
I also have multiple other relevant cup mockup collections for your convenience:
::
Note: This article was originally published on November 16, 2022. But our team regularly reviews it and updates it with necessary improvements for accuracy.