Are you interested in the best cup holder mockups?
We worked with a few hot drink brands and shops and ended up reviewing and testing 39+.
The entire process took nearly two years.
But we just recently realized that sharing our final selection with you will be very rewarding.
Here are the 15 BEST in different formats:
We used ten of them (8 premium, 2 free), so we know they work. (The rest are just too pretty to skip.)
It's now your turn to create a life-like presentation of your custom cup holder designs.
You have everything you need to start IN A FLASH.
Note: I also put together an extensive list of the best food delivery mockups – just in case!
Best Cup Holder Mockup Generators
Don't feel like using photo-editing software?
No worries! These are the best templates to make a mockup without Photoshop.
Note: They are only $7.95 each with an option to save money when opting for a monthly ($14.95/mo) or yearly ($89.69/yr) subscription.
1. Mockup of three coffee cups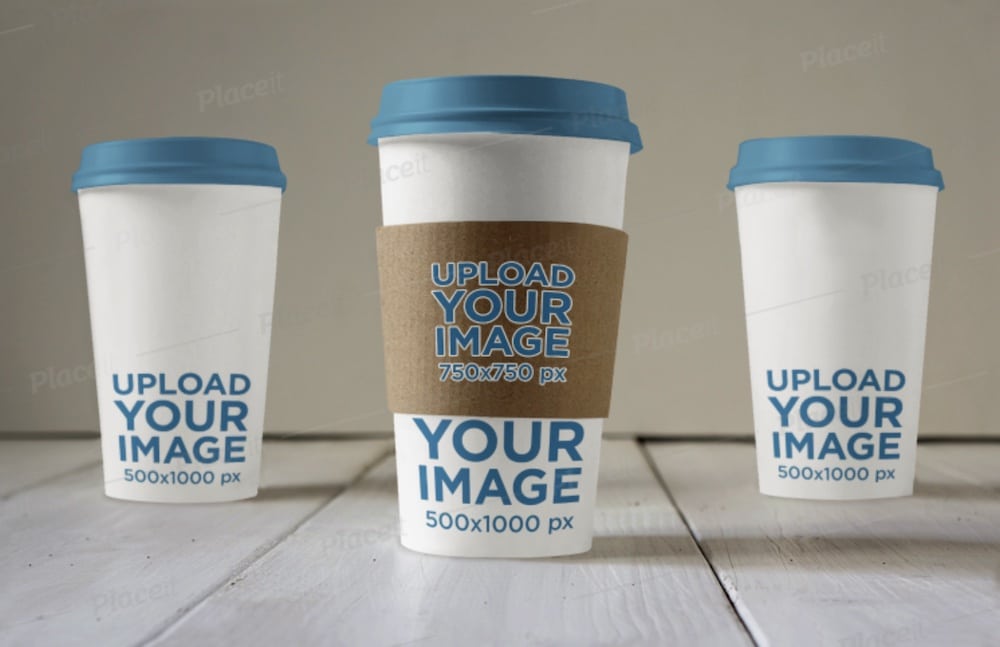 A collection of three editable takeaway eco cups with the one in the front also rocking a holder.
You can change the color of the cup and the lid, but you cannot change the color of the holder.
Moreover, importing your designs takes just a few clicks. You can either do it from your computer or even your mobile device.
Yes, making a mockup presentation with a smartphone is OH SO possible.
Con: Too bad the other two cups also don't rock a holder.
MORE INFO / DOWNLOAD
2. Mockup of a coffee cup with holder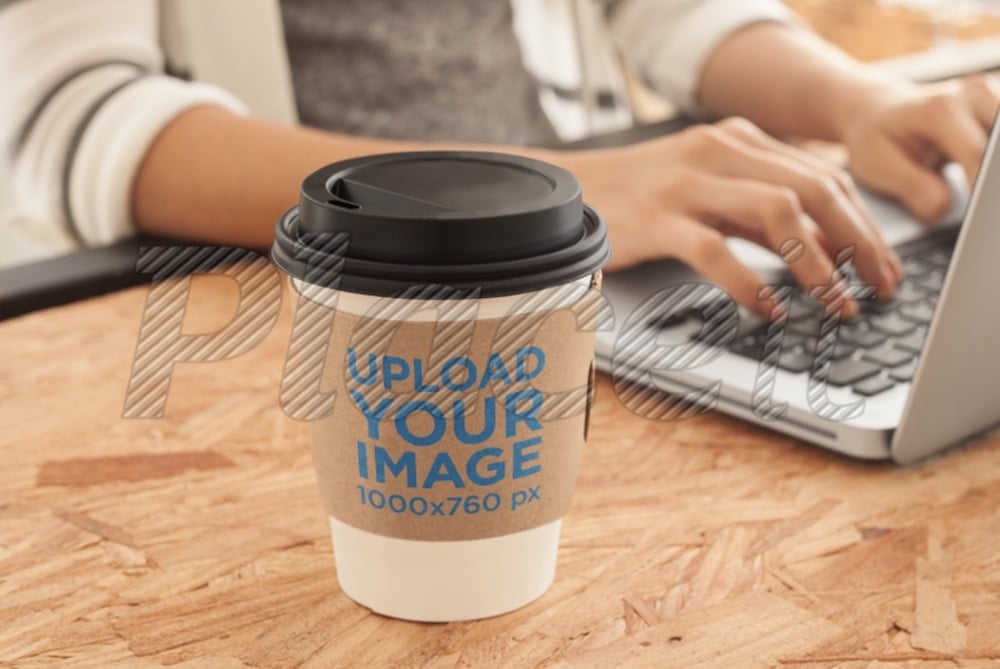 Nothing beats a good cup of joe. I'm actually drinking coffee while finalizing this collection of the best mockups.
Anyhow, enough about me.
We enjoyed using this coffee cup holder mockup generator A LOT.
The work atmosphere had a very nice impact on the social audience of one of our client's Facebook pages.
We added a minimalist design and changed the holder to red. That's it. But you can also include text and logo.
MORE INFO / DOWNLOAD
3. Takeaway coffee cup holder and paper bag mockup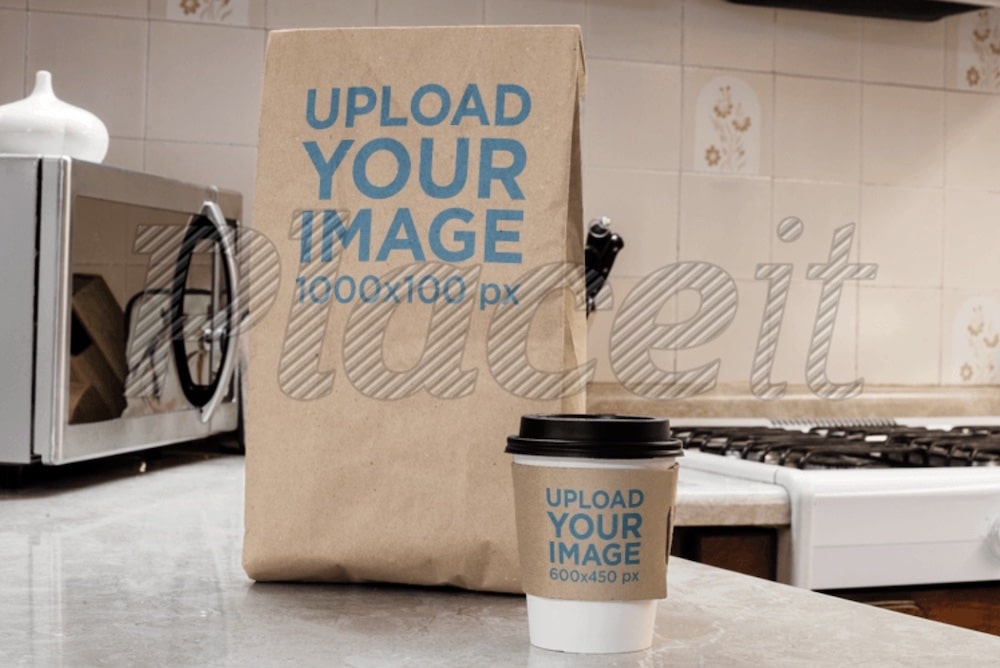 This takeaway coffee cup and paper bag mockup takes the realistic look to the NEXT LEVEL. You can easily use it for fast food or coffee shop businesses.
(We worked on the branding for the latter.)
Both items are easy to customize with custom designs and color choices.
The only thing that's not editable is the cup color, staying white by default.
Bag features a working area of 1000 x 1000px and cup holder 600 x 450px.
MORE INFO / DOWNLOAD
4. Woman holding a cup with a holder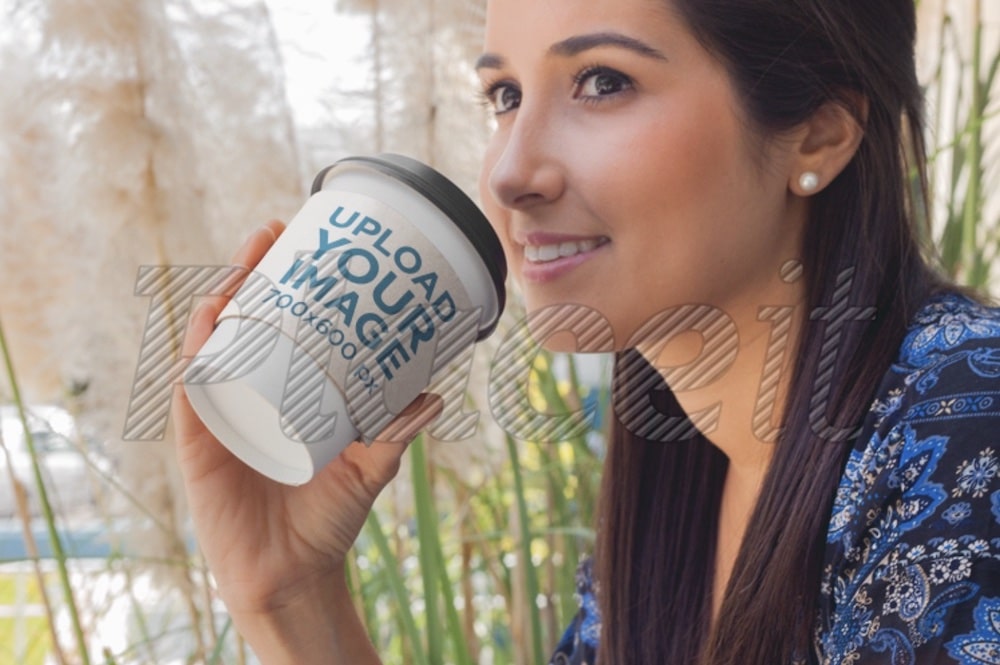 Mockups with a human element work especially well on social media (Instagram and Facebook in particular).
If you are searching for such a cup holder mockup, this is BY FAR the best we found and used.
It keeps the work process very simple. After all, you can only change the color of the holder, upload an image, add a logo and include some text.
Not much work is necessary to impress your audience with a 100% life-like presentation. (Don't ask me who the model is because I don't know.)
MORE INFO / DOWNLOAD
5. Takeaway coffee cup mockup with editable holder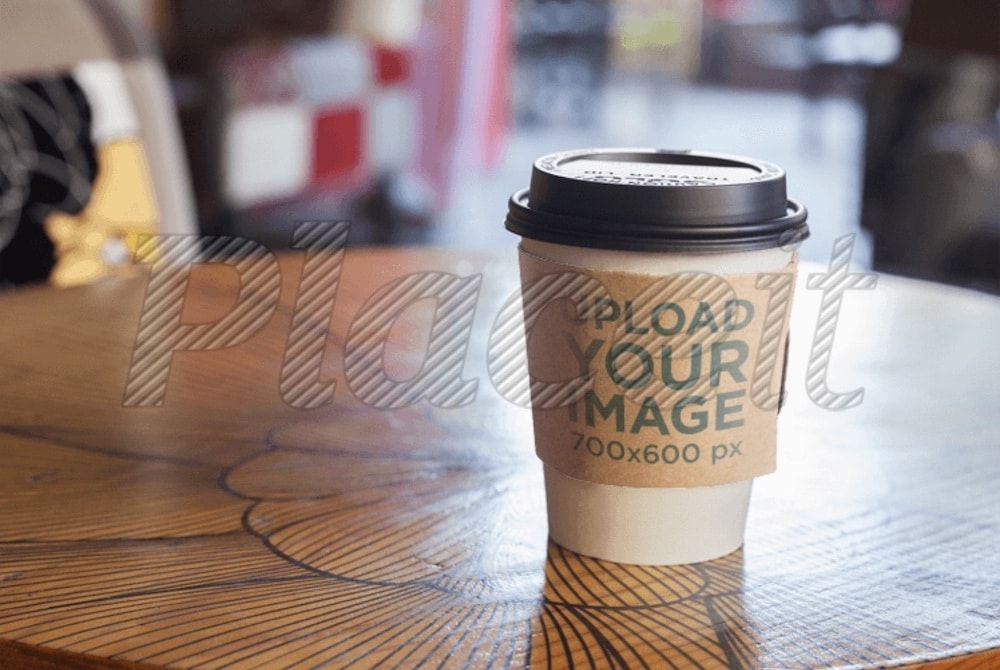 Even though this mockup generator aims at coffee brands in the first place, we actually used it for a tea brand.
Never let your imagination limit you.
Go against the grain and make something SPECIAL.
The presentation is as if someone would randomly snap a photo at the local coffee shop.
Even though it's high-quality, the somewhat amateur-ish vibe gives it an edge.
That's why we like this particular paper cup holder mockup so much.
MORE INFO / DOWNLOAD
6. Coffee cup label mockup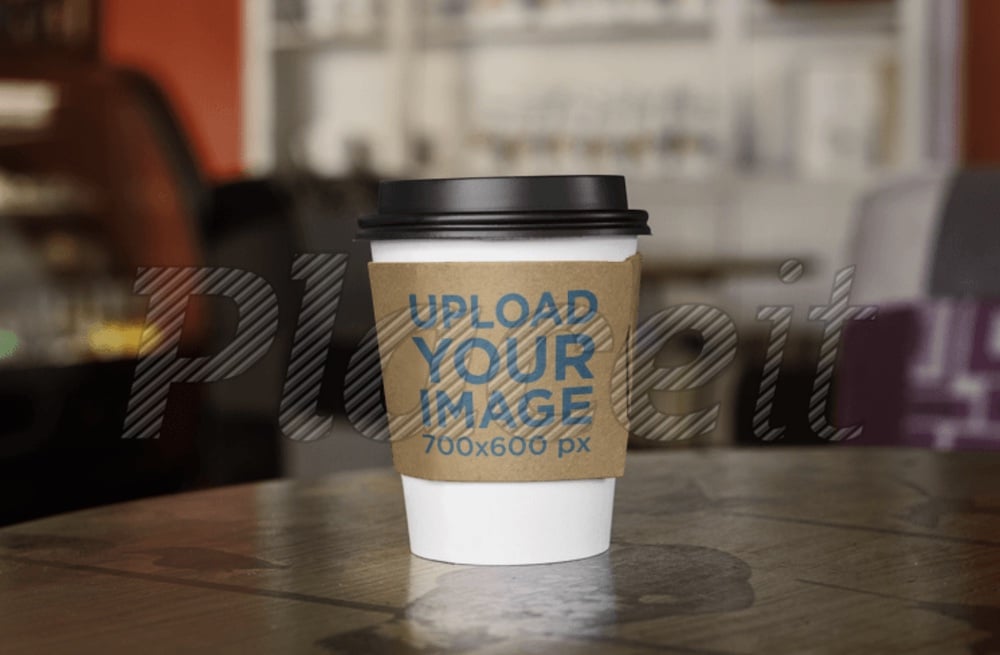 Grab the attention with a branded disposal cup and holder that you can now realize within seconds.
You are done just by changing the color of the holder and sliding in your custom design.
Heck, you may even want to leave the cup holder as-is. So simple, yet so striking.
Well, that's why you'd want to opt for a realistic mockup in the first place. No need to hire a photographer or create an actual product first!
It SAVES you time and money.
Note: We only used this one for a quick prototype that we shared with our client for review.
MORE INFO / DOWNLOAD
Best Cup Holder PSD Mockups
7. Cup holder PSD mockup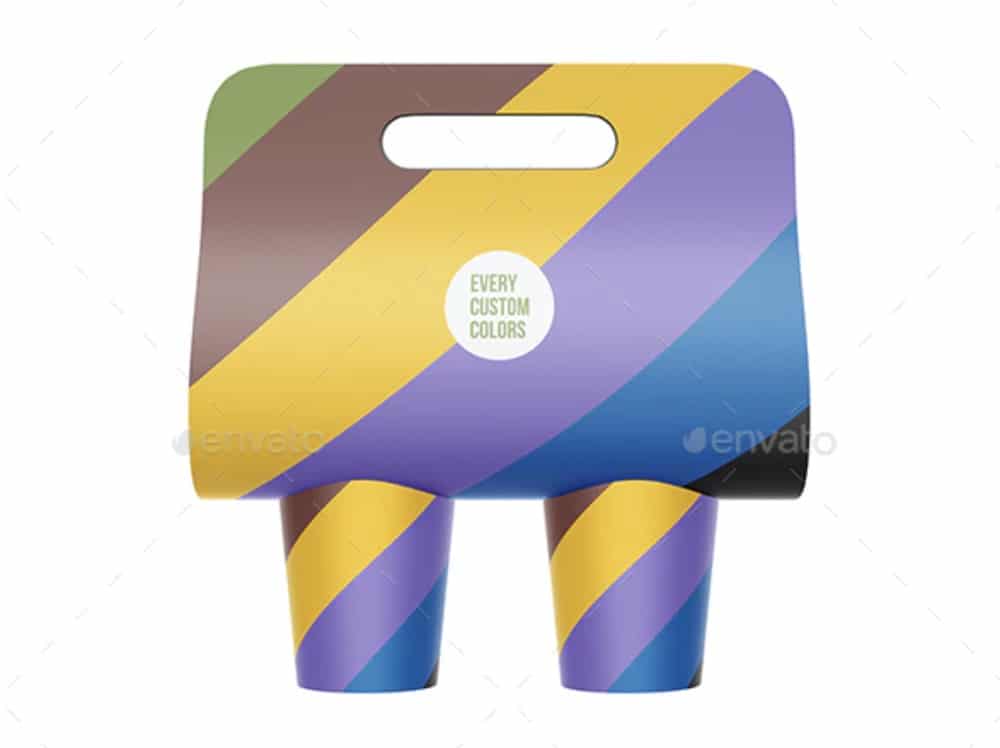 To be more precise, this is actually a cup carrier mockup. It comes with two options: just the cups or the cups + the carrier.
What's cool, you can design both according to the necessary branding regulations you need to follow.
It's very easy to work with due to the amazingly layered PSD structure and smart objects.
You can change colors and create an EXTREMELY detailed presentation due to the jaw-dropping 4000 x 3000px resolution.
Price: $10
MORE INFO / DOWNLOAD
8. Coffee cups with holder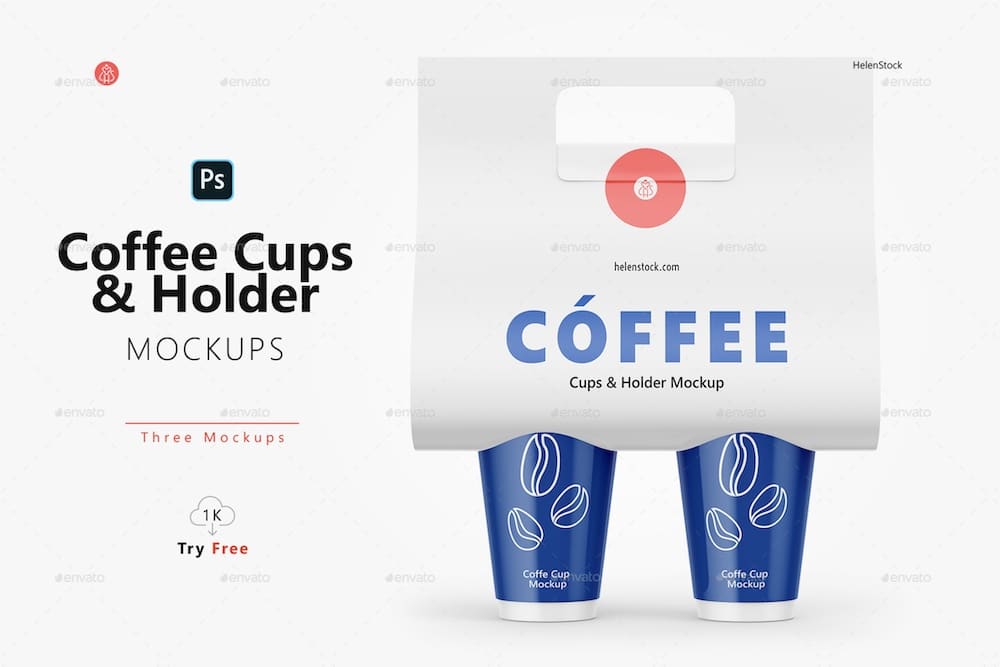 Here's a similar solution to the one above with different options to create the outcome you desire.
Even though it's a front view by default, you can also create a presentation of the back view. (See side view below.)
The wrapping of your design happens instantly due to the convenient smart object. Add a custom background, make it transparent, WHATEVER!
One cool specialty: You get three different paper effects – matte, glossy and kraft.
Price: $25
MORE INFO / DOWNLOAD
9. Cup carrier packaging mockup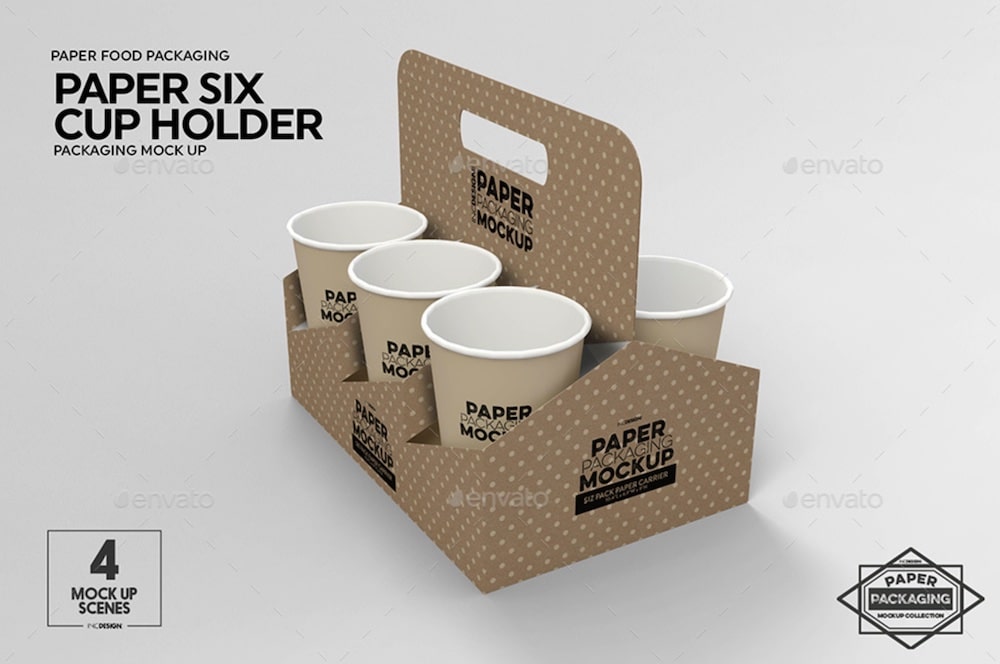 This is the only six-pack cup carrier mockup that we found with the best potential of using it for various clients.
You can quickly create a spectacular showcase with the available four high-quality views/angles. They all come at 5400 x 3600px (300dpi).
Everything is completely editable (the inside of the carrier, too), and you can even remove the cups from the carrier.
(We played with this one, creating different variations, A LOT.)
You can also see a few packaging examples first if you head over to the product page.
So. Good.
Price: $15
MORE INFO / DOWNLOAD
10. Coffee cups and holder mockup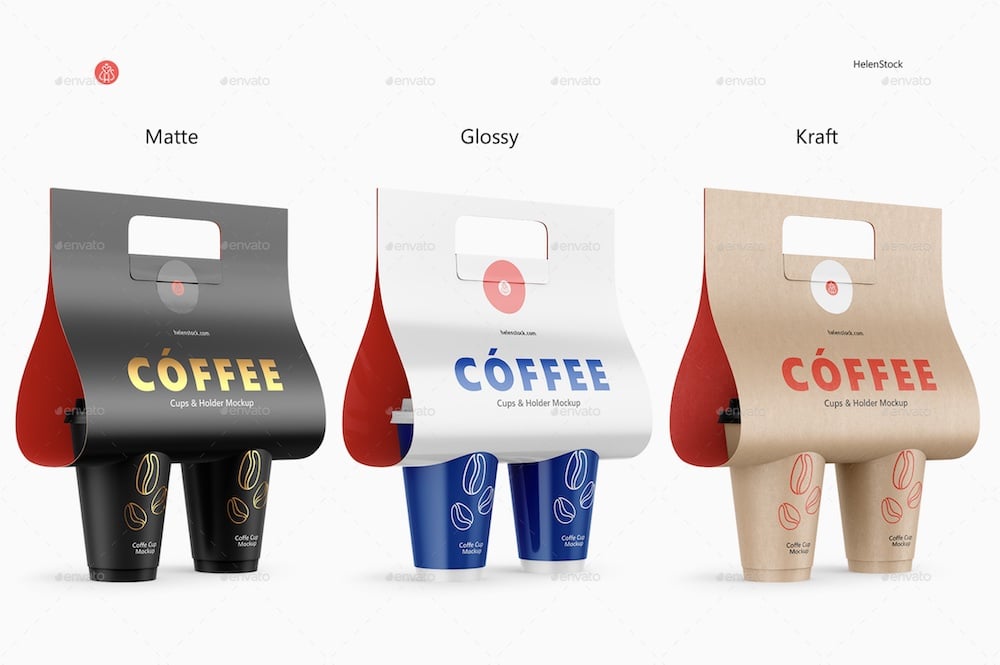 This is the one with the side view that I was referring to before.
Thus, I will not describe it again since they are from the same author with the same specs. (Just a different angle.)
Price: $25
MORE INFO / DOWNLOAD
11. Recycled paper cup sleeve mockup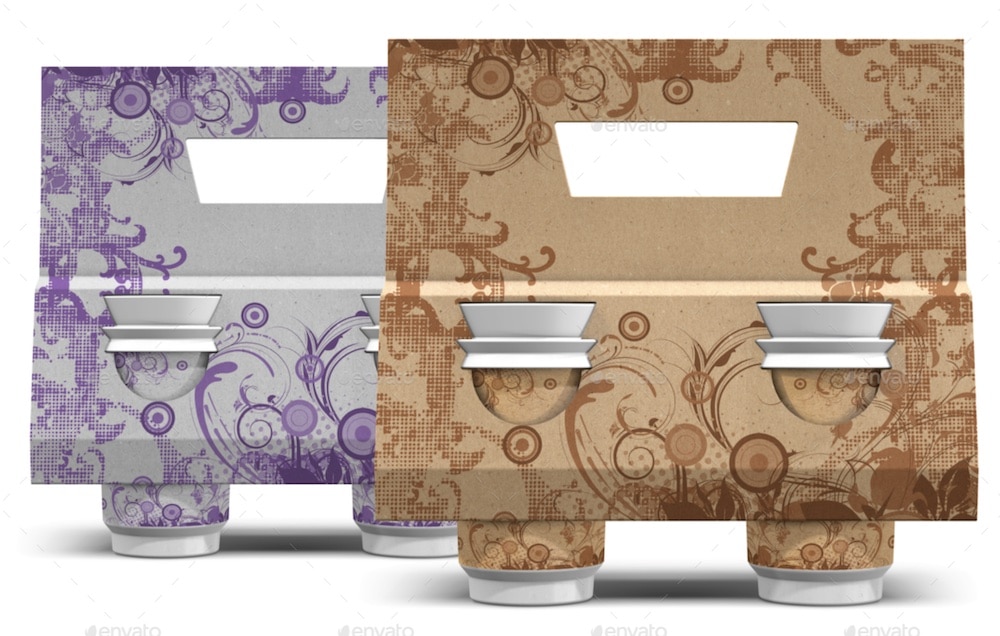 This is the most original cup holder mockup with a carrier that we have here for you.
That's why it may not apply to every user, but to those which it will, you'll HAVE A BLAST using it.
We only tested it but didn't use it on any live projects.
However, we know which mockup we'll use if we ever receive a request to design a recycled paper cup and holder.
Features:
6700 x 4500px (wow!)
White or brown paper
Cake (very important!)
Extensive help file
Price: $7
MORE INFO / DOWNLOAD
12. Takeaway disposable cup holder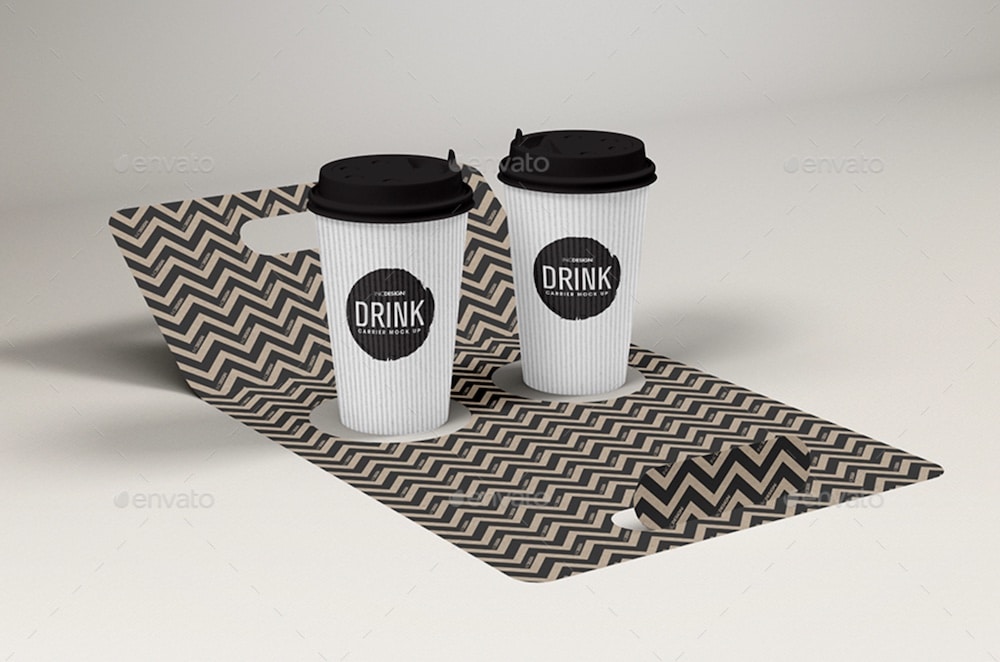 Everyone's stoked if you bring them coffee. But carrying two cups is very inconvenient. That's why holders or carrier come in exceptionally handy.
And it's you who'll create such that will make the coffee brand or coffee shop STAND OUT even more.
But even if it's hot chocolate or tea, these mockups sort things out easily.
Smart objects, organized layers, sleeve die-cut, and clean background are these mockup's goodies.
You can also select between regular or ripple textured cups.
So. Many. Options.
Price: $14
MORE INFO / DOWNLOAD
Best Free Cup Holder Mockups
13. Floating coffee cup mockup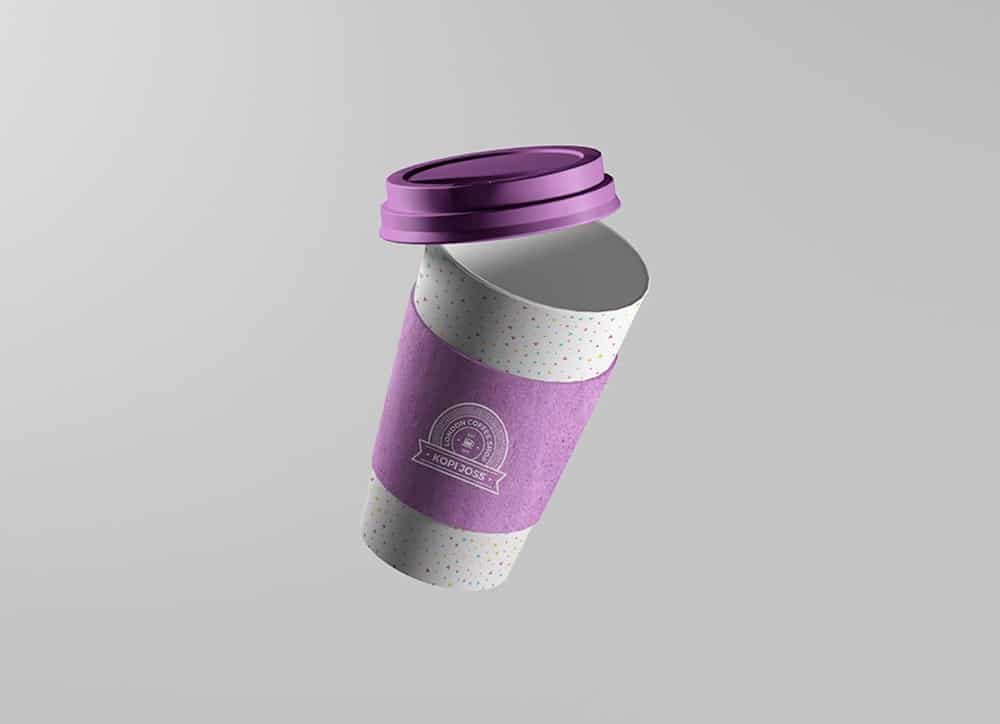 This floating free coffee cup with a holder will definitely spark everyone's curiosity. Especially once you introduce your creative touch to the cup, lid and the sleeve.
You have the freedom to be as creative as you want.
Even add a pattern to the cup if that's something you fancy. (Or keep it black or another solid color.)
The choice is yours. We want to show that a lot is possible even with a (HIGH-QUALITY!) free mockup.
MORE INFO / DOWNLOAD
14. Simple free coffee cup holder mockup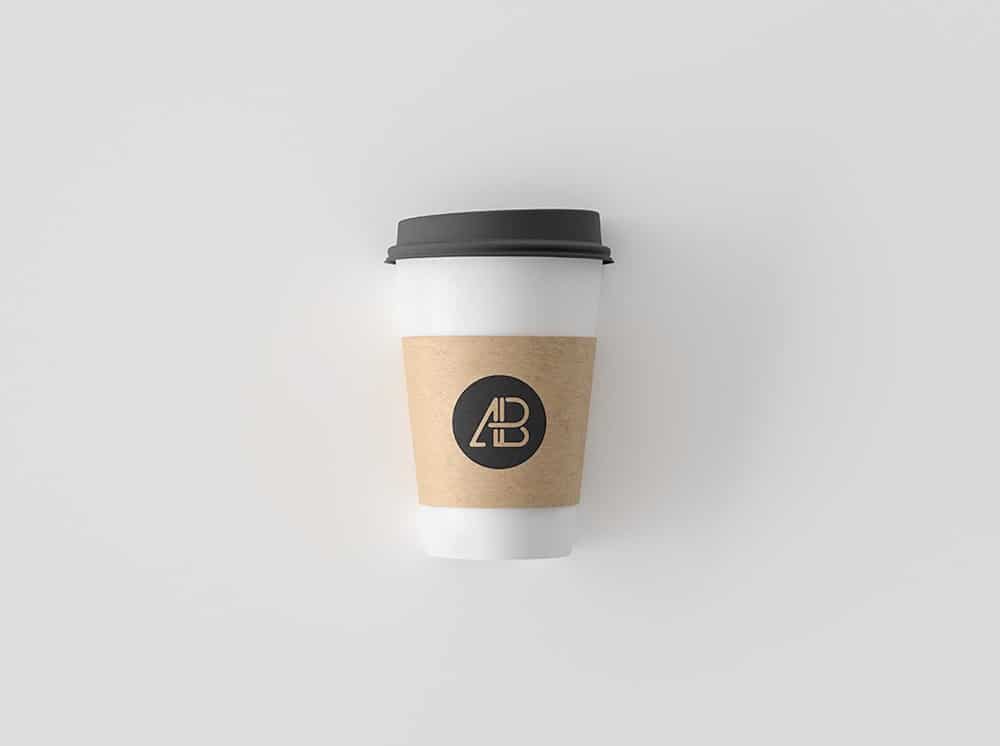 You will enjoy this next free cup holder PSD mockup, if you are a fan of minimalist design (just like we are).
Anthony Boyd always delivers the most top-notch templates that beat many premium ones.
This one is 5000 x 3750px, so you know creating a high-detailed design presentation will be a piece of cake.
You'll make it happen comfortably even if you plan to create a ZOOMED-IN showcase.
MORE INFO / DOWNLOAD
15. Disposable hot drinks cup holder mockup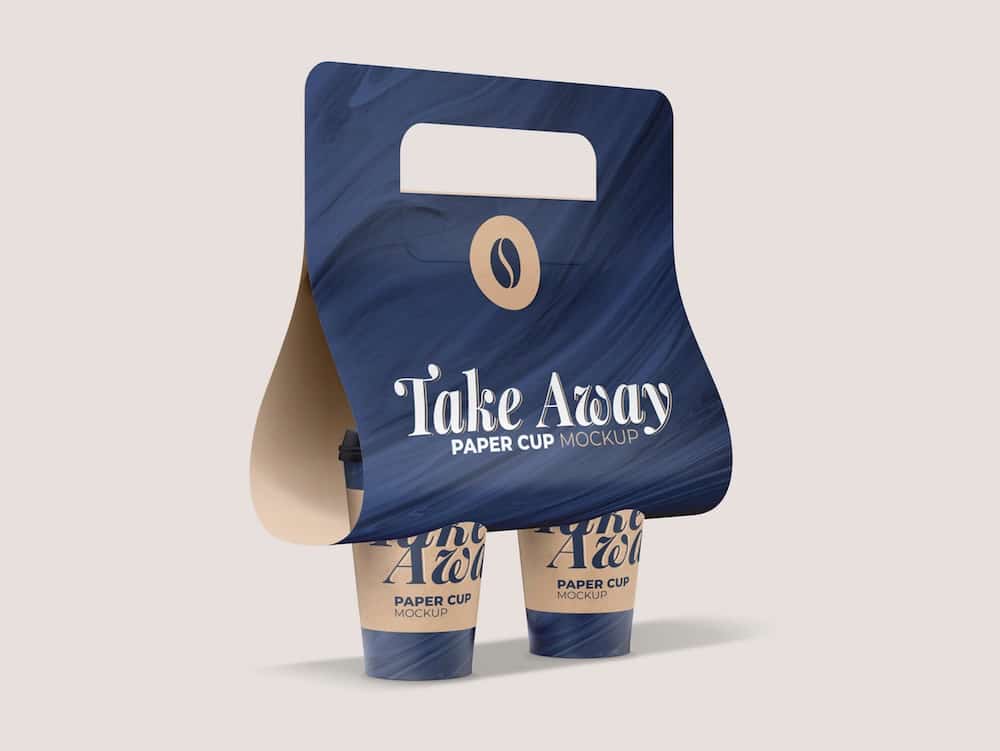 Create a STRONG and LASTING first impression on everyone with this takeaway cup holder mockup.
Yes, you will!
And it takes you very little time to make your idea come to life.
Note: You can use this PSD file for personal and commercial projects.
Attach your gorgeous design via the smart object, change the background and you are done. (No expert Photoshop skills necessary!)
MORE INFO / DOWNLOAD
How To Make A Cup Holder Mockup
Four steps, or should I say, three, is all it takes to design a realistic showcase of a custom cup holder design.
This happens with an online mockup generator.
I'll show you how it's done with Placeit, a tested and proven platform after 100s of successfully created projects.
4 Steps To Design A Cup Holder Mockup:
Step 1: Click this link to go to Placeit. Use the search bar to find the ideal cup holder template.
Step 2: Once on the template page, insert your image first by clicking the blue button. You can resize and reposition your design until it fits the cup holder perfectly. Hit "crop."
Step 3: Lastly, activate other functions to change the color(s), add text, spice things up with a graphic, and more.
Step 4: You're job is done! Download your mockup and enjoy it.
For all Photoshop fans, the process of creating a realistic presentation will take little time, too.
Open PS and import any premium or free PSD from the above collection.
Then find the smart object layer (it's easy) and use it to transfer your design from your device to the mockup.
Because of the user-friendly layered structure, navigating other layers and modifying the mockup with your creative twists will be a piece of cake.
Save and download when done, and you're ready to go.
::
Note: This article was originally published on August 11, 2021. But our team regularly reviews it and updates it with necessary improvements for accuracy.