You get everything you need for a realistic product presentation with our review of the best bucket hat mockups.
We needed to do it for ourselves and our clients (a lot of testing).
But we are now sharing our favorite ten with you.
THAT'S RIGHT!
Here are many mockup generators and PSDs that we actually used.
(Including the free bucket hat PSD template.)
This post covers:
If you are creating a design for a bucket hat, showcase it realistically with a mockup.
Even if you are making a new model for your online store or apparel brand, a mockup will MAKE MAGIC.
Hit it off!
Best Bucket Hat Mockup Generators
You can make a mockup without Photoshop if you don't feel like using software.
That's when mockup generators come into play.
We prefer to work with Placeit's template, which cost $7.95 per piece. But they also offer affordable monthly ($14.95/mo) and yearly ($89.69/yr) subscriptions.
1. Mockup of a bucket hat on a solid background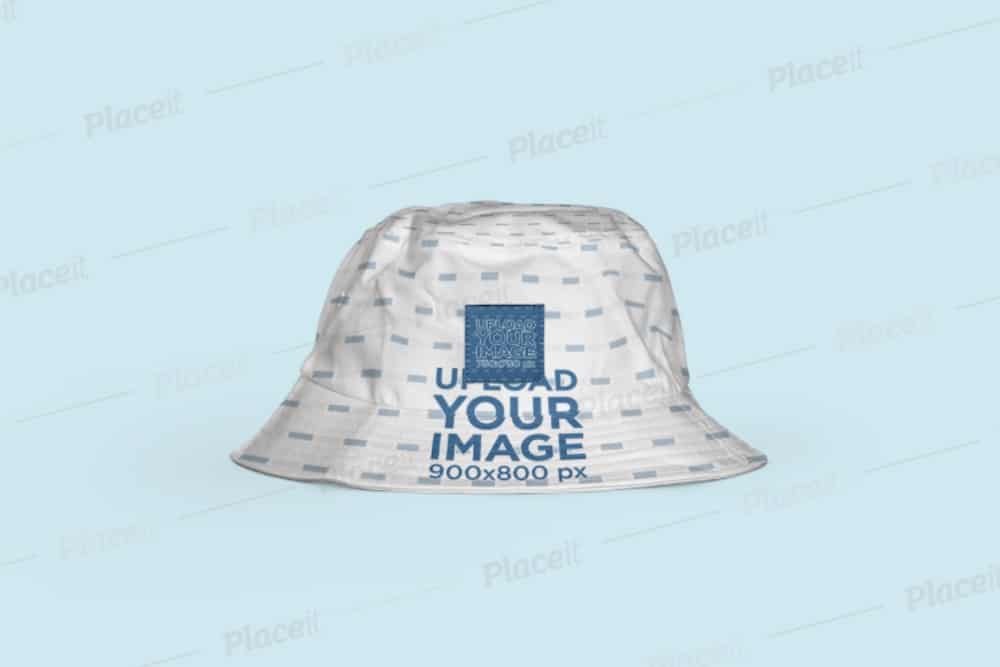 This is a very straight-to-the-point mockup of a bucket hat that you can improve in a few clicks.
What's COOL, you can add a design both to the hat and to the embroidery.
Make it special and stand out.
For this, you'll need very little time.
Note: This one worked for one of our clients very well on their eCommerce website.
We used it on a white background and created an alternative (custom background) version for their social promotion.
MORE INFO / DOWNLOAD
2. Mockup of two bucket hats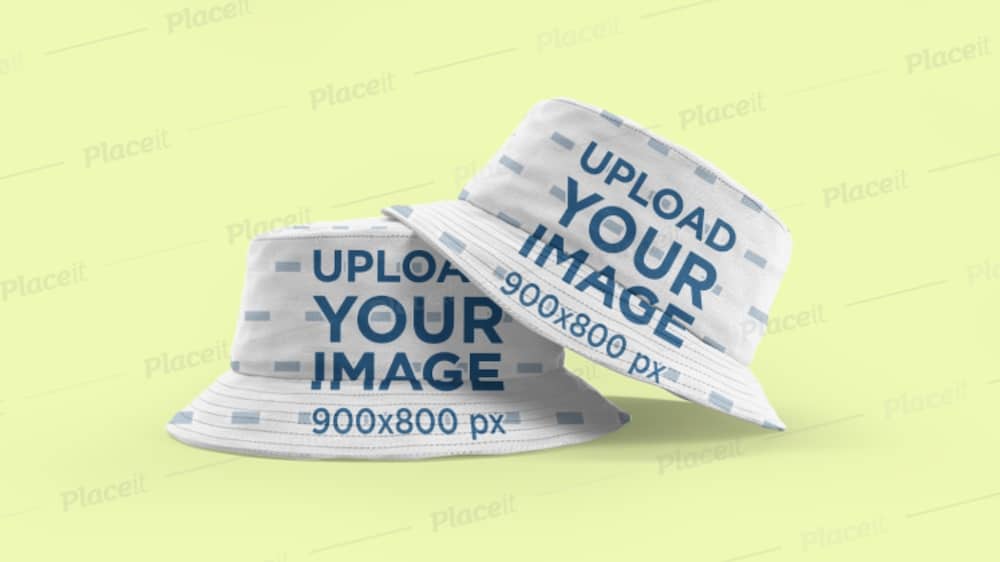 You can BENEFIT from this one for all sorts of different reasons.
First, you can present a design on two sides of the hat.
Second, you can create two styles since the generator allows you to upload two different designs, one for each item.
Third, you can use the same design for each but change the color of the hat.
Maybe a male and female version?
What's more, you can also slide in a custom logo. This allows you to brand the mockup.
MORE. PROFESSIONAL.
MORE INFO / DOWNLOAD
3. Mockup of a floating bucket hat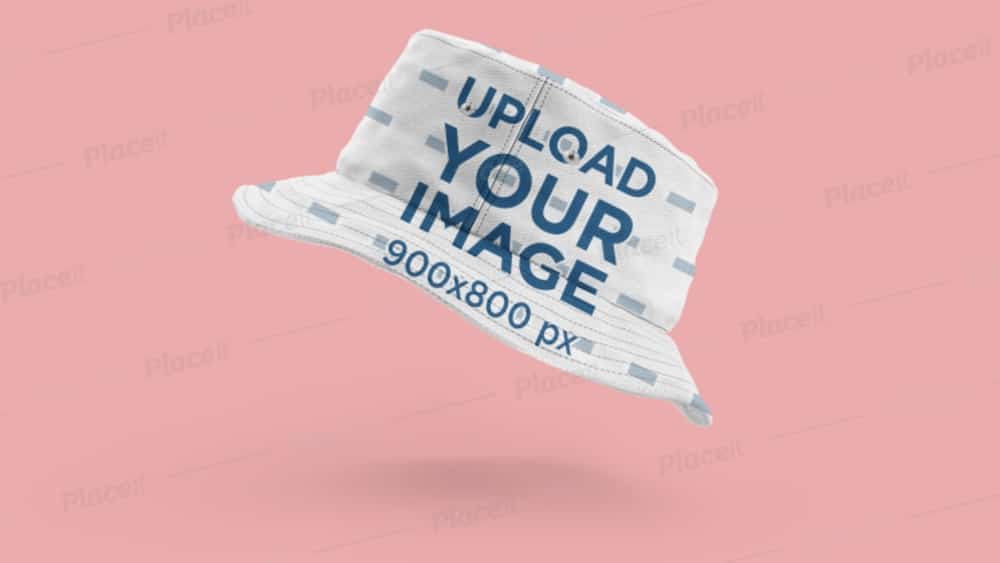 In the beginning of my design career, I didn't really get the point of floating items/products.
But I found out they work when I recently combined them with my online marketing knowledge and testing.
I haven't done a survey asking users why they like floating items, but the numbers were good indicators.
That said, if you want to create a great showcase of a custom bucket hat – FLOATING! – you make the right choice if you pick this one.
MORE INFO / DOWNLOAD
4. Bucket hat mockup generator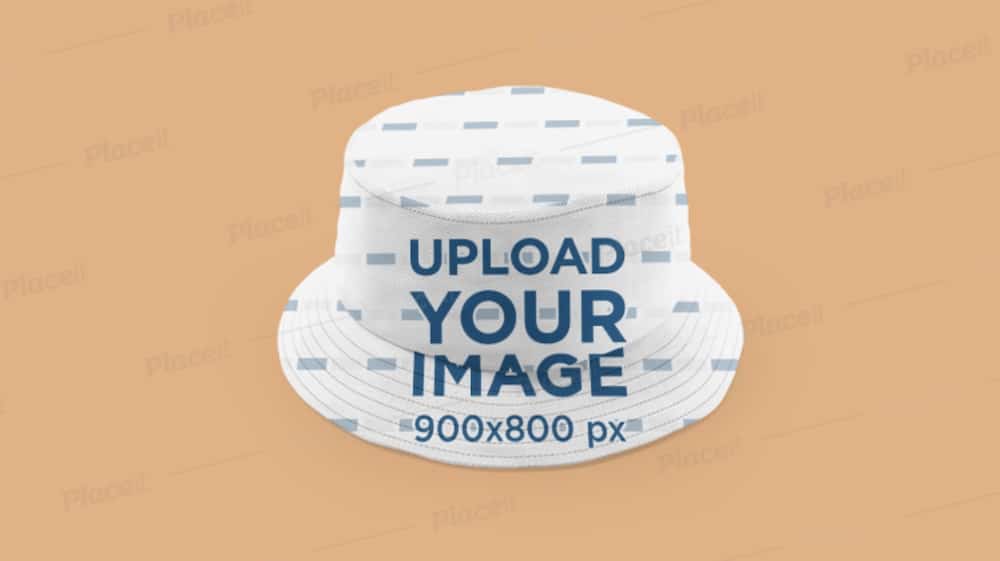 I mentioned it in other reviews already but I'll do it once again here: Go with simplicity when you're in doubt.
IT WORKS. Always.
And the same applies to bucket hat mockups. This entire review focuses on these types of templates. (Just that the hat may be a slightly different model.)
Add text, logo and design, change the colors of the hat and background and you are ready to roll.
Imagine how awesome it would be if you'd also have an option to add a design to the top of the hat.
YUP!
MORE INFO / DOWNLOAD
5. Mockup of two sublimated bucket hats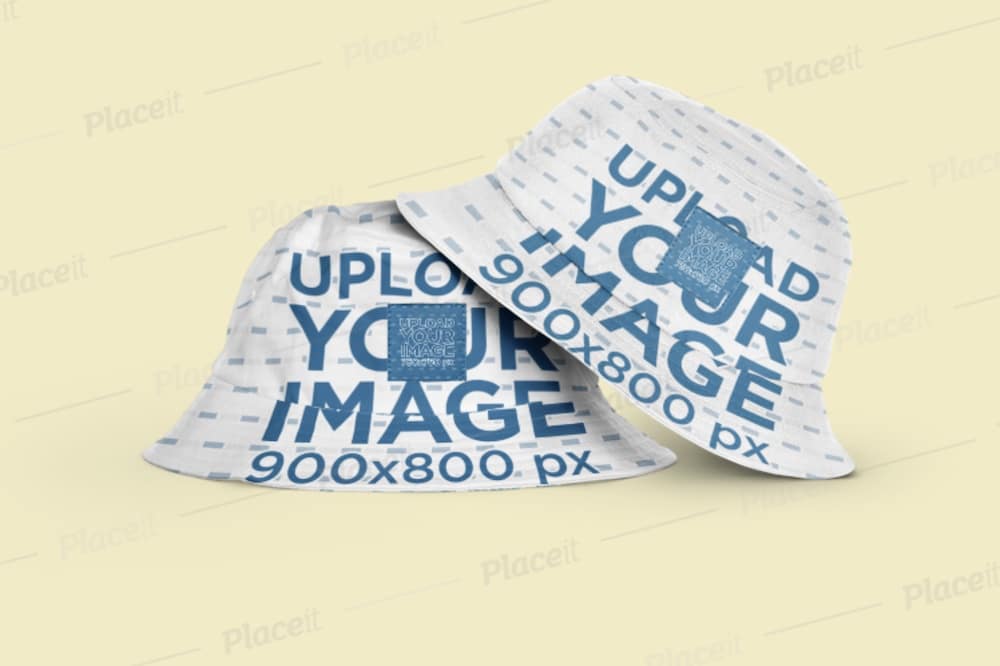 The same model of a bucket hat than the one above, just that you get two. I won't go into details how you can use this one since I mentioned it – yes – above.
BUT.
You get to play with a lot of customization functions. You can import four designs, two for the hats and two for the patches.
Moreover, you can also change hat, patch and background colors individually. And there're also options to add text and logo.
Hint: We didn't really like adding text in this case. However, a logo in the top left corner worked very well.
MORE INFO / DOWNLOAD
6. Floating & angled bucket hat template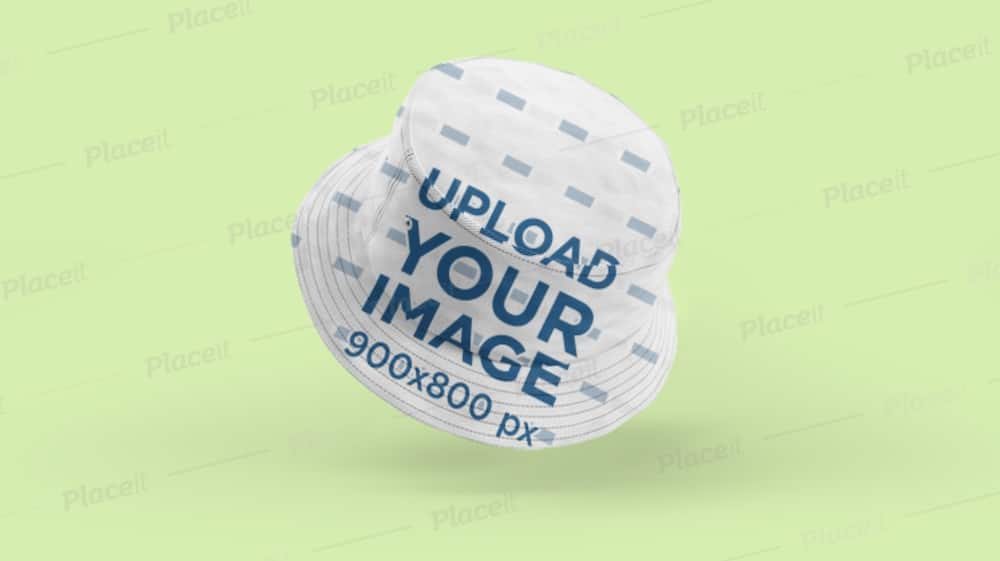 This bucket hat mockup doesn't only feature a floating item but angled, too.
It is great for online stores, social media, or simply as a client showcase.
The options are many.
And since it's an online mockup generator, working on different variations is QUICK and EASY.
You can even make a prototype before creating a free account on Placeit.
Get creative!
MORE INFO / DOWNLOAD
Best Bucket Hat PSD Mockups
7. Highly realistic bucket hats (+ female model)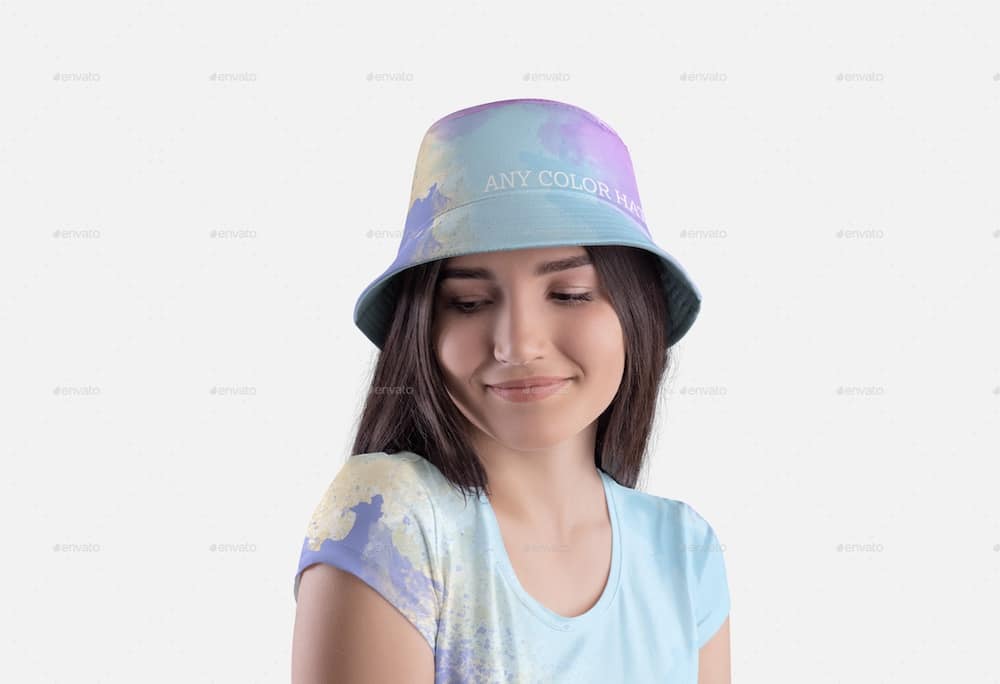 This is the only reliable set of PSD mockups of a bucket hat that we found featuring a female model.
You get seven layered PSD files, of which one contains just the hat.
The amazing quality (5000 x 4000px) ensures an OUTSTANDING exhibition that will trigger everyone's interest.
This also gives you a chance to create a close-up without sweat.
Customization: This one is 100% editable and configurable. The hat comes with different layers, which you can improve individually.
Fun fact: You can also create a matching T-shirt. Yes, it's modifiable as well.
Price: $9
MORE INFO / DOWNLOAD
8. Bucket hat 3D mockup set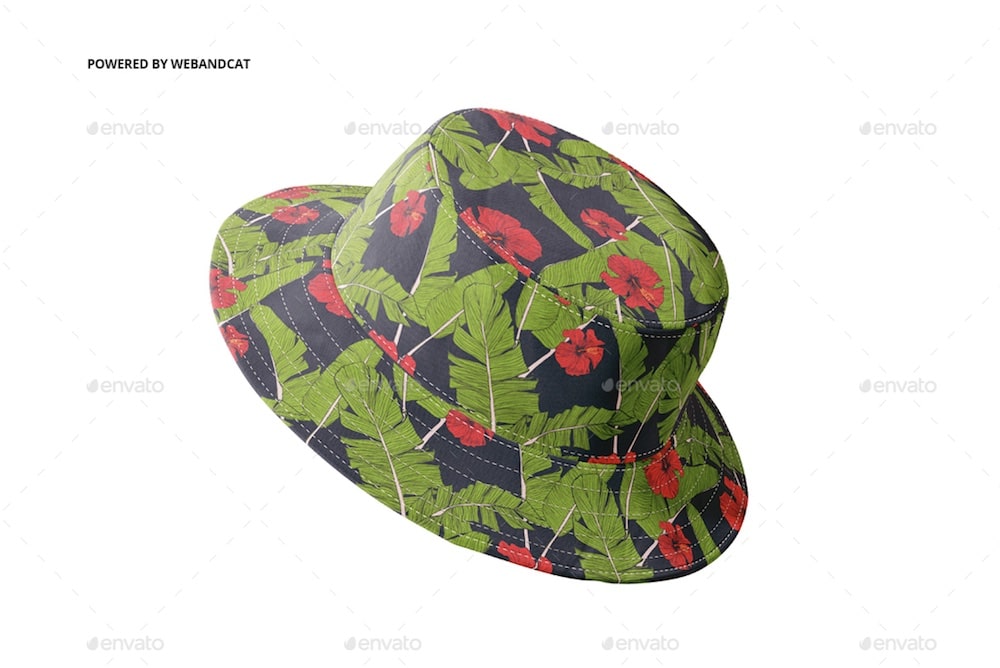 This bucket hat PSD mocup has a life-like 3D effect that no one will tell you used a template and it's not an actual product photo.
Yes, it's THAT GOOD. (Plus, the 6000 x 4000px resolution makes it extra special.)
We also went one step further by changing the colors and adding custom stitching.
Shadows and reflections are also adjustable, so you can make an outcome that's to your liking.
Price: $6
MORE INFO / DOWNLOAD
9. Bucket hat with embroidery PSD mockup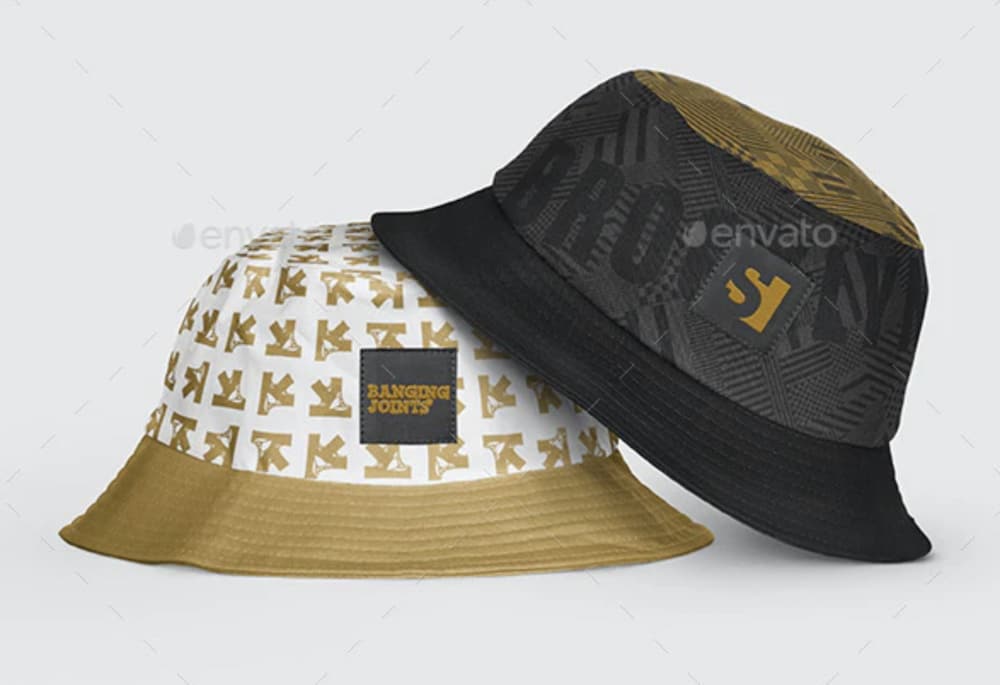 Personally, I really like embroidery on hats (on clothing in general).
While you can create a similar presentation with an online mockup generator, here's a PSD kit that does the trick, too.
Core feature: Embroidery and badge are actually optional. You can turn them ON or OFF.
This gives you even more freedom and makes the mockups more versatile.
Inserting your designs and logos happens via smart objects.
DRAG-N-DROP is all it takes.
But you can also adjust other elements because everything is easily reachable due to great layering.
Price: $5
MORE INFO / DOWNLOAD
Best Free Bucket Hat PSD Mockups
10. Free Bucket hat PSD mockup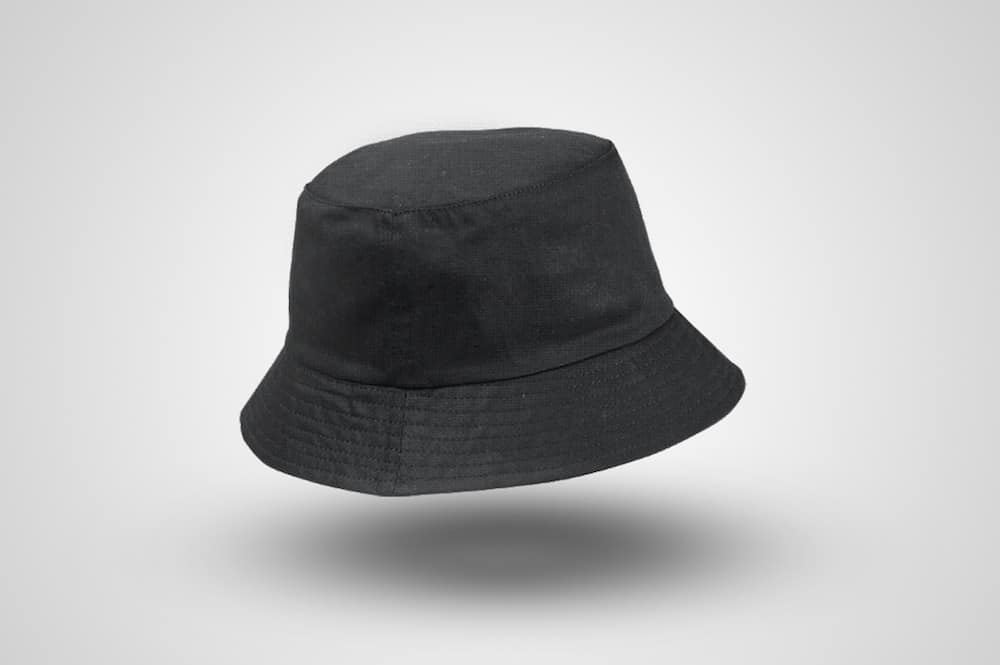 It doesn't mean that a free mockup will give half-baked results.
Sure, finding a trustworthy alternative may be a bit challenging, but that's something we did instead of you.
Here is a free bucket hat mockup in PSD that gets you going in no time at all.
It's pretty BASIC, that's for sure.
However, it'll do the trick if you are working on a new design idea that you'd like to test quickly.
Note: You can also use Placeit for quick testing (if the watermark doesn't bother you).
You don't need to pay to upload your designs – only once you'd like to download the mockup.
MORE INFO / DOWNLOAD
How To Make A Bucket Hat Mockup?
Your task of creating a life-like version of a custom bucket hat mockup becomes a piece of cake with an online mockup generator.
You don't need software, and you definitely don't need skills.
I'll show you how to make it happen with my favorite platform, Placeit.
4 Steps To Design A Bucket Hat Mockup:
Step 1: Go to Placeit (my fav!), where you can find 140+ templates to work with. What's cool is that you can test all of them for free. (But I recommend creating a free account for a smoother workflow first.)
Step 2: Once you're on the mockup page, you'll see a bunch of functions, but start with inserting your design by clicking the "insert image" button. You can also resize and reposition it before sticking it to the template by clicking "crop."
Step 3: And you can now go back to all the other functions to customize the look however you want. It only takes some clicking to make it happen. No. Big. Deal.
Step 4: Are you happy with your creation? Click "download" and get it into the world.
That was QUICK!
However, you'll have a blast even if you use a PSD template.
Import the mockup into Photoshop and find the smart object layer to drag your design. It'll also be effortless to perform other tweaks because I ensured to include only templates with a user-friendly and organized layered structure.
One of the benefits of a PSD over a generator is more creative freedom.
Do it your way!
Enjoy.
::
Note: This article was originally published on July 22, 2021. But our team regularly reviews it and updates it with necessary improvements for accuracy.