Welcome to my best free and premium coffee sachet mockups collection, which I put together after months of thorough testing.
I used these for many clients and even gave them to my friend Mike to try as a Photoshop beginner. (Easy!)
Each mockup is proven to work, so you can go all-in with your project, making a photorealistic version within a few clicks.
Quick work is my favorite. Of course, while still achieving the ULTIMATE quality.
This post covers:
And that's what you'll experience with all the below PSD templates.
Just. Do. It.
Best Coffee Sachet PSD Mockups
1. Pouch sachet mockup set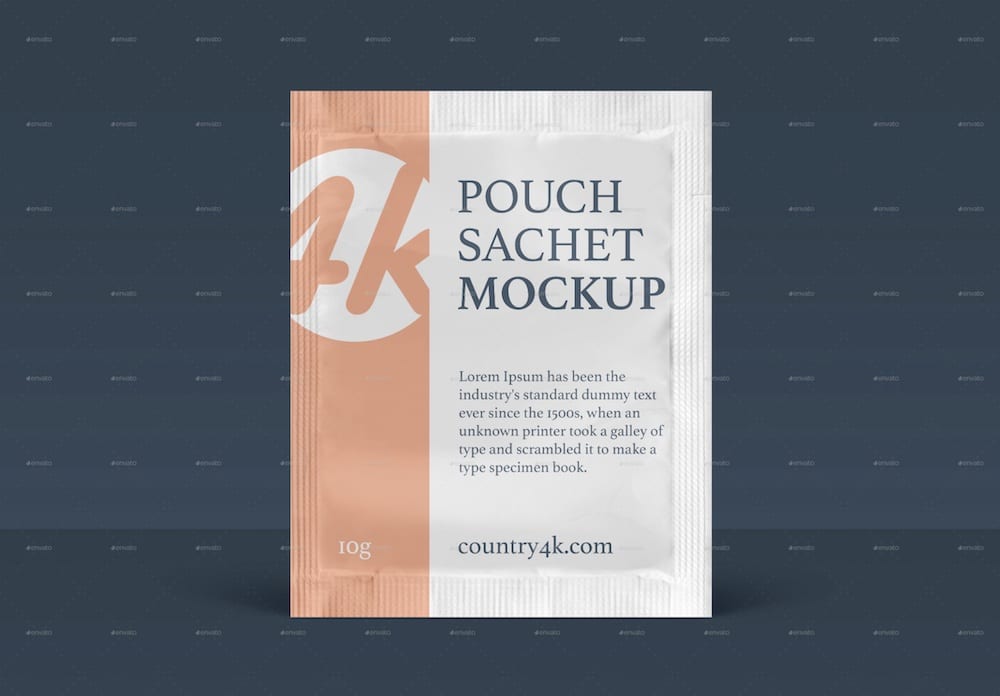 I received a request to create custom coffee sachets, and end up working with this and the following mockup set the most.
They are from the same author, delivering extreme quality (5000 x 3500px).
I worked with all three angles, enjoying the complete customization freedom. They are all layered PSD files, ensuring everyone gets the most out of them with ease.
Excellent organization for the BEST and extremely photorealistic outcome! Go.
Price: $11
MORE INFO / DOWNLOAD
2. Rectangular sachet mockup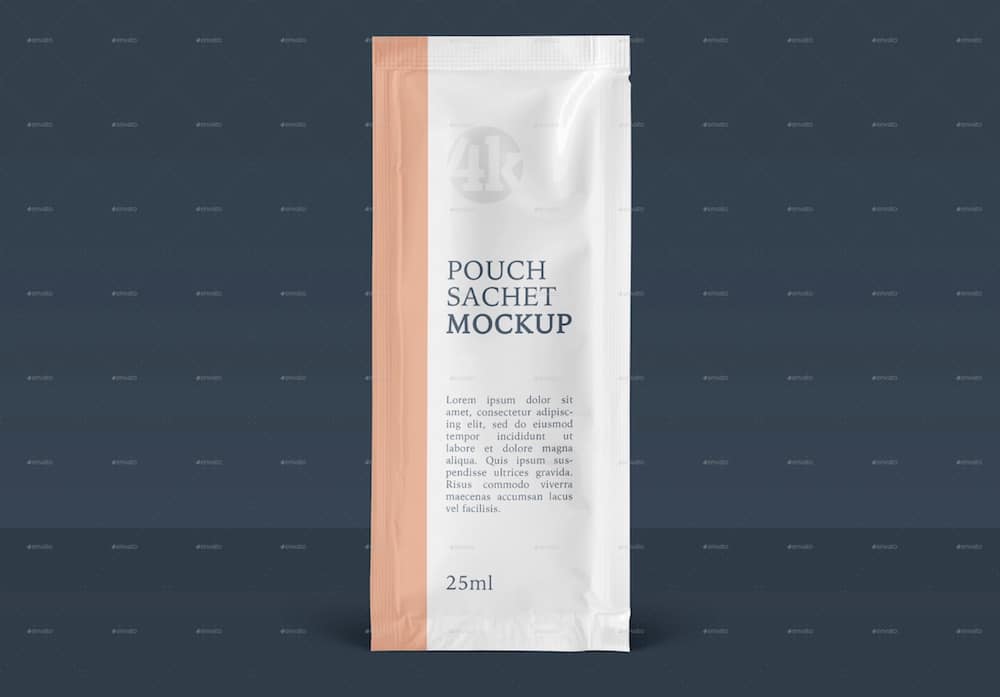 And this is the second one I used the most. A rectangular version of a coffee sachet that you can take to your total advantage.
You get everything you need with the five ready-to-use angles, beautifully displaying the front and back design.
Speaking of design, drag and drop them via convenient Photoshop smart objects. So. Simple. (And so quick!)
I also REALLY enjoyed the angled view because it grabbed the attention of the potential customers nicely.
Price: $11
MORE INFO / DOWNLOAD
3. Plastic pouch with sachet mockup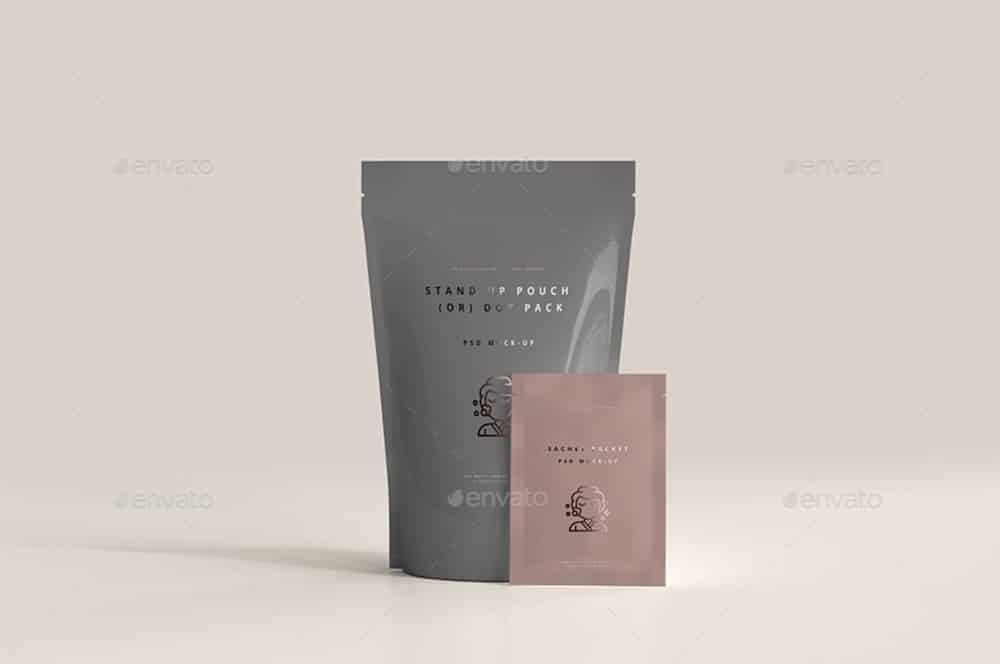 This is a bundle of a coffee bag and sachet that desperately waits for your branding.
You can improve both items in a few clicks, creating a life-like presentation that will wow everyone.
The batch contains endless variations that save you time and energy. You can have a pro-level design presentation ready to go within seconds.
REALLY! (Try it, you won't believe how fast it is.)
Price: $8
MORE INFO / DOWNLOAD
4. Sachet & bag mockup bundle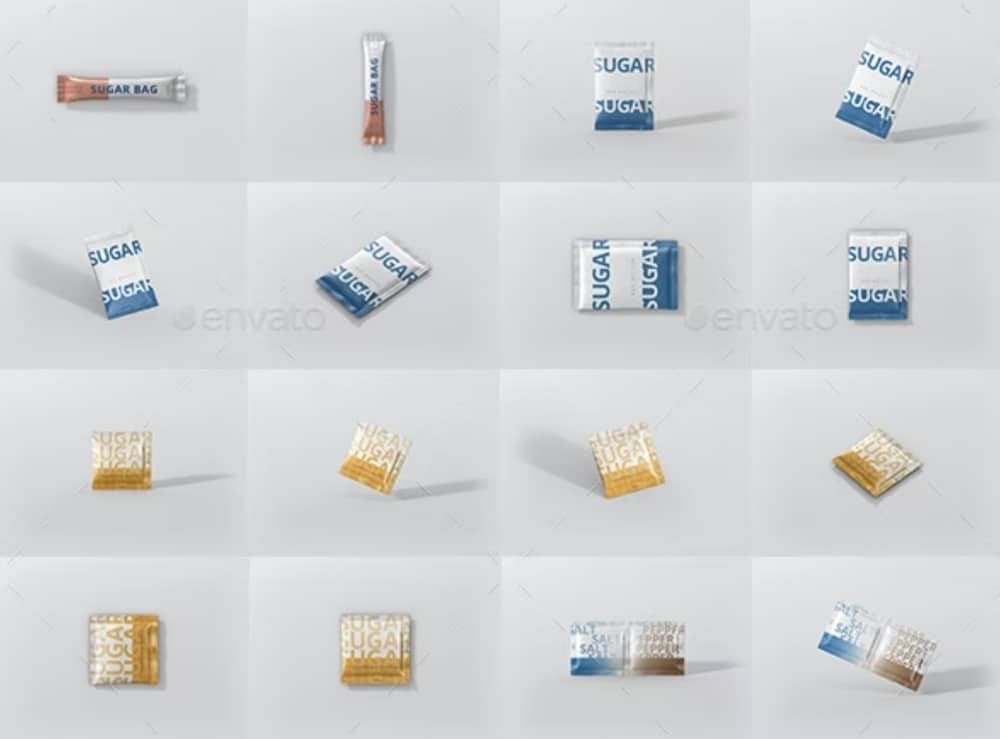 If you don't want to purchase a bunch of coffee sachet mockups, then I highly advise you to pick this one.
Why?
Because it contains 24 PSD files, delivering multiple sachet styles that easily cover many client needs. You also get three textures and three layer styles, which you can apply to your project.
Also, I really liked the matte material look (but glossy is also an option). Adjust the configurations, and you're done.
FAST.
Price: $12
MORE INFO / DOWNLOAD
5. Coffee pocket mockup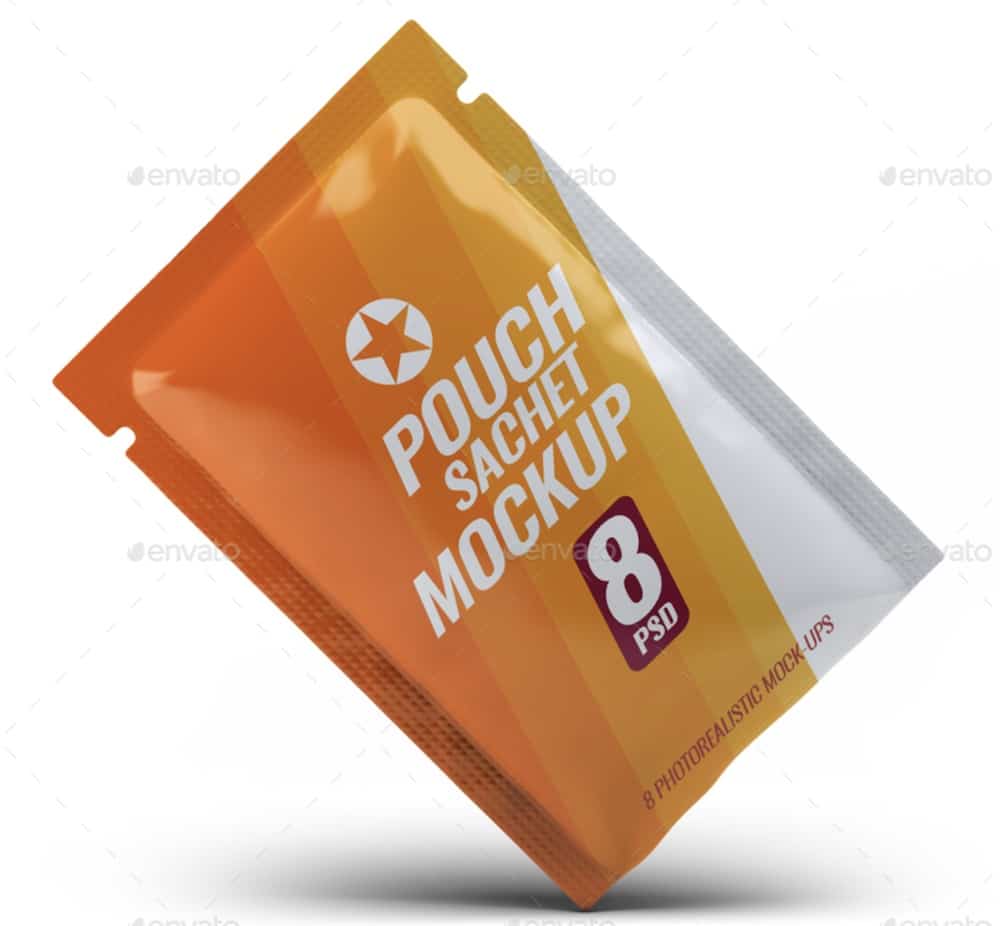 Here's a secret I haven't shared with anyone: I used this sachet mockup for various projects, not just in the coffee industry. It's so flexible and adaptable, so you can do it, too!
The set of eight PSDs was more than enough to make a realistic presentation that impressed all my clients.
Easy use, great detailing and endless customizations – THAT'S it!
It's now your turn.
Price: $7
MORE INFO / DOWNLOAD
6. Sachet foil coffee bag package mockup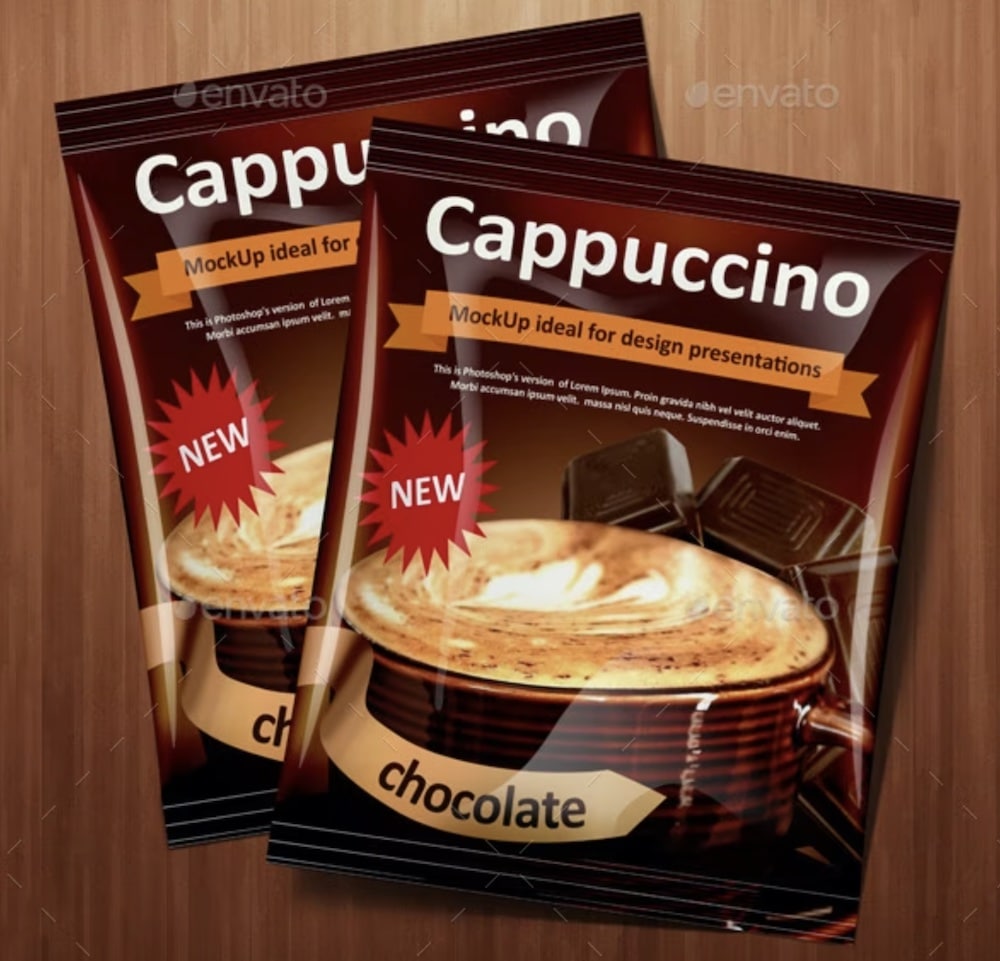 To be honest, I was a bit skeptic about this one, but I just needed to try it because of the number of sales.
It ended up being a must-inclusion to this collection. It's a large kit of seven bag sizes with five additional sets per size.
YUP! You now know why I needed to test it, and it worked so well.
The 3000 x 3000px dimension is also large enough for detailed designs and close-ups.
Enjoy.
Price: $7
MORE INFO / DOWNLOAD
7. Coffee sachet PSD mockup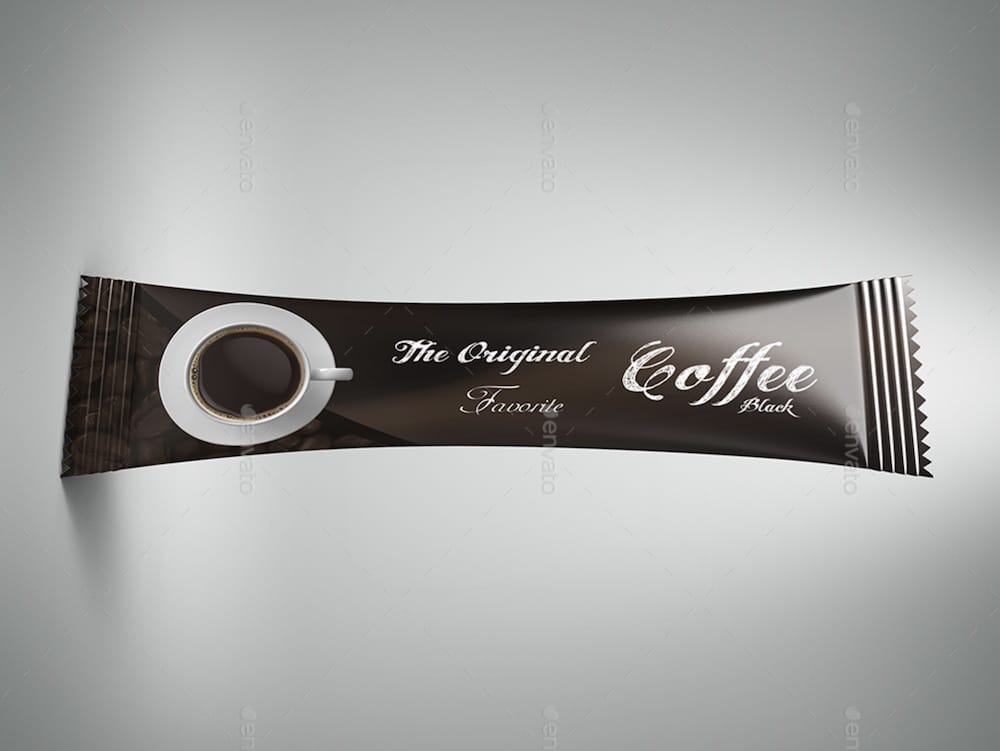 Not all on this list are straight-up coffee sachet mockups, but this one is. (But all the rest are easily editable to configure to your needs, so we good.)
Three fine examples of the front view (or back?) are ready-made for you to make a custom version super fast.
I also added my custom background, but I could also work with the five available ones. (AAAND, all three PSDs are printable!)
Price: $5
MORE INFO / DOWNLOAD
8. Stick sachet set mockup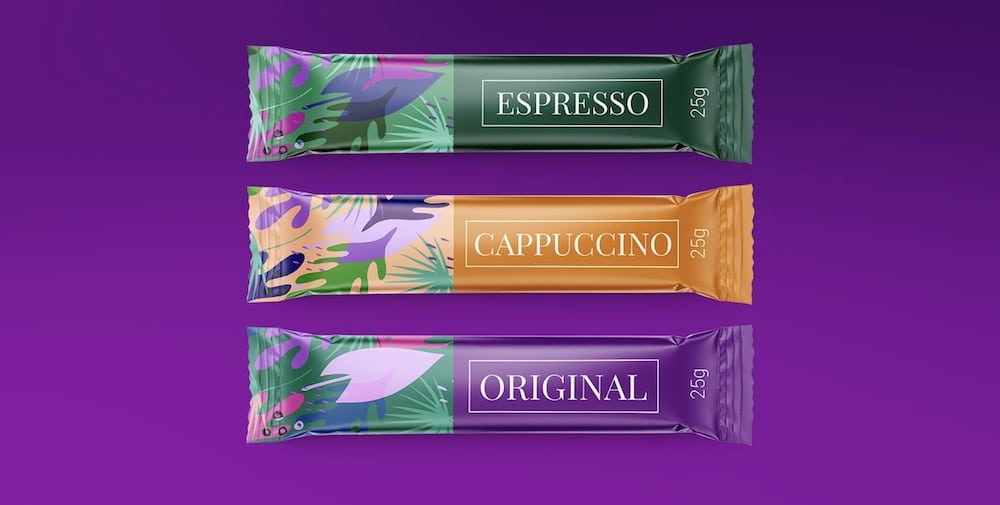 Instant coffee sachets deserve the best packaging and you can make the presentation happen with a mockup.
The SIMPLE steps allowed my friend, Mike, to create a final version even as someone who is a Photoshop newbie.
Yes, working with the set is that easy.
You just open the file, change the packaging color, add your design and voila – YOU are done!
Note: You may also want to learn how to create a packaging mockup.
Price: $14
MORE INFO / DOWNLOAD
9. Sachet packaging mockups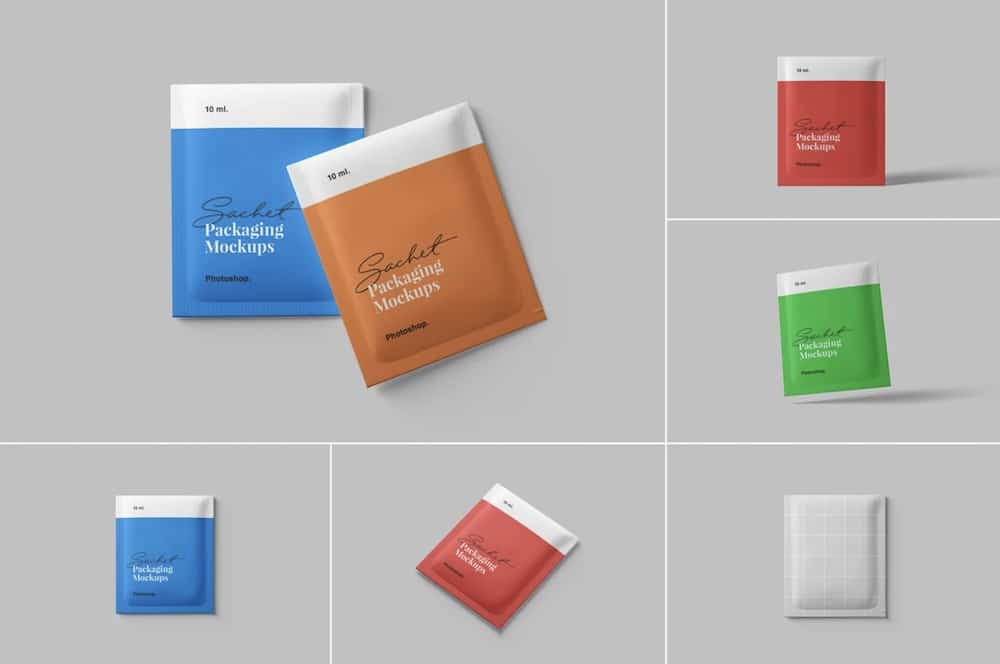 An outstandingly FLEXIBLE sachet mockup that works for foods and drinks. Yup, coffee, too!
Five PSD templates are predefined to import into Photoshop, open smart object layers and stuff them with your creativity.
Remember, these mockups come with a help file just in case.
(You can even get in touch with the author if you have any questions.)
But it's SO easy to work on your project, boosting your workflow through the roof.
Price: $12
MORE INFO / DOWNLOAD
10. Coffee sachet mockup PSD set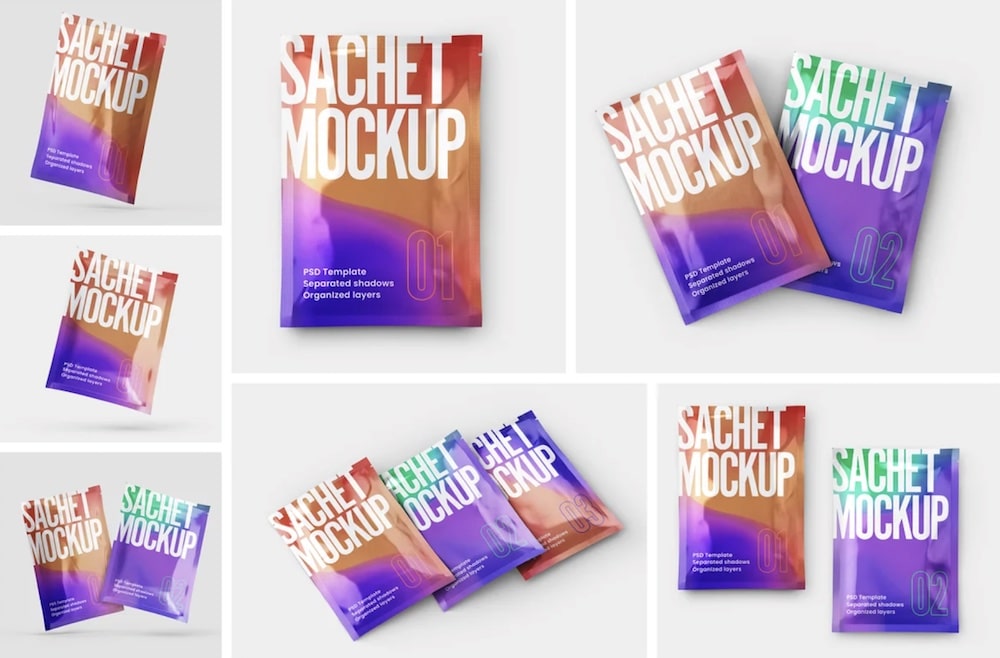 A lovely set of coffee sachets that I was glad to come across. (But you can use them for other projects easily.)
Seven PSD templates are ready at 6000 x 4000px resolution, which tells more than enough.
But this is just the beginning of all the fun. Every file is neatly organized, making turning the default into something magical a little breeze for me.
And it'll do the same for you.
You're in TOTAL charge.
Price: $15
MORE INFO / DOWNLOAD
Free Coffee Sachet Mockups
Note: You can use all these for commercial and personal projects.
11. Aluminum foil sachet PSD mockup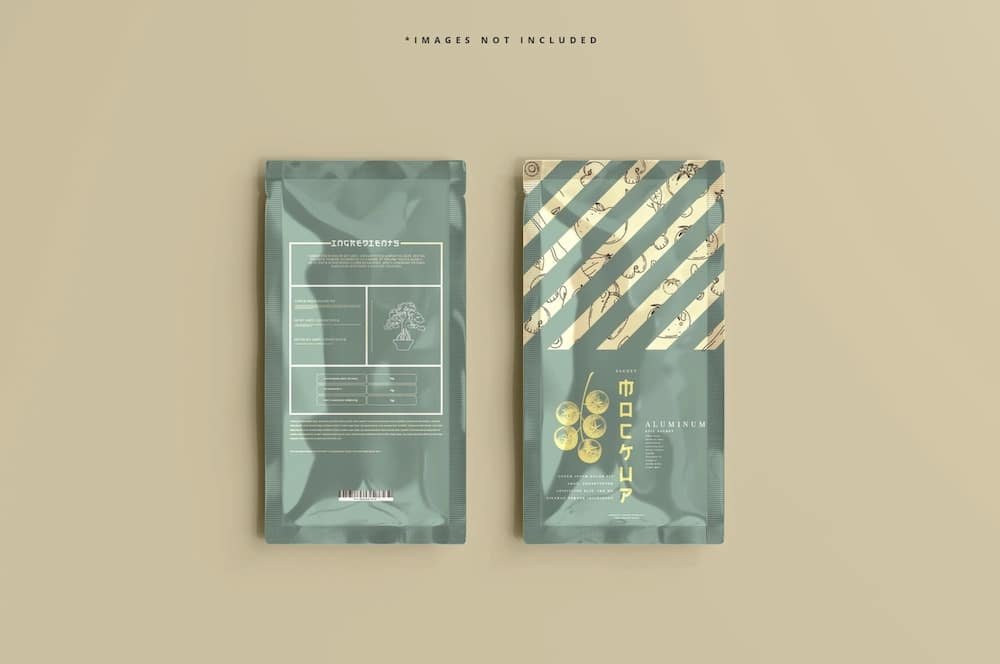 If you've been following me for a while, you know I like free mockups. I don't always start with the premium solution. Why?
Because I don't have to. And I took the exact same approach in the case of coffee sachets.
Start for free, see how the design and logo work and go from there.
And I was lucky to find four high-res free PSDs that I'm now sharing with you – starting with this EPIC piece.
MORE INFO / DOWNLOAD
12. Glossy foil sachet packaging mockup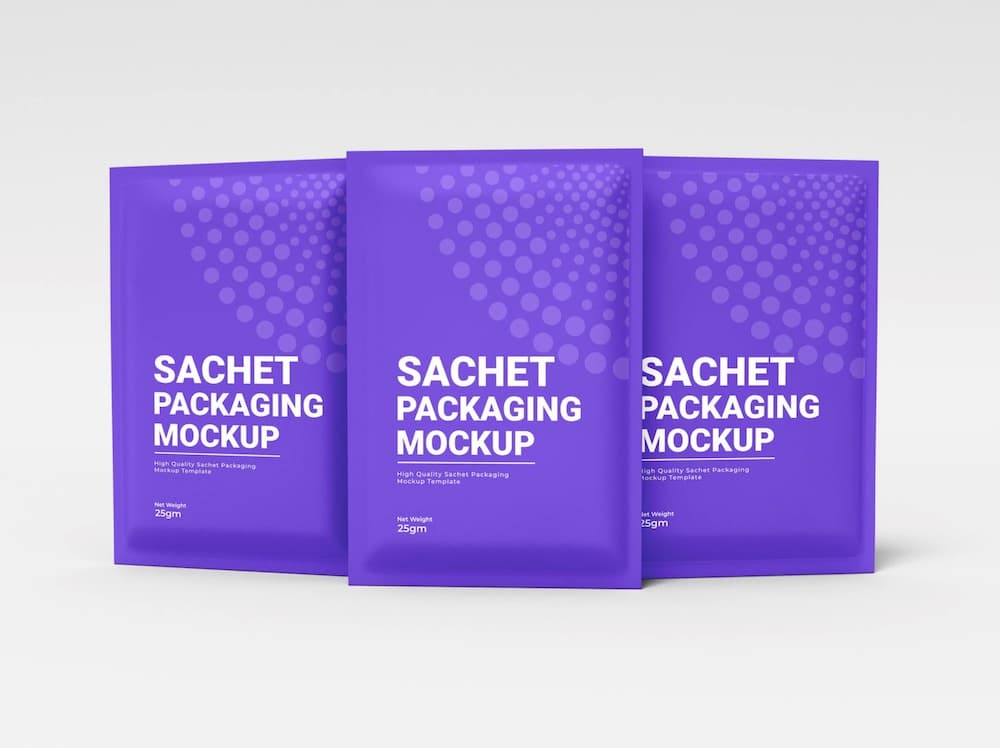 This is one of your best bets if working on a coffee sachet with a glossy finish. Using a free mockup, of course!
I picked this one because I needed to create three sachets for three tastes. After finding different ways to make a LIFE-LIKE presentation, this one was the winner.
MORE INFO / DOWNLOAD
13. Glossy food pouch packaging mockup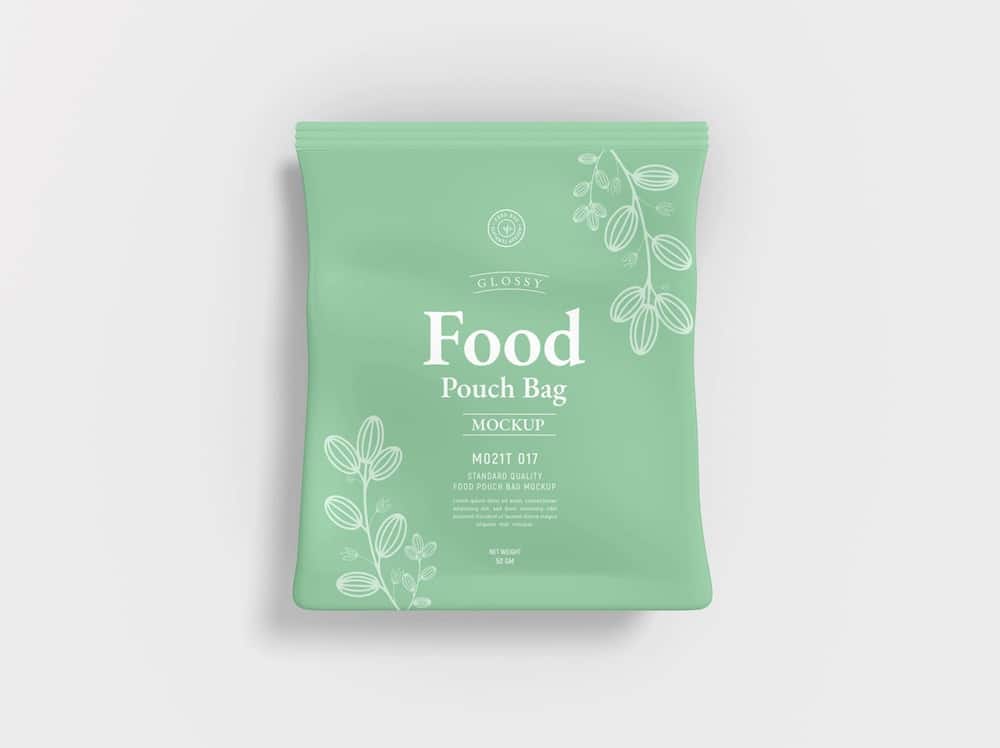 One free coffee sachet PSD mockup that you can use for presenting the front and the back design.
Test logos and branding before the printing so you and your client are safe and comfortable about the highest quality outcome.
Easy work process ensures that everyone creates a TOP-NOTCH project – even as a complete beginner. Yo!
MORE INFO / DOWNLOAD
14. Free coffee pouch packaging PSD mockup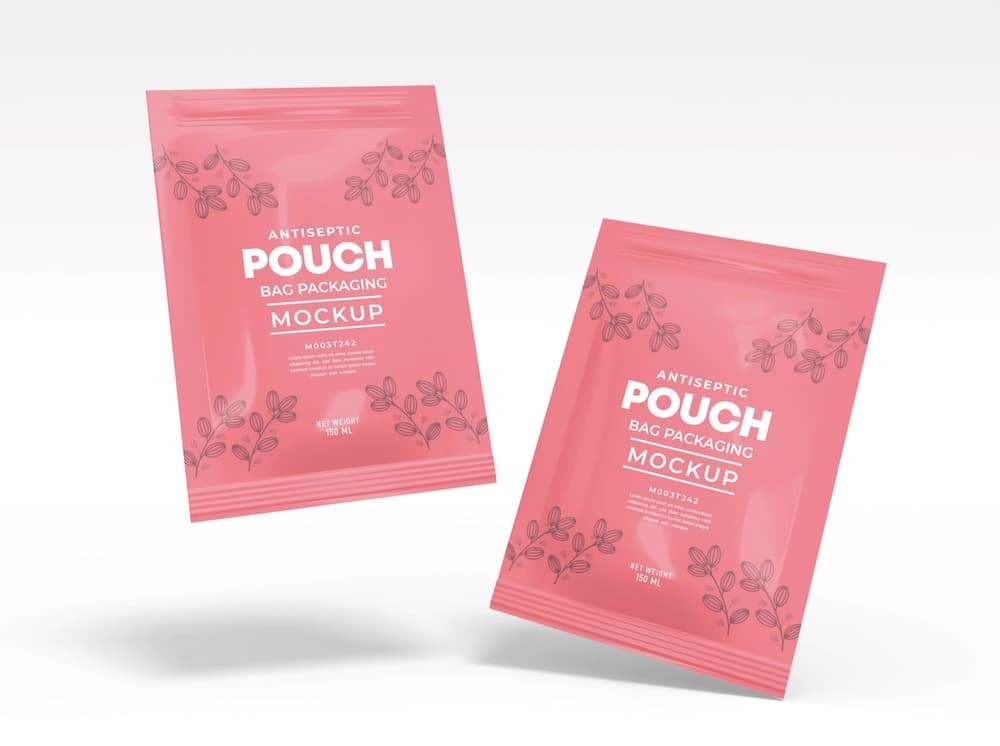 Here's a catchy one. Two floating sachets are all set to rock your logos and designs in the best possible light.
You'll still make everyone go WOW even though a free template. (Hint: You can even find a few other variations on the Freepik that also worked well for me.)
Make. Great. Things. Happen. (For free 🙂 )
MORE INFO / DOWNLOAD
How To Easily Create A Coffee Sachet Mockup
It's way easier to create a realistic presentation of a coffee sachet than you think.
And yes, even if you're a complete beginner!
Here's a step-by-step tutorial showing the effortless process so you approach designing yours more confidently.
Step 1: Choose any of the mockups from the list above, be it a free or a premium one.
Step 2: Open Photoshop and import your template.
Step 3: Search for the convenient smart object layer, which you will use to insert your design. (The organized layer structure allows you to find everything much easier.)
Step 4: The easiest method is to drag and drop your design and see it appear on the mockup.
Step 5: This is when you can have as much fun as you want with other configurations and create the outcome that's to your liking or your client's requirements. (Remember, you can always go back to the drawing board and start all over again, so don't be afraid that you'll ruin something – because you can't.)
Step 6: Optional; create two or three variations to compare them against each other and pick the winner. You can involve your client, too!
Step 7: Save and download your amazing mockup creation and use it anywhere you want (just pay attention to the license when it comes to free mockups).
Turn on your creative skills and design the most epic coffee sachets!
::
Note: This article was originally published on May 2, 2022. But our team regularly reviews it and updates it with necessary improvements for accuracy.