It took me a long time to choose the best coffee bag mockups when working on branding for a client a little while back.
I know many of you go through the same struggling process.
Thus, I decided to put together this ULTIMATE list of online mockup generators, PSD files and free mockups.
So. You. Don't. Have. To.
By the end, you'll have EVERYTHING you need to create quick coffee bag prototypes, marketing designs, heck, even for online stores.
TABLE OF CONTENTS:
All the delicious coffee mockups deliver a powerful, impressive and photorealistic presentation for a low price (or FREE).
Enjoy the goodies!
Best Coffee Bag Mockup Generators
All generators go for $7.95 per template. But you can also go with either a monthly ($14.95/month) or a yearly ($89.69/year) subscription and save.
1. Mockup of a coffee cup and packaging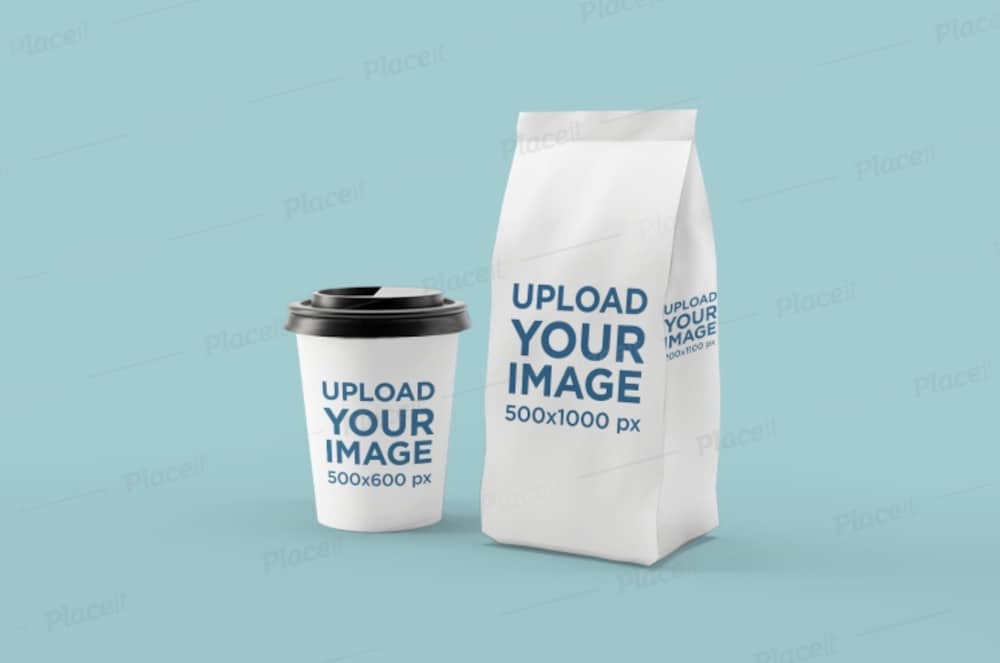 Whether it's for branding purposes exclusively or your personal portfolio, here's a neat and minimal mockup to choose.
You will SAVE yourself heaps of time with this online generator.
Along with styling the coffee cup, you can also beautify the coffee bag however you want.
Even the background is editable. And to spice things up even further, include some text that will engage your viewers even more. You only need to undergo some clicking and that's it.
Note: I also put together a collection of the best coffee sachet mockups.
MORE INFO / DOWNLOAD
2. Mockup of a coffee cup, beans and bag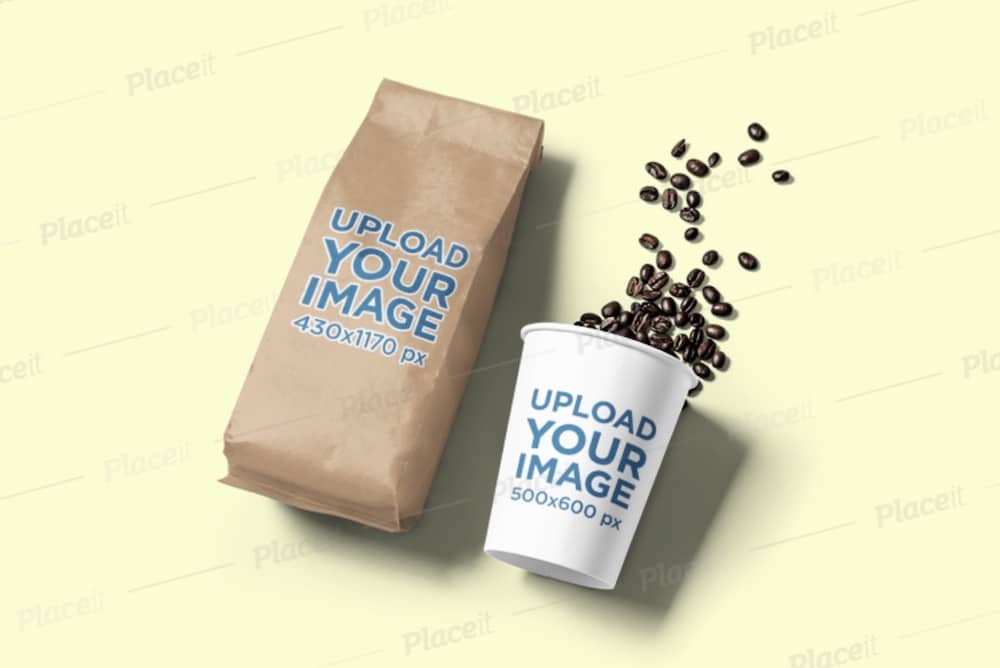 Can it get any more coffee than this? I know, it's the coffee beans that make this mockup stand out. OH SO much.
Modify the kraft coffee bag with both custom color choice and a design.
Moreover, you can additionally improve the cup and change the background. As for the latter – you can even make it transparent.
This way, you can incorporate your custom variation.
Also, the shadow effect ensures a highly realistic effect.
MORE INFO / DOWNLOAD
3. Coffee packaging mockup of a zip bag & two cups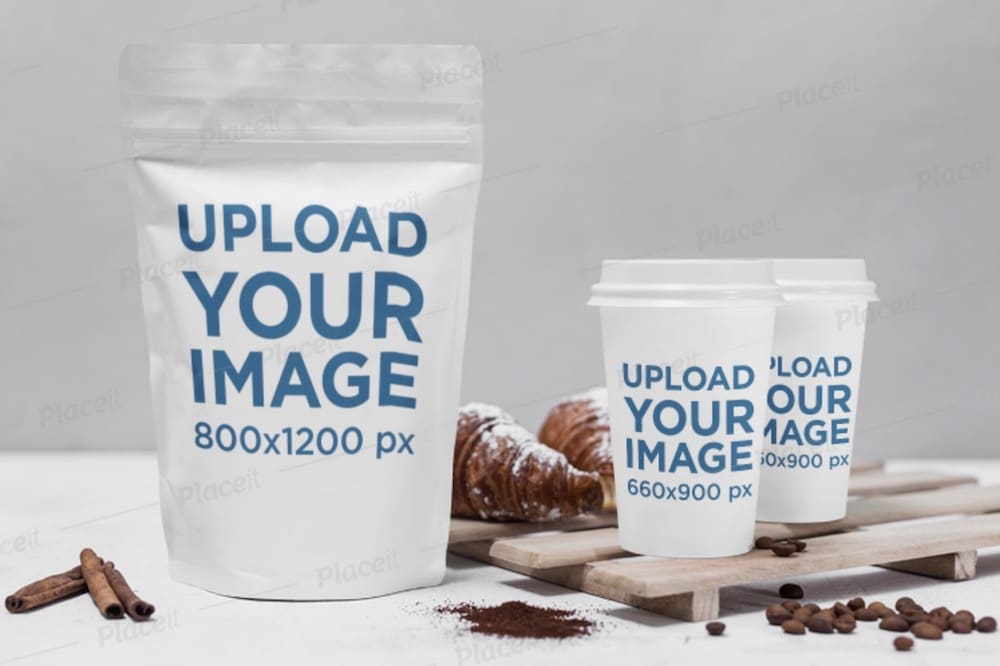 Here's a full-blown packaging mockup for coffee brands and shops.
Two cups, coffee bag, cinnamon and croissants – HOW DELICIOUS.
You will surely trigger everyone's attention with this one. It grabbed mine immediately.
You get two separate color pickers for the bag and cups. Yes, you change the color of both cups with one click.
And with two more clicks and uploads, you can insert any logo or artwork you want to the three items.
Get. Creative.
MORE INFO / DOWNLOAD
4. Mockup of a coffee cup and a zip bag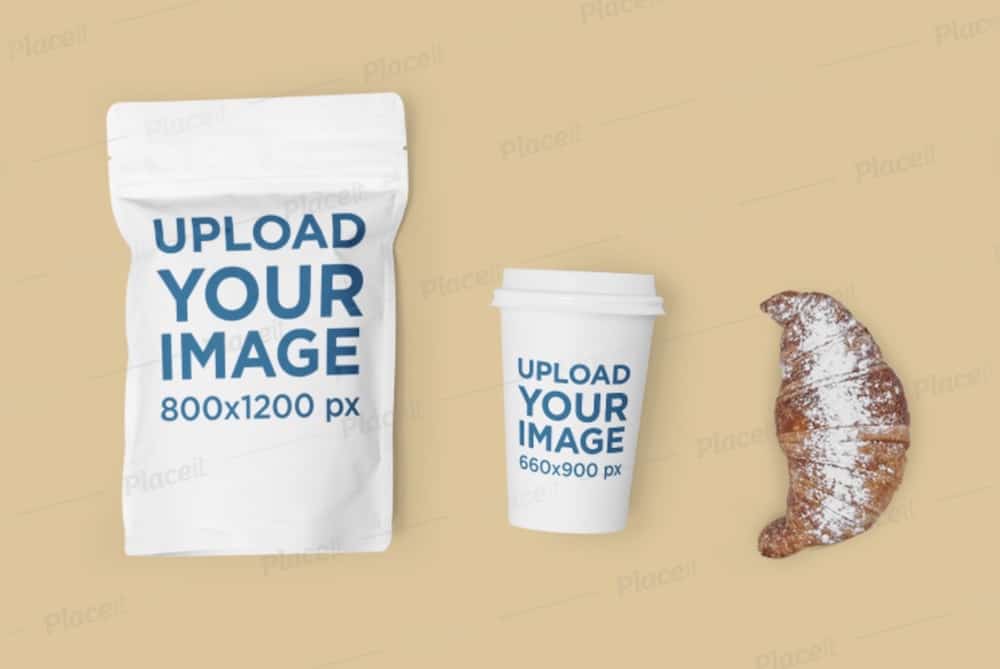 If you'd like to keep it extra minimal but still salivate every coffee enthusiast's mouth, this is the coffee mockup for you.
Bag of fresh coffee + cup of joe + croissant = perfect start of the day.
I don't know about you, but that's how I roll.
Now go one step further and play with the functions. Configure the mockup QUICKLY and have the final version ready right away.
In fact, you can even create a few possible variations first before choosing the winner.
MORE INFO / DOWNLOAD
5. Coffee bag, paper cup & burlap bag mockup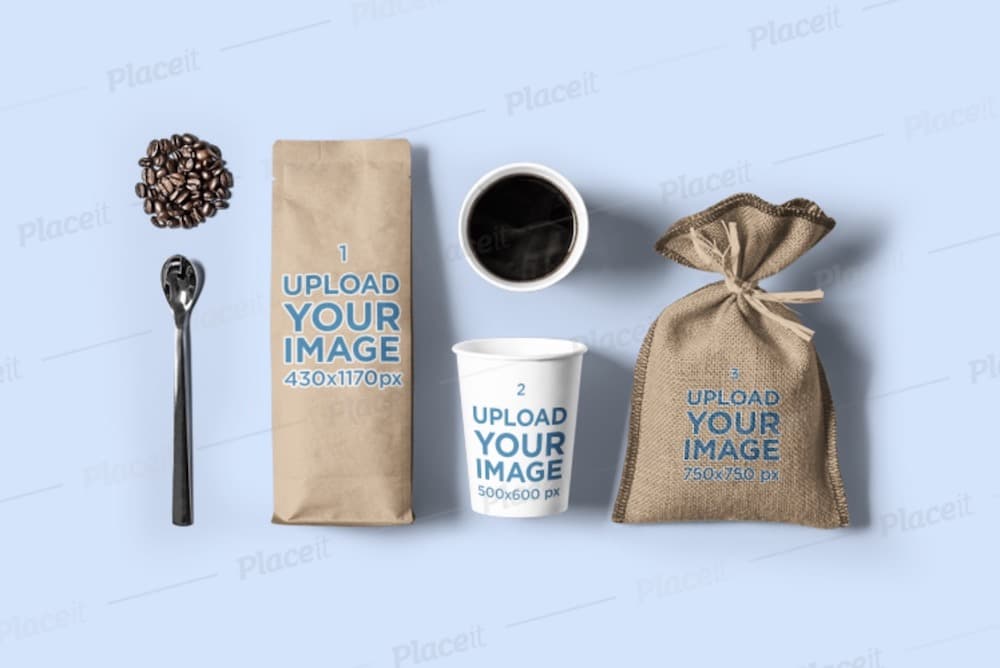 This mockup goes one step further, featuring both a coffee bag and a coffee bean bag. There's also a paper cup that you can adjust to your or your client's regulations.
What's best, you perform all the work online, by accessing the practical Placeit platform.
Their mockup generator is so much fun, as it requires 0 experience.
The only necessary thing is a design or a logo that you'd like to add to the mockup.
THAT'S IT!
MORE INFO / DOWNLOAD
6. Mockup of a coffee zip bag and a cup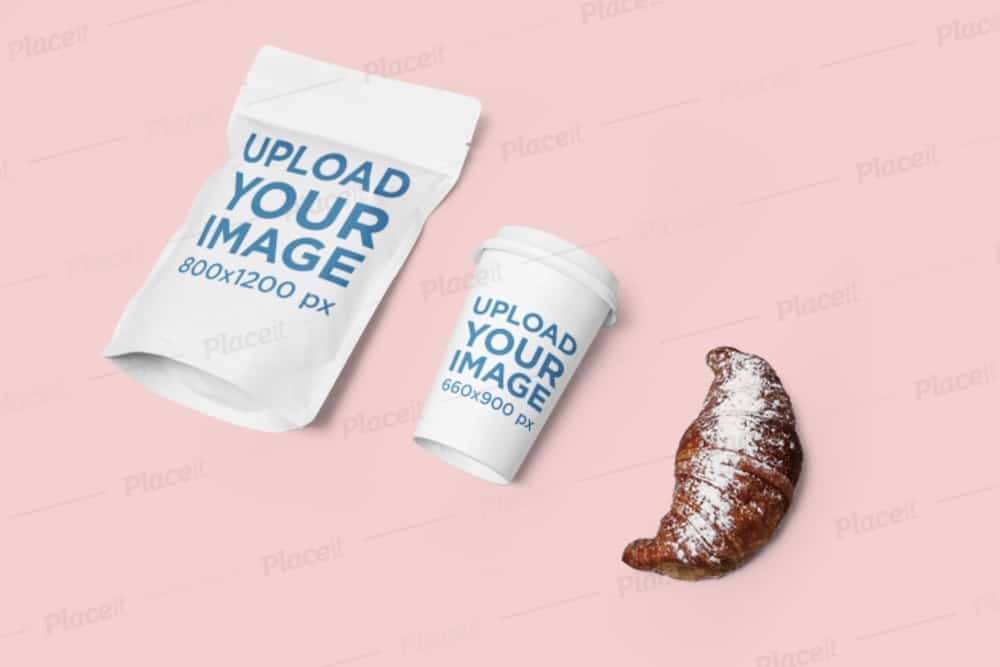 You remember a similar coffee bag mockup from above. Here is a slight variation, coming at an angle, which makes it even more life-like.
Why even take actual product photos? You can achieve an excellent result with a photorealistic mockup EASILY.
You can access this one now and even play with the features first before creating a free account.
How awesome does that sound? I did my version already and it looks so good.
MORE INFO / DOWNLOAD
7. Mockup of two coffee bags and a cup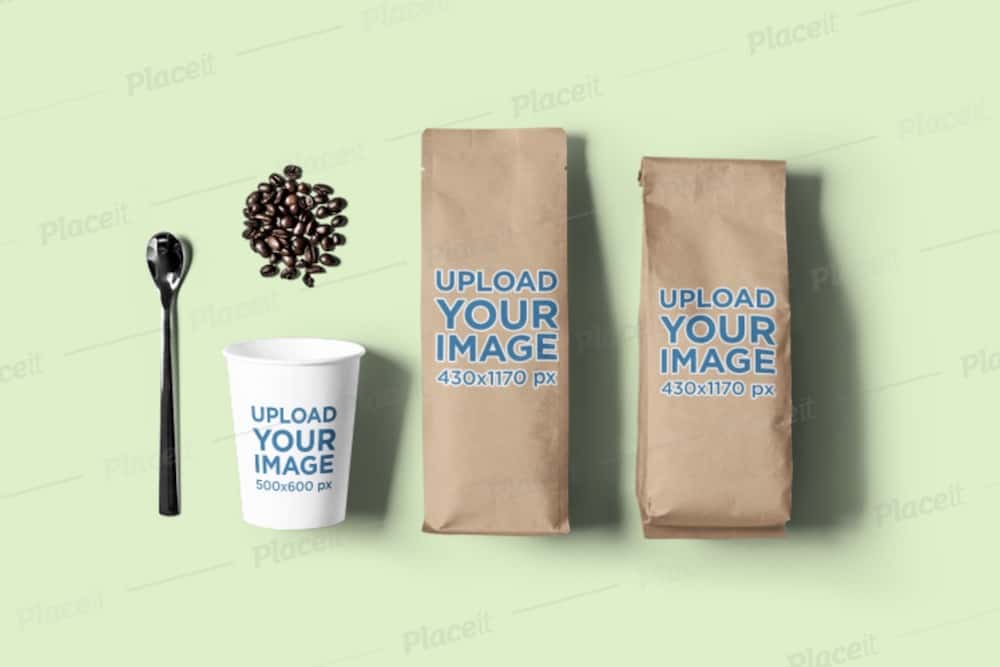 With two available coffee bags, you can use one for ground coffee and one for beans. But really, you are welcome to do your thing, get artistic and come out with something super attention-grabbing.
This coffee packaging mockup is a fantastic solution for multiple objectives.
Even though there's the addition of a spoon and coffee beans, the template still keeps things on the minimalist side.
Note: you can upload individual designs to the cup and the two bags.
MORE INFO / DOWNLOAD
8. Takeaway coffee cup and paper bag mockup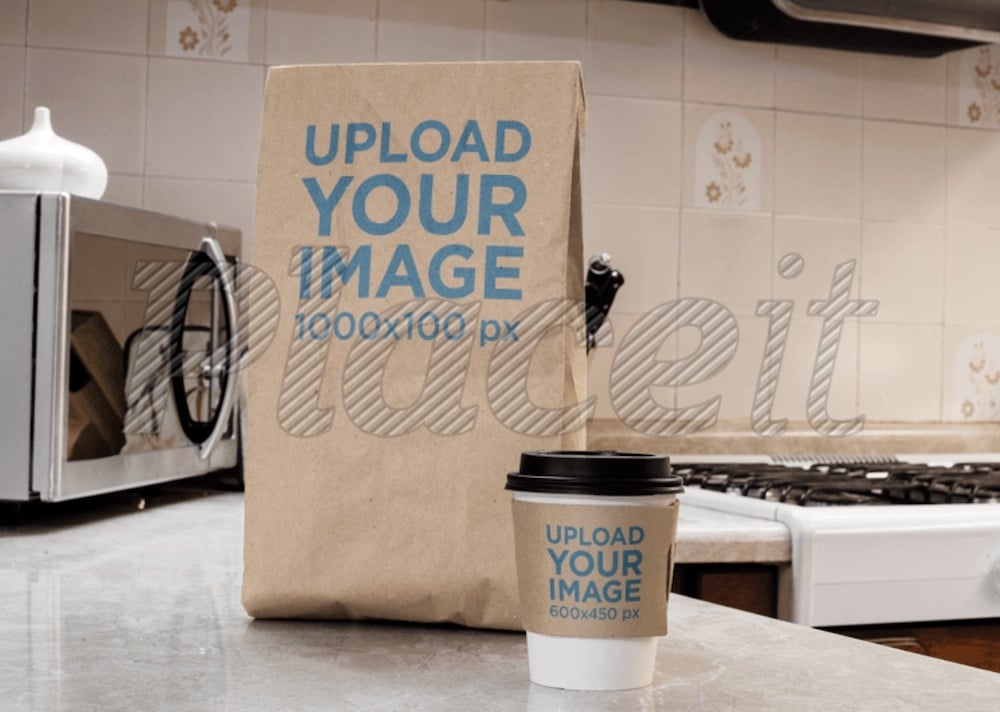 Even though this may not necessarily be an exclusive coffee bag mockup, I find it just so amazing.
It's 100% realistic and features a big paper bag and a cup with an editable holder.
You can change colors and import images separately, item by item.
MORE INFO / DOWNLOAD
9. Mockup of two coffee bags and two coffee cups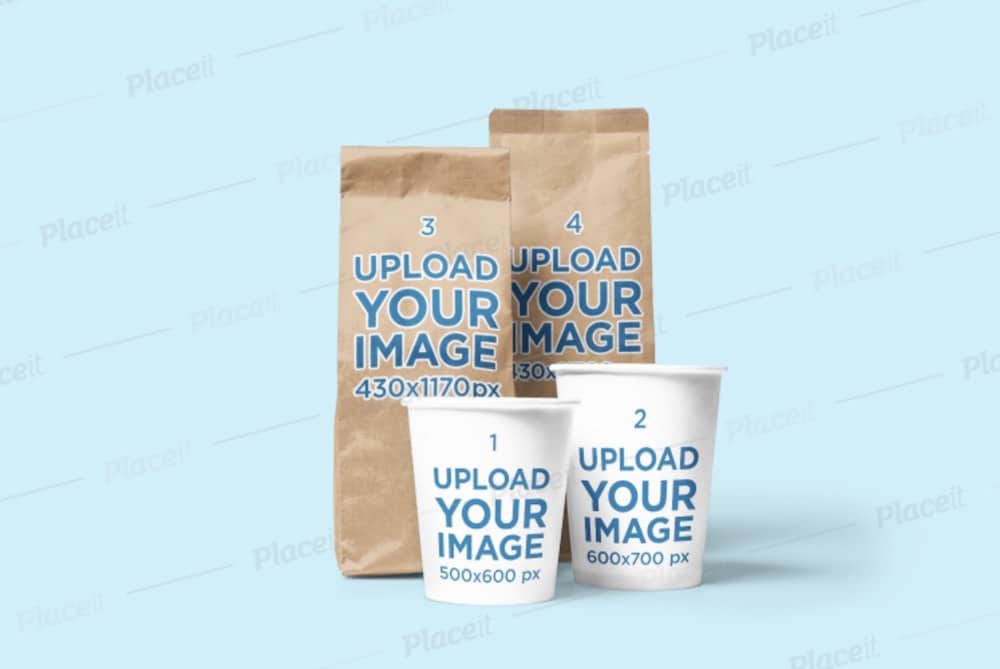 Here's one fine alternative to all the other coffee bag mockups on this list.
With two different paper bags and two paper cup sizes, you can go ONE STEP further with the design presentation.
In short, everything is editable within just a few clicks. That's the amazing benefit of an online mockup generator.
You don't even need Photoshop to make a mockup.
Changing colors and uploading images is all SO effortless, even a 9-year-old can do it.
MORE INFO / DOWNLOAD
10. Mockup of a coffee cup and a paper bag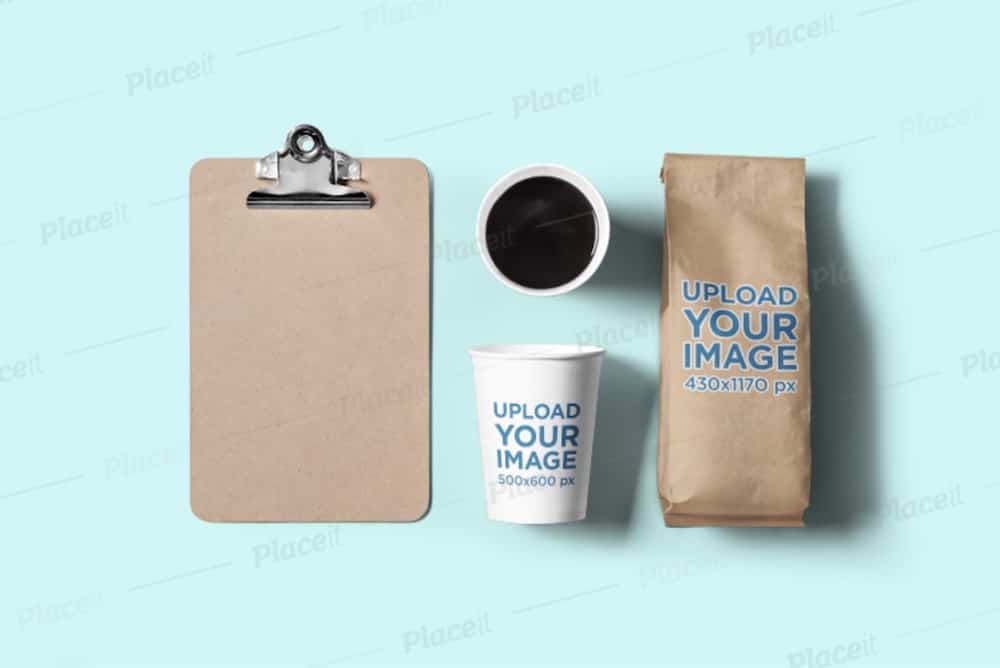 A pretty exciting coffee bag mockup on a flat, customizable surface. Along with changing the color of the background, you can also edit the color of the cup and the bag.
Additionally, importing images happens directly from your device.
Do you know what's truly impressive about Placeit? It works outstandingly well on mobile, too!
Yes, you can now make a mockup using your smartphone – ON THE GO.
MORE INFO / DOWNLOAD
Best Coffee Bag PSD Mockups
11. Kraft paper coffee bag mockup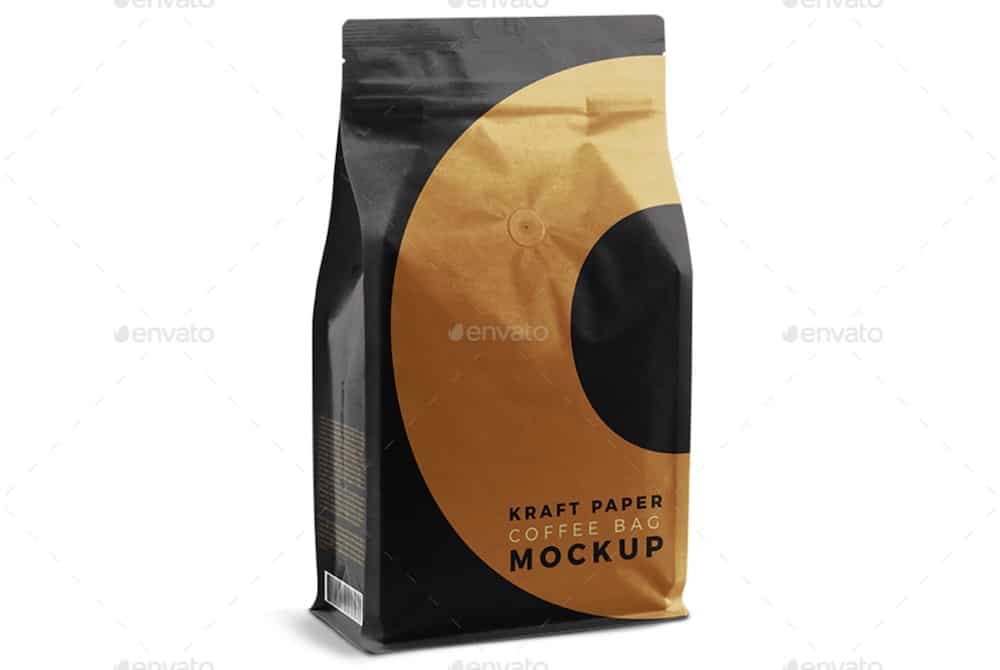 If you still prefer Photoshop for making mockups, this collection of layered PSD files will do you well.
This impactful kraft paper coffee bag welcomes you to use it both for presenting front and back designs.
You can keep it simple, like on the preview, but you are free to do your thing. Keep in mind, you can also improve the side of the bag, change colors – whatever.
The 6040 x 4352px size also makes sure everything appears with crystal clarity.
Price: $6
MORE INFO / DOWNLOAD
12. Coffee paper bag mockup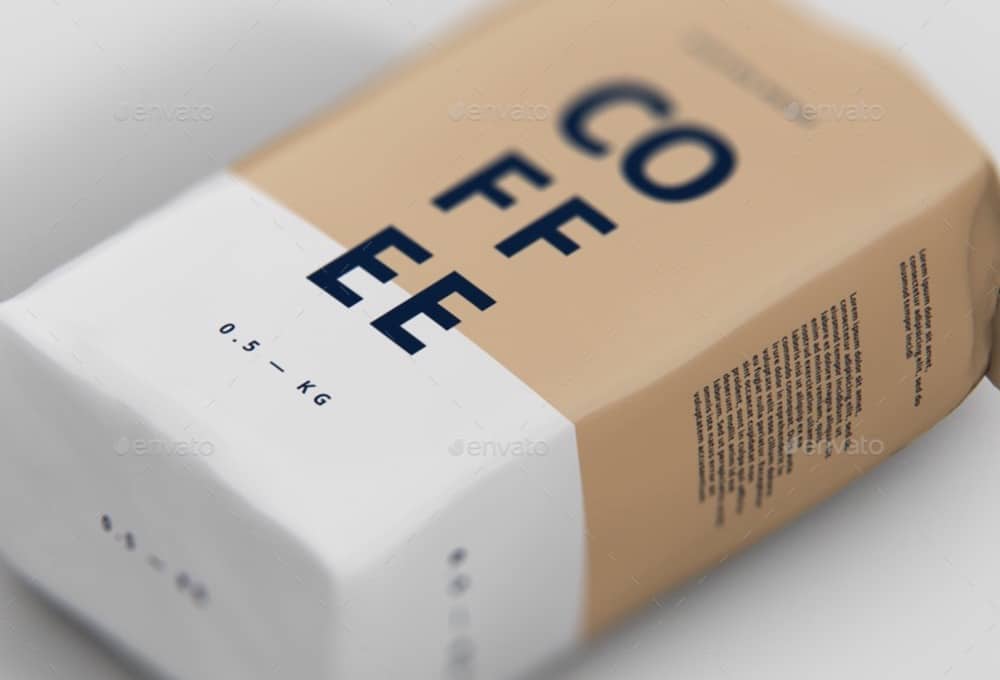 Instead of one file, you get EIGHT! This means more room for presenting your creative idea to your client or your audience.
Front, back, top, bottom, side – there's every view/angle you could think of.
Along with high resolution and great customizations, this bundle also features the depth of field PS action.
You can also work with different layer styles and pick from multiple textures.
This. Mockup. Set. DELIVERS.
Price: $6
MORE INFO / DOWNLOAD
13. Coffee bag & cup mockup

Don't miss this collection of six coffee bag and cup mockups, perfect for creating full-blown branding and packaging presentation.
You need little to no design experience and you'll still WIN THE GAME with this one.
Everything is pretty self-explanatory (help file/instructions included!).
Once you introduce your creative touch, you can make each angle truly a stand-out experience.
Use it purely for marketing purposes, on your social media, website, you name it.
Even if your work on prototypes, this one will do the trick.
Price: $7
MORE INFO / DOWNLOAD
Best Free Coffee Bag Mockups
I'm sure you've all been waiting for these. Me too.
14. Coffee bag label PSD mockup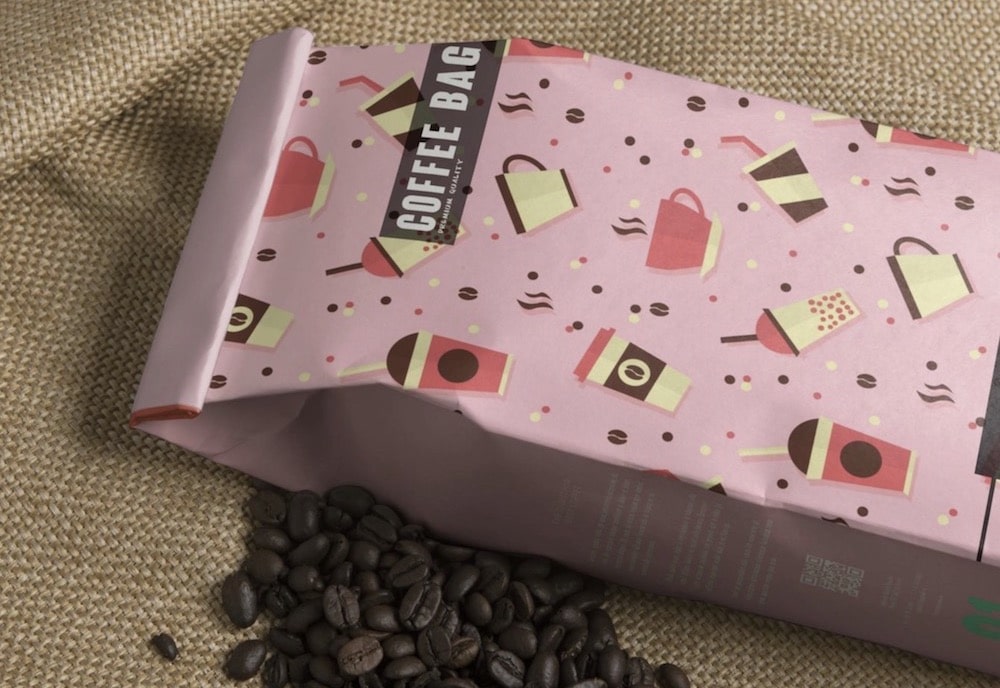 A coffee bag can be simple or it can be quite creative. It does not matter which path you take, make sure all is in perfect order with a mockup.
Thanks to this free close-up alternative, you can quickly set things up for further investigation.
With the smart object layer, you drag and drop your design/logo and see it appear on the template in the snap of a finger.
That's it!
MORE INFO / DOWNLOAD
15. Paper-made coffee bag PSD mockup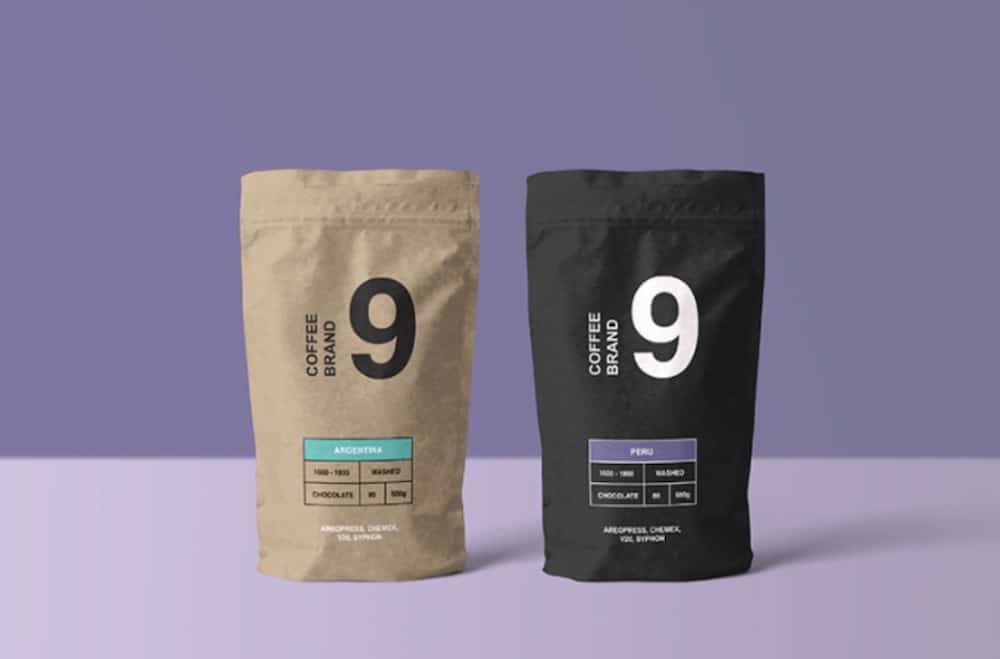 A free coffee zip bag mockup that features two items.
It's great if you'd like to create designs for two coffee flavors or even present front and back views of the bag that you are working on.
Even though a free PSD file, the amazing customization capabilities ensure you create the outcome you imagined.
Save the time, boost your workflow and surprise your client with a BOMB coffee bag demonstration.
MORE INFO / DOWNLOAD
16. Free coffee bag PSD mockup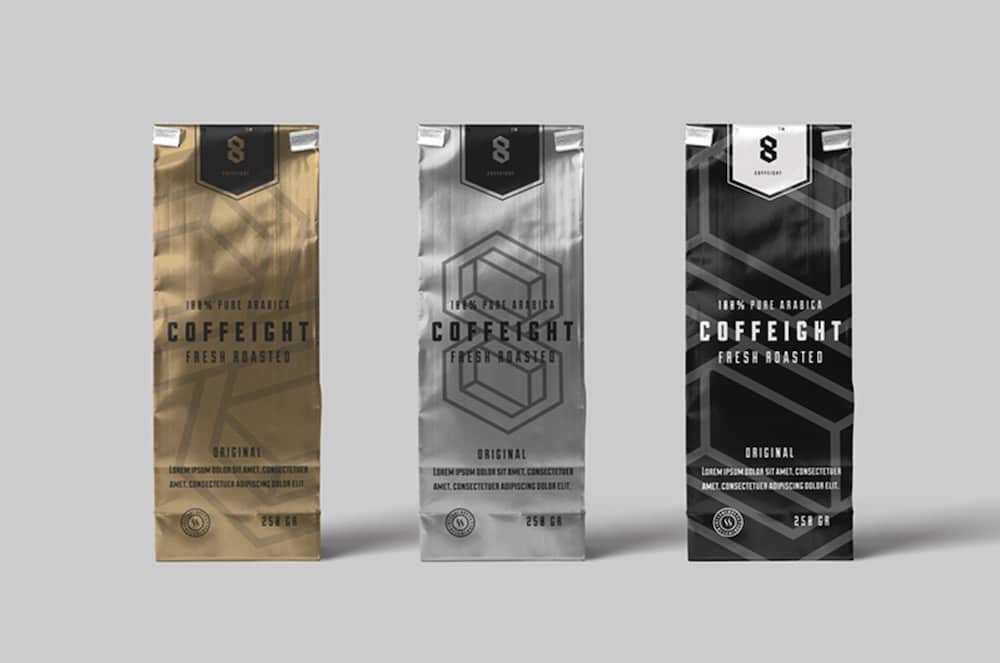 Coffee shops grinding coffee on the spot will use these coffee pouches. And if you are working with one on their branding, you're in for a TREAT.
You can work with just one coffee pouch or use all three. The main goal is to achieve as photorealistic results as possible.
WHICH YOU WILL.
And it's a free mockup, so you have nothing to lose yet all to gain.
MORE INFO / DOWNLOAD
17. Free coffee packaging PSD mockup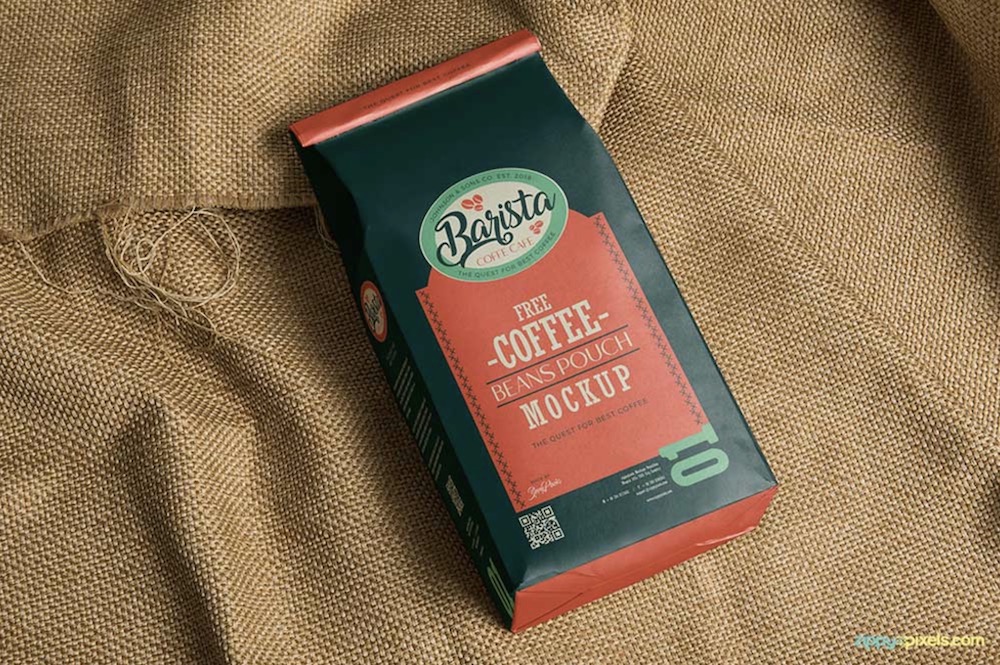 With a clever approach, you can easily stand out from the masses with your coffee brand.
Sure, the coffee must be good, but packaging plays a big part, too.
Why go through the struggle of trial and error, creating actual paper bags, if you can use a mockup?
I know right – it's pretty obvious.
And even though this may not be a mockup for commercial use, you can still work on your personal projects, showcase your ideas to your clients, and all that JAZZ.
MORE INFO / DOWNLOAD
18. Sealed coffee pouch PSD mockup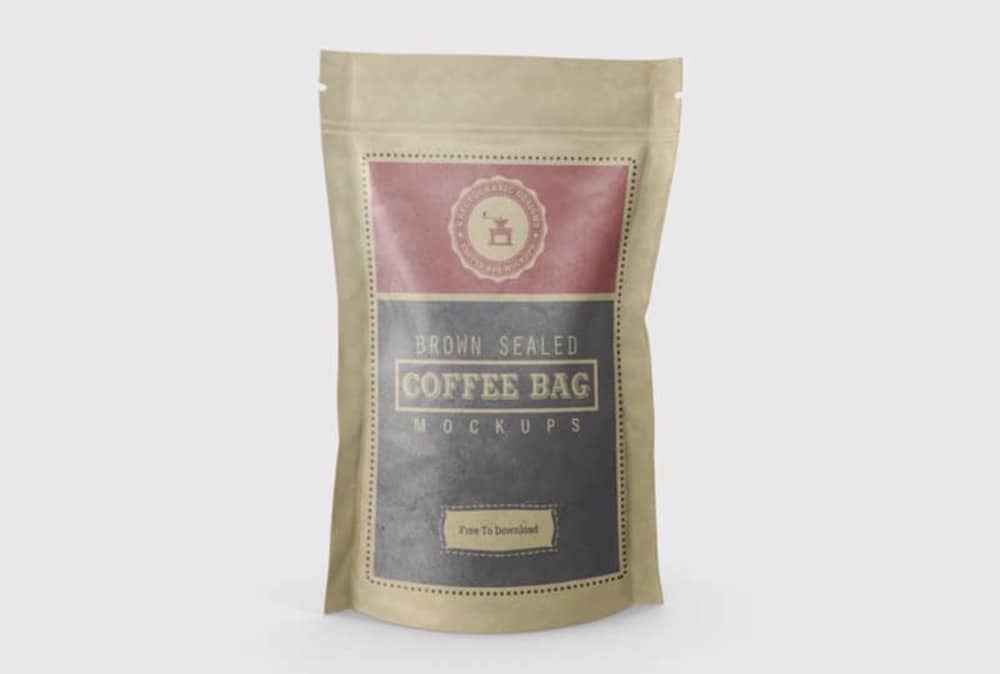 You know already how little time and effort it takes to put life into your coffee bag design.
Use A MOCKUP!
If working on eco-friendly paper pouches, using a PSD template is very environment-friendly when sorting out the design.
Creating the design, printing it, making corrections, printing it again – well, you know where this takes.
It. Does. Not. Work. Like. That.
Thanks to a mockup, you can make as many improvements and corrections as you want without waste.
MORE INFO / DOWNLOAD
How To Create A Coffee Bag Mockup?
Are you ready for the easiest and fastest tutorial on creating a life-like presentation of a custom coffee bag design?
For this reason, I'll show you how to make it happen with an online mockup generator – it's my FAV way!
6 Easy Steps To Make A Coffee Bag Mockup:
Step 1: Visit Placeit where you can find the best in the category. Of course, you can also use the convenient search bar if you want something more specific.
Step 2: Pick the one you think will work best for your project (or any from the collection above) and click it. (Note: I sometimes go through a few to find the ideal one, only performing the next step.)
Step 3: The first thing I always do is to import my design via the "insert image" button.
Step 4: You'll notice a popup window opens with functions to reposition and resize the design. The live preview helps you complete the perfect inclusion in the mockup much faster. Click "crop" when done.
Step 5: Then activate all the other customization functions that the generator offers, like changing the colors, adjusting the background, adding a text overlay and sticking a graphic, to name a few.
Step 6: Click "download," and use your mockup anywhere you want.
But even if you use a PSD template, you'll enjoy the process just as much.
Open Photoshop and import your mockup. Then slide in your design via the practical smart object layer.
You now have complete creative freedom to perform any customization tweaks you want.
Modify the colors, the background, the shadows, everything!
Click save and download, and you're done.
Easy? Yup!
Note: If you're working on a website, our top-notch coffee shop WordPress themes collection will save you a ton of time.
::
Note: This article was originally published on May 6, 2021. But our team regularly reviews it and updates it with necessary improvements for accuracy.