I decided to share my best eco cup mockups with you after getting a lot of positive feedback from clients using them to impress their audiences.
These are my ULTIMATE 15 collected based on real people's reactions.
Since I like simplicity and fast work, I always start with a mockup generator. (Extremely beginner-friendly.)
But I also added a few flexible PSD templates if you like even more freedom.
This post covers:
You'll never look at other cup mockups the same after checking and using these.
BOOM!
Hint: Another way of going eco is with glass cup mockups.
Best Eco Cup Mockup Generators
These Placeit cup generators cost $7.95 a pop with an option to test them fully for FREE. (You read that right!)
But if you plan to work with more of their generators regularly, I highly suggest their monthly ($14.95/month) or yearly ($89.69/year) subscriptions to save money.
And yes, these allow you to make mockups without Photoshop.
1. Mockup of a woman holding a reusable cup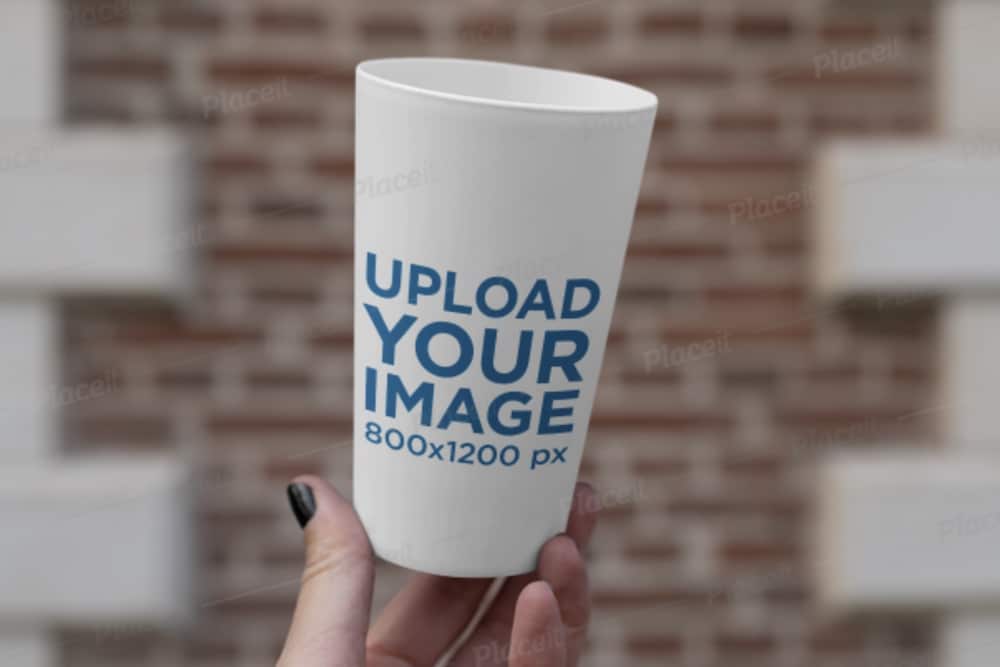 The fun of creating eco cup presentations with generators is REAL. And here is the first and my favorite template that I highly suggest you use.
It's not just that I like it, but it also performs well on social media. (I haven't tested it in newsletters, though.)
And what's the best part? It requires just a few clicks to improve it. I changed the color, uploaded a design and even added a call-to-action text.
So. Fire.
MORE INFO / DOWNLOAD
2. Eco cup at a club mockup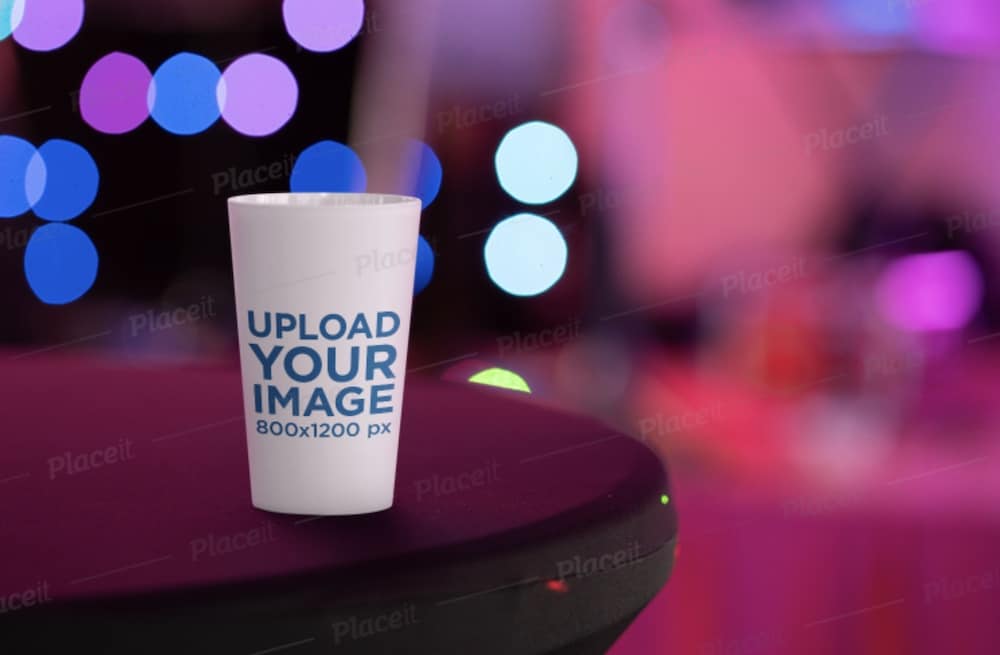 If you're nature conscious like two of my clients are, you want to have eco cups at your nightclub, too.
Or even an event organizer who seeks the right design for their cups, this is the mockup that'll do the trick. (Or you're working with a client!)
The simplicity speaks for itself, creating a TOP-NOTCH outcome that will grab everyone's attention.
You don't need any experience to create a professional outcome; you just need the design or the logo ready.
That's it!
MORE INFO / DOWNLOAD
3. Man holding an eco paper cup mockup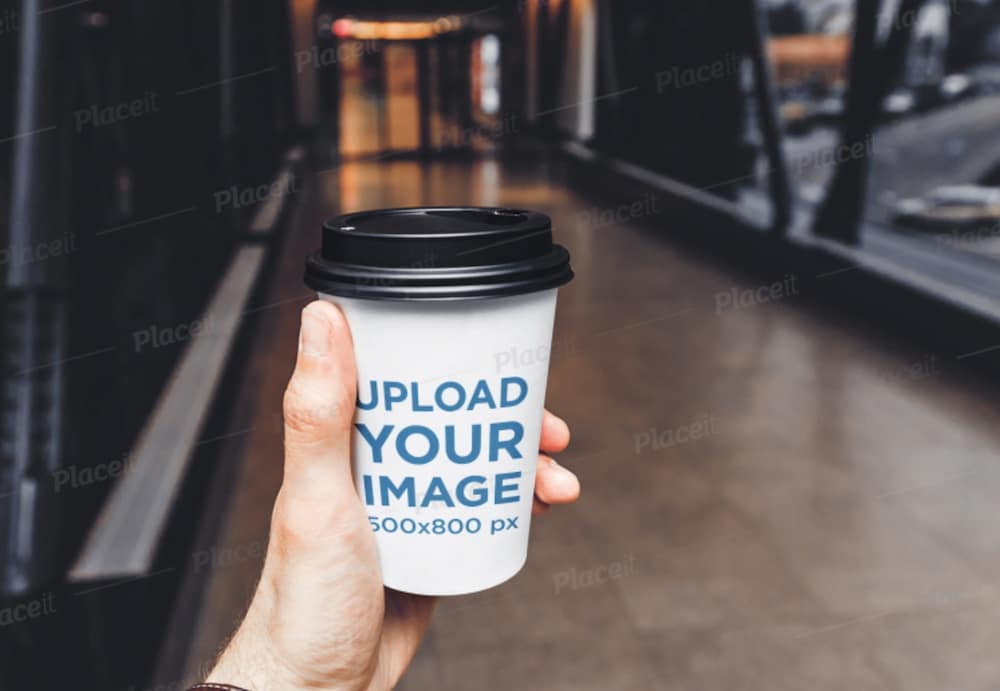 Here's a neat eco paper cup mockup that works ideally for coffee (or tea).
The actual image makes the appearance 100% photorealistic, which is exactly why I picked it for one of my projects.
Present your creative idea like a PRO without spending a ton of time on it. Actually, it only takes a few clicks and you're ready to go.
Note: All Placeit mockups I have here for you offer free test, which is the coolest. Go.
MORE INFO / DOWNLOAD
4. Reusable cup at a night club mockup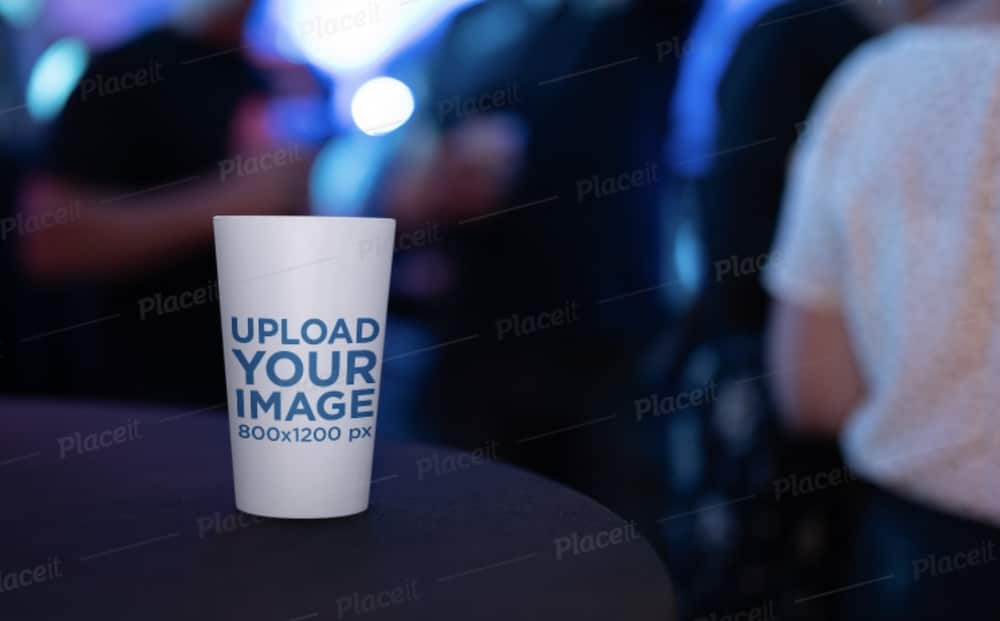 This one is somewhat similar to the second one with the addition of the human element.
It's an eco cup mockup that I really enjoyed testing, creating five variations that took me less than 60 seconds to complete.
YUP!
Play with the color picker, import any design/logo you want and attach text – you have the control to DO YOU.
MORE INFO / DOWNLOAD
5. Two reusable cups on a wooden fence mockup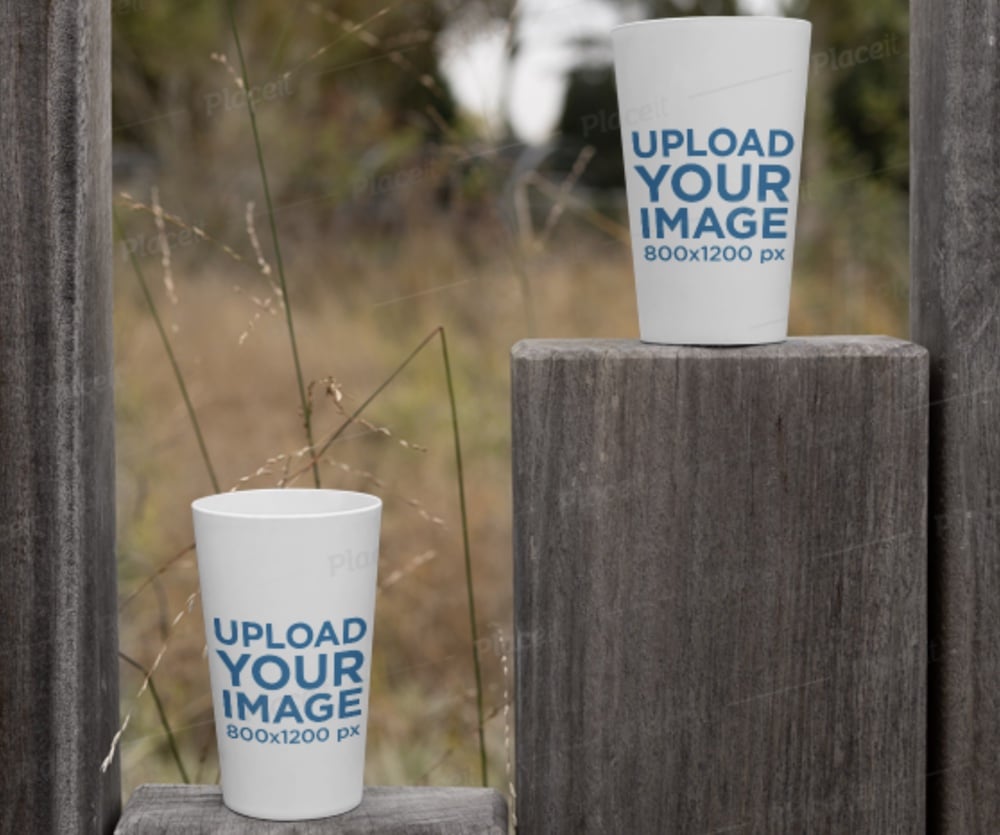 Your client will be stoked if you present to them the design you're working on with this mockup generator.
Nature first.
Both ecocups are editable with custom color options and designs. I used the top one for the front (added logo) and the bottom one for the back (design).
Everything works, so your imagination can take things to the next level with something EPIC.
MORE INFO / DOWNLOAD
6. Multiple paper cups with editable backdrop mockup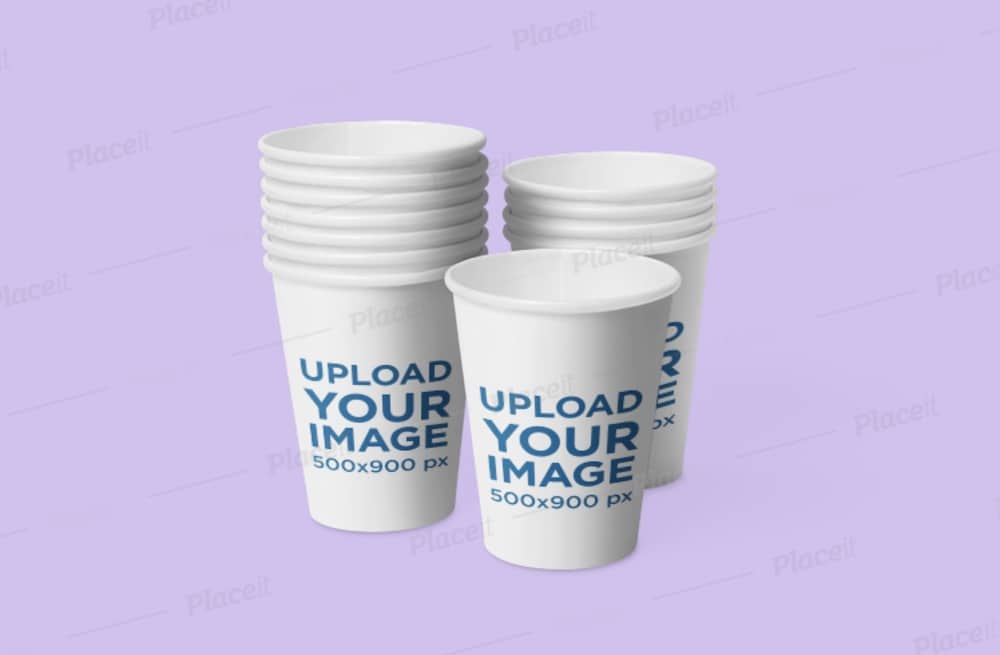 This is an excellent solution if you're looking for a more simple eco cup mockup but still have a lot of room for customization.
Multiple cups offer multiple solutions to add your creative ideas, including any color you want.
I also enjoy this particular generator because I was able to use a solid color background and a custom one I uploaded directly from my device.
Note: You can also use all Placeit mockups on your mobile and CREATE masterpieces from a smartphone. How cool is that?
MORE INFO / DOWNLOAD
7. Eco cup on a wooden bridge mockup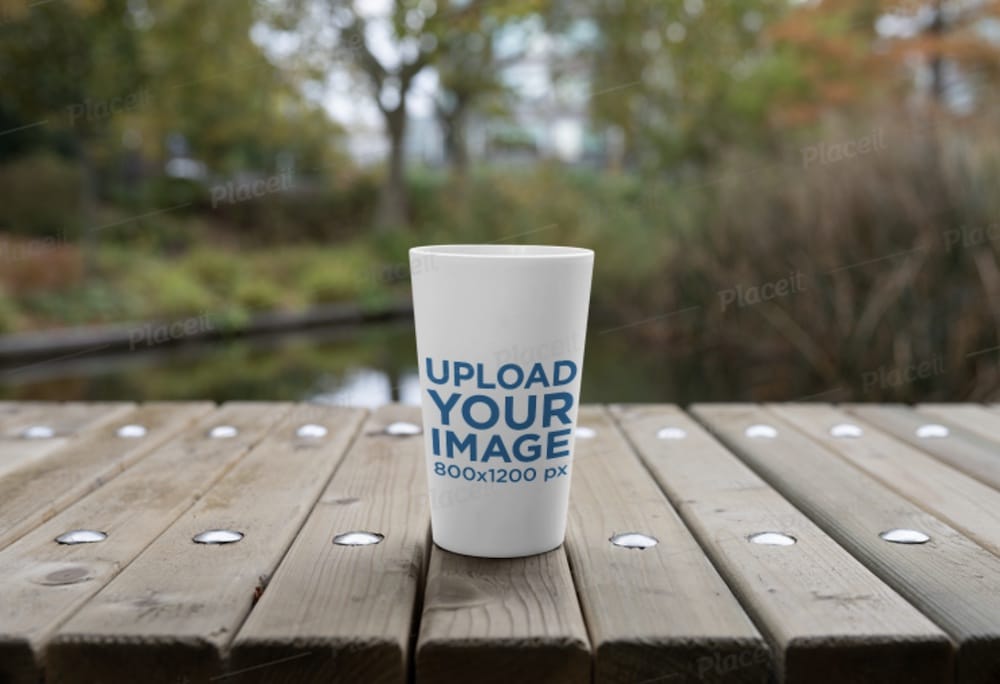 Do you need more nature-inspired eco cup mockups? Here's another one that does the trick so well, especially with more earthy tones.
But hey, you can go crazy and choose any color and add any design you want.
The freedom of the online mockup generator unlocks you to create endless variations EXTREMELY quickly.
That's exactly why I like them so much.
MORE INFO / DOWNLOAD
8. Reusable cup at a wedding party mockup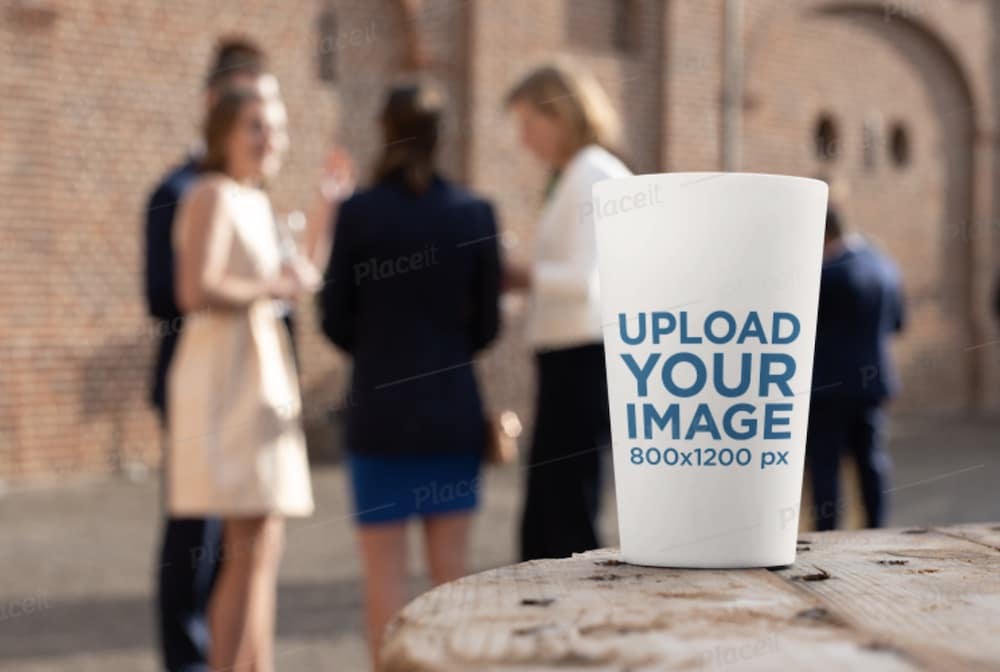 Reusable eco cups come so well when throwing a wedding party or just any party. This template can do amazing things if this is the theme you'd like to present to your client.
I did and my client was really excited about the work. Put any branding on the cup, a message, Mr. and Mrs., WHATEVER, the mockup will put everything on display beautifully.
You can also combine your cup design with text, which you can add with a simple click.
MORE INFO / DOWNLOAD
9. Mockup of a coffee cup under a shadow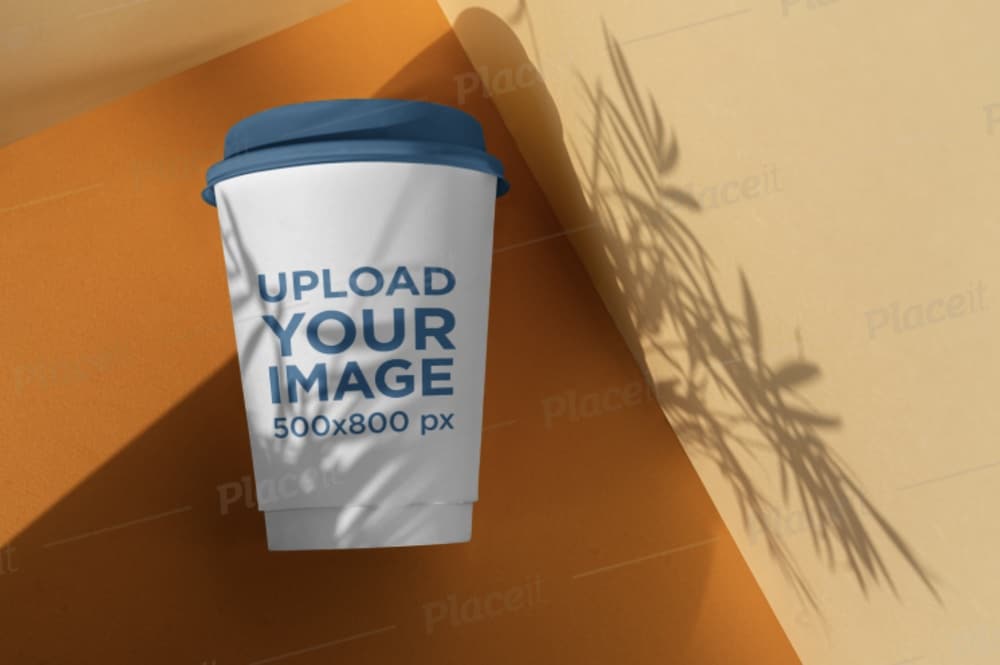 Minimalism with a touch of creativity can take you very far. Not too boring and not too "LOOK AT ME" is what the eco cup mockup that I have here for you represents.
Perfect.
And it can now be yours, styled and gorgeous with your unique ideas that need a high-end demonstration. Test it, and you'll not want to go back. Boom!
MORE INFO / DOWNLOAD
10. Coffee cup with customizable lid in hand mockup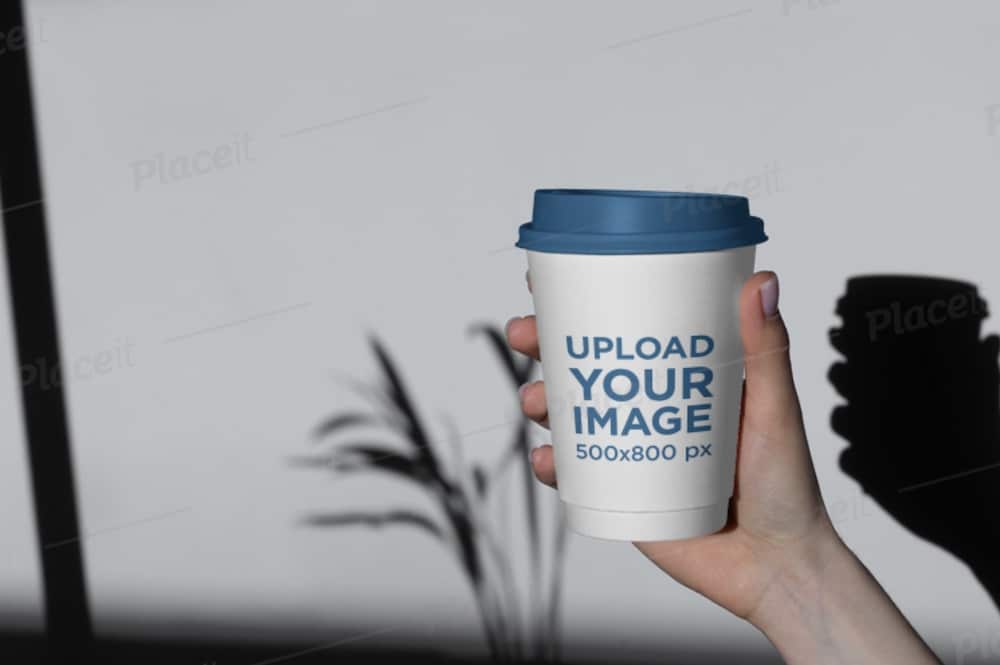 A special solution that I found the best for showing the eco cup design while at the same time adding a special message (to the left top quarter).
But you can use it without text, too! (I'm just sharing what worked best for me.)
Moreover, you can change the color of the cup and the lid separately, making the cup more dynamic, if you will. Insert the image and YOU'RE READY.
MORE INFO / DOWNLOAD
11. Minimalist mockup of a woman holding a coffee cup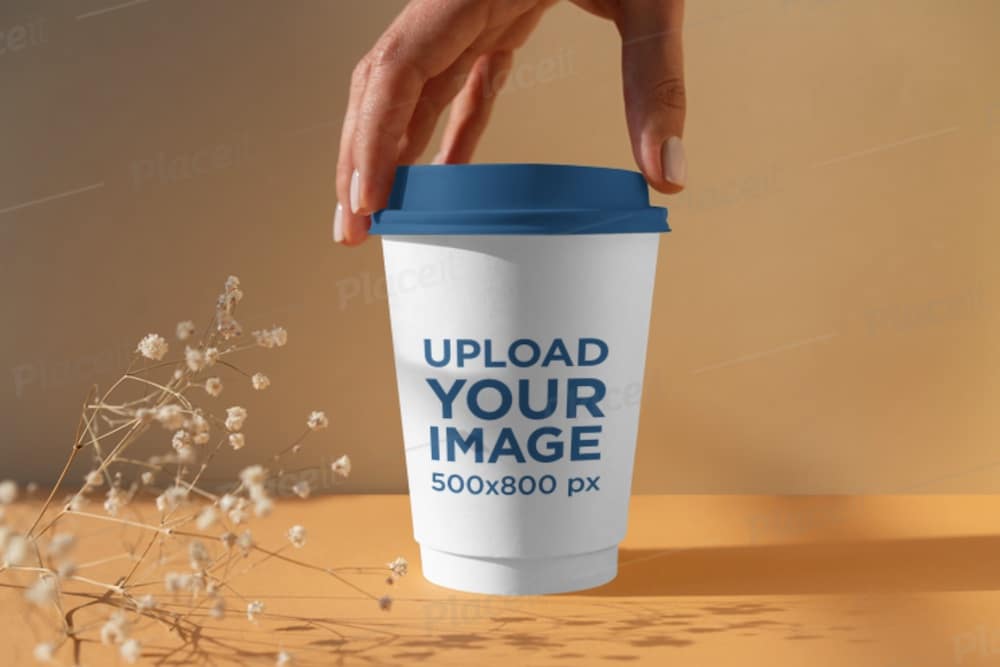 Minimal but not too minimal with a hand holding the cup lid that makes everything just SO MUCH better.
Even though a semi-render, no one will really tell once you include your design and change the color of the paper and the lid.
Unfortunately, the background isn't editable, so not all cup colors may work, although that's really a personal choice.
Don't be afraid to go against the grain. I do it more often than not, and it works very often for me. Just do it.
MORE INFO / DOWNLOAD
Best Eco Cup PSD Mockups
12. Realistic eco coffee cups PSD templates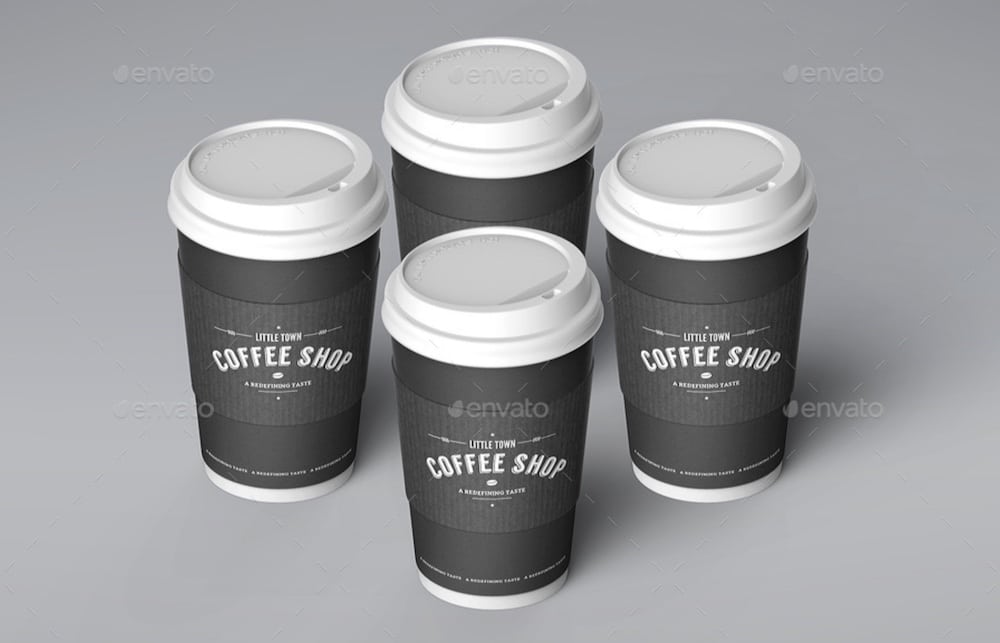 Before I continue – YES, I'm adding this one for the cool splash effect that one of the five layered PSD files sports (see preview).
Each template is 100% editable with a few quick tweaks via the smart object layers.
On top of that, I was able to change the color of the cup, the lid, the base and the sleeve, turn shadows off and customize the background.
Also, the 3500 x 2500px resolution makes sure the outcomes are CRISP!
Price: $7
MORE INFO / DOWNLOAD
13. High-res eco paper cup mockups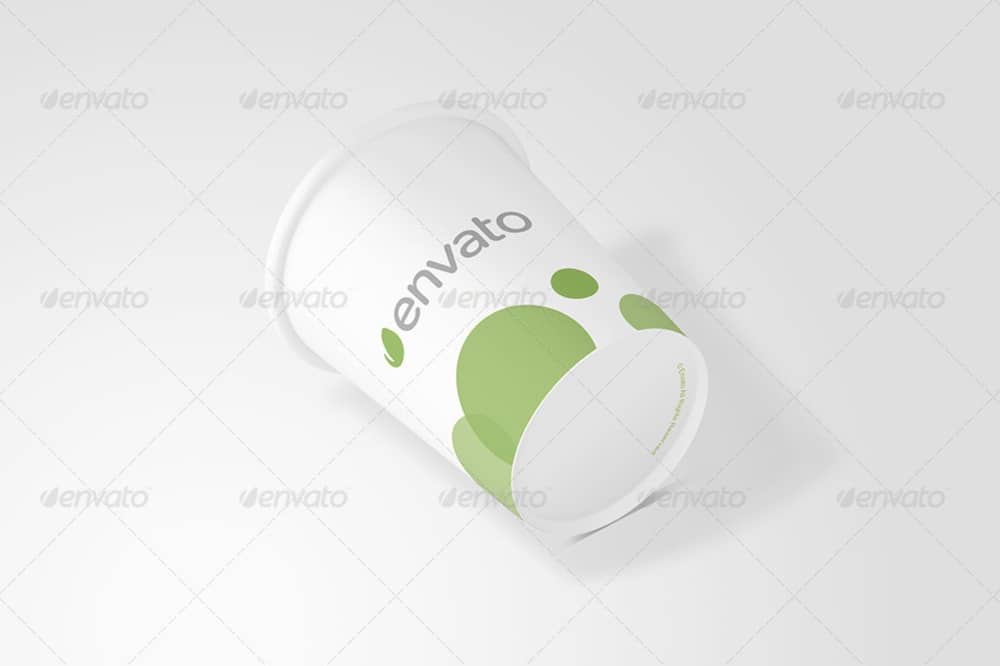 Two photorealistic eco cup mockups are ready-to-use for your convenience with a great photorealistic effect.
Excellent quality, drag-n-drop editing and simplicity will make your design pop nicely.
Apply your design or just a simple logo, configure other elements and you're pretty much DONE, my friend.
I even enjoyed creating my scene, not following the default settings. Yup, it's possible!
Price: $5
MORE INFO / DOWNLOAD
14. Eco-friendly PSD paper cup mockups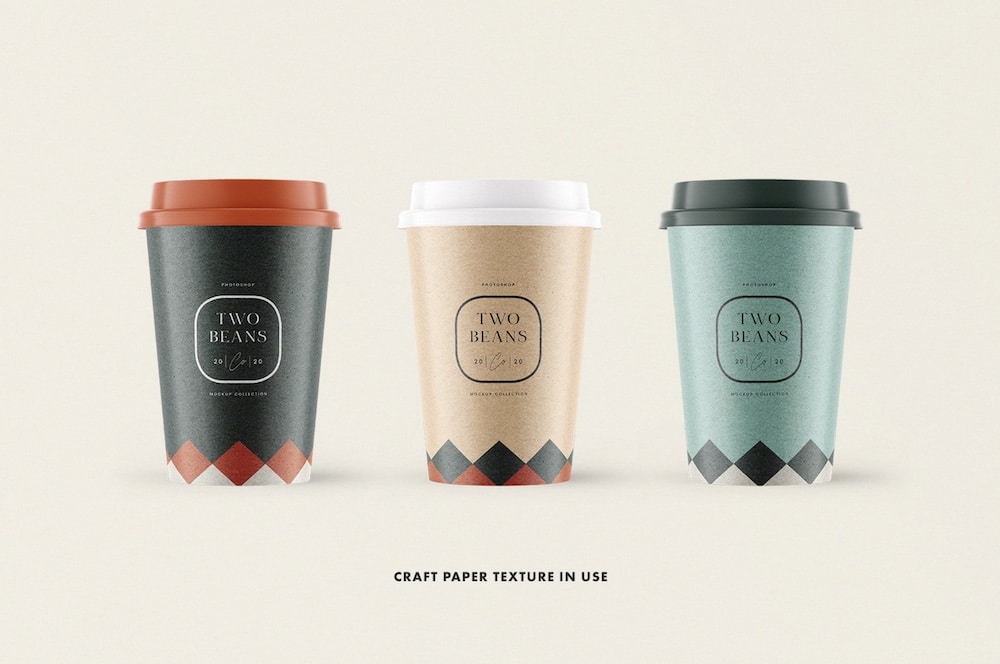 Sometimes, I come across a mockup and I just know I need to use it. And that's precisely what happened with this one. You just know it's GOOD.
The bundle includes three cup scenes with a removable straw to create your version (with or without the craft texture).
Another excellent function is that you can keep or remove the cap. Focus on your design because the mockup will take care of the rest, wowing everyone with a life-like showcase.
Price: $10
MORE INFO / DOWNLOAD
15. Reusable eco cups mockup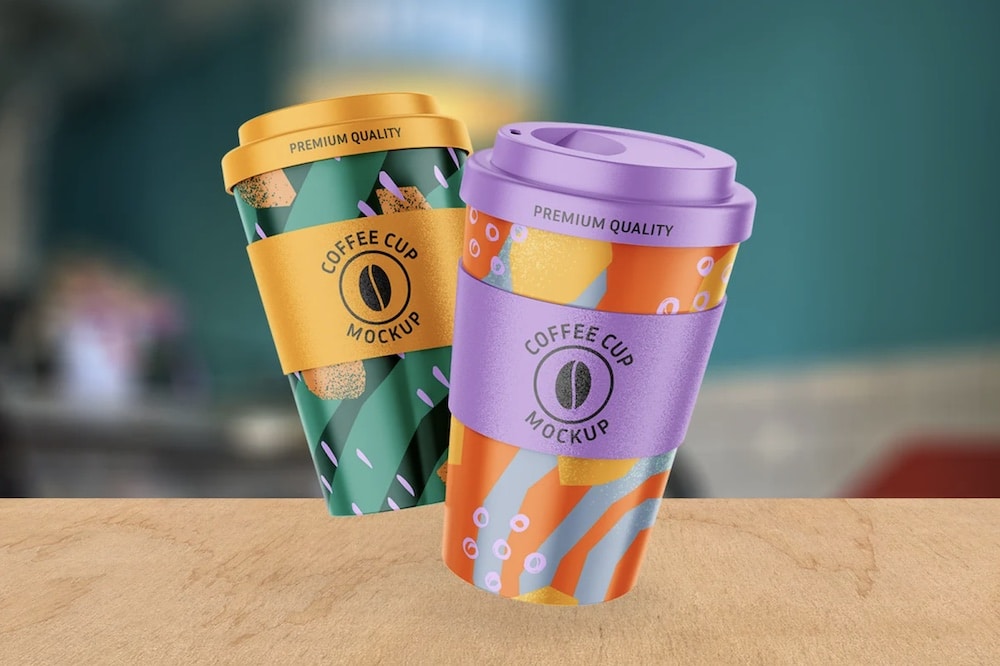 What can one PSD file of 6000 x 6000px dimension do? Everything! I don't want to be Chuck Norris here, but this one is really FLEXIBLE, guaranteeing you a result to aww your clients or customers.
The strategic layered structure gives you quick access to adjust every element of the paper cup however you want.
Don't hold back; I went crazy with color and design options, and it did the job really well.
Hint: You can always contact the author if you have any questions.
Price: $9
MORE INFO / DOWNLOAD
How To Easily Create An Eco Cup Mockup?
I recommend using an online mockup generator when working on a life-like showcase of a custom eco cup design.
You don't need to have any experience to make it happen. Plus, it's extremely quick and doesn't require photo editing software.
Yup, you do all the work online!
Make An Eco Cup Mockup In 5 Steps:
Step 1: Visit Placeit where you can find 100s of appropriate templates to use for your project. But I recommend using the above ones because I thoroughly tested them, and they work wonders.
Step 2: When you're on the template page, click the "insert image" button to upload your design. This process helps you find the perfect mockup a lot faster. I usually go through five to ten templates to find the one that matches my design. (Remember, you can do the testing free of charge!)
Step 3: After you upload your image, a popup will open that allows you to change its size and reposition it. (I really like the live preview function.) Then press "crop" to stick it to the eco cup.
Step 4: At this step, you can enjoy using other functions to change the color and the background, add a text overlay or spice things up with a graphic.
Step 5: Your work is done! Click "download" and enjoy your amazing creation.
But even if you pick a PSD version, the only difference is that you'll need Photoshop. Yes, the process is still very beginner-friendly.
Plus, you can benefit from some more creative freedom to design an outcome that's precise to your liking.
First, import the template you like into Photoshop and find the smart object layer. It's really simple because of the great layered structure of all the PSD files I included in this collection.
Double-click the layer and slide in your design.
Once satisfied with your design positioning, you can enjoy customizing other layers, like changing the color and the background, adjusting shadows, and more.
It more or less requires only some clicking, and that's it.
Enjoy.
::
Note: This article was originally published on April 23, 2022. But our team regularly reviews it and updates it with necessary improvements for accuracy.