We were lucky to work with perfume bottle mockups on three occasions. (We share the best we used below.)
BUT.
We also spent a lot of time picking suitable templates as suggestions for our clients. (Yes, they wanted to do them on their own.)
And now, YOU!
We want to make it easy for you with mockup generators (no Photoshop!).
However, we also included several layered PSD files (for Photoshop fans!).
You can now INCREASE your workflow while keeping your professionalism intact.
This post covers:
Working on your perfume bottle design presentation is easy and cheap with our mockups selection.
GO. FOR. IT.
Note: You may also be interested in my collection of the best cosmetic mockups.
Best Perfume Bottle Mockup Generators
In the collection below, you will find many mockups that do not require using Photoshop.
Each template costs only $7.95, or you can pick either a monthly ($14.95/mo) or yearly ($89.69/yr) subscription.
(Hint: You can even test things for free 🙂 )
Can you actually make a mockup without Photoshop? You bet you can!
1. Mockup of a slim perfume bottle & packaging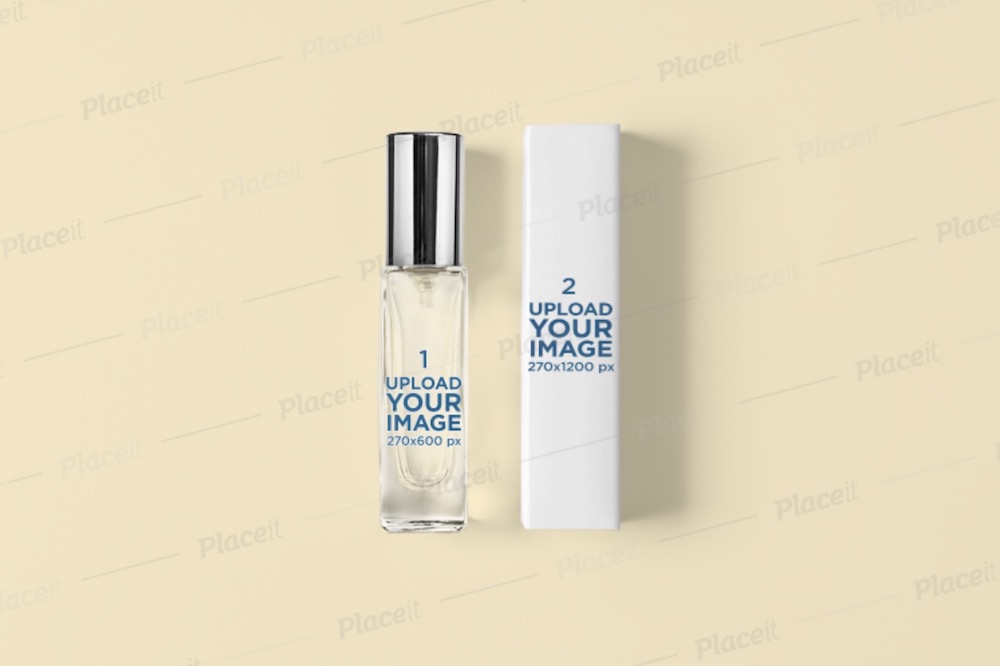 Here is a beautiful and easy-to-use mockup of a thin perfume bottle with vertical packaging.
If this is what you are after, you can now head over to Placeit and start working with the template right away.
You do not need any experience, heck, you do not even need to be a designer.
You perform all the work online from within your browser.
Along with sliding in your design both to the bottle and the perfume box, you can also alter the background and packaging color.
A lot of customization options to ensure a STRIKING outcome.
MORE INFO / DOWNLOAD
2. Square perfume bottle mockup & box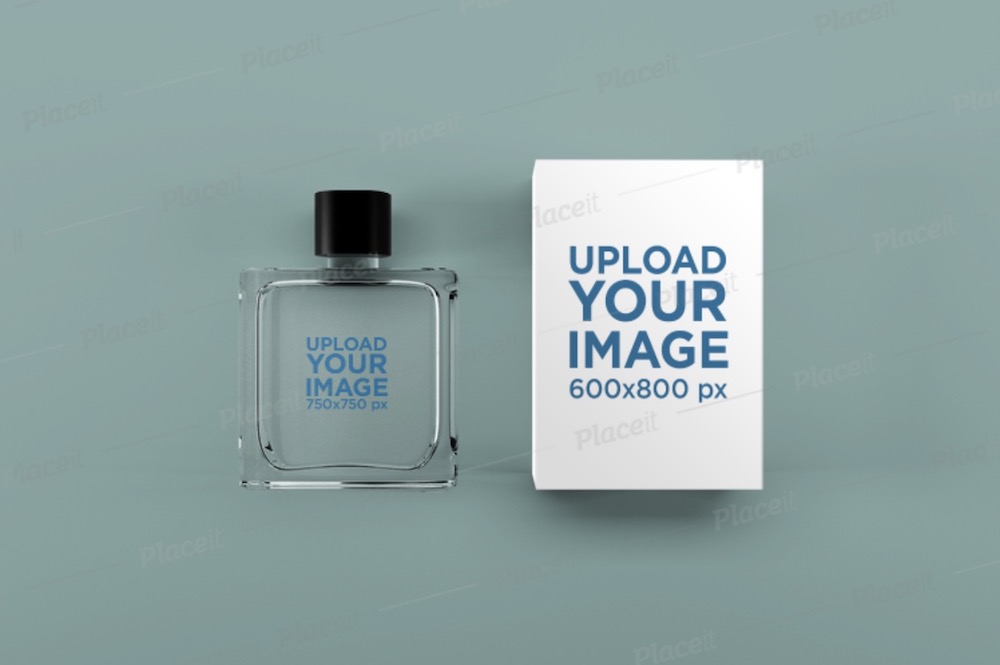 The style of this perfume mockup is close to the one above just the shape of the bottle is different.
With that in mind, you know already that you can create a life-like demonstration of your design idea quickly, with little to no effort.
Slide an image separately to the bottle and the white box, and you can immediately see them appear on the template.
There's also an option to change the COLOR and even append a TEXT message.
You can use the final version all over the place, even share it with your client to further discuss the possibilities.
MORE INFO / DOWNLOAD
3. Minimal mockup featuring a perfume bottle & box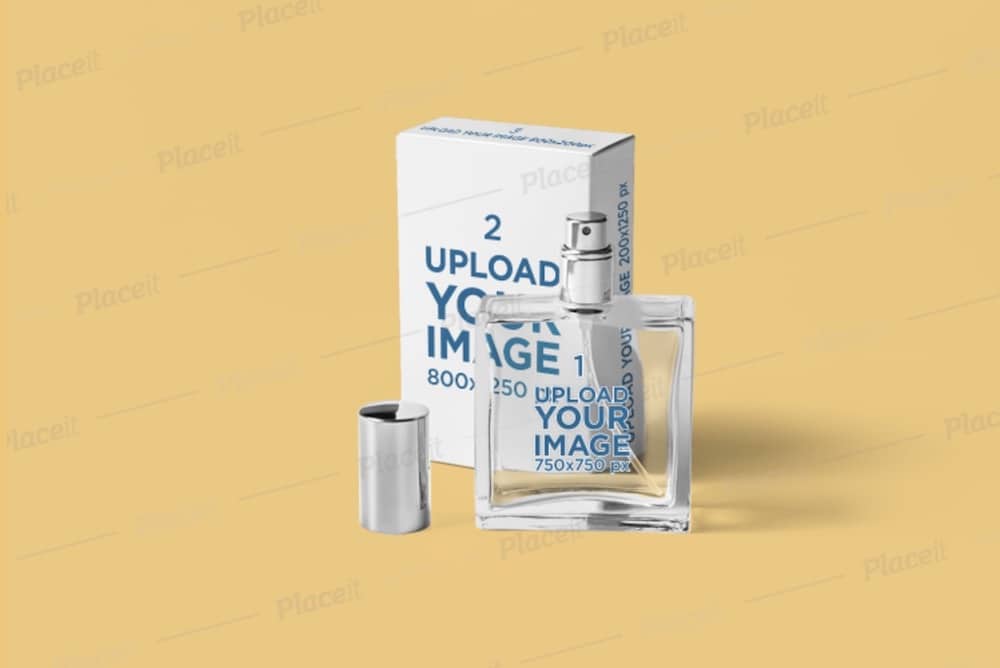 A beautiful and photorealistic mockup of an open square perfume bottle with packaging. This one will come in very handy if you are in the beauty industry.
After all, you can create quick prototypes and final products with the snap of a finger.
With the designs ready, you just import them, and voila, you are closer than ever to completing the project.
As for the design, you can add one to the bottle and three to the packaging. You can get VERY CREATIVE indeed.
The mockup also has a nice shade effect, making it even more realistic.
MORE INFO / DOWNLOAD
4. Close-up perfume bottle mockup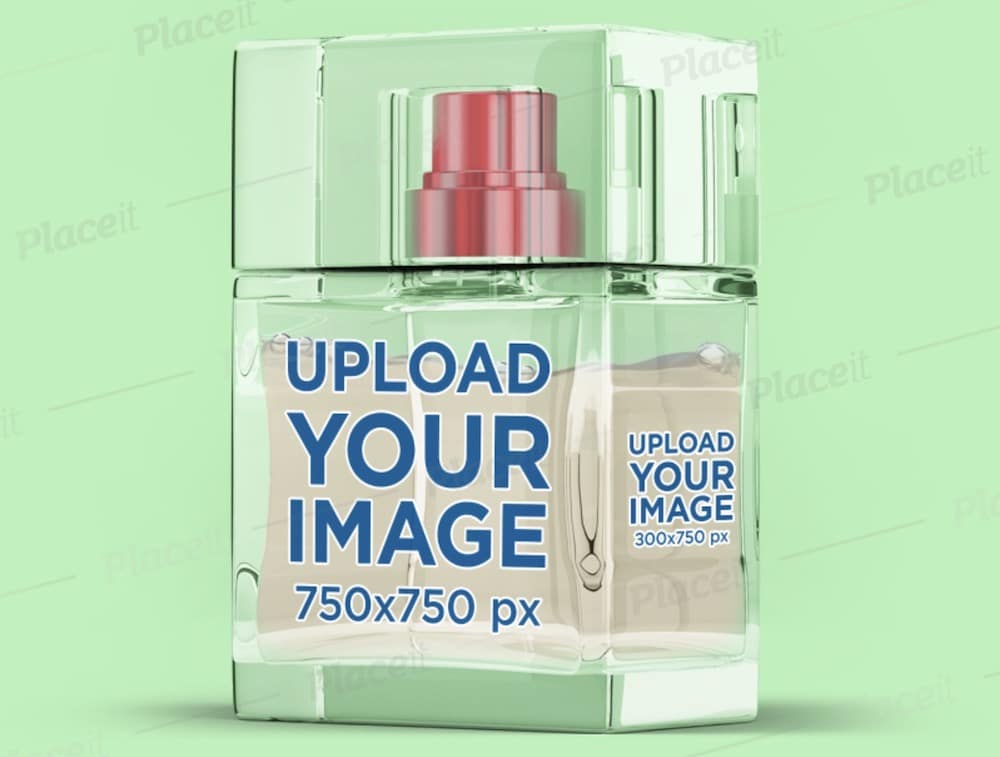 If you would like to emphasize the perfume bottle, this is the mockup that will do you well. It is a tool that you will have a little breeze using.
Thanks to Placeit, they pretty much changed the way how we create life-like mockups.
The main thing is that you do not need to use Photoshop anymore.
As for the mockup, it comes with three main customization functions. You can add the artwork to the front and the side of the bottle.
Moreover, you can also CHANGE the background color and include a text or call-to-action.
MORE INFO / DOWNLOAD
5. Minimalistic perfume bottle mockup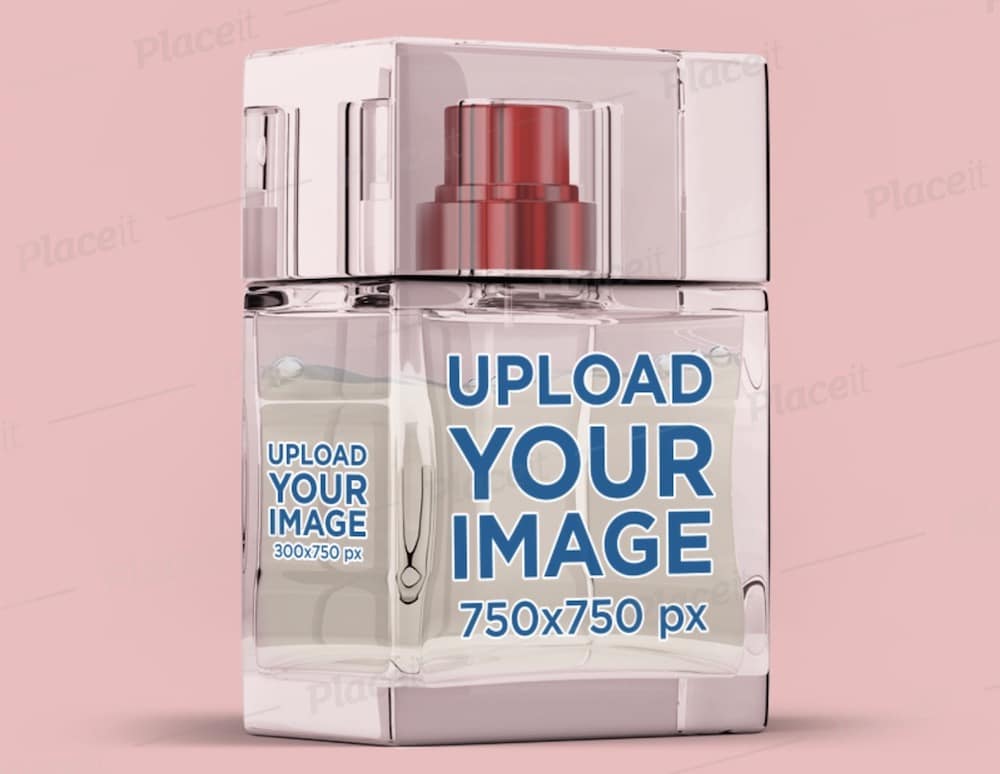 You can use this perfume bottle mockup in collaboration with the above one. It is pretty identical, just that this one features the other side.
You can now bring to fruition a beautiful and attention-grabbing exhibition of your bottle that you can use on an eCommerce website, social media, even your online portfolio.
Introduce individual designs to both bottle sides, pick any shade you want for the background or go with a TRANSPARENT one, and that's it.
There's more. If you fancy adding some text, you can do that, too.
MORE INFO / DOWNLOAD
6. Mockup of a closed perfume bottle with a box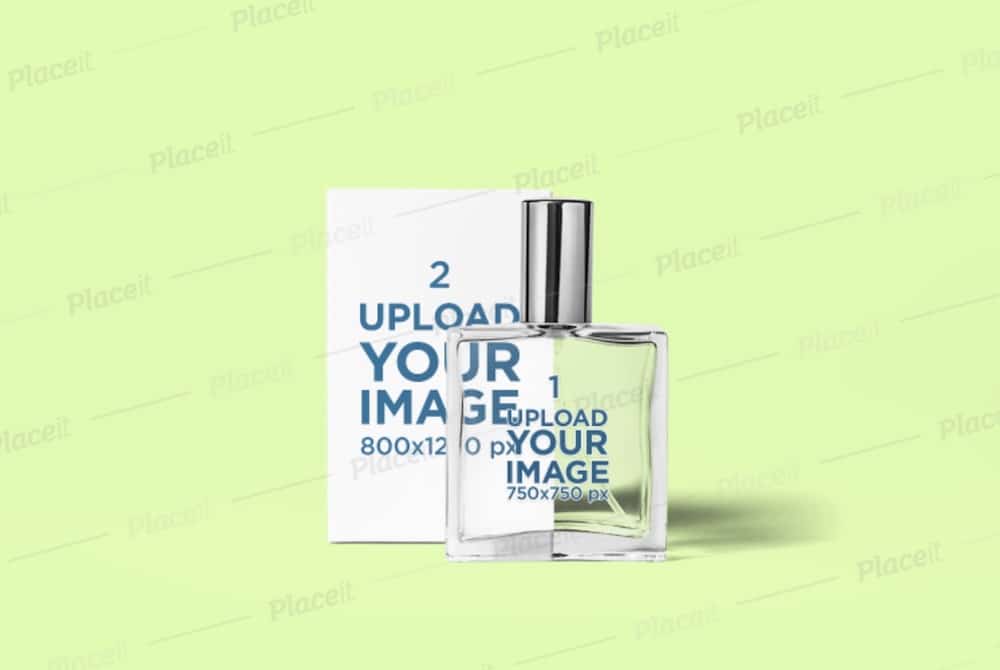 An eye-catchy front view of a perfume bottle and packaging. But let's be honest, you can employ this one for the back view easily.
It is a matter of adding the design that will define its purpose. And it takes just a few clicks to add it.
And that's something you can expect from any Placeit mockup.
Additionally, spice things up with any shade of the background and box you want. Make an outcome that will spark everyone's interest!
You can even CREATE different variations before you settle with the clear winner.
MORE INFO / DOWNLOAD
7. Mockup of a slim perfume bottle & box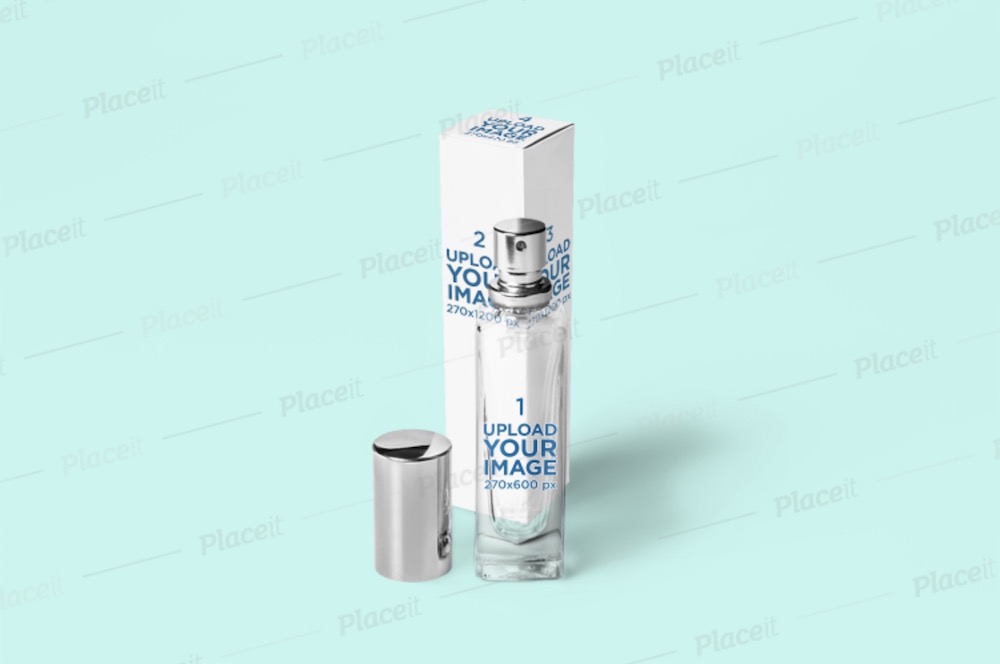 Some perfume bottles are square, some thin, some, well, they can be of just about any shape your heart desires.
If you are into simplicity and a classic look, this slim bottle and packaging will be of great use.
It features an open bottle with a box that sports three editable sides. Shades also level things up, making the REALISTIC EFFECT even better.
If you have the images and logos ready, you can expect to create a final version swiftly.
No need to perform any advanced tasks; hey, you do not even need to use photo editing software.
MORE INFO / DOWNLOAD
8. Customizable mockup of a perfume bottle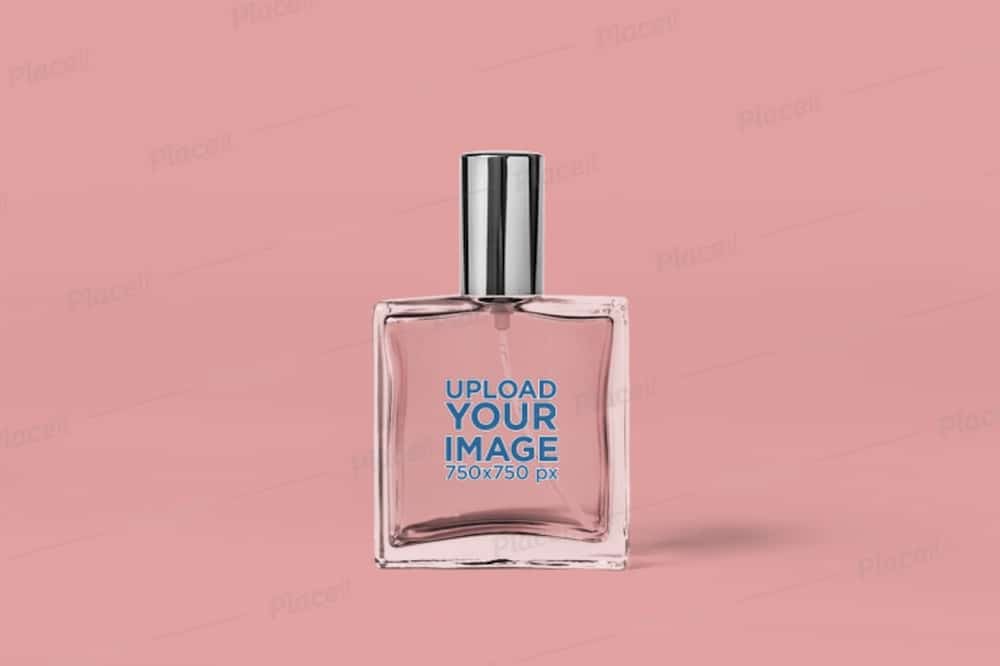 A minimalistic presentation of a square perfume bottle that will capture everyone's attention.
No need to do any FANCY stuff; make the presentation focus on the product, and that's what this template does really well.
What's best, you can test things out first and go from there. Meaning, there is no need to create a free account on Placeit right away.
You can play with the features first, see what's possible and only then fully commit.
Once you upload your image, you can also crop and reposition it if necessary.
That's it; get creative now.
MORE INFO / DOWNLOAD
9. Mockup of a slim perfume bottle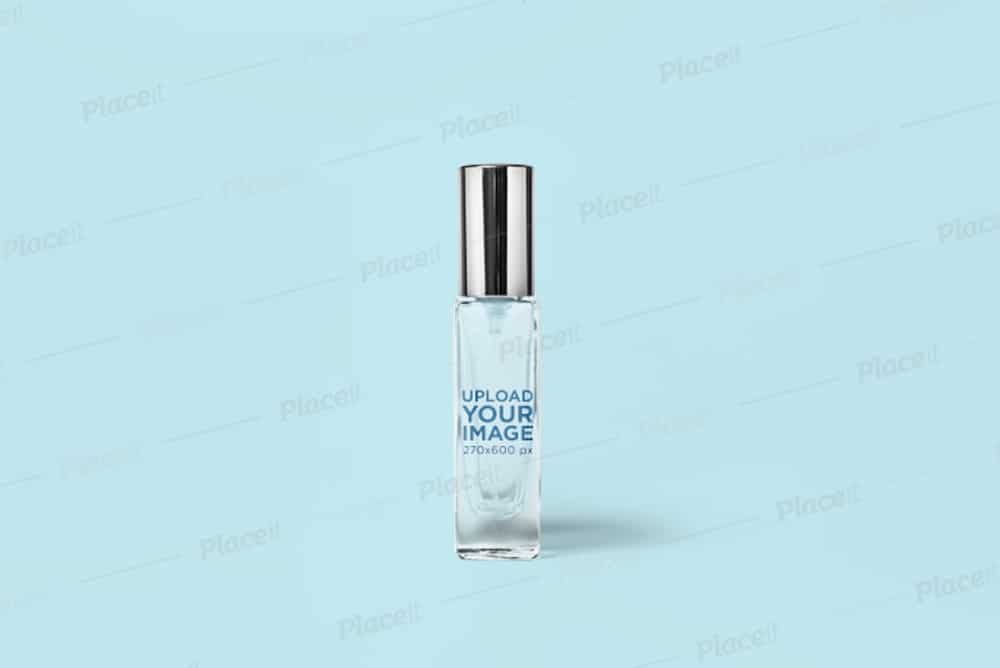 If a slim perfume bottle is what you are after, this is the mockup that will instantaneously do the trick. How do I know that?
Head over to Placeit, and you can start working on your life-like perfume bottle design presentation right away.
However, I do ADVISE you to create a free account, making your work even smoother.
As for the editing and customization, you can alter the background, insert any design or logo and append text.
You now have a stunning exhibition that you can use all over the web or send to your client.
MORE INFO / DOWNLOAD
10. Mockup of a perfume bottle w/ customizable background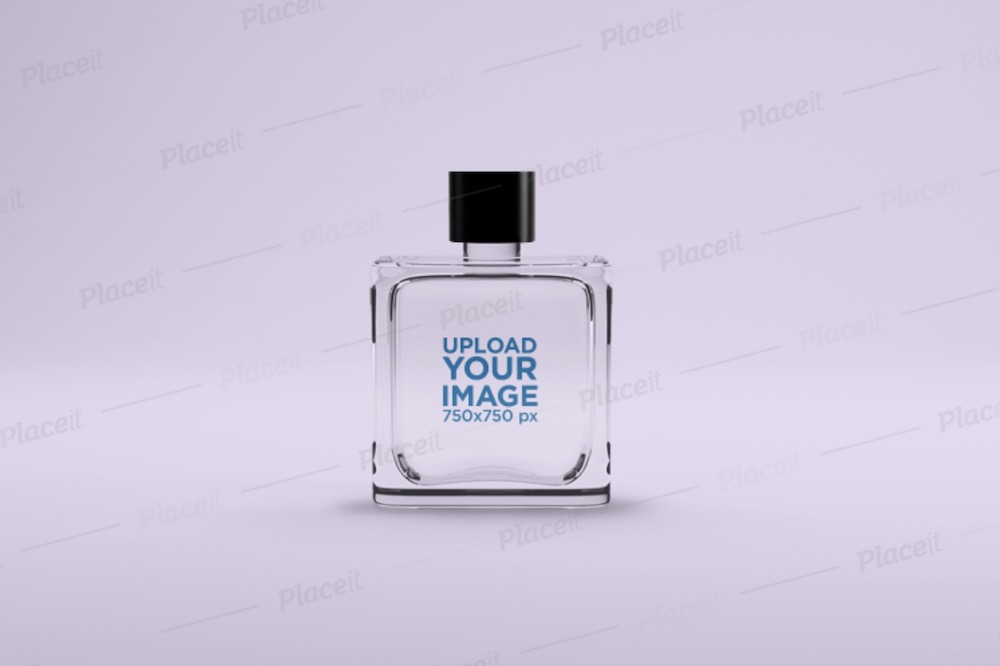 If you are exclusively looking for a perfume bottle mockup only, here you go.
PICK the shape that interests you the most and START working on a life-like demonstration.
For a square bottle, here is a simple alternative that guarantees a lovely outcome. See it for yourself; you can try it out first before creating an account and opening your wallet.
With a few quick tweaks, you can now create a photorealistic showcase that will help spread the word out for a new scent with style.
MORE INFO / DOWNLOAD
11. Mockup of a small perfume bottle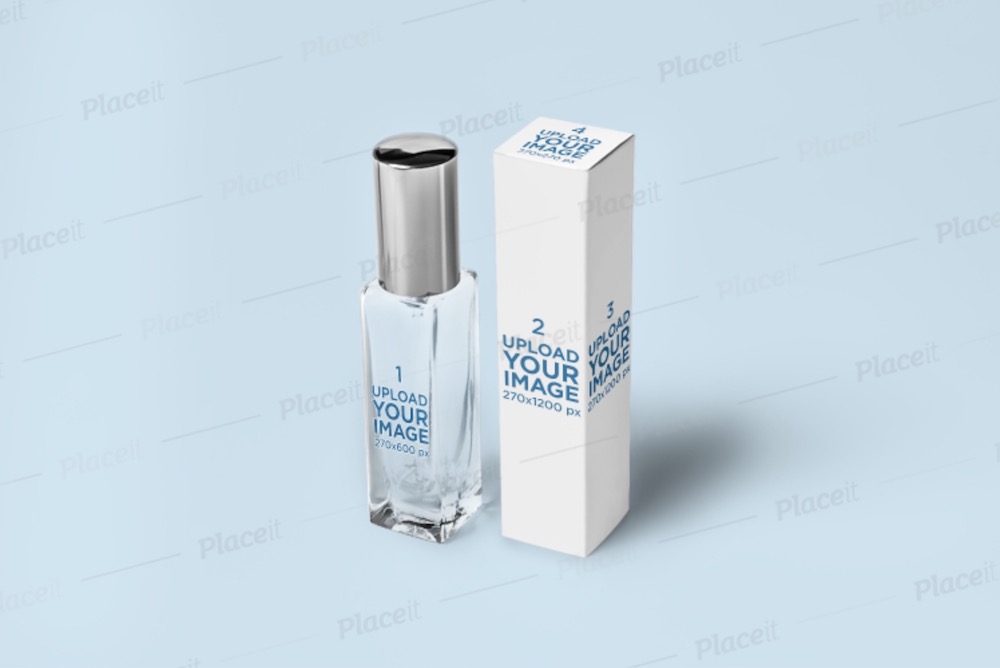 As you can see from the image, there are multiple working areas that you can put into play on this mockup. One on the bottle and three on the packaging.
Moreover, you can also alter the box's color and background. All this you do by using Placeit and your web browser – no need for anything else.
You can insert an image directly from your computer, but you can also access your downloads if you are already working with Placeit.
Keep in mind, if you would like to keep any side blank, you can do that, too,
MORE INFO / DOWNLOAD
12. Perfume mockup in a minimalistic setting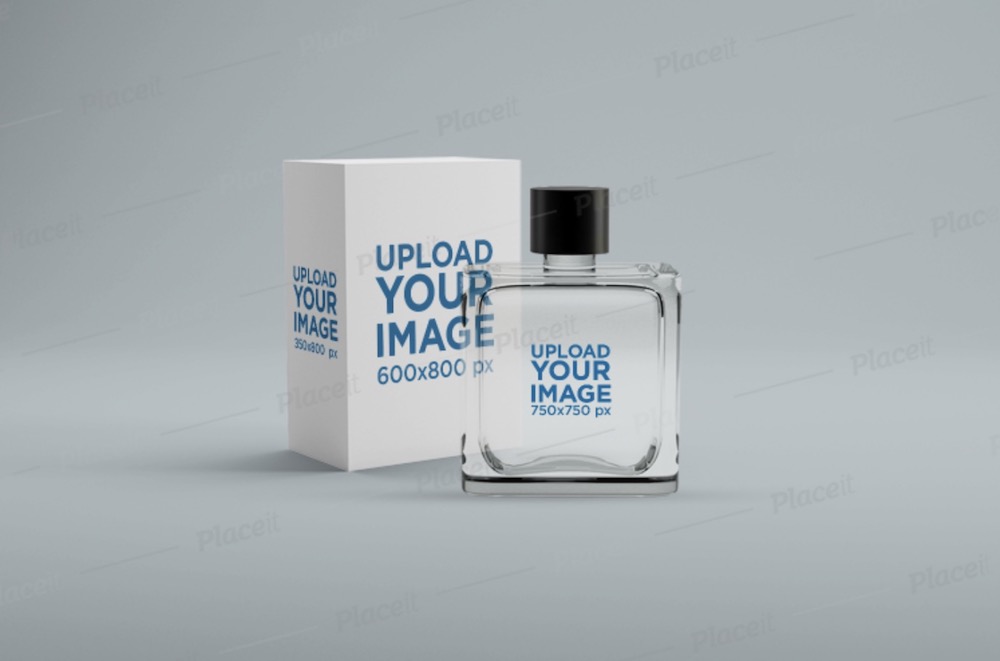 A modernistic mockup of a perfume bottle and packaging for you to take to your total advantage.
If you are particularly looking for a square bottle, this alternative may just be the IDEAL one to pick.
Like in true Placeit fashion, the process of improving the default configurations with your ideas will be an easy task.
Add images, change colors, introduce text, you name it – this mockup is ready to help you make an immediate difference.
You can start working on it in the snap of a finger; no need to have an account first.
CHECK it out; you'll see what I mean.
MORE INFO / DOWNLOAD
13. Mockup of a transparent rectangular perfume bottle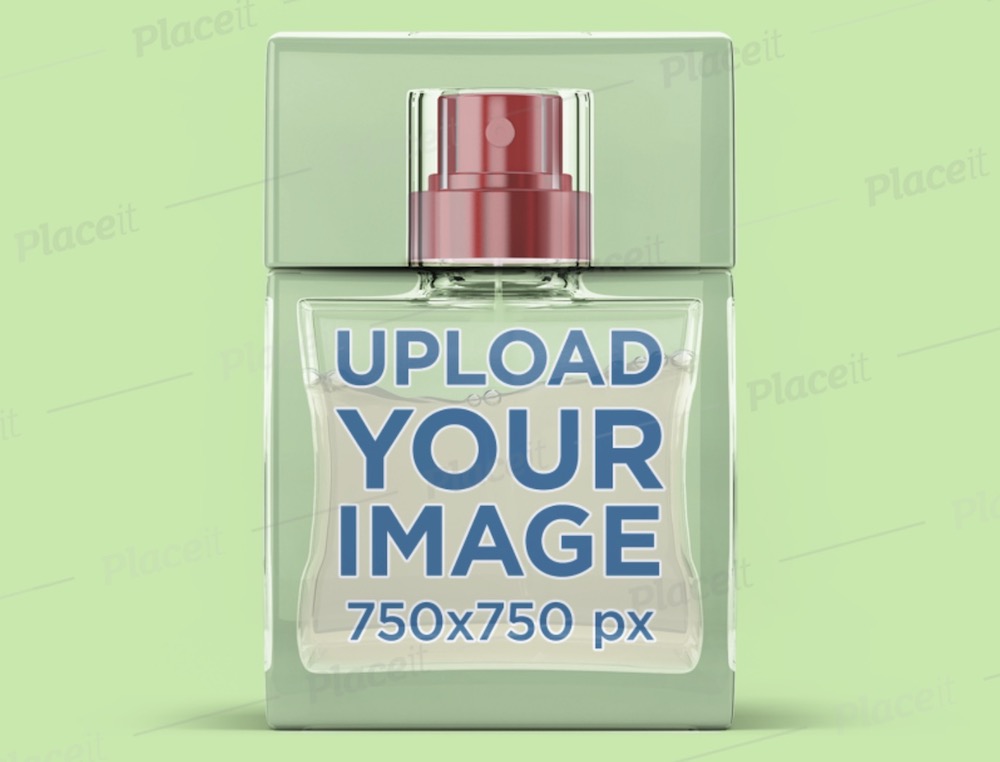 I bet you remember this one from earlier. It is a fully transparent perfume bottle mockup that includes the liquid for an EVEN MORE realistic presentation.
If you like the green background, you can keep it. But you can change it, too, or make it transparent.
The working area for your design is 750 x 750px, but other sizes work just as well.
Once you upload your design, a pop-up opens that allows you to crop and reposition your image.
At this point, just hit the button and see your creation appear on the bottle.
How simple was that?
MORE INFO / DOWNLOAD
Best Perfume Bottle PSD Mockups
14. Perfume PSD mockup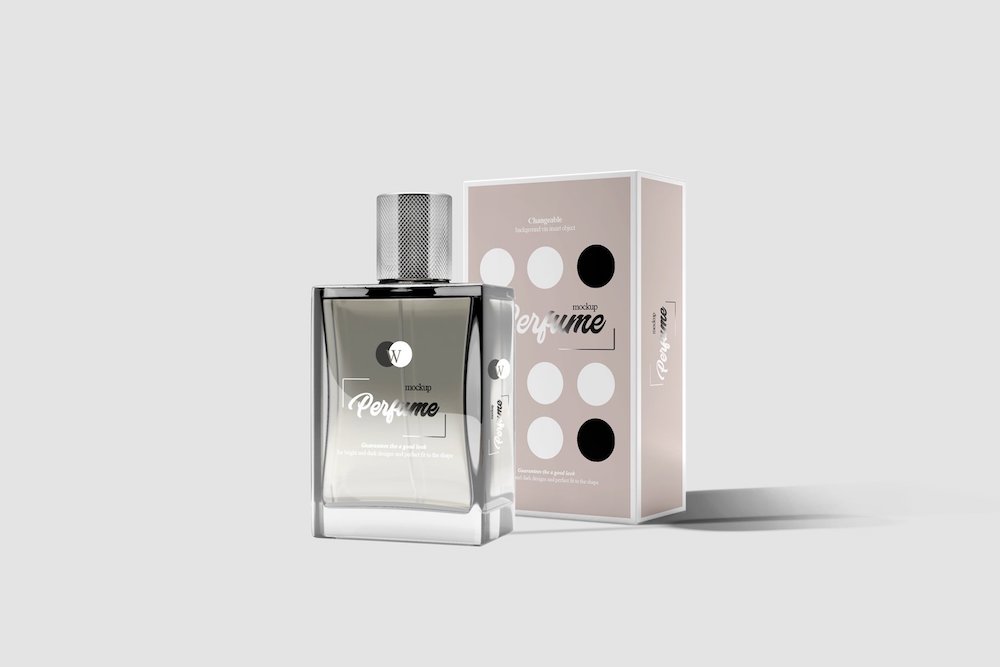 Even though you get just one PSD mockup, it easily appears as three. You can use both the bottle and the packaging together or you can even remove/move each object.
With great customization functions and smart objects, you can have an outcome ALL SET and ready to go speedily.
You only really need the basic Photoshop knowledge; all the rest you learn on the fly.
The template dimension is 4000 x 2670px for outstanding quality.
Make it your way, use and reuse it for different projects and take things to the next level.
Price: $14
MORE INFO / DOWNLOAD
15. 4-Scene perfume mockup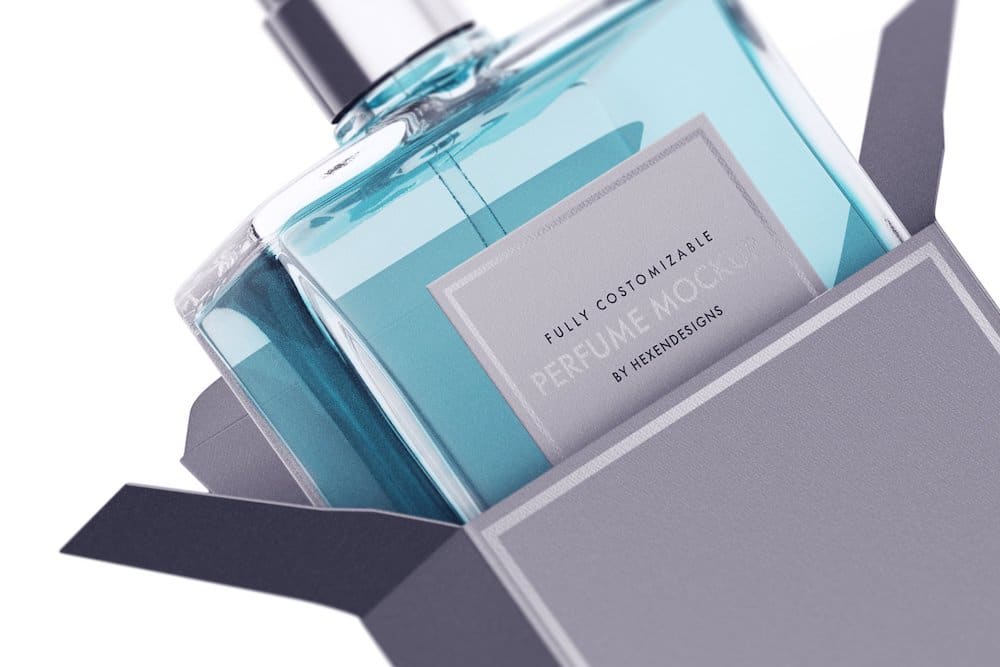 With four striking scenes, you can use this perfume bottle mockup to create a stupendous exhibition. There is no need to be a professional to make it happen.
Everything is predefined for you to benefit from quick customization that creates a realistic end product.
You can add a design to the bottle and the paper box separately. Moreover, you can also change the perfume/liquid, bottle, cap, and background color.
You can SEE some of the PREVIEWS first and understand what's possible.
In short, everything is editable for you to make the final version that fits your branding regulations to a tee.
Price: $14
MORE INFO / DOWNLOAD
16. Perfume packaging mockup

It takes a mere few seconds to pick the mockup and tailor it to your needs. But you need to have the designs and logos ready to achieve such fast results, all the rest takes barely any time.
In this instance, you get a whopping collection of ten PSD files, all coming at 4000 x 3000px (72 DPI).
Moreover, you also get four READY-TO-USE filters, along with complete creative freedom to decorate the perfume bottle and packaging how you wish.
Lastly, you also get a help file and video tutorial to get the gist of it first, which is helpful for a beginner.
Price: $14
MORE INFO / DOWNLOAD
How To Make A Perfume Bottle Mockup?
You want to show your custom perfume branding in all its glory, right?
That's why creating a life-like presentation is so important. And you can do it effortlessly with a mockup.
In fact, I'll show you how to do it with a mockup generator because it's the easiest way of making it happen.
You don't need software, and you also don't need experience, so it's a big win-win.
4 Steps To Design A Perfume Bottle Mockup:
Step 1: Click on this link to go to the Placeit platform where you can use their search bar to find any template you want. (The live recommendations are very helpful.)
Step 2: After you bump into the template and open it, I recommend inserting your design first. Click the "insert image" button and upload it from your device. You can then alter the size and position and click "crop" to attach it to the bottle (or packaging).
Step 3: Now comes the part when you customize the default settings further by picking the right colors, changing the background, adding graphics, and more.
Step 4: You're done!
Using a mockup generator is the most effortless, but the process is pretty straightforward, even when it comes to PSD templates.
Open Photoshop and introduce your template. Then use the convenient layering structure to find the smart object, which allows you to slide in your design.
Then perform any other modifications you want – a PSD file offers even more creative freedom than a generator.
And most importantly – Have fun!