We researched, tested, and reviewed 40+ rubber stamp mockups to bring you the ultimate collection of realistic templates.
But we started with online mockup generators because of their insane simplicity. (No software necessary.)
You read that right!
You can create a life-like mockup without Photoshop.
It takes SECONDS to complete the task.
Similar applies to PSD mockups.
But you do need basic Photoshop skills. These then give you all the EXTRA OPTIONS that a mockup generator doesn't.
This post covers:
You can create a stunning presentation of a logo, text, graphic or design easily with a top-notch stamp mockup.
Enjoy!
Best Rubber Stamp Mockup Generators
Mockup generators go for $7.95 per template, but you can also choose Placeit's monthly ($14.95/mo) or yearly ($89.69/yr) subscription.
1. Mockup of a rectangular stamp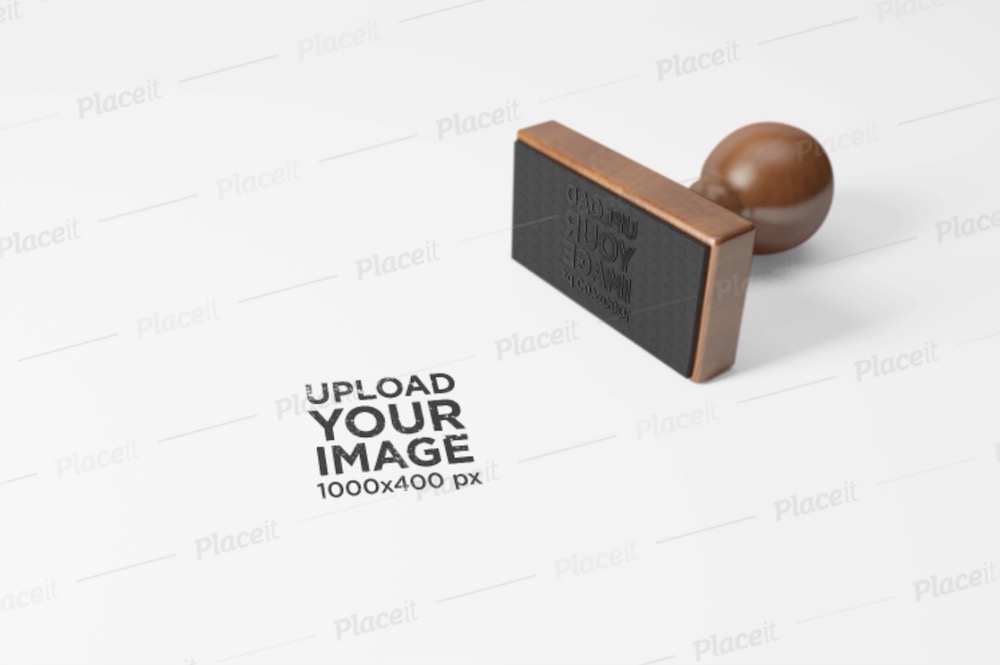 Our broad selection of different mockup generators of rubber stamps will equip you with the right one that matches your needs.
This is the template that will do you well if a rectangular one is what you are designing for your client.
It is plain and simple, yet the outcome will be very photorealistic.
The entire process takes you just SOME clicking and that's it. We enjoyed it a lot!
As you know, you do all the work online, over on the Placeit platform.
Change the color of the paper, insert your image and you are done doing the "tedious" task.
MORE INFO / DOWNLOAD
2. Mockup of a stamp over a paper corner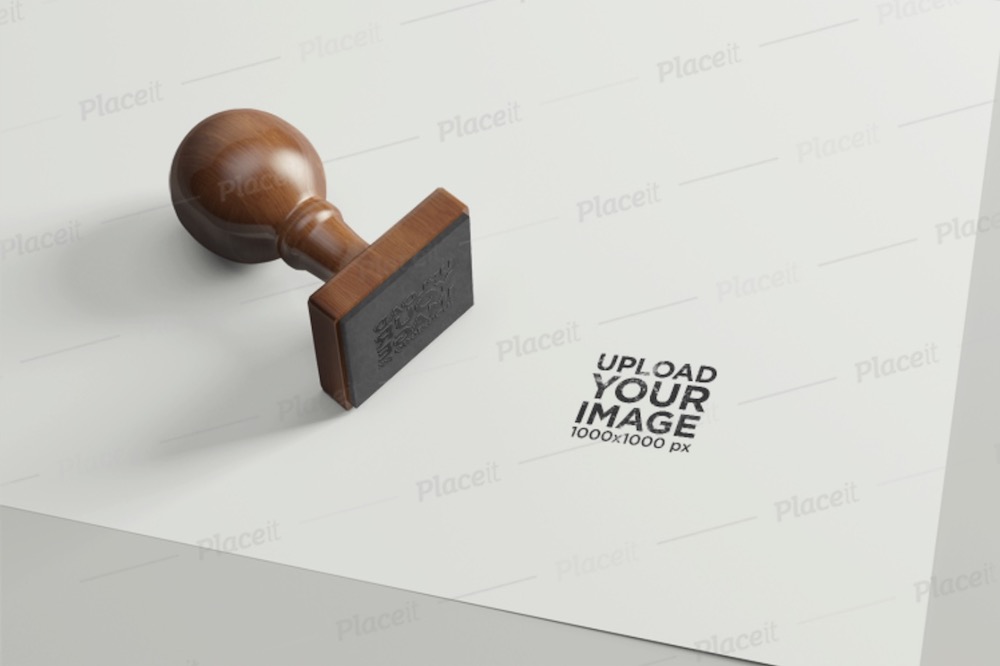 A different view and a slightly more crowded scene of a rubber stamp mockup. This one is square, offering a working area of 1000 x 1000px.
For your information, once you upload the design, a crop feature opens to reposition and cut the design accordingly.
You can also adjust the shade of both papers individually.
Keep it simple or keep it vibrant; whatever the case, this is the template that will do the trick.
What's more, you can also spice things up with any text, and even create a call-to-action.
You can come up with as many variations and possibilities as you want before picking the best combo.
MORE INFO / DOWNLOAD
3. Circular rubber stamp mockup

If a circular style of a rubber mockup is what your client is interested in, here is a mockup that will do the trick.
Use it to create a splendid display of any design or logo you want to showcase.
Once you slide in your artwork, it appears both on the paper and on the stamp.
Speaking of paper, you can change the color with the handy color picker. And you can also append a graphic and text if necessary.
There are quite some features and functions, even though you do all the work using your web browser.
One of our clients once requested a similar stamp. We used this one and it worked like a dream.
MORE INFO / DOWNLOAD
4. Squared rubber stamp mockup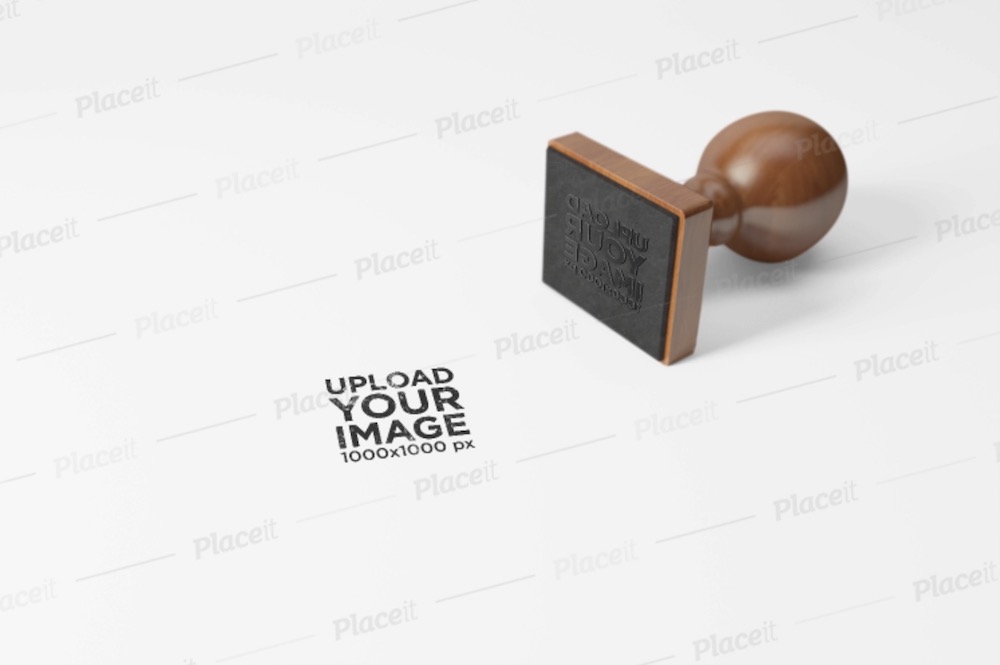 Another minimal square stamp on a plain piece of paper/background. This one does not overwhelm you with too many customization choices.
Instead, there are three functions only.
The most important one is the option to INSERT your creative work. You can upload it from your computer or even use any from your Placeit downloads.
Second, you can CHANGE the paper's color. And third, you can also INCLUDE any text you want.
You can choose color and font for the text, even add background color (and turn it into a "button").
MORE INFO / DOWNLOAD
5. Mockup of a round rubber stamp

A mockup comes great for all sorts of intentions. As a designer, you can use it to test things out to see how well the design appears in "real-time."
You can also share it with your client. Heck, if you would like to engage with your followers, feel free to share it on social media.
For a tad more creativity, this rounded stamp mockup is a great starting point.
You can fully modify and fine-tune the default configurations. Change the colors of both background papers, insert a stamp design, and more.
You can make a difference WITHIN SECONDS.
MORE INFO / DOWNLOAD
6. Rubber stamp mockup on paper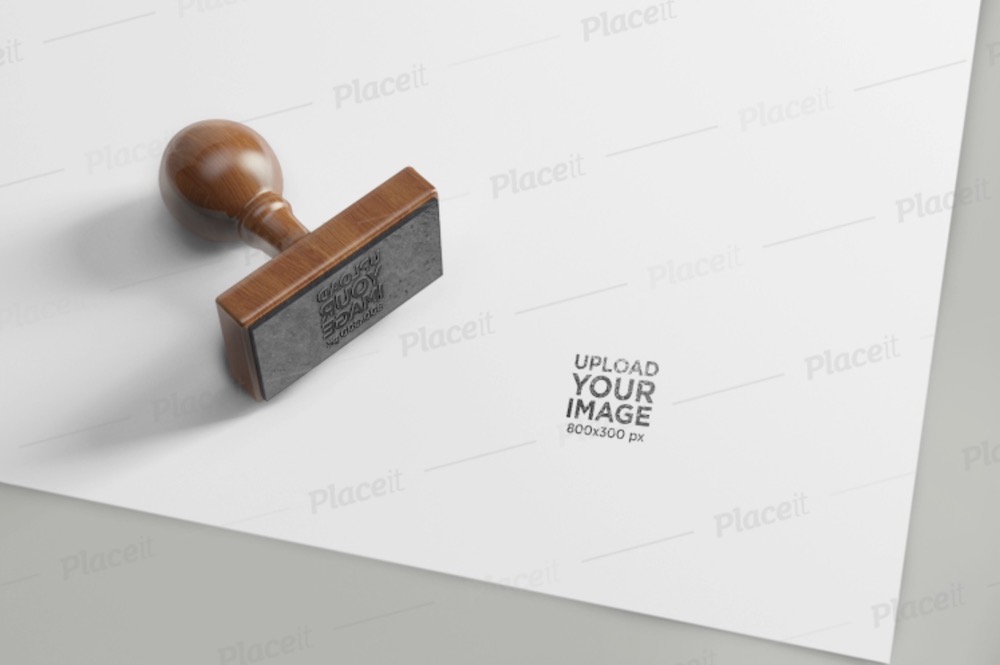 Another online mockup of a rectangular rubber stamp that beginners and pros can benefit from.
You will have a blast setting things up, making the final version appear exactly to your liking.
Even though it is always welcome to create a free account on Placeit, you do not need to.
The features are accessible to everyone, so you are free to test it out and see how well it performs.
You will edit it to your needs and regulations in a mere FEW CLICKS. It boosts your workflow while keeping professionalism intact.
MORE INFO / DOWNLOAD
Best Rubber Stamp PSD Mockups
7. Self-inking stamp mockup PSD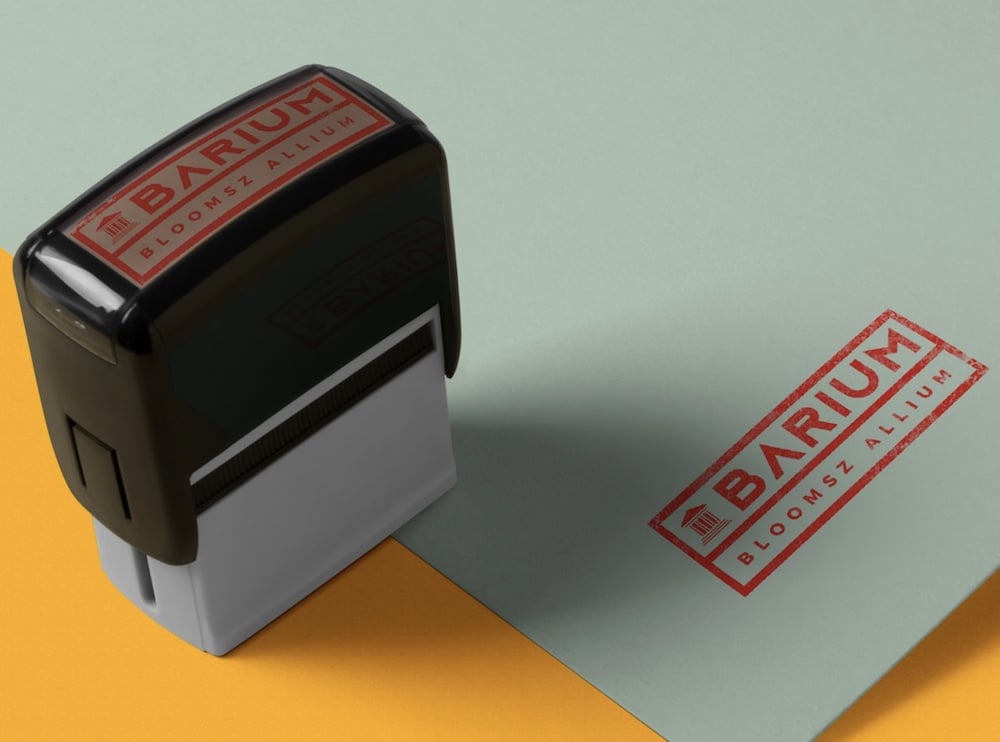 We now move forward with several PSD alternatives to choose from. The HIGH-QUALITY mockup has 3500 x 2300px resolution for the ultimate outcome.
You can test designs, logos, texts, addresses, whatever.
You can just drag and drop your artwork because of the smart object layer.
The Photoshop file is 100% organized, so working with it will be a little breeze. This mockup works great for close-ups due to the amazing resolution, too.
Quick story: When we worked with a T-shirt brand last year, they wanted us to create a custom stamp so they could manually stamp their packaging.
Price: $9
MORE INFO / DOWNLOAD
8. Realistic rubber stamp mockup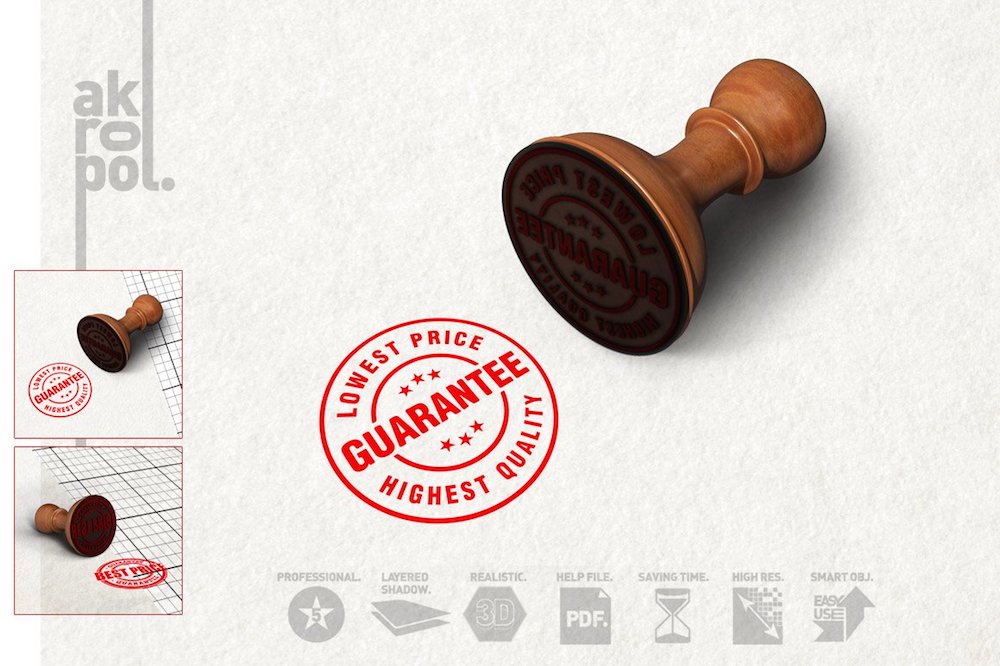 There may be only one file here, but you can move it around and use it however you fancy.
It features a square rubber mockup to present your logo idea in the best possible light.
Along with customizing the stamp, you can also edit the background and alter the shadows.
You can play around with all the different variations and create mockups for different clients – all with this layered PSD file.
Get as CREATIVE as you want; the outcome will be ready to roll quickly.
Keep in mind, the bundle also comes with a help file, in case you need any additional assistance. (Very unlikely.)
Price: $9
MORE INFO / DOWNLOAD
9. Stamp close-up mockup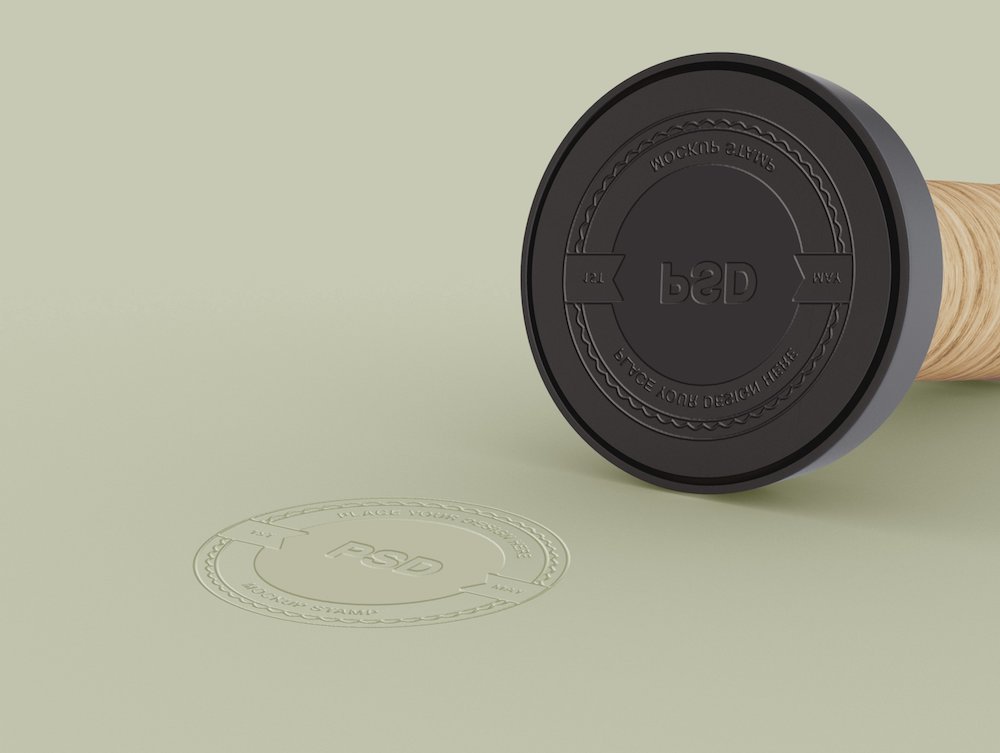 An amazing close-up look of a circular rubber stamp for making any logo pop.
Why complicate and do all the work from scratch when you can save a whole lot of time with a predefined solution?
Even though you need Adobe Photoshop to work with the mockup, the task will be a child's play.
But that's something you are used to, as all the templates on this list are very BEGINNER-FRIENDLY.
You can go very into detail with this one, making an outcome that will pop.
Price: $9
MORE INFO / DOWNLOAD
10. Easy-to-use stamp PSD mockup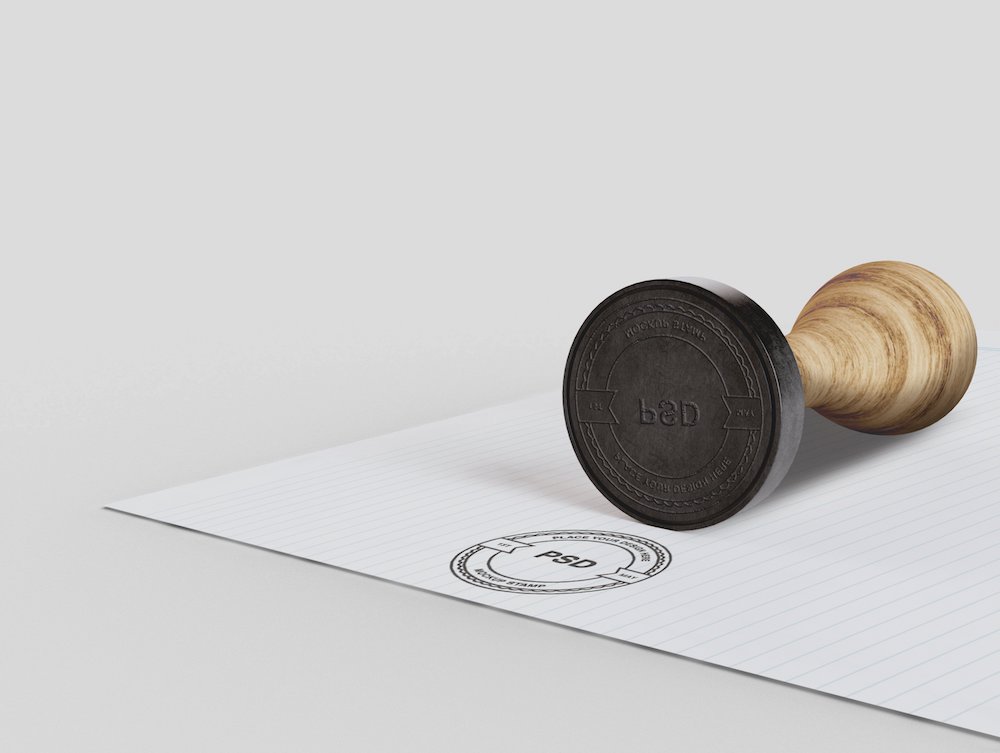 If the one rubber stamp mockup above is too minimal for you, spice things up with this one.
It is an impressive option to display a company logo in a way that will trigger everyone's attention.
Even though rubber stamps are somewhat OLD-SCHOOL, many still use them.
Pick this mockup of a rubber stamp lying on a sheet of white paper to make the life-like presentation a reality.
You will quickly improve the PSD file in Photoshop regardless of your skills.
Price: $9
MORE INFO / DOWNLOAD
11. Rubber stamp mockup set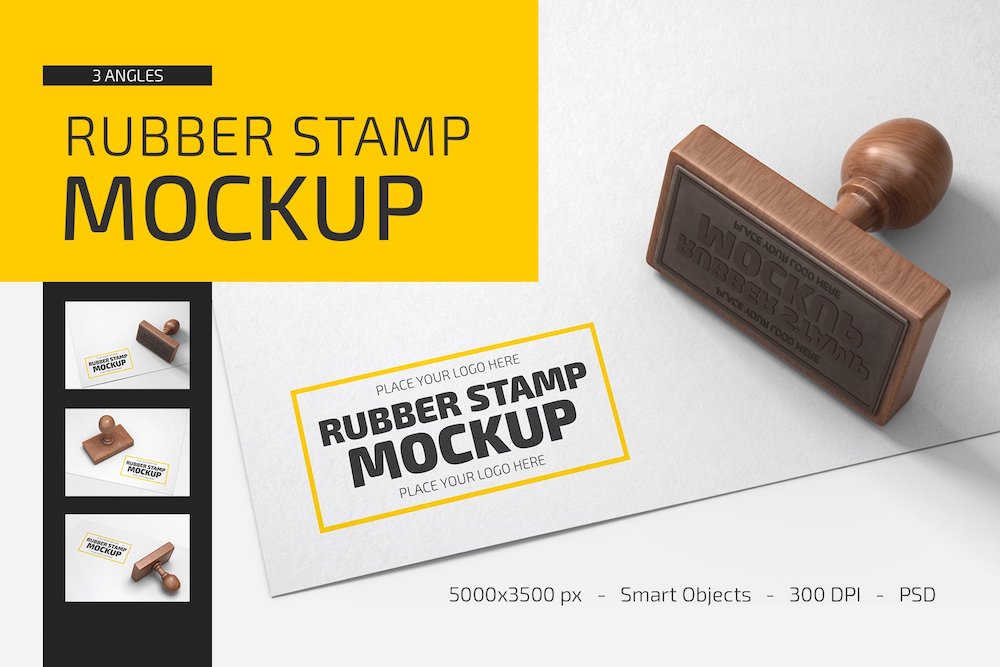 This is a full-blown set of three different PSD mockups to work with.
They come as three different rectangular rubber stamp views, putting all the shine on the logo or text you would like to display.
The one view that is also highlighting the bottom of the stamp can also feature the logo for an even more realistic exhibition.
Each PSD file is 5000 x 3000px, ensuring OUTSTANDING quality.
You can also alter the background and the paper sheets, making the overall presentation follow the necessary directions to a tee.
Price: $14
MORE INFO / DOWNLOAD
12. Stamp mockup with paper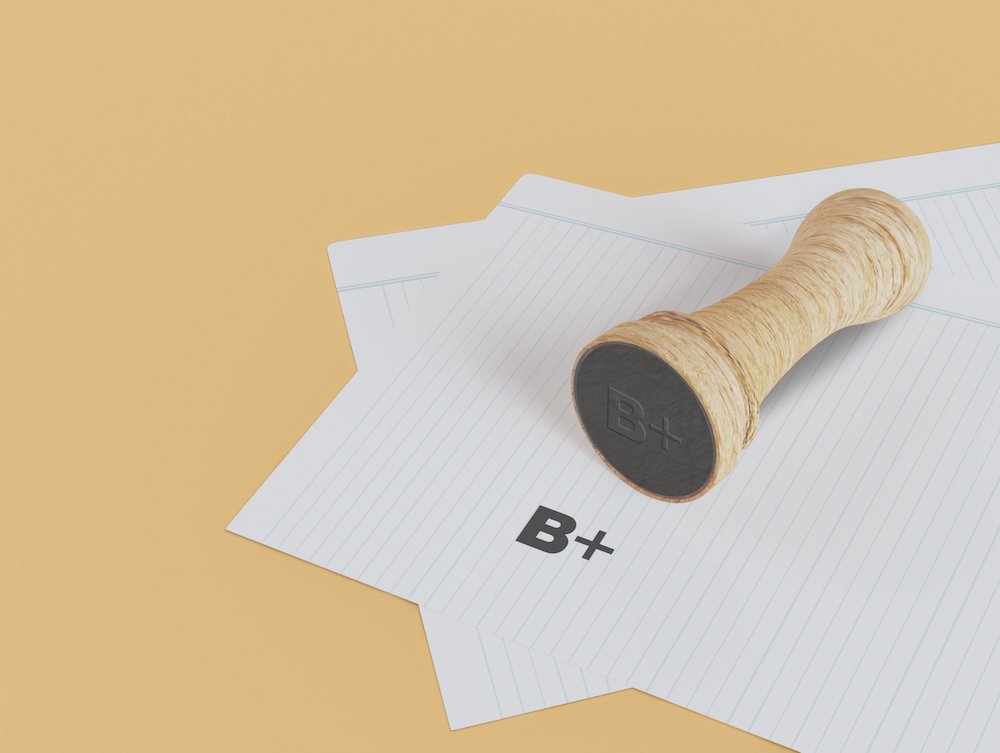 Whether it is a single letter or number, a logo or a design, all can work for a rubber stamp.
To test the waters before the production, use a mockup and see your creation in action.
The template is easy to work with, yet the outcome will always be top-notch.
You only really need the pure basics of Adobe Photoshop, as all the rest will flow naturally.
You can STEP UP YOUR GAME for a small investment and avoid the boring design logo presentation. Create an exciting demonstration that will wow everyone.
You can also make a bunch of different variations so that the client will pick the best one easier.
Price: $9
MORE INFO / DOWNLOAD
13. Modern stamp mockup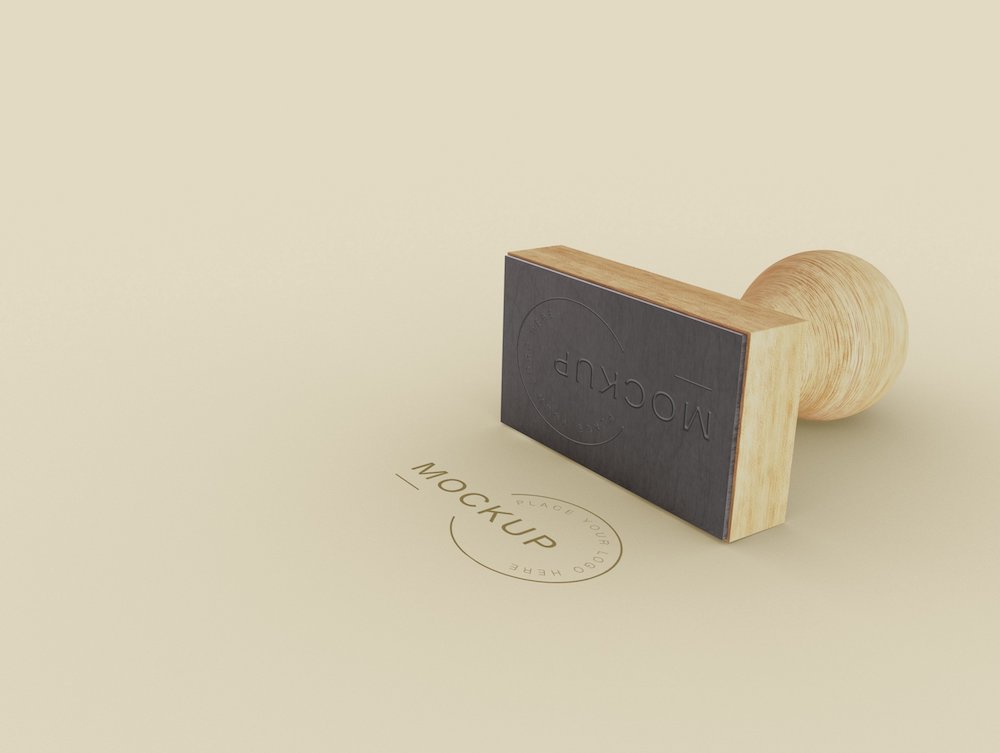 This is the rectangular rubber stamp version for you to take to your full advantage.
Also, if you are into minimalistic presentations, this one will work wonders for you.
At the end of the day, it's the logo that needs the most attention; all the rest is just icing on the cake.
If you are seeking even more rubber stamp mockups, this may work out for you fantastically well.
The image features a logo imprint and a fully adjustable bottom area of the stamp.
Price: $9
MORE INFO / DOWNLOAD
14. Rectangular rubber stamp mockup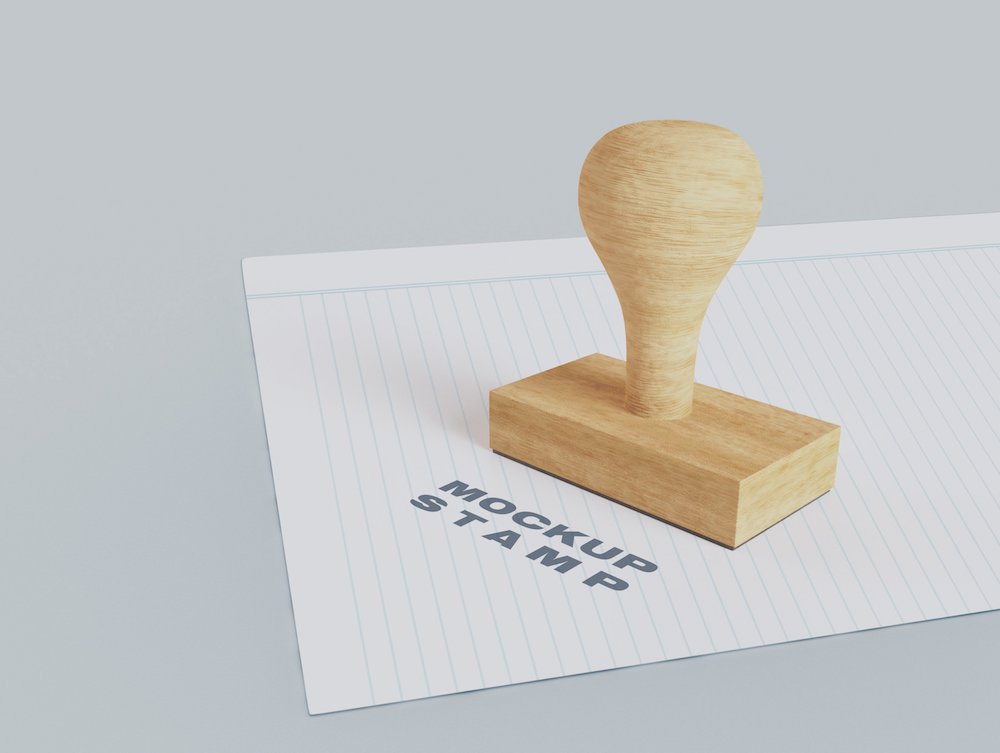 Keeping things simple is always the winning decision you can make (works for us!). It also applies to mockups of rubber stamps.
The ones that are here are very straight to the point, and this one is no different.
A sheet of paper, a wooden rubber stamp and a solid background – that's all you need.
Make your version of it now by importing the file to Adobe Photoshop and style it to your heart's content.
Nothing should hold you back to go as creative as you want, so make the most out of it – everyone can.
Price: $9
MORE INFO / DOWNLOAD
How To Make A Rubber Stamp Mockup?
You don't need to be a pro to create a pro-level presentation of a custom rubber stamp design.
All you need is an online mockup generator, and you can do it in a matter of a few clicks.
Yes, it's really that simple.
Here's who it's done.
4 Steps To Design A Rubber Stamp Mockup:
Step 1: Visit Placeit (my favorite platform!), and use the search bar to find the ideal template. It displays recommended search queries for quicker finds.
Step 2: You then click and open the mockup you like and add your design via the "insert image" button. This also allows you to resize and reposition your design to appear exactly how you want it on the template.
Step 3: Then do any last, refining customization tweaks that the platform allows you to, and you're done with the work.
Step 4: Download and save your amazing creation to use anywhere and everywhere – hey, you can even print it!
As for the PSD templates you find on this list, the process is also a piece of cake, but you need Photoshop.
Open PS and import the file you want. Then stick your design via the smart object layer with the simple method of dragging and dropping.
And you can also quickly adjust and improve other elements because of the organized layered structure that every beginner and expert can master on the fly.
Have fun!
::
Note: This article was originally published on November 16, 2020. But our team regularly reviews it and updates it with necessary improvements for accuracy.