You can create endless logo and design presentations with these easy-to-use round stamp mockups.
It surprises me how many still use stamps.
Thus, a collection of the best free and premium templates was necessary. (Thanks to everyone requesting it!)
This list of stamp mockups has something for everyone.
This post covers:
I added both mockup generators and layered PSD files (including free).
First: You don't need Photoshop to make a mockup when working with generators.
Second: Even if you opt for PSD mockups, the workflow is effortless and quick.
Get creative with making a stamp right now.
Note: This is not a list of postage stamp mockups – we have those in a separate listicle for your convenience.
Plus, if you'd also like to view the best square stamp mockups, we have covered those already as well.
Best Round Stamp Mockup Generators
You can purchase a Placeit mockup for $7.95, but you can also opt for a monthly ($14.95/month) or yearly ($89.69/year) subscription.
1. Circular rubber stamp mockup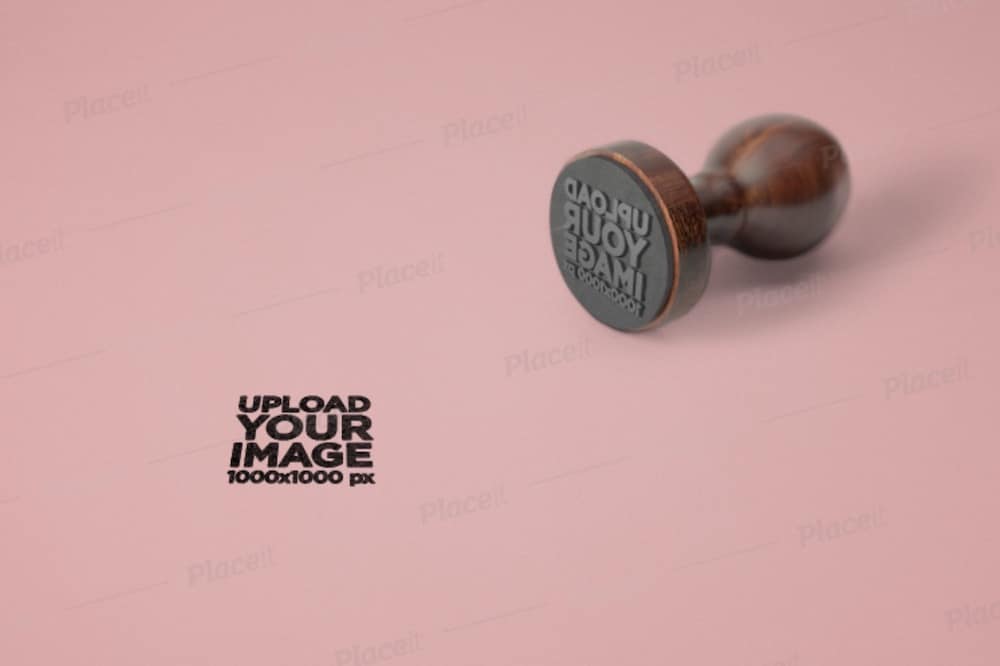 A clean, simple and impactful rubber stamp mockup that will help present your design or logo idea in the best way possible.
Instead of doing things from the ground up, benefit from a mockup and save time.
Especially when it comes to a mockup generator, you can have a full-blown outcome ready in no time at all.
You can change the background color to any shade you want for this template. Moreover, you can upload your image and see it appear on the mockup right away with a click.
MORE INFO / DOWNLOAD
2. Mockup of a round stamp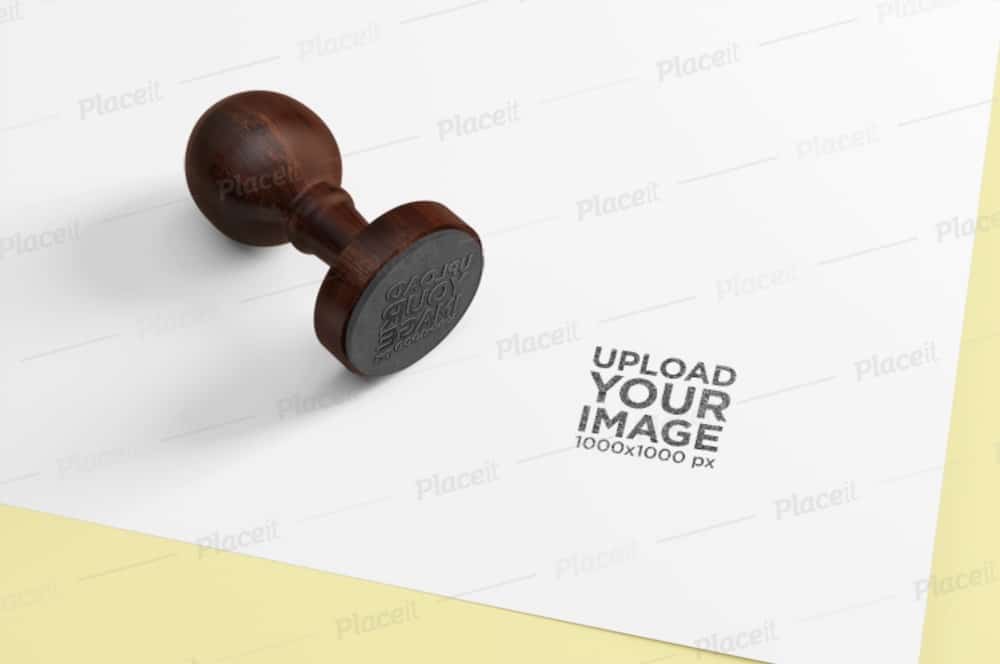 A neat round stamp mockup with an editable paper sheet and background. You can make improvements without breaking a single drop of sweat.
Heck, you don't even need to work with Photoshop or any other complicated software.
Placeit is here for everyone to get the most out of their templates, even if you are not a designer.
However, you need to have the design ready-made, as this will further smoothen your workflow. You can upload any image of the size 1000 x 1000px.
Even if your design has different dimensions, the pop-up editor will make you fit it accordingly easily.
MORE INFO / DOWNLOAD
3. Mockup of a stamp on a customizable surface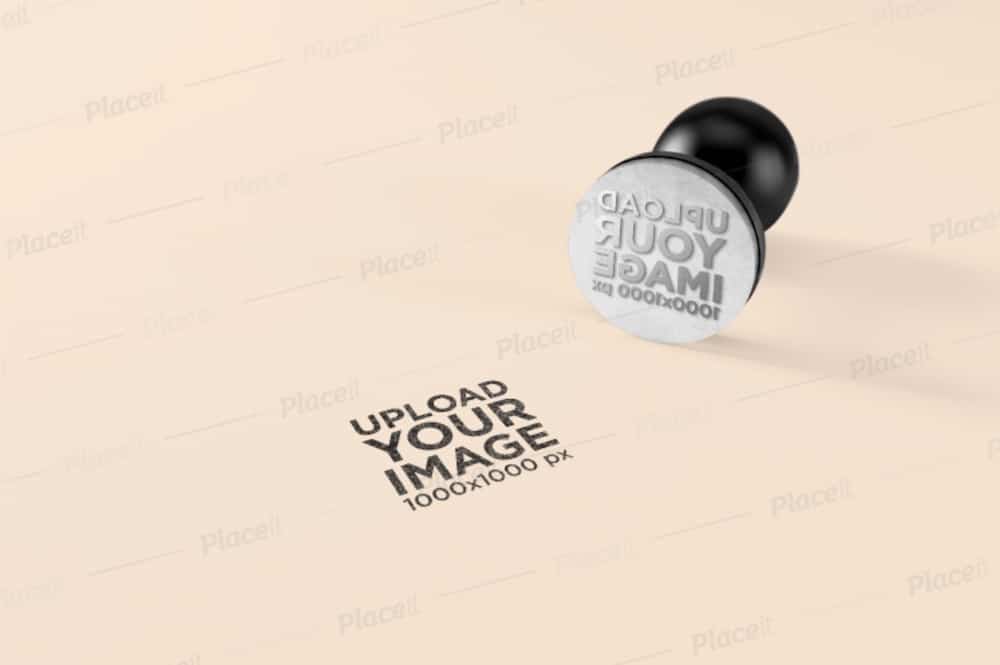 Whether you would like to showcase your idea to your client or even increase hype on social media, make it happen with a mockup.
This allows you to achieve a highly realistic effect without really doing too much work. For a mockup of this caliber, you can directly work on improvements from your favorite browser.
How awesome is that?
You can change the background color to any tint you want with a click.
With the second click, you can slide in your design. And with the third click, you can also add some additional text.
MORE INFO / DOWNLOAD
4. Rubber stamp + logo mockup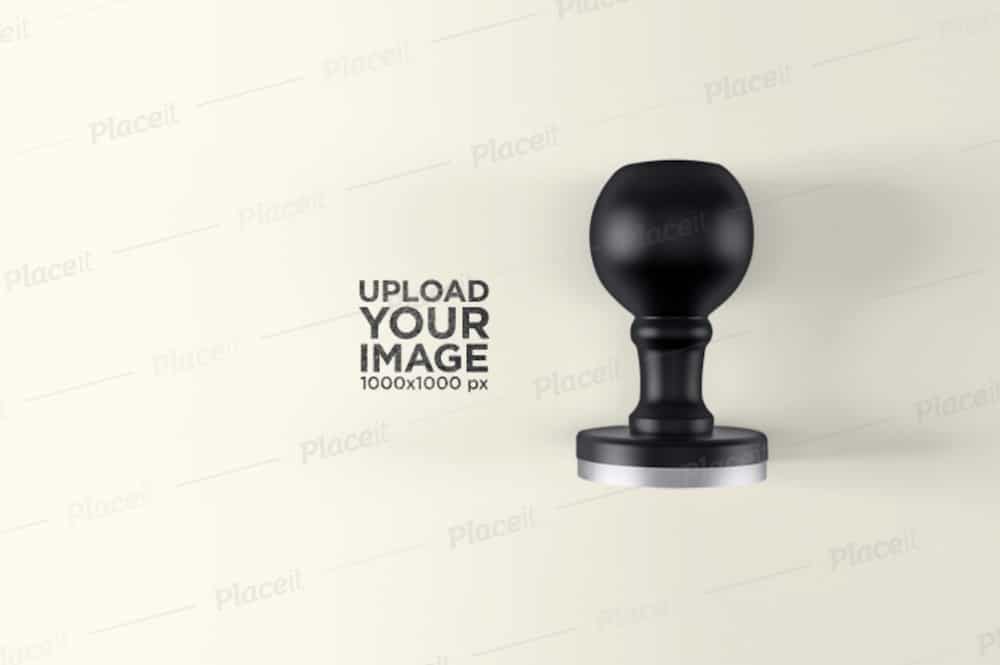 Another simplistic round stamp mockup that you can use and start working on enhancements instantaneously.
This one focuses on the stamp on the background/paper, which you can style and beautify to your heart's content.
Optionally: You can even make the background transparent if you later want to add a custom backdrop.
What's cool, you don't need to go straight to creating a free account on Placeit. The platform allows you to begin working on it first and go from there.
This will give you a better understanding of what's possible – and how easy it is.
MORE INFO / DOWNLOAD
5. Mockup of a stamp on a paper's corner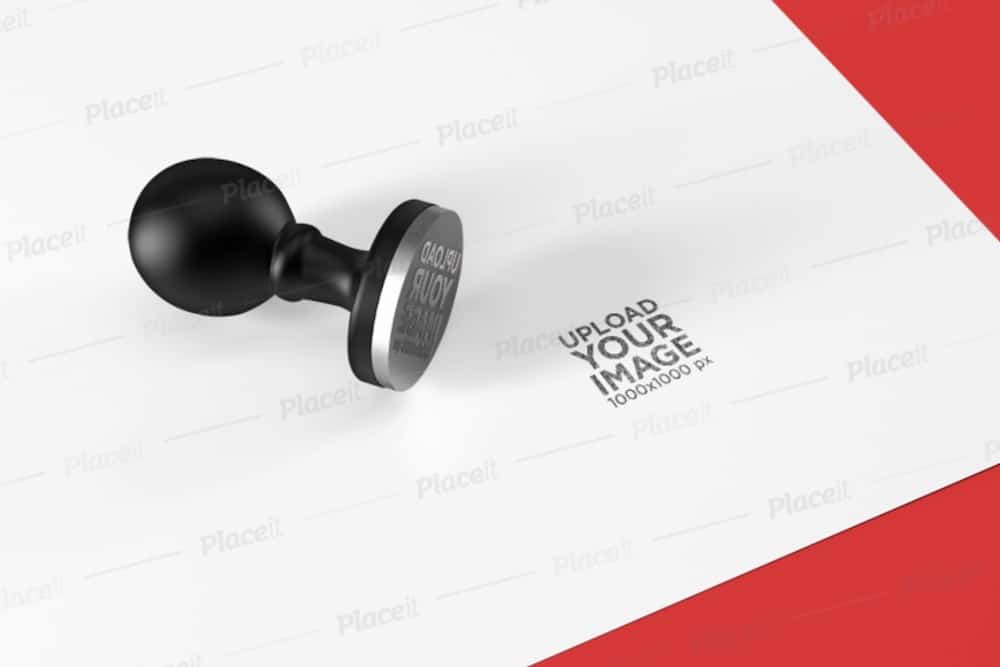 A two-tone background with a round stamp for you to make your own in a mere few clicks.
The paper and the backdrop come with color pickers, so you can quickly alter the shades without advanced tasks.
And when it comes to improving the stamp – that won't take you long either.
Insert an image straight from your desktop, configure it if necessary with Placeit's crop tool and that's it.
At this point, you can already have a full-blown round stamp presentation available. But if you'd like to add a text/message, you can do that, too.
MORE INFO / DOWNLOAD
Best Round Stamp PSD Mockups
6. 3D rubber stamp mockup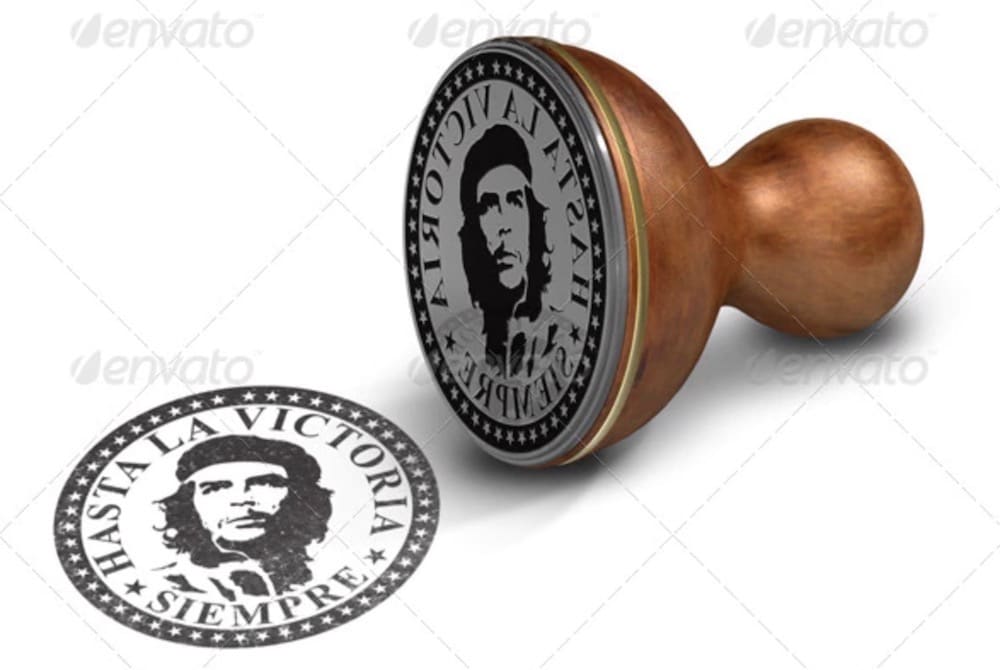 A full-blown 3D rubber stamp mockup that is waiting for your designs and logos to showcase in a life-like way.
This PSD template is 100% editable and customizable, so you can make it your way to a tee.
The high resolution at 3000 x 3000px also ensures the outcome is crystal clear (even when zoomed-in).
Some features are smart objects, modifiable shadows, reflection and transparent background.
There's also a negative engraving on the plate, which only spices things up. Make it yours now and get original.
Price: $6
MORE INFO / DOWNLOAD
7. High-resolution round stamp PSD template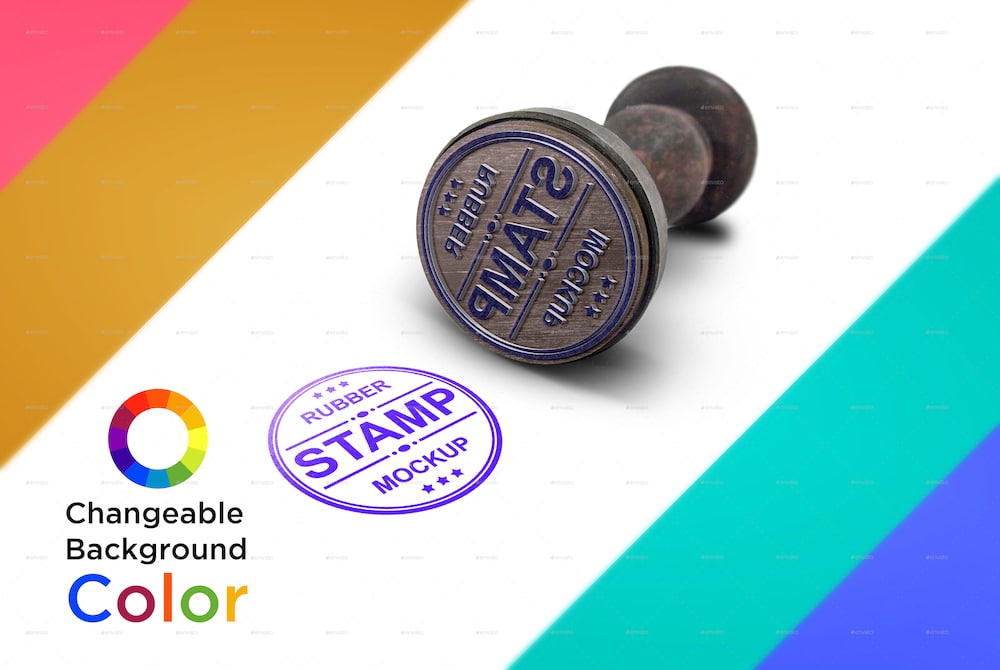 An amazingly photorealistic round stamp PSD mockup that will present all your creative approaches stunningly.
While you do need Adobe Photoshop to activate it, the whole process of improving the template is very simple.
Let's face it, the author did all the heavy lifting instead of you, so you only focus on the refining touches.
You get to improve the stamp, turn shadows off or on and alter the background however you fancy via the smart object.
The layered structure will feel very comfortable doing the work and an impressive stamp showcase.
Price: $3
MORE INFO / DOWNLOAD
8. Realistic round rubber stamp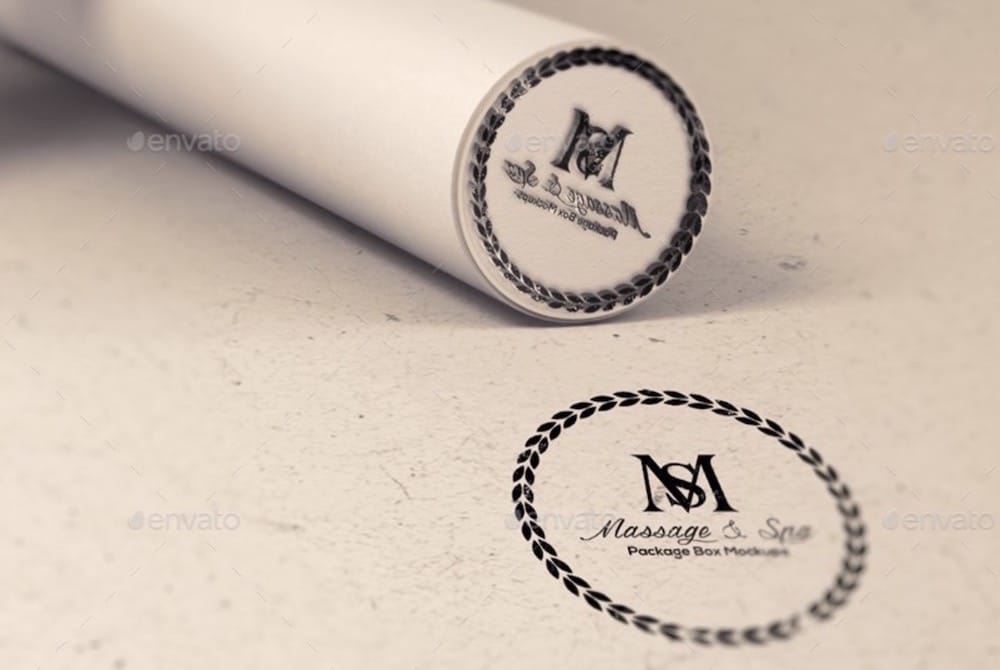 Another cool and attention-grabbing round stamp mockup that will trigger everyone's interest.
You can brand it however you like, as everything is entirely editable for you to take it to your total advantage.
When adding your design, you just copy and past it in the smart object layer and save it. Yes, that's the only work that you need to do.
You can move forward with any PSD mockups by having only basic Photoshop skills.
But if you'd like to contact the author for any advice, that's also an option.
Price: $5
MORE INFO / DOWNLOAD
9. Wax seal stamp mockup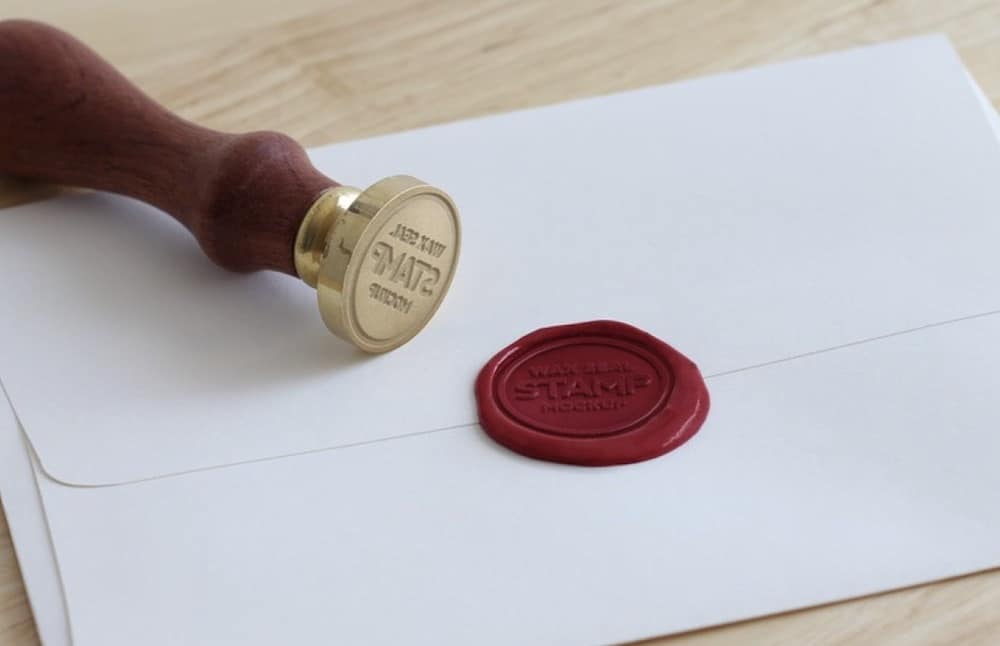 I'm sure you didn't expect this one, but I added it because it's just so good. Plus, I once worked with a handcrafted brand that sealed every pack with a wax and a custom logo brass stamp.
You can now achieve an incredibly realistic outcome with this high-quality PSD template that requires very little work on your end.
You can add your logo and even change the color of the wax. Simple.
Price: $10
MORE INFO / DOWNLOAD
10. Round rubber stamp logo mockup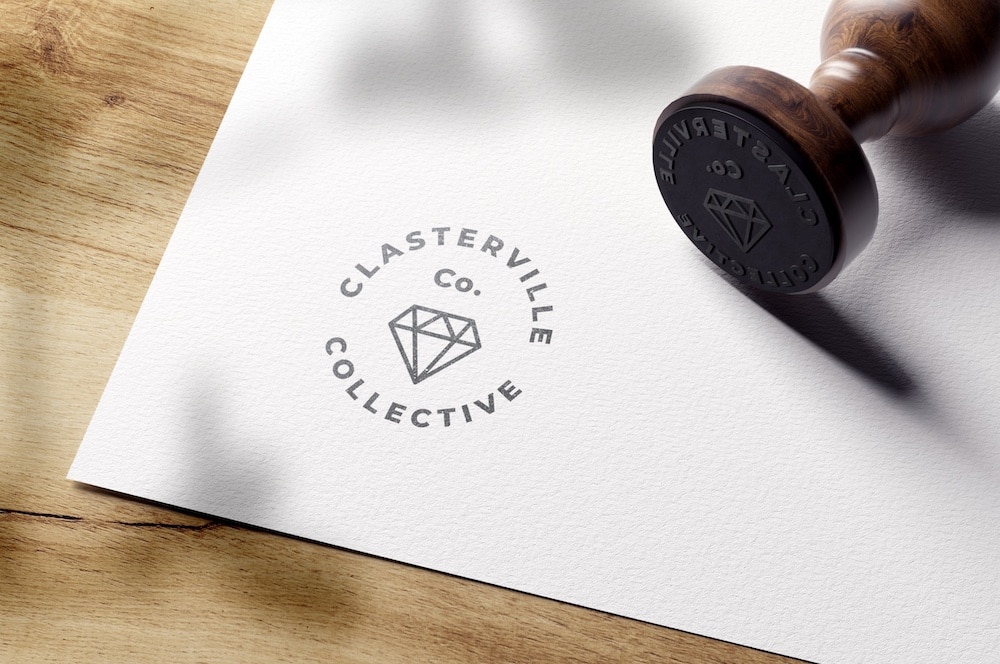 Excellent resolution (4000 x 2667px) ensures you trigger everyone's attention with this PSD logo stamp mockup.
You get three different views, one better than the other. It takes you seconds to improve the default mockup while keeping your professional levels intact.
And for all the newbies out there, enjoy the help file, even get in touch with the author if necessary.
Price: $9
MORE INFO / DOWNLOAD
Free Round Stamp Mockups
11. Free wooden stamp PSD mockup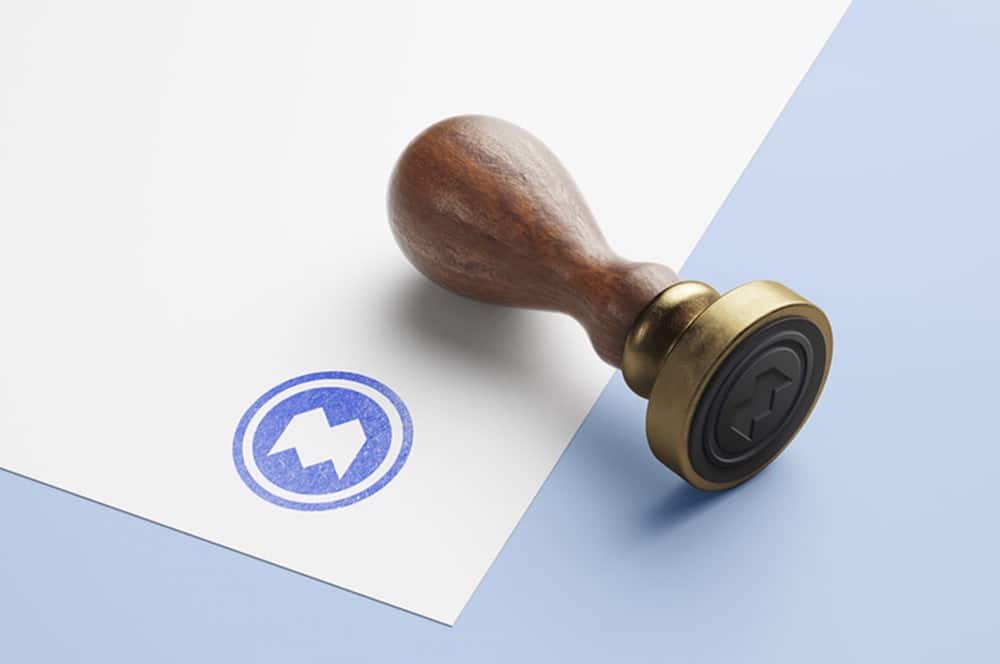 Everyone likes free stuff, right? But what if the free stuff looks more premium than actually free? That's exactly what you can expect from these free stamp mockups.
They are not only quality looking, but the customization options are also amazing for you to tailor it to your liking.
The mockup features a rubber stamp and a sheet of paper on a fully editable background. Create the final product that meets your and your client's expectation to a tee, starting with a neat and easy-to-use mockup.
MORE INFO / DOWNLOAD
12. Round logo stamp mockup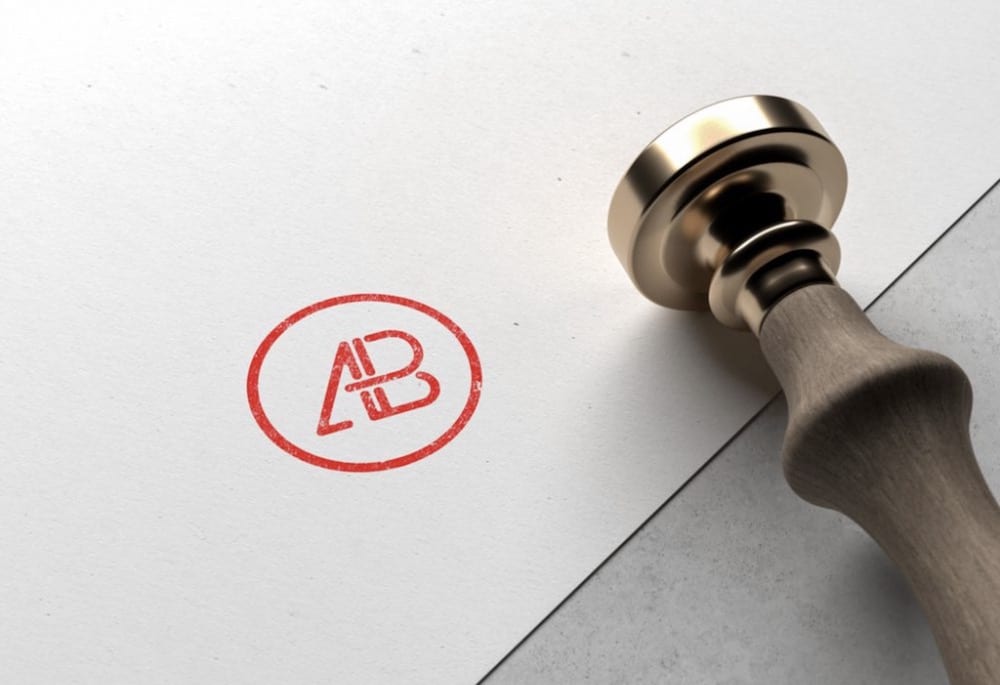 Stamp mockups are a great way to showcase company logos conveniently.
On the other hand, if a company will actually be using a stamp for stamping letters, invoices, well, that's when you would want to use a mockup, too.
This is a fantastic, clean and minimal free round stamp mockup that will do you well.
With the 5000 x 3750px dimension, you know you will create a high-quality stamp showcase.
The file also comes with smart objects, so you can slide in the design that you would like to present with a quick drag and drop.
MORE INFO / DOWNLOAD
4 Easy Steps To Create A Round Stamp Mockup
My favorite way to create a realistic presentation quickly is to use an online mockup generator.
I opt for the Placeit platform because I found it the easiest, and it allows creating mockups using a smartphone.
Placeit: The first step would be to visit Placeit and search for "stamp mockups." This isn't a very popular category, so there are no tags, but their search bar works really well.
You design: After you find the template, you dig, open it and insert your image. A pop-up will open with additional configurations to reposition and crop your design for the perfect fit.
Customization: Lastly, perform any extra modifications you think are necessary, include some text or add a graphic, whatever suits you. And that's it!
Done: You're now ready to download your stamp mockup and use it anywhere on the web (or print it) you want.
How QUICK was that?!
Do you need to create a round sticker mockup? We have an extensive collection ready and set for you to work with. Enjoy.
::
Note: This article was originally published on March 7, 2021. But our team regularly reviews it and updates it with necessary improvements for accuracy.