I'm always excited to work on new client projects, using postage stamp mockups after collecting stamps as a hobby for many years.
And sharing the best performers with you makes me even more stoked.
This allows me to ADVANCE my workflow yet maintain my professionalism intact.
I also go for PSD mockups, as these give me oh so much more design freedom.
That's the reason why I collected only the best layered PSD files (that I used!) for you.
This post covers:
You only really need Photoshop fundamentals even as a beginner.
All the rest kinda happens automatically.
Now is the right time to MAKE a CHANGE.
Best Postage Stamp PSD Mockups
1. 12 Postage stamps mockups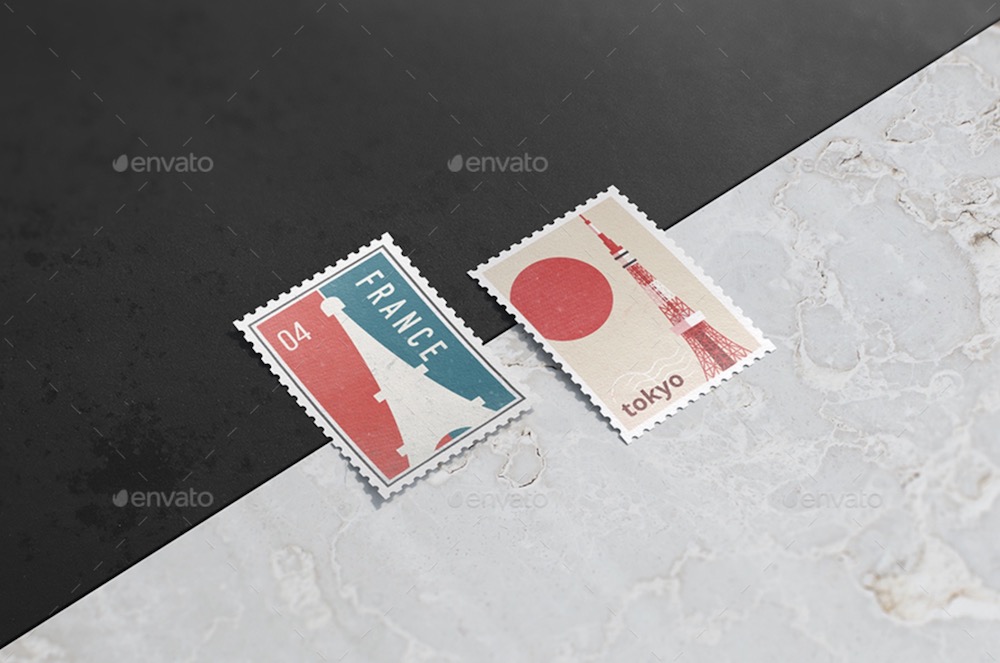 Instead of one beautiful and photorealistic image, this bundle offers you twelve.
With that in mind, you will find the one that resonates with your idea best.
Still, very likely, you will enjoy using all twelve through the roof. Every view is very attention-grabbing, making sure the outcome is just spectacular.
You have COMPLETE freedom to edit the postage stamp and the background according to your liking.
Moreover, each mockup also comes with four halftone patterns for you to use.
Alter colors and shadows and put into practice the four additional filters.
There are tons of options that will get you moving in the right direction from the get-go. (With a practical help file.)
Price: $8
MORE INFO / DOWNLOAD
2. Postage stamps PSD mockups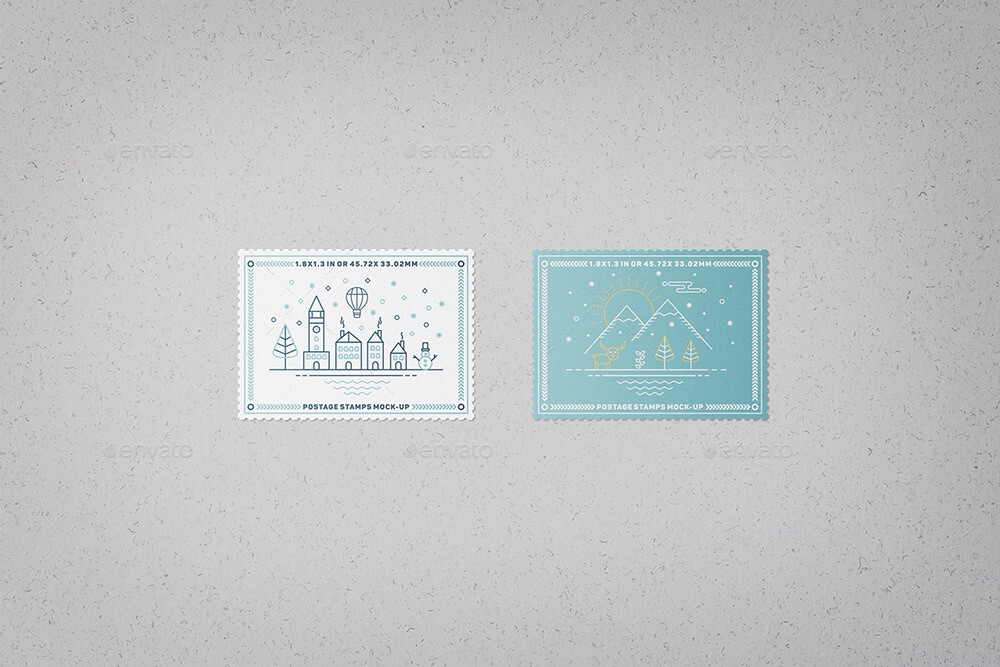 With all the very many alternatives that you get in this bundle, you will increase your workflow instantaneously.
Even if you are working on different projects simultaneously, this kit will do the trick.
In total, you receive thirteen high-quality PSD files that are fully adjustable.
Inserting custom design happens in just a click, hanks to the smart object layers.
But truly, you can edit anything that you see on each template.
For that, only basic Photoshop skills are necessary, and you can already make an immediate difference.
The mockups feature a standard stamp dimension, 1.8 × 1.3 in (33.02 × 45.72 mm).
Furthermore, you also get graphics and backgrounds, saving you even more time.
This is the set that you can play with forever, creating life-like presentations of postage stamps.
Price: $11
MORE INFO / DOWNLOAD
3. 12 Realistic mockups of postage stamps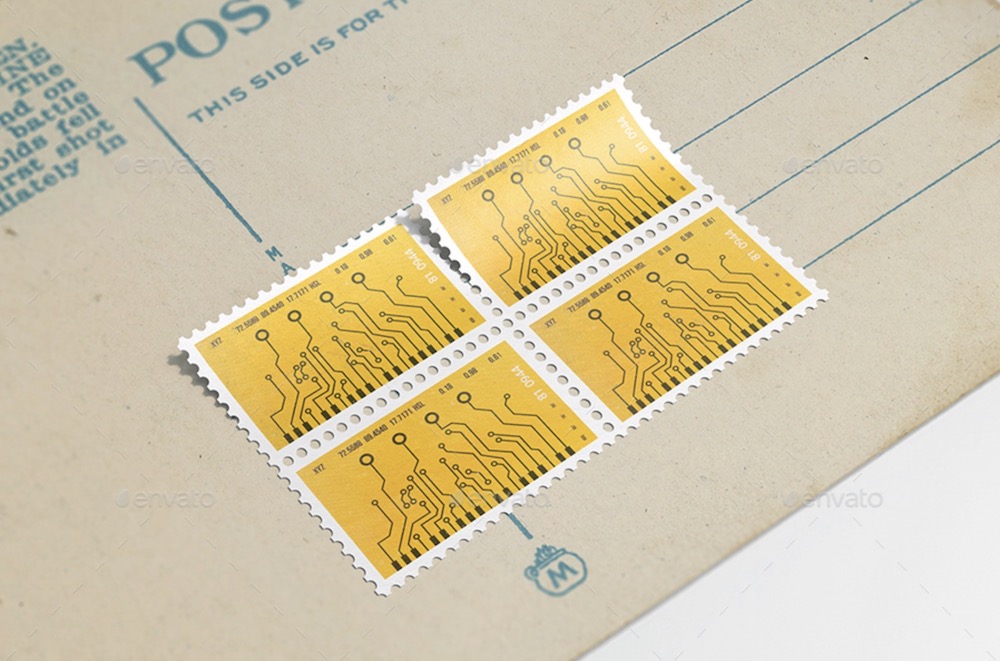 Here is another remarkable pack of twelve PSD files of stamps in various views.
The templates feature one, two, three and many more stamps, which all, of course, are 100% customizable.
After you import the file to Photoshop, it will take you little time to improve it to fit the necessary directions.
But you still get a convenient illustrated guide to assist you, even though the process is a LITTLE BREEZE.
A few other features include four filters, four halftone patterns, editable shadows and more. The size of the stamp is 2.1 x 1.3″.
Price: $8
MORE INFO / DOWNLOAD
4. Postage stamps mockups – 1.3 " x 1.3″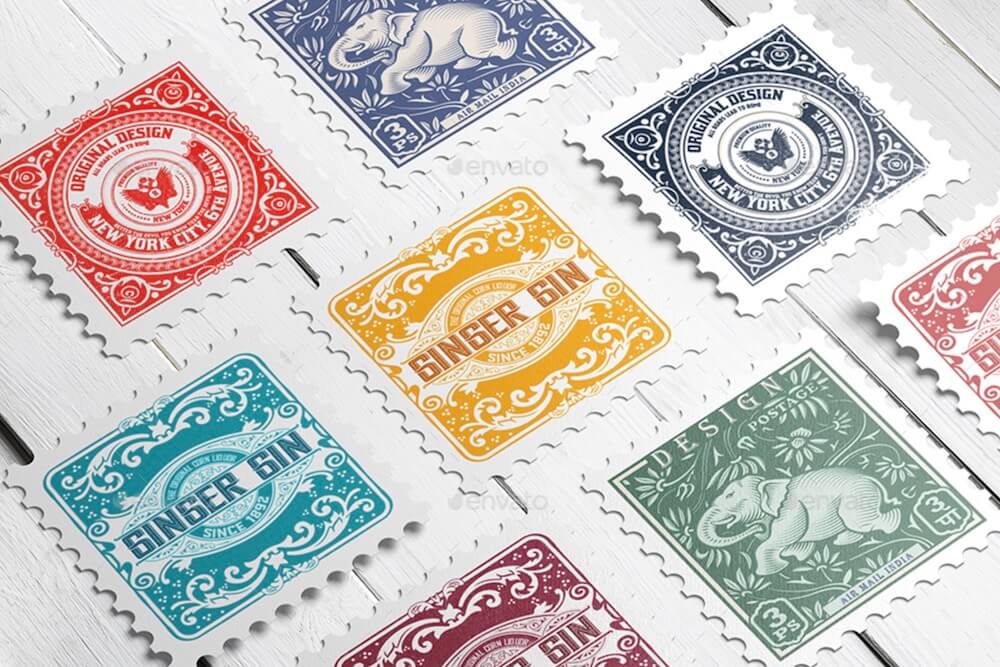 If you are creating a design for a square postage stamp, this is the mockup that will seal the deal.
Hey (!), don't immediately send your design to a print shop.
Use a predefined template first and see how the design appears on a photo-realistic presentation.
This allows you to see if you need to perform any additional edits.
On the other hand, a mockup is a great solution to create a STUNNING SHOWCASE that will amaze everyone.
This particular bundle consists of fifteen different PSD files. While the main focus is on the stamp, some even include an envelope to decorate.
Along with the fifteen stamp mockups, there is one additional PSD file with Dirt and Noise effects.
Price: $7
MORE INFO / DOWNLOAD
5. Postage stamp mockup bundle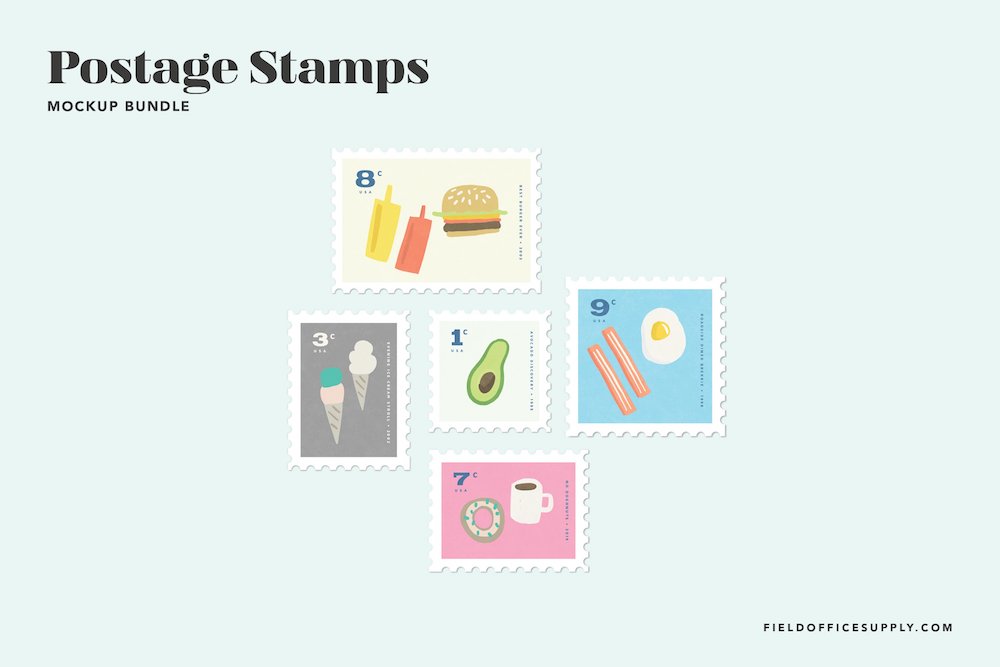 With this highly versatile and flexible stamp mockup bundle, you can create a scene that meets the regulations of your project entirely.
There are a whopping sixteen files available for you to work with.
Not just that, but the package also contains six different postage stamp sizes.
While many of the templates feature multiple elements, these are also movable, so you can do what your heart desires.
Another thing worth noting is that you can modify the background, too, either with solid colors or patterns. (And all stamps have three shadow options!)
The POSSIBILITIES are ENDLESS.
The outcome works great for any promotion on social media and is a great addition to your portfolio.
Price: $16
MORE INFO / DOWNLOAD
6. Postage stamp mockup set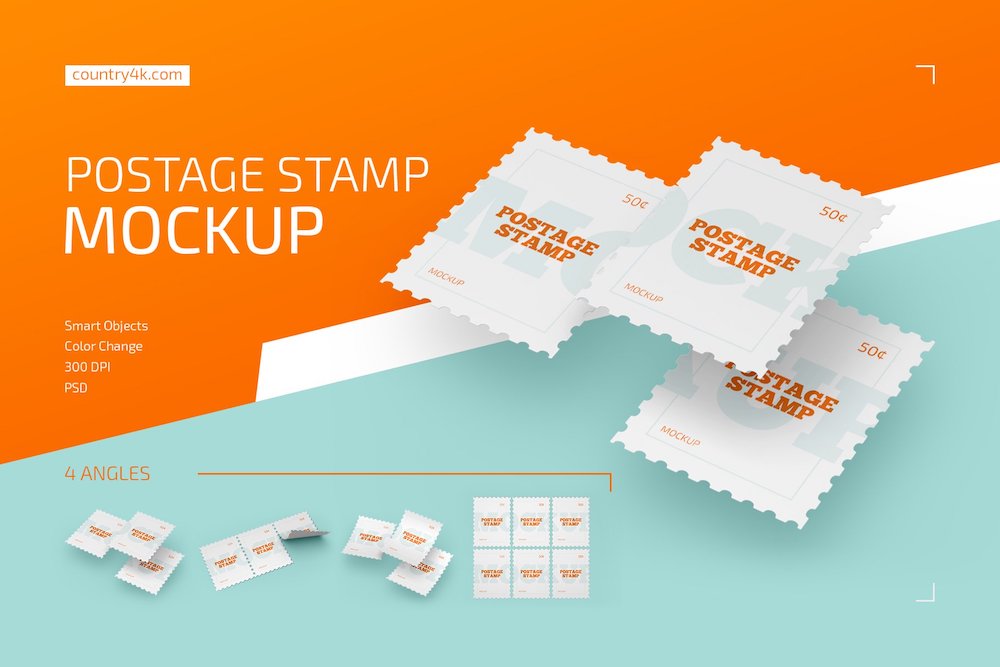 Do you need even more alternatives? Here you go.
This set of mockups ensures you stunningly display your postage stamp with four beautiful angles.
Everyone will enjoy your creation, whether your client, your social media followers or your customers.
Adding logos, branding, images, anything is possible with any of these templates.
Due to the simplicity of the smart object, you pretty much just drag and drop your artwork.
Every file also comes with organized layers, so working with it will be EFFORTLESS and QUICK.
But there is always an option to read through the help file, get the gist of it and proceed with confidence.
And if that's not enough, the author is available to answer all your questions.
Price: $14
MORE INFO / DOWNLOAD
7. Custom postage stamp template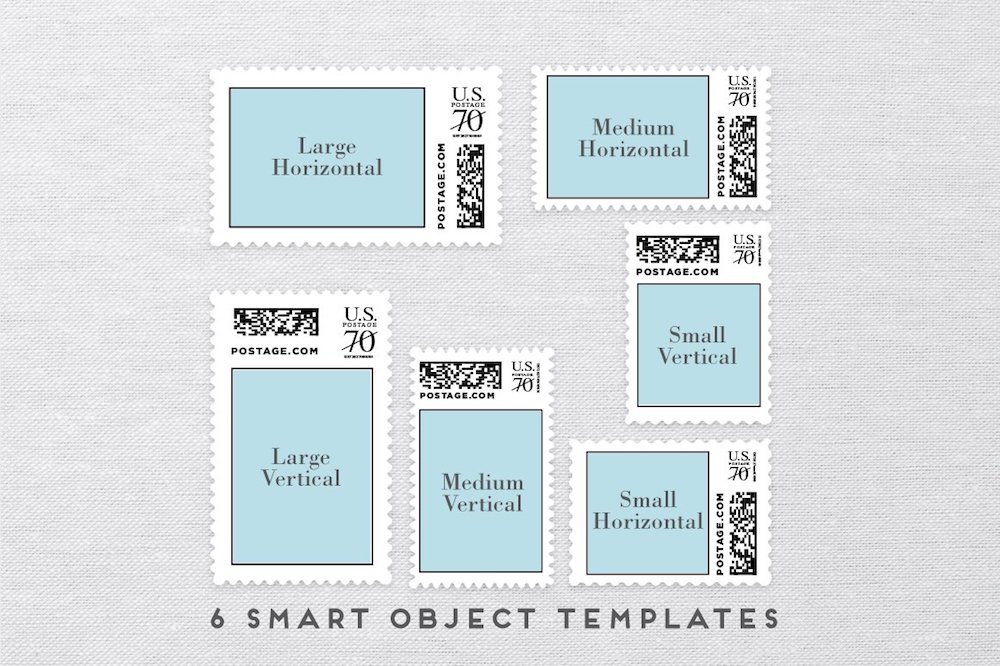 For a more minimalist presentation of a postage stamp design that works for stationery clients ideally, this is the set that will do you well.
Save yourself plenty of time and create professional outcomes in a mere few clicks instead of doing everything from the ground up.
That's exactly what you can expect from any of the ten mockups that this bundle offers.
Just double click on the working area, attach your design and hit save.
THAT'S IT!
While you can use just the stamp, you can also go a step further and, for instance, stick it to an envelope.
Price: $10
MORE INFO / DOWNLOAD
8. 4 Postage stamp PSD mockups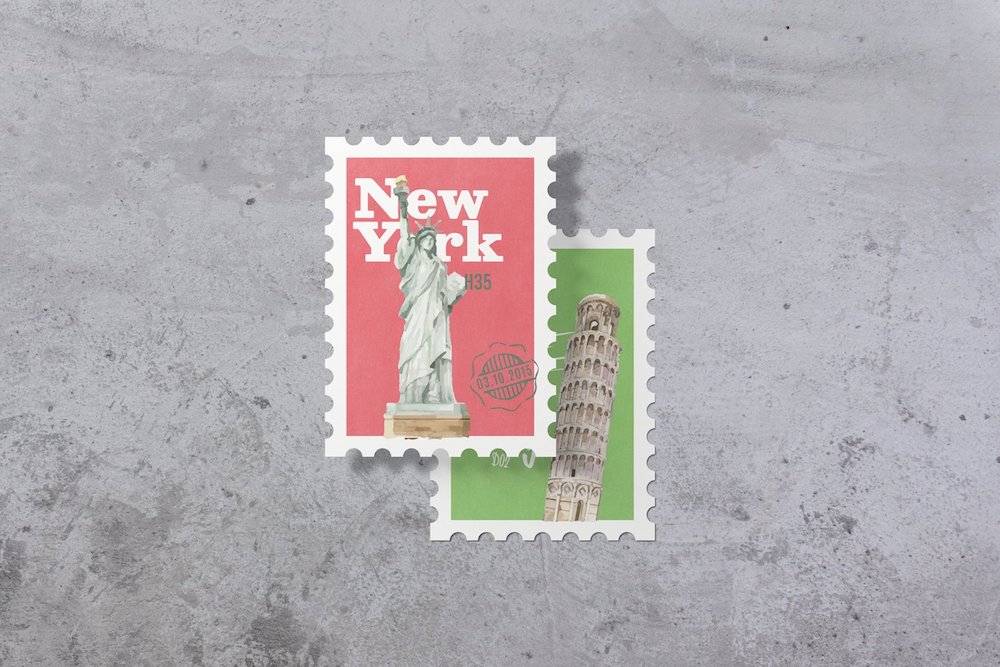 You can quickly create an outcome that follows the necessary regulations that you are after with the different angles and fully customizable postage stamps.
You can slide in any design you want via the beginner-friendly smart object layer.
Moreover, you can also change the background color or even use a pattern. Additionally, each template guarantees great quality with 4000 x 2668px resolution.
You're in GOOD hands – my guarantee!
Price: $12
MORE INFO / DOWNLOAD
9. Editable envelope mockup with stamp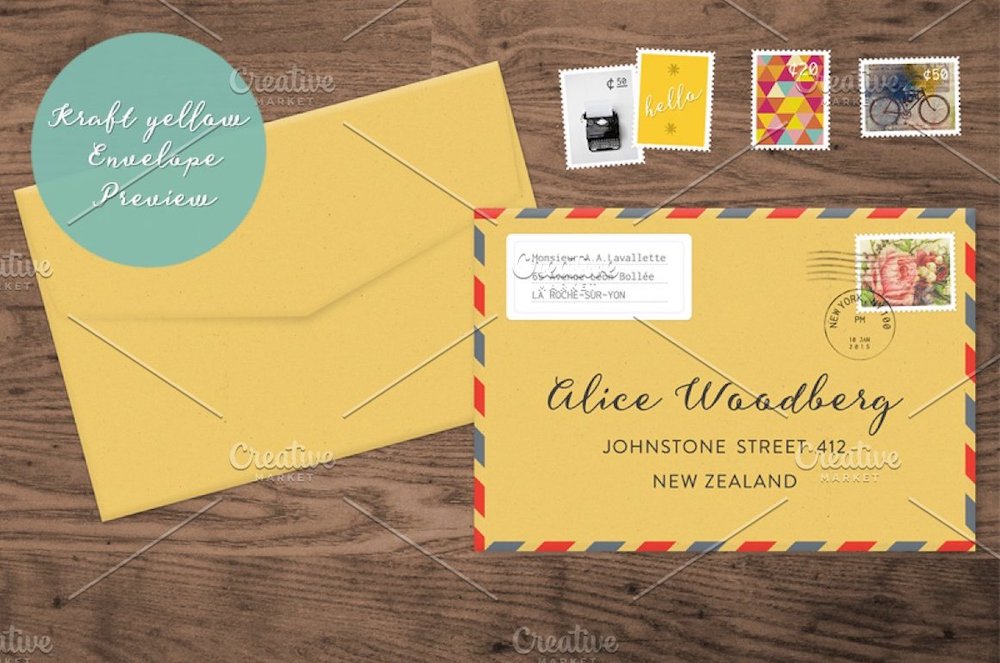 This particular one is a little different compared to the other postage stamp mockups on this list.
While it focuses primarily on the envelope, you can also slide in a stamp design.
Along with the three envelopes that feature front and back views, the package also contains five stamps and two vintage stamps.
Keep in mind, you can also use your stamps, no need to feel limited to the ones available.
You can enjoy moving the stamp around, decorating it accordingly and sticking it exactly where you want it to be on the envelope.
Swift and straightforward, these are the two characteristics of the process of working with the mockup.
In short, anyone can do it COMFORTABLY.
Price: $15
MORE INFO / DOWNLOAD
How To Create A Postage Stamp Mockup?
Creating a realistic presentation of your unique postage stamp design only takes a few clicks. This could mean seconds, and you're job is done.
How?
With a predefined template that you can choose from the collection above.
All you need are pure basic Photoshop skills, no more.
And this is all the work it takes.
4 Steps To Make A Postage Stamp Mockup:
Step 1: Open PS and import your template.
Step 2: Search for the smart object layer and insert your design.
Step 3: You can then navigate other layers, which allow you to modify the default look however you want.
Step 3.5: Change the colors and the background, create an overlay and adjust shadows – everything is in your hands!
Step 4: Save and download your masterpiece.
That's it!
Pick Your Favorite Postage Stamp Mockup
While you can expect this collection to receive updates in the form of new inclusions, you already have all you need.
With the varied solutions above, you can now bring to fruition an end product that will INSPIRE everyone.
0 limits!
With that in mind, make sure you customize and enrich the mockup you dig to the very last detail.
It's possible.
::
Note: This article was originally published on October 8, 2020. But our team regularly reviews it and updates it with necessary improvements for accuracy.