Do you need the best free and premium duffle bag mockups?
Creating a photorealistic presentation of a sports or gym bag happens way easier than you think.
To ensure an EXTREMELY simplified solution, I added many great mockup generators you can use and reuse for as much as you want.
But the free PSDs are also high quality to ensure the ultimate outcomes.
This post covers:
How I Tested Duffle Bag Mockups
For this mockup collection, I used light and dark designs that covered the entire working area, aka the whole bag.
I then also worked with a few transparent logos and quotes that allowed me to change the color of the duffle bag to create multiple variations.
Moreover, I added text overlays to see how it affects clients' social media followers.
Best Duffle Bag Mockups Generators
You can get a mockup generator for only $7.95 per template (and start for FREE).
Or use a monthly ($14.95/month) or yearly ($89.69/year) subscription to save money if you'll work on multiple projects.
Note: Generators allow you to make a mockup without Photoshop.
1. Mockup of a young man carrying a duffle bag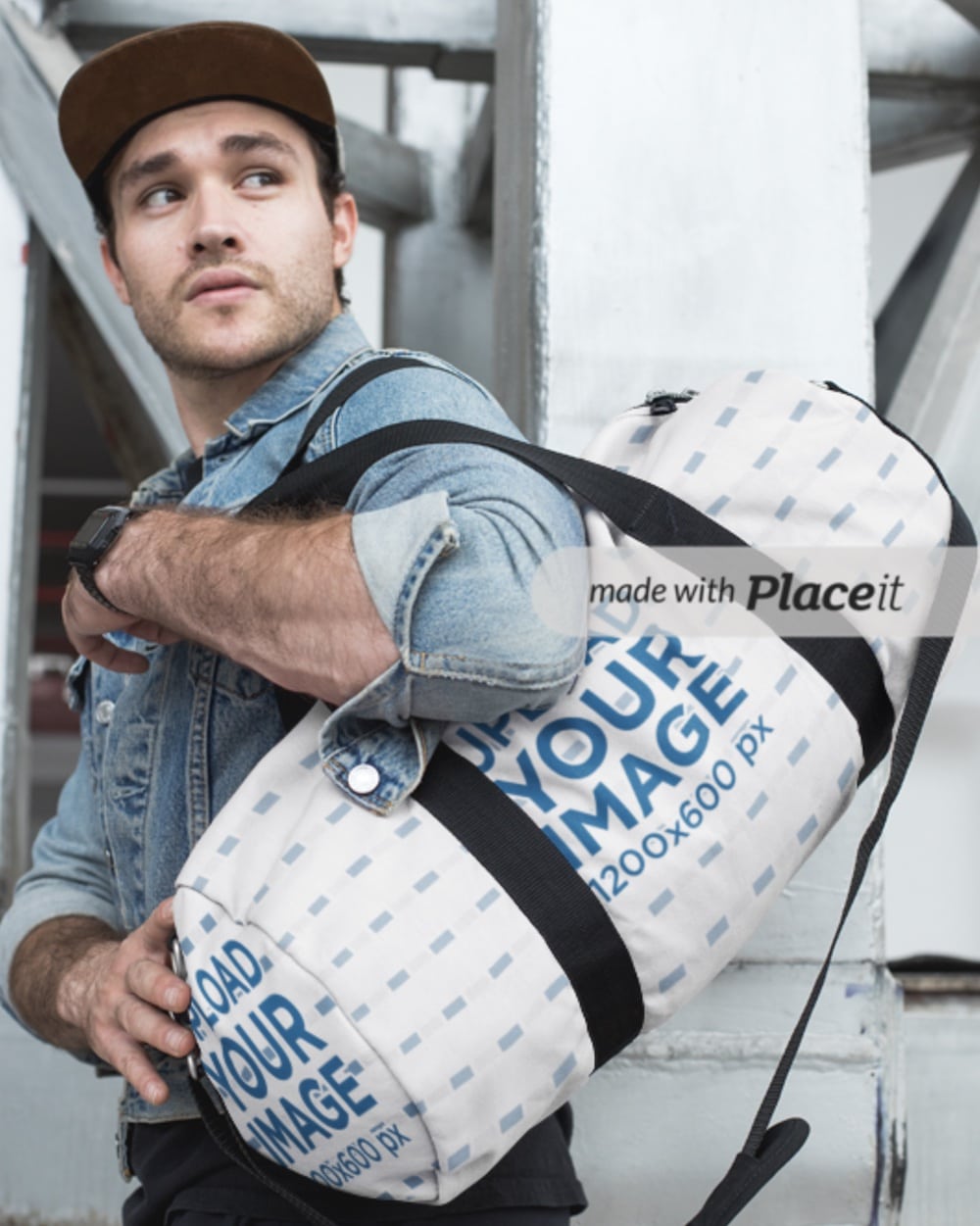 Let's start with this one because I spent so much time working on MULTIPLE design creations using it.
It gives you the ideal, photorealistic look you want when creating a duffle bag mockup.
And the best part is that you don't need to invest much work into making it happen.
A few clicks, boom, boom, and you're ready to roll.
What's also cool is that the right top quarter of the template is great for adding some additional text, a graphic or a logo without distracting the overall amazing presence.
MORE INFO / DOWNLOAD
2. Mockup of a woman sitting next to her duffle bag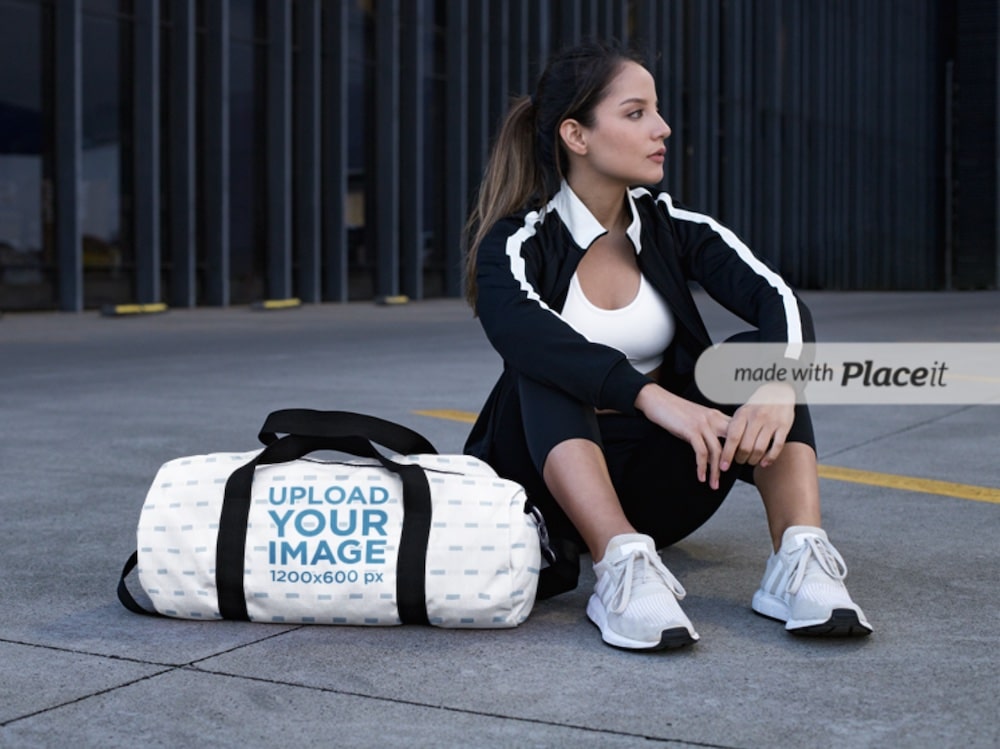 Similarly to the one above, this is my second MOST-USED mockup generator.
The high-quality image gives you everything you need to create a life-like showcase of any design you want.
Upload your image from your device (smartphones work, too!), make adjustments, and that's it!
Easy to work with but the outcome will be top-notch.
MORE INFO / DOWNLOAD
3. Tee mockup of a woman with a duffle bag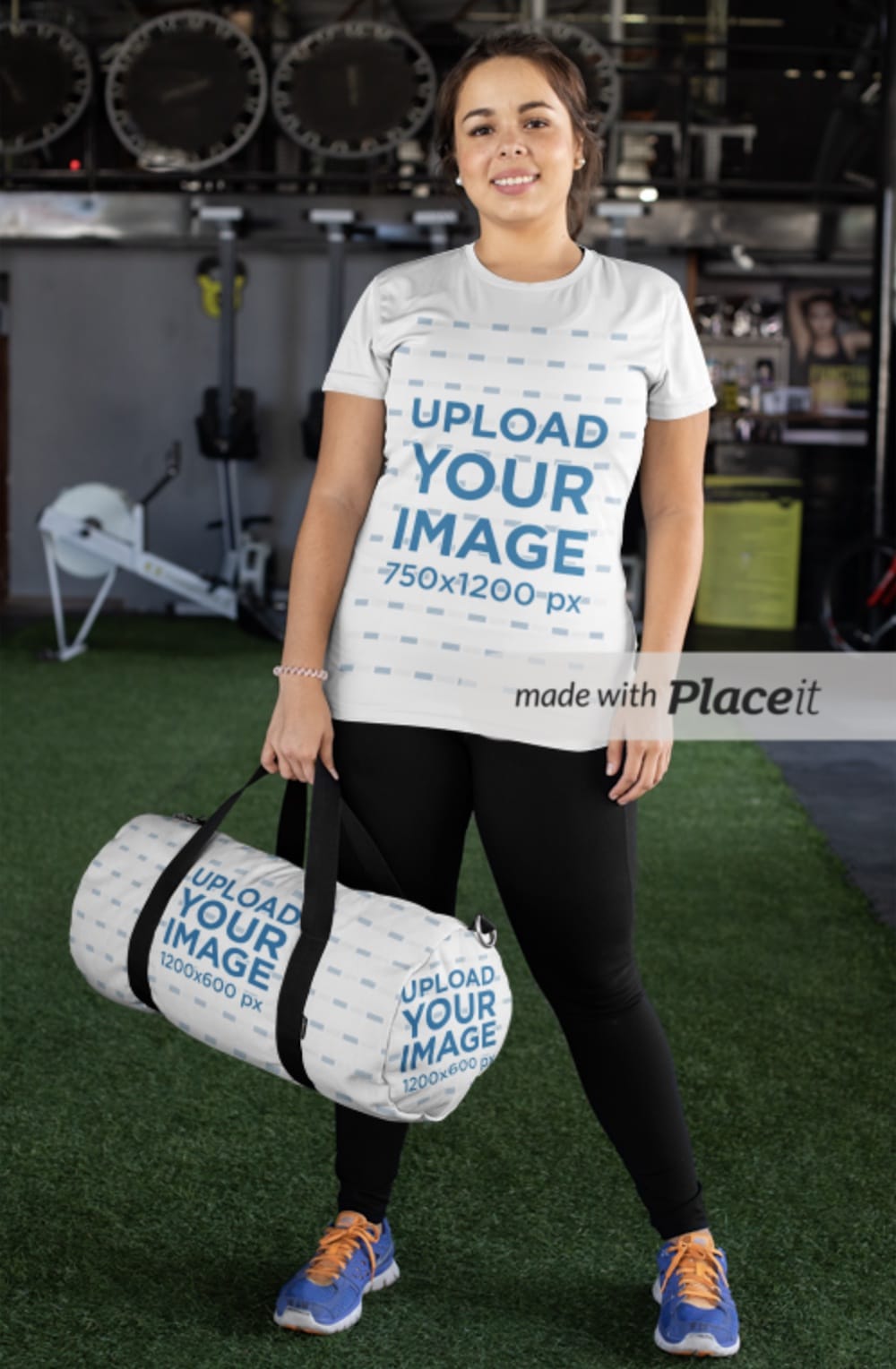 Instead of designing only the duffle bag, this template also lets you showcase the tee design.
This is great for branding, matching items, etc. But you can do something entirely UNIQUE, too.
Each item has its own upload button and color picker to determine your desired outcome.
You can also use the text and graphic function if you'd like to spice things up. I didn't, but it can work really well for a final marketing project.
Note: We also have a full tutorial on how to make a T-shirt mockup without Photoshop.
MORE INFO / DOWNLOAD
4. Minimalist duffle bag mockup generator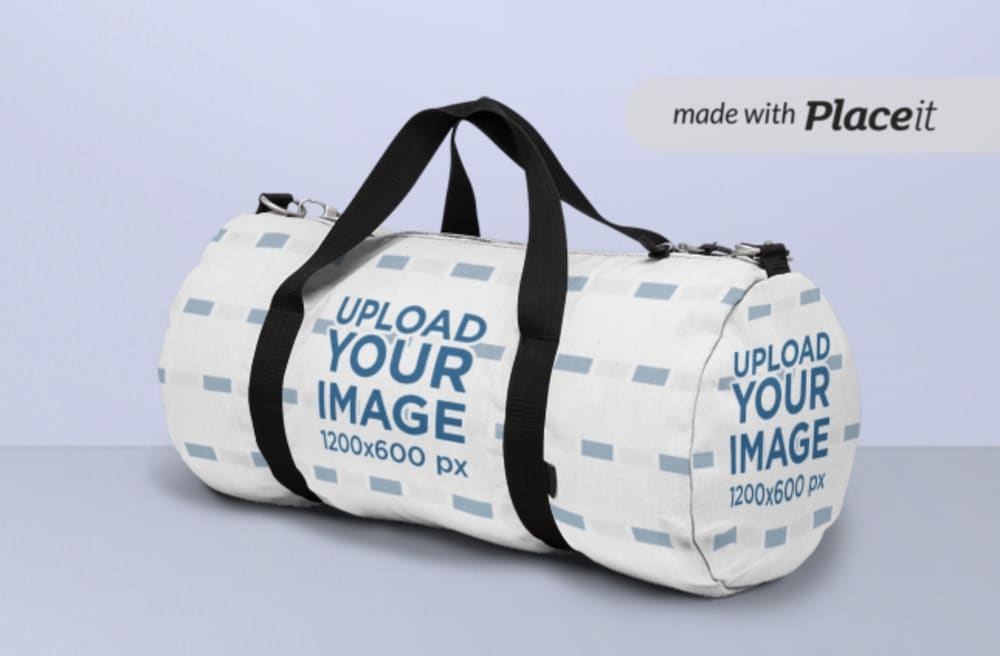 This is my recommendation if you'd like to put all the shine on the duffle bag design, but would like to create a MORE dynamic presentation.
What's great about this one is that you can use any color you want for the floor and the wall.
You can also change the color of the bag, insert any image, and more.
The only downside is that it doesn't allow you to change the straps. Luckily, black works with any design and branding.
MORE INFO / DOWNLOAD
5. Duffle bag mockup with customizable leggings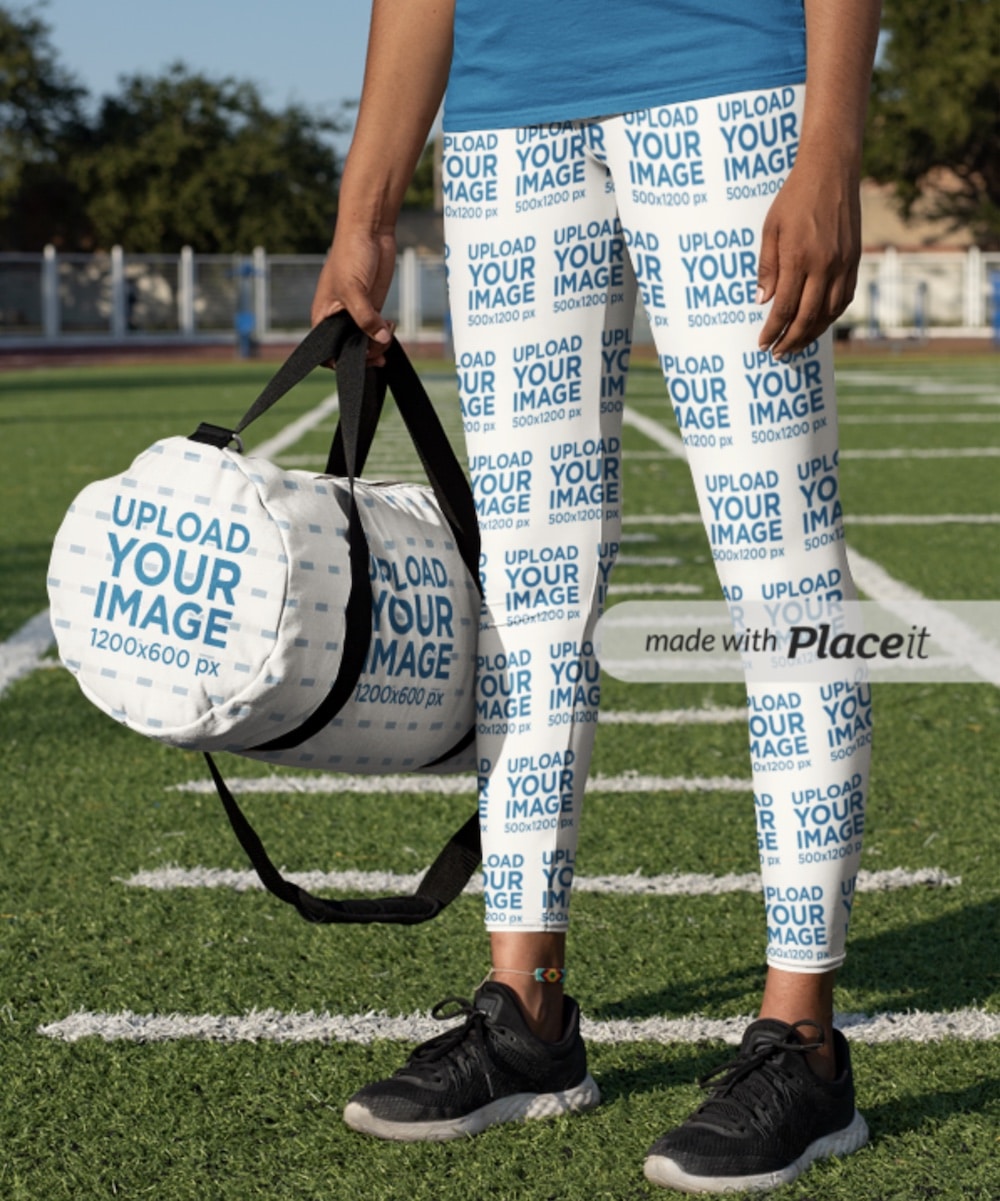 Do you need to create custom leggings and a custom duffle bag?
You came to the RIGHT place because this is the ideal solution to achieve a photorealistic end product.
The mockup generator equips you with anything you need to make it your way. Hey, you can even change the color of the T-shirt so it blends perfectly with the branding.
You may also want to add some text or a graphic, but that's optional.
MORE INFO / DOWNLOAD
6. Photorealist gym bag mockup

Simple duffle bag mockups are my FAV; this one is a great example.
You can put it to work for free because that's what's great about the Placeit platform. Still, I recommend creating a free account to boost your workflow.
Keep in mind, if you use a 1200 x 600px image, it'll cover the entire bag. Or change the bag's color and use any other design size, even a transparent logo.
MORE INFO / DOWNLOAD
7. Kit bag mockup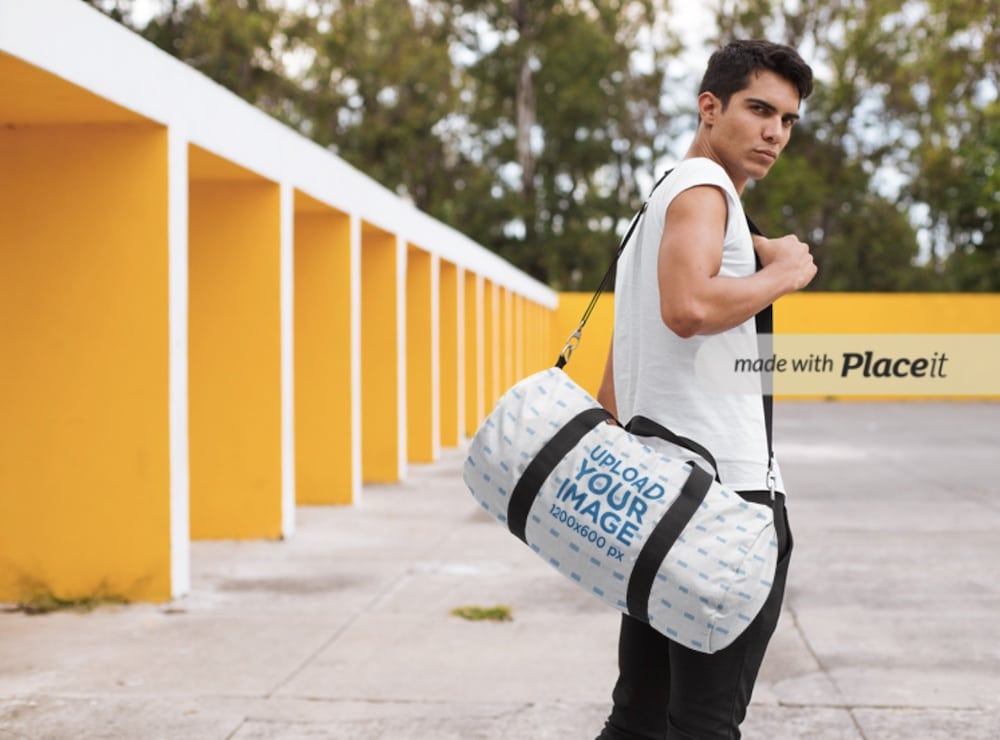 This template gives a nice side view of the kit bag, which you can modify with your creative touches.
The mockup is also QUALITY enough to create a zoomed-in presentation or use it as-is.
It only takes a few quick clicks, and you can already have the final version ready for sharing.
MORE INFO / DOWNLOAD
8. Mockup of a girl carrying a gym bag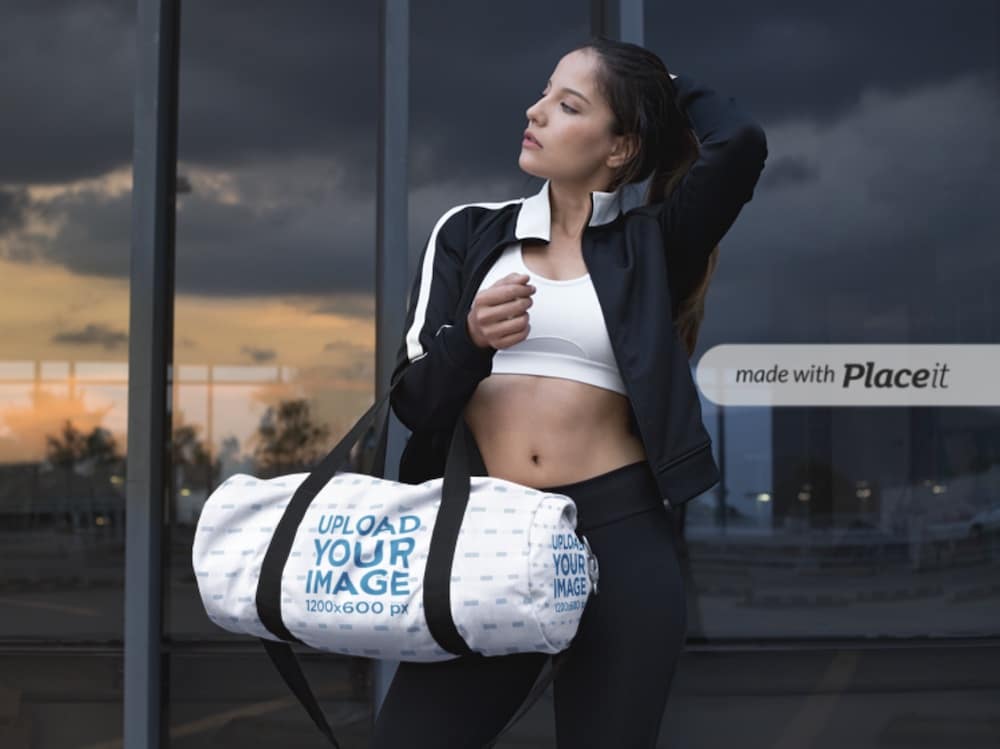 My clients have asked me to create more duffle bag presentations with female models. I thought of sharing this one with you, too.
After THOROUGHLY testing this one with different colors, I must say that anything dark-ish doesn't work too well.
On the other hand, light designs turned out to perform extremely well.
But because it's an online mockup generator, you can quickly test things out (it takes you seconds!).
MORE INFO / DOWNLOAD
9. Duffle bag mockup featuring a multi-colored background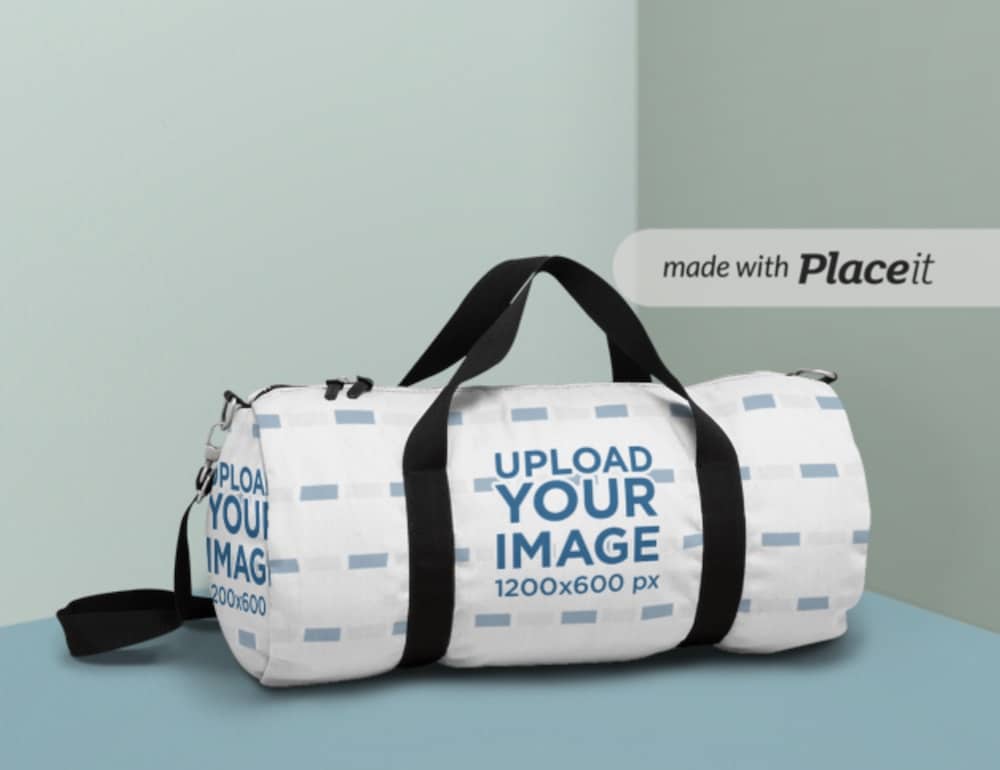 If the one duffle bag template above with a two-toned background doesn't work for you, here's a version with a three-toned background.
I only recommend it if you know which colors go well together and, at the same time, complement the duffle design.
This can make the duffle bag POP more, which is exactly what you want to achieve.
MORE INFO / DOWNLOAD
10. Mockup of a man sitting next to a gym bag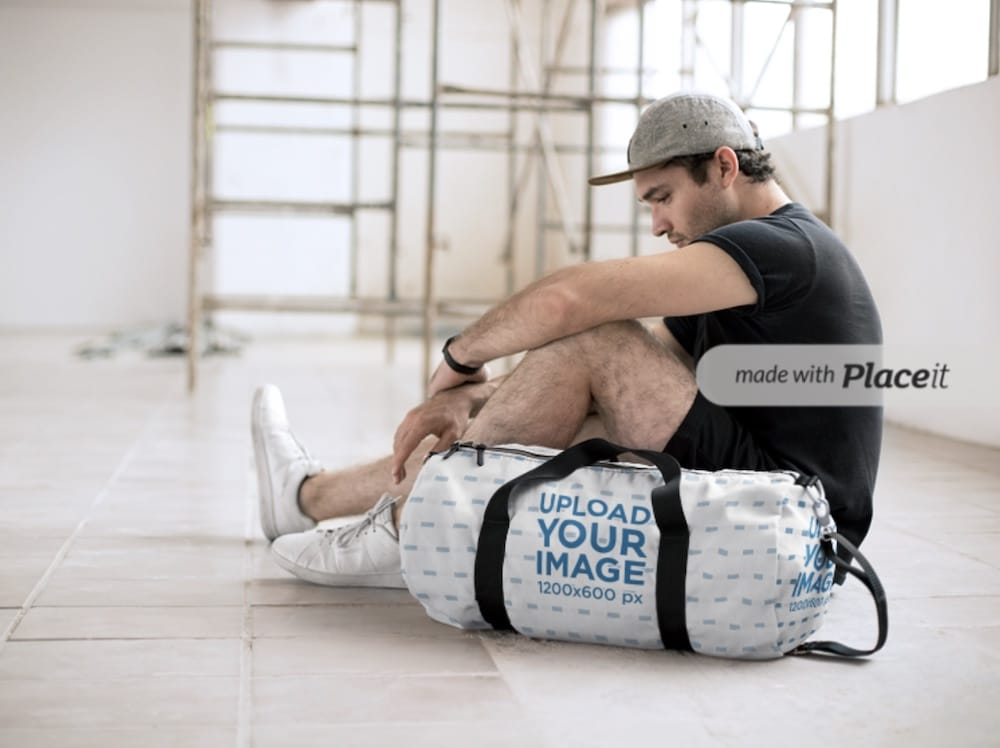 I bet the workout was really hard for this guy.
Achieve a sporty vibe with this gym bag mockup and IMPRESS your client with a beautiful demonstration of how the actual product could (and will) look.
It's also worth trying a few combinations before picking the winner because you never know. (A slight color change can make a big difference!)
MORE INFO / DOWNLOAD
11. Mockup of a kit bag modeled by a woman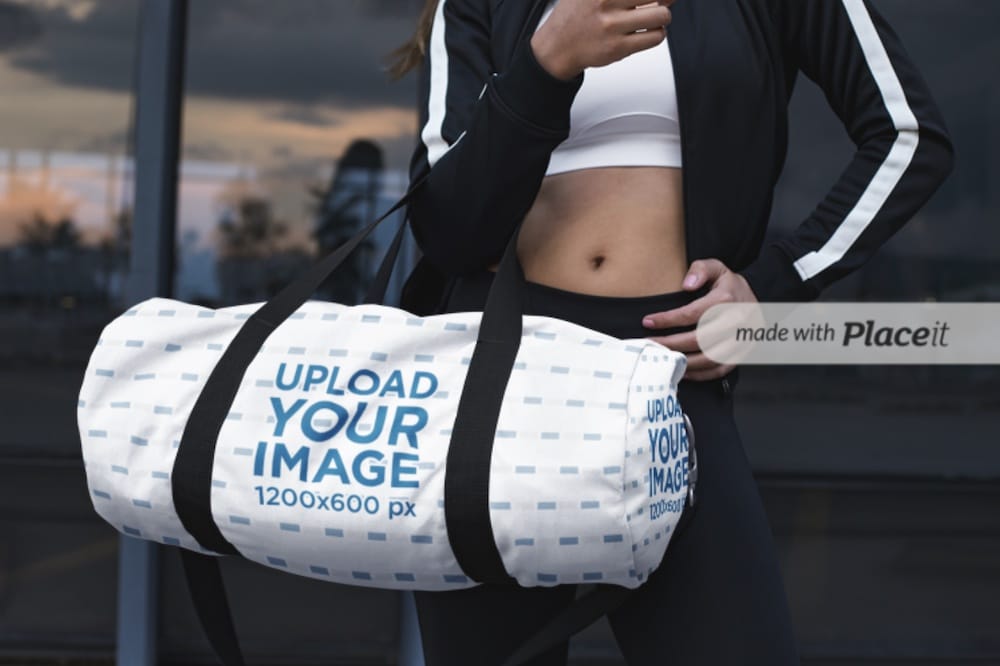 This AWESOME version will do the trick if you are particularly searching for a duffle bag close-up mockup.
The bag is the only thing you can customize, so you know it'll take little time to enrich it with your creativity.
What I did, in this case, is think outside the box, using a black bag color with a large yellow-ish (almost gold) logo color. This really made the item stand out.
However, this is just one of the endless possibilities you can do.
MORE INFO / DOWNLOAD
12. Mockup of a man holding a duffle bag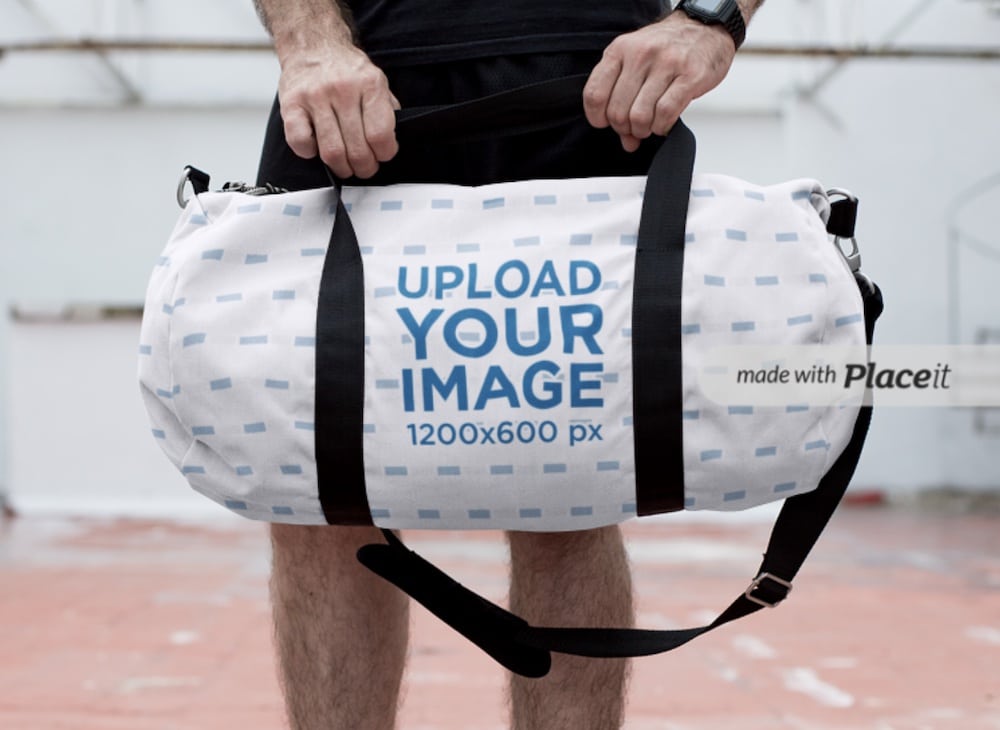 And here is the male version of a close-up that's great for ANY design (dark or light).
You can create a full wrap or pick a smaller design/logo and change the bag's color; it's all possible.
MORE INFO / DOWNLOAD
13. Duffle bag mockup of a man leaning against a wall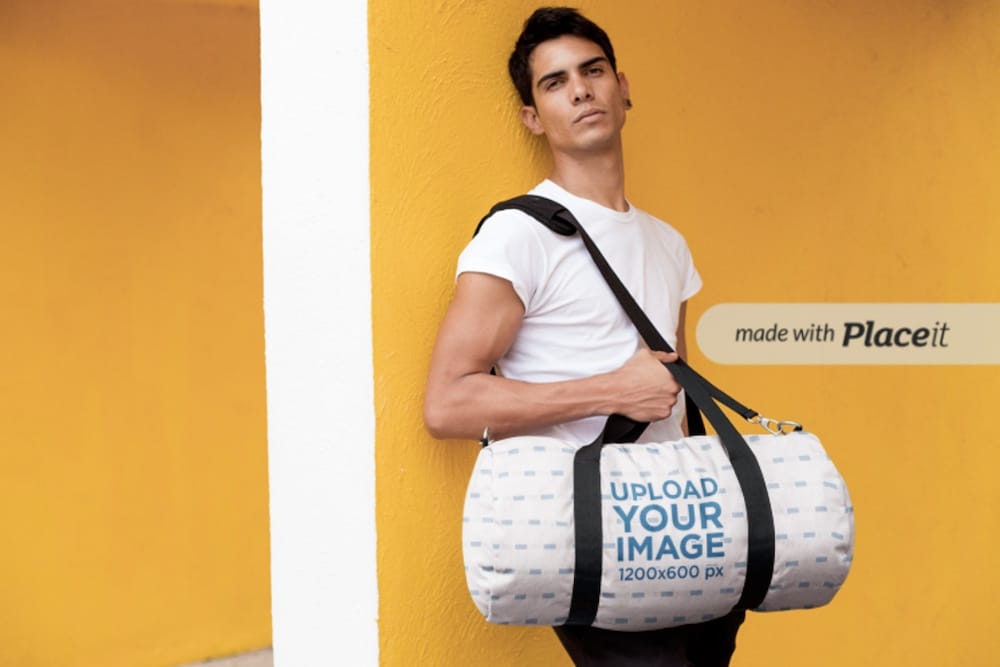 While this mockup limits you to one extent because of the yellow wall, it can do a fantastic job for the colors that go well with it.
But you can always go entirely against the grain and DO YOU.
The limits are none and because you can make variations quickly, test as many as you want to find the winner.
MORE INFO / DOWNLOAD
Best Free Duffle Bag PSD Mockups
14. Free sports bag PSD mockup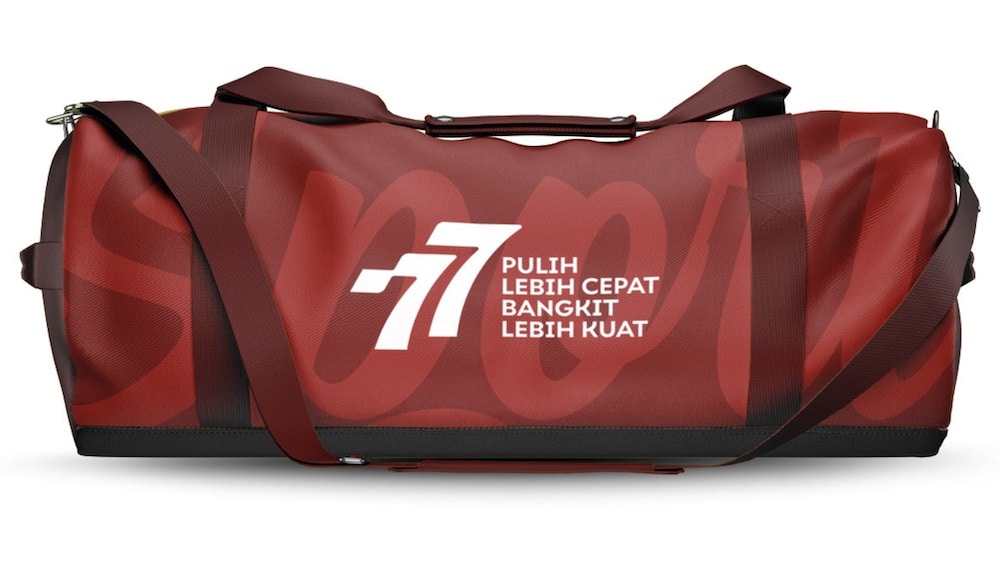 What's epic about this free layered PSD file is that it combines four mockups.
On top of that, each template features a 4000 x 4000px resolution, which makes for a high-quality outcome – including creating top-notch close-ups.
Implementing your design is effortless due to Photoshop's smart object layer. But you can also perform other customizations, thanks to the layered structure.
MORE INFO / DOWNLOAD
15. Free easy-to-use duffle bag mockup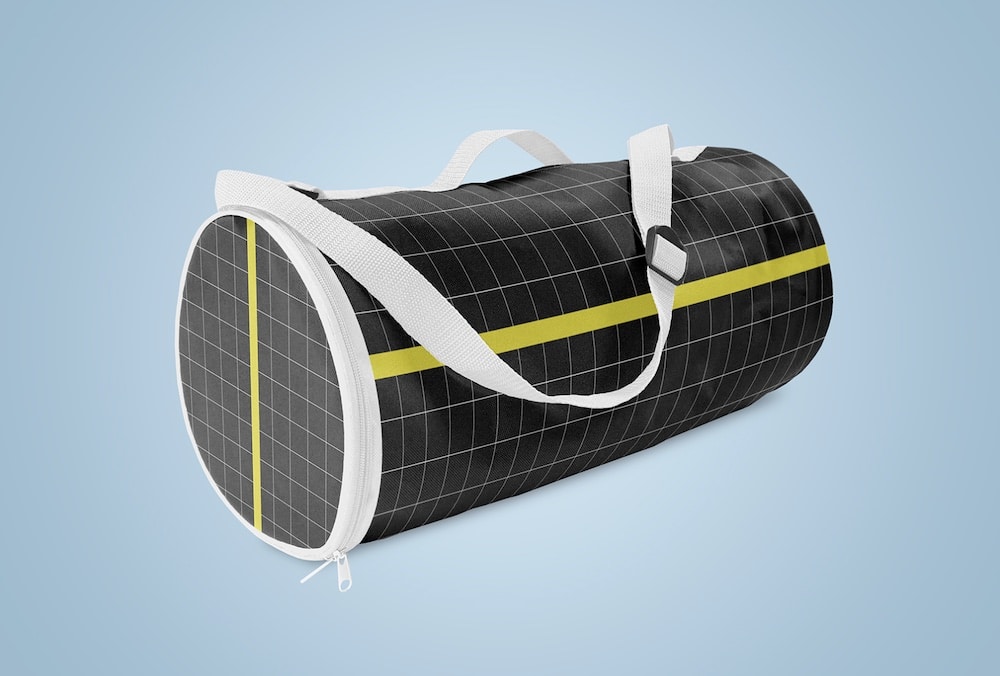 A simple solution with the practical SMART layers to make a custom version as quickly as possible.
The 2560 x 1920px resolution is also quite decent and worked really well after I added side and base designs to it.
MORE INFO / DOWNLOAD
16. Gray duffle bag PSD mockup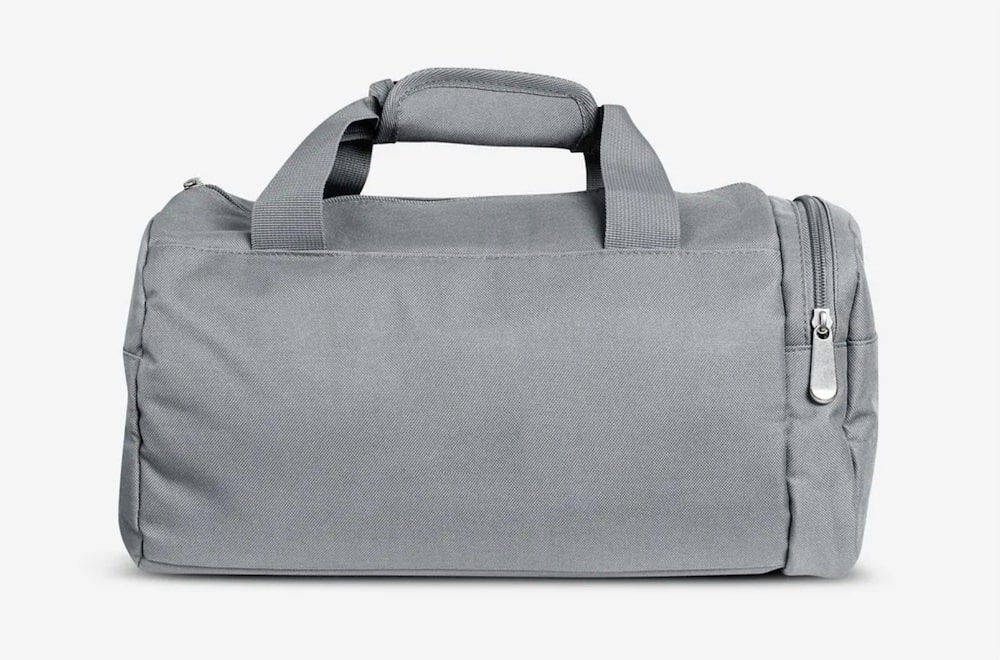 If you need something more basic and MINIMALIST, then here is a duffle bag mockup that you can use for free.
Stuff it with your beautiful design with the easy process of dragging and dropping (thanks, smart object!).
MORE INFO / DOWNLOAD
How To Easily Create A Duffle Bag Mockup
Working on your realistic duffle bag presentation without a model, a photographer and an actual product is easy and quick.
For this reason, I created this speedy tutorial using a mockup generator platform, Placeit.
It's a website I regularly use for creating 100s of projects because of how effortless it is.
5 Steps to create a duffle bag mockup:
Step 1: Visit Placeit and search for your favorite template. I do recommend opting for any of the above because they are tested and proven.
Step 2: Open the template and click on the "insert image" button. You can upload your design from any device you want (you can even create a mockup with a smartphone!).
Step 3: A popup window will open, allowing you to crop and reposition your design for the perfect fit. Click "crop," and it'll instantly appear on the duffle bag.
Step 4: You can now perform other adjustments, like changing the colors, adding texts, and even uploading a custom graphic/logo. You're in control of making the version you want.
Step 5: When you're ready, download the mockup and share it with the world.
And this is how effortless it is to create a realistic showcase of any duffle or sports bag design you're working on.
::
Note: This article was originally published on December 11, 2022. But our team regularly reviews it and updates it with necessary improvements for accuracy.