Are you looking for the best free and premium can mockups?
I studied and tested dozens of templates to create this ultimate collection.
I particularly focused on mockup generators and layered PSD files – for simplicity.
You can start immediately, even if you don't have technical knowledge, which is my favorite part.
Plus, you can find a quick how-to guide at the bottom, which takes you through the entire (effortless) process of creating a realistic can mockup.
This post covers:
You may also be interested in my best beer can mockups collection if you want something more specific.
Best Can Mockup Generators
Generators go for $7.95/template. But I recommend either Placeit's monthly ($14.95/month) or yearly ($89.69/year) subscription (to save money).
Note: You can create a mockup without using Photoshop with these!
1. Mockup of a large can with customizable background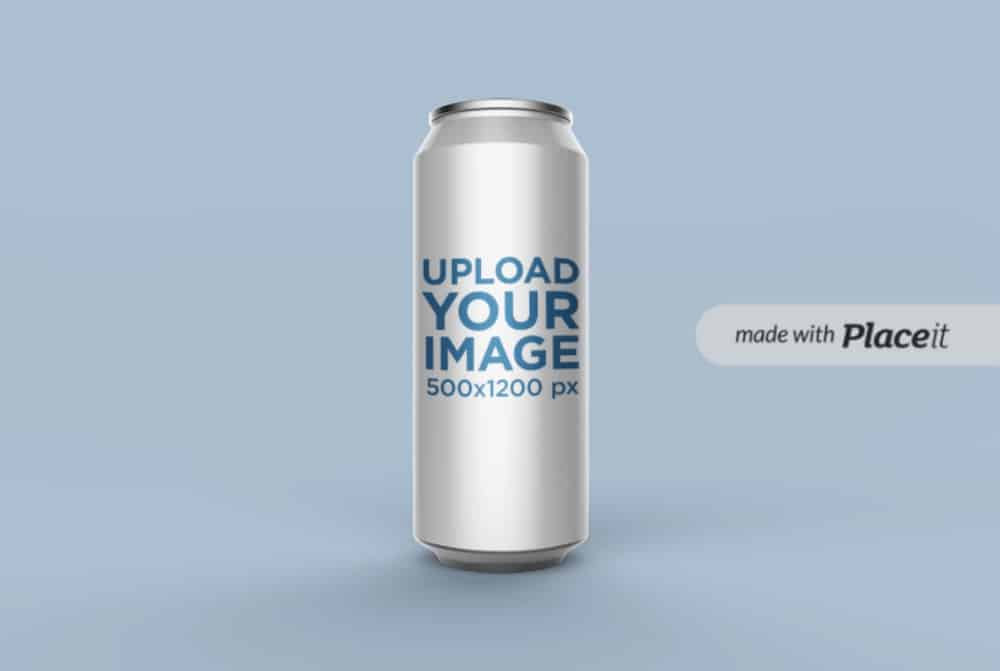 I always aim for SIMPLICITY regardless of the mockup I'm trying to make. And you can achieve a fantastic presentation with this generator.
It requires only a few clicks to customize it, changing the default setting into something completely custom.
You can upload the image, design or logo directly from your device and go from there. Hey, you can even use your mobile device to create a mockup!
A few additional tweaks, and you're ready to roll. So. Simple!
MORE INFO / DOWNLOAD
2. Woman opening a soda can mockup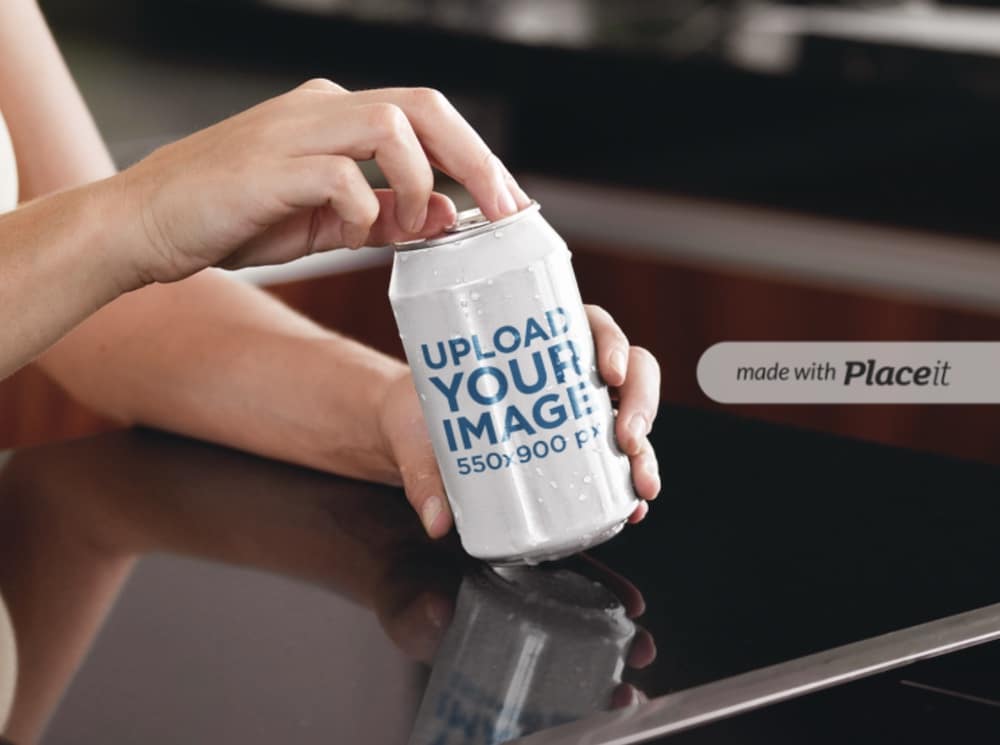 But I recommend using this one to achieve an extremely realistic look.
Items in human hands always work so well.
Here's a neat example of a woman opening her soda can, but it could also be beer, flavored water, heck, even canned juice!
Use the mockup to your total advantage by creating the final version that will IMPRESS everyone.
MORE INFO / DOWNLOAD
3. Soda can next to a glass with ice mockup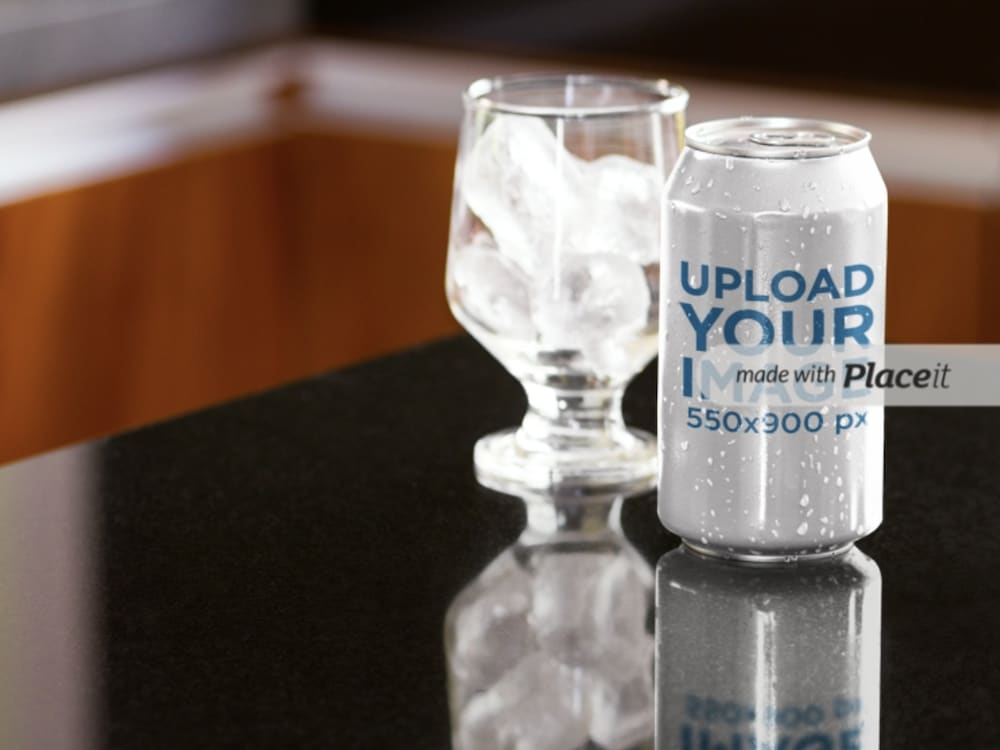 This one makes me thirsty every time I see it.
I tell you one thing: It'll water other people's mouths, too, once you share it with them – especially with your logo on it.
The only thing edible is the can, so create your version (or multiple), which takes you SECONDS!
You can also change the color of the can and add graphics or text to spice things up. But don't overdo it with extras because you can ruin the experience.
MORE INFO / DOWNLOAD
4. Mockup of a floating soda can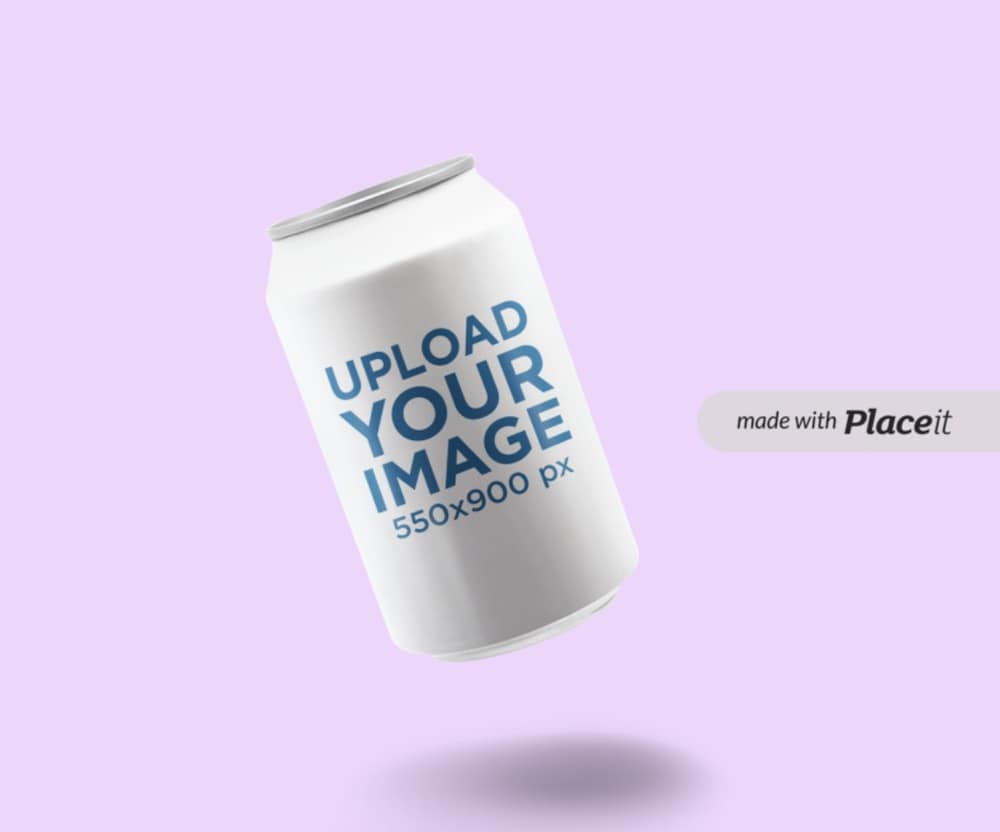 I told you multiple times already – floating objects work REALLY well to grab users' attention.
And the same goes for cans.
This can mockup allows you to create a custom-color background, add graphics, a call-to-action and, of course, your design.
Remember, adding a 550 x 900px design will cover the entire can, so you don't need to change the color.
MORE INFO / DOWNLOAD
5. Large can mockup with a bicolor backdrop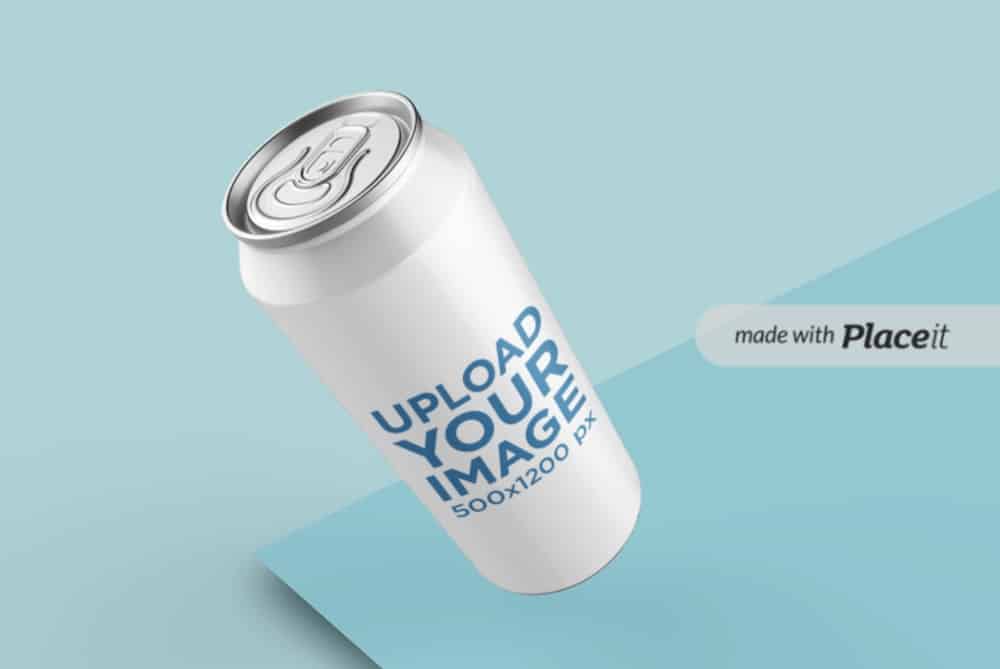 This is a great example if you'd like to create a more UNIQUE presentation of a custom can branding.
The two-toned background can really make for a special showcase that you can modify however you want. (Choose any color.)
Try it, and you'll see what I mean.
(Hint: You don't need to create a free Placeit account immediately; you can test the waters for free. But I highly recommend creating an account because of a smoother workflow.)
MORE INFO / DOWNLOAD
6. Transparent and refreshing can mockup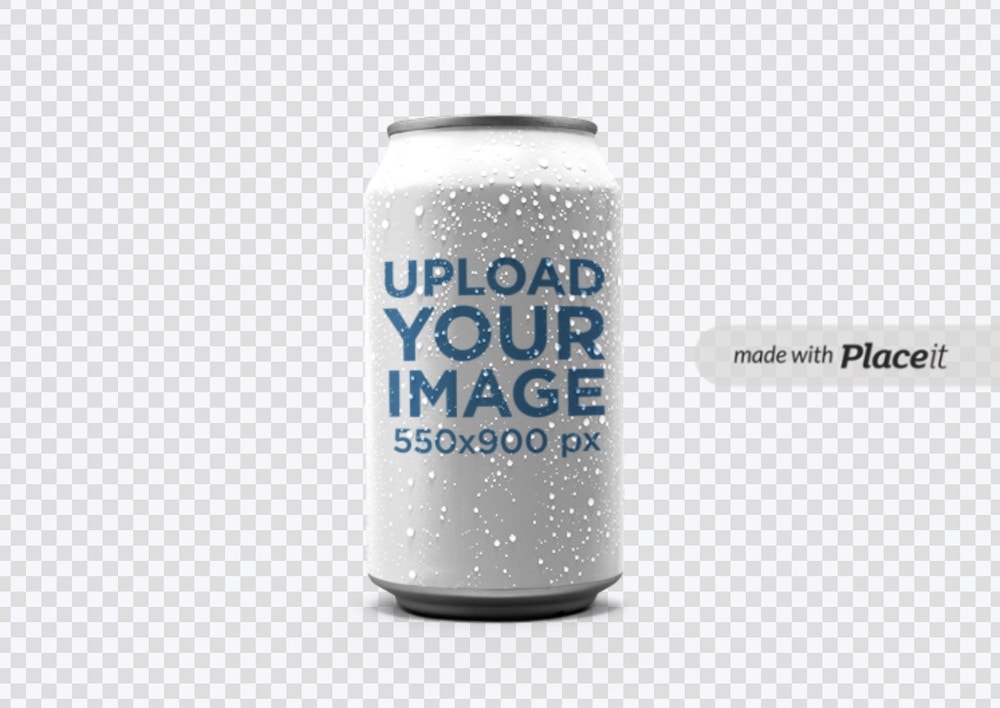 This can mockup with a transparent background looks EXTRA refreshing. Yes, it's the droplets that make it so!
But what can make it look even better is your design with any background you want. You can use a gradient from Placeit's archive or upload yours.
You have the freedom to create any variation you want. And what's best, it takes very little time to make it happen and – yup – no software!
MORE INFO / DOWNLOAD
7. Animated can mockup generator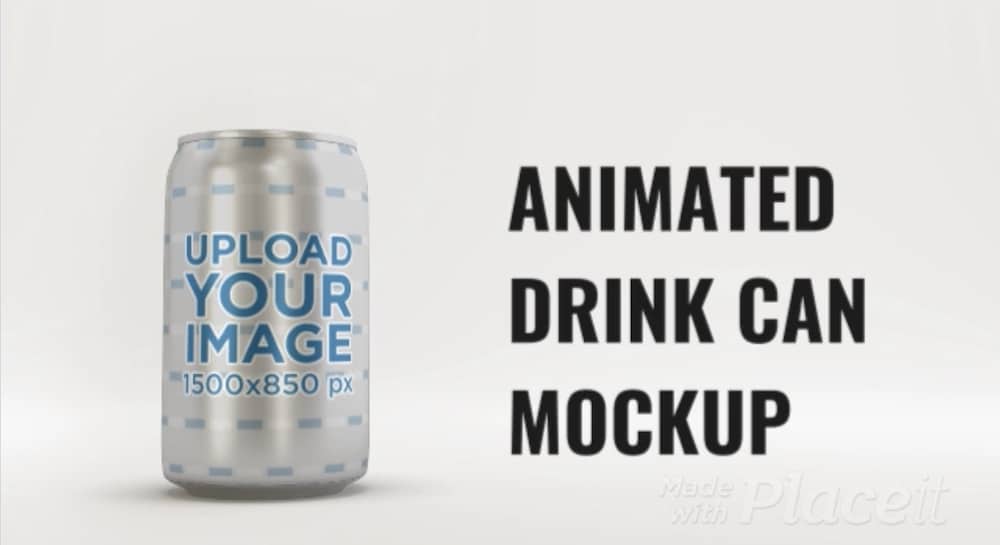 I bet you didn't see this one coming, right?! An animated mockup of a can that you can use to design a video-realistic version easily and quickly.
You can change the color of the can's base, top, and background. Also, insert any image or design you want and pick a song to SPICE things up.
Multiple options guarantee to create the outcome that's precise to your liking.
Note: You can also pick a custom playback speed (0.5, 1 or 1.5).
MORE INFO / DOWNLOAD
8. Mockup of a juice can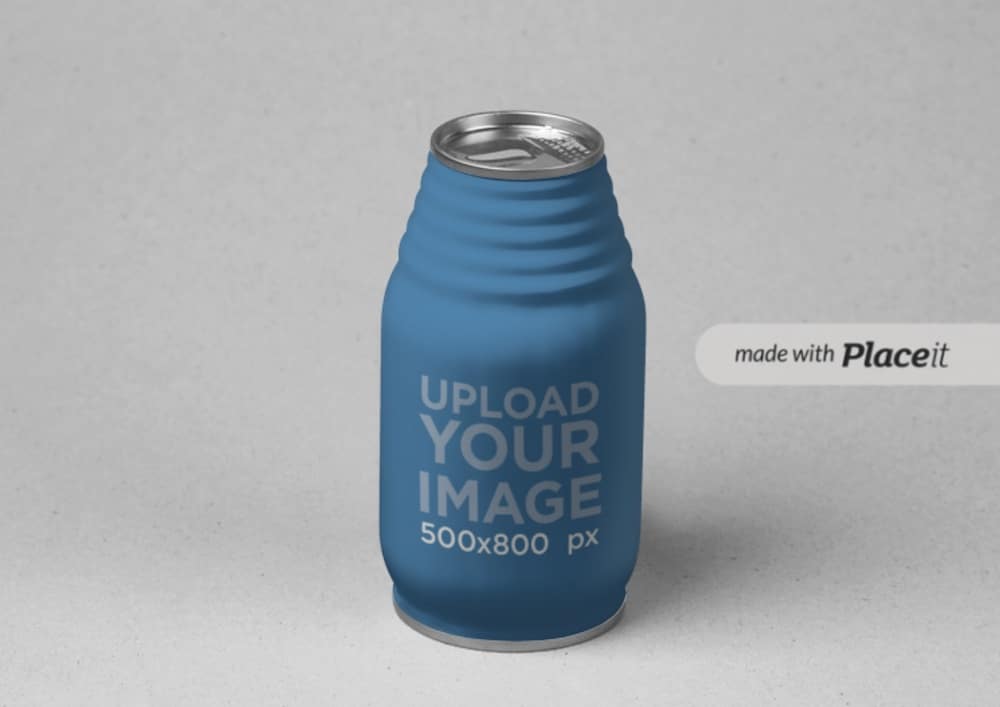 I haven't seen a can like this in real life yet, but I worked on a custom design for a juice shop once using this exact can mockup.
You can now make your version with a custom background. Sadly, you cannot change the can's color, so I recommend using a 500 x 800px design to cover the entire base.
Additional graphics and/or text can also work GREAT in this case because of the minimalist default appearance.
MORE INFO / DOWNLOAD
Best Free Can PSD Mockups
I didn't expect to find this many great mockups of cans – FOR FREE!
And the fact that they are all from Anthony Boyd makes this freebie collection even better.
Why? Because all his stuff is epic.
Note: I may add more free can mockups in the future.
9. Floating can PSD mockup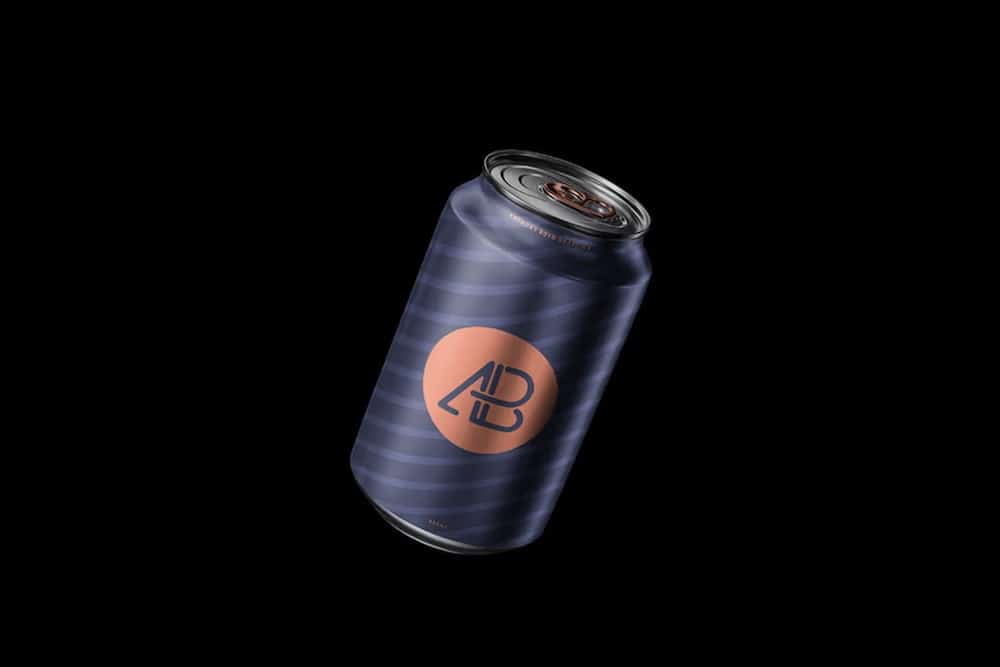 Yup, I also found a free version of a floating can; and this one is clean, simple and impactful.
It features a 5000 x 3750px resolution, guaranteeing a high-quality outcome.
This layered PSD file is great for close-ups! Search for the smart object layer, drag and drop your design, and that's it.
Remember, you get a 330ml and a 500ml can to work with – so EPIC!
MORE INFO / DOWNLOAD
10. 330ml can set mockup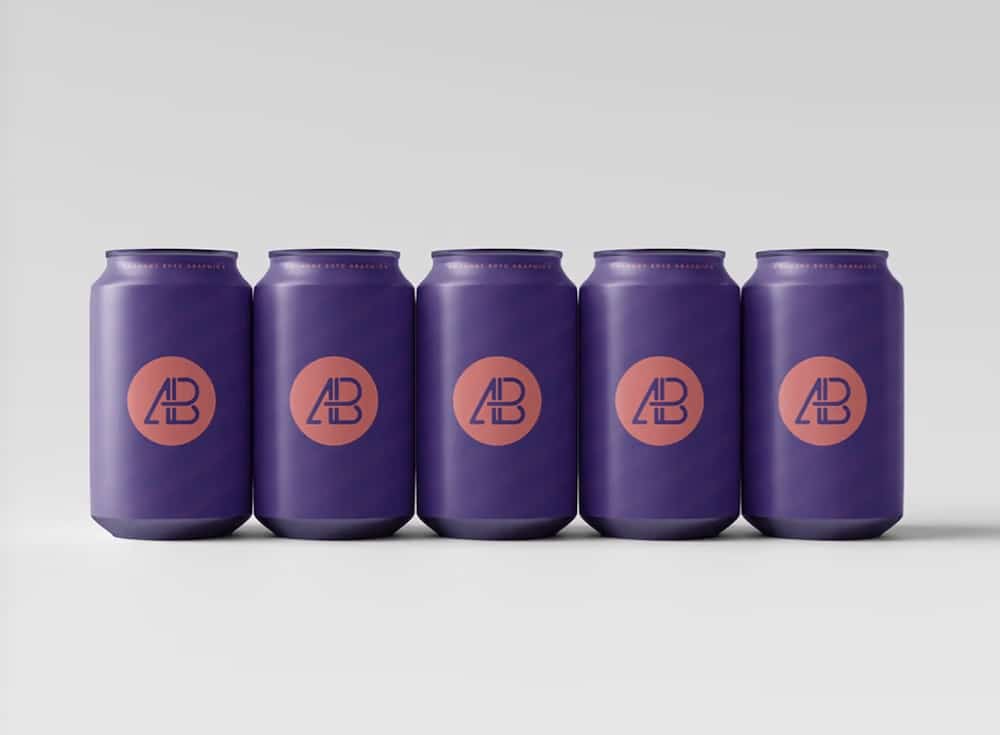 This multi can set of 330ml cans is great for creating a STRONG attention-grabbing effect.
I used the same logo on all five cans, like on the default example, and it worked so well.
But you can play with various combinations because of the great layered structure.
Amazing mockup quality promises the final product to make everyone's jaws drop.
MORE INFO / DOWNLOAD
11. 330ml can front/back view mockup

Front or back view, it doesn't matter; this mockup works for both EASILY.
Your design will wrap around the can beautifully, thanks to Anthony's careful precision that this mockup features.
I like how all his mockups are so minimalist and persuasive.
MORE INFO / DOWNLOAD
12. 500ml Can front/back view mockup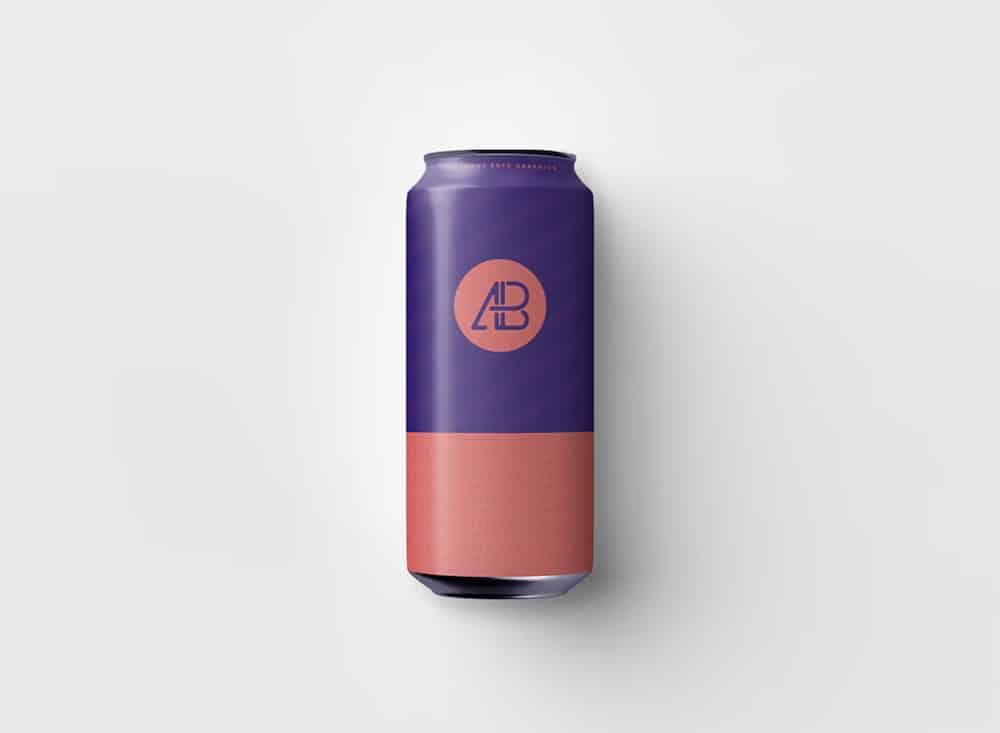 Do you need a 500ml can to create a realistic presentation of the front and back view?
Here you go! A mockup that's free but MORE premium than anything else. (Don't forget to link back to the page.)
The high resolution also ensures that the custom branding appears crystal clear, even if you decide to make a zoomed-in version.
You are welcome to use this PSD mockup for personal and commercial projects (just like all Anthony Boyd templates).
MORE INFO / DOWNLOAD
13. Multiple matte soda cans mockup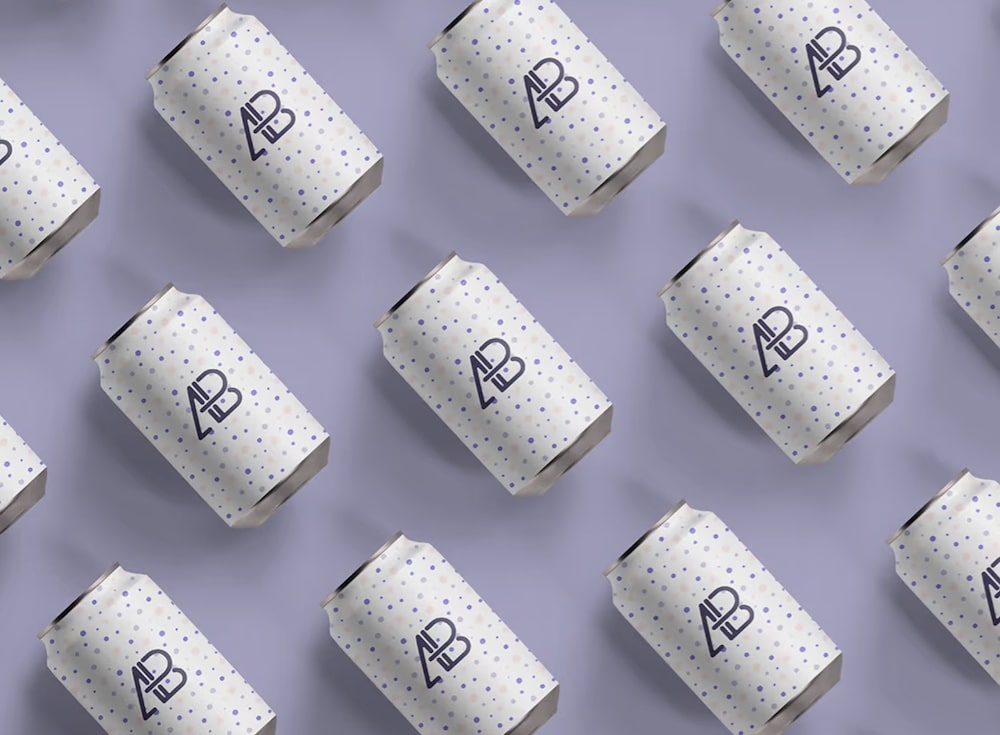 This matte version of multiple sodas makes any design or logo pop.
It works really well when using the same design/logo on all cans, but you can interchangeably present the front and back designs.
No limits!
You can also play with various color combinations until you find the WINNER.
The matte effect of this one is my fav!
MORE INFO / DOWNLOAD
14. Soda can with water drops mockup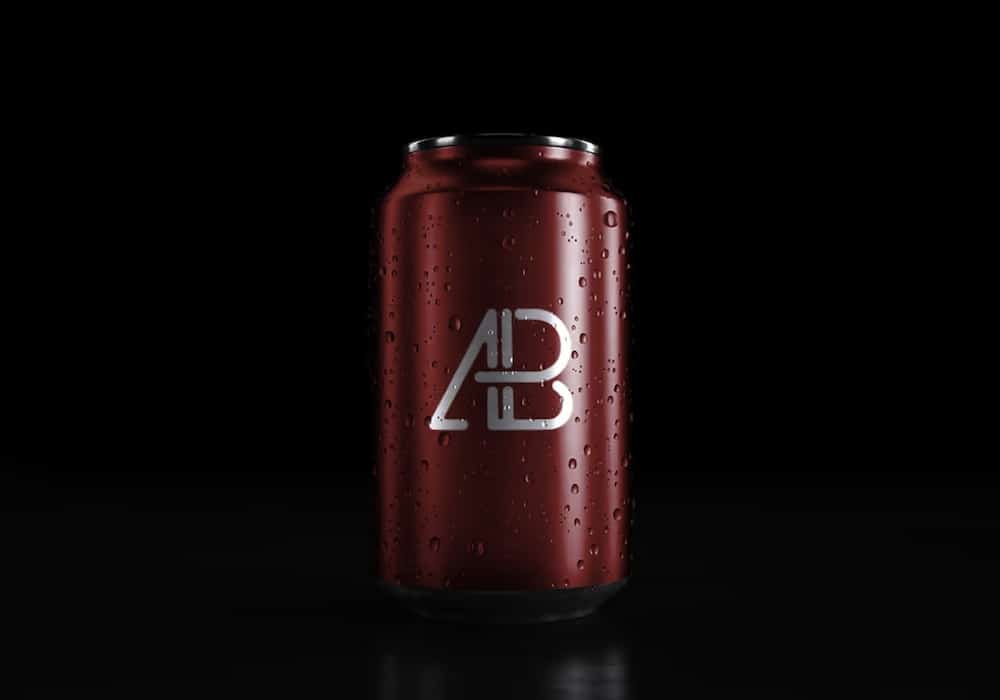 Similar to the above mockup generator, here's a free version of a can with water drops mockup that makes the mouth salivate.
I think I don't really need to go into detail because you already know this one is FANTASTIC.
And you couldn't be more right.
You can use the mockup for soda or beer brands. But it also works for (flavored) water, tea, cold brew coffee, or other beverages.
MORE INFO / DOWNLOAD
How To Easily Create A Realistic Can Mockup
My recommendation is to use a generator if you're searching to create a can mockup fast.
Why?
You don't need to use software because you do all the work online.
After years of testing, my favorite online mockup platform is Placeit.
Thus, here's a step-by-step guide on creating a realistic can presentation, even if you don't have experience.
Step 1: The first thing would be to visit Placeit, where you can find all the can templates they offer.
Step 2: After you pick the template you like, you can insert your image or design directly from your device. This is the first thing I do because I get an immediate idea of what to expect from the template. And if it doesn't work, I pick a different generator. Hint: If you use the recommended size, it usually covers the whole can (so you don't need to change the color).
Step 3: This is already the refining step, where you can perform additional customization tweaks. This could be changing the can and background color, using a custom background, adding a graphic or creating a text overlay.
Step 4: This is optional, but I usually create a few slight variations of the presentation I think is the winner. Hey, you might find something that works even better.
Step 5: AAAND, you're done! Download the mockup, share it and promote a new can design wherever you want.
I bet no one told you that creating a custom can presentation is this easy.
Well, it is.
Enjoy!
Remember: You may also want to check our guide on creating a packaging mockup with and without Photoshop.
::
Note: This article was originally published on November 14, 2022. But our team regularly reviews it and updates it with necessary improvements for accuracy.