Do you want to work with the best free and premium chocolate mockups?
It was hard picking these.
Why?
Because the mouthwatering factor was so high, it complicated the whole process.
But we did it!
Here are the ultimate mockups that you can use for granola, protein and snack bars, boxes, packaging mockups and wrappers.
The options are ENDLESS, ensuring your designs stand out from the crowd. (Which they will.)
Post contents:
You have everything you need to create a life-like presentation to IMPRESS everyone.
You + Chocolate + Mockup = Forever Together
Best Chocolate Packaging PSD Mockups
1. Chocolate bar mockup (generator)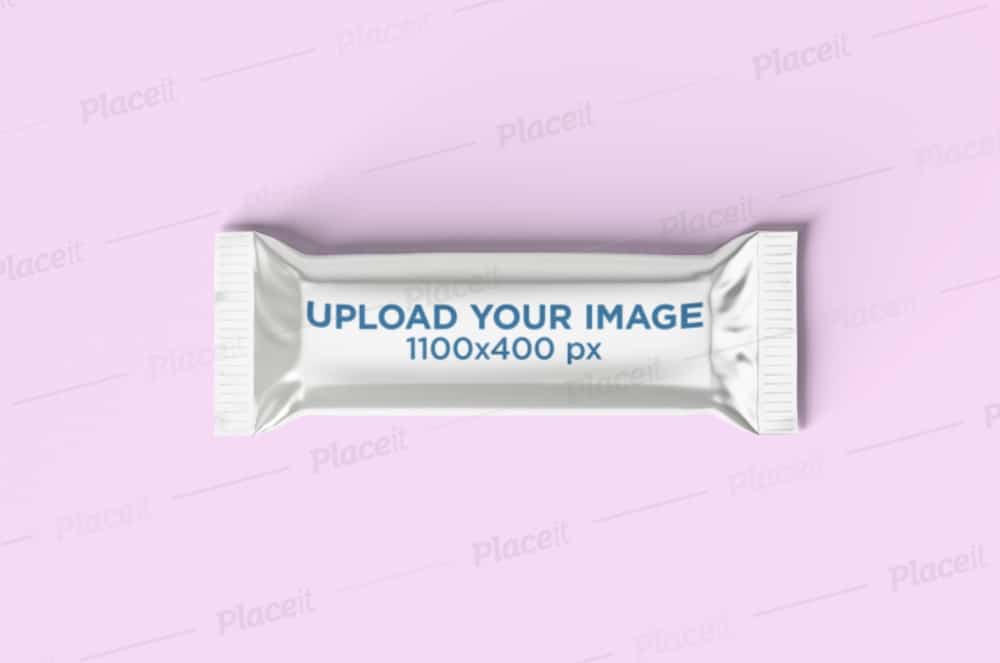 Even though we prefer online mockup generators the most, there aren't many chocolate-related ones.
This is the only reliable one we found, and it worked great for granola and protein bar design.
You know it's easy to use, right? Well, you do all the work online.
It all happens in a few clicks, from changing the colors to adding your design, logo, and text. That's it, have some fun and stick to it as many chocolate bar designs as you want.
Note: Use it to make mockups without Photoshop.
Price: $7.95
MORE INFO / DOWNLOAD
2. Chocolate packaging mockup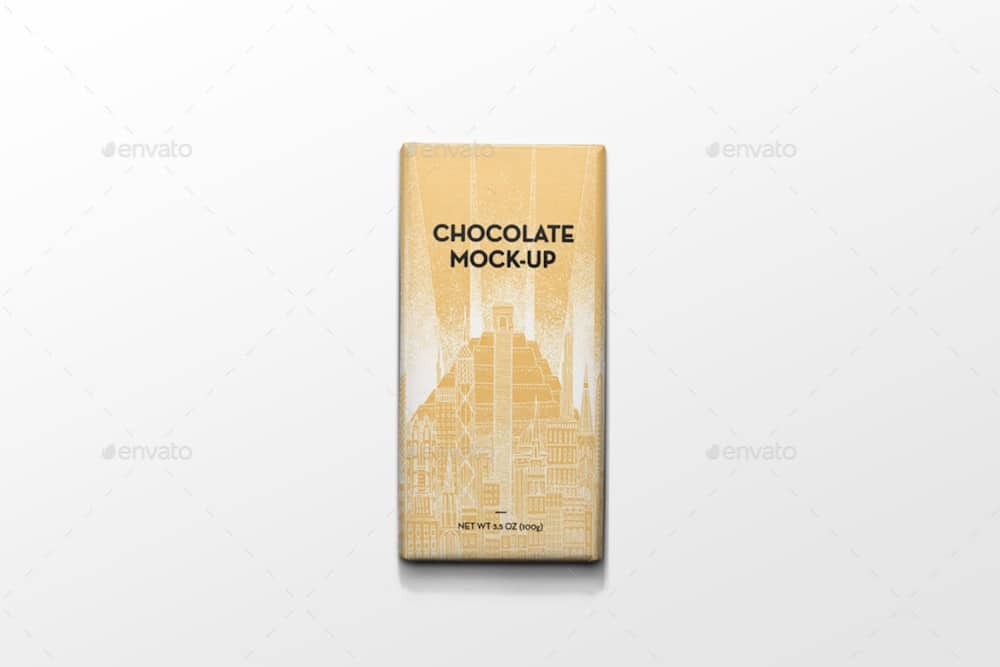 A beautiful and professional chocolate packaging mockup that supplies you with nine realistic views. We didn't use all, but we especially enjoyed the chocolate bar in had version.
Each mockup is a layered PSD file with 3000 x 2000px dimension and PS smart object.
You can change EVERYTHING.
Besides adding your creative designs, you can make the background transparent, solid color, or use a pattern. The options are endless and quick to execute.
Price: $10
MORE INFO / DOWNLOAD
3. Chocolate wrapper mockup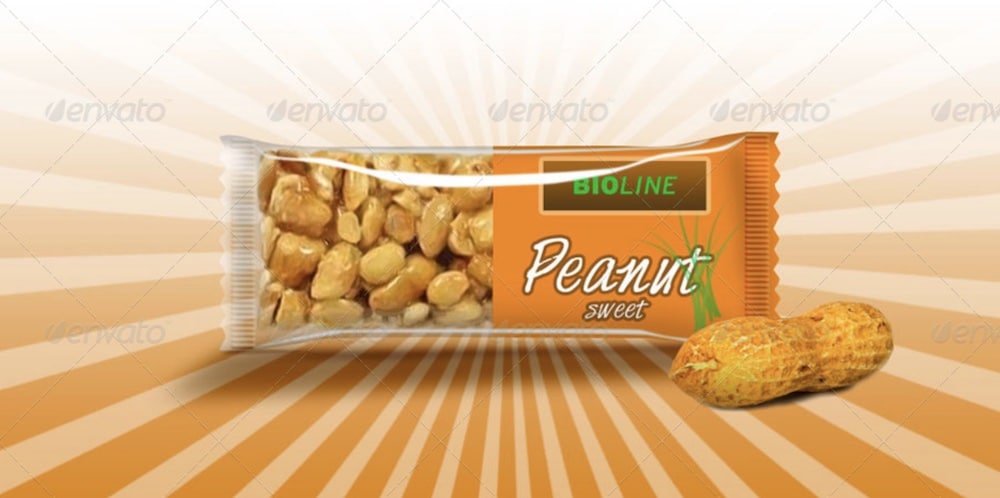 This cocolate wrapper works for so many different tastes and flavors. You can use it for cereal, granola, coffee, fruit and any other types of bars you can think of.
What we like about this chocolate mockup is its four different knit lines. Yes, it goes very in detail!
Even though you only get one PSD template, it's versatile enough to use it repeatedly for multiple clients. Great for social promotion, too, or for online stores.
Price: $5
MORE INFO / DOWNLOAD
4. Chocolate PSD mockup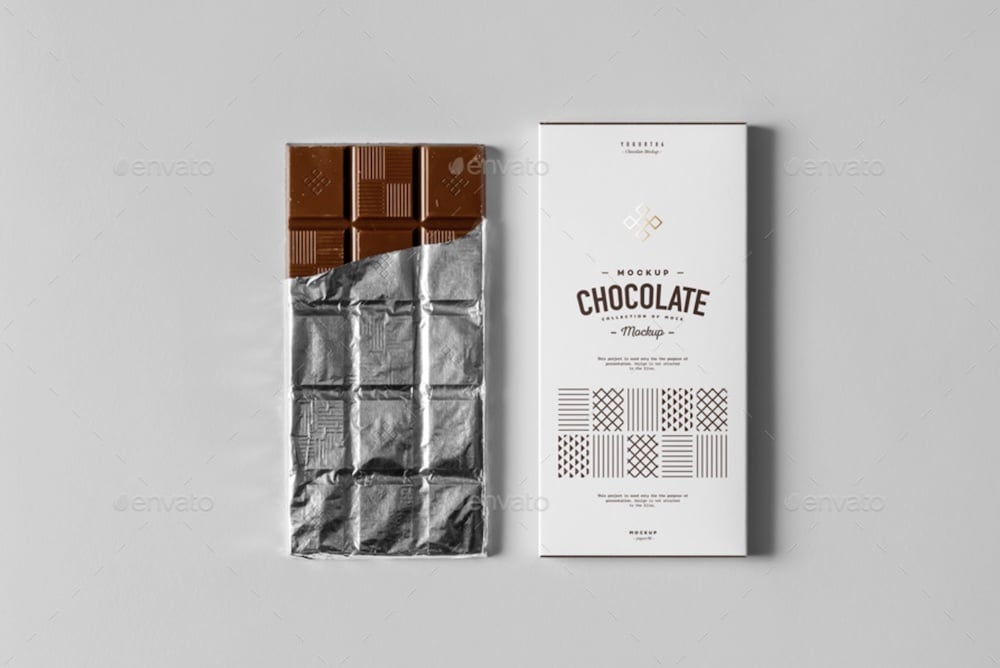 This is one of our favorite chocolate PSD mockups that you can get your hands on. The bar, the packaging, the wrapping, it's all so realistic and so, well, appetizing.
You can create the perfect presentation with all the seven ready-to-use templates that are easy and quick to use.
You'll create a powerful outcome even if you're an utter beginner. What's also cool, you get an extensive help file that guides you through all the necessary steps.
I'm down!
Price: $6
MORE INFO / DOWNLOAD
5. Chocolate bar and packaging mockup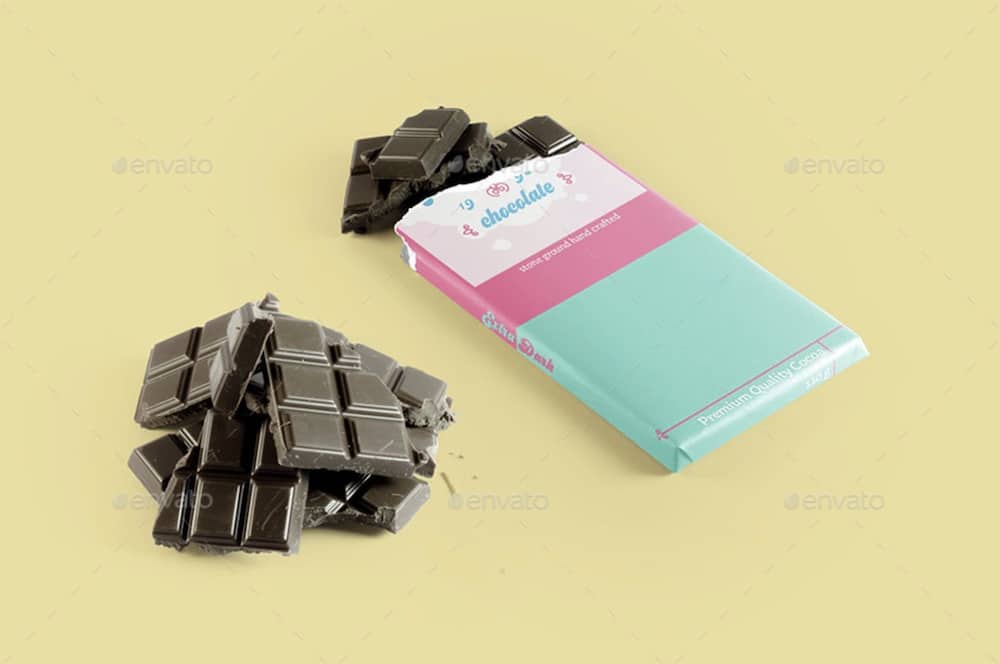 This is one of our top performers amongst the best chocolate mockups you can use. We tested it multiple times with several of our clients and no one noticed we used a mockup.
They ended up posting it on Facebook and Instagram, plus sending it in multiple newsletters.
Note: You get a bundle of eighteen (18!) mockups with five different paper kraft textures.
You can also edit reflections, shadows and colors at free will.
Create a photorealistic result that will WOW everyone.
Price: $7
MORE INFO / DOWNLOAD
6. Chocolate bar packaging mockup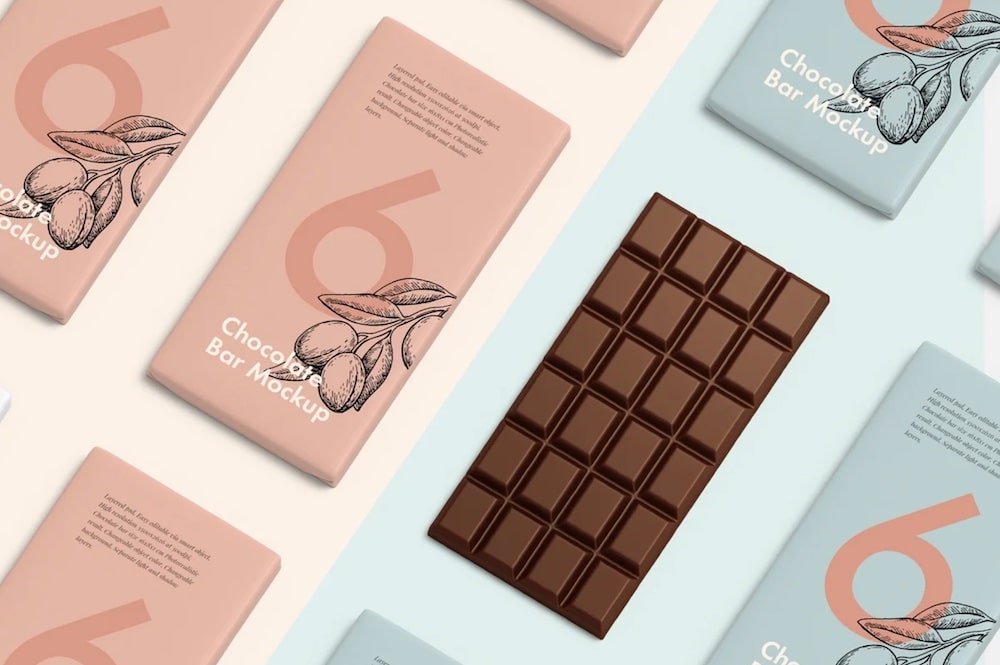 High-quality (3500 x 2626), six views, what else you need? It's an excellent chocolate bar mockup ready to use for any project you work on.
We enjoyed creating close-up shots due to the extreme quality, which left the crisp clear showcase intact.
Edit the bar, the background, the everything. You're in total control to make your version in a little breeze.
Price: $12
MORE INFO / DOWNLOAD
7. Chocolate and granola bar mockup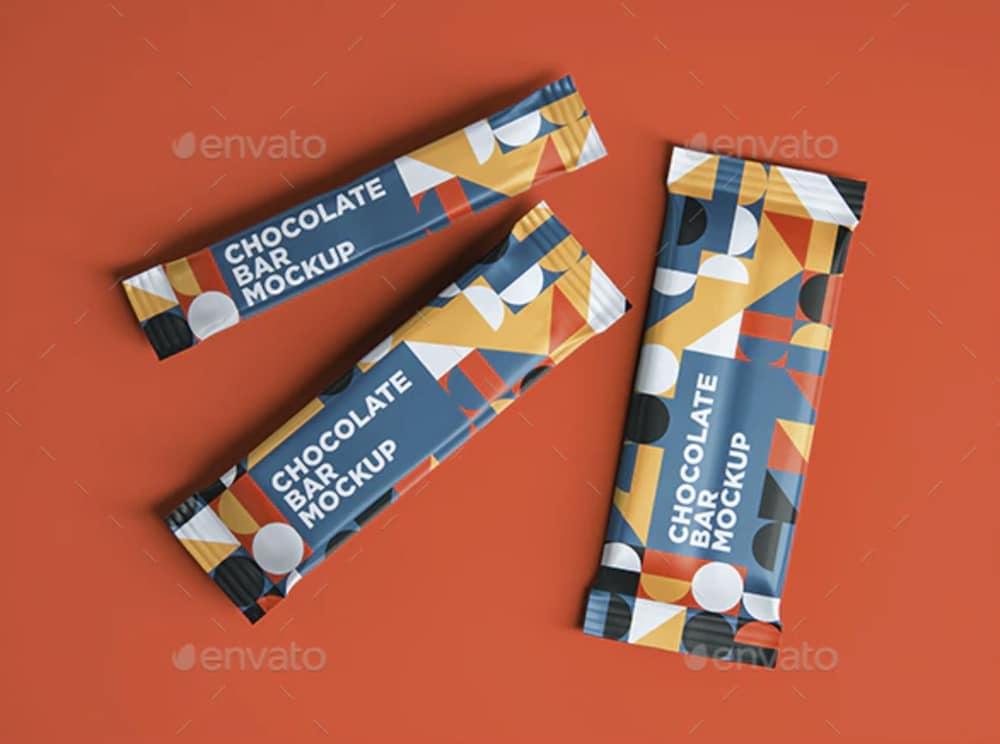 Chocolate, granola, protein or any other type of bar you'd like to design wrapping for, do it with this easy-to-use mockup.
You have more than enough views available, thanks to six different PSD files you can employ however you want.
You can also activate the included four photo filters and change the background.
Great layer structure and smart objects ensure a boost in your workflow. (But it'll keep your professionalism intact!)
Price: $6
MORE INFO / DOWNLOAD
8. Chocolate bar and packaging template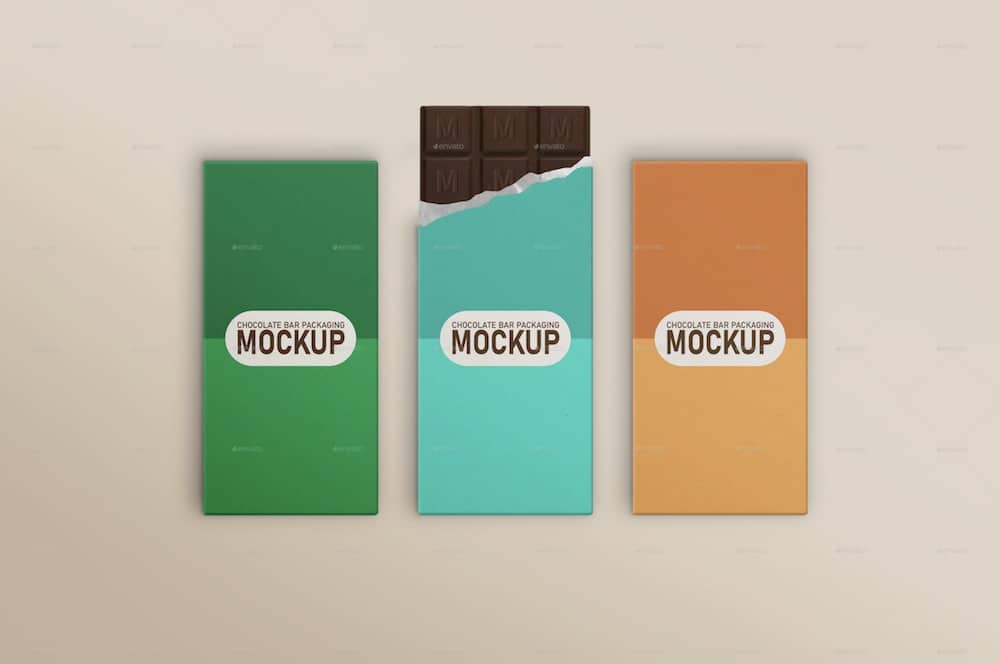 Do you want to create different chocolate flavor packaging designs? Do the right thing and present them professionally with this kit of cool mockups.
Everything comes on a separate layer, so it's easy to access, customize and improve according to your liking. As a result, everything is editable to your heart's content.
You can make it clean and minimal or colorful and abstract – it's entirely up to you – this set handles all your ideas successfully.
Price: $7
MORE INFO / DOWNLOAD
Best Free Chocolate Mockups
9. Chocolate box PSD mockup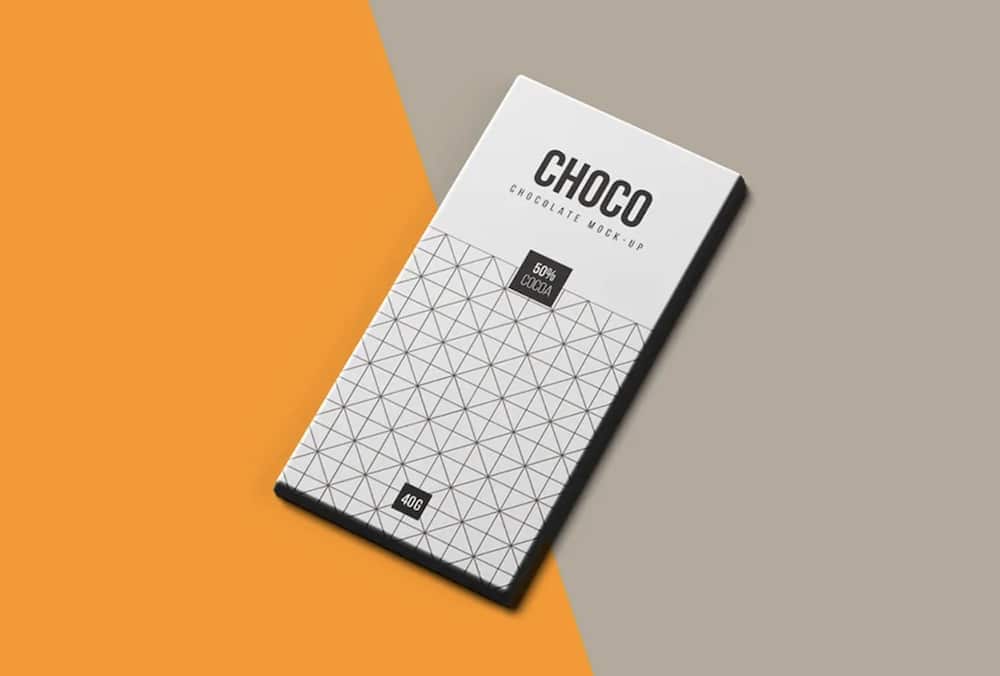 With our multiple projects and the requests we received from you, we also included a few free PSD alternatives.
These are all high-quality but not necessarily available for commercial use.
Inspire your clients with a life-like presentation of a custom chocolate box that you'll set up in a few clicks. (You can play with the background, too!)
Note: For personal and client projects.
MORE INFO / DOWNLOAD
10. Chocolate bar packaging PSD mockup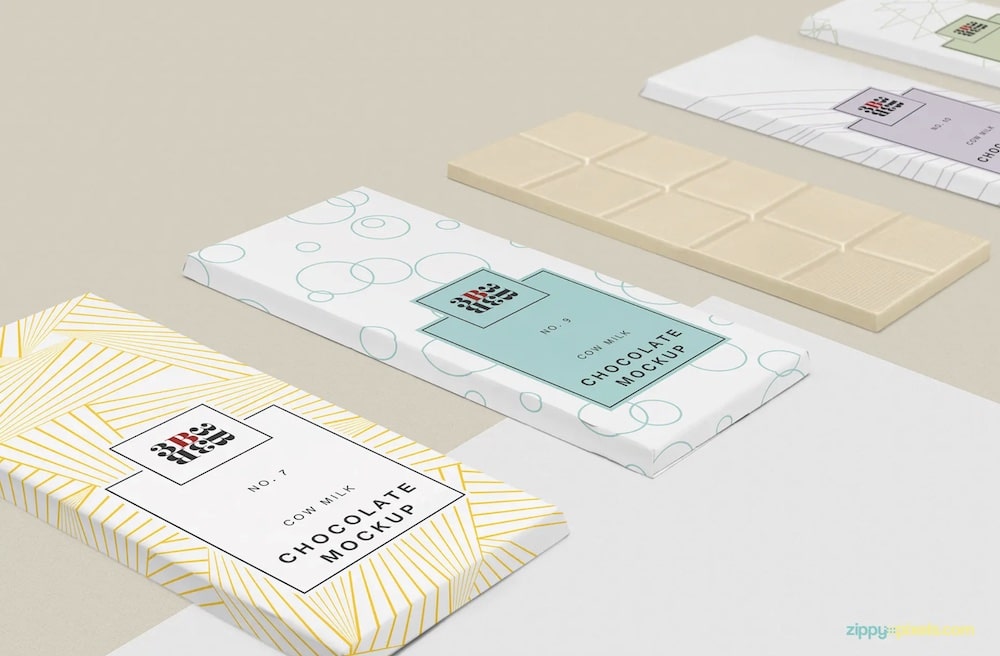 We include this one because it allows you to add four different chocolate packaging designs to a single PSD file. The 3500 x 2300px quality is also high enough to create a close-up view easily.
Moreover, you have the right to modify shadows, effects and background. You'll have a blast using it just like we did.
What's best? The chocolate bar in the middle – it's delicious, right?
Note: For personal and commercial projects.
MORE INFO / DOWNLOAD
11. Chocolate and protein bar mockup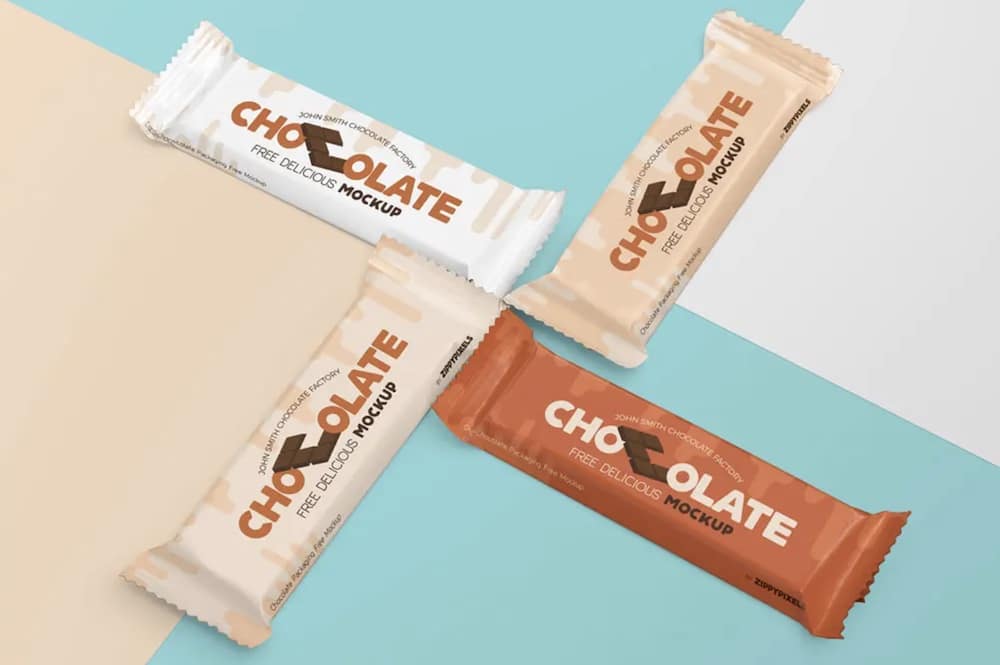 Chocolate and protein bar mockup that's four-in-one – how cool is that.
We worked on a project for a client that was releasing four new protein bar tastes and this one came in extremely handy.
Each bar has a 1.5 x 4.75 inches large smart object so that you can individually modify them. You can also create an accommodating background that makes the whole presentation more dynamic. (We went with the four-toned background.)
You're the boss – so make it your way.
Note: For personal and commercial projects.
MORE INFO / DOWNLOAD
12. Snack bar packaging mockup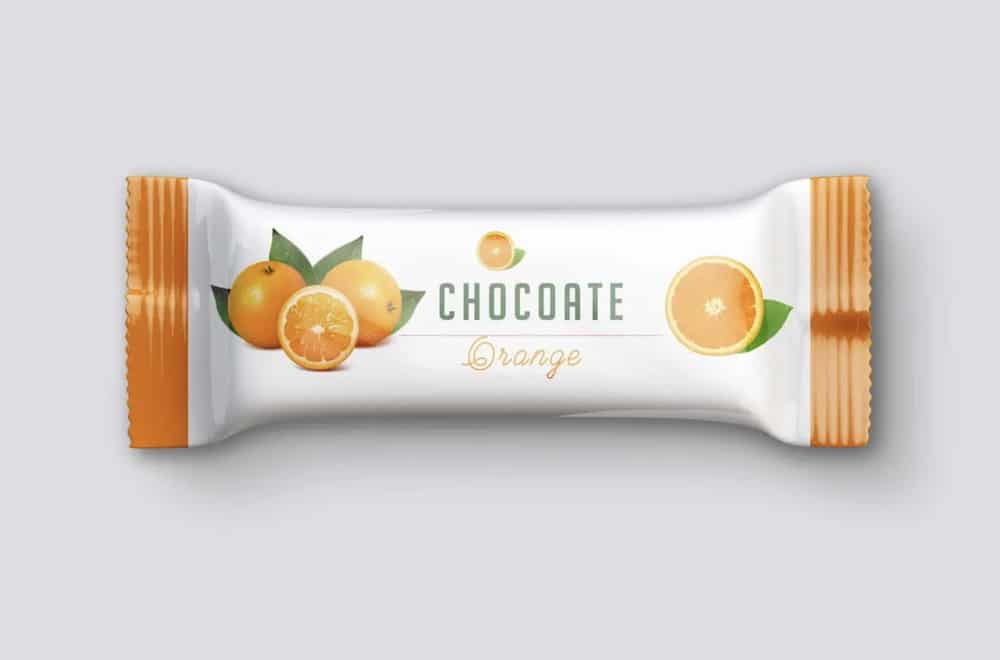 Clean and to the point, that's what's up regarding this snack bar mockup. We highly recommend this one if you need a PSD template for a quick draft.
It's for personal use only and comes at 2000 x 2250px dimension. Decent quality that works great for previews but not necessarily for publishing.
We dig it for simplicity and minimalism especially.
MORE INFO / DOWNLOAD
13. Free cooking chocolate mockup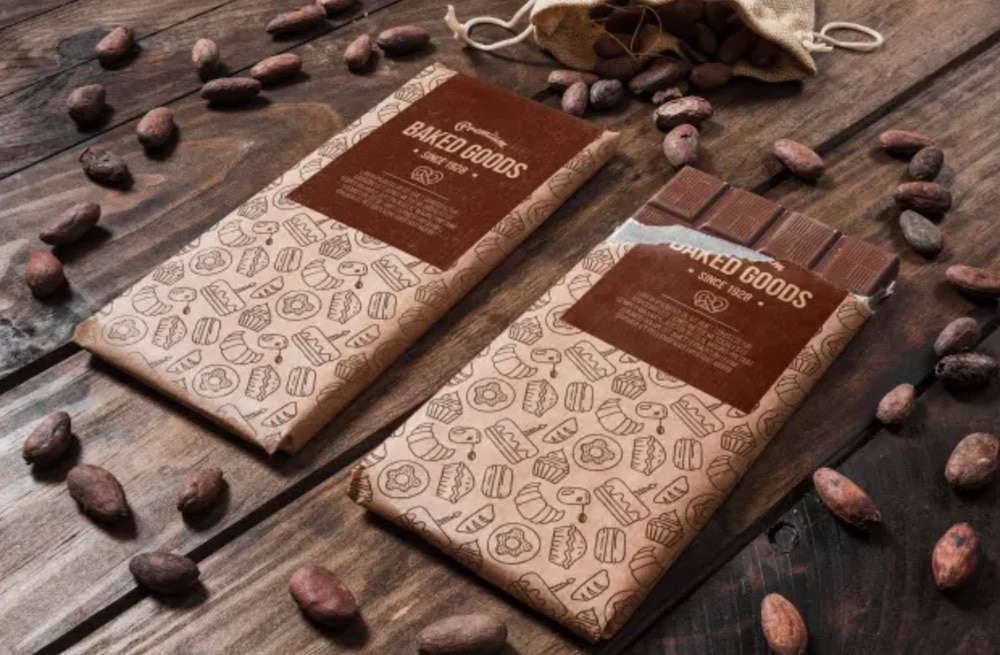 I bet you didn't expect such a goodie all the way down here. Best for the last?
Look no further if you are working on a design for cooking chocolate. BUT! You can use it for other kinds of chocolate, too.
The mockup is too good to limit yourself, so don't. Plus, you can use it for personal and commercial projects (with attribution).
So tasty.
MORE INFO / DOWNLOAD
What To Look For In A Great Chocolate Mockup?
You need to closely review each template to pick a quality one.
BUT!
I did the necessary testing, following multiple guidelines to pick the best chocolate mockups for your TASTY projects.
Here's how I picked them:
Resolution: High-quality mockup is a must if you want to achieve an excellent presentation, so that's why I check resolution first.
Ease of use: This allows everyone to get the most out of the mockup regardless of experience. While online mockup generators are for everyone, PSD files need a great layered structure.
Multiple angles: If you're paying for a mockup, it needs to come with multiple views to create a full-blown chocolate design showcase. (However, that's not always the case with free mockups and online generators.)
Customizations: A mockup must allow you to customize it in its entirety. Background, colors, shades, lightnings, etc.
Support: Free mockups usually don't come with support, but premium ones do. And great support makes a mockup oh so much better. Still, I doubt you'll need it because I was also picking the best ones through the eyes of a novice user.