My client-tested collection of the best backpack mockups offers you everything to create a top-notch photorealistic presentation.
You're in control both with mockup generators and layered PSD files.
Exactly, SOMETHING for everyone.
And I also added simple ones for online stores and even Amazon. So. Cool.
Also, the variety includes drawstring, hiking, school, food, delivery, book, etc., bag mockups.
Remember, each template is beginner-friendly with great functions for QUICK and PRO-LEVEL work.
Start a new journey. With a backpack!
Note: I also have a complete collection of tote bag mockups because they go well with this list.
This post covers:
How I Tested Backpack Mockups
I did a lot of testing regarding backpacks to cover each template's design aspects, so you can comfortably use it for your project.
For this reason, I used designs, logos and full wraps to ensure they fit the mockup naturally.
I also worked with dark and light designs and opted for colorful versions.
Lastly, I used clients' social media accounts to test the performance before adding the mockup to this list.
Best Backpack Mockup Generators
Every mockup generator is only $7.95 with the option to test it 100% for FREE.
Still, I prefer Placeit's monthly ($14.95/month) or yearly ($89.69/year) subscriptions to save money.
Also, you make mockups without Photoshop with generators!
1. Mockup of a backpack on a solid surface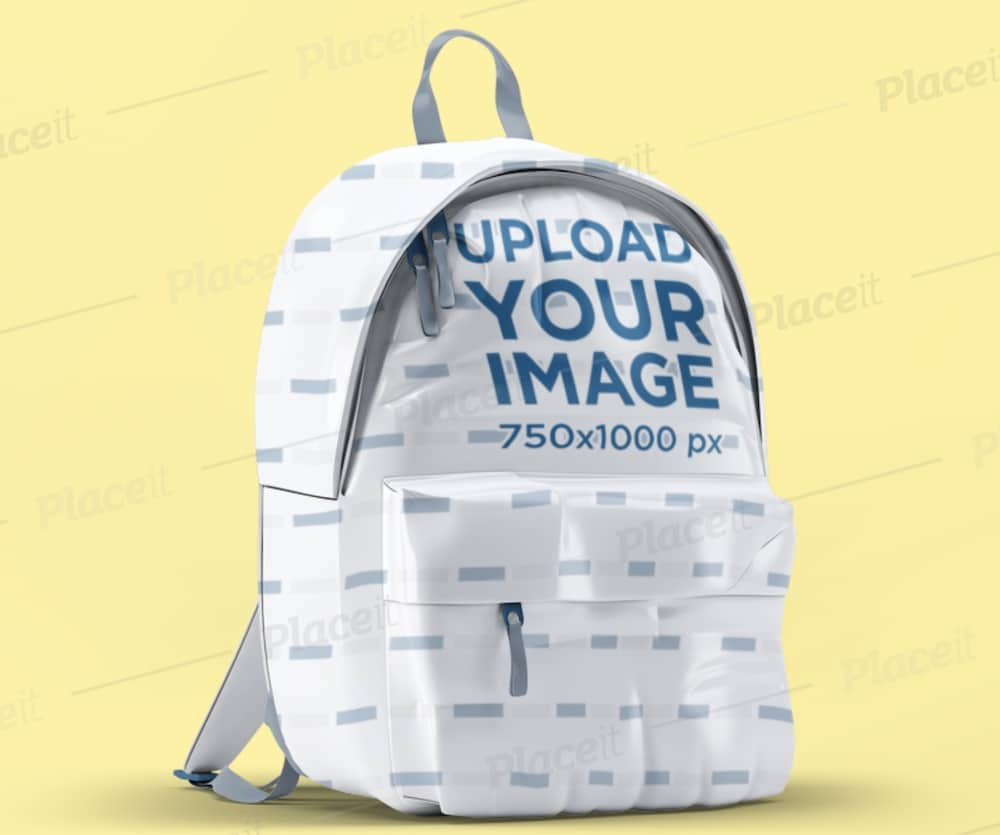 This and the fifth version offer you a full-blown presentation of a backpack's front and the back.
When I must first emphasize the design, these two are my GO-TO solutions.
Endless editing options ensure you create the outcome precisely to your liking. Custom colors, custom design, custom background and custom text – what else do you want?
Enjoy the quick – INSTANT – process of creating a top-notch outcome.
MORE INFO / DOWNLOAD
2. Teenager with a backpack over her shoulder mockup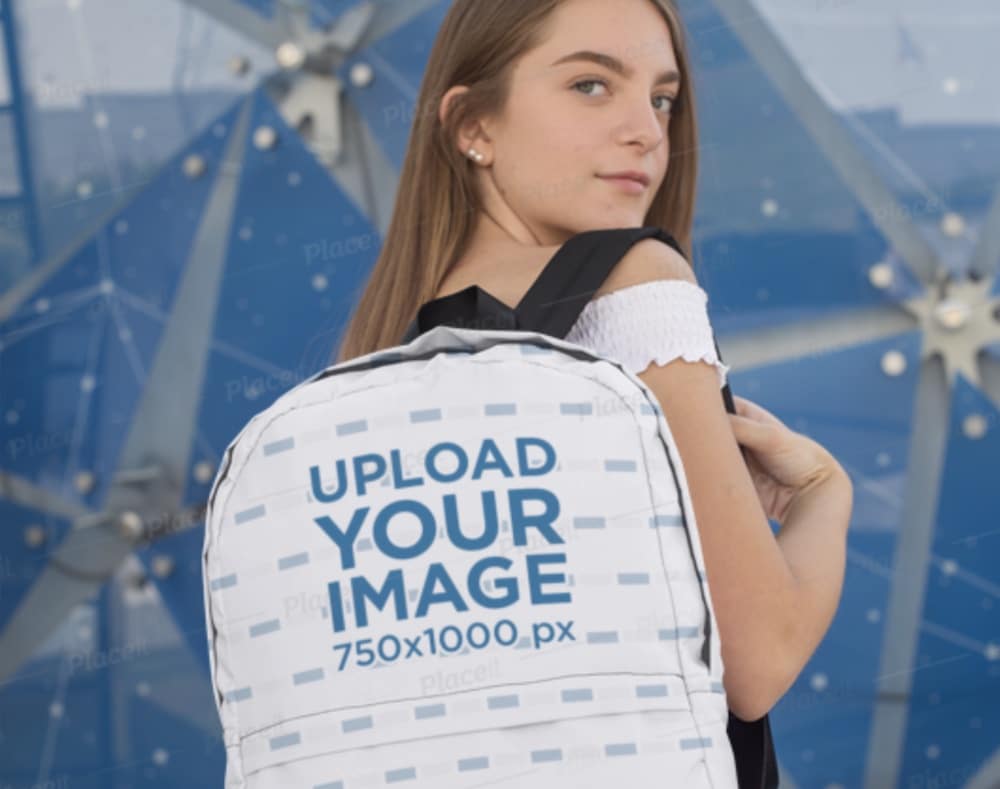 Okay, I still prefer photorealistic backpack mockups that include a person more than just the item. But this list is full of everything for EVERYONE!
My client's audience enjoyed this one on Facebook and Instagram because of its attention-grabbing element – EYES.
Change the color of the backpack with a single click and upload your design with another click.
You can even crop and rearrange the design to appear on the pack how you want.
That was simple!
MORE INFO / DOWNLOAD
3. Drawstring bag mockup on a girl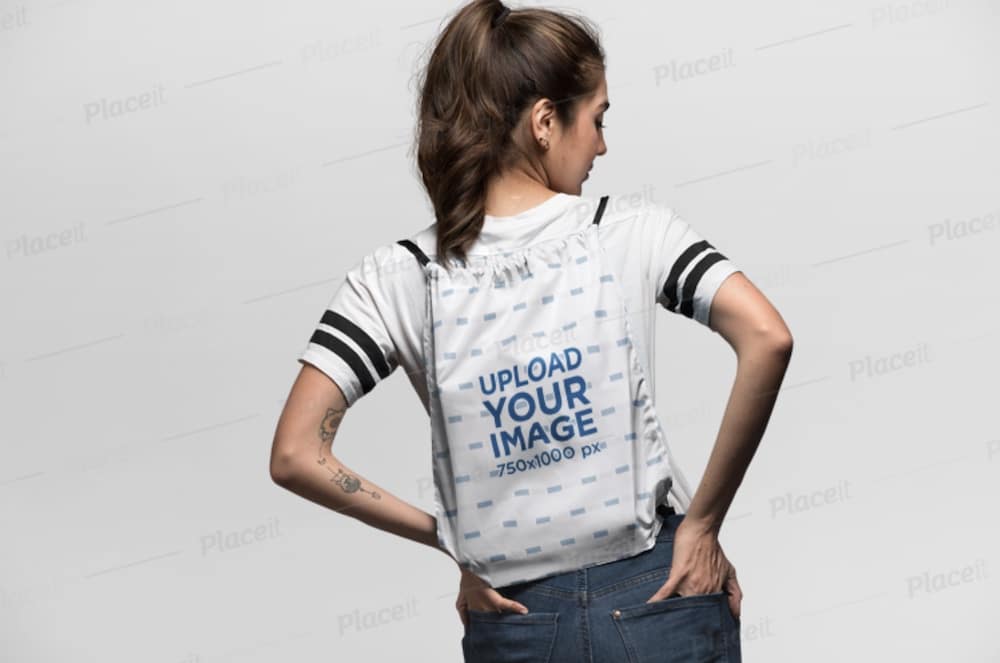 I also wanted to add a few variations of backpacks to this best collection because I worked with many and can guarantee they work.
This is a BEST-SELLING drawstring bag mockup on the back of a female model. You can change the shade of the background and the bag.
Note: You can even upload a custom background.
The only thing that would make this one even more exciting is if there'd be an option to change the girl's T-shirt color. But it's white, so it works with everything!
MORE INFO / DOWNLOAD
4. Backpack on a wooden table mockup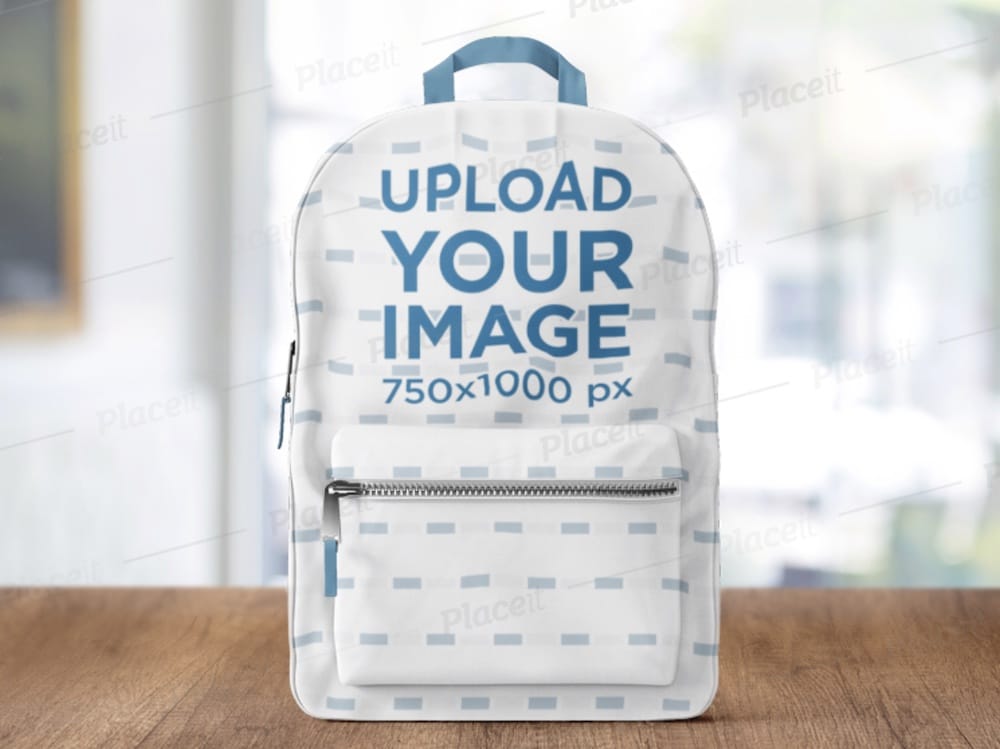 With its homey feel, you can use this mockup as a schoolbag or a bookbag but anything else works, too. So versatile.
While some of the generators offer to change only the main bag color, this one also gives you a chance to spice things up with custom color details.
I went with an all-black one but also created a red one with yellow details for my client. Still, I probably made 20+ VARIATIONS just because the method is so quick and so fun.
MORE INFO / DOWNLOAD
5. Sublimated backpack with editable straps mockup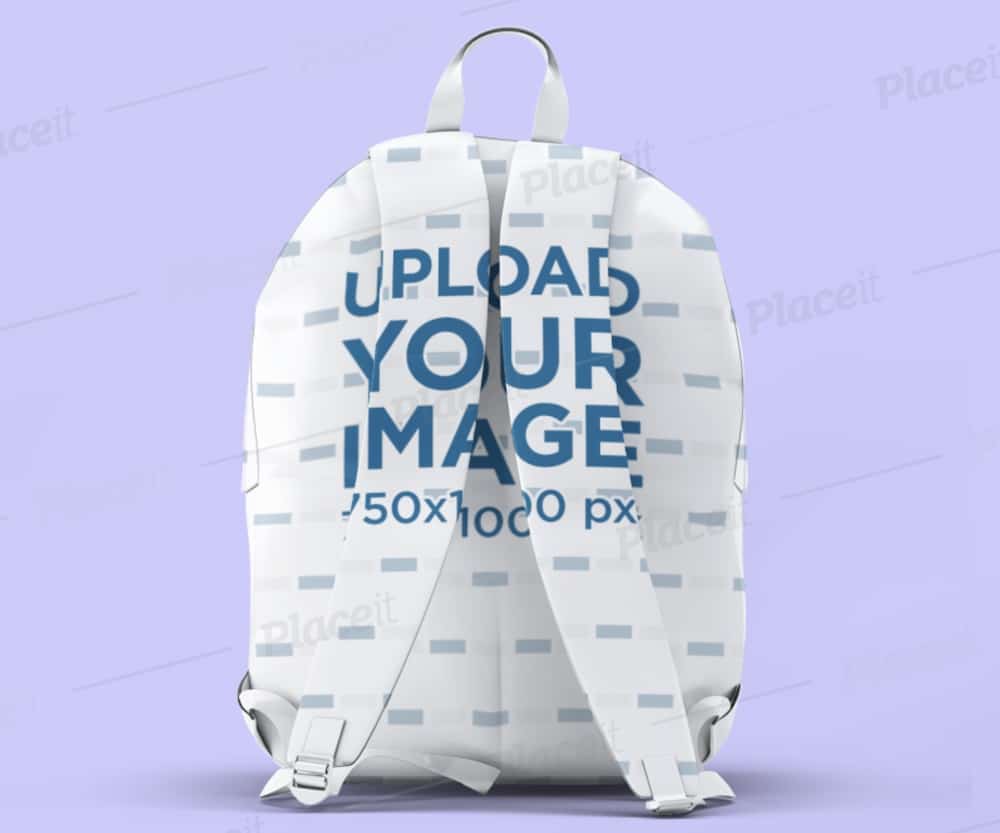 Here's the one I already mentioned above. Design a custom backpack back that you can style and beautify however you want.
It all begins with the selection of the colors. I chose custom bag and details colors and uploaded my background image. (You can also use any of the ready-to-go templates.)
I added the design with a click of the button and even went with the "add text" function to include a CTA (call-to-action).
Work. Done.
MORE INFO / DOWNLOAD
6. Minimalistic drawstring backpack mockup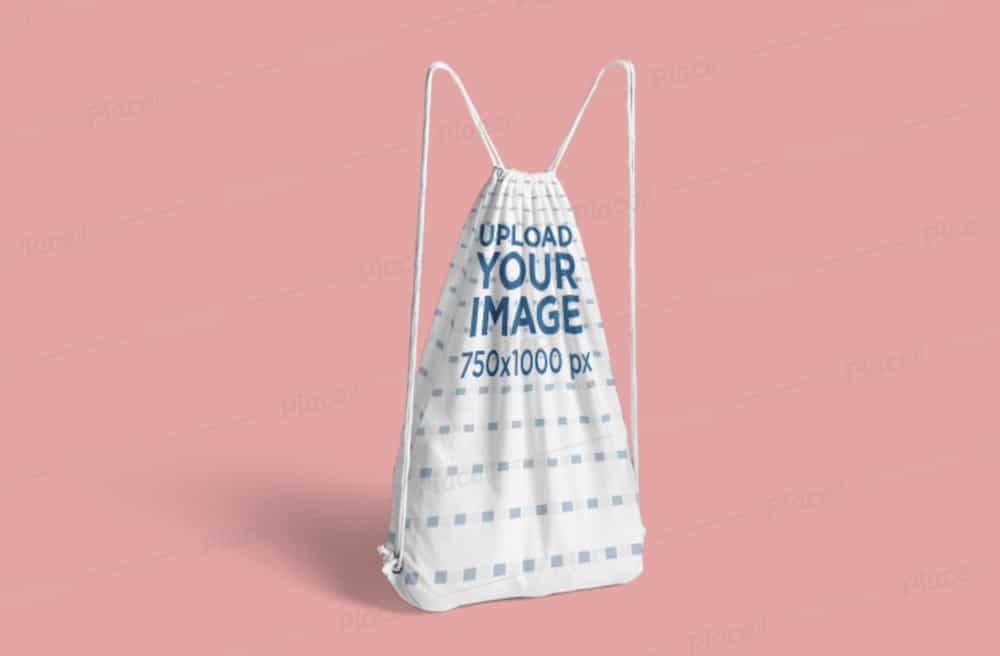 It's always a good way to start with a MINIMALIST mockup to test things out. I always take this approach.
But simple mockups like this one are also great for online shops!
If you're designing a drawstring backpack, make it happen within seconds after choosing this generator.
No experience necessary!
Just your imagination and a predefined design. You'll have an outcome ready in a few clicks, so take action now.
MORE INFO / DOWNLOAD
7. Backpack mockup of a student sitting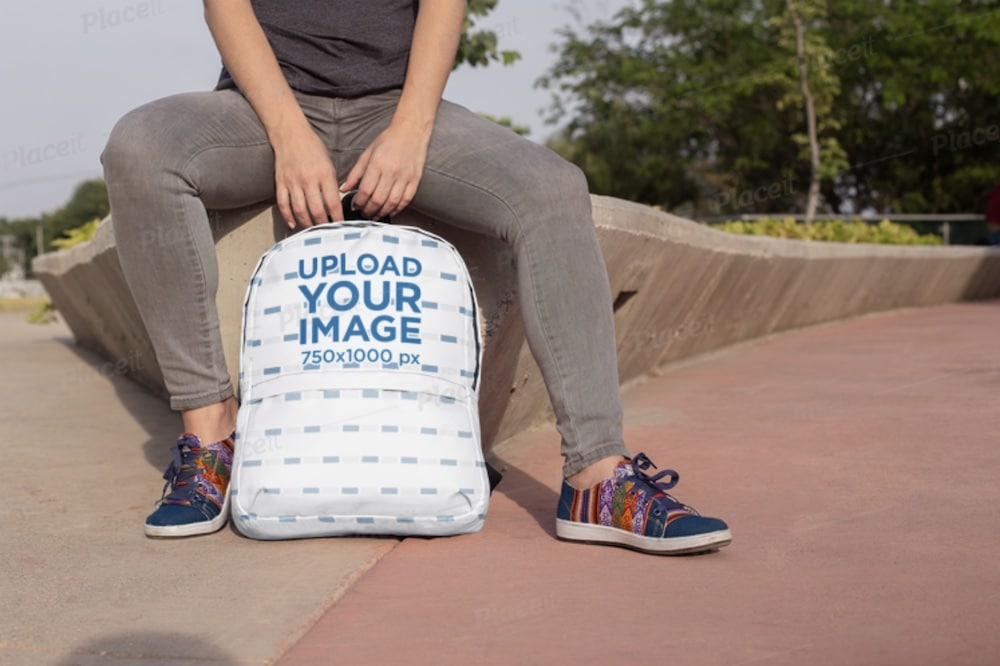 I used this one for a professional promotional backpack (marketing material) even though it aims at students and school bags.
No NEED to always stick to what the title says.
You're in complete control of adjusting the backpack color, adding any image you want and sticking some text.
And you can do as many variations as you want before you find the winner because the online mockup editing is effortless.
MORE INFO / DOWNLOAD
8. Model holding a backpack in hand mockup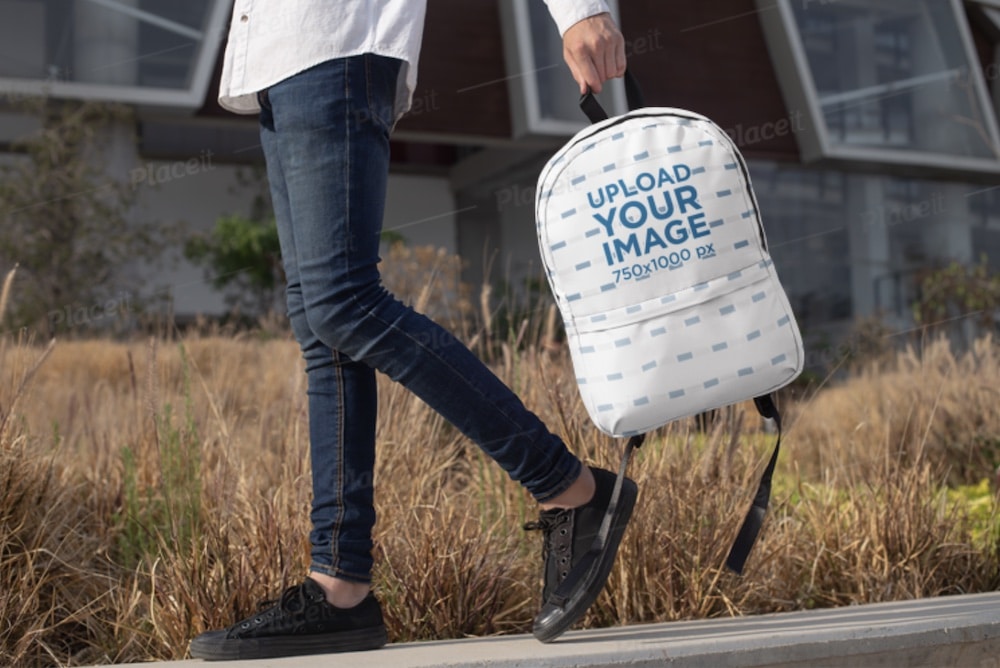 Share your idea with your client by using a life-like backpack mockup that will WOW them unquestionably.
You'll achieve great results without investing a ton of work into it. I set a timer before I started and had the final version ready in 33 seconds.
Yup, you read that right!
Click, click, CLICK, and you're ready to go. So worth every penny.
MORE INFO / DOWNLOAD
9. Teenager wearing a backpack looking at the camera mockup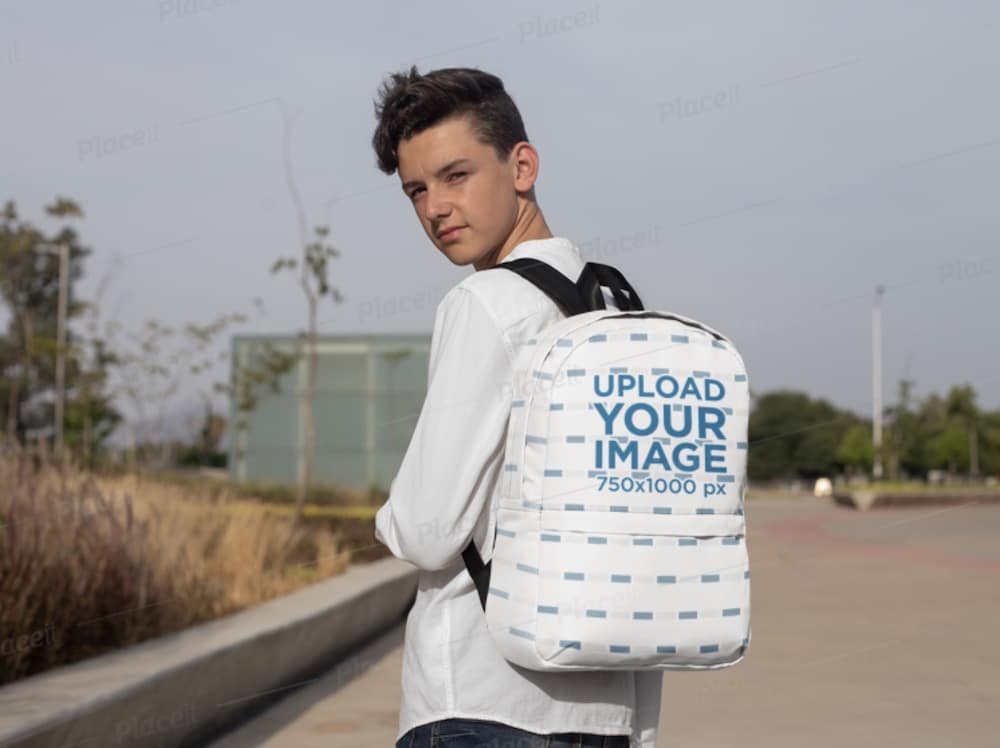 If you pay close attention, this is the same model that's on the mockup above. But no one will tell once you add your design because that'll be everyone's FOCUS.
I tested it on a 50k+ large Facebook page four times and no one had a clue.
Sure, having a chance to customize the shirt would make everything even more awesome but is not necessary.
Try it out for free and you'll see what I'm talking about.
MORE INFO / DOWNLOAD
Best Backpack PSD Mockups
10. Food delivery backpack mockup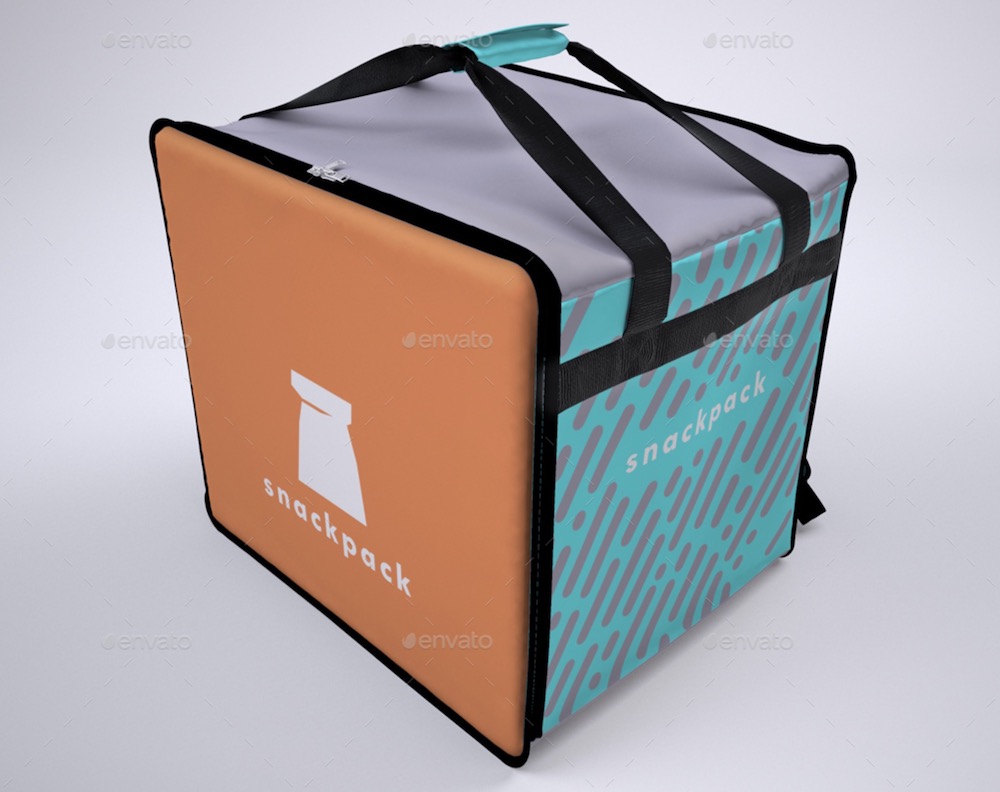 I told you I went creative with selecting the perfect mockup for all of you people.
Are you in the food delivery business? Or is your client? Design a custom food delivery backpack mockup now with a batch of four layered PSD files.
The handles, the straps, the base and the background – EVERYTHING is adjustable for your convenience.
Note: You'll only work smoothly with this mockup with Photoshop's 3D function. (But it's easy to work even for beginners!)
Price: $7
MORE INFO / DOWNLOAD
11. School backpack PSD templates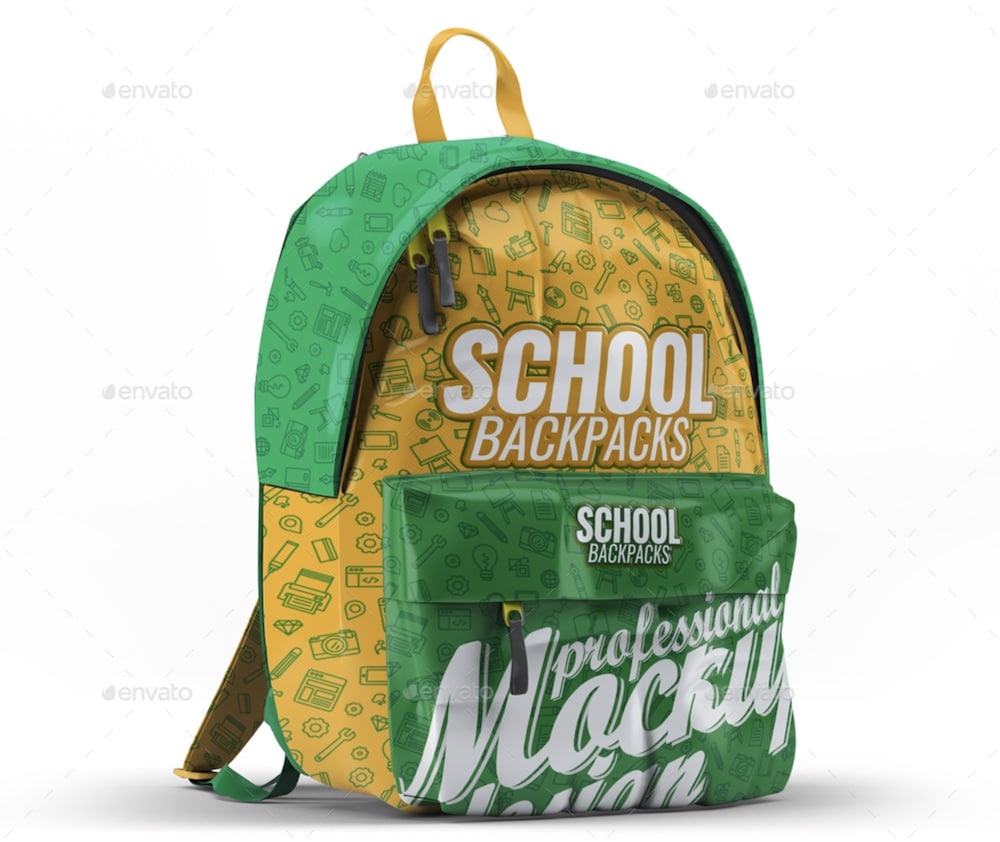 I had this backpack style when I went to school for many years, and I loved it. And many of my mates loved it, too.
Do you need to design one?
Now you can with a set of five PSD mockups that are too easy to use. You drag your design to the backpack via the smart object and see it appear with a click.
You can ALSO play around with any color combination you want and adjust the background, shadows and reflection.
I enjoyed putting all the functions to use to test the mockup to the last detail.
Price: $5
MORE INFO / DOWNLOAD
12. Courier roll top backpack mockup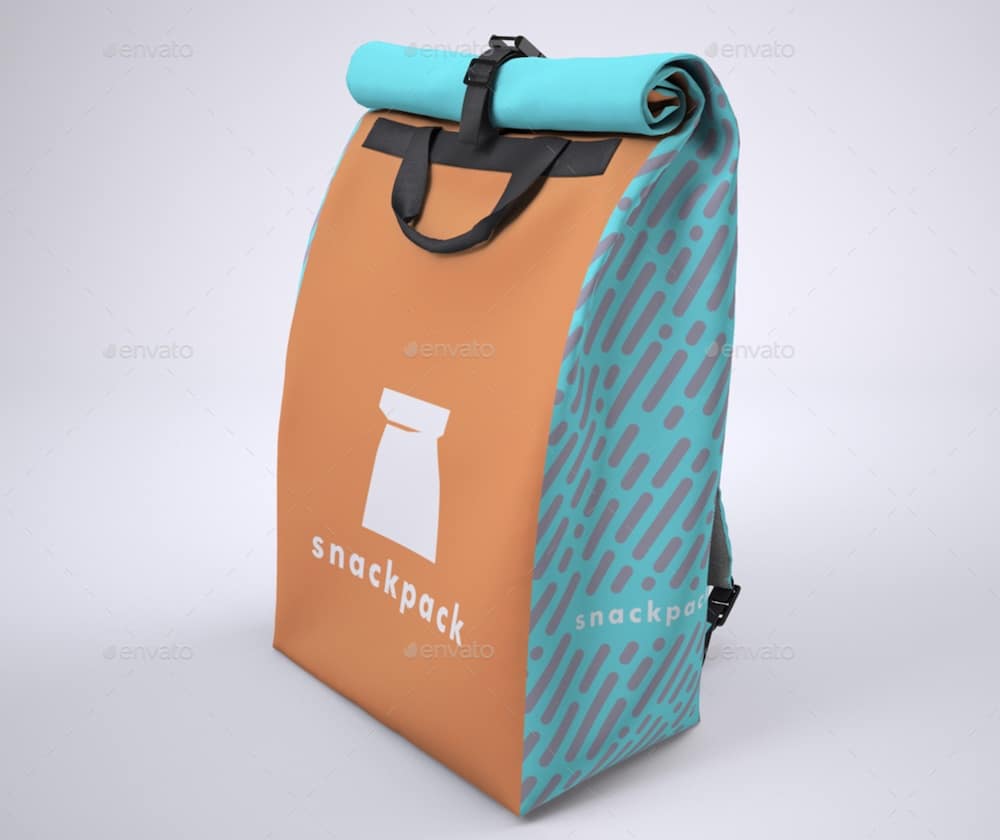 I bet you didn't see this one coming 🙂 . A photorealistic courier roll top backpack mockup that I came across and used after working with a local delivery business.
The four ready-to-go templates give you all the necessary views for a stunning design showcase.
Plus, I configured it entirely because everything is 100% customizable.
But you need Photoshop to work with 3D functioning to activate each mockup FULLY. (Just saying, so you don't run into inconvenience.)
Price: $7
MORE INFO / DOWNLOAD
13. Polyester backpack PSD mockup set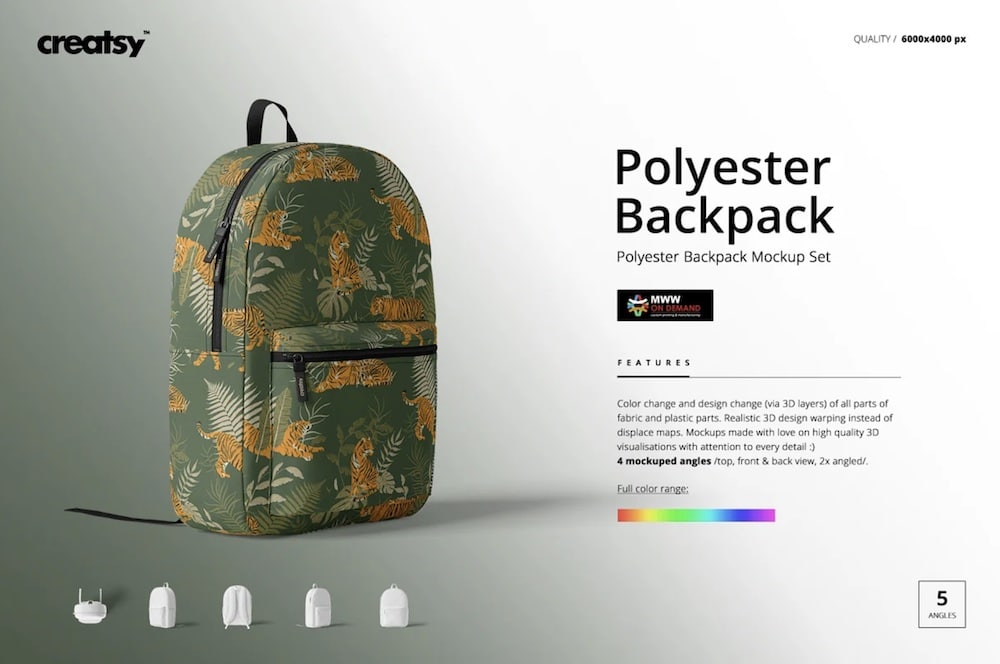 Grab a polyester backpack PSD template, stuff it with your designs and color, put it out there and see the results.
I tell you one thing: Everyone will be EXCITED about it.
I worked with all five views but particularly enjoyed the top view – because that's not something you usually get from other mockups.
Note: The amazing 6000 x 4000px quality ensures you create a highly detailed backpack presentation that works great for close-ups.
Enjoy!
Price: $18
MORE INFO / DOWNLOAD
14. String bag mockup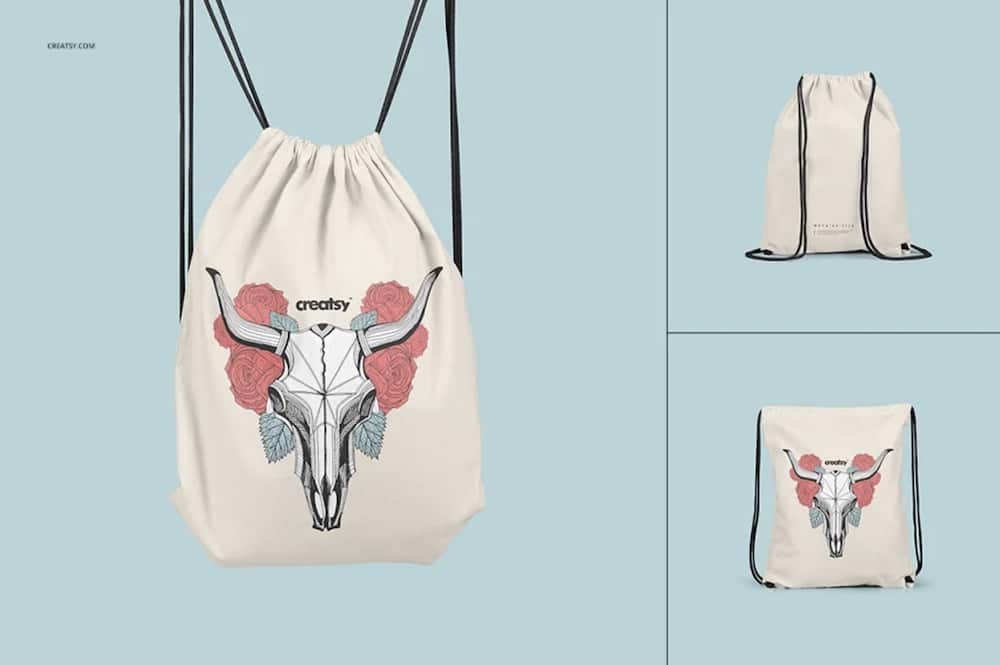 Two clients asked me to create an Amazon-ready presentation of a drawstring backpack in the past six months.
I used THIS set of six views that gave me all the necessary to make outcomes that trigger attention. (You can use them for online stores, social media and anything else.)
You can display the front and the back of an empty or full bag.
I edited the bag material, changed the strings' color and added designs and logos via smart objects.
SO. EASY. (Everyone can do it.)
Price: $15
MORE INFO / DOWNLOAD
15. Hiking backpack mockup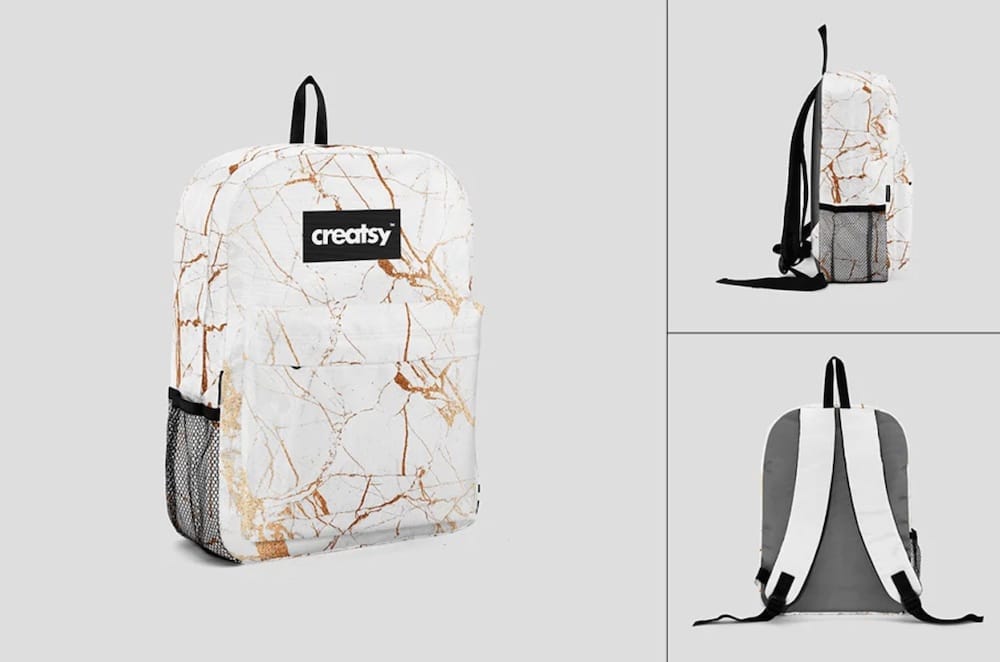 You need a backpack template from all sides to create the ultimate design showcase. Luckily, that's what this hiking backpack offers.
Benefit from these five entirely configurable views with a dimension of 4200 x 4200px for the highest quality.
Remember, the only things that are not editable are the black parts/details of the backpack. But everything ELSE is! (You can check the preview to see what I mean.)
So, are you ready? I already did seven versions!
Price: $15
MORE INFO / DOWNLOAD
How To Easily Create A Backpack Mockup
Creating a realistic presentation of any custom backpack mockup is a piece of cake.
Still, I want to share with you a simple step-by-step process to ease the process.
We'll use Placeit as the platform because it allows you to design a mockup without using photo-editing software.
It all happens online, and you don't need any skill to make it happen.
Here's how it goes.
6 Steps to create a backpack mockup:
Step 1: The first things is to visit Placeit where you search for your ideal mockup generator. Since Placeit doesn't have a special category just for backpacks, you need to use their handy live search function. It'll provide recommendations as soon as you start typing (either type only "backpack" or "backpack mockup.")
Step 2: Once you have the template you like (I still recommend picking any from the above list), open it.
Step 3: The next step would be to click on the "insert image" button, which allows you to upload your design or logo from your device. What's AWESOME about Placeit is that you can use your smartphone to work on your design.
Step 4: A popup window will open with options to reposition and zoom in/out your design for the perfect fit. Click "crop" when done.
Step 5: Lastly, use other customization functions that the mockup generator has in store, like changing colors, adding text and sticking graphics.
Step 6: This is it! The final step is to download your realistic backpack creation and use it online or offline (print it).
Working on your mockup doesn't require much work and time with an online generator.
However, the process is almost equally effortless for everyone who would like to work with a PSD template, but you need Photoshop to make it happen.
Open Photoshop and import your mockup. You then search for the smart object layer that allows you to drag and drop your design.
This is when a PSD differs from a mockup generator.
How?
It gives you more creative freedom when it comes to adding your creative touches. You can also adjust shadows, lightning, etc.
You are now equipped with everything you need to make your perfect backpack mockup for your business or client.
::
Note: This article was originally published on April 25, 2022. But our team regularly reviews it and updates it with necessary improvements for accuracy.