Welcome to my extensive collection of the absolute best free and premium TV mockups with fully customizable screens.
Honestly, I wasn't aware of how hot television templates still are.
Thus, it took me extra time to go through 100+ mockups (generators & PSDs) for this ultimate list.
Note: I joined forces with Petra, who took care of selecting free ones. (Thanks!)
We're DONE now.
You get everything necessary to distribute your designs to a television screen for a realistic presentation with a mockup.
Fast. Easy. Beginner-friendly.
POST STRUCTURE:
Netflix and chill, ANYONE?
Best TV Mockup Generators
You can get a Placeit generator for only $7.95. Or save money with a monthly ($14.95/month) or yearly ($89.69/year) subscription (my recommendation).
You can now make mockups without Photoshop quickly and easily.
1. Mockup of friends having fun watching TV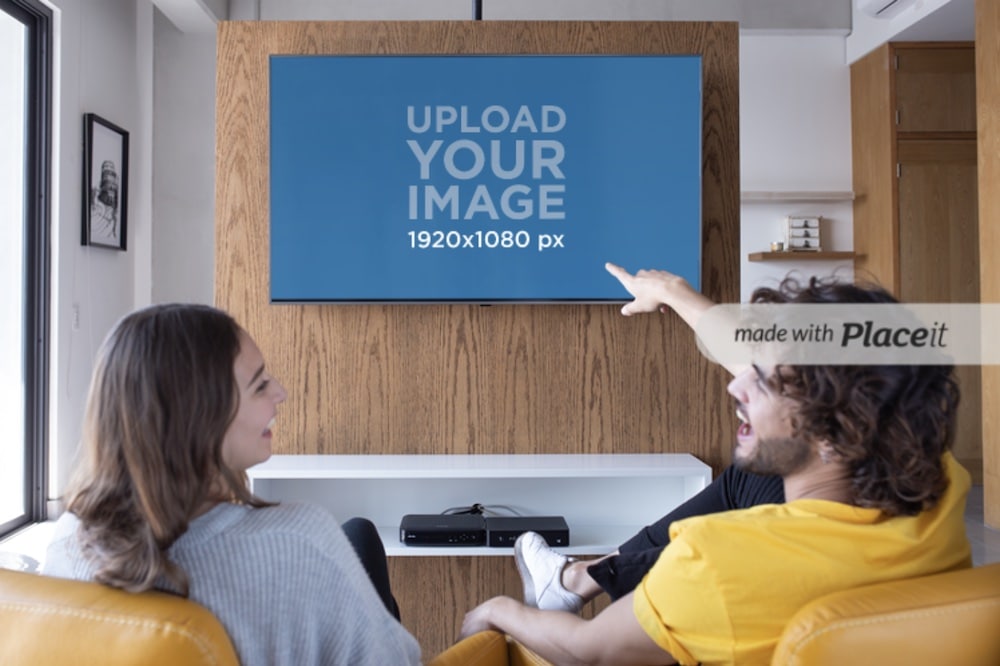 Getting a realistic screen done is way easier than you think. This is my absolute favorite out of all the mockups in this collection.
Happy people watching television, what else do you want?
And YOU can now slide in your design in a couple of clicks, add text if necessary and have a realistic version ready within seconds.
MORE INFO / DOWNLOAD
2. Smart TV mockup in a living room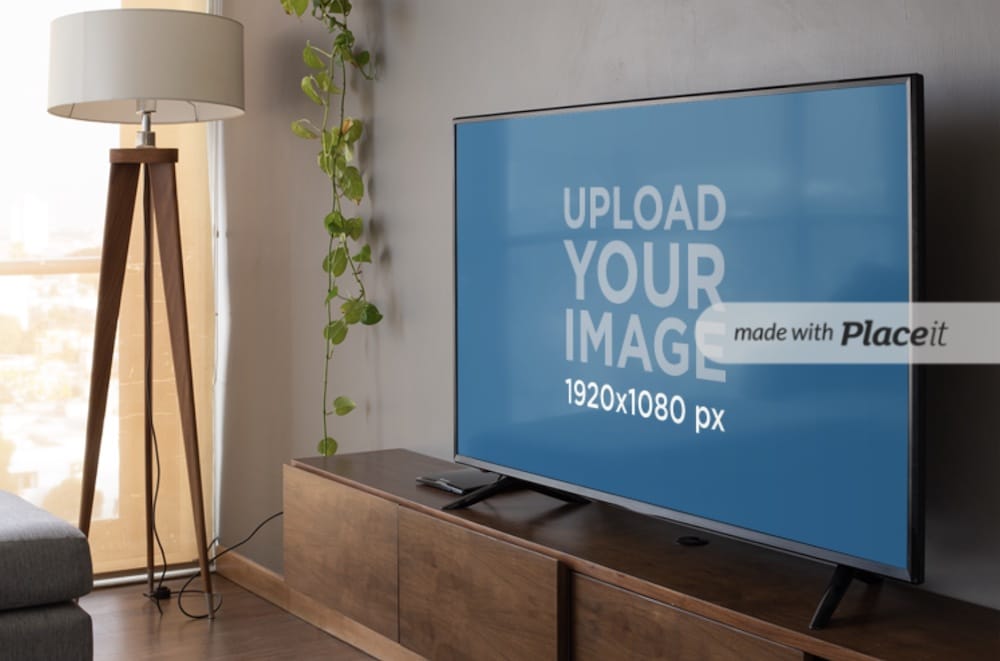 Nothing holds you back from testing all Placeit TV mockup generators first before you decide to pick the one that suits you best.
Hey, it's FREE!
But I highly recommend you create the free account first because your workflow will be much smoother.
Enjoy this minimal setup that I used on two recent occasions for social media promotion, and the audience loved it.
MORE INFO / DOWNLOAD
3. Led TV on a wall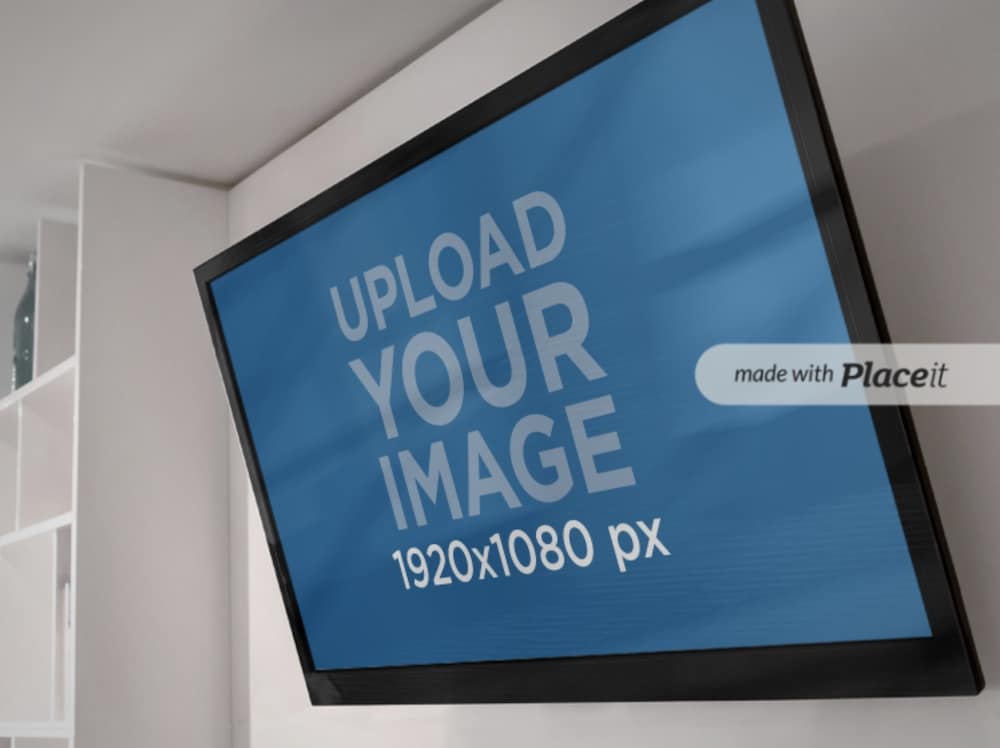 Games, cartoons, TV shows, advertisements, whatever, this flexible television mockup can create a life-like demonstration for whatever your heart desires.
The generator is so easy to use because you don't need software. Yup, you do all the work online, upload your artwork directly from your devices and that's it.
Note: You can even create a mockup using your smartphone.
THE. BEST.
MORE INFO / DOWNLOAD
4. Smart TV mockup featuring a couple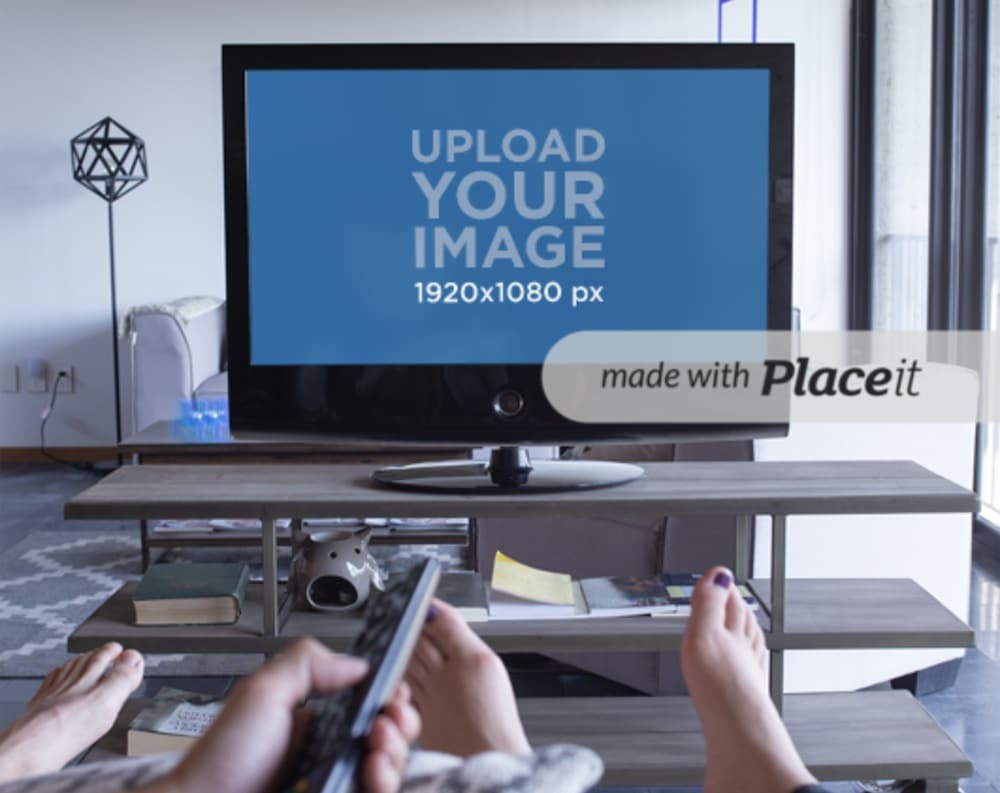 It turned out that all the TV mockups that include the human element performed the BEST during my tests.
But I like to do a ton of variations first to see what works best. And this is another excellent template that will get you moving in the right direction effort-free.
Even if it's just a new TV program logo you'd like to showcase, this one does an excellent job.
MORE INFO / DOWNLOAD
5. Angled TV with custom background mockup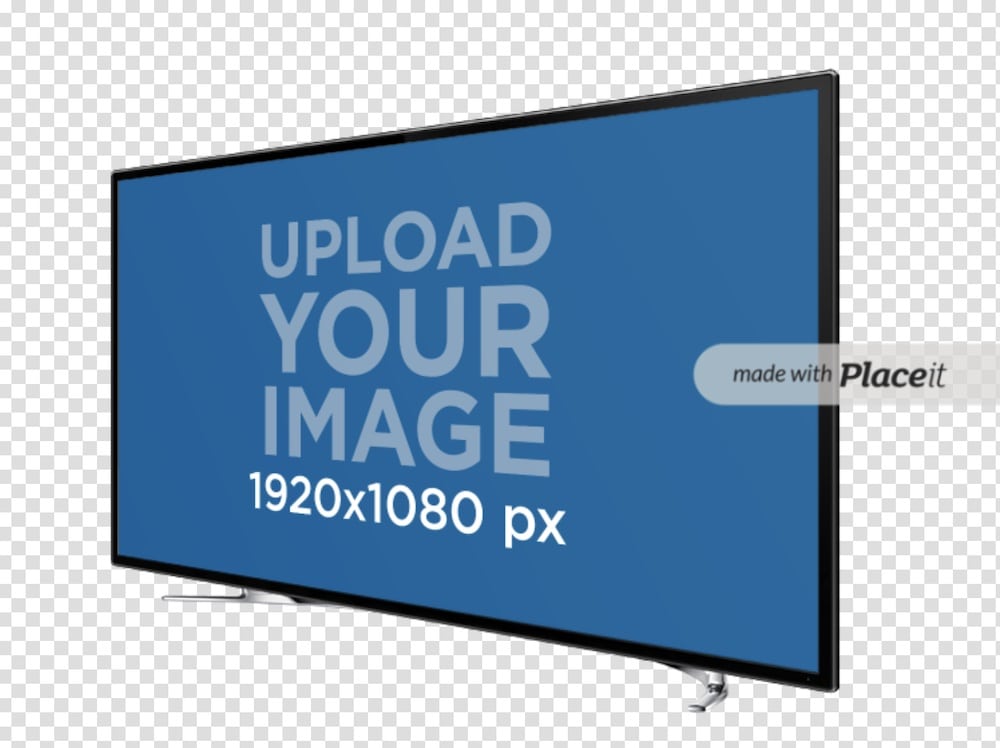 Do you need a minimalist and HIGHLY customizable TV mockup generator?
This one is the best I could find, even after talking to a few of my web design friends. (Thanks, Jon, Rebecca & Petra!)
Insert an image, add text and customize the background however you want.
You're in total control, so use it to your benefit.
MORE INFO / DOWNLOAD
6. Smart TV mockup in a small living room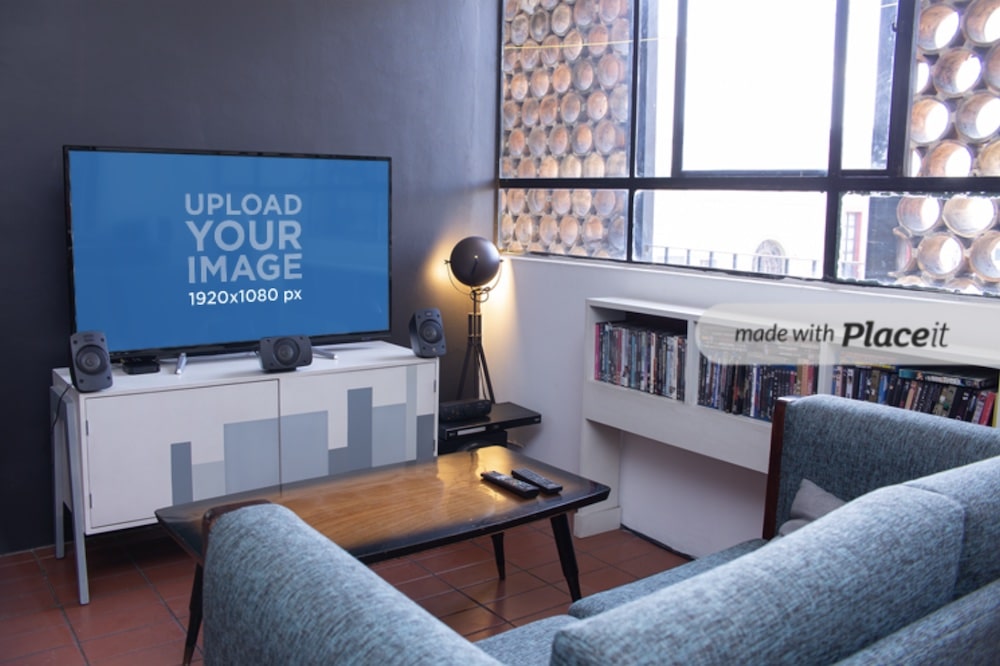 This one almost feels like you're part of the room.
SO. Cozy. SO. Chill.
When designing a life-like showcase for a client's new show this one came in very handy.
But you can use it for anything else! This is just an example of real-time usage.
Enjoy!
MORE INFO / DOWNLOAD
7. Smart TV on a wooden wall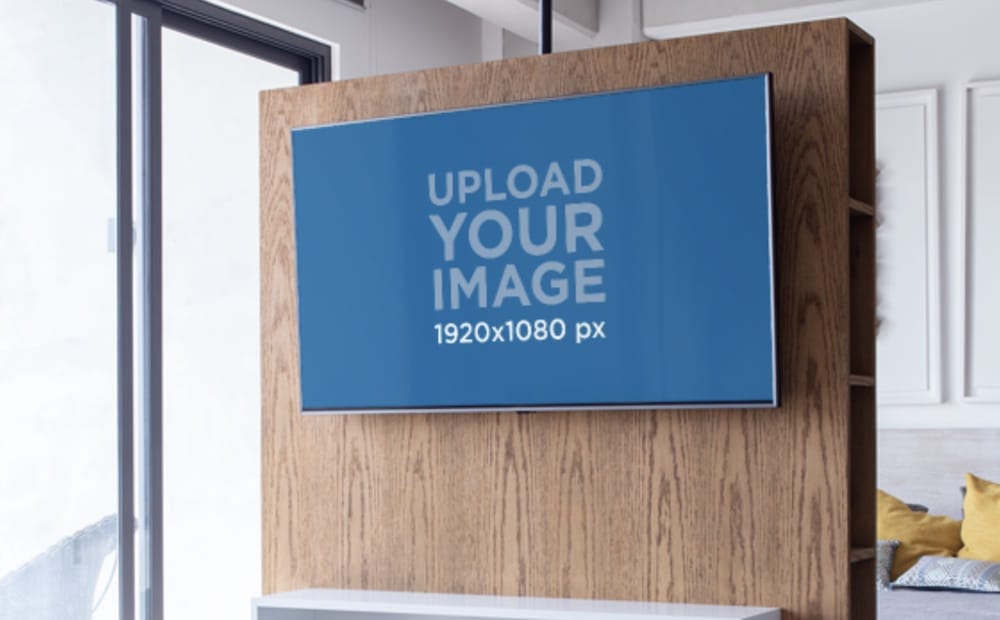 A studio apartment with a TV mounted on the wooden wall calls for a top-class outcome that will WOW everyone.
Trust me, your client will have no idea how you created the beautiful showcase. (Psst, they don't need to know.)
The modification of the generator is very straightforward. One button is to insert your design and the second is to add (optional) text.
That's. IT!
MORE INFO / DOWNLOAD
Best TV Screen PSD Mockups
8. 4K (ultra HD) TV mockup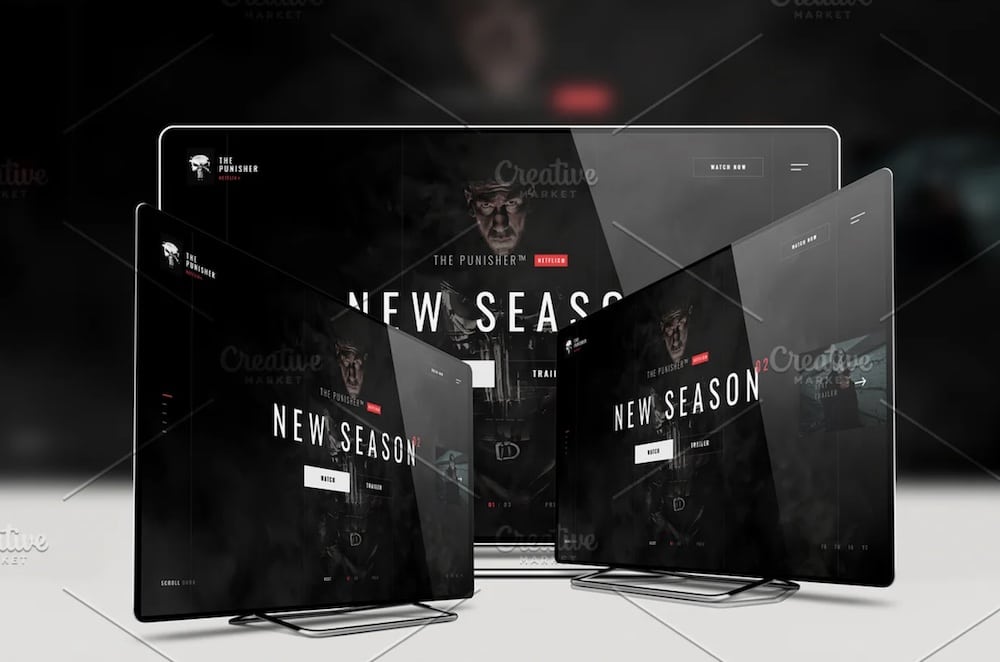 Showcase your creative work with this three-angled TV mockup that comes at 4000 x 3500px. Yes, achieving the BEST quality is a piece of cake.
The three designs cover the front, left and right angles, giving you more options for presentation.
And you get to slide in your design instantly via the smart object layer.
Aaand, you're done!
Price: $10
MORE INFO / DOWNLOAD
9. Smart television mockup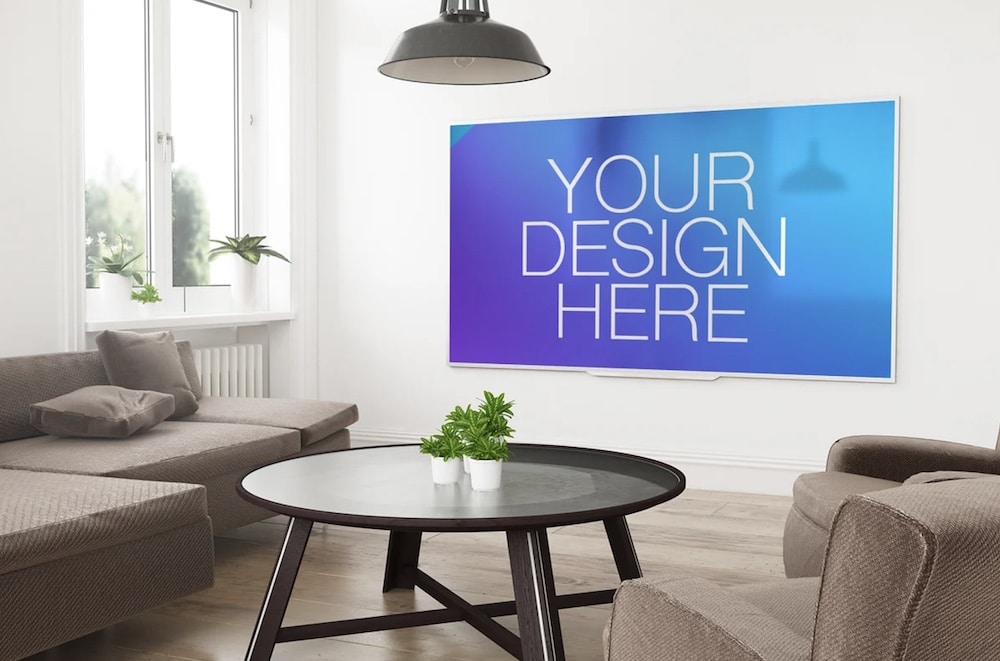 An extremely HIGH-RES (6000 x 3998px) layered PSD file of a smart television is ready-made for you to make magic.
You can, with a few clicks – which is the best part of all mockups!
Here's how it goes: Replace the current design with yours. How easy and quick was that?
Price: $9
MORE INFO / DOWNLOAD
10. Real-life TV display mockup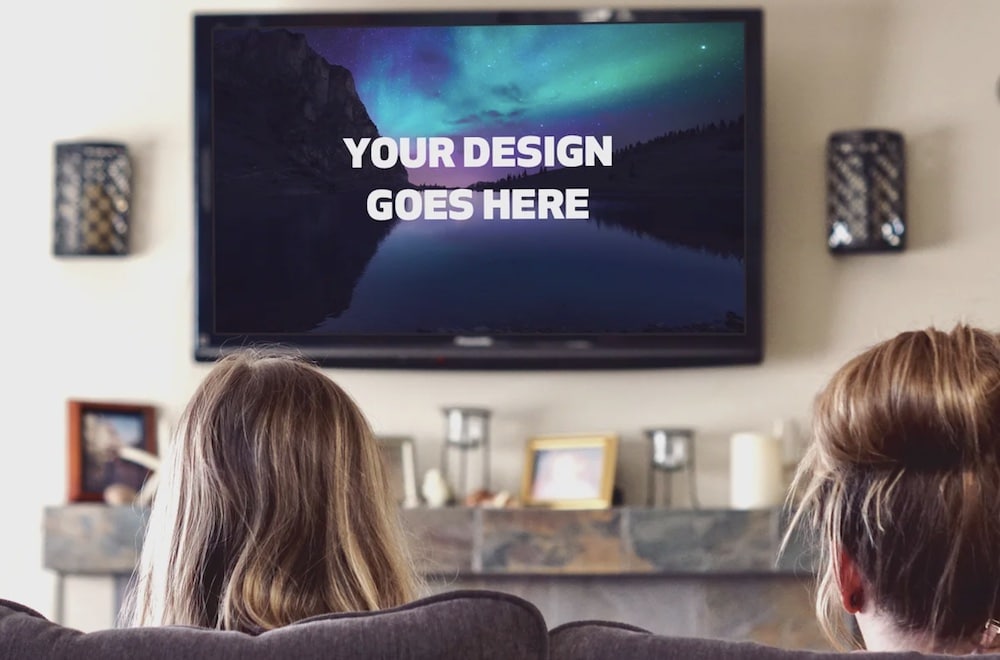 Yes, I have even more people watching TV mockups for you.
Why did I add so many? You know why – because they work!
Not only is the quality amazing and the appearance an actual image of a real surrounding, but improving the default configurations is also effortless.
Add the design you want and the mockup will DO THE REST automatically.
Price: $9
MORE INFO / DOWNLOAD
11. Realistic television mockup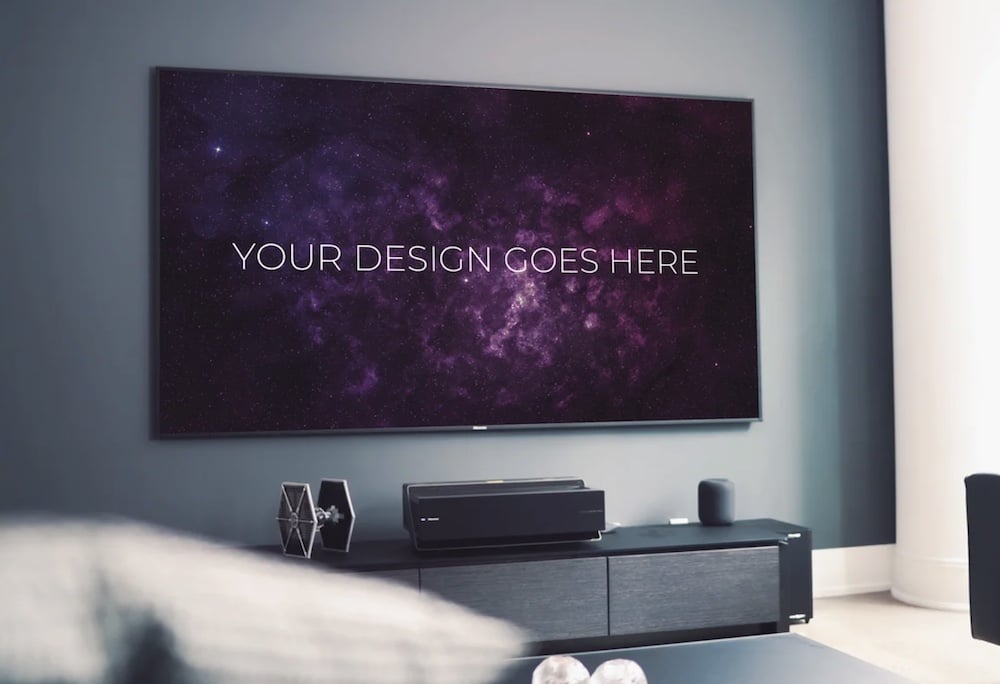 Create a realistic impression that will grab everyone's attention with a TV mockup that's MORE REAL than you think.
This one works for any online posting, in newsletters, you name it! Or just as a design showcase to inspire your client.
Laura is also very friendly and quickly answered a couple of my questions.
Price: $9
MORE INFO / DOWNLOAD
12. TV gaming mockup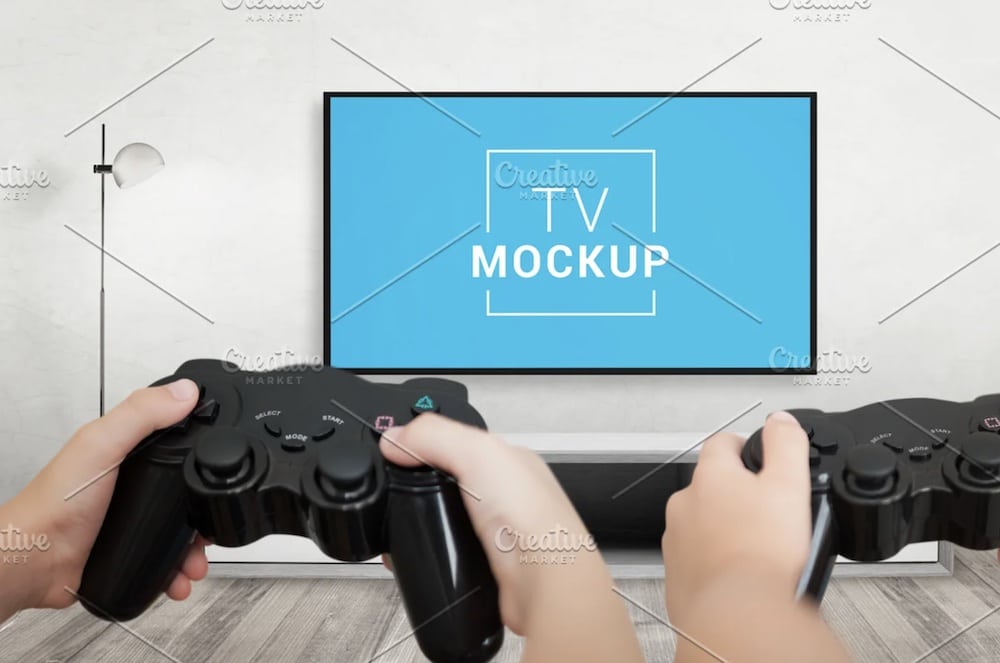 TV and gaming go together very well. WE ALL KNOW THAT!
And if you need to create a gaming-related realistic design presentation, don't miss this one.
It's a versatile solution that you can apply to many projects, whether for a new video game design, a screenshot – whatever!
Price: $9
MORE INFO / DOWNLOAD
13. Man watching TV mockup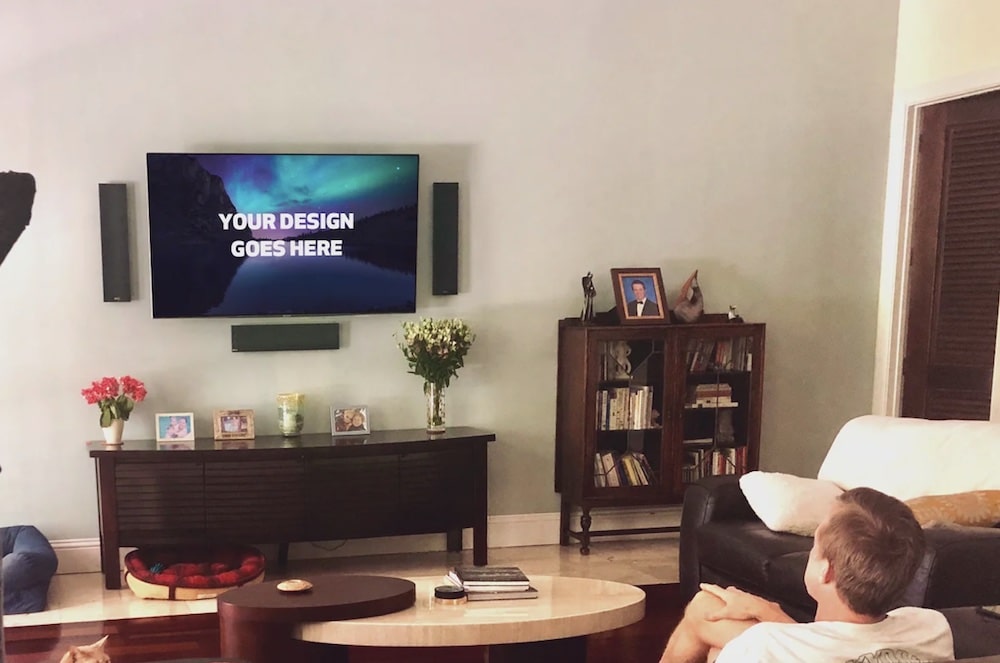 I'm NOT sure what we'd do without the amazing smart object layer. It saves us so much time when making mockups, even as complete beginners.
This one also comes with cool photo filters to spice things up, so there's really very little work that you need to do.
BEST.
Note: When working on a television advertisement design, I popped it into this one, cropped it slightly and everyone was happy.
Price: $9
MORE INFO / DOWNLOAD
14. Kids watching TV mockup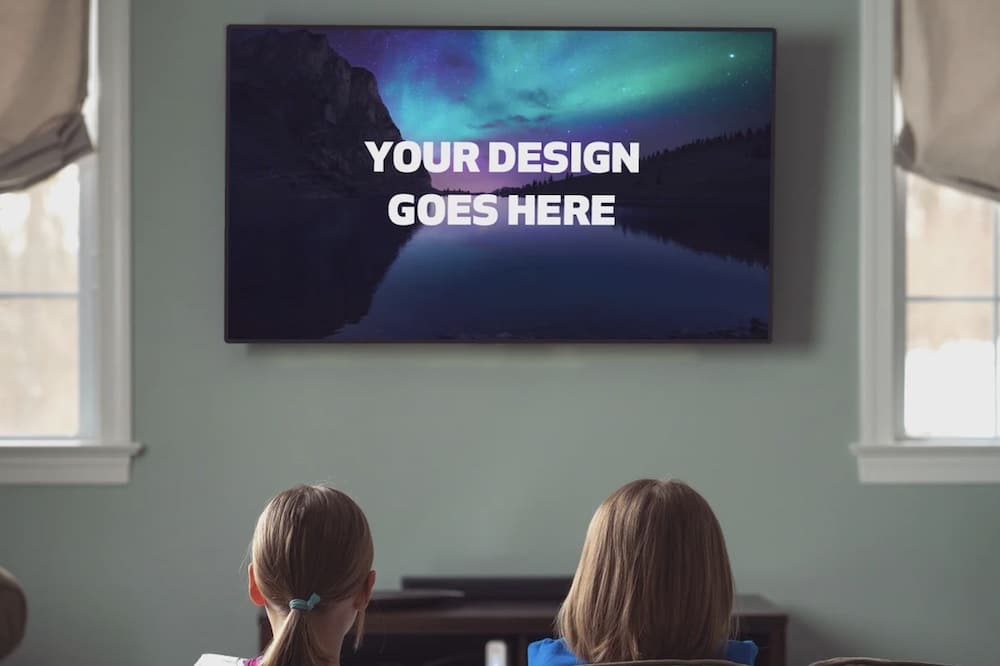 Similar to the above one, just that it's kids watching television mockup this time.
This one is more specific, as it works only with anything children-related. Even though cartoons may work the best, your imagination can go way BEYOND that.
Make something unique and you'll trigger kids' and parents' attention easily.
Try it and see how fantastic your artwork will look!
Price: $9
MORE INFO / DOWNLOAD
15. Old TV mockup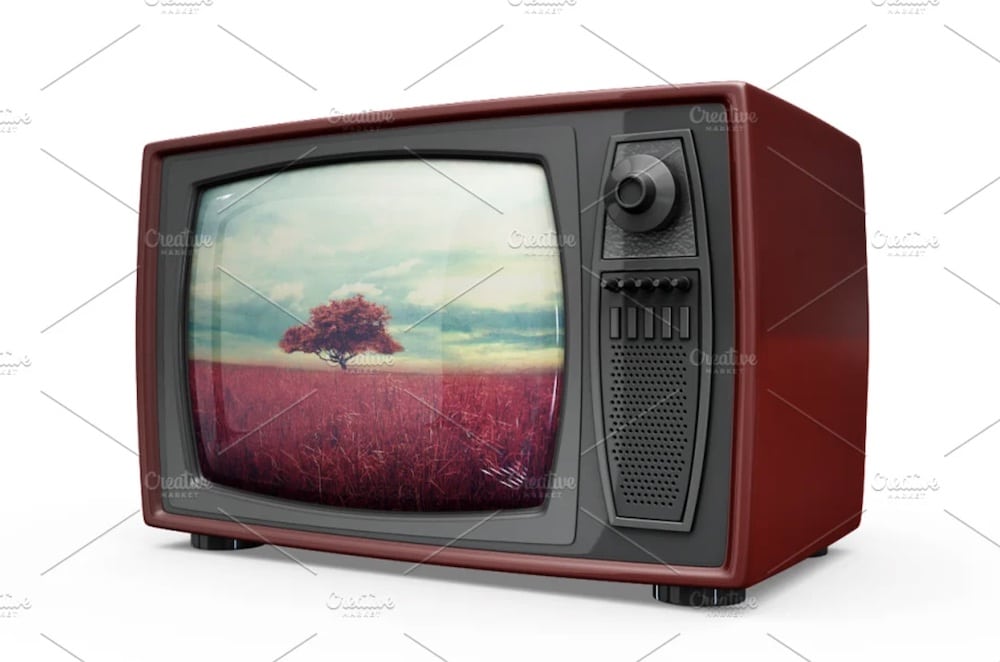 I almost didn't want to include this old TV mockup but after seeing the high demand I just had to do it.
And this is the best performer I could find. It comes in multiple views, each featuring a large size of 4500 x 3000px.
What's also cool is that you can change the television's color, adjust light and shadows, and enjoy up to three reflections.
You probably won't use this one to advertise Apple products, but hey, WHY NOT?!
Boom.
Price: $12
MORE INFO / DOWNLOAD
Best Free TV PSD Mockups
Yes. Yes. YES! Here you go legends, free stuff.
16. Free Apple TV PSD mockup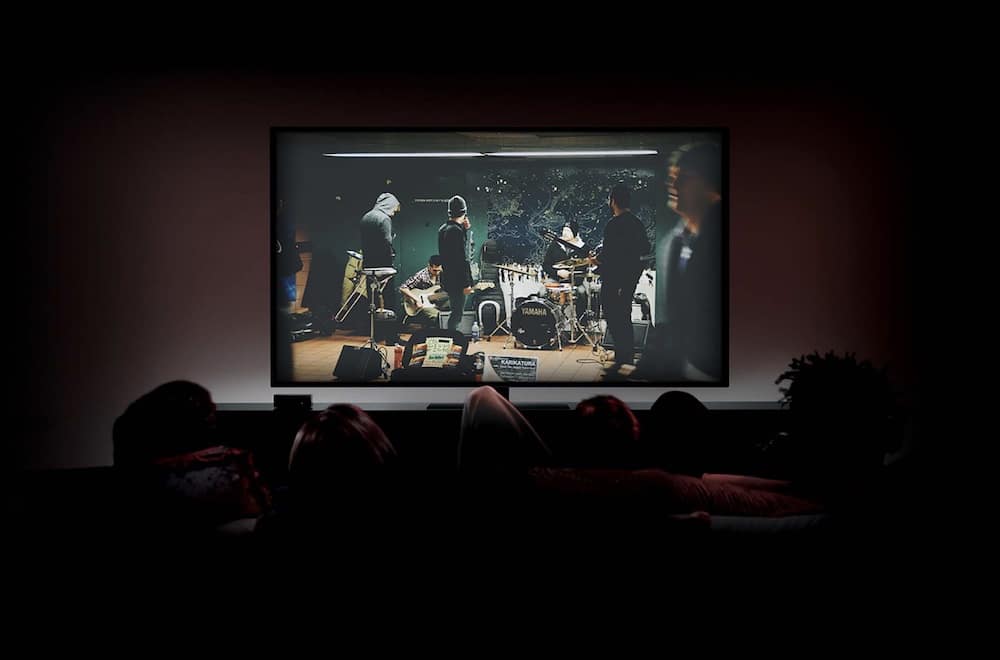 If you're searching for an Apple TV mockup in a realistic setting, I COULDN'T find a better one after testing 7+.
I really dig its dark feel, that perfectly demonstrates a movie night. But it doesn't have to be a movie design that you'll add to it.
But I did go with a horror artwork, just because of the added spookiness.
MORE INFO / DOWNLOAD
17. Free flat TV mockup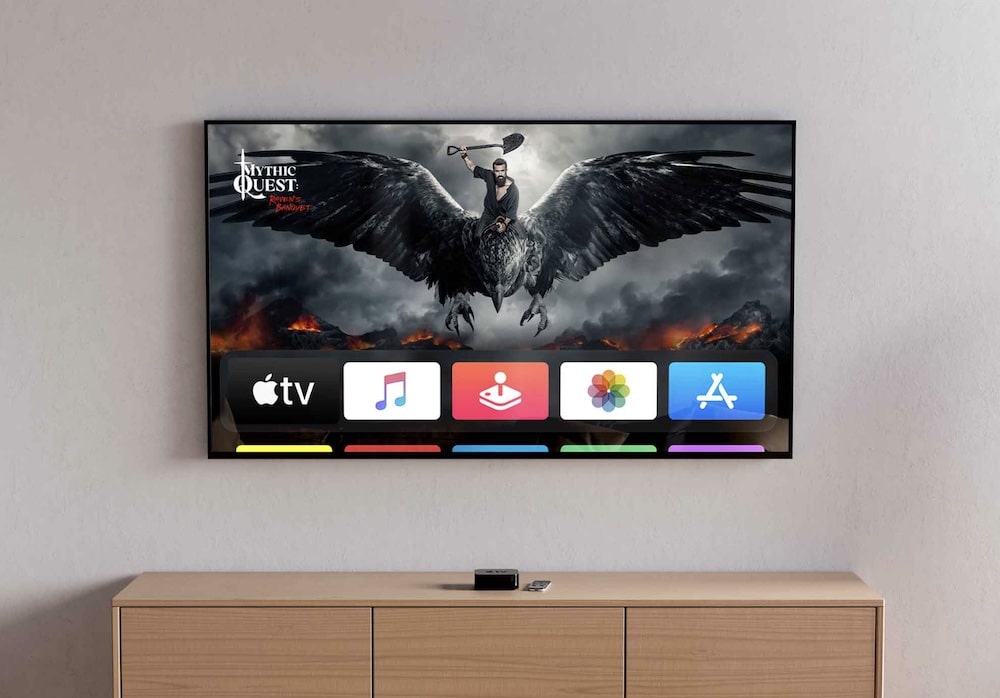 This EXCELLENT free television mockup features a whopping 5000 x 3750px dimension that looks very premium.
You are welcome to use it for commercial and personal projects but don't forget to link back to the official page.
You can add any branding design to the PSD template and enjoy its crisp-clear appearance (even in zoom!).
MORE INFO / DOWNLOAD
18. Free perspective TV mockup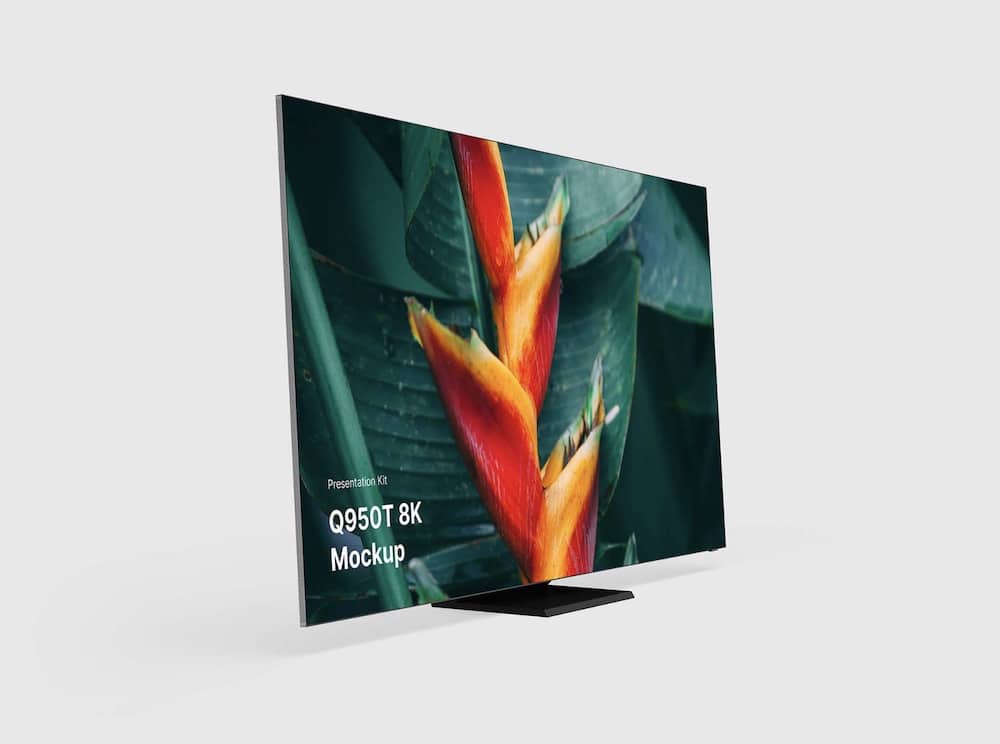 If simplicity is still what you prefer or your project requires it then there's no better free TV mockup than this one.
The perspective style of the template guarantees to add EXTRA shine to your design.
You get a clay version of the television with a fully layered structure that makes editing and improving it a little breeze.
Add designs, wallpapers, logos, anything, and personalize the presentation to the last detail.
MORE INFO / DOWNLOAD
19. Free realistic TV mockup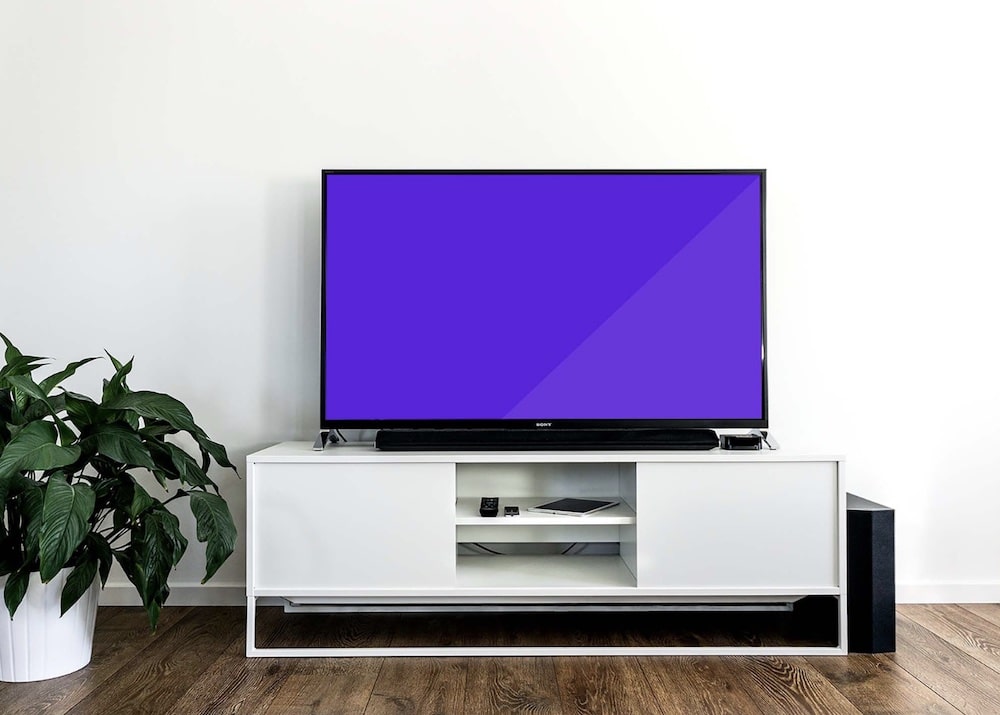 And we're back to the real-life experience with a TV PSD mockup that takes seconds to use and adjust to your needs.
I don't have anything else to say other than that working with this one was a PLEASURE, and I know I'll test it some more in the future.
MORE INFO / DOWNLOAD
20. TV screen mockup in a restaurant free PSD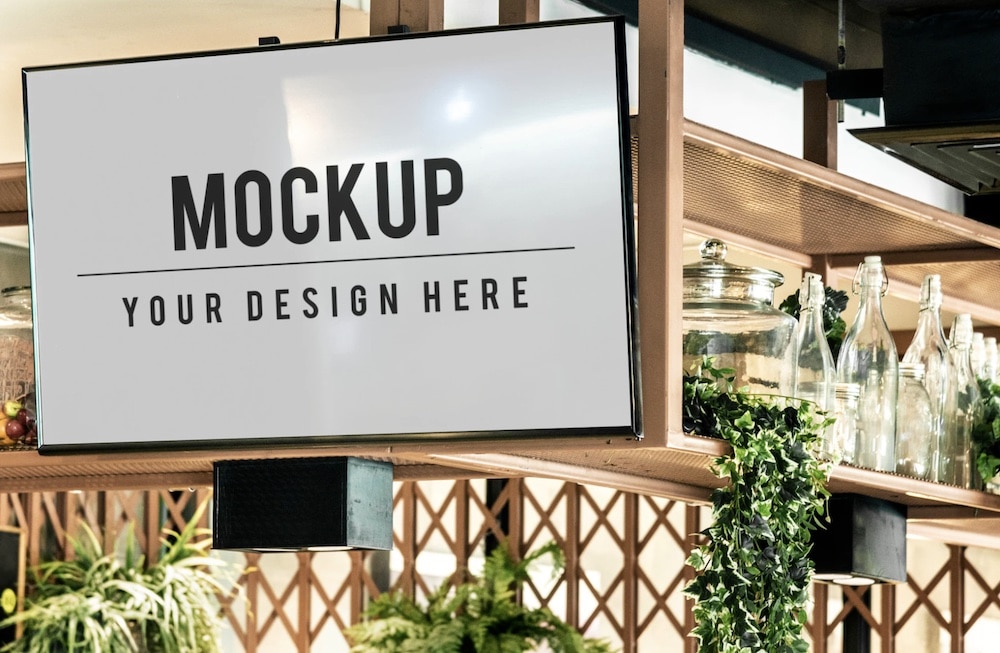 We see many restaurants or other public spaces use a TV screen to show their special offering, play TV shows or whatever else they have going on.
You can now achieve an excellent atmosphere with a free PSD template that supports commercial and personal projects.
Your only task is to attach your design, which is the easiest process for beginners and pros. GO!
MORE INFO / DOWNLOAD
How To Create A TV Mockup?
Do you need the fastest way to create a realistic TV presentation with your custom design on the screen?
One of my favorite ways is to use a mockup generator because you can do all the work online without using photo-editing software.
I particularly like Placeit, which I used for 100s of projects, and I know I'll use it for 100s more.
Here. We. Go.
Easy Steps To Make A TV Mockup:
Step 1: Visit Placeit, where you will find MANY excellent templates that you can first test free of charge. (I still recommend creating a free account first if you'd like your workflow to run smoother.)
Step 2: When you find your preferred template, click on it and then navigate to "insert image." This allows you to import your design from any device (yes, including a smartphone).
Step 3: A window will open, where you can reposition your design and zoom in/out it. You can see all the changes in the live preview at the bottom right corner. Click "crop" once satisfied.
Step 4: This is the finalizing step that allows you to change the color and the background, create a text overlay and stick a (custom) graphic. You can play with the functions as much as you want.
Step 5: The only thing left to do is to click "download" and enjoy your creation.
While this is the easiest method, using a PSD file is also very fast and beginner-friendly.
Open Photoshop and import the mockup you dig. Double-click on the smart object layer and slide in your design.
You can now access other layers and adjust the look however you want. (I ensured to include only the PSDs with the best layered structure.)
Save. Download. BOOM.
::
Note: This article was originally published on May 18, 2022. But our team regularly reviews it and updates it with necessary improvements for accuracy.