We tested and reviewed 93 gardening and landscaping website templates to create this ultimate collection for your (or your clients') thriving business.
It took us five months.
How We Chose The Best Landscaping Templates
Our selection is based on these factors (which GUARANTEE you exceptional results):
Great flexibility & customization options
100% responsive, cross-browser compatible
Services (& projects) showcase
Blog (content marketing)
Out-of-the-box operation
(Functional) Contact form
But there's a whole lot more goodies that you get!
Note: Since we couldn't find TOO MANY truly promising HTML templates, we also added WordPress and free alternatives.
Something. For. Everyone.
Now!
Is the right time to take your gardening and landscaping business to the next level.
With a KILLER website.
Best Gardening & Landscaping Website Templates & Themes
1. Pruners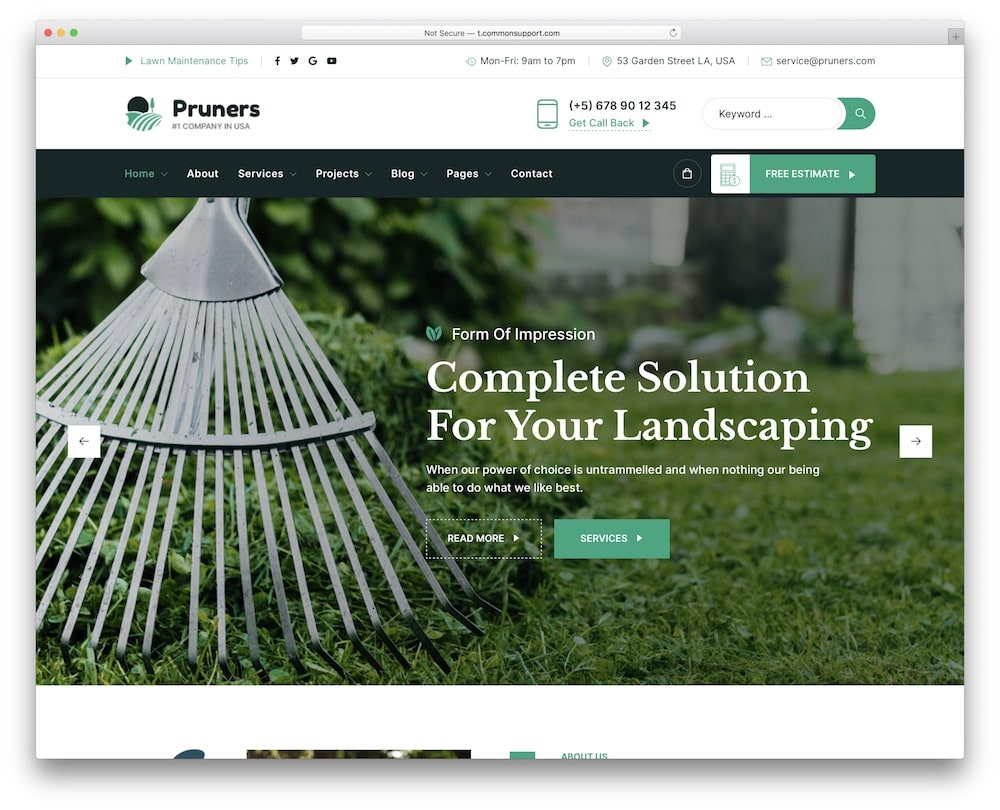 The versatility of Pruners goes over and beyond, ensuring you get the most out of it with ease.
Even though this tool does require coding abilities, you will still witness great success with it.
Along with landscaping, ALL SORTS of businesses can utilize this template, too, like florists, gardeners, lawn services and the like.
You can enjoy a quick-start to something novel with two homes, two headers and two footers.
But this is still just the beginning of all the fun that Pruners unlocks for you.
Pruners features:
Slider Revolution for beautiful slideshows
A total of 20+ HTML files
Professional support & documentation
Price: $17 (may vary)
MORE INFO / DOWNLOAD
DEMO
2. LandCo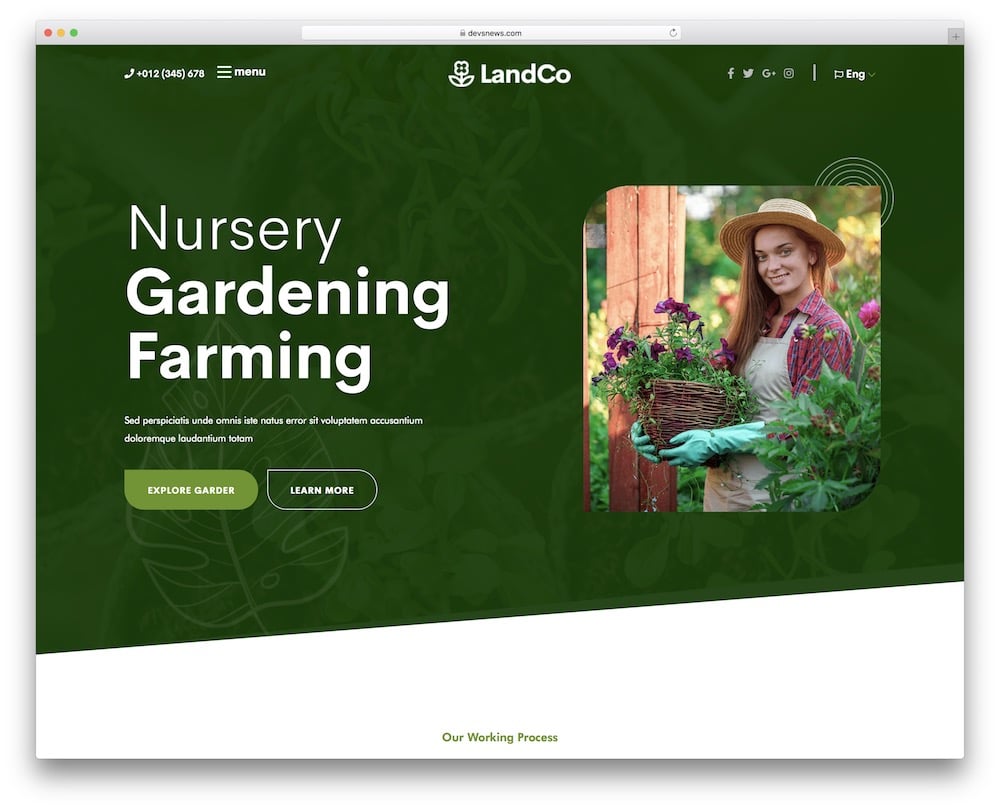 LandCo is a magnificent landscaping website template that offers you all the necessary and then some to start online as fast as possible.
You can save time and energy with a predefined site canvas instead of doing all the heavy lifting yourself.
LandCo is an EXCELLENT alternative, thanks to its beautiful design and heaps of practical features and functions.
The tool uses only the latest technologies for the best website performance.
But there are many other specialties that will do you well.
LandCo features:
Mobile & desktop compatible
Multiple internal layouts
Sticky navigation bar
Price: $16 (may vary)
MORE INFO / DOWNLOAD
DEMO
3. Planteo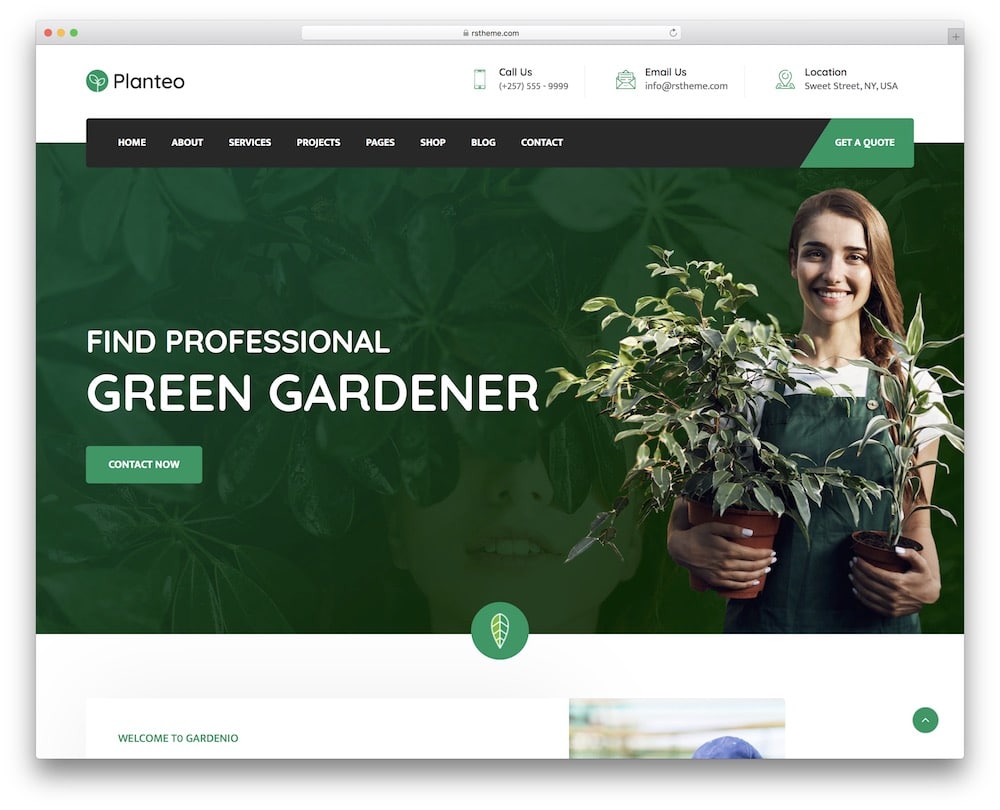 Planteo is the website template for everything gardening and landscaping-related.
Keep in mind, Planteo rocks a whopping eighty and counting page layouts.
With this in mind, you will find all the necessary material to create your dream business site.
Needless to say, if you would like to tweak Planteo, you can do that, too, at free will.
But if it works for you out of the box, well, you just saved yourself even more time.
Planteo is based on Bootstrap 4, so you know the layout is entirely FLUID.
Planteo features:
Fully functional contact form
8 gorgeous front page designs
Animations & hover effects
Testimonials & blog module
Price: $12 (may vary)
MORE INFO / DOWNLOAD
DEMO
4. Garden.io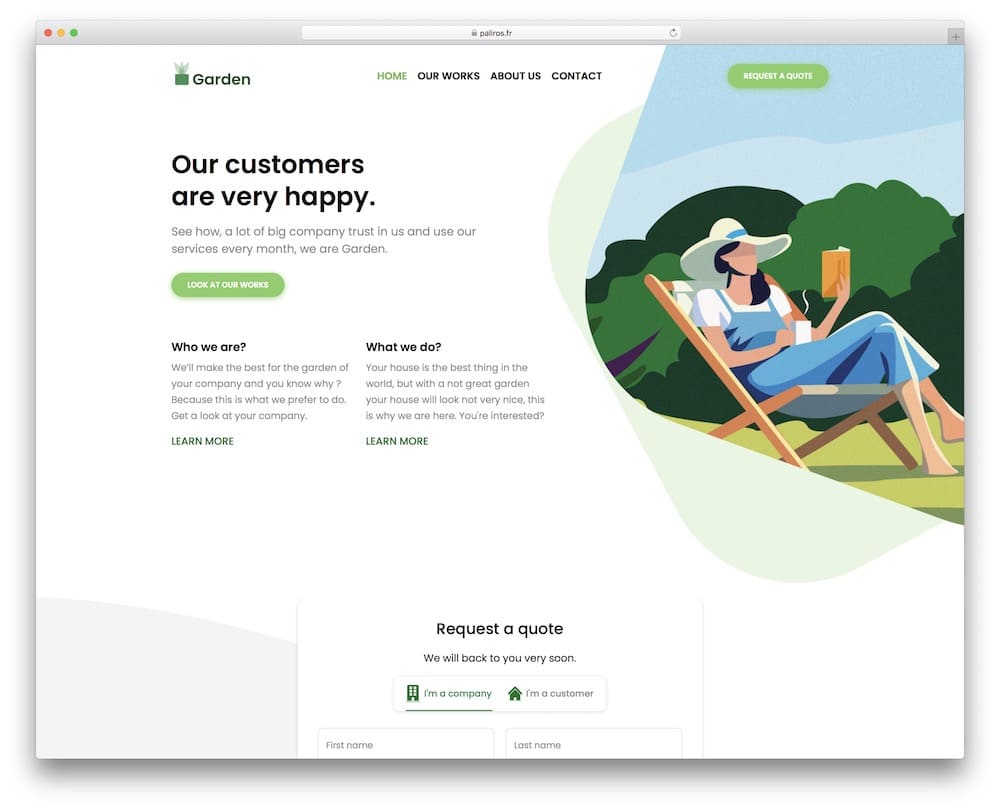 Garden.io is a trendy solution that will present your business and service on the internet in the best possible light.
Why complicate things if you can pick a landscaping website template and make an immediate difference?
You can swiftly achieve excellent results with Garden.io, especially if you use the default settings.
But you do not need to feel limited when working with Garden.io.
This page skin rocks all the TRENDS and REGULATIONS a modern template should have.
That said, you need not focus on the technicalities, as that's what Garden.io takes care of already.
Garden.io features:
Lightweight & fast loading
Contact form & request a quote
Internal page layouts
Author can add custom features
Price: $24 (may vary)
MORE INFO / DOWNLOAD
DEMO
5. Lawnella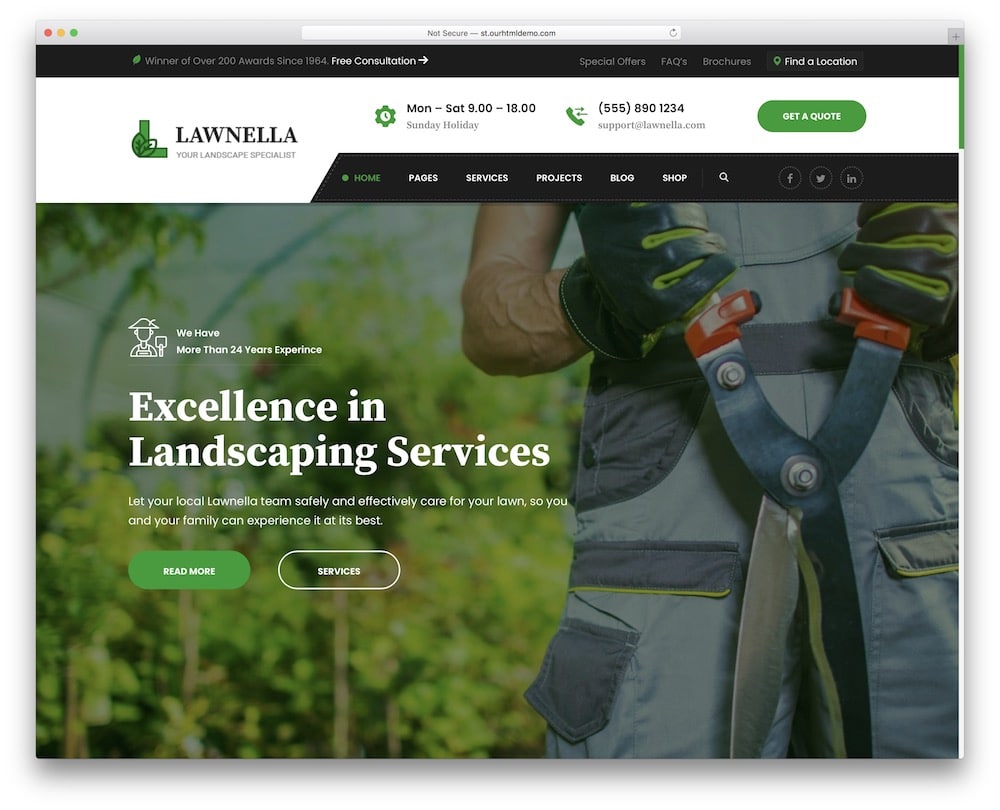 Lawnella – hence the name – fits a lawn services business more than ideal. Still, it will work just fine for landscaping and gardening firms.
It just shows that Lawnella is very adaptable, even when working with its predefined material.
Speaking of which, there are four demos at your disposal, as well as all the other necessary internal pages.
A ton of content, so you know you will find ALL THE MATERIAL to create a website that will meet your heart's content.
But if you like creating things from scratch, feel free to introduce your touch to Lawnella and make it yours.
Lawnella features:
4 striking front page designs
Slideshow & parallax effect
Floating navigation
Price: $17 (may vary)
MORE INFO / DOWNLOAD
DEMO
6. Lawnella (WordPress)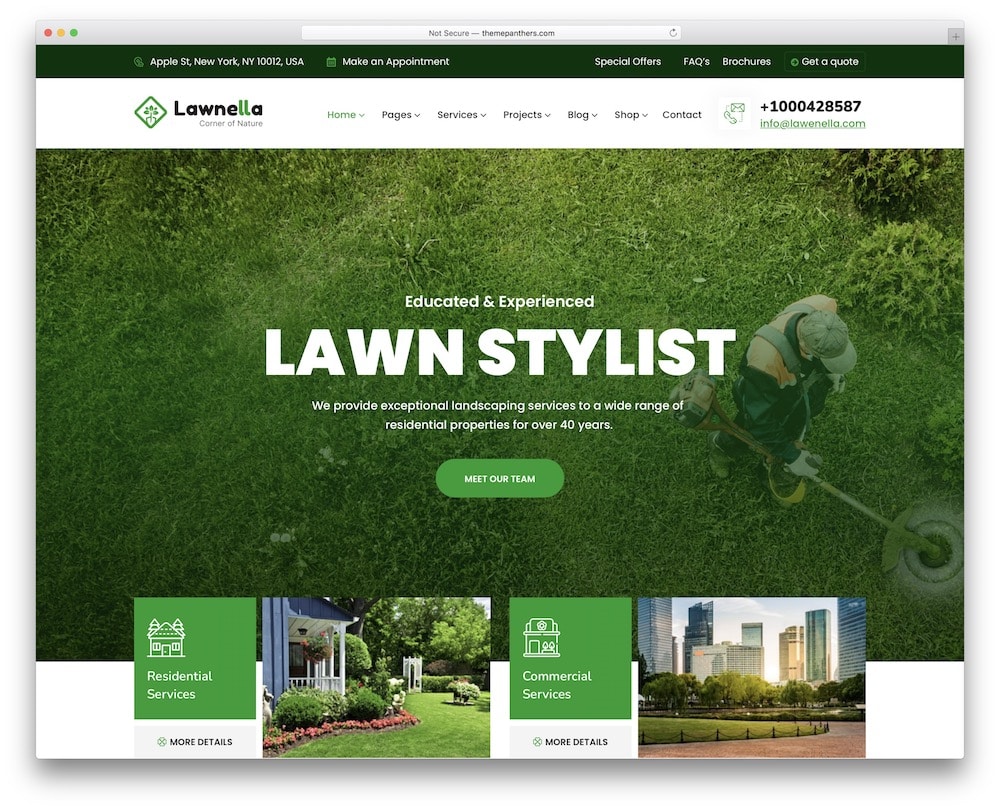 This is the WordPress edition of the Lawnella template if you would like to save even more time and energy.
The tool is full of amazing material to enjoy a kick-start to something novel.
You can immediately create a landscaping business website with all the ready-to-use page layouts and heaps of features and functions.
In this instance, you also DO NOT NEED to know how to code, as Lawnella comes with the practical drag and drop page builder.
If you are ready to make an instantaneous difference, you are ready for all the perks that make Lawnella exceptional.
Lawnella features:
MORE INFO / DOWNLOAD
DEMO
7. Cogarden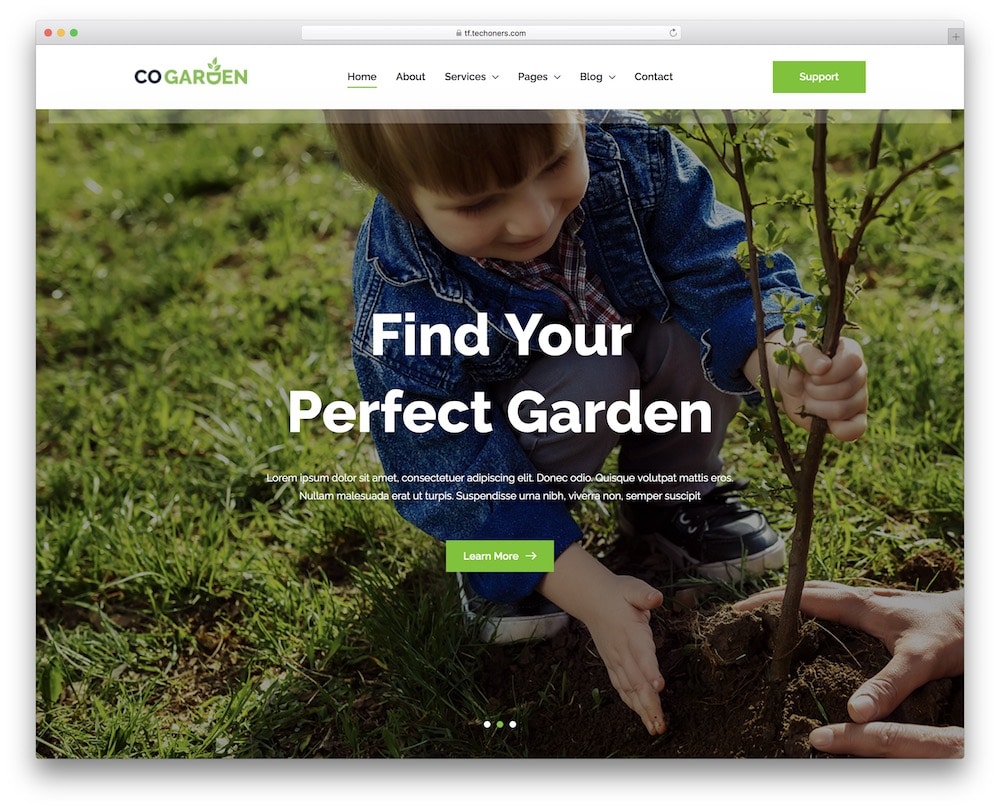 Whether you work on your business website or your client's, help yourself out with a MODERN landscaping website template.
Cogarden will get you moving in the right direction right from the get-go.
The bundle of features equips you with many goodies for a top-notch final product. Who does not like to make things how he or she likes, right?
With that in mind, if you would like to brand and personalize Cogarden, you can also do that. Customizations are entirely possible.
You will experience great things even when using the default look.
Cogarden features:
User-firendly HTML files
PHP/Ajax form
Catchy effects & animations
Trigger everyone's attention with slider
Price: $17 (may vary)
MORE INFO / DOWNLOAD
DEMO
8. Greenry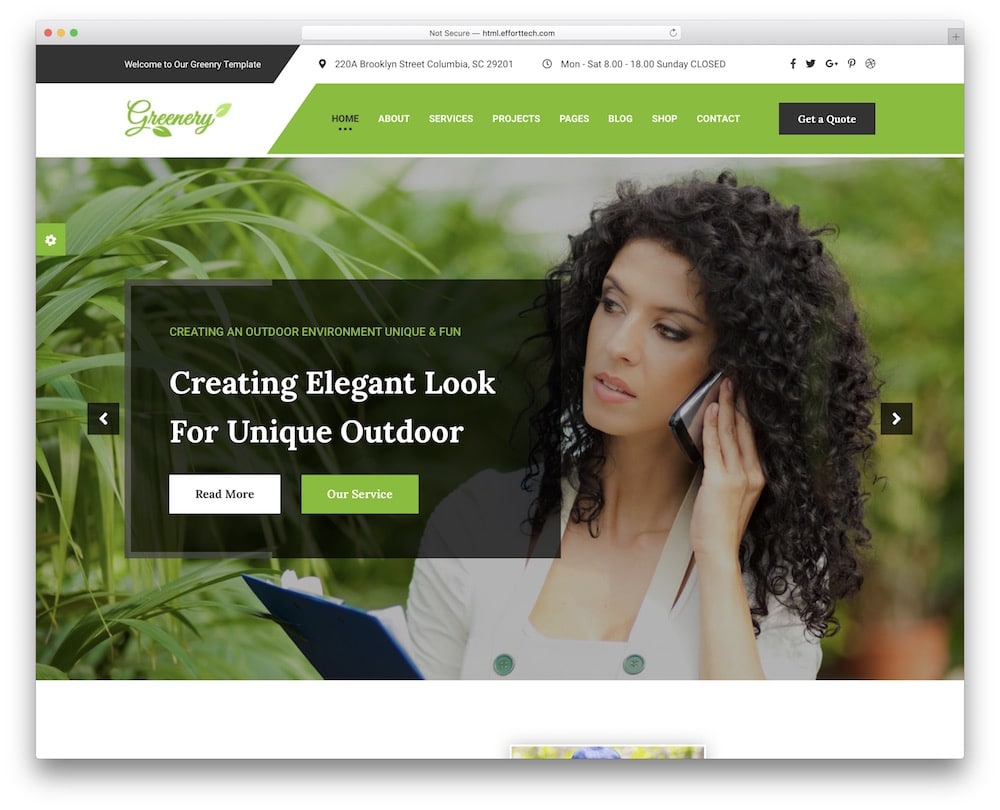 Greenry is an HTML landscaping website template for starting to make some noise online speedily.
You don't need to build anything from the ground up with its page layouts and many other amenities.
Before you fully commit to using Greenry, make sure you visit the live demo preview first.
This will allow you to understand the fantastic potential that Greenry has.
In other words, it will help you RAISE your potential with a winning website that will turn heads.
Still, you do need to have involvement with programming to activate Greenry and put it live online.
Greenry features:
Bootstap Framework
Google Maps & contact form
CSS animations & transitions
Well-commented files
Price: $12 (may vary)
MORE INFO / DOWNLOAD
DEMO
9. Agrotek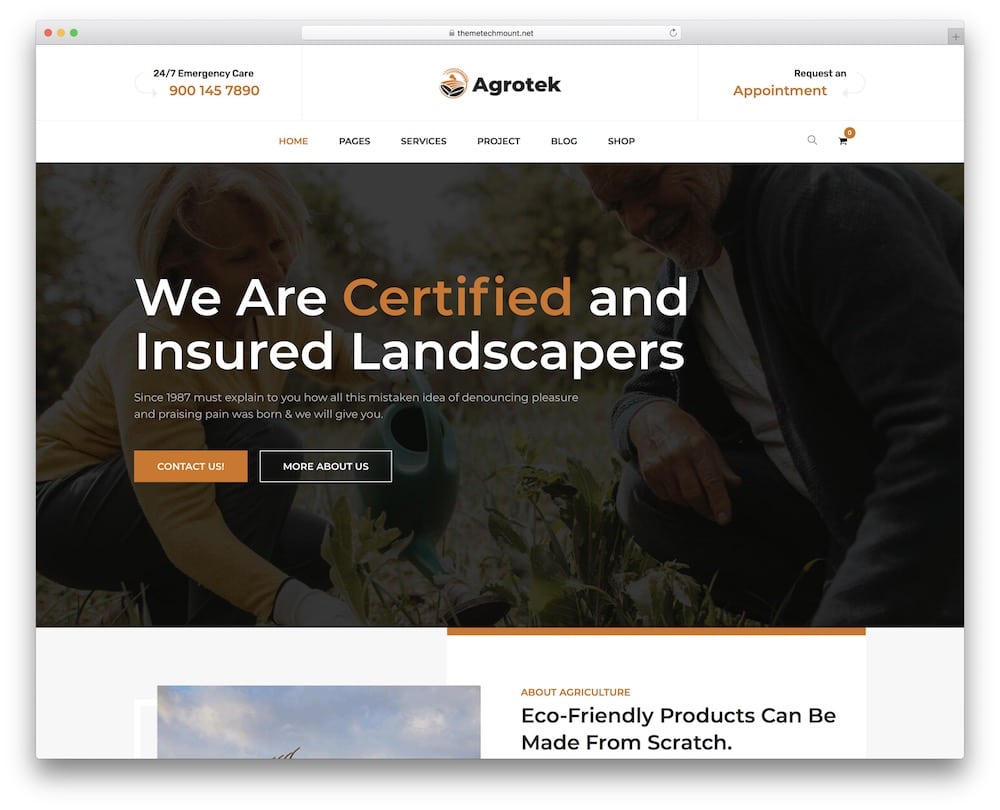 Agrotek is one of those tools that work for numerous different intentions.
You can dive into the business you specialize in with ease, thanks to the three entirely different samples/concepts.
Agrotek covers agriculture, dairy farm and gardening, to name a few.
But with a few tweaks, you can easily tailor this website template to something else.
It is important to note that there is no need to limit yourself in any way – Agrotek is down for ANY CHALLENGE.
You can also create a modern shop section and push any type of product and produce.
Agrotek features:
3 home demos & 30+ inner pages
Slick Slider
Blog for content marketing
One- & multi-page structure
Price: $35 (may vary)
MORE INFO / DOWNLOAD
DEMO
10. Trifles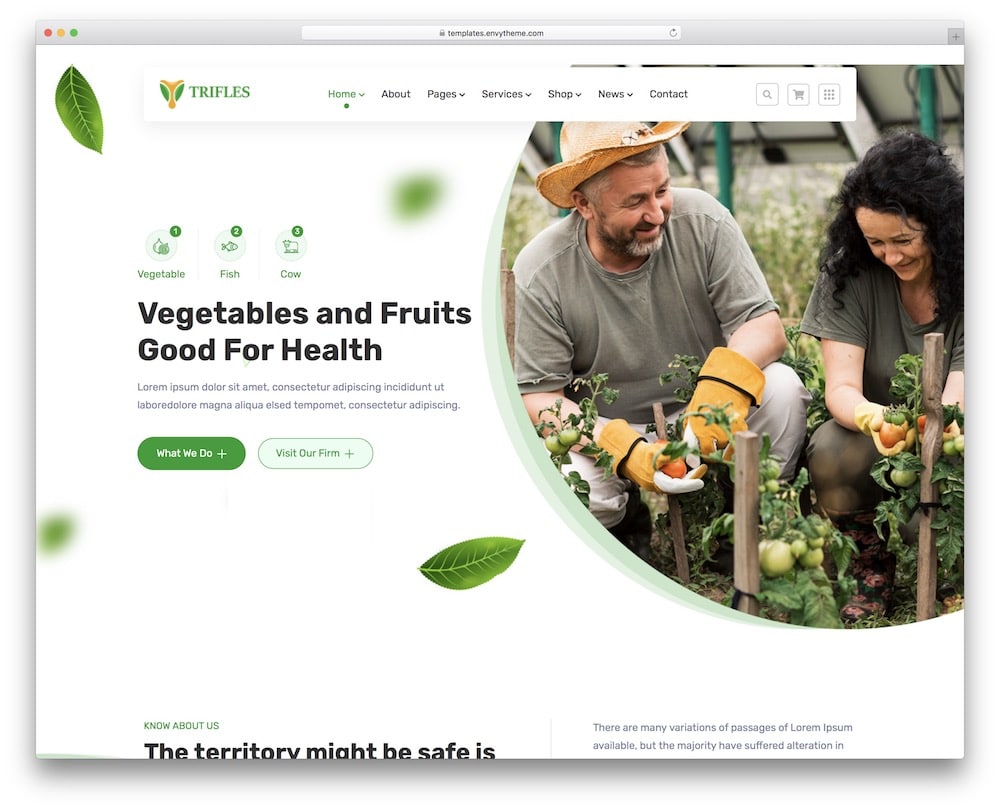 For an eco-friendly website, Trifles is the way to go.
This website template is for MANY different PROJECTS and intentions, but you can also alter it for your landscaping business.
Do not hold back and go entirely against the grain if you want. And this applies to every landscaping website template you find on this list.
They are all capable of many things, guaranteeing you a splendid final product that will help bring in more trade.
Trifles is no different, and you can get the gist of it by following the demo link below.
Trifles features:
Fully RTL compatible
Works on mobile devices
Font Awesome & Flaticon
MailChimp subscription
Price: $24 (may vary)
MORE INFO / DOWNLOAD
DEMO
11. Botanical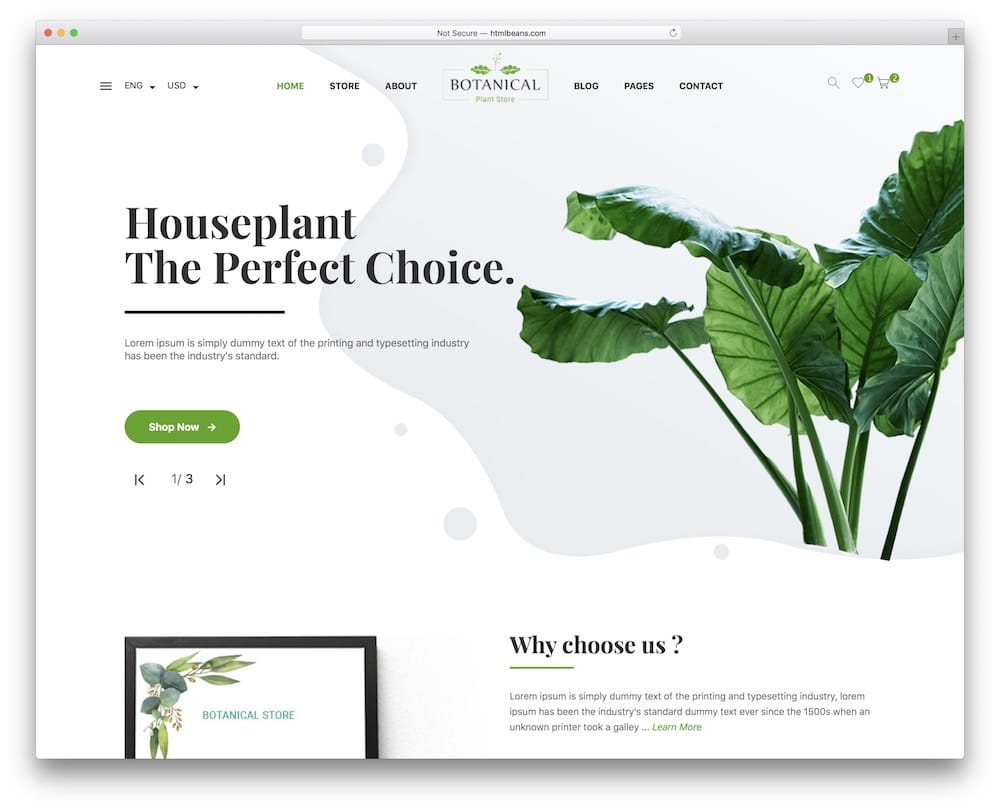 Botanical is the neat website template that will do you well if you are looking to create an eCommerce website in the space.
With its very clean and minimal layout, all the products and other content come into view beautifully with Botanical.
There are a total of eight pages at your disposal with three home samples to choose from.
You get many great traits to put into action and turn into a functional outcome for a SMALL INVESTMENT.
Start an online business without the idea of kicking it off from scratch.
Botanical features:
Optimized for fast loading
Multi-currency & language support
Slider
Newsletter subscription widget
Price: $17 (may vary)
MORE INFO / DOWNLOAD
DEMO
12. GardenZone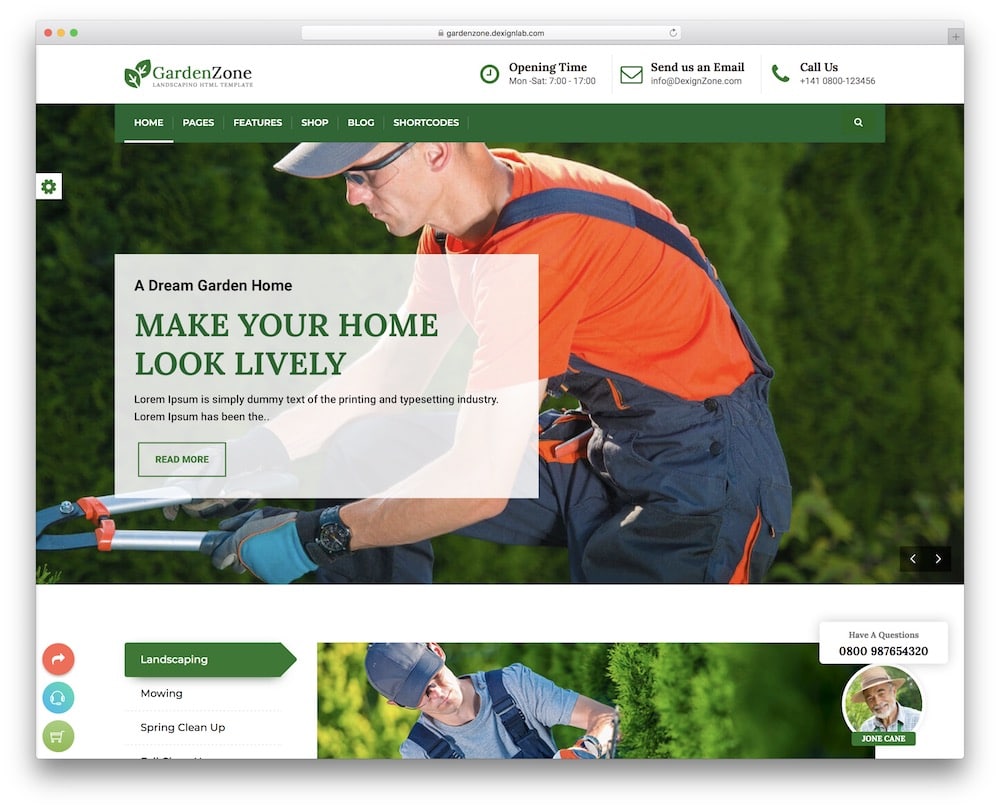 GardenZone is a landscaping website template with a whopping collection of four homes and ninety total HTML pages.
However, this is still not it.
GardenZone provides all these additional features and functions to mix and match.
Of course, the layout of GardenZone is mobile-friendly, cross-browser compatible and retina-ready.
GardenZone ensures great loading speed, too, and follows other modern internet standards.
MAKE A CHANGE with GardenZone and enjoy the positive result.
GardenZone features:
Appointment form
8 testimonial styles
Brand logo slider
Social media buttons
Price: $17 (may vary)
MORE INFO / DOWNLOAD
DEMO
13. Plaza garden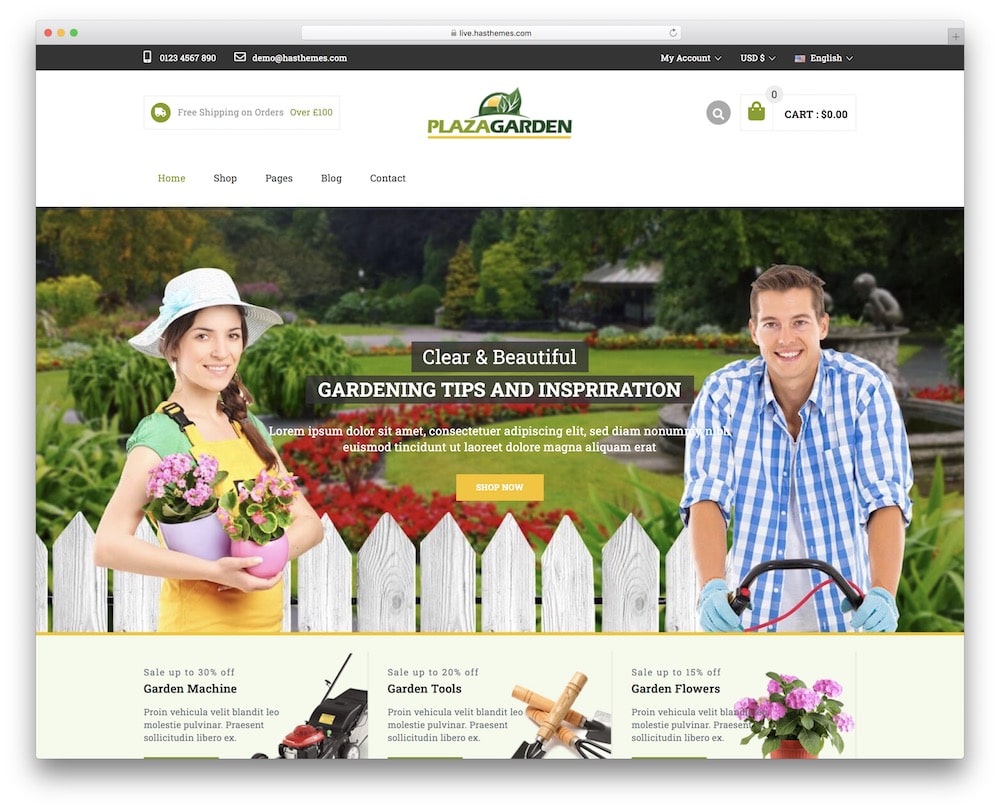 When speaking of a landscaping business, you do not always need to offer services; you can also sell products.
If the latter appeals to you, Plaza garden is the website template that does magic.
First and foremost, you will find all the needed page layouts that you require, from home to internal.
Along with the pages, Plaza garden treats you to other features and elements as well.
It is a modern site skin that practices only the latest technologies.
BOOM.
Plaza garden features:
Mix & match home & internal samples
Slider
Google Maps
Contact form & newsletter
Price: $17 (may vary)
MORE INFO / DOWNLOAD
DEMO
14. PLUME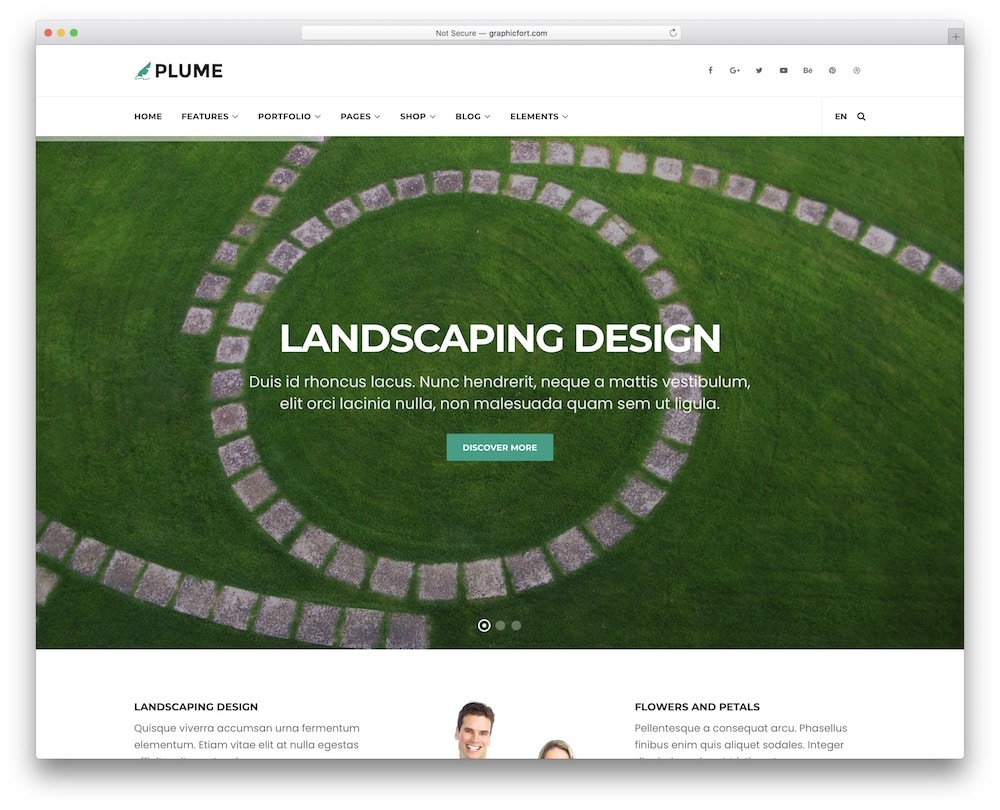 PLUME is a massive website template with a multi-purpose approach.
That said, you get a collection of fifty demos, three hundred HTML5 pages and four hundred UI elements.
Yes, you will find the required material to take to your advantage no matter the business you operate or plan to start.
For landscaping, PLUME comes with a dedicated sample that places you right on track.
You get a collection of ENDLESS features and functions for your business-driven website for a reasonable price.
Make things the way you want and create a positive impact.
PLUME features:
Great navigability with mega menu
40 shortcodes
Wow animations
Social media feeds
Price: $11 (may vary)
MORE INFO / DOWNLOAD
DEMO
15. Lawncare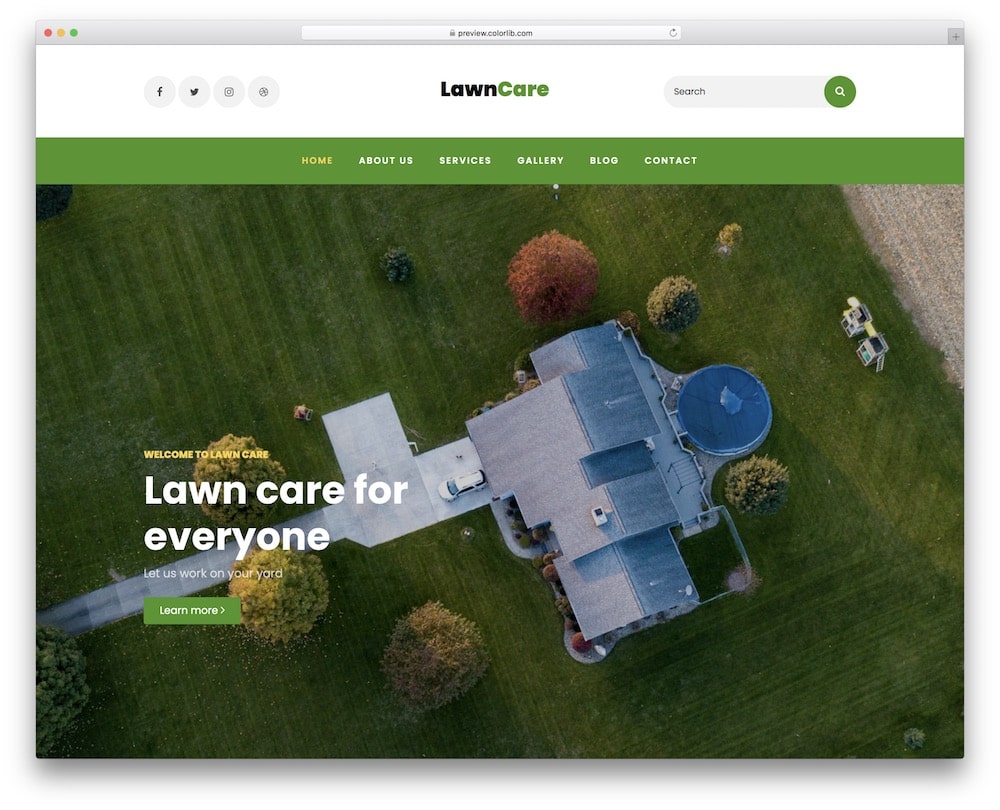 You will quickly realize that Lawncare has many features, making it a pretty solid competitor.
The design is outstanding, so everyone enjoys browsing through your content, whether on a mobile or on a desktop device.
It even comes with several predefined page layouts, video support, social icons and on scroll content loading.
Even though a free alternative, your creation will still be PROFESSIONAL and SPECTACULAR.
There you have it, begin working on your project fast and confidently.
Lawncare features:
Parallax effect
Client testimonials
Functional contact form
Price: $19 (may vary)
MORE INFO / DOWNLOAD
DEMO
::
Note: This article was originally published on October 28, 2020. But our team regularly reviews it and updates it with necessary improvements for accuracy.