We dealt with academy website templates many times over the course of our web development and design careers.
Hence we bring you the best-in-class academic and educational template solutions based on our testing and quality assurance. (3+ years in the making).
All these site canvases are PROVEN and VALIDATED.
They work for general academy websites and sports, dance, online, football, language, and more.
What To Look For In An Academy Website Template
All feature core characteristics that make them safe and sound:
Regular updates
Expert support
Responsiveness (great mobile use!)
User-friendly (organized) code
Academy-exclusive pages & elements
This review equips you with everything you need to start a SUCCESSFUL education website.
Make an impact!
Note: If you don't feel like coding, our ultimate academic WordPress themes will do the trick.
Best Academy Website HTML Templates
1. Vibez (WordPress)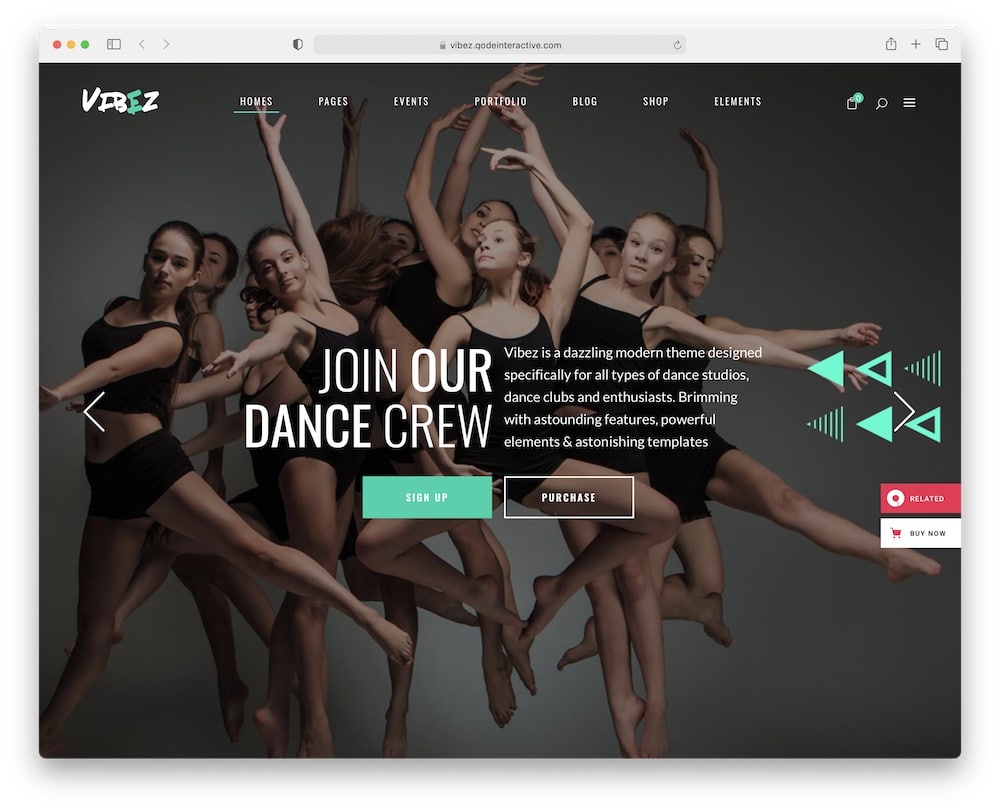 Vibez is an exclusive dance academy website template that works for WordPress.
With that in mind, it's a complete solution for your website that you can execute without coding knowledge.
Unlike an HTML template, Vibez creates a newbie-friendly environment that requires only some clicking to make it happen.
Hurray for the WP website builder!
Even if you want to include SPECIAL functions on your website, 0 coding is necessary. But really, Vibez comes with everything included.
You get stuff like events calendar, timetable, home demos, portfolio layout and an online shop section.
Vibez is a BIG DEAL.
Vibez features:
1,300+ sales
4.6+ star rating
Making moves since 2017
Professional support
Price: $85
MORE INFO / DOWNLOAD
DEMO
2. Academics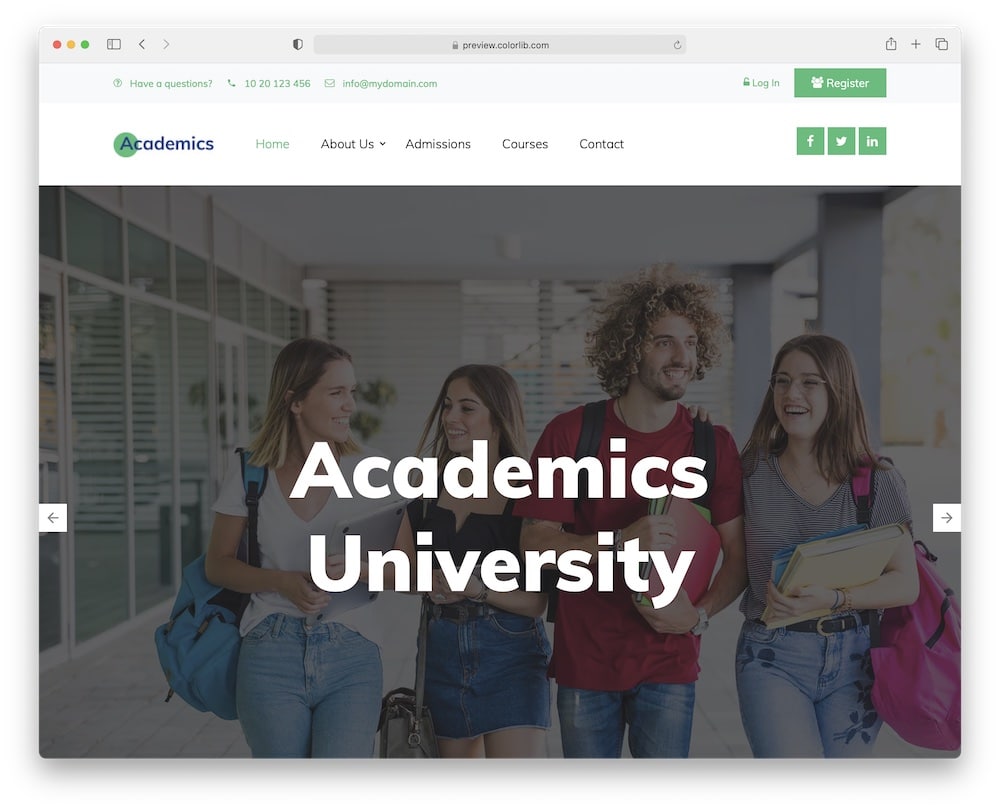 Academics is at the top of the list because it's our favorite.
We like the SIMPLICITY of the design, which creates a pleasant atmosphere for the user.
This template works great across different screen sizes with its Bootstrap-based structure.
Academics also uses only modern technologies to follow the trends and make it easy to use.
You need basic coding skills only to work successfully with Academics, even though an HTML template.
What's also important to mention is that Academics works for various academic ventures.
Academics features:
MORE INFO / DOWNLOAD
DEMO
3. Academia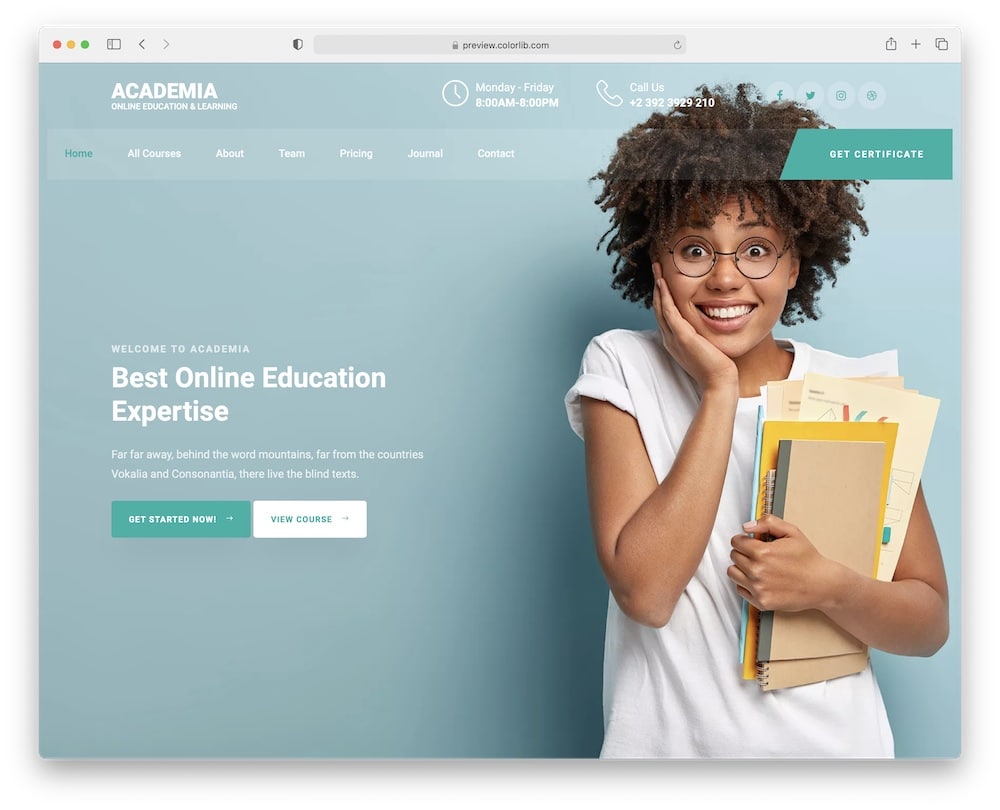 Academia is another of our client-favorite. Why? Every website we built around this template received a lot of POSITIVE feedback.
It's more than obvious that we want to share it with you. So if it worked for us, there's a good chance it will work for you.
But you can experience Academia's amazingness first-hand by visiting the live demo preview.
Modern and minimal are the two core characteristics of Academia.
It also has many practical features that you can quickly mix and match, improve if necessary and that's it.
Your academy website is ready!
Academia features:
On scroll content loading
Hover effects
Student feedback/reviews
MORE INFO / DOWNLOAD
DEMO
4. Edusmart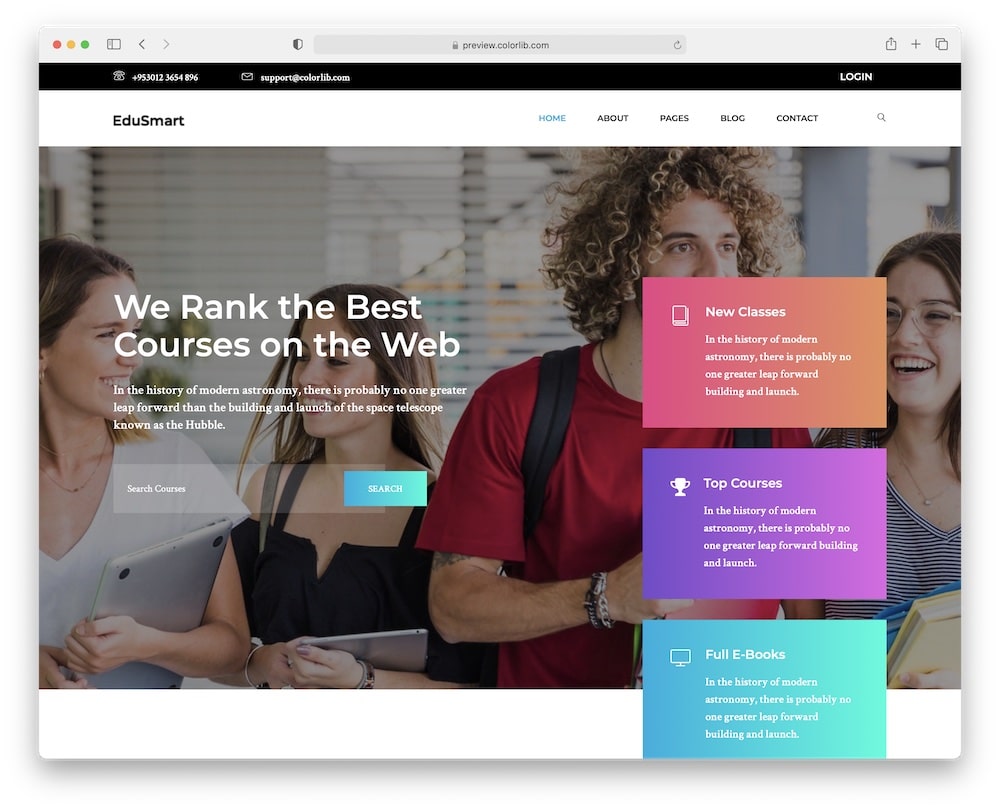 Edusmart is a powerful academy website template based on Bootstrap and HTML.
You can make remarkable things happen with essential coding knowledge.
The template did all the heavy lifting for you.
Focus on refining touches, perform customization tweaks and brand Edusmart according to your needs.
You can use Edusmart as an online academy or even go against the grain and make a sports academy website out of it.
The options and possibilities are ENDLESS. Edusmart is here to help you make an immediate difference.
Which you will!
Edusmart features:
Top bar (for additional info)
Hover effects
Countdown timer for registrations
Blog module (content marketing)
MORE INFO / DOWNLOAD
DEMO
5. Courses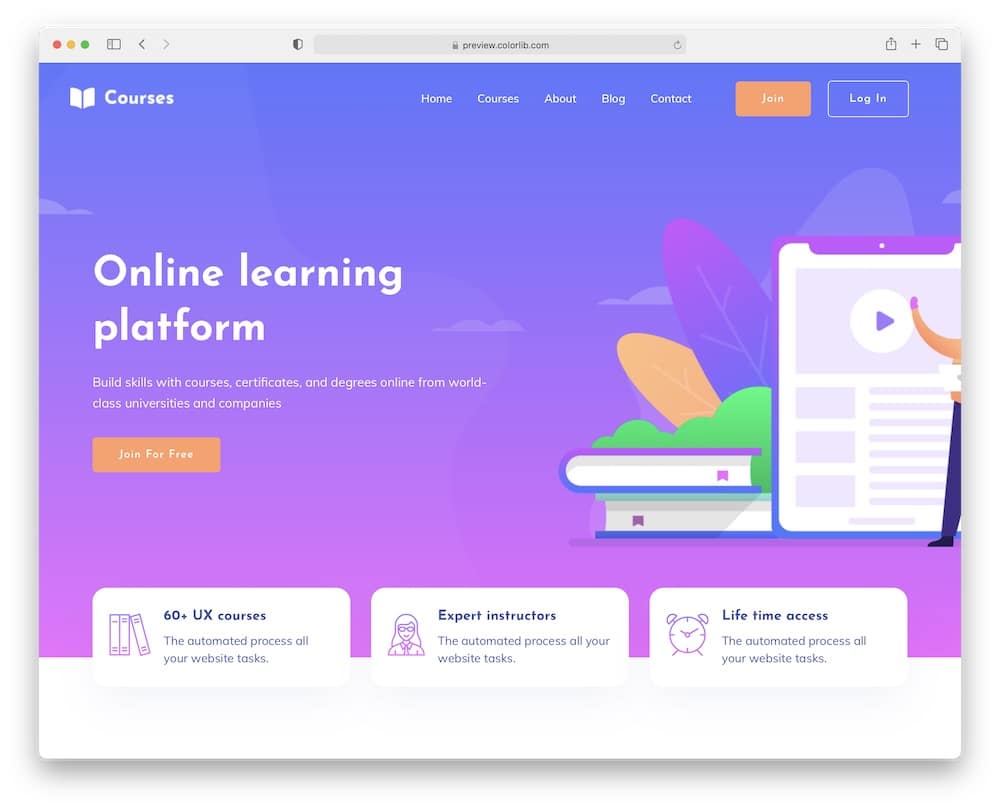 There's ALMOST no need to go into detail when speaking of Courses. We used it several times to create an online academy for one local and one foreign client.
Everyone loved it.
We liked using the template for building websites and our clients and their students enjoyed using the final educational platforms.
By default, Courses has bright colors and a mobile-first design that operates well across different devices.
However, you are welcome to perform configurations.
The code structure is very user-friendly and perfect for everyone.
Courses features:
Home & internal page layouts
Back to top button
Gradient color effect
Video support
MORE INFO / DOWNLOAD
DEMO
6. Edusite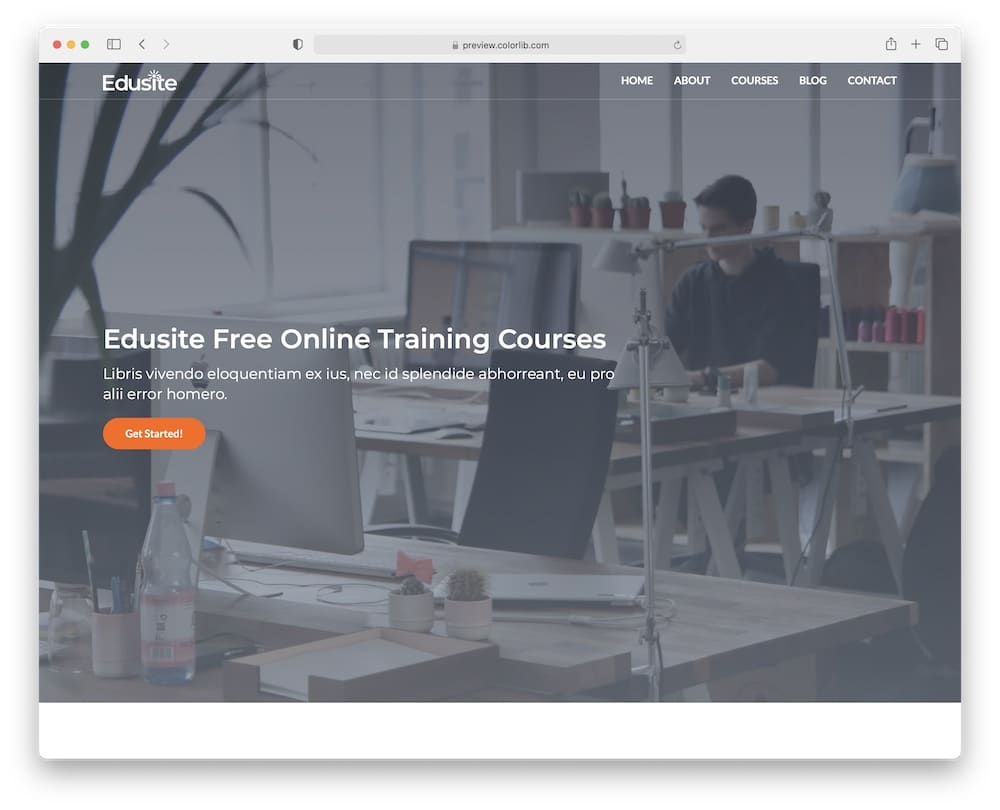 We recommend using Edusite if you are looking for something more basic.
This academy template comes as a pack of great features to kick-start your educational project.
Edusite saves you additional time, as you don't have to make many adjustments design-wise due to the simple looks.
We used it AS-IS! Included the necessary content and detail and had a website done super fast!
Things happen fast when you have the right tool(s) at hand.
The author also treats you to professional support if you have questions or need assistance.
Enjoy.
Edusite features:
Background image w/ text & CTA
Functional contact form
Coded with mobile users in mind
Con: no drop-down menu by default
MORE INFO / DOWNLOAD
DEMO
7. Oneschool

We had several occasions when a client requested a one-page website. Luckily, we came across Oneschool, a single-page academy website template.
Not only did we put it through our quality check, but we actually used it; thus, sharing it with you makes absolute sense.
Instead of letting the potential students jump from page to page to learn about your educational offerings, they ONLY need to scroll.
What is also cool about Oneschool is the floating navigation. It's always available and marks your section with an underline.
You can't go wrong with Oneschool!
Oneschool features:
Exclusive one-page layout
Sticky navigation (w/ underline marker)
Lead capture form above the fold
Engaging scrolling experience
Con: misses maps for physical locations
MORE INFO / DOWNLOAD
DEMO
Friendly tip: We recently found this awesome source of great academy and school website designs that boosted our creativity even further. Thought of sharing it with you.
You have a SOLID advantage with the templates (or WordPress themes) you find on our list!
8. Educature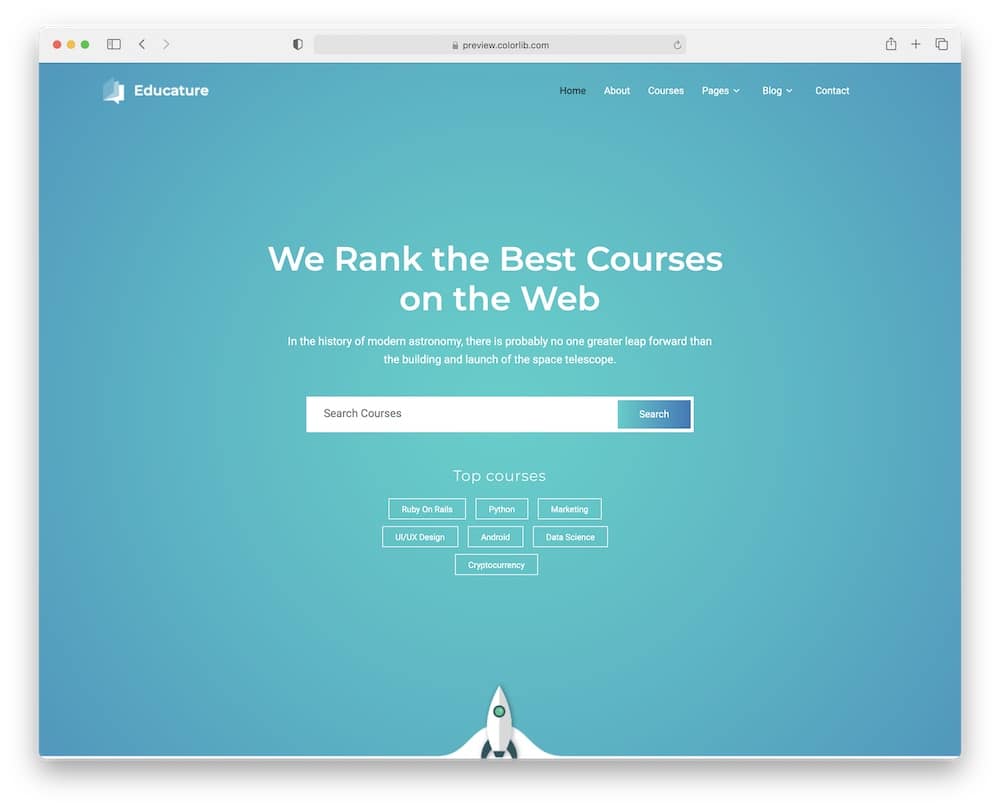 Educature is a special website template for online courses and academies. What we dig about it the most is its versatility.
You can use Educature for courses, sports, dance, football, language, yoga, whatever!
In other words, you can use it for niche or general academy and educational platforms.
With a focus on online education.
Educature is also EASY to work with, so turning it from an HTML template to an actual website will be a little breeze.
But if you ever face any hiccups, reach out to the epic support team or read through the documentation.
It's possible! You only need access to Educature.
Educature features:
Go niche or go general
Unique back to top button
Bold search function above the fold
Top course categories
Newsletter subscription form
MORE INFO / DOWNLOAD
DEMO
9. Academica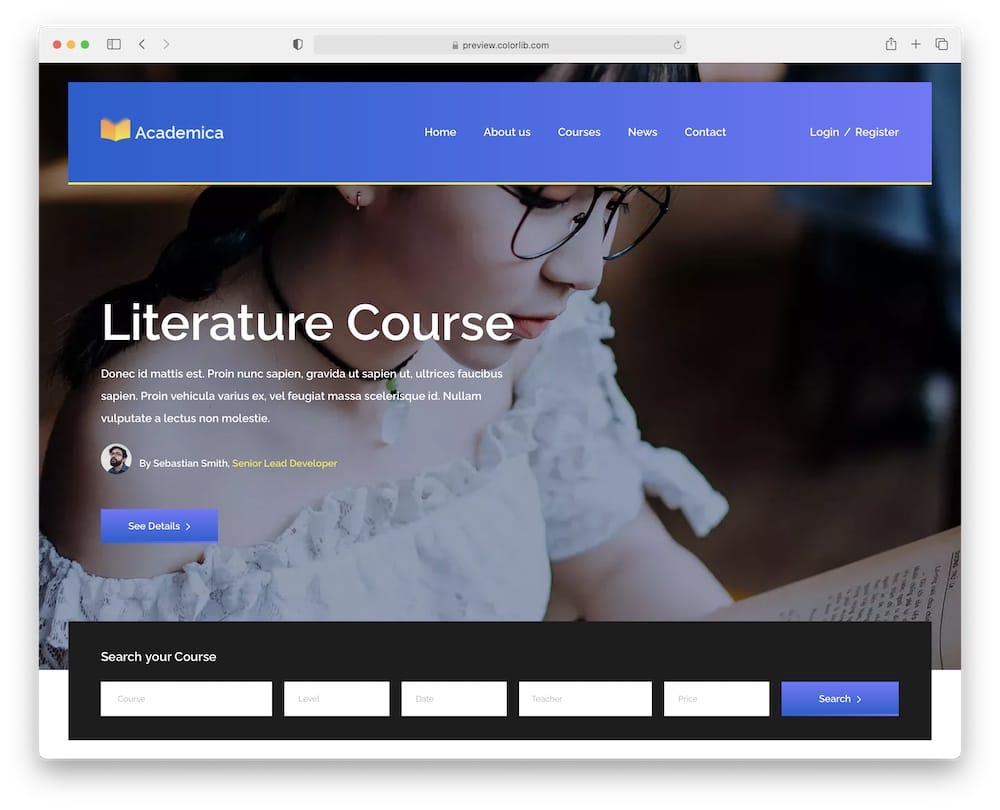 You will experience exceptional mobile and desktop experience with Academica. This academy website template knows no bounds.
It unlocks the extraordinary potential you deserve.
Whether you're building an educational page for yourself or your client (or both!), do it with Academica.
You can easily use Academica for different academy projects if you are more code-savvy.
No one will tell!
You can feature the most popular course on the front page, above the fold, but let students use the advanced course search function for quick finds.
Also, don't miss adding different milestones, acting as great persuading factors.
Academica features:
Featured course(s)
Call-to-action (CTA) buttons
Detailed courses search
Pricing plans (w/ montly & annual toggle)
Contact page (form & map)
MORE INFO / DOWNLOAD
DEMO
10. Clever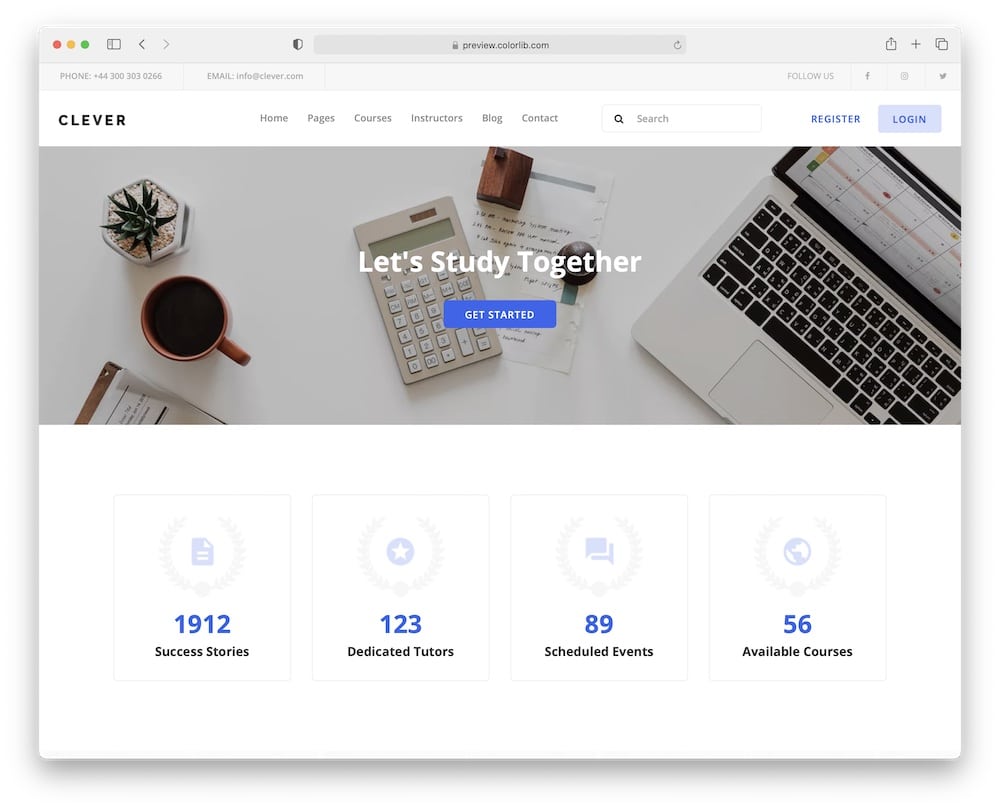 Everyone becomes clever with Clever. We want to share this minimal and modern website template with you for two reasons:
The amazing distraction-free experience
Great for schools and online courses (or both!)
You can start working on your academy website right away.
You can use Clever as a dance academy website template or any other type of academy, too (even though it does not come by default)!
We want to show that the template (like all the others on this list) can do many things.
Create a SOLID base for your students, grow your community and spread the knowledge locally (or globally).
Clever features:
Animated statistics (that catch attention)
Search bar in menu section
Free course registration form
Events promotion
Countdown timer
MORE INFO / DOWNLOAD
DEMO
11. Lingua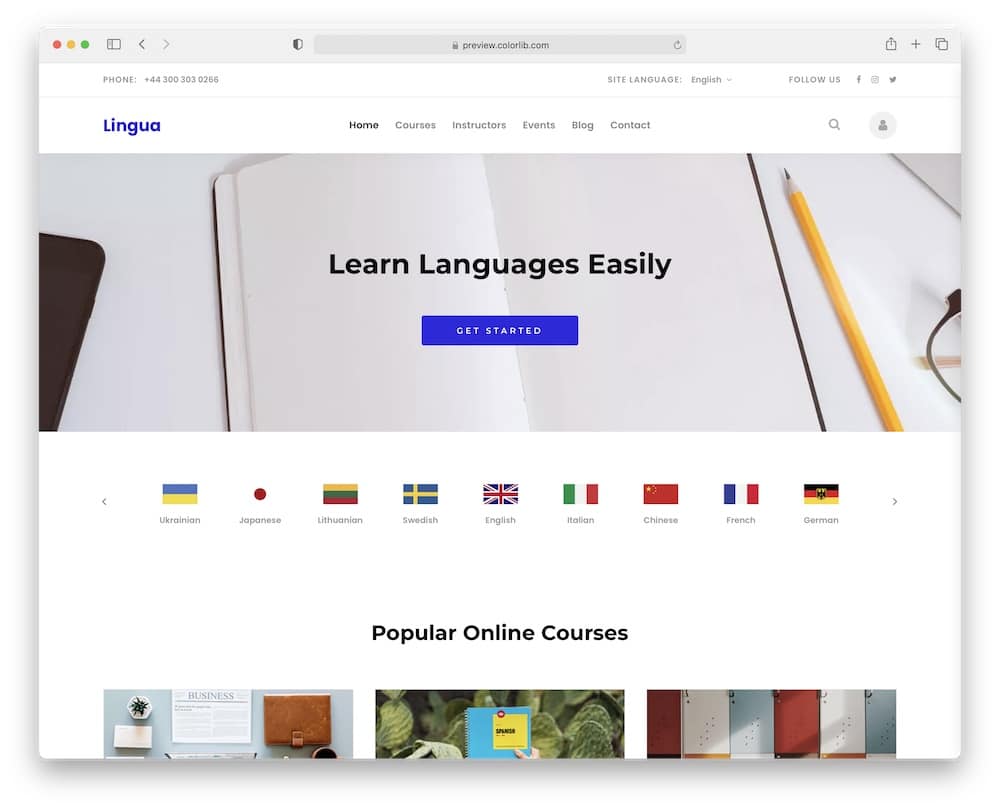 Lingua is a language academy website template that gets your project on feet with ease.
You can promote your services, courses and classes with Lingua whether you want to focus on teaching one language or multiple.
LIKE. A. CHAMP.
Even though Lingua is somewhat similar to the one above, Clever, the author decided to make it niche.
Language first.
It's cool because you don't need to redesign some other template. Or start from scratch!
Just go with Lingua and ENJOY THE SMOOTH design flow and easy coding. Language-learning enthusiasts love it.
Lingua features:
Language selection (site language, too!)
Registration urgency (w/ countdown)
Hover effects
Floating navigation bar
Special teachers' page
MORE INFO / DOWNLOAD
DEMO
12. Unica

Universities, academies, online courses – it's all possible with the all-around and powerful Unica.
This flexible and extensive website template helped us save a ton of time.
And we are sure it will also help you save time (and coding effort).
With the NUMEROUS alternatives, there's no real need to start from the ground up. Even when building an academy website.
Unica does the trick with its many page layouts and special useful features.
Mix and match the available, introduce your creativity and have the final creation ready to roll sooner than later.
Unica is also great for web development beginners and pros.
Unica features:
Slider with smooth transitions
Working hours & contact details
Upcoming courses/classes announcement
Enrollment process section
MORE INFO / DOWNLOAD
DEMO
::
Note: This article was originally published on June 18, 2021. But our team regularly reviews it and updates it with necessary improvements for accuracy.