I'm excited to present you with my top free and premium gift card mockups after reviewing and testing 60+.
Stop wondering about quality and great customizations.
These generators and PSDs take care of all your creative ideas – WITH EASE.
You can apply your designs and logos in a few clicks – 0 advanced skills are necessary!
But any additional customization tweaks will also take you seconds.
LUV.
This post covers:
It's time to boost your workflow while staying professional because that's what the mockups I selected promise.
GO.
Best Gift Card Mockup Generators
A single gift card generator goes for $7.95. But you will save money by picking monthly ($14.95/month) or yearly ($89.69/year) subscription.
Treat yourself to making a mockup without Photoshop!
1. Gift card & envelope mockup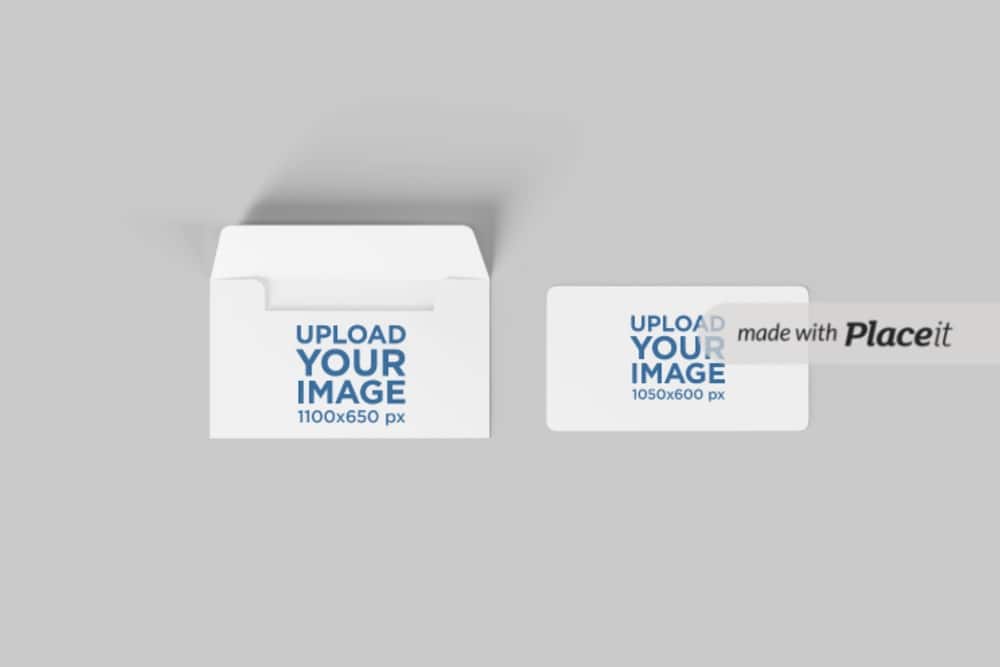 I'm still amazed and impressed by how SIMPLE working with a mockup generator is. But what's even more important is the high-quality outcome that it produces.
And that's precisely why I'm placing this one first.
My. Fav.
It includes the card and the envelope for storing, offering to create a branded gift card for any store, brand, studio, whatever.
I particularly liked spicing things up by adding a custom background image. I even played with ready-to-use ones but liked mine more.
Enjoy.
MORE INFO / DOWNLOAD
2. Girl entering a gift card code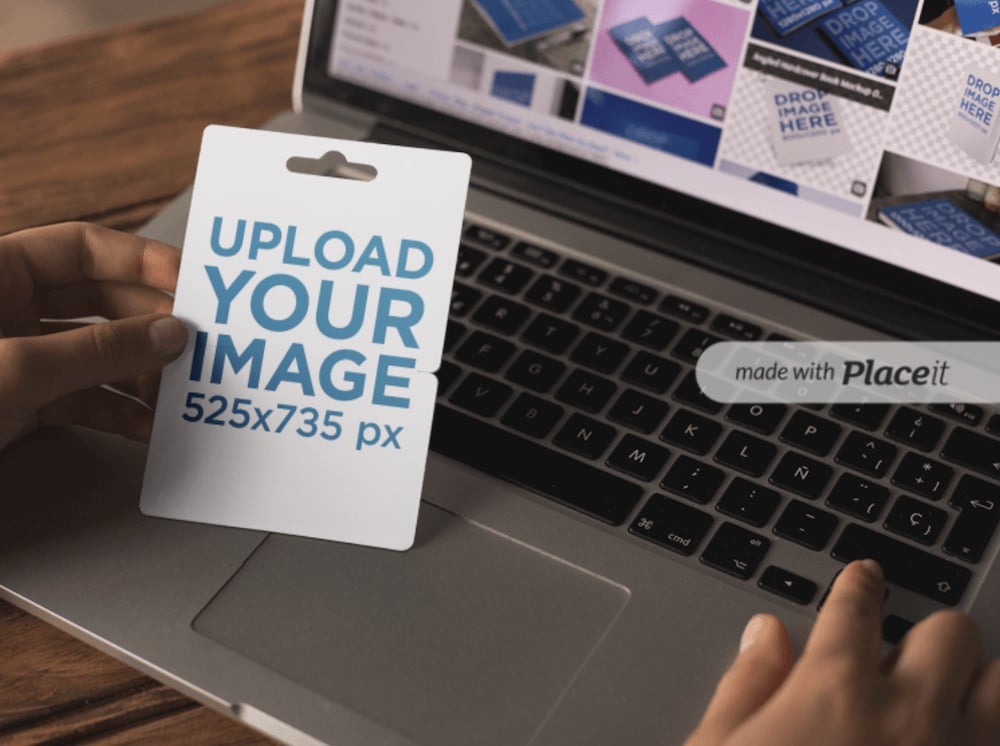 If you would like to promote gift cards like my client then I CAN'T  recommend this gift card generator more.
The extremely photorealistic appearance makes your design look even better.
Changing the card's color and inserting the image takes seconds. I also added a text in the form of a call-to-action but you can also add any of the many available graphics.
Hint: Don't overcrowd the mockup 'cause it won't perform as well as you want.
MORE INFO / DOWNLOAD
3. Mockup of a gift card & its envelope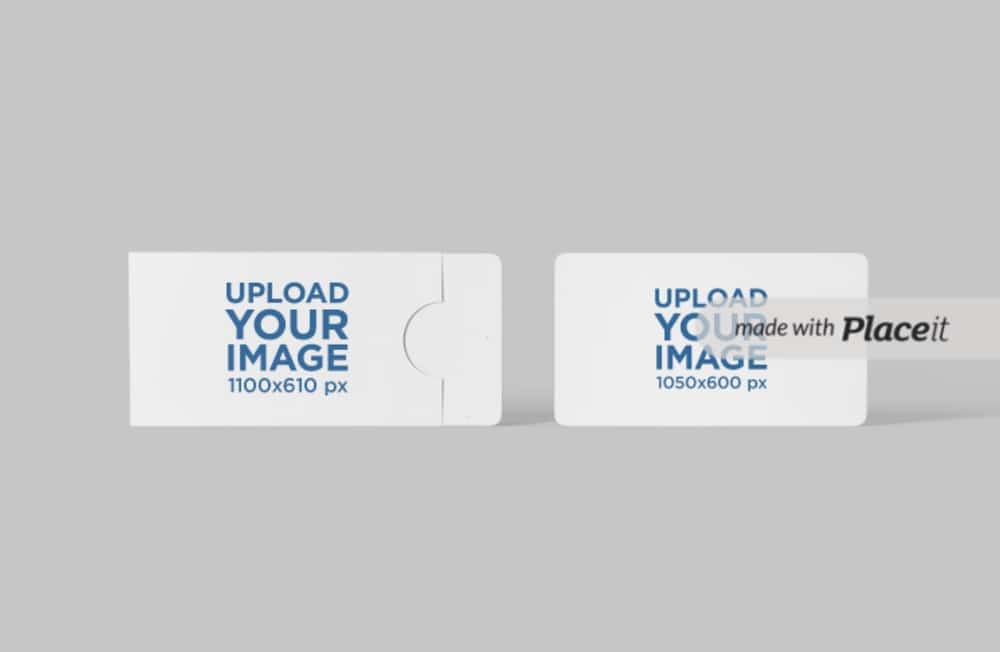 A gift card and a holder are ready to rock any branding, custom coloring and logos you want to present.
What I like is the option to add a separate artwork to each item and edit them with a different color.
Background can also be a solid color or any custom gradient, image, pattern – whatever.
My client wanted simplicity, which I easily achieved by picking the backdrop from the color picker.
But you are free to DO YOU!
MORE INFO / DOWNLOAD
4. Mockup of a woman holding two gift vouchers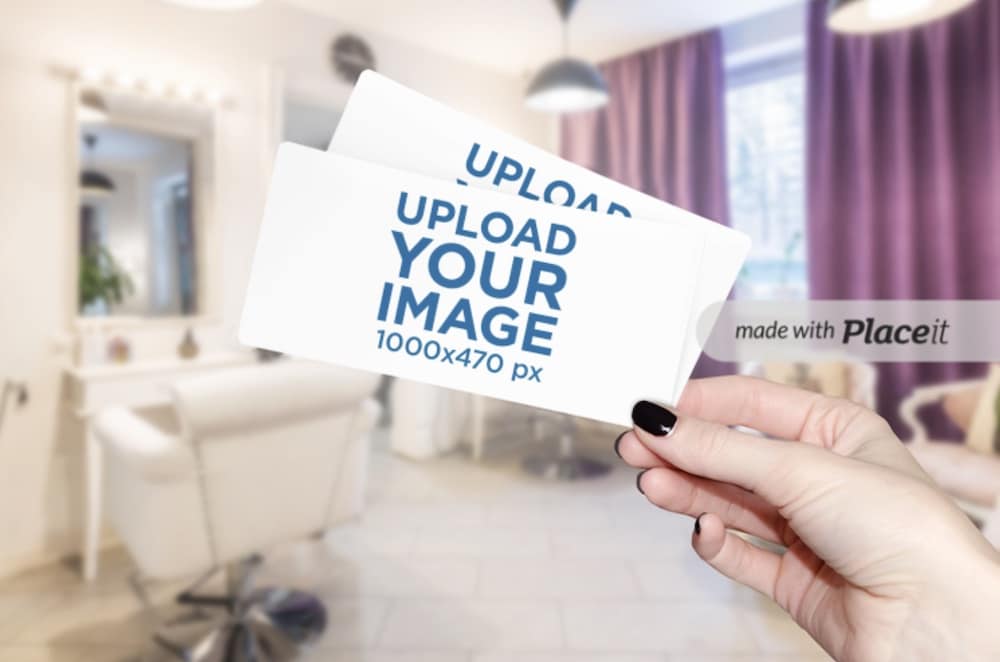 Promoting gift vouchers (for two persons) becomes a piece of cake with this neat and easy-to-use generator template.
This one particularly features a (hair) salon (background reveals it all), which is what I used it for. Barbershops work, too, but feel free to get creative.
The image you import will appear on both vouchers in a SINGLE click. But you can first crop and reposition it a free will.
And if your artwork doesn't cover the entire card then also change the color accordingly.
MORE INFO / DOWNLOAD
5. Screaming girl with a gift card template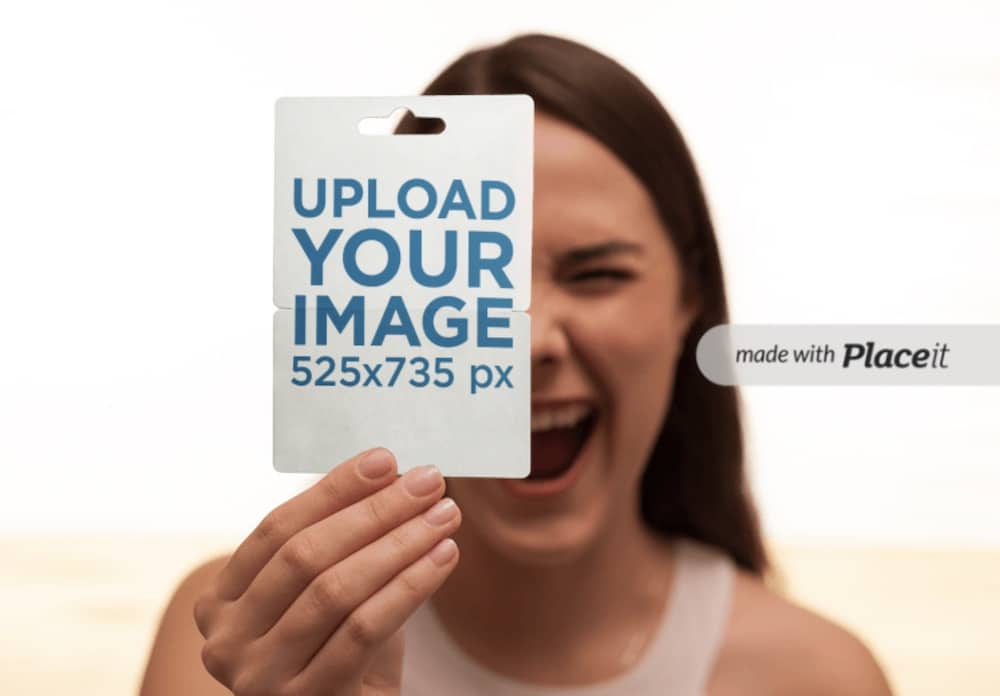 This lady is just TOO excited about the gift card she received. And that can be your or your client's card!
A 525 x 735px design will cover the entire card beautifully. Still, you can change the color of the card, and add text and a graphic, too.
While you can use the outcome anywhere you want, I especially enjoyed the positive response it received on social media (Instagram).
Testing is too much fun because of how fast can you improve the mockup. BOOM.
MORE INFO / DOWNLOAD
6. Woman holding a gift card mockup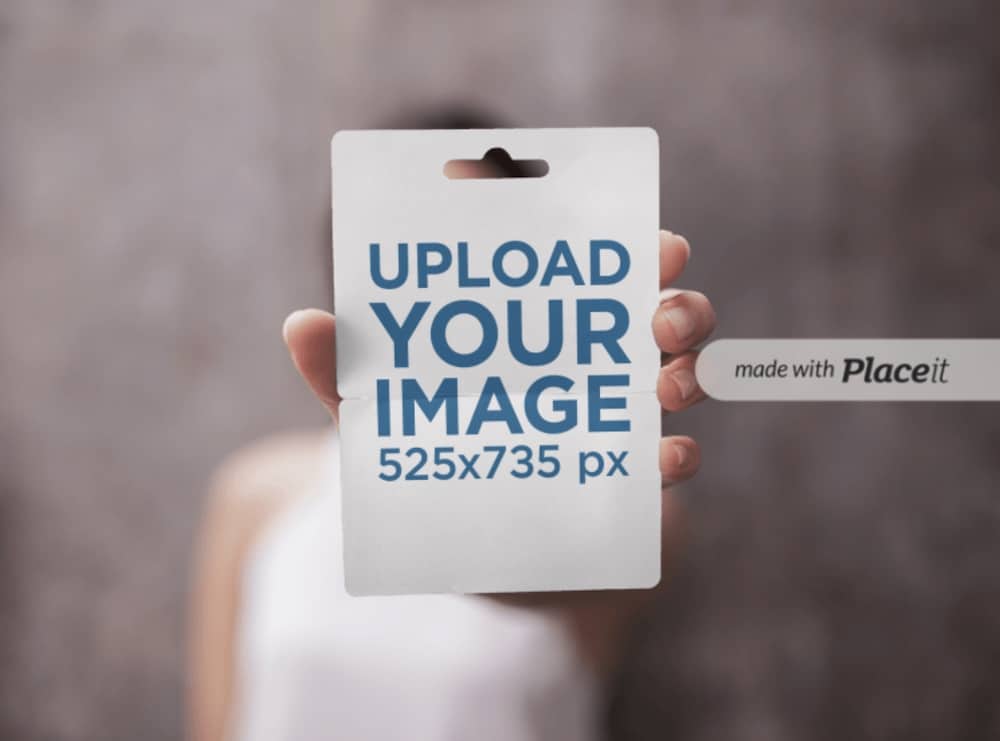 However, if you don't want a "too into face" presentation like the above gift card mockup creates, then this one will work wonders.
Highly realistic, emphasizing your card design primarily.
Did I already mention that the gift card in-hand mockups did really well for me?
That's why I suggest you test them, too.
(And you can quickly test things out without creating a Placeit account, although it's free and I highly suggest you do – it'll BOOST your workflow!)
MORE INFO / DOWNLOAD
7. Gift card template at the counter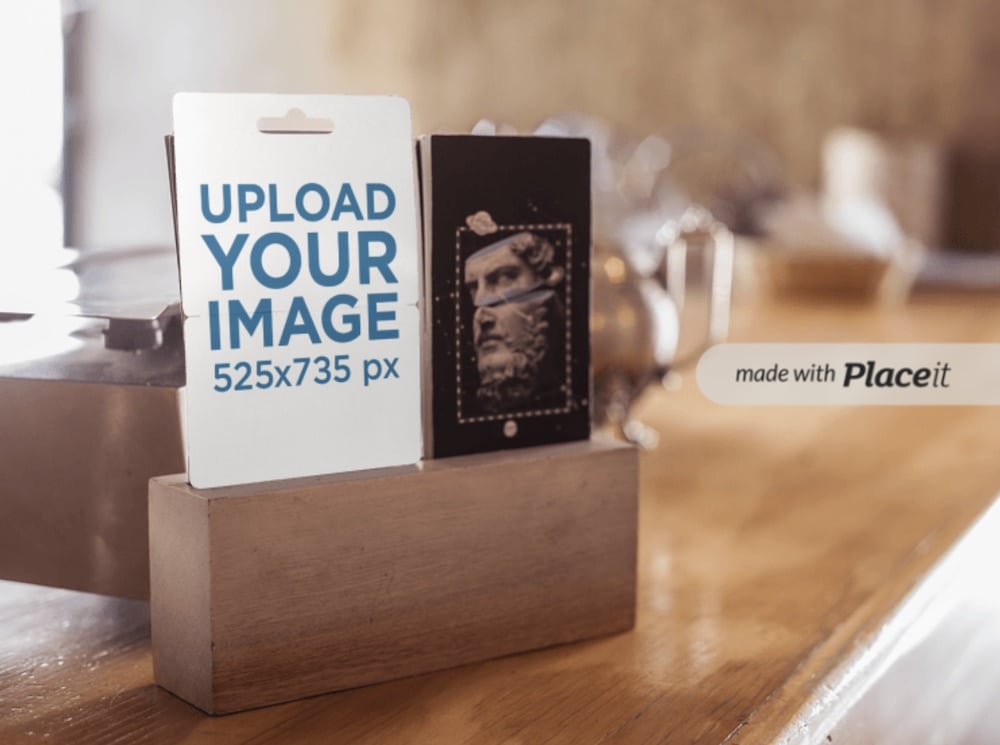 When I worked with a beauty salon, asking me for a gift card design, I PRESENTED it to them using this generator.
Just upload your artwork from your device and finish editing it online once you have it ready.
Con: It'd be so cool if the business card besides the gift card would also be editable. You could then create it exclusively for your client!
MORE INFO / DOWNLOAD
8. Two gift cards & a gift card holder mockup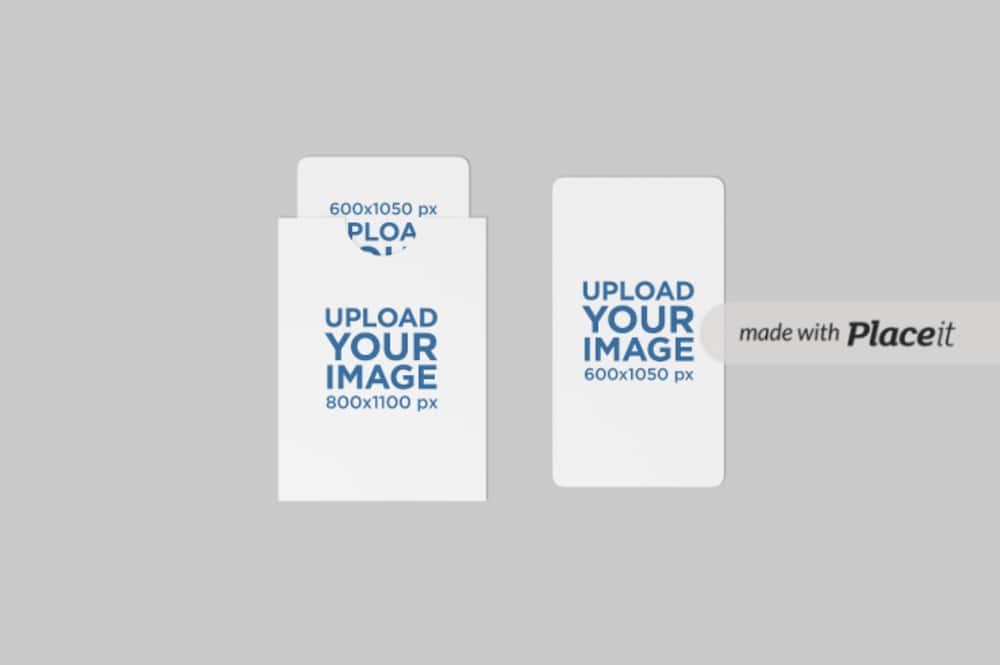 This vertical gift card mockup equips you with many customization options to tailor it to your needs in less than a minute.
All three elements accept your custom design, so you can even present a front and back gift card view.
Plus, the adjustable background ensures you make it such that'll create a more attention-grabbing effect. (BTW, I used Placeit's ready-made gradient.)
Play with the features and practice your creativity – it's so effortless.
MORE INFO / DOWNLOAD
Best Gift Card PSD Mockups
Event though generators are my favorite, I still use PSD when more creative freedom is necessary.
(Although some generators are pretty seriously customizable!)
9. Gift card with ribbon mockup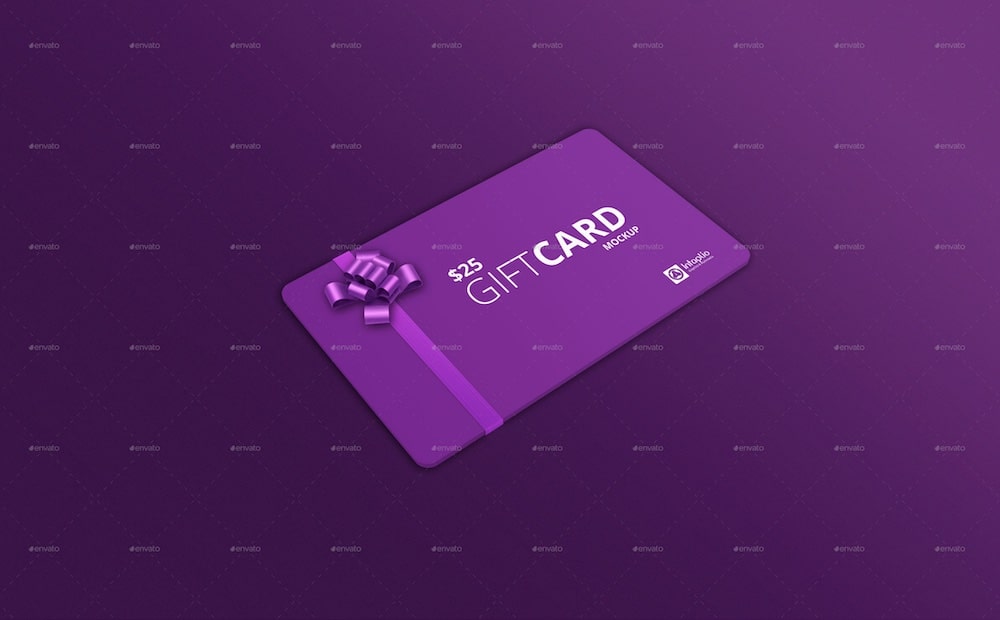 This one is cool because of the ribbon, making it a lot more "GIFTY." The set includes a total of five mockup, covering different gift card views.
Each layered PSD is easy to use and 100% customizable.
Change the ribbon's color, modify the background (or choose between the two available ones), slide in your design via smart object and alter lights and shadows.
Two extra goodies for newbies: PDF and video guides.
Price: $8
MORE INFO / DOWNLOAD
10. Multipurpose holder & card mockup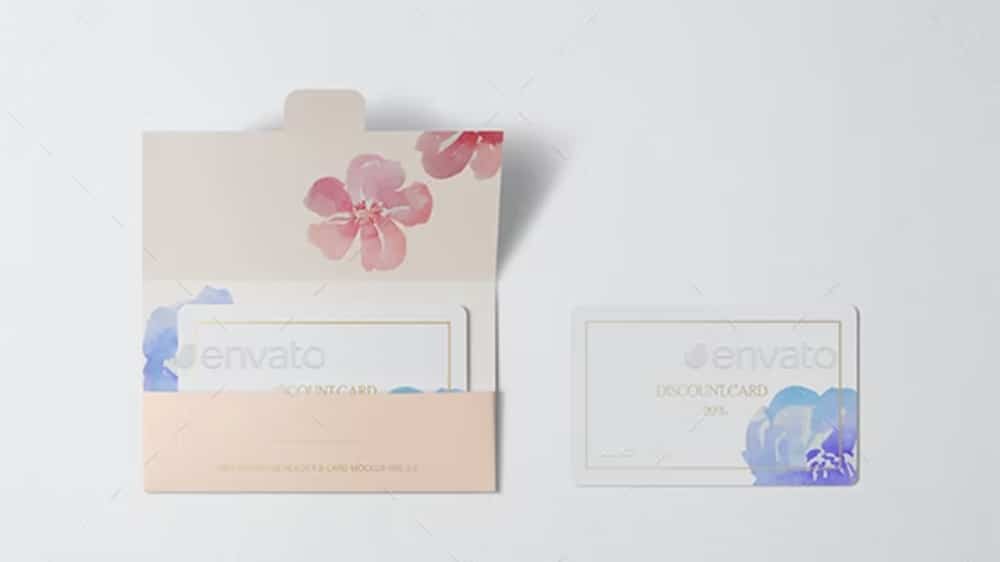 Instead of giving away just the gift card, pack it in a branded holder and make it EXTRA special.
You can design a custom holder and card with ease using any of these five realistic mockups. (The life-like feel of each PSD template is because it's based on an actual photo.)
The high, 4368 x 2912px resolution (300dpi) promise a stunning outcome even in a close-up. Perfect for more detailed designs.
You can also play with four holder and three card effects and three kinds of foils.
Another one that I highly recommend!
Price: $3
MORE INFO / DOWNLOAD
11. Gift card & holder PSD mockup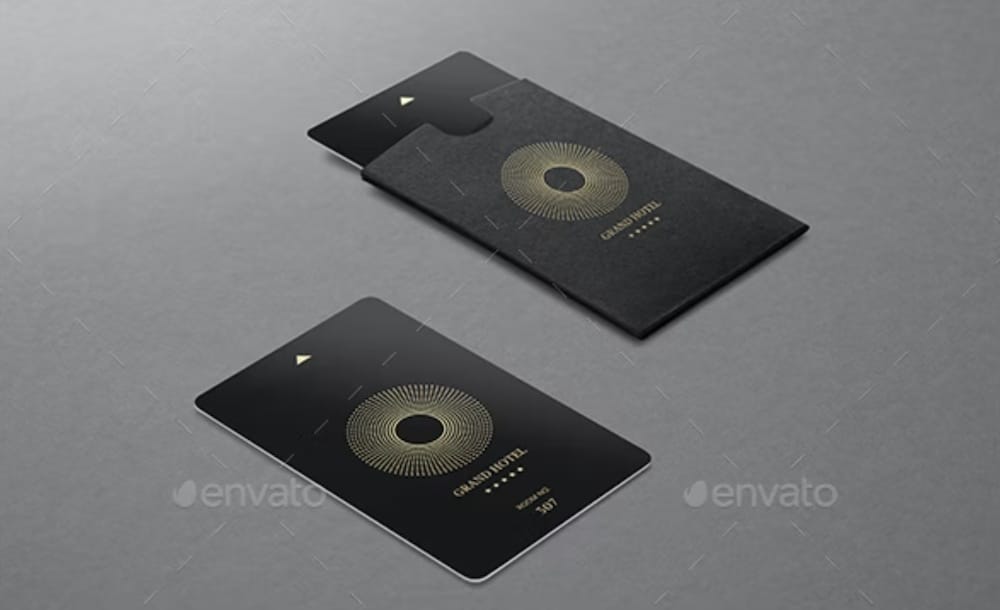 I thoroughly tested all five of the gift card mockups that this batch includes multiple times. Thus I can guarantee great quality and pro-level outcome that'll take you a few clicks to complete.
The organized structure gives you quick access to different layers, which speeds up the workflow.
Predefined effects and foils are available for you to apply, but you can also work with your custom ones.
I also really like the paper-textured background, which worked so WELL with any kind of branding, even color styles for me.
Price: $5
MORE INFO / DOWNLOAD
12. Gift voucher mockup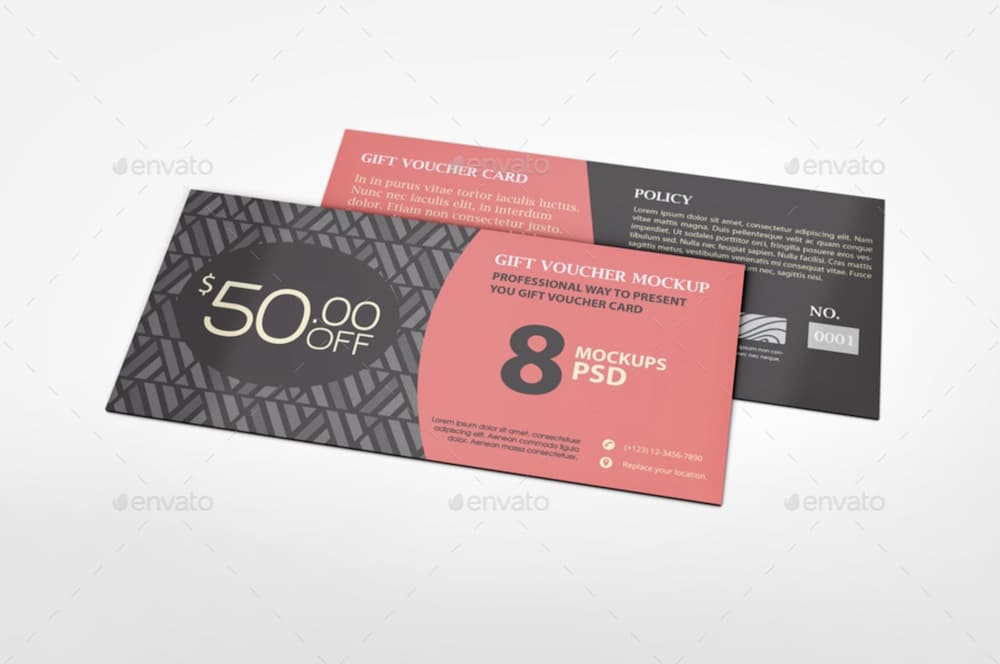 Eight realistic gift voucher mockups await your great designs to present them realistically.
No need to print the vouchers just yet! Test them first, showcase your ideas to your client and even start hype on social media.
All this with the creative use of the templates that beginners and professionals will find a LITTLE breeze to use.
Don't forget to adjust shadow and light layers, so the overall mockup makes your voucher design pop more.
It's too easy to do!
Price: $8
MORE INFO / DOWNLOAD
Best Free Gift Card Mockups
Now let's move on to the free stuff that's close to premium. I like.
13. Gift card with holder mockup free PSD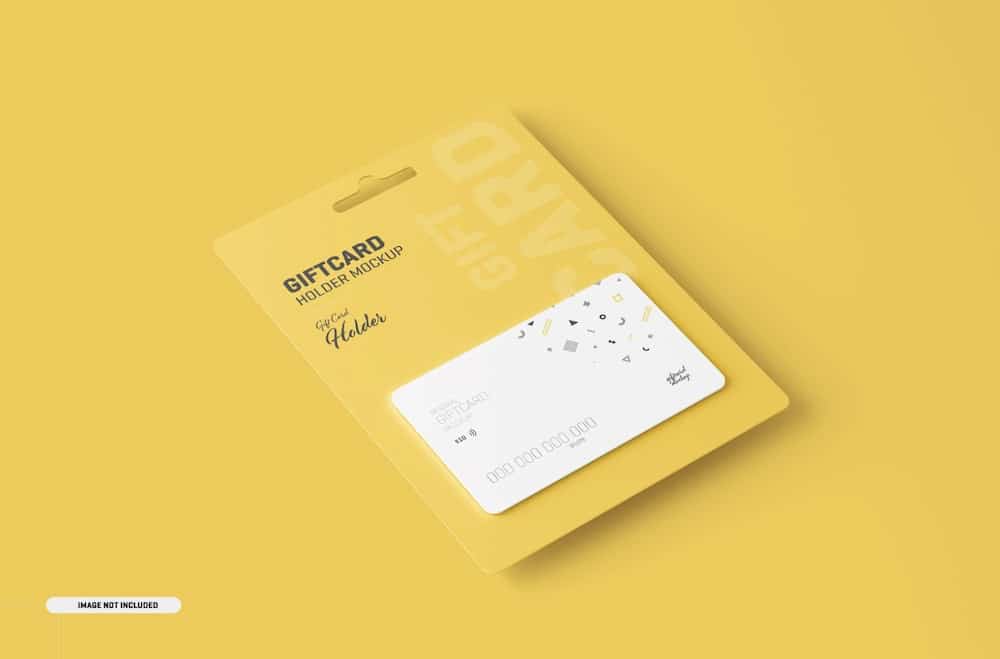 Create a complete demonstration of a gift card with packaging (hanger) using this COOL, life-like PSD mockup.
The creative freedom is in your hands, allowing you to improve both items however you want.
I used dark colors for a luxury design but also tested some vivid green and sky blue that worked so well.
Flexibility knows no bounds.
MORE INFO / DOWNLOAD
14. Free gift card & holder PSD template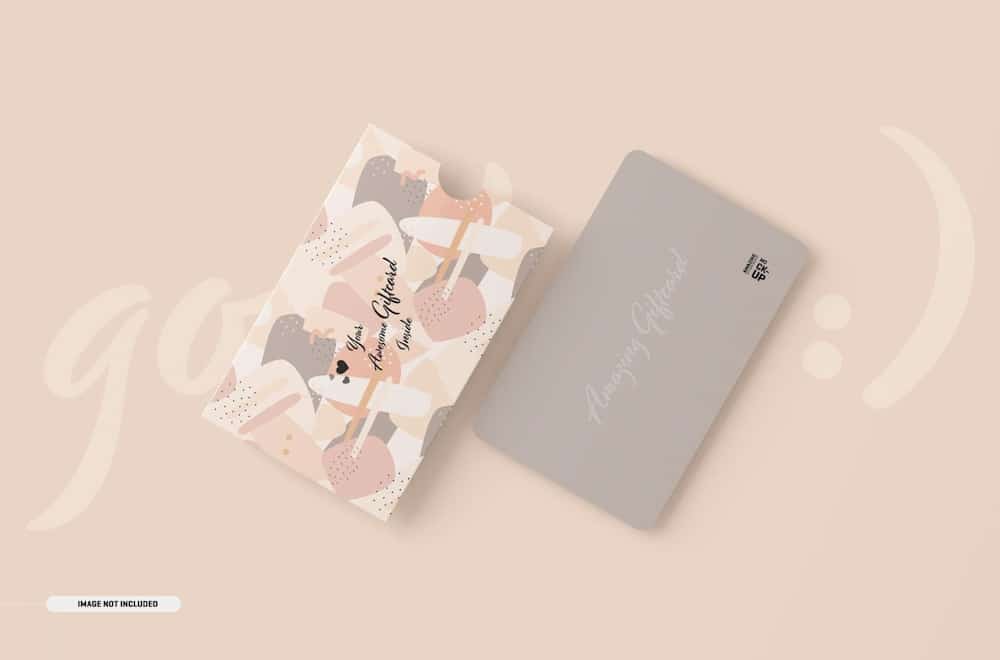 I used this one twice for the same project. Once to create the front design of the holder and the gift card and once for the back design.
And I had an ABSOLUTE blast because of how well it performed.
The default mockup presentation even inspired me to add some text to the background, making it look cool with an emoji.
MORE INFO / DOWNLOAD
15. Horizontal gift card holder mockup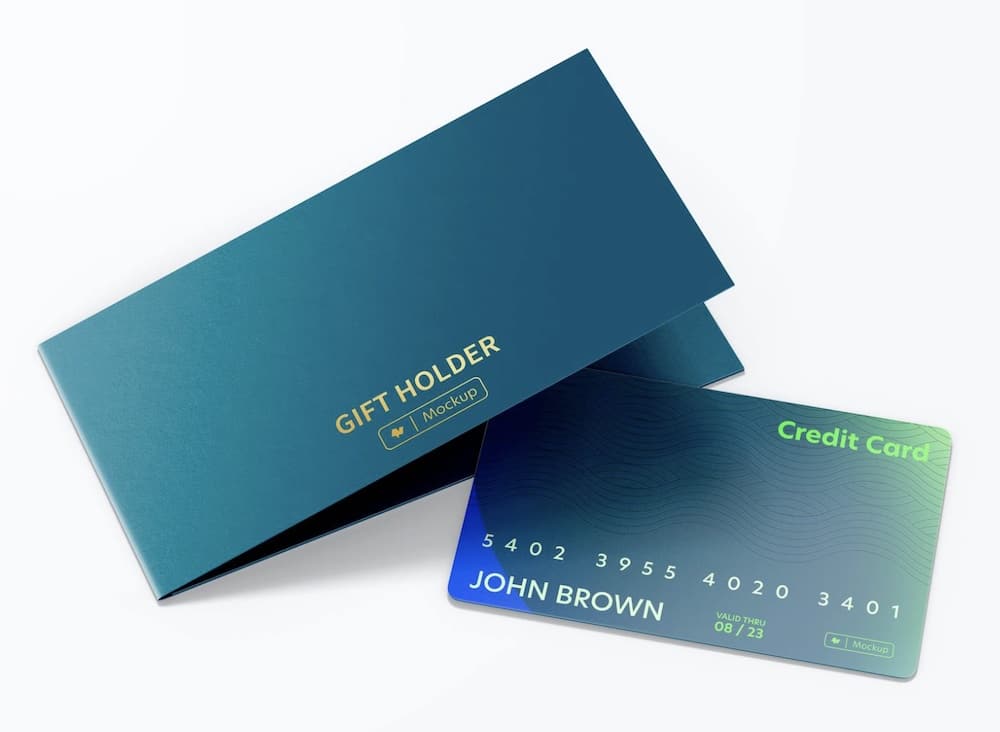 You can create gift cards and credit cards, THANKS to the versatility of this free PSD mockup.
Sneak in your artwork via the smart object with the process of drag and drop.
Perform any final alteration and that's it!
You'll do it quickly even if you plan to create three, four, or ten variations for comparison. (I made four, boosting my workflow through the roof!)
MORE INFO / DOWNLOAD
16. Elegant gift card PSD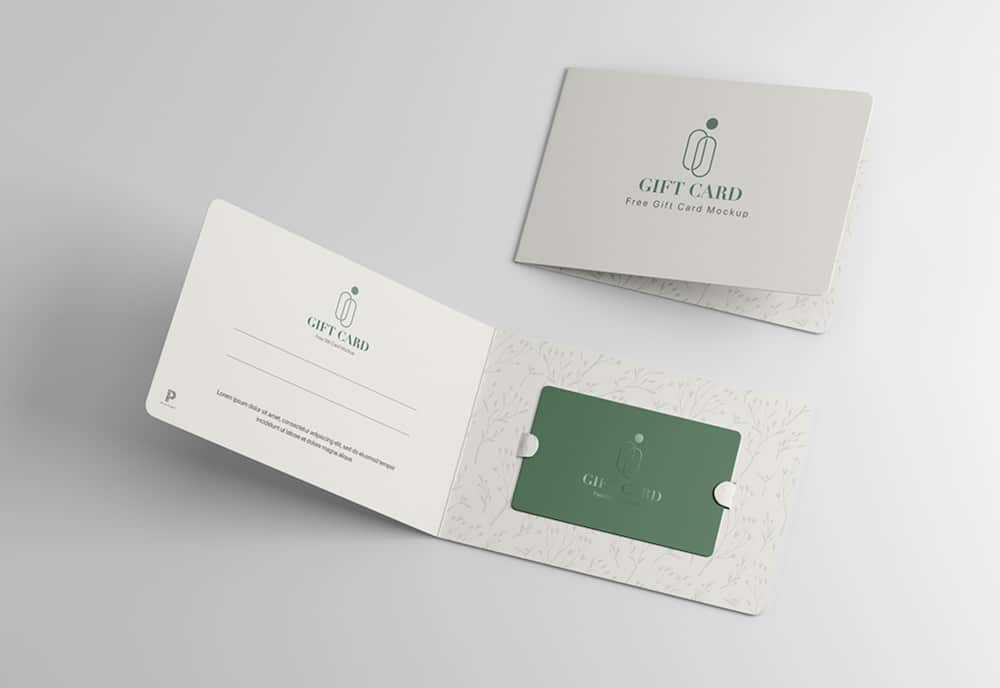 This free gift card mockup's elegance and the amazing quality (4500 x 3200px) are almost too good to be true.
Yes, it calls for an extremely life-like final product that takes just a few clicks to make happen. (Including adding your design and changing colors!)
Plus, the author allows you to use the template for commercial and personal projects.
Note: This one also worked really well as a gift certificate mockup for one of my projects.
MORE INFO / DOWNLOAD
17. Free gift card & holder mockup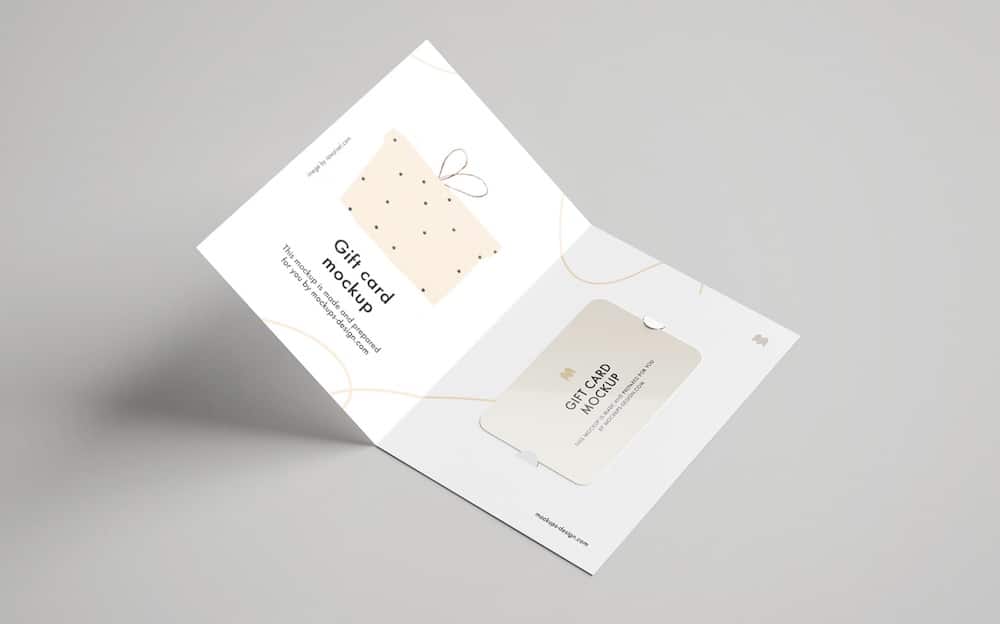 I wouldn't tell this is a free mockup if it wouldn't say so. The kit contains five shots of a gift card with a holder, covering the inside and the outside for you to MODIFY to your heart's content.
There's even a floating version in here, which always works so well for me. And you can use it for commercial and personal projects.
Quick download, easy use, fast result!
MORE INFO / DOWNLOAD
How To Create A Gift Card Mockup?
For everyone unsure how to create a realistic gift card presentation – this is the step-by-step how-to for YOU!
Let me tell you a secret: It's WAY easier than you think. Plus, you don't need software (read Photoshop) to create a mockup.
I'll show you how to make it happen in five quick steps using my favorite online mockup generator, Placeit.
5 Steps To Make A Gift Card Mockup:
Step 1: Jump over to Placeit where you can find a large list of templates you can use for your or your client's project. Additionally, you can also use the search bar for a more refined search. (The live search results help a lot.) Pick the image you like.
Step 2: When you're on the template page, navigate the "insert image" and upload your design. I recommend you do this first thing to test it out immediately. You may end up trying a few templates before finding the best, and that's OK. Placeit allows testing all its mockups for free.
Step 3: After finding the perfect position and size for your design, click "crop" to stick it to the mockup.
Step 4: Then all you have to do next is to enjoy all the other customization functions to modify the default look however you want. In some cases, you can even upload a custom background!
Step 5: Hit "download," and your work is DONE.
::
Note: This article was originally published on June 10, 2022. But our team regularly reviews it and updates it with necessary improvements for accuracy.