As one of the most popular foods globally, the demand for free and premium pasta mockups is also high.
But finding high-quality PSD templates for spaghetti, fusilli, etc., isn't the easiest.
Luckily, I involved a bunch of my clients, asking them if I could use their designs to test a bunch of mockups.
They agreed and here I am now.
These are my absolute best thirteen mockups that GUARANTEE life-like outcomes, which will trick everyone.
This post covers:
You'll have everything you need for the best pasta packaging presentation by the end of this list.
Life + Mockup + Pasta = Heaven.
Note: You will also like my complete collection of the best food packaging mockups!
Best Pasta PSD Mockups
1. Plastic & paper pasta bag mockup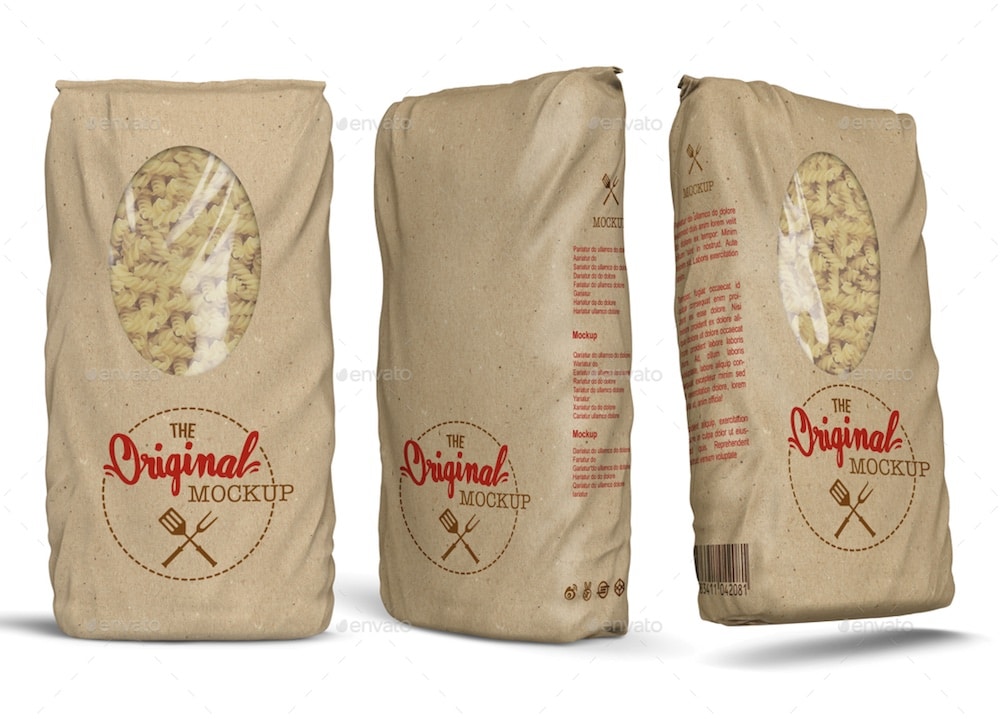 This is my GO-TO pasta packaging set of mockups that I HIGHLY recommend unless you're looking for a more specific packaging (which you can find below).
I was able to create endless variations with the six layered PSDs – easily and quickly.
The available paper and plastic bags also have an option to add a window or keep it without.
And lastly, the 4700 x 5000px resolution (300dpi) guarantees the ultimate quality and smooth design showcase.
Nothing is stopping you from making the best of the best. GO.
Price: $7
MORE INFO / DOWNLOAD
2. Spaghetti box mockup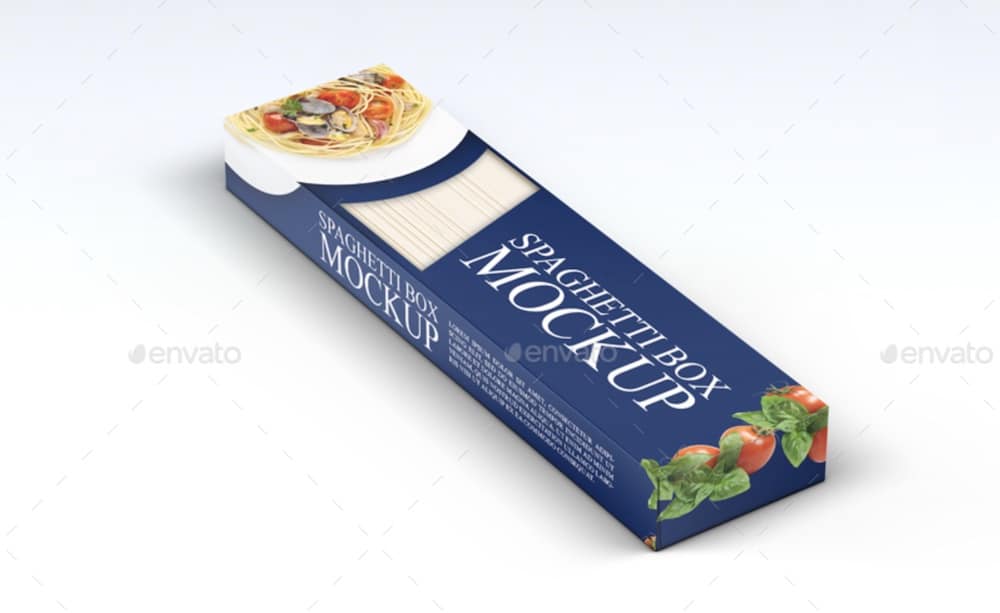 These spaghetti box PSD templates are my favorite from this list. The variation of views allows you to add your graphics to different sides of the box via the QUICK, smart object layer insertion.
100% zoom works great and every element is on a separate layer for 1-click editing.
You can also change the background with any color you want – even add an image (that's what I did)!
Price: $6
MORE INFO / DOWNLOAD
3. Pasta window packaging mockup set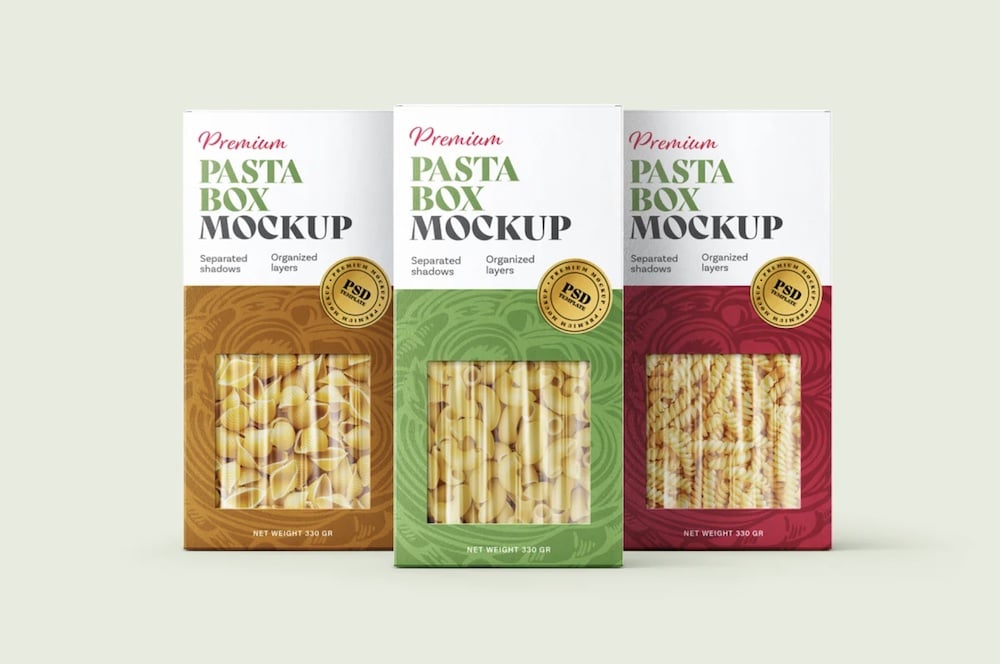 The extreme flexibility of this next bundle of pasta mockups allowed me to work on multiple projects without a sweat.
I was able to create custom packaging for clients' fusilli, noodles and farfalle with ease, thanks to the five ready-to-go templates.
Also, the 6000 x 4000px dimension is RAD because it offers to crop the image to showcase particular details WITHOUT losing quality.
I know you'll enjoy it!
Price: $12
MORE INFO / DOWNLOAD
4. Pasta window bag PSD mockup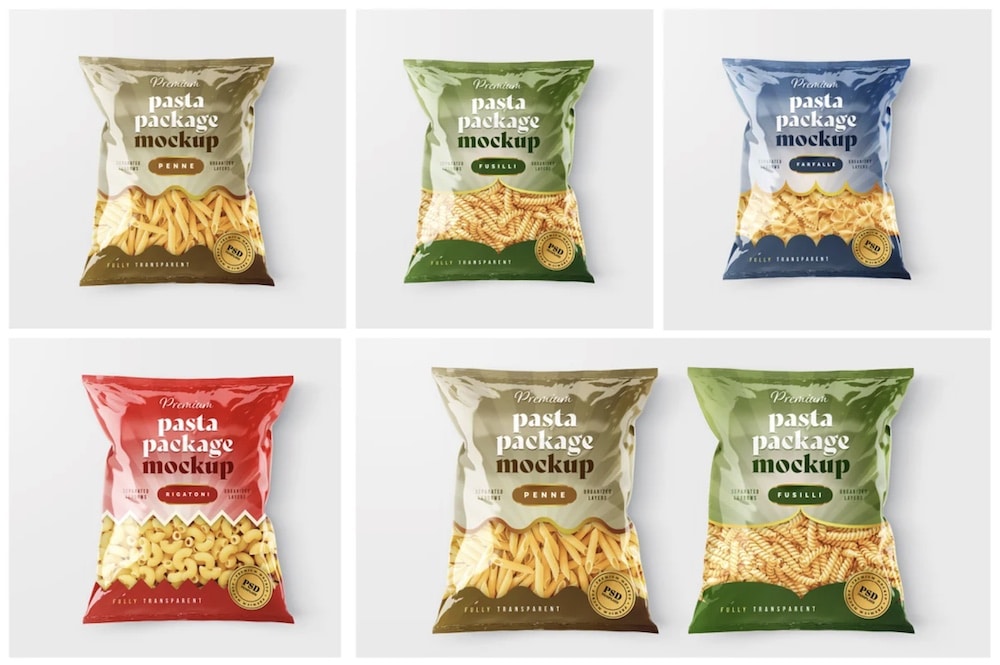 This is one of the more common pasta bag styles that you can find in every grocery store.
But you're now in total control to create your version or multiple!
The five scenes and the 6000 x 4000px resolution offer complete creative freedom to add any graphics, designs and logos you want.
I created a penne pasta variation for a local client, but you are welcome to work on branding for ANY pasta type you want.
BOOM.
Price: $12
MORE INFO / DOWNLOAD
5. Minimalist pasta packaging box PSD template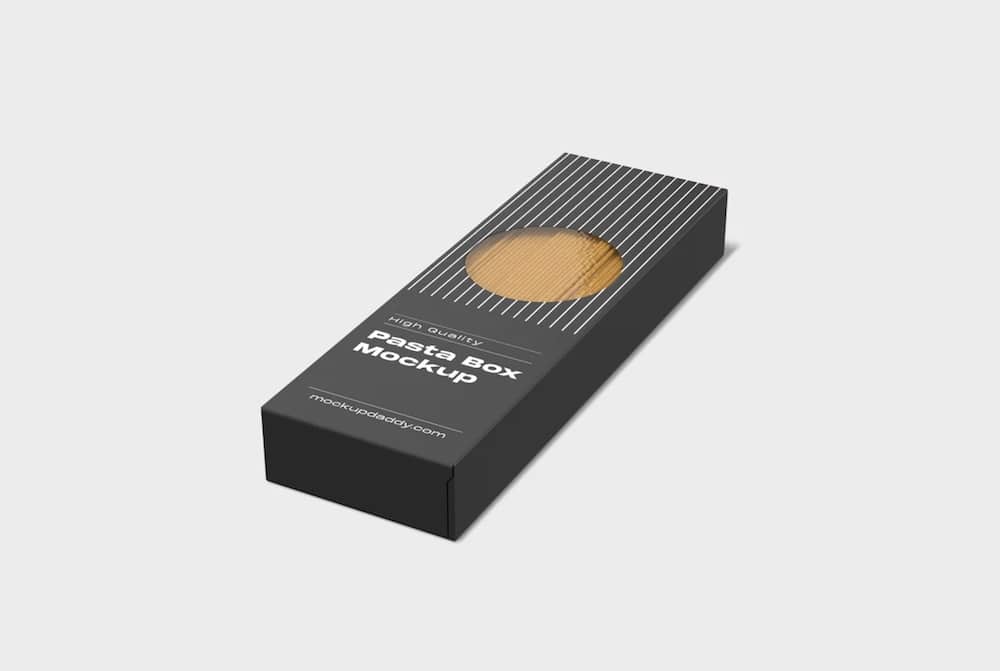 This one is beautiful. I could end the description here but I won't. It deserves MORE shine.
Highly organized layers and 3D effects guarantee that your final project will stand out easily.
The bundle includes a whopping ten spaghetti mockups with two window styles, circular and rectangular.
Two more things:
5000 x 3333 px
And editable EVERYTHING!
You got this.
Price: $10
MORE INFO / DOWNLOAD
6. Transparent spaghetti packaging mockup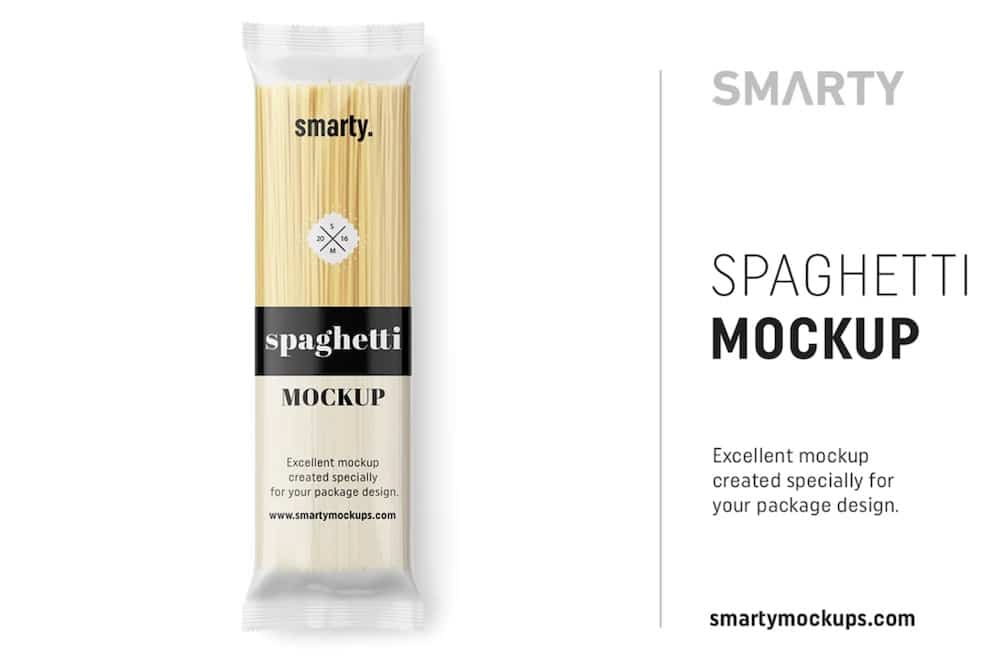 This and the following are from the same author and the same style. It's just that this packaging is slimmer and the other one is wider.
You can comfortably use them for 500g and 1000g packagings!
Both also feature smart object, highlight and shadow layers. YUP, this calls for immediate improvement once you drag-n-drop your design.
Price: $9
MORE INFO / DOWNLOAD
7. Wide spaghetti packaging mockup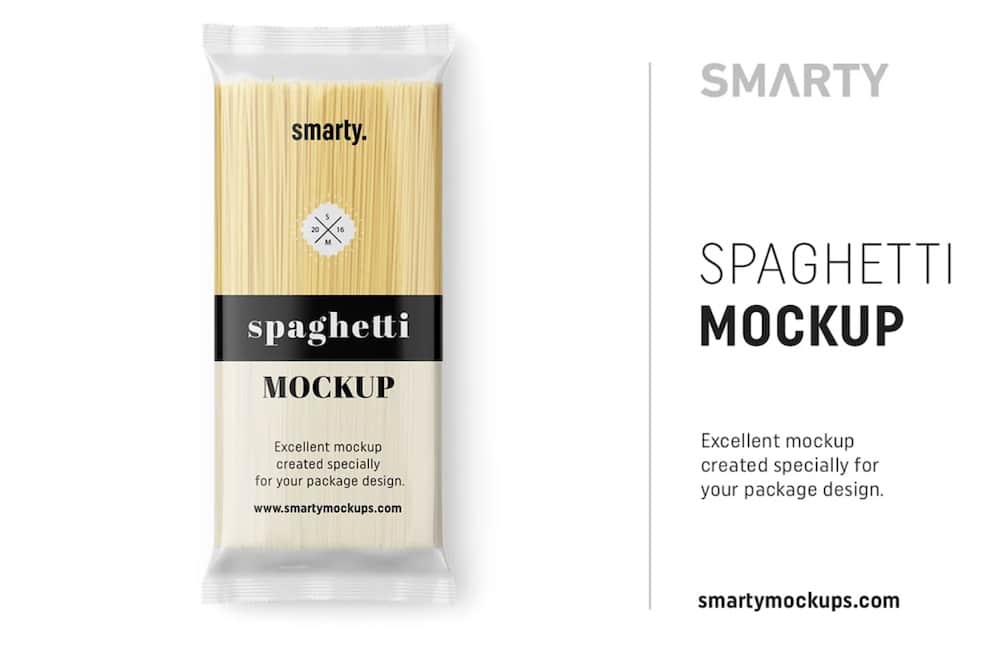 And here's the second one, which I'm adding separately because it's EQUALLY amazing and deserves individual addition.
Surprise your client with an exclusive, custom-made spaghetti packaging showcase that will excite them that they hire you for the project.
Just do it!
Price: $9
MORE INFO / DOWNLOAD
Best Free Pasta & Spaghetti Mockups
Attention: All these free mockups are for commercial and personal projects with attribution.
8. Fusilli bag mockup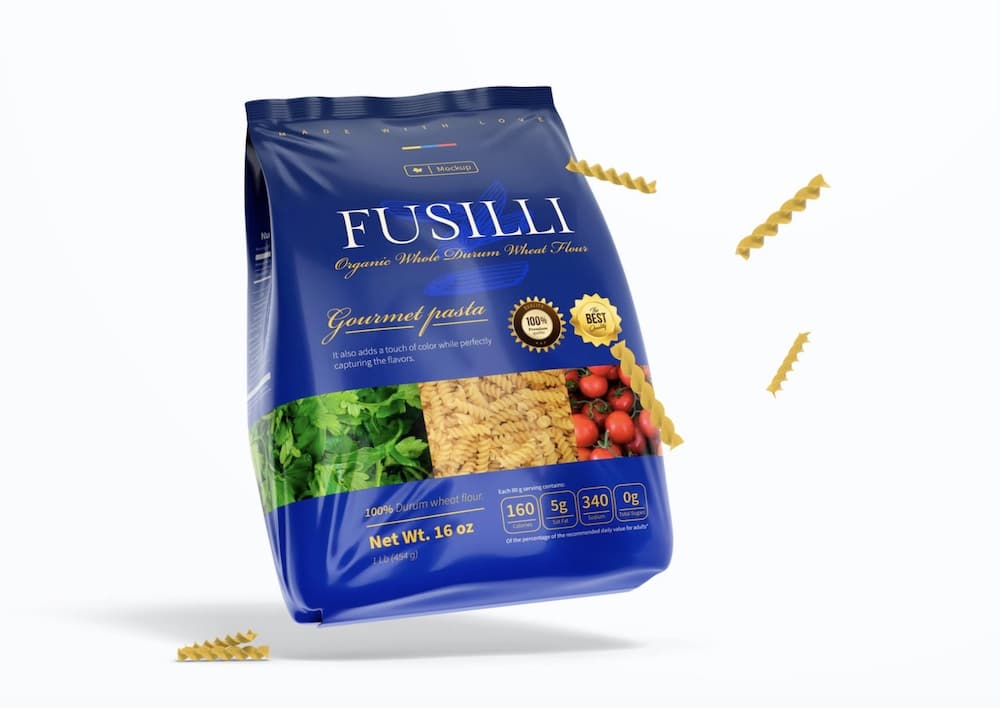 In the case of the free pasta mockups I'm adding here, the outcome won't be half-baked. Not even al dente!
But you'll create real, life-like demonstrations of your epic designs.
Fusilli anyone? Activate your creativity and bring into being a realistic mockup presentation with this floating bag and flying fusilli.
I found this one to create a SUCCESSFUL, attention-grabbing effect after testing it.
Put it into practice yourself and enjoy the powerful outcome that takes just a few clicks to create!
MORE INFO / DOWNLOAD
9. Free pasta doypack PSD mockup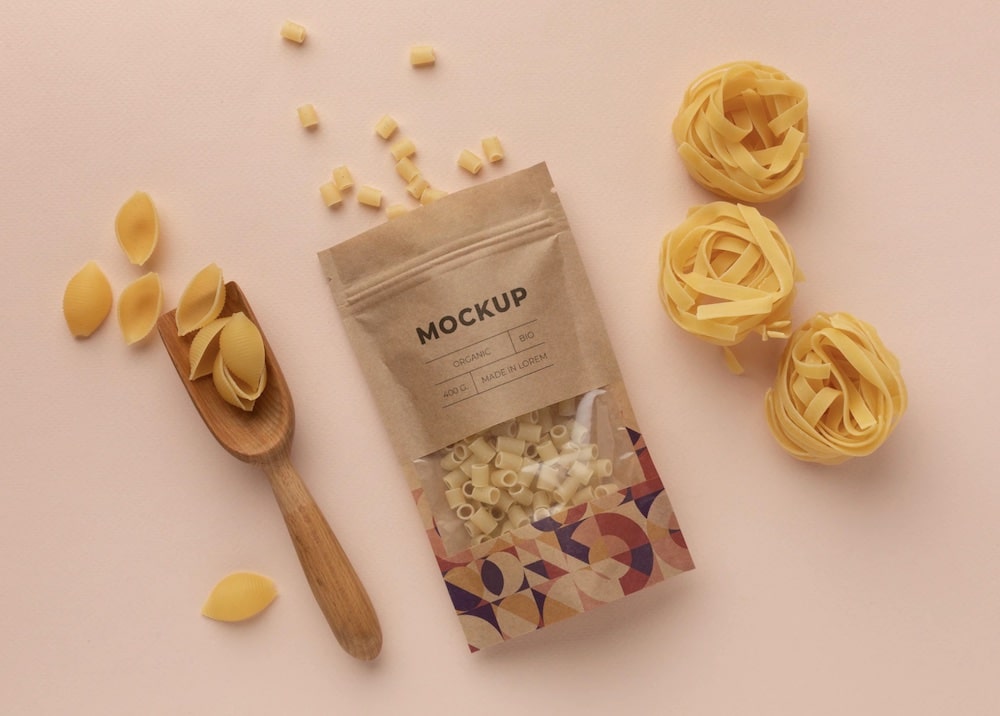 A free doypack pasta packaging mockup that's almost too good to be true. All the extra elements add a nice realistic touch that will WOW everyone.
It's a great way to test your designs before the print. While the pasta isn't editable, the bag is, so feel free to make your version.
Like. A. Boss.
MORE INFO / DOWNLOAD
10. Realistic spaghetti packaging free PSD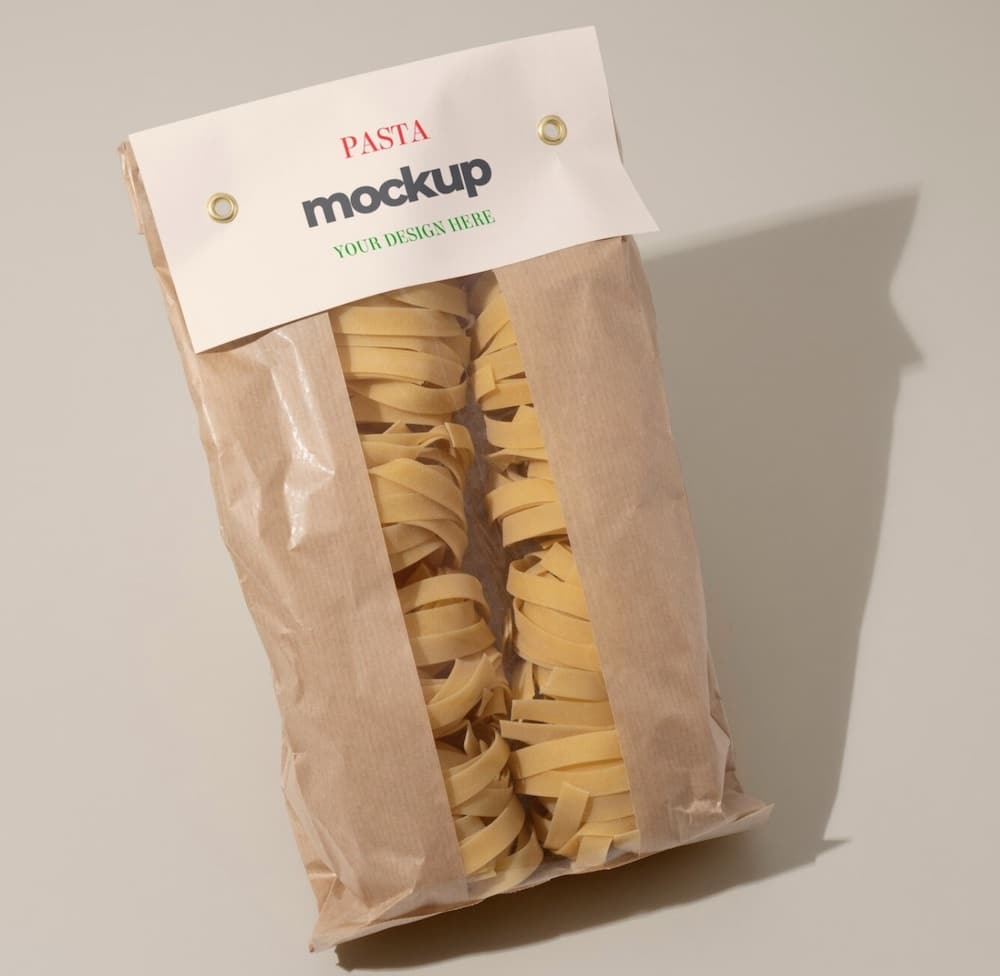 This isn't your ordinary pasta mockup. Why? Because it's an actual photo with the editable label.
Yup, no one will tell you used mockup and it's not actually the final product. Try it out and see the result.
Create a strong and lasting first impression on everyone or just HAVE FUN working on different variations by yourself.
MORE INFO / DOWNLOAD
11. Multi-pack pasta mockup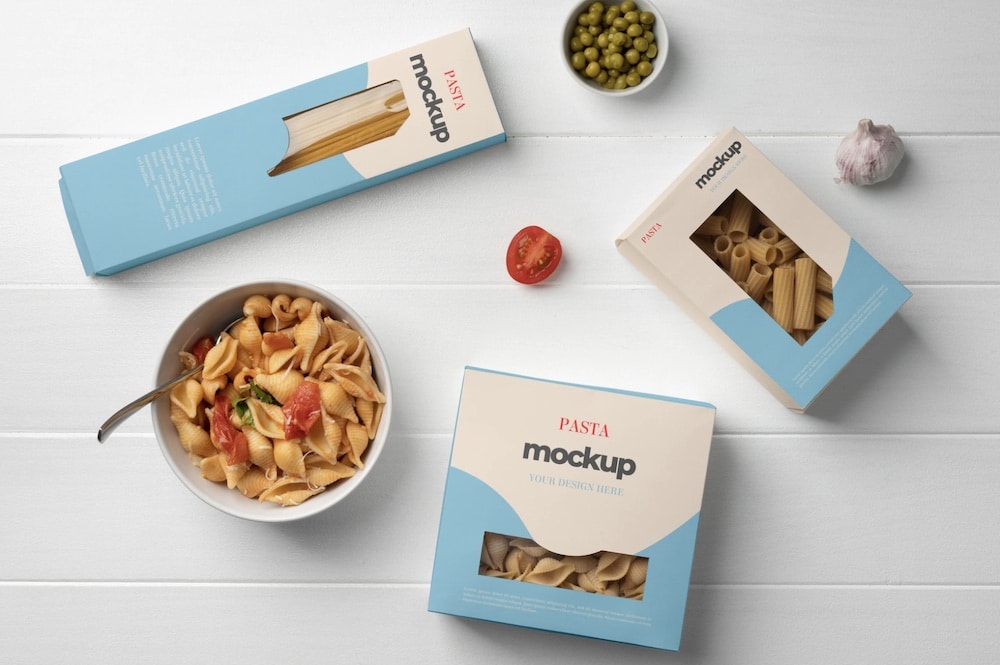 I want that bowl of pasta! This one looks extra mouthwatering.
I really like that you can showcase different pasta packaging styles in one mockup.
This comes in handy if you're working on pasta branding and would like to showcase your beautiful idea in a life-like setting.
It helps to visualize packaging BETTER! And if the boxes you plan on using are similar, well, that's even better.
MORE INFO / DOWNLOAD
12. Free pasta packaging PSD mockup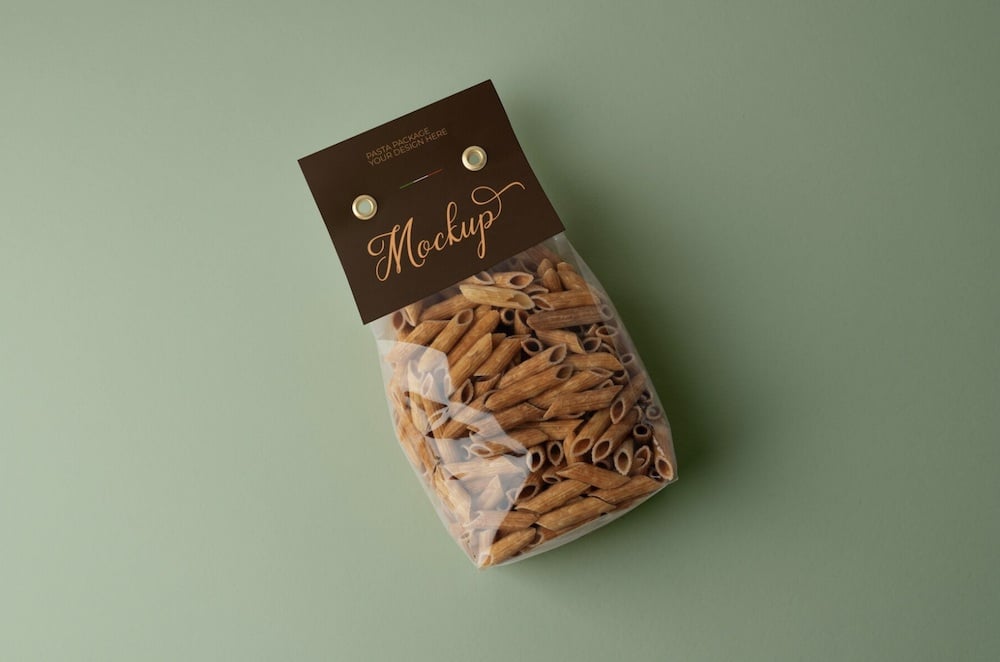 Everyone kept saying what a beautiful pasta packaging my client has and where they can purchase it.
But the final product wasn't even ready yet. Now that's called THE POWER of a photorealistic mockup.
You will achieve the greatest showcase with this one if this is the style you're after.
But hey, it's free, so you can also test things out for fun. (Like I do sometimes.)
MORE INFO / DOWNLOAD
13. Pasta paper bags mockup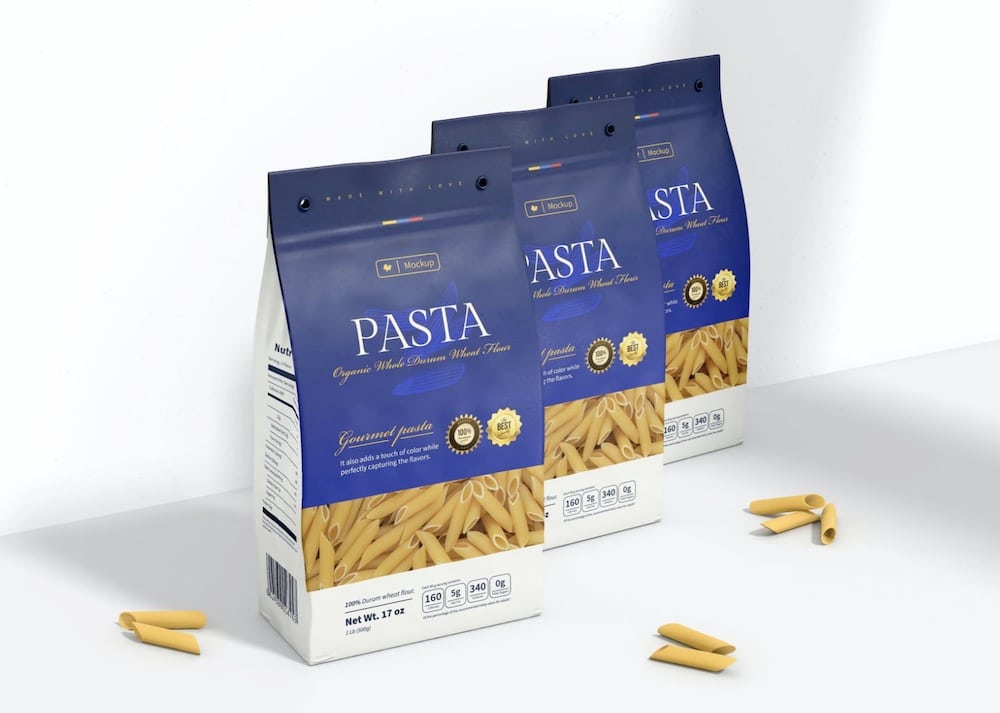 Instead of using plastic for packaging, this pasta mockup sorts you out with paper bags.
All three bags are ready to present your front and side design. Improving the default takes barely any work while keeping your PROFESSIONALISM intact.
Note: This one was recommended to me by a good friend who used it for multiple projects and told me about the positive impact.
I trust her, so I'm forwarding it to you here.
MORE INFO / DOWNLOAD
How To Create A Pasta Mockup?
The easiest way to create a pasta mockup is with Photoshop.
It only takes you a few quick steps that won't require more than sixty seconds of your time. (Unless you decide to do some really serious customizations and tweaks to the template.)
5 Quick Steps To Make A Pasta Mockup:
Step 1: Open Photoshop.
Step 2: Import the PSD mockup you like. I recommend you pick any from the collection above because they work great.
Step 3: Find the practical smart object layer. I made sure to include only the templates with an organized structure, where all layers are easy to find. Use the smart object to insert your design.
Step 4: With your design in place, you now have the freedom to modify the default look however you want. There's no right or wrong way – do it your way! (You can change colors, the background, the effects, add an overlay, etc.)
Step 5: Save and download, and your work is done.
I usually start with a free mockup to test the waters and then move to a premium one.
::
Note: This article was originally published on May 29, 2022. But our team regularly reviews it and updates it with necessary improvements for accuracy.