Are you looking for the best free and premium ID card mockups?
Welcome to the extensive collection that I spent six months reviewing and using for client projects.
Every PSD file and generator is tested and proven to work for businesses, conferences, events and any other occasion.
The mockups are also VERY easy to use, requiring only a few seconds of your attention.
But the outcome will be very professional after you include your designs.
This post covers:
Enjoy the smooth workflow and impress your clients.
Note: You may also be interested in checking our guide on how to make a business card mockup.
Best ID Card Mockup Generators
These are the templates that don't require Photoshop to make a mockup.
Each template costs $7.95, or you can pick either a monthly ($14.95/mo) or yearly ($89.69/yr) subscription.
(Hint: You can test things for free 🙂 )
1. Woman with an ID card holder at the office mockup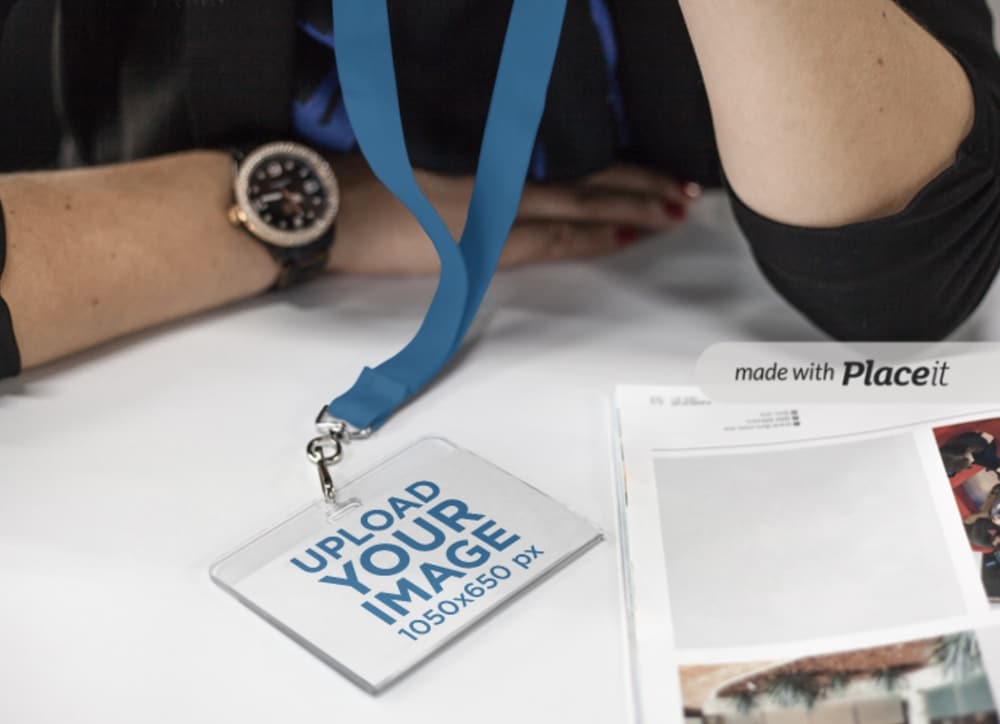 I've used this mockup generator the most in the past, so that's why I'm placing it first. It creates a professional appearance that's great for conferences, meetings, businesses, etc.
The customization options allow you to change the color of the lanyard and the badge holder.
You can slide in any image you want, add text and spice things up with graphics.
It requires just SOME clicking to make it happen, so take action now and enjoy the outcome seconds later.
Note: Don't miss my collection of the best lanyard mockups.
MORE INFO / DOWNLOAD
2. Man wearing a lanyard & ID card mockup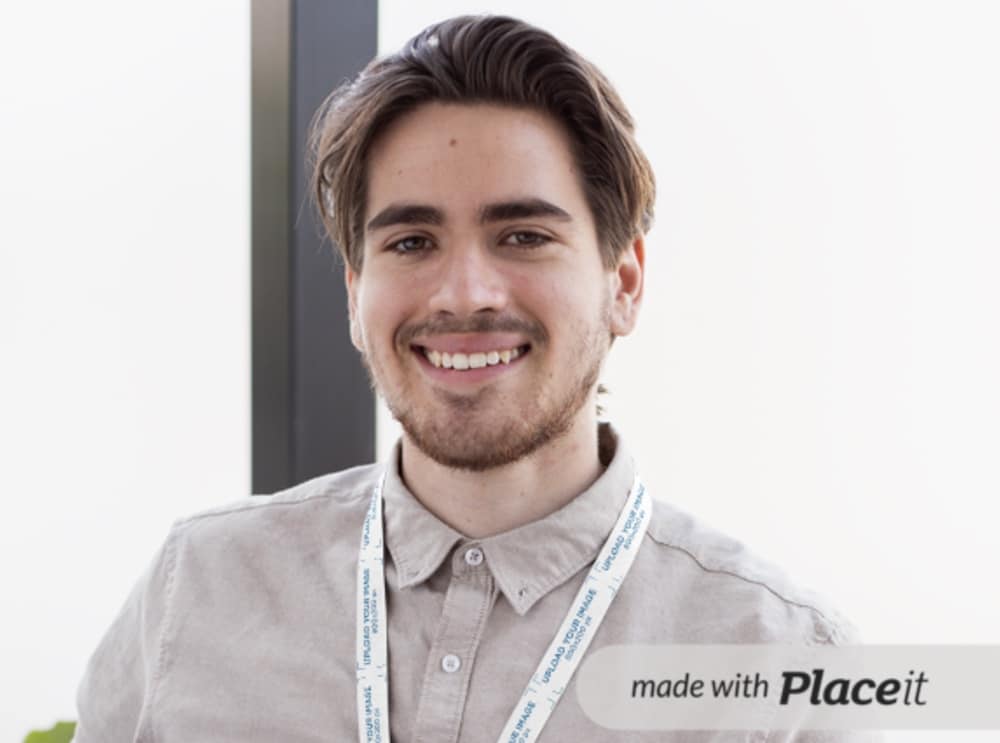 A model with a smiling face presenting an ID card design worked really well for me and my clients. And you can now test it out and enjoy its POSITIVE effect as well.
What's cool about this one is the option to modify the lanyard not only with a custom color but with design, too.
It's easy and quick work to make it the way you want it to appear.
Note: The mockup generator would be even more epic if it'd allow you to change the dude's shirt color. (But that'd be optional anyway.)
MORE INFO / DOWNLOAD
3. ID card holder hanging from a girl's neck mockup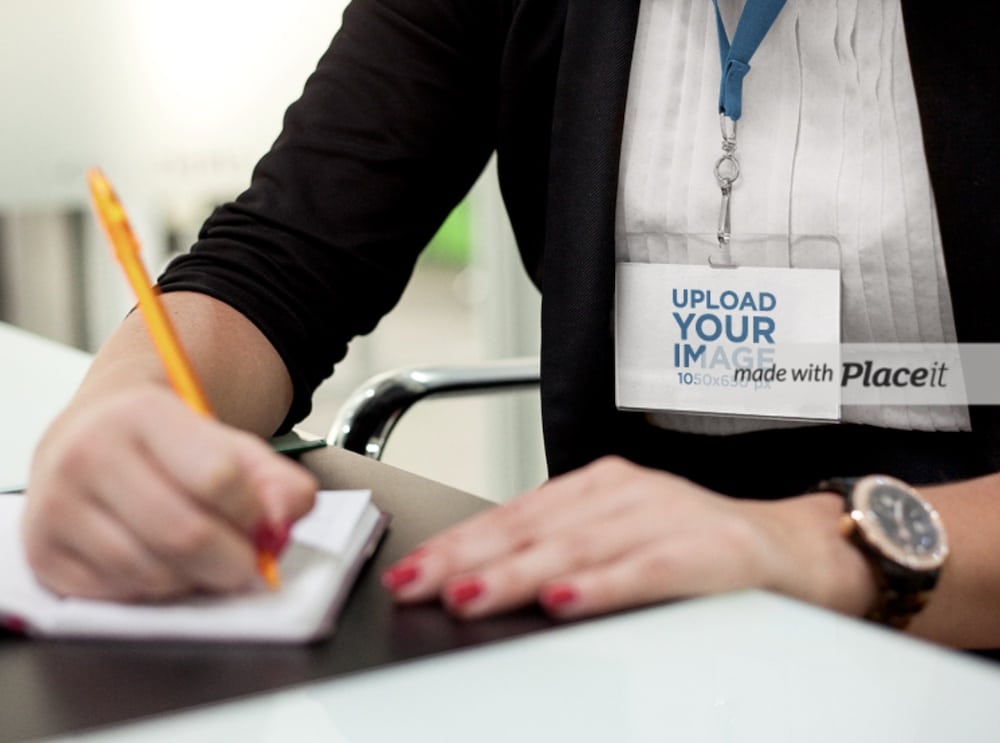 I really liked the outcome I created with this ID card mockup when making a realistic presentation for a local event.
The owner was stoked!
But I didn't do much work actually. I added the card logo and that's it. I didn't need to change the lanyard color because the default one fit the branding well.
However, you can add CTA text (or any other text you want) and also include available graphics or upload your own.
Many options!
MORE INFO / DOWNLOAD
4. Office woman wearing a badge holder template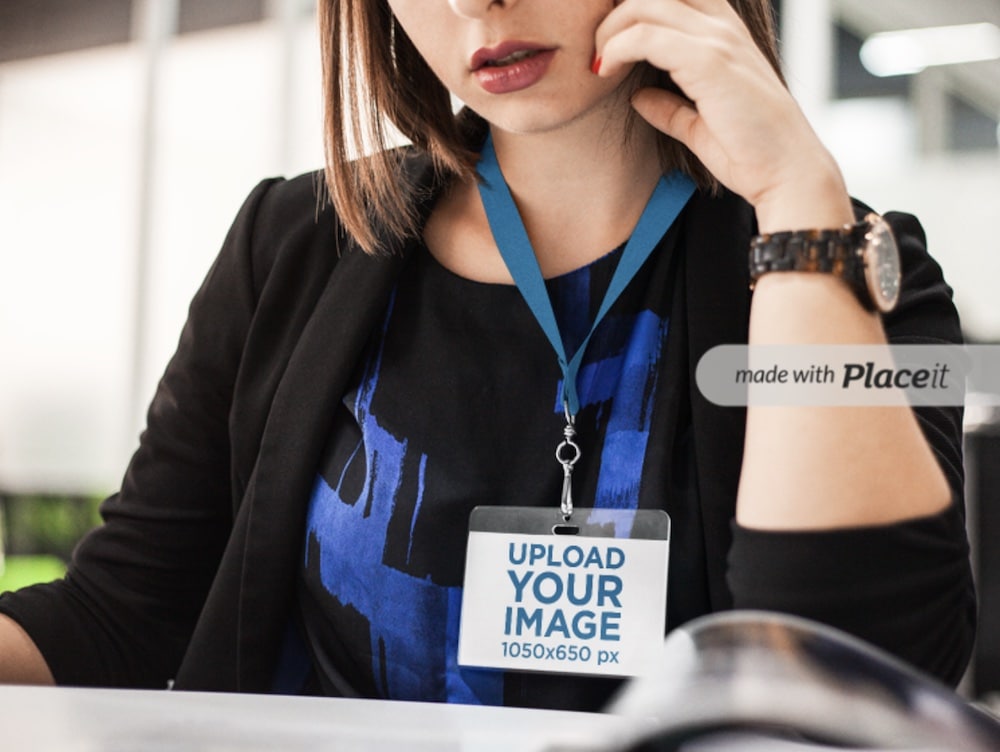 I needed to CREATE custom office ID badge holder designs a couple of times in the past. And I used this perfect mockup because it nicely sticks to the business theme.
Plus, because the quality is great, you can easily crop it, making it more close-up. But I didn't.
Instead, I also uploaded a company logo and placed it like a watermark in the top left corner.
MORE INFO / DOWNLOAD
5. Close-up of an ID card holder mockup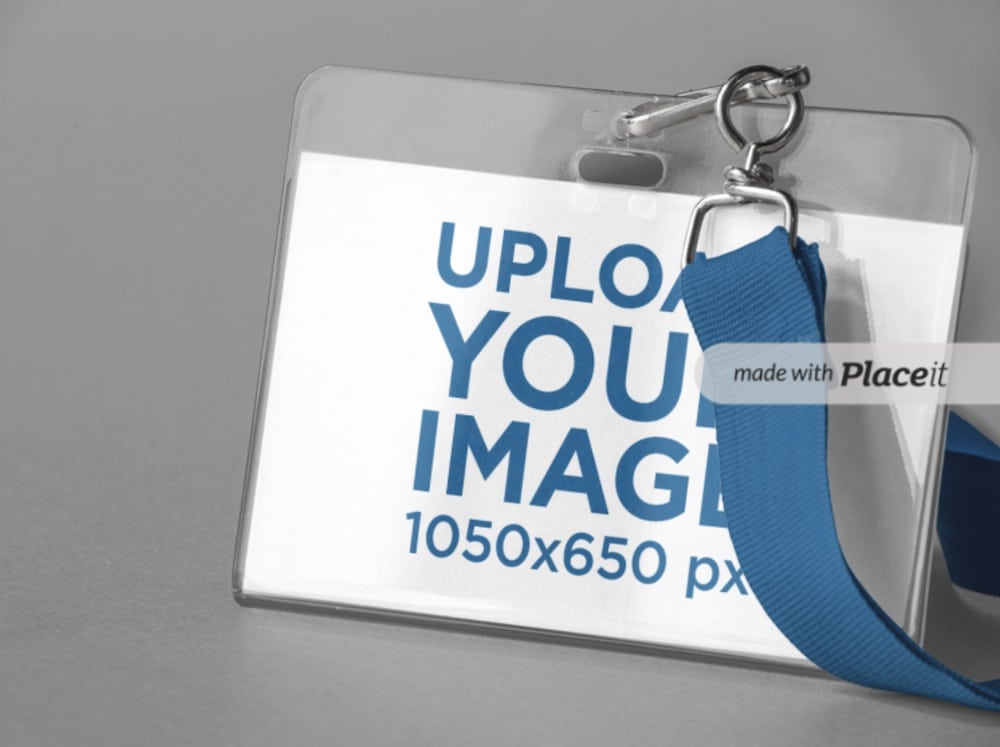 But if you're particularly searching for a close-up ID card mockup, then I cannot recommend this one MORE.
You can craft your custom version in a few clicks, thanks to its great customization options. Change the colors of the background, the lanyard and the badge holder.
Furthermore, add your card image, which covers the entire working area if it's 1050 x 650px (no need to change the color in this case).
Optional text and graphic insertion aren't something I'd recommend using in this case. The close-up presents the card design too nicely to be bloated with other stuff.
MORE INFO / DOWNLOAD
Best ID Card PSD Mockups
6. Lanyard name tag & ID card mockup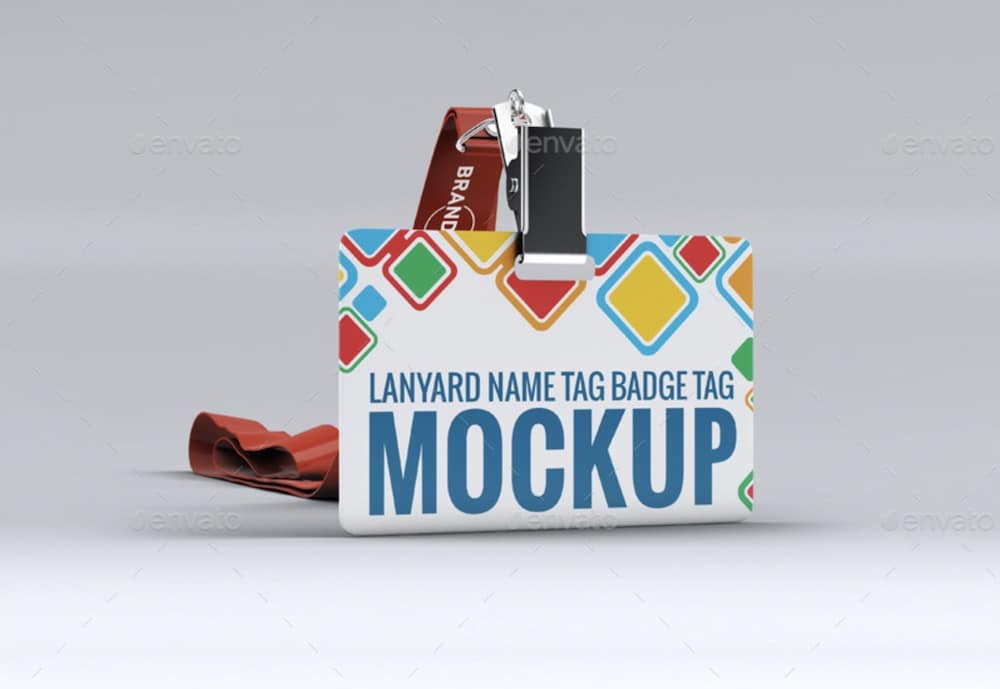 But this is always my go-to mockup when in need of a layered PSD template.
It is a bundle of ten, covering every angle you need to create an outcome that's precise to your liking.
Also, the quality is VERY decent (3500 x 2625px), so it works great even when zoomed in.
Along with simple design insertion via the smart object layer, you can also adjust shadows, lights and reflections.
Make it appear even more realistic with a few minor tweaks that fit your design exclusively.
Price: $6
MORE INFO / DOWNLOAD
7. Realistic ID card & lanyard mockup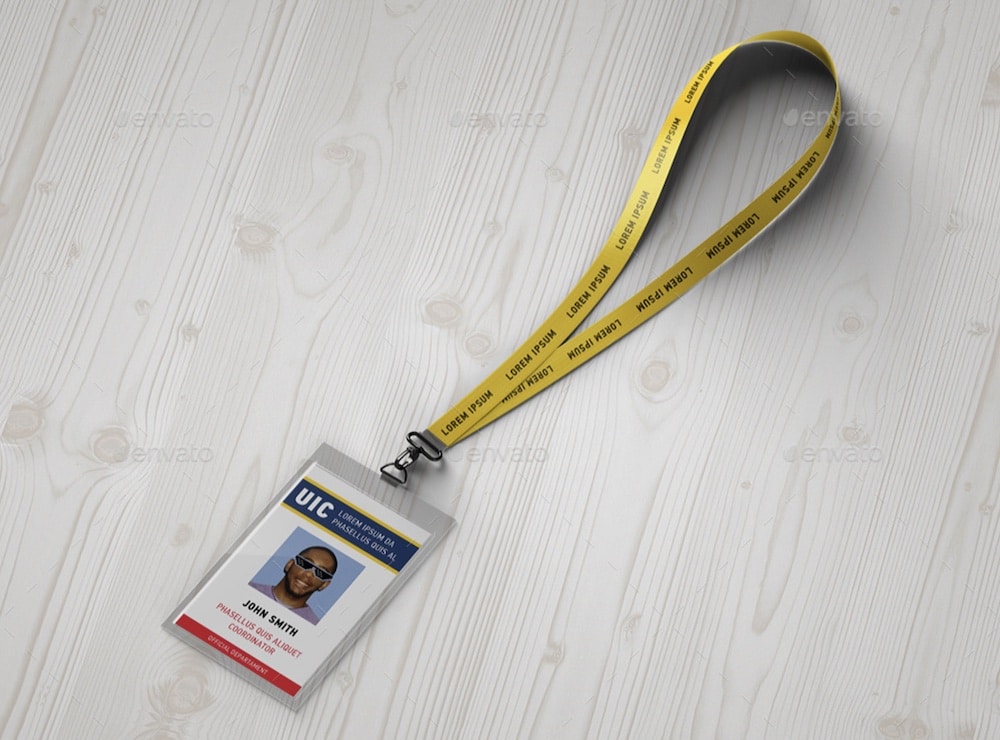 You can come out with a special presentation of an ID card with this batch of four PSD templates.
Very easy to use so that everyone can get the most out of the set, beginners and professionals.
I used my custom backgrounds so that the card image popped out more, creating a more attention-grabbing effect.
And nope, you don't NEED experience, you just need to know how to open Photoshop and mockup.
But the help file and quick video tutorial will come in handy if you're working with a mockup for the first time.
Price: $6
MORE INFO / DOWNLOAD
8. ID card PSD template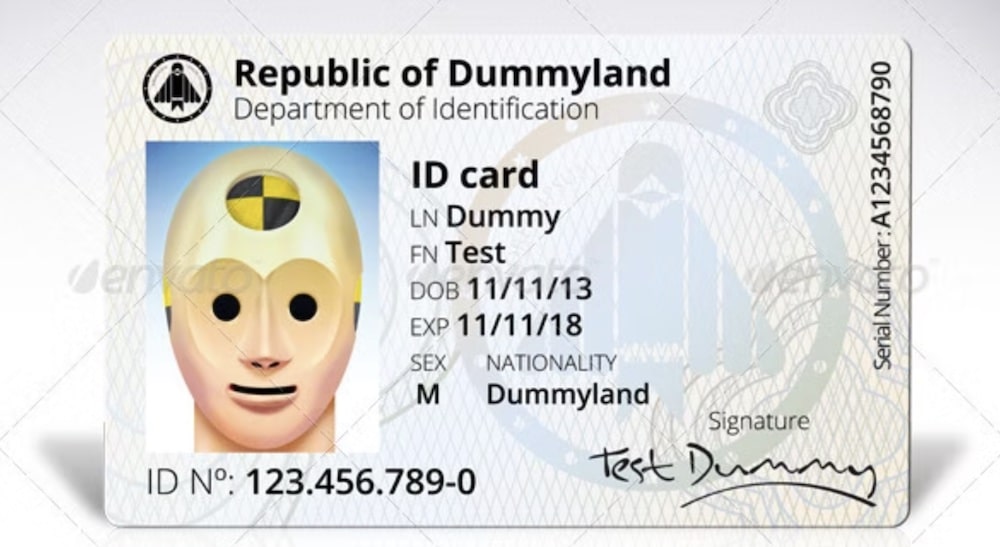 If you're looking for the fastest way to create a realistic presentation of a national ID card, then here's a mockup I used multiple times.
Thus I can confirm that it works great, and I especially like it for its amazing detailing and customizations.
The set treats you to seven views with shadows and reflections. And the 5400 x 4800px quality guarantees even the smallest details appear crystal clear.
Fast editing via smart objects for INSTANT improvements. You can even create a few variations quickly, picking the winner faster.
Price: $8
MORE INFO / DOWNLOAD
9. Employee ID card holder mockup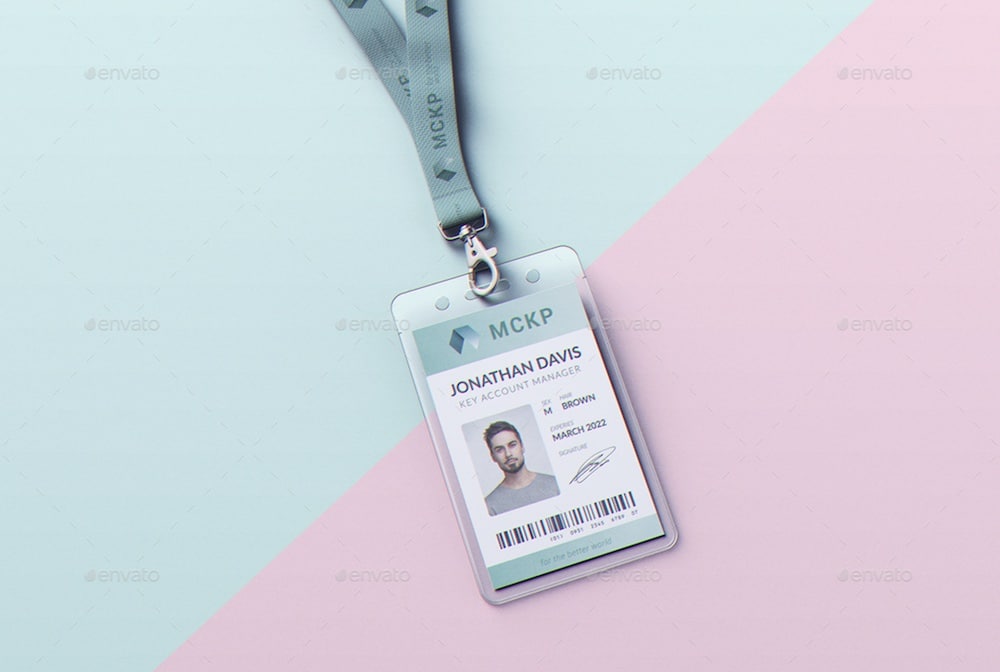 This employee ID card mockup comes in twelve variations to cover the needs of everyone.
You can use it for various clients and you WON'T repeat yourself because of the many views, which is always a plus.
What I really like about it is its capability to work with any type of design and color choice, thanks to its simplicity.
You can also choose between four predefined filters, change the color of the lanyard and use any custom background you want.
Lastly, the workflow is so fast it'll take you longer to decide which of the twelve to work with first. When you pick the best, a few clicks and you're done!
Price: $8
MORE INFO / DOWNLOAD
10. Corporate ID card mockup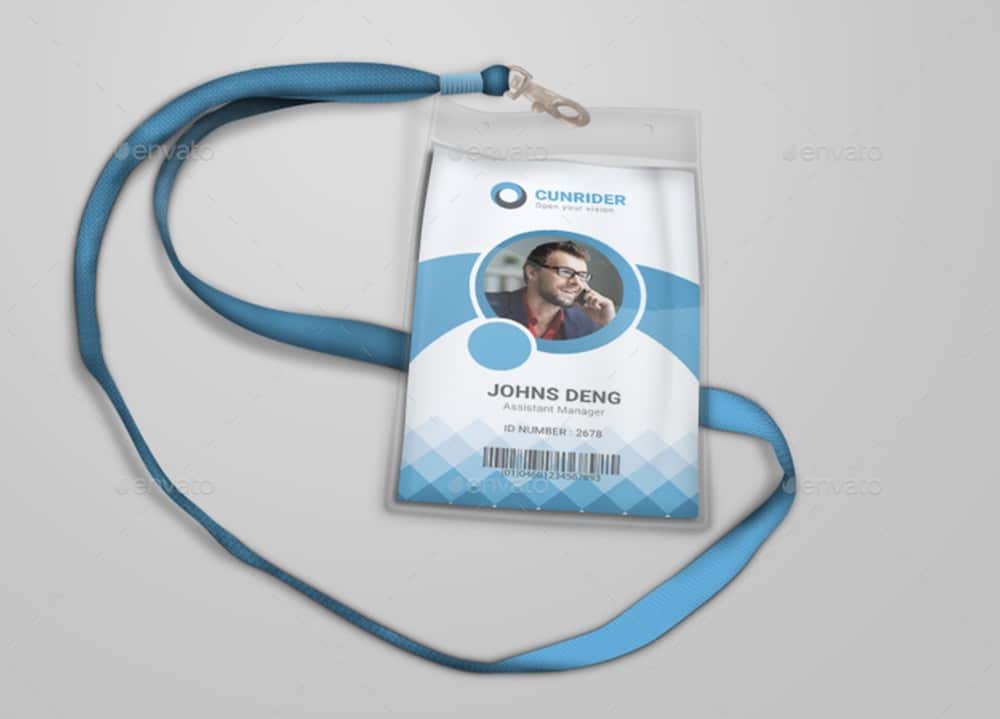 When working on a corporate ID design, present it like a champ with a ready-to-use PSD mockup.
You get ten predefined color options, but you can also create your version without breaking a sweat.
The MANY options and possibilities ensure you come out with the right ID design showcase effortlessly.
Each file is also print-friendly with bleed, trim and safe zone lines.
Price: $6
MORE INFO / DOWNLOAD
Best Free ID Card PSD Mockups
Freebies are great when they're high quality – like these mockups!
11. Free vertical ID card mockup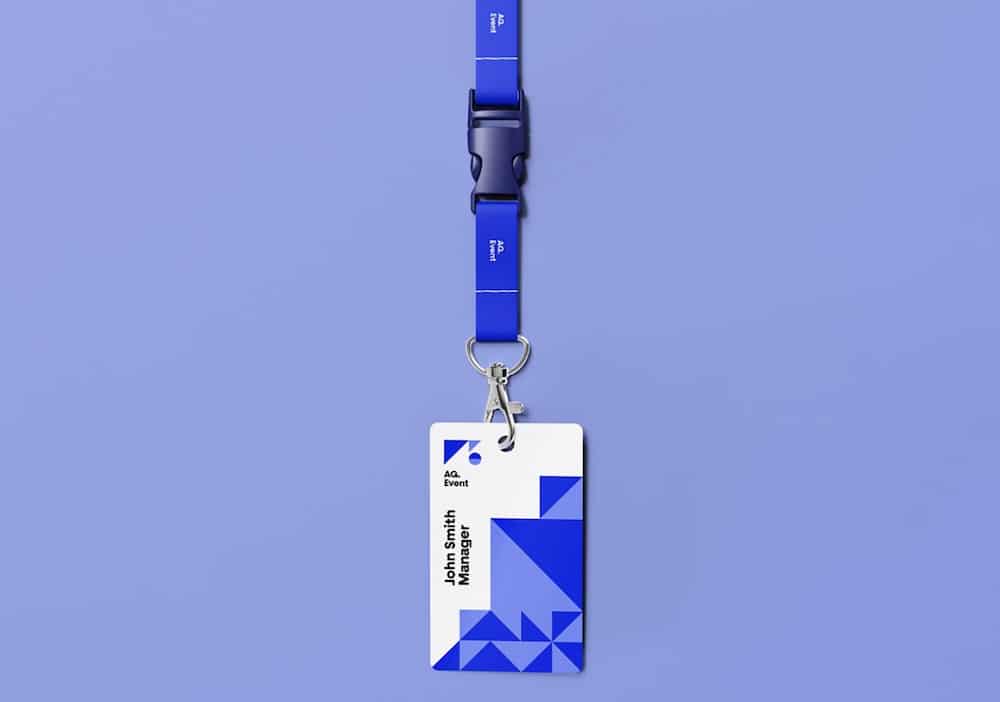 This vertical ID card PSD mockup is essential for a beautiful demonstration. It keeps things simple and to the point, which is exactly why I prefer it over the others.
You have the right to edit the background, the lanyard and the card with any color and design combination you want.
This means you can use it for VARIOUS projects, including businesses, events, conferences, etc.
MORE INFO / DOWNLOAD
12. ID card holder mockup free PSD

But opt for this floating and angled ID card with a lanyard if you want to have some fun with the presentation.
Why always be so serious? You don't have to be, and that's why it's so easy to differentiate from the masses.
And you can MAKE a great and positive impact with this awesome ID card mockup on your personal and commercial projects.
MORE INFO / DOWNLOAD
13. Vertical ID card and holder mockup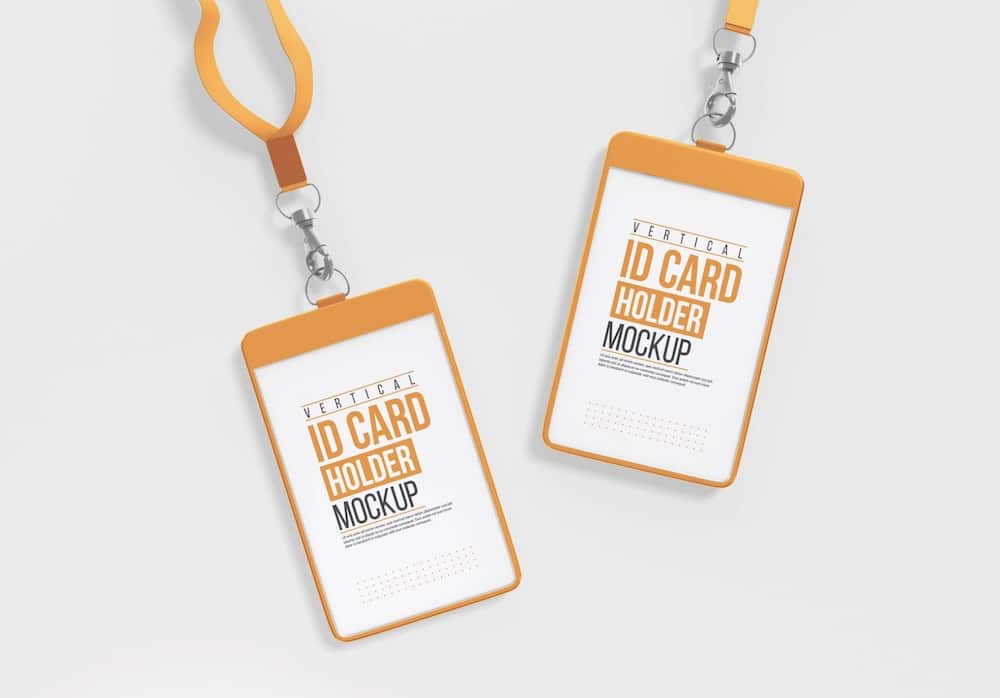 Instead of one ID card holder, this one presents you with two. This is a great chance to demonstrate two completely different designs or to showcase the front and the back view.
Enriching the default settings with your creative twist will take you little time, so don't miss it.
And EVEN though it's a freebie, it still promises a fantastic quality that you deserve.
MORE INFO / DOWNLOAD
14. Close-up company ID card PSD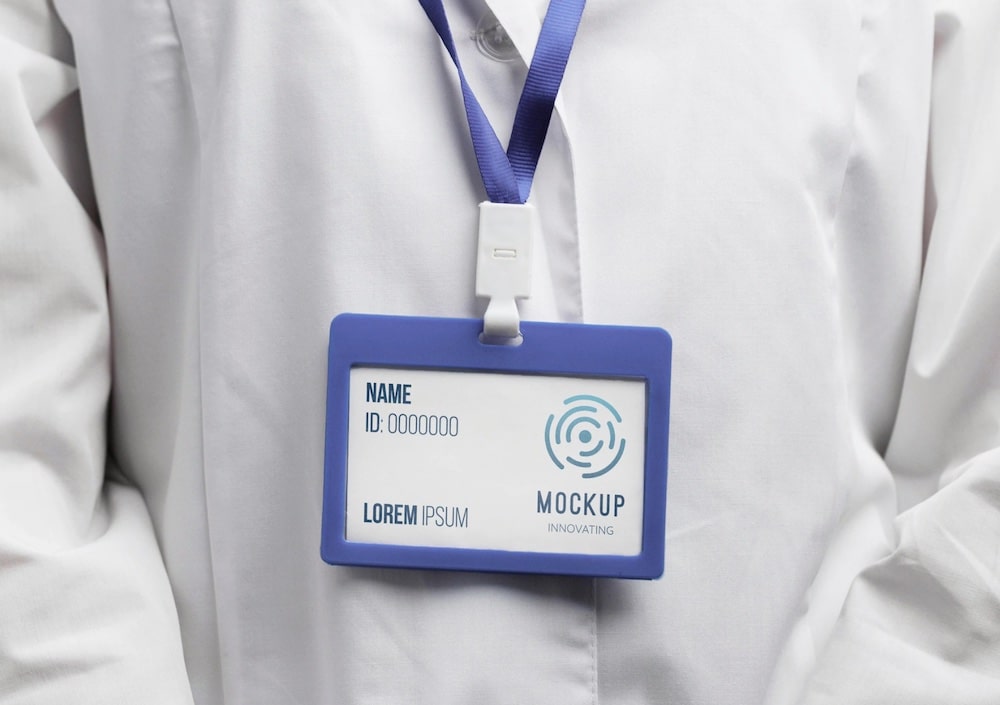 For something more FORMAL, I wanted to add this clean ID card template that creates a very "straight-in-your-face" demonstration.
I like it.
And it's a great solution if you're after a horizontal ID card with a rubber holder.
Plus, the semi-close-up view is great because it shows the card details nicely (unless you plan on adding something super tiny – in this case, I rather wouldn't).
MORE INFO / DOWNLOAD
How To Make An ID Card Mockup
You can easily create a photorealistic custom ID card presentation with a PSD or a generator.
Let's start with an online mockup generator because it's the most straightforward method.
And we'll use Placeit, a platform I regularly use for creating various projects.
Design An ID Card Mockup In 4 Steps:
Step 1: Head over to Placeit where you can use their handy search bar to find the template you're after. (The live recommendations are very beneficial.) But I still recommend opting for any of the above examples.
Step 2: Once you're on the mockup page, "insert image" first by pressing the blue button. I suggest you do this right away, so you can quickly test whether it fits. Yes, you can test and try all Placeit mockups for free.
Step 3: You can then perform other creative tweaks, like changing the card's color, adding a text overlay and sticking a graphic. But if your design fits the ID card perfectly, that may be the only thing you do, which makes creating a mockup take seconds.
Step 4: Your job is done. Click the "download" button and save it.
Okay, but even if you choose a PSD file, you'll have it ready fast, too.
After opening Photoshop, import the layered file and search for the smart object layer. It's easy because I ensured to include mockups with a user-friendly, organized structure.
This also allows you to perform other customization tweaks efficiently by clicking each layer and adjusting it accordingly. Change shadows, lighting, colors, etc.
Save and download – and have fun!
Further reading:
::
Note: This article was originally published on August 4, 2022. But our team regularly reviews it and updates it with necessary improvements for accuracy.