Do you need the best free and premium canvas mockups for beautiful, realistic presentations?
I feel you.
I was in your shoes a few months back when working on several projects.
Luckily, I researched and gathered fifteen absolute best mockups I'm stoked to share with you.
I used mockup generators and free PSDs to create quick drafts and actual projects.
So. Fast.
This post covers:
It only really takes some clicking and you can make your version like a professional (even if you're not)!
Best Canvas Mockup Generators
Use each generator for $7.95, but I recommend Placeit's monthly ($14.95/month) or yearly ($89.69/year) subscription (and save money).
Remember, you create a mockup without using Photoshop with these!
1. Horizontal canvas print mockup in living room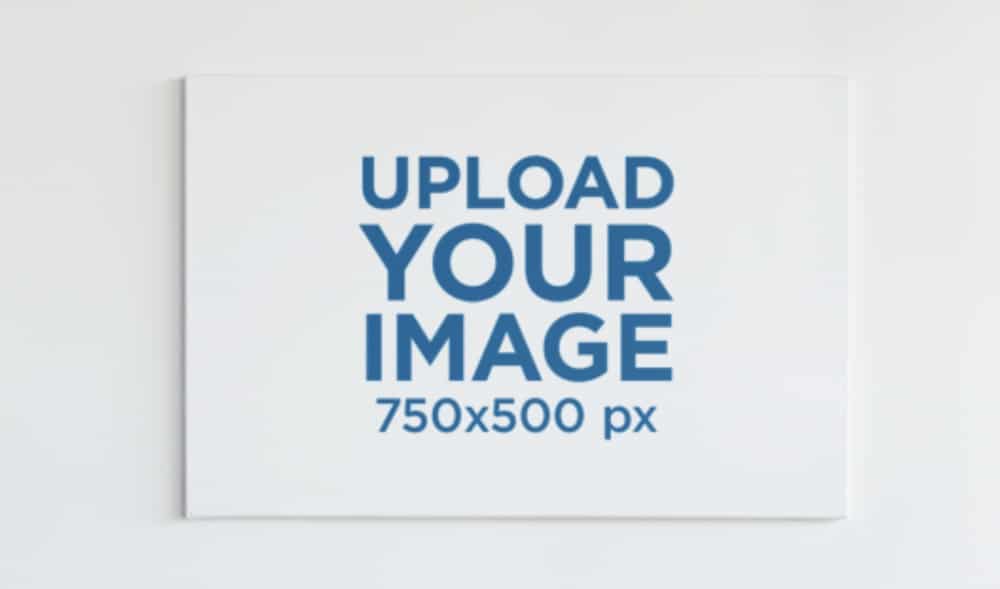 This horizontal mockup of a canvas print on the wall gives a 100% realistic experience.
Here's the SECRET: No one will tell you used a mockup! (And that's my guarantee.)
The comfortable living room scene can present your canvas design in all its glory.
How to edit it? Click on the "insert image" button and upload your artwork.
You can also crop and reposition it, but a 750 x 500px design will cover the whole space.
Add a graphic or text and you're done!
MORE INFO / DOWNLOAD
2. Hanging canvas mockup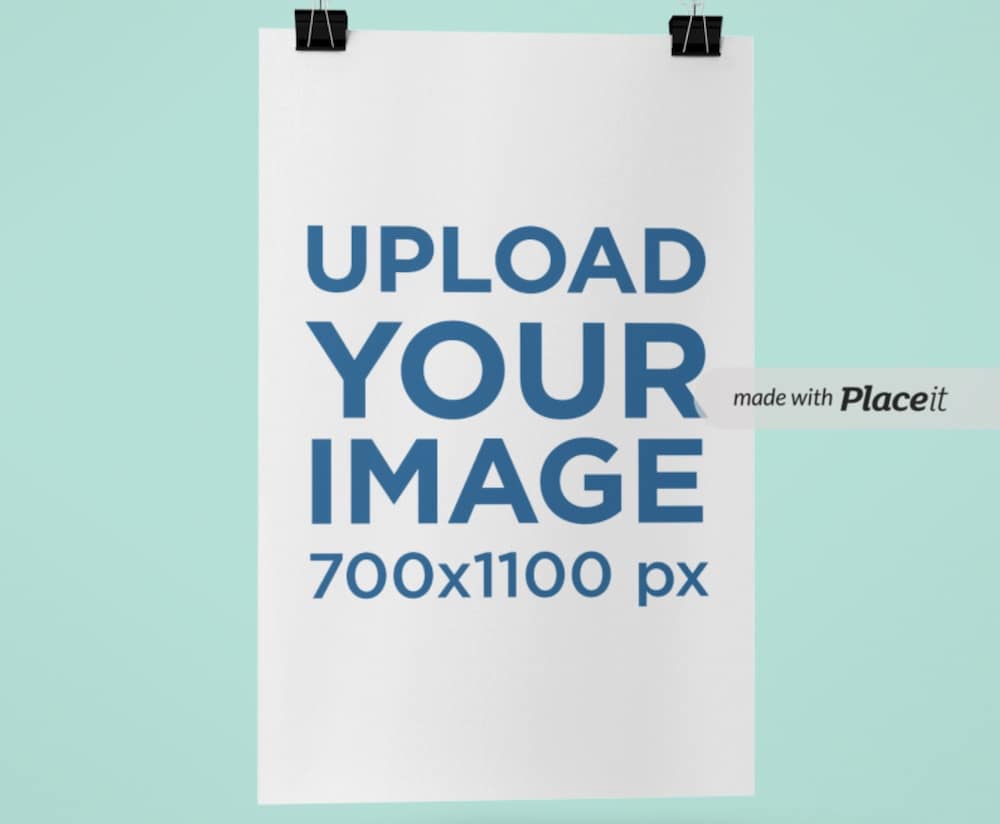 This is a fantastic solution for working on a vertical canvas presentation because of its minimalist appearance.
But the fact that it's hanging grabs a lot more eyes. At least that's what I experienced when testing it on a client's IG with 5,000+ followers.
What I really LIKE about this one is that it allows you to change the background completely. Hey, you can even insert your custom backdrop (or choose one from Placeit's archive)!
Easy.
MORE INFO / DOWNLOAD
3. Minimalistic mockup of a squared canvas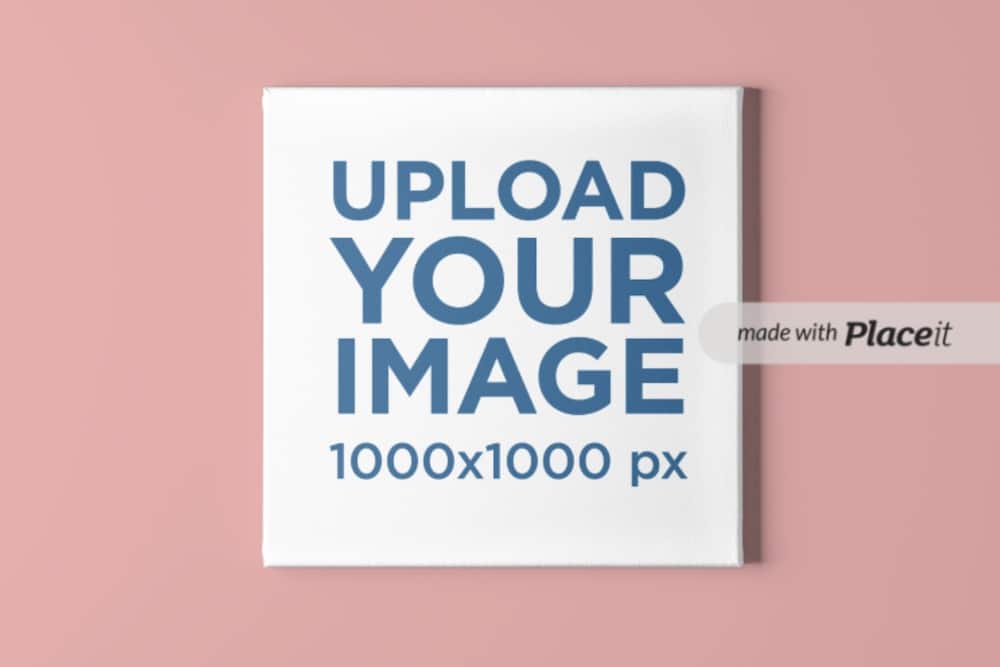 This minimalist square canvas mockup features a plain wall, which is great if you're looking for simplicity.
But it's also AWESOME that the generator allows you to change the background to a different solid color, pick a gradient or upload your own.
Many options.
Plus, you can add graphics or text at your free will. But I wouldn't recommend using these two unless it's vital.
It bloats the presentation too much in my opinion.
MORE INFO / DOWNLOAD
4. Vertical canvas print mockup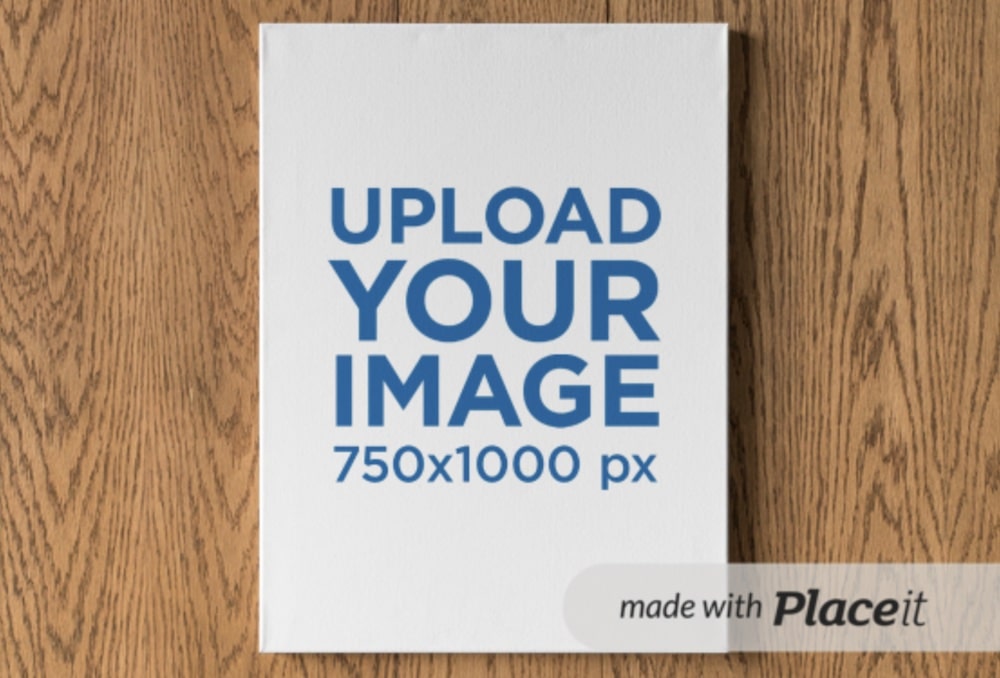 Another fantastic and realistic canvas print mockup for showcasing vertical designs and artworks.
You have the FREEDOM to slide in any creation you want. In fact, you can even test multiple versions to see which wins.
And because it has some extra space at the bottom, you can also include a call-to-action or add a graphic (which you can also upload from your device).
Play with the generator's options to come up with the ultimate solution. It's so easy.
MORE INFO / DOWNLOAD
5. Mockup of a woman holding a poster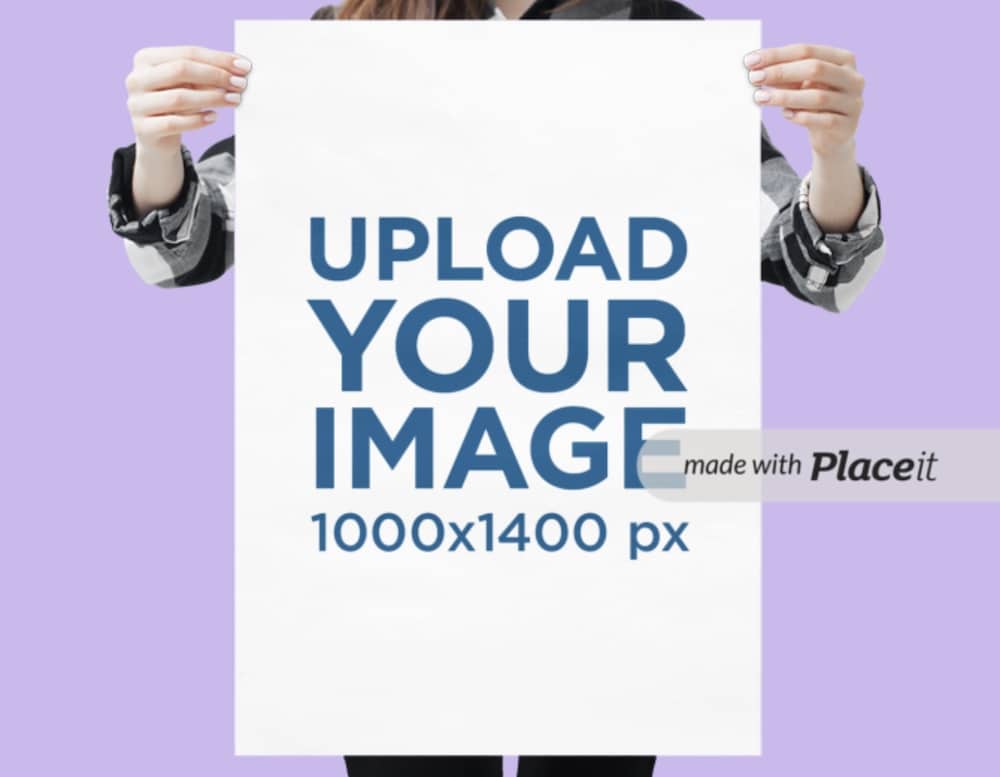 If the above hanging canvas/poster version is too BORING for you, I'm sure this one will grab your attention.
It features a young female model holding a vertical canvas that you can modify completely.
From changing the color of the canvas to completely covering it with your design, it's all possible.
What's also possible is to modify the backdrop, add texts and spice things up with graphics.
But don't overdo it, because you can ruin the excellent result!
MORE INFO / DOWNLOAD
6. Art print mockup hanging in a lounge room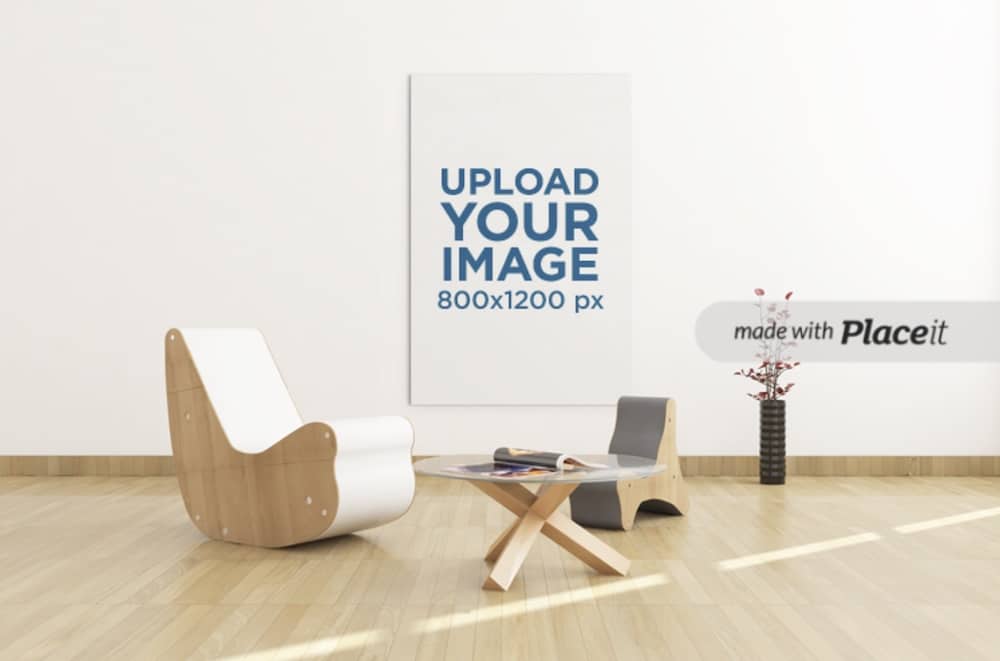 This one is SO pretty!
A lounge room, a minimalist living room, well, you decide, but once you add your design, everything will look ten times better.
This one is great if you're working on a larger piece for a client they want to see before realizing it.
But you can also use it for marketing campaigns or just for your testing. (Hint: You can use it for free if you want to test the waters.)
MORE INFO / DOWNLOAD
7. Mockup of square and vertical wall canvases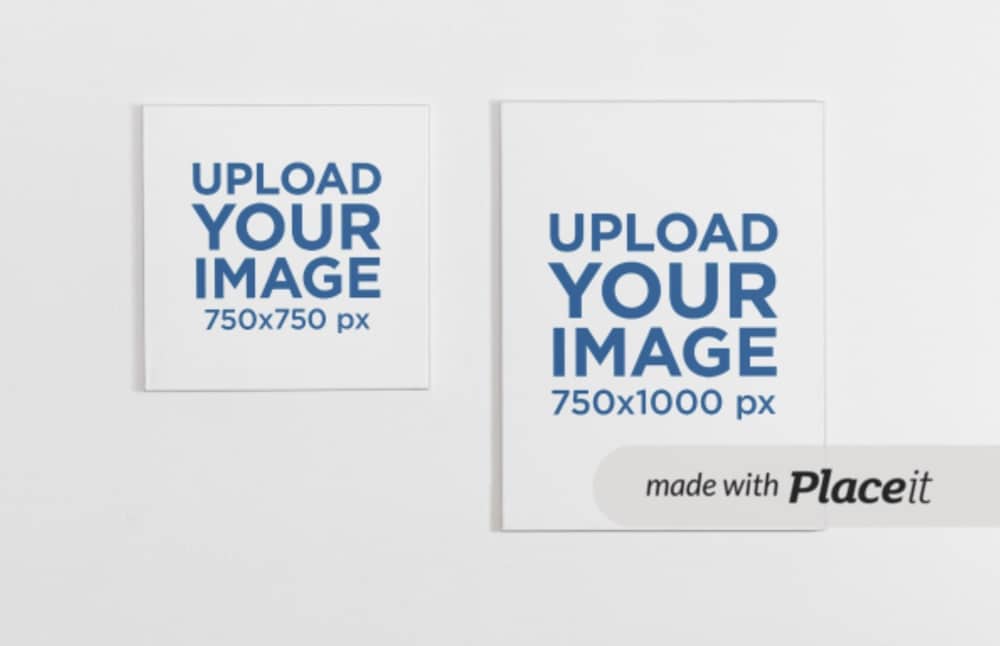 Do you work on two designs? That's great because you can now CREATE a life-like presentation with this canvas mockup.
It features a square (750 x 750px) and a vertical (750 x 1000px) canvas on top of a bookshelf.
Both canvases have the option to change their colors, which you may not need to do if your artwork covers the whole space.
Graphics and texts are available as additions in case you need to add some more content. (But this is something I rarely use on Placeit.)
MORE INFO / DOWNLOAD
8. Art print canvas mockup in a modern apartment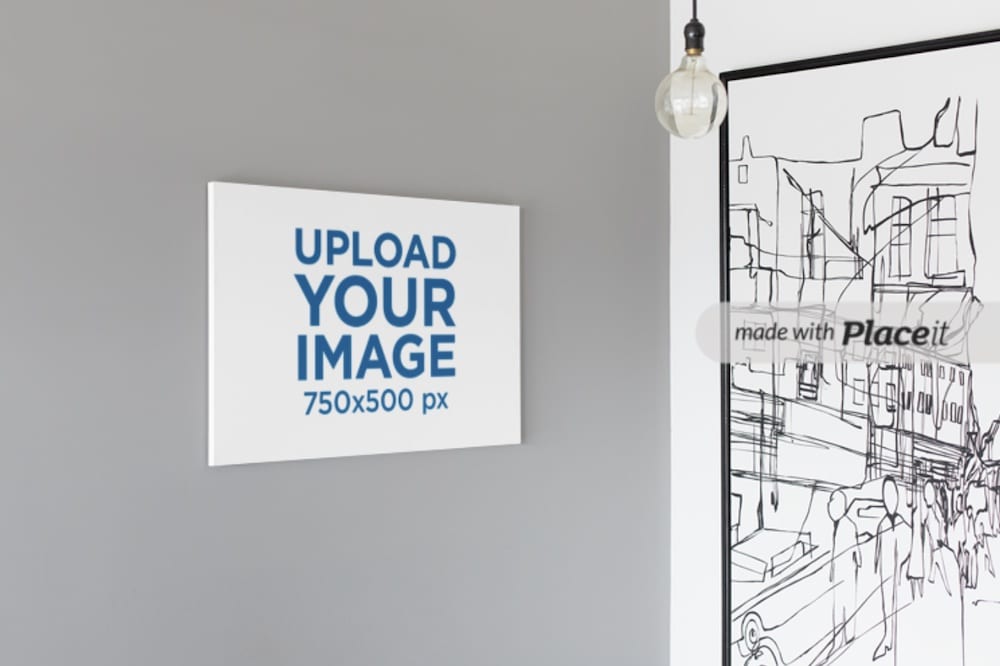 This one is for all the (extra) ARTISTIC people out there. It already has a canvas/poster on the right wall, but you can now add your version on the left wall.
I think I don't need to go into detail about how to use it because it only takes a few clicks to make your version.
However, I'd like to mention that it'd be really cool if you'd also have the chance to modify the wall color.
MORE INFO / DOWNLOAD
9. Wall canvas mockup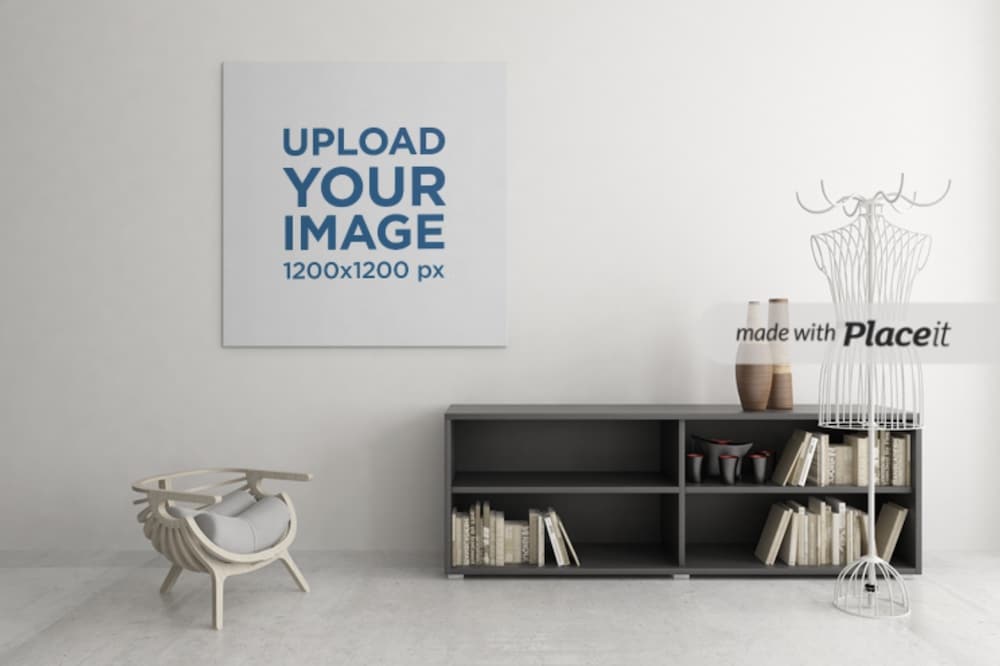 Do you have a square canvas design that you want to present in a life-like surrounding?
Here you go!
Except for the canvas on the wall, nothing is editable. But I'd assume this one is the PERFECT solution for someone in the fashion industry. Or I might be wrong.
Anyhow, it's your choice to decide what type of artwork you'd like to add to this canvas mockup.
It could be anything! I went with something more avant-garde, and it worked really well.
MORE INFO / DOWNLOAD
10. Three art prints placed against a modern living room wall mockup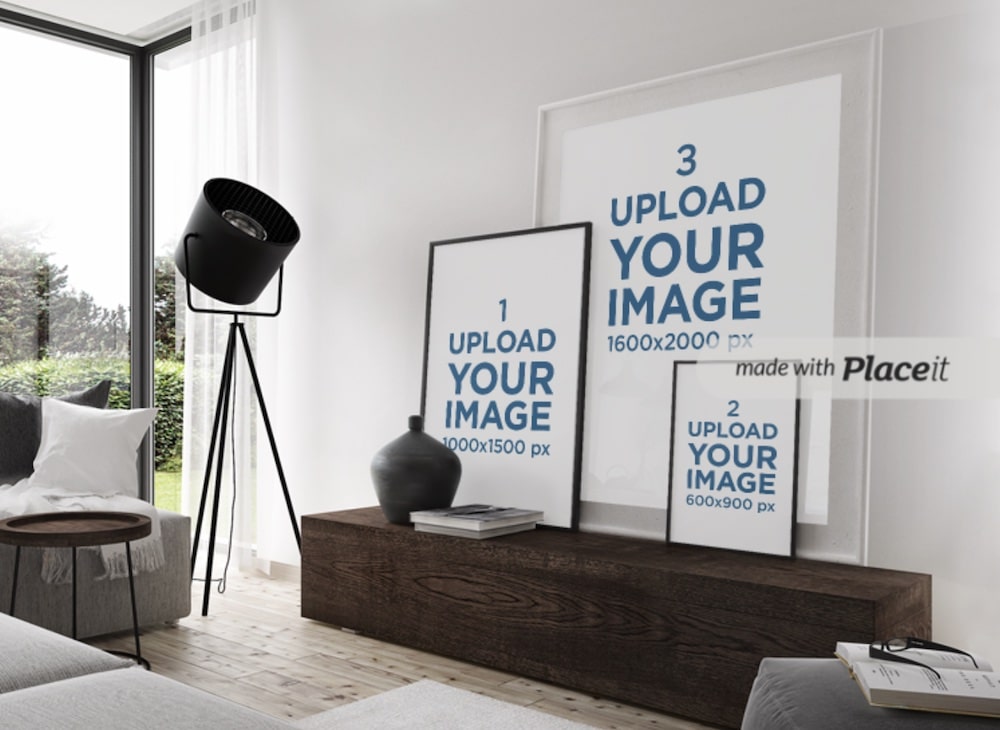 While most of these canvas mockups only have one canvas to work with, this one has THREE.
You can create three individual presentations within this template, including changing the colors.
This already beautiful living room will look even better after you import your images, which takes only a few clicks.
MORE INFO / DOWNLOAD
Best Free Canvas PSD mockups
11. Free canvas mockup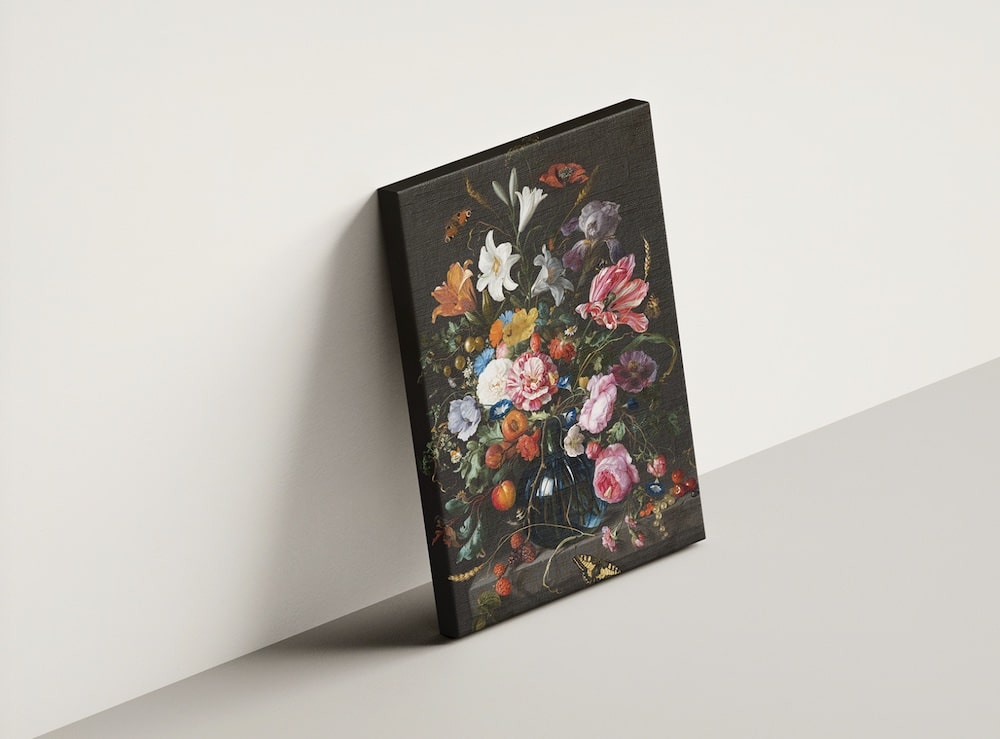 This one may be free, but it's MORE premium than anything else. You get a collection of six layered PSD files at excellent resolution.
Additionally, you can also choose between two ready-made backgrounds and use all mockups for personal and commercial projects.
I mean, what's not to like about this bundle?!
Copy and paste your design and let the mockup do the rest. It's just as easy as it sounds.
By the way, the floating ones are my favorite.
MORE INFO / DOWNLOAD
12. Free vertical canvas mockup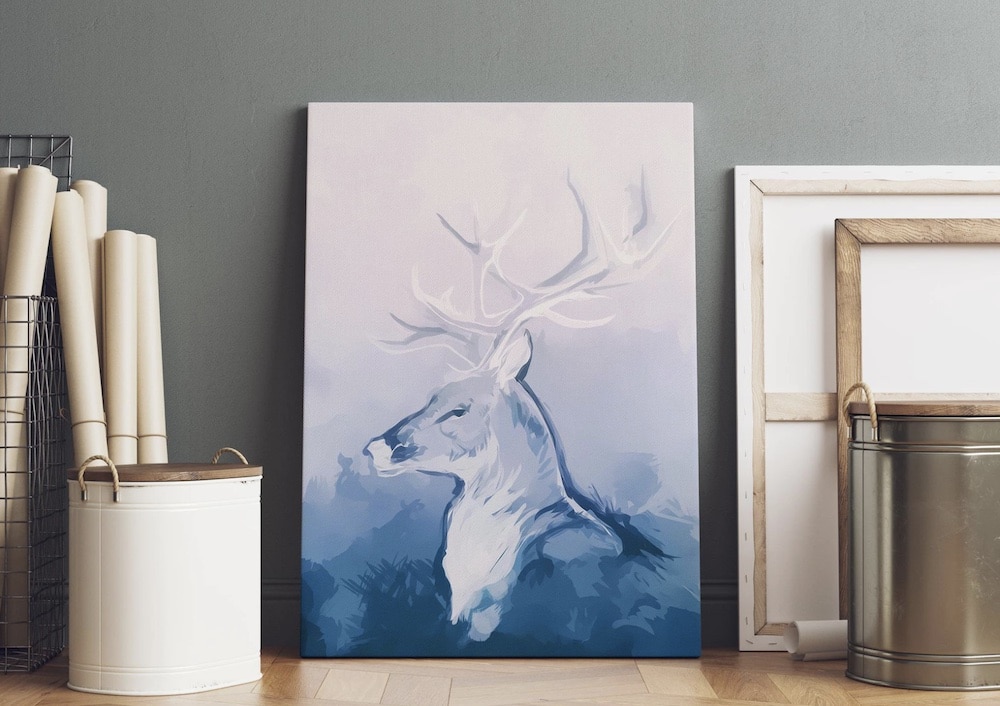 Do you have art to display but don't know which mockup to choose?
This one will feel very natural, especially if you're an artist, because of all the extra elements.
The template is compatible with personal and commercial projects, but you can also use it for print and reuse it unlimited times. Of course, with the necessary attribution.
Your outcome(s) will be LOVELY, I promise!
MORE INFO / DOWNLOAD
13. Free large canvas posters mockup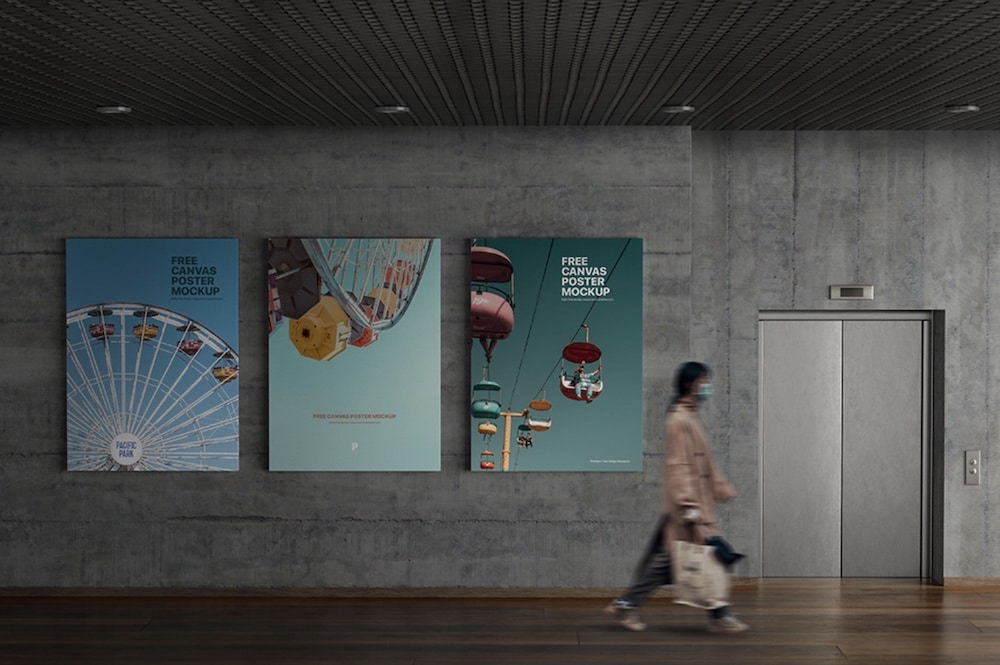 The realistic look of this canvas mockup, featuring three editable posters, is EPIC.
Do I say epic too much in my reviews?
All three posters are on individual layers equipped with PS's smart objects, so you know editing will be a little breeze.
You can use three different or identical designs – make the exhibition you want!
It's also a template that you can use for personal and commercial projects.
MORE INFO / DOWNLOAD
14. Minimalist canvas PSD mockup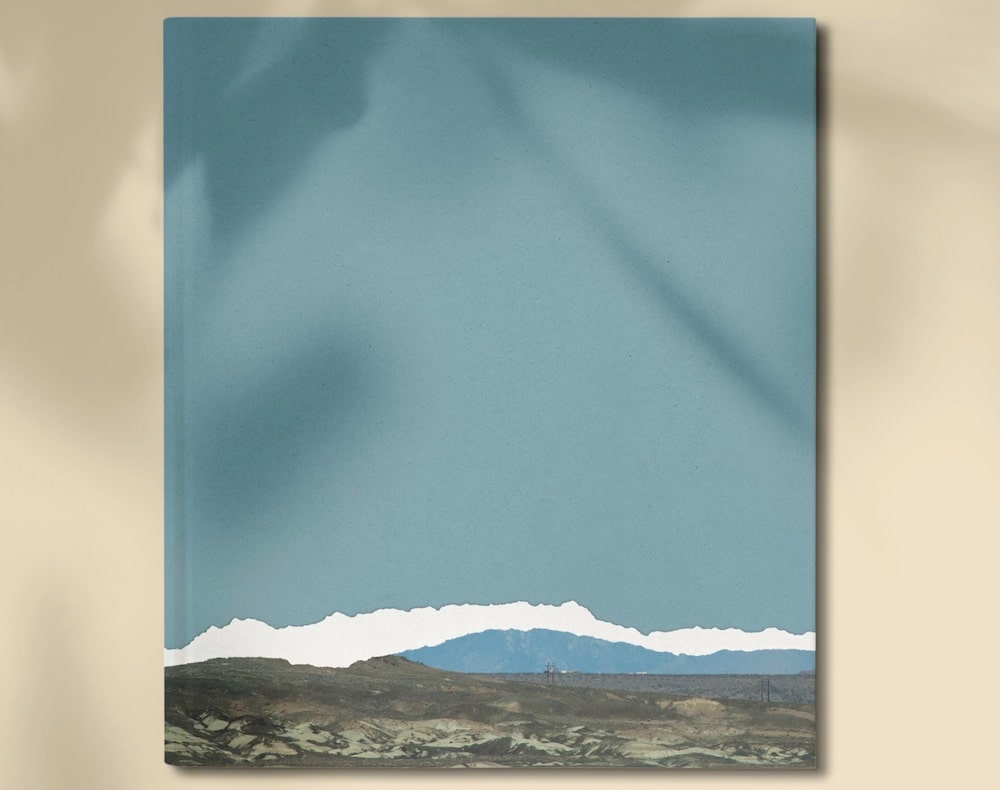 Sometimes, going minimalist is the right thing to do. Actually, that's most of the cases! At least from my experience.
This to-the-point canvas mockup is ready for any design you want to present on a solid-colored wall.
Perform as many customizations as you want, create personal projects or use the PSD for a commercial showcase; the options are MANY.
MORE INFO / DOWNLOAD
15. Free canvas PSD mockup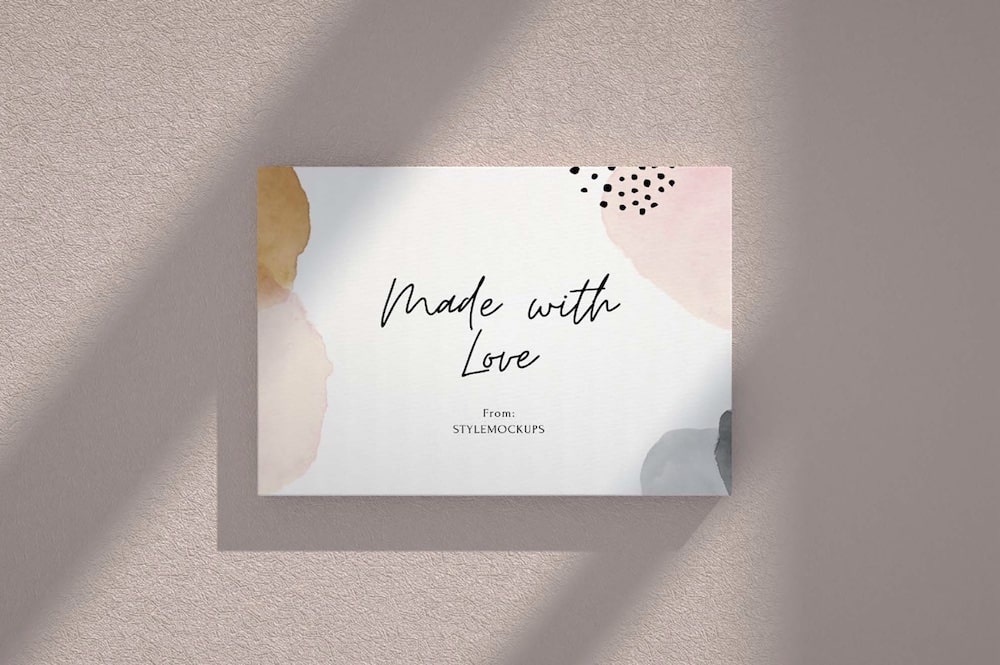 While this one aims at flyers, greeting cards and business cards by default, you can also use it for something else.
In other words, you can use it for cards or large canvases, it's ENTIRELY up to you.
The creation of a photorealistic version takes no time at all after you import the mockup to Photoshop.
This allows you to play with the variations (create as many as you wish) to come up with the exact version you want.
MORE INFO / DOWNLOAD
How To Easily Create A Realistic Canvas Mockup
I chose the simplest way to create a realistic presentation with Placeit because I like working with mockup generators the most.
It's great because you don't need software and can even do it using your mobile device.
Here's my process of doing it. Trust me, it couldn't be any simpler:
Step 1: The first step is to visit Placeit, where you search for "canvas mockup." But you can also follow this link that takes you directly to their ultimate collection.
Step 2: Pick the template that you like. I always first check the best-selling mockups to see what's hot and do any additional searching later. Click on the drop-down that's on the left, above the tags and pick "best selling." Or click on Filters on mobile and choose best selling templates.
Step 3: Once I have the design, I always first click the "insert image" button to upload my design to see how it fits. If it doesn't work too good, I go back to choose a different template.
Step 4: When everything clicks, I make final adjustments, which may be changing the color of the canvas and configuring the background. I rarely choose the Text and Add Graphics because they usually add unnecessary bloat – but you can!
Step 5: And that's basically it! The fifth step is already the step when I download my creation and put it to use.
You now have everything you need to create a life-like presentation like a CHAMP, from canvas mockups to the quickest how-to guide.
It's now time to get creative – yes, YOU!
::
Note: This article was originally published on November 8, 2022. But our team regularly reviews it and updates it with necessary improvements for accuracy.