Are you searching for the best paper bowl mockups to create an epic presentation?
That's why I spent multiple weeks trying and testing 100+ mockups to create this ultimate collection.
I tested each mockup with multiple colors, logos and designs to ensure they WORK for everyone.
This post covers:
You'll have everything you need by the end of this list.
But I do suggest you opt for a mockup generator because it's so much easier and quicker to create the final version you're after.
Why exactly?
Because you can create a professional mockup without Photoshop. Time-saver!
You'll love it!
Best Paper Bowl Mockup Generators
Each mockup generator goes for $7.95, or you can choose Placeit's monthly ($14.95/month) or yearly ($89.69/year) subscription and save money.
1. Mockup featuring two paper food cups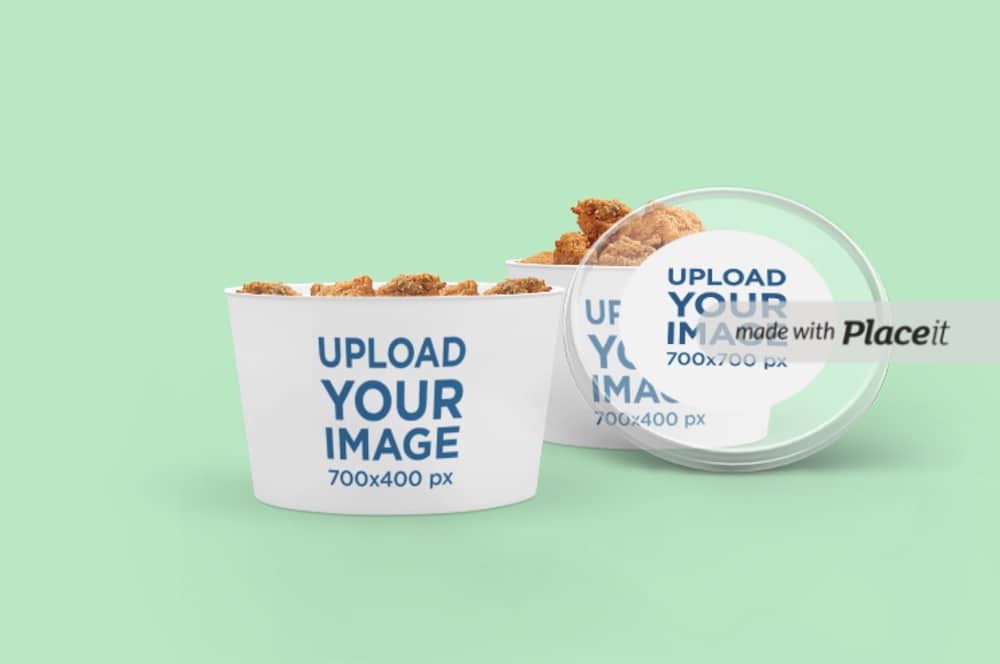 This is my favorite mockup generator for creating custom paper bowls. Why? Because I've probably used it the most.
It worked great for two takeaways and multiple food shops I worked with over the past.
It has two customizable bowls with a lid and an editable background.
You can also keep them full or empty, add graphics and custom texts. The MOST important thing is that you do you because the generator allows you that.
MORE INFO / DOWNLOAD
2. Paper soup bowl mockup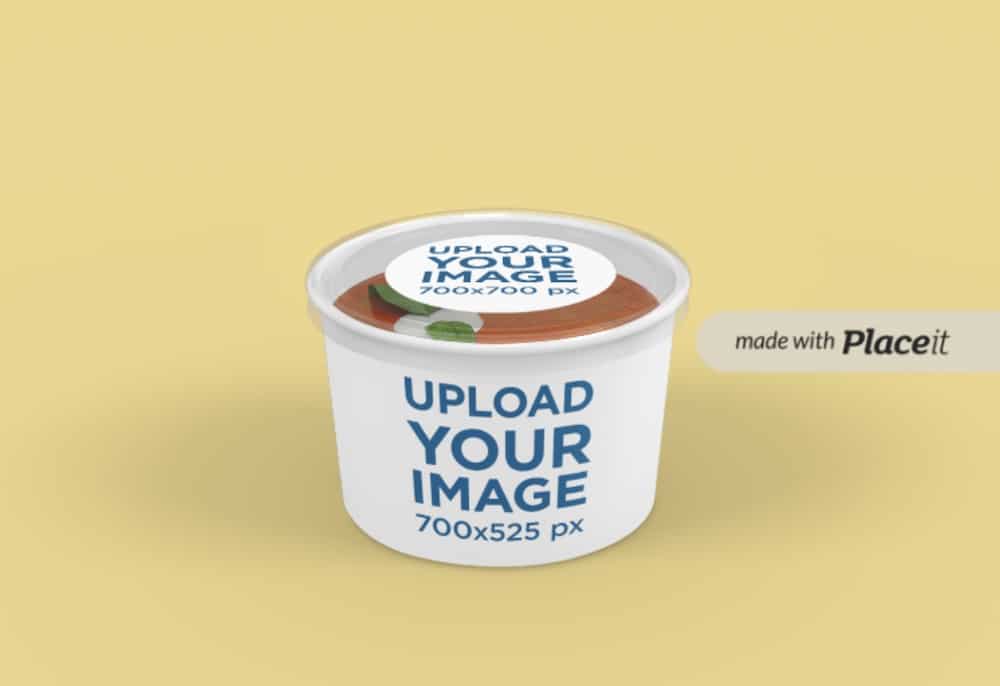 Do you need to create custom paper soup bowl mockups? Then I cannot recommend this one more.
It's extremely simple to use and comes with everything you need.
What's COOL, you can keep that tomato soup or throw it out and create a presentation of an empty bowl.
But I used both versions to give my client a better picture of what to expect.
MORE INFO / DOWNLOAD
3. Two food delivery paper bowls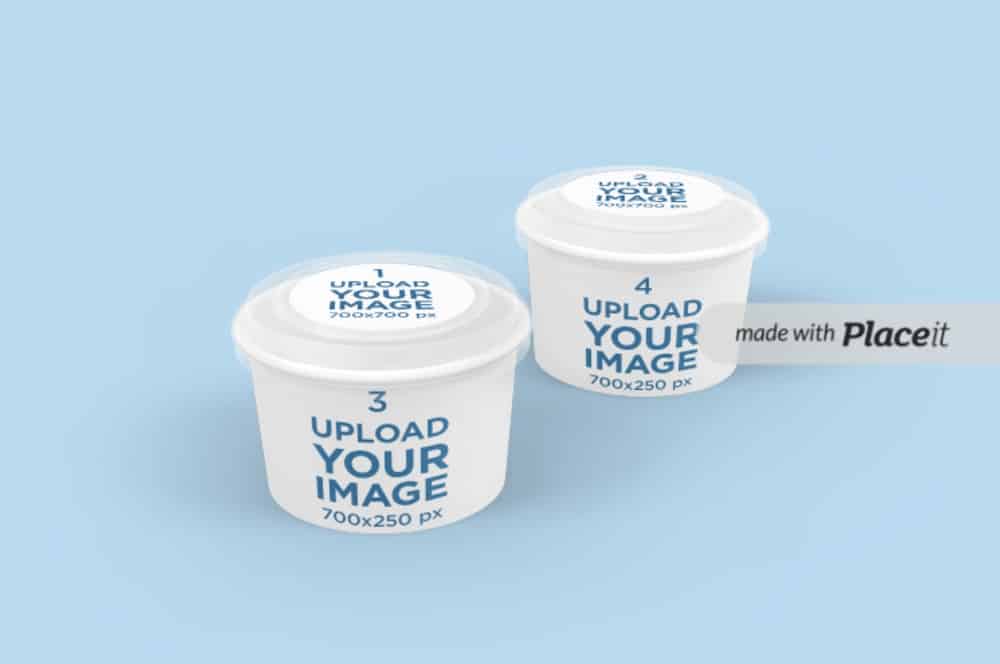 I LIKE this one because both paper bowls and lids are customizable with any logo or design you want to add.
Yes, that means you must insert four designs (which don't necessarily need to be different).
For this reason, it works great for various styles or to compare two branding ideas against each other.
Labels and bowls also come with customizable colors, just like the background.
Easy. Peasy.
MORE INFO / DOWNLOAD
4. Paper food delivery packaging mockup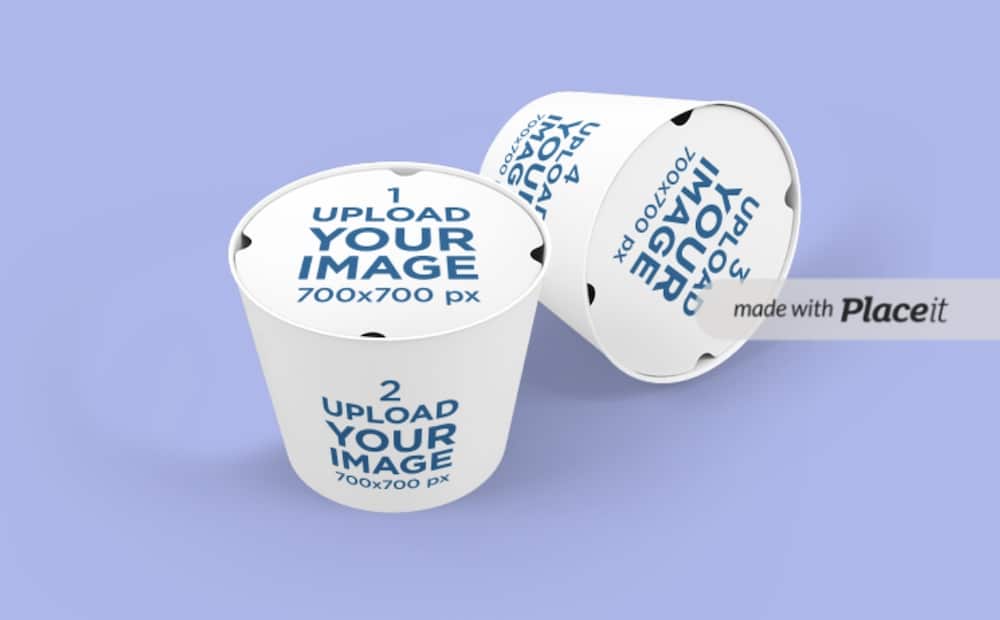 Whether it's a soup, noodle bowl, or ramen, well, you decide, this paper bowl mockup generator SIMPLY WORKS!
You can add two different designs to the main compartments and two to the covers.
It's effortless work because it only requires some clicking and having fun with color and graphic choices.
What I also like is that you can upload a custom background!
MORE INFO / DOWNLOAD
5. Two stacked food bowls mockup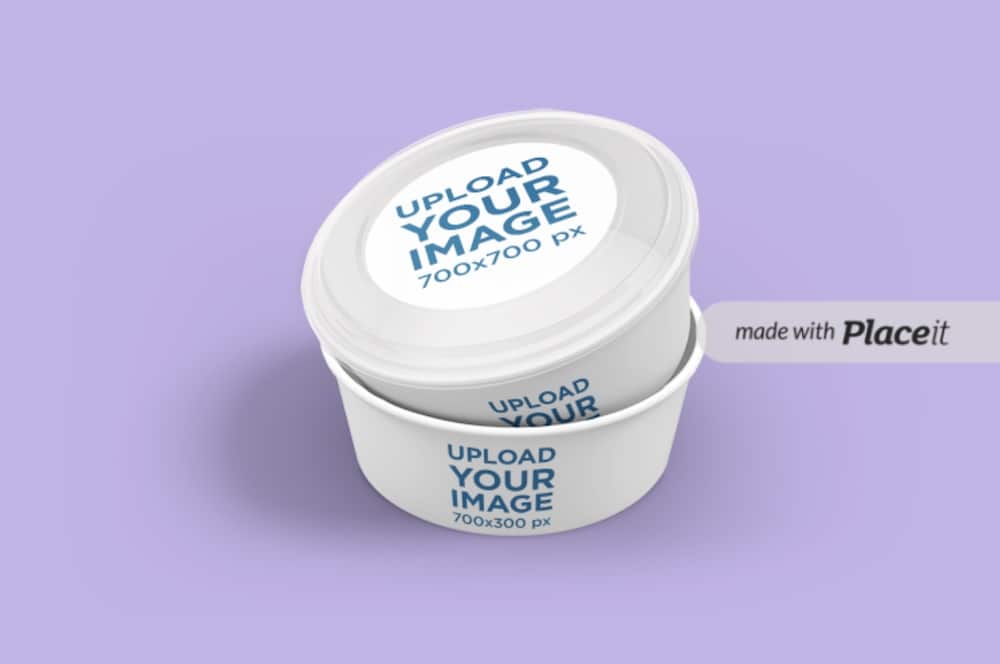 Two paper bowls, one on top of the other with the top one also having an editable lid – that's what's going on right now.
And this EXCITING way of presenting your design idea can be all yours.
You are even welcome to test it out free of charge because Placeit allows you so.
However, I recommend creating an account because it makes the process much more comfortable long-term.
MORE INFO / DOWNLOAD
6. Realistic paper bowl mockup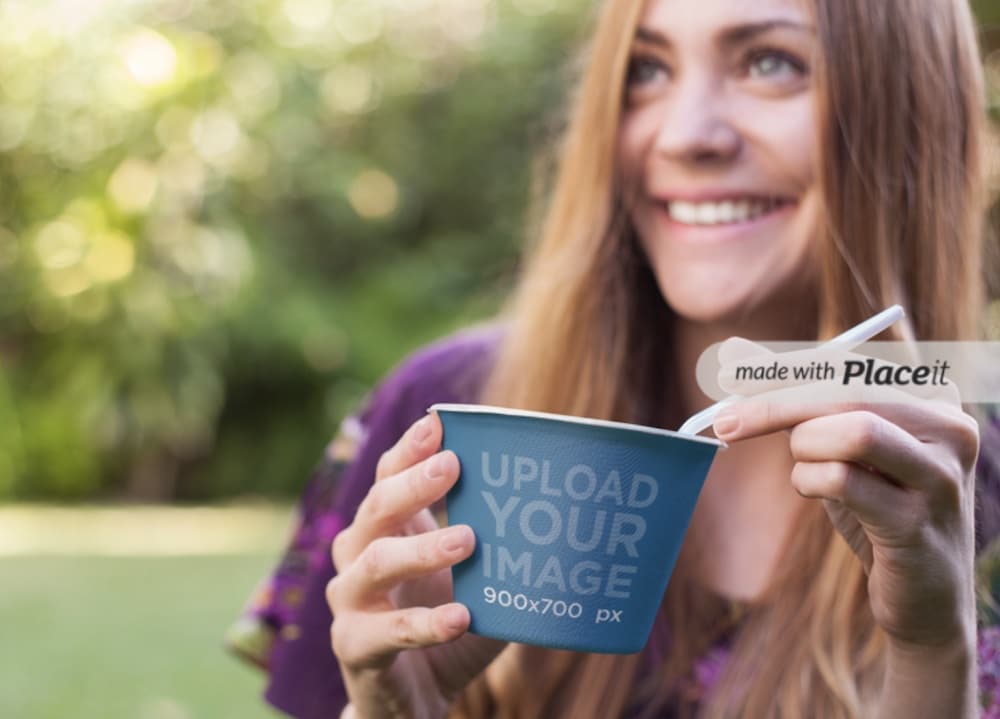 But this is the way to go if you want something more realistic when creating a paper bowl design.
Sure, the lady eats a bowl of instant noodle soup, but you can creatively use it for something else.
This is VERY quick to work with because all it takes is to insert your image and (optionally) change the color of the bowl.
You can also add text and graphics, but please don't overdo it because you can easily ruin the whole thing.
MORE INFO / DOWNLOAD
7. Highly customizable paper bowl mockup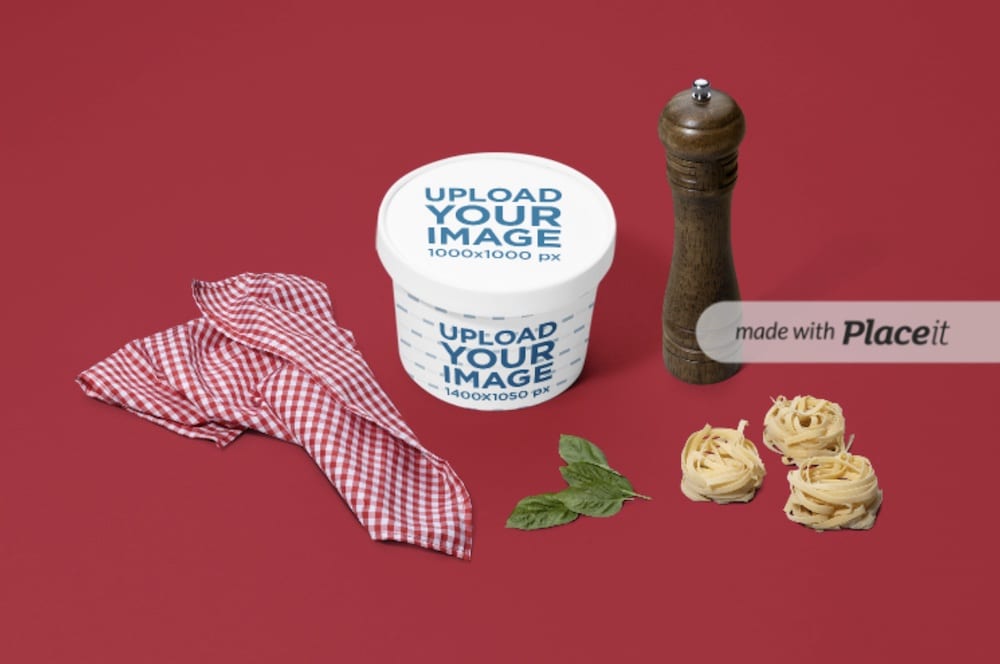 If you need something more theme-specific, like Italian cuisine, opt for this cool mockup generator with OH SO many options.
While you can fully customize the paper bowl, you can also play with the extra, which you can change, remove, add, whatever.
Be as creative as you want, and don't forget to adjust the background. You can make it look like a table or a giant picnic blanket.
Hey, I'm just giving you ideas.
Enjoy.
MORE INFO / DOWNLOAD
Best Paper Bowl PSD Mockups
8. Large paper bucket mockup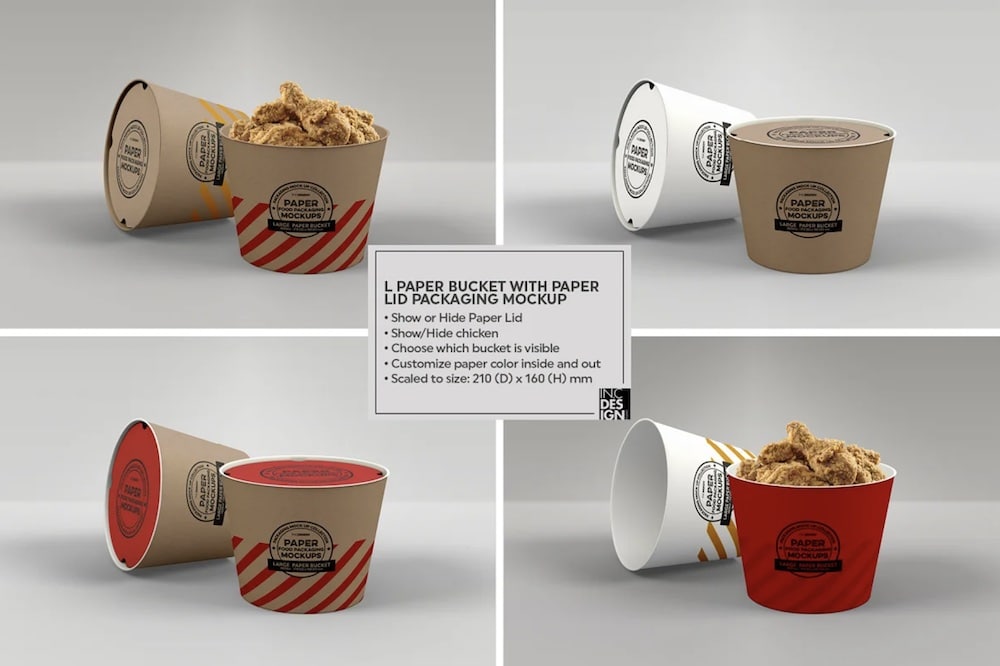 You are more than ready with this high-quality (5400 x 3600px) PSD mockup of a paper bucket.
Even though you get only one template, you can use it for ENDLESS projects.
You can use the mockup with or without the lid, empty or full (the chicken looks tasty, though!), and choose to display both buckets or just one.
Adding your design happens fast via Photoshop's smart object layer. You only need to drag and drop it!
Also, this layered PSD file has a beginner-friendly structure so that everyone can get the most out of it.
Note: It's scaled to size 210mm x 160mm.
Price: $10
MORE INFO / DOWNLOAD
9. Paper food bowl mockup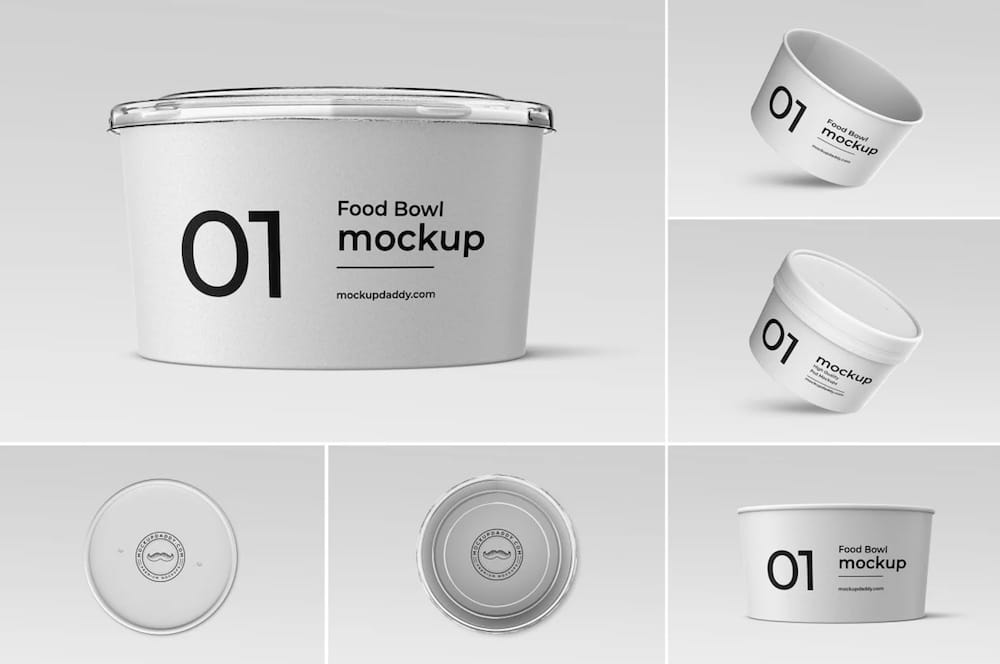 Simplicity always wins regardless of the product presentation you're working on. Even in the case of creating custom branding for a paper bowl!
And this is an EXCELLENT example of how you do things the right way.
All it takes is for your to add your logo and any other design you want, and that's it.
Remember, you can customize all sides of the bowl except the bottom. What's even better, you can choose to go with a paper or plastic/transparent cover.
Price: $8
MORE INFO / DOWNLOAD
10. 750ml paper bowl clear lid mockup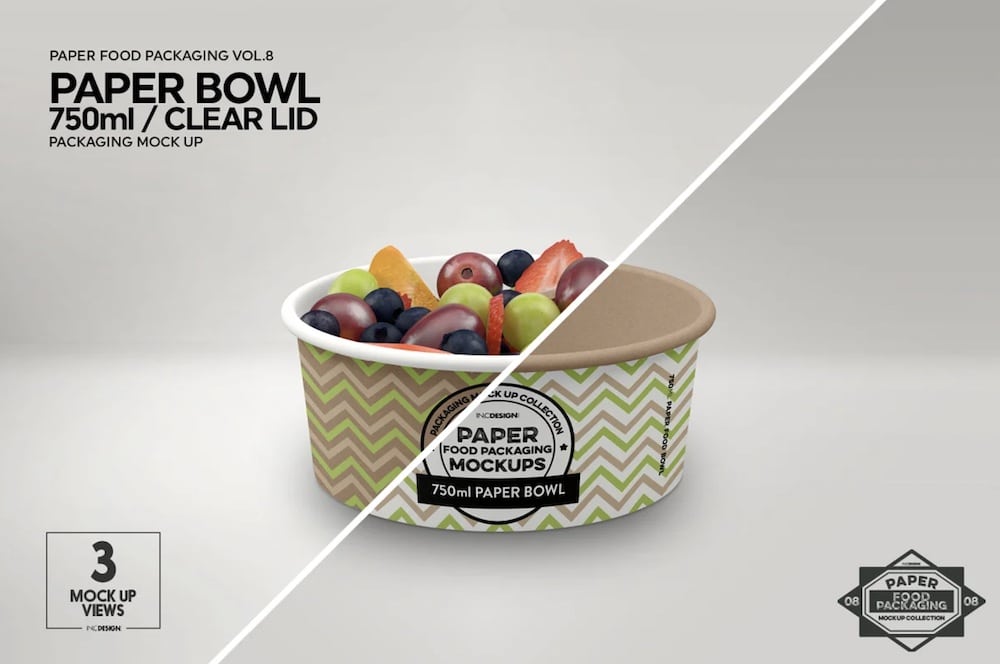 This is a larger paper container of 750ml that works great for fruits, vegetables, salads, hot dishes, you name it.
Each element of the mockup is fully configurable to do your thing WITHOUT limitations.
You can also choose the version with the lid (two options) or the one without.
And to spice things up even further, the mockup comes with predefined noodles, salad and fruits that you can add to the bowl. But you can also leave it empty.
I'm really getting hungry right now! Definitely craving a fruit salad.
Price: $12
MORE INFO / DOWNLOAD
11. Paper bowl PSD template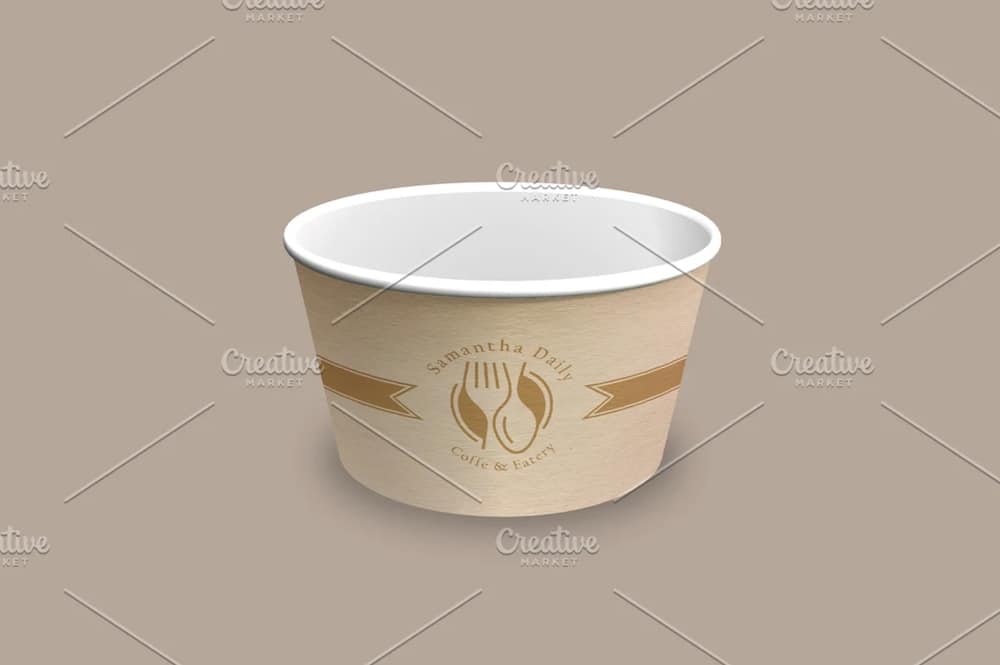 While this one is more on the basic side, it's the main reason WHY I decided to add it to the collection.
Plus, I used the version with three bowls twice, and both clients loved it.
Enjoy the instant work after you import the mockup to Photoshop and make a life-like display that'll impress everyone.
Price: $9
MORE INFO / DOWNLOAD
How To Easily Create A Paper Bowl Mockup
The easiest and fastest way of creating a paper bowl presentation is by using a mockup generator.
You don't need software like Photoshop, just an internet connection.
But you do need a logo or a design ready-to-go BECAUSE you'll be uploading it to the Placeit platform.
Yes, it's my favorite after years of using it, so I highly recommend it.
Create A Paper Bowl Mockup In 4 Steps:
Step 1: The 1st step is to visit Placeit and search for "bowl mockup" or "food packaging mockup." They don't have a separate category, but their search works great, so you'll easily find the right template for your project. Hint: There are actually more hits if you search for "food packaging mockup."
Step 2: After you choose the right mockup, open it and add your design or logo to it. It's simple: upload it directly from your device (and you can even use your smartphone!)
Step 3: It's time to customize the paper bowl mockup with custom colors, texts, graphics, etc. It only takes a few clicks (read seconds), and that's it!
Step 4: You're now ready to download your amazing creation and use it anywhere you want.
Now go and make that paper bowl look tasty, even if empty!
::
Note: This article was originally published on October 22, 2022. But our team regularly reviews it and updates it with necessary improvements for accuracy.