Welcome to my FAV (tested) collection of the best and easiest-to-use enamel mug mockups.
Little work is necessary, whether you opt for an online mockup generator (Placeit) or a PSD file (Photoshop).
Placeit is an excellent platform to create an enamel mug mockup software-free.
Enjoy quick prototyping, showcasing your ideas to your client, or for online stores, blogs and marketing campaigns.
SO. QUICK.
This post covers:
But even with PSD mockups, you will do the task comfortably and effectively. Organized and layered files with smart objects ensure fast work and fantastic outcomes.
Establish an enamel mug presentation that follows your idea to a T with 100% customization freedom.
You GOT this!
Best Enamel Mug Mockup Generators
Placeit mockups cost $7.95/mockup. (You can also opt for a monthly ($14.95/month) or yearly ($89.69/year) subscription.)
1. Woman drinking coffee from an enamel mug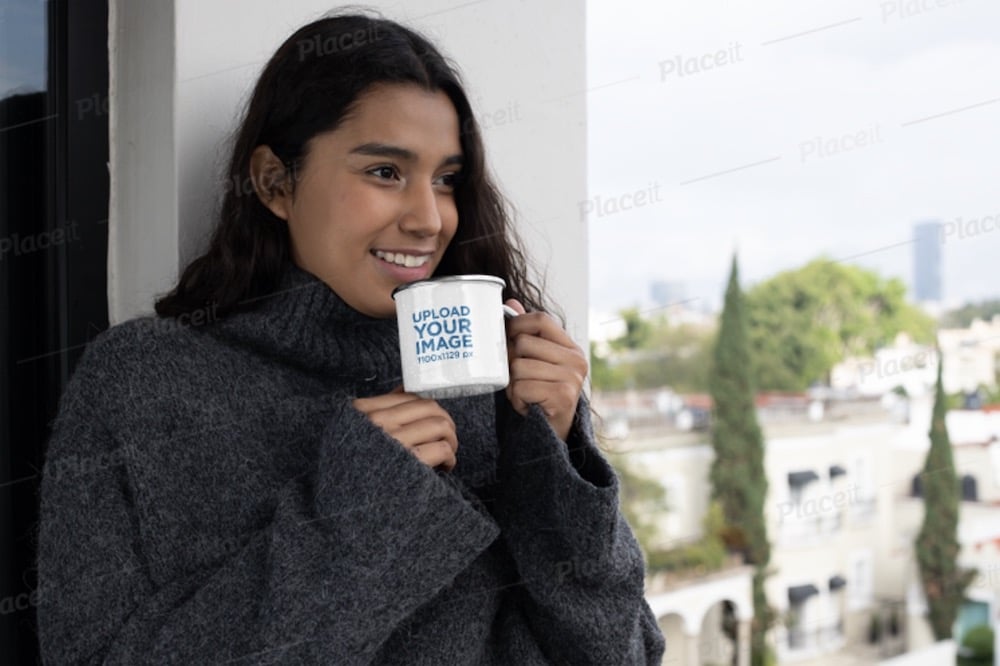 A super life-like mockup of an enamel cup featuring a woman drinking coffee (or her favorite beverage).
The balcony or rooftop atmosphere makes this template extra special and realistic.
You can now improve the mug with any design and color choice you want in just a few quick clicks.
In addition to that, you can also append some text if you'd like to share a special message or whatnot.
EVERY Placeit's mockup is a piece of cake to work with – this one and the others below.
Note: Check out my best collection of the ultimate coffee cup mockups.
MORE INFO / DOWNLOAD
2. Mockup of an enamel mug & a teabag label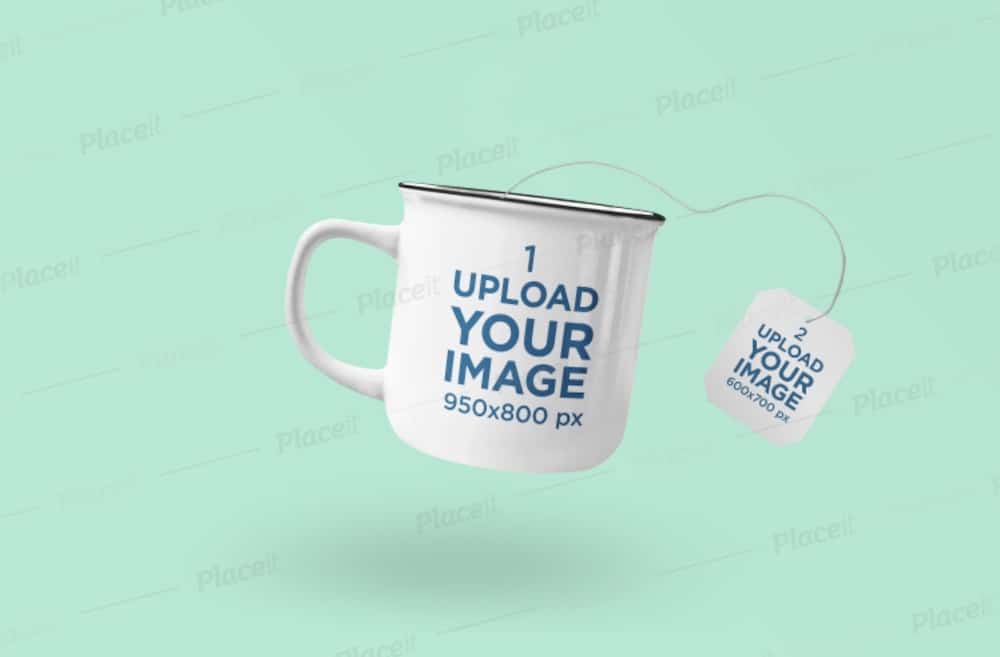 If you would like to push enamel mugs in cooperation with a teabag, this is the mockup that will do the trick.
The template is a little breeze to use, allowing you to beautify it to your liking quickly.
There is NO NEED to be an expert designer either, as you execute the task online, from your favorite web browser.
You can change the color of the background, mug and tea label however you want.
You can even upload custom backgrounds if you want or use the ones available.
Hint: Take branding to the next level with the greatest tea mockups.
MORE INFO / DOWNLOAD
3. Enamel mug in hand mockup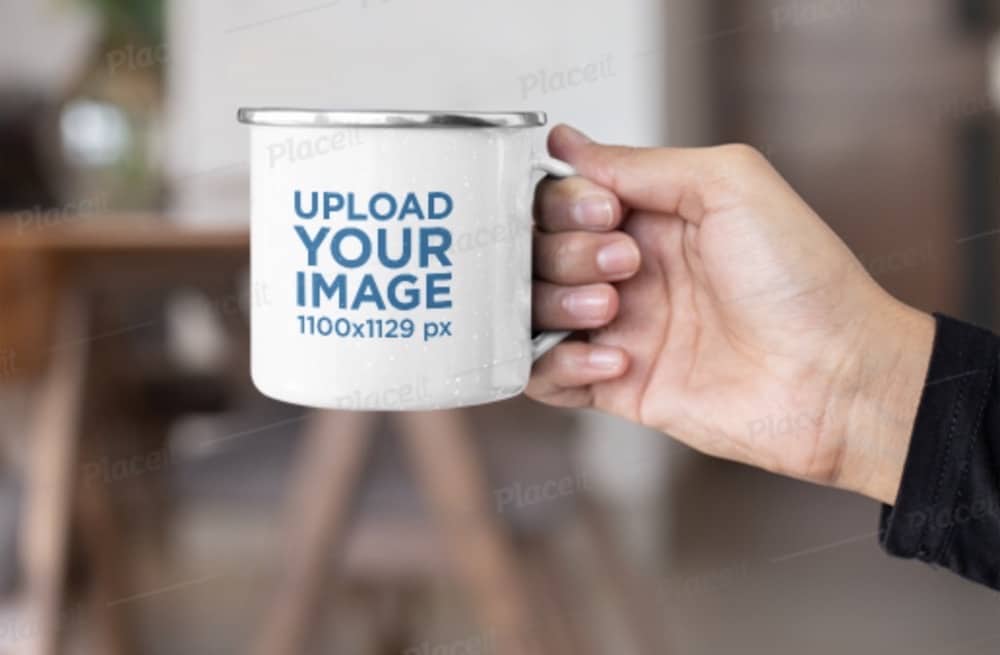 With this enamel mug in hand mockup, you will have no trouble triggering everyone's interest right from the get-go.
Even though a vertical image, you can still crop it later and use it on your website, in a social media post, heck, even in a story.
Doing the work will be a piece of cake whether you are a pro or a first-timer.
What's COOL is you can even test things out first – yes, before you even create a free Placeit account, which is a big plus.
MORE INFO / DOWNLOAD
4. Mockup of two 12 oz enamel mugs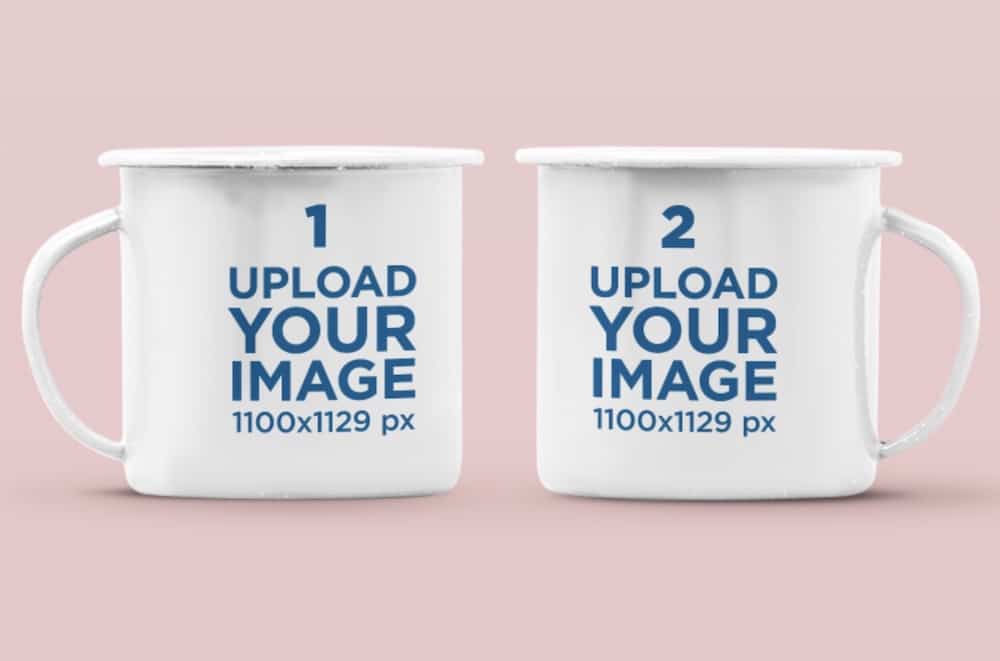 This particular enamel mug mockup allows you to put on display the front and the back design.
On the other hand, you can also create two completely different mugs, as you get to insert designs to each individually.
Little work is necessary to create a LIFE-LIKE outcome that will make folks want to own one.
Due to the clean and minimal setting, the mockup works for an array of different aims and intentions.
Keep in mind, you can even make the background transparent and later add a custom alternative.
MORE INFO / DOWNLOAD
5. Man drinking coffee from a enamel mug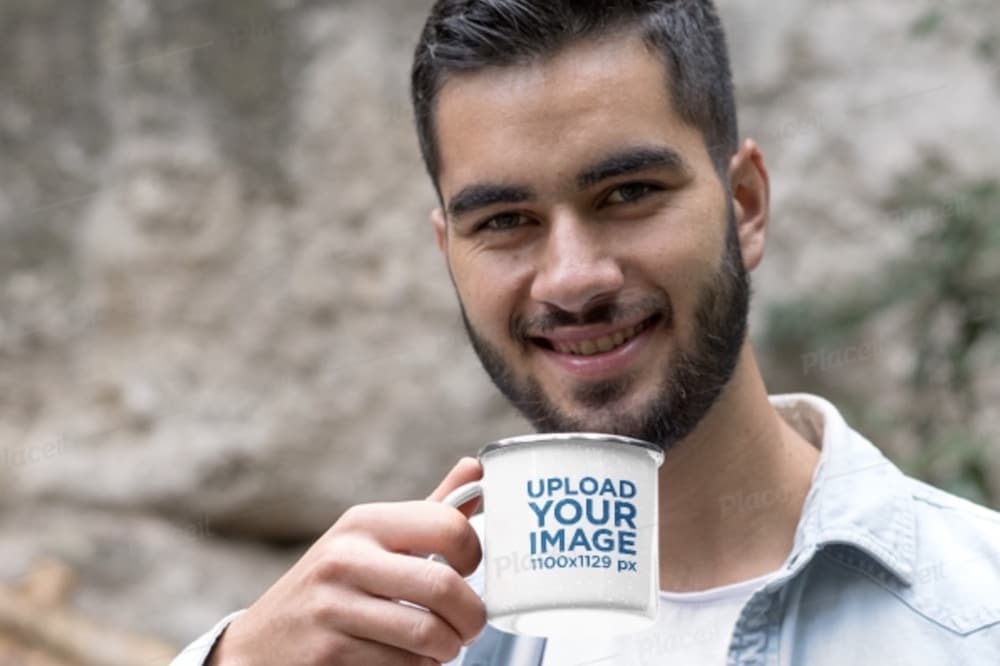 Let's face it, enamel mugs are popular for a very long time now. They are super versatile and can easily last a lifetime (or three).
With that in mind, create an IMPACTFUL mug, starting with a compelling mockup.
This one features a male model enjoying a hot cup of joe in nature.
With a few tweaks and improvements, you can now create a top-class mug presentation that will wow everyone.
Even when working with a client, this is a great way of showcasing your idea for better visualization.
MORE INFO / DOWNLOAD
6. 12 oz enamel mug mockup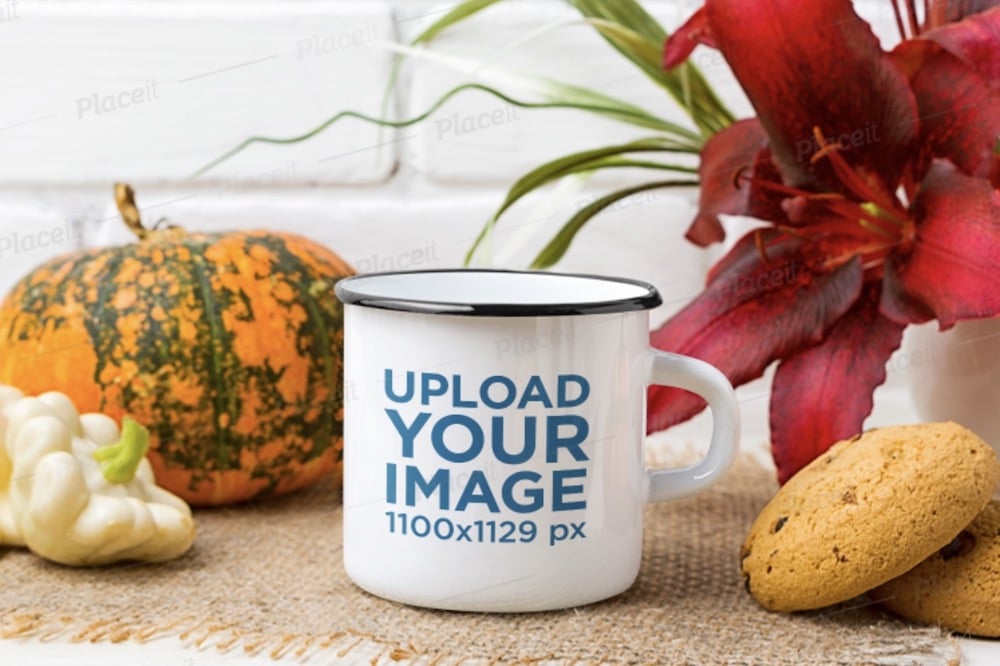 Even though this exclusive mockup has a fall feel to it, you can use it any time you want.
With pumpkins, cookies and a beautiful flower, the OVERALL presentation will pop without a shadow of a doubt.
The mug's working area is 1100 x 1129px, but you are welcome to work with other design sizes, too.
Once you insert your image, a pop-up opens, offering you to crop and reposition your image accordingly.
You can even add a simple logo to the mug, change its color and call it a day.
MORE INFO / DOWNLOAD
7. Bearded man holding enamel mug mockup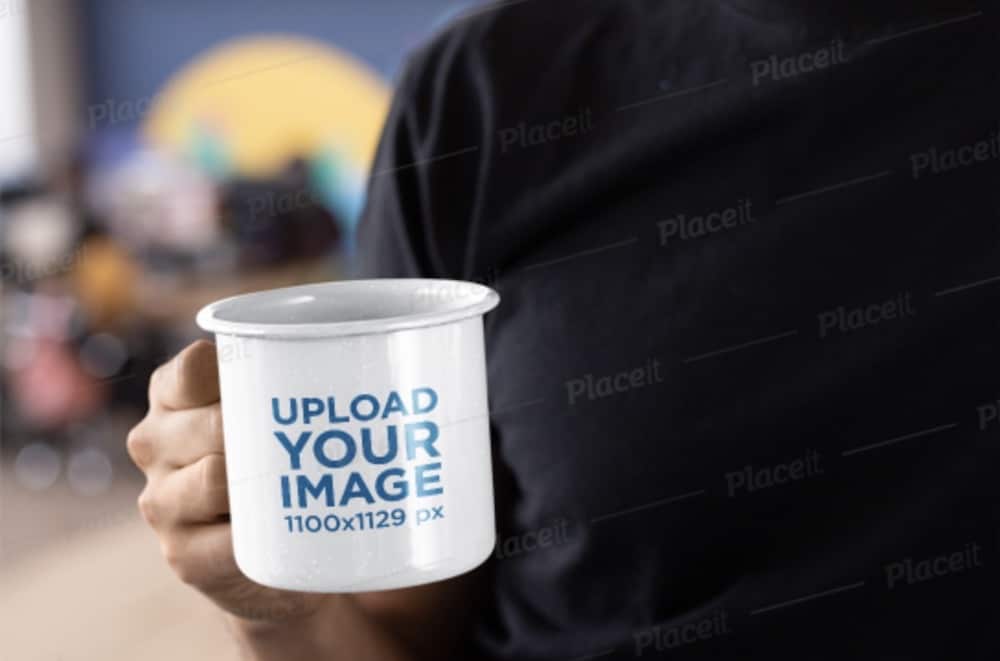 If you are looking for a bearded guy in a black T-shirt with an enamel mug in hand mockup, this is it.
Instead of taking actual product photos yourself, you can make things happen much quicker with ready-to-use mockups.
There are tons available, making sure there is something for everyone.
Moreover, all you need to have is the design or a logo; all the rest you do over on the Placeit platform.
Go ahead, try it yourself; I already had some FUN sticking different images to it, making my own version.
MORE INFO / DOWNLOAD
8. Mockup featuring a floating enamel mug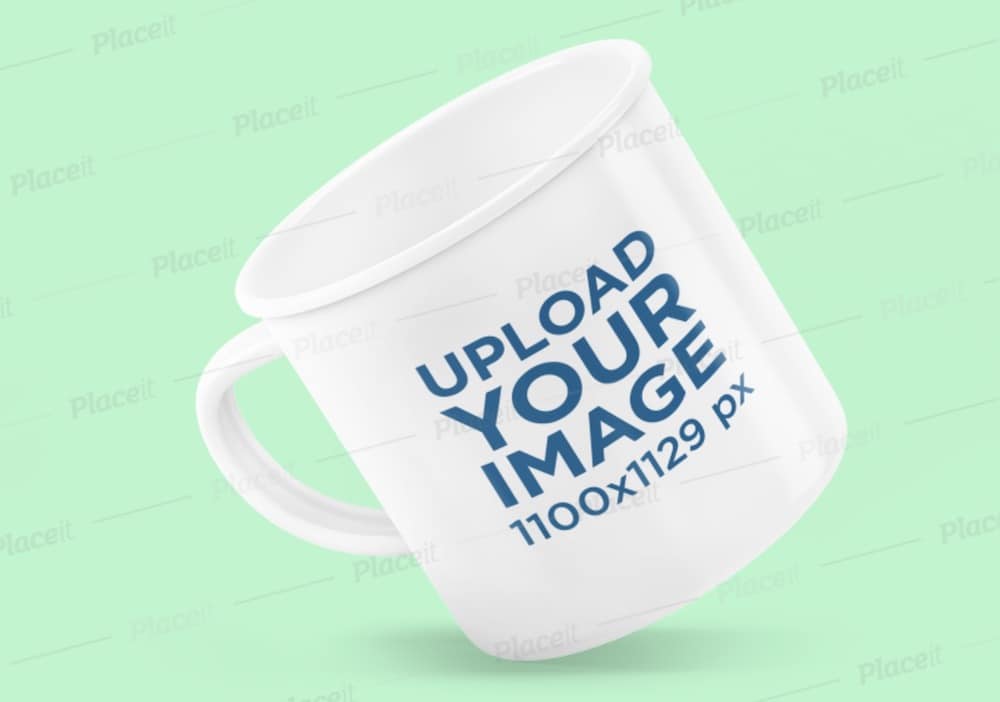 For a simple, minimal and bold enamel mug mockup, this one will do you well. What's cool, it comes at an angle, so you do not present the mug as everyone else does.
When it comes to color options, you can alter the background and the mug with any tint you want using the color picker.
It only takes a QUICK click to import your image directly from your device.
For your information, even if you are on your smartphone, you can still create a realistic mockup with Placeit.
MORE INFO / DOWNLOAD
9. Mockup of a man holding a 12 oz silver rim enamel mug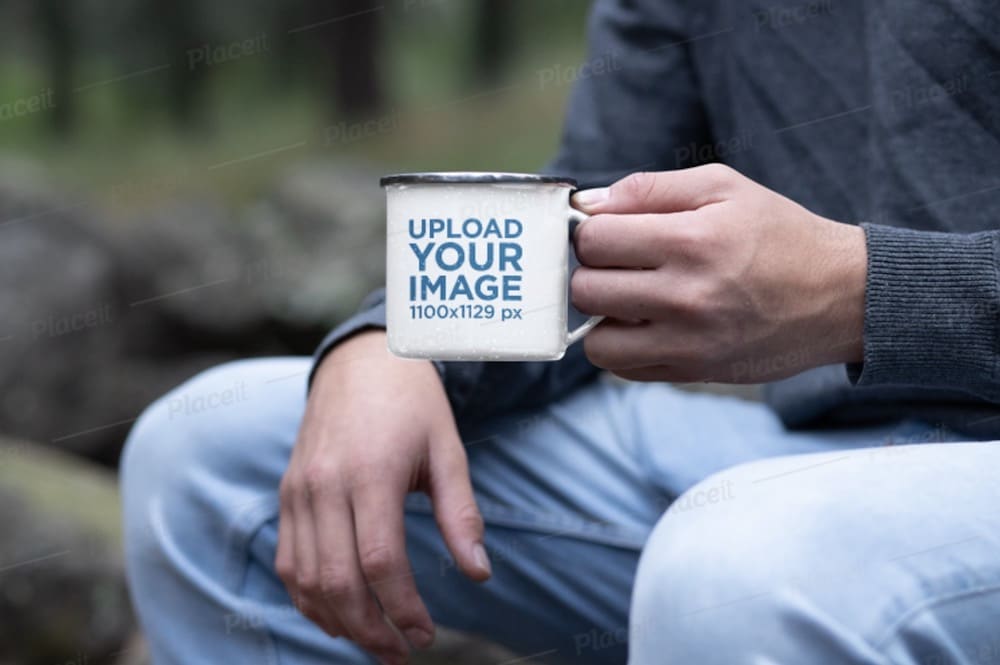 If you are in the camping and nature-oriented space, this is the enamel mug mockup to GO for.
It is simple and engaging, featuring a man holding the mug, enjoying the fresh air and the sound of nature.
Once you add your image or logo, it will feel like you took the photo of your mug. In short, the realistic effect is at level eleven.
For any work you want to do, open Placeit and enjoy the smooth flow of enhancing the default mockup settings.
MORE INFO / DOWNLOAD
10. Mockup of two enamel mugs on a concrete block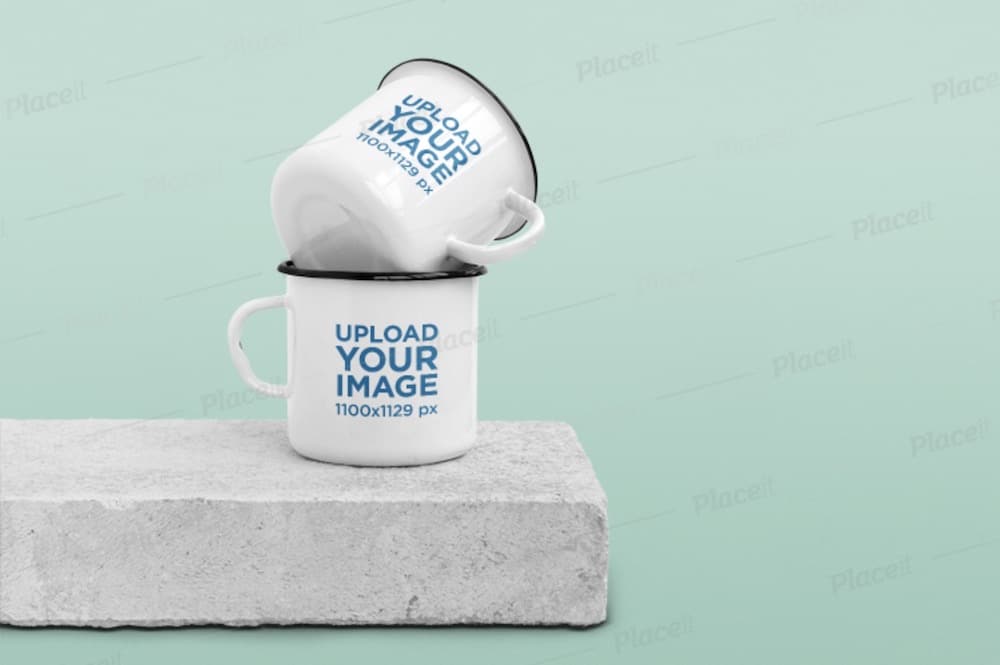 Spice up the minimalist product presentation with this nifty and easy-to-use mockup.
The template features two enamel cups, one on top of the other, both sitting on a concrete block.
Both mugs and the background are editable with different colors, which you can improve with just a CLICK.
You can also add different designs to the top and the bottom mug.
You can create two completely different mugs or create a beautiful front and back showcase. The choice is yours; it just shows that you have multiple options for using the mockup.
MORE INFO / DOWNLOAD
11. Mockup of an enamel mug on a nightstand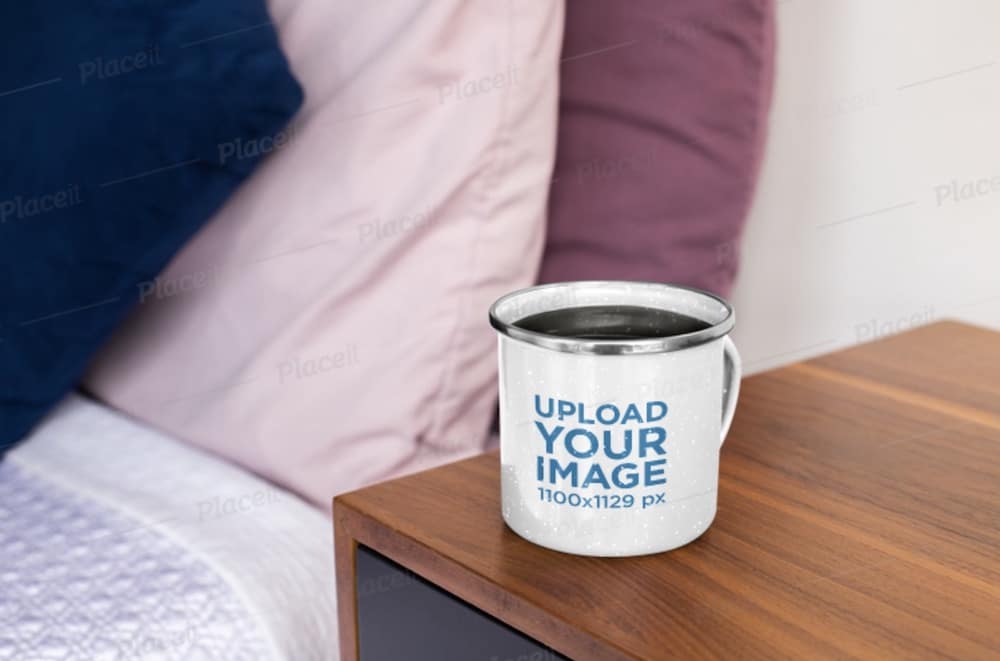 Whether in the morning or the evening, a warm cup of our favorite beverage is always welcome.
Here is an appropriate enamel mug mockup that features the item on a nightstand.
You can now make the template yours without breaking a single drop of sweat. Of course, there's no need to use Photoshop or other photo editing software to edit it.
Thanks to Placeit, beginners and professionals are all welcome to START working on an enviable product presentation that will impress everyone.
MORE INFO / DOWNLOAD
12. Mockup of an enamel mug in hand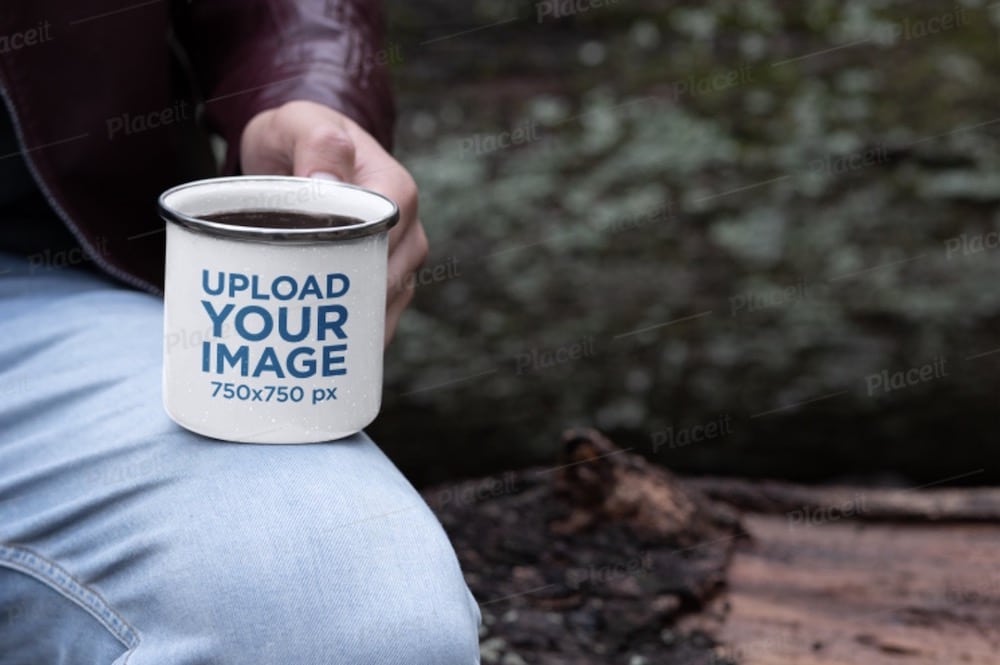 With a human element, a mockup looks even more realistic, and I have quite a few here that will surely do the trick.
Hanging out in nature with friends or even by yourself is highly rewarding, especially when sipping on a hot cup of joe or your favorite tea.
You can CREATE a pleasant atmosphere with this mockup, presenting your mug design idea naturally.
The mockup usability is endless, so don't hold back and promote it all over the web (even print it if that's what you are after).
MORE INFO / DOWNLOAD
13. Woman drinking from her 12 oz silver rim enamel mug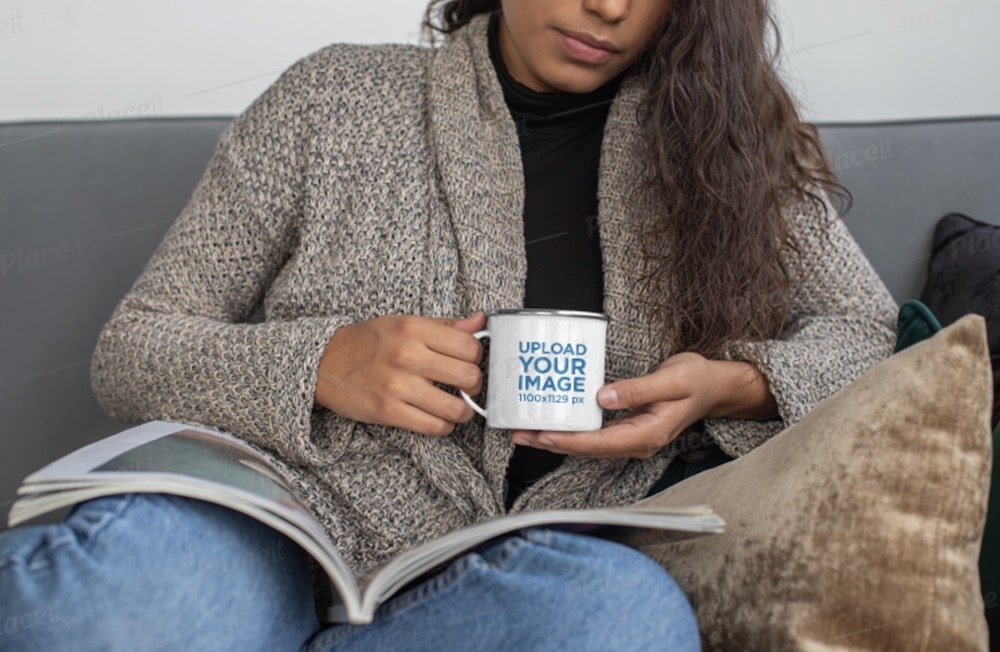 Reading a magazine, drinking a warm beverage and getting cozy on your sofa – what else do you need in life?
This enamel mug mockup resembles that beautifully for everyone to ENJOY.
Whether you are creating a marketing campaign or sharing your idea with your client, this template will undoubtedly do you well.
Even though I advise you to create an account first for a smoother workflow, you can test the waters as a guest, too.
Start on the right track, save time and make a mug showcase that will influence everyone.
MORE INFO / DOWNLOAD
14. Woman holding an enamel mug mockup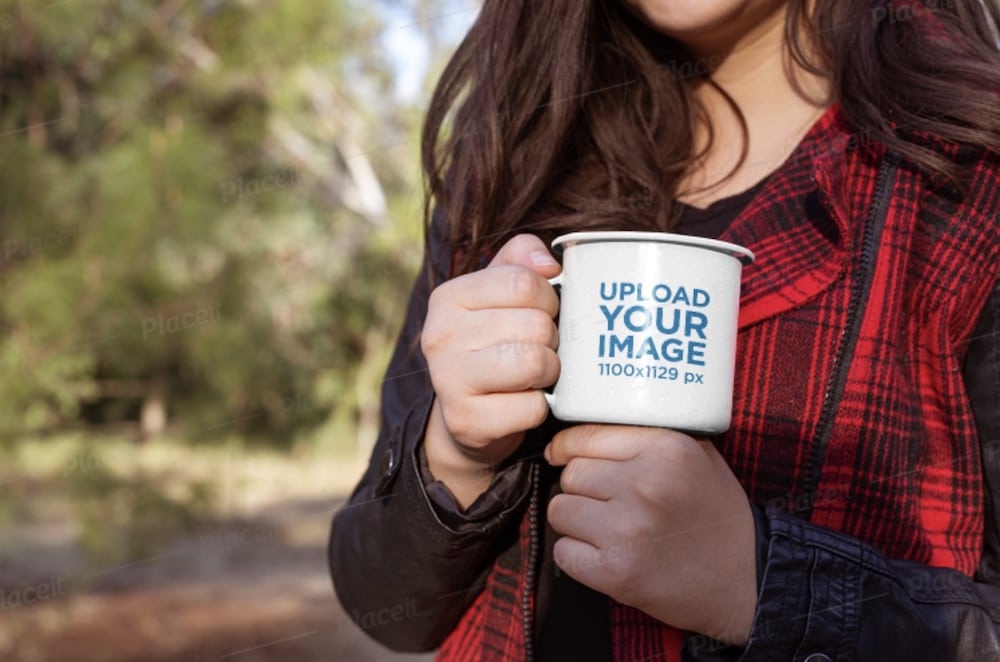 Another superb nature-inspired mockup of an enamel mug featuring a female model in the forest on a sunny day.
The template features a 12 oz mug that you can style and FINE-TUNE with custom color and design.
Two clicks are all that's necessary to activate the available features and implement improvements.
In addition to that, you can also add a message or a call-to-action with the "add text" function, too.
There you go, now it's your turn to get creative and make the most out of it with as little work as possible.
MORE INFO / DOWNLOAD
Best Enamel Mug PSD Mockups
15. Realistic enamel mug mockup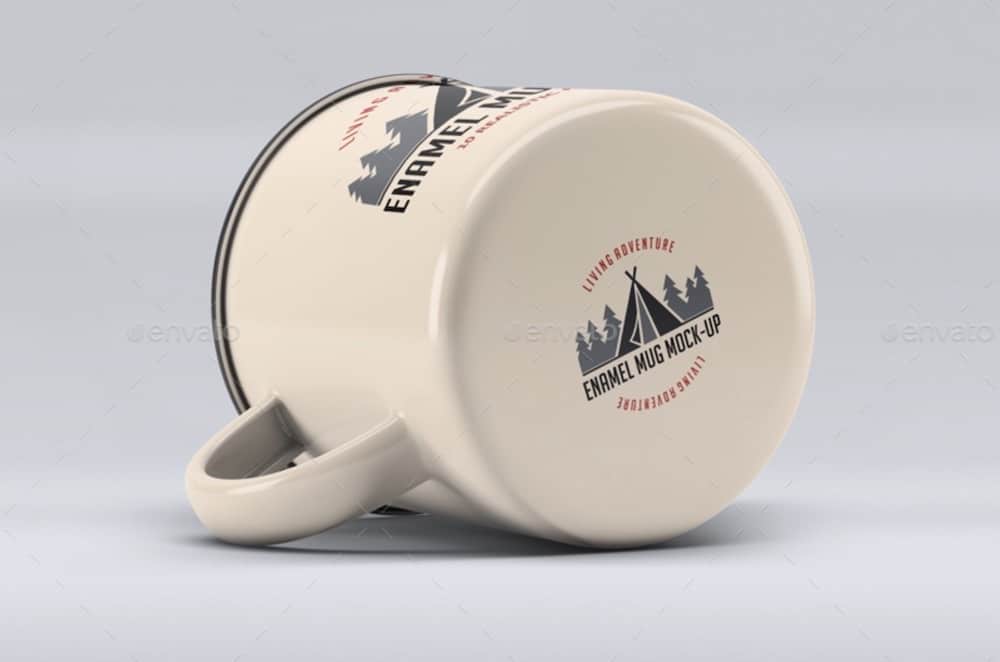 A big set of ten life-like mockups of an enamel mug, coming at MANY different angles.
You can style all sides of the mug, and bottom, too, with your designs, making the final version that is precise to your liking.
Even though these come as layered PSD files, the process of improving them will be a little breeze.
You can also change the background, so the outcome follows your branding regulations and ideas to a tee.
For your information, a help file is also part of the kit for your convenience.
Price: $7
MORE INFO / DOWNLOAD
16. Enamel mug/tin cup mockup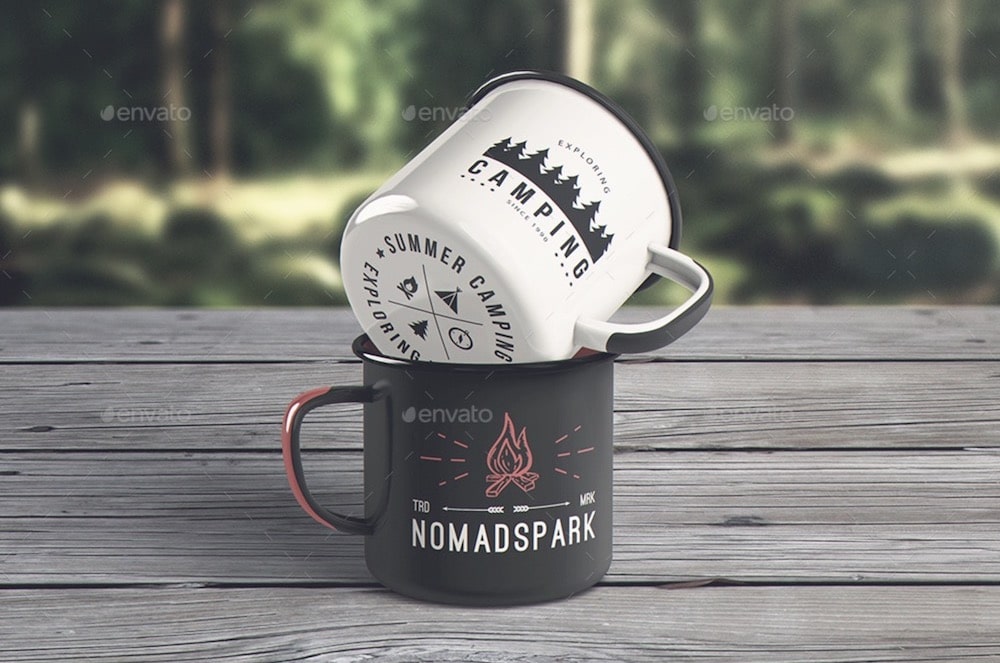 Create any kind of enamel mugs with this practical bundle of eight PSD files.
Thanks to the smart objects, you can slide in designs and logos in just a click, seeing them appear on the item IMMEDIATELY.
Moreover, thanks to the amazing quality, the final presentation will be crystal clear, even when zooming-in.
You can preview a few of the possible final presentations to see what's possible.
What's also cool is the square box that comes with the bundle, which, of course, you can also tailor to your needs and regulations.
Price: $8
MORE INFO / DOWNLOAD
17. 8 enamel mug PSD mockups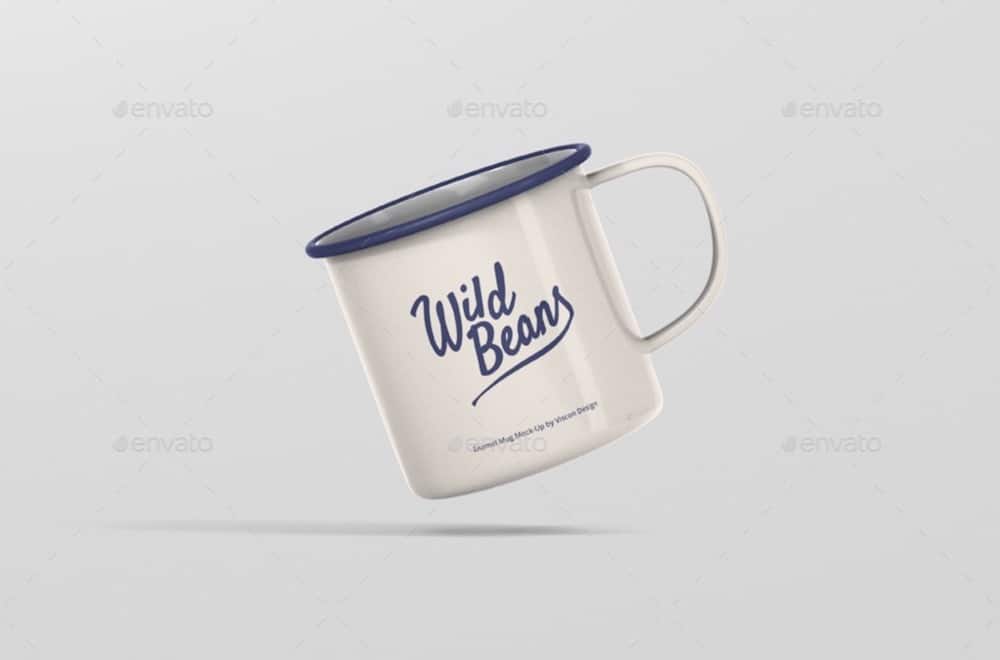 You can now bring to fruition a TOP-CLASS enamel mug exhibition without the need to start from the ground up.
For a small investment, little work and no effort, your final design presentation will be jaw-dropping.
You receive eight different mug views in the package of goodies, all 100% editable.
Some of the features are three textures, three layer styles, help file and layered mug elements for quick color change. You will have a blast crafting a display of your enamel mug design concept.
Price: $6
MORE INFO / DOWNLOAD
18. Enamel cup mockups pack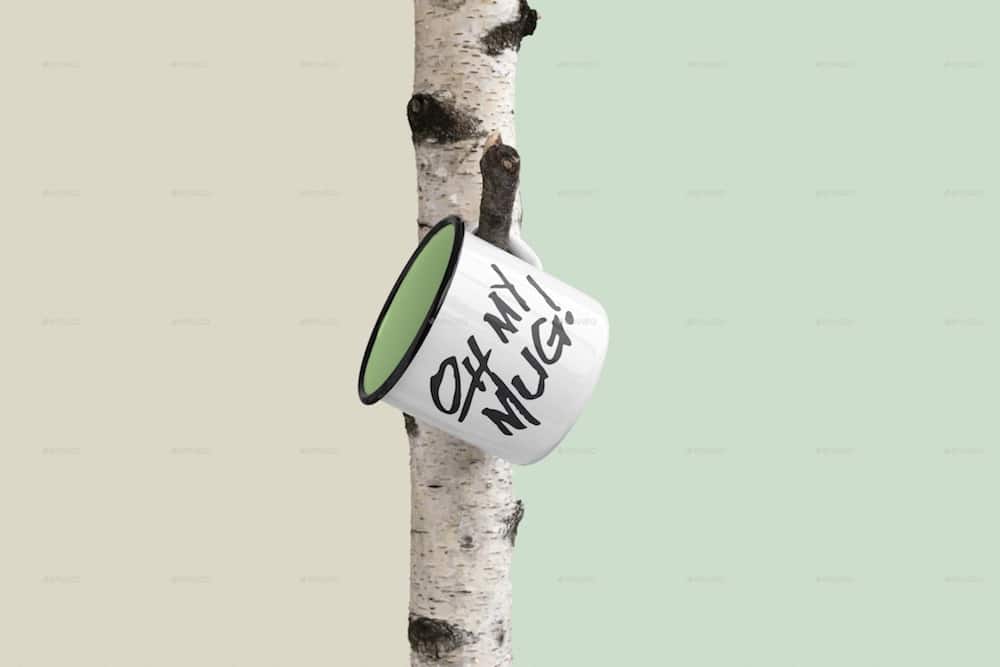 Unique, creative and minimal, these are the three characteristics of the following enamel mug mockup set.
There are nine different alternatives available for you to PLAY with, all featuring amazing quality (4500 x 3000px).
Moreover, thanks to the optional transparent background, you can place the mug in any surroundings you want.
Insert designs via smart object layers, adjust highlights and beautify the mug with different color combinations; all this and more is possible with these practical PSD files.
And if you ever have any questions, you can always reach out to the author for help.
Price: $14
MORE INFO / DOWNLOAD
Best Free Enamel Mug PSD Mockups
19. Free enamel cup PSD template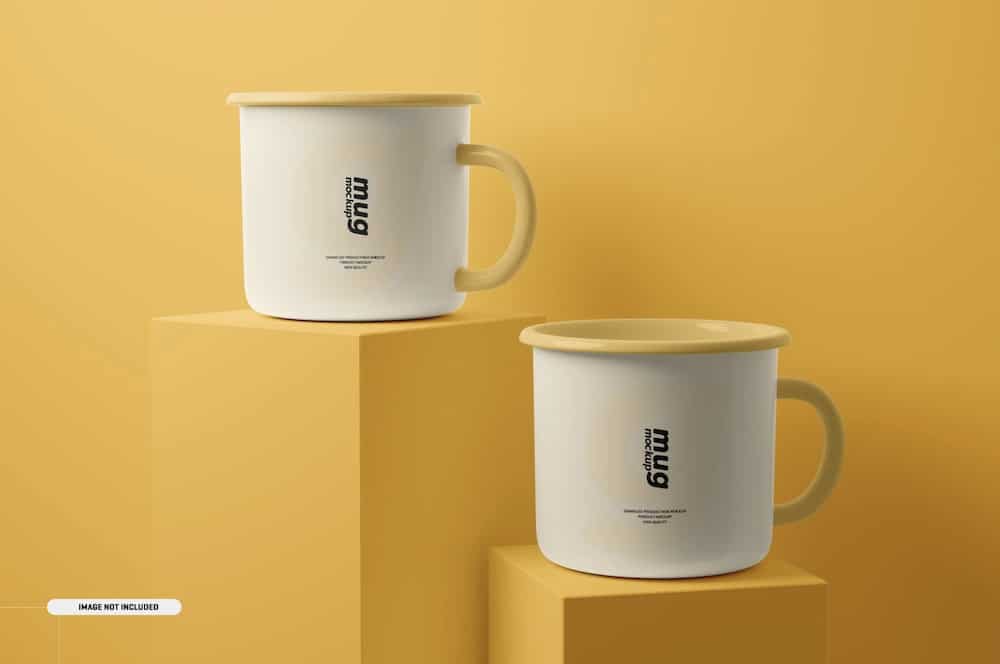 Many kept asking me about free mockups, so I'm updating this article with three I recently used and would like to share with you.
This entire composition is very attention-grabbing, especially once you modify it with your creative touches. (Hint: Use catchy colors!)
The entire process of editing the template is fast because it takes only a few clicks.
PRACTICE your ideas without spending a dime.
MORE INFO / DOWNLOAD
20. Enamel mockup free PSD

I particularly like this one because I wanted to showcase the bottom of the enamel mug and the side. (This one came in handy.)
The fantastic quality and realistic effect guarantee an outcome that'll wow you and anyone else seeing it.
And you can even use it for commercial projects with attribution.
SO. FIRE.
MORE INFO / DOWNLOAD
21. Realistic enamel cup template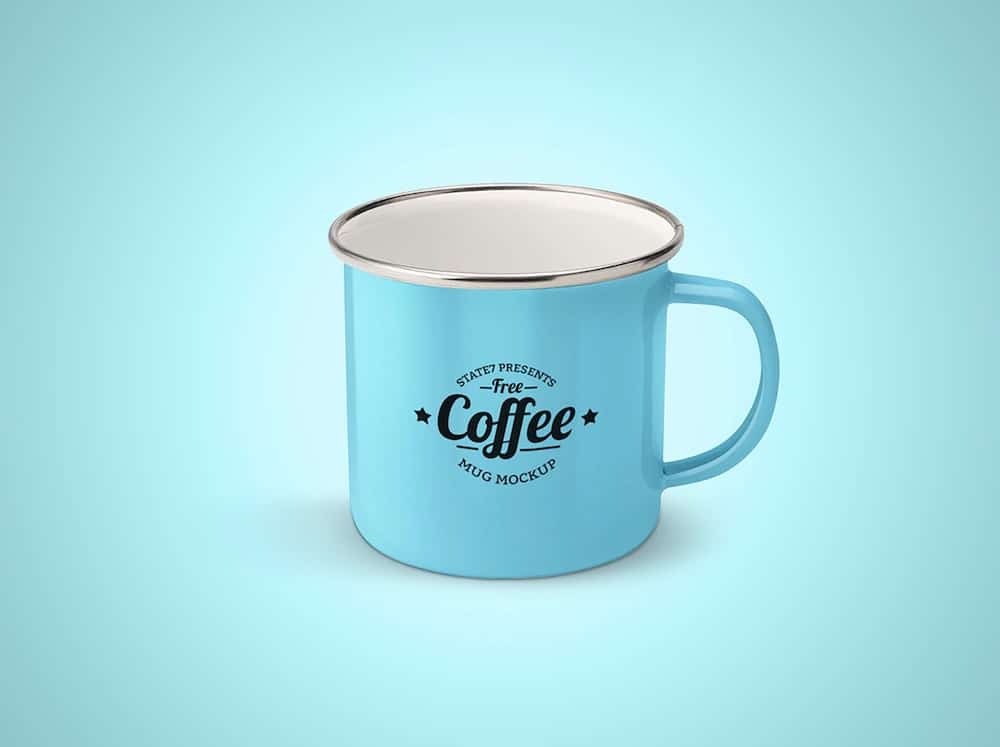 Customizing a free enamel mug mockup is a child's play when you have the right template at hand. Add a company logo, a funny quote, or just ANY other DESIGN you want.
Test it endlessly because you can make ten variations in less than sixty seconds (of course, with predefined creatives!).
You're welcome to apply any color combination you want, making it minimalist or extremely vibrant – it's up to you!
MORE INFO / DOWNLOAD
How To Easily Create An Enamel Mug Mockup?
While there are different ways of creating a realistic presentation of an enamel mug, I'll share with you my favorite.
It's by using an online mockup generator.
Why?
Because it's the simplest and the quickest way of making it happen. Plus, it's SUUUPER beginner-friendly!
Here's the step-by-step process that allows everyone to make a mockup:
Step 1: Visit Placeit where you can find MANY realistic mockup templates for your project.
Step 2: Pick your favorite, click on it and start by inserting the image. I like this approach because it allows me to see whether my design works with the template/image or not first thing. This will save you a lot of time because you can move through multiple mockups much more quicker.
Step 3: After you upload the image, a popup window will open with an option to zoom in/out your design and move it around for the ideal fit. Click "Crop."
Step 4: You can now change the color of the mockups, edit the background (where you can) and add a text overlay and a graphic. So. Fun.
Step 5: With a satisfactory creation, click the "Download" button and enjoy impressing everyone.
How exciting was that?
However, even if you use a PSD mockup, you'll have an outcome ready quickly, too.
Import the template to Photoshop and search for the smart object layer. Double-click on it and drag-n-drop your design.
From here, you can adjust and edit other configurations (the layered structure simplifies the process A LOT) with your creative tweaks until the final version matches your expectations.
Note: A PSD file gives you more creative freedom than a mockup generator.
::
Note: This article was originally published on March 27, 2021. But our team regularly reviews it and updates it with necessary improvements for accuracy.