Do you need the best CD box mockups to create a professional design project presentation?
Doing the research yourself can be challenging.
Not anymore.
We have tested numerous mockups to create the ultimate list of 13 CD and DVD templates for your product presentations.
This post covers:
Our top picks include all types of mockups, from minimalist, transparent, clean ones with a CD case on a solid background to more complex ones with models.
The list below has ALL the CD mockups YOU (will every) NEED.
Best DVD & CD Box Mockup Generators
If you do not feel like using Photoshop or other image editing programs for the following mockups, that's OK.
You can EASILY customize and export the ones below without the need for image editing software.
YES, you can make a mockup without Photoshop!
Note: Each mockup generator's price is $7.95. (Or you can save money with ($14.95/mo) or yearly ($89.69/yr) subscriptions.)
1. CD and box mockup on editable background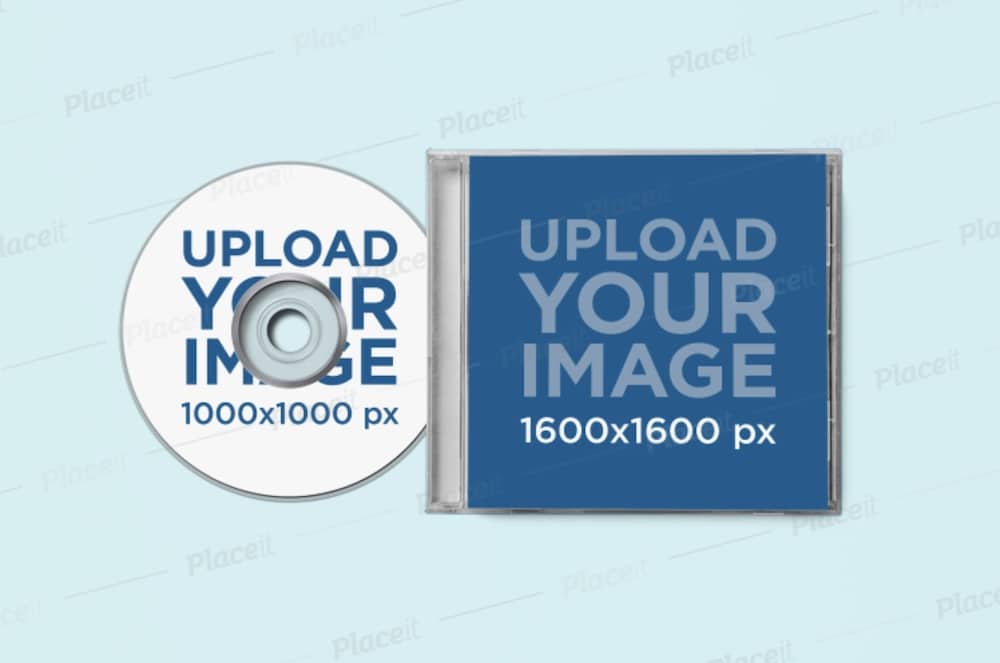 If you are looking for a simple, minimalist CD box mockup, there's simply NO better solution than this. The mockup generator shows a CD and a plastic box on a solid color background.
What sets this mockup apart from the competition is that you can fully edit the colors of the background, the case, and the CD itself.
We found it smart to use this mockup for numerous clients who wanted a first look at the designs.
This is an EXCELLENT solution for beginners because you can easily insert the images and customize everything.
MORE INFO / DOWNLOAD
2. Album cover leaning against a wall mockup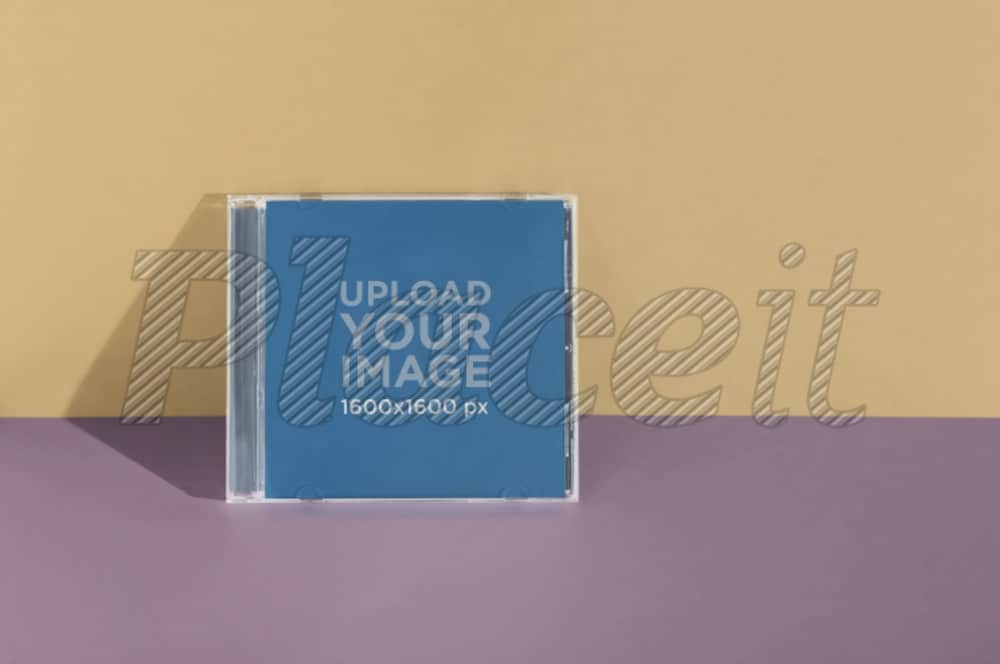 The brand new album cover mockup leaning against a wall QUICKLY became popular for good reasons.
If our previous recommendation seems too minimalistic and you need something more realistic, this is the CD box mockup for you.
The mockup displays a clear CD case in front of a wall. You can easily change the colors of the case, traycard, and wall (top and bottom) for unique results.
In a few words, this is a clean, simple CD/DVD mockup you must try.
Need inspiration? We found this awesome collection of 100 album cover ideas that definitely expanded our creative thinking.
MORE INFO / DOWNLOAD
3. CD box mockup held in hands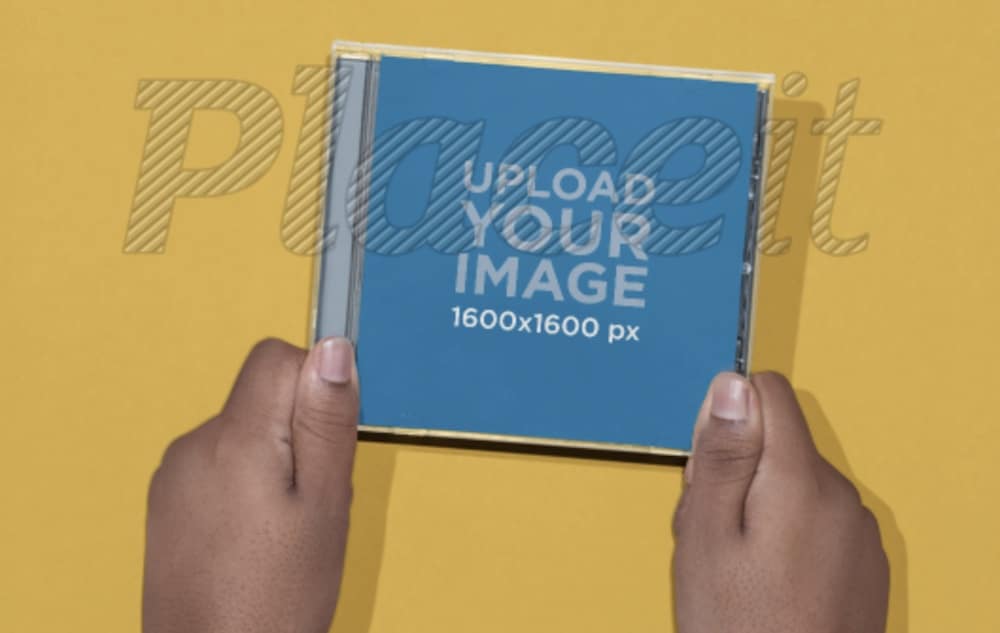 Let us move on to some more complex ones after exploring two basic mockups.
This CD DVD cover mockup is one of our FAVORITES. It shows a box held in hands against a solid background.
This is one of the most balanced mockups we could find. It's not overwhelming, but it's not impersonal either. Very realistic, if you will.
As with most of our templates, you can easily add your design, text and logo. All the colors of the mockup are also fully editable.
MORE INFO / DOWNLOAD
4. Mockup of a CD in a digipak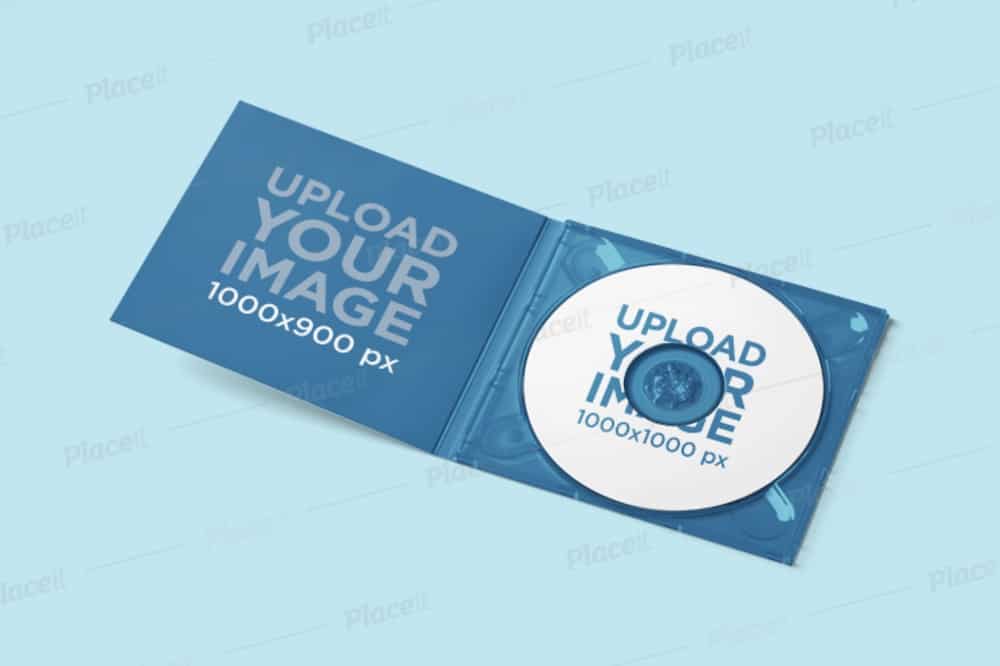 If you are looking for a CD box mockup that features an open digipak, this is the best choice.
We love that this design makes the audience feel like they are ready to pick up the CD and listen to it.
Even though the design is pretty simple, it evokes STRONG EMOTIONS and contains all the necessary information.
Another essential feature is adding a design inside the CD case (with ease!).
Apart from that, this is one of the few solutions that allow you to showcase more than one album box design.
MORE INFO / DOWNLOAD
5. Two boxes and a CD mockup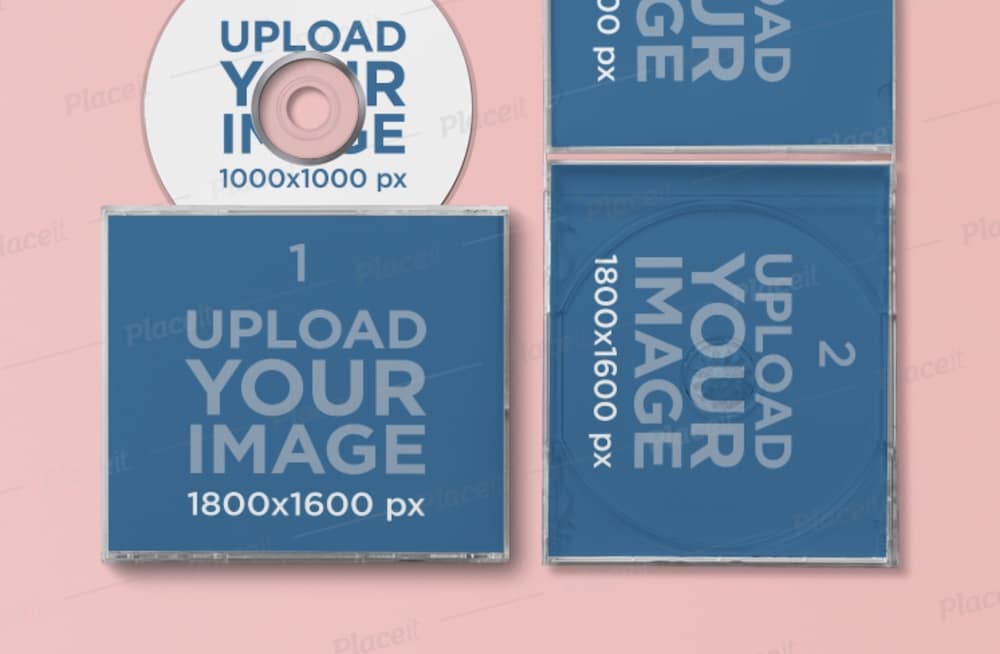 This mockup is the best all-rounder on the list as it helps you showcase everything in just one image.
And by everything, we mean all three sides of the CD box and the CD design.
Therefore, this is the ULTIMATE choice you can make when presenting the album's complete visual artwork.
Apart from inserting four images (designs), you can also change the color of each side and the background.
MORE INFO / DOWNLOAD
6. Man with headphones and digipak mockup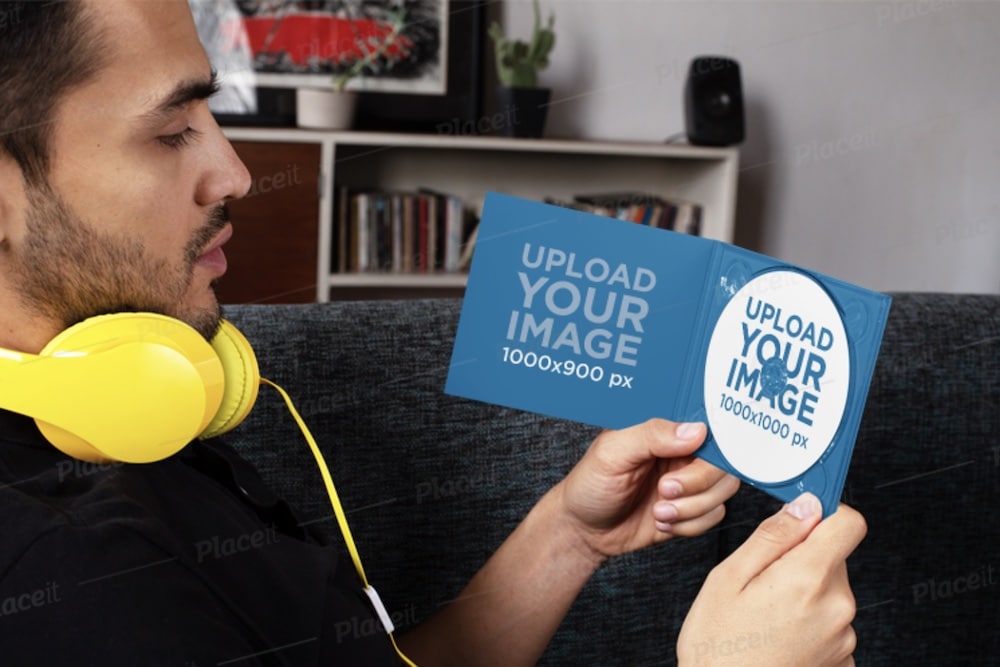 All of the mockups we examined are great, but are they enough when it comes to digital marketing via, say, social media?
We think you need something more interactive when actively promoting a CD.
And this is the mockup that does just that. It pictures a man with headphones looking at a (fully editable) CD.
We have enjoyed using this CD box mockup for various projects.
The mockup lets you customize two designs (on the CD and the CD box), a logo, and the colors of the CD and the album.
Note: Imagine how cool would it be if headphones would also be editable (color-wise).
MORE INFO / DOWNLOAD
7. CD cover mockup featuring a girl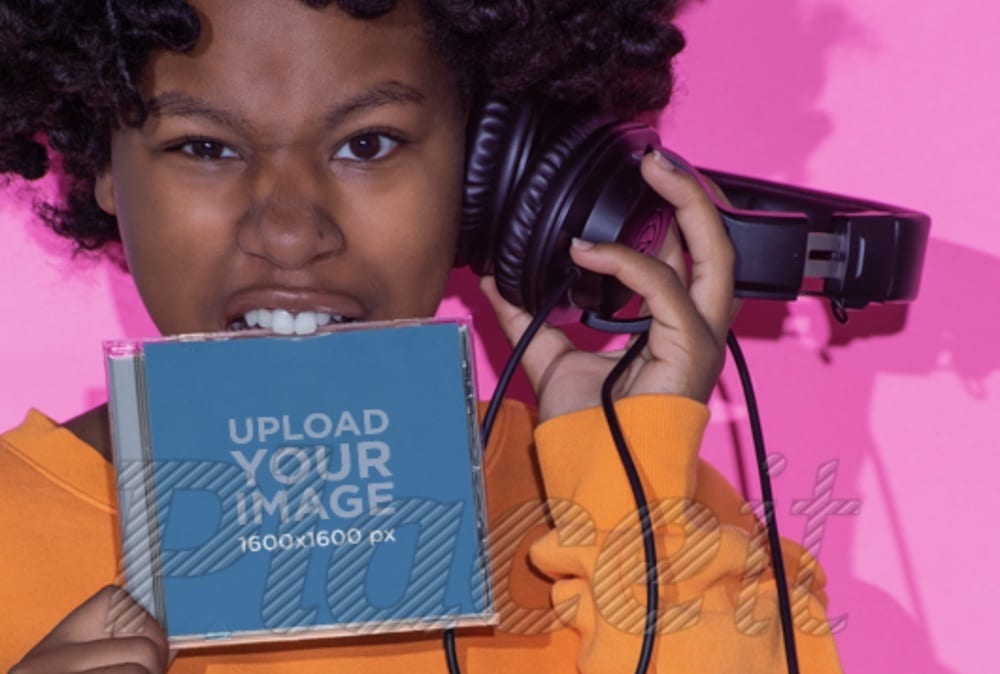 If the previous selection seemed a little too casual for your project and you need something more dynamic, this CD box mockup is for you.
The mockup portrays a girl in a somewhat aggressive stance listening to music while biting into the top of the box. (Nah, she won't bite YOU.)
Out of all the mockups we tried for this list, this one was the best for energetic (electronic?) music genres.
Aside from adding the box design, the mockup also lets you edit the color of the cover and traycard.
MORE INFO / DOWNLOAD
8. CD cover mockup (2 tone background)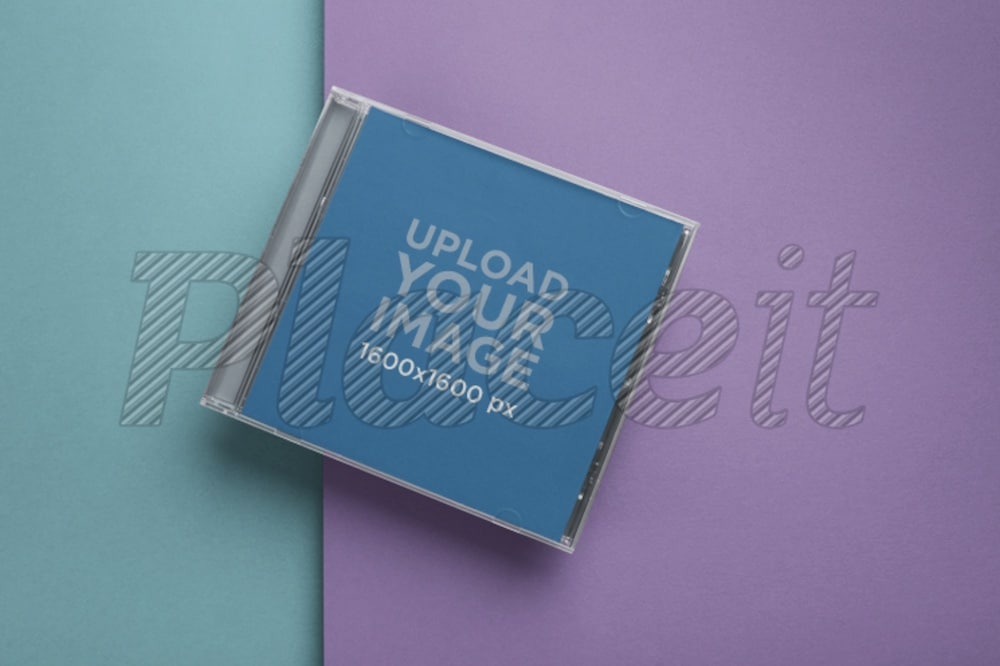 This is a great choice if you are looking for an alternative to the minimalist CD box mockups you are already using.
Adding our designs to this mockup was EXTREMELY easy and the results were always unique as we changed the colors accordingly.
The background behind the packaging frames the design in a unique, realistic way.
Since this mockup does not display the CD itself, it is an excellent choice for those who only want to showcase the artwork on the front page of the CD DVD box.
MORE INFO / DOWNLOAD
9. Merch bundle mockup (hoodie and CD case)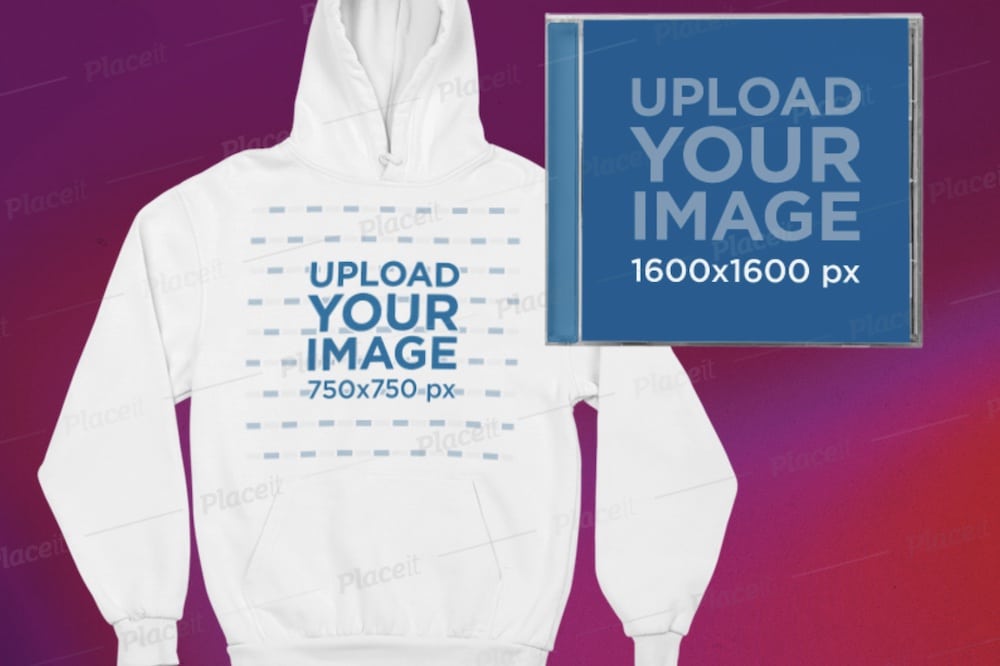 This brand new merch bundle mockup is a very different choice than the ones examined above. It's more than just a CD box cover mockup.
Promoting your (or your client's) CD with a customizable hoodie next to it is a clever promotional trick that will captivate your target audience. (Hint: Matching designs!)
The mockup gives you the option to add your designs to the hoodie and the CD box and change the colors to YOUR LIKING.
You can also change the solid color background.
MORE INFO / DOWNLOAD
10. T-shirt mockup with a CD case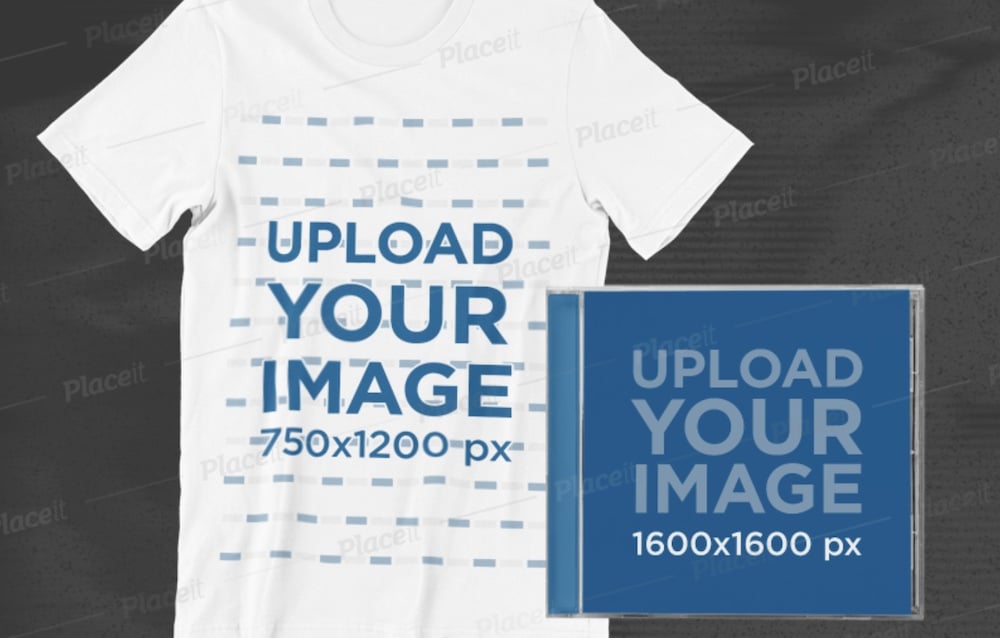 As with our previous selection, this CD box mockup is ultimately cool as it allows you to promote your music and merchandise at the same time.
This mockup is a LITTLE different as it features a T-shirt instead of a hoodie.
You can insert your logo, change the colors of the cover and the t-shirt, or even change the background by adding an image. The backdrop can also be transparent.
Although the last two mockups seem ideal for specific groups like rock bands, our personal experience has shown that they WORK perfectly FOR just about any genre of music and ANY client.
MORE INFO / DOWNLOAD
11. Man w/ a digipack + CD in front of his face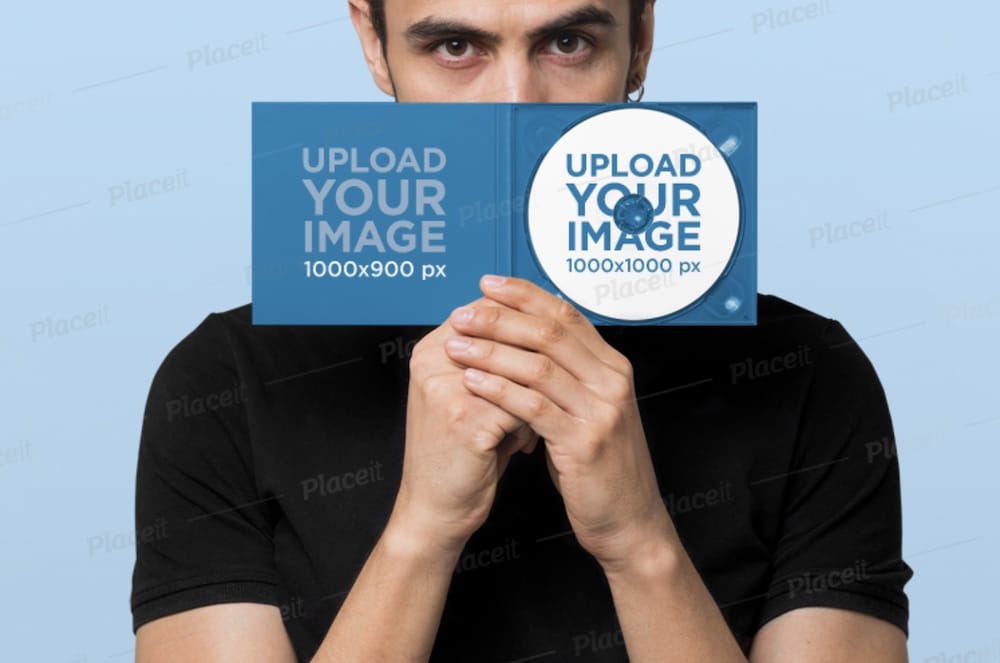 If you are looking for a funny, yet mysterious mockup to promote your album, this is the best one on the market.
This CD box mockup shows a man hiding behind an open digipak.
When we first saw this mockup, we IMMEDIATELY knew it would be a successful mockup. After using it for numerous projects, we can safely say it will never let you down.
You can add a design to the inside cover and the CD itself with this mockup. You can also add your logo and change the CD, album, and background colors.
Yay! So. Many. Options.
MORE INFO / DOWNLOAD
12. Minimal digipak mockup in hands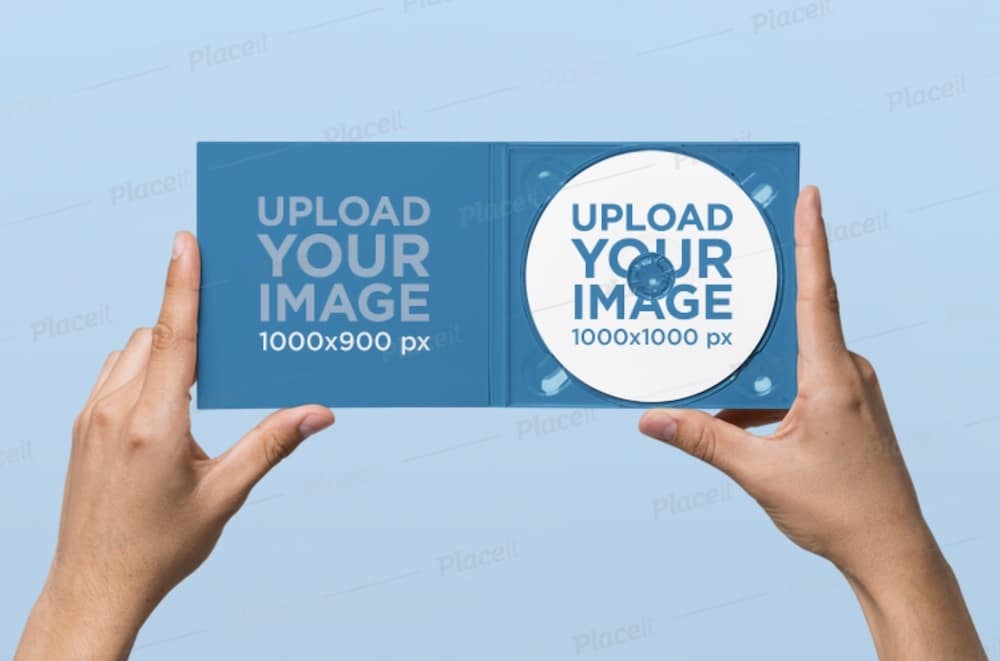 We like to use CD box mockups showing hands holding a digipak. They give the promotion a more personal touch and keep the overall image clean and minimalistic.
For this reason, we decided to add a second template to this list.
The main difference with our previous recommendation (number 3 on the list) is that here you also have the option to showcase your CD design. Apart from the two designs, you have the FREEDOM to change all the colors.
As with all of our selections, you can choose one of the suggested colors or add a code to the RGB color palette.
MORE INFO / DOWNLOAD
13. Mockup of a digipak next to headphones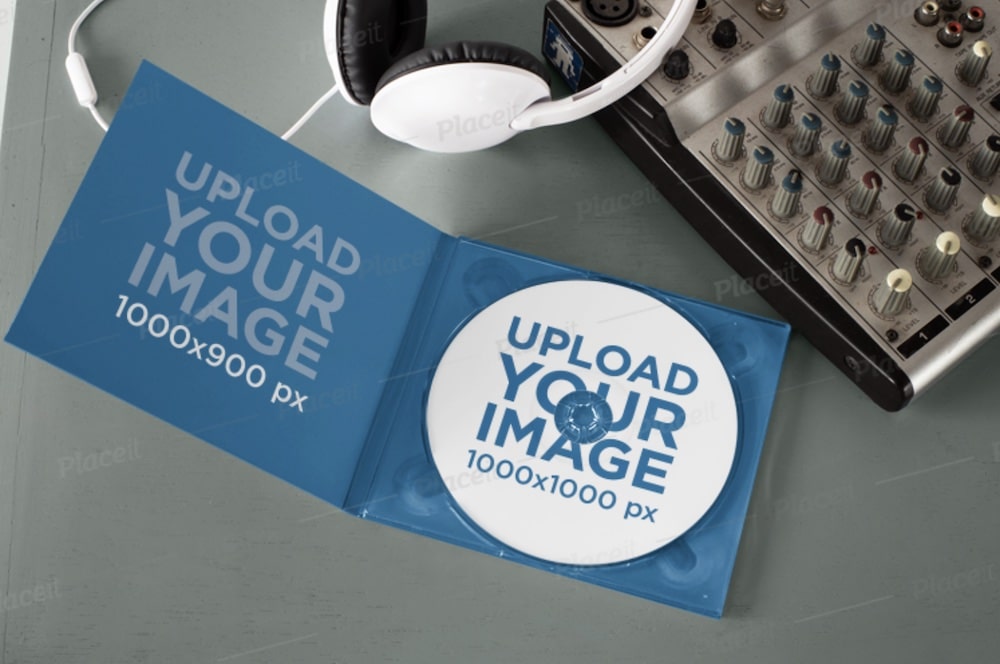 Our final recommendation for a CD box mockup is simply unique. There is no better way to promote a CD album than to place it next to headphones and a DJ console.
While this mockup is not ideal for every music genre, we recommend it for energetic music projects.
The mockup gives you the OPTION to add two designs (CD and inner cover) and change the colors.
MORE INFO / DOWNLOAD
How To Make A DVD & CD Box Mockup
This is the best solution if you're hurrying to create a photorealistic presentation of a custom DVD or CD design.
I've been using Placeit as the online mockup generator platform for many years, created 100s of projects, so I highly suggest you use it, too.
It only requires a few clicks (read takes seconds) – boom, boom – and you're ready to go.
4 Steps To Design A DVD & CD Box Mockup:
Step 1: Go to Placeit , where you can find 150+ professional templates that are easy to use. Click the one you like to open it. By the way, you can test all of them for free.
Step 2: Upload your DVD, CD or album cover design by hitting the "insert image" button. If you want to change its size and position, you can do that, too. Click "crop."
Step 3: Then, you can change the items' colors, use a different background, stick a graphic, etc.
Step 4: You're only clicking the "download" button away from enjoying your mockup masterpiece anywhere you want.
Have a great time creating the desired mockup – because you will!
::
Note: This article was originally published on August 15, 2021. But our team regularly reviews it and updates it with necessary improvements for accuracy.