We needed to use plastic box mockups to create realistic container and packaging presentations on several occasions.
Over the course of TWO YEARS, we reviewed 100s of mockups available but condensed them to the 14 most versatile.
We based our selection on high-resolution, customization options, realistic appearance and beginner-friendliness.
Favorable. Promising. And For Everone.
But we don't always use PSD files, so we decided to share our mockup generator and free picks, too.
Table of contents:
Now go and make the best packaging mockup.
You got this!
Best Plastic Box Mockup Generators
These are the ones that allow you to make a mockup without Photoshop.
It's OH SO doable!
Note: Placeit offers three pricing options – single purchase ($7.95), monthly sub ($14.95/mo), yearly sub ($89.69/yr).
1. Mockup of two plastic food boxes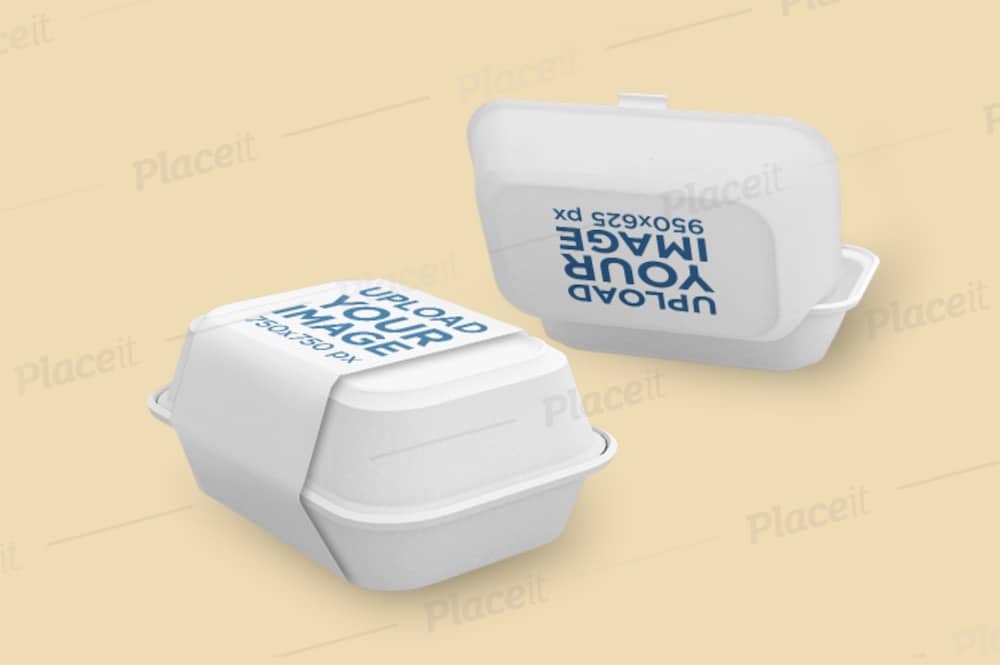 With these two plastic containers, you can present a branded box and a custom-made label/sleeve. You can EASILY import a logo for the box and a cool and catchy design for the sleeve.
In addition to adding images, you can also change colors with three convenient color pickers.
Plus, include a text, a call-to-action (CTA) and make your plastic box presentation stand out.
It's all quick and comfortable work that anyone can execute professionally (even if you are a beginner).
Note: If you are exclusively looking for food delivery mockups, we have a collection of the ultimate alternatives, too.
MORE INFO / DOWNLOAD
2. Mockup of transparent food boxes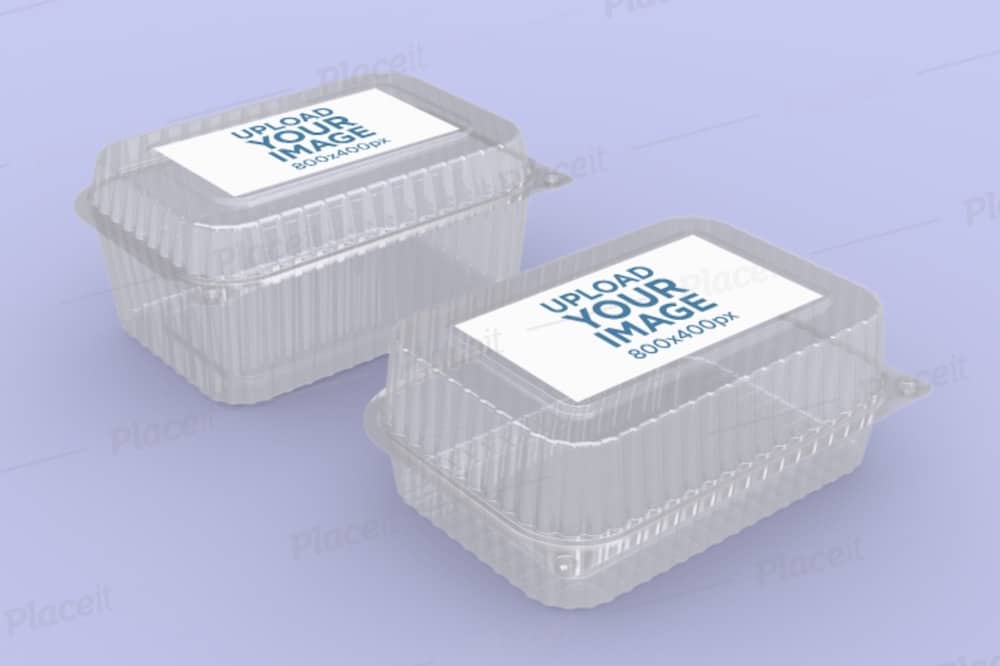 If the plastic box mockup above was for hot food packaging, this one is for cold dishes, desserts, salads, you name it.
What we found really awesome about this mockup is that you can create empty boxes or actually fill them with food.
How awesome?
It all takes a matter of some clicking and you are all set to IMPRESS.
You can upload any designs/logos you want, change the label color and adjust the background.
Tip: You can test the mockup without creating a free account. But we highly suggest you create it to ease your workflow.
MORE INFO / DOWNLOAD
3. Round transparent food box mockup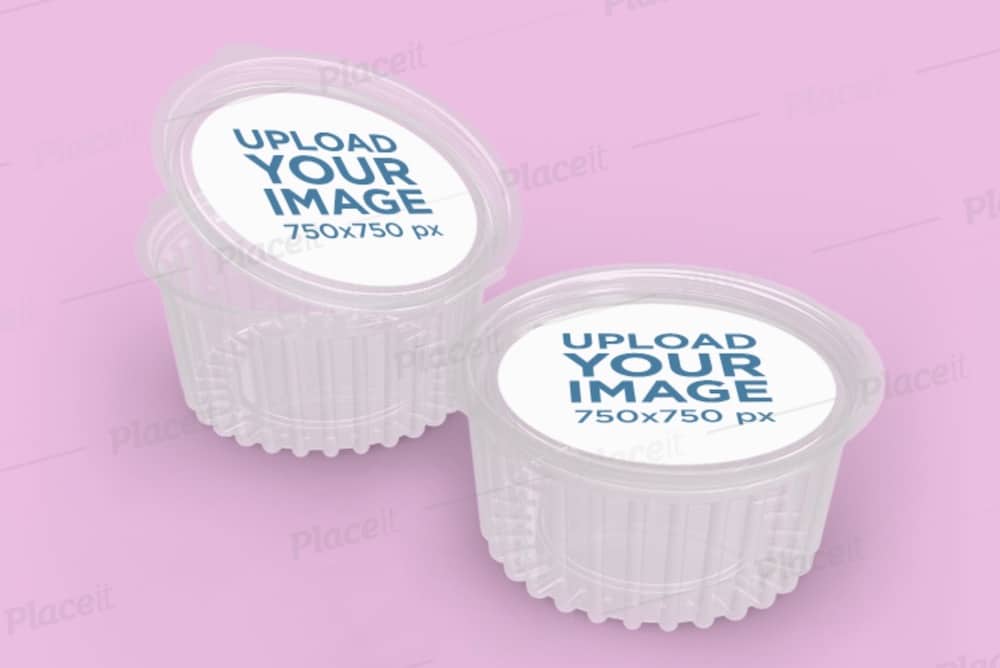 We want to point out ONE THING first: There are not that many square plastic box mockups available, so we added a few rounded alternatives, too.
Just making sure there's something for everyone.
Here are two transparent boxes that you can leave empty or stuff with foods (like the one above). Background and label colors are also editable.
You can also make the backdrop transparent and include a custom image. (That's what I did!)
So many options and it's still "only" an online mockup generator.
MORE INFO / DOWNLOAD
4. Mockup of two plastic boxes

Two large see-through plastic boxes that you can now modify to your heart's content.
When adding your label design, you only need to upload it once and it will appear on both SIMULTANEOUSLY.
That's the only con that we experienced with this one.
It's easier for the client to decide on the winner if you are able to upload two designs (slight variations or completely different).
But when we used it for social promotion for a different client, it worked fantastically well.
(We even created one empty and one stuffed-with-donuts variation.)
MORE INFO / DOWNLOAD
5. Label mockup of a plastic container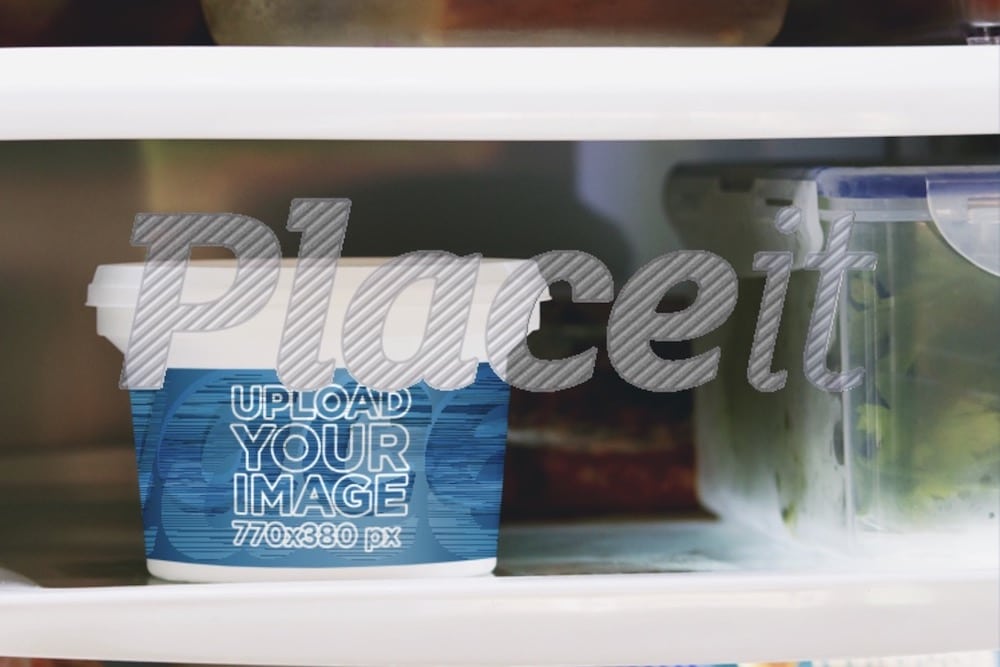 Yogurt, curd, sauerkraut, well, this beautiful plastic packaging mockup in the refrigerator is great for all three and then some.
With quick modifications, you can enrich the container with your branding idea effortlessly.
Insert the design, change the color of the label (if necessary), AND THAT'S IT.
Like with all Placeit mockups, you can also activate the "add text" function.
You can add any message you want, pick colors, and fonts to fit your design like a dream.
MORE INFO / DOWNLOAD
Best Plastic Box PSD Mockups
6. Plastic product box mockup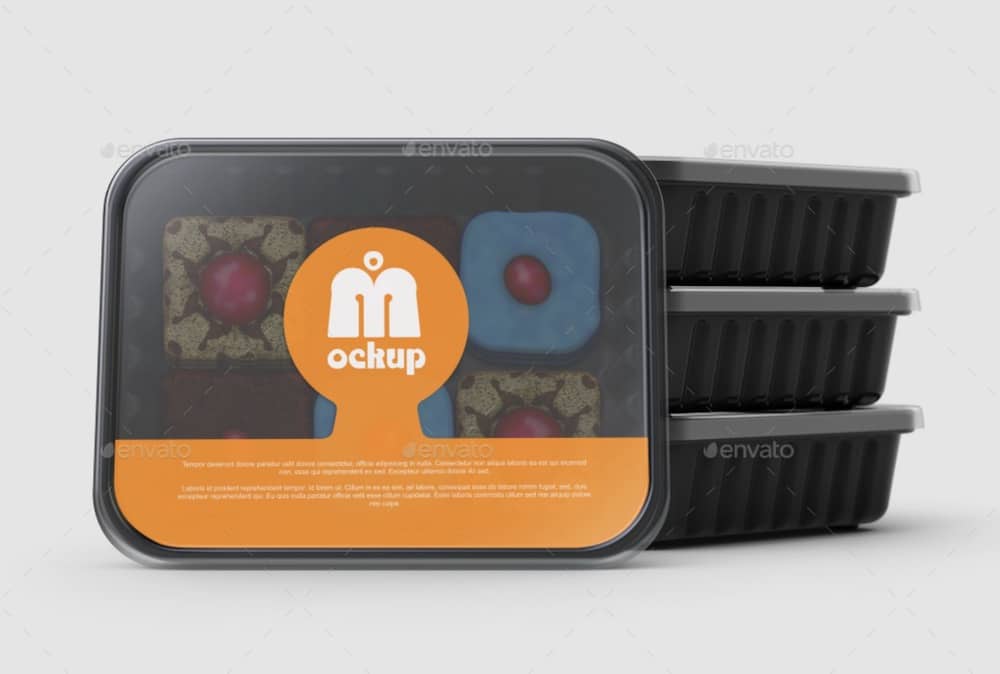 This all-around and super-versatile box mockup is PERFECT for any product presentation. Meats, fruits, sweets, you can insert any product you want.
You get four layered PSD files, organized and easy-to-use.
The amazing 5400 x 4400px dimension also makes sure to create a high-quality outcome no matter how detailed your designs.
Modify shadows and lighting, add or remove clear cover, you name it.
You also get a help file, which makes the experience even more beginner-friendly.
Price: $6
MORE INFO / DOWNLOAD
7. Styrofoam box packaging mockup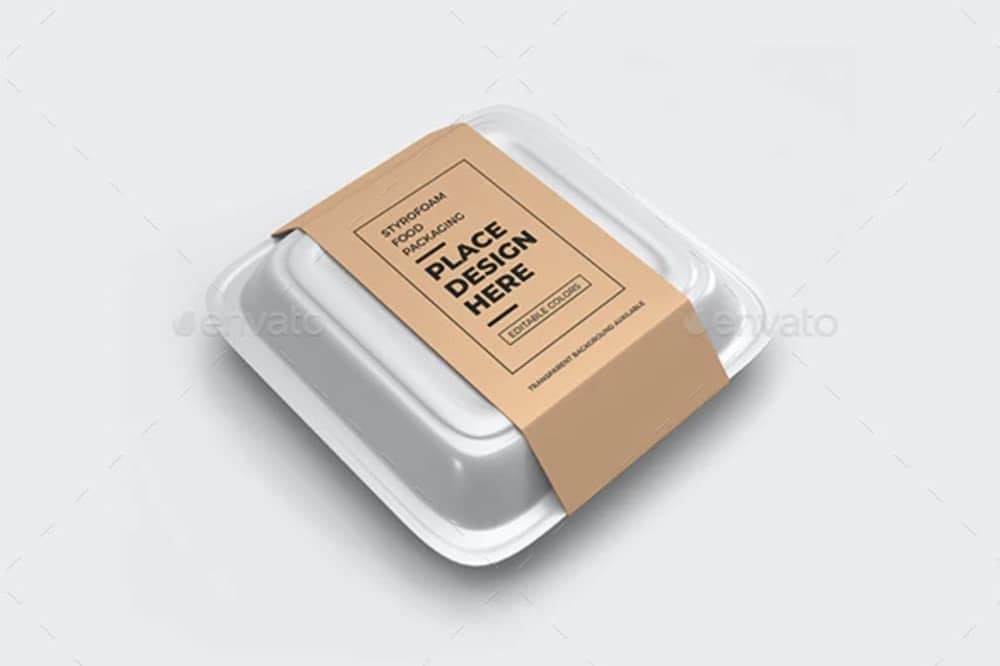 There's a similar styrofoam box mockup above (generator), but this PSD alternative will do the trick if you want more freedom.
You get a whopping collection of ten different views. Create a life-like presentation that will AMAZE everyone.
The resolution is also high (4000 x 3000px) ensuring a crisp clear outcome.
With the use of the smart object layer, you just drag-n-drop your design, logo to the sleeve, and you're done.
Quickly skim through the easy seven-step how-to-use-it-procedure and WIN big times.
Price: $7
MORE INFO / DOWNLOAD
8. Plastic container for dairy mockup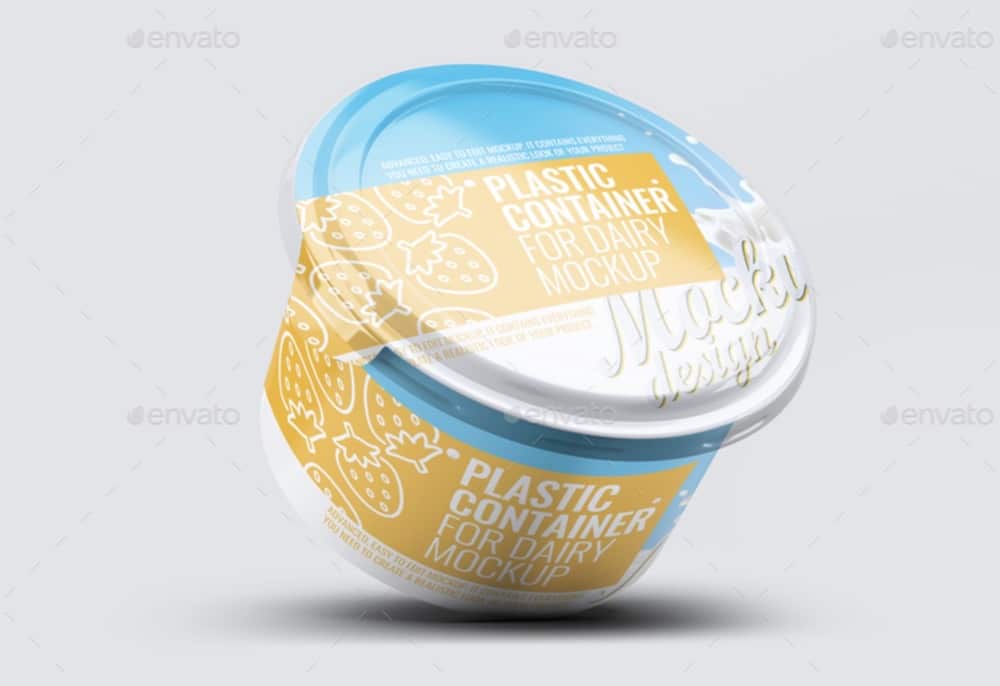 We worked with a client offering dairy products twice in the past. We were happy to come across this plastic container PSD mockup.
The outcome appears as if you'd actually take a photo of the product with the collection of eight realistic presentations.
Our clients were IMPRESSED and we're sure yours will be, too.
The only downside for us was the 2500 x 2500px resolution.
BUT. For our more minimal designs, it worked smoothly.
Make a dairy product presentation that will wow everyone. It's a guarantee.
Price: $7
MORE INFO / DOWNLOAD
9. Plastic food container mockup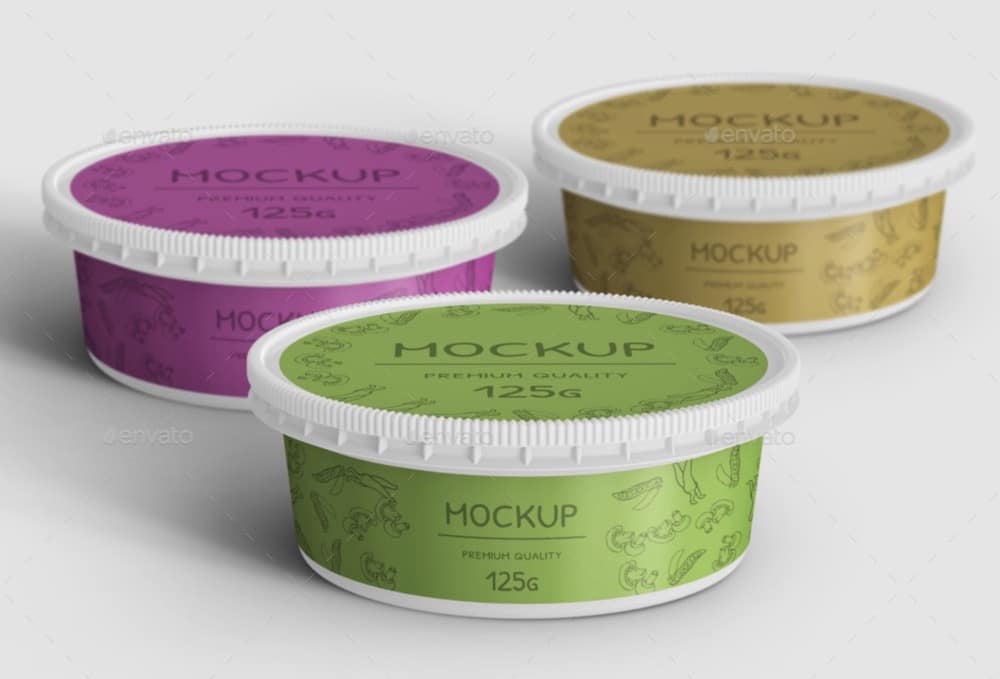 With a highly photo-realistic plastic container mockup, creating a life-like branding showcase becomes a LITTLE BREEZE.
You can use it for any food that you find it fit this particular packaging style.
Three PSD files mean three different views, where one includes two containers. Create designs for different tastes or different foods.
You will find this set very versatile, as you can use it for different clients easily.
Label size: 170mm diameter for the cover and 52mm height for the bottom.
Price: $6
MORE INFO / DOWNLOAD
10. Plastic fast food/takeout packaging mockup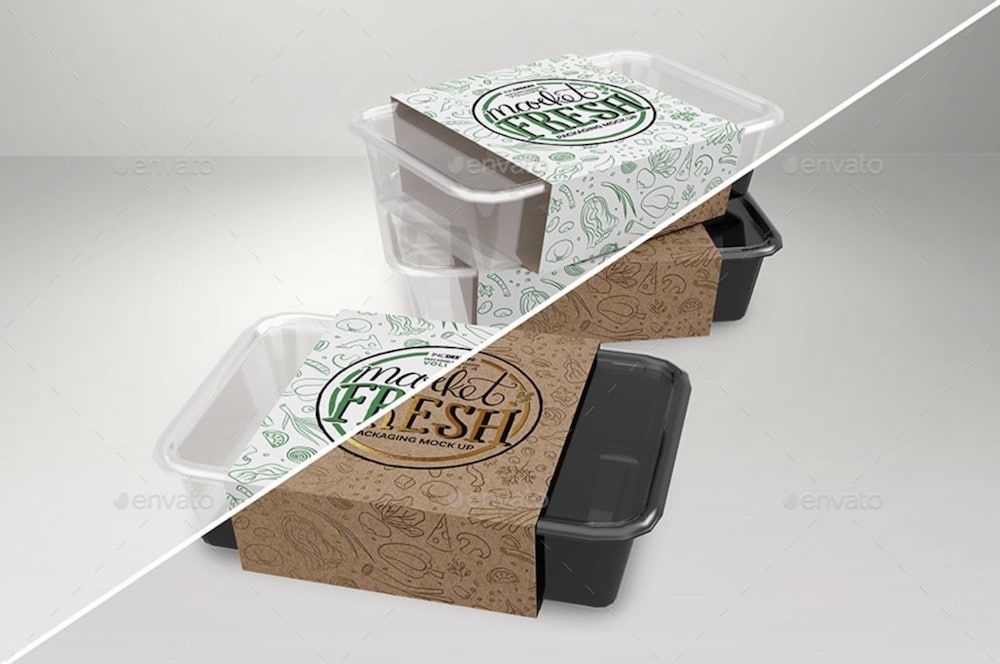 If you work with different clients and your budget is tight, we'd advise you to opt for this mockup kit.
Why? You get six different mockups, which are ACTUALLY six different plastic boxes.
As the name implies, ideal for fast food and takeout, but you can apply it to something else without a sweat.
Every PSD file comes at 5400 x 3600px with a box scaled to the actual size.
But first, take a peek at the live preview and see what's possible.
Price: $15
MORE INFO / DOWNLOAD
Best Free Plastic Box Mockups
11. Free plastic box mockup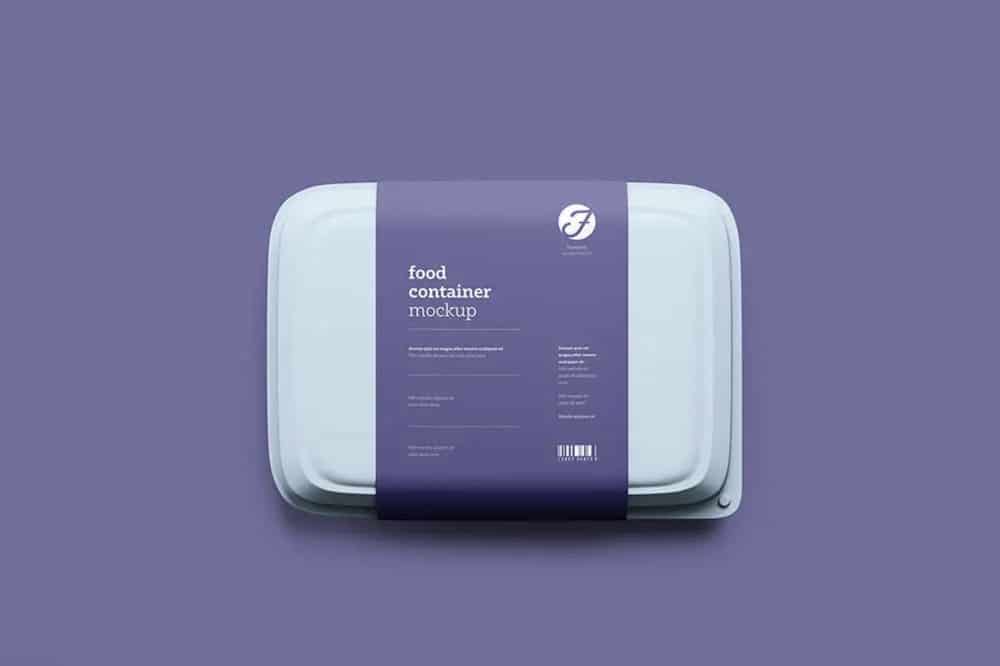 Are you working on a design for a meal kit and would like to use a free mockup to create a QUICK prototype?
Here you go!
Put on display your custom label/sleeve design, change the color of the plastic box and even alter the background.
It's all possible.
What's even more impressive is the 5000 x 3750px dimension, making this PSD file more premium-like than free.
Note: Always make sure if you can use it for personal/commercial projects (when working with any free mockup).
MORE INFO / DOWNLOAD
12. Plastic container PSD mockup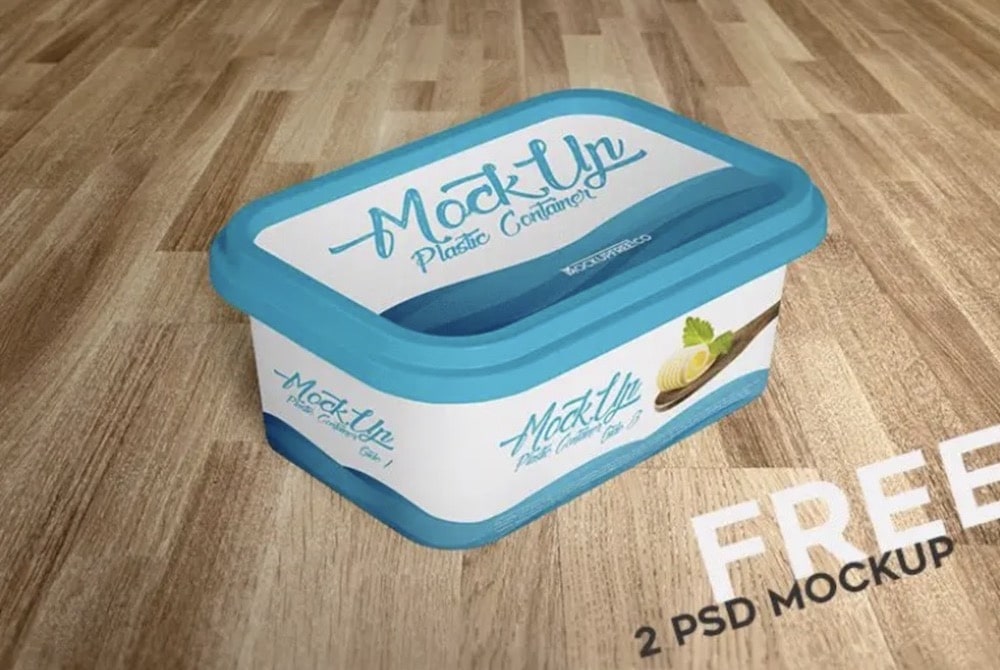 A free plastic box mockup that is flexible enough to work with all sorts of foods.
Spreads, ice cream, sweets, well, you can play with your IMAGINATION and use it for whatever your heart desires.
You get two PSDs in the kit, which gives you even more freedom to create the outcome that meets your expectations.
Make improvements in just a few clicks, slide in your design via the smart object layer and enjoy the outcome.
Dimension: 4000 x 3200px.
MORE INFO / DOWNLOAD
13. Free disposable food container mockup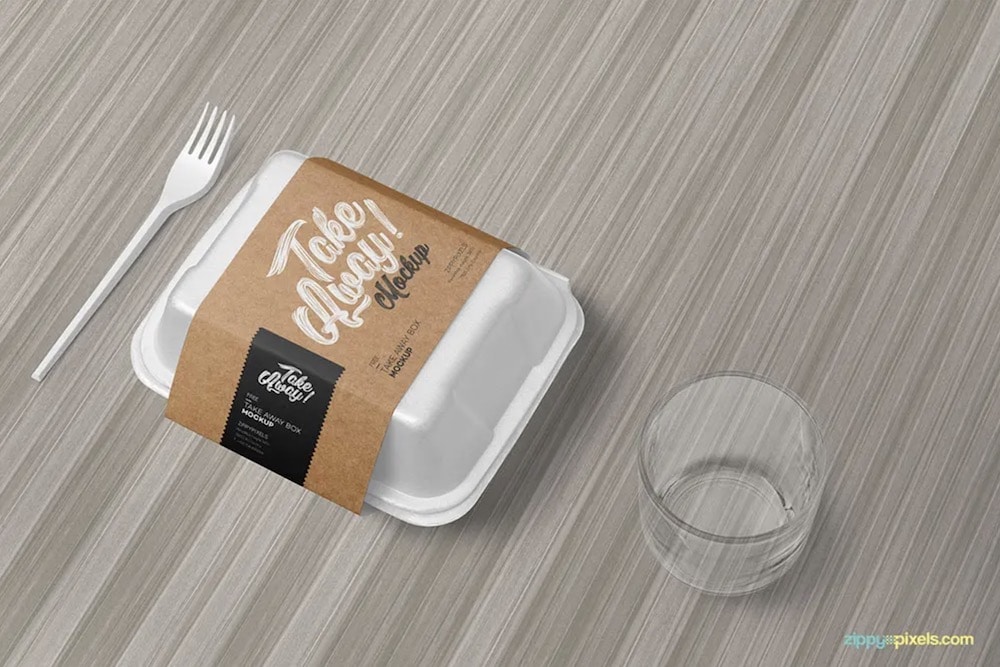 Grab this 100% realistic free disposable food container mockup that makes an instant difference.
Sorting out your ideas, even showcasing your creations to your clients happens QUICKER than you think.
Customize the background, the box color, the label/sleeve design, you can even change the color of the plastic fork.
The amazing resolution (3500 x 2300px) also ensures an excellent close-up showcase.
Get your hands on this PSD mockup now and have some fun designing it your way.
MORE INFO / DOWNLOAD
14. Free ice cream container mockup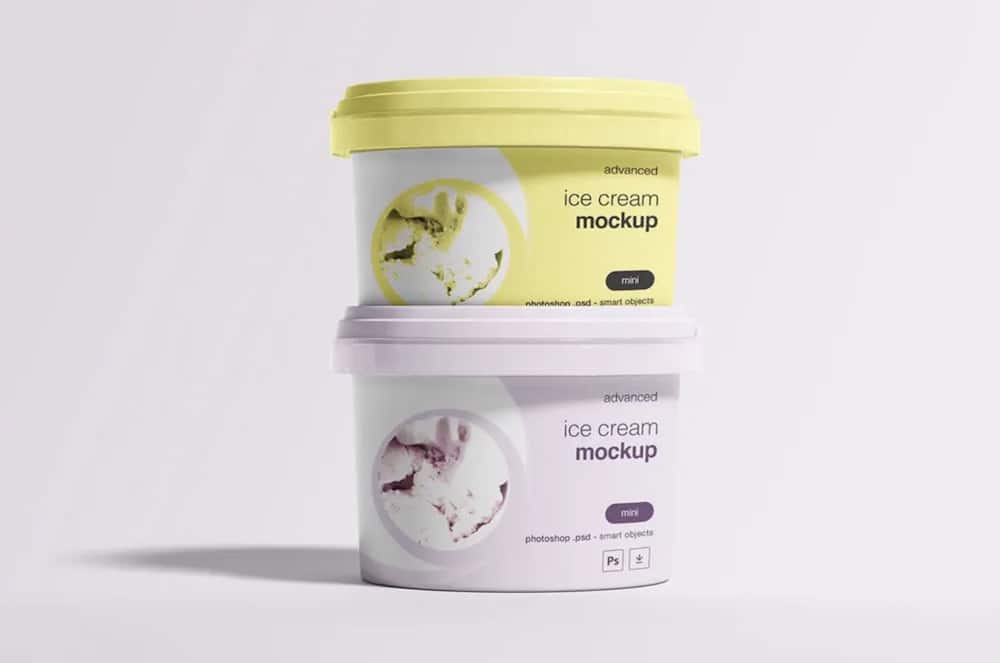 Even though this one may not fit our collection of free plastic box mockups entirely, we needed to add it.
We used it MULTIPLE TIMES and if it will help you – our deed is accomplished.
First, the mockup is 100% customizable. You can change everything and improve it to the very last detail.
Second, it comes at a large dimension of 5000 x 3750px.
And third, it's equipped with a layered structure and smart objects, so you know the work process will be a child's play.
Note: You will also like my review of the best ice cream mockups.
MORE INFO / DOWNLOAD
Do you need more boxes? We also want to mention that our selection of paper box mockups is available for you to create epic stuff.
Many times we used both paper and plastic variations when presenting design ideas and branding to our clients.