You don't need to be a design geek to enjoy the benefits of face mask mockups.
You'll make magic happen even if you have 0 experience and no Photoshop.
That's when our extensive collection comes into play that we finally put together after eight weeks of testing and trying.
Here's a secret: Yes, you can create a mockup without Photoshop.
With these ultimate FREE and premium templates!
This post covers:
We don't even have to make a how-to (okay, we still made it). Pick an online mockup generator and make it happen confidently.
You learn on the fly. (Yes, you will!)
BUT.
The only thing that's necessary is design, image and/or logo.
For all the rest, I GUARANTEE, will be easy.
Best Face Mask Mockups (Generator & PSD)
You can test all these free of charge (except the PSD version) – SO COOL!
But, each template costs $7.95, or you can pick either a monthly ($14.95/mo) or yearly ($89.69/yr) subscription.
1. Mockup of face mask and sewing material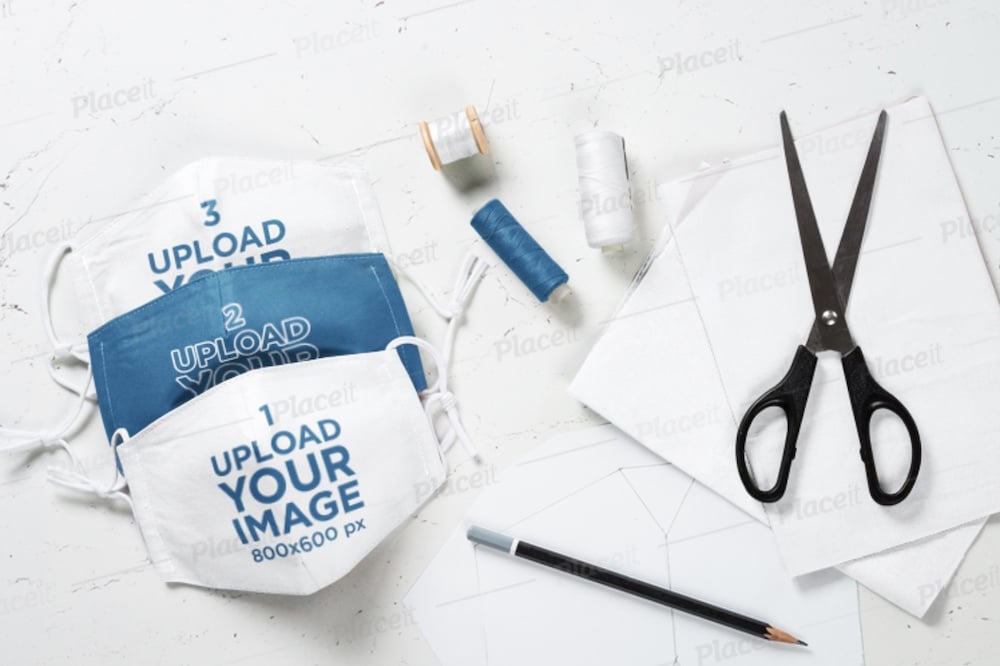 With the wide use of face masks, many started creating their own. A DIY version, if you will! That's something that this realistic mockup implies.
Use this handcrafted face mask mockup to present your new designs whether you're operating an Etsy store or running your own online business.
All three masks are easily editable with custom colors and images. The strings are not, staying white.
You can also add a logo and a text (call-to-action), turning the mockup into a (promotional) BANNER.
Need inspiration? Out of a ton of available listicles, we found this awesome collection of face mask design ideas the most helpful.
We are always on the lookout for designs that stimulate our creativity! (I hope it helps.)
MORE INFO / DOWNLOAD
2. Mockup of a woman wearing a face mask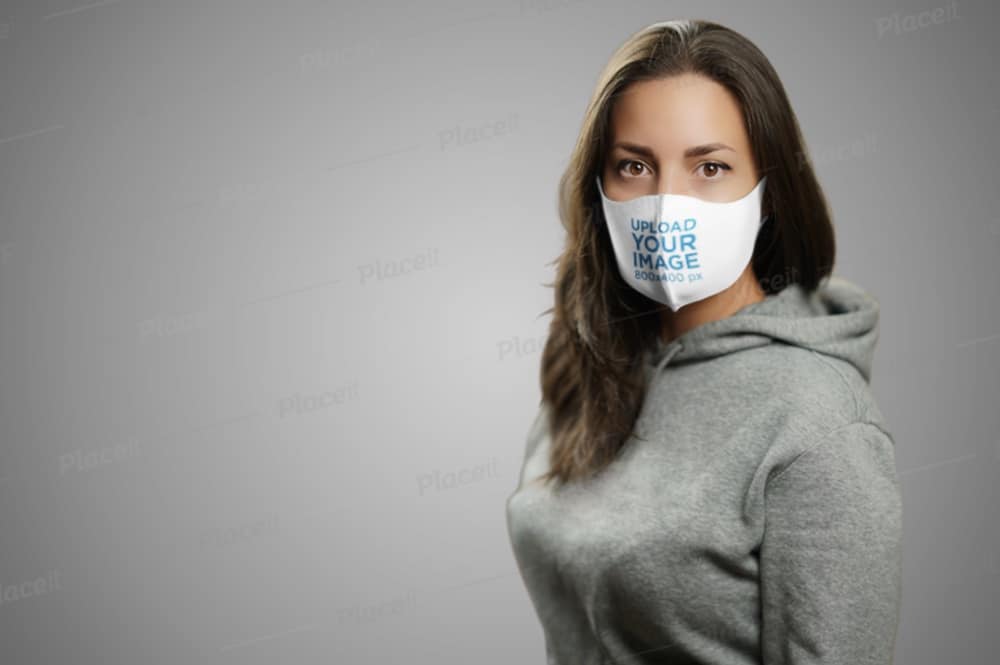 A simple but impactful mockup of a face mask featuring a female model wearing a hoodie.
This particular template allowed us to add some ADDITIONAL content on the left side.
You can use it to spread the awareness with a special message, even add a quote if you want.
And it takes you only a few clicks to create the final version.
We made a few possible solutions, which made picking the clear winner much more straightforward.
MORE INFO / DOWNLOAD
3. Minimal mockup of a ghosted face mask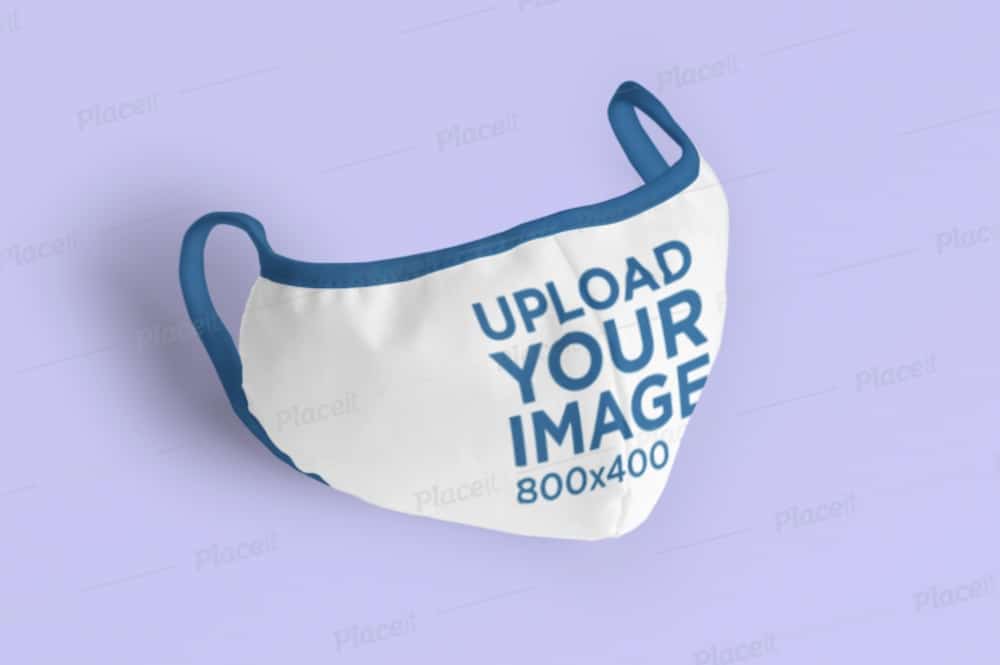 No face, no problem! (Sorry, I really needed to do that.)
Here we have a neat mockup generator that will sort you out with a superb presentation of your design.
What's cool about this one is that you can individually change the background, mask, and lace colors.
Not all mockups in this collection offer that.
It's a SIMPLE process doing the work, which is why it's perfect for beginners and experts.
MORE INFO / DOWNLOAD
4. Face mask & tank top mockup of a young girl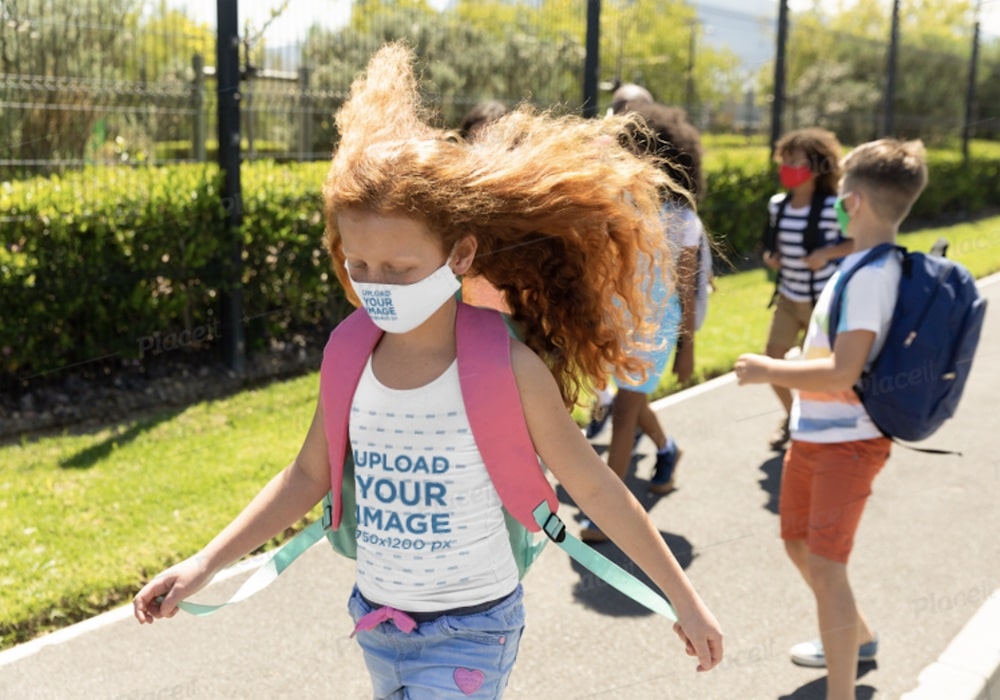 During pandemic times, especially during Covid, kids need to wear masks, too.
If you would like to create an exclusive one (for girls), this life-like face mask mockup of a schoolgirl will do the trick.
Along with the mask design, you can also edit the girl's tank top. Make them match just like we did. But you can do whatever else you want!
Do you know what would make this one genuinely ULTIMATE? If the green and red masks of the kids in the back would also be changeable (at least with colors).
MORE INFO / DOWNLOAD
5. Face mask & hand sanitizer mockup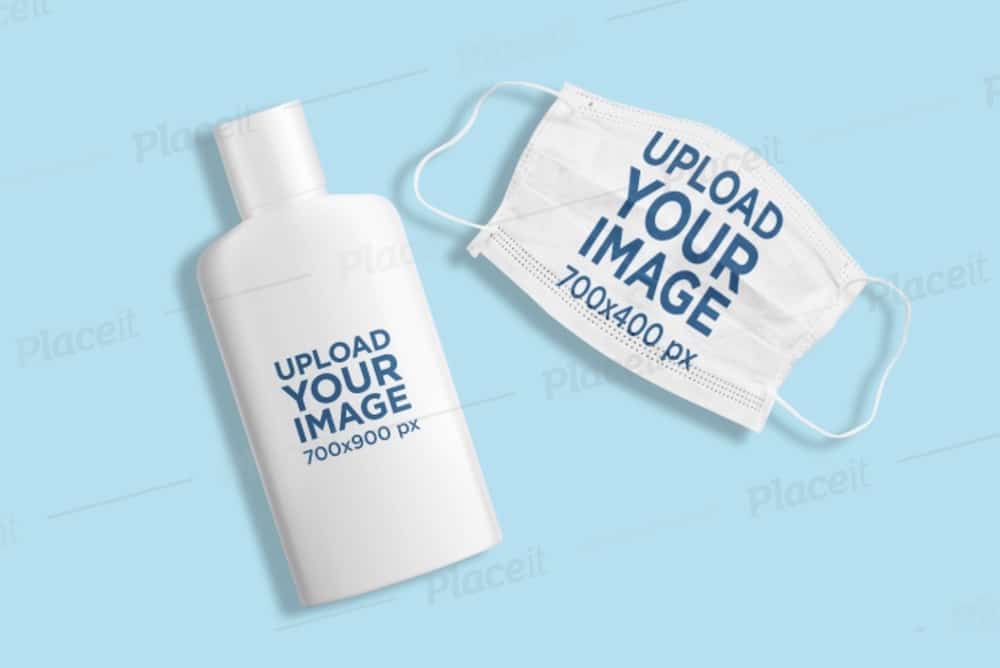 You can now create a minimal and impactful presentation of a face mask and a sanitizer. This is the mockup that offers a quick design for a promising outcome.
Some of the editing options are uploading images and logos and changing the colors of both items.
Great for branding, but companies offering promotional material will BENEFIT from this one, too.
MORE INFO / DOWNLOAD
6. Mom & son face mask mockup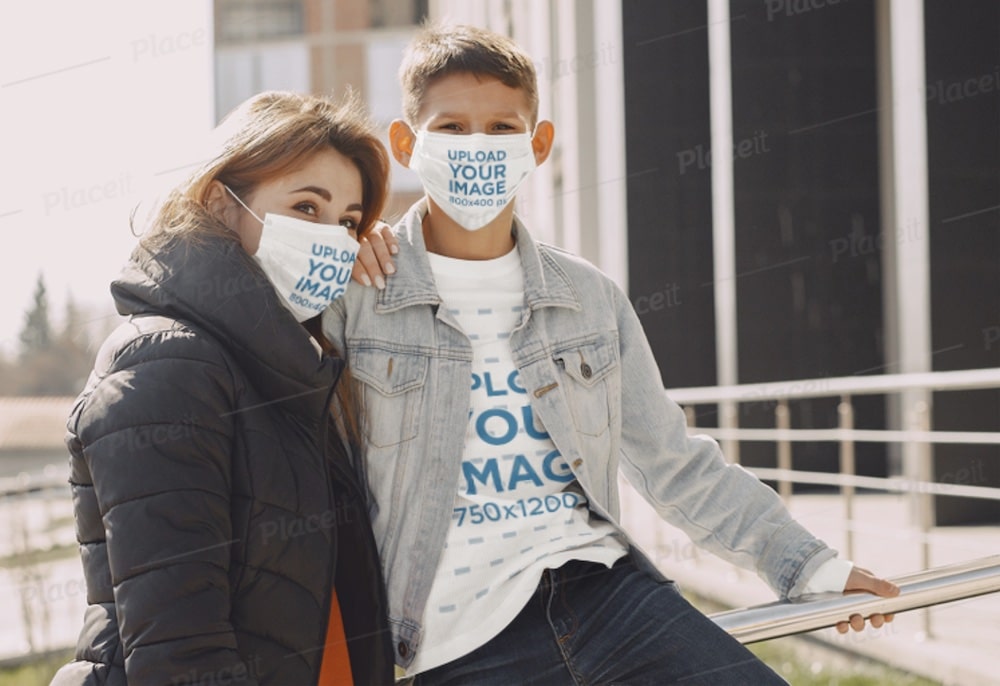 You almost cannot get any more realistic than with this face mask mockup. The template features a mother and her son wearing masks.
What's more, the mockup also allows you to change and beautify the son's tee.
If you create it for social media, a blog post, or even a newsletter, you can also add some text.
Share an ENCOURAGING message or whatever else you want.
MORE INFO / DOWNLOAD
7. Face mask generator with editable background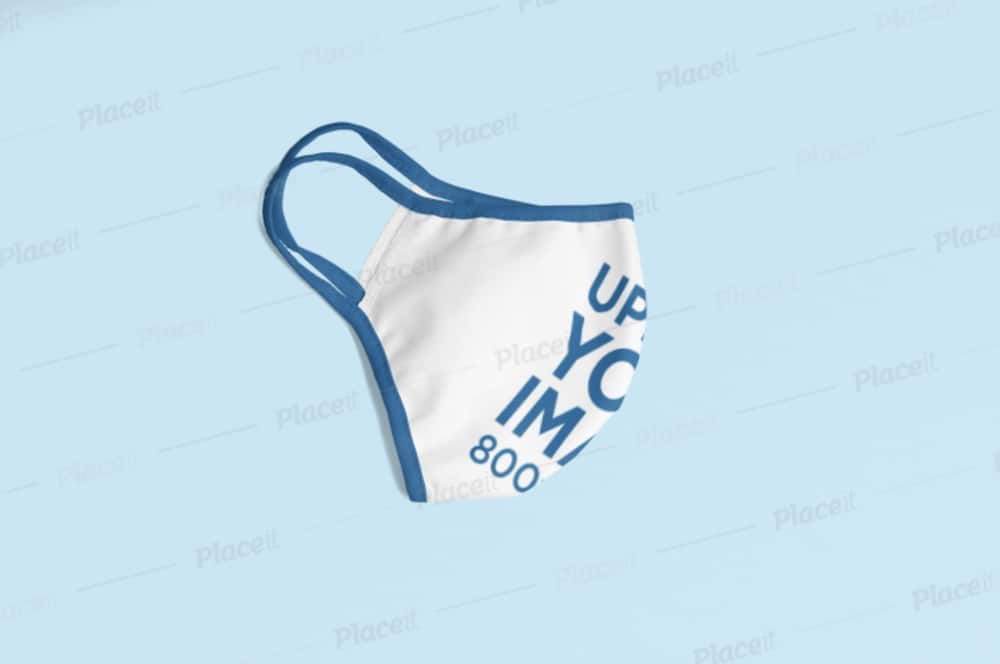 We wanted to include a few of the more simple, minimal mockups of face masks, which work great for client showcase.
Not just that, this and any other similar one fits an online store, too.
Also, it's one of those solutions that features two color pickers for the mask – for the central part and the lace.
Yes, you can alter the background, upload a logo and add text as well.
Hint: You can create a face mask mockup on Placeit before you even download it – SO COOL!
MORE INFO / DOWNLOAD
8. Mockup of a kid with editable mask & T-shirt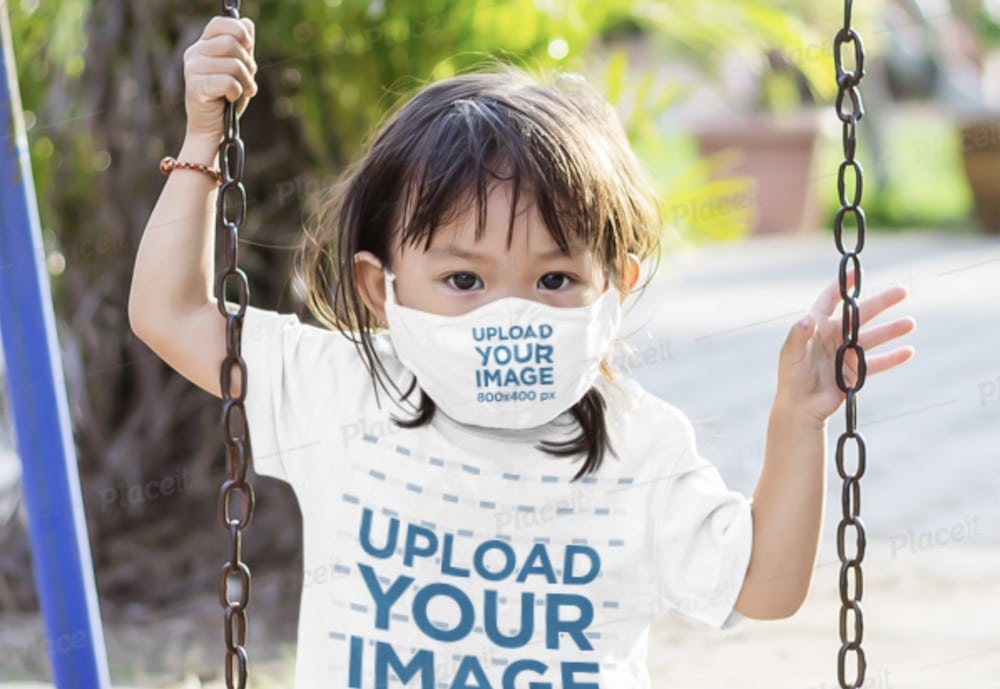 The safety of our children is important. But you don't want to make a kid look boring with the medical mask.
Make a cute and lovely one they will enjoy wearing.
You CANNOT GO WRONG with this example, making a presentation that will grab every parent's attention.
You can even make it 10x cuter by creating a matching T-shirt – which you can!
MORE INFO / DOWNLOAD
9. Man holding a mask in front of his face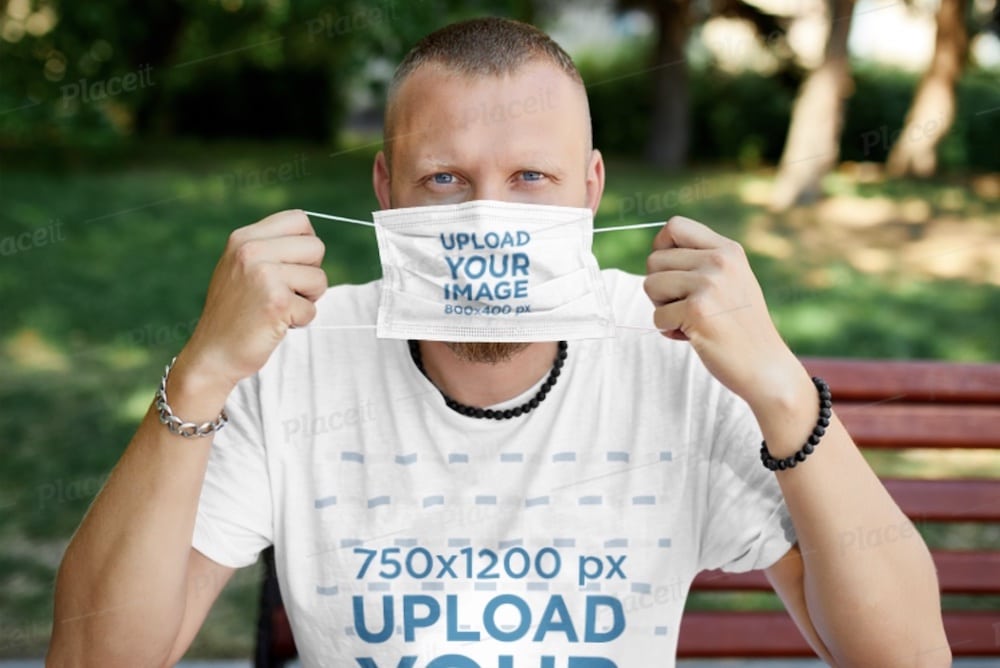 This was the mockup that helped us create an impactful design showcase when working with a local organization.
We even went one step further and add the organization's slogan to it.
It's definitely very "straight in your face," especially if you add the same branding on the mask and the shirt.
With so many options, you won't have a problem coming up with the exact version that YOU (or your client) want.
MORE INFO / DOWNLOAD
10. Family T-shirt & mask mockup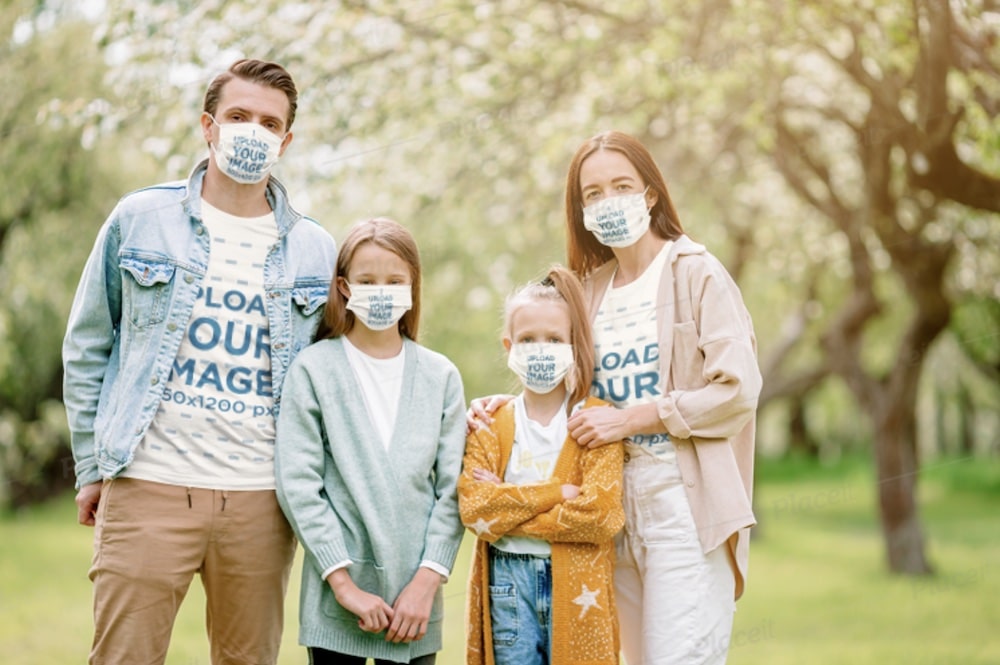 If the mother and son version wasn't enough for you, here's the FAMILY mockup.
All four members wear masks, which are individually editable with designs and colors.
You can even create father and mother's T-shirts!
This face mask mockup really takes things to the next level. You will have a lot of fun with all the different customization options.
We surely did!
MORE INFO / DOWNLOAD
11. Female courier shirt & mask mockup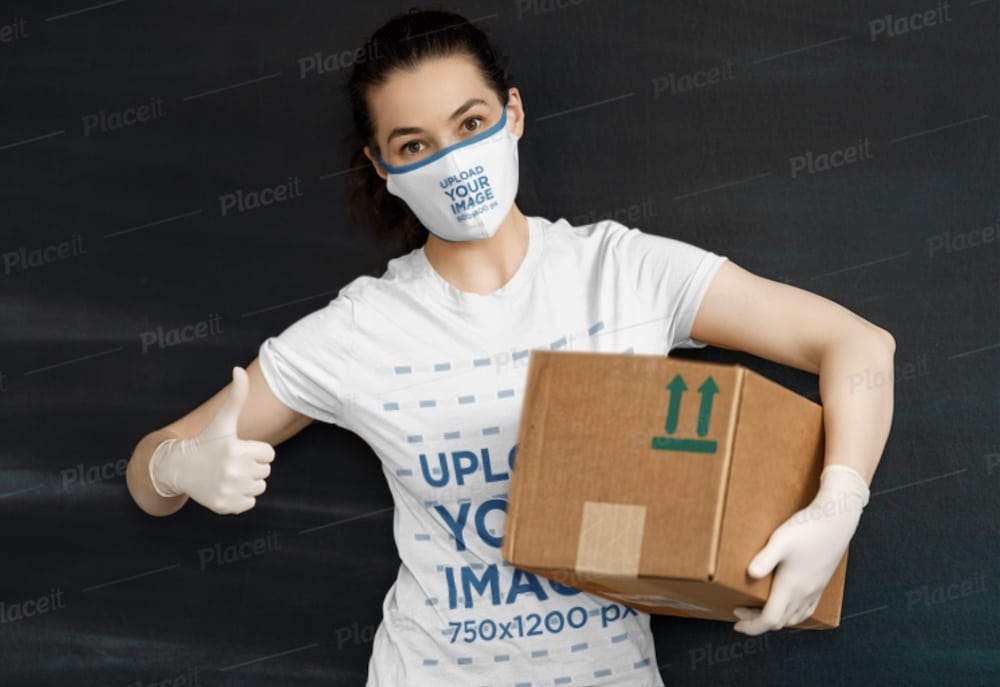 In our area, there aren't that many females couriers (more like 0).
Luckily, we once had a client who requested to create a life-like demonstration of a brandable face mask and T-shirt.
When we saw this particular mockup, we immediately knew it WILL WORK. We changed the color of the mask and the shirt (but left the cord color default).
From then on we went uploading the designs and that was it. We didn't even use the "upload logo" and "add text" functions.
MORE INFO / DOWNLOAD
12. Face mask packaging mockup (PSD)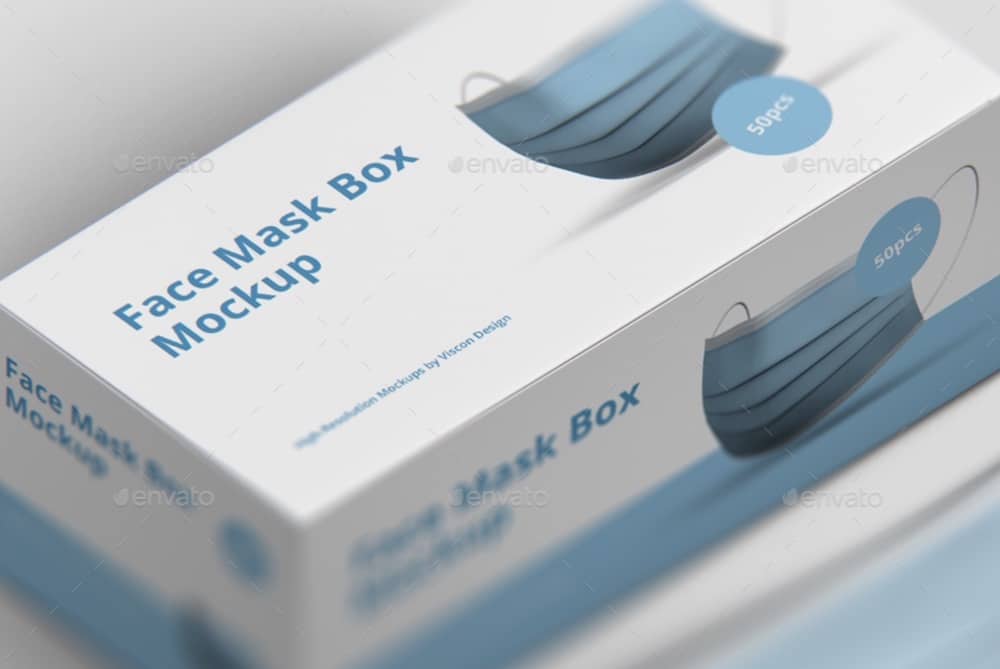 Surprisingly, so far, we haven't received a request for a face mask box mockup design.
However, we knew the demand is strong, so we found this EXTREMELY versatile solution.
Even though this one is more for medical masks, you can go against the grain comfortably, as the sample demonstration shows.
The mockup comes with eight layered PSD files that all use smart objects.
There are also different textures and layer styles available for an even faster final creative execution.
You can use the bundle for any branding and color style (dark and light).
We will DEFINITELY come back to this one if we ever need to create packaging for masks.
Price: $6
MORE INFO / DOWNLOAD
Best Free Face Mask Mockups
Do you know what's even better than an online mockup generator?
A FREE one!
While the resolution of these may not be as high (still decent!) as of premium alternatives', you can use them freely for personal and commercial projects.
Note: They did us good in many instances!
13. Female face mask & tee mockup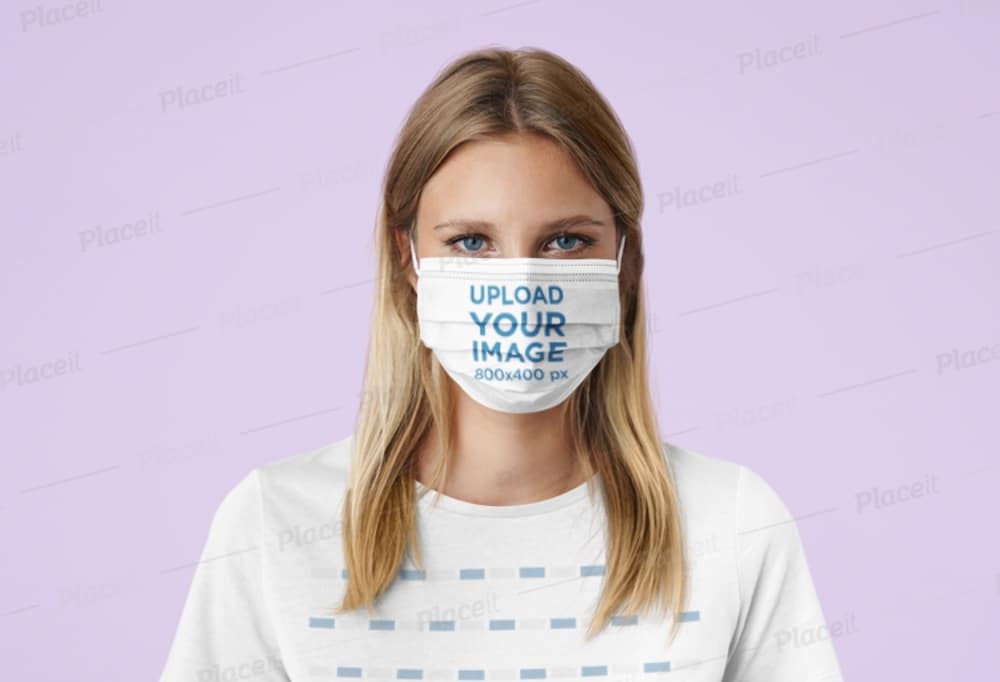 You can use this generic mockup of a female with a configurable face mask and T-shirt for anything you want.
It only takes A FEW CLICKS to improve the default settings, thanks to the easy work that Placeit's templates are known for.
Since free, you can make multiple variations, download them and only later (with your client) decide which is the winner.
MORE INFO / DOWNLOAD
14. Face mask & T-shirt mockup of a man relaxing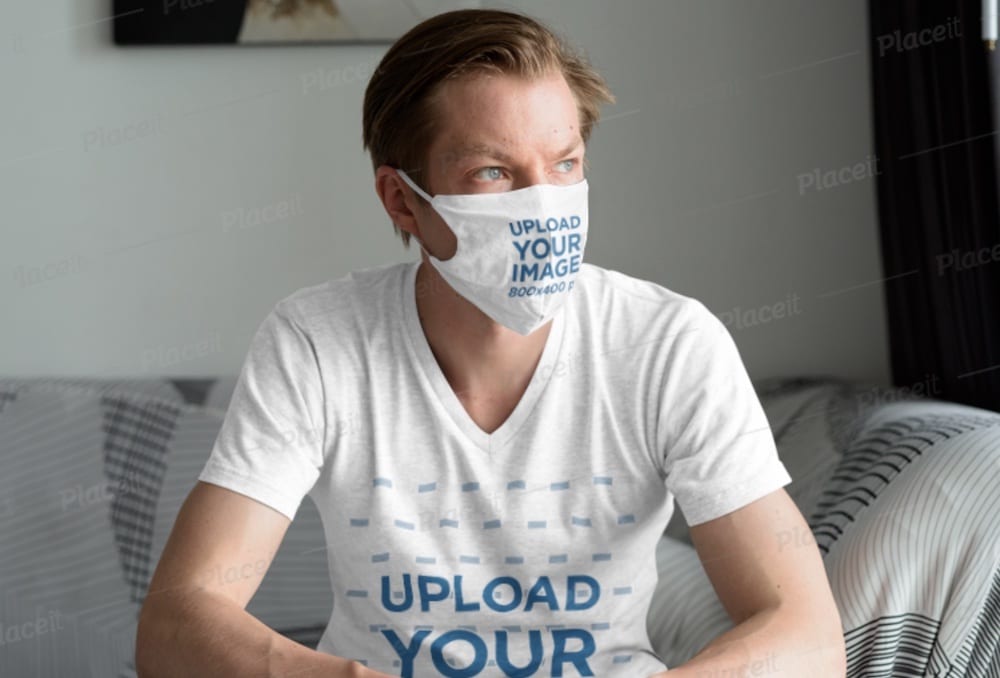 While there are VERY rare occasions when a person would need a face mask at home, it's sometimes necessary.
You can use this template to present your ideas beautifully. You can upload an image to the person's mask and his shirt.
Both items are also configurable with any color you want.
Logo upload and add text are the other two (optional) features you can activate.
MORE INFO / DOWNLOAD
15. Face mask mockup of a cleaning lady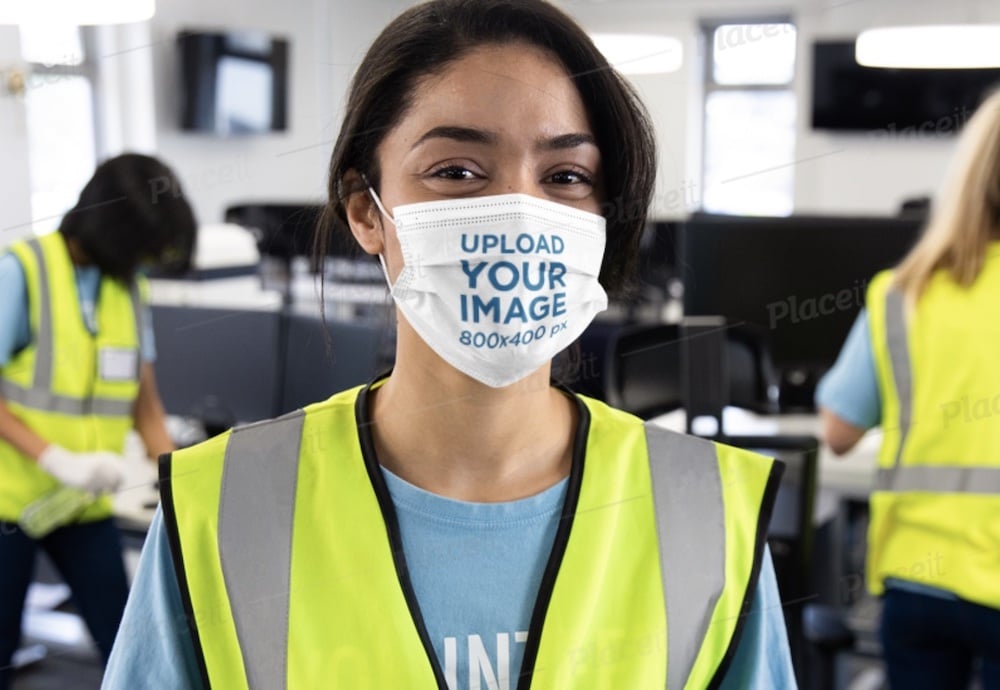 When disinfecting offices and other places, a face mask is almost necessary. You don't want to breathe the (strong) cleaning solutions.
This free face mask mockup will trigger everyone's interest for the fact of how awesome it is.
And you can clearly see the lady SMILING. (Eyes tell more than you think!)
Design your variation now; you don't need to pay any fees.
MORE INFO / DOWNLOAD
16. Doctor wearing a face mask template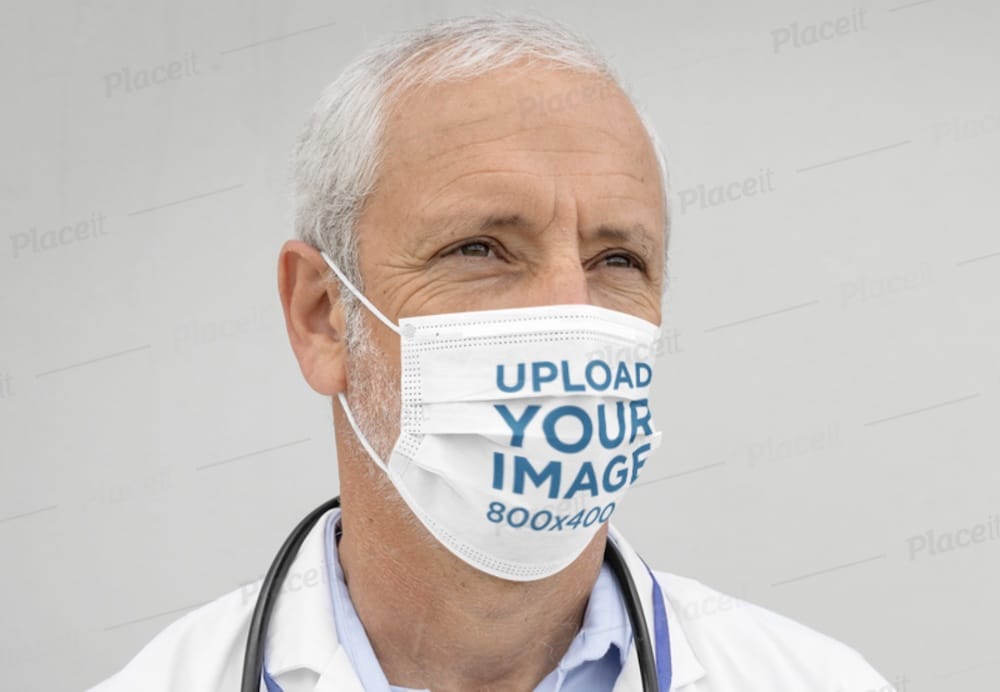 Whether it's pandemic, surgery or exclusively for hygiene purposes, a doctor wearing a mask is not something new. ("Like we didn't know that already, smartass!")
But doctors don't need to wear BORING masks. Either they can have a version with the clinic's branding or a custom one.
You have complete creative freedom to make your version using this neat template.
The working area of the mask is 800 x 400px. But you can also use different sizes of images, and then crop and reposition them (online!).
MORE INFO / DOWNLOAD
17. Boy with a face mask while doing homework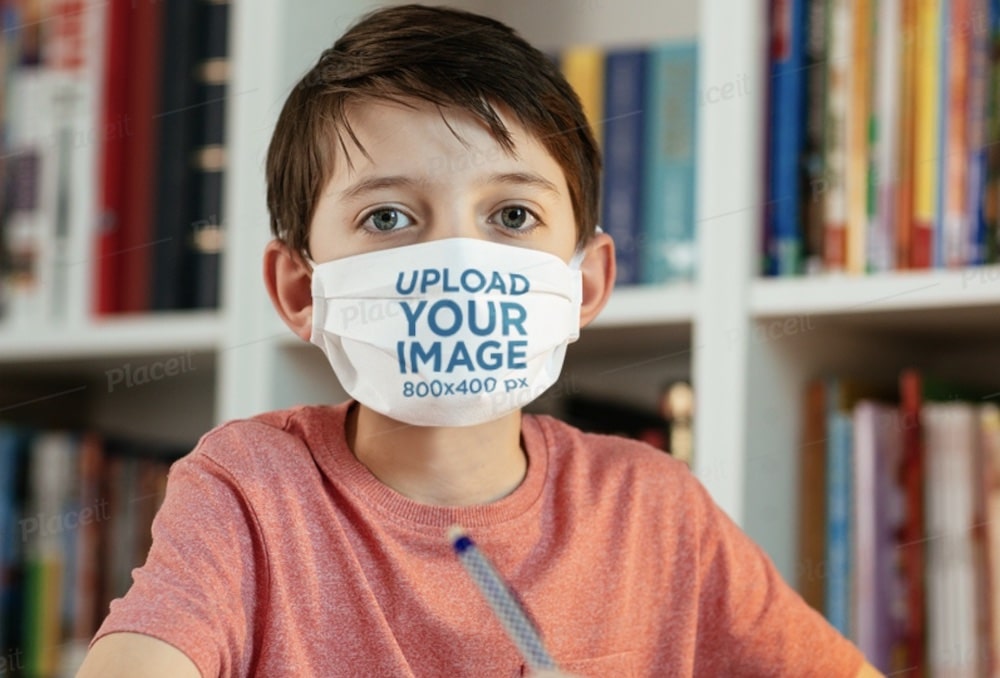 I wouldn't necessarily say this kid is doing homework at home, rather at the school library.
With a mask on and staring directly in the camera, you can immediately tell it'll trigger viewers' curiosity.
You couldn't be more right.
However, we didn't always receive the same reaction on social media. But that's probably because the audience of the accounts we used it on was different.
Hey, it's free; you can test it without really wasting anything. You never know, maybe it will do WONDERS for you.
MORE INFO / DOWNLOAD
18. Mockup of a woman with a face mask at the supermarket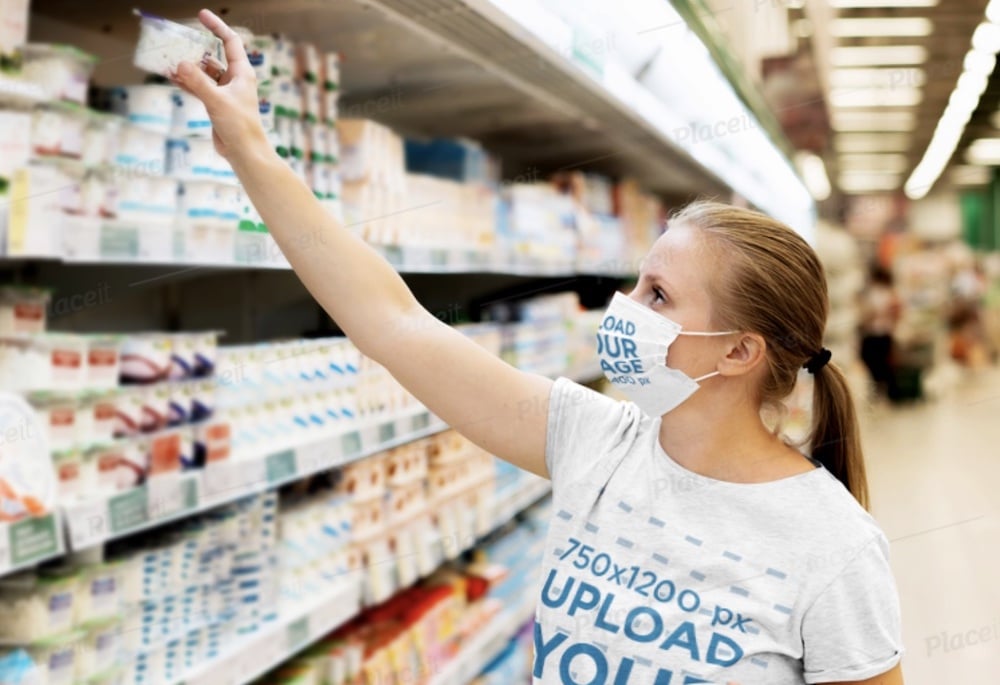 What we really like about this particular face mask mockup is how naturally it feels.
Of course, the image is from a photo shooting, but it wouldn't be much different if you'd randomly snap a shot of a woman picking packs from shelves.
Thus, why even do things FROM SCRATCH if you can save a ton of time and money with a ready-made mockup?
No need to answer.
Head over to Placeit where you can enjoy all the fun of online mockup creation.
MORE INFO / DOWNLOAD
19. Close-up face mask mockup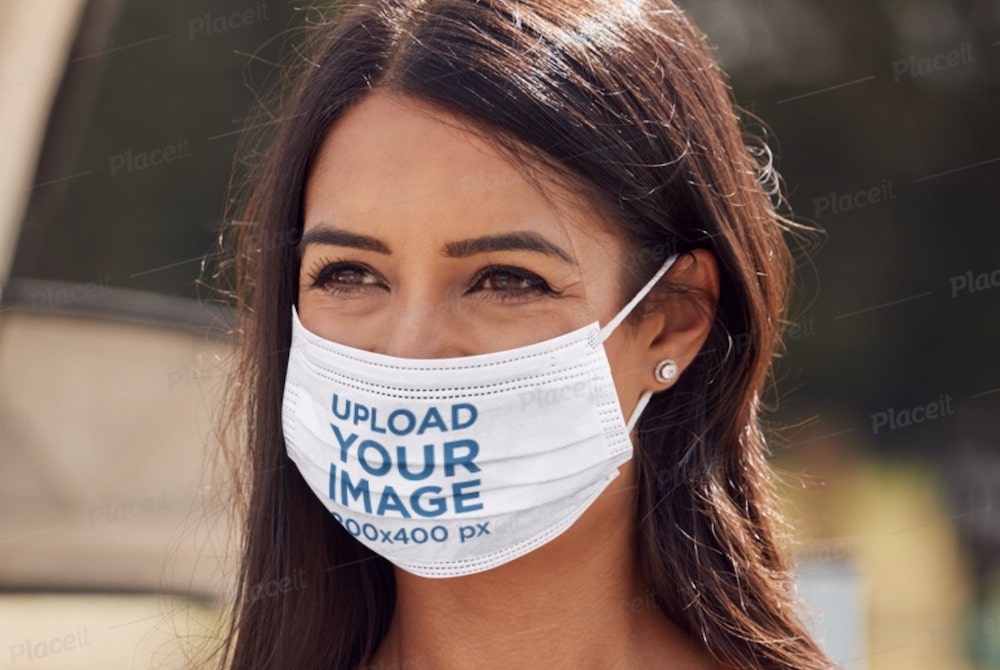 This and the following mockup are beautiful close-up shots that'll present your mask design professionally. No one will even tell it's a mockup!
You'll only need to perform TWO main CLICKS. (So quick!)
One to change the color of the mask and the other to upload your image. But it doesn't end here. You can also attach a logo and text (entirely optional).
BUT! If we could also change the color of the string – that'll be a mockup of an entirely different level. (They'd probably make it premium in this case, so we good.)
MORE INFO / DOWNLOAD
20. Face mask mockup of a woman with a hijab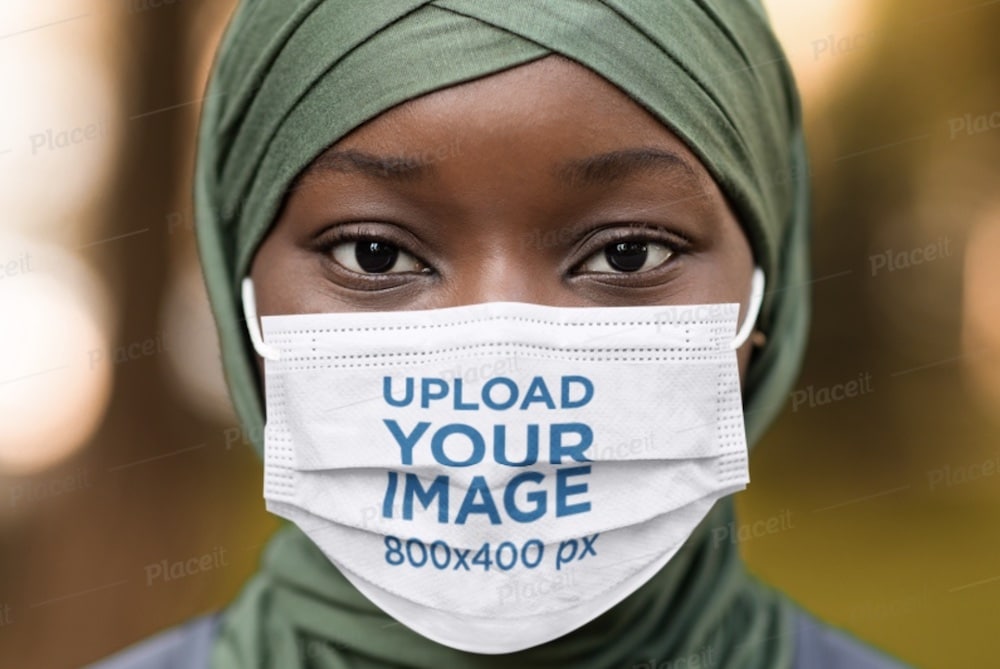 If you are using a mockup for a campaign or a social post, you absolutely need to test this one.
Images of a person "staring" at the camera can have a VERY positive effect.
At least that's what we find time and time again.
This free face mask mockup is an excellent alternative that you can put into play on the spot. The only thing you need to do is to create a free Placeit account.
All the rest will be a piece of cake. 0 design skills necessary.
MORE INFO / DOWNLOAD
21. Studio mockup of a man with editable tee & mask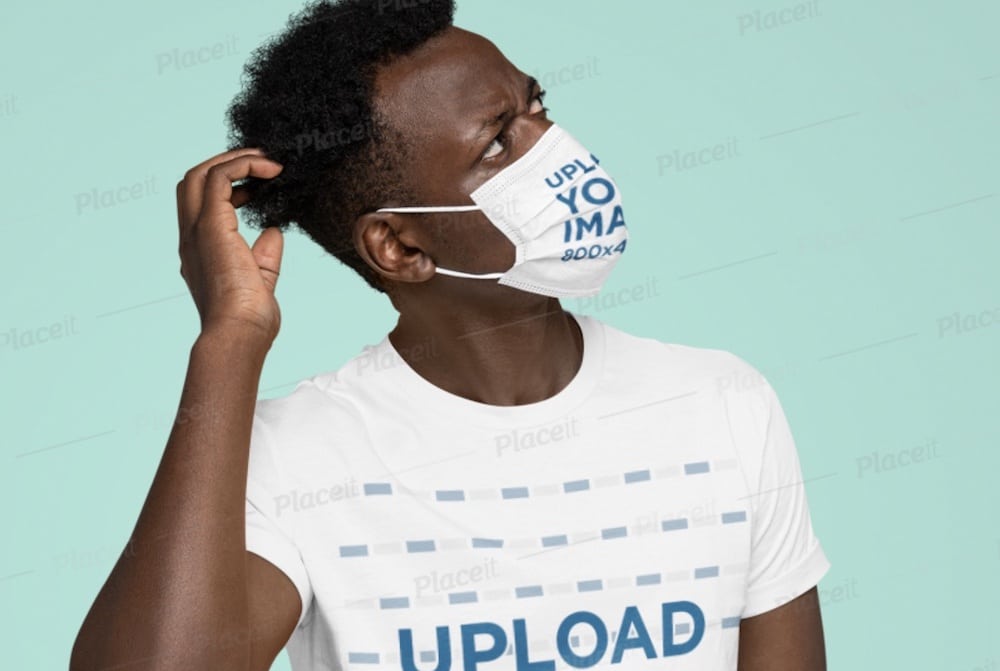 Here's the thing: We didn't test or do anything with this particular mockup.
We just like it OH SO MUCH, so it scored the spot on this list.
A dude scratching his head, staring who knows where – what else you need to grab people's attention?
I know what!
The KILLER designs that you can now include on the mask and the T-shirt.
You can also make it more dynamic with a strategic background color selection (the default one is actually a good example).
MORE INFO / DOWNLOAD
22. Mockup of a man on a bike wearing a face mask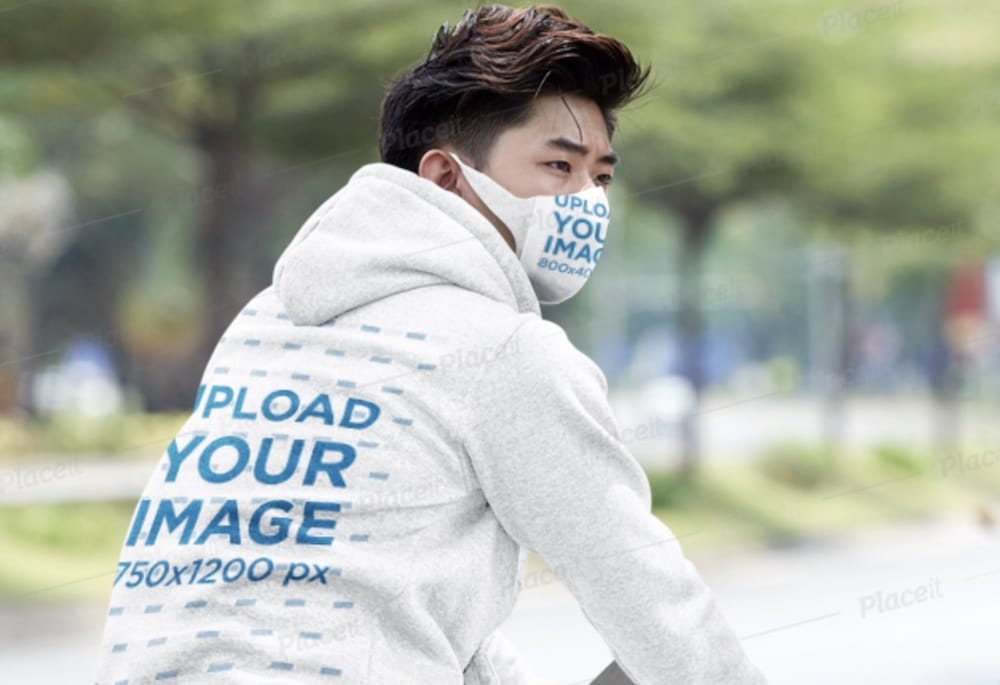 You don't want to wear a boring mask outdoors.
It, obviously, NEEDS to go with your style!
And if you are selling face masks with custom designs, here is an incredible free mockup that creates a great showcase.
What's also great is that you can create a hoodie mockup, too.
You can FULLY brand it speedily and have a finished version ready to spread the message out in little to no time.
MORE INFO / DOWNLOAD
How To Make A Realistic Face Mask Mockup?
You can create a life-like version of your custom facial mask design in a matter of a few clicks.
It takes seconds!
One of the speediest ways of doing it is with an online mockup generator (my favorite is Placeit).
And that's what I'll use in the quick step-by-step guide.
Design A Face Mask Mockup In 4 Steps:
Step 1: Unlock 900+ professional templates by clicking on this link (it takes you directly to Placeit). You can then refine your search through the available filters, gender, age, ethnicity, and more. Or type in your specific query in the search bar. But I recommend picking a template from the collection above.
Step 2: When you find and open the template you like, hit the "insert image" button to import your design. Placeit also has this cool feature to change the design's size and position (if necessary). Then click "crop" to stick it to the face mask.
Step 3: You can then change the colors and background and add text and graphics with additional customization functions.
Step 4: That's basically it – click download, and your job is done.
It cannot get any easier than that.
Remember, once you create a free Placeit account, you can test ALL their templates for free.
FAQs About Face Mask Mockups
How do you make a face mask mockup?
You can make a face mask mockup easily without using Photoshop. Unlock endless possibilities with generators that require 0 experience!
::
Note: This article was originally published on July 10, 2021. But our team regularly reviews it and updates it with necessary improvements for accuracy.