Welcome to my collection of the best neon mockups you can use for signs, boxes, logos and lights.
You will make everyone go WOW with your life-like presentation. (My guarantee!)
I quickly noticed how few quality neon templates are out there after working with a few clients.
But I now bring you my tested solutions that work really well.
You only need to perform a few clicks and you're done lighting up your designs and logos.
SIMPLE and so much FUN!
How I Tested Neon Mockups
I wanted to ensure you get the most out of each mockup you use by testing them first. This also allowed me to eliminate quite a few really poor-quality templates.
I first checked how well structured (layered) and organized (layer names) each mockup is. This ensures that your workflow runs smoother and faster, even as a complete beginner.
I then used various simple and complicated designs and logos to guarantee they appeared clear (even when zoomed in).
The next thing was to test light and dark colors and play with other features, like adjusting lights, shadows, etc.
Best Neon Sign, Box, Logo & Light Mockups
1. Lightbox PSD mockup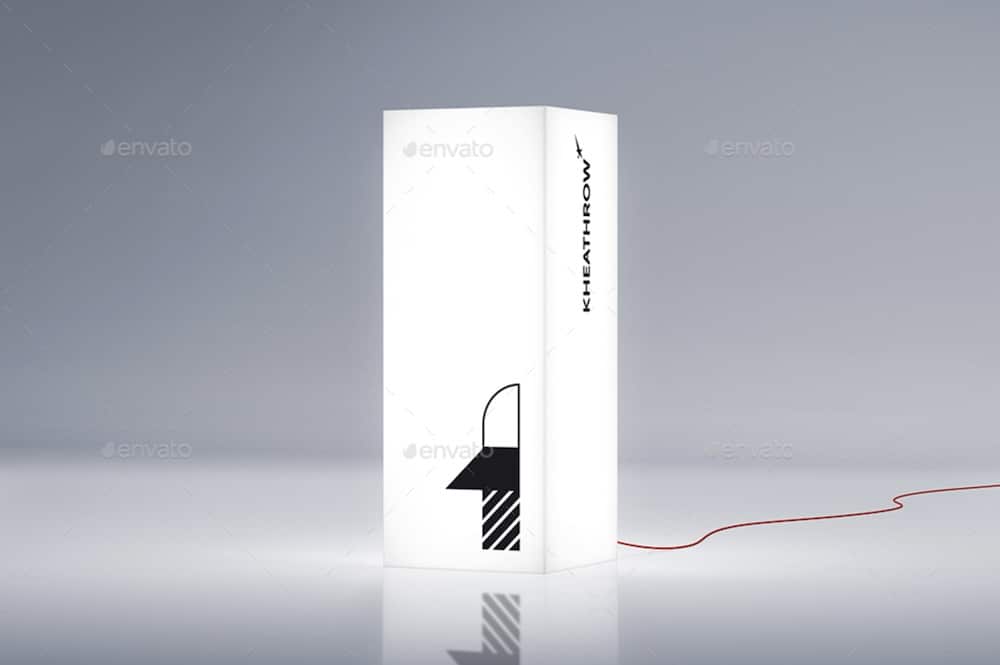 This is my go-to mockup when making a stand-alone neon box presentation.
It's so EASY to use and comes in three views with four filters and endless customization options. A few clicks and you're done doing the work.
Also, the 5000 x 3331px resolution ensures the highest quality, which my clients always enjoy a lot.
Quick solutions are my favorite.
Price: $6
MORE INFO / DOWNLOAD
2. Indoor led poster mockup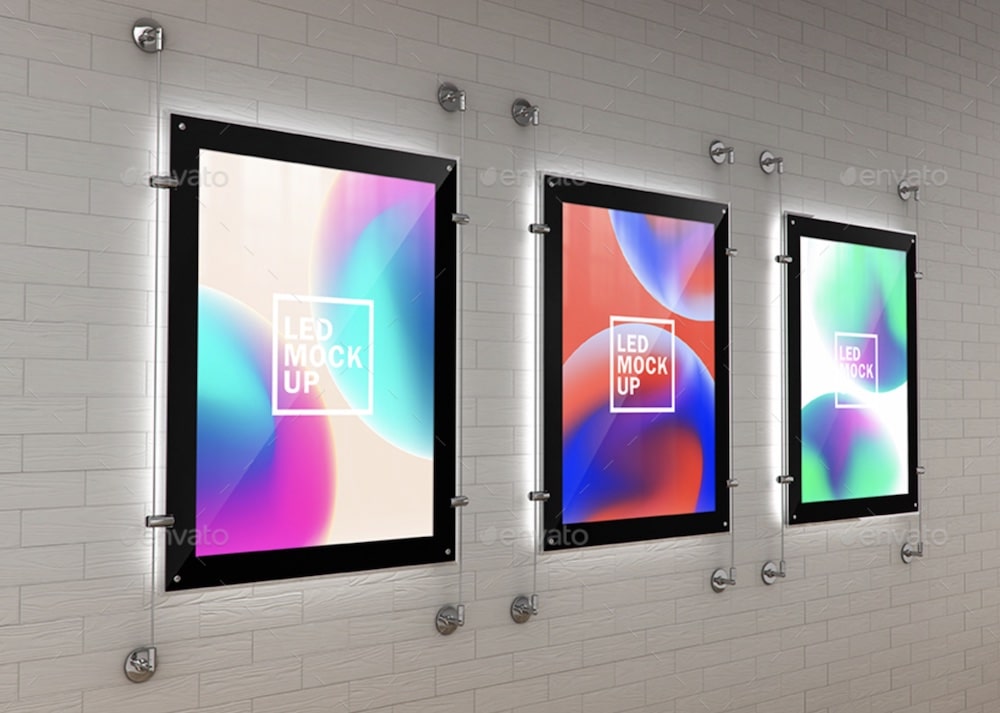 Since you know I had a hard time picking the BEST neon mockups (because there are so few!), I wanted to add these cool led poster screen PSD templates.
You have everything you need to create a photorealistic outcome with any of the nine available mockups. Poster frames also come in two styles, vertical and horizontal.
And the best part? You can turn visitors on or off. How cool is that?
Price: $10
MORE INFO / DOWNLOAD
3. Neon light box wall sign mockup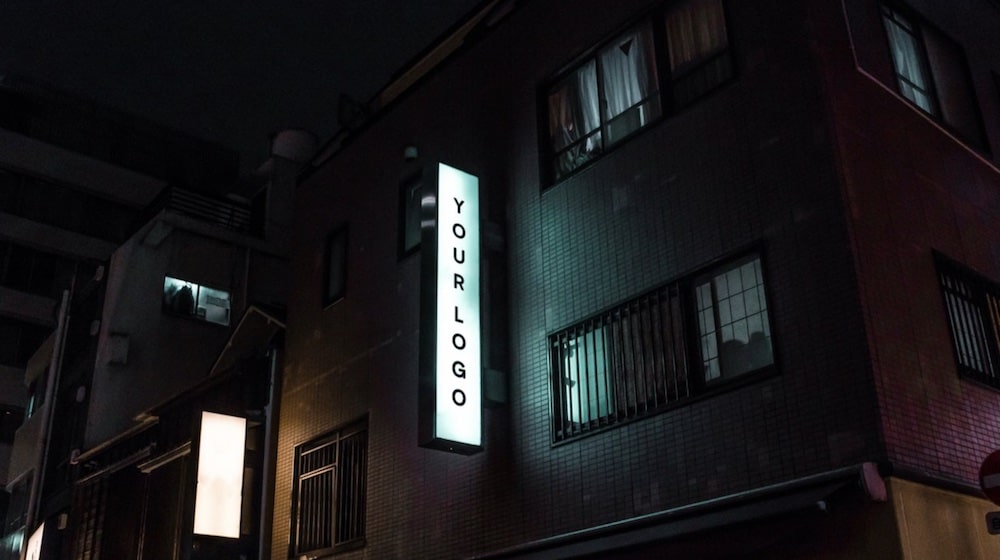 Okay, this neon mockup is my favorite for showcasing how a neon box for a store, even an agency or a firm could look like.
The image at NIGHT makes any design pop very nicely, making it appear 100% life-like. I also like the awesomeness of a layered PSD file for its quick logo insertion process.
That's it – you don't need to do anything else. Click, click and you're ready to go.
Price: $9
MORE INFO / DOWNLOAD
4. Round neon signboard mockup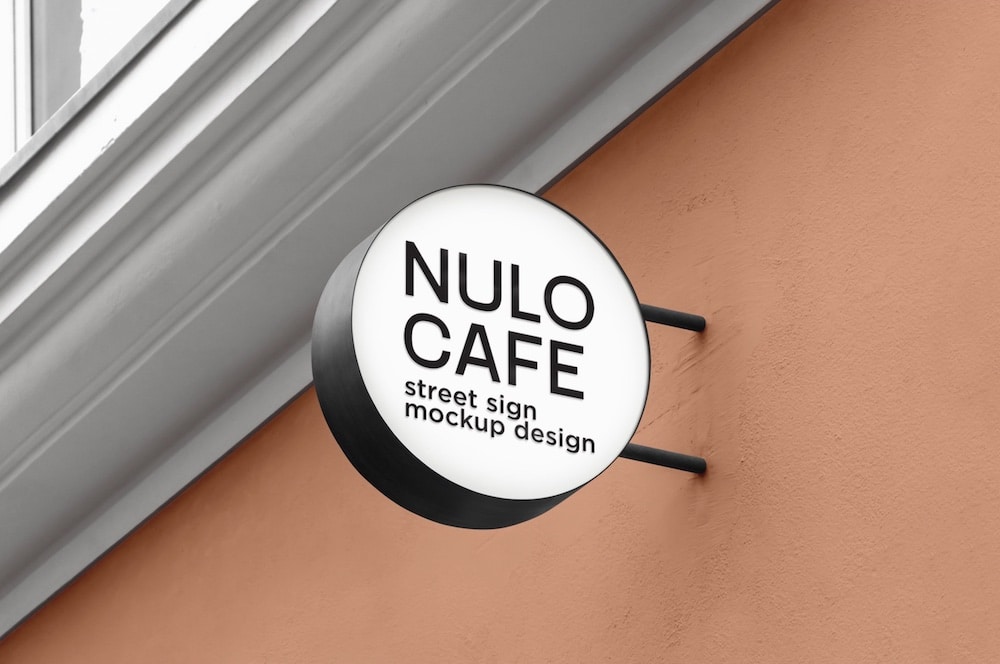 Creating a round neon box mockup showcase is a lot of fun when you have a 6000 x 4000px template to work with.
Plus, inserting a logo or a design is instant via the convenient Photoshop smart object layer.
But you can also change the color of the wall and the signboard, which makes the mockup five times MORE special!
(You also get a help file, but I doubt you'll need it due to the effortless method.)
Price: $9
MORE INFO / DOWNLOAD
5. Square lightbox signboard mockup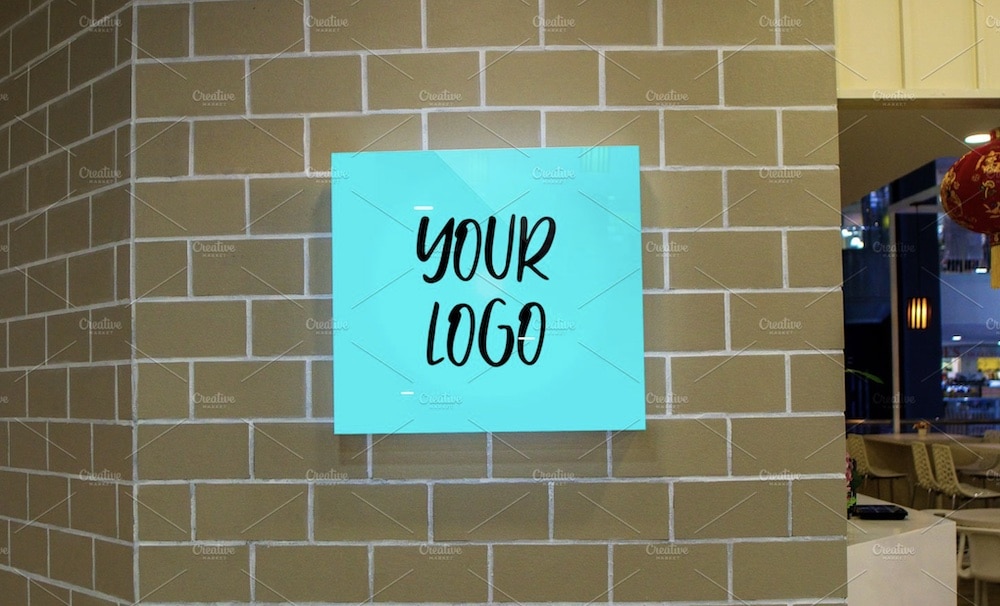 Vertical, round and now square. This neon mockup makes a signboard showcase a reality in a few seconds.
The kit includes two PSD files, one front and one side view. I really liked working with the latter.
Importing the logo happens via smart object, and you can use the mockup for fast foods, hair salons, stores, etc. You have the freedom to do YOU.
Price: $12
MORE INFO / DOWNLOAD
6. Neon signage logo mockup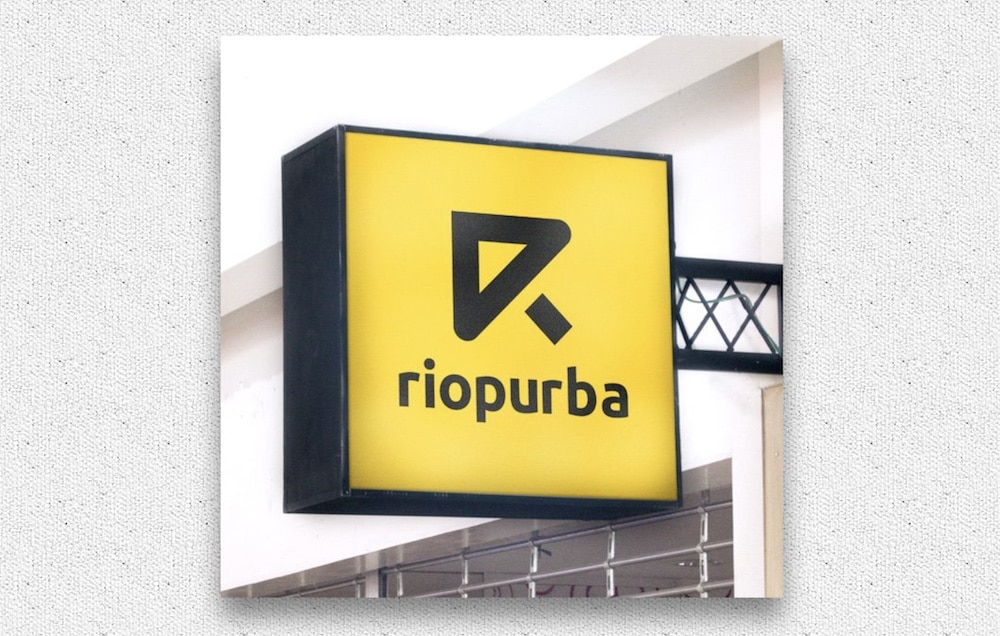 A bakery and a boutique owner once asked me to create a logo display for their outdoor wall signage. Both required a square one and I made it happen with this mockup set.
It's a bundle of three views, each consisting of a 4200 x 3000px template, guaranteeing top-class quality (even when ZOOMED in).
The author simplified the method with the copy and paste technique that allows instant logo insertions. Enjoy!
Price: $10
MORE INFO / DOWNLOAD
7. Neon sign light logo mockup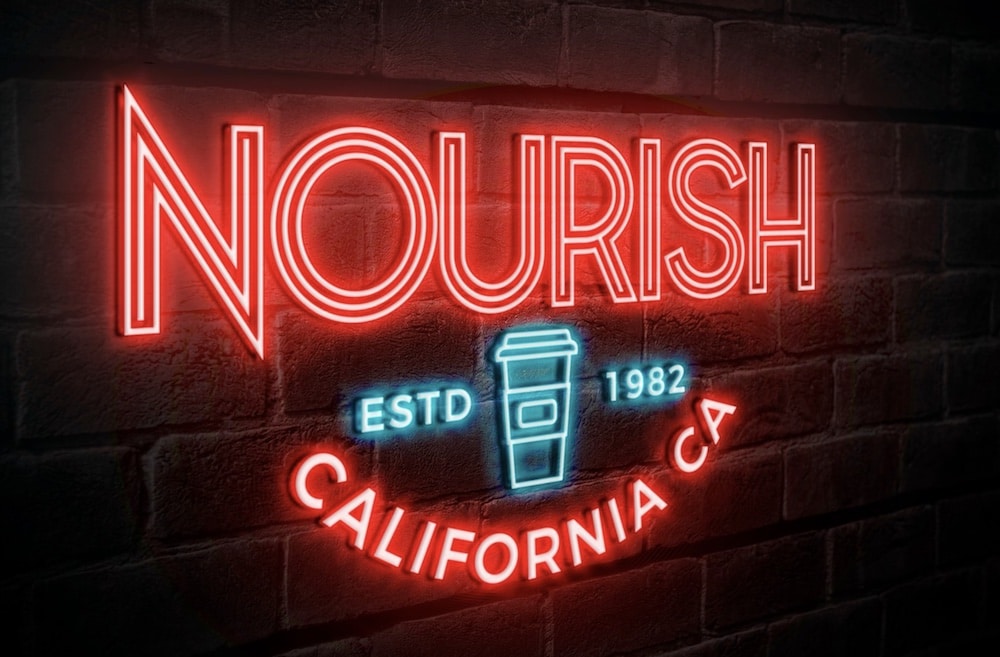 Let me tell you a secret: I never was a fan of neon signs – even to this day. But, I had a ton of fun times working with all these neon mockups, including this one.
This is one of the best templates you can get your hands on if you're ready to create a neon sign logo (with a light effect!). Period.
One PSD file. Endless possibilities. GO!
Price: $9
MORE INFO / DOWNLOAD
8. Animated neon ring mockup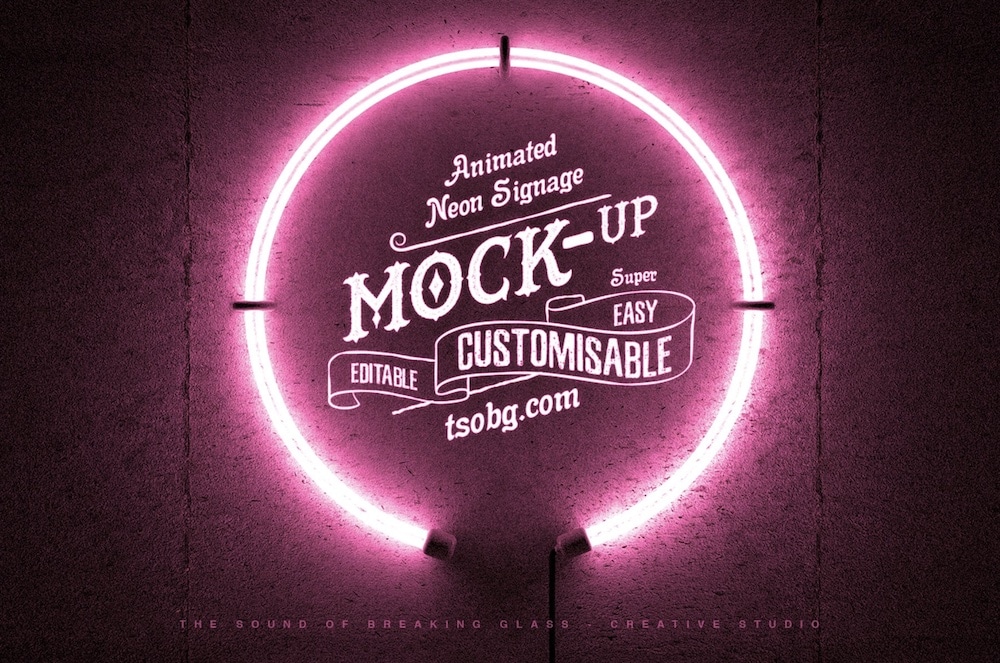 You don't always get a chance to work with an animated neon mockup, and this one does the trick so damn well.
Even though you get only one PSD file, I like everything about it.
You can use it for a cool presentation to your client, to create GIFs, or just for a neat attention-grabber on social media.
You're in for a treat.
Price: $16
MORE INFO / DOWNLOAD
9. Neon sign mockup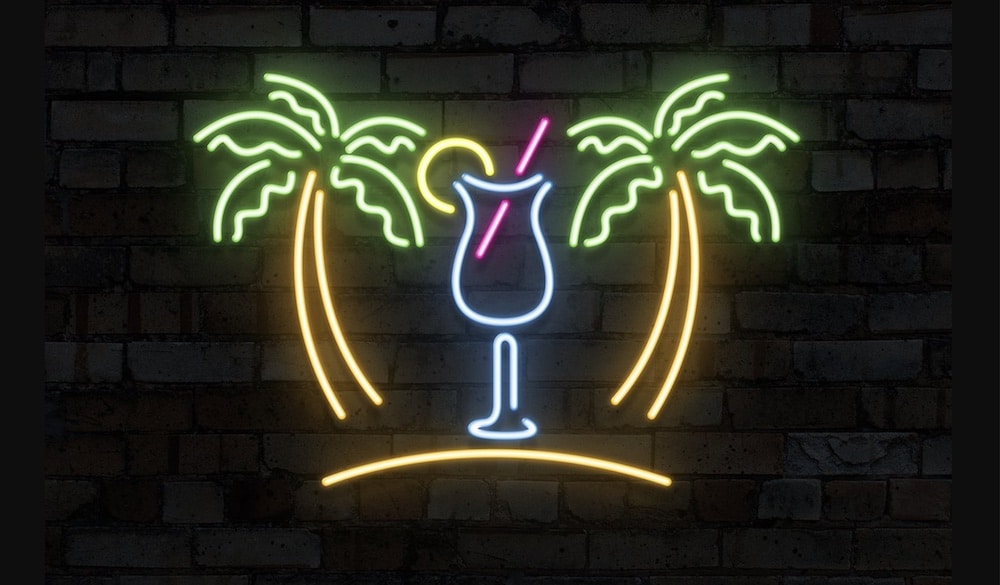 Your neon sign designs deserve the best! The simplicity of this next PSD template triggered my curiosity to test it immediately.
I worked on a QUICK store sign and it worked oh so well. I'm sure it'll do you good, too.
Note: You get four ready-to-use designs that can speed up your workflow even further.
Price: $10
MORE INFO / DOWNLOAD
10. Neon light poster frame mockup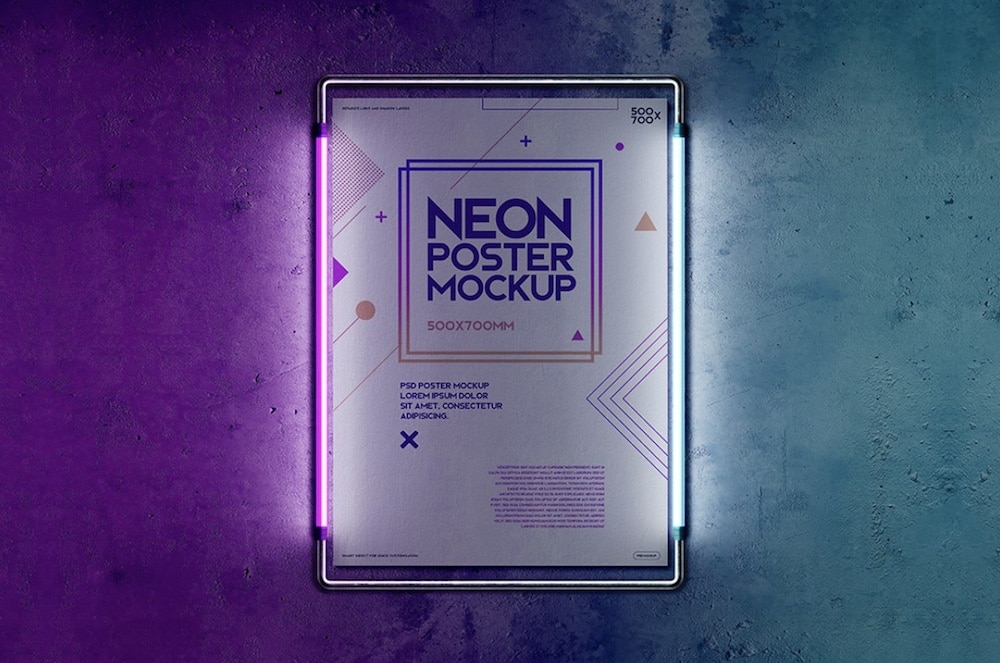 Enjoy the highest quality of this neon poster mockup that comes at 5500 x 4000px. The author took the photo in their studio, which makes it look 100% life-like.
And everything becomes even better once you stuff it with your design.
BUT!
You can change the background and adjust the lights & shadows. The outcome will be entirely print- and web-ready to impress everyone.
Price: $12
MORE INFO / DOWNLOAD
11. Neon sign 3D logo mockup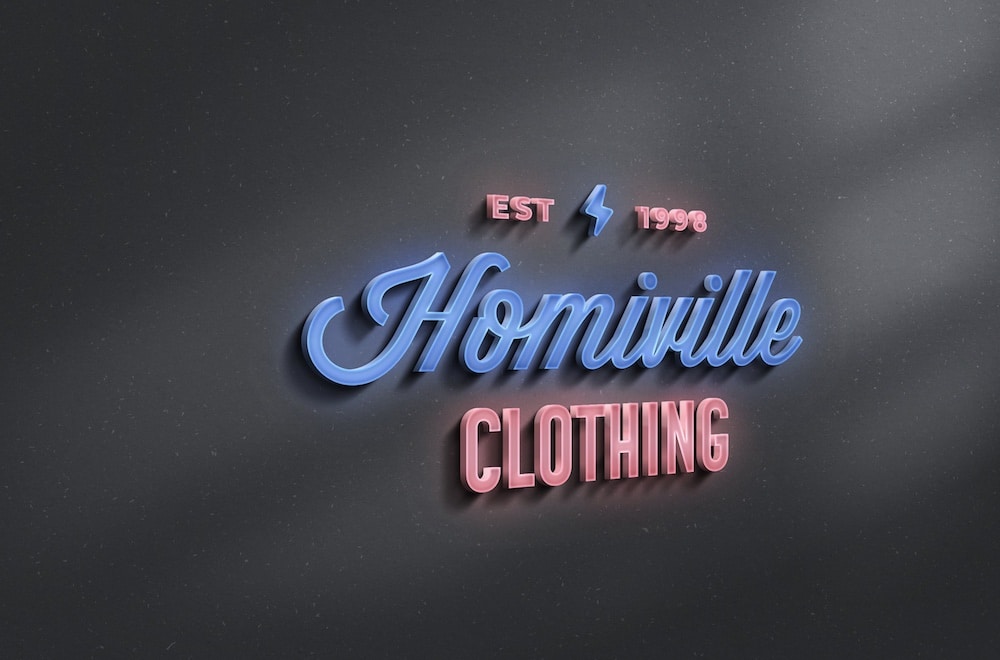 I highly suggest you use this mockup if you're working on a 3D logo but want to try something different.
You can easily and quickly replace the default design with yours via the smart object layer. The quality is 3000 x 2000px (300dpi), which comes excellent for detailed logos and close-ups.
Nothing stops you from designing a 3D neon logo with this one. BOOM.
Price: $9
MORE INFO / DOWNLOAD
::
Note: This article was originally published on April 15, 2022. But our team regularly reviews it and updates it with necessary improvements for accuracy.