We reviewed and tested 57 bakery WordPress themes over the course of nine weeks, and these 12 are our top choices.
In fact, we even went so far and used some of them for our clients.
(Psst, we worked on ACTUAL websites for bakeries with Baker, Crems, Bellaria and Cakecious).
These picks are based on design and content distribution, easy online bakery shop creation and performance on devices.
Note: They all work out-of-the-box.
BUT.
Every WP theme offers unlimited options and complete creative freedom.
Quick branding and fine-tuning for everyone, beginners as well (no coding necessary!).
This post covers:
Make your baked goods reach everyone. With a SALIVATING website.
How ULTIDA Tested Bakery WordPress Themes
As mentioned earlier, we started the testing phase with 57 themes, which is a lot, I know. But we wanted to create the ultimate list so you only get the best bang for your buck.
The first step was to check user feedback, ratings and updates. If a theme doesn't come with regular updates, it's an immediate no-no.
From there, we further investigated each theme's documentation and chatted with the support team.
We were down to 20 themes when we started installing them, one by one, on our demo site to analyze them in great detail. (We also have a tutorial on installing a WP theme quickly.)
The first test was the loading speed for which we used the convenient Pingdom Tools. We also checked for responsiveness manually and with Google's Mobile-Friendly tool.
After the more technical stuff came reviewing the predefined page layouts, the (customization) features, compatibility with plugins and WP page builders and the overall user interface.
In a hurry?
THE ULTIMATE 3:
Best WordPress Themes For Bakeries
1. Cake Bakery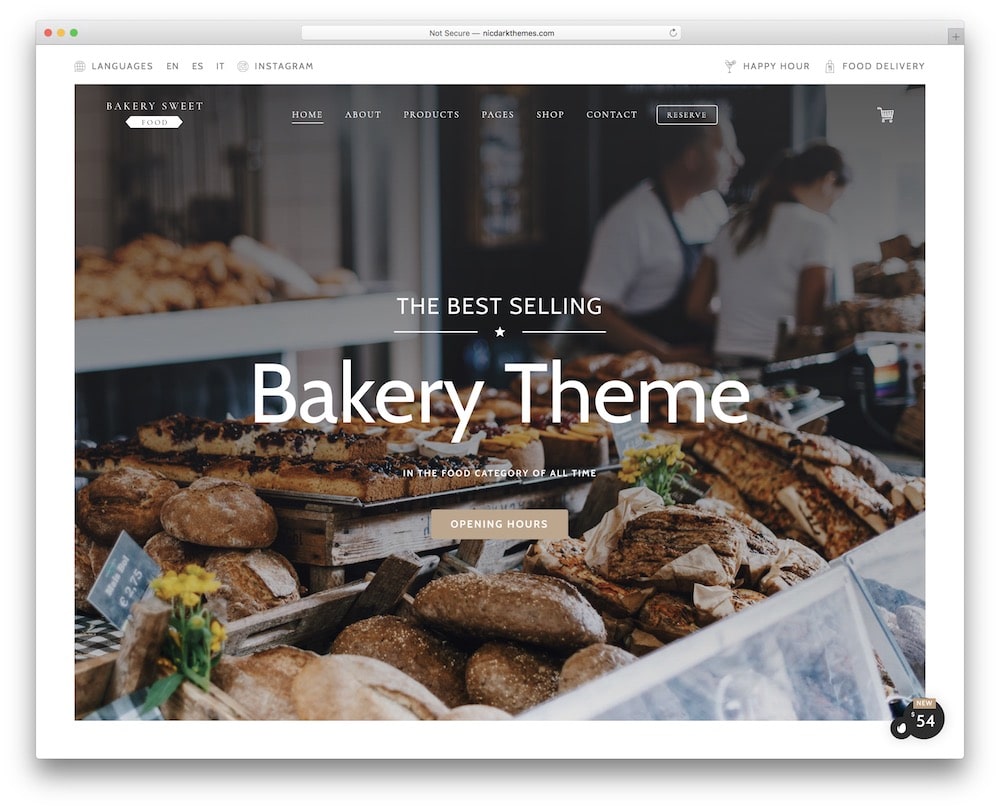 Come and look at the modern and responsive Cake Bakery theme that presents your sweet business story to the whole world.
With Cake Bakery you can deliciously showcase your products. Your visitors will smell and taste your cakes (SO mouthwatering!) over beautiful gallery and presentation sliders.
Apart from that, Cake Bakery includes the best plugins (FOR FREE).
Take advantage of tools such as WooCommerce, WPBakery page builder, Slider Revolution, and Contact Form 7.
For instance, you can also insert location maps, event calendar, cost calculator, and reservations on your new website.
Smart and useful.
Choose Cake Bakery because you deserve it!
Cake Bakery features:
3,900+ sales
4.5+ star ratings
High user satisfaction
Quick customization & branding
Price: $54 (may vary)
MORE INFO / DOWNLOAD
DEMO
2. Bakery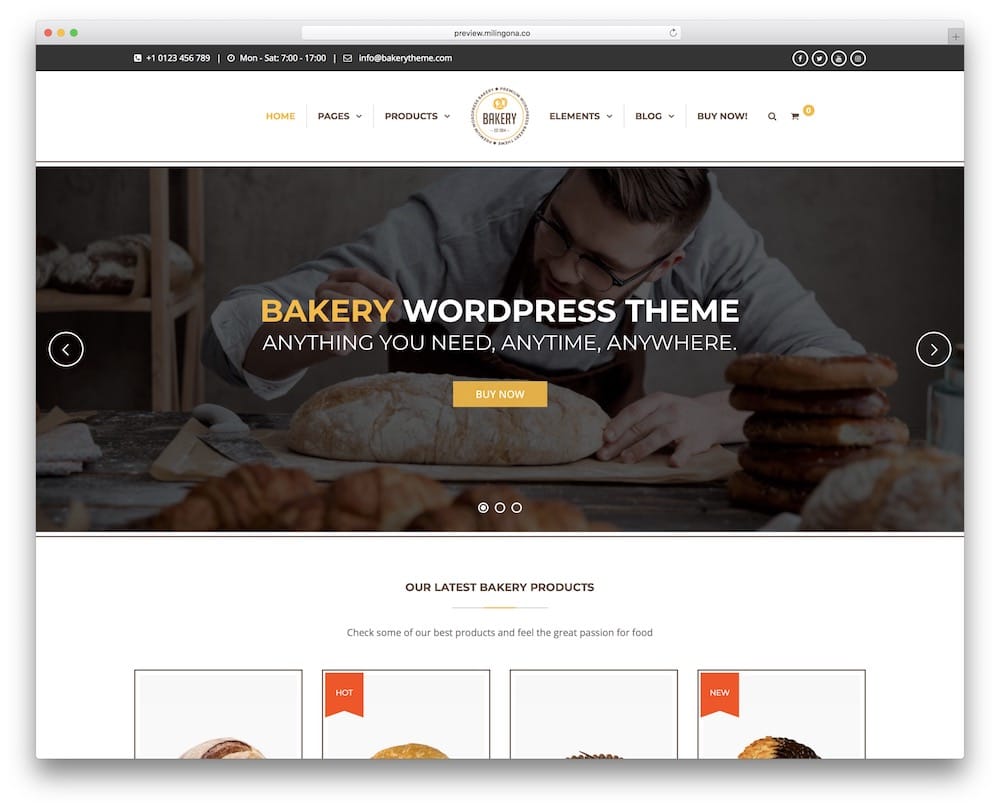 Bakery is one of the best-selling cake and food themes of all time.
This bakery WordPress theme has already 3,000+ active users all over the world (the number is increasing daily).
Remember, Bakery was created with heart, like your baking.
Luckily, Bakery has everything you need to build your own profitable online business.
You can create a bakery catalog, cake shop, coming soon treats, and showcase your daily fresh goods. You can pull all of them off with Bakery.
Also, Bakery achieves the best performance with its responsive and retina-ready design. Your website will stay on the top level with a great look on different devices and screens.
Even if applying it to RTL languages.
BRING SMILES with Bakery.
Bakery features:
3,500+ sales
4.7+ star ratings
WooCommerce + WPBakery + WP child theme
Con: infrequent updates
Price: $59 (may vary)
MORE INFO / DOWNLOAD
DEMO
3. Baker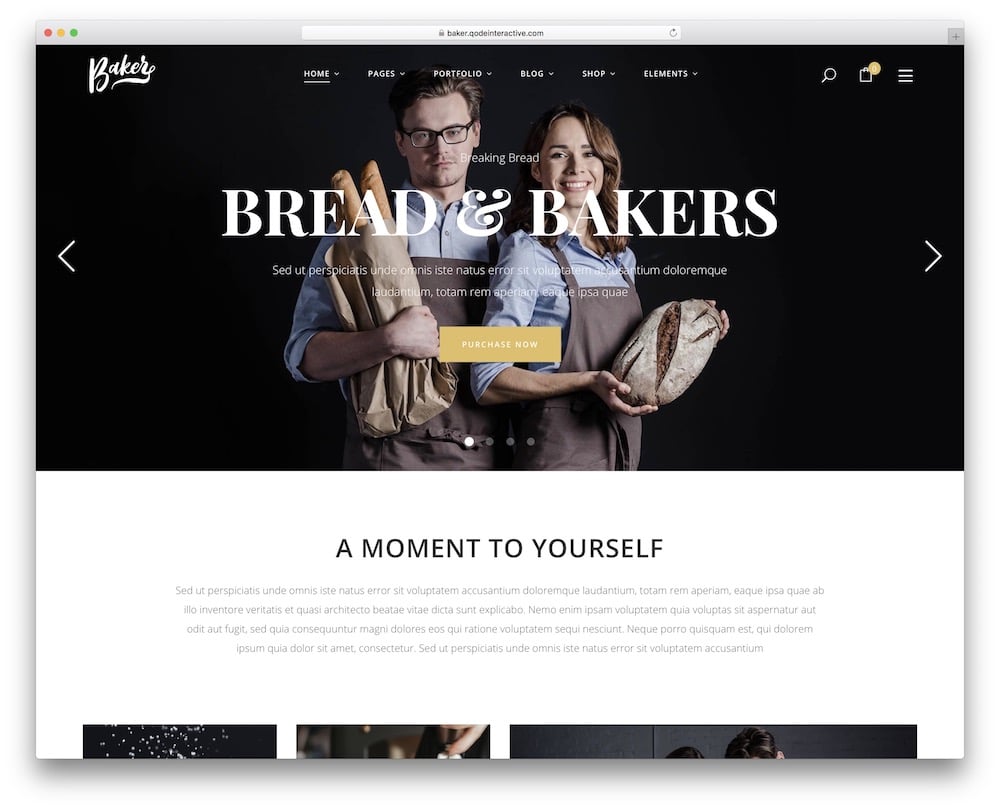 Today is your day! Baker is an elegant and beautifully-made bakery WordPress theme that will assist you in BOOSTING your brand recognition.
First, choose your favorite index page from the twelve available ones. Secondly, you start customizing.
Baker is user-friendly and simple to use, bundled with amazing features and key ingredients for a successful website.
No coding knowledge is required to do any work with Bakery.
What's more?
With Baker, you can bring into the world your own WordPress business blog.
Keep your audience updated, entertained, and engaged with your company. (Maybe you can share with them even one of your family recipes?)
YUP, today, you are at the right place!
Baker features:
2,000+ sales
4.8+ star ratings
12 homes & 40 WP shortcodes (!)
Price: $69 (may vary)
MORE INFO / DOWNLOAD
DEMO
4. Pastry Love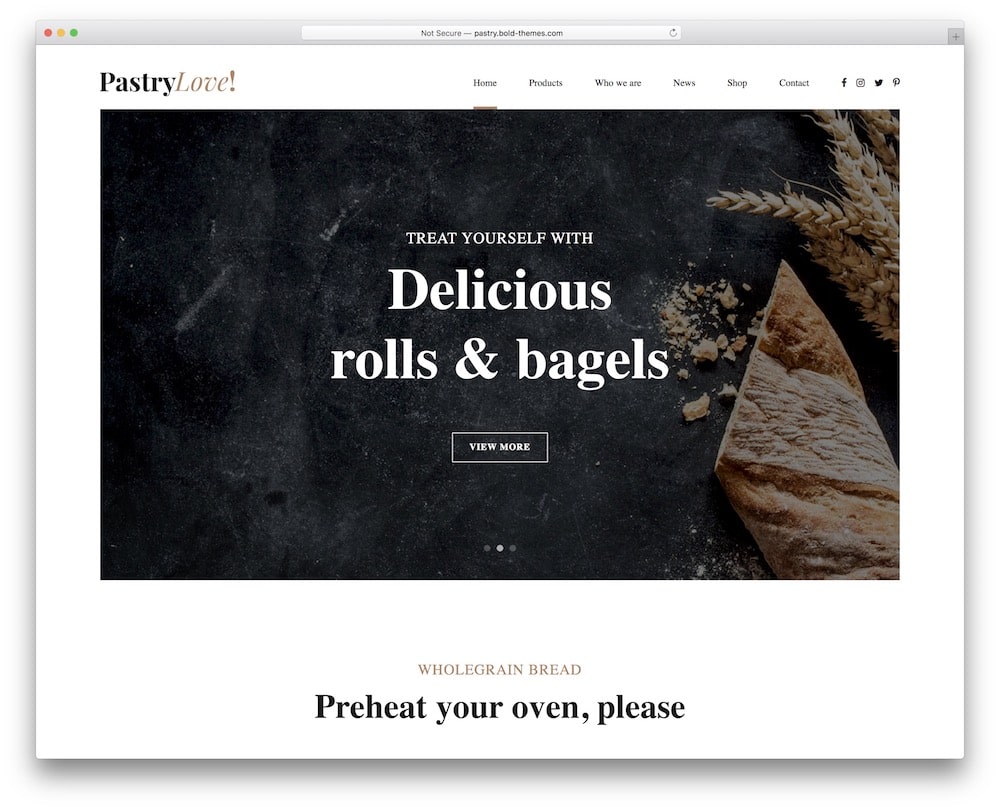 So sweet. So good. So Pastry Love.
Once you start looking at Pasty Love you will notice tons of details, gorgeous design options, and amazing custom icons (OMG, so cute).
You can use and combine all the presented options in any way you desire.
Apart from that, we tested Pasty Love at all levels and works great on different devices.
Guaranteed: Top-notch experience!
Also, you can resolve anything and everything with professional and experienced customer support. Just submit a ticket!
Bake it right with Pastry Love.
Pastry Love features:
330+ sales
3.5+ star ratings
Easy customizations
Create online bakery shop
Price: $69 (may vary)
Note: We didn't experience any issues with Pastry even though ratings are somewhat low.
MORE INFO / DOWNLOAD
DEMO
5. Crems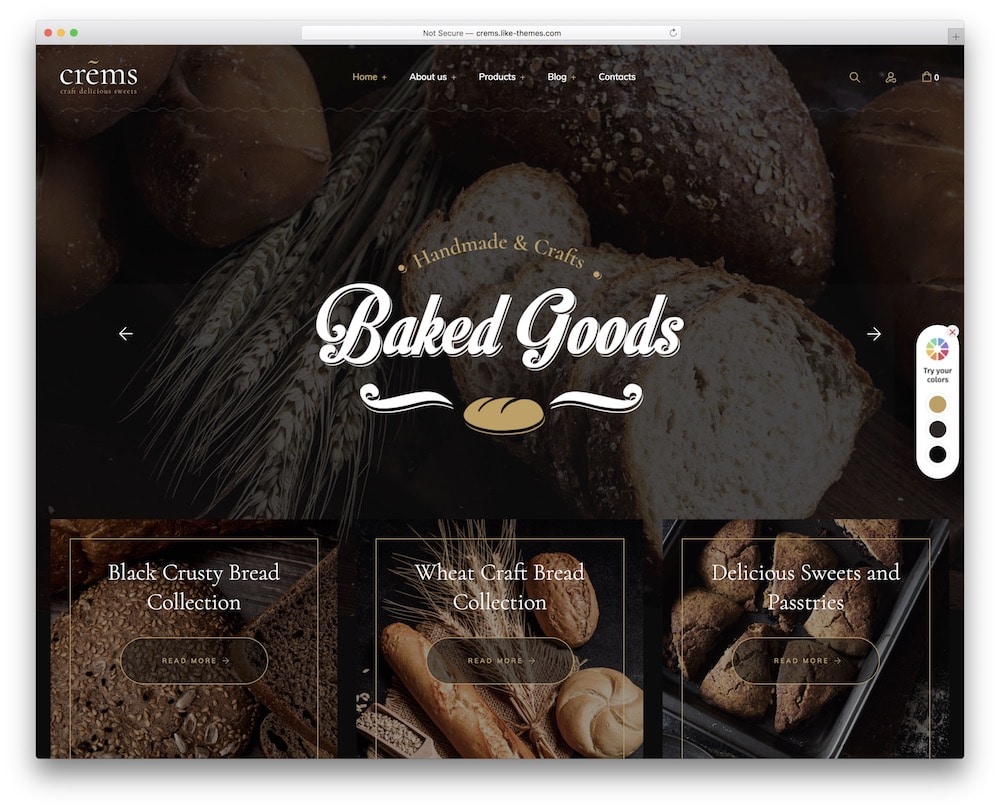 Crems is baked with the best ingredients, especially for you. In this bakery WordPress theme, you get smartly designed templates, creative animations, numerous shortcodes, amazing galleries, and gorgeous product presentations.
Everything you do with Elementor page builder will be fast, designed from a visual aspect, and built with the drag and drop principle.
SIMPLE. FLEXIBLE. CLEAR.
As a matter of fact, you can also change colors and fonts. Both options have unlimited possibilities.
After all, this will be your own website. Follow your aspiration.
Creams's elegant dark design will bring you a luxury, rich experience. Ready?
Crems features:
440+ sales
4.8+ star ratings
Quickly becoming user-favorite
5 main concepts
Price: $69 (may vary)
MORE INFO / DOWNLOAD
DEMO
6. Bellaria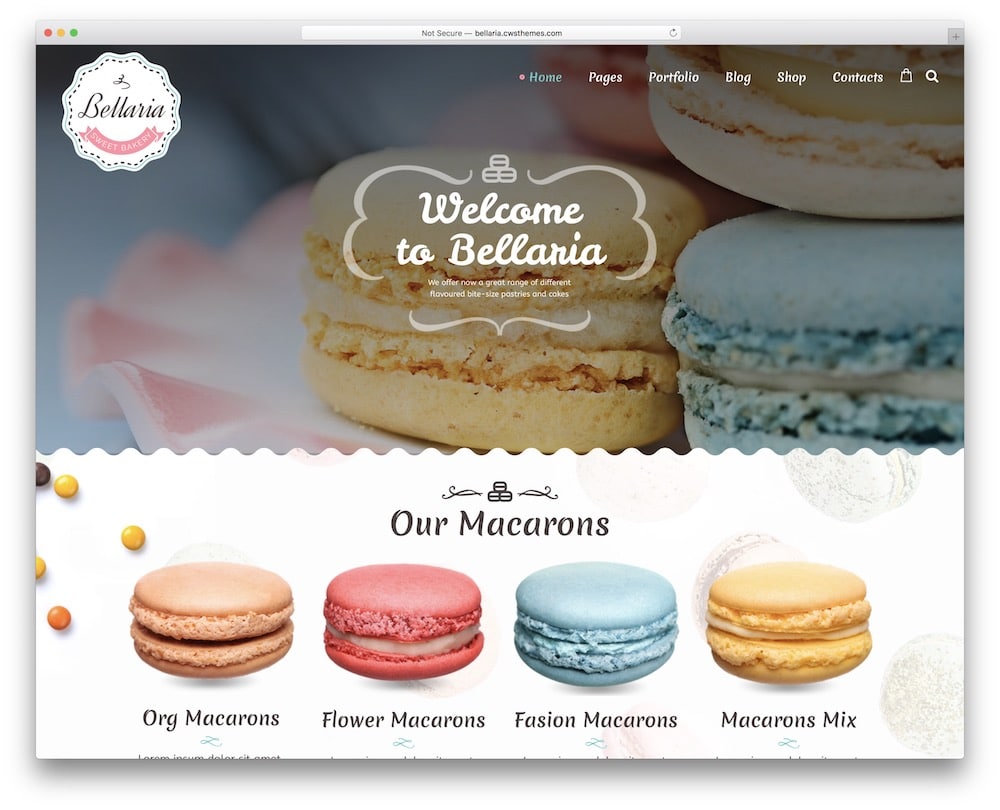 Fall in love with girly Bellaria bakery WordPress theme. Bellaria is best suitable for sweet and pretty cake shops and will easily impress your audience (especially princesses).
Bellaria includes unique pre-made demos, colorful inner pages, and exclusive recipe templates. Just review what you like and start creating.
YES, PLEASE!
Besides, you can turn your vision into reality with the most popular tools (integrated into Bellaria).
For instance, Slider Revolution makes sure your food creations grab everyone's attention via a slideshow.
Bellaria embraces social media. Build relationships, share your expertise, and increase your recognition.
CONNECTION. TIME.
Bellaria is all about opportunities, so grab them!
Bellaria features:
1,300+ sales
4.5+ star ratings
Best for sweet baking
Works on all devices & platforms
Price: $59 (may vary)
MORE INFO / DOWNLOAD
DEMO
7. Justshoppe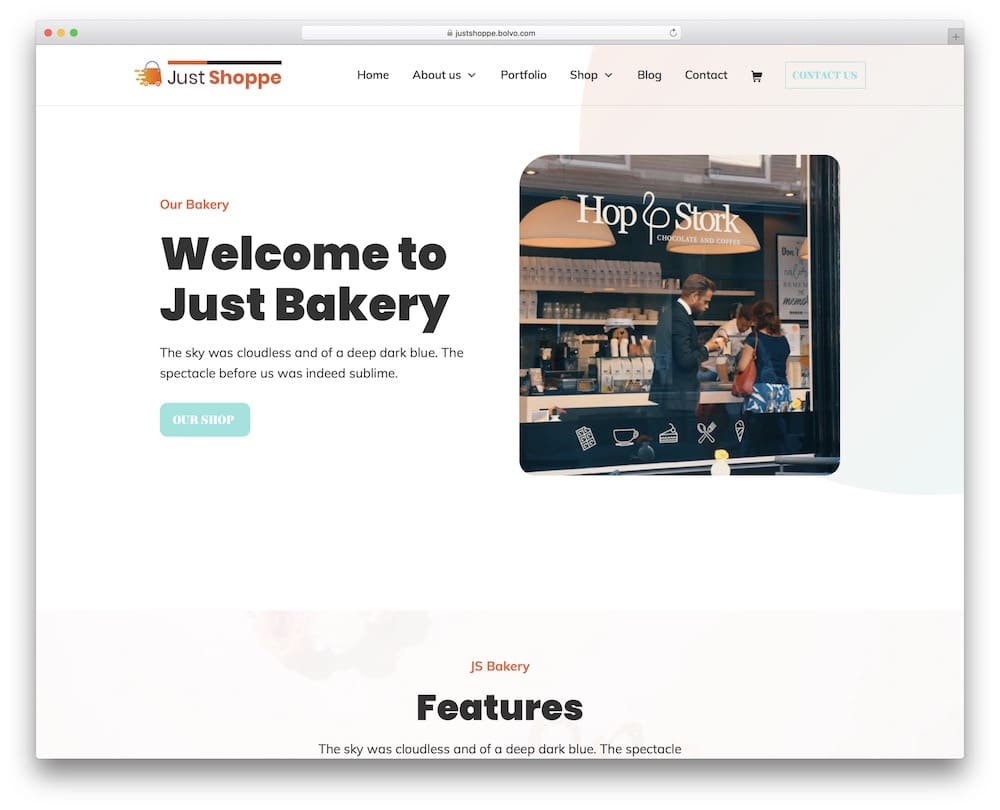 Create a professional and amazing website with a Justshoppe bakery WordPress theme.
You can save your money from hiring expensive designers and have a superb site up and running quickly.
Created by YOU!
Remember, no coding knowledge is required.
Justshopper is incredibly flexible and you can easily customize it to all your needs.
Keep your eyes open and choose the right demo (six unique and ready-to-use are available).
Change the logo, background colors, header style, fonts, and you're done.
You are in good hands.
Moreover, you can also translate (use any WP translation plugin you want) Justshopper and use it to create either a single or multi-language site.
EFFORTLESSLY.
Your vision, your future, your Justshopper.
Justshoppe features:
2,700+ sales
4.7+ star ratings
Compatible with modern builders
Documentation & great support
Price: $60 (may vary)
MORE INFO / DOWNLOAD
DEMO
Friendly tip: Aside from gaining inspiration for a bakery website from reviewing themes, we found this awesome list of impressive bakery business websites.
8. Bready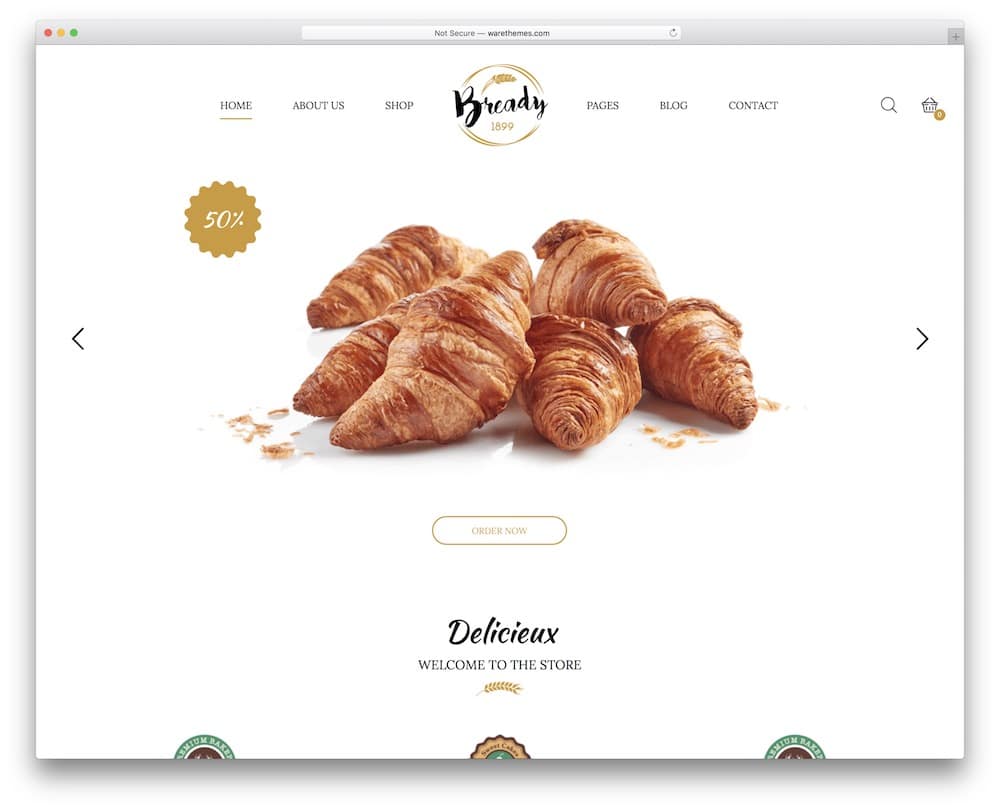 Bready modern and sweet bakery WordPress theme will win your customer's hearts with stunning layouts, smartly created pages, and pretty designs.
For example, with Bready, you can easily sell your products online. Or you can create a catalog mode (aka view-only mode).
Moreover, Bready is bundled with the most-liked and best-performing plugins out there. You get Slider Revolution, WooCommerce, Ajax technology, and MailChimp by default.
Top deal.
You can fully customize and change everything about Bready.
And, in case of emergency, you can contact Bready's amazing support that will help you with any question.
Dig right in!
Bready features:
110+ sales
4.5+ star ratings
One-click import/installation
Drag-n-drop technique
Price: $59 (may vary)
MORE INFO / DOWNLOAD
DEMO
9. Dolcino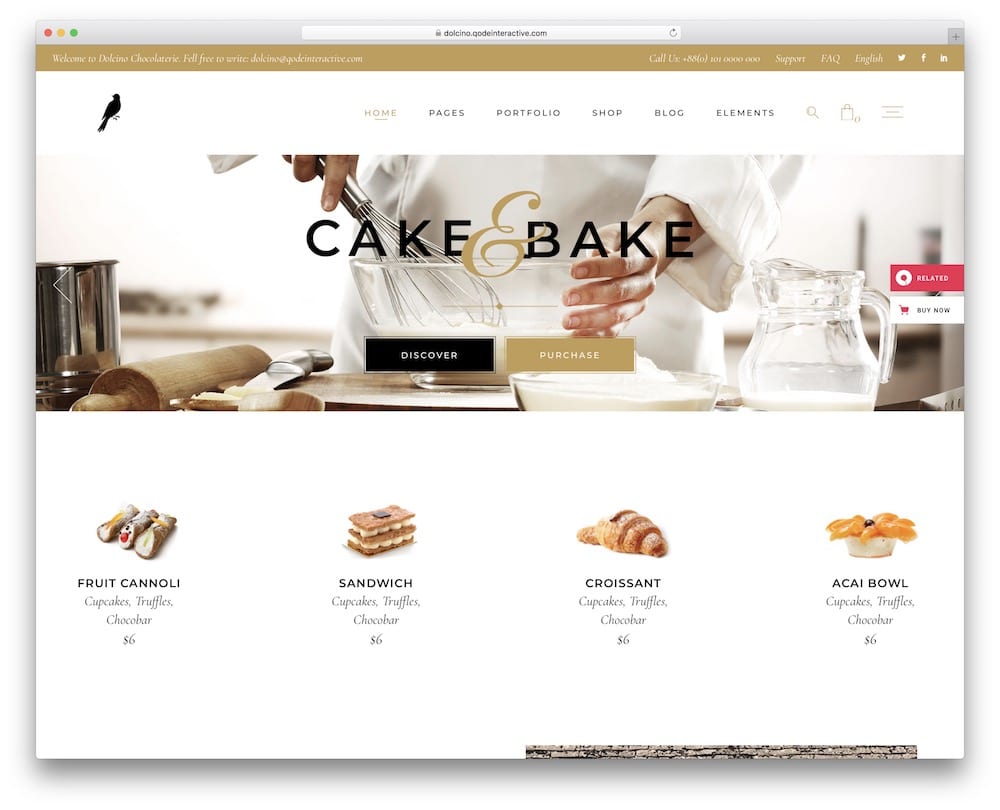 Creating your own website with Dolcino bakery WordPress theme will be a piece of cake.
Dolcino includes nine pre-made homepages, beautiful inner pages, numerous shortcodes, and a set of portfolio styles.
Dolcino packs everything you need.
Enjoy creating with 0 coding knowledge, since you have the advantage of pre-designed templates and drag and drop technology.
Take your pick and start.
Dolcino includes social media to set your content/product distribution goals high. Catch up with your customers!
DAILY.
Life is too short to say no to Dolcino.
Dolcino features:
980+ sales
4.5+ star ratings
Stunning ready-to-use designs
Con: irregular updates
Price: $69 (may vary)
MORE INFO / DOWNLOAD
DEMO
10. Panaderia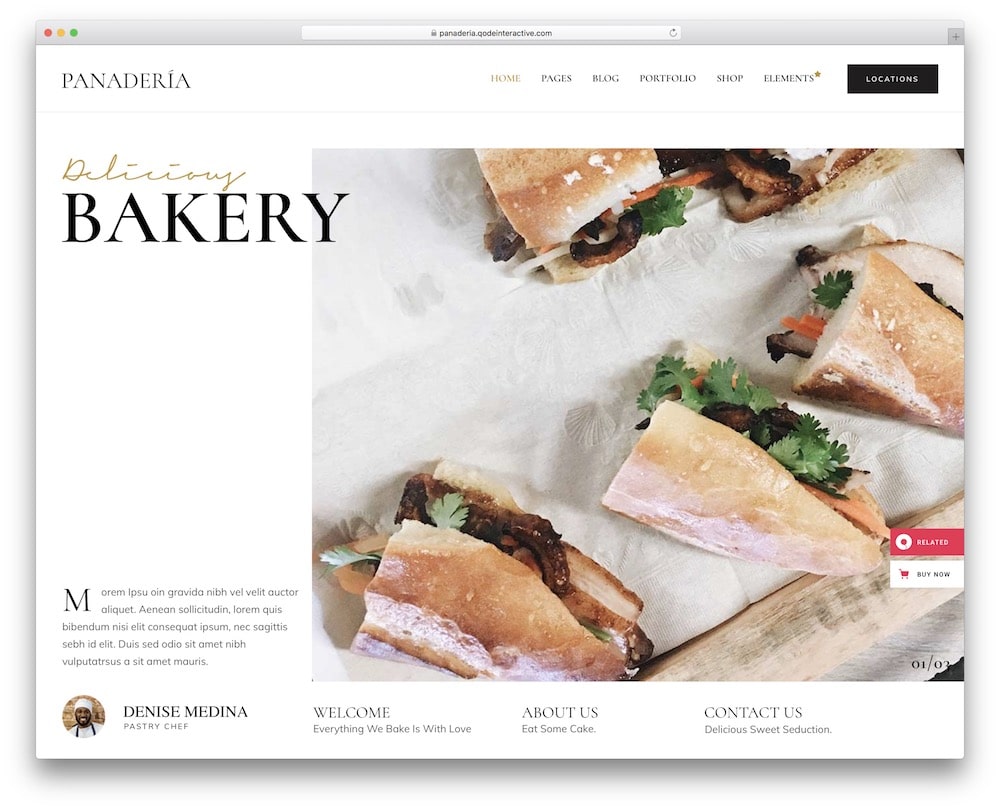 Welcome to cake shop paradise! Panaderia is an elegant and fresh bakery theme ready to showcase your delicious products to the world.
Build and grow your brand online.
All the key ingredients for the stunning website are included in Panaderia (easy to handle, big savings on included tools).
Just check and pick the best pre-made designs, elements, layouts, and shortcodes. All the features are ready-to-use and waiting for you to start.
MIX. AND. MATCH.
Need help? Friendly and professional customer support will help you with all your questions and concerns.
Create the tastiest site with amazing Panaderia. Even a WP coffee shop website.
Panaderia features:
770+ sales
4.1+ star ratings
Blog module (content marketing)
Price: $69 (may vary)
MORE INFO / DOWNLOAD
DEMO
11. Cakecious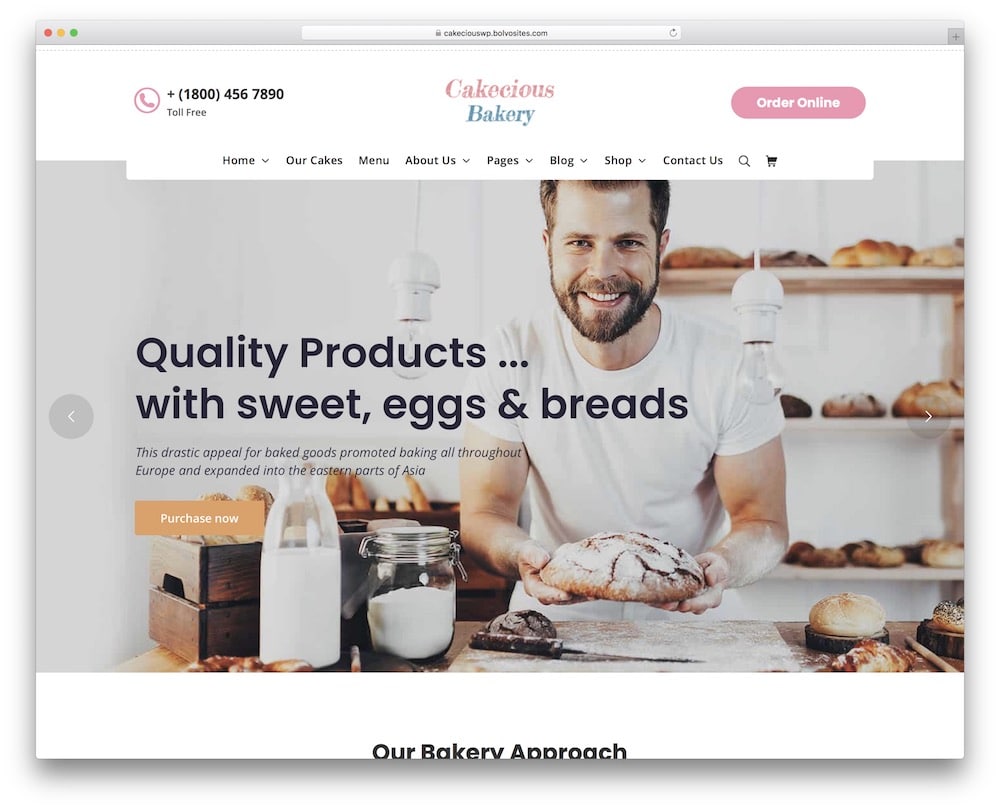 Own your brand with a pretty and fresh Cakecious bakery WordPress theme.
Cakecious is 100% responsive and retina-ready for all screens (we tested it on all major devices).
Cakecious makes sure your online presence is USER-FRIENDLY and SMOOTH.
Moreover, Cakecious is easily to operate, customize, and regularly updated. It also comes with WooCommerce plugin for the quick setup of your online cake shop.
The included WPBakery page builder lets you create, and build any layout you can imagine.
You can build your site without touching a single line of code. (4.3+ million people are using this plugin).
Just imagine all the amazing possibilities.
Your new future is just a click away. Create a killer site with Cakecious.
Cakecious features:
430+ sales
5-star rating
Monthly updates
Quick installation & setup
Price: $59 (may vary)
MORE INFO / DOWNLOAD
DEMO
12. Noucake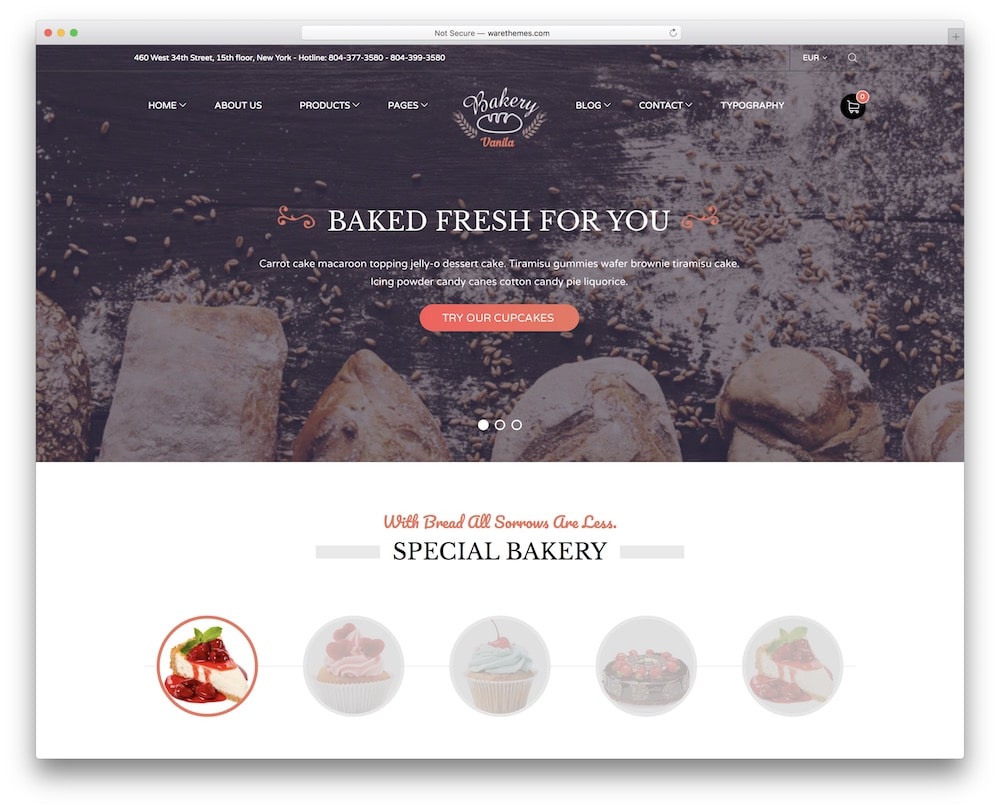 Every flavor has a story and Noucake is full of colorful flavors. This bakery WordPress theme is solid and reliable, well designed, and full of popular tech tools.
With WooCommerce integration, you can create your online shop with ease. Your ticket to the whole world.
If you are like me then you don't want to waste your precious time.
You can import a ready-to-use template and start building with just one click.
QUICK. AND. TROUBLE-FREE.
Moreover, with Noucake you get tons of options, unlimited hand-crafted layouts, different header types, and numerous shortcodes.
Everything is ready for you to begin your online journey on a sweet note.
HELLO to a fresh beginning with Noucake.
Noucake features:
770+ sales
4.7+ star ratings
Showcase location on Google Maps
Custom-made shortcodes & WP widgets
Price: $59 (may vary)
MORE INFO / DOWNLOAD
DEMO
Note: Don't miss our collection of the best free WordPress bakery themes.
::
Note: This article was originally published on June 9, 2021. But our team regularly reviews it and updates it with necessary improvements for accuracy.