Do you need the best agency WordPress themes so you can build your business website quickly?
We've tested and reviewed fifteen of the ultimate because different users have different needs. (But we started with 50 themes.)
With that in mind, we cover everything, digital, marketing, SEO, creative, web design – EVERYTHING you need.
It will be easy for you to choose the right WordPress theme.
Why?
It doesn't really matter which you opt for, I promise you made the right decision.
This post covers:
Let's GOOO!
QUICK-PICK: Best WordPress Themes For Agencies
Quick selection (of the ULTIMATE 7) if you're in a hurry:
You may also want to check how to install a WordPress theme if it's your firs time.
Best Creative & Digital Agency WordPress Themes
1. Bridge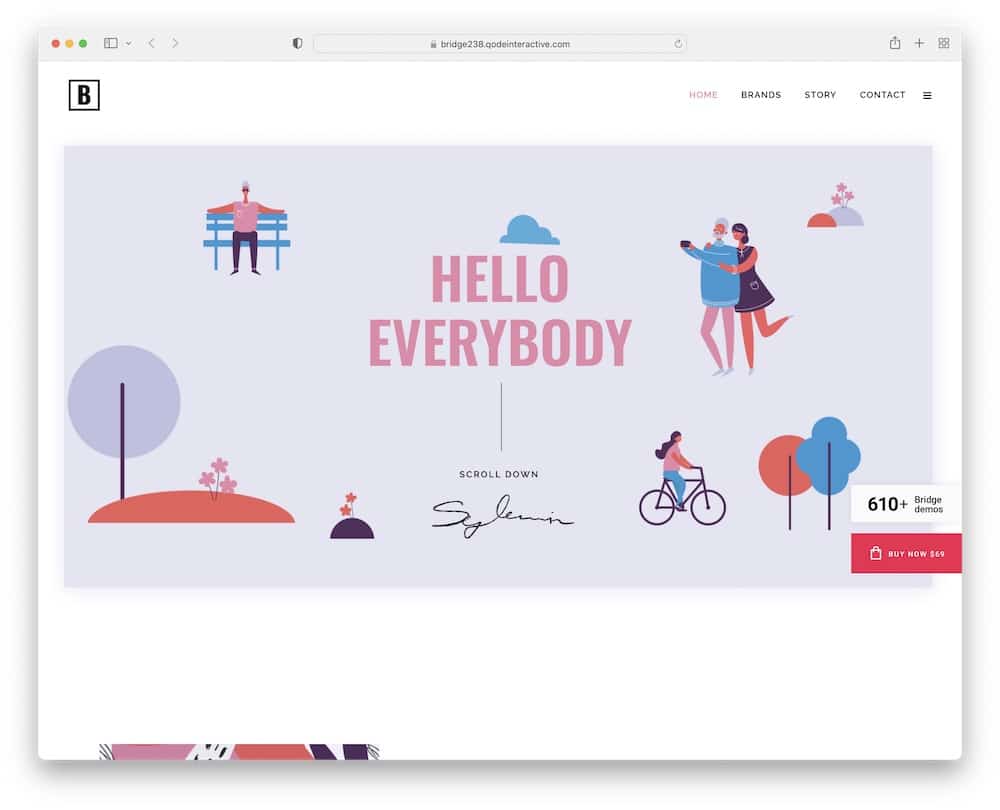 Stay on top of trends in media, digital marketing, design, social media, and more with the epic Bridge theme.
Import the ready-to-use WP theme and start rearranging it to all your desires as soon as you choose it. You can even launch an online store due to WooCommerce (an all-time favorite).
Ready to give your portfolio a shot!?
Bridge offers elegant pre-made portfolio layouts to showcase your project, creative work, or web design solutions.
Seems promising, right?
Moreover, pick from a collection of CSS3 animations that make any website pop.
Of course, nobody wants random animated flashy things. I am talking about FUN animations such as wiggling buttons, loading made of dots, popups, and animated 404 pages.
Let's roll.
Bridge features:
196,000+ sales
4.7+ star ratings
Compatible with two WP page builders
610+ demos (WOW!)
Price: $69 (may vary)
MORE INFO / DOWNLOAD
DEMO
2. Astra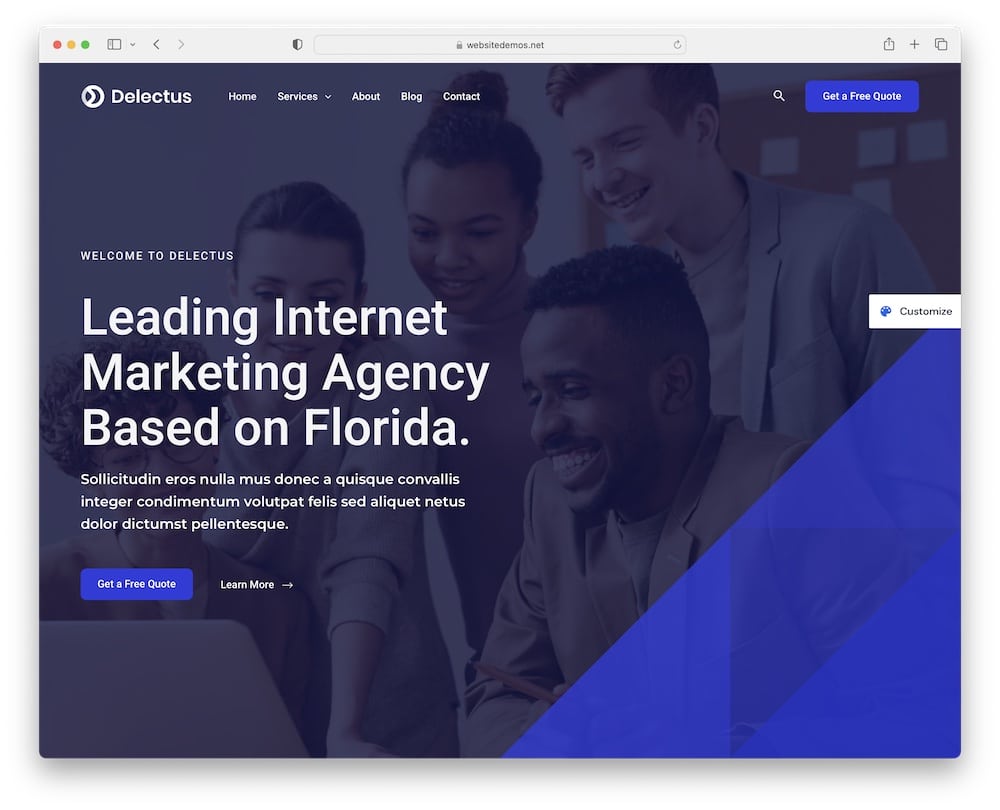 You will find many professional agency demos in Astra's massive bundle of 240+ ready-to-use website samples.
There's no need to build anything from scratch! And even when you decide to make adjustments, you can do most of the tweaking via WordPress's Live Customizer.
However, install your FAVORITE page builder if you want to take things to the next level. Remember, Astra is also compatible with the Gutenberg block builder by default.
Besides all the design goodness, we also enjoyed how lightweight Astra is – meaning it ensures fantastic loading speed for the best UX.
Astra features:
1+ million sales
4.9/5 star rating
Works with or without a page builder
Fantastically beginner-friendly header & footer builder
Price: Free or subscription ($47+)
MORE INFO / DOWNLOAD
DEMO
3. Litho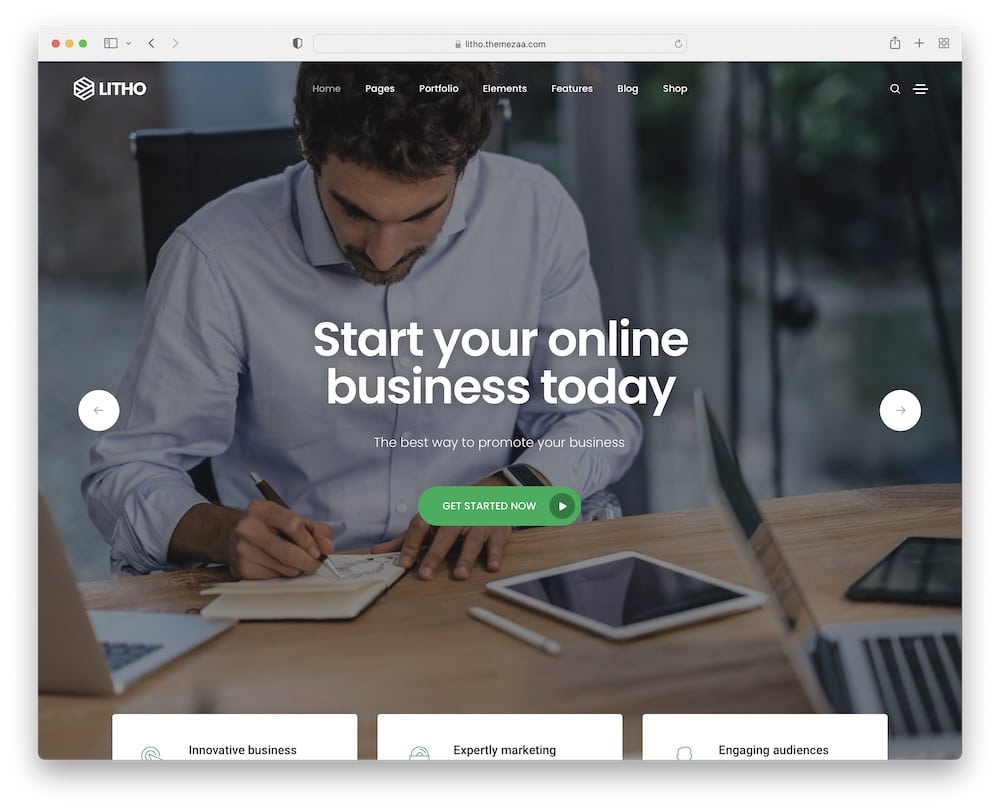 Minimalistic – yet beautiful – Litho agency WordPress theme contains everything a GOOD website needs!
In fact, you can build anything you want with the included Elementor page builder (drag & drop function).
Review ready-to-use layouts, pages, and elements. After you decide on the best design, customize it to all your needs (without coding).
Keep all the good coming, please!
TIP: The header is your center through which visitors can go anywhere on your site (SMART navigation!). Plus, to display your brand's logo, upload and position it where you want it to appear.
Oh, man!
Remember color?! Litho comes with unlimited color options. The perfect finishing touch!
Litho features:
3,000+ sales
4.9+ star ratings
Compatible with WP translation plugins
Enjoy 1-click import
Price: $59 (may vary)
MORE INFO / DOWNLOAD
DEMO
4. Dabble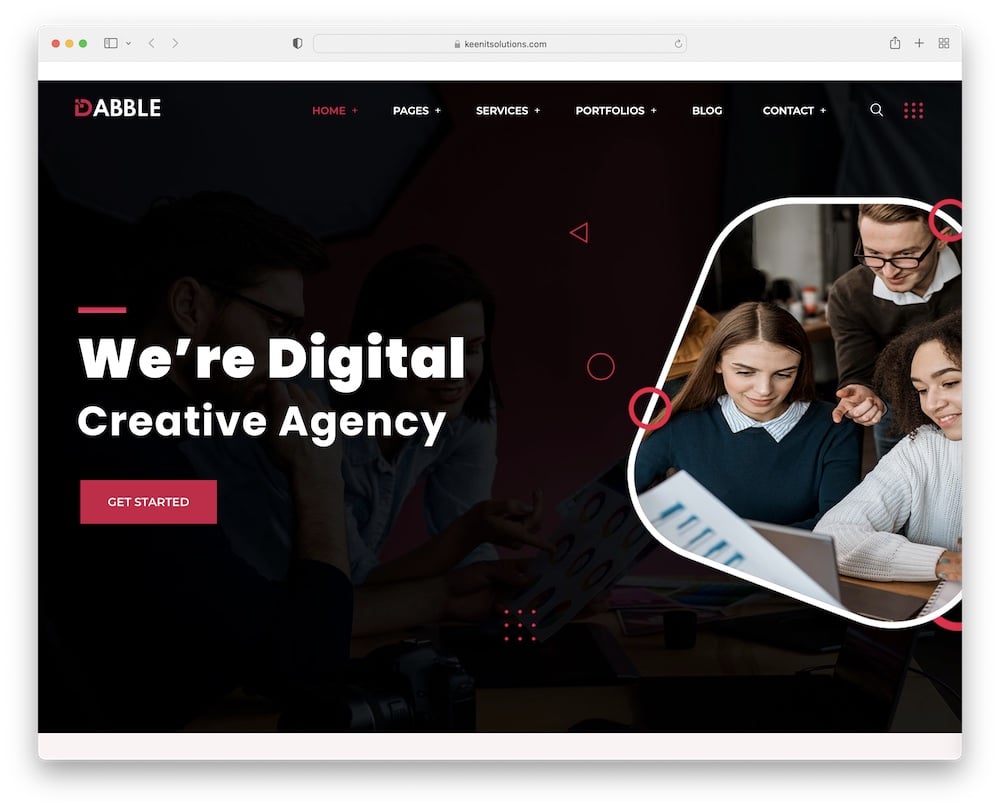 I love how modern and stylish Dabble digital agency theme looks. Fully responsive, too!
Dabble includes twenty-six gorgeously crafted demos (one-click import) and elegant inner pages (portfolio, about, services, contact, testimonials).
You also get multiple blog layouts for an easy start in the blogging world.
Fact: As you blog, your audience grows!
Moreover, Dabble is WooCommerce-ready (hurray), meaning you can start your own online store – today!
It is really simple to add or edit products, services, payment options, or update stock status.
BTW, the friendly and professional Dabble custom support provides fast tips and solutions. Guys, you ROCK!
Dabble features:
MORE INFO / DOWNLOAD
DEMO
5. Affirm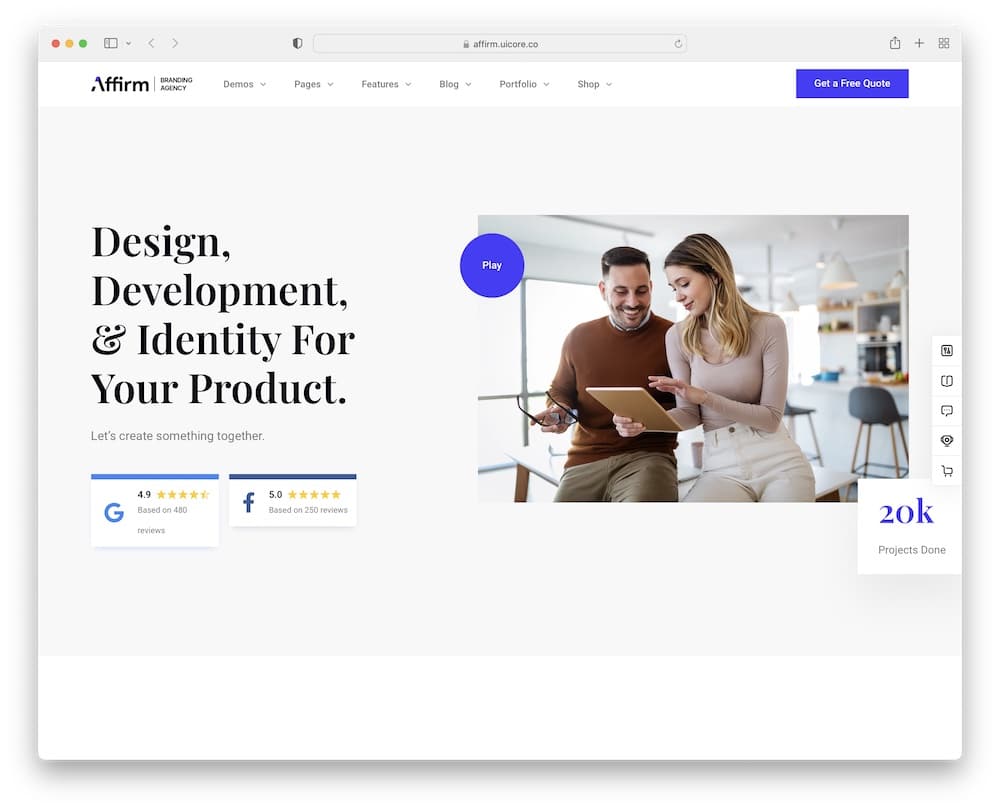 Make an interactive and creative website with the elegant Affirm agency WordPress theme.
Affirm works smoothly, thanks to its clean code. Plus, you can update your website with a simple click (automatic updates) directly in the theme options.
I also like the included marketing banners with a fully customizable layout – they are unique and functional.
You can enjoy 200+ design elements, built-in animations, and exclusive icons (impressive).
And the ultimate block collection (1,000s)! OMG, a sea of options and opportunities.
Since Affirm is so AMAZING, you can test it for FREE for seven whole days!
Jaw-dropping, right?
Affirm features:
MORE INFO / DOWNLOAD
DEMO
6. Imroz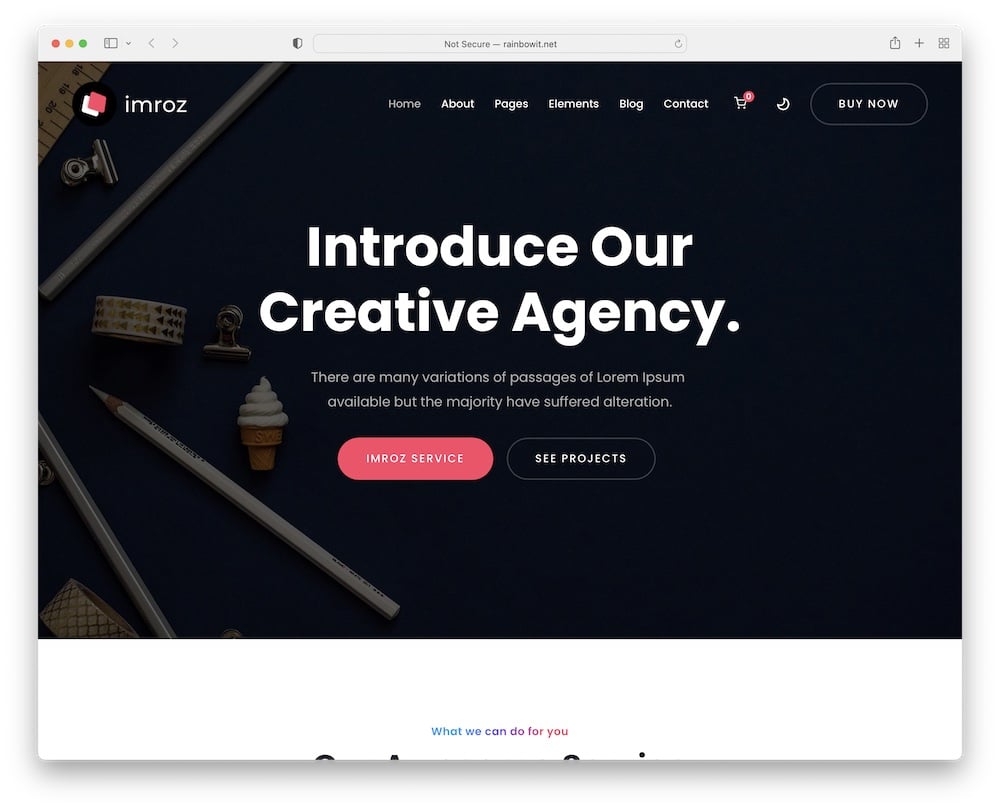 Be creative and innovative with the Imroz agency and portfolio theme.
Imroz comes with several pre-made and fully functional homepages that work great by default. But, you can also customize the look to all your needs and ideas.
Yup, it's time to live your dream!
Responsive Imroz makes it all possible with the stunning Elementor page builder.
YES, everyone can edit colors and change typography, rearrange key elements, set up buttons and choose the best header & footer from multiple styles.
Best in business!
Moreover, enjoy Imroz fast speed performance and cross-browser optimization.
Oh, and SEO-friendly Imroz will help you boost your site's ranking in the search results. It has eyes on you, Google!
Let's drop a COOL website with Imroz!
Imroz features:
MORE INFO / DOWNLOAD
DEMO
7. Obelisk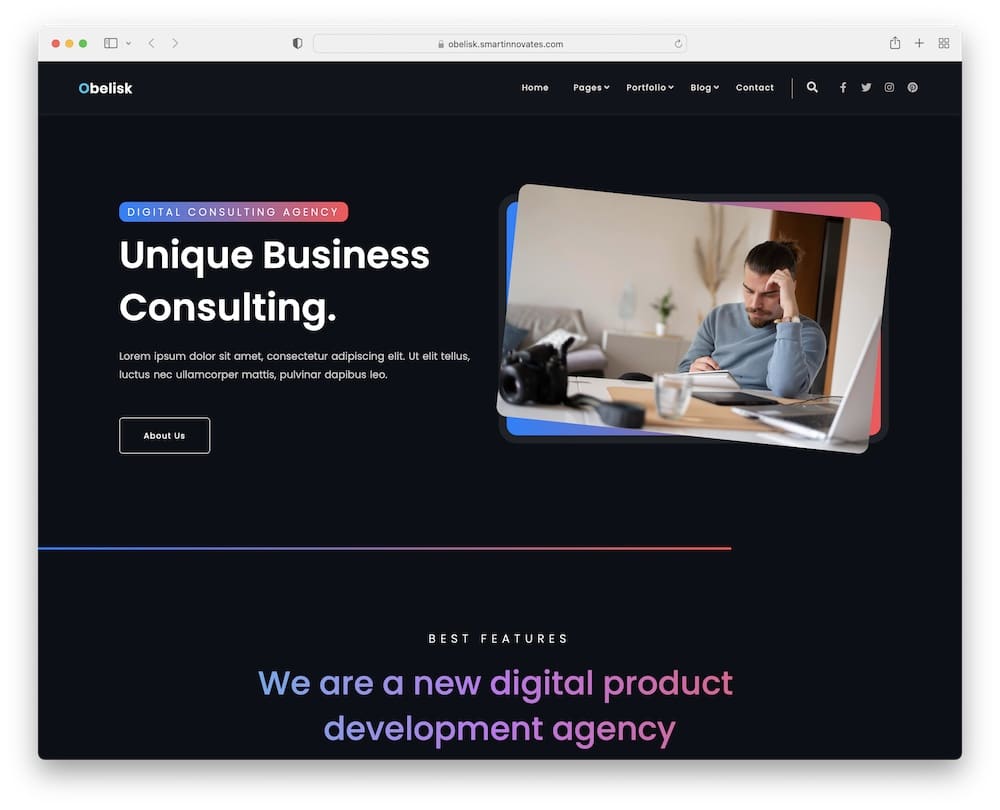 This theme is perfect for creative agencies, business startups, digital studios, or web design offices. Pull up a chair and stick around for a while!
Obelisk comes with two of the most popular drag & drop tools: Elementor and WPBakery.
Um, YES, you can choose the editor you want (!) to build your stunning site with.
Tell the whole world the good news!
Moreover, Obelisk includes tons of pre-made templates, a collection of beautiful Google fonts, and a flexible mega menu.
Plus, you can use AMAZING plugins such as WooCommerce, Slider Revolution, and MailChimp without limits.
Show your spark with Obelisk!
Obelisk features:
990+ sales
4.9+ star ratings
Use header & footer plugins to add extra functionality
Dark & light mode switch
Price: $29 (may vary)
MORE INFO / DOWNLOAD
DEMO
8. Ewebot

Ewebot agency WordPress theme will make you feel like a master!
Because of the well-written code and structure, Ewebot performs like a work of art! It loads fast and is fully responsive & retina ready (always a good thing).
Oh my gosh, Ewebot also offers lifetime updates (FREE) and support. I needed a beverage to make a toast to the GT3themes team!
Moreover, you can choose among unique and ready-to-use homepages, header styles, blog layouts, and portfolios.
I love to mix & match designs! My FAV part of Ewebot.
Note: Contact form 7 is GREAT for creating customized forms (simple but powerful).
Well, my friends, it's time to build a website!
Ewebot features:
MORE INFO / DOWNLOAD
DEMO
9. Digeco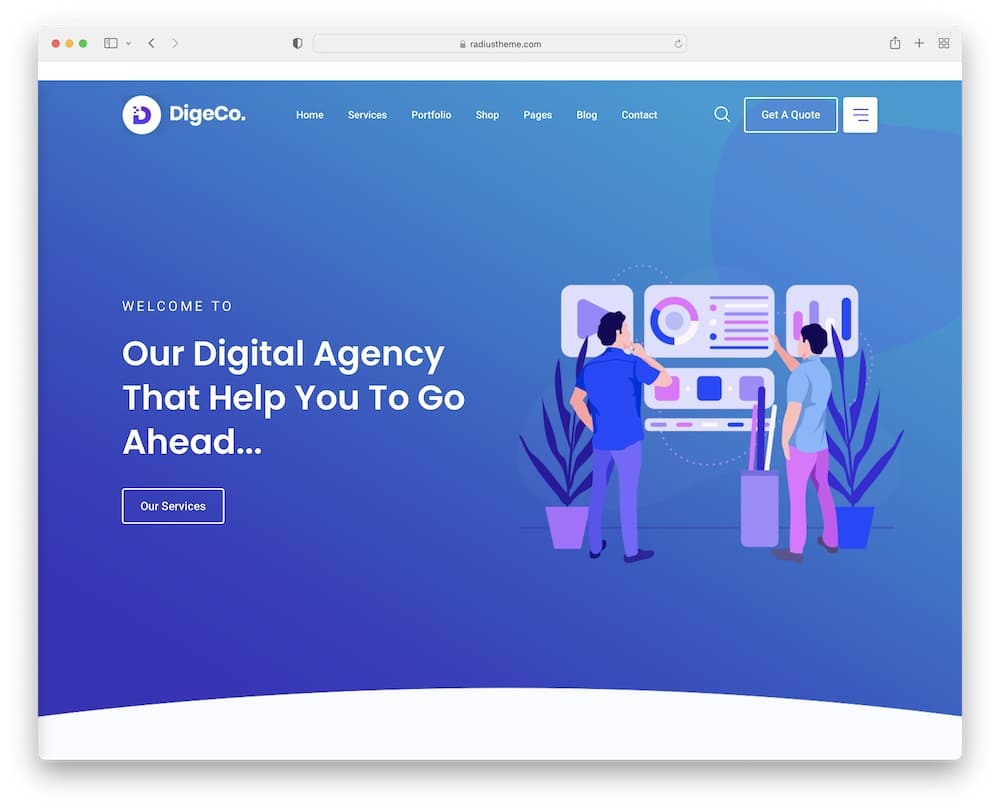 Take things into your hands & build a STUNNING new website with the Digeco agency WordPress theme.
Its pre-made designs are equipped with smart tools and versatile options to make a unique-looking site.
Above all, enjoy a full range of color and font options!
Not to worry: Digeco includes gorgeously crafted blog layouts. Who doesn't want to be established authority in the eyes of customers?
BLOG IS A MUST.
Plus, Digeco fully supports Gutenberg visual editor (I love dynamic drag-and-drop interface) to easily rearrange the order of blocks around your content.
And the professional portfolio, well, it's a path to success!
Digeco features:
MORE INFO / DOWNLOAD
DEMO
10. Agency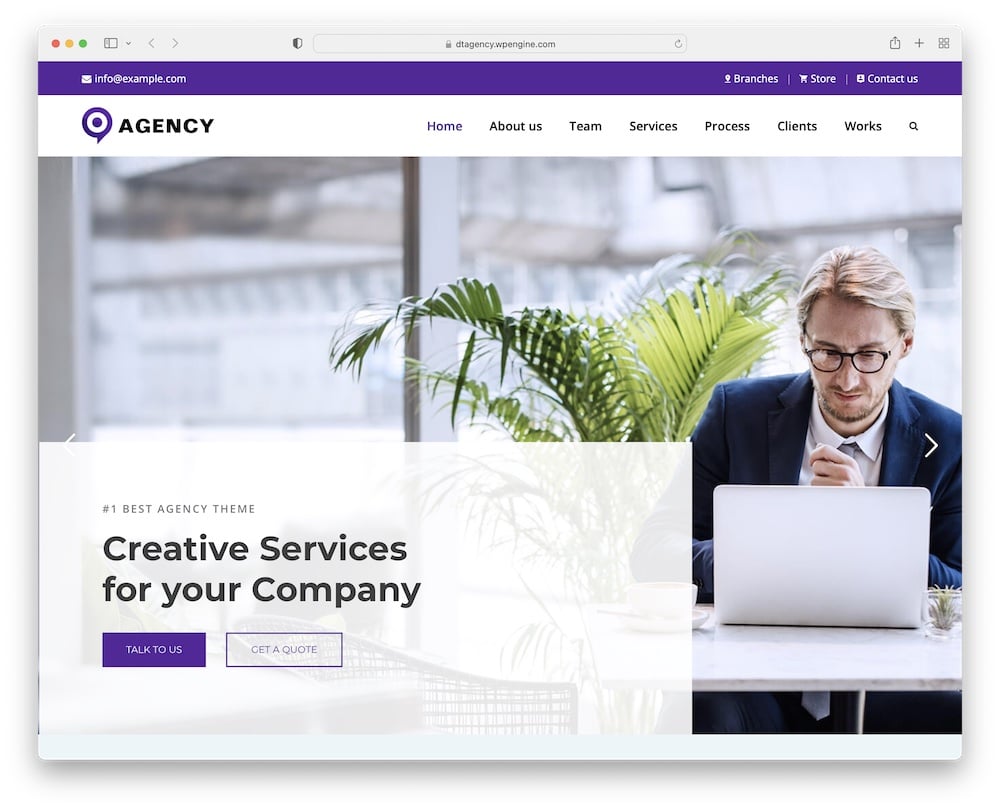 This brilliant agency WordPress theme is all about finding inspiration, showcasing your work, and ensuring a great user experience.
To help you get started, Agency includes ready-to-use demos, unlimited layout possibilities, tons of flexible elements.
The best part? 0 coding skills!
Moreover, Agency is bundled with the most popular plugins such as Slider Revolution, WooCommerce, MailChimp, and Contact form 7.
Because, my friends, they are all AWESOME to work with (so reliable)!
And you can manage all events in one place with added WP event calendar tool. You know, like that super organized person from your high school.
Reach your goals with the creative Agency!
Agency features:
MORE INFO / DOWNLOAD
DEMO
11. Betakit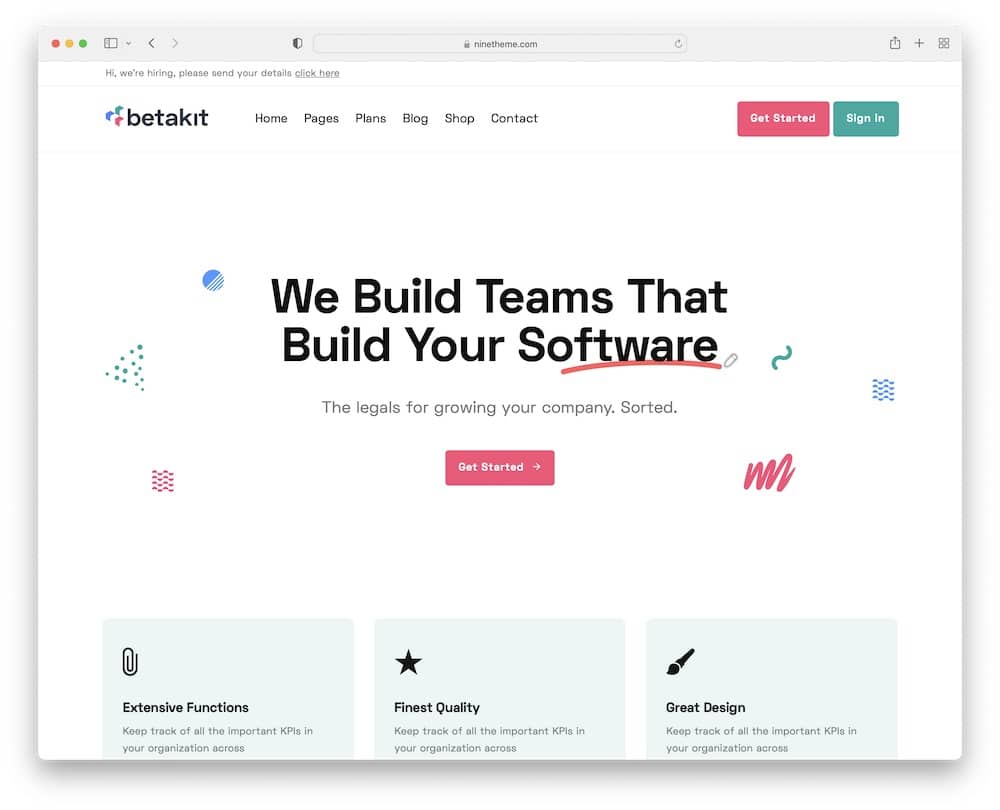 You and your clients will enjoy the Betakit agency WordPress theme!
No. Doubt.
Clean and professional-looking Betakit comes with the Elementor page builder (#1 in my opinion) that gives you everything you need to create and manage your website.
For those of you who dont know it – it's all about drag and drop!
Moreover, you can easily tailor Betakit to ALL your personal preferences. Change the look of a header, footer, popups, buttons, sidebars, and menu.
See it, want it, just DO IT!
And be one step ahead with the gorgeous Slider Revolution. You can even insert eye-catching animations and call-to-actions in your slides. I really LIKE them.
Yup, it's time to do it right.
Betakit features:
MORE INFO / DOWNLOAD
DEMO
12. Abstrak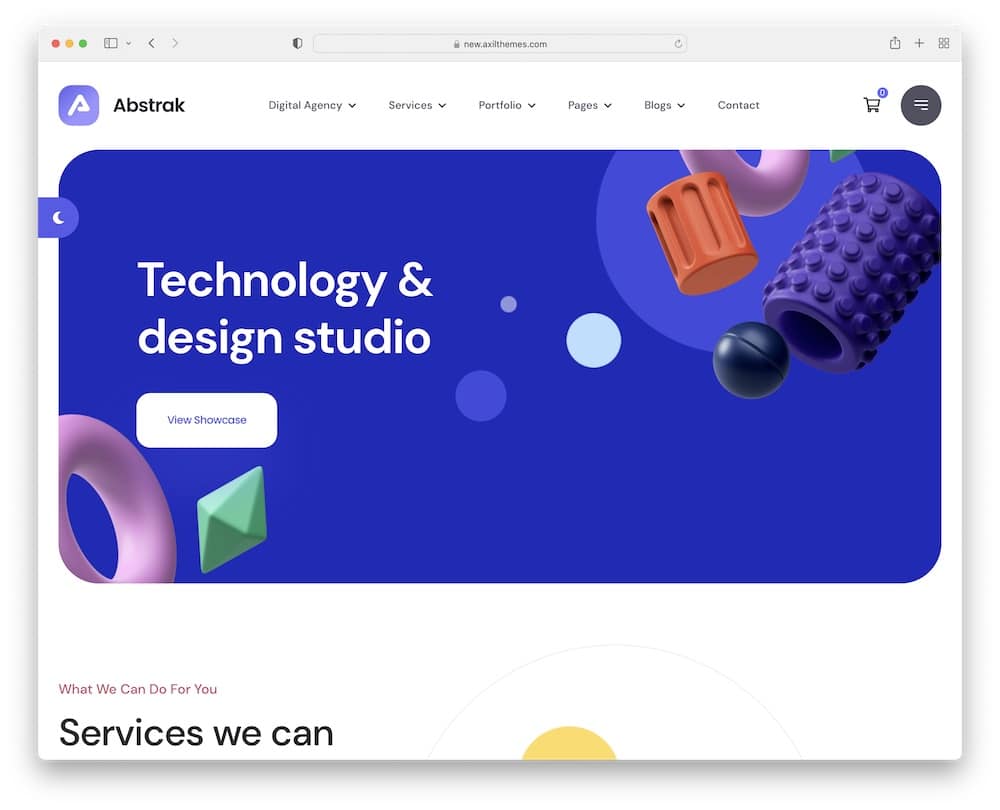 Kickstart your business with the modern Abstrak agency WordPress theme. Talk about leaving an impression!
Here's all the goodness that's ahead:
Five unique layouts, various inner pages, elegant header versions, and a custom portfolio.
GODSENT.
Abstrak is also totally responsive – fitting like a glove on different screen sizes and devices. Slap my hand!
You can set up sections such as about us, contact info, FAQ, pricing plan, services, and testimonials.
On top of that, check out video popups and interactive banners. My favorite.
You also get lifetime updates so your website will be up to date FOR LIFE. Boom!
Abstrak features:
880+ sales
4.7+ star ratings
Full Gutenberg compatibility
Includes a child theme
Price: $39 (may vary)
MORE INFO / DOWNLOAD
DEMO
13. Ohio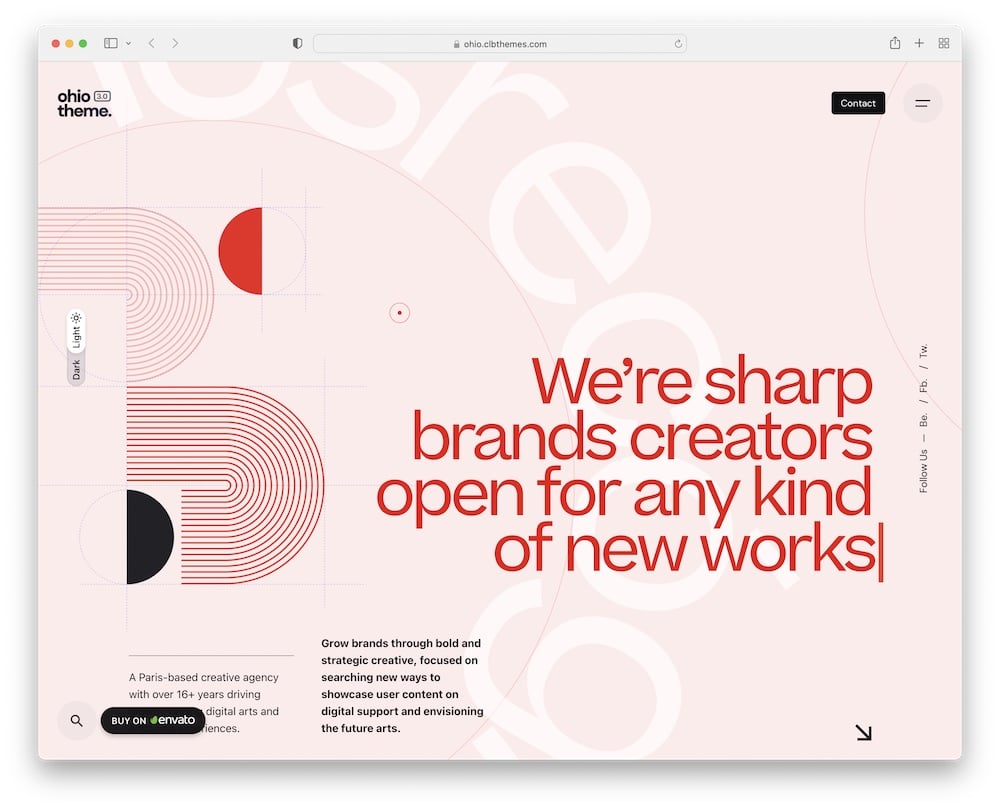 Showcase & promote your business with the Ohio agency WordPress theme. Because if you don't, who will?
The quickest way to start is by clicking the import button. Anyone can run and customize their website with pre-made templates (yup, it's so easy).
Besides, Ohio has the best plugins, such as Slider Revolution, WooCommerce, MailChimp, WPBakery & Elementor (OMG, I know, you can choose between two editors).
HI5!
And it is a MUST to start a blog (ready-to-use layouts included) – share your ideas, news, opportunities, projects, and valuable content.
Plus, dont miss out on Ohio dark & light mode. I bloody love the switching!
Ohio features:
MORE INFO / DOWNLOAD
DEMO
14. Pitch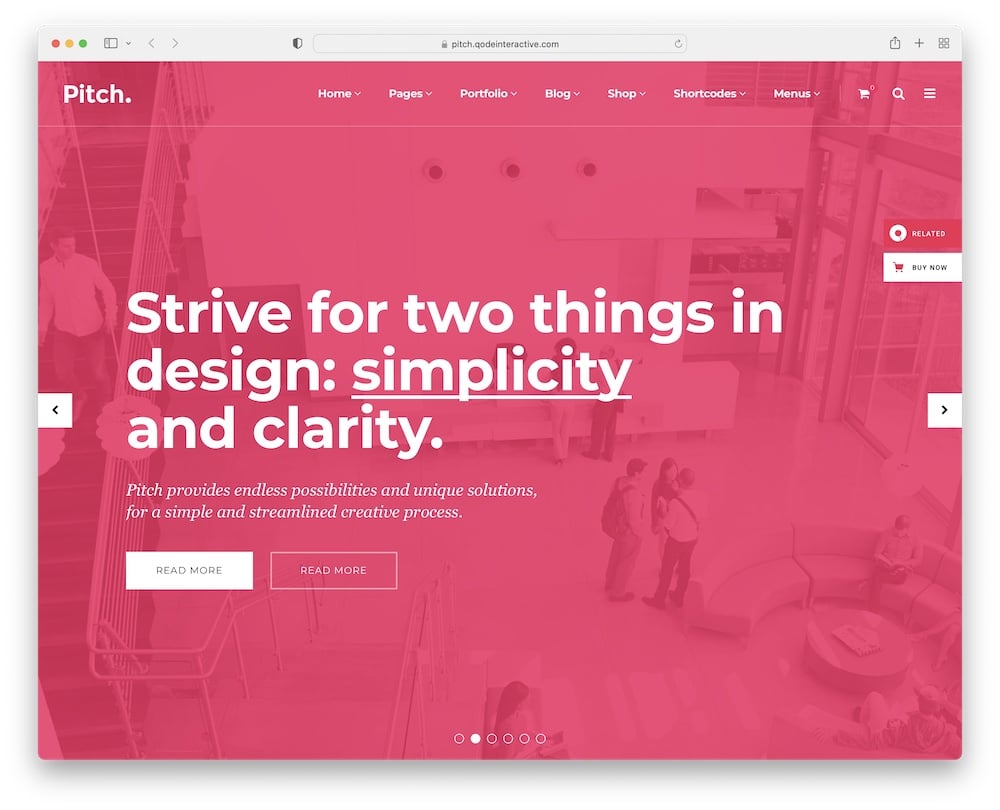 Almost everything you can imagine is possible with the creative Pitch agency theme!
Get beautiful results with an advanced slider by using animations, videos, or parallax functionality.
Who likes boring websites? Not me!
Pitch is packed with numerous shortcodes, icons, layouts, and fonts. You can also choose the perfect header & footer style from pre-designed options.
Pretty COOL!
And you can't go wrong with a clean and flexible mega menu – make the best navigation.
Remember, you can even sell products, services, and webinars on Pitch (Hi, WooCommerce!).
And you can reach worldwide customers together with a translation-ready option!
You can also successful use Pitch as a WordPress freelancer theme.
Pitch features:
MORE INFO / DOWNLOAD
DEMO
15. Seocify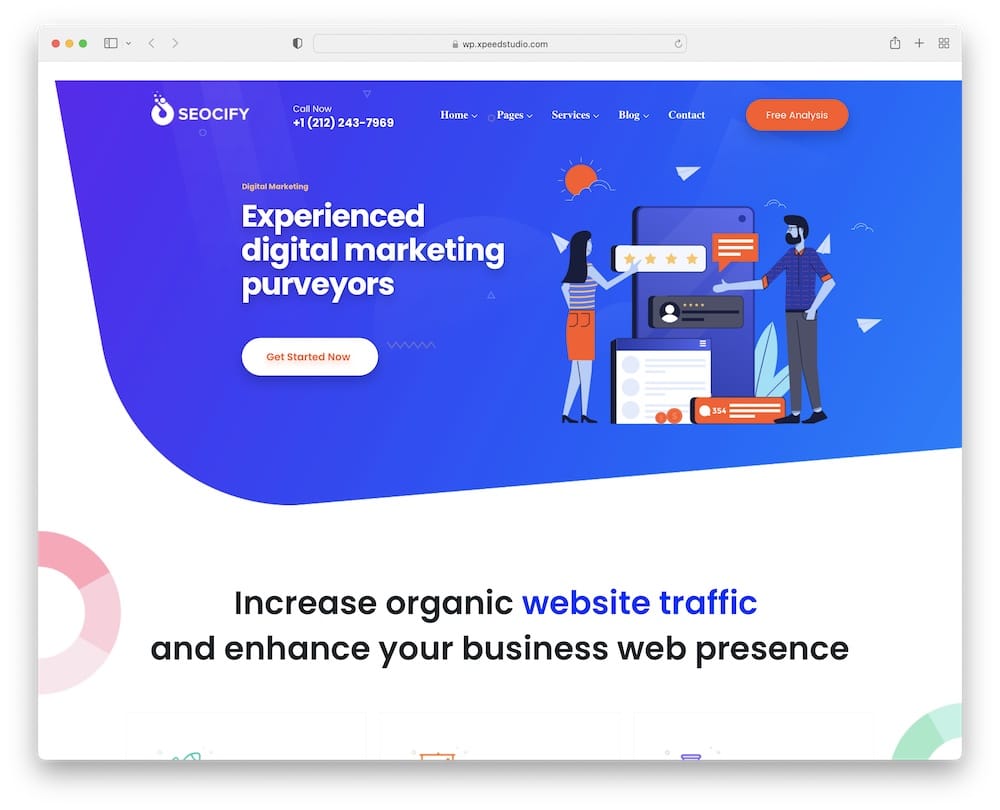 Get fast results with the modern Seocify SEO agency WordPress theme.
You will never need to write a single line of code while working with Elementor page builder.
You can mix, match and rearrange colors, elements, fonts, icons, buttons, animations, and more due to its drag and drop function.
Start kicking some serious ass!
Moreover, Seocify is well documented and comes with FREE lifetime updates.
You heard me!
OH, man, and I love smooth parallax sections. The way parallax highlights graphics in three-dimensional space is something that takes all my focus. Always.
Look at how far you've come. Have fun with Seocify!
Seocify features:
2,800+ sales
4.7+ star ratings
Handy multi-level drop-down menu
Price: $59 (may vary)
MORE INFO / DOWNLOAD
DEMO
6 Key Features Of A Great Agency Website
There are many key features and elements of an agency website you need to take in consideration when picking the right theme.
We paid special attention to these six when creating this ultimate collection.
1. Online portfolio
A beautiful portfolio is a must if you want to promote your services and anything you do.
Luckily, there's no need to do it yourself because you can use themes' predefined layouts.
Save a lot of time while still keeping your professional levels at the ultimate high.
2. Case studies
An exclusive section of case studies comes in extra handy to explain how you helped your clients succeed in whatever they do.
This is also a great way to bring forth some of your processes, so a potential client can get familiar with your operations.
3. Testimonials and reviews
Similar to case studies, including client testimonials and reviews will build trust in everyone considering working with you.
We recommend adding these on your home page, so everyone can see them and read why people like to work with you.
4. Pricing plans
While many neglect pricing plans, we encourage you to put pricing on your page.
You can have general and custom pricing plans, but give potential clients at least a brief idea of the cost right off the bat.
Studies show that many potential candidates leave early when they see they need to get in touch for a quote. (Unless they need custom services – that's a completely different story.)
5. Contact details (+ Google Maps)
Still, many folks will have (a lot of) questions before becoming your client. That's why adding all the necessary contact details (phone number, contact form, location, social media, etc.) is A MUST.
Google Maps with your location also comes in handy if you plan to have meetings, so clients can easily find you.
6. Blog
Do you want to become an authority in your industry? Start a blog! This is one of the best solutions you can use to give back to the community.
Share tips and tricks, introduce your team members, whatever, an SEO-optimized blog can take your business to the next level.
Bonus: Cleat call-to-actions
I almost forgot: CTAs! These are a must and need to be beautifully spread across your website design.
Don't overdo it but don't have too few call-to-actions – a perfect balance.
They must be at the right spots, so a potential client can take immediate action. You don't want them to waste time when they finally decide to work with you.
Use call-to-action buttons!