Hey free spirits, welcome to our collection of the best WordPress church themes for any religious website.
This review took place during creating seven client websites, which forced us to check each theme before applying thoroughly.
We're now excited to share with you the fourteen best!
These themes cover everything, prayers, sermons, events, blogs, online stores, you name it!
Of course, they're also 100% responsive and SEO optimized with an EFFORTLESS and QUICK building process.
You can do it – even if you don't have experience!
Spread God's will and create a church website today for a better tomorrow.
All things are POSSIBLE.
THE ULTIMATE 4:
Best WordPress Church & Religious Themes
1. Native Church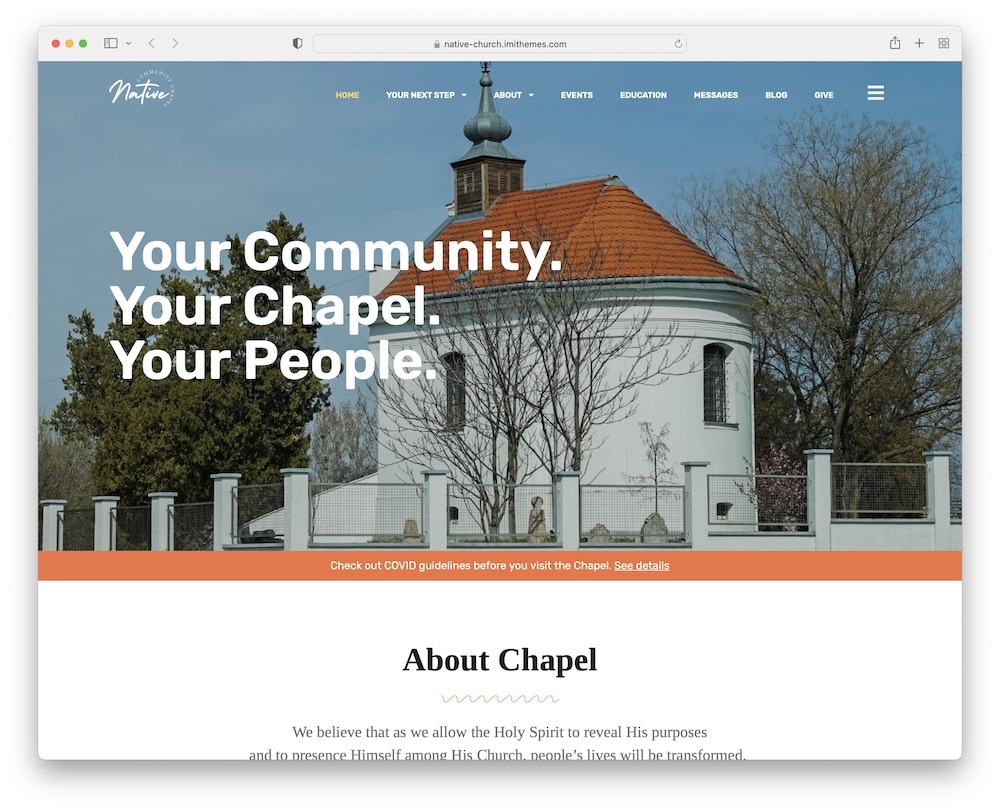 Be a blessing to others with aid of a simple and modern Native Church theme.
Belong. Believe. Transform.
Native Church can be a great resource for displaying upcoming events, seminars, preachings, bible studies, and prayer gatherings.
Plus you can simply start a blog with transforming thoughts, God's word, and church ideas.
Moreover, Native Church goes hand in hand with great performance (SEO friendly & fully responsive).
Not only is compatible with various popular tools, but it also comes with the WooCommerce plugin. Yup, you can (fast) create an online store.
I'm loving it!
Spark joy with awesome Native Church.
Native Church features:
8,100+ sales
4.6+ star ratings
Drag-n-drop builder
Price: $69 (may vary)
MORE INFO / DOWNLOAD
DEMO
2. Real Church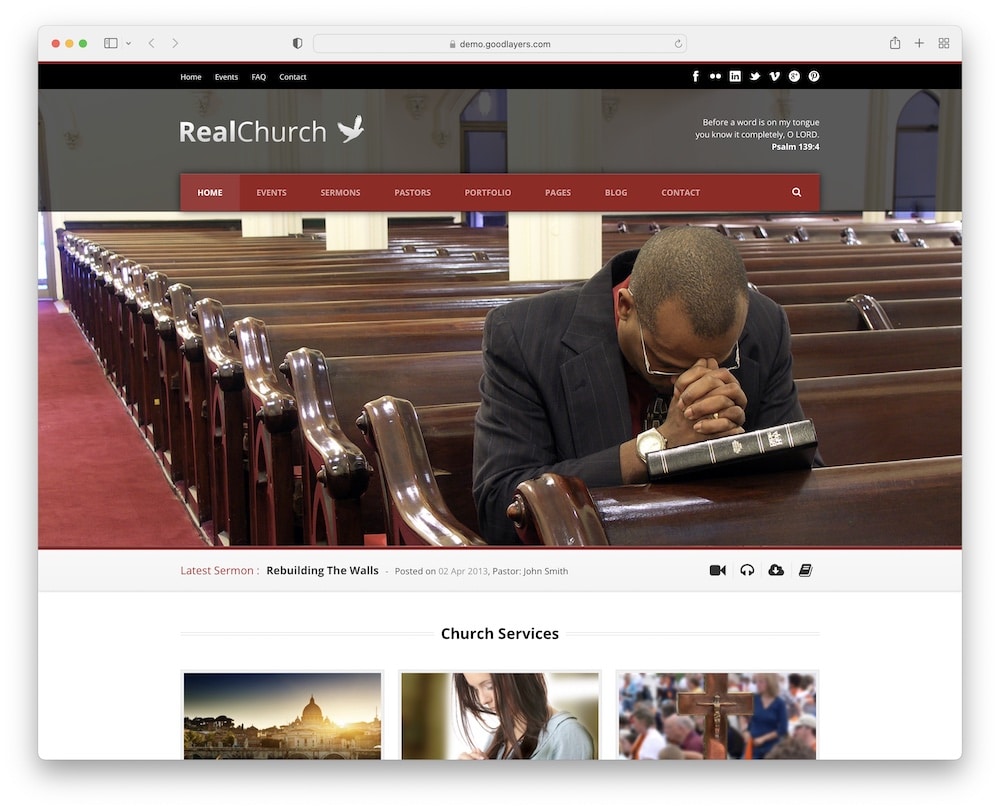 Cultivate LOVE for God and share your philosophy on the Real Church WP theme. You will enjoy it.
Real Church comes with a ready-to-use demo, unique layouts, unlimited sidebars, and playful colors.
Interactive drag and drop builder is just a BLISS to work with (NO coding knowledge required).
Yippy!
Furthermore, you can present your church in a beautiful way with separate sections such as pastor, team members, portfolio, gallery, events, and testimonials. All in one!
Of course, Real Church offers social media connections (social shares, links, and icons). In a world full of empty promises you can be a LIGHT.
Real Church features:
2,600+ sales
4.5+ star ratings
Pricing table
Price: $56 (may vary)
MORE INFO / DOWNLOAD
DEMO
3. Adore Church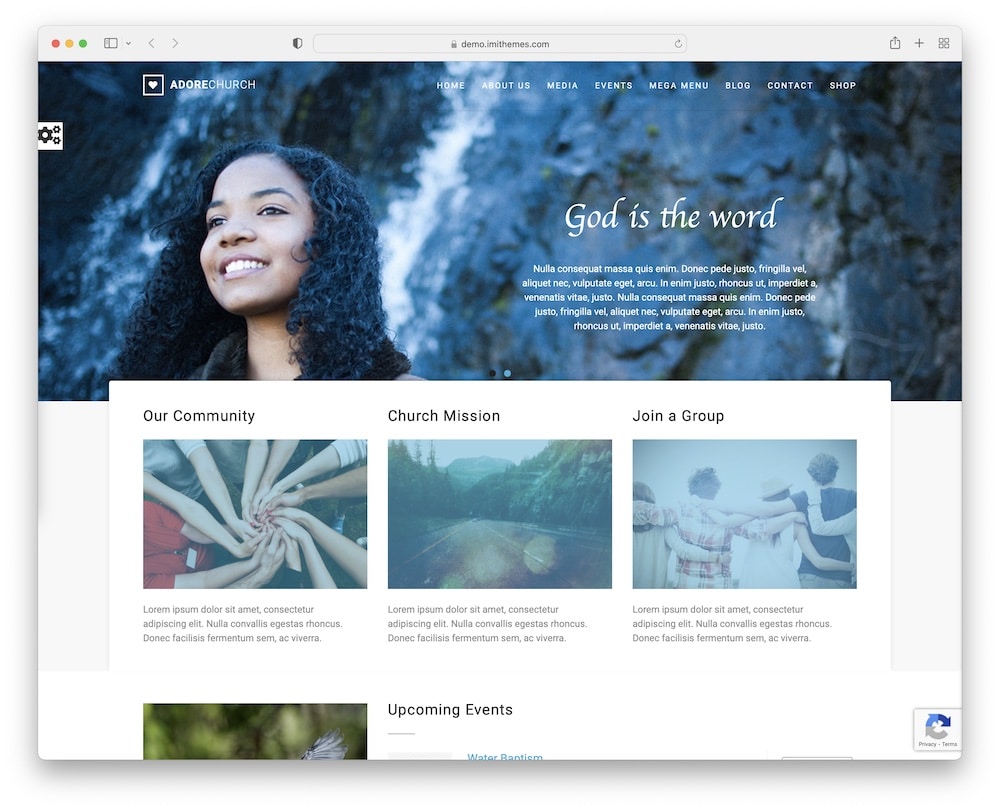 Shape Adore Church religious WordPress theme with blissful perspectives.
With a valuable blog, you can answer the questions people have about the church, God, Bible, and faith.
Your website can quickly become an online space for spiritual development, personal growth, and inspiring stories.
My favorite part of adjusting the demo is choosing from numerous layouts, pages, colors, fonts, and icons. Plus, Adore Church comes with brilliant Slider Revolution (with multiple effects & possibilities).
Oh, you can create organized navigation with multiple columns using mega menu.
SWEET.
Embrace Adore Church today!
Adore Church features:
1,800+ sales
4.4+ star ratings
Price: $69 (may vary)
MORE INFO / DOWNLOAD
DEMO
4. Church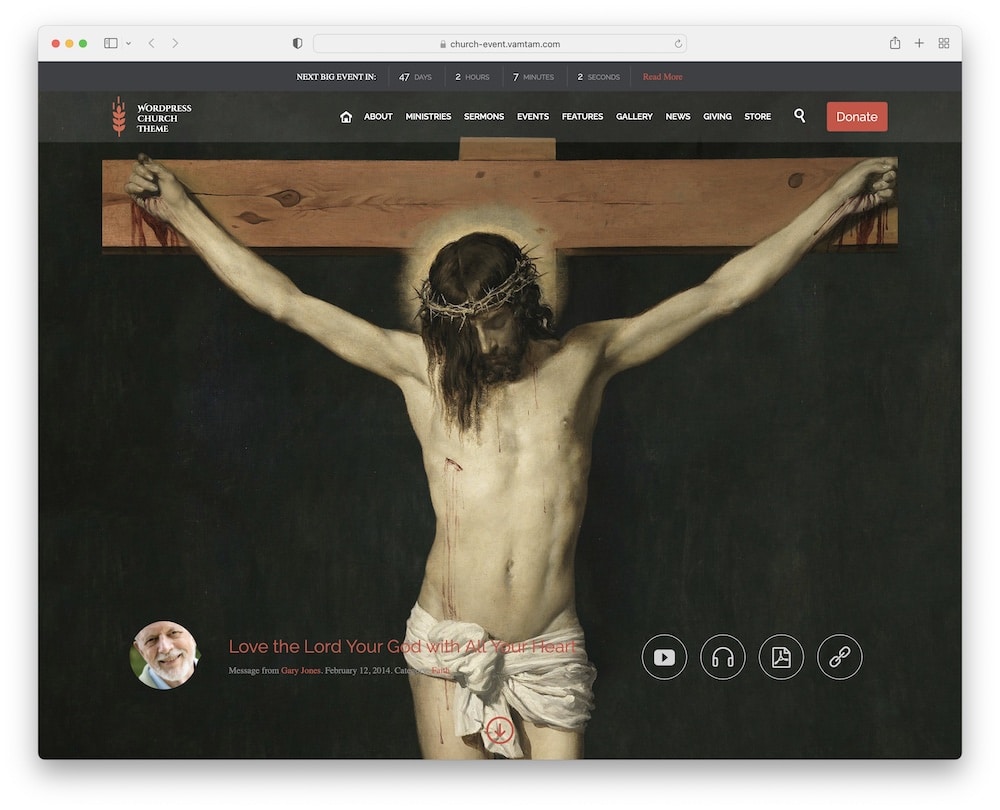 Remind your audience that we all have GOODNESS within us with aid of the Church religious WordPress theme. Don't waste time, start today!
Sleek and easy-to-use Church offers lightning-fast performance, a fully responsive layout, and CSS animations. Of course, it is SEO friendly to push the ranking of your site higher in search engines.
Hallelujah!
Moreover, Church includes an all-in-one WooCommerce plugin for the site's store (no extra cost).
And YES, you can accept donations (PayPal system), create events with an online schedule, and add forms with Contact Form 7.
Did I mention that Church is translatable? Yup, you have a blessing to GO global.
Church features:
6,500+ sales
4.7+ star ratings
Price: $79 (may vary)
MORE INFO / DOWNLOAD
DEMO
5. Grace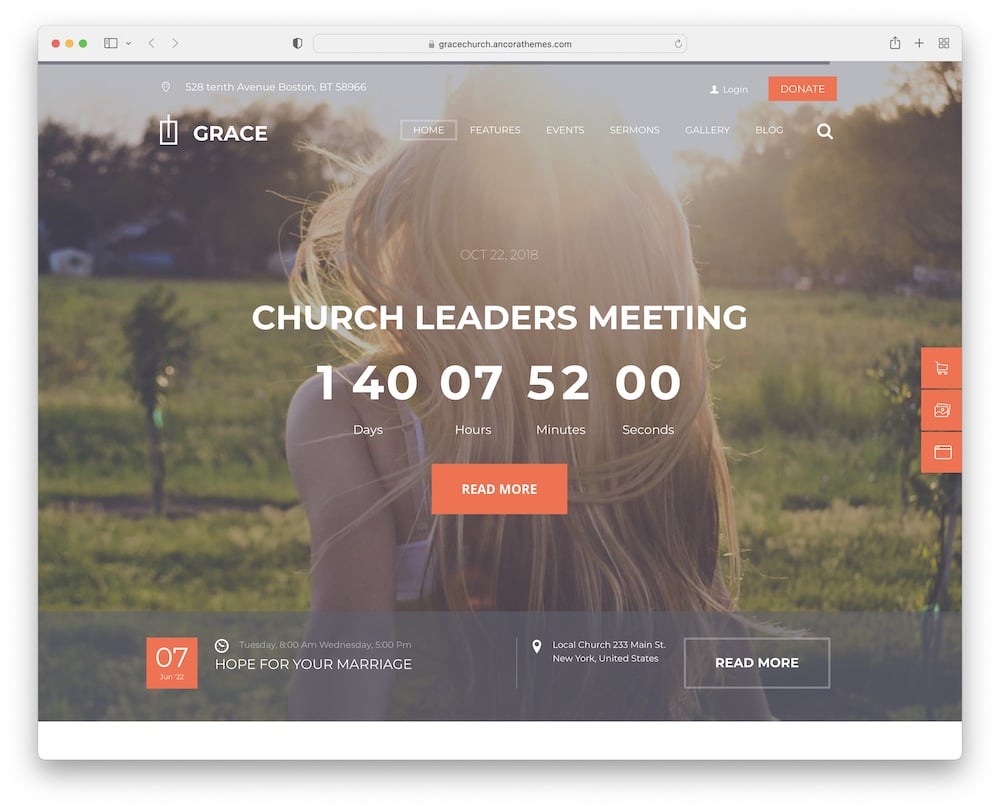 Find infectious joy in the elegant Grace WordPress church theme.
Powerful Grace is compatible with WPBakery page builder (endorsed by top experts) guaranteeing a better customization experience (NO creative limits).
Plus, you can turn your site into a popular online store with minimal effort – LOVE you, WooCommerce.
And did I mention that it is cross-browser optimized? Yup, your visitors can come from Firefox, Safari, and Chrome – and FULLY enjoy Grace's design.
Of course, it includes detailed documentation and regular updates (GODSENT). Grace's excellent customer support will answer all questions in no time.
Make space for Grace!
Grace features:
1,700+ sales
4.6+ star ratings
Price: $59 (may vary)
MORE INFO / DOWNLOAD
DEMO
6. My Religion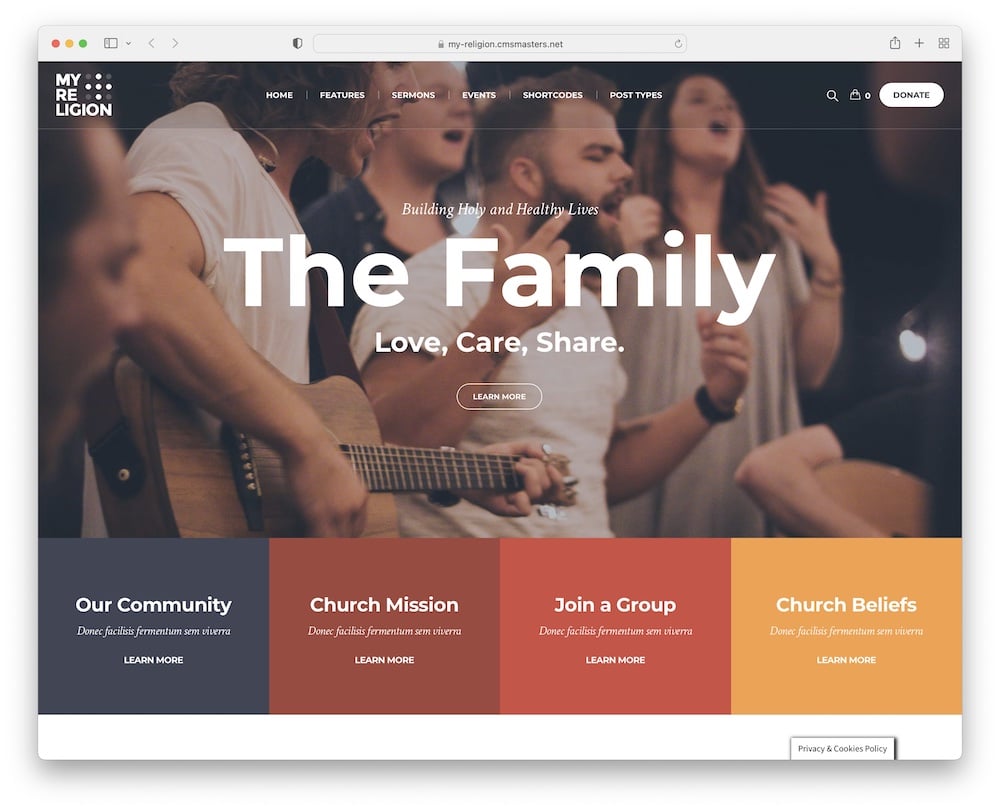 If you wish to blog about God, love, faith and hope you should clearly check out the dynamic My Religion WordPress church theme.
Welcome home!
My Religion comes with ready-to-use portfolio layouts – simple start, various possibilities, and unlimited space for all your experiences.
A combined package of custom widgets, shortcodes, and unlimited colors is my favorite playground. It requires no coding knowledge to set up My Religion (a BIG deal, I know) so keep calm and create!
Moreover, you can easily showcase events, and collect donations.
And, Slider Revolution quickly adds a breathtaking effect. It's all in. Join My Religion!
My Religion features:
2,300+ sales
4.4+ star ratings
Custom background
Custom post types
Price: $59 (may vary)
MORE INFO / DOWNLOAD
DEMO
7. Zegen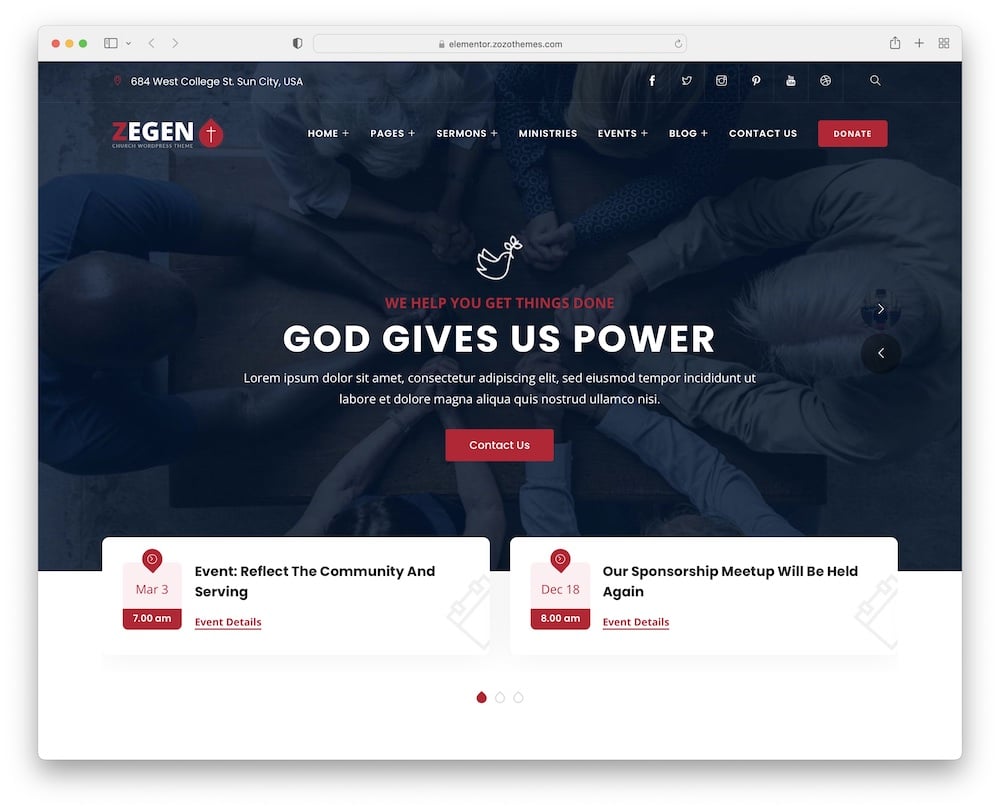 Zegen is an online place where you can talk about God and so much more. Engage fully devoted followers and create a helpful community!
You can drag and drop elements, add shortcodes, and adjust the mega menu with the Elementor page builder. Think about it, you can fully rearrange imported demo and be your own design BOSS.
Plus. you gain unbeatable value and functionality with included premium plugins (Slider Revolution, WooCommerce & Contact Form 7).
And you save MONEY!
Moreover, when you decide to work with Zegen you get access to 5-STAR customer support and lifetime (regular) updates. WOWIE.
Zegen features:
700+ sales
4.9+ star ratings
1-click demo data import
Price: $69 (may vary)
MORE INFO / DOWNLOAD
DEMO
8. Vestry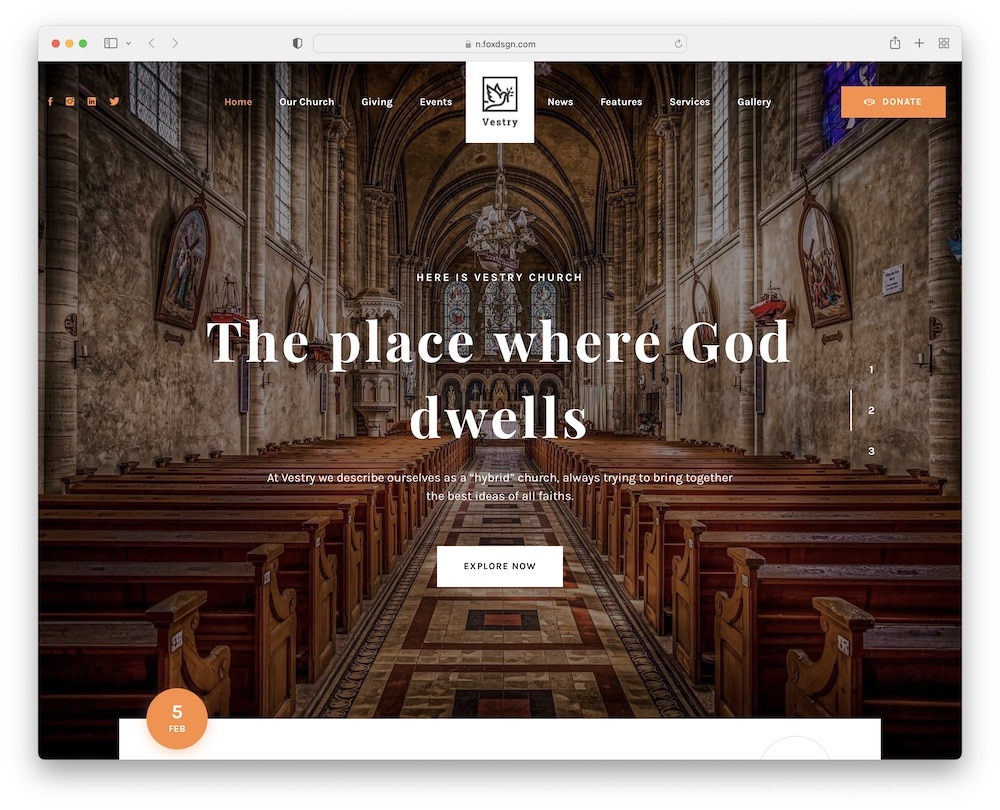 Take your audience inside of the church values and become a leading voice for your community with the Vestry WordPress church theme.
Anybody can create a stunning website due to Gutenberg block editor optimization (NO need for expensive professionals or programs).
Woah!
Vestry also offers ready-to-use pages where you can present your mission, community, inspiring stories, and even announce upcoming events, ceremonies, or raise donations.
UNLIMITED options.
Moreover, Vestry is 100% mobile-friendly, SEO optimized, and guarantees high-speed performance. Yes, I love it too!
Celebrate Vestry together with your brothers and sisters.
Vestry features:
320+ sales
5 star rating
Event timetable
Complete online store
Price: $59 (may vary)
MORE INFO / DOWNLOAD
DEMO
9. Hallelujah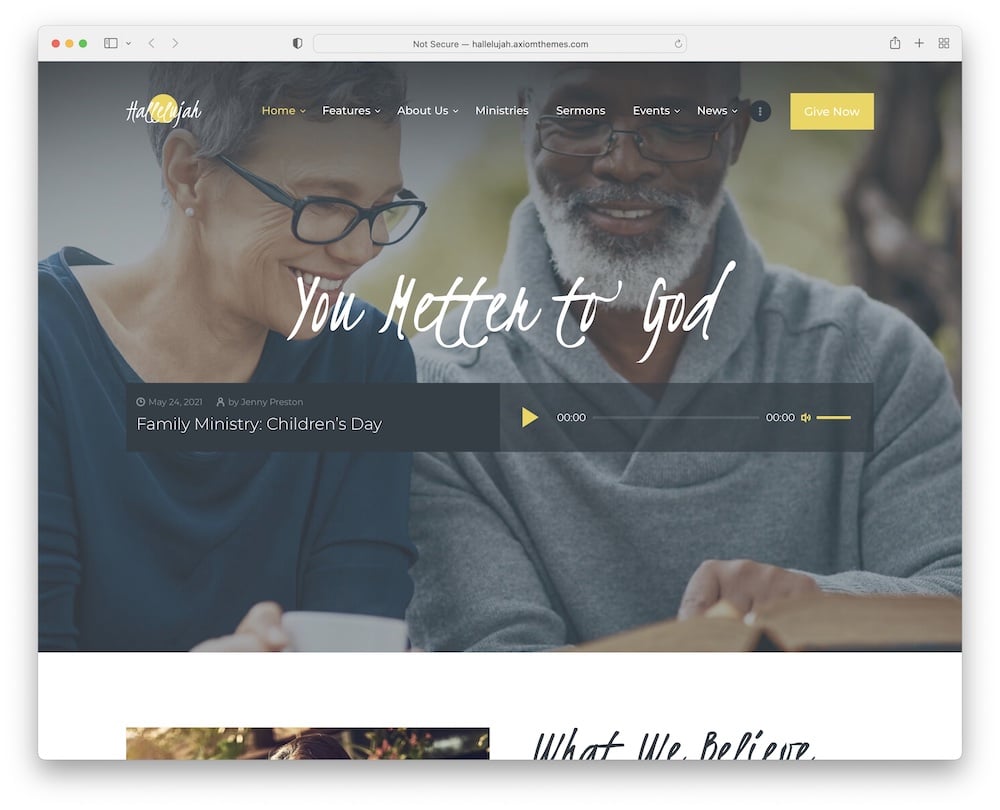 Touch people's hearts with a user-friendly Hallelujah WordPress church theme.
Hallelujah comes with a powerful framework, modern design, and three creative demos.
You can gorgeously showcase your mission, purpose, and needs with the remarkable set of pre-made pages.
After all, we all LIKE to see eye-catching layouts with extended functionality (GO plugins!).
In fact, Hallelujah includes a charity donation plugin – Give (100,000+ people are using this tool to raise money).
Hip hip hooray for a GOOD cause!
And don't forget to connect with your audience on popular social media platforms.
Today is a BIG day – check out Hallelujah!
Hallelujah features:
590+ sales
5-star rating
Fast installation
Header & footer builder
Price: $59 (may vary)
MORE INFO / DOWNLOAD
DEMO
10. Nazareth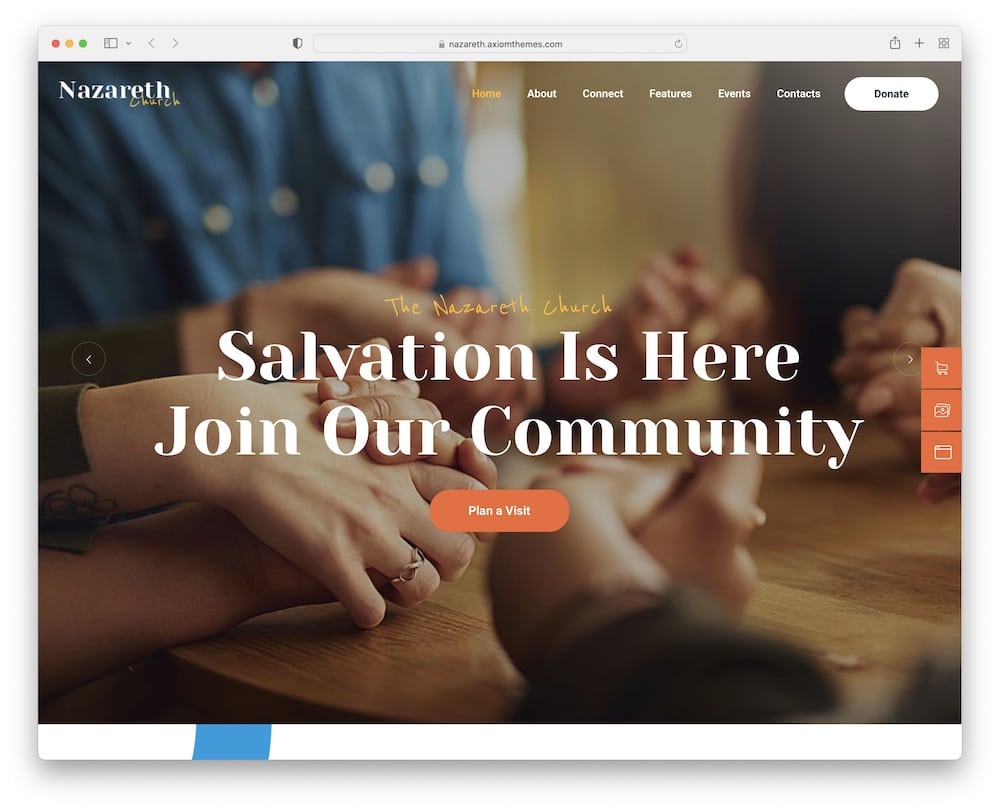 Show God's glory through Nazareth WordPress church theme by writing, sharing, preaching, hearing, and loving.
Your community of believers deserves an authentic & modern website. It truly has everything you need.
Nazareth is easy to customize and includes the most outstanding plugins.
HELLO to success!
Showcase upcoming events, community meals, church picnics, bible school, holiday activities, Christian concerts, etc., with the popular Events Calendar.
Nazareth supports Contact Form 7 for managing forms and the MailChimp newsletter tool for further marketing possibilities. Jump of joy!
TRUST ME: Tons of inspiring goodies are waiting for you.
Nazareth features:
340+ sales
4.7+ star ratings
Social integration
Price: $59 (may vary)
MORE INFO / DOWNLOAD
DEMO
11. Bethlehem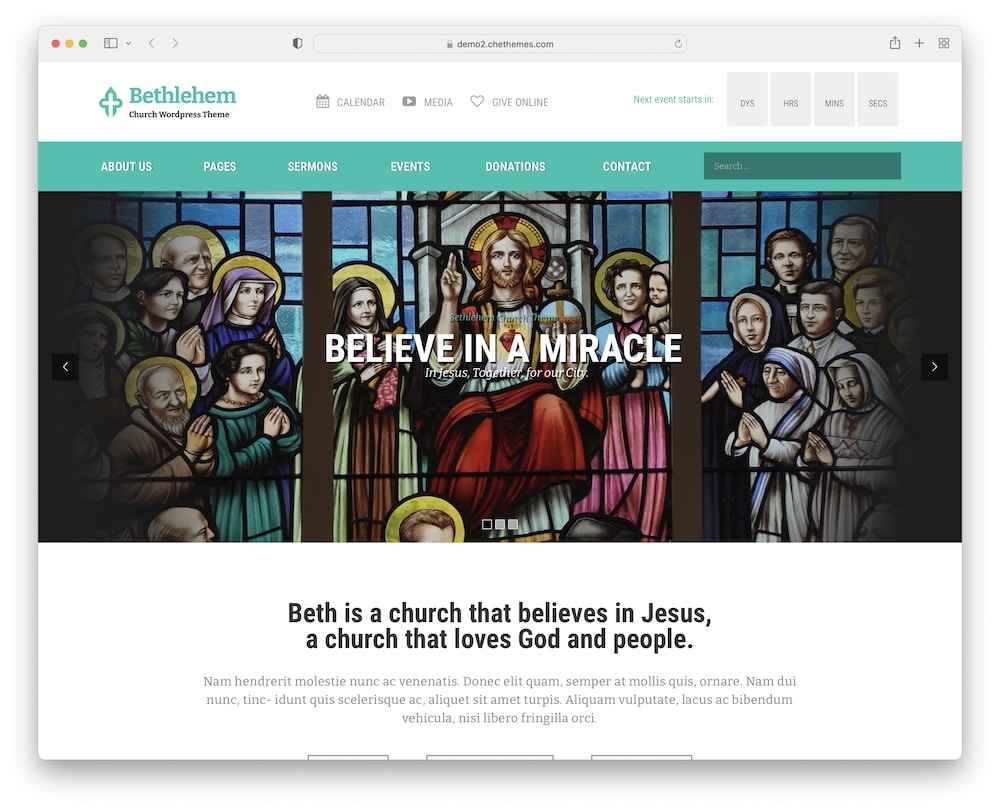 Meet and explore Bethlehem WordPress church theme – here, you can post, share and reflect about the Churches richest treasures.
You will gain access to premium tools such as WPBakery, Slider Revolution, Events Calendar, WooCommerce, and Give Donations with Bethlehem.
WOWIE.
Plus, this theme gives you a chance to choose between eight unique header styles (I love it!). Also, it is super easy to adjust and create navigation for a quick find of whatever your visitor seeks or needs.
There is also a convenient translation-ready option for a fast adaptation process.
Stay on top with well-rounded Bethlehem.
Bethlehem features:
1,100+ sales
4.7+ star ratings
Follows accessibility guidelines
Events manager
Price: $59 (may vary)
MORE INFO / DOWNLOAD
DEMO
12. New Life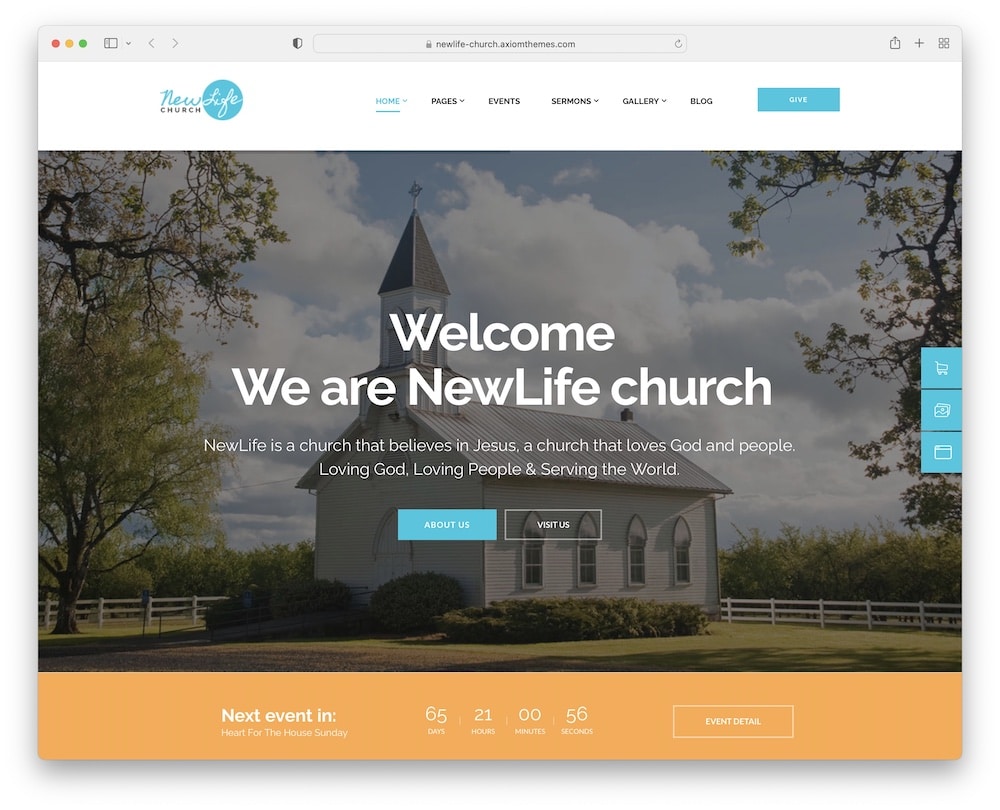 Gather all your members, followers, and people from your community with the New Life WordPress church theme.
Create a NEW beautiful website for the benefit of all!
New Life comes with a stylish sticky menu, awesome Fontello icons, unlimited colors, and multiple Google fonts.
SO have fun and be playful with all the offered possibilities.
And let's not forget about attention-grabbing VIDEO slides. Yup, you should insert them on your homepage.
New Life is easy to install, run and update!
New Life features:
450+ sales
4.6+ star ratings
Price: $59 (may vary)
MORE INFO / DOWNLOAD
DEMO
13. Blessing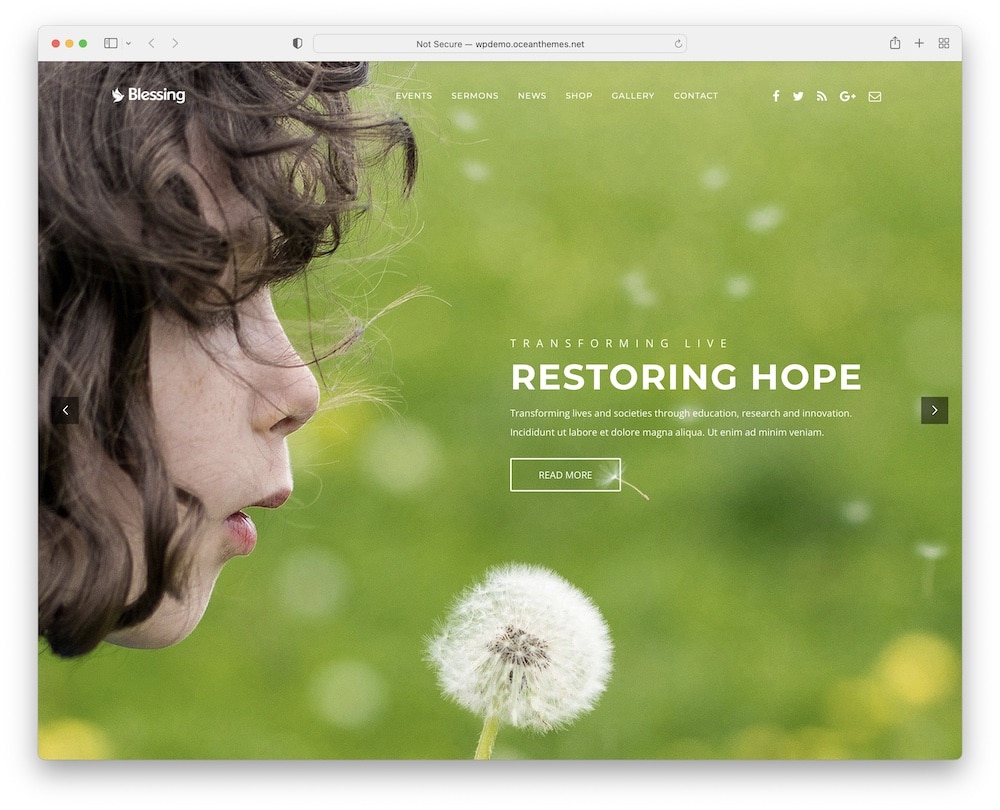 Love and gratitude are central concepts of the Blessing church theme.
You can showcase (pre-made pages included) your church's mission or pastor dreams, introduce community, personal stories, and announce upcoming events with Blessing.
Pretty COOL!
And do you like to spend your days at church?
Start a blog (hint, hint), tell your audience all about your faith, hope, and family – and see your church grow!
Moreover, Blessing is cross-browser compatible, fully responsive, and even comes with a child theme.
Lastly, a step-by-step documentation is always a good thing (you know, JUST. IN. CASE.).
Blessing features:
490+ sales
4.5+ star ratings
Countdown timer
Price: $59 (may vary)
MORE INFO / DOWNLOAD
DEMO
14. Deeds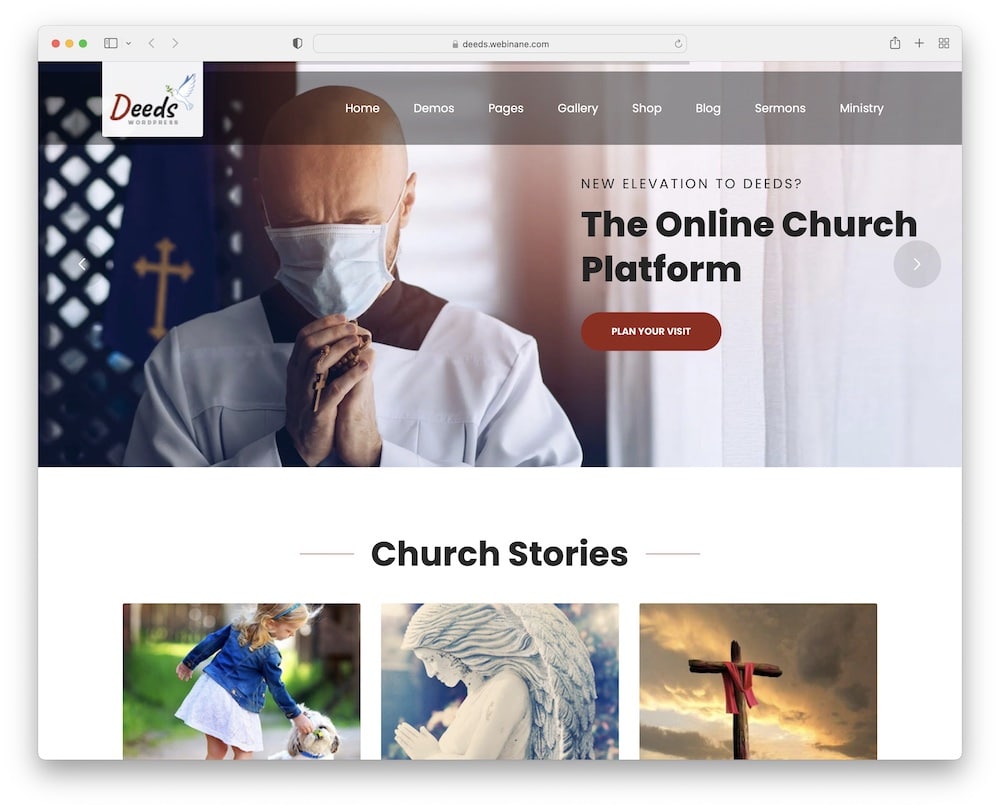 Promote understanding of religion with the unique Deeds WordPress church theme. This theme is simple, straightforward, and packed with AWESOME tools (it'll surprise you in many ways).
Highlight your story & vision by choosing the most suitable ready-to-use homepage (eight up for grabs).
Of course, you can select header style based on the preferred setting of the menu, icons, and logo.
Keep in mind, you can reinforce humanitarian action due to a recurring donation system with Deeds. Win-win option.
So, what's your church all about?
Display presentation with various post types such as a sermon, ministry, news, priest team, and events (brilliant shortcodes included).
Hear the voice of your heart with graceful Deeds.
Deeds features:
890+ sales
4.3+ star ratings
Recurring donation system
Price: $47 (may vary)
MORE INFO / DOWNLOAD
DEMO