I recently went on a journey with my team, reviewing 45+ banking WordPress themes to conduct the ultimate list of 13.
Since we have 3+ years of experience with (online) banking websites (even working behind the scenes for one bank), we want to make it QUICK for you.
You can easily feel overwhelmed with the available WP themes for banks.
Plus, not all are reliable sources. (Read: Can make more bad than good.)
How We Choose Best Banking WordPress Themes
We based our picks on (and heaps more!):
Easy mobile use (& lightweight, fast loading)
Clear CTAs (call-to-actions)
Product/service presentation
Calculator (not all feature it)
Simplicity
Impactful design
Your bank website deserves the best.
And you deserve to achieve the best result with fast (and fun) work. GUARANTEED!
Online banking, loans, bank credits, credit cards – these themes support it all.
Enjoy!
THE ULTIMATE 5:
You may also be interested in reading our guide on how to install a WP theme if you're a beginner.
Best Banking WordPress Themes
1. Alister Bank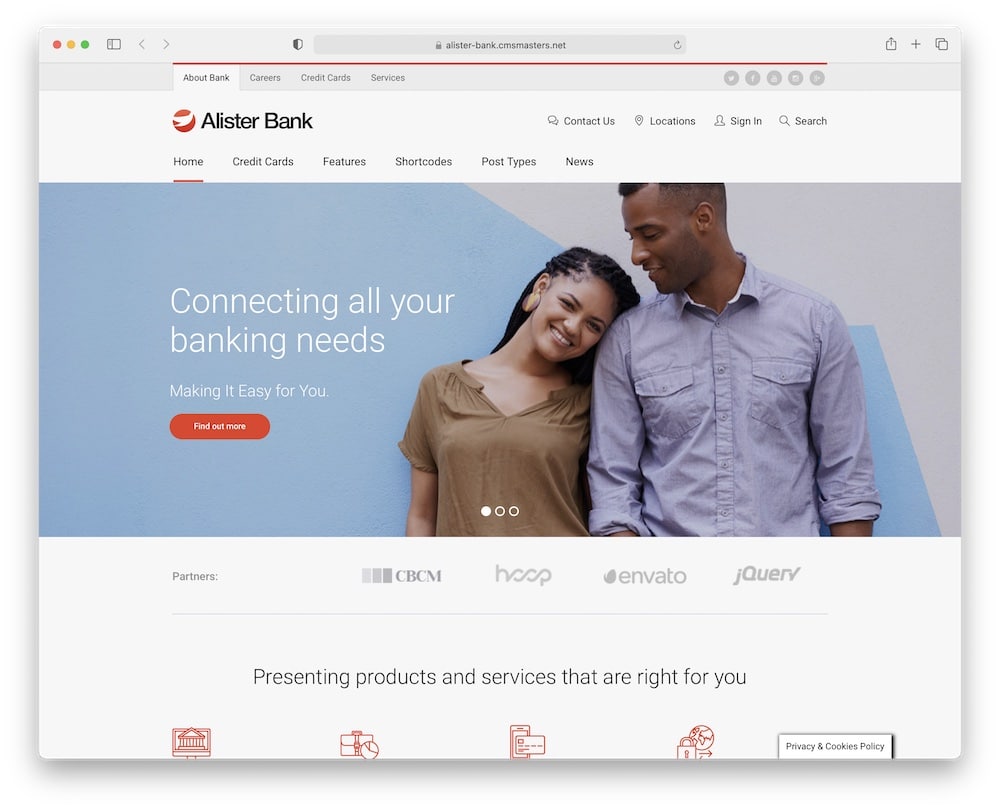 Every day is a bank day with a flexible and responsive Alister Bank theme.
Alister Bank offers a fully functional environment that provides all the necessary programs for your clients. (Credit cards, loans, electronic money, insurance offers, and more).
And that's just the start!
Alister bank includes two ready-to-use index pages for super easy and fast building. You can also use numerous shortcodes, various pre-made styles, animations, and unlimited colors.
GREAT. VALUE.
Start a WP blog and share your expertise, useful tips, words of wisdom, and the latest banking news.
Remember with a great blog comes great customers (and they return too).
Take your pick and do better banking with Alister Bank.
Alister Bank features:
520+ sales
5-star ratings
Optimized for speed & SEO
Price: $59 (may vary)
MORE INFO / DOWNLOAD
DEMO
2. Fionca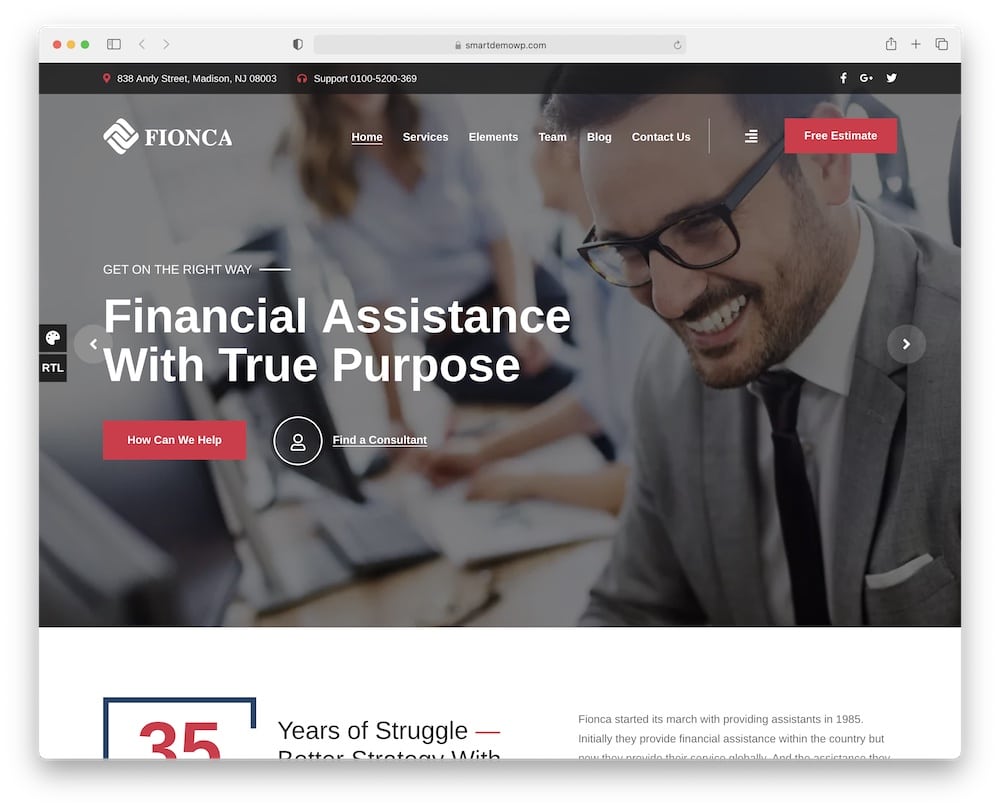 Bring into the world an amazing banking website with Fionca WordPress theme and start your online business. Set big goals and take action.
You can easily adapt your website to all your needs and desires with Fionca.
It is fully customizable, provides numerous useful features, and an amazing collection of pre-designed templates (free and easy to install).
The absolute highest design quality that you deserve with no extra work is waiting for you.
Note: If seeking inspiration, these beautiful banking website designs will surely do the trick.
Can't beat that.
Fionca is even SEO optimized and set up for a fast load and friendly encounters with search engines. This is one of the best win-win situations.
By the way, a dedicated team of developers regularly updates Fionca.
STAY. TROUBLE. FREE.
Fionca features:
990+ sales
4.3+ star ratings
Friendly support
Price: $39 (may vary)
MORE INFO / DOWNLOAD
DEMO
3. QuickLoans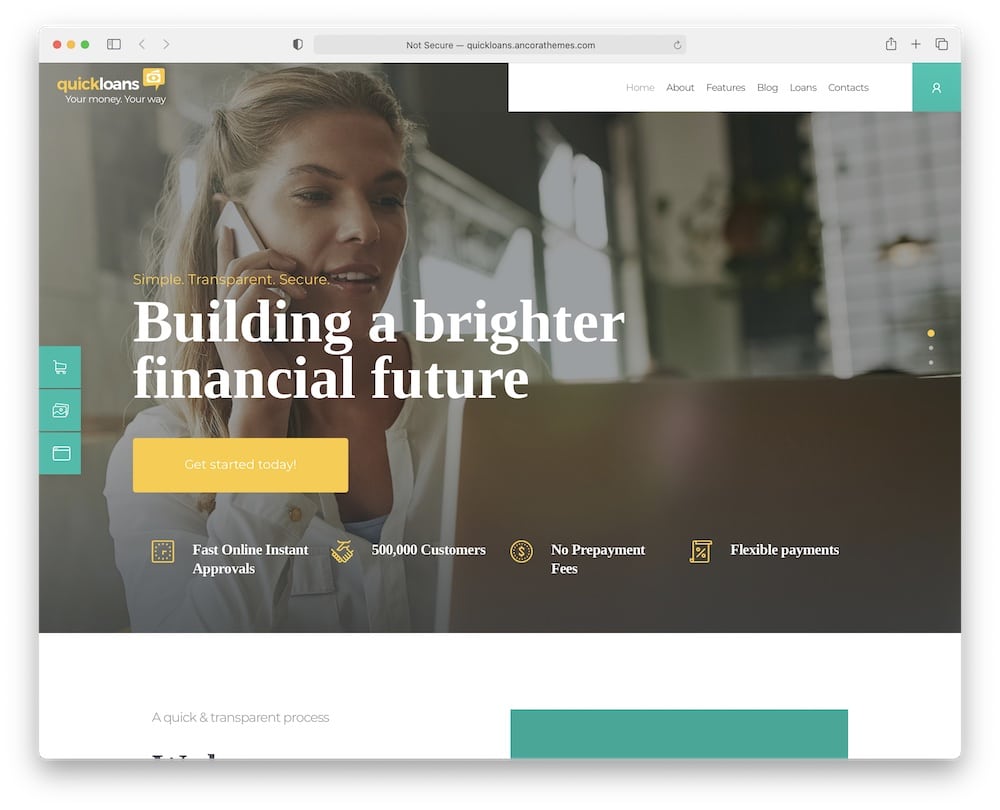 QuickLoans is easily one of the best online banking WordPress themes. You can build the most popular bank website out there no matter your budget, company size, or goals.
OVER DELIVER and turn your vision into a competitive advantage.
Yes, QuickLoans is a modern, eye-pleasing, and fully editable theme for businesses.
You can change and use everything you get in the bundle with an easy-to-use admin panel. #1 source.
But wait, there's more.
QuickLoans is mobile-friendly and performs fast and smoothly on all devices due to its responsive design. Inhale the future and make your visitors happy.
I know you found what you have been looking for.
QuickLoans features:
420+ sales
5-star ratings
Convenient Ajax search
Price: $69 (may vary)
MORE INFO / DOWNLOAD
DEMO
4. Payday Loans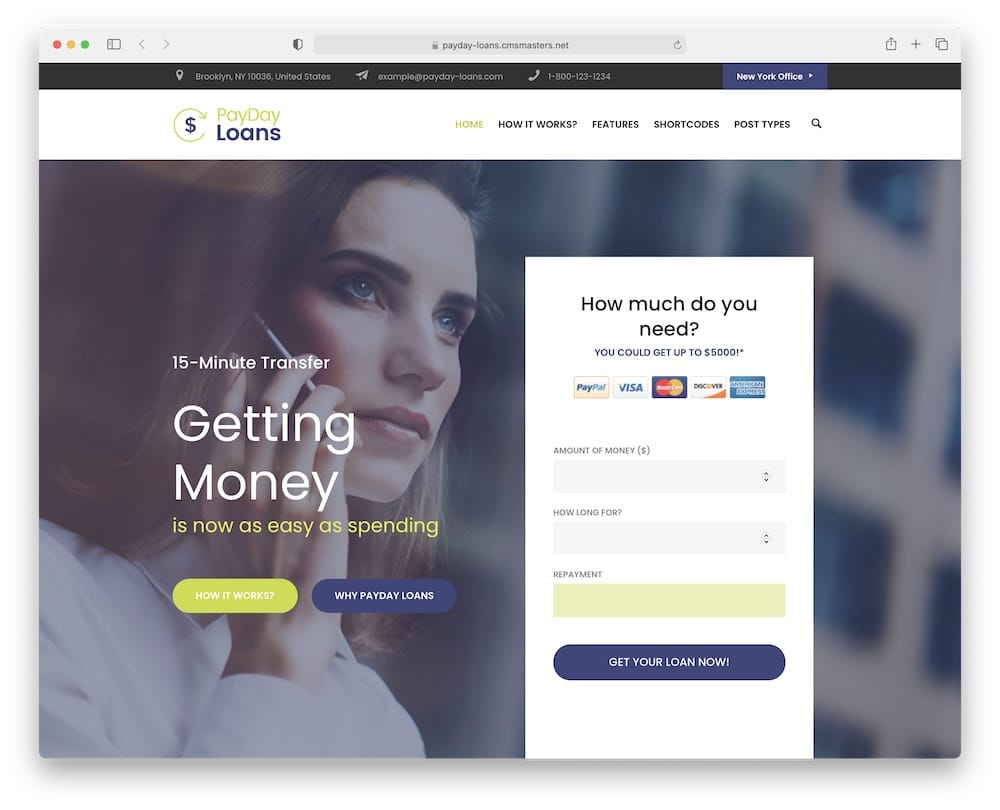 Payday Loans is a neat, affordable banking WordPress theme that recreates the friendly and professional buzz. It comes with rich features and flexible options.
Next level.
Inside Payday Loans, you find premium plugins, unlimited colors, diverse shortcodes, editable columns, and numerous layouts.
You can make thousands of changes with SIMPLE clicks on your mouse. Yes, you read that right.
Doing business internationally?
YOU CAN translate your WP website into different languages. Payday Loans helps you bring everyone closer.
Don't just watch how others make their banks thrive when it should have been you. Take action today!
Payday Loans features:
780+ sales
4+ star ratings
Loan calculator
Catchy animations
Price: $49 (may vary)
MORE INFO / DOWNLOAD
DEMO
5. Corzo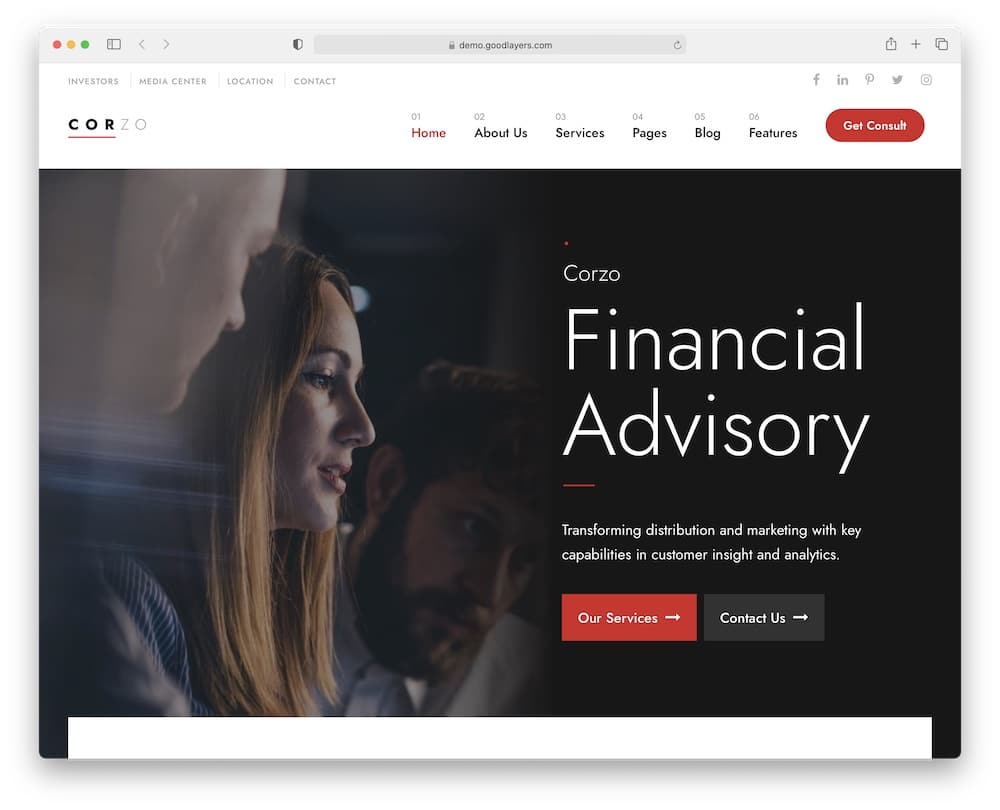 Level up your business with a professional and trustful Corzo theme for banks. It comes with hand-crafted demos that you can set up in just a few minutes.
YOU. ARE. READY.
0 experience and no design knowledge needed.
Of course, Corzo is compatible with almost every plugin on the market. Why? Because plugins are powerful weapons on your website.
Also, Corzo is quickly becoming one of the more popular themes with 100s of satisfied customers. This is reliable proof of the good and hard work of GoodLayers developers.
What you see is what you get. COOL, right?
Corzo features:
750+ sales
5-star ratings
Resourceful live customizer
Coming soon page (under construction)
Price: $64 (may vary)
MORE INFO / DOWNLOAD
DEMO
6. Credit Card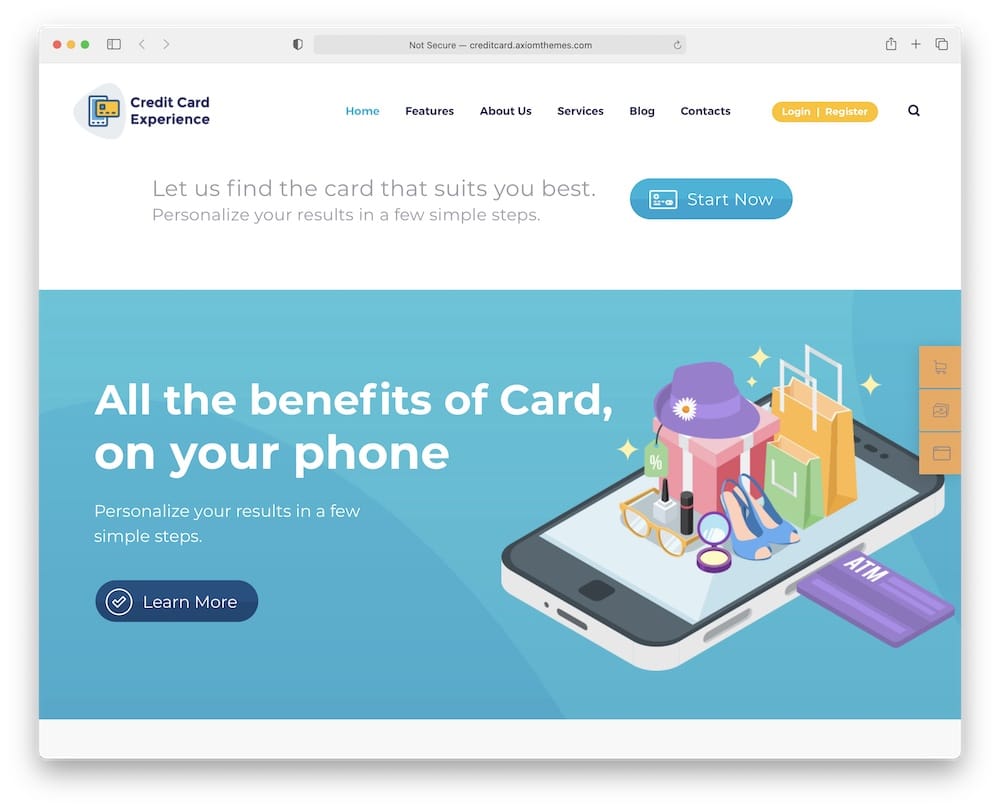 Keep your business simple and focused with Credit Card banking WordPress theme.
This fresh and professional theme comes with ready-to-use designs and stunning layouts.
Who doesn't want a simple and quick start?
Moreover, Credit Card includes a bundle of the best plugins that help you make your website super functional.
Why?
Because Credit Card, instead of untested tools, uses those that are generally favored and practiced due to their amazing functionality.
In addition, you can go through detailed and organized documentation of Credit Card to learn everything about it.
Plus, you don't need to worry – NEVER AGAIN – about updates (free and regular).
Credit Card is a must!
Credit Card features:
370+ sales
4.8+ star ratings
Sticky elemenets (on scroll)
Engaging parallax theme effect
Price: $69 (may vary)
MORE INFO / DOWNLOAD
DEMO
7. Mentry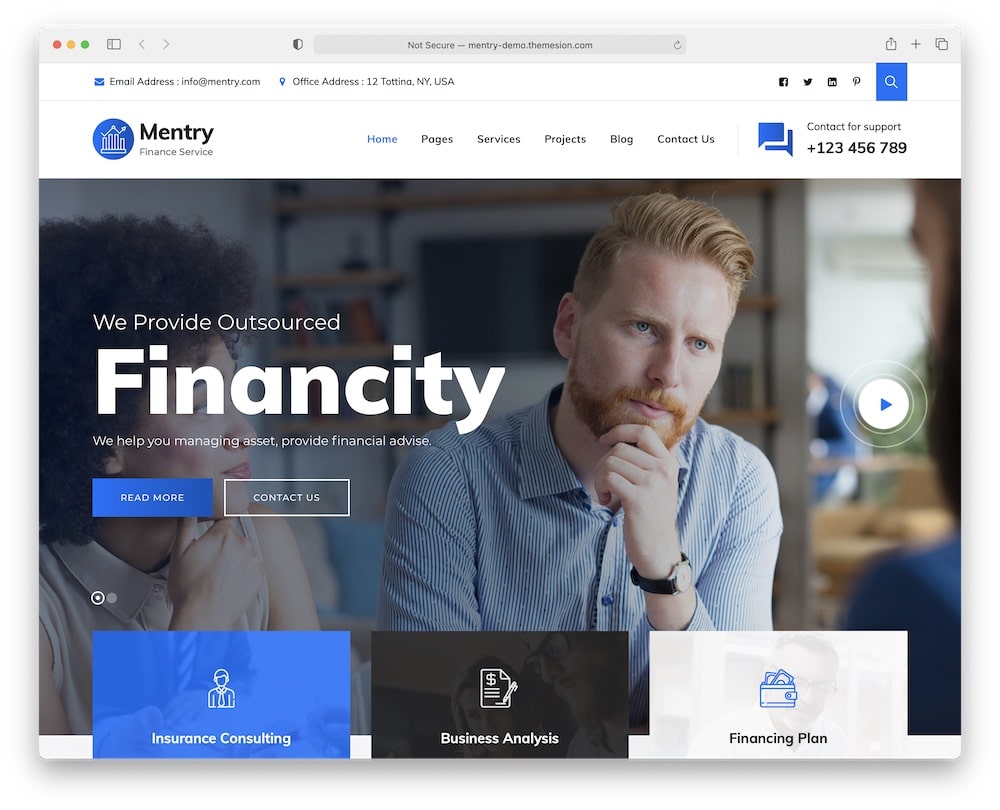 You can use the minimal Mentry online banking WordPress theme for different professional financial sites.
It is compatible with the most popular plugins and WP widgets.
You can change styles, colors, and fonts without touching a single line of code.
SMART AND EASY.
Set up an amazing and useful site for your customers with 0 extra effort. No trouble, endless possibilities.
Have fun with real-time customization and pre-made rich designs. Of course, you can update and maintain Mentry by yourself.
CUT cost and rather INVEST in the business.
Form a place that provides what your customers need with Mentry.
Mentry features:
410+ sales
4.9+ star ratings
30-day money-back guarantee (!)
Includes a WordPress child theme
Price: $59 (may vary)
MORE INFO / DOWNLOAD
DEMO
8. Cash Bay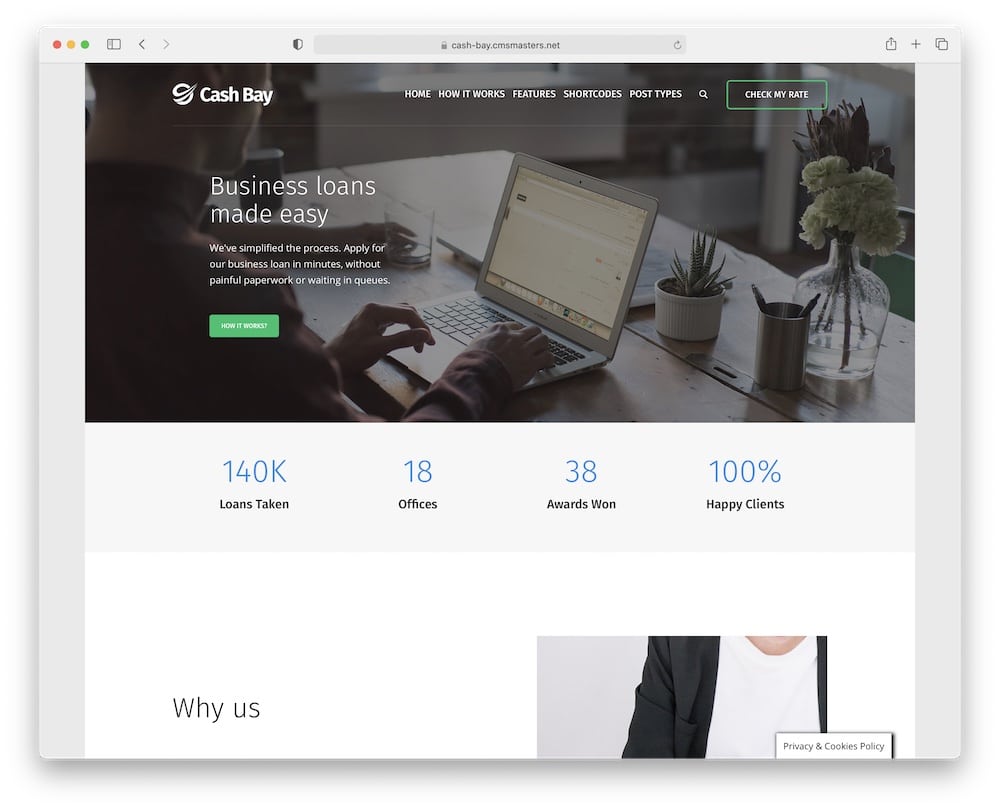 Inspire and provide services with a modern Cash Bay bank WordPress theme. Loans, credits, mortgages – it fits all.
You can start a functional and educational blog with smart financial news and business tips with ease. Remember customers are just one click away from your brand.
RANK. GREAT. ON. SEARCH. ENGINES.
You also get a powerful loan calculator. Add it to your website and let visitors calculate and apply for your services online.
Easy and personal.
Worth mentioning is Cash Bays' FRIENDLY assistance. Tech support peeps are always available when you need them.
I call them problem-solving wizards.
Abracadabra.
Cash Bay features:
380+ sales
4.7+ star ratings
Easy form builder (included!)
Drag & drop method (no coding)
Price: $49 (may vary)
MORE INFO / DOWNLOAD
DEMO
9. Quick Cash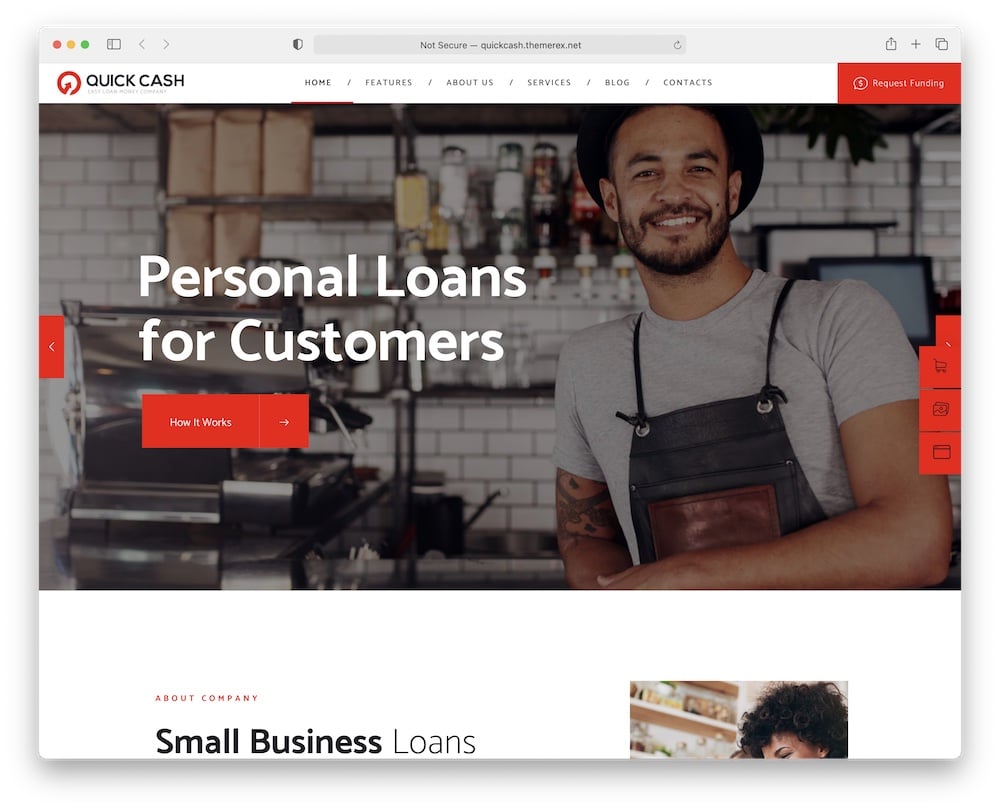 Discover the master key to online banking with Quick Cash WordPress theme.
This stylish and well-designed theme was created for financial and bank businesses.
If you want a quick and trouble-free start, you are at the right place.
Quick Cash is compatible with the most popular features to customize the look of your new website 100%.
Your online presence deserves only the best. SEO optimization, responsive layout, fast page load, and swipe effect.
Put SMILES on your visitor's faces.
Besides, Quick Cash is integrated with a flexible Gutenberg editor. The entire editing experience focuses solely on your vision.
RELIABLE. CLEAN. DISTINCT.
Quick Cash features:
630+ sales
4.9+ star ratings
Follows modern web trends
In tune with popular browsers
Price: $69 (may vary)
MORE INFO / DOWNLOAD
DEMO
10. Borex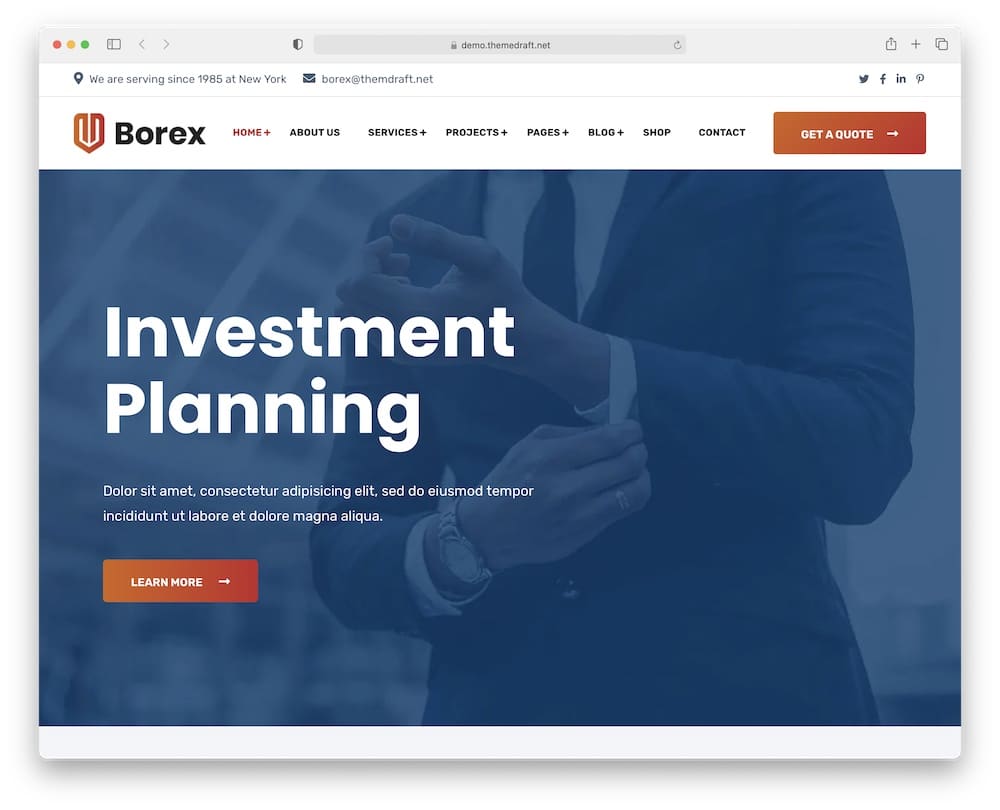 Connect with your customers true professional Borex online banking WordPress theme.
Borex is centered on your business growth and client satisfaction.
Simple to use, conveniently designed, and fast to eye-scan.
Borex ensures an uncomplicated presentation of your brand, team of employees, blog news and tips, or past victorious projects.
CONFIDENCE.
Moreover, ask your loyal customers about their amazing experience with your brand and put their testimonials on your website. (You can also use a WP testimonial plugin if you need more options.)
Trust building is actually easier than you think.
Even MailChimp is included for free in Borex. All-in-one marketing platform with the necessary tools and resources to scale your dream business.
Borex features:
60+ sales
4.2+ star ratings
Custom-made widgets (Elementor)
Subscription form
Price: $39 (may vary)
MORE INFO / DOWNLOAD
DEMO
11. Benelux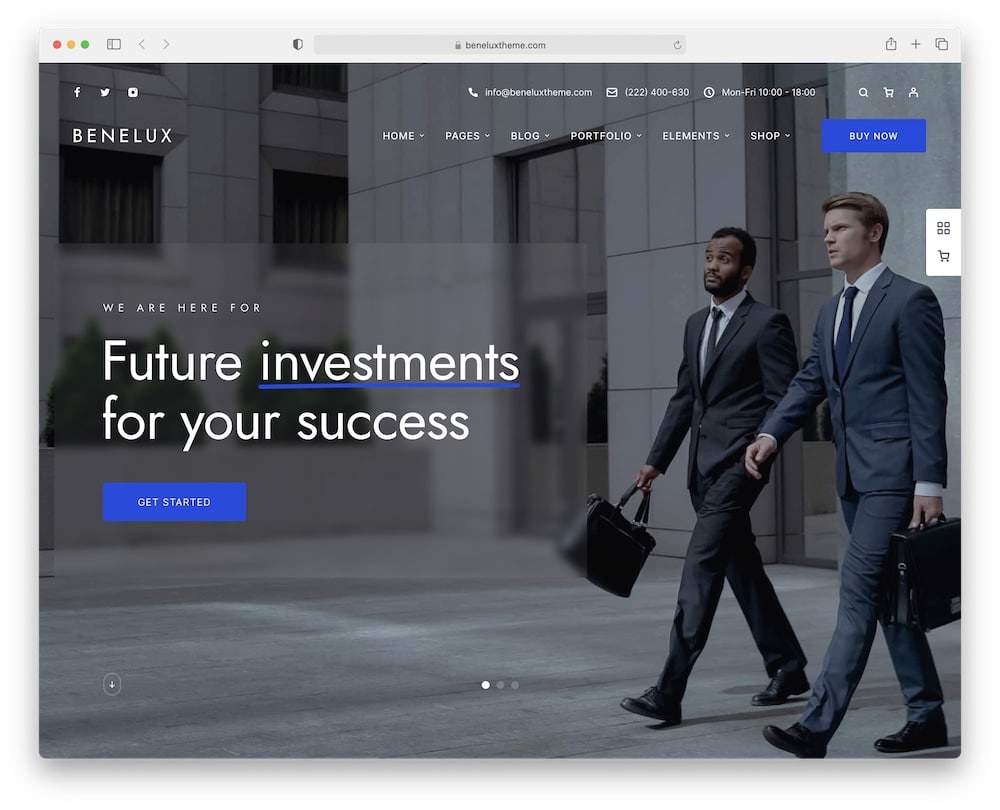 To capture a good business idea you need an awesome website.
The fast and reliable Benelux online banking WordPress theme is a great and creative opportunity.
The quality of your brand improves with the basic and trustful features included in Benelux.
Best in the bundle is the popular and easy-to-use Elementor WP page builder.
To produce an engaging design that looks amazing on any device has never been easier. FACT.
In general, you can simply add or change colors, sidebars, fonts, logos, widgets, etc.
Sounds like magic?
Check Benelux out and start forging your path to success.
Benelux features:
110+ sales
4.5+ star ratings
100+ reusable blocks (quick work)
Supports enabling RTL in WP
Price: $39 (may vary)
MORE INFO / DOWNLOAD
DEMO
12. Inzofin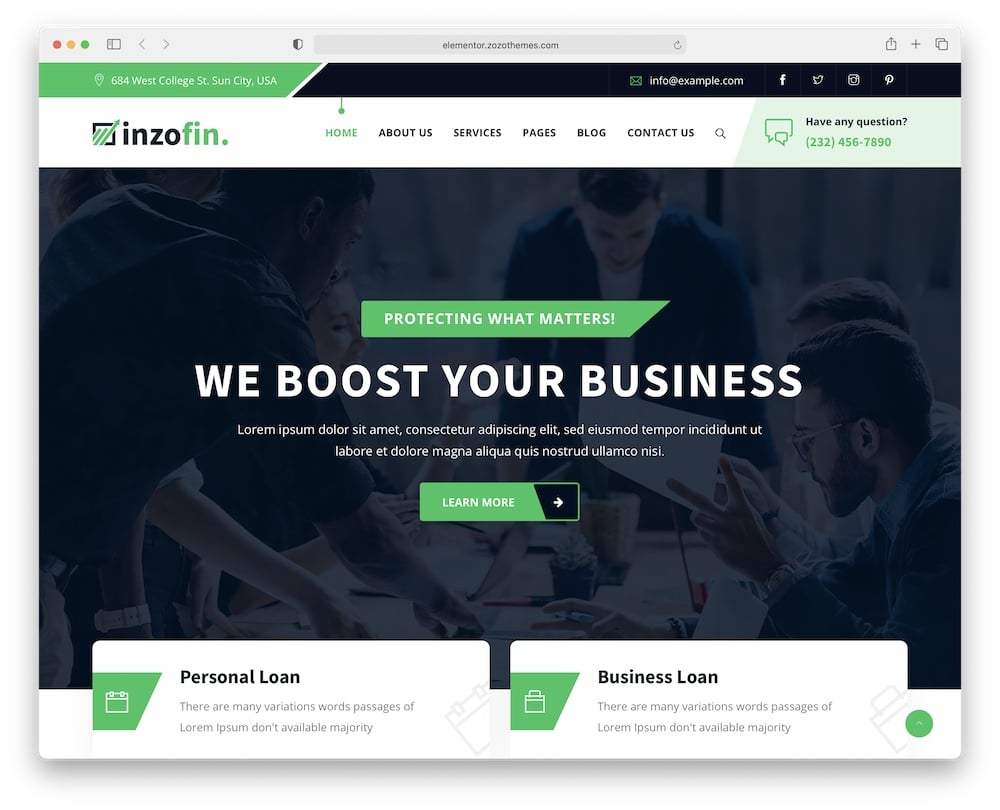 Say HELLO to the functional Inzofin theme.
This theme for banks comes with three modern and powerful homepages, numerous layouts, and media-rich pages for your brand.
Inzofin is a great option whether you are building your first website or write code for a living. It is fully customizable and super easy to edit.
If you ask me, Elementor page builder will become your best friend. (We once let a 7-yr-old use it and he had a lot of fun!)
You also get the most popular plugins out there. Slider Revolution, Contact Form 7, MailChimp, and WooCommerce, to name a few.
Exciting.
Yes, you can do WHATEVER you imagine for your new financial business.
Inzofin features:
140+ sales
5-star ratings
Stand-out design
1-click demo data import
Price: $69 (may vary)
MORE INFO / DOWNLOAD
DEMO
13. Invess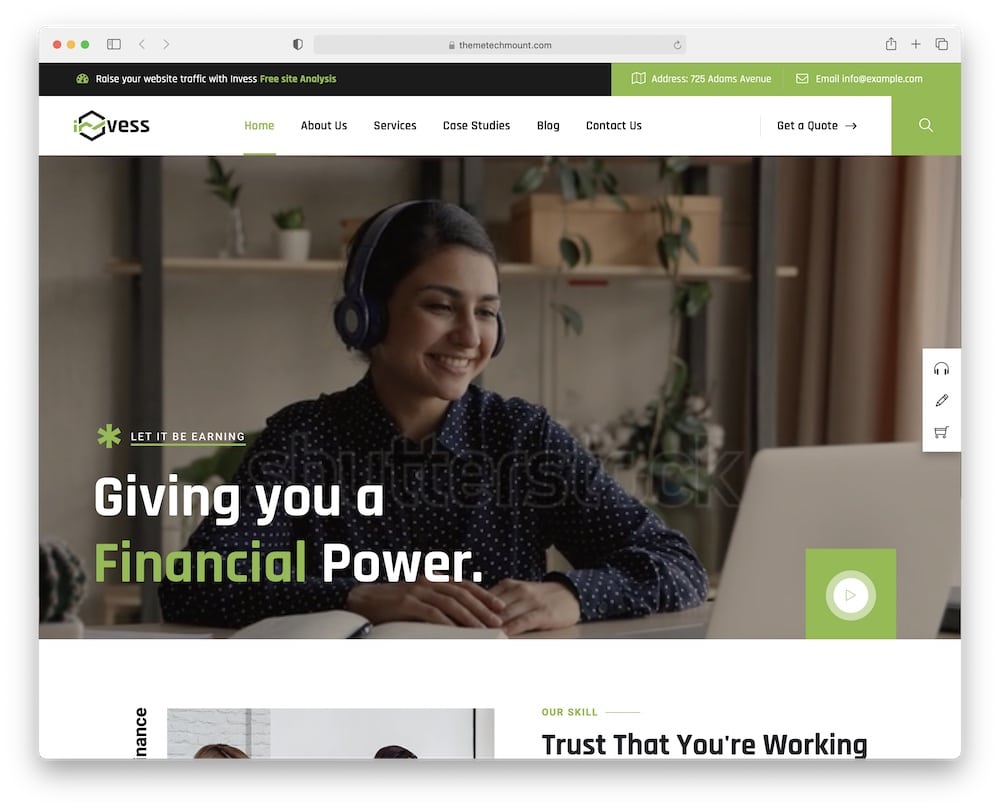 Prioritize business's financial planning, optimize the payroll process of your clients, manage cash flow, and much more with Invess banking WordPress theme.
Be ambitious but stay smart.
Invess is a sleek and elegantly designed theme for professional websites. Ready-to-use demos, pages, and layouts can be ready for publishing in a minute (with just a few mouse clicks).
WOW.
Besides, you can easily rearrange and insert different custom elements.
Best of all, Invess offers multi-language theme support and gives you the freedom to choose any language you desire. Unbeatable value.
Expand and stay on top with Invess.
Invess features:
150+ sales
5-star ratings
Niche or general banking websites
Pricing
Price: $59 (may vary)
MORE INFO / DOWNLOAD
DEMO
::
Note: This article was originally published on June 22, 2021. But our team regularly reviews it and updates it with necessary improvements for accuracy.