Do you need to create a professional online presence and want to check the best freelancer website templates?
Promote your services for the ultimate impact.
Thanks to years of experience, I'm stoked to present my best-of collection.
With these, you can create outstanding online portfolios, impactful resumes and impressive CVs. (You may also be interested in our best resume website templates.)
Oh WOW!
This post covers:
What's cool, you can pre-test every template first by visiting the live demo preview.
Pick the ideal template and shine online with your freelancing business.
Impress. And. Inspire.
Best Freelancer Website Templates
1. Breed2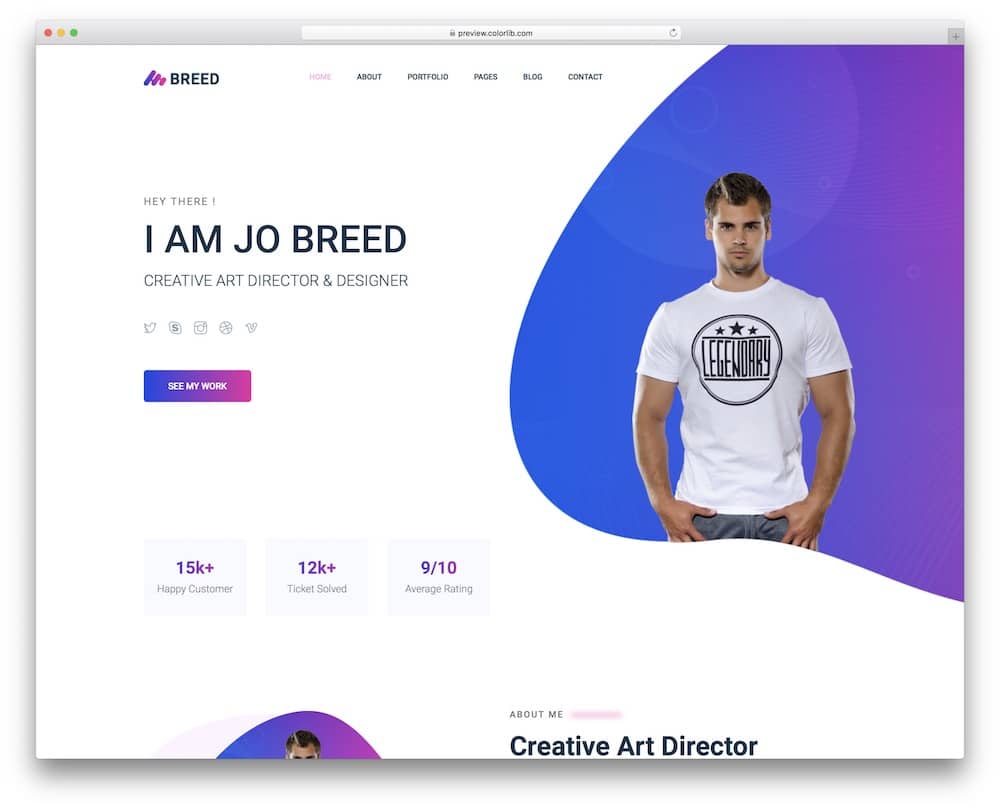 Breed2 is a neat, clean and modern template that any freelancer and creative individual can take to their advantage.
With a well-thought-out structure, displaying content, information, skills and other whatnot will be very engaging.
Breed2 also has many great features and functions and uses only the latest technologies.
It is a Bootstrap Framework template, so you know the layout is 100% mobile-ready.
Whether they use a smartphone or a desktop computer for viewing your online portfolio, the performance will always be top-notch with Breed2.
Breed2 features:
Floating navigation
Filterable portfolio
Blog section
Design: ⭐️⭐️⭐️⭐️⭐️
Price: $19
MORE INFO / DOWNLOAD
DEMO
2. Space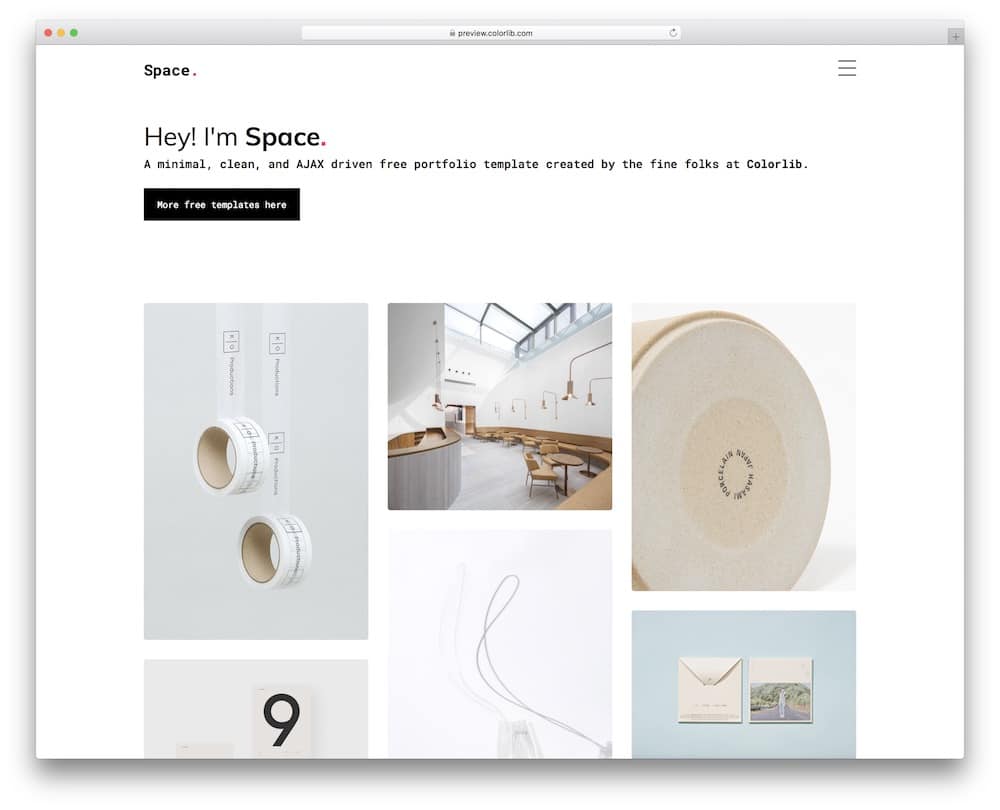 Space is one of my favorite freelancer website templates. It rocks this minimal, impactful design that easily adapts to different tastes and ideas.
You can greatly profit from the all-around, flexible and extensible Space as a creative individual. You can put it into play right away.
The code structure is also neat, so performing customizations and improvements will be a little breeze.
With that in mind, even if you are an utter newbie, you will still hammer out a real masterpiece. Grab the opportunity now.
Space features:
On scroll content loading
Cool content reveal feature
Animated skillbars
Google Maps integration
Design: ⭐️⭐️⭐️⭐️⭐️
Price: $19
MORE INFO / DOWNLOAD
DEMO
3. Ronaldo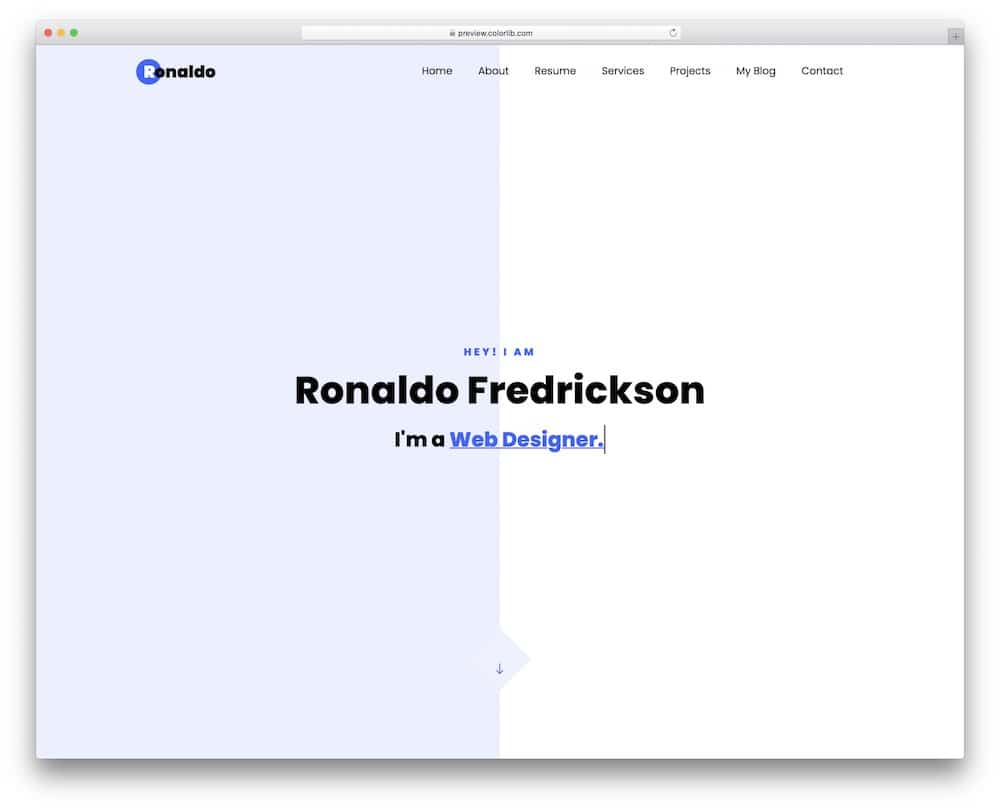 Establish a powerful and striking personal website for your freelancing business with Ronaldo.
It is another nifty alternative that will help take your thing to the next level.
You are welcome to employ Ronaldo out of the box, but if you would like to alter it, you can do that, too.
The core feature of Ronaldo is the one-page structure. With that in mind, you can display all the informative content about yourself and your services in just a few scrolls apart.
This conveniently increases user experience, as everyone can learn all about you quickly.
Ronaldo features:
Typewriter effect
Sticky menu and elements
Scroll down button
Hover effects
Design: ⭐️⭐️⭐️⭐️
Price: $19
MORE INFO / DOWNLOAD
DEMO
4. Meetme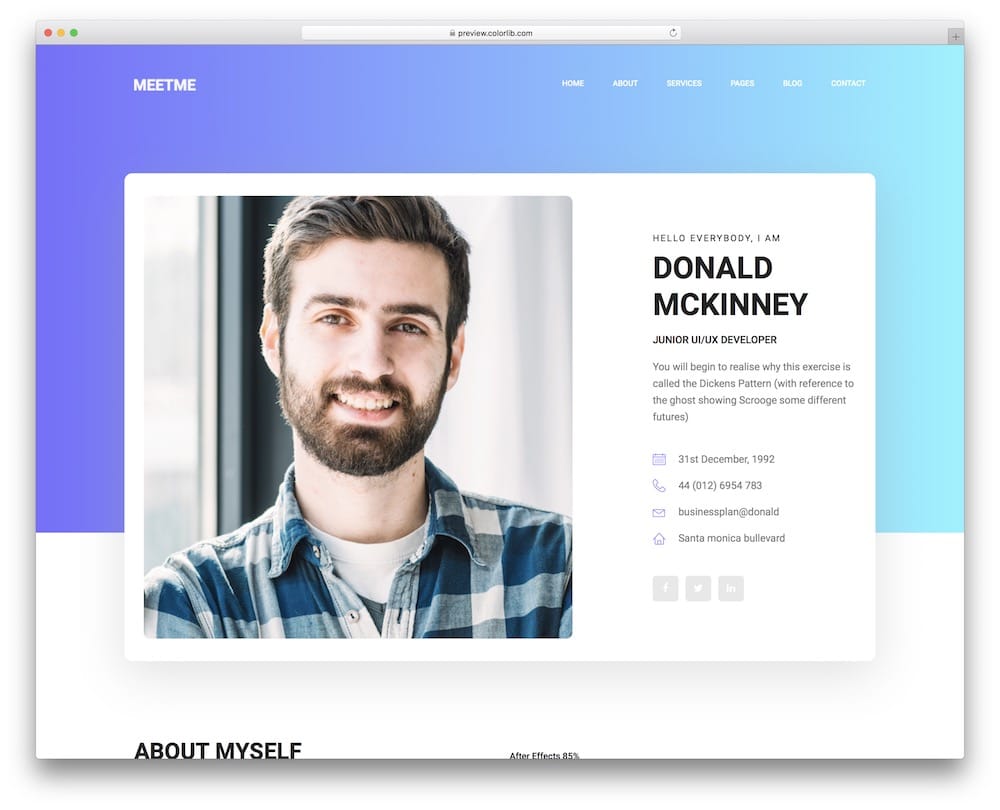 If you want the whole world to know about you, you better use Meetme. This freelancer website template is here to help you start online in the best way possible.
It is a tool full of greatness to avoid kicking things off from scratch. This comes in exceptionally handy both for beginners and experts.
Moreover, Meetme has a somewhat vCard look, which you can further improve and beautify to your liking and signature style.
But first, check out the live demo preview and go from there. Meetme is here for everyone to stand out a mile.
Meetme features:
Gradient effect
Animations
Categorized portfolio
Client references
Contact form + Google Maps
Design: ⭐️⭐️⭐️⭐️
Price: $19
MORE INFO / DOWNLOAD
DEMO
5. Rezume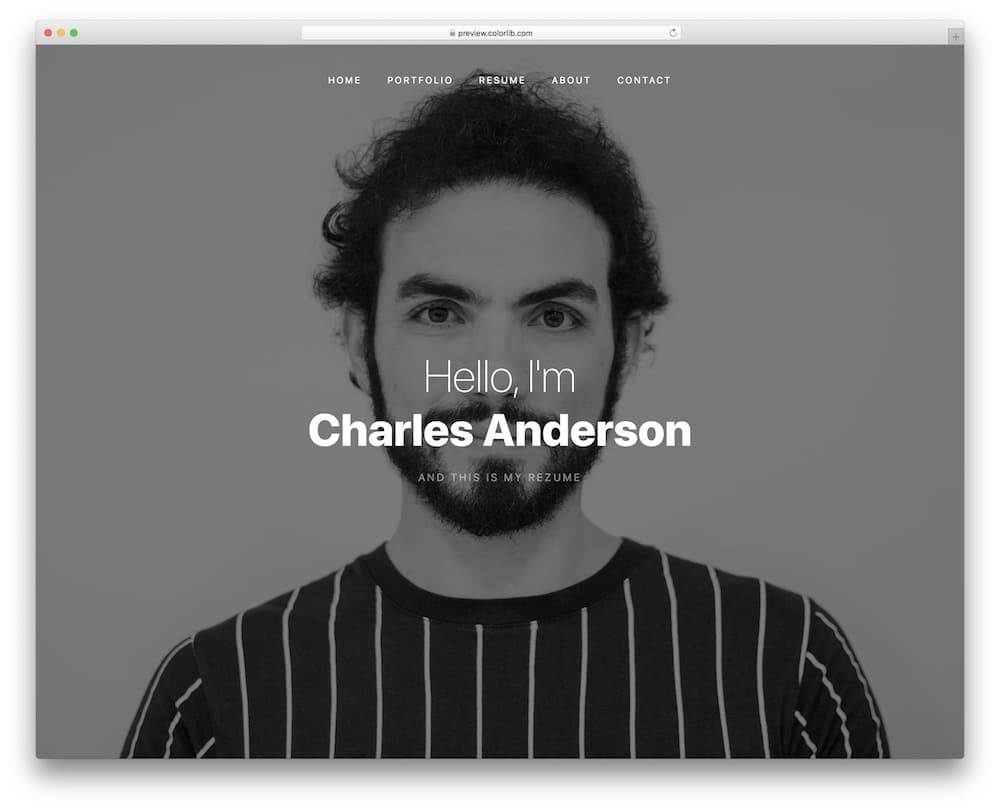 Rezume differentiates itself from all the other templates on this list with its dark design. If this is something that interests you, by all means, go to work with Rezume.
Hence, it is an ideal solution for forging resume websites, but other personal-type pages work with Rezume, too.
With its bold appearance, you will have no trouble triggering everyone's curiosity immediately.
Use every template section strategically, enrich it accordingly and raise your potential to level eleven.
It is all possible with the right and clever approach – and Rezume.
Rezume features:
Full-screen banner
One-page structure
Resume timeline
Testimonials
Social icons
Design: ⭐️⭐️⭐️⭐️
Price: $19
MORE INFO / DOWNLOAD
DEMO
6. Jackson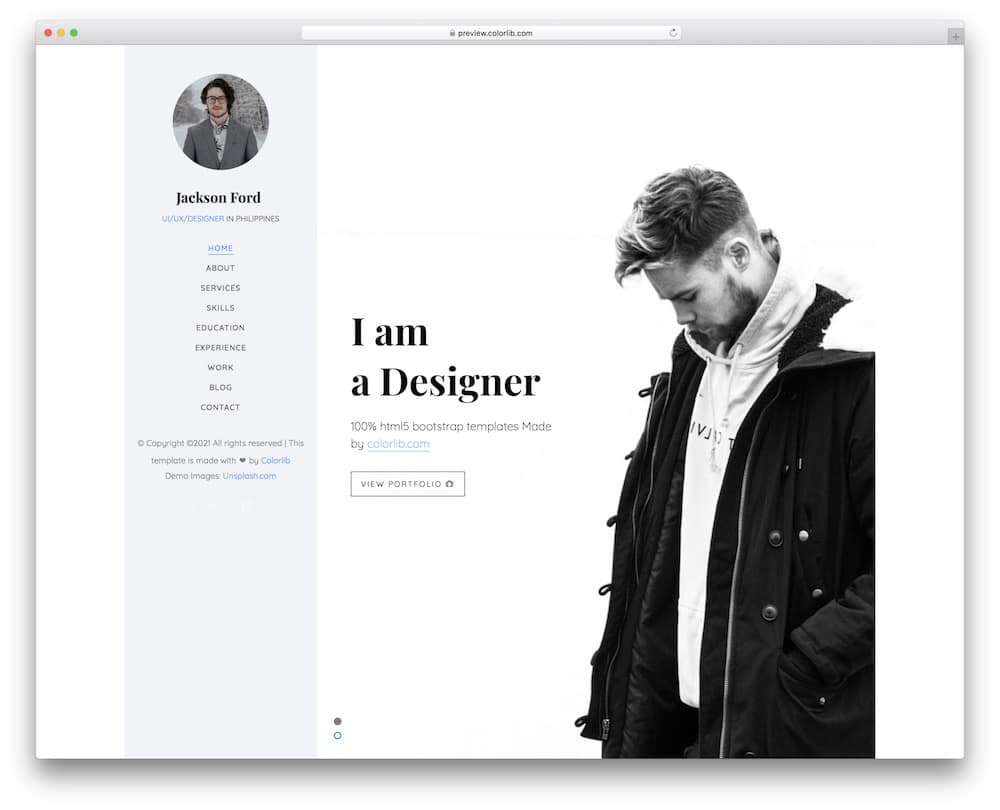 Any freelancer and creative individual can greatly profit from Jackson. It is an awesome website template that helps create a unique website.
Share your services, skills, education, experience and work with the world in the best possible light.
With Jackson, you can also start a blog and share more insights about your work and yourself.
Finally, Jackson is a one-page template, so all the content is just a few scrolls apart.
This comes in handy, so your client needs little clicking to learn more about your business.
Jackson features:
One-page layout
Sticky sidebar menu
Filterable portfolio
Animated statistics
Design: ⭐️⭐️⭐️⭐️⭐️
Price: $19
MORE INFO / DOWNLOAD
DEMO
7. PersonalPortfolio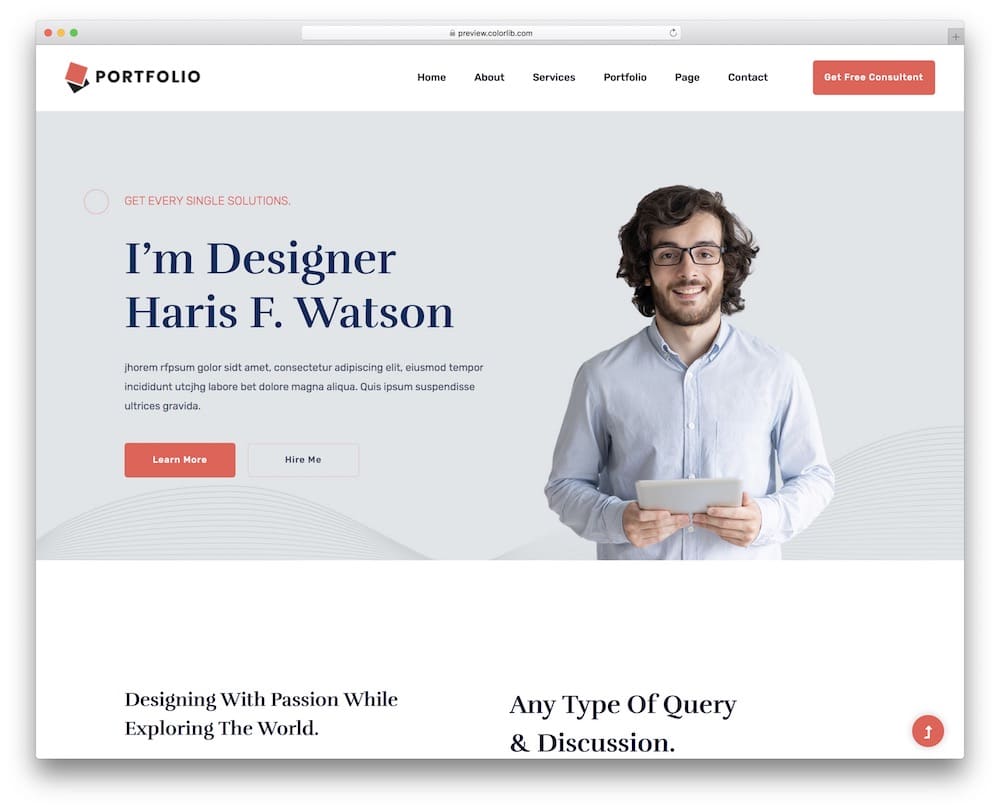 As the name suggests, PersonalPortfolio is for building online personal portfolio websites. This freelancer website template is all set to get the ball going immediately.
You will keep your professionalism to the highest degree with the modern appearance and many great features.
PersonalPortfolio uses Bootstrap Framework and other modern technologies to ensure superb performance.
Not just that, even though an HTML template, you will still find it a little breeze using.
You can even create a single-page website with PersonalPortfolio, but it's also compatible with a multi-page structure.
PersonalPortfolio features:
Brand logo slider
Floating navigation
Drop-down menu
Functional contact form
Back to top button
Design: ⭐️⭐️⭐️⭐️⭐️
Price: $19
MORE INFO / DOWNLOAD
DEMO
8. Satner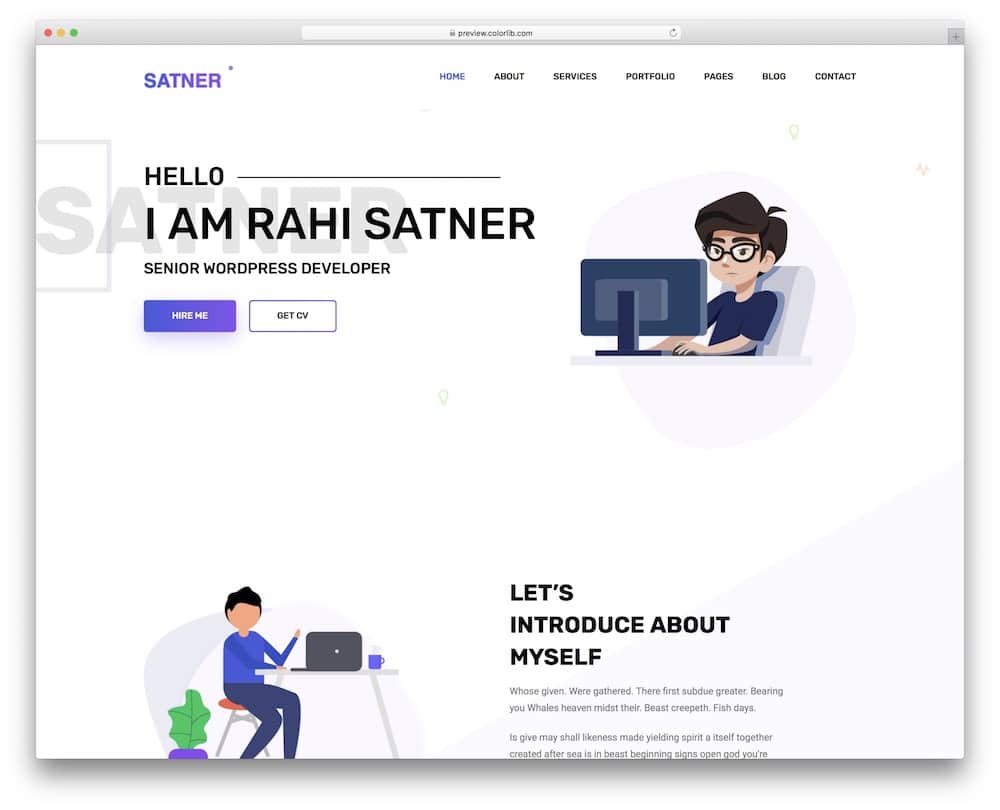 Satner is a creative and up-to-the-minute freelance website template for raising your potential sky-high.
You better not miss checking Satner to sort out your online presence. It is a neat alternative with a distinct design.
Of course, everything is editable when it comes to Satner, for as long as you keep the footer copyright intact.
Create a portfolio, promote your terrific services and even start an online journal, all this and more with the convenient Satner.
Satner features:
Distinct design
Sticky menu
Testimonials slider
Social media icons
Google Maps integration
Design: ⭐️⭐️⭐️⭐️
Price: $19
MORE INFO / DOWNLOAD
DEMO
9. Clyde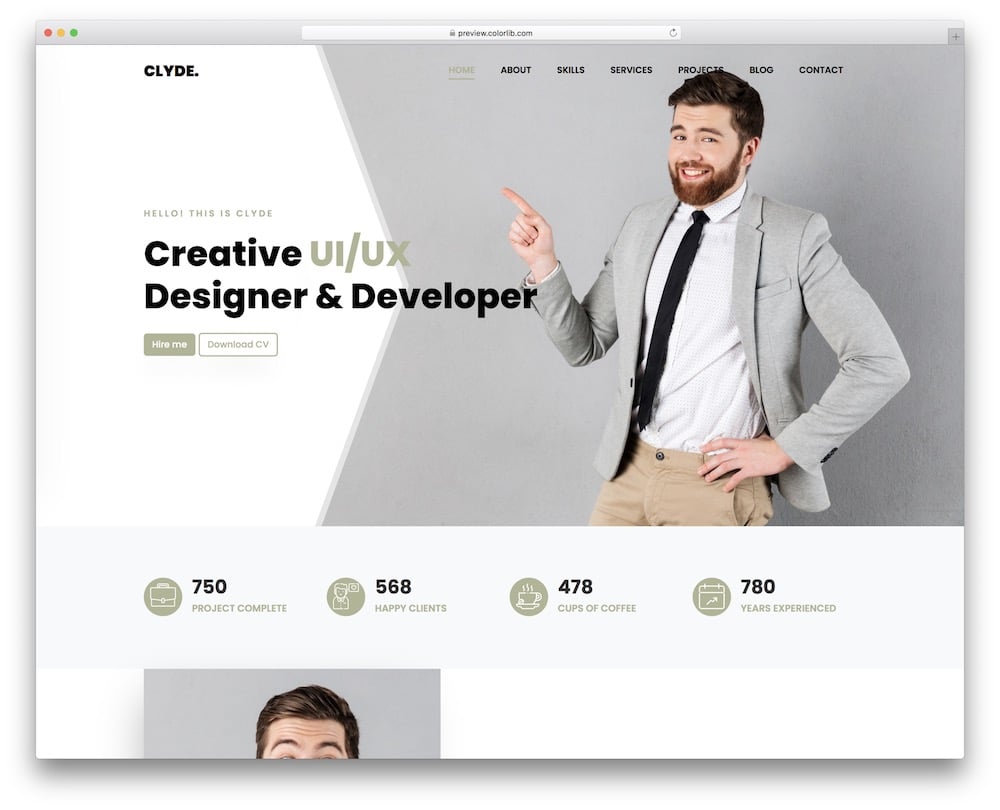 Keep your expertise and professionalism at the highest level across all mediums – especially your website.
Thanks to Clyde, you can now achieve a spectacular outcome that will wow all your visitors.
It helps increase the likelihood of winning over new clients, as it is truly an impressive site canvas.
Clyde rocks many great amenities, sections and a well-organized structure for quick integration.
Still, basic coding knowledge is necessary to activate Clyde and turn it into a functional and powerful online portfolio.
Clyde features:
Full-width slideshow
On scroll content loading
Client references
Contact form
Design: ⭐️⭐️⭐️⭐️⭐️
Price: $19
MORE INFO / DOWNLOAD
DEMO
10. Jonson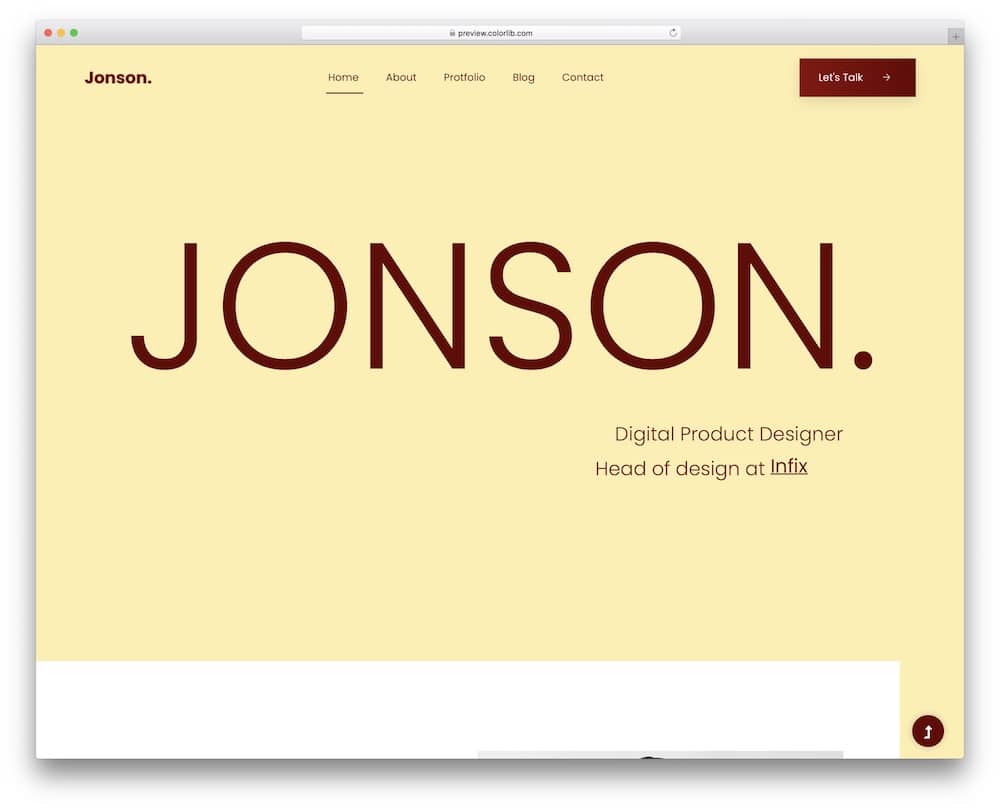 If you are searching for a freelancer website template with a twist, you better examine Jonson right now.
But best, head to the live demo preview and see this stunning design in great detail.
You can even tweak it, personalizing the appearance and enriching it with your signature style.
Catchy animations, a back-to-top button, cross-browser compatibility and social media are just some of the treats you get with Jonson.
You can also easily use Jonson to build a one-page website.
Jonson features:
Bold and one-of-a-kind look
Timeline
Hover effect
Gallery/portfolio
Blog pages
Design: ⭐️⭐️⭐️⭐️
Price: $19
MORE INFO / DOWNLOAD
DEMO
11. Unfold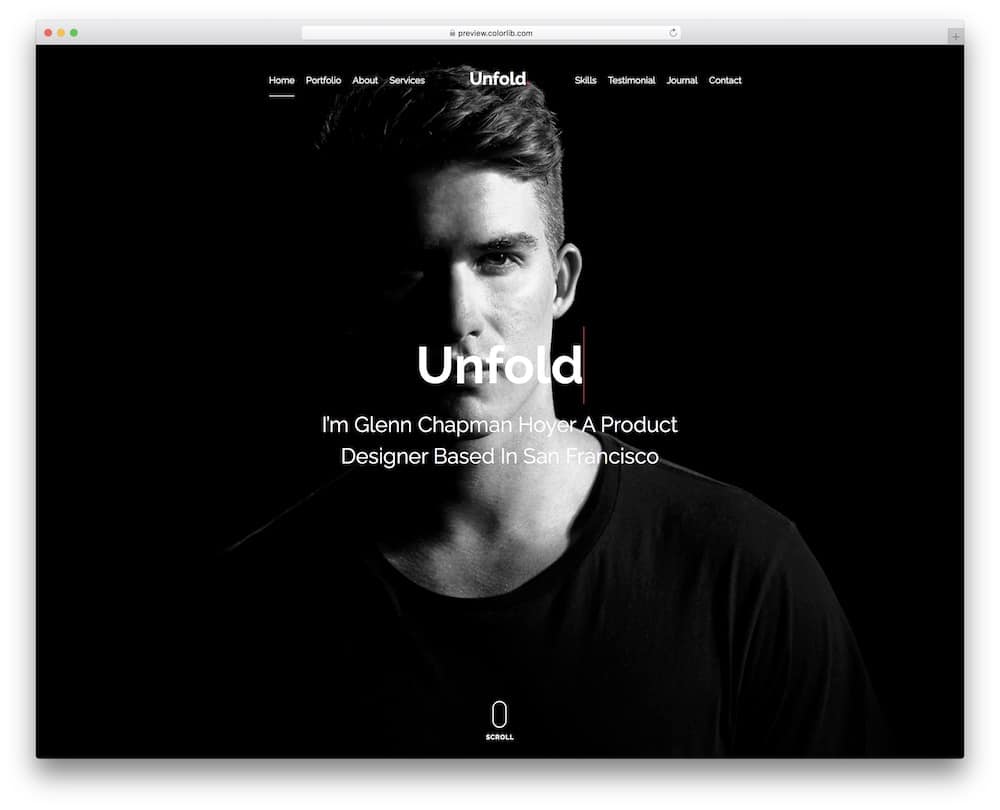 Stand out from the masses and grab everyone's attention with Unfold. This engaging and premium-like freelancer website template is the cream of the crop.
On top of that, Unfold will come ideal if you are into dark design. Make it bold and stand out with Unfold now.
Once you start experiencing Unfold first-hand, you will barely notice it is a template. Go on, see it for yourself.
I need to mention that this is my second favorite design from this list. Wow.
Unfold features:
Parallax effect
Content reveal animation
Scroll down button
Animations
Online journal
Design: ⭐️⭐️⭐️⭐️
Price: $19
MORE INFO / DOWNLOAD
DEMO
12. Jony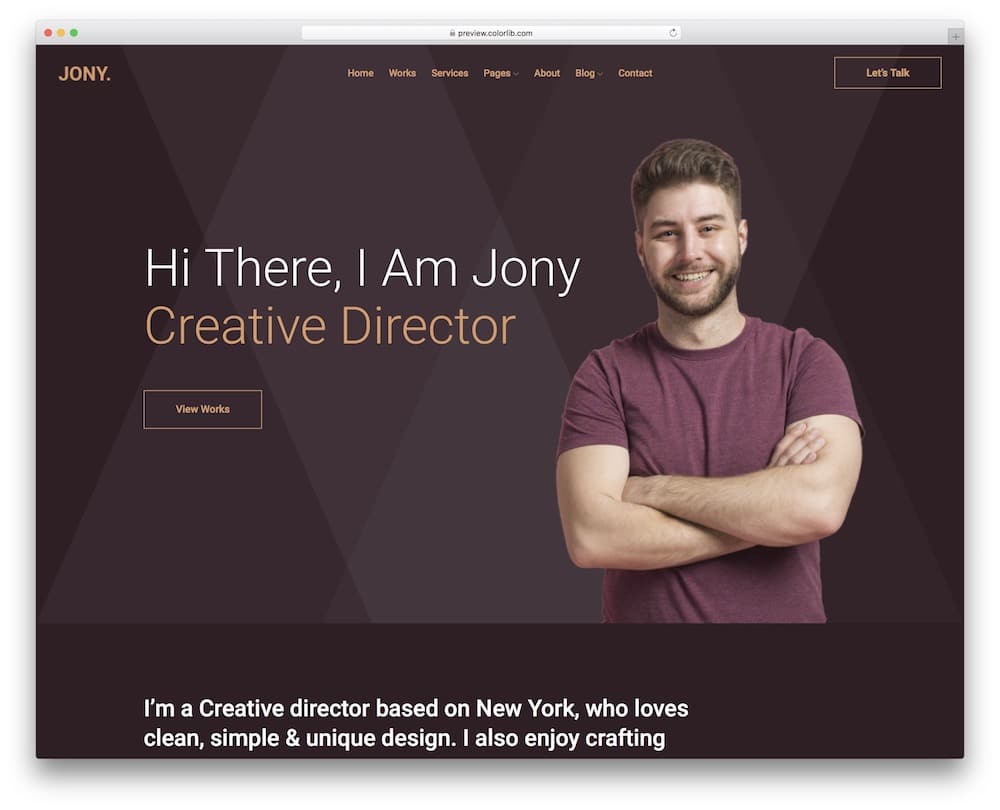 In this collection of the best freelancer website templates, I tried to collect as many different styles to cover as many different tastes.
Jony is another jaw-dropping solution that will do the trick for many creatives out there. You can now get on with it right away; it is just a click away.
What you notice immediately is the dark purple scheme that Jony rocks. If you want to stand out a mile, this very detail may be it.
However, couple it with your pro services, and you have a winning combo.
Jony features:
Unique purple color scheme
Social buttons
Sticky navbar
Drop-down menu
Testimonials for credibility
Design: ⭐️⭐️⭐️⭐️
Price: $19
MORE INFO / DOWNLOAD
DEMO
13. Me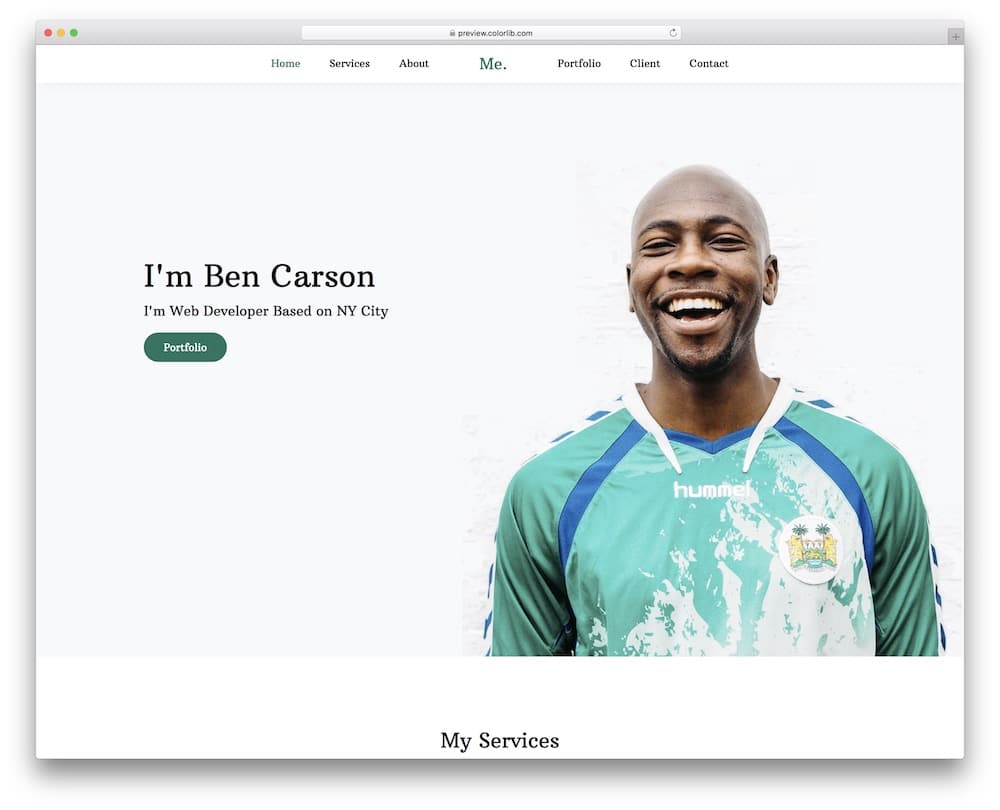 Whether you like dark or light design, this list of page skins covers them all.
Me is here to help you boost your freelancing business to new successes with a well-thought-out website.
Present yourself on the web in the best possible light and start collecting new client proposals like a champ.
Me also follows all the modern internet trends, so you know that the performance will be A-grade. Your website will work fast across all devices and web platforms, and that is a fact.
Me features:
Hover effects
Single-page structure
Clients section
Portfolio gallery
Bootstrap Framework
Design: ⭐️⭐️⭐️⭐️⭐️
Price: $19
MORE INFO / DOWNLOAD
DEMO
14. Gilb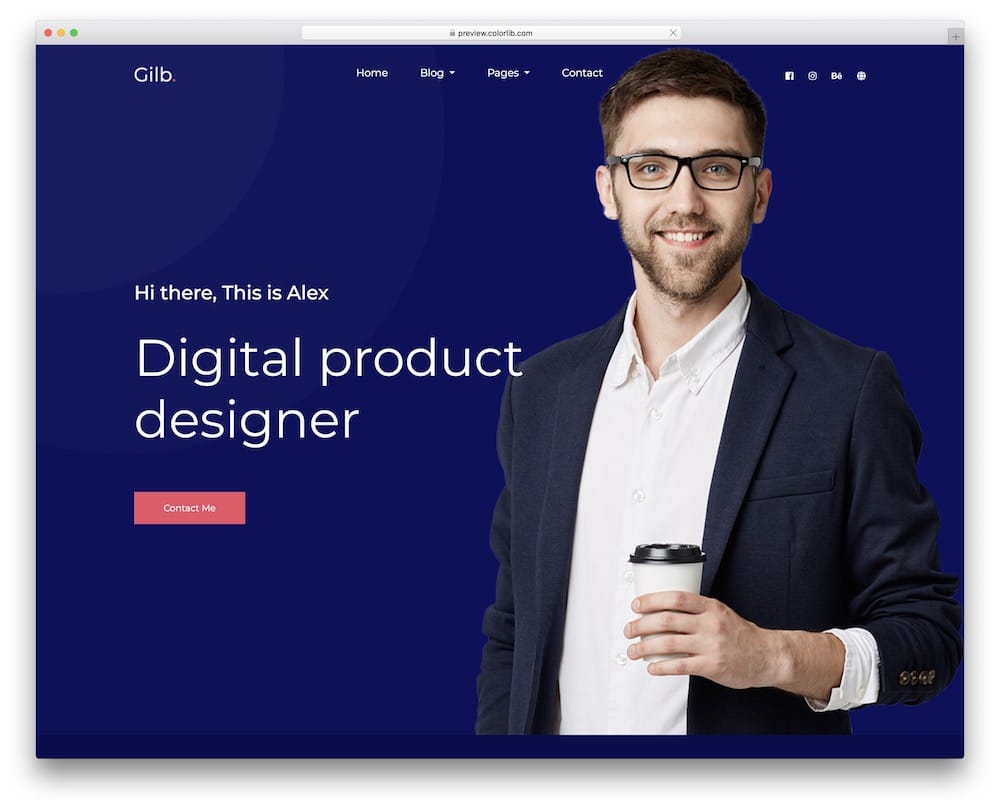 Online resumes, portfolios and CVs, these templates cover them all. Gilb is here to help you make an immediate difference with a solid website.
Its modern and engaging design causes a pleasant atmosphere when learning all about you and your business.
Let Gilb show your specialties and portfolio of past works as best as possible. You can also spice things up with modifications and improvements, making Gilb truly yours.
And if you would like to share some insights, tips and other whatnot, you can also start a blog.
Gilb features:
Home and internal pages
Project details
CTA buttons
Working contact form
Google Maps
Design: ⭐️⭐️⭐️⭐️⭐️
Price: $19
MORE INFO / DOWNLOAD
DEMO
15. Clark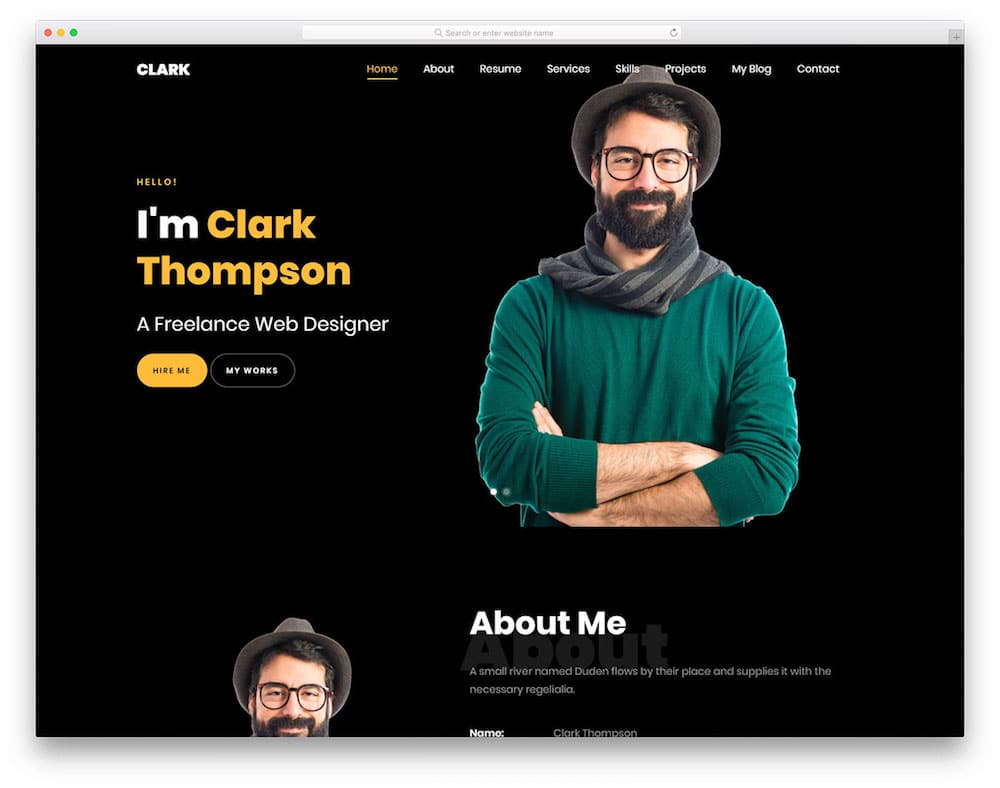 Even though white websites are more popular, many still opt for a dark design.
Here is Clark, a bold and practical freelancer website template that will impress you just as well as your visitors.
You are welcome to employ it out of the box, but you are also free to fine-tune it.
The bundle of amazingness contains many great features you can take to your total advantage.
If dark mode is your cup of tea, you may find Clark the perfect web design to work with.
Clark features:
Dark/black design
Slider
Works as a one-page
Sticky menu
Retina ready
Design: ⭐️⭐️⭐️⭐️
Price: $19
MORE INFO / DOWNLOAD
DEMO
16. Evans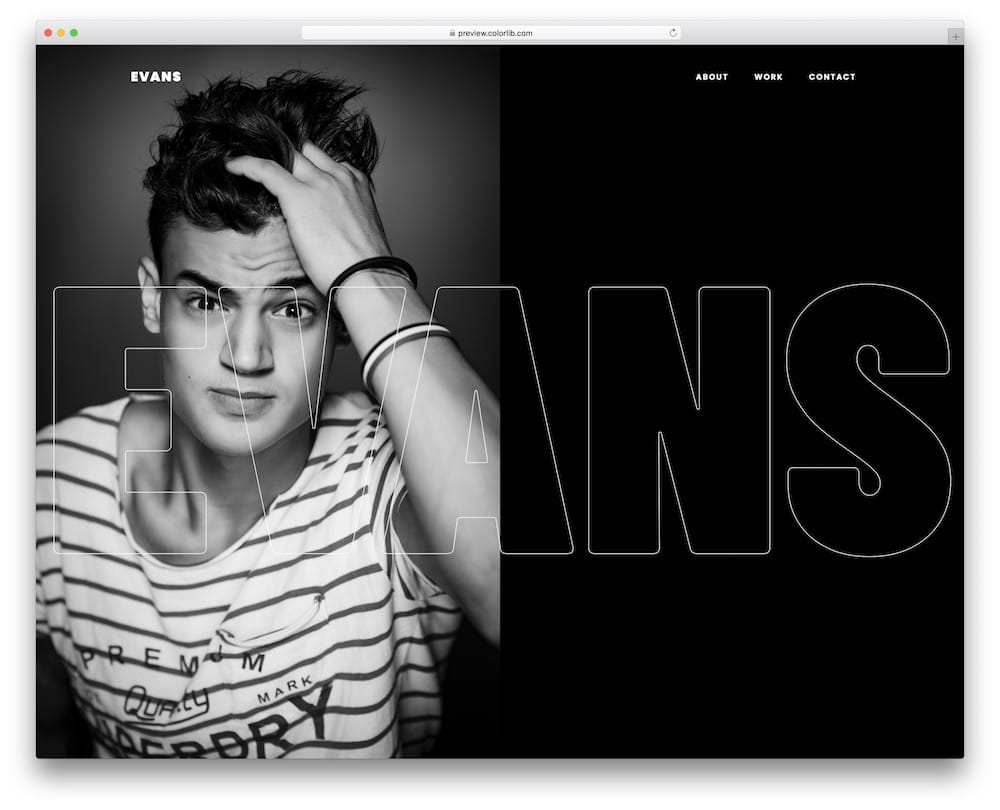 Some website templates are minimal and some go pretty extreme with creativity.
Evans is somewhere in between, rocking the best of both worlds.
It is a freelancer website template that anyone and everyone can put into play. After all, why lack an online presence if you can now create a top-class website with Evans?
Many peculiarities make Evans one-of-a-kind, so make sure you do not miss it.
While I can write a whole novel about it, you will still get the most out of it by visiting the live demo preview.
Evans features:
Split-screen slider
Scrolling animations
Floating header
Parallax effect
Functional contact form
Design: ⭐️⭐️⭐️⭐️
Price: $19
MORE INFO / DOWNLOAD
DEMO
17. Mona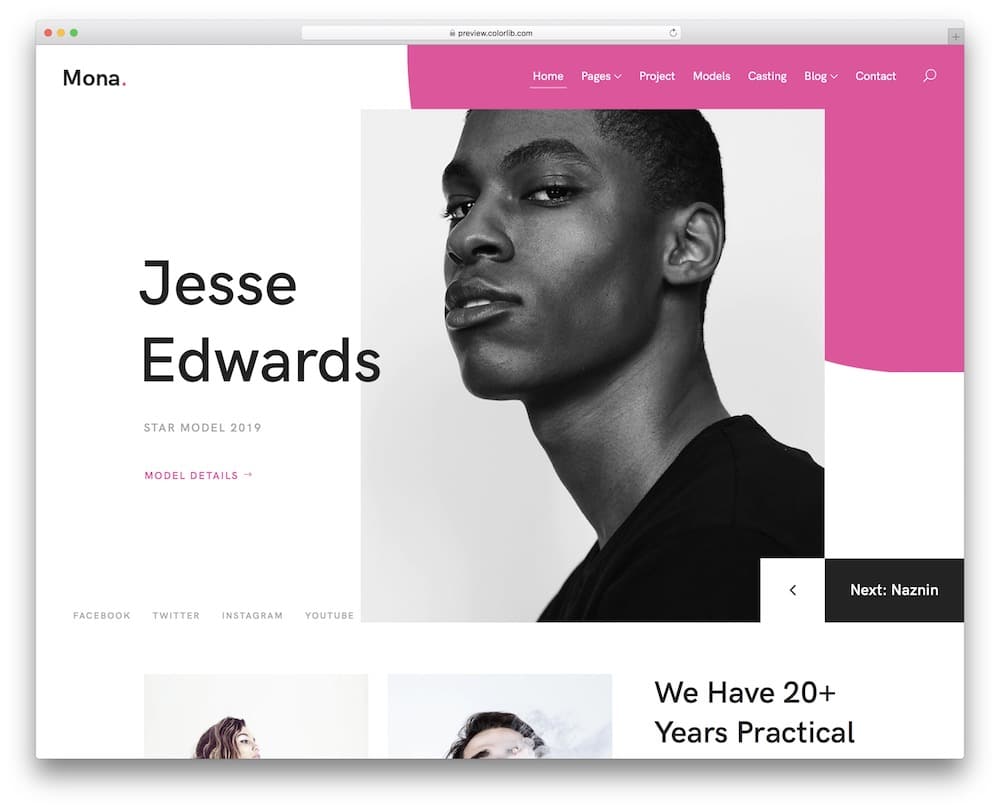 Actors, models, freelancers, you name it, Mona is here to make you shine online. Instead of building your website from scratch, you better save time and energy with Mona.
It may be an HTML template, but you will still have a lot of fun working with Mona and editing it to your liking.
The lovely and bright design captures everyone's interest instantaneously. And with your imagery and compelling content, you can effortlessly boost your online presence to new heights.
Make it yours and stand out from the crowd.
Mona features:
Carousels
Unique slideshow
Multi-level drop-down menu
Back to top button
Multiple internal pages
Design: ⭐️⭐️⭐️⭐️⭐️
Price: $19
MORE INFO / DOWNLOAD
DEMO
18. Elen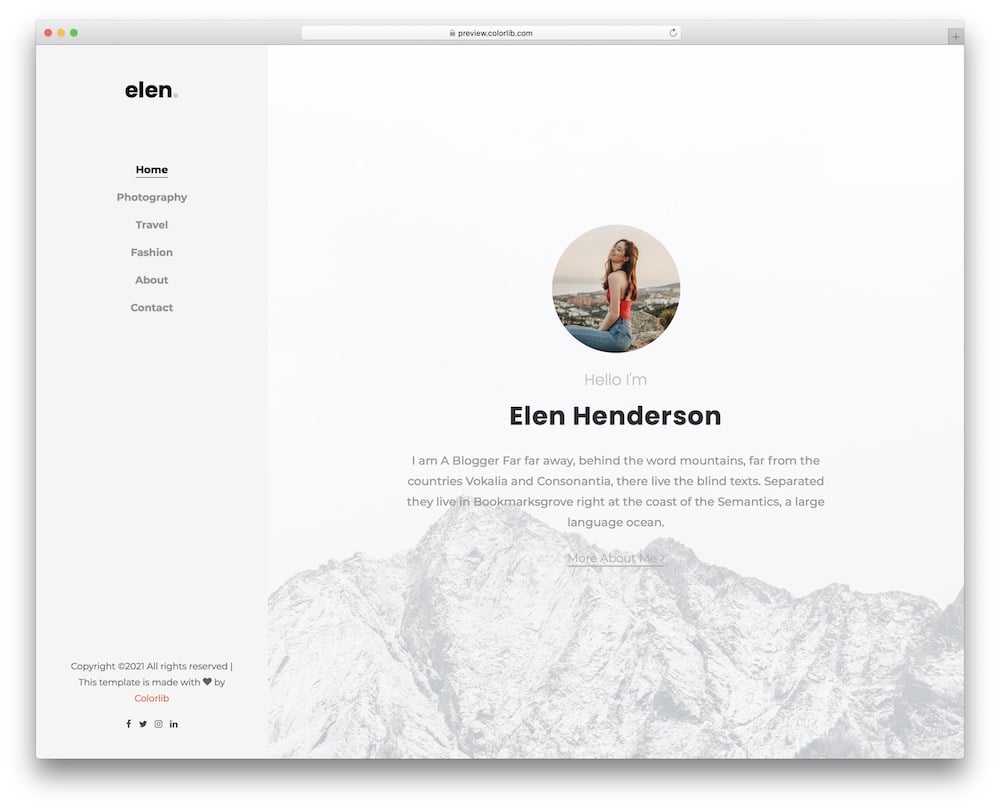 Elen is something a tad different compared to the other freelancer website templates. If you want to start a personal blog, even a niche business, or a freelancing blog, that's when you go with Elen.
The tool keeps things clean, offering a completely distraction-free experience when browsing your content.
Of course, Elen is in perfect harmony with all modern devices so that everyone can read your blog on the go or at home.
Enlive it with your distinct touch and start your blogging journey strong.
Elen features:
Parallax effect
Sticky sidebar menu
About page
Contact section
Widgetized footer
Design: ⭐️⭐️⭐️⭐️
Price: $19
MORE INFO / DOWNLOAD
DEMO
19. Louie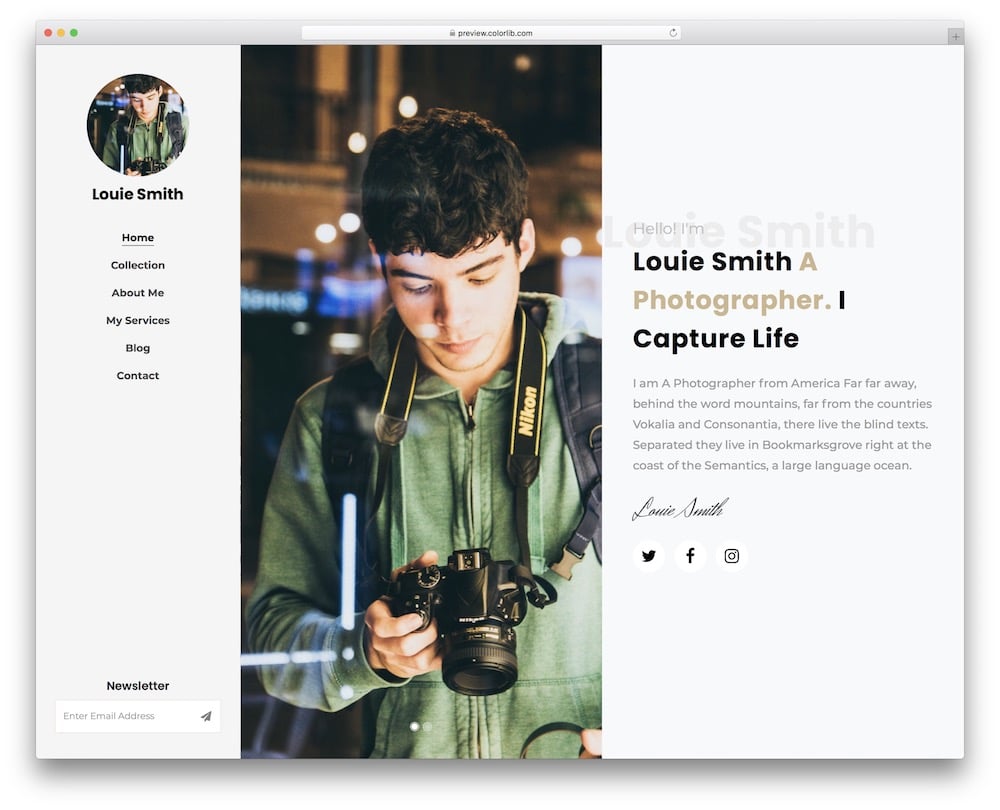 Louie is an exclusive website template for freelance photographers. But really, any creative personality can put it to practice and take it to their total benefit.
Louie easily adapts to different tastes because you can edit default configurations to your meticulous taste. In short, feel free to go against the grain.
Louie is here to change the way you build websites. Whether you are a professional or an amateur, Louie works for both.
And even if you do not need to pay for it, your final product will not be half-backed, rather excellent.
Louie features:
Split-screen slideshow
Sticky elements
Social media icons
Newsletter (back-end necessary)
Gallery
Design: ⭐️⭐️⭐️⭐️
Price: $19
MORE INFO / DOWNLOAD
DEMO
7 Key Features Of A Top-Notch Freelancer Website
Don't neglect your approach to creating the ultimate freelancer website. You can expect a lot more business deals with a solid online presence.
Luckily, the above website templates take care of many things by default.
And you can perform the necessary customization tweaks to make your page stand out.
And here are the key characteristics of a great freelancer website that I discovered from my personal experience working on my and my clients' projects.
Let's go:
Responsive layout: It's important to guarantee the best experience for all your users regardless of their device.
Online portfolio: You should include an online portfolio of your work examples. You can also go one step further and add case studies, explaining your process in detail.
Services: Hey, even if everyone knows you're a designer, you may still offer specific services. Whatever the case, display your services clearly, so a client can instantly know what they'll get from you.
Pricing: Of course, don't forget to add pricing. I don't know why but we all want to know how something costs, and the same goes for freelancer services. My recommendation: Add them and don't be too mysterious about your cost.
About us/me: Many will want to read your About page before reaching out, so ensure you include your photo and share your story. This is where you can be personal, funny, professional – whatever your style is.
Contact: When everything works, folks will want to get in touch. You can, and you must add a contact form to your freelancer website. But you can also include a clickable phone number and even your physical location via Google Maps.
(Bonus) Blog: This is where you can differentiate your freelancing business from the rest. Start a blog. You can write about anything relevant to your business, even how you got passionate about what you do. SEO optimized blog also allows you to enjoy more organic traffic, which potentially means more business.
::
Note: This article was originally published on February 3, 2021. But our team regularly reviews it and updates it with necessary improvements for accuracy.