We spent multiple months testing and reviewing 50+ of accounting website templates and chose the top 13 based on performance, versatility, customer feedback and ease of use.
Why? So you have a blast using all of them confidently.
Note: Even if you work with multiple accountants and firms, you can apply one template for all.
PSST! No one will even tell you used the same template (once you introduce your customizations).
This post covers:
They all ensure to deliver a professional, business-driven and stunning website at an affordable price.
What all Accounting Templates Have In Common?
Regular updates & improvements
Quick & professional support
Extensive documentation
1,000s of downloads
High-star ratings
Dive right in!
THE ULTIMATE 2:
Best Accounting WordPress Templates
If you would like full-blown solutions requiring no coding and design experience, this section will do the trick.
1. Consultix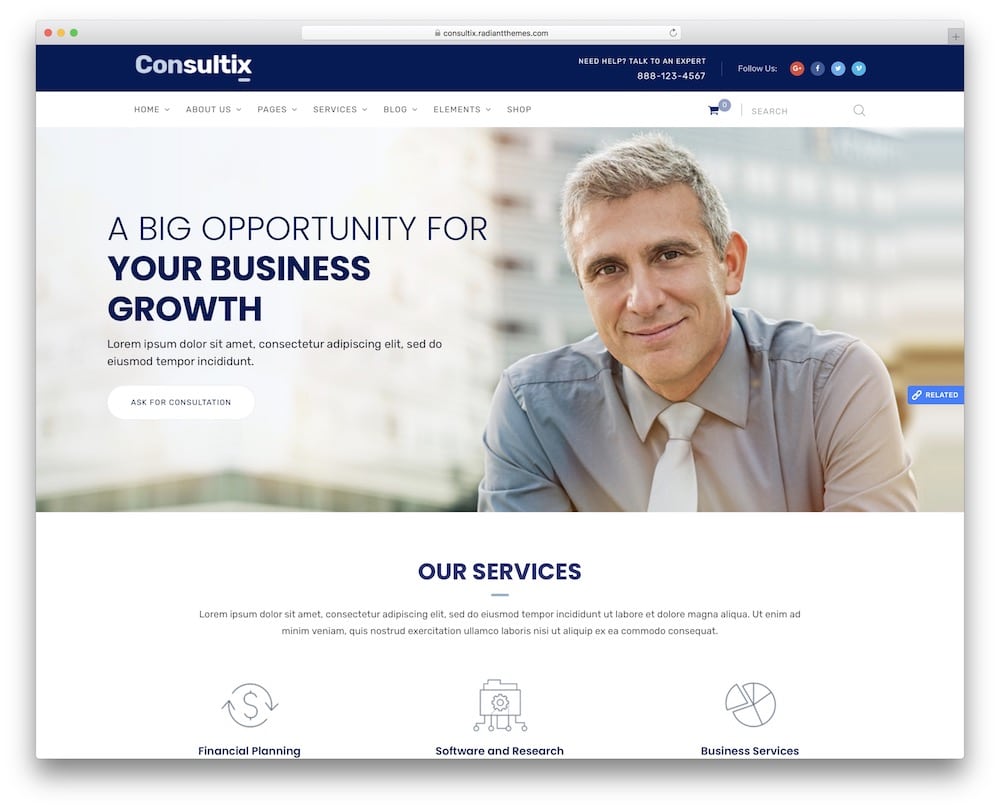 With 1,000s of sales, high ratings and regular updates, Consultix is one powerful WordPress themes for consulting businesses.
This includes accountants!
You DON'T NEED to be a rocket scientist to work with Consultix successfully. The tool is versatile enough to fit anything and everything. Even the pickiest of users.
With predefined demos and one-click installation, you can set yourself to a quick website realization right away.
WITHOUT coding! Go.
Consultix features:
2,800+ sales
4.8/5 star rating
Quick setup
Price: $69 (may vary)
MORE INFO / DOWNLOAD
DEMO
2. Reobiz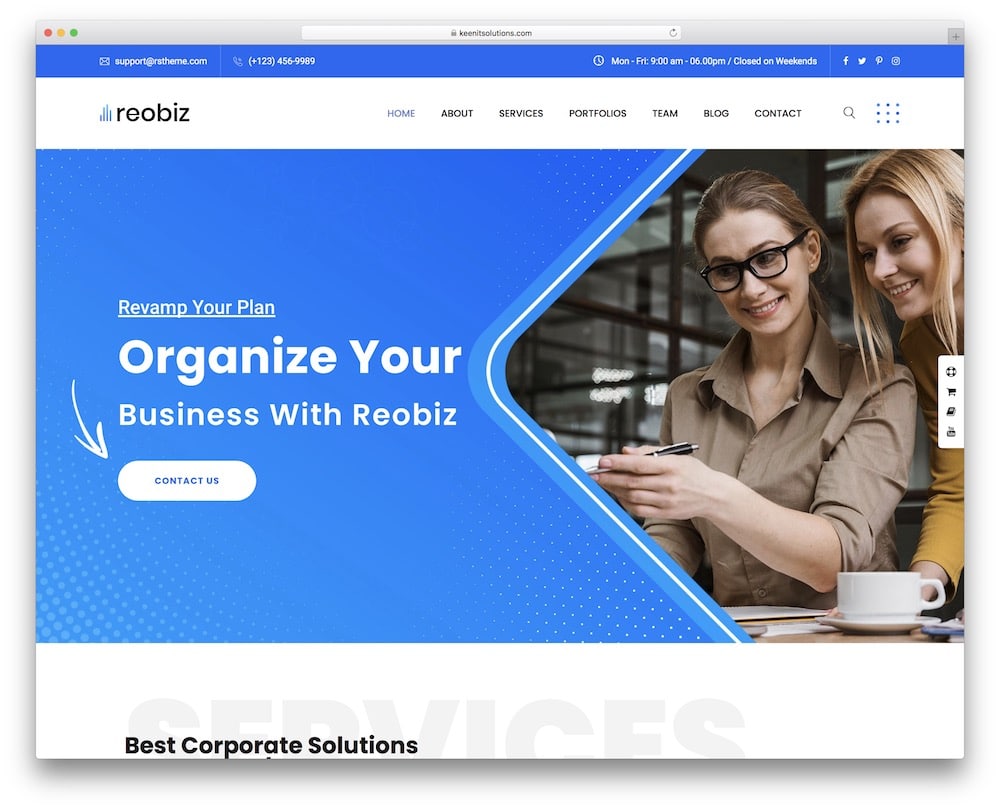 Reobiz is another popular WP theme that any accountant can enjoy to the fullest.
Whether you run a small or a large firm – even if you're solo – Reobiz adapts to your needs WITH EASE.
What you need to work with Reobiz are mouse skills (keyboard, too) only. And no, that does not mean coding knowledge. You just drag and drop, mix and match and you are done.
It's easy working with Reobiz; even a ten-year-old can do it.
But you can always access the extensive documentation or reach out to Reobiz's friendly support.
Reobiz features:
4,100+ sales
4.8/5 star rating
Multi- and one-page demos
Price: $39 (may vary)
MORE INFO / DOWNLOAD
DEMO
3. Consultio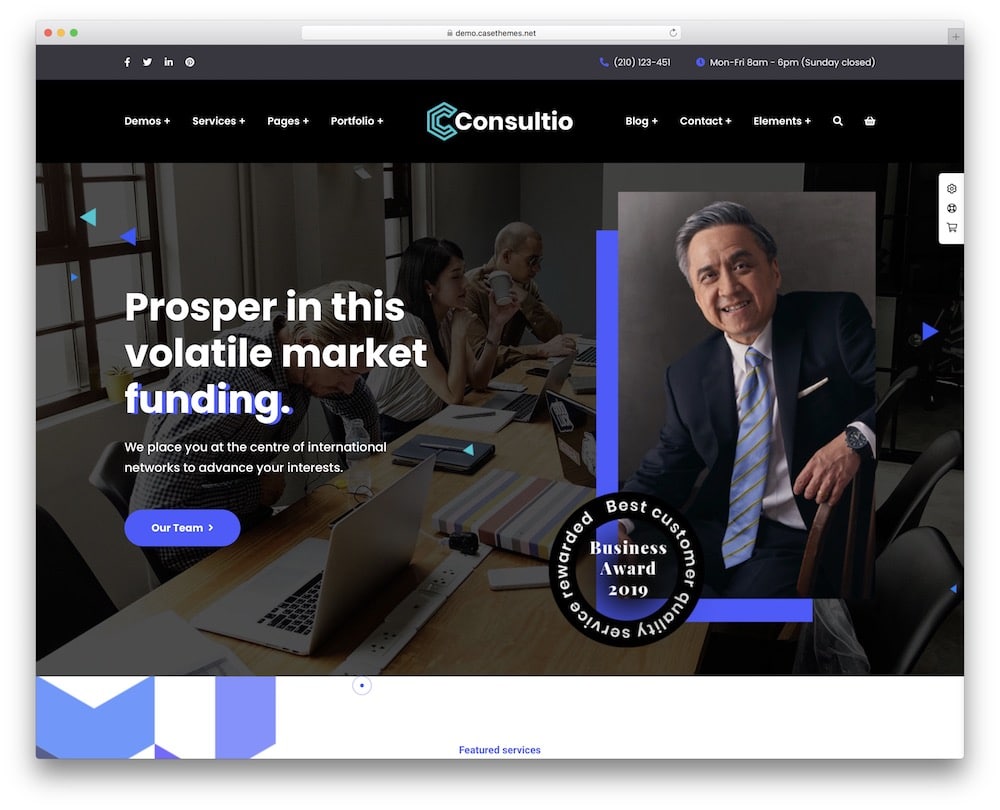 Consultio is the most complete accounting WordPress theme with 50+ demos and 180+ elements.
That's. A. Lot.
You bet! And this is just the beginning.
You don't need any experience with programming languages and design. You become a pro with Consultio even if you aren't yet.
Your page will stand out in its glory, pushing your accounting services to new successes.
With the drag and drop building, Consultio is the all-in-one solution for your WordPress business website. Don't miss it.
Consultio features:
3,700+ sales
4.9/5 star rating
50+ demos (WOW)
Regular updates & upgrades
Price: $69 (may vary)
MORE INFO / DOWNLOAD
DEMO
4. Consulting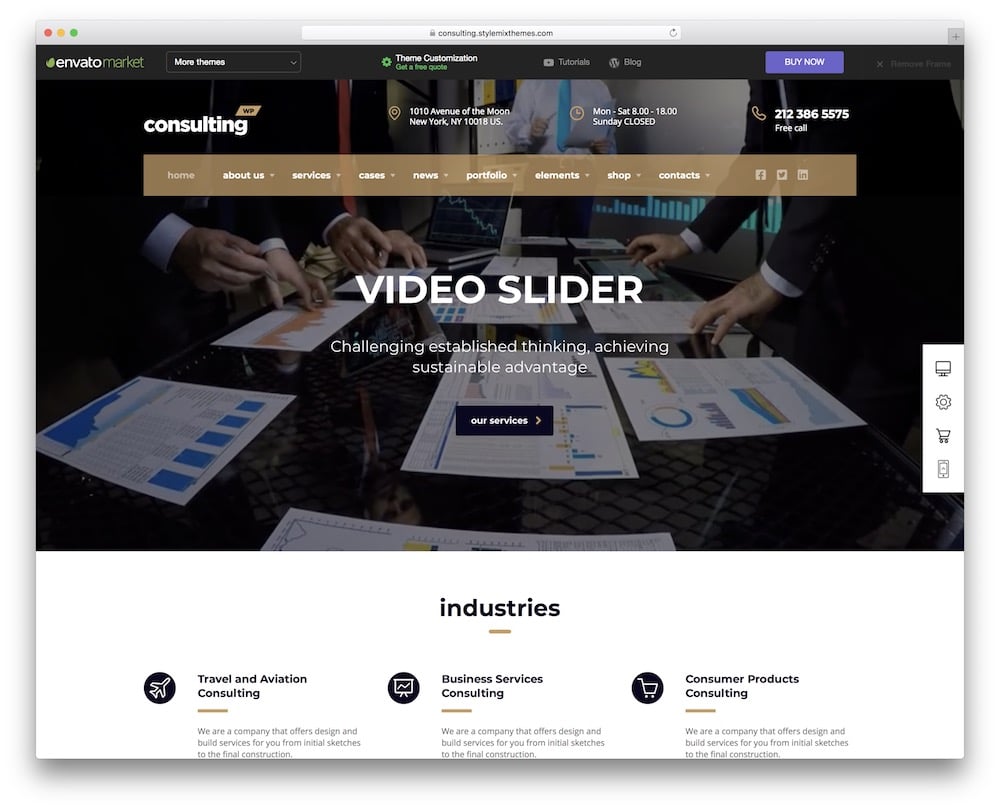 Are you ready for the biggest finance and accounting WordPress themes that's around since 2016? Meet Consulting.
With 20,000+ sales, you are in for a treat that will cover all your ideas and wishes.
Consulting has experience exceeding any other tool available on the market.
You can create the exact website you want, thanks to the endless choices it sports.
The advanced theme options unlock the creative possibilities that guarantee quick website creation.
Who doesn't want to save time but still be at the top of professionalism?
Consulting features:
25,100+ sales
4.7/5 star rating
Optimized for speed & SEO
Convenient cost calculator
Price: $59 (may vary)
MORE INFO / DOWNLOAD
DEMO
5. Avantage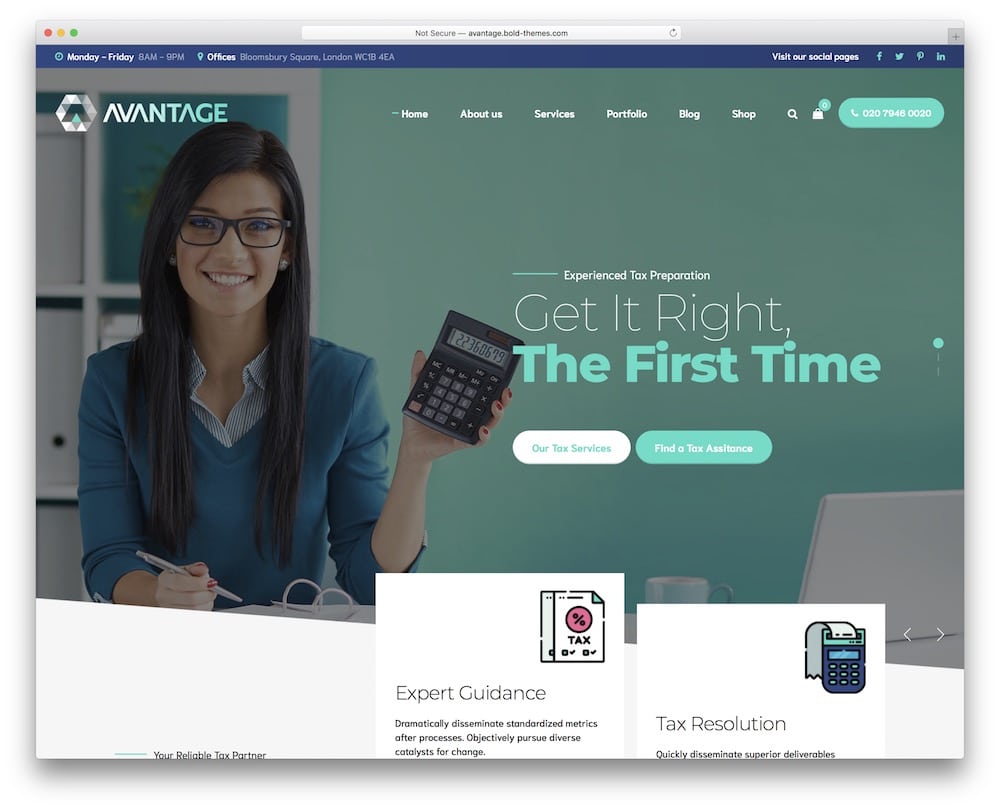 Avantage is a high rating WordPress theme for accounting, consulting and business in general.
I really like keeping it concise, unlike other tools that include OH SO MUCH material.
If you would like to go straight to the point (especially as a beginner), Avantage is your best bet.
You can choose the out-of-the-box accountant and tax advisor demo and go from there.
Setting up a promising and rewarding website will be quick.
Even if you are too busy running your business, there's always enough time to start making some noise online with Avantage.
Avantage features:
4,200+ sales
4.6/5 star rating
Customize everything
Special effects for top UX
Price: $69 (may vary)
MORE INFO / DOWNLOAD
DEMO
6. Accounting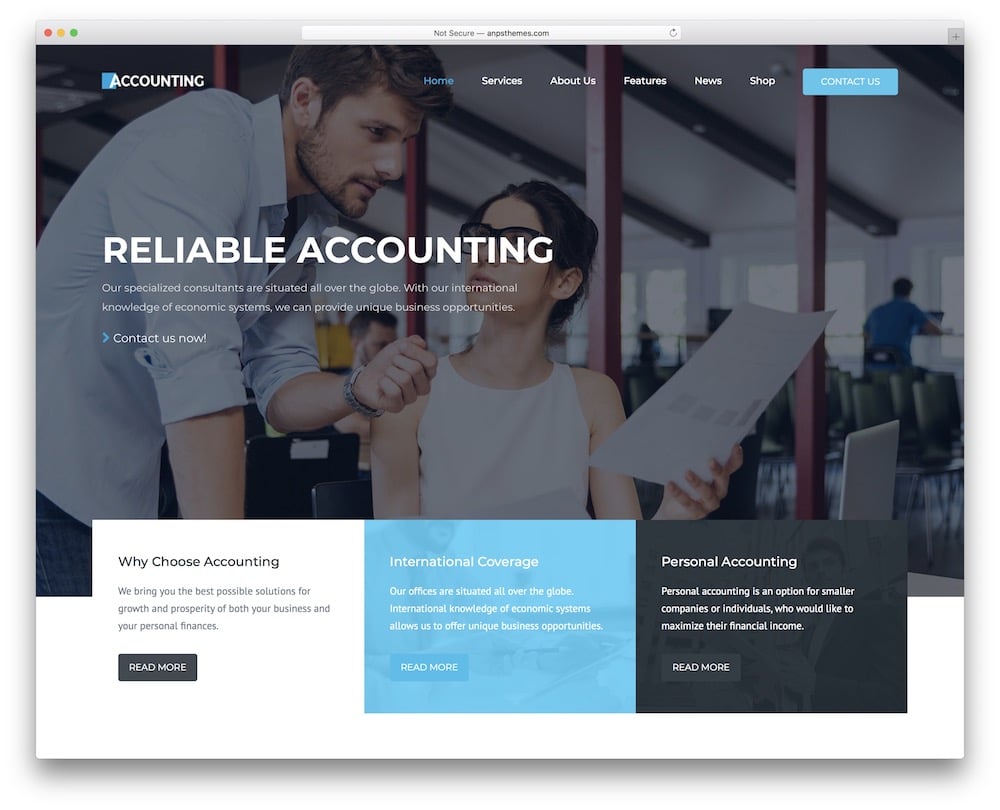 Accounting is pretty self-explanatory. An exceptoponal and business-specific theme for your accounting services.
That's it! Well, not really.
Accounting makes a website that is easy on the eye regardless of the device. Your visitors will enjoy the smooth experience, thanks to the cleanness and minimalist look.
This web design works particularly well as-is – you don't really need to change much design-wise.
BUT. You can!
Accounting limits you in no way, shape or form – do your thing, edit it (without coding) and make it pop.
Accounting features:
3,000+ sales
4.4/5 star rating
Build impressive slideshows
Over 80+ WP shortcodes for quick integration
Price: $59 (may vary)
MORE INFO / DOWNLOAD
DEMO
Best Accounting HTML Website Templates
Colorlib offers all their templates for $19/template.
7. Unioncorp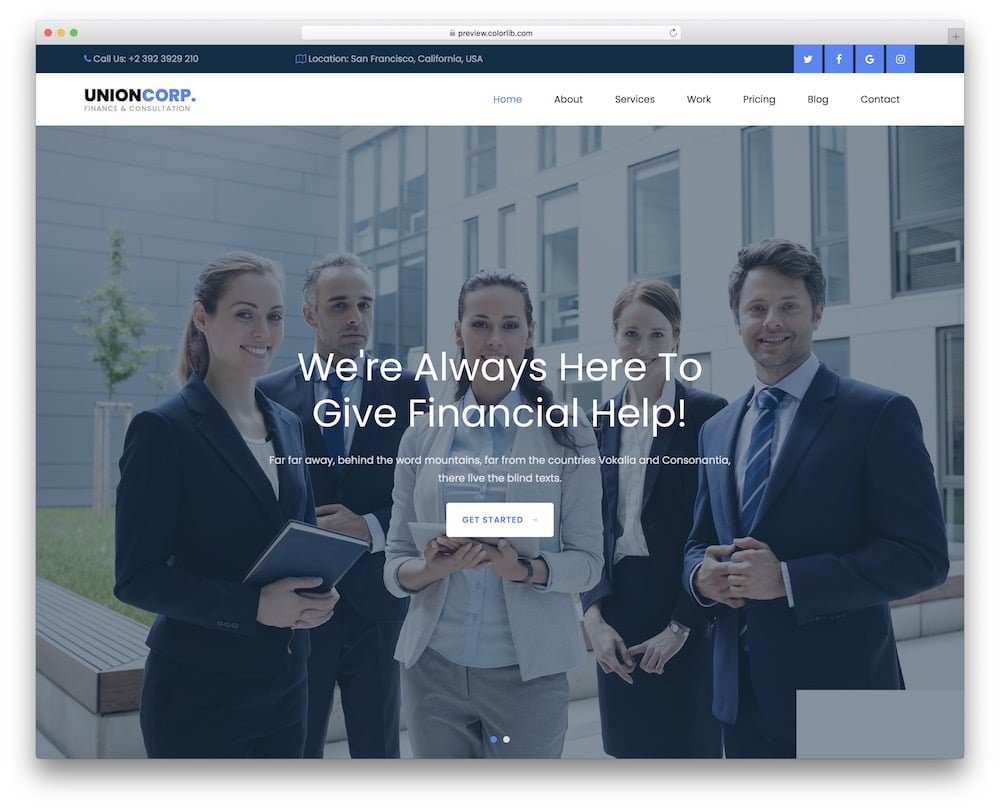 Unioncorp is a top-class website template for financial consulting, accounting, bookkeeping and the list goes on.
With this powerful and flexible tool, you can rapidly speed up your page creation.
Why even do it from scratch? You can save yourself plenty of time and effort – remaining your professionalism INTACT.
This is by far my favorite web design on this list. It's bold, minimal and sophisticated – precisely what an accountant needs!
Unioncorp features:
MORE INFO / DOWNLOAD
DEMO
8. Book Keeping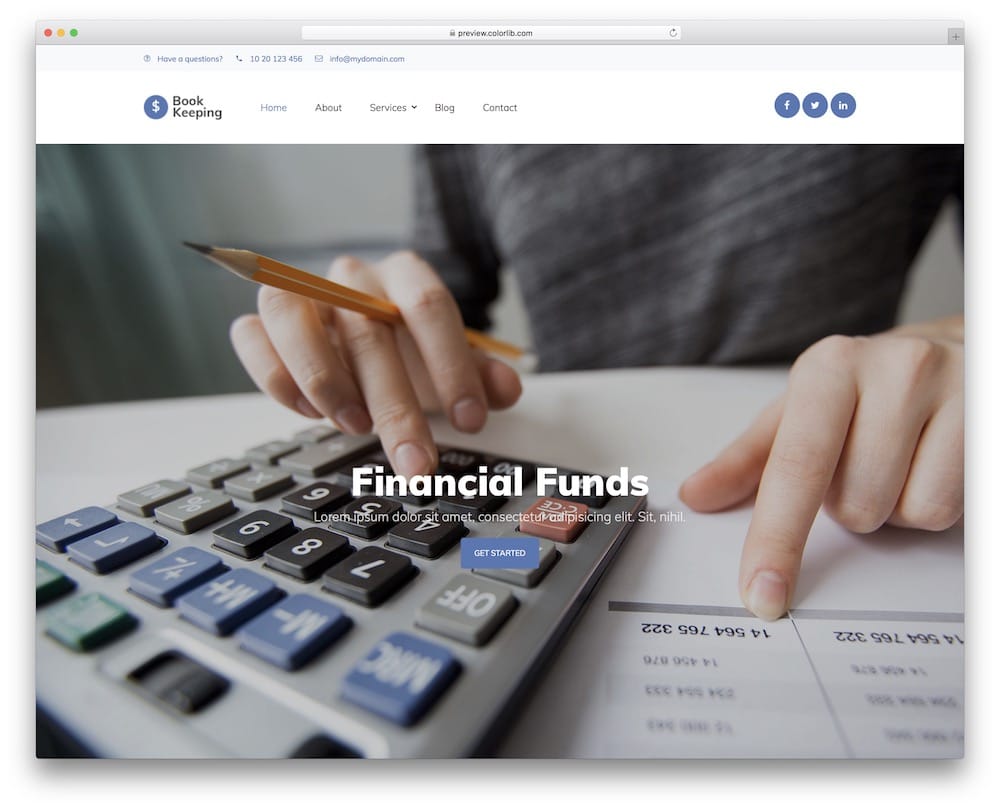 Book Keeping is an exclusive bookkeeping website template that will set you apart from the competition. You know how important it is running a page these days.
Don't. Lack. Online. Presence.
Ever again!
With Book Keeping, you can enjoy yourself a smooth sail in web development. It equips you with many page layouts and UI elements to mix and match.
Promote your accounting business while you sleep – WITH A WEBSITE.
You will have it under total control with Book Keeping, and that's a guarantee.
Book Keeping features:
Regular updates
Professional support
100% responsive
Organized code
Sticky navigation
MORE INFO / DOWNLOAD
DEMO
9. Occupy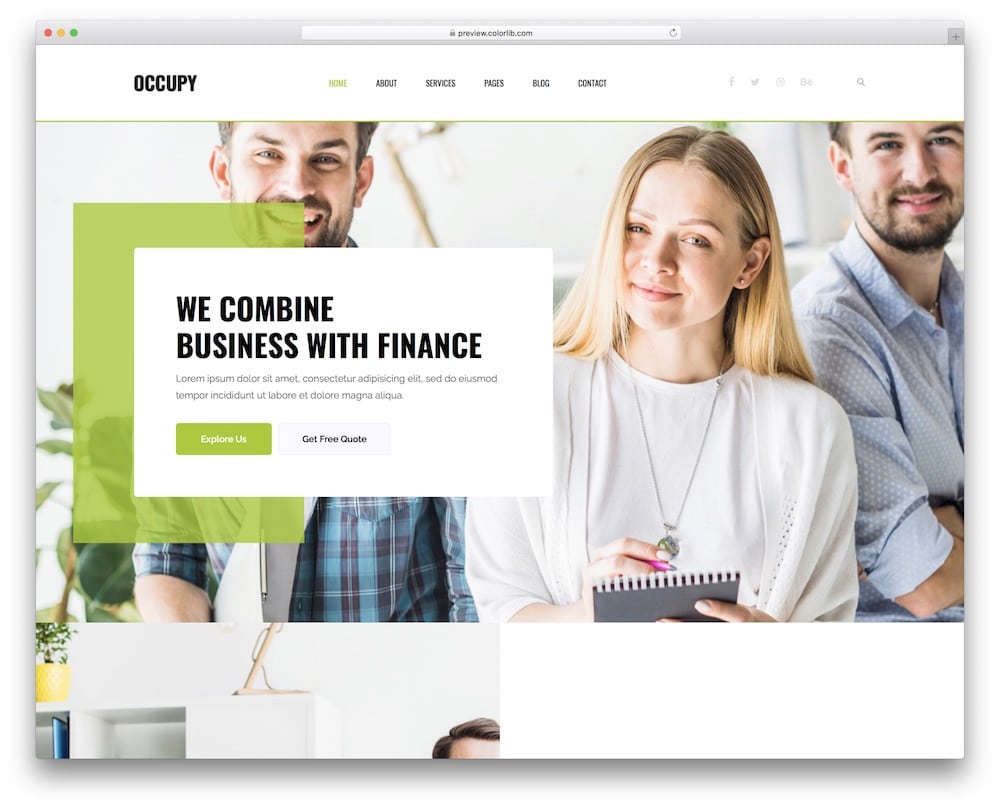 Occupy is an excellent accounting firm template based on Bootstrap.
Your online presence has the design and multiple features set and ready to go. You can work with Occupy out-of-the-box freely.
BUT.
You can also go one step further and perform customization tweaks.
Improvements will be easy with Occupy – HURRAY for well-organized and newbie-friendly code.
But if you ever find yourself in need of additional help, Occupy's professional support is always at your service.
Occupy features:
Minimal & bright design
Smooth performance
100% device & browser compatible
Functional contact form
MORE INFO / DOWNLOAD
DEMO
10. Loanday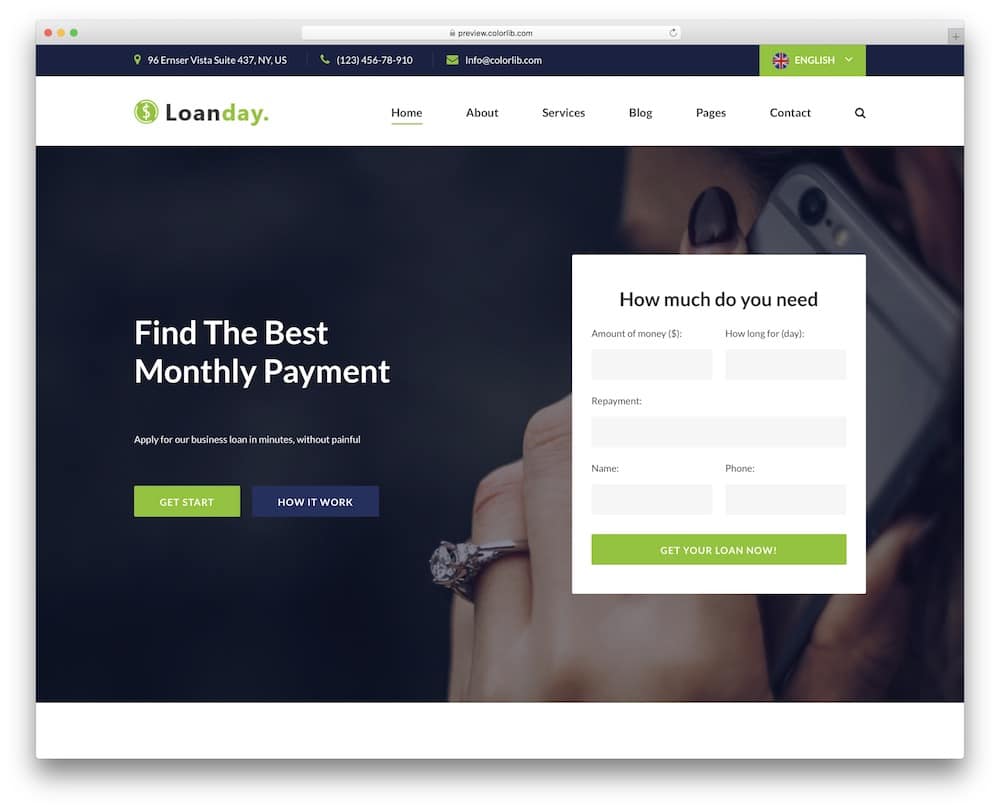 I would just like to clear something before moving forward, as Loanday is perfect example.
Even though not all tools on this list are 100% accountant-related out of the box, they all deliver goodies that will do the trick.
In most cases, you only need to change text and you are ready to ROCK AND ROLL.
How simple is that? VERY.
Loanday makes sure you start pushing the boundaries of your CA firm online like a champ.
Everyone landing on your website will notice your expertise right from the get-go.
Loanday features:
Uses only the latest technologies
Bootstrap Framework
Animated statistics
Showcase client feedback
Language switch drop-down
MORE INFO / DOWNLOAD
DEMO
11. Loan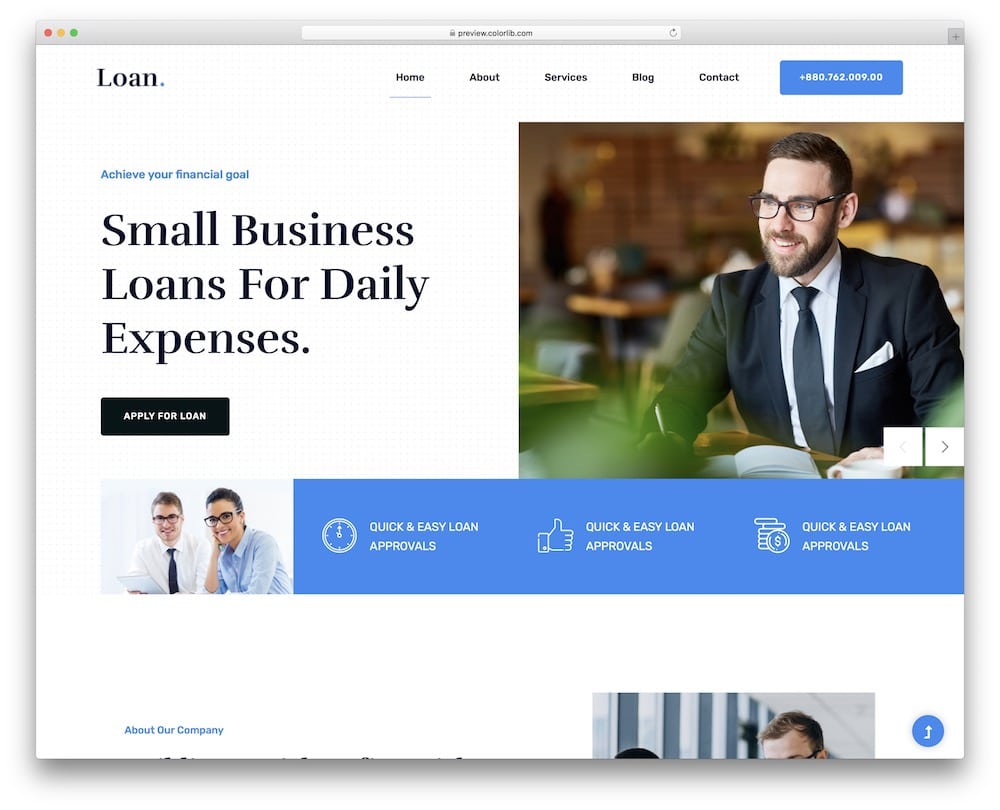 How awesome it feels having the foundation all set for your accounting website? I know, right, it feels great!
Kick-start your project with Loan. It's by far the best in the space if you are looking for a minimalist design website template.
This tool DELIVERS.
What's best, you can experience it first-hand by heading over to the live demo preview first. Be prepared for Loan to hook you immediately.
Quick branding improvements, content insertion and you are ready to SHINE ONLINE.
Loan is here to stay, just like your business.
Loan features:
Simple & impactful design
Beautiful sections
Back-to-top button
Con: No pricing tables
MORE INFO / DOWNLOAD
DEMO
12. Finloans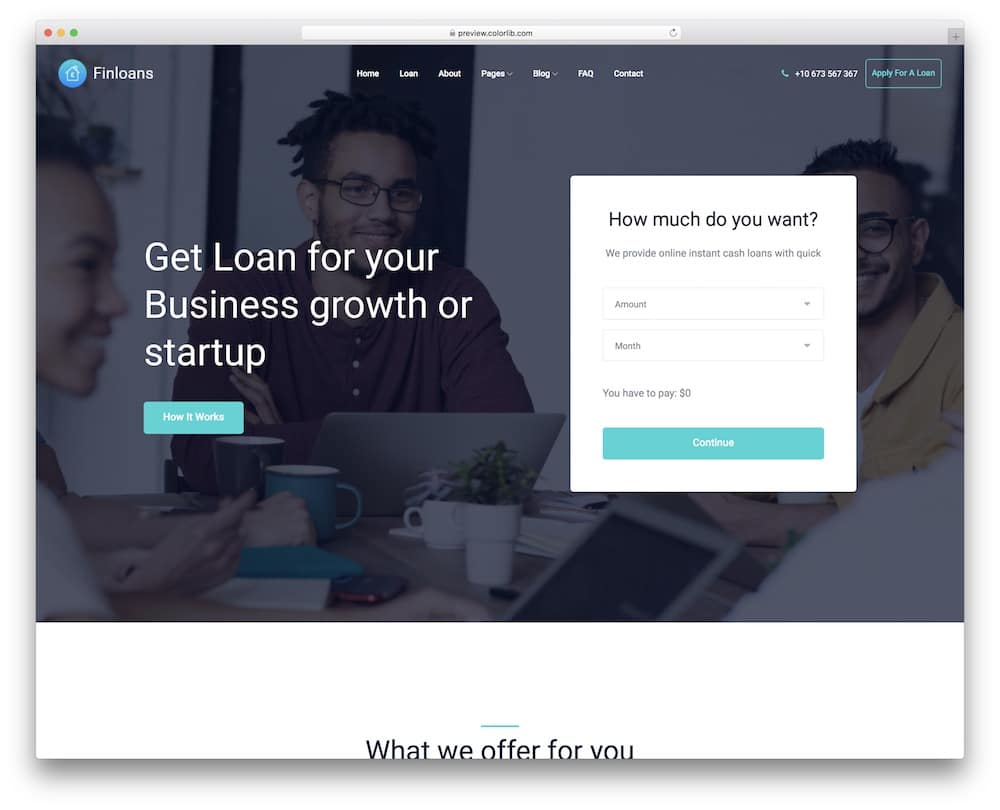 Finloans is for everyone in the financial industry. That's right, you can easily work with Finloans to establish a website for your accounting firm.
Don't miss on the opportunity to make it pop, as that's what Finloans specializes in.
Clean distribution of content that will keep all your site visitors satisfied. Whether they browse on mobile or on desktop devices!
There's also an application form included, which you can easily configure for your accounting needs.
Finloans features:
Ready-to-use forms
Accordions for extra info/FAQ
Modern testimonials with avatar
MORE INFO / DOWNLOAD
DEMO
13. Biznance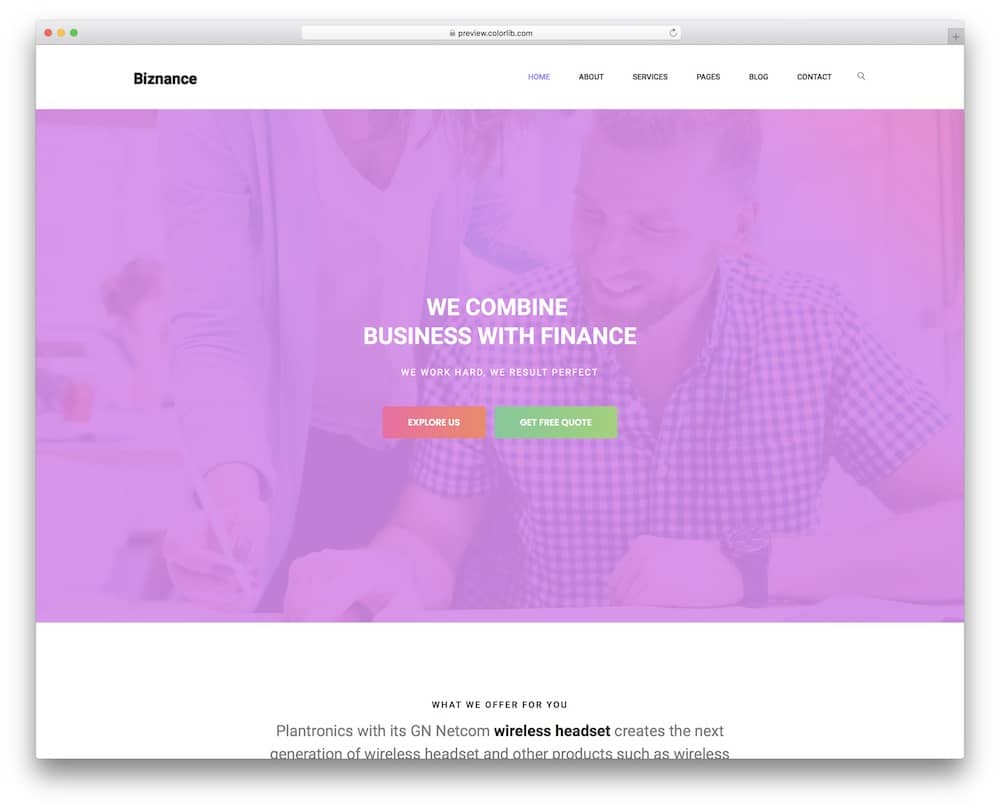 Biznance is one of those website templates that you can comfortably adjust to different businesses and companies. Of course, it's great for accountants and firms, too.
Why would I even add it otherwise?
What I like about Biznance is the simpler, more BASIC look.
It creates a great overview of your website, most importantly, your services. And the gradient hover effect only spices things up.
Check it out!
Biznance features:
Minimal with creative touches
Gradient & parallax effects
Filterable portfolio
Compatible with different scripts
Regular updates
MORE INFO / DOWNLOAD
DEMO
::
Note: This article was originally published on May 4, 2021. But our team regularly reviews it and updates it with necessary improvements for accuracy.