Our review of the best WordPress solar energy themes is perfect if you're set to contribute to a greener earth.
Creating the necessary exposure is now much EASIER and QUICKER, while still achieving the required professional level.
That's why our team joined forces and spent many months testing and reviewing green energy themes.
Many failed during the process but these thirteen ticked all the boxes.
This post covers:
I guarantee you'll find the ideal WP theme to take your solar products and services to the next level.
Going online is a must.
And you can NOW make it happen extremely fast. (Even as a complete beginner in building websites.)
What To Look For In A Solar Energy Theme?
Besides listing some of the core features that a great theme needs, we'll also share a few necessary elements to improve your online presence.
By putting every theme through a series of tests, we guarantee you'll make the right move regardless of the theme you pick.
10 Key Features Of A Solar Energy Theme & Website:
Optimized performance: It's important that a theme is 100% responsive and lightweight.
Regular updates: It also needs to receive regular updates, which ensure it's always compatible with latest WP version and bug-free.
Great support: You need to look for a theme that has both great support and excellent documentation.
Services: A theme needs to have predefined sections and layouts to display your services (and pricing).
Projects: Create a portfolio and showcase your best projects and case studies to build trust and social proof. (You can (must!) also add client testimonials, which are a big plus.)
Contacts: Have a contact form and a (clickable) phone number on visible spots (even social media, like Facebook and LikendIn can work great).
About us page: Create a compelling "about us" page where you can also introduce your epic team.
(Bonus) Lead generation: Integrate a lead generation form to collect emails for newsletter promotions.
(Bonus) Shop: You may also want to build an online store, where you can sell accessories, tools, etc.
(Bonus) Blog: Start a professional blog about the solar industry. You can also gain more traffic through high-quality, SEO-optimized content that Google loves.
Note: We also have a full list of the best renewable energy WordPress themes if you need more alternatives.
THE ULTIMATE 3:
Best Overall Solar Energy Theme: Greenly
Best Solar Energy Elementor Theme: iRecco
Best Solar Energy WPBakery Theme: Sunergy
Best WordPress Green & Solar Energy Themes
1. Greenly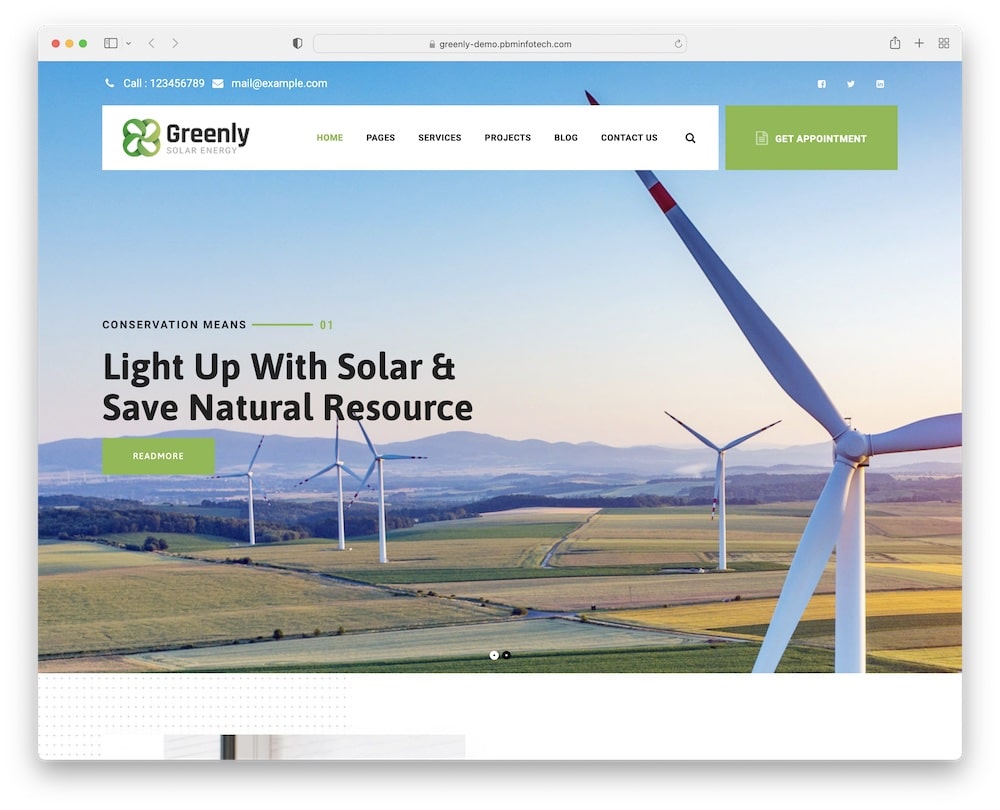 The time for solar is now! Get into the modern Greenly theme and build your site by yourself (NO coding & design knowledge required).
It includes beautiful (eight) homepages, powerful plugins, numerous layouts, icons, unique WP widgets, and a sticky header-footer.
YES, you can also choose from unlimited color options (I love to play with them as well).
Moreover, Greenly is fully responsive, SEO optimized, and cross-browser compatible.
COOL user experience guaranteed (high five!).
OH man, and the business WP portfolio is super important SO showcase your work with pre-made portfolio pages, you even get stylish service pages.
They look amazing!
Greenly features:
1,300+ sales
4.7+ star ratings
Regular updates
5-minute setup (!)
Price: $59 (may vary)
MORE INFO / DOWNLOAD
DEMO
2. iRecco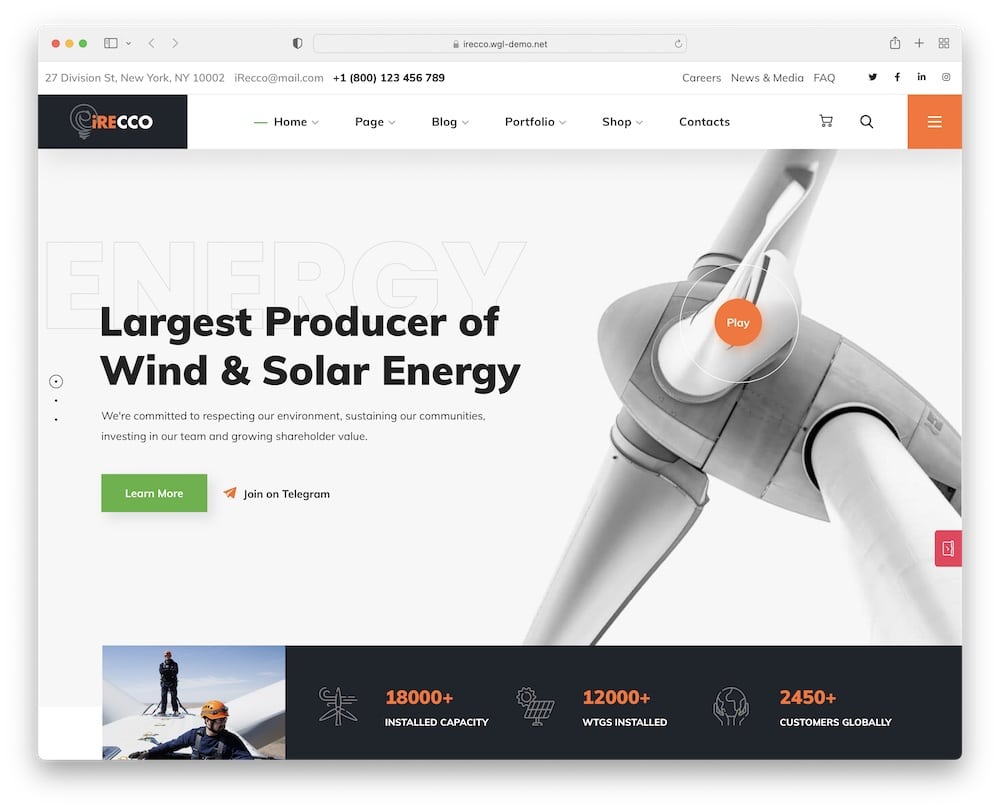 Be independent with iRecco WordPress solar energy theme. Trust me, when you choose iRecco you get a valuable partner for your business website.
iRecco comes with three demos for all your needs (one-click import). The best part – you can change sections, fonts, elements, add animations, icons, and START a blog.
Moreover, you can create your online store with WooCommerce (No.1 tool).
I agree, you should introduce and offer solar solutions to more people!
Extensive (step-by-step) documentation and TOP-NOTCH customer support are ready for all your questions. First-class service!
Just enjoy iRecco sharp, responsive design with an excellent experience.
iRecco features:
1,000+ sales
4.8+ star ratings
100+ theme options
Price: $69 (may vary)
MORE INFO / DOWNLOAD
DEMO
3. Solar Energy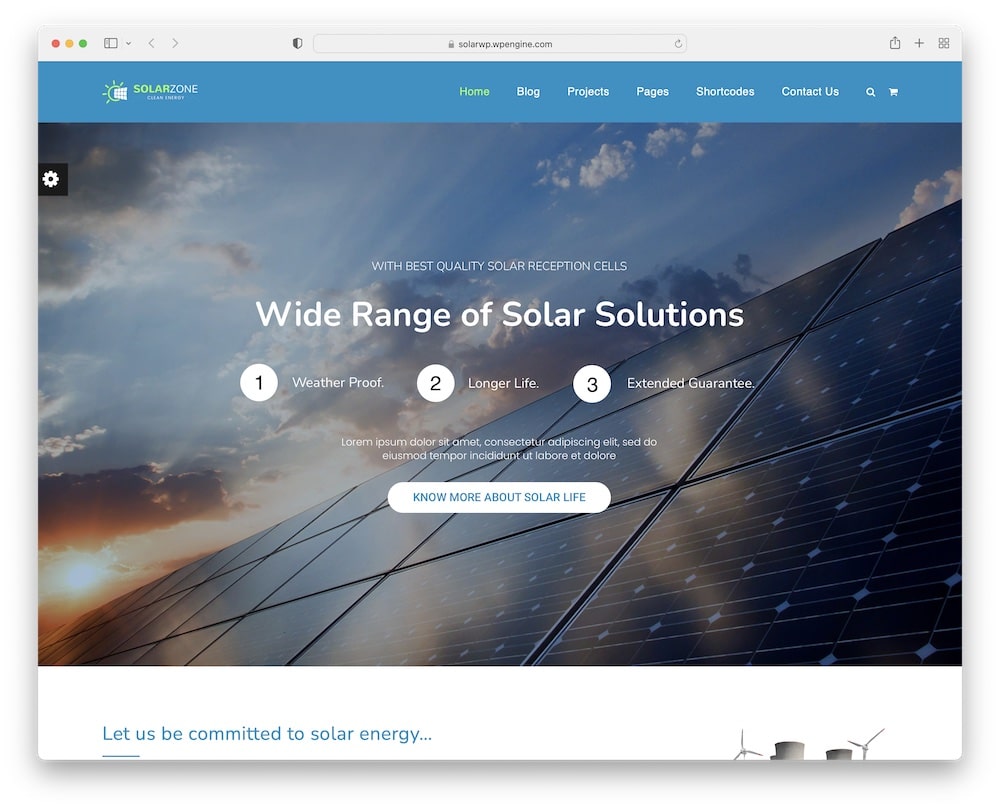 Make the solar process feel simple through the advanced Solar Energy WordPress theme. Clean design & user-friendly customization (just drag n' drop, baby!).
Check out all the amazing possibilities. Effortlessly change colors, add plugins, start a blog, set up a portfolio, create an event calendar, and use the parallax effect.
Remember, each page can be customized for your specific purpose.
If like me, you like organized websites then you will enjoy a flexible mega menu.
And don't forget about newsletter subscription via the stunning MailChimp tool (YUP, email marketing sells).
GO bright with Solar Energy!
Solar Energy features:
570+ sales
5-star ratings
Excellent support
Price: $69 (may vary)
MORE INFO / DOWNLOAD
DEMO
4. Energy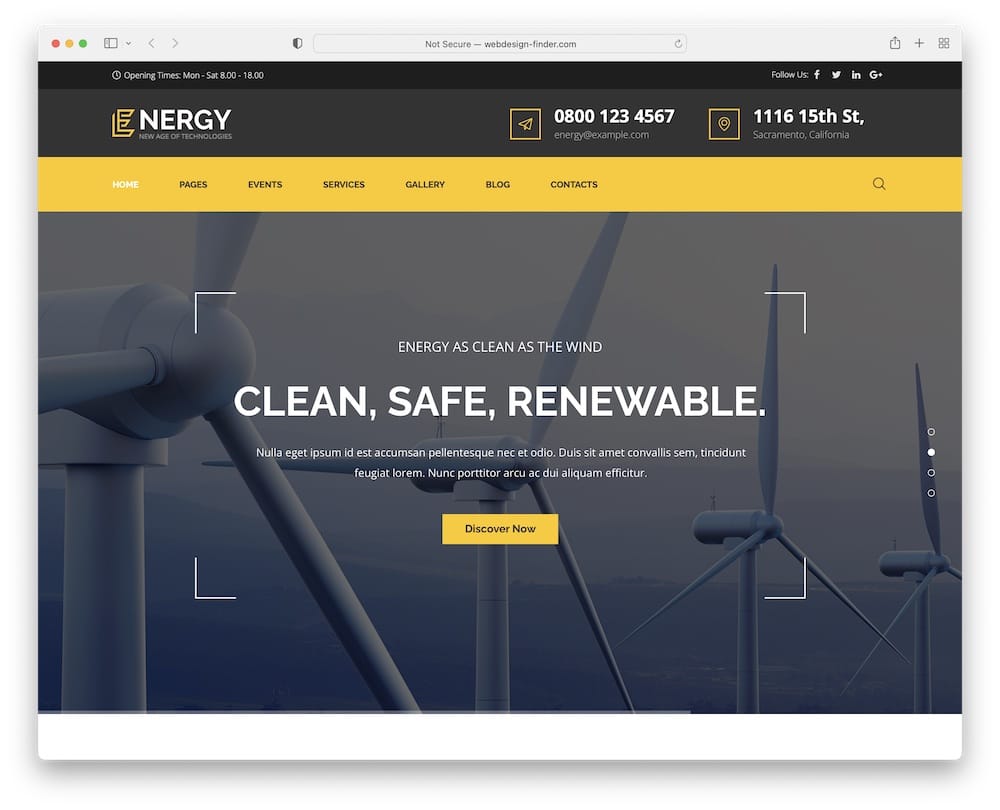 Maximize your solar impact with the elegant and clean Energy WordPress solar and wind energy theme.
You can choose from seven pre-designed demos and import the one you like the most. Then customize its look with the handy drag and drop builder.
Plus, you can build a fully-featured online store (!) with the WooCommerce plugin.
Game changer!
My recommendation: Start a blog (layout included) to share your knowledge, technologies, events, reviews, and more. BLISS.
Of course, you can add Google Maps with your store location, social media icons, contact form, and flexible event calendar. Unlimited possibilities.
Help change the world for the best with Energy – today!
Energy features:
1,200+ sales
4.9+ star ratings
Price: $59 (may vary)
MORE INFO / DOWNLOAD
DEMO
5. Sunergy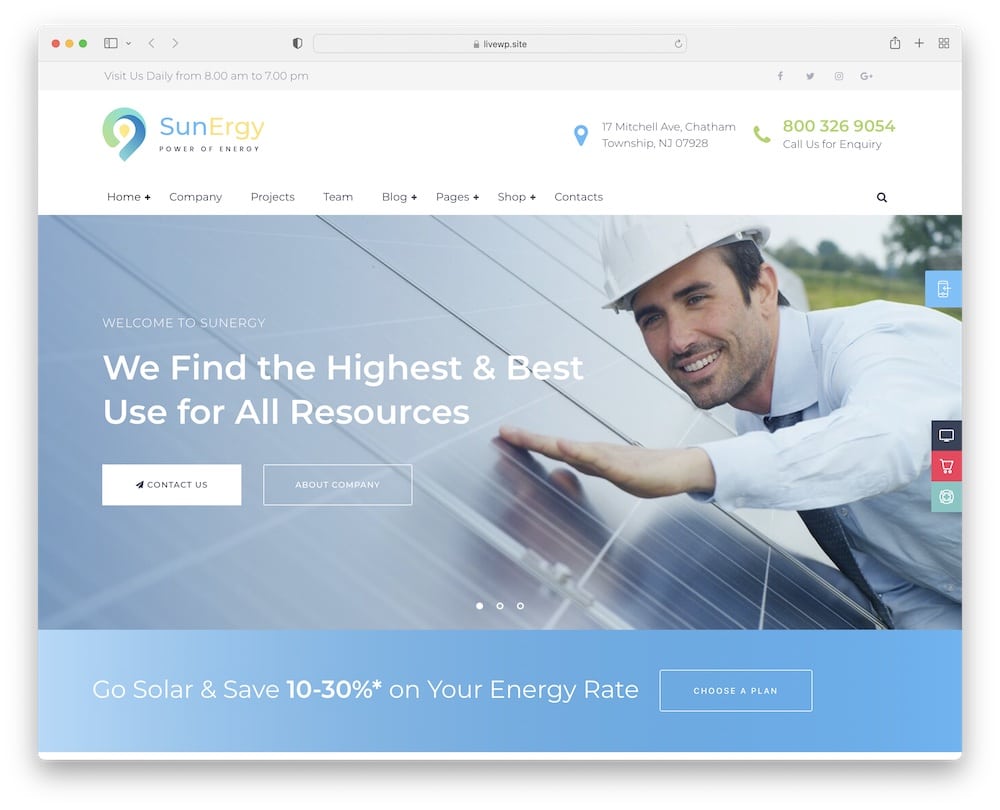 Highlight the advantages of renewable energy with the professional Sunergy WordPress solar energy theme.
Stop searching – You just found the right fit!
This impactful and easy-to-use WP theme comes with a one-click demo import, gorgeous header styles, a flexible menu, unlimited fonts & colors and an appointment booking calendar.
Functionality and comfort approved.
You can quickly create outstanding slideshows with COOL Slider Revolution (and catch visitors' eye).
On top of that, Sunergy is clean-coded, optimized for speed, responsive, and WPML-ready. Plus, you get regular & FREE updates.
FABULOUS.
The power is yours!
Sunergy features:
720+ sales
4.9+ star ratings
Multi-level drop-down menu
Price: $59 (may vary)
MORE INFO / DOWNLOAD
DEMO
6. Renergy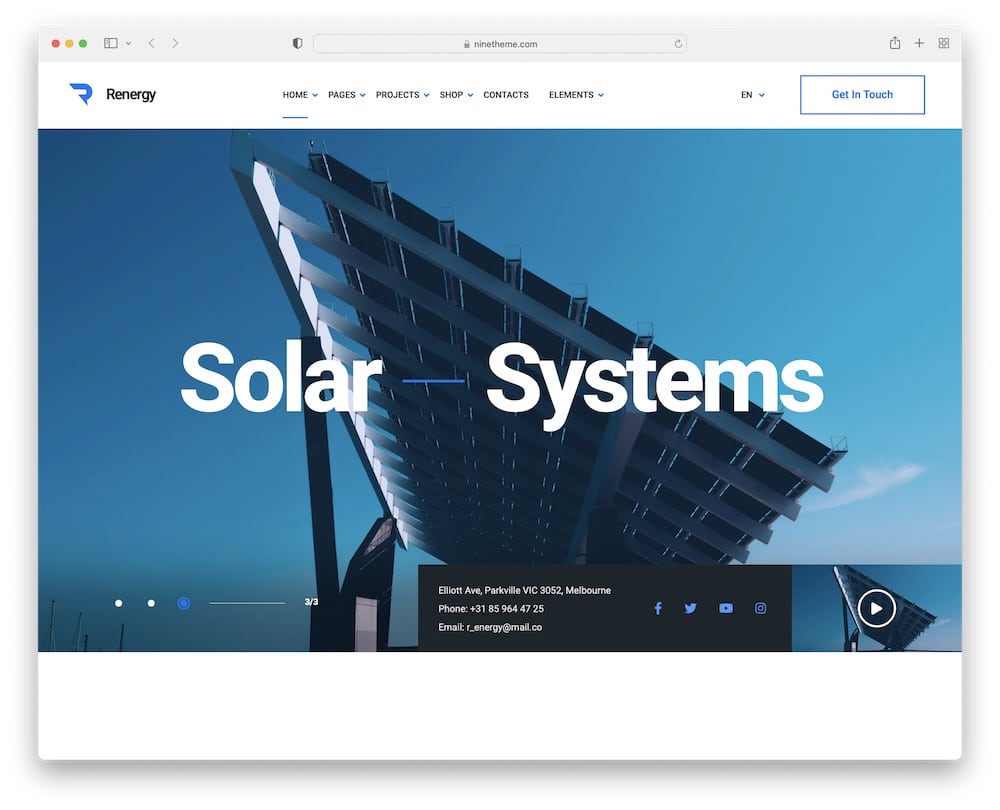 Offer solutions, gain brand visibility and BOOST sales with a beautiful Renergy WordPress solar theme.
Renergy is packed with unlimited (!) possibilities and you can comfortably edit with the most popular Elementor page builder (live customization).
I love to create posts, pages, rearrange sidebars, organize header & footer, and choose icons by effortlessly COOL drag and drop function.
Keep in mind, Renergy comes with 40+ widgets to choose from – a great way to add missing functionality to your new site.
And most importantly, Renergy is totally mobile-adaptable.
Win-win!
You also get premium support with Renergy, so feel free to ask experts anything.
Renergy features:
740+ sales
5-star ratings
Quick installation & setup
Pricing plans (or use a WP pricing table plugin with additional functionality)
Price: $59 (may vary)
MORE INFO / DOWNLOAD
DEMO
7. Soleng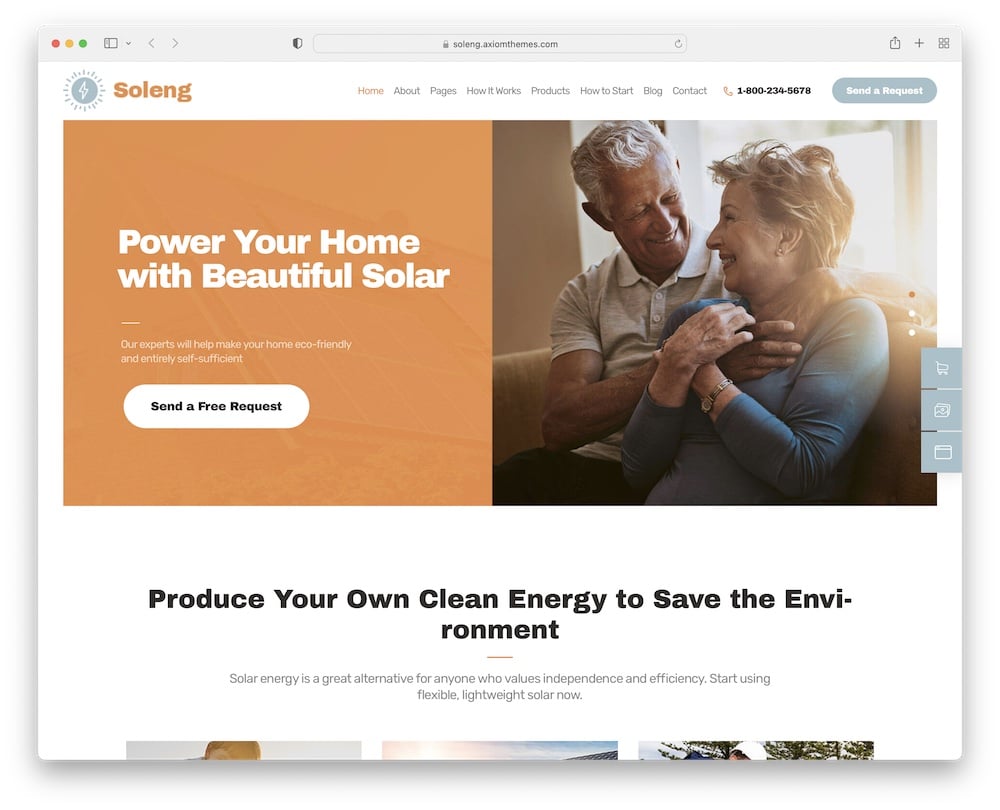 Professional Soleng exists for YOU to help your company become better at anything solar.
Pay once and get (lifetime) benefits such as different homepages, a user-friendly page builder, the most popular plugins, free (regular!) updates, and six months of tech-expert support.
Awesome… wait.
Wassthat?
Besides you get a collection of WP shortcodes, widgets, icons, and flexible color & typography options.
I also enjoy parallax effect backgrounds (it adds amazing motion to web design).
Soleng is compatible with popular browsers and devices SO that all your potential clients can enjoy a functional display of your stunning site.
Partner with reliable Soleng and never look back!
Soleng features:
MORE INFO / DOWNLOAD
DEMO
8. Solatec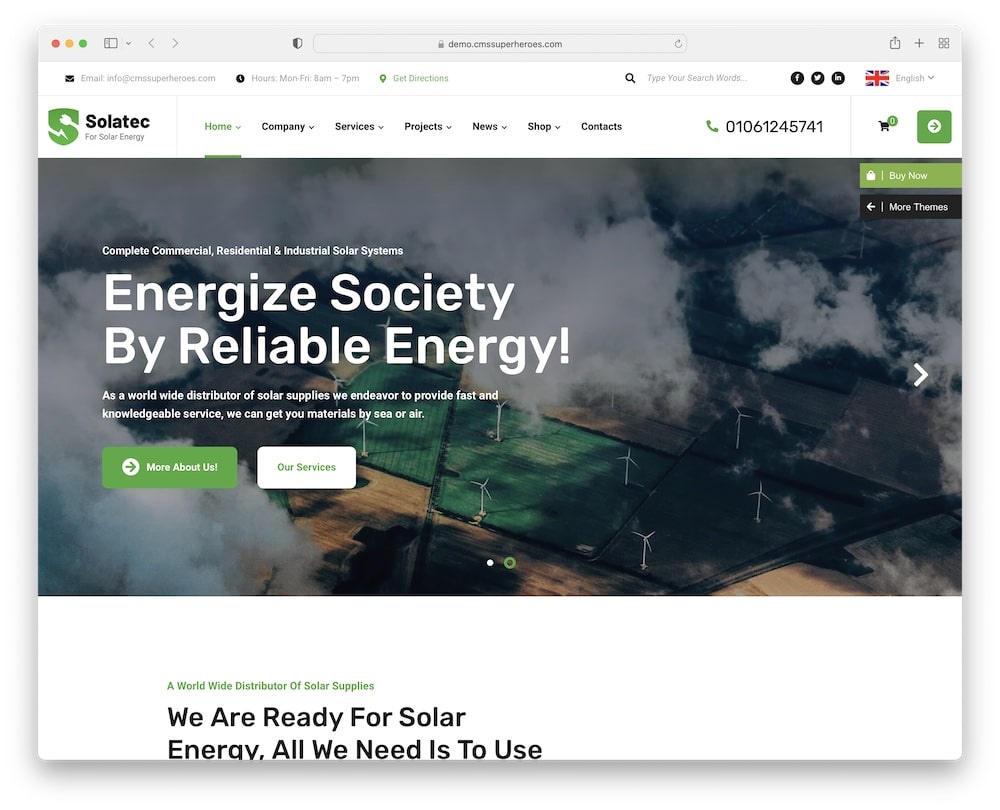 Go green with the crisp design of Solatec WordPress solar energy theme.
Believe it or not, you can create an amazing site even with 0 coding knowledge.
Enjoy its user-friendly admin panel, powerful plugins, pre-made layouts, moveable sidebars, and various widgets.
Plus, take advantage of Solatec extended documentation and step-by-step video tutorials.
As a bonus, you can choose from unlimited header styles (!) and simply adjust the one you like the most to all your company's needs.
I was blown away.
Moreover, the translation-ready option of Solatec will come in handy if you intend to be a global distributor. (Or local.) You may want to check our best WordPress translation plugins.
I highly recommend you start to write your blog, too.
Solatec is simply a MUST-HAVE.
Solatec features:
500+ sales
4.4+ star ratings
Top bar with search
Price: $59 (may vary)
MORE INFO / DOWNLOAD
DEMO
9. Strnix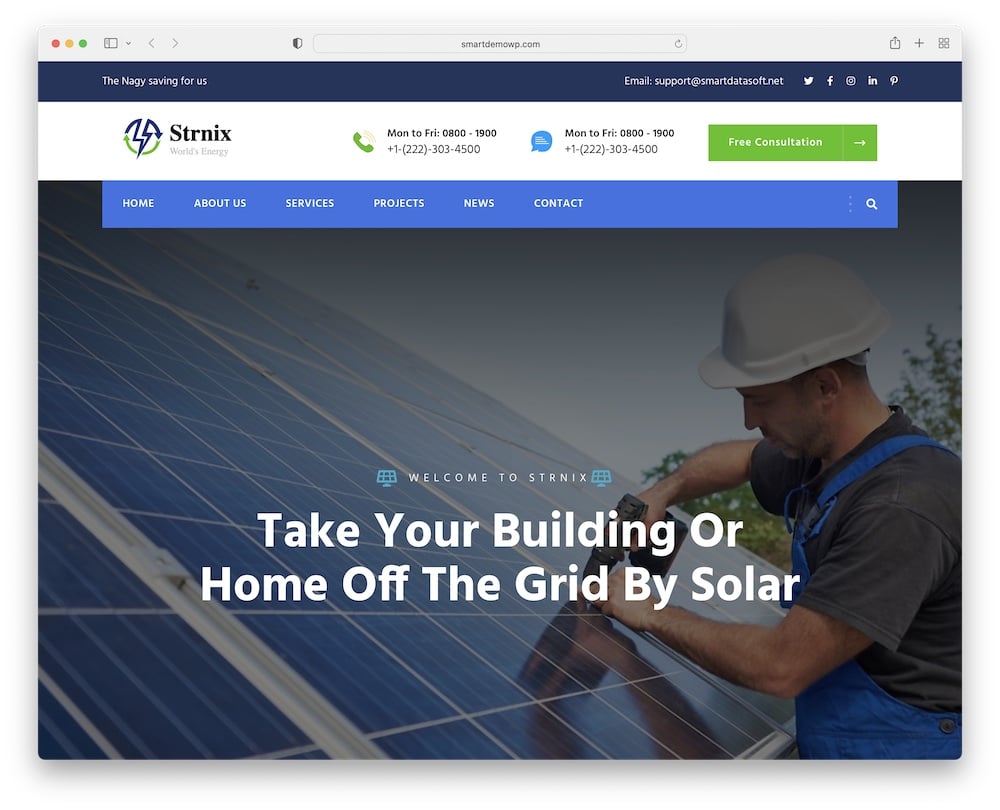 Change how the world is powered and play a key part in sharing clean energy ideas with the Strnix WordPress solar energy theme. Even earth will thank you!
Check out ready-to-use homepages (five alternatives), numerous pre-made pages, unlimited sidebar options, advanced typography, and engaging effects.
Is your imagination ready?
Reshape, add, mix and match given features and create a unique website. Oh, and don't forget to use an excellent parallax effect (my fav).
Furthermore, you know how important social media is, SO be sociable with Strnix.
Thank me later!
Increase engagement & spread awareness with Strnix!
Strnix features:
300+ sales
5-star ratings
Scrolling animations
Price: $39 (may vary)
MORE INFO / DOWNLOAD
DEMO
10. Biotellus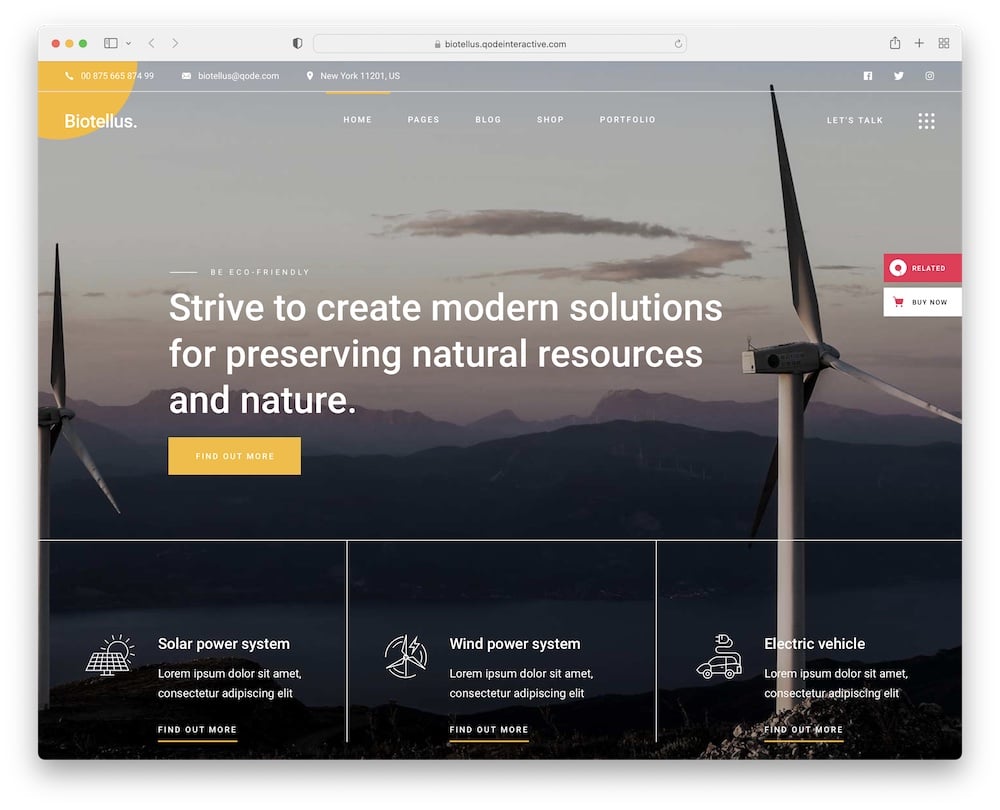 There is no telling what you can do when you get inspired by Biotellus WordPress solar energy theme. Designed for a greener future (everyone's advantage).
You import the flexible and easy-to-work-with the homepage with just one click.
Biotellus gives you complete control over the header, footer, background, sidebars, slider, icons, widgets, and color choices.
Pretty sweet, right?
Biotellus is also compatible with brilliant WooCommerce – aha, YOU can create a functional online store in minutes!
Perfect for showcasing & offering your solar energy solutions, products, or services.
Biotellus will also provide you with excellent assistance in the future. And contact the help center when needed – trust me, they have your back!
Biotellus features:
330+ sales
4.5+ star ratings
Portfolio
Price: $79 (may vary)
MORE INFO / DOWNLOAD
DEMO
11. Solar Tech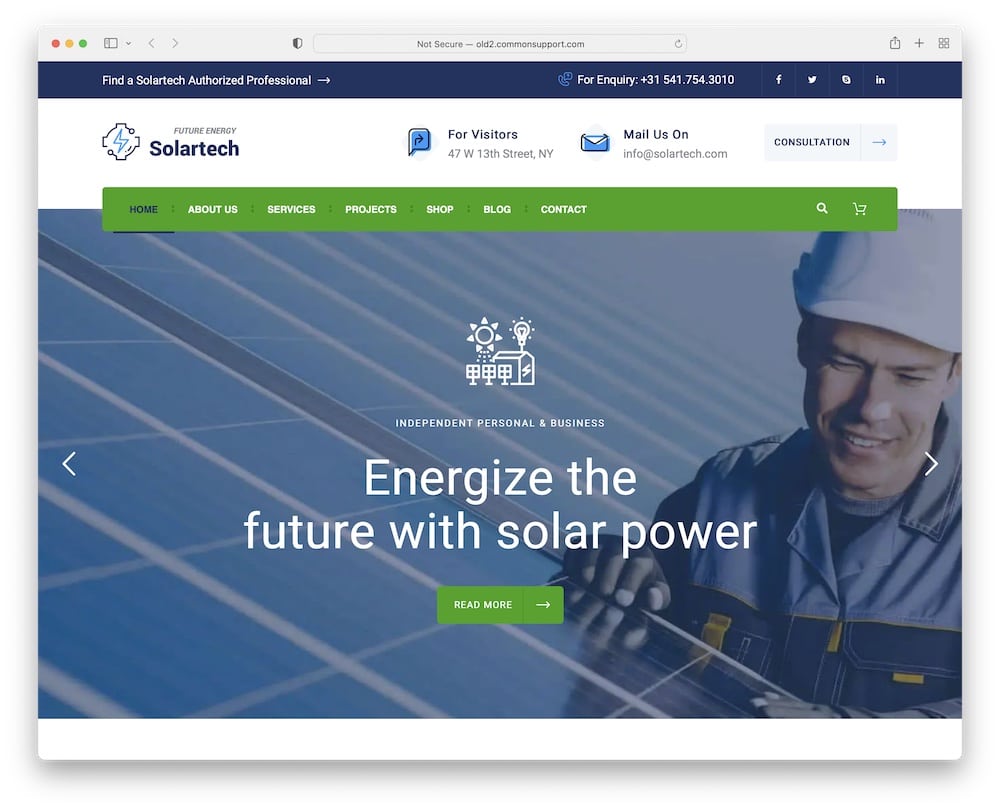 Solar energy is a choice BUT it sure helps to let your audience know you are a credible company with valuable knowledge about it.
Bloom with Solar Tech WordPress green energy theme.
Solar Tech is ready to use as soon as you import it, BUT feel free to add your personal touch to it.
I am a fan of sections such as about us, team members, portfolio, testimonials, gallery of completed projects, etc. Establish yourself as an expert that new clients can trust.
A win-win-win!
Furthermore, Solar Tech comes with a responsive & retina-ready design (Hurray!). Secret sauce? WordPress child theme.
Solar Tech features:
120+ sales
5-star ratings
Includes PSD files
FAQ accordions
Price: $49 (may vary)
MORE INFO / DOWNLOAD
DEMO
12. Ecohub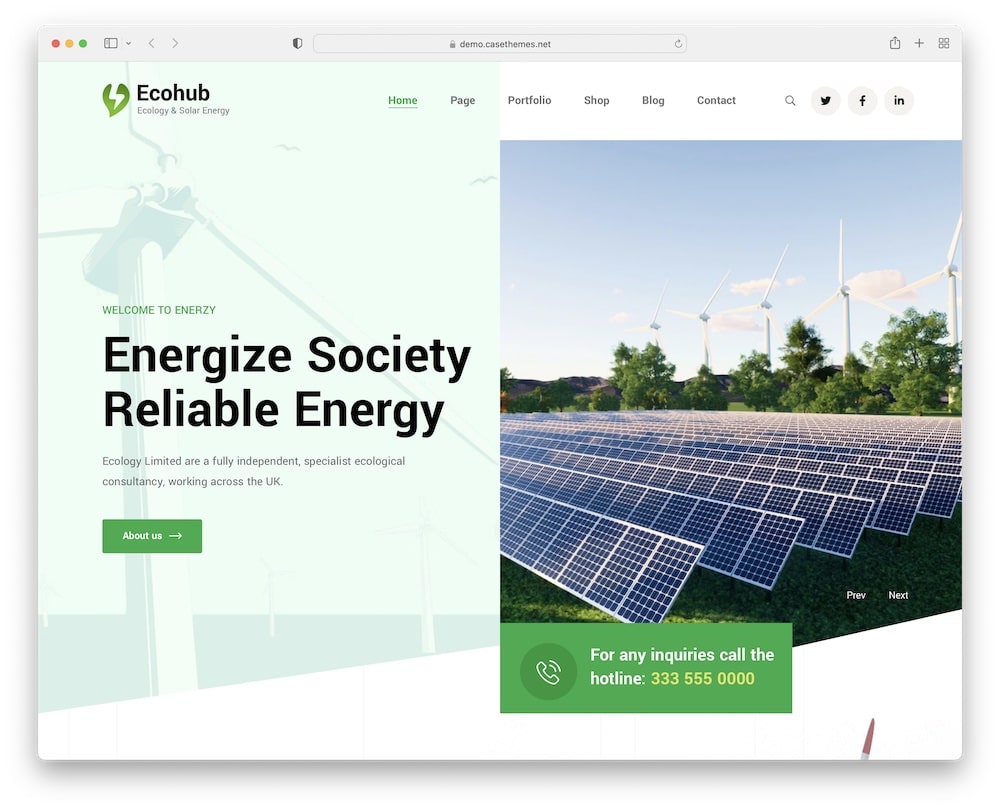 Help to ensure future generations' healthier planet by promoting sustainable energy. The attractive Ecohub WordPress solar energy theme is worth your money!
So grab some coffee and start building your new site with the popular Elementor page builder.
It comes with a ton of opportunities & tools to change, mix, and personalize pre-made templates.
Play around with an alternative look through the instant preview (before you go live).
DREAMLIKE.
You can also quickly translate Ecohub to any desired language (WPML ready).
My advice: celebrate, update and maintain your business with Ecohub.
Ecohub features:
90+ sales
5-star ratings (ni)
Carousels
Price: $59 (may vary)
MORE INFO / DOWNLOAD
DEMO
13. Enerzy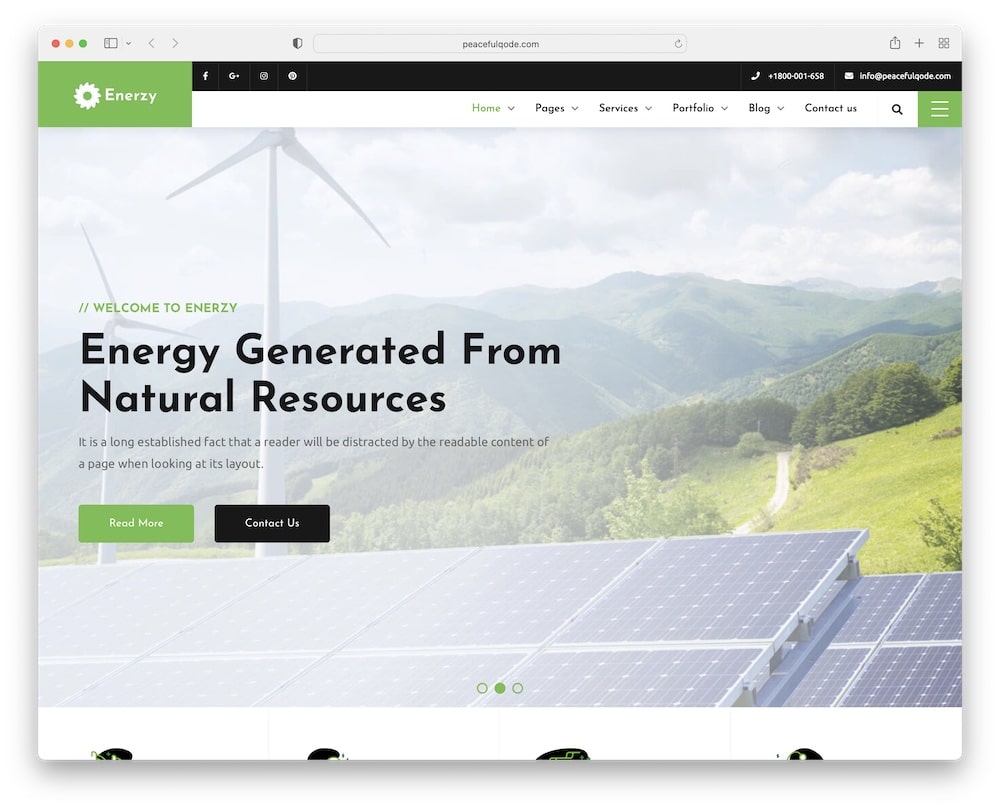 Every day is a clean planet day with Enerzy WordPress solar energy theme.
Enerzy comes with ready-to-use demo data that is easy to import, install and use. But we also have a full tutorial on install a WP theme successfully.
In addition to that, you can rearrange (with Elementor) pages, header & footer, Google Fonts, and more.
Plus, add custom widgets and shortcodes where more functionality is needed.
Moreover, Enerzy is cross-browser compatible, responsive, and well documented (video guides included).
BOOM, and just like that Enerzy offers FREE lifetime updates!
LIT.
I am totally into gorgeous image slides (in all shapes & sizes), so love to create with Slider Revolution. WOW your audience (even the most demanding).
Take action with Enerzy!
Enerzy features:
100+ sales
5-star ratings
Fantastic performance
1-click demo data import
Price: $59 (may vary)
MORE INFO / DOWNLOAD
DEMO
::
Note: This article was originally published on May 17, 2022. But our team regularly reviews it and updates it with necessary improvements for accuracy.